Majorityrights News > Category: Social Sciences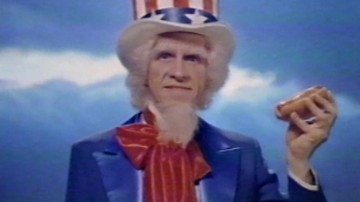 Television: Answering to an even higher authority.
[backing vocals Tina Turner & The Ikettes]
I am gross and perverted
I'm obsessed 'n deranged
I have existed for years
But very little has changed
I'm the tool of the Government
And industry too
For I am destined to rule
And regulate you
I may be vile and pernicious
But you can't look away
I make you think I'm delicious
With the stuff that I say
I'm the best you can get
Have you guessed me yet?
I'm the slime oozin' out
From your TV set
You will obey me while I lead you
And eat the garbage that I feed you
Until the day that we don't need you
Don't go for help . . . no one will heed you
Your mind is totally controlled
It has been stuffed into my mold
And you will do as you are told
Until the rights to you are sold
That's right, folks . . .
Don't touch that dial
Well, I am the slime from your video
Oozin' along on your livin' room floor
I am the slime from your video
Can't stop the slime, people, lookit me go
I am the slime from your video
Oozin' along on your livin' room floor
I am the slime from your video
Can't stop the slime, people, lookit me go
- Frank Zappa, "I'm The Slime"
TV: postmortem on passivity induced runaway destruction, including speculation on zombie effects despite the new dawn of interactive media. It's being a retrospective gives me an excuse to post this older show which I've only seen today for the first time. It's funny as hell. Charlie Brooker is clever. I don't vouch for his politics, am unfamiliar with that.
But as we say goodbye to the hegemonic days of television and the passive acceptance of its audiences of a world they could not interact with nor hope to change, it is worthwhile to take another look back on the days of how the Televitz shaped and manipulated our attention; and to speculate on some of its lingering effects, both on runaway systems in a world unchallenged, and its parallel tropisms in the computer screen, exponentially better though it is in the choice and interaction the mechanisms attached may provide…
"How Television Ruined Your Life"
Parts 1-6, BBC production, 2012, under Youtube license: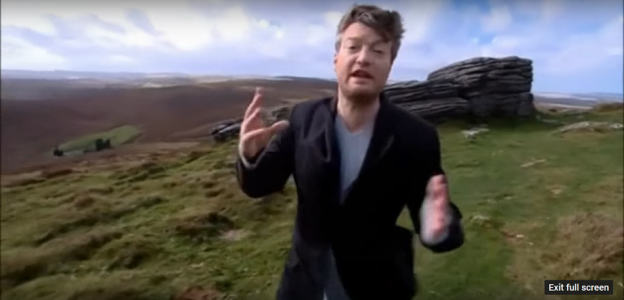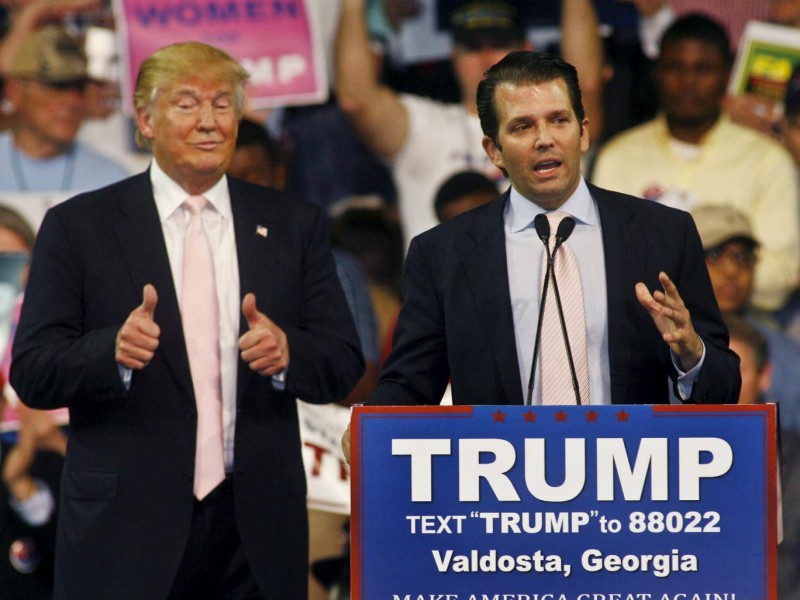 Donald Trump gives a thumbs up as his son Donald Trump, Jr. speaks at a campaign rally at Valdosta State University in Valdosta, Georgia February 29, 2016 Reuters.
NPR, "Donald Trump Jr. Had Direct Contact With WikiLeaks During Campaign", 14 Nov 2017:

During the 2016 presidential campaign, Donald Trump Jr. was in direct contact with WikiLeaks at the same time the muckraking website was publishing hacked emails from Democratic officials that proved damaging to the Clinton campaign, according to several major publications.

Following the reports, Trump Jr. acknowledged the contact in a tweet detailing one exchange with the radical transparency organization.

The Atlantic, The Wall Street Journal and The Washington Post, in articles published late Monday, said that then-candidate Donald Trump's eldest son used the messaging feature on Twitter to communicate with WikiLeaks, which in turn alerted the campaign to the impending release of the hacked emails.

The publications report that the messages between Trump Jr. and WikiLeaks were among thousands of documents turned over to Congress as part of its ongoing investigation into claims that Russia interfered in the November election — a finding backed unanimously by U.S. intelligence agencies, which have said that the Kremlin aimed to aid Donald Trump's campaign.
New Observer, "Nonwhites Majority of UK School Population within 20 Years", 15 July 2017:

Nonwhites will make up the majority population in British schools within the next twenty years, the direct result of decades of mass Third World immigration and their natural reproduction rates, an analysis of new data issued by the UK's Department of Education has revealed.


School class in Newham, London.

According to the report, titled "Schools, pupils and their characteristics: January 2017" and issued at the beginning of July 2017, nonwhites already make up over 25 percent of all school pupils in primary and secondary schools combined, and have increased their numbers by more than 10 percent in the last ten years.

According to the report, there are a total of 8.67 million pupils in all schools in England—which means that there are already in excess of 2.167 million nonwhite pupils.

The total number of pupils has grown every year since 2009 and there are now 577,000 more pupils The report reveals that the proportion of pupils from "minority ethnic origins," has "been rising steadily since 2006. In primary schools, 32.1% of pupils of compulsory school age are of minority ethnic origins, an increase from 31.4% in January 2016.

"Minority ethnic pupils made up 66.3% of the increase in pupil numbers in primary schools between 2016 and 2017.

"In secondary schools, 29.1% of pupils are of minority ethnic origins, an increase from 27.9% in 2016."

The Department of Education's figures however, include white children of "non-British origin"—in other words, those of Polish or Eastern European origin.

The report goes on to a specific breakdown of pupils by ethnic origin in State funded schools in England;

State-funded primary schools

White British 67.2

White Non-British 7.5

Asian 10.7

Black 5.6

Mixed 5.9

Chinese 0.4

Any other 1.9

Unclassified 0.7

State-funded secondary schools

White British 69.5

White Non-British 5.7

Asian 10.7

Black 5.6

Mixed 5.0

Chinese 0.4

Any other 1.7

Unclassified 1.5

Darwin Digest: North, East and West Africa. ..."We" was Not Kangs.
Express, "All 22 victims of Manchester terror attack named and identified", 25 May 2017:
The full list of the victims:
Saffie Rose Roussos, 8
Nell Jones, 14
Sorrell Leczkowski, 14
Eilidh MacLeod, 14
Olivia Campbell, 15
Megan Hurley, 15
Chloe Rutherford, 17
Georgina Callander, 18
Courtney Boyle, 19
Liam Curry, 19
John Atkinson, 28
Martyn Hett, 29
Kelly Brewster, 32
Philip Tron, 32
Angelika Klis, 40
Marcin Kils, 42
Elaine McIver 43
Alison Howe, 45
Michelle Kiss, 45
Lisa Lees, 47
Wendy Fawell, 50
Jane Tweddle-Taylor, 51

NPR,"A 'Forgotten History' Of How The U.S. Government Segregated America", 3 May 2017:


Federal housing policies created after the Depression ensured that African-Americans and other people of color were left out of new suburban communities - and pushed instead into urban housing projects, such as Detroit's Brewster-Douglass towers. Paul Sancya/AP

In 1933, faced with a housing shortage, the federal government began a program explicitly designed to increase — and segregate — America's housing stock. Author Richard Rothstein says the housing programs begun under the New Deal were tantamount to a "state-sponsored system of segregation."

Race: Historian Says Don't 'Sanitize' How Our Government Created Ghettos

Code Switch: Everyone Pays A Hefty Price For Segregation, Study Says

The government's efforts were "primarily designed to provide housing to white, middle-class, lower-middle-class families," he says. African-Americans and other people of color were left out of the new suburban communities — and pushed instead into urban housing projects.

Rothstein's new book, The Color of Law, examines the local, state and federal housing policies that mandated segregation. He notes that the Federal Housing Administration, which was established in 1934, furthered the segregation efforts by refusing to insure mortgages in and near African-American neighborhoods — a policy known as "redlining." At the same time, the FHA was subsidizing builders who were mass-producing entire subdivisions for whites — with the requirement that none of the homes be sold to African-Americans.

Rothstein says these decades-old housing policies have had a lasting effect on American society. "The segregation of our metropolitan areas today leads ... to stagnant inequality, because families are much less able to be upwardly mobile when they're living in segregated neighborhoods where opportunity is absent," he says. "If we want greater equality in this society, if we want lowering of hostility between police and young African-American men, we need to take steps to desegregate."

Interview Highlights

On how the Federal Housing Administration justified discrimination

The Color of Law: A Forgotten History of How Our Government Segregated America - by Richard Rothstein

The Federal Housing Administration's justification was that if African-Americans bought homes in these suburbs, or even if they bought homes near these suburbs, the property values of the homes they were insuring, the white homes they were insuring, would decline. And therefore their loans would be at risk.

There was no basis for this claim on the part of the Federal Housing Administration. In fact, when African-Americans tried to buy homes in all-white neighborhoods or in mostly white neighborhoods, property values rose because African-Americans were more willing to pay more for properties than whites were, simply because their housing supply was so restricted and they had so many fewer choices. So the rationale that the Federal Housing Administration used was never based on any kind of study. It was never based on any reality.

On how federal agencies used redlining to segregate African-Americans

The term "redlining" comes from a development by the New Deal, by the federal government of maps of every metropolitan area in the country. And those maps were color-coded by first the Home Owners Loan Corp. and then the Federal Housing Administration and then adopted by the Veterans Administration, and these color codes were designed to indicate where it was safe to insure mortgages. And anywhere where African-Americans lived, anywhere where African-Americans lived nearby were colored red to indicate to appraisers that these neighborhoods were too risky to insure mortgages.

On the FHA manual that explicitly laid out segregationist policies

The Two-Way: Interactive Redlining Map Zooms In On America's History Of Discrimination
...he gets the wrong answer, of course. Garbage in means garbage out:
Emile Bruneau recently invited Muslim students and staff at the University of Pennsylvania to help him figure out one of the most pressing questions of our time: How can we stop despising each other?
Bruneau wanted to know more about what kind of arguments effectively combat common prejudices: that Muslims are terrorists, that they don't want to assimilate, that they are intolerant and hate American freedom. Liberals often believe that Muslim women are oppressed. He enlisted members of the Muslim Students Association to look for videos they thought might prove persuasive. He thought firsthand experience with discrimination might be helpful. (He's also working with former white nationalists.) He was looking, he told them, for "individualized psychological medicine."
What worked best was a "very cerebral" video from Al Jazeera in which a Muslim woman said blaming all Muslims for terrorism was like blaming all Christians for the actions of Westboro Baptist Church or the KKK.
The question to ask is not, "how can we bridge our divides and induce Abrahamic religions and peoples to accept one another?"
It is rather to ask, "how can we disabuse people of Abrahamic religion and its universal imperialism in order to defend ethno-nationalism and human ecology against it; and failing completion of that task, contain its extant effects on people; keep our sane interests from being affected by its intransigent elements and lingering influences?"
Communicology is a fascinating and eminently useful discipline that we will be applying here at MR - correctly, unlike this effort from the Annenberg school. Nevertheless, there are some interesting take-away propositions here - notably, that Americans are low information decision makers, therefore equipping them with particularly helpful analogies for them to rationalize their coming to a position we like for them (in our case, we would want them to come to a natural and healthy ethnonationalist position for them and their people) is liable to work better than emotional appeals, despite a commonly ascribed-to school of thought which holds emotions to be the effective means to that end.
Philly.com, "Penn professor uses science to bridge the political divide", 2 April 2017:


Emile Bruneau studies conflict between groups and how to combat prejudice at the University of Pennsylvania's Annenberg School of Communication.

Emile Bruneau recently invited Muslim students and staff at the University of Pennsylvania to help him figure out one of the most pressing questions of our time: How can we stop despising each other?

Muslims and Christians may have been the groups he had in mind that day, but Bruneau, a child of California hippies who took an unusual route to Penn's Annenberg School for Communication, ultimately has broader goals in mind. What if there is a psychological key that could defuse the animosity between hate-filled groups around the globe? That includes U.S. Republicans and Democrats, who, his research has found, are almost as alienated from one another as Palestinians and Israelis. The only difference, he said, "is that we're not actually killing each other."

Most of us think the antidote to hate and close-mindedness is emotional. But, so far, Bruneau's research shows that the way to the mind is not necessarily through the heart. In fact, he believes, the way to the heart is through the mind.

Bruneau wanted to know more about what kind of arguments effectively combat common prejudices: that Muslims are terrorists, that they don't want to assimilate, that they are intolerant and hate American freedom. Liberals often believe that Muslim women are oppressed. He enlisted members of the Muslim Students Association to look for videos they thought might prove persuasive. He thought firsthand experience with discrimination might be helpful. (He's also working with former white nationalists.) He was looking, he told them, for "individualized psychological medicine."