Majorityrights News > Category: Immigration and Politics
Diversity Macht Frei, "Italian politican forced to pay €50,000 fine to negress for common-sense remarks", 25 May 2017:

He made two unexceptional remarks: 1) The born-African "took away a job from an Italian doctor". 2) "Africans are Africans and belong to an ethnic group very different from ours." For this, he has to pay the negress €50,000!

Italy's first black minister has said she feels "vindicated" after winning a four-year court battle against a far-right MEP who made repeated racist slurs against her.

Mario Borghezio has been order to pay Cécile Kyenge 50,000 euros ($55,690; £42,895) by a court in Milan. Among other comments, Borghezio said she "took away a job from an Italian doctor" in a 2013 radio interview.

The Northern League MEP must also pay Ms Kyenge's legal fees. Borghezio - who was briefly suspended by his party in 2011 for saying he agreed with parts of Norwegian mass murderer Anders Breivik's manifesto - reportedly said he would lose his house following the ruling.

However, Ms Kyenge, who was born in the Democratic Republic of Congo, told the BBC's Newsday radio programme: "At the end of the day this is a strong message against impunity. those who believe there is no justice should think twice.

"Through this verdict the younger generations have also learned that a civilised society is based on mutual respect, and zero tolerance for discrimination."

Ms Kyenge, pictured, decided to pursue him through the courts - and won Ms Kyenge, who trained as an ophthalmologist in Italy, found herself subject to abuse after she was named as integration minister in 2013 - including having bananas thrown at her during a political rally and being compared to an orang-utan.

She was provided with police protection, but decided to pursue Borghezio through the courts after the 2013 interview, in which he also said "Africans are Africans and belong to an ethnic group very different from ours".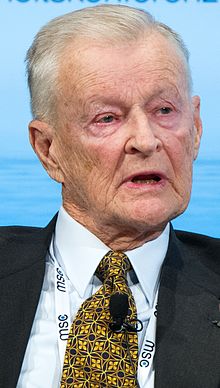 Zbigniew Brzezinski, whose "great chess game" thinking was behind some of the better geo-strategy that Obama and other Presidents are given credit for, has died. Unfortunately, it is a wisdom and judgment not in evidence in Trump - at all - whatever check and balance to Israeli influence that Obama had put in place through Brzezinski's coaching has been purged.
Obama was frequently given credit for resisting Israeli wishes - notably to go against the Iran Deal. But it would have been under the literal advice of Zbigniew Brzezinski to get behind the Iran Deal. The deal was perfect for the power of business interests to exercise its liberalizing effect not only for Iran, but against an eminently dangerous US comlicitness with Israeli-Russian Federation hegemony; along with complicitness to Islamic compradors and abetment of terror.
Say what you want about a cold war mindset, it taught western strategists to look at the Russian Federation and to not be naive about it.
The Russian Federation is not an ethno-state, and like the US, where it is not entirely mixed-up with Jewish interests, it is subject to right wing reactionary and imperialist politics.
The Alt-Right belatedly, grudgingly, acknowledges Jewish power and influence interwoven with not only Trump, but the Kremlin and Putin - it has even been forced to see the quid pro quo that Kumiko diagnosed - "support Israel and your Alt-Right can have backing - its a deal" - however, like David Duke, it will do anything but lay blame on its part for making these deals - what it will not see is the right wing shabbos goyim aspect of right wingers doing what right wingers do - blinding (themselves or others, depending) to their people's broad interests and selling them out for their narrow interests - including selling out in deals with Jews. Clearly the right does not have Israeli interests under control. It does not have and will not allow the concept that would do it. That would mean having to acknowledge what fuck-ups they are, how inane their concept, how typical that they would put Trump in power, blinding to the obvious, deal making, shaking hands with their fellow enemies of ethnonationalism.
They're ok with blaming Jews - and if Kumiko is able to force them to admit to a deal having been offered to them, they might even acknowledge it, almost acknowledge that they took the deal - so long as their masters allow them to lay blame on the "bad" Jews (not the "good ones" du jour); but they will not lay blame on the inherent defect of their right wing platform (heck, their Jewish masters wouldn't allow it), let alone specify the fact that for its inherent instability its adherents are bound to do it again; let alone call attention to the fact that they are using and being used for the supremacist, imperialist interests of Israel, its diaspora, its cohorts, the US, the Russian Federation ...add Turkey, Saudi and others to that equation.
If Jews say Asians and Asian ethnonationalism are the enemy, and a Judeo-Christian West is the answer to 'radical' Islam, black and mestizo population imposition, it's a deal for them. Our Asian friends are on notice, we true ethno-nationalists, including White Left nationalism, stand apart from the perfidy and the complicitness of the Alt-Right.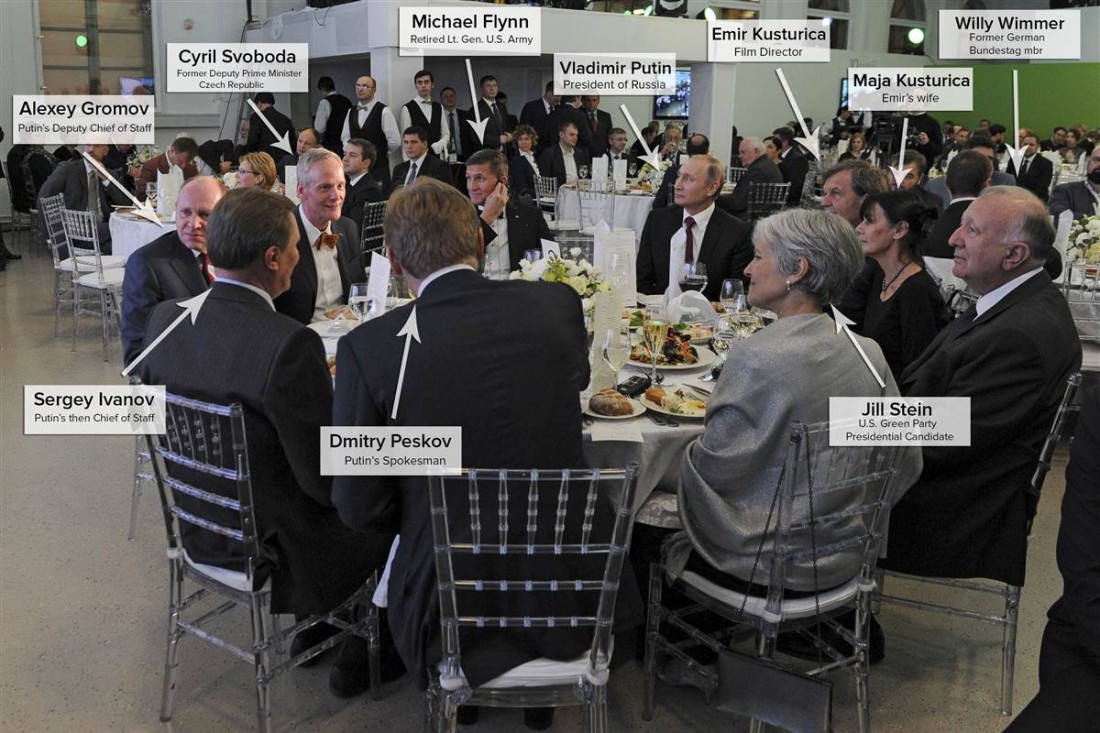 Not only is the network (((NPR))) backeted, but so is the (((interviewee))), a New York Times Reporter.
Taking that with a grain of salt, one can save time by orientation on the 'lie of the land', the broad circumstance, and sort the bracketry afterward: Rosenberg covers intelligence and national security for the Times and has been covering the investigations into General Michael Flynn, whom he met in person - Flynn confided some issues to Rosbenberg personally during his time in Afghanistan.
NPR, "How Gen. Michael Flynn Became A Central Figure In The Russia Hacking Scandal", 25 May 2017:

TERRY GROSS, HOST:

This is FRESH AIR. I'm Terry Gross. Late in the day yesterday, The New York Times broke a story reporting that American spies collected information last summer revealing that senior Russian intelligence and political officials were discussing how to exert influence over candidate Donald Trump through his advisers.

My guest, Matthew Rosenberg, is one of the three reporters who wrote that story. Rosenberg covers intelligence and national security for the Times and has been covering the investigations into General Michael Flynn and his communications with and payments from Russia. Flynn was part of the Trump campaign and was appointed President Trump's national security adviser. He was forced to resign after 25 days because of his undisclosed communications with Russian officials.
Several articles are discussing Flynn's dubious relation to Turkey and the Erdigon regime, including Flynn's efforts to help Erdogon capture the man responsible for the attempted secular coup of Erdogan's Islamic Turkish state.
DM, Michael Flynn 'discussed plan to snatch exiled dissident Turkish cleric suspected of being behind attempted coup from his rural US home and return him to the Mid East', 17 March 2017:

General Michael Flynn reportedly said he wanted to remove a Turkish cleric from his compound in Pennsylvania

Former CIA Director Woolsey said Flynn wanted to 'whisk' Fethullah Gulen away


Fethullah Gulen (image Wikipedia)

A spokesperson for Flynn denied the accusations of wrongdoing
The coup on Erdogan's Turkey should have succeeded and Western nations should have supported it. Flynn is squarely on the wrong side of that issue.
Bloomberg, "Flynn's Turkey Connection Is the Case Worth Pursuing", 25 May 2017:

What's been missing so far in the scandals surrounding the Trump White House is a concrete act taken at the behest of foreign powers. Now there's strong evidence of one: Michael Flynn reportedly stopped an attack on the Islamic State capital of Raqqa by Syrian Kurds, a military action strongly opposed by Turkey, after receiving more than $500,000 in payments from a Turkish source. The Kurds' offensive had been greenlighted by Barack Obama's administration, and is now back on track, reapproved by President Donald Trump sometime after Flynn was fired.
EuroNews, "Russian President Putin says his country's relationship with Turkey has fully recovered after a recent crisis.", 3 May 2017.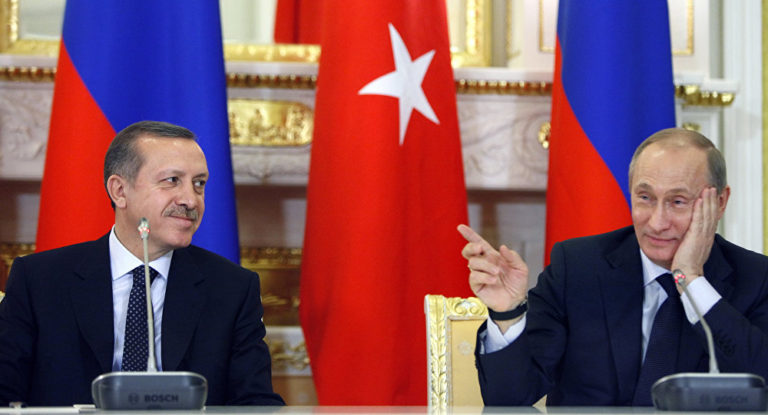 Mirror, 'Knifeman' arrested outside Buckingham Palace moments before Queen passes just yards away", 24 May 2017:


Her Majesty is pictured arriving at St Paul's Cathedral, apparently oblivious to the drama (Photo: PA)

A 'knifeman' was arrested outside Buckingham Palace - just 30 seconds before the Queen passed by in a car yards away.

The man was escorted away by officers after being found in possession of a knife in The Mall at around 10.40am, police say.

Dramatic footage showed him lying on the ground, dressed in a blue hoodie and a khaki coat, as cops searched his body.

Mirror photographer Ian Vogler snapped picture of suspect being held on the ground by police at the bottom of The Mall.


The man is pictured sitting on the ground, surrounded by officers (Photo: London News Pictures)

The arrest came less than 48 hours after a suicide bomber detonated an IED at Manchester Arena, killing 22, injuring 119.
Diversity Macht Frei, 23 May 2017, Request complied-with by police to investigate Katie Hopkins for inciting racial hatred over tweet: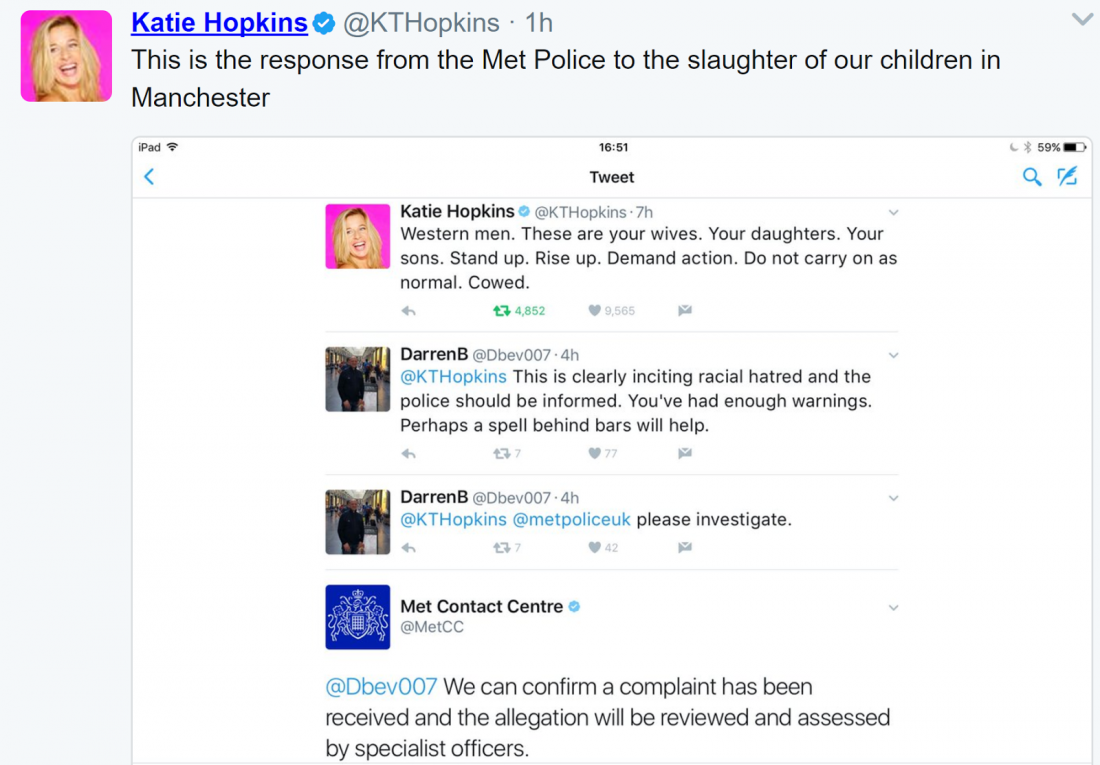 Hugh Muir thinks she is a peddler of hate and should be subject to laws against it -


Police in Manchester, England, confirm 22 people dead at Manchester Arena following an apparent explosion after a concert by Ariana Grande. About 50 people have been injured.

The statement says police will treat the incident as a terrorist attack until they know otherwise.

Authorities also say they conducted a "precautionary controlled explosion," and the thing they had been concerned about turned out to be abandoned clothing and not a suspicious item.

The management of the Manchester Arena issued a statement, saying the incident happened outside the facility.

The BBC reports witnesses heard an explosion, which was followed by a chaotic scene with audience members running for the exits.

Reuters reports that emergency services are responding to the reports of "a serious incident." Greater Manchester Police are advising people to "avoid the area."

A spokesman for the pop singer said that she was "okay," according to Reuters.

One witness, Josh Elliott, told the BBC Radio 5 Live that "A bang went off and everyone stopped and screamed. ... We basically hit the deck," he said. "It was bedlam ... it was horrific. We got up when we thought it was safe and got out as quickly as possible. People were just crying and in tears. ... Police cars were everywhere."

This is a developing story. Some things that get reported by the media will later turn out to be wrong. We will focus on reports from police officials and other authorities, credible news outlets and reporters who are at the scene. We will update as the situation develops - NPR, 22 May 2017.
While stories like this have been pushed under the rug, for that we have to thank those who've pushed and those who have accepted a definition of the "left" as liberal internationalism opposed to unionized defense of natives - especially of the working class. The Sikh community warned would-be coalitions about Muslim grooming but there was no White Left to hear them and take them up in coalition-building. However, now that the Jewish controlled Right points out these stories in compassion to Whites, it's ok to pay attention to them.
The actress stars in a gripping new drama about the Rochdale abuse scandal Credit: Jeff Gilbert

DT, "Lesley Sharp: 'What happened to the girls in Rochdale is never far from my mind", 15 May 2017:

Lesley Sharp still remembers how she felt when she read about the widespread scandal of teenage girls being sexually abused in Rochdale. "I felt desperately sad, because it's a real shock in the 21st century, where we're fortunate to live in amazing country like the UK, that there are areas where young women feel so desperate about what their future should be," says the 57-year-old actress quietly.

47 children are thought to have been groomed and sexually exploited by men in Rochdale between 2005 to 2008 and ignored by authorities. "I remember finding that shocking," says Sharp. "I was just perplexed and horrified by the idea that these girls had initially been treated as somehow deserving of what had been meted out to them. I don't think just because this case came to the fore that this situation has gone away. I think it's still out there."

Sharp's passion about ending child sexual exploitation in the UK is ongoing - she has been a Barnados ambassador for several years - but it is also reflected in her latest role. Anonymising the victims, BBC One's drama, Three Girls, depicts the real-life abuse of teenage girls in Rochdale. Sharp plays Detective Constable Margaret Oliver, the police officer who was so appalled by the way the force handled the girls' cases that she eventually resigned.
Housing Minister Yoav Galant calls for the assassination of Syrian President Bashar Assad at a conference in Latrun, near Jerusalem, on May 16, 2017. (Miriam Tzachi/Office of Yoav Gallant).

Times of Israel, "Israeli minister: 'The time has come' to kill Bashar Assad", 16 May 2017:

An Israeli minister called for the assassination of Syrian President Bashar Assad on Tuesday, saying he "does not have a place in this world."

Yoav Galant says revelation the Syrian president is executing prisoners and burning their bodies 'crosses a red line.'

Speaking at a conference outside Jerusalem, Housing and Construction Minister Yoav Galant, a retired IDF general, said that in light of recent allegations that Assad's regime carried out mass executions and burned the bodies of the victims, he had to be killed.

"The reality of the situation in Syria is that they are executing people, using directed chemical attacks against them, and the latest extreme — burning their corpses, something we haven't seen in 70 years," Galant said, in a reference to the Holocaust.

The minister said Assad's actions in Syria amount to nothing less than a "genocide," with "hundreds of thousands killed."

On Monday, the United States State Department accused the Assad regime of carrying out mass killings of thousands of prisoners and burning the bodies in a large crematorium outside the capital.

"In my view, we are crossing a red line. And in my view, the time has come to assassinate Assad. It's as simple as that," said Galant, who previously served as the head of the IDF's Southern Command.

Galant likened the assassination of Assad to cutting off the "tail of the snake." After that, he said, "we can focus on the head, which is in Tehran.