Majorityrights News > Category: Memetic Warfare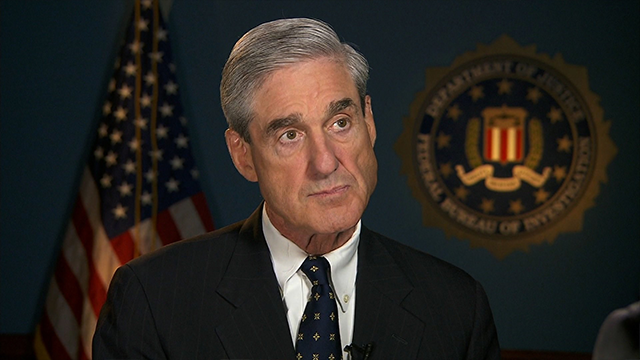 Washington Post, "4 things we learned from the indictment of 13 Russians in the Mueller investigation", 16 Feb 2018:

This post has been updated.

We have the first indictment in the investigation by Robert S. Mueller III that actually has to do with Russian meddling in the 2016 election. The special counsel on Friday indicted 13 Russians in connection with a large-scale troll farm effort aimed at influencing the election in violation of U.S. law.

The indictment of the Internet Research Agency comes on top of two Trump advisers having pleaded guilty to lying to the FBI — Michael Flynn and George Papadopoulos — and two more being indicted on charges of alleged financial crimes that predated the campaign — Paul Manafort and Rick Gates. Nobody is in custody and Russia does not extradite to the United States, but the document from the secretive Mueller investigation does shed plenty of light where there previously wasn't any.

So what does the new indictment tell us? Here's what we can say right away:

1. It doesn't say the Trump campaign colluded with Russia, but doesn't rule it out either.

Anybody looking for clues about the collusion investigation into the Trump campaign won't find much to grab hold of. If anything, the indictment may hearten Trump allies in that it doesn't draw a line to the campaign — which suggests there was a large-scale effort independent of any possible collusion. Perhaps that's the real meddling effort, some folks in the White House may be telling themselves right now. Deputy Attorney General Rod J. Rosenstein even specified that Trump campaign officials who were contacted by the Russian nationals "did not know they were communicating with Russians."

But that's about as much insight as anyone can draw; we simply don't know what else is coming down the pike, and any ties to Trump campaign officials may have been withheld from this indictment to avoid disclosing details of an ongoing investigation. The president hasn't even been interviewed yet, so we wouldn't expect any ties to the campaign at this juncture.

Asked whether campaign officials had knowledge of the scheme or were duped, Rosenstein chose his words carefully. "There is no allegation in this indictment that any American had any knowledge," Rosenstein said.

The words "in this indictment" mean Rosenstein's comments are pretty narrow.

Update:

In a statement, Trump and the White House suggested that the announcement "further indicates that there was NO COLLUSION between the Trump campaign and Russia." Again, it doesn't provide any direct indication.

2. It just got a lot harder for Trump to dismiss Mueller's probe as a "witch hunt."

At one point in the indictment, a price tag is put on the effort: $1.25 million in one month, as of September 2016. To put that in perspective, that's as much as some entire presidential campaigns were spending monthly during the primaries. And that lends credence to the idea that this was a large-scale effort connected to the Russian government.

President Trump has often sought to downplay the idea that Russia interfered in the 2016 election — even suggesting he believed Russian President Vladimir Putin's assurances that it didn't happen. This document lays it out in extensive detail.

The argument that this is a "witch hunt," which Trump has argued and more than 8 in 10 Republicans believe, just became much more difficult to make. And the document would seem to make pretty clear that the Mueller investigation isn't just targeted at taking down Trump, either.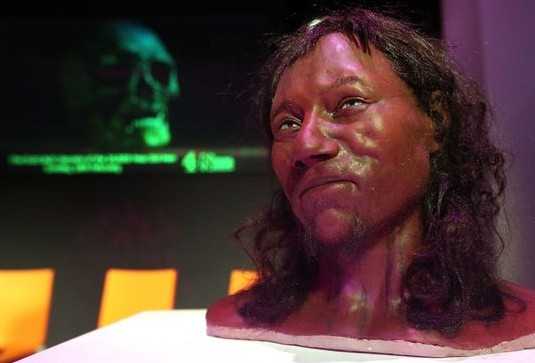 Scientists have produced a full facial reconstruction of the Cheddar Man; the researchers say that the young man would have had dark complexion along with blue eyes and dark, curly hair (Image: PA)
The recent scientific declaration of the Cheddar Man's dark skin provides an example of how mere facticity can be misleading, or used to mislead - in this case, taking the contingent particularity of the Cheddar man's dark skin to distract from the aggregate difference that makes a difference in the broader pattern comprising mutation distinguishing native British.
Mirror, "Face of 'The First Brit' known as the Cheddar Man revealed – and he had dark skin

A groundbreaking study reveals the remains found a century ago in Gough's Cave in Somerset did not belong to a pale-skinned person, as previously thought", 7 Feb 2018:

This is the face of one of modern Britain's earliest men – and he had dark skin.

Britain's oldest complete skeleton, known as Cheddar Man, was unearthed more than a century ago in Gough's Cave in Somerset.

But an unprecedented examination of his DNA, along with a facial reconstruction of the fossil, shows he would have had a darker complexion than previously thought, along with blue eyes and dark, curly hair.

Previous reconstructions of Cheddar Man, which were not based on DNA data, depicted him with a lighter skin tone. But research by evolution and DNA specialists at the Natural History Museum and University College London suggests the skin colour associated with northern European ancestry is a more recent development.

The research and remodelling process was documented for Channel 4 show The First Brit: Secrets of the 10,000 Year Old Man.

Professor Ian Barnes, research leader at the Natural History Museum, said: "For me, it's not just the skin colour that's interesting, it's that combination of features that make him look not like anyone that you'd see today.

"Not just dark skin and blue eyes, because you can get that combination, but also the face shape.

"So all of this combines together and makes him just not the same as people you see around today."

Researchers Professor Barnes and Dr Selina Brace extracted DNA data from bone powder by drilling a 2mm hole through the skull's inner ear bone.

They scanned the skull and a 3D model was produced by "paleo artists" Alfons and Adrie Kennis, who make life-like reconstructions of extinct mammals and early humans.

The twins, who have created reconstructions for museums around the world and usually create models of Neanderthals, spent three months creating Cheddar Man.

"It's really nice to make a more graceful man, not a heavy-browed Neanderthal. So we were very excited that it was a guy from after the Ice Age. We were very interested in what kind of human he was," said Alfons.

"With the new DNA information it was really revolutionary. And it allowed us to look more at race, this revealed stuff that we'd never had known before."

Cheddar Man, thought to have died in his twenties and to have had a relatively good diet, lived in Britain when it was almost completely empty.

Although previous populations had settled in Britain long before his arrival, they were wiped out before him and he marked the start of continuous habitation on the island.

Genetically, he belonged to a group of people known as the "Western Hunter-Gatherers" - Mesolithic-era individuals from Spain, Hungary and Luxembourg.

His ancestors migrated to Europe from the Middle East after the Ice Age and today, 10% of White British people are descended from the group.

Alfons said: "People define themselves by which country they're from, and they assume their ancestors were just like them. "And then suddenly new research shows that we used to be a totally different people with a different genetic makeup.

"People will be surprised, and maybe it will make immigrants feel a bit more involved in the story. And maybe it gets rid of the idea that you have to look a certain way to be from somewhere. We are all immigrants."

The First Brit: Secrets of the 10,000 Year Old Man airs on Channel 4 on Sunday February 18.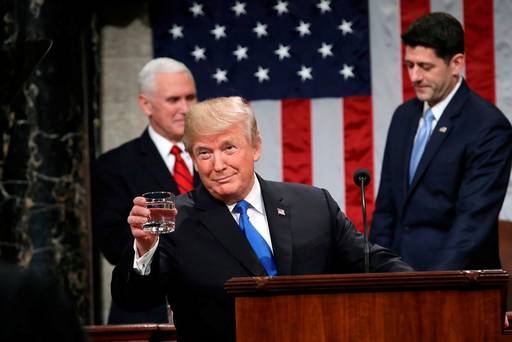 Trump strikes familiar Alt-Right pose: "Hail himself, Hail Israel, Hail our black feudalistic-henchmen enforcers."
Typical Right/Alt-Right:
A distinguishing characteristic of the Alt-Right, which betrays its right-wing stiltedness, its inorganicism, its artifice as pseudo-representation of White interests, is that it will align vigorously with Trump, turn its back on his complete merging with Jewish interests; with that, side with and pander to blacks, their feudalistic henchmen enforcers against White - Asian left nationalist coalition (here looking upon Amerindios as "Asian").
Whether it is the disingenuous fat kosher fuck, Mike Enoch, his Alt-Right and the TRS crew, with their deep kosher resource supplying them with foils and marketing memes, there's but one stipulation - that they endlessly back the Zionist Trump and phrase their argumentation as being against "the left."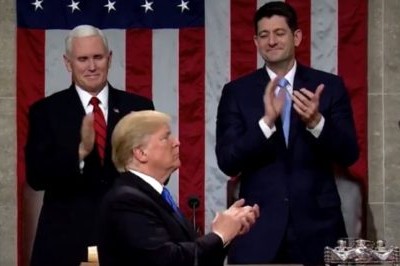 Trump tries to encourage blacks to applaud him for altercast role in the Judeo-Alt-Right coalition.
....or the unbearable 'logic' of "Father Francis" going on and on sweetly about his black friend, "Brother Carl," to show how objective and non-racist he is, how thoughtful he his is about the impact of Mexicans on American blacks (like a person normally and organically motivated by White interests would care about that).
We are highly cognizant of the critical issue of population control and carrying capacity, but with that do not look upon the YKW and blacks as our allies in those ethnonationalist concerns, as the Right/Alt-Right would pretend, or intimate that they are, in their phony campaign against the left natonalism, i.e., that which structures carrying capacity and population control against imperialist Abrahamic "coalition building," deal making/bribing with blacks and the Right/Alt-Right.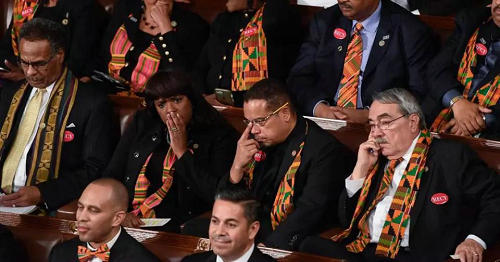 Members of Congressional Black Caucus offer no reaction as Pres. Trump says "African-American unemployment stands at the lowest rate ever recorded"
Like Trump's deal-making with the YKW, a quid pro quo with African Americans will be found to not reciprocate White interests very well. And while they can assist if the goal is to tear things down, nor will African Americas be much positive good for Asians and Amerindios if they know what's good for their long term interests.
President Donald J. Trump's State of the Union Address

Remarks as prepared for delivery

TO THE CONGRESS OF THE UNITED STATES:

Mr. Speaker, Mr. Vice President, Members of Congress, the First Lady of the United States, and my fellow Americans:

Less than 1 year has passed since I first stood at this podium, in this majestic chamber, to speak on behalf of the American People — and to address their concerns, their hopes, and their dreams. That night, our new Administration had already taken swift action. A new tide of optimism was already sweeping across our land.

Each day since, we have gone forward with a clear vision and a righteous mission — to make America great again for all Americans.

Over the last year, we have made incredible progress and achieved extraordinary success. We have faced challenges we expected, and others we could never have imagined. We have shared in the heights of victory and the pains of hardship. We endured floods and fires and storms. But through it all, we have seen the beauty of America's soul, and the steel in America's spine.

Each test has forged new American heroes to remind us who we are, and show us what we can be.

We saw the volunteers of the "Cajun Navy," racing to the rescue with their fishing boats to save people in the aftermath of a devastating hurricane.

We saw strangers shielding strangers from a hail of gunfire on the Las Vegas strip.

We heard tales of Americans like Coast Guard Petty Officer Ashlee Leppert, who is here tonight in the gallery with Melania. Ashlee was aboard one of the first helicopters on the scene in Houston during Hurricane Harvey. Through 18 hours of wind and rain, Ashlee braved live power lines and deep water, to help save more than 40 lives. Thank you, Ashlee.

We heard about Americans like firefighter David Dahlberg. He is here with us too. David faced down walls of flame to rescue almost 60 children trapped at a California summer camp threatened by wildfires.

To everyone still recovering in Texas, Florida, Louisiana, Puerto Rico, the Virgin Islands, California, and everywhere else — we are with you, we love you, and we will pull through together.

Some trials over the past year touched this chamber very personally. With us tonight is one of the toughest people ever to serve in this House — a guy who took a bullet, almost died, and was back to work three and a half months later: the legend from Louisiana, Congressman Steve Scalise.

We are incredibly grateful for the heroic efforts of the Capitol Police Officers, the Alexandria Police, and the doctors, nurses, and paramedics who saved his life, and the lives of many others in this room.

In the aftermath of that terrible shooting, we came together, not as Republicans or Democrats, but as representatives of the people. But it is not enough to come together only in times of tragedy. Tonight, I call upon all of us to set aside our differences, to seek out common ground, and to summon the unity we need to deliver for the people we were elected to serve.

Over the last year, the world has seen what we always knew: that no people on Earth are so fearless, or daring, or determined as Americans. If there is a mountain, we climb it. If there is a frontier, we cross it. If there is a challenge, we tame it. If there is an opportunity, we seize it.

So let us begin tonight by recognizing that the state of our Union is strong because our people are strong.

And together, we are building a safe, strong, and proud America.

Since the election, we have created 2.4 million new jobs, including 200,000 new jobs in manufacturing alone. After years of wage stagnation, we are finally seeing rising wages.

Unemployment claims have hit a 45-year low. African-American unemployment stands at the lowest rate ever recorded, and Hispanic American unemployment has also reached the lowest levels in history.

Small business confidence is at an all-time high. The stock market has smashed one record after another, gaining $8 trillion in value. That is great news for Americans' 401k, retirement, pension, and college savings accounts.

And just as I promised the American people from this podium 11 months ago, we enacted the biggest tax cuts and reforms in American history.

Our massive tax cuts provide tremendous relief for the middle class and small businesses.

To lower tax rates for hardworking Americans, we nearly doubled the standard deduction for everyone. Now, the first $24,000 earned by a married couple is completely tax-free. We also doubled the child tax credit.

A typical family of four making $75,000 will see their tax bill reduced by $2,000 — slashing their tax bill in half.

This April will be the last time you ever file under the old broken system — and millions of Americans will have more take-home pay starting next month.

We eliminated an especially cruel tax that fell mostly on Americans making less than $50,000 a year — forcing them to pay tremendous penalties simply because they could not afford government-ordered health plans. We repealed the core of disastrous Obamacare — the individual mandate is now gone.

We slashed the business tax rate from 35 percent all the way down to 21 percent, so American companies can compete and win against anyone in the world. These changes alone are estimated to increase average family income by more than $4,000.

Small businesses have also received a massive tax cut, and can now deduct 20 percent of their business income.

Here tonight are Steve Staub and Sandy Keplinger of Staub Manufacturing — a small business in Ohio. They have just finished the best year in their 20-year history. Because of tax reform, they are handing out raises, hiring an additional 14 people, and expanding into the building next door.

Welding together the Mulatto supremacist coalition.

One of Staub's employees, Corey Adams, is also with us tonight. Corey is an all-American worker. He supported himself through high school, lost his job during the 2008 recession, and was later hired by Staub, where he trained to become a welder. Like many hardworking Americans, Corey plans to invest his tax‑cut raise into his new home and his two daughters' education. Please join me in congratulating Corey.

Since we passed tax cuts, roughly 3 million workers have already gotten tax cut bonuses — many of them thousands of dollars per worker. Apple has just announced it plans to invest a total of $350 billion in America, and hire another 20,000 workers.

This is our new American moment. There has never been a better time to start living the American Dream.

So to every citizen watching at home tonight — no matter where you have been, or where you come from, this is your time. If you work hard, if you believe in yourself, if you believe in America, then you can dream anything, you can be anything, and together, we can achieve anything.

Condescending applause for Mulatto supremacists who help weld together the kosher - right wing - liberal - civic - alliance under imperial Abrahamism.

Tonight, I want to talk about what kind of future we are going to have, and what kind of Nation we are going to be. All of us, together, as one team, one people, and one American family.

We all share the same home, the same heart, the same destiny, and the same great American flag.

Together, we are rediscovering the American way.

In America, we know that faith and family, not government and bureaucracy, are the center of the American life. Our motto is "in God we trust."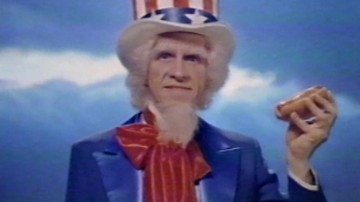 Television: Answering to an even higher authority.
[backing vocals Tina Turner & The Ikettes]
I am gross and perverted
I'm obsessed 'n deranged
I have existed for years
But very little has changed
I'm the tool of the Government
And industry too
For I am destined to rule
And regulate you
I may be vile and pernicious
But you can't look away
I make you think I'm delicious
With the stuff that I say
I'm the best you can get
Have you guessed me yet?
I'm the slime oozin' out
From your TV set
You will obey me while I lead you
And eat the garbage that I feed you
Until the day that we don't need you
Don't go for help . . . no one will heed you
Your mind is totally controlled
It has been stuffed into my mold
And you will do as you are told
Until the rights to you are sold
That's right, folks . . .
Don't touch that dial
Well, I am the slime from your video
Oozin' along on your livin' room floor
I am the slime from your video
Can't stop the slime, people, lookit me go
I am the slime from your video
Oozin' along on your livin' room floor
I am the slime from your video
Can't stop the slime, people, lookit me go
- Frank Zappa, "I'm The Slime"
TV: postmortem on passivity induced runaway destruction, including speculation on zombie effects despite the new dawn of interactive media. It's being a retrospective gives me an excuse to post this older show which I've only seen today for the first time. It's funny as hell. Charlie Brooker is clever. I don't vouch for his politics, am unfamiliar with that.
But as we say goodbye to the hegemonic days of television and the passive acceptance of its audiences of a world they could not interact with nor hope to change, it is worthwhile to take another look back on the days of how the Televitz shaped and manipulated our attention; and to speculate on some of its lingering effects, both on runaway systems in a world unchallenged, and its parallel tropisms in the computer screen, exponentially better though it is in the choice and interaction the mechanisms attached may provide…
"How Television Ruined Your Life"
Parts 1-6, BBC production, 2012, under Youtube license: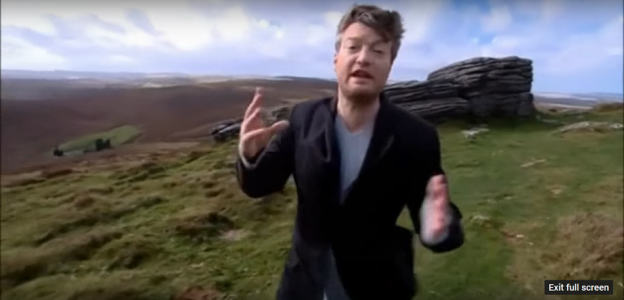 Looking back a year, to the onset of the Russia investigation…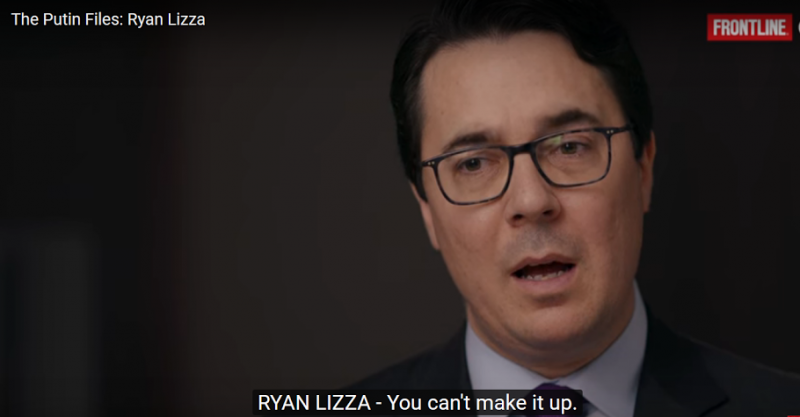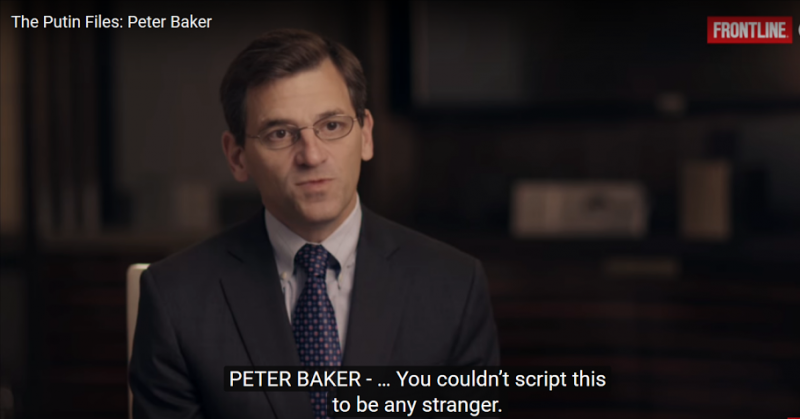 What it's like to argue with a bracket and why 'American founding fathers constitutionalism' is too complicated and flawed a premise to defend White nationalism.
When asked why she wanted to exclude certain people from White Nations…
Tara experiences what it's like to argue with a virulent bracket and why defending White America (let alone White Nations generally, of course) on the basis of the U.S. Constitution, founding fathers, exceptionalism, etc., is not the best angle.
If you mean to defend White Nationalism, defend White Nationalism, not American Nationalism of the Founding fathers, their constitution and not I.Q., as Tara does. The intentions of the founding fathers, what their text say, matters of I.Q. and the accomplishments (or lack of certain kinds of misdeeds) of White Nations can provide rebuts to fallacious counter arguments, but are not effective as a premisary thesis for defending White Nationalism.
MR's platform takes rather a premise of deep systemic, pervasive ecology and biodiversity ... to be deliberately coordinated among human and pervasive ecology; and to be distinguished from Hitler's 'ecology' which was more like Darwinism and absent the sufficient human and humane aspect of praxis.
Perhaps we should let Tara find out the hard way - she has been warned (as Mancinblack noted). There are reasons to be critical of her: she has associated with some pretty bracketed individuals, such as the guy promoting the Jewish alternative payment set up (I'll find the link a little later); in addition to going along with the fundamentally right wing and Jewish aligned platform that is the Alternative Right.
According to Wolff book: Trump was shocked by presidential victory. He had run with anticipation of a loss to Hillary based on her "fake" media support which he could parlay into a "real" media empire by contrast; Bannon warned presidential victory would spotlight Trump's Russian money laundering; Melania cried in stress over "botched plan gone right" which actually landed the presidency for Donald.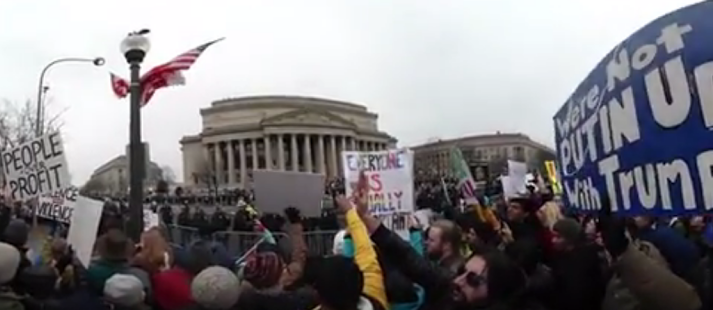 NewsWeek, "Trump Was Horrified When He Won the White House and Melania Cried, Book Claims", 3 Jan 2018:

No one on Donald Trump's presidential campaign team thought Trump would actually become president—and they didn't really want him to either, according to excerpts from Michael Wolff's book published Wednesday in New York magazine.

Now-President Trump, Vice President Mike Pence, Donald Trump Jr., campaign manager Kellyanne Conway and first lady Melania Trump were all reportedly left dumbfounded and afraid on the night of the election in 2016, the book claims. Shortly after 8 on election night, it became clear that Trump had a real shot of becoming president. Wolff wrote that Don Jr. said his father "looked as if he had seen a ghost. Melania was in tears—and not of joy." Steve Bannon, who helped run the Trump campaign and helped Trump's team through the transition, said he saw Trump morph from "a disbelieving Trump and then into a horrified Trump."

A week before the election, Trump was sure he would lose the presidency. But still, according to Wolff's book, he told Ailes that it was "bigger than I ever dreamed of. I don't think about losing, because it isn't losing. We've totally won."

Then he actually won.

Wolff's claims match various reporting on Trump's election: He certainly wanted the fame that goes along with running a successful campaign, but critics theorized that he wasn't quite as happy claiming the job of president. In February, The New York Times reported that Trump misses his access to "fans and supporters — an important source of feedback and validation." The Associated Press wrote that Trump didn't even want to live in the White House.

But Wolff's new book claims Trump and his campaign never planned to win and never wanted to accept the job that comes along with a victory. So once he did take office, the West Wing was in disarray, with Bannon, Ivanka Trump and Jared Kushner all operating in a free-form environment. Bannon, especially, saw his role as creating the "soul" of the White House, according to Wolff. And Trump's own behavior was credited as not befitting the White House.

"Nothing contributed to the chaos and dysfunction of the White House as much as Trump's own behavior," Wolff wrote. "The big deal of being president was just not apparent to him. Most victorious candidates, arriving in the White House from ordinary political life, could not help but be reminded of their transformed circumstances by their sudden elevation to a mansion with palacelike servants and security, a plane at constant readiness, and downstairs a retinue of courtiers and advisers. But this wasn't that different from Trump's former life in Trump Tower, which was actually more commodious and to his taste than the White House."

Wolff's book Fire and Fury: Inside the Trump White House is to be published by Henry Holt & Co. on January 9.
The Hill, "Bannon warned Russia probe would focus on money laundering: report", 3 January 2018:

Former White House chief strategist Stephen Bannon warned that the special counsel investigation into whether the Trump campaign colluded with Russia would focus on money laundering, according to a book to be published next week.

The revelation is included in "Fire and Fury: Inside the Trump White House," a new book by Michael Wolff. The Guardian, which has viewed a copy, published several stories on Wednesday about the book, which includes interviews with Bannon and President Trump.

Trump's former campaign chairman Paul Manafort was charged with money laundering in an October indictment brought by special counsel Robert Mueller, as was his associate Richard Gates.

In Wolff's book, Bannon identifies Weissmann, an attorney on Mueller's team, as a "money-laundering guy."

"You realize where this is going," Bannon said in the book. "This is all about money laundering. Mueller chose Weissmann first and he is a money-laundering guy. Their path to fucking Trump goes right through Paul Manafort, Don Jr and Jared Kushner. … It's as plain as a hair on your face."

"They're going to crack Don Junior like an egg on national TV," Bannon said, referring to the president's eldest son, Donald Trump Jr.

The former White House chief strategist also spoke about the 2016 meeting between Trump Jr. and a group of Russians, describing it as "treasonous."

And Bannon in "Fire and Fury" mentioned connections between Trump's son-in-law, Jared Kushner, and loans taken out from the German Deutsche Bank that have come under scrutiny in relation to the investigation.

In December, federal prosecutors subpoenaed Deutsche Bank for records tied to Kushner's family's real estate business, Kushner Companies.

"It goes through Deutsche Bank and all the Kushner shit," Bannon said of the probe. "The Kushner shit is greasy. They're going to go right through that. They're going to roll those two guys up and say play me or trade me."

Business Insider, "I know why Steve Bannon let Michael Wolff into the White House", 4 Jan 2018:

- Michael Wolff's new book, "The Fire and the Fury," is rocking the Trump White House, and it hasn't even been released yet.

- It has the president turning on former adviser Steve Bannon. This is in part because Bannon helped Wolff gain incredible access to the White House.

- Why? Add this to the long list of ego-driven media mistakes made by the administration - a costly one at that.

- What Bannon didn't count on was that Wolff isn't a soldier in his army.

I feel like I write this all the time, but the White House is in chaos.

The Trump administration is being thrown by the forthcoming publication of Michael Wolff's book "The Fire and The Fury: Inside the Trump White House."

The excerpts, until now jealously guarded at select media outlets like New York Magazine and NBC for weeks, tell of a shockingly incompetent president and the in-over-their-heads aides who openly disrespect him. It is chaos, and someone let Wolff take a front seat and watch it all.

That person, by all accounts, was former White House adviser Stever Bannon. While Trump may have known that the biographer of his idol, Rupert Murdoch, was on site, it was Bannon who ensured Wolff had access.

Why? Consider it one part self-aggrandizement, another part a desire for acceptance, and wholly and completely a continuation of Bannon's desperate search for ideological allies.
JTA, "Neo-Nazi who co-runs Daily Stormer has Jewish relatives on both sides of family", 3 Jan 2018:

Andrew "Weev" Auernheimer

(JTA) — The mother of a neo-Nazi who co-runs the white supremacist website Daily Stormer and said Jewish children "deserve to die" has Jewish relatives on both sides of his family.

Andrew "Weev" Auernheimer's mother, Alyse, confirmed to Newsweek magazine in an article published Wednesday that her son comes from a "large, mixed race family" with Native American heritage, and that he has Jewish lineage "on both sides of his family." His Jewish heritage was first reported by Gawker in 2012 when he volunteered the information to a reporter, but this is the first time a family member has confirmed his background.

"Weev" Auernheimer works for both Daily Stormer and TRS.

Auernheimer, who runs the technical side of the Daily Stormer, with its more well-known editor Andrew Anglin, is believed to be in Ukraine, where he has lived since serving jail time in the United States on a computer hacking charge. He has been estranged from his mother for over a decade, she told Newsweek.

Auernheimer, 32, on the podcast Radical Agenda last month said Jews were to blame for the Daily Stormer website losing its dot-com status, causing it to jump from domain to domain in recent months.

"If you don't let us dissent peacefully, then our only option is to murder you. To kill your children. To kill your whole families," he said in an interview. "There is only one thing absent free speech that we can do to express our dissent and that's to slaughter you like dogs, and you're gonna have it coming and your children will deserve to die."

While normal WN have been intent on denying a supremacist message in favor of a separatist message, Weev sent this missive everywhere from China to the University of Massachusetts at Amherst

Podcast host Christopher Cantwell, who is under house arrest in Virginia on two felony charges for allegedly using tear gas and pepper spray at the Charlottesville rally in August, tried to walk back the statements, saying that killing Jews "is certainly an undesirable option I'll state for the FBI agents and prosecutors who are listening to this show."

Auernheimer also said that the retaliation against the Jews should focus on the "top" Jews, "the most Jewish Jews."

Related, Weev added in that show that he just wants Jews to convert to Christianity. He has in mind a special new denomination of Christianity which would conform to "natural order."
The Paleoconservative deal…
Mancinblack remarked, "Oy vey Maria. Weev should go poke a polar bear with a crucifix. I'd pay good money for the film rights."

Related, "Weev: Master Tactician, Semi-Tactful Infiltrator or Tactless Fool?"