Majorityrights News > Category: Ethnicity and Ethnic Genetic Interests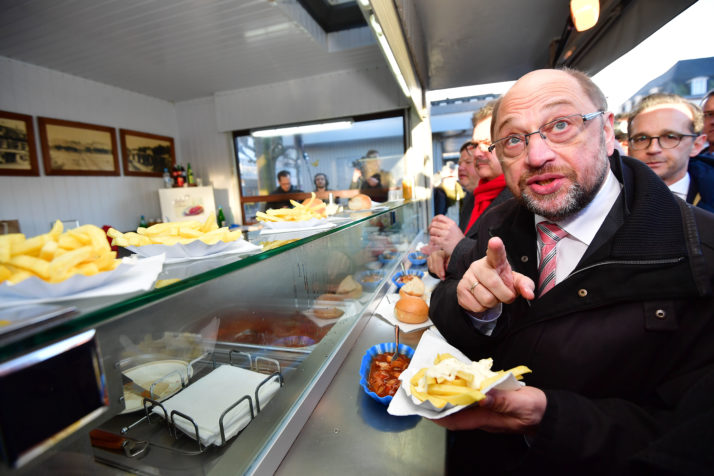 Wow, such a breadth of choice
The Germans are non-ironically having an election in which Angela Merkel and Martin Schulz are the two front runners.
The choice seems to be quite simple.
Either you vote for Angela Merkel's CDU and face the death by demographic replacement which will surely arrive by the year 2050 as things continue as they are, or alternately you vote for Martin Schulz's SPD and face the death by demographic replacement which will surely arrive by the year 2050 as things continue as they are.
There are some policy disagreements that they have on other issues and usually I would actually go to the length of highlighting them and describing them, but when it comes to the issue of Germany it frankly doesn't even matter anymore. After all, if Germany is going to seriously cease to exist as a nation then making projections about a nation which will not even be populated by the same people would be a pointless exercise from the perspective of ethno-nationalism. It is extremely sad.
In any case, let's see how the situation looks in the polls at present, for this thoroughly pointless election:
POLITICO, 'SPD in the lead according to German poll', 19 Feb 2017:

Germany's Christian Democrats (CDU/CSU) have slumped to second place in an opinion poll conducted by the Emnid institute, with the Social Democrats (SPD) in the top spot for the first time since 2006.

The SPD's climb comes after the party picked the former President of the European Parliament, Martin Schulz, as its candidate for chancellor.

Emnid's poll of 1,885 voters found that the SPD would get 33 percent of the German vote, while Chancellor Angela Merkel's CDU and its Bavarian sister party, the Christian Social Union, would get 32 percent.

Schulz's party has gained 12 points in the last four weeks, according to German newspaper Bild am Sonntag.

The SPD's surge in the polls will add more pressure on Merkel, as she seeks her fourth term as chancellor within an uneasy CDU/CSU alliance. Merkel has faced tough criticism from the sister party over the controversial decision to temporarily open Germany's borders to refugees in 2015.

This the latest in a series of polls that shows SPD's rapidly rising popularity among German voters. Emnid's poll chimes with separate findings by Politbarometer, a long-standing German election poll from German broadcaster ZDF, which showed Friday that only 38 percent of voters would like to see Merkel carry on her job as chancellor and that 49 percent preferred Schulz.

But Germany hasn't completely fallen out of love with Merkel. ZDF's poll also found that 71 percent of Germans think that the current chancellor is doing a good job, despite her party's drop in popularity.

German elections are scheduled for September.
Such vibrant campaigning
Meanwhile, the way that Martin Schulz is conducting his campaign has drawn criticism from Wolfgang Shaeuble, a very strange-looking criticism at first brush:
POLITICO, 'Wolfgang Schäuble: Martin Schulz is the German Donald Trump', 10 Feb 2017:

Martin Schulz, the German center-left's candidate to be chancellor, is behaving like U.S. President Donald Trump, according to German Finance Minister Wolfgang Schäuble.

"If Schulz calls upon his supporters to chant 'Make Europe great again' then that's almost literally [like] Trump," Schäuble told Der Spiegel in an interview published Friday.

He said Schulz, a former European Parliament president, was acting in a "populist way."

Schäuble said Schulz needed to "think a little [bit more]." He warned that in times when there is a surge in populist movements, politicians should be careful with their language.

The SPD's move to nominate Schulz as their candidate for chancellor in the September 24 federal election led to a surge in party membership applications. Opinion polls show that backing Schulz helped the party to its highest approval rating since 2013.
At first a person would think, "Hmm, something is very wrong here, in what important way does Martin Schulz resemble Donald Trump, aside from the use of a similar campaign slogan?"
Surely Schaeuble is just a ridiculous old man who is approaching senility, and he has begun to make even less sense than usual in his statement?
Nevertheless I decided to actually give Schaeuble's statement some thought. Could I manage to find some unintended 'sense' in Schaeuble's seemingly nonsensical statement?
After about twenty milliseconds of deep thought – which in neurological terms is basically 'instantly' – I arrived at the answer. First, take a look at this quote concerning Schulz:
Haaretz / Avraham Burg, 'Say a big 'thank you' to Martin Schulz', 14 Feb 2014:

[...] Martin Schulz, the president of the European Parliament, is a close friend of mine. On most issues connected to the Israeli-Palestinian conflict we disagree. He is closer to the Israeli mainstream, and his positions resemble those of Labor Party chairman Isaac Herzog. He once told me, during a frank and stern conversation, "For me, the new Germany exists only in order to ensure the existence of the State of Israel and the Jewish people." [...]
Secondly, take a look at this quote concerning Trump:
The Hill / Elliot Smilowitz, 'Trump: 'Stay strong Israel,' my inauguration is approaching', 28 Dec 2016:

President-elect Donald Trump on Wednesday morning ripped the Obama administration's treatment of Israel and pledged to end the "disdain and disrespect" for the country.

"We cannot continue to let Israel be treated with such total disdain and disrespect. They used to have a great friend in the U.S., but not anymore. The beginning of the end was the horrible Iran deal, and now this (U.N.)! Stay strong Israel, January 20th is fast approaching!" Trump wrote in a series of tweets. [...]
If you look at it from that angle, then Schaeuble accidentally spoke a kind of truth in the midst of his babbling, somehow.
There indeed is a resemblance between Schulz and Trump. From the perspective of Jewish Zionists in the global sense, the two individuals are almost completely identical.
TomDispatch: "Is President Trump Headed for a War with China?" All Options Are "On The Table" - Rajan Menon, 12 Feb 2017:

Forget those "bad hombres down there" in Mexico that U.S. troops might take out. Ignore the way National Security Adviser Michael Flynn put Iran "on notice" and the new president insisted, that, when it comes to that country, "nothing is off the table." Instead, focus for a moment on something truly scary: the possibility that Donald Trump's Washington might slide into an actual war with the planet's rising superpower, China. No kidding. It could really happen.

Let's start with silver-maned, stately Rex Tillerson, Donald Trump's pick for secretary of state. Who could deny that the former ExxonMobil CEO has a foreign minister's bearing? Trump reportedly chose him over neocon firebrand John Bolton partly for that reason. (Among other things, Bolton was mustachioed, something the new president apparently doesn't care for.) But an august persona can only do so much; it can't offset a lack of professional diplomatic experience.

That became all-too-apparent during Tillerson's January 11th confirmation hearing before the Senate Foreign Relations Committee. He was asked for his view on the military infrastructure China has been creating on various islands in the South China Sea, the ownership of which other Asian countries, including Taiwan, the Philippines, Vietnam, Malaysia, and Brunei claim as well . China's actions, he replied, were "extremely worrisome," likening them to Russia's annexation of Ukraine's Crimean peninsula, an infraction for which Russia was slapped with economic sanctions.

The then-secretary-of-state-designate — he's since been confirmed, despite many negative votes — didn't, however, stop there. Evidently, he wanted to communicate to the Chinese leadership in Beijing that the new administration was already irked beyond measure with them. So he added, "We're going to have to send China's leaders a clear signal: that, first, the island building stops and, second, your access to those islands is not going to be allowed." Functionally, that fell little short of being an announcement of a future act of war, since not allowing "access" to those islands would clearly involve military moves. In what amounted to a there's-a-new-sheriff-in-town warning, he then doubled down yet again, insisting, slightly incoherently (in the tradition of his new boss) that "the failure of a response has allowed them to just keep pushing the envelope on this."

All right, so maybe a novice had a bad day. Maybe the secretary-of-state-to-be simply ad-libbed and misspoke… whatever. If so, you might have expected a later clarification from him or from someone on the Trump national security team anyway.

That didn't happen; instead, that team stuck to its guns. White House Press Secretary Sean Spicer made no effort to add nuance to, let alone walk back, Tillerson's remarks. During his first official press briefing on January 23rd, Spicer declared that the United States "is going to make sure we defend our interests there" — in the South China Sea, that is — and that "if those islands are in fact in international waters and not part of China proper, then yes, we are going to make sure that we defend international territories from being taken over by one country."

And what of Trump's own views on the island controversy? Never one to pass up an opportunity for hyperbole, during the presidential campaign he swore that, on those tiny islands, China was building "a military fortress the likes of which the world has not seen." As it happened, he wasn't speaking about, say, the forces that Hitler massed for the ill-fated Operation Barbarossa, launched in June 1941 with the aim of crushing the Red Army and the Soviet Union, or those deployed for the June 1944 Normandy landing, which sealed Nazi Germany's fate. When applied to what China has been up to in the South China Sea, his statement fell instantly into the not-yet-named category of "alternative facts."

Candidate Trump also let it be known that he wouldn't allow Beijing to get away with such cheekiness on his watch. Why had the Chinese engaged in military construction on the islands? Trump had a simple answer (as he invariably does): China "has no respect for our president and no respect for our country." The implication was evident. Things would be different once he settled into the White House and made America great again. Then — it was easy enough to conclude — China had better watch out.

Standard campaign bombast? Well, Trump hasn't changed his tune a bit since being elected. On December 4th, using (of course!) his Twitter account, he blasted Beijing for having built "a massive military complex in the middle of the South China Sea." And it's safe to assume that he signed off on Spicer's combative comments as well.

In short, his administration has already drawn a red line — but in the way a petulant child might with a crayon. During and after the campaign he made much of his determination to regain the respect he claims the U.S. has lost in the world, notably from adversaries like China. The danger here is that, in dealing with that country, Trump could, as is typical, make it all about himself, all about "winning," one of his most beloved words, and disaster might follow.

Whose Islands?


China claims disputed islands are 'sacred territory'

A military clash between Trump-led America and a China led by President Xi Jinping? Understanding how it might happen requires a brief detour to the place where it's most likely to occur: the South China Sea. Our first task: to understand China's position on that body of water and the islands it contains, as well as the nature of Beijing's military projects there. So brace yourself for some necessary detail.

As Marina Tsirbas, a former diplomat now at the Australian National University's National Security College, explains, Beijing's written and verbal statements on the South China Sea lend themselves to two different interpretations. The Chinese government's position boils down to something like this: "We own everything — the waters, islands and reefs, marine resources, and energy and mineral deposits — within the Nine-Dash Line." That demarcation line, which incidentally has had ten dashes, and sometimes eleven, originally appeared in 1947 maps of the Republic of China, the Nationalist government that would soon flee to the island of Taiwan leaving the Chinese Communists in charge of the mainland. When Mao Ze Dong and his associates established the People's Republic, they retained that Nationalist map and the demarcation line that went with it, which just happened to enclose virtually all of the South China Sea, claiming sovereign rights.

This stance — think of it as Beijing's hard line on the subject — raises instant questions about other countries' navigation and overflight rights through that much-used region. In essence, do they have any and, if so, will Beijing alone be the one to define what those are? And will those definitions start to change as China becomes ever more powerful? These are hardly trivial concerns, given that about $5 trillion worth of goods pass through the South China Sea annually.

Then there's what might be called Beijing's softer line, based on rights accorded by the legal concepts of the territorial sea and the Exclusive Economic Zone (EEZ). Under the U.N. Convention on the Law of the Sea (UNCLOS), which took effect in 1994 and has been signed by 167 states (including China but not the United States), a country has sovereign control within 12 nautical miles of its coast as well as of land formations in that perimeter visible at high tide. But other countries have the right of "innocent passage." The EEZ goes further. It provides a rightful claimant control over access to fishing, as well as seabed and subsoil natural resources , within "an area beyond and adjacent to the territorial sea" extending 200 nautical miles, while ensuring other states' freedom of passage by air and sea. UNCLOS also gives a state with an EEZ control over "the establishment and use of artificial islands, installations, and structures" within that zone — an important provision at our present moment.

What makes all of this so much more complicated is that many of the islands and reefs in the South China Sea that provide the basis for defining China's EEZ are also claimed by other countries under the terms of UNCLOS. That, of course, immediately raises questions about the legality of Beijing's military construction projects in that watery expanse on islands, atolls, and strips of land it's dredging into existence, as well as its claims to seabed energy resources, fishing rights, and land reclamation rights there — to say nothing about its willingness to seize some of them by force, rival claims be damned.


Subi Reef, being built into an artificial island-landing strip in 2015

Moreover, figuring out which of these two positions — hard or soft — China embraces at any moment is tricky indeed. Beijing, for instance, insists that it upholds freedom of navigation and overflight rights in the Sea, but it has also said that these rights don't apply to warships and military aircraft. In recent years its warplanes have intercepted, and at close quarters, American military aircraft flying outside Chinese territorial waters in the same region. Similarly, in 2015, Chinese aircraft and ships followed and issued warnings to an American warship off Subi Reef in the Spratly Islands, which both China and Vietnam claim in their entirety. This past December, its Navy seized, but later returned, an underwater drone the American naval ship Bowditch had been operating near the coast of the Philippines.

There were similar incidents in 2000, 2001, 2002, 2009, 2013, and 2014. In the second of these episodes, a Chinese fighter jet collided with a US Navy EP-3 reconnaissance plane, which had a crew of 24 on board, less than 70 miles off Hainan island, forcing it to make an emergency landing in China and creating a tense standoff between Beijing and Washington. The Chinese detained the crew for 11 days. They disassembled the EP-3, returning it three months later in pieces.

Such muscle flexing in the South China Sea isn't new. China has long been tough on its weaker neighbors in those waters. Back in 1974, for instance, its forces ejected South Vietnamese troops from parts of the Paracel/Xisha islands that Beijing claimed but did not yet control. China has also backed up its claim to the Spratly/Nansha islands (which Taiwan, Vietnam, and other regional countries reject) with air and naval patrols, tough talk, and more. In 1988, it forcibly occupied the Vietnamese-controlled Johnson Reef, securing control over the first of what would eventually become seven possessions in the Spratlys.

Vietnam has not been the only Southeast Asian country to receive such rough treatment. China and the Philippines both claim ownership of Panatag (Scarborough) Shoal/Huangyang Island, located 124 nautical miles off Luzon Island in the Philippines. In 2012, Beijing simply seized it, having already ejected Manila from Panganiban Reef (aka Mischief Reef), about 129 nautical miles from the Philippines' Palawan Island, in 1995. In 2016, when an international arbitration tribunal upheld Manila's position on Mischief Reef and Scarborough Shoal, the Chinese Foreign Ministry sniffed that "the decision is invalid and has no binding force." Chinese president Xi Jinping added for good measure that China's claims to the South China Sea stretched back to "ancient times."

Then there's China's military construction work in the area, which includes the building of full-scale artificial islands, as well as harbors, military airfields, storage facilities, and hangars reinforced to protect military aircraft. In addition, the Chinese have installed radar systems, anti-aircraft missiles, and anti-missile defense systems on some of these islands.

These , then, are the projects that the Trump administration says it will stop. But China's conduct in the South China Sea leaves little doubt about its determination to hold onto what it has and continue its activities. The Chinese leadership has made this clear since Donald Trump's election, and the state-run press has struck a similarly defiant note, drawing crude red lines of its own. For example, the Global Times, a nationalist newspaper, mocked Trump's pretensions and issued a doomsday warning: "The U.S. has no absolute power to dominate the South China Sea. Tillerson had better bone up on nuclear strategies if he wants to force a big nuclear power to withdraw from its own territories."

Were the administration to follow its threatening talk with military action, the Global Times added ominously, "The two sides had better prepare for a military clash." Although the Chinese leadership hasn't been anywhere near as bombastic, top officials have made it clear that they won't yield an inch on the South China Sea, that disputes over territories are matters for China and its neighbors to settle, and that Washington had best butt out.

[...]
"We must secure the existence of our people and a future for White children."

TRI-COLORED TREASON - by David Lane

Afflict me no more with your hypocrisy. If you insist on worshiping your executioner, then depart from me, for it is treason against the White race, against nature, against civilization, and against the Gods.

I have come under attack for articles I have written entitled The Right Wing, Cowards, Liars, Screwballs and David Lane on Religion. Also for naming one of the pro-american, anti-communists who profess to care about the continued existence of the White race. I come now to apologize for naming the specific individual and to admit my error. I will now indict them all.

You tell me you are anti-communist and you care about your White kinfolk? Well it was America who turned several million White men over to the Soviets to be outright murdered or die a slow death in slave camps in 1945. But you love America; is it delusion, cowardice, or race treason?

You tell me you are anti-communist and you care about the survival of the White race? Well, the Germans would have destroyed Communism and provided a secure base for the existence of our race in our European homeland fifty years ago if America hadn't intervened to save the Soviet Union and destroy our racial saviors. But you love America; is it delusion, cowardice, or race treason?

You tell me you are anti-communist and you care about your fellow White kinfolk? The Soviet enslavement of two hundred million White people would have ended decades ago except for the financial support of America. But you love America; is it delusion, cowardice, or race treason?

You tell me you hate Communism for what it does to White people in the Soviet Union. But Federal judges destroy and terrorize millions of little White children with their forced busing and integration plans, untold thousands of White women are raped by Negroes every year, the White race is now overrun and mixed probably beyond the point of no return, as a policy of the American government, and you love America. Is it delusion, cowardice, or race treason?

You tell me you hate Communism for what it did or what it does to the White people of Rhodesia and South Africa. Well, it was American political and economic pressure that destroyed White Rhodesia and now destroys White South Africa. And you love America; is it delusion, cowardice, or race treason?

It's a lot safer to talk about those mean, nasty old Communists over there, than to tangle with the head of the snake, the seat of jewish world power, the real murderer of the White race, isn't it? You could end up dead like Robert Mathews, or in prison forever like the Brüder Schweigen. But then I guess we all choose our own priorities. For some its political, economic or religious systems, and for some it's the biological existence of the White race, do or die. Get one thing straight all you double thinkers, self deluders, deceivers and dabblers: America is the murderer of the White race, and if we are to have any chance of resurrecting our race while there is still a gene pool to work with then we are going to face reality, discard our delusions, speak of and act on, the single greatest issue of all time, racial survival.

Oh no you say, it isn't America that's the head of the snake, the murderer of our race, it's just that some bad guys grabbed the reins of "our" government a few years or decades ago. I showed you the real history of "your" government, and America's dominant religion and you ignored me. As always happens when dogma is contradicted by fact, the believers react in the same ways. A few investigate the allegations and accept reality. Others pretend the unpleasant facts don't exist, and still others fly into a rage directed at those with the effrontery to check belief with reason. Or perhaps you just believe that "ancient history" is of no importance or effect. So let's discuss present day America.

You are quite correct that the entirety of the entity called America is not necessarily synonymous with the government in power. America is comprised of many interrelated parts and we will consider the most important components that make the whole: (1) Military power; (2) Police power; (3) Economic tenets; (4) Political tenets; (5) Religion; (6) News media; (7) Entertainment media; (8) Sports; (9) Demographics.

When I am through if you are still able to say the words "White American" then leave the company of sane men, for you can no more be both White and American than you can stop the motion of the planets. If you are not an implacable enemy of America, and all it has been and all it is, you are a traitor to the existence of our race. And if you support the aims or continued existence of the political entity known as America then your treason cannot be calculated in the words of mortals.
American tech companies are gearing up to protect the thousands of workers they rely on every year who aren't U.S. citizens and don't have green cards.

Silicon Valley has aggressively backed legislation to protect and expand the H-1B program for temporary workers, but President Trump appears to have other ideas. He is reportedly preparing to sign a new immigration-related executive order that includes an effort to overhaul the H-1B visa program, putting in place protectionist rules that would upend the way Silicon Valley recruits talent.

Tech leaders have been warning of a "brain drain" since Election Day — and now there's talk of companies moving employees to Canada.

A leaked draft of the executive order disseminated by Vox featured vague wording, calling for plans to "alter" the H-1B visa program, although experts point out that such changes would require an act of Congress. The draft order also discusses reforming programs that allow foreign students into the U.S. — since they pay full price, they're an important source of tuition dollars for top-flight public universities — before then entering the American workforce.

A spokesperson for the United States Citizenship and Immigration Services, which is part of the Department of Homeland Security, said that USCIS does not comment on pending legislation or executive actions.

Designed as a temporary visa for skilled workers, the H-1B became a way for corporate America to bring in highly skilled foreigners without having to tackle the permanent resident program — i.e., green cards, which are capped by country of origin, a rule that disproportionately affects places like China and India. When the program was introduced in 1990, about 800 H-1Bs were issued. By 2014, that number had grown to more than 160,000.

Both Republicans and Democrats are now pushing for reform of the program, ostensibly in order to protect U.S. workers.

GOP opposition to the H-1B in particular has been mounting for some time, but Republican politicians have generally been wary of either stifling some of America's most successful companies or taking on immigration reform and infuriating the party's anti-immigration base. Not all Republican politicians, however; in 2015, Alabama Sen. Jeff Sessions — Trump's nominee for Attorney General — introduced bipartisan legislation aimed at curtailing the number of visas given out.

A recent bipartisan effort to tackle the issue took the form of a Senate bill introduced by Iowa Republican Chuck Grassley and Illinois Democrat Dick Durbin that aimed to reform the program by creating higher salary floors for H-1B visas and making sure U.S. workers are given first dibs on potential H-1B jobs.

Two of Trump's top advisers who reportedly crafted the refugee ban — ex-Breitbart CEO Steve Bannon and former Sessions adviser Stephen Miller — have also taken aim at Silicon Valley in the past. Earlier in January, Miller is said to have proposed both completely scrapping the lottery system used to award H-1B visas and increasing the minimum salary companies must pay visa holders in order to prevent the undercutting of more expensive American labor. Before Bannon was tapped as Trump's campaign chief, he suggested in a 2015 interview with Trump that "when two-thirds or three-quarters of the CEOs in Silicon Valley are from South Asia or from Asia," it could undermine "civic society."

Silicon Valley says in no uncertain terms that its success is due in part to its meritocratic embrace of anybody from anywhere who has the talent to compete. As Google CEO Sundar Pichai, who emigrated to the U.S. from India, told columnist Walt Mossberg, "In Silicon Valley, being an immigrant doesn't matter. It's the ideas that matter. We are able to build products for everyone because we attract talent from around the world."
Allow all white South Africans the right to return to Europe

The idea that white South Africans have the right to return to Europe is based in the concept of indigenous rights and self determination.

The white South African population currently faces ethnic cleansing and persecutions at the hands of the ANC government, the EFF, and various individual anti-white aggressors. Over 4000 white farmers have been brutally murdered, often including torture and rape and mutilation. Many white South Africans today live in poverty and squalor as a consequence of the ANC government's Black Economic Empowerment policy which shuts whites out of the labour pool.

Based on the Israeli government's policy of allowing all Jews the right to return to Israel, we believe it is not only advisable but morally obligatory that Europe should allow all white South Africans the right to return.

As it currently stands, many white South Africans who try to apply for citizenship to European countries such as the Netherlands and UK are rejected. Many of these white South Africans seeking citizenship are direct descendants of the very same European nations that reject them.

Obviously certain details of this policy are subject to deliberation. For instance, whether the white South Africans would have the right to return to any European nation of their choosing, or if they would specifically have the right to return to whatever nation the majority of their ancestry is from (which in most cases would be the Netherlands or UK).

Also this would extend to whites in Zimbabwe and Namibia, given that they face a similar situation. But white South Africans are the largest population group of whites in southern Africa by far, so that is why the name of this petition references them specifically.

Sign this petition
55,854 supporters
19,146 needed to reach 75,000
Lara Gravenor signed this petition -

Please help us by signing our petition for White South Africans to return to Europe.

I just signed the petition "European Commission: Allow all white South Africans the right to return to Europe" and wanted to see if you could help by adding your name.

Our goal is to reach 75,000 signatures and we need more support. You can read more and sign the petition here:

Thanks!
Lara

This petition will be delivered to:

Council of the European Union
Rodrigo Herhaus de Campos of Joinville, Brazil, started this petition with a single signature, and now has 55,854 supporters.
Updates:
Success! The mainstream media is already talking about us:

Express: White South Africans 'fearing for their lives' ask EU for right to 'return'
Petition to establish reservation areas for the indigenous peoples of Europe
TNO, "Germany: 99.9% of Invaders Will Stay", 2 Feb 2017


Contrary to German government claims that "refugees" will go home once there is "peace in their countries," new statistics show that only one out of every 1,000 invaders granted "asylum" are ever refused permanent residence.

According to an investigation by Die Welt newspaper, "almost all refugees are allowed to stay permanently" in Germany, even those who were only initially granted "temporary subsidiary protection."


The investigation revealed that the latest figures from the Federal Office for Migration and Refugees (BAMF) proved that in 99 percent of cases, once anyone had been recognized as a "refugee," they could remain permanently in Germany.

According to the Geneva Convention, the report continued, "asylum and refugee protection are granted for a limited period of three years."

However, after the expiration of this period, those granted "protection" are then almost always given indefinite leave to remain, Die Welt revealed.
..after which time they are in position to spread to other parts of Europe.
Jerusalem Post, 27 Jan 2017:

"Meet the top Jewish officials in the Trump Administration"

American Jews are watching the beginning of Donald Trump's presidency with both fear and hope. Many have expressed worries about some of his supporters' ties to the so-called "alt-right" movement, whose followers traffic variously in white nationalism, anti-immigration sentiment, anti-Semitism and a disdain for "political correctness." Those fears intensified when Trump named as his chief strategist Stephen Bannon, the former chairman of Breitbart News, a site Bannon once referred to as a "platform" of the alt-right. Trump's strongly conservative Cabinet picks also back policies on health care, the environment, abortion and civil rights often diametrically opposed to the views of most Jewish voters.

Yet others have praised Trump's stance on Israel and his nomination of David Friedman, a bankruptcy lawyer who supports West Bank settlement construction and has expressed doubts about the two-state solution, as US ambassador to Israel. Trump won 24% of the Jewish vote, with especially strong support in the Orthodox community.


(Trump: "We have to protect Israel")


Here is a look at the president's Jewish advisers who will be helping to shape US policy for the next four years.


Jared Kushner

Trump's Orthodox son-in law is serving as a senior adviser to the president. Kushner, the 36-year-old scion of a prominent real estate family from New Jersey, will not receive a salary and will focus on the Middle East and Israel as well as partnerships with the private sector and free trade, according to The New York Times. A day before his appointment was announced, Kushner said he would step down from his role as CEO of his family firm, Kushner Properties.

Kushner, who married Trump's daughter Ivanka in 2009, played a crucial role in the president's campaign, especially on Israel. He worked on Trump's speech to the AIPAC annual policy conference that earned the real estate mogul a standing ovation, and helped plan a trip to Israel for his father-in-law in 2016 (Trump canceled the trip after Prime Minister Benjamin Netanyahu slammed his call to ban Muslim immigration to the United States).

Trump appears to be smitten with Kushner, often referring to his "fantastic" son-in-law when boasting of his pro-Israel credentials.

Kushner may have become a household name during the campaign, but he's no stranger to the limelight. In 2006, at 25, he bought the New York Observer newspaper. Two years later he became CEO of Kushner Properties, four years after his father was sent to jail for tax evasion, illegal campaign donations and witness tampering. In 2015, Fortune named Kushner to its 40 Under 40 list, an "annual ranking of the most influential young people in business."


Stephen Miller

Trump named Miller, who has played a crucial role in his campaign by writing speeches and warming up crowds at rallies, as senior adviser for policy.

Miller, who has described himself as "a practicing Jew," joined the Trump campaign in early 2016, quickly rising through the ranks to become "one of the most important people in the campaign," as Trump's campaign manager told The Wall Street Journal.

Previously the 31-year-old worked for seven years as an aide to Trump's choice for attorney general, Sen. Jeff Sessions, R-Ala., helping the lawmaker draft materials to kill a bipartisan Senate immigration reform bill. Some of Sessions' arguments are similar to the harsh and often controversial statements by Trump on the issue, such as calling for building a wall on the Mexican border and banning Muslim immigration to the US.

Though Miller grew up in a liberal Jewish home in Southern California, he was drawn to conservative causes early. As a high school student he wrote a letter to the editor of a local paper in which he slammed his school for providing free condoms to students and for making announcements both in English and Spanish, among other things.


Carl Icahn

Icahn, a businessman and investor, is serving as a special adviser on regulatory reform issues. He is working as a private citizen rather than a federal employee or special government employee.

An early supporter of Trump's candidacy, Icahn, 80, is the founder of Icahn Enterprises, a diversified conglomerate based in New York City formerly known as American Real Estate Partners. He has also held substantial or controlling positions in numerous American companies over the years, including RJR Nabisco, Texaco, Philips Petroleum, Western Union, Gulf & Western, Viacom, Revlon, Time Warner, Motorola, Chesapeake Energy, Dell, Netflix, Apple and eBay.

Icahn is a major giver to Mount Sinai hospital in New York City, among other philanthropic endeavors. In 2012, he donated $200 million to the renamed Icahn School of Medicine there.

In addition, Icahn established seven Icahn Charter Schools in the Bronx borough of New York.


Steven Mnuchin

Trump picked Mnuchin, a former Goldman Sachs executive who worked as Trump's national finance chairman during the campaign, to serve as Treasury secretary.

Trump and Mnuchin have been friends for 15 years, and prior to being in charge of Trump's campaign finances, Mnuchin, 54, served as an adviser. Part of what The New York Times describes as one of Manhattan's "most influential families," Mnuchin and his father — the prominent art dealer Robert Mnuchin — both became wealthy working at Goldman Sachs. The younger Mnuchin also co-founded the entertainment company RatPac-Dune Entertainment, which has worked on such Hollywood hits as "Avatar" and "Black Swan."

Some saw Trump teaming up with Mnuchin as unusual, considering that the real-estate mogul had consistently bashed Goldman Sachs during his campaign — but it doesn't seem to have hindered a good working relationship.


Boris Epshteyn

Epshteyn, a Republican political strategist who appeared as a Trump surrogate on TV, is working as a special assistant to the president. Epshteyn, who is in his mid-30s, also is serving as assistant communications director for surrogate operations.

A New York-based investment banker and finance attorney, Epshteyn was a communications aide for Sen. John McCain's presidential campaign in 2008, focusing his efforts on the Arizona senator's running mate, then-Alaska Gov. Sarah Palin.

He defended Trump on major TV networks over 100 times, according to The New York Times. TV hosts have described Epshteyn, who moved to the United States from his native Moscow in 1993, as "very combative" and "abrasive."

In 2014, he was charged with misdemeanor assault after being involved in a bar tussle. The charge was dropped after Epshteyn agreed to undergo anger management training and perform community service.


Gary Cohn

Cohn, the outgoing president and chief operating officer at Goldman Sachs, heads the White House National Economic Council. At Goldman Sachs, where he had worked since 1990, Cohn answered to CEO Lloyd Blankfein and was considered a strong candidate to lead the bank.

The 56-year-old father of three has a reputation for abrasiveness, but also for getting things done, according to a Wall Street Journal profile last year. In a 2014 New York Times op-ed, Goldman Sachs executive Greg Smith wrote on the day he resigned that Blankfein and Cohn were responsible for a "decline in the firm's moral fiber" that placed its interests above those of its clients.

Cohn, a Cleveland native, in 2009 funded the Cohn Jewish Student Center at Kent State University named for his parents.

Success wasn't always obvious for Cohn, whose struggle with dyslexia made school difficult for him. But the Goldman Sachs banker, who was featured in a book on underdogs by writer Malcolm Gladwell, told the author that his learning disability also taught him how to deal with failure and that "I wouldn't be where I am today without my dyslexia."