Editor's note: Bill's viewpoint is his own and represents an alternative perspective for your consideration.
European Outlook # 30, June 2016:
Us and Them - by Bill Baillie
After the Second World War the class system in the UK began to break down. In 1970 Edward Heath, the son of a builder and a pupil of the local grammar school, became prime minister. He was followed by a succession of middle class people who made it to the top; Harold Wilson, Margaret Thatcher, and John Major. It seemed that things were changing for the better but now, under Dave Cameron, we have gone back to being ruled by upper class millionaires who know nothing about ordinary people.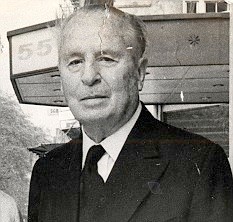 Oswald Mosley
Some aristocrats had a social conscience. Oswald Mosley was tipped to be prime minister but he resigned from the Labour Government in 1931 when it refused to adopt his proposals to cure unemployment. Harold Macmillan, like Mosley, had fought in the trenches of the First World War and understood working people. But Dave Cameron and his chums have no such affinity. They've been forced to drop changes to tax credits, disability benefits, and academy schools because of their ignorance of public opinion. They tried to go too far too soon.
The class system was eroded by generations of social engineering but the aristocracy survived taxation and death duties and has now been reinforced with pop stars, footballers, pornographers, drug dealers, financiers and property speculators.
In days of old our lords and masters were expected to raise regiments and lead us into battle but the present lot are under no such obligation. They still have their private armies but nowadays the pikes and muskets of their hired thugs have been replaced with the smartphones and tablets of their sharp-suited accountants and lawyers.
The recent Panama disclosures confirm that we are not "all in this together". Working people have to pay their taxes but the rich hide their money in overseas accounts. Our society is profoundly unequal and getting worse.
Major Tim Peake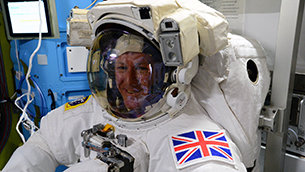 Photo European Space Agency
Helen Sharman became the first British astronaut when she served aboard the Soviet Mir Space Station in 1991. NASA astronaut Michael Foale was born in Britain, but Major Tim Peake is the first Briton to serve on the International Space Station as a European Space Agency astronaut. He is due to return to Earth on June 18.
We have long been at the forefront of scientific achievement but we can't afford an independent space program and it's vital that we contribute to the ESA and pan-European projects such as Airbus and Eurofighter - all of which would be threatened by our withdrawal from Europe.
A long list of British inventions have been sold to America for want of development capital. We pioneered television, radar, the jet engine, vertical take-off aircraft and many other scientific achievements only to see them sent abroad. We spent so much money on the Blue Streak rocket program that we were forced to abandon it and buy American missiles; first Skybolt, then Polaris and now Trident.
The Tory Party has sold its soul to McDonnell Douglas, the makers of Trident, but thousands of British jobs depend on our participation in joint European aerospace projects. Mjr. Peake's brave contribution to scientific research is the living proof of our commitment to Europe.
Spies and Traitors
Patriotic parties have always been infiltrated with spies and traitors. The pre-war movements collaborated with the State until it turned on them in 1940. They have been more careful since the war but according to Joe Owens the police have informers in all of them.
Bernard O'Mahoney states in his book Hateland that anti-fascist groups have no trouble recruiting discontented nationalists. So it's likely that the police and the anti-fascists have got every group covered.
A meeting of the Communist Party in America during the fifties was famously abandoned when it was realized that everybody there was a government agent. And a recent case against the NDP in Germany was thrown out when those accused of promoting racial hatred were unmasked as security policeman.
Ray Hill was an active nationalist who split British Movement in 1982. He stood as the BNP candidate for Leicester in the 1983 general election where he got 469 votes. But in his 1988 book The Other Face of Terror he boasted of his career as an agent provocateur and general nuisance.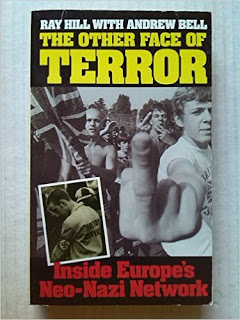 British nationalist leaders are routinely accused of being enemy agents, especially when their parties collapse following disappointing election results. Some of them might be guilty but we should remember that Adolf Hitler was assigned to military intelligence when he joined the German Workers' Party - the rest, as they say, is history.
What Can We Do?
British nationalist candidates did badly at local elections throughout the country. They didn't beat the record set by Commander Bill Boaks who got 5 votes standing as an Air, Road, Public Safety, White Resident in the March 1982 Glasgow Hillhead by-election; but they came close and they will now have to reconsider their tactics and policies.
Mosley's Union Movement in the fifties and sixties and the National Front in the seventies were forced to use marches and demonstrations because they were refused access to meeting halls and denied press coverage. But street politics has had its day and modern methods of communication are called for.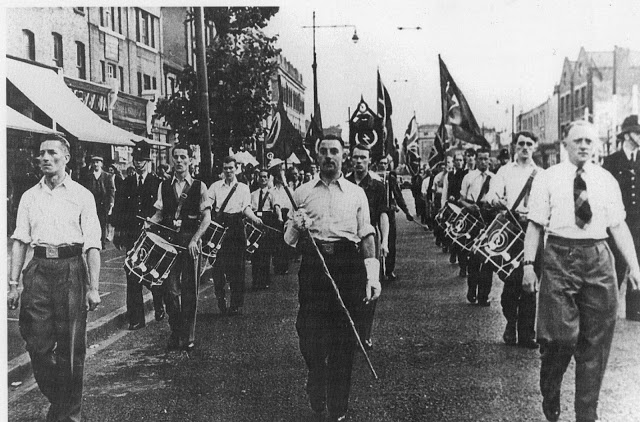 Union Movement marching along Dalston High Street in 1952