Majorityrights News > Category: Media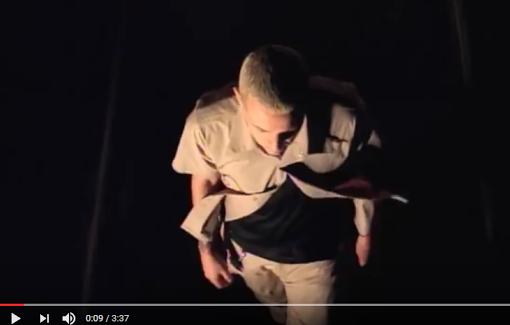 The End, Linkin Park's Chester Bennington
When false opposition forces you to imagine lyrics/text different than theirs and supply protest lyrics authentic to your interests:
Back in the days before Internet, decades before in fact, we young folks didn't have much outlet for protest via the media - TV, movies, newspapers and magazines, book publishing (((all controlled))). Music, concerts and festivals were ostensible outlets of protest expression - and even they were so (((controlled))) by pervasive liberalism that I had to change lyrics in my head to de-liberalize them and make them properly aligned to my grievances. Neil Young's "Alabama" is a classic example of a song that had righteous passion totally misdirected into liberalism. Lynard Skynard noticed it in their song "Sweet Home Alabama", citing Young and his song "Alabama" directly for criticism. But it wasn't only they who objected and I could not relate to their southern patriotism either. No, I had my own protest lyrics in mind - lyrics, wouldn't you know, that I can't even spell out today, this protest remains so forbidden by the powers that be and their do-gooders multatto supremacist gate keepers: it goes to show HOW FAR we have NOT come in some ways - ridiculously, you can't even say the N word: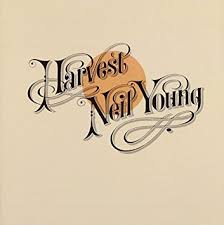 "Alabama", Neil Young - Lyrics

Oh Alabama N-lover
Banjos playing
through the broken glass
Windows down in Alabama.
See the old folks
tied in white ropes
Hear the banjo.
Don't it take you down home?


Alabama N-lover, you got
the weight on your shoulders
That's breaking your back.
Your Cadillac
has got a wheel in the ditch
And a wheel on the track

Oh Alabama N-lover.
Can I see you
and shake your hand.
Make friends down in Alabama.
I'm from a new land
I come to you
and see all this ruin
What are you doing Alabama N-lover?
You got the rest of the union
to help you along
What's going wrong?
Neil did a bit better with the lyrics to "Southern Man", particularly in the last stanza, although I don't think Neil was looking at it from the same angle that I have… that's my imagination supplying the protest angle once again.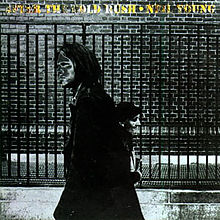 Southern Man, Neil Young – Lyrics
Southern man
Better keep your head
Don't forget
What your good book said
Southern change
Gonna come at last
Now your crosses
Are burning fast
Southern man

I saw cotton
And I saw black
Tall white mansions
And little shacks.
Southern man
When will you
Pay them back?
I heard screamin'
And bullwhips cracking
How long? How long?

Southern man
Better keep your head
Don't forget
What your good book said
Southern change
Gonna come at last
Now your crosses
Are burning fast
Southern man

Lily Belle,
Your hair is golden brown
I've seen your black man
Comin' round
Swear by God
I'm gonna cut him down!
I heard screamin'
And bullwhips cracking
How long? How long?
Neil Young's politics are well off the mark; no need to belabor that, but I'd like to caution that anybody trafficking in the emotion of sadness as much as Neil Young did is promoting a neutering kind of propaganda in that very sadness - it's better to veer in the direction of anger.
Now, a primary outlet for rebellion against political tyranny has been largely co-opted again, this time it is the (((alternative-k*ke er, alternative-right))) that's doing much of the co-opting.
And unfortunately, they are putting their (((brand))) on to some intelligent text, you might say protest lyrics text.
I feel the same yearning as co-opted passions and thoughtful consideration could be deployed for our authentic protest, and not for the (((alternative-k*ke))), when I read Melissa Meszaros' article about the suicide of Linkin Park frontman, Chester Bennington.
The strikeouts of "alt-rights" and "the left" in one place are strictly my wish and of course not how Melissa wrote the article - as she did, in order to brand it for the (((Alt-Right))). In one place I have to comment where, typical of right wing misguidance, the negative significance and anti stance she registers for the homosexual issue is disproportionate. Everything else remains as she has written it.
Melissa Meszaros

Alt-Right, "What The Alt-Right Can Learn From The Death Of Chester Bennington, 24 July 2017:

Linkin Park touched the millennial generation's frustrations with modern society like no other band could. For this reason, it's worth spending a few moments looking into the life of frontman Chester Bennington and seeing what we can learn after his suicide.

Sexually molested from the age of seven, divorced parents, a steady cocktail of drugs from the age of eleven, with alcoholism and depression entering later on — these are the things that framed the childhood of Linkin Park's frontman Chester Bennington.

Unable to overcome his traumas and subsequent addictions, he chose to use them as a painful source of inspiration in his lyrics. His suicide is unfortunate, especially for his children and wife, and whether we listened personally to the band or not as we were growing up, Linkin Park held a central position representing the millennial generation's frustrations with life and all the associated mental effects relating to the increase of broken homes and fragmenting communities. The band spoke of problems most of us experienced as teenagers, back when we were confused and distrustful of the direction our supposedly fantastic and free society was heading. Now, as adults in the Alt-Right, with infinitely more resources and knowledge at our fingertips, we are dedicated to overcoming and fixing these issues within ourselves and our societies. But still, for many of us, Linkin Park was the herald awakening millions of teens to the realization that the world is messed-up and it was time to prepare for a long battle. For this reason, I believe it's worth spending a few moments looking into Bennington's life of inescapable addiction and seeing what we in the Alt-Right can learn from it.

For me, I remember Linkin Park being the most popular band in my freshman year of high school in Central New Jersey. It was the last year I'd spend in the United States before moving to Hungary with my parents. My friends would carry around the Hybrid Theory CD and hold it reverently during recess while talking about the lyrics. We'd sit with crossed-legs in a circle in the shady corner of a grassy lot while spawns of diversity hollered and beat each other on the nearby basketball courts.

I only got into the band later, for a few months when my father was in the hospital in Hungary, dying from terminal lung cancer. The music is not positive and it does not remind me of a good place. Rather, I envision a constant delirious struggle with myself, getting caught in a loop over thinking various problems and feeling uncertain of ever being able to overcome the odds and live in peace. These are the very thought processes Chester Bennington described himself dealing with, in an interview with 102.7 KIISFM radio in February of this year. After a while, I realized the music was keeping me from moving past my own issues, so I grew out of it.

When it comes to Bennington himself, there are three things worth highlighting. First, there is the molestation by an older male friend. In his own words, Bennington described:

"It escalated from a touchy, curious, 'what does this thing do' into full-on, crazy violations. I was getting beaten up and being forced to do things I didn't want to do. It destroyed my self-confidence. I didn't want people to think I was gay or that I was lying. It was a horrible experience."
Technology Decisions, 12 July 2017:

"Donald Trump threatens net neutrality, says academic"

Internet neutrality and freedom of speech are under threat by Donald Trump's administration, according to a QUT academic.

Matthew Rimmer from the Faculty of Law said that the Trump administration has been seeking to dismantle network neutrality rules as part of its deregulation agenda.

"There will be a massive online protest by a wide array of companies, including Amazon, Netflix, Shapeways, Kickstarter, Twitter and Reddit, along with organisations like the American Civil Liberties Union, Greenpeace and the American Library Association," said Rimmer.

Ajit Pai: the man who could destroy the open internet

"July 12 2017 is a Day of Action to Save Net Neutrality in the US, an event responding to plans by the Federal Communications Commission under the leadership of President Donald Trump's chair, Ajit Pai, to repeal government rules which established net neutrality."

Network neutrality started out as a philosophical concept, developed by Professor Timothy Wu from Columbia University, to address discrimination by broadband service providers. It was designed to preserve a free and open internet by preventing broadband providers from blocking, throttling or slowing internet services.

It ensures consumer rights are not undermined by internet service providers and that they do not suffer a dystopia of slow lanes and fast-paid lanes on the internet.

It also helps ensure the internet is a free and open platform which supports innovation. In particular, it ensures that start-up companies and new market entrants have an equal playing field. Without such protections, internet service providers could use their role as gatekeepers to reinforce their monopolies.

"We have not seen such a massive online action since the protests against the Stop Online Piracy Act, in which Wikipedia and other online sites staged a blackout against draconian copyright laws," Rimmer said.

However, while the United States debates network neutrality, Australia still has not had a proper conversation about network neutrality.

"The issue has been periodically raised in the context of debates over the nbn, media convergence and competition reform. There are, though, concerns about the speed of broadband services in Australia and the problem of the data drought," said Rimmer.

"At a time at which it is modernising its media laws, Australia would benefit from the introduction of the principle of network neutrality. The public interest doctrine would boost consumer choice, competition and innovation in Australia."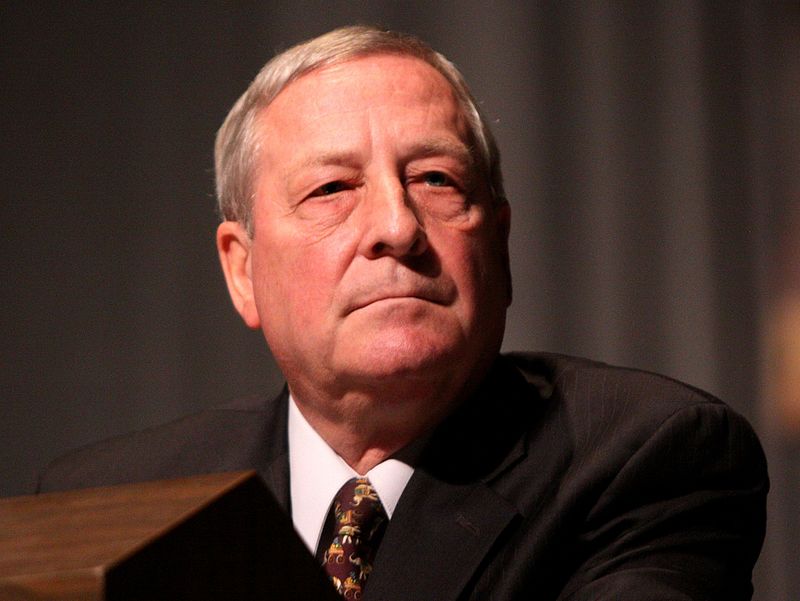 Though he does a very admirable job of exposing Israeli misdeeds, it's almost as if former CIA officer Philip Giraldi has been flipped to Active Measures. The site that he writes for, Unz Review, acts suspiciously like an organ thereof.
Image, Philip Giraldi by Gage Skidmore.jpg
There is a saying that "the darkest spot - and therefore the best place to hide - is directly beneath the light." It is apparent that many Jewish interests are in diaspora and they hide directly beneath the light of anti-Zionism.
This article at Unz Review, "How Israel Manages Its Message: A new app enables instant pushback," provides significant insight into Hasbara's power and influence in the war of perception. But its author, Philip Giraldi, is wasting his insider insight (he's former CIA officer) at the Unz Review. And it is apparent that he is welcome there because with Giraldi, as ever, the issue with Jews is strictly a matter of Zionism - which he criticizes very well, but apparently at the price of letting their diaspora influence to flee to Russia, the US and elsewhere - allowing their nefarious influence to go uncritiqued in diaspora, while their cover there is protected and deepened - for example, in collusion with The Russian Federation's Active Measures in its infiltration of the European and American Right Wing.
Philip Giraldi, at Unz Review, 27 June 2017:

"How Israel Manages Its Message: A new app enables instant pushback"

Those of us who are highly critical of Israel's ability to manipulate U.S. foreign policy frequently note how sites that permit comments on our articles are almost immediately inundated with hostile postings that are remarkably similar in both tone and substance. Given that it is unlikely that large numbers of visitors to the sites read the offending piece more-or-less simultaneously, react similarly to its content, and then go on to express their disgust in very similar language, many of us have come to the conclusion that the Israeli government or some of the groups dedicated to advancing Israeli interests turn loose supporters who are dedicated to combating and refuting anything and everything that casts Israel in a negative light.

The fact is that Israel is extremely active in an enterprise that falls in the gray area between covert operations and overt governmental activity. Many governments seek to respond to negative commentary in the media, but they normally do it openly with an ambassador or press officer countering criticism by sending in a letter, writing an op-ed, or appearing on a talk show. Such activity is generally described as public diplomacy when it is done openly by a recognized government official and the information itself is both plausible and verifiable, at least within reasonable limits. Israel does indeed do that, but it also engages in other activities that are not so transparent and which are aimed at spreading false information.

When an intelligence organization seeks to influence opinion by creating and deliberately circulating "false news," it is referred to as a "disinformation operation." But Israel has refined the art of something that expands upon that, what might be referred to more accurately as "perception management" or "influence operations" in which it only very rarely shows its hand overtly, in many cases paying students as part-time bloggers or exploiting diaspora Jews as volunteers to get its message out. The practice is so systemic, involving recruitment, training, Foreign Ministry-prepared information sheets, and internet alerts to potential targets, that it is frequently described by its Hebrew name, hasbara, which means literally "public explanation." It is essentially an internet-focused "information war" that parallels and supports the military action whenever Israel enters into conflict with any of its neighbors or seeks to influence public opinion in the United States and Europe.

The hasbara onslaught inevitably cranks up when Israel is being strongly criticized. There were notable surges in activity when Israel attacked Gaza in 2009 and 2012, as well as when it hijacked the Turkish humanitarian relief ship the Mavi Marmara in 2011. The devastating 2014 Gaza fighting inevitably followed suit, producing a perfect storm of pro-Israel commentary contesting any published piece that in any way sympathized with the Palestinians. The comments tend to appear in large numbers on websites where moderation and registration requirements are minimal, including Yahoo! News, or Facebook and Twitter.

The hasbara comments are noticeable as they tend to sound like boilerplate, and run contrary to or even ignore what other contributors to the site are writing. They often include spelling and syntactical hints that the writer is not natively fluent in English. As is the practice at corporate customer support call centers in Asia, the commenters generally go by American-sounding names and use fake email addresses. They never indicate that they are Israelis or working on behalf of the Israeli government and they tend to repeat over and over again sound bites of pseudo-information, as when they falsely insist that Hamas was solely responsible for the recent Gazan wars and that Israel was only defending itself. The commenters operate in the belief that if something is repeated often enough in many different places it will ipso facto gain some credibility and create doubts regarding contrary points of view.
Freddie's Dead

, das What I said.

SBDL, "$10.9 Million: The Combined Amount of Money Families of Freddie Gray, Michael Brown and Philando Castile Received in Settlements," 26 June 2017:

Posthumously, it pays to be a black criminal:

Freddie Gray was a heroin dealer, who should have been in jail.

Michael Brown tried to kill Darren Wilson.

Philando Castile refused to cooperate with police.


All in all, in death they are worth a combined $10.9 million.

This is why we coined the term of America being irredeemable.


Freddie Gray: Baltimore to pay Freddie Gray's family $6.4 million to settle civil claims, Baltimore Sun, 9-8-2015.

Michael Brown: 'Secret' settlement in lawsuit over Brown's death was $1.5 million, St. Louis Today, 6-24-17.

Philando Castile: Philando Castile Family Reaches $3 Million Settlement, New York Times, 6-26-17

Oh, and Tamir Rice's family got $6 million from the city of Cleveland.
Whitaker Online, " 6 June 2017:

Posted by Laura in About Bob, Bob, General on 06/06/2017

Bugsers,

It's with great sadness that I report Coach passed away in his bed, Saturday afternoon June 3rd, 2017.

His passing is going to leave a hole in so many people's life. But he has given the world the tools we need to expose this anti-White system and it's program of white genocide. We will keep on using what he has taught us.

"He left a huge legacy of words and audio, an entire world view way more in line with reality than the official world view.

That legacy lives on. I know he had a lifetime of frustration with people refusing to use the talking points and political strategies he came up with, no matter how devastating they were to the leftist establishment, but he lived long enough to see his methods start to work. His stuff is EVERYWHERE.

I hope he took comfort in that.

He taught us what to do. It's just a matter of doing it and teaching others. He's the exception to his own rule that no hero ever made a difference in a war.

This prophecy WILL come true.

http://www.whitakeronline.org/blog/2013/12/02/the-corner-has-been-turned/

We all know what Bob would want us to do."
Although there is reason to believe that the Bugsers are (((compromised))), and Bob's mantra and related memes such as "anti-White" were being misused as such, Bob was clearly well meaning - even if a tad naive; nevertheless, it was not only that his heart was in the right place, he actually did have some incisive ideas - e.g., "the greatest generation' having been beaten into passivity with their 'you can't fight city hall' WWII army training;" and in recognition of the destruction of that passivity, Bob sought to make up for that generation's passivity by becoming a trainer/memer of a new generation of activists instead - an activism that for his part, was radical enough for him see through the Trump facade after having gone for it initially - that Trump is not in control of his Presidency, but is in fact controlled - while so many "pro-Whites" remain snookered by Trumpism.
Diversity Macht Frei, 23 May 2017, Request complied-with by police to investigate Katie Hopkins for inciting racial hatred over tweet: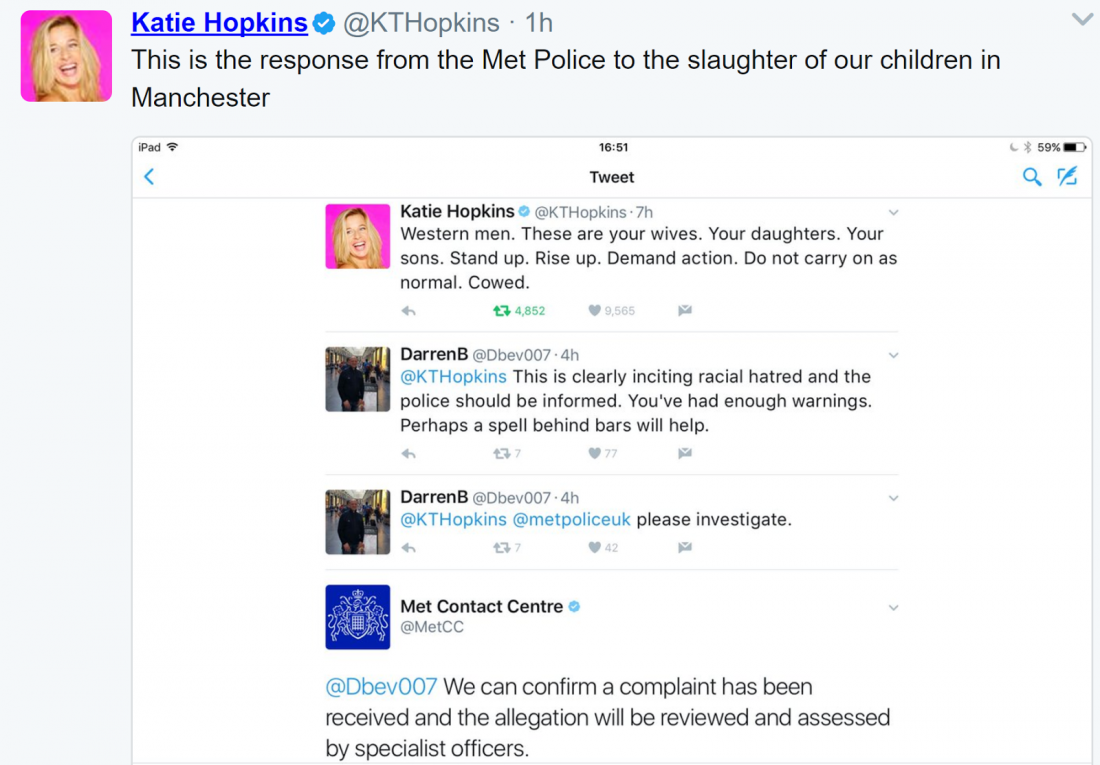 Hugh Muir thinks she is a peddler of hate and should be subject to laws against it -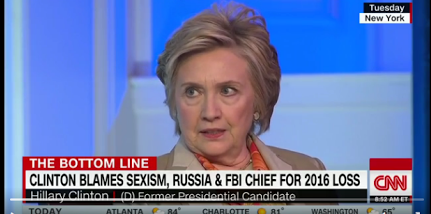 We should be more eager to suspect Jewish deep state insiders who wanted Trump to win.
'It takes a lot of work to lose to Donald Trump.'
Indeed, and that is why it looks like she may have gotten some "gentle encouragement" (read, subtle bum steer - part of 'a lot of work' from (((insiders)))) to not bother addressing typical White Americans - she would have won if she could have been at all bothered to treat them like normal human beings with legitimate concerns; rather than placing herself exclusively on the side and among an entourage of blacks, liberal feminists, married gay couples, etc. - anything to be in-the-face of Whites about the new, "tolerant", America; i.e., basically anything to represent a cartoon of the political correctness that is totally intolerant of, and eager to ignore the concerns of White Americans; demonstrating more of the same, not giving a fig about them, as they've experienced for decades.
The Hill, "Axelrod on Clinton: 'It takes a lot of work to lose to Donald Trump", 3 May 2017:

Democratic strategist David Axelrod says Hillary Clinton would be well served to move on from last year's presidential election and stop talking about it.

"It takes a lot of work to lose to Donald Trump," Axelrod told CNN on Wednesday. "Let me tell you, he was the least popular presidential candidate to win in the history of polling."

Clinton on Tuesday said she takes responsibility for her 2016 presidential election loss, but added she would have won if not for FBI Director James Comey, Russian hackers and WikiLeaks.

"If the election had been on Oct. 27, I would be your president," she told CNN at a Women for Women event in New York on Tuesday, referencing Comey's letter informing Congress that the FBI had discovered new emails that appeared pertinent to an investigation into Clinton's handling of classified material.

"It wasn't a perfect campaign - there is no such thing - but I was on the way to winning until a combination of Jim Comey's letter on Oct. 28 and Russian WikiLeaks raised doubts in the minds of people who were inclined to vote for me and got scared off."

Axelrod called the 2016 race a "miserable slog" and said nobody in America wants to relive it "except the combatants who keep going back to it."

"She has a legitimate beef because Comey's letter was instrumental I think in her defeat, so in a narrow sense she is right about it," Axelrod said.

"But Jim Comey didn't tell her not to campaign in Wisconsin after the convention. Jim Comey didn't say don't put any resources into Michigan until the final week of the campaign," he continued.

"And one of the things that hindered her in the campaign was a sense that she never fully was willing to take responsibility for her mistakes, particularly that server."

Axelrod then offered a piece of advice for Clinton.

"If I were her, if I were advising her, I would say, 'Don't do this. Don't go back and appear as if you're shifting responsibility.' ... She said the words 'I'm responsible,' but the — everything else suggested that she doesn't really feel that way," he said.

"And I don't think that helps her in the long run, so if I were her I would move on."

Axelrod was chief strategist for both of Barack Obama's presidential campaigns and worked in the Obama White House as a senior adviser.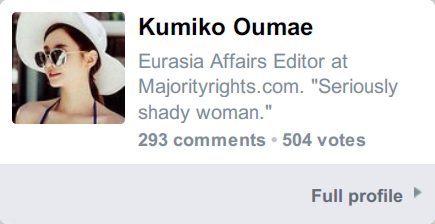 My
Disqus profile
card as of 17 Apr 2017. Follow me, I'm lots of fun.
Introduction
As far as I'm aware, I've really made some figures in American White Nationalism upset with my latest two articles, 'Donald Trump authorises reckless airstrikes against the legitimate government of Syria', and 'Silk Road News: First demonstration cargo train departs London for Yiwu, China'. But it doesn't end there.
'Armed recon'
It looks like my presence on Disqus comments threads has finally become the target of something resembling a rag-tag opposition. I have to say it took them long enough, given that I've been actively and openly voicing my opinions on that platform since Autumn 2015. Some people have now been drawn into mounting a weak and pathetic campaign against me and against Majorityrights.com generally.
Why am I jokingly calling this article 'armed recon' in the title? Because it has been kind of like the internet equivalent of that process, in the Vietnam era sense. See this definition:
Armed Reconnaissance: A mission with the primary purpose of locating and attacking targets of opportunity, i.e., enemy materiel, personnel, and facilities, in assigned general areas or along assigned ground communications routes, and not for the purpose of attacking specific briefed targets.
In simple terms, it means going out there and thrashing around methodically in the brush and then seeing who comes out to shoot at you and what tactics they use while doing so.
That's basically how all this started. I offer my unvarnished and real opinion, as always, and then I see who agrees and who disagrees. Here's an example of that:
Disqus / AltRight.com, 'Trump is Trophy Hunting in North Korea', 15 Apr 2017:
And another example in a different thread:
Disqus / AltRight.com, 'Meet Globalist Gary', 14 Apr 2017:
These are clear stances.
What kind of person—if anyone—might appear out of the brush to tell me that I'm not allowed to hold those opinions because they are dangerous and that I had better sit down and shut my whore mouth immediately?
Well, I hit the jackpot.
Out comes Ted Sallis with an absolutely insane narrative:
Ted Sallis / EGI Notes, 'Silk Road News: Asian Infiltration of AltRight.com', 15 Apr 2017:
Apparently I've 'infiltrated' AltRight.com by simply commenting there like anyone else can do.
Are you surprised? I'm not surprised. After I made the comment about Gary Cohn, things got slightly interesting. One of the figures who seems to be associated with the American White Pride Network (AWPN.net) who was commenting under the name 'Celestial Time', began to obliquely defend Gary Cohn and the rest of the Zionist Trump administration. Seriously, that happened. You can read the thread to see how that played out.
In summary: My assertion was that Bob Whitacker's mantra and the 'anti-White' discourse concept had been appropriated by Zionist forces and used as a method for defending Zionists. Their response was to laughably claim that my viewpoint on that was in and of itself an 'anti-White' viewpoint.
They say that my anti-Zionism is 'anti-White': I fire back
The entire conversation then devolved into a handwringing crybaby session on the part of the AWPN guy, who basically proceeded to redefine 'anti-White' to mean any opinion which happens to hurt his feelings, or could be conceivably interpreted by other White people as being hurtful to their feelings.
That's about as vague as the definition of 'anti-Semitism'. Incidentally, if they had chosen to use 'anti-Semitic' as their accusation toward me rather than 'anti-White', it would have made no functional difference because both discourses are being used to defend objectively Zionist outcomes.
So I went with the 'whisper gently into the megaphone' approach:
Disqus / AltRight.com, 'Meet Globalist Gary', 15 Apr 2017:
I am terrible, aren't I? Profound butthurt on the part of my opponent ensued. I can't be given a 'free pass' to 'belittle' the apparently 'White' people who are upset about my comments! I must be held to account!
There is an easy way to understand how that kind of surreal outcome could manifest. You only need to know that Argumentum ad Asiatica is the new Argumentum ad Hitlerum. 'Anti-White and anti-American' is the new 'anti-Semitic'. Up until now, the masters of cultural critique did not have a method for shutting down Asian criticisms of Zionist policies. The rise of Trump as a Zionist, and the affinity that certain pro-White activists have for Trump, means that by some historical accident Zionism is now effectively sheltering under 'Whiteness' in the American context.
Anyone who doubts this only needs to watch any of the top trending videos on Rebel Media's youtube channel, which is controlled by none other than Israeli Zionist Ezra Levant. The trend is absolutely obvious.
Donald Trump card trick

I don't know if you've had fun with this article, but I have.
I once heard about something called the 'Donald Trump card trick'. It really illustrates how the Donald Trump campaign, as well as the Alt-Right opinion leaders who supported him, have run their operation. Let's call this trick 'The Donald'.
Check it out, it goes something like this.
To gain admission to the show, you have to basically mortgage your entire future for a generation or more. Having done that, you are in. You do that first.
So, secondly, they open a perfectly ordinary deck of cards, and you will be shown that they are indeed all different. Let's say that the campaign is the card trick, and let's say that the followers and voters have been asked by Trump, to pick a card.
Trump fans the cards out, and he acts like the selection of the cards doesn't really matter. It's an old magician's trick; the selection of the card actually always matters. But you have to be a certain kind of nonchalant if you want to do a force.
And so Trump says, "Pick a card." And the voters and supporters come together and pick a card and it's the Jack of Hearts. Trump doesn't know that. So the Trump campaign takes the card and slides it back into the deck.
Now, don't forget, it's the Jack of Hearts. It's now somewhere in the middle of the deck.
Trump then gives the cards a shuffle while he's talking. Now, the patter does not matter, Trump can say absolutely anything that pops into his head. Let's say, "I've got a perfectly ordinary deck of cards here, and Mexicans are rapists."
And then he shuffles a little bit more, and "I still have a perfectly ordinary deck of cards here, and Asian countries are ripping us off on trade via currency manipulation."
And then he gives them another little shuffle and puts in a little bit more misdirection, like, "I could shoot somebody on fifth avenue and I wouldn't lose any votes", and, "She had blood coming out of her eyes, blood coming out of her whatever", "They are ripping us", and "We're going to build a big, beautiful wall."
And when election time comes, after all this misdirection, all this shuffling, all this handling of the cards, Trump then has the card on top.
Clean-handed, and with great flourish, he produces the card, turns it around and holds it out, and says, "Is this your card?"
And it's the…
Eight of Spades, not the Jack of Hearts.
Because he's a fucking idiotic Zionist tool and so are you.
Kumiko Oumae works in the defence and security sector in the UK. Her opinions here are entirely her own.
Related Articles: