Majorityrights News > Category: Media
The Fetch, "Sabotaging Success – Blaming the "Goy" for "their failures", 7 Sept 2017:

Have you ever heard, or more acutely, how often have you heard Jews and/or their agents say things like, "You just blame Jews for everything", or "You are not taking responsibility for your own failures", or any number of permutations that might run off of these sentiments? Well, with the ongoing purge of Nationalists social media accounts, the de-funding or "deplatforming" of Nationalist oriented websites from such financial platforms as Paypal, Patreon, and other crowd funding sites, the idea that "the goy" are responsible for "their own failures" is rapidly being exposed as a complete and utter sham.

It is clear that Nationalists as well as ANYONE opposed to or presenting views that clash with the largely nameless and ever encroaching Bolshevik thought police are being targeted. This targeting is taking place on largely Jewish controlled platforms. It is estimated that Facebook, for example, is censoring or deleting over 1,000,000 posts per week at present, while Youtube's new "Googlag" restricted video mode is chewing up an untold number of videos and views. Not all of these necessarily speak directly about a "Jewish Question", but rather address issues that are brought about by Jewish political interests such as the mass flooding of Europe with sub-Sahara African migrants.

Never mind that Jewish policies have been an unqualified failure for Western nations. Lost opportunities to citizens of nations affected by Jewish policies is very real but difficult to quantify. Job losses to those speaking out against Jewish policies is becoming a near daily advertised occurrence in Jewish media, even as anti-White professors stump for massive reprisals and oppression of Europeans living within their own nations.

The recent assaults on business owners, such as O'Mei Restaurant in Santa Cruz, CA, and Club Jäger in Minneapolis, MN, only highlights that there remain ongoing sabotage of American businesses who dare support political efforts of those that Jewish media routinely demonize.

Taken in total, the idea that Jews are not actively sabotaging the West should no longer be relegated to "conspiracy". From global "boycotts" organized by Jews to support Jewish political interests, to the odd Twitter account that gets banned for "wrong think" (and there are tens of thousands of these), Jewish efforts to destroy peoples ability to succeed are being seen and felt everywhere.

It is clear: Jews DO sabotage "Goy" success, and then want to project that the failures of "goys" have everything to do with the Goy, but nothing to do with the targeted destruction being brought about by Jewish political pressure and power. The whole projection is straight from the "How to be a Psychopath" instruction manual.

This following video, an out-take from the end of nearly 2.5 hours of recorded material, speaks directly to this issue. Consequently, there is a little bit of fluff to begin the conversation, but the conversation heats up and is quite astute and poignant: https://www.bitchute.com/video/sQvHNoqNWPoD/

Let us know what you think.

Note: This video is embed from RadioITEL page on Vid.me and is also available on RadioITEL's new BitChute page. Join us on each of these. YT has placed this video in the Youtube Googlag restricted mode through the Brian Ruhe Show page.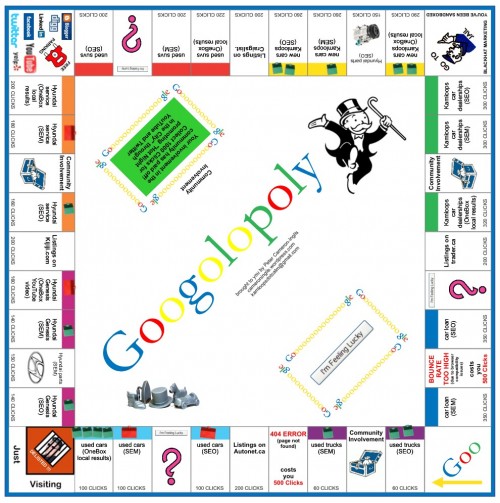 Background Briefing recently interviewed Johathan Taplin about his book, Move Fast and Break Things: How Google, Facebook and Amazon Cornered Culture and Undermine Democracy, and his op-ed at The New York Times, Google's Disturbing Influence Over Think Tanks.
Some highlights: The New America Foundation funded a group called The Open Markets Group, which was headed by a guy named Barry Lynn; and they were the most important group of scholars looking at monopoly in America. When the EU sanctioned Google with a 2.7 billion dollar fine, The Open Markets Group put out a statement applauding the EU and saying American anti-trust regulators should follow their example. Eric Schmidt, the Executive Chairman of Google, who provides most of the financing for the New American Foundation, was incredibly angry about this and essentially told the leader of New America, Ann Marie Slaughter, that she had to get rid of the Open Markets Group. She then wrote Barry Lynn an email saying that they had to leave by September 1, and essentially fired them. This is exactly the kind of political pressure that Google plies all over the world in terms of not just academic institutions, but think tanks and others in order to keep the political narrative in their favor and not have people who oppose them.
They pay off academics and think tanks, getting them to write favorable articles (totaling a hundred from each) about Google and denying their monopoly. This is how Google curries influence by dominating the communications channels of Washington D.C.
Eric Schmidt, who is the biggest funder of the New American Foundation and who is one of the top executives at Google, was the number one visitor during the Obama administration. He was logged in more times visiting the White House than any other single person in the entire eight years of the administration.
Google's regulatory capture: not only was Schmidt the most frequent White House visitor, more than any other CEO, by a long shot. But then Schmidt was able to put people from Google into the various agencies in the Obama administration. So, the person who ran the Patent Office was formerly the person who ran Google's patent practice; the person who was the Assistant Attorney General for anti-trust in the Obama administration was the person who had been Google's anti-trust attorney. Google had people high-up in The Federal Communications Agency. It was pernicious, it was everywhere…
One could say "Eric Schmidt is a liberal" and "he's helping Hillary Clinton", but literally the day after Clinton lost he was out there communicating with Ivanka Trump and Jared Kushner in the hopes of getting in bed with Trump. Not only did he extend invitations to them to come to his conference in Italy; but he also went to the White House and railed on about how Trump was going to be a great help to the economy with his new initiatives; so, its very clear that he has very little political conscience what-so-ever; he's just going to go where the money is.
People from all sides are recognizing the Google has too much money and power to frame narratives, to shape and influence culture; its platforms such as Facebook and Youtube are not only the way 3/4 of Americans get real news, but also conduits of propaganda: e.g., Steve Bannon and the Mercers used market targeting in their campaign to defeat Hillary Clinton, used social media very skillfully with fake news, used Russian bots to amplify their effect. An interesting note along with that, the intelligence community observes that Eric Schmidt's daughter worked for SCL, the company that controlled Cambridge Analytica - the company that Mercer owns and that Steve Bannon's on the board of.
They couldn't have done what they did if there hadn't been these two open platforms, Facebook and Youtube, which you could totally manipulate; there was nobody at the control of these platforms to block fake news in favor of Trump. However, there is no pornography on Youtube, which means that Youtube has very sophisticated technology which could filter out fake news, propaganda, etc., if desired.
Google's market capture is profound, its users provide content and profiles (which marketers value, of course) which competitors cannot match. Google is not just a virtual monopoly, not just one of the most wealthy companies, it is the richest company and perhaps the most powerful monopoly ever. More:
New York Times, "Is It Time to Break Up Google?", 22 Aug 2017:

By Johathan Taplin

In just 10 years, the world's five largest companies by market capitalization have all changed, save for one: Microsoft. Exxon Mobil, General Electric, Citigroup and Shell Oil are out and Apple, Alphabet (the parent company of Google), Amazon and Facebook have taken their place.

They're all tech companies, and each dominates its corner of the industry: Google has an 88 percent market share in search advertising, Facebook (and its subsidiaries Instagram, WhatsApp and Messenger) owns 77 percent of mobile social traffic and Amazon has a 74 percent share in the e-book market. In classic economic terms, all three are monopolies.

We have been transported back to the early 20th century, when arguments about "the curse of bigness" were advanced by President Woodrow Wilson's counselor, Louis Brandeis, before Wilson appointed him to the Supreme Court. Brandeis wanted to eliminate monopolies, because (in the words of his biographer Melvin Urofsky) "in a democratic society the existence of large centers of private power is dangerous to the continuing vitality of a free people." We need look no further than the conduct of the largest banks in the 2008 financial crisis or the role that Facebook and Google play in the "fake news" business to know that Brandeis was right.

While Brandeis generally opposed regulation — which, he worried, inevitably led to the corruption of the regulator — and instead advocated breaking up "bigness," he made an exception for "natural" monopolies, like telephone, water and power companies and railroads, where it made sense to have one or a few companies in control of an industry.

Could it be that these companies — and Google in particular — have become natural monopolies by supplying an entire market's demand for a service, at a price lower than what would be offered by two competing firms? And if so, is it time to regulate them like public utilities?

Consider a historical analogy: the early days of telecommunications.

In 1895 a photograph of the business district of a large city might have shown 20 phone wires attached to most buildings. Each wire was owned by a different phone company, and none of them worked with the others. Without network effects, the networks themselves were almost useless.

The solution was for a single company, American Telephone and Telegraph, to consolidate the industry by buying up all the small operators and creating a single network — a natural monopoly. The government permitted it, but then regulated this monopoly through the Federal Communications Commission.

AT&T (also known as the Bell System) had its rates regulated, and was required to spend a fixed percentage of its profits on research and development. In 1925 AT&T set up Bell Labs as a separate subsidiary with the mandate to develop the next generation of communications technology, but also to do basic research in physics and other sciences. Over the next 50 years, the basics of the digital age — the transistor, the microchip, the solar cell, the microwave, the laser, cellular telephony — all came out of Bell Labs, along with eight Nobel Prizes.

In a 1956 consent decree in which the Justice Department allowed AT&T to maintain its phone monopoly, the government extracted a huge concession: All past patents were licensed (to any American company) royalty-free, and all future patents were to be licensed for a small fee. These licenses led to the creation of Texas Instruments, Motorola, Fairchild Semiconductor and many other start-ups.

True, the internet never had the same problems of interoperability. And Google's route to dominance is different from the Bell System's. Nevertheless it still has all of the characteristics of a public utility.

We are going to have to decide fairly soon whether Google, Facebook and Amazon are the kinds of natural monopolies that need to be regulated, or whether we allow the status quo to continue, pretending that unfettered monoliths don't inflict damage on our privacy and democracy.

It is impossible to deny that Facebook, Google and Amazon have stymied innovation on a broad scale. To begin with, the platforms of Google and Facebook are the point of access to all media for the majority of Americans. While profits at Google, Facebook and Amazon have soared, revenues in media businesses like newspaper publishing or the music business have, since 2001, fallen by 70 percent.


According to the Bureau of Labor Statistics, newspaper publishers lost over half their employees between 2001 and 2016. Billions of dollars have been reallocated from creators of content to owners of monopoly platforms. All content creators dependent on advertising must negotiate with Google or Facebook as aggregator, the sole lifeline between themselves and the vast internet cloud.

It's not just newspapers that are hurting. In 2015 two Obama economic advisers, Peter Orszag and Jason Furman, published a paper arguing that the rise in "supernormal returns on capital" at firms with limited competition is leading to a rise in economic inequality. The M.I.T. economists Scott Stern and Jorge Guzman explained that in the presence of these giant firms, "it has become increasingly advantageous to be an incumbent, and less advantageous to be a new entrant."

There are a few obvious regulations to start with. Monopoly is made by acquisition — Google buying AdMob and DoubleClick, Facebook buying Instagram and WhatsApp, Amazon buying, to name just a few, Audible, Twitch, Zappos and Alexa. At a minimum, these companies should not be allowed to acquire other major firms, like Spotify or Snapchat.

The second alternative is to regulate a company like Google as a public utility, requiring it to license out patents, for a nominal fee, for its search algorithms, advertising exchanges and other key innovations.

The third alternative is to remove the "safe harbor" clause in the 1998 Digital Millennium Copyright Act, which allows companies like Facebook and Google's YouTube to free ride on the content produced by others. The reason there are 40,000 Islamic State videos on YouTube, many with ads that yield revenue for those who posted them, is that YouTube does not have to take responsibility for the content on its network. Facebook, Google and Twitter claim that policing their networks would be too onerous. But that's preposterous: They already police their networks for pornography, and quite well.

Removing the safe harbor provision would also force social networks to pay for the content posted on their sites. A simple example: One million downloads of a song on iTunes would yield the performer and his record label about $900,000. One million streams of that same song on YouTube would earn them about $900.

I'm under no delusion that, with libertarian tech moguls like Peter Thiel in President Trump's inner circle, antitrust regulation of the internet monopolies will be a priority. Ultimately we may have to wait four years, at which time the monopolies will be so dominant that the only remedy will be to break them up. Force Google to sell DoubleClick. Force Facebook to sell WhatsApp and Instagram.

Woodrow Wilson was right when he said in 1913, "If monopoly persists, monopoly will always sit at the helm of the government." We ignore his words at our peril.
Unhinge the Right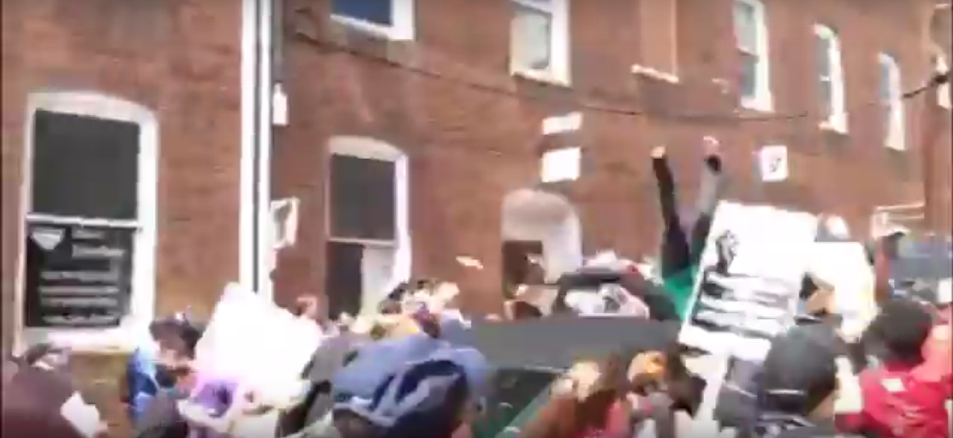 Video shows car crashing into Charlottesville protest. Witnesses say that it was absolutely intentional; it is being treated as homicide.
Fox News, A 32-year-old woman was killed Saturday and 19 others were injured, five of them critically, when a car rammed into a group of counter-protesters during the "Unite the Right" rally in Charlottesville, Va.

Virginia Secretary of Public Safety Brian Moran told the Associated Press that the driver of the car, a man, was in custody. Moran did not provide the driver's name.
While following the goings on of the "Unite The Right Rally" in Charlottesville, in a live feed, Tara McCarthy took friendly questions from the likes of Roosh V. and fielded reports from the likes of Pax Dickinson, recommending that people contribute to his Mencious Moldbug (a Jewish man of Neo Reactionary fame) backed crowdfunding; Tara scolded "The Left" for counter-protesting what she says was meant to be a peaceful rally for free speech, and to encourage "normies" to join the cause of ethno-nationalism by showing them they're not a bunch of neo-Nazis, skinheads and so-on. She might have wondered how that was supposed to happen with the motley array of right wingers that showed-up, including Commander Jeff Schoep's Neo-Nazi group in full regalia, Carolina K.K.K., Matt Heimbach's Jesus Freak Group, calling itself "The Traditional Workers Party" and a skinhead gang called "The Detroit Right Wings."
...and look at the headliners, starting with Mike Enoch Peinovich: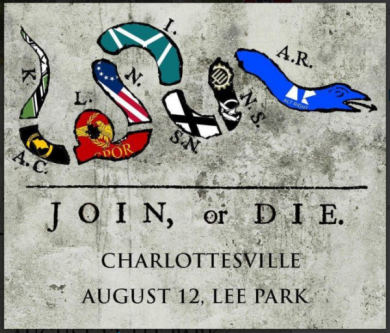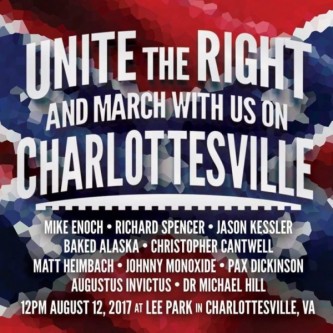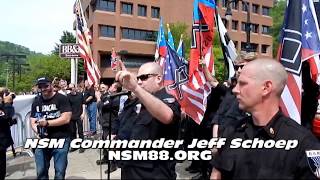 Yep, (((they've))) marshaled a reactionary formation against the so-called "left."
...with plenty of warning beforehand to nearly assure that there would be violence and prison sentences for those reactionaries coming most unhinged.
A death, dozens injured, including five critically, and a ruined life for the perpetrator of the car attack was only a somewhat surprising outcome of this mix.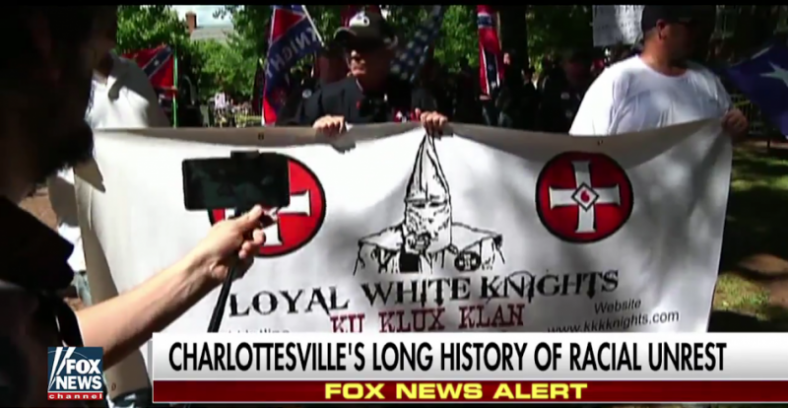 Fox News, "Charlottesville white nationalist rally blamed for 3 deaths, dozens of injuries", 12 Aug 2017:

A 32-year-old woman was killed Saturday and 19 others were injured, five of them critically, when a car rammed into a group of counter-protesters during the "Unite the Right" rally in Charlottesville, Va.

A helicopter crash that killed the pilot and a passenger later in the afternoon outside the university town also was linked to the rally by State Police, though officials did not elaborate on how the crash was connected.

At a late afternoon news conference, Charlottesville Police Chief Al Thomas said that 35 people had been injured in various confrontations during the rally and made a point of saying that none of those involved his officers. Thomas also said that the car crash was being treated as an act of "criminal homicide."
Mike Cernovich is exposed as being at best a dumb vehicle for Active Measures, as his #FireMcMaster hashtag is botted and propagated hundreds of thousands of times by the 600 most active Russian fake Twitter accounts ...

John Ziegler confronts Cernovich with that and Cernovich's conspiracy theory nonsense - that Soros* is pulling McMaster's strings - Cernovich quivers nervously and makes the feeble counter-allegation that 'Ziegler is anti-Zionist; just like McMaster.'
* We have long observed that Soros is a convenient Jew for other Jews to throw under the bus, particularly the more ardent Zionists.
John Ziegler, Free Speech Broadcasting.com, August 6th 2017, hour 2:

John Ziegler (25:55): Are you claiming that you alone are the reason that #FireMcMaster has been re-Tweeted at last check over 600,000 times worldwide - you're saying that's because of you?

Mike Cernovich: Amazing, the great citizens out there who support "America first", participating very active, there was a protest today in front of The White House, the people are showing up…

John Ziegler: No, Mike, let me tell you the facts. That happened because of Russian operatives on Twitter.

Mike Cernovich: They're everywhere, oh my god, the Russians. Imagine you talked about Jewish people the way you talk about Russians? Or you talked about Israel the way you talk about Russians?

John Ziegler: Are you anti-Semitic?

Mike Cernovich: You sound anti-Semitic and you sound xenophobic, because to me you're xenophobic of Russians, an entire race of people…Russia, Russia, Russia, Russia…

Do you hate Israel the way McMaster does?

John Ziegler: You don't want to answer the question because its troubling for you.

Mike Cernovich: McMaster hates Israel, do you hate Israel the way McMaster does? He fired pro-Israel Jews, he fired a guy for going to a Bar Mitzvah in Israel. Do you support that decision by McMaster?

John Ziegler (27:15): Are you denying that the 600 most well known Russian operative Twitter handles are responsible for the re-Tweets of the hashtag #FireMcMaster and that it was the top re-Tweet for all 600? Are you (Cernovich) denying that?

Mike Cernovich: I categorically deny that.

John Ziegler (29:03): "Here is my assessment; unless you're totally lying and since we're on the phone and we've never talked before in any substantive matter so I can't know for sure; but my sense is that you are not actively working on behalf of Russia; but that Russian forces see you as somebody that they can use because he is so dumb he doesn't realize he is being used and effectively you are being used as a stooge by Russia to do their dirty work for them among certain elements of the American population, i.e., the Trump cult.

That's my belief, why am I wrong?

Mike Cernovich: Well my belief is you're being used by anti-Zionist forces to support McMaster's attacks on Israel and that's why you support the purge of Jewish Trump supporters from the Trump administration.

John Ziegler: So you just think it is a coincidence that Russia is behind the fact that the #FireMcMaster hashtag has been re-Tweeted hundreds of thousands of times?

Mike Cernovich: I'm behind hat, I came up with that.

John Ziegler: Donald Trump, when he Tweets, if its a good Tweet, it might get 20,000 re-Tweets. #FireMcMaster has been re-Tweeted over 600,000 times world-wide because of you and you alone?

[...]

You think it's beautiful that the President said, basically, you're wrong, I'm not going to fire McMaster?

You implied on line that you did not believe that Trump wrote the statement that supported McMaster.

Mike Cernovich: No, Gen. Kelley definitely wrote that. I don't believe Trump wrote that, it doesn't sound anything like him.

John Ziegler: So, you don't believe Trump is in charge then?

Mike Cernovich: Trump delegates a lot of things.

John Ziegler: Delegates a statement of his personal beliefs about McMaster, his National Security Advisor?

With that, thanks for your time, and I'll be happy to send you the link to the entire interview un-edited.

Cernovich and Milo, Shills for the (((Trump agenda)))

That's Mike Cernovich, a conspiracy nut-job, who has become famous in the Alt-Right by being a Donald Trump supporter, who no longer wants to be known as a Donald Trump supporter but is still doing the work for Donald Trump, although Trump is rejecting that work on the issue of whether National Security Advisor, H.R. McMaster should be fired; if you understand all that, you've been listening very carefully and I appreciate it.
Related Story: From the week before, Ziegler does a good job exposing Milo Yiannopoulis as a mercenary stooge for Trump, brought onto Breitbart by Bannon and backed by Robert Mercer's agenda and money. Milo did not promote the interview, which he would tend to do if he thought he came off well (he didn't, his arguments came across as highly prefigurative, ill-fitting and mercenary for Trump).
Serial liberal and Oxford classicist Prof Mary Beard has been bearded (again) by the Twitter mob, this time for talking up a black presence in Roman Britain:
Classicist Mary Beard's has been forced to defend claims that Roman Britain was ethnically diverse, after she hit back at online 'trolls' who accused her of promoting "fake" history on Twitter.

The hugely popular don used the online social media site to voice her scholarly support for a BBC educational cartoon depicting a black Roman soldier and his family.

… But she immediately became the target for misogynistic abuse from members of the public, some of whom admitted having never read a single book on ancient history.
She was referred to as a "batty old broad pretending Romans were black", "shrill", "a pretentious know-nothing", "f****** retarded", and "a bum".

Prof Beard eventually tweeted: "I fear I'm about to lose my usual courteous patience with those who sound off on Roman Britain without any info at all. so will shut up."

Last week she used a post on the Times Literary Supplement to clarify her position, and explained: "I have been in something of a Twitter storm over the past few days, all because of an argument about the ethnic diversity of Roman Britain (sounds harmless enough you think, well…just see).

"I think, for example, that the BBC character was loosely based (with a bit of a chronological shift) on Quintus Lollius Urbicus, a man from what is now Algeria, who became governor of Britain.

"One thing is for sure, the Roman empire — Britain included — was cultural and ethnically diverse, from the Syrians in Bath, to Quintus Lollius Urbicus, the Ethiopian who met Septimius Severus on Hadrian's Wall and the wonderful couple from South Shields, Barates and Queenie ('Regina'), he from Palmyra, she an Essex girl.

"There is no doubt about that. The trouble is that pinning this down in specific cases to precise ethnicities is much harder than many would like and it requires an array of historical and scientific techniques".

Among those critical of Prof Beard, a world-renowned expert on ancient civilisations, was US-Lebanese economist Nassim Nicholas Taleb. He called an "intellectual wuss", accused her of "bull*******" her 142,0000 Twitter followers, suggested she was a member of the "politically correct Gestapo".

There was insufficient genetic evidence to support the claim that people from Africa had lived in Roman Britain in substantial numbers, Prof Taleb added.

He dismissed evidence to the contrary as "anecdotal", and used his blog to denounce the BBC for "cherry-picking" its source material and of "applying quotas retroactively (I mean, really retroactively).

"Any dissent from the statistical errors made by the politically correct police is treated as apostasy. Effectively, scholarship is dead in the U.K," he wrote.

"We find nothing beyond traces of sub-Saharan genes in areas where Roman legions were located (France, Gaul, and even Spain, where most of it came much later from the Arab trade). Show the picture to a French or Italian person and tell him "this is the typical…" and wait for the insults".

Professor Taleb, a former trader and financial risk analyst, who said he had "no use" for Professor Beard, who has suffered repeated sexist abuse at the hands of online "trolls" over several years.

Support for the respected Cambridge University scholar came from the author J K Rowling, Labour MP Jess Phillips, singer Billy Bragg and fellow academics.
So how about a bit of support from the People of the British Isles' project's March 2015 newsletter, which constitutes an more authoritative source on the matter than a liberal Oxford prof. Amazingly, it does not mention all that vibrant diversity which so grips Prof Beard's imagination.
Technology Decisions, 12 July 2017:

"Donald Trump threatens net neutrality, says academic"

Internet neutrality and freedom of speech are under threat by Donald Trump's administration, according to a QUT academic.

Matthew Rimmer from the Faculty of Law said that the Trump administration has been seeking to dismantle network neutrality rules as part of its deregulation agenda.

"There will be a massive online protest by a wide array of companies, including Amazon, Netflix, Shapeways, Kickstarter, Twitter and Reddit, along with organisations like the American Civil Liberties Union, Greenpeace and the American Library Association," said Rimmer.

Ajit Pai: the man who could destroy the open internet

"July 12 2017 is a Day of Action to Save Net Neutrality in the US, an event responding to plans by the Federal Communications Commission under the leadership of President Donald Trump's chair, Ajit Pai, to repeal government rules which established net neutrality."

Network neutrality started out as a philosophical concept, developed by Professor Timothy Wu from Columbia University, to address discrimination by broadband service providers. It was designed to preserve a free and open internet by preventing broadband providers from blocking, throttling or slowing internet services.

It ensures consumer rights are not undermined by internet service providers and that they do not suffer a dystopia of slow lanes and fast-paid lanes on the internet.

It also helps ensure the internet is a free and open platform which supports innovation. In particular, it ensures that start-up companies and new market entrants have an equal playing field. Without such protections, internet service providers could use their role as gatekeepers to reinforce their monopolies.

"We have not seen such a massive online action since the protests against the Stop Online Piracy Act, in which Wikipedia and other online sites staged a blackout against draconian copyright laws," Rimmer said.

However, while the United States debates network neutrality, Australia still has not had a proper conversation about network neutrality.

"The issue has been periodically raised in the context of debates over the nbn, media convergence and competition reform. There are, though, concerns about the speed of broadband services in Australia and the problem of the data drought," said Rimmer.

"At a time at which it is modernising its media laws, Australia would benefit from the introduction of the principle of network neutrality. The public interest doctrine would boost consumer choice, competition and innovation in Australia."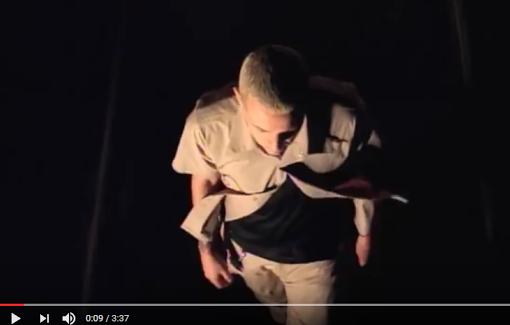 The End, Linkin Park's Chester Bennington
When false opposition forces you to imagine lyrics/text different than theirs and supply protest lyrics authentic to your interests:
Back in the days before Internet, decades before in fact, we young folks didn't have much outlet for protest via the media - TV, movies, newspapers and magazines, book publishing (((all controlled))). Music, concerts and festivals were ostensible outlets of protest expression - and even they were so (((controlled))) by pervasive liberalism that I had to change lyrics in my head to de-liberalize them and make them properly aligned to my grievances. Neil Young's "Alabama" is a classic example of a song that had righteous passion totally misdirected into liberalism. Lynard Skynard noticed it in their song "Sweet Home Alabama", citing Young and his song "Alabama" directly for criticism. But it wasn't only they who objected and I could not relate to their southern patriotism either. No, I had my own protest lyrics in mind - lyrics, wouldn't you know, that I can't even spell out today, this protest remains so forbidden by the powers-that-be and their do-gooders mulatto supremacist gate keepers: it goes to show HOW FAR we have NOT come in some ways - ridiculously, you can't even say the N word: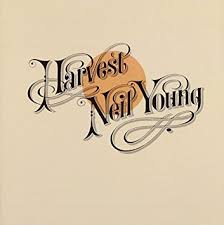 "Alabama", Neil Young - Lyrics

Oh Alabama N-lover
Banjos playing
through the broken glass
Windows down in Alabama.
See the old folks
tied in white ropes
Hear the banjo.
Don't it take you down home?


Alabama N-lover, you got
the weight on your shoulders
That's breaking your back.
Your Cadillac
has got a wheel in the ditch
And a wheel on the track

Oh Alabama N-lover.
Can I see you
and shake your hand.
Make friends down in Alabama.
I'm from a new land
I come to you
and see all this ruin
What are you doing Alabama N-lover?
You got the rest of the union
to help you along
What's going wrong?
Neil did a bit better with the lyrics to "Southern Man", particularly in the last stanza, although I don't think Neil was looking at it from the same angle that I have… that's my imagination supplying the protest angle once again.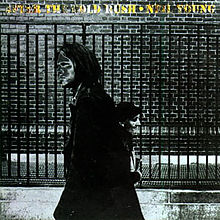 Southern Man, Neil Young – Lyrics
Southern man
Better keep your head
Don't forget
What your good book said
Southern change
Gonna come at last
Now your crosses
Are burning fast
Southern man

I saw cotton
And I saw black
Tall white mansions
And little shacks.
Southern man
When will you
Pay them back?
I heard screamin'
And bullwhips cracking
How long? How long?

Southern man
Better keep your head
Don't forget
What your good book said
Southern change
Gonna come at last
Now your crosses
Are burning fast
Southern man

Lily Belle,
Your hair is golden brown
I've seen your black man
Comin' round
Swear by God
I'm gonna cut him down!
I heard screamin'
And bullwhips cracking
How long? How long?
Neil Young's politics are well off the mark; no need to belabor that, but I'd like to caution that anybody trafficking in the emotion of sadness as much as Neil Young has is promoting a neutering kind of propaganda in that very sadness - it's better to veer in the direction of anger.
Now, a primary outlet for rebellion against political tyranny has been largely co-opted again, this time it is the (((alternative-k*ke er, alternative-right))) that's doing much of the co-opting.
And unfortunately, they are putting their (((brand))) on to some intelligent text, you might say, protest lyrics text.
I feel the same yearning as co-opted passions and thoughtful consideration could be deployed for our authentic protest, and not for the (((alternative-k*ke))), when I read Melissa Meszaros' article about the suicide of Linkin Park frontman, Chester Bennington.
The strikeouts of "alt-rights" and "the left" in one place are strictly my wish and of course not how Melissa wrote the article - as she did, in order to brand it for the (((Alt-Right))). In one place I have to comment where, typical of right wing misguidance, the negative significance and anti stance she registers for the homosexual issue is disproportionate. Everything else remains as she has written it.
Melissa Meszaros

Alt-Right, "What The Alt-Right Can Learn From The Death Of Chester Bennington, 24 July 2017:

Linkin Park touched the millennial generation's frustrations with modern society like no other band could. For this reason, it's worth spending a few moments looking into the life of frontman Chester Bennington and seeing what we can learn after his suicide.

Sexually molested from the age of seven, divorced parents, a steady cocktail of drugs from the age of eleven, with alcoholism and depression entering later on — these are the things that framed the childhood of Linkin Park's frontman Chester Bennington.

Unable to overcome his traumas and subsequent addictions, he chose to use them as a painful source of inspiration in his lyrics. His suicide is unfortunate, especially for his children and wife, and whether we listened personally to the band or not as we were growing up, Linkin Park held a central position representing the millennial generation's frustrations with life and all the associated mental effects relating to the increase of broken homes and fragmenting communities. The band spoke of problems most of us experienced as teenagers, back when we were confused and distrustful of the direction our supposedly fantastic and free society was heading. Now, as adults in the Alt-Right, with infinitely more resources and knowledge at our fingertips, we are dedicated to overcoming and fixing these issues within ourselves and our societies. But still, for many of us, Linkin Park was the herald awakening millions of teens to the realization that the world is messed-up and it was time to prepare for a long battle. For this reason, I believe it's worth spending a few moments looking into Bennington's life of inescapable addiction and seeing what we in the Alt-Right can learn from it.

For me, I remember Linkin Park being the most popular band in my freshman year of high school in Central New Jersey. It was the last year I'd spend in the United States before moving to Hungary with my parents. My friends would carry around the Hybrid Theory CD and hold it reverently during recess while talking about the lyrics. We'd sit with crossed-legs in a circle in the shady corner of a grassy lot while spawns of diversity hollered and beat each other on the nearby basketball courts.

I only got into the band later, for a few months when my father was in the hospital in Hungary, dying from terminal lung cancer. The music is not positive and it does not remind me of a good place. Rather, I envision a constant delirious struggle with myself, getting caught in a loop over thinking various problems and feeling uncertain of ever being able to overcome the odds and live in peace. These are the very thought processes Chester Bennington described himself dealing with, in an interview with 102.7 KIISFM radio in February of this year. After a while, I realized the music was keeping me from moving past my own issues, so I grew out of it.

When it comes to Bennington himself, there are three things worth highlighting. First, there is the molestation by an older male friend. In his own words, Bennington described:

"It escalated from a touchy, curious, 'what does this thing do' into full-on, crazy violations. I was getting beaten up and being forced to do things I didn't want to do. It destroyed my self-confidence. I didn't want people to think I was gay or that I was lying. It was a horrible experience."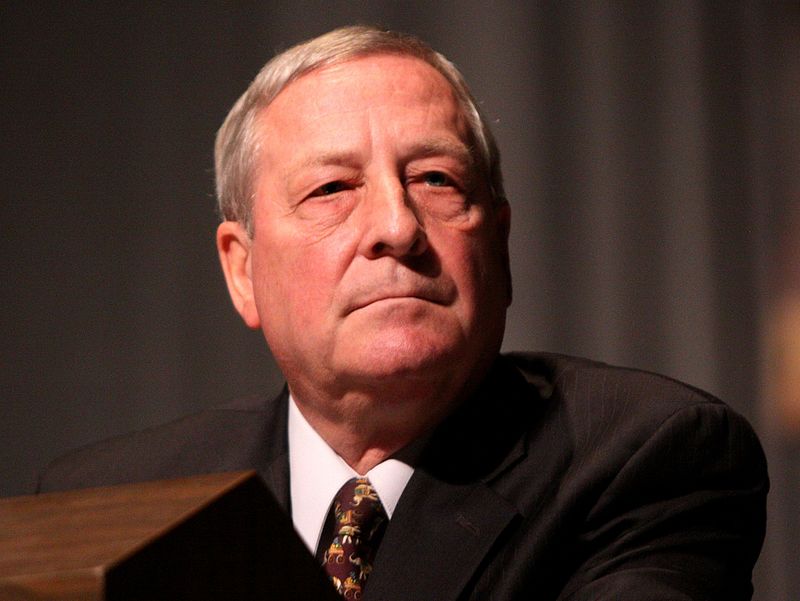 Though he does a very admirable job of exposing Israeli misdeeds, it's almost as if former CIA officer Philip Giraldi has been flipped to Active Measures. The site that he writes for, Unz Review, acts suspiciously like an organ thereof.
Image, Philip Giraldi by Gage Skidmore.jpg
There is a saying that "the darkest spot - and therefore the best place to hide - is directly beneath the light." It is apparent that many Jewish interests are in diaspora and they hide directly beneath the light of anti-Zionism.
This article at Unz Review, "How Israel Manages Its Message: A new app enables instant pushback," provides significant insight into Hasbara's power and influence in the war of perception. But its author, Philip Giraldi, is wasting his insider insight (he's former CIA officer) at the Unz Review. And it is apparent that he is welcome there because with Giraldi, as ever, the issue with Jews is strictly a matter of Zionism - which he criticizes very well, but apparently at the price of letting their diaspora influence to flee to Russia, the US and elsewhere - allowing their nefarious influence to go uncritiqued in diaspora, while their cover there is protected and deepened - for example, in collusion with The Russian Federation's Active Measures in its infiltration of the European and American Right Wing.
Philip Giraldi, at Unz Review, 27 June 2017:

"How Israel Manages Its Message: A new app enables instant pushback"

Those of us who are highly critical of Israel's ability to manipulate U.S. foreign policy frequently note how sites that permit comments on our articles are almost immediately inundated with hostile postings that are remarkably similar in both tone and substance. Given that it is unlikely that large numbers of visitors to the sites read the offending piece more-or-less simultaneously, react similarly to its content, and then go on to express their disgust in very similar language, many of us have come to the conclusion that the Israeli government or some of the groups dedicated to advancing Israeli interests turn loose supporters who are dedicated to combating and refuting anything and everything that casts Israel in a negative light.

The fact is that Israel is extremely active in an enterprise that falls in the gray area between covert operations and overt governmental activity. Many governments seek to respond to negative commentary in the media, but they normally do it openly with an ambassador or press officer countering criticism by sending in a letter, writing an op-ed, or appearing on a talk show. Such activity is generally described as public diplomacy when it is done openly by a recognized government official and the information itself is both plausible and verifiable, at least within reasonable limits. Israel does indeed do that, but it also engages in other activities that are not so transparent and which are aimed at spreading false information.

When an intelligence organization seeks to influence opinion by creating and deliberately circulating "false news," it is referred to as a "disinformation operation." But Israel has refined the art of something that expands upon that, what might be referred to more accurately as "perception management" or "influence operations" in which it only very rarely shows its hand overtly, in many cases paying students as part-time bloggers or exploiting diaspora Jews as volunteers to get its message out. The practice is so systemic, involving recruitment, training, Foreign Ministry-prepared information sheets, and internet alerts to potential targets, that it is frequently described by its Hebrew name, hasbara, which means literally "public explanation." It is essentially an internet-focused "information war" that parallels and supports the military action whenever Israel enters into conflict with any of its neighbors or seeks to influence public opinion in the United States and Europe.

The hasbara onslaught inevitably cranks up when Israel is being strongly criticized. There were notable surges in activity when Israel attacked Gaza in 2009 and 2012, as well as when it hijacked the Turkish humanitarian relief ship the Mavi Marmara in 2011. The devastating 2014 Gaza fighting inevitably followed suit, producing a perfect storm of pro-Israel commentary contesting any published piece that in any way sympathized with the Palestinians. The comments tend to appear in large numbers on websites where moderation and registration requirements are minimal, including Yahoo! News, or Facebook and Twitter.

The hasbara comments are noticeable as they tend to sound like boilerplate, and run contrary to or even ignore what other contributors to the site are writing. They often include spelling and syntactical hints that the writer is not natively fluent in English. As is the practice at corporate customer support call centers in Asia, the commenters generally go by American-sounding names and use fake email addresses. They never indicate that they are Israelis or working on behalf of the Israeli government and they tend to repeat over and over again sound bites of pseudo-information, as when they falsely insist that Hamas was solely responsible for the recent Gazan wars and that Israel was only defending itself. The commenters operate in the belief that if something is repeated often enough in many different places it will ipso facto gain some credibility and create doubts regarding contrary points of view.