Majorityrights News > Category: Regionalism
Looking back a year, to the onset of the Russia investigation…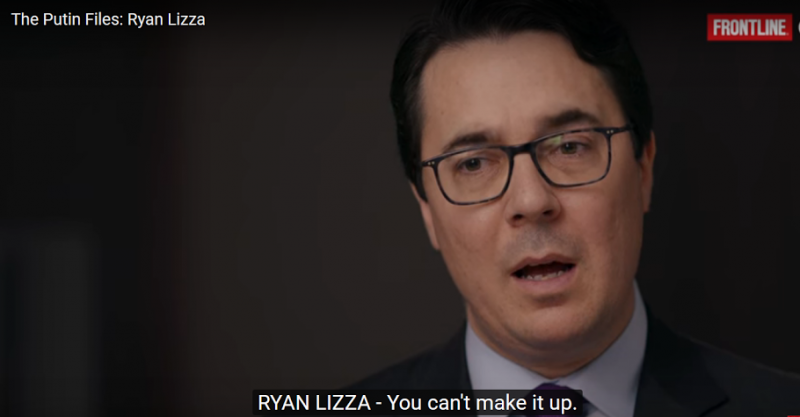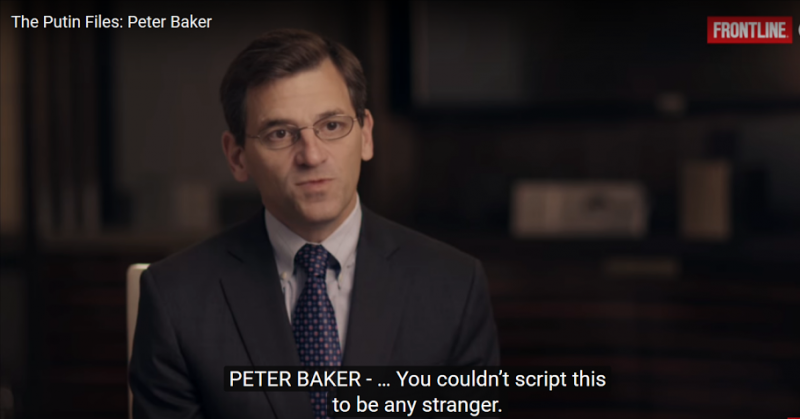 Breitbart, "Anti-Mass Migration Central European Nations Volunteer €35 Million To Reinforce EU Borders", 15 Dec 2017:

The four central nations that comprise the Visegrad group (V4) have set aside 35 million euros to help European Union (EU) member states protect the political bloc's external borders against illegal mass migration.

The four countries that make up the Visegrad group, Poland, Hungary, Czech Republic and Slovakia, have all agreed to donate the money to protect the EU external border in an announcement this week. All four countries are attending a EU conference to discuss migration issues beginning Thursday AP reports.

Slovakian Prime Minister Robert Fico commented on the move saying, "if we will see good projects in the future, first of all, projects that are effective, we are ready to spend even more money because we really want to show solidarity."

Mayor

Laszlow discusses overwhelming success of Hungary's border fence

- "instituted because we're 'normal" - the fence cut migration to Hungary by 99%

Some of the countries in the V4 group have been accused of a lack of solidarity by some in EU leadership. The Hungarian government has been particularly critical of those in Brussels who have argued about solidarity.

Breitbart London @BreitbartLondon

EU Dismisses Hungarian Request for 'Solidarity' over Border Controls, 'We Won't Support Fences'http://www.breitbart.com/london/2017/09/04/eu-dismisses-request-border-securitty/ 10:00 PM - Sep 4, 2017

EU Dismisses Hungarian Request for 'Solidarity' over Border Controls, 'We Won't Support Fences.'

Hungarian government spokesman Zoltan Kovacs replied to the EU elites in September writing, "The distorted narrative that is spun from Brussels attempts to convince European citizens that somehow European solidarity should be connected to accepting migrants, many of whom have crossed illegally into the territory of the EU."

Kovacs also argued that Hungary had funded EUR 883.2 million from its own budget in order to protect the EU external borders.

Hungarian Prime Minister Viktor Orban, who has consistently argued against mass migration, said Thursday that the new injection of cash will also go toward helping control illegal migration from Libya.

The EU, along with Italy have funnelled money into Libya to help train coastguard recruits and some allege that the Italians have even paid local warlords to stop the influx of migrants.

All four Visegrad group countries continue to refuse to participate in the EU's migrant redistribution scheme with Prime Minister Fico noting, "Quotas do not work, they are ineffective, the decision on quotas really divided the European Union."
President Donald Trump and Saudi Deputy Crown Prince and Minister of Defense Mohammed bin Salman meet at the White House in Washington, U.S., March 14, 2017. Kevin Lamarque | Reuters

CNBC, "Trump may have pushed Saudi Arabia and Iran closer to war", 7 Nov 2017:

- Saudi Arabia's moves over the past few days are bringing it closer to direct war with Iran.

- But this process seems to have been kick started by the new Saudi crown prince's meeting with President Trump in March.

- It's crucial to keep this conflict contained to the Middle East.

Crucial news keeps flying out of Saudi Arabia at a frantic pace, but here's the bottom line: The Saudis are marching ever closer towards a wider regional war. And the U.S. may have helped send them down that path.

Just to recap, in the last several days the new crown prince of Saudi Arabia has initiated a massive purge of dozens of his fellow princes, ministers, and others in the kingdom in what's been labeled as an "anti-corruption" sweep. Most of the headlines so far are understandably focusing on the one celebrity arrested, Alwaleed bin Talal, the billionaire investor seen and heard frequently for years on financial news channels like CNBC.

But that was just the first wave of news from Riyadh. Since the crackdown began on Saturday, the Saudis have considerably ramped up their accusatory rhetoric towards their neighbors. First, the kingdom squarely blamed Iran for a missile attack on Riyadh from Yemen that was thwarted by the U.S.-made Patriot anti-missile system. The Saudis called that attack "direct military aggression by the Iranian regime and may be considered an act of war."

Second, the Saudis accused Lebanon of — figuratively at least — declaring "war" against it because of aggression from Hezbollah. That statement spurred even Saudi ally and Egyptian President Abdel Fattah al-Sisi to publicly urge for calm.

al-Sisi may be too late. Because the common denominator in all these Saudi moves is a more focused preparation for a wider and more direct war with Iran for control of the region. As I noted when he was first put in his top position by his father King Salman in June, Crown Prince Mohammad bin Salman was already known as a hardcore hawk against Iran. Just a month before he was made crown prince, bin Salman declared that peace dialogue with Iran was impossible.

"More aggressive anti-Iranian hawks like bin Salman may have seen Donald Trump's election as an excuse to win the day over more dovish princes and ministers. And the White House seemingly gave Saudi Arabia a green light."

But the direct line to these more bellicose moves begins earlier than that and goes directly to the White House. While still deputy crown prince, bin Salman visited with President Trump in March of this year. During that meeting, they publicly declared Iran as the key regional security threat in the Middle East. That was step one.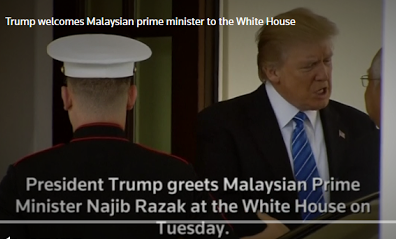 The YKW and right wing collude with Islam.
Malaysian Prime Minister Najib Razak is the comprador of compradors.
In what is going on a decade of the got-up (((paleoconservatism)) of the ((("alt-right"))), one of the key reasons its Jewish conception has fashioned "the left" as the grand-enemy is because left nationalism, its syndicalism, is a grand adversary of Abrahamism - especially the Islamic variant, a universalizing credo which prohibits ethnonational unionizations. Islam, as instituted by comprador imams, functions thereby as feudalist thuggery on behalf of Jewry and complicit right wingers - who make deals with the Islamic comprador (a middleman slave driver/enforcer upon the local population, killing them where they interfere) to exploit the labor and resources of would-be sovereign ethnostates.
Reuters, "Trump, Malaysia's Najib skirt round U.S. probe into 1MDB scandal", 12 Sept 2017:

WASHINGTON (Reuters) - U.S. President Donald Trump welcomed Malaysian Prime Minister Najib Razak to the White House on Tuesday, praising his country for investing in the United States while steering clear of an American investigation into a Malaysian corruption scandal.

The visit is important for Najib, who faces elections next year and wants to signal he is still welcome at the White House despite a criminal probe by the U.S. Justice Department into a state fund called 1Malaysia Development Berhad (1MDB).

Flanked by top advisers in the Cabinet Room, Najib told Trump that Malaysia Airlines would buy 25 Boeing 737 jets and eight 787 Dreamliners, and would probably add another 25 737s in the near future - a deal he said would be worth more than $10 billion within five years.

Najib said Malaysia's Employees Provident Fund, a major pension fund, wanted to spend $3 billion to $4 billion on U.S. infrastructure development.

Najib enjoyed close ties with Trump's predecessor, Barack Obama, playing golf in Hawaii in 2014, but relations cooled over human rights issues as well as the 1MDB scandal.

Najib founded the fund, which is facing money laundering probes in at least six countries including the United States, Switzerland and Singapore. He denies wrongdoing.

The U.S. Justice Department has said more than $4.5 billion was misappropriated from 1MDB by high-level officials of the fund and their associates, according to dozens of civil lawsuits it filed last year.

The Justice Department sued to seize some $1.7 billion in assets it said were bought with misappropriated 1MDB funds, but asked for a stay on its civil lawsuits in August because it was conducting a related criminal probe.

The White House had said it would not comment on the Justice Department investigation but a senior U.S. official acknowledged it was unusual to meet with Najib while 1MDB was under regulatory scrutiny.

"It's a weird situation, no doubt," the official said, explaining that the administration has prioritized developing relations with Southeast Asia to counter "huge gains" China has made in the region.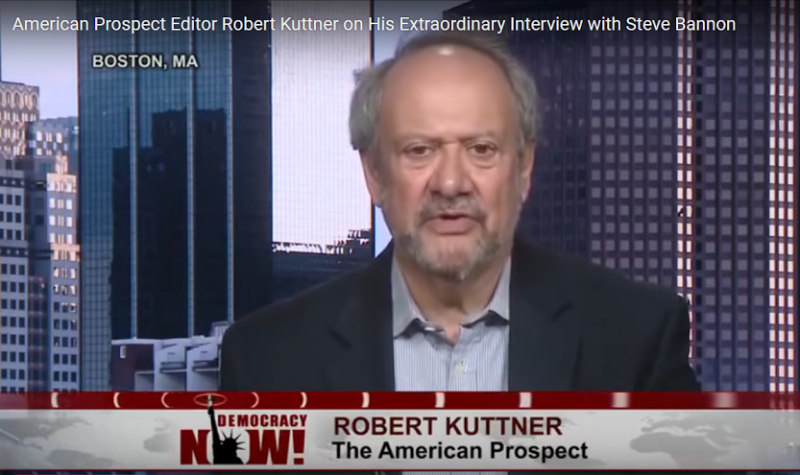 Robert Kuttner
revealed his conversation with Bannon: "To me," Bannon said, "the economic war with China is everything." ... "Ethno-nationalism—it's losers. It's a fringe element. I think the media plays it up too much, and we gotta help crush it, you know, uh, help crush it more." ..."These guys are a collection of clowns," he added.
Democracy Now, "American Prospect Editor Robert Kuttner on His Extraordinary Interview with Steve Bannon", 22 Aug 2017:

Democracy Now, Juan Gonzalez: Bannon's departure came after a series of meetings last week with billionaire funder Robert Mercer who funds Breitbart and funded Trump's campaign. Bannon met with Mercer on Wednesday and Trump met with Mercer on Thursday. Bannon departed the White house the following day.

Amy Goodman, Democracy Now: Just before he was ousted, Steve Bannon granted an extraordinary interview to Bob Kuttner, co-editor and co-editor of the liberal magazine the American Prospect
American Prospect Editor Robert Kuttner on His Extraordinary Interview with Steve Bannon:
Robert Kuttner: "Every once in a while you get lucky as a journalist, and he never bothered to put the conversation off the record. As you know in journalism if a high public official or anybody calls you and doesn't bother to say that its off the record it's the default is that its on the record ...and he proceeded to say a bunch of staggeringly incuatious things; on the assumption because I had also criticized America's China policy as having been dominated by corporations at the expense of workers; and because that sort of overlapped his critique that we were sort of old buddies and soul-mates…and he spent to first few minutes of the interview kind of ingratiating himself with me, telling me what a thrill it was to meet me after all these years, he's been reading my stuff…

It was one part naivete (which is an odd word to use for Bannon), it was one part bravado, it was one part recklessness, and it was weird, because if he knew that he he was on thin ice, what's he doing reaching out to me? Can you imagine Bannon trotting into a meeting of the National Security Council saying, "you'll never guess who agrees with my analysis, Bob Kuttner' ...that would push him over the edge and in fact it kind of did."

... (the best explanation is that) he was on the ropes and he was negotiating with General Kelley and Trump to postpone his departure to after labor day and he thought he could rally his forces on let's get tough with China….

....if he'd already been fired it would have been completely bizarre that he would have called me and said, 'hey won't you come to the White house?' because that would have been complete fantasy land.

...this is not the world's most stable person; on the other hand he has a very strategic analysis of how you connect 'neo-Nazi', 'White supremacy' nationalism to economic nationalism. What's interesting here is that he's been able to sell his boss, Trump, on the get in bed with the White supremacist parts of nationalism but he hasn't been able to sell the rest of the administration on economic nationalism because of course they're in bed with the corporations; its complete fake populism:

The most recent example of that is the idea that he would use crony capitalism, hiring these private armies and masquerade as isolationism. Who does he think pays for those private armies? It's the US taxpayer and expensive as the pentagon is, these private armies are even more wasteful and more expensive; so he's all over the map on a lot of stuff.

But on one thing he's quite coherent and that came through in the interview: he thinks the winning strategy is, you connect racist nationalism, anti-immigrant nationalism, to economic nationalism.

The other interesting question going forward is whether Bannon is going to play a kitchen cabinet role, where he talks to Trump in the middle of the night, coaches him; Trump is famous for these midnight phone calls.

Or is he going to join a Breitbart who right now is kicking the president in the shins as kind of a sell-out.

....and in that interview with The Weekly Standard he was kind of on both sides of the question, he said that the Trump presidency that we fought for was over….so, even Bannon can't have that both ways, especially because Trump hates being upstaged by his advisors. That's what did in Bannon, its what did in Scaramucci."

Amy Goodman: Talk about the other issues he addressed with you, for example, Charlottesville. ...with Charlottesville his brand of White supremacy, neo-Nazi, the whole issue of The Confederacy, he suddenly comes front and center…and this is when he's talking to you ...in the midst of this catastrophic news conference on Friday…in fact what was the timing and Trump saying both sides were responsible on Saturday…

Kuttner: He called me about 20 minutes before the press conference started and its pretty clear that his finger prints were all over Trump's strategy of doubling down on the racism.. there was a kind of a war between the people like Jared and Ivanka, who wanted him to back off, General Kelley, and Bannon who wanted him to double down, which makes the timing of the phone call even weirder.

Goodman: He said to you 'the Democrats, the longer they talk about identity politics, I got 'em; I want them to talk about racism every day; if the left is focused on race and identity and we go with economics we can crush the Democrats.'

Kuttner: Yeah, and I pushed him very hard on that in the interview. I said look, even if we agree that our China policy is basically selling-out to a combination of Bejing's economic nationalism and our own corporations who are happy to take the subsidies, happy to take the slave labor in China and then re-export back to the United States, that really does hurt American industry, hurts American workers; but, I said, even if we agree on that, why do you have to get in bed with neo Nazis on order to take a harder line on China on behalf of American workers? And that's when he kind of drew this picture of a grand strategy where you connect the economic nationalism and the racism to the idea you box in the Democrats by forcing the Democrats to defend people of color.

You know, I was listening before we went on, Amy, to the fellow who was talking about pulling down the statue of Columbus, because it all started with Columbus. If that's the strategy that the left adopts, it almost plays into Bannon's hands… I think if you took a vote and asked people do you agree that we ought to pull down the statue of Columbus because the racism and the anti-native peoples all started with Columbus, most people would side with Bannon; so he's very astutely playing off of liberals and decent people against this idea that the White working class is beleaguered; he does this much more deftly than his boss does. You get the feeling that Trump's default setting is now just pure racism, pure jingoism, nativism and even getting in bed with Neo-Nazis; whereas Bannon at least (((has a grand theory))) about what he's doing.

There are two ways to look at what's going to happen going forward, either with Bannon out Trump becomes even more unhinged, left to his own devices, or he decides to pull back and make more (((an alliance with the mainstream - laughs - far right, otherwise known as the Republican Party.)))

I think we'll get an indication of this in Phoenix, if he does pardon Sheriff Arpaio, that's doubling down on the Bannon recipe, because Bannon was the buy who really coached him, using Breitbart, about the genius of going after Mexicans as rapists, and going after anti-immigrants and building a wall, that was pure Bannon.

Juan Gonzalez: I would like to ask you about his remarks on North Korea?

Kuttner: He made it very clear that he completely disagreed with his boss and on this point Bannon was actually right, he said unless someone can explain to me how ten million South Koreans in greater Seoul are not going to be killed by conventional weapons in the first thirty minutes, this talk of war is not sensible, and of course that directly contradicted what his boss had said just days earlier.

Bannon's view is that because the Chinese are not really helping us out with the North Koreans, they just go through the motions of that, it's the logic of mutually assured destruction that prevents Kim from launching a nuclear attack on The United States, even Kim is not that crazy. And because that's the reality, says Bannon, and I agree with him on this one point, we could be taking a much harder line on China. But State Department, Defense Department, U.S. Trade Rep. are all backing off on China on the belief that China is going to pull its chestnuts out of the fire with regard to North Korea.

That's a shrewd analysis, this is not a stupid man. But its a hundred degrees opposite to what his boss says.

And iterestingly, both Trump and Kim have pulled back in the last few days and that's also classic Trump, 'oh, that was yesterday, never mind.'

Goodman: In fact, after pulling back on North Korea, Trump said he was going to bomb Venezuela.

Kuttner: Yeah, and what's really interesting about bombing Venezuela is that he's given a free pass dictators from the Philippines to Turkey to Hungary, to Moscow… but somehow..

Goodman: to Saudi Arabia

Kuttner: to Saudi Arabia, we could go on, but somehow he picks Venezuela to go after, so if you have a left wing regime violating human rights you go after them, if you have right wing dictatorships going after human rights, god bless them.

Goodman: So, he talked about the White supremacists at Charlottesville as clowns; can you talk about his evaluation of what took place there?

Kuttner: I think that was another effort in his part, completely insincere to ingratiate himself with a progressive journalist.. ...it's like the guy who'll say anything to get a woman to got o bed with him, so he starts improvising, 'oh, they're clowns, we don't take them seriously, we've got to crack down on them' ...you don't think he believes that for ten seconds and his base knows he doesn't believe that for ten seconds.

....it's very encouraging to see the upsurge of activism on the anti-racist side. What is tricky is that most Americans who are not well defined left or well defined far right...

Goodman: Interestingly, the White nationalists have just cancelled a bunch of rallies after getting trounced in these organizing counter measures from Boston on…

Kuttner: I was very proud of Boston. We had upwards of 40,000 demonstrators.

The far right people who called for this rally were revealed to be the pitifully small group that they really are. And that's what we need to show them up for.

....at the end of the day, there are not that many Neo-Nazis.

Part of the way that the way this is playing out makes it look as if a lot of American sympathize with neo-Nazis, they don't. And they need to be contained, and the fact that decent Americans all over the spectrum are willing to come out, demonstrate, contain them, that's fantastic.
Related article: Bannon's disregard of ethno-nationalism is "leaked."
...purposefully leaked or not, apparently kissing-up to YKW
Robert Kuttner revealed his conversation with Bannon: "To me," Bannon said, "the economic war with China is everything." ... "Ethno-nationalism—it's losers. It's a fringe element. I think the media plays it up too much, and we gotta help crush it, you know, uh, help crush it more." ..."These guys are a collection of clowns," he added.

American Prospect, "Steve Bannon, Unrepentant", by Robert Kuttner, 16 Aug 2017:

Trump's embattled strategist phones me, unbidden, to opine on China, Korea, and his enemies in the administration.

You might think from recent press accounts that Steve Bannon is on the ropes and therefore behaving prudently. In the aftermath of events in Charlottesville, he is widely blamed for his boss's continuing indulgence of white supremacists. Allies of National Security Adviser H.R. McMaster hold Bannon responsible for a campaign by Breitbart News, which Bannon once led, to vilify the security chief. Trump's defense of Bannon, at his Tuesday press conference, was tepid.

But Bannon was in high spirits when he phoned me Tuesday afternoon to discuss the politics of taking a harder line with China, and minced no words describing his efforts to neutralize his rivals at the Departments of Defense, State, and Treasury. "They're wetting themselves," he said, proceeding to detail how he would oust some of his opponents at State and Defense.

Needless to say, I was a little stunned to get an email from Bannon's assistant midday Tuesday, just as all hell was breaking loose once again about Charlottesville, saying that Bannon wished to meet with me.

Needless to say, I was a little stunned to get an email from Bannon's assistant midday Tuesday, just as all hell was breaking loose once again about Charlottesville, saying that Bannon wished to meet with me. I'd just published a column on how China was profiting from the U.S.-North Korea nuclear brinkmanship, and it included some choice words about Bannon's boss.

"In Kim, Trump has met his match," I wrote. "The risk of two arrogant fools blundering into a nuclear exchange is more serious than at any time since October 1962." Maybe Bannon wanted to scream at me?

I told the assistant that I was on vacation, but I would be happy to speak by phone. Bannon promptly called.

Far from dressing me down for comparing Trump to Kim, he began, "It's a great honor to finally track you down. I've followed your writing for years and I think you and I are in the same boat when it comes to China. You absolutely nailed it."

"We're at economic war with China," he added. "It's in all their literature. They're not shy about saying what they're doing. One of us is going to be a hegemon in 25 or 30 years and it's gonna be them if we go down this path. On Korea, they're just tapping us along. It's just a sideshow."

Bannon said he might consider a deal in which China got North Korea to freeze its nuclear buildup with verifiable inspections and the United States removed its troops from the peninsula, but such a deal seemed remote. Given that China is not likely to do much more on North Korea, and that the logic of mutually assured destruction was its own source of restraint, Bannon saw no reason not to proceed with tough trade sanctions against China.

Contrary to Trump's threat of fire and fury, Bannon said: "There's no military solution [to North Korea's nuclear threats], forget it. Until somebody solves the part of the equation that shows me that ten million people in Seoul don't die in the first 30 minutes from conventional weapons, I don't know what you're talking about, there's no military solution here, they got us." Bannon went on to describe his battle inside the administration to take a harder line on China trade, and not to fall into a trap of wishful thinking in which complaints against China's trade practices now had to take a backseat to the hope that China, as honest broker, would help restrain Kim.

"To me," Bannon said, "the economic war with China is everything. And we have to be maniacally focused on that. If we continue to lose it, we're five years away, I think, ten years at the most, of hitting an inflection point from which we'll never be able to recover."

Bannon's plan of attack includes: a complaint under Section 301 of the 1974 Trade Act against Chinese coercion of technology transfers from American corporations doing business there, and follow-up complaints against steel and aluminum dumping. "We're going to run the tables on these guys. We've come to the conclusion that they're in an economic war and they're crushing us."

But what about his internal adversaries, at the departments of State and Defense, who think the United States can enlist Beijing's aid on the North Korean standoff, and at Treasury and the National Economic Council who don't want to mess with the trading system?

"Oh, they're wetting themselves," he said, explaining that the Section 301 complaint, which was put on hold when the war of threats with North Korea broke out, was shelved only temporarily, and will be revived in three weeks. As for other cabinet departments, Bannon has big plans to marginalize their influence.
Advertisement

"I'm changing out people at East Asian Defense; I'm getting hawks in. I'm getting Susan Thornton [acting head of East Asian and Pacific Affairs] out at State."

But can Bannon really win that fight internally?

"That's a fight I fight every day here," he said. "We're still fighting. There's Treasury and [National Economic Council chair] Gary Cohn and Goldman Sachs lobbying."

"We gotta do this. The president's default position is to do it, but the apparatus is going crazy. Don't get me wrong. It's like, every day."

Bannon explained that his strategy is to battle the trade doves inside the administration while building an outside coalition of trade hawks that includes left as well as right. Hence the phone call to me.

There are a couple of things that are startling about this premise. First, to the extent that most of the opponents of Bannon's China trade strategy are other Trump administration officials, it's not clear how reaching out to the left helps him. If anything, it gives his adversaries ammunition to characterize Bannon as unreliable or disloyal.

More puzzling is the fact that Bannon would phone a writer and editor of a progressive publication (the cover lines on whose first two issues after Trump's election were "Resisting Trump" and "Containing Trump") and assume that a possible convergence of views on China trade might somehow paper over the political and moral chasm on white nationalism.

The question of whether the phone call was on or off the record never came up. This is also puzzling, since Steve Bannon is not exactly Bambi when it comes to dealing with the press. He's probably the most media-savvy person in America.

I asked Bannon about the connection between his program of economic nationalism and the ugly white nationalism epitomized by the racist violence in Charlottesville and Trump's reluctance to condemn it. Bannon, after all, was the architect of the strategy of using Breitbart to heat up white nationalism and then rely on the radical right as Trump's base.

He dismissed the far right as irrelevant and sidestepped his own role in cultivating it: "Ethno-nationalism—it's losers. It's a fringe element. I think the media plays it up too much, and we gotta help crush it, you know, uh, help crush it more."

"These guys are a collection of clowns," he added.

From his lips to Trump's ear.

"The Democrats," he said, "the longer they talk about identity politics, I got 'em. I want them to talk about racism every day. If the left is focused on race and identity, and we go with economic nationalism, we can crush the Democrats."

I had never before spoken with Bannon. I came away from the conversation with a sense both of his savvy and his recklessness. The waters around him are rising, but he is going about his business of infighting, and attempting to cultivate improbable outside allies, to promote his China strategy. His enemies will do what they do.

Either the reports of the threats to Bannon's job are grossly exaggerated and leaked by his rivals, or he has decided not to change his routine and to go down fighting. Given Trump's impulsivity, neither Bannon nor Trump really has any idea from day to day whether Bannon is staying or going. He has survived earlier threats. So what the hell, damn the torpedoes.

The conversation ended with Bannon inviting me to the White House after Labor Day to continue the discussion of China and trade. We'll see if he's still there.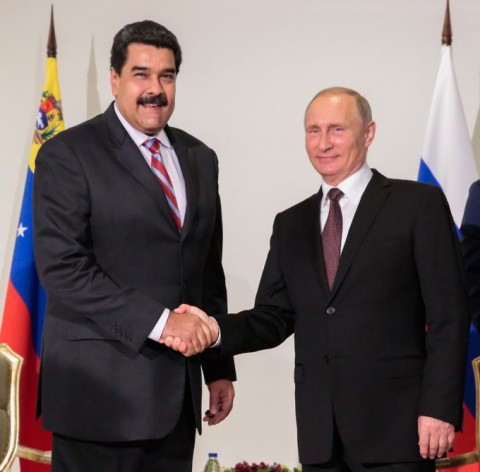 Venezuela, a back door against sanctions and a foothold in the Caribbean in the face of America once again: Venezuela's Maduro selling oil to Putin.
Venezuela tried to build their economy the wrong way, by selling oil and other natural resources rather than developing the infrastructure by which they might process the oil and other resources in order to sustain and advance their economy.
Venezuela is one of the pariah states along with Belarus and North Korea that the Russian Federation likes to play games with; the RF is now swooping-in for a foothold, for what could be increasing geopolitical control over the Caribbean and Gulf of Mexico.
Breitbart, "Report: Moscow Takes Control of Venezuelan Oil Assets amid Socialist Meltdown", 14 Aug 2017:

Venezuela needs cash, and Russia has it. Venezuela has oil, and Russia wants it. According to a special report at Reuters, the socialist meltdown in Venezuela is likely to end with Moscow controlling a good deal of that tormented country's most valuable asset: its oil fields.

According to Reuters, Russia's giant state-owned oil company Rosneft has been holding secret negotiations with its opposite number in Venezuela, PDVSA, to purchase "ownership interests in up to nine of Venezuela's most productive petroleum projects."

The number of Venezuela projects Russia would have substantial or ownership stakes in would jump from five to 14 if these deals go through. The new acquisitions would include projects in some of Venezuela's richest oil and natural gas fields.

The article goes on to note that Rosneft has already floated a billion dollars to PDVSA for promised future oil shipments, and the regime of socialist dictator Nicolas Maduro used Russian money to avoid defaulting on bonds at least twice. Russia announced one of these seemingly risky advance payments immediately after the United States announced a new round of sanctions against Maduro at the beginning of August.

Barron's explains that Russia's advance payments for Venezuelan crude are essentially a stealth strategy for buying the oil fields themselves. Russia writes huge checks for barrels of oil, Venezuela is unable to deliver the product or pay the debt, and Russia swaps the debt for equity in the oil projects.
New York Times, "Is Putin Getting What He Wanted With Trump?" 10 June 2017:

In the Senate last week, Richard Burr, a Republican from North Carolina, asked the fired F.B.I. director James Comey if he had "any doubt that Russia attempted to interfere in the 2016 elections." Mr. Comey responded with a single word: "None."

Indeed, he went on to tell the American public that the Russians "did it with purpose, they did it with sophistication, they did it with overwhelming technical efforts." And he warned: "They will be back," adding, "they are coming after America."

Vodka shots in the Kremlin, right? Not exactly.

Doubtless Vladimir Putin continues to derive satisfaction from having assaulted American democracy and embarrassed Hillary Clinton. But the Russian president had one paramount priority: to lift Western sanctions.
As MR has noted, the parasite "federation" that is the Russian Federation, works with rogue nations such as North Korea and Belarus. The Times article adds -
[ibid]

According to one estimate, a quarter of Russia's global weapons exports in 2015 were to rogue Venezuela, in transactions predominantly effected via loans. Last week, Moscow cut $1 billion from projected state budget revenues.
The Express -
Express, "TRUMP'S NEW THREAT? US President urged to act as Venezuela forges closer links to RUSSIA", 8 April 2017:

DONALD Trump could be forced to step in to save Venezuela amid fears the failing South American country could be about to turn to Russia or Iran for support.

The Trump administration in Washington is already dealing with a string of crises across the globe - including deadly conflict in Iraq and Syria and the fight against Islamic extremism.

But improving relations with Russia, who today claimed its relationship with the US was in "tatters", could prove to be the government's biggest challenge to date.

Russia has not been a threat to America since the Cold War era - yet Moscow could now have found a sneaky way to stir up new tensions with the US without even lifting a finger.

Venezuela has always enjoyed warm relations with Russia, purchasing more than £3.2billion worth of arms from the former Soviet state since 2005.

And in 2009, Russia approved a whopping £1.6bn loan for the Latin American nation as it struggled with an inflation crisis that has left thousands of people struggling to afford food.

However, experts in the US have now warned there could be more to the 'friendship' than meets the eye.

Speaking to the Senate Armed Services Committee, a US top military official warned Venezuela could be a "destabilising" factor in Latin America - claiming a "regional response" could be needed following the country's growing humanitarian crisis.

But he also warned the relationships fostered by Venezuela could pose a real threat to the US in the future.