Majorityrights News > Category: Regionalism
...purposefully leaked or not, apparently kissing-up to YKW
Robert Kuttner revealed his conversation with Bannon: "To me," Bannon said, "the economic war with China is everything." ... "Ethno-nationalism—it's losers. It's a fringe element. I think the media plays it up too much, and we gotta help crush it, you know, uh, help crush it more." ..."These guys are a collection of clowns," he added.

American Prospect, "Steve Bannon, Unrepentant", by Robert Kuttner, 16 Aug 2017:

Trump's embattled strategist phones me, unbidden, to opine on China, Korea, and his enemies in the administration.

You might think from recent press accounts that Steve Bannon is on the ropes and therefore behaving prudently. In the aftermath of events in Charlottesville, he is widely blamed for his boss's continuing indulgence of white supremacists. Allies of National Security Adviser H.R. McMaster hold Bannon responsible for a campaign by Breitbart News, which Bannon once led, to vilify the security chief. Trump's defense of Bannon, at his Tuesday press conference, was tepid.

But Bannon was in high spirits when he phoned me Tuesday afternoon to discuss the politics of taking a harder line with China, and minced no words describing his efforts to neutralize his rivals at the Departments of Defense, State, and Treasury. "They're wetting themselves," he said, proceeding to detail how he would oust some of his opponents at State and Defense.

Needless to say, I was a little stunned to get an email from Bannon's assistant midday Tuesday, just as all hell was breaking loose once again about Charlottesville, saying that Bannon wished to meet with me.

Needless to say, I was a little stunned to get an email from Bannon's assistant midday Tuesday, just as all hell was breaking loose once again about Charlottesville, saying that Bannon wished to meet with me. I'd just published a column on how China was profiting from the U.S.-North Korea nuclear brinkmanship, and it included some choice words about Bannon's boss.

"In Kim, Trump has met his match," I wrote. "The risk of two arrogant fools blundering into a nuclear exchange is more serious than at any time since October 1962." Maybe Bannon wanted to scream at me?

I told the assistant that I was on vacation, but I would be happy to speak by phone. Bannon promptly called.

Far from dressing me down for comparing Trump to Kim, he began, "It's a great honor to finally track you down. I've followed your writing for years and I think you and I are in the same boat when it comes to China. You absolutely nailed it."

"We're at economic war with China," he added. "It's in all their literature. They're not shy about saying what they're doing. One of us is going to be a hegemon in 25 or 30 years and it's gonna be them if we go down this path. On Korea, they're just tapping us along. It's just a sideshow."

Bannon said he might consider a deal in which China got North Korea to freeze its nuclear buildup with verifiable inspections and the United States removed its troops from the peninsula, but such a deal seemed remote. Given that China is not likely to do much more on North Korea, and that the logic of mutually assured destruction was its own source of restraint, Bannon saw no reason not to proceed with tough trade sanctions against China.

Contrary to Trump's threat of fire and fury, Bannon said: "There's no military solution [to North Korea's nuclear threats], forget it. Until somebody solves the part of the equation that shows me that ten million people in Seoul don't die in the first 30 minutes from conventional weapons, I don't know what you're talking about, there's no military solution here, they got us." Bannon went on to describe his battle inside the administration to take a harder line on China trade, and not to fall into a trap of wishful thinking in which complaints against China's trade practices now had to take a backseat to the hope that China, as honest broker, would help restrain Kim.

"To me," Bannon said, "the economic war with China is everything. And we have to be maniacally focused on that. If we continue to lose it, we're five years away, I think, ten years at the most, of hitting an inflection point from which we'll never be able to recover."

Bannon's plan of attack includes: a complaint under Section 301 of the 1974 Trade Act against Chinese coercion of technology transfers from American corporations doing business there, and follow-up complaints against steel and aluminum dumping. "We're going to run the tables on these guys. We've come to the conclusion that they're in an economic war and they're crushing us."

But what about his internal adversaries, at the departments of State and Defense, who think the United States can enlist Beijing's aid on the North Korean standoff, and at Treasury and the National Economic Council who don't want to mess with the trading system?

"Oh, they're wetting themselves," he said, explaining that the Section 301 complaint, which was put on hold when the war of threats with North Korea broke out, was shelved only temporarily, and will be revived in three weeks. As for other cabinet departments, Bannon has big plans to marginalize their influence.
Advertisement

"I'm changing out people at East Asian Defense; I'm getting hawks in. I'm getting Susan Thornton [acting head of East Asian and Pacific Affairs] out at State."

But can Bannon really win that fight internally?

"That's a fight I fight every day here," he said. "We're still fighting. There's Treasury and [National Economic Council chair] Gary Cohn and Goldman Sachs lobbying."

"We gotta do this. The president's default position is to do it, but the apparatus is going crazy. Don't get me wrong. It's like, every day."

Bannon explained that his strategy is to battle the trade doves inside the administration while building an outside coalition of trade hawks that includes left as well as right. Hence the phone call to me.

There are a couple of things that are startling about this premise. First, to the extent that most of the opponents of Bannon's China trade strategy are other Trump administration officials, it's not clear how reaching out to the left helps him. If anything, it gives his adversaries ammunition to characterize Bannon as unreliable or disloyal.

More puzzling is the fact that Bannon would phone a writer and editor of a progressive publication (the cover lines on whose first two issues after Trump's election were "Resisting Trump" and "Containing Trump") and assume that a possible convergence of views on China trade might somehow paper over the political and moral chasm on white nationalism.

The question of whether the phone call was on or off the record never came up. This is also puzzling, since Steve Bannon is not exactly Bambi when it comes to dealing with the press. He's probably the most media-savvy person in America.

I asked Bannon about the connection between his program of economic nationalism and the ugly white nationalism epitomized by the racist violence in Charlottesville and Trump's reluctance to condemn it. Bannon, after all, was the architect of the strategy of using Breitbart to heat up white nationalism and then rely on the radical right as Trump's base.

He dismissed the far right as irrelevant and sidestepped his own role in cultivating it: "Ethno-nationalism—it's losers. It's a fringe element. I think the media plays it up too much, and we gotta help crush it, you know, uh, help crush it more."

"These guys are a collection of clowns," he added.

From his lips to Trump's ear.

"The Democrats," he said, "the longer they talk about identity politics, I got 'em. I want them to talk about racism every day. If the left is focused on race and identity, and we go with economic nationalism, we can crush the Democrats."

I had never before spoken with Bannon. I came away from the conversation with a sense both of his savvy and his recklessness. The waters around him are rising, but he is going about his business of infighting, and attempting to cultivate improbable outside allies, to promote his China strategy. His enemies will do what they do.

Either the reports of the threats to Bannon's job are grossly exaggerated and leaked by his rivals, or he has decided not to change his routine and to go down fighting. Given Trump's impulsivity, neither Bannon nor Trump really has any idea from day to day whether Bannon is staying or going. He has survived earlier threats. So what the hell, damn the torpedoes.

The conversation ended with Bannon inviting me to the White House after Labor Day to continue the discussion of China and trade. We'll see if he's still there.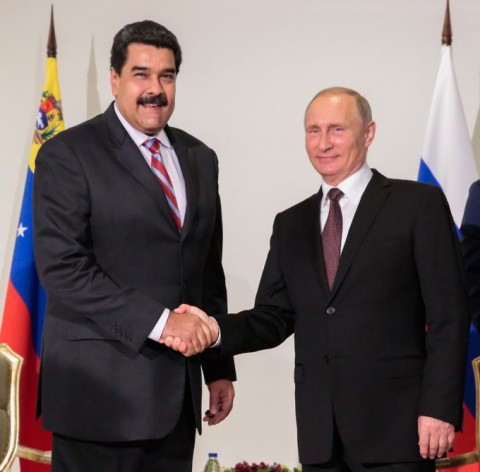 Venezuela, a back door against sanctions and a foothold in the Caribbean in the face of America once again: Venezuela's Maduro selling oil to Putin.
Venezuela tried to build their economy the wrong way, by selling oil and other natural resources rather than developing the infrastructure by which they might process the oil and other resources in order to sustain and advance their economy.
Venezuela is one of the pariah states along with Belarus and North Korea that the Russian Federation likes to play games with; the RF is now swooping-in for a foothold, for what could be increasing geopolitical control over the Caribbean and Gulf of Mexico.
Breitbart, "Report: Moscow Takes Control of Venezuelan Oil Assets amid Socialist Meltdown", 14 Aug 2017:

Venezuela needs cash, and Russia has it. Venezuela has oil, and Russia wants it. According to a special report at Reuters, the socialist meltdown in Venezuela is likely to end with Moscow controlling a good deal of that tormented country's most valuable asset: its oil fields.

According to Reuters, Russia's giant state-owned oil company Rosneft has been holding secret negotiations with its opposite number in Venezuela, PDVSA, to purchase "ownership interests in up to nine of Venezuela's most productive petroleum projects."

The number of Venezuela projects Russia would have substantial or ownership stakes in would jump from five to 14 if these deals go through. The new acquisitions would include projects in some of Venezuela's richest oil and natural gas fields.

The article goes on to note that Rosneft has already floated a billion dollars to PDVSA for promised future oil shipments, and the regime of socialist dictator Nicolas Maduro used Russian money to avoid defaulting on bonds at least twice. Russia announced one of these seemingly risky advance payments immediately after the United States announced a new round of sanctions against Maduro at the beginning of August.

Barron's explains that Russia's advance payments for Venezuelan crude are essentially a stealth strategy for buying the oil fields themselves. Russia writes huge checks for barrels of oil, Venezuela is unable to deliver the product or pay the debt, and Russia swaps the debt for equity in the oil projects.
New York Times, "Is Putin Getting What He Wanted With Trump?" 10 June 2017:

In the Senate last week, Richard Burr, a Republican from North Carolina, asked the fired F.B.I. director James Comey if he had "any doubt that Russia attempted to interfere in the 2016 elections." Mr. Comey responded with a single word: "None."

Indeed, he went on to tell the American public that the Russians "did it with purpose, they did it with sophistication, they did it with overwhelming technical efforts." And he warned: "They will be back," adding, "they are coming after America."

Vodka shots in the Kremlin, right? Not exactly.

Doubtless Vladimir Putin continues to derive satisfaction from having assaulted American democracy and embarrassed Hillary Clinton. But the Russian president had one paramount priority: to lift Western sanctions.
As MR has noted, the parasite "federation" that is the Russian Federation, works with rogue nations such as North Korea and Belarus. The Times article adds -
[ibid]

According to one estimate, a quarter of Russia's global weapons exports in 2015 were to rogue Venezuela, in transactions predominantly effected via loans. Last week, Moscow cut $1 billion from projected state budget revenues.
The Express -
Express, "TRUMP'S NEW THREAT? US President urged to act as Venezuela forges closer links to RUSSIA", 8 April 2017:

DONALD Trump could be forced to step in to save Venezuela amid fears the failing South American country could be about to turn to Russia or Iran for support.

The Trump administration in Washington is already dealing with a string of crises across the globe - including deadly conflict in Iraq and Syria and the fight against Islamic extremism.

But improving relations with Russia, who today claimed its relationship with the US was in "tatters", could prove to be the government's biggest challenge to date.

Russia has not been a threat to America since the Cold War era - yet Moscow could now have found a sneaky way to stir up new tensions with the US without even lifting a finger.

Venezuela has always enjoyed warm relations with Russia, purchasing more than £3.2billion worth of arms from the former Soviet state since 2005.

And in 2009, Russia approved a whopping £1.6bn loan for the Latin American nation as it struggled with an inflation crisis that has left thousands of people struggling to afford food.

However, experts in the US have now warned there could be more to the 'friendship' than meets the eye.

Speaking to the Senate Armed Services Committee, a US top military official warned Venezuela could be a "destabilising" factor in Latin America - claiming a "regional response" could be needed following the country's growing humanitarian crisis.

But he also warned the relationships fostered by Venezuela could pose a real threat to the US in the future.

QZ, "Trump just gave China what it wanted for its new Silk Road: a credibility boost from the US", 15 May 2017:

China's "new Silk Road" initiative aims to link the economies of Asia, Europe, the Middle East, and Africa—but Beijing would really like the US to get on board.

Also called "One Belt, One Road" (OBOR), the initiative involves expensive infrastructure projects—led by Chinese state-owned companies—in dozens of nations. The US has much to offer, and as part of a trade deal (paywall) with China announced last week, the Trump administration agreed to send one of its top Asia experts, Matthew Pottinger, a National Security Council official, to a two-day OBOR summit just completed in Beijing.

His presence amounted to a nod from the US. Recent pieces in China's state-controlled media hint at why that's so important to Beijing:

"Under the current international framework, the US is leading international organizations like the United Nations, the World Bank, and the International Monetary Fund," read a commentary (link in Chinese) in Xiakedao, a WeChat account run by the People's Daily. "This is like a date, when a girl says yes to dinner and a movie—there will be further development possibilities."

It goes on:

"It's estimated that $1.7 trillion would be required for annual infrastructure investments on nations involved in OBOR, but the three [funding] institutions involved—the Asian Infrastructure Investment Bank, the New Development Bank, and the Silk Road Fund—only have capital totaling $240 billion. The US can help advocate OBOR in key fundraising areas."

The US can also help deal with "security and geopolitical challenges" in the implementation of OBOR, noted a commentary in the Global Times. For instance, India has some issues with the China-Pakistan Economic Corridor, an OBOR land-corridor project (with a $46 billion investment from China) that partially runs through contested territory in Kashmir.

The commentary said:

"Washington's participation in the Belt and Road initiative will have knock-on effects, encouraging its allies to see the initiative from a more rational and objective perspective, and thus help win Beijing and its infrastructure projects more international understanding and influence."

The US economy will also benefit from OBOR, suggested Chinese state media.

The US should be "a stakeholder in the initiative," read a column in the Global Times, as joining it would "deliver benefits to American companies and help increase job opportunities within the country."

America "has a lot to gain by participating in the Belt and Road," said an opinion piece in the People's Daily. It should "embrace China's progress in regional integration and seize the opportunity."

The presence of Pottinger no doubt cheered Beijing, which had difficulty luring top leaders to the summit—of the 64 OBOR nations that could have sent their heads of state, only 20 chose to do so.

Read next: Your guide to understanding OBOR, China's new Silk Road plan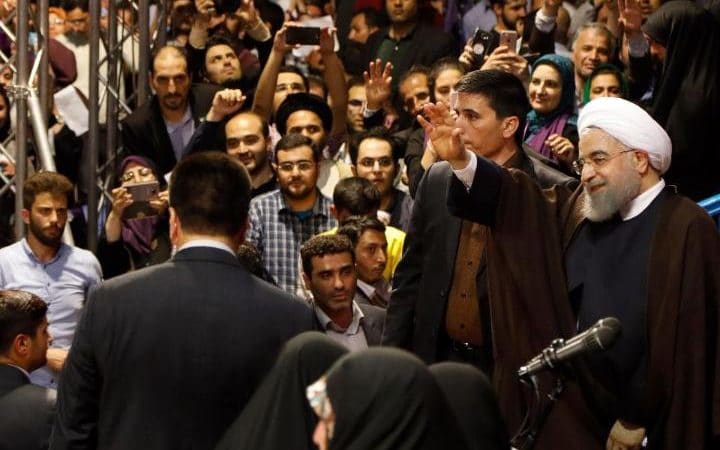 The impending failure of the Iran deal is being disingenuously blamed on the very moderate Iranians that ethno-nationalists would hope to empower in and of the deal - that failure being blamed on them, as opposed to who actually deserves the blame: primarily the Trump administration and its friends.
Daily Telegraph, "Iran presidential candidates lay blame for 'failed' nuclear deal on reformer Rouhani", 13 May 2017:

President Hassan Rouhani faced accusations of a failed nuclear deal which has not benefitted the Iranian people, during the final televised debate with his rivals before the country's presidential election next week.

The vote is being seen as largely a referendum on reformer Mr Rouhani's outreach to the rest of the world following a landmark accord with global powers, which ended sanctions but bitterly divided the country.

The president is believed to be the frontrunner in the May 19 election but the failure of the 2015 accord to bring economic gains for the public has brought an opening that his main competitors, powerful conservative cleric Ebrahim Raisi and hardline Tehran mayor Mohammad Bagher Qalibaf, have sought to exploit.
TomDispatch: "Is President Trump Headed for a War with China?" All Options Are "On The Table" - Rajan Menon, 12 Feb 2017:

Forget those "bad hombres down there" in Mexico that U.S. troops might take out. Ignore the way National Security Adviser Michael Flynn put Iran "on notice" and the new president insisted, that, when it comes to that country, "nothing is off the table." Instead, focus for a moment on something truly scary: the possibility that Donald Trump's Washington might slide into an actual war with the planet's rising superpower, China. No kidding. It could really happen.

Let's start with silver-maned, stately Rex Tillerson, Donald Trump's pick for secretary of state. Who could deny that the former ExxonMobil CEO has a foreign minister's bearing? Trump reportedly chose him over neocon firebrand John Bolton partly for that reason. (Among other things, Bolton was mustachioed, something the new president apparently doesn't care for.) But an august persona can only do so much; it can't offset a lack of professional diplomatic experience.

That became all-too-apparent during Tillerson's January 11th confirmation hearing before the Senate Foreign Relations Committee. He was asked for his view on the military infrastructure China has been creating on various islands in the South China Sea, the ownership of which other Asian countries, including Taiwan, the Philippines, Vietnam, Malaysia, and Brunei claim as well . China's actions, he replied, were "extremely worrisome," likening them to Russia's annexation of Ukraine's Crimean peninsula, an infraction for which Russia was slapped with economic sanctions.

The then-secretary-of-state-designate — he's since been confirmed, despite many negative votes — didn't, however, stop there. Evidently, he wanted to communicate to the Chinese leadership in Beijing that the new administration was already irked beyond measure with them. So he added, "We're going to have to send China's leaders a clear signal: that, first, the island building stops and, second, your access to those islands is not going to be allowed." Functionally, that fell little short of being an announcement of a future act of war, since not allowing "access" to those islands would clearly involve military moves. In what amounted to a there's-a-new-sheriff-in-town warning, he then doubled down yet again, insisting, slightly incoherently (in the tradition of his new boss) that "the failure of a response has allowed them to just keep pushing the envelope on this."

All right, so maybe a novice had a bad day. Maybe the secretary-of-state-to-be simply ad-libbed and misspoke… whatever. If so, you might have expected a later clarification from him or from someone on the Trump national security team anyway.

That didn't happen; instead, that team stuck to its guns. White House Press Secretary Sean Spicer made no effort to add nuance to, let alone walk back, Tillerson's remarks. During his first official press briefing on January 23rd, Spicer declared that the United States "is going to make sure we defend our interests there" — in the South China Sea, that is — and that "if those islands are in fact in international waters and not part of China proper, then yes, we are going to make sure that we defend international territories from being taken over by one country."

And what of Trump's own views on the island controversy? Never one to pass up an opportunity for hyperbole, during the presidential campaign he swore that, on those tiny islands, China was building "a military fortress the likes of which the world has not seen." As it happened, he wasn't speaking about, say, the forces that Hitler massed for the ill-fated Operation Barbarossa, launched in June 1941 with the aim of crushing the Red Army and the Soviet Union, or those deployed for the June 1944 Normandy landing, which sealed Nazi Germany's fate. When applied to what China has been up to in the South China Sea, his statement fell instantly into the not-yet-named category of "alternative facts."

Candidate Trump also let it be known that he wouldn't allow Beijing to get away with such cheekiness on his watch. Why had the Chinese engaged in military construction on the islands? Trump had a simple answer (as he invariably does): China "has no respect for our president and no respect for our country." The implication was evident. Things would be different once he settled into the White House and made America great again. Then — it was easy enough to conclude — China had better watch out.

Standard campaign bombast? Well, Trump hasn't changed his tune a bit since being elected. On December 4th, using (of course!) his Twitter account, he blasted Beijing for having built "a massive military complex in the middle of the South China Sea." And it's safe to assume that he signed off on Spicer's combative comments as well.

In short, his administration has already drawn a red line — but in the way a petulant child might with a crayon. During and after the campaign he made much of his determination to regain the respect he claims the U.S. has lost in the world, notably from adversaries like China. The danger here is that, in dealing with that country, Trump could, as is typical, make it all about himself, all about "winning," one of his most beloved words, and disaster might follow.

Whose Islands?


China claims disputed islands are 'sacred territory'

A military clash between Trump-led America and a China led by President Xi Jinping? Understanding how it might happen requires a brief detour to the place where it's most likely to occur: the South China Sea. Our first task: to understand China's position on that body of water and the islands it contains, as well as the nature of Beijing's military projects there. So brace yourself for some necessary detail.

As Marina Tsirbas, a former diplomat now at the Australian National University's National Security College, explains, Beijing's written and verbal statements on the South China Sea lend themselves to two different interpretations. The Chinese government's position boils down to something like this: "We own everything — the waters, islands and reefs, marine resources, and energy and mineral deposits — within the Nine-Dash Line." That demarcation line, which incidentally has had ten dashes, and sometimes eleven, originally appeared in 1947 maps of the Republic of China, the Nationalist government that would soon flee to the island of Taiwan leaving the Chinese Communists in charge of the mainland. When Mao Ze Dong and his associates established the People's Republic, they retained that Nationalist map and the demarcation line that went with it, which just happened to enclose virtually all of the South China Sea, claiming sovereign rights.

This stance — think of it as Beijing's hard line on the subject — raises instant questions about other countries' navigation and overflight rights through that much-used region. In essence, do they have any and, if so, will Beijing alone be the one to define what those are? And will those definitions start to change as China becomes ever more powerful? These are hardly trivial concerns, given that about $5 trillion worth of goods pass through the South China Sea annually.

Then there's what might be called Beijing's softer line, based on rights accorded by the legal concepts of the territorial sea and the Exclusive Economic Zone (EEZ). Under the U.N. Convention on the Law of the Sea (UNCLOS), which took effect in 1994 and has been signed by 167 states (including China but not the United States), a country has sovereign control within 12 nautical miles of its coast as well as of land formations in that perimeter visible at high tide. But other countries have the right of "innocent passage." The EEZ goes further. It provides a rightful claimant control over access to fishing, as well as seabed and subsoil natural resources , within "an area beyond and adjacent to the territorial sea" extending 200 nautical miles, while ensuring other states' freedom of passage by air and sea. UNCLOS also gives a state with an EEZ control over "the establishment and use of artificial islands, installations, and structures" within that zone — an important provision at our present moment.

What makes all of this so much more complicated is that many of the islands and reefs in the South China Sea that provide the basis for defining China's EEZ are also claimed by other countries under the terms of UNCLOS. That, of course, immediately raises questions about the legality of Beijing's military construction projects in that watery expanse on islands, atolls, and strips of land it's dredging into existence, as well as its claims to seabed energy resources, fishing rights, and land reclamation rights there — to say nothing about its willingness to seize some of them by force, rival claims be damned.


Subi Reef, being built into an artificial island-landing strip in 2015

Moreover, figuring out which of these two positions — hard or soft — China embraces at any moment is tricky indeed. Beijing, for instance, insists that it upholds freedom of navigation and overflight rights in the Sea, but it has also said that these rights don't apply to warships and military aircraft. In recent years its warplanes have intercepted, and at close quarters, American military aircraft flying outside Chinese territorial waters in the same region. Similarly, in 2015, Chinese aircraft and ships followed and issued warnings to an American warship off Subi Reef in the Spratly Islands, which both China and Vietnam claim in their entirety. This past December, its Navy seized, but later returned, an underwater drone the American naval ship Bowditch had been operating near the coast of the Philippines.

There were similar incidents in 2000, 2001, 2002, 2009, 2013, and 2014. In the second of these episodes, a Chinese fighter jet collided with a US Navy EP-3 reconnaissance plane, which had a crew of 24 on board, less than 70 miles off Hainan island, forcing it to make an emergency landing in China and creating a tense standoff between Beijing and Washington. The Chinese detained the crew for 11 days. They disassembled the EP-3, returning it three months later in pieces.

Such muscle flexing in the South China Sea isn't new. China has long been tough on its weaker neighbors in those waters. Back in 1974, for instance, its forces ejected South Vietnamese troops from parts of the Paracel/Xisha islands that Beijing claimed but did not yet control. China has also backed up its claim to the Spratly/Nansha islands (which Taiwan, Vietnam, and other regional countries reject) with air and naval patrols, tough talk, and more. In 1988, it forcibly occupied the Vietnamese-controlled Johnson Reef, securing control over the first of what would eventually become seven possessions in the Spratlys.

Vietnam has not been the only Southeast Asian country to receive such rough treatment. China and the Philippines both claim ownership of Panatag (Scarborough) Shoal/Huangyang Island, located 124 nautical miles off Luzon Island in the Philippines. In 2012, Beijing simply seized it, having already ejected Manila from Panganiban Reef (aka Mischief Reef), about 129 nautical miles from the Philippines' Palawan Island, in 1995. In 2016, when an international arbitration tribunal upheld Manila's position on Mischief Reef and Scarborough Shoal, the Chinese Foreign Ministry sniffed that "the decision is invalid and has no binding force." Chinese president Xi Jinping added for good measure that China's claims to the South China Sea stretched back to "ancient times."

Then there's China's military construction work in the area, which includes the building of full-scale artificial islands, as well as harbors, military airfields, storage facilities, and hangars reinforced to protect military aircraft. In addition, the Chinese have installed radar systems, anti-aircraft missiles, and anti-missile defense systems on some of these islands.

These , then, are the projects that the Trump administration says it will stop. But China's conduct in the South China Sea leaves little doubt about its determination to hold onto what it has and continue its activities. The Chinese leadership has made this clear since Donald Trump's election, and the state-run press has struck a similarly defiant note, drawing crude red lines of its own. For example, the Global Times, a nationalist newspaper, mocked Trump's pretensions and issued a doomsday warning: "The U.S. has no absolute power to dominate the South China Sea. Tillerson had better bone up on nuclear strategies if he wants to force a big nuclear power to withdraw from its own territories."

Were the administration to follow its threatening talk with military action, the Global Times added ominously, "The two sides had better prepare for a military clash." Although the Chinese leadership hasn't been anywhere near as bombastic, top officials have made it clear that they won't yield an inch on the South China Sea, that disputes over territories are matters for China and its neighbors to settle, and that Washington had best butt out.

[...]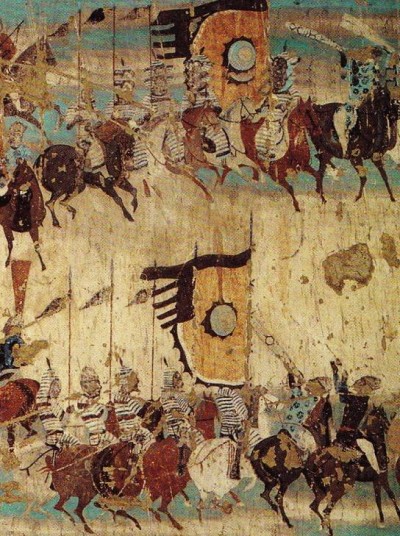 Details of painting of the meeting of Manjusri and Vimalakirti.
Originally Published Dec `2004 by John Jay, who said:
Both India and China are countries that have had the sort of moderate contact with the rest of Eurasia that their position at two extremities of Asia would lead one to expect. Both India and China have had their own sophisticated civilizations for at least two thousand years. The Chinese invented such things as gunpowder and printing. The Indians invented the so-called "Arabic" numerals that we use to this day and one of their religions (Buddhism) has been enormously influential outside their own borders. Both Indians and Chinese do extremely well economically outside their home countries. To me this is a picture of two generally intelligent populations. Yet the average IQ score for the two differs markedly. Chinese score somewhat above the Western norm and Indians score markedly below it. How come?
The comments have not been displaying after number 1000 - Sunny Mittal on Sat, 31 Aug 2013 14:41 | #, 1000 - therefore, I will include below the subsequent comments that were attempted since; and those who wish to comment on this thread may continue to do so here.
anonymous 2014-08-24 11:09 AM said:

You should continue this subject in another page from the 1001st post

Ok, as we said, there were a few dozen comments which didn't register after number 1000. The ones that did not appear span from 31 Aug 2013 to 27 Dec 2016 and are being displayed here, under the fold; the thread is continued anew and comments may resume.
Interviewed at the

ADDE

conference in Stockholm 4 Nov., Rolandas Paksas recommends Lithuana's participation in The Intermarium.

Visigrad Post, Lithuania – Interview with Rolandas Paksas, former President of Lithuania: "The Visegrád group could be a great ally for the Baltics and Lithuania, and we shall strengthen the cooperation."

Ferenc Almássy conducted an interview in Stockholm with Rolandas Paksas, MEP, former President and former Prime Minister of Lithuania, and former mayor of Vilnius. The controversial national-liberal politician accepted a request to answer a few questions for the Visegrád Post on 4 Nov. 2016, as he participated to a congress of the ADDE in Stockholm.

Ferenc Almássy: Thank you for your time Mr. President. Is it the case for you that you consider the Visegrád group a potential useful ally for Lithuania and for the Baltic states, for a military, economical and of course political cooperation? Within the EU, Orbán in Hungary, PiS in Poland but also Fico in Slovakia are doing a lot to support the idea of a Europe of sovereign nations. So, how do you see the V4, from a Baltic, or more precisely, a Lithuanian point of view?

Rolandas Paksas: In my opinion, yes, the Visegrád group could be a great ally for the Baltics and Lithuania, absolutely. When I served as Lithuanian President, and Lithuania became member of the EU on May 1, 2004, I was absolutely supporting the EU's membership of Lithuania, and I was very active in the campaign for the referendum on this topic, as I saw the membership as a very good opportunity for the country's future.

But it is a pity, the EU has changed. And not in the good direction. We have now one state, I mean, the European Union has became a state, with its unique capital, its own rules and one leader, but also many bureaucrats in Brussels.

So I see the Visegrád group as a possibility to save the European Union. The EU should be a Union between equals. No matter how much population of how many languages are spoken in a country. We need a new way in order to save the European Union, and I agree therefore that the Visegrád group is a good possibility for all of us.

FA: You are speaking about saving the European Union, but what is then your opinion on Brexit?

Rolandas Paksas: This is the decision of the people. And not stupid people or poor, uneducated people as we were told, each day, ten hours a day, by mainstream media. Not at all. It was the decision of clever people in order to save England and the European Union. For me it is a great pity that the opportunity to save the European Union right after Brexit has not been taken. The European Union should have been changed after the Brexit ; but actually, I saw the exact opposite. I see ugliness and dictator-like behaviors from Brussels' bureaucrats, and from the leaders of the European Union, and it seems to me, if nothing changes, that the European Union has four of five years left.

FA: The Visegrád countries are under the economical rule of Germany…

Rolandas Paksas: Yes!

FA: …but what is the situation in the Baltics countries, I mean, from an economical point of view?

Rolandas Paksas: Baltics countries are given money by the European Union. Economically, people are counting on this. Of course, it looks like a very good business to get four euros when you invested one! But that will not last. It is temporary. And it does not have a strong ground.

FA: How do you see the future of the Baltic countries if they stay in the EU and if the EU doesn't change?

Rolandas Paksas: I'm MEP for the second time. Seven years ago, for ideas such as the ones shared by the members of the ADDE, I saw 70 to 90 votes in the parliament. Nowadays, we can reach 250, sometimes 300, so basically the half of the parliament. Such is the situation in Lithuania and the Baltic states. People's ideas have changed a lot. People in Lithuania now fight for their nation, their culture, their language, and for the Lithuanian tradition. They do not want to be part of an other union destroying our country. We were in such a union once, it was called the Soviet Union. So no more of that, no more…

FA: Do you think the Baltic countries should join or at least be strong partners of the V4 to avoid such evolution?

Rolandas Paksas: I am absolutely in favor of any stronger cooperation. But our establishment is not ready for that.

FA: For what reason?

Rolandas Paksas: There are several reasons. For one, it's money. For another, it can be their position, their career… Our establishment is not ready for that.

FA: But you do think it is Lithuania's national interest to cooperate strongly with the V4?

Rolandas Paksas: Absolutely. And I think the establishment will change within a couple of years…
While Duda and Orbán's invocation of the centrality of Christianity to the nationalist cause will be disconcerting to many of us more wise to the fact that it is a Jewish Trojan horse, we should be charitable enough to understand that it has been, and remains still, a culturally habituated way of saying "not Jewish."
It is up to us to support native European nationalist efforts by pointing-out that this is a provisional distinction at best, albeit a 2,000 year old provision, which has had a way of binding nationalist masses and yoking their identity with Noahide laws (as Kumiko astutely observes) - thus, ultimately, to Jewish control if we do not successfully liberate ourselves from the false identity that is the "Gentile" (as GW astutely observes) - an "identity" which knows no distinction other than "the undifferentiated other" to Jews and its beholdenness to its Jewish forebears for its messiah and its law.
Enough sour grapes for now. There is certainly hope in Duda's concordance with Orbán in furtherance of the Intermarium project on display at the commemoration of the 1955 Hungarian Uprising -
Visigrad Post, "Duda and Orbán against Brussels' sovietisation", 24 Oct 2016:

Hungary, Budapest – On Sunday, October 23, Hungary celebrated the start of the '56 uprising. In front of the Hungarian parliament, Hungarian Prime Minister Viktor Orbán and Polish President Andrzej Duda gave a strong speech against the current policy of the European Union, about Christianity and about the deep friendship between Poland and Hungary.

Polish President Duda greeting the crowd. MTI Fotó: Szigetváry Zsolt

In front of thousands of people gathered on the place Kossuth, in the center of Budapest, Hungarian PM Orbán and Polish President Duda made a speech welcomed by Hungarian and Polish citizens. President Duda first talked in front of the crowd. The Polish President started his speech by saying few words in Hungarian. Hungarians "have always been friends" and they can always rely on Poland, "even in difficult moments of the future," said Andrzej Duda.

Poland is "proud and grateful" that it was able to provide aid to the Hungarian revolution, Duda said, and noted that his people had sent 44 tonnes of medicine and medical equipment as well as 800 litres of blood to Hungary shortly after the uprising broke out. "Poles are proud that the grandchildren of 1956 heroes have, symbolically, Polish blood in their veins", the president said. In Hungary's freedom fight "thousands died, but after some decades, finally, you recovered your freedom through much suffering and sacrifice," Duda said. He also voiced his conviction that "through hard work both Poles and Hungarians will achieve the living standards of western societies", reports Hungary Today.

Concerning the traditional friendship between the two countries, Duda said that they together "carry on the thousand-year-old Christian tradition in Europe", and insisted that those traditions were just as important as freedom. "God bless Poland and Hungary, glory to the heroes of the Hungarian revolution," Duda said concluding his address.

Viktor Orbán during his speech on Sunday, October 23

"Protect Brussels against Sovietisation"

Then, Prime Minister Orbán gave his speech. The European Union must not be turned into a "modern-age empire"; the community must not be replaced by a "United States of Europe", Hungarian Prime Minister Viktor Orbán said on Sunday. Viktor Orbán said that "freedom-loving peoples of Europe must save Brussels from Sovietisation".

"We, Hungarians, want to remain a European nation, rather than become an ethnic minority in Europe," Orbán insisted. "It is only our national independence that can save us from being devoured by an empire," Orbán said, and argued that it was that very "national idea" that had saved Hungary from being integrated into the Soviet Union. As descendants of 1956, Hungarians "cannot let Europe cut the roots that had once made it great and also helped us survive communist oppression," Orbán said. He added that Europe could not be "free, strong, and respectable without the revitalising power of nations and two thousand years of Christian wisdom". The prime minister insisted that Hungary had chosen "the hard way" when it "preferred children of its own to immigrants, work to speculation, earning a living to becoming a slave of indebtedness, and protecting borders to surrendering".

Hungarians will always fight for freedom and will achieve it "even in the most hopeless of situations," Prime Minister Viktor Orbán said at the state commemoration marking the 60th anniversary of Hungary's anti-Soviet uprising of 1956. "We, Hungarians, have a talent for freedom, we have always known how to use it. He warned that freedom is "not a final state but a way of existence; just like swimming: you stop doing it and you will sink". The question is always this simple: whether we decide on our own fate or other people," he added. October 23 is a day on which Hungarians should be proud, the prime minister said.

History puts Hungary in the mainstream of disputes on the future of Europe every 30 years, the prime minister said. He argued that in 1956 Hungary attempted to "shift the Iron Curtain east of our borders", then in 1989 the country opened its western borders "so that Germans could find a way to Germans". And most recently, Hungary "had to close its borders to stop the influx of migrants from the south", he said. Hungary will not falter "even if those whom we are trying to protect attack us from behind"; we have "the courage to face injustice… and Europe can always rely on us," Orbán said.