Majorityrights News > Category: Regionalism
TomDispatch: "Is President Trump Headed for a War with China?" All Options Are "On The Table" - Rajan Menon, 12 Feb 2017:

Forget those "bad hombres down there" in Mexico that U.S. troops might take out. Ignore the way National Security Adviser Michael Flynn put Iran "on notice" and the new president insisted, that, when it comes to that country, "nothing is off the table." Instead, focus for a moment on something truly scary: the possibility that Donald Trump's Washington might slide into an actual war with the planet's rising superpower, China. No kidding. It could really happen.

Let's start with silver-maned, stately Rex Tillerson, Donald Trump's pick for secretary of state. Who could deny that the former ExxonMobil CEO has a foreign minister's bearing? Trump reportedly chose him over neocon firebrand John Bolton partly for that reason. (Among other things, Bolton was mustachioed, something the new president apparently doesn't care for.) But an august persona can only do so much; it can't offset a lack of professional diplomatic experience.

That became all-too-apparent during Tillerson's January 11th confirmation hearing before the Senate Foreign Relations Committee. He was asked for his view on the military infrastructure China has been creating on various islands in the South China Sea, the ownership of which other Asian countries, including Taiwan, the Philippines, Vietnam, Malaysia, and Brunei claim as well . China's actions, he replied, were "extremely worrisome," likening them to Russia's annexation of Ukraine's Crimean peninsula, an infraction for which Russia was slapped with economic sanctions.

The then-secretary-of-state-designate — he's since been confirmed, despite many negative votes — didn't, however, stop there. Evidently, he wanted to communicate to the Chinese leadership in Beijing that the new administration was already irked beyond measure with them. So he added, "We're going to have to send China's leaders a clear signal: that, first, the island building stops and, second, your access to those islands is not going to be allowed." Functionally, that fell little short of being an announcement of a future act of war, since not allowing "access" to those islands would clearly involve military moves. In what amounted to a there's-a-new-sheriff-in-town warning, he then doubled down yet again, insisting, slightly incoherently (in the tradition of his new boss) that "the failure of a response has allowed them to just keep pushing the envelope on this."

All right, so maybe a novice had a bad day. Maybe the secretary-of-state-to-be simply ad-libbed and misspoke… whatever. If so, you might have expected a later clarification from him or from someone on the Trump national security team anyway.

That didn't happen; instead, that team stuck to its guns. White House Press Secretary Sean Spicer made no effort to add nuance to, let alone walk back, Tillerson's remarks. During his first official press briefing on January 23rd, Spicer declared that the United States "is going to make sure we defend our interests there" — in the South China Sea, that is — and that "if those islands are in fact in international waters and not part of China proper, then yes, we are going to make sure that we defend international territories from being taken over by one country."

And what of Trump's own views on the island controversy? Never one to pass up an opportunity for hyperbole, during the presidential campaign he swore that, on those tiny islands, China was building "a military fortress the likes of which the world has not seen." As it happened, he wasn't speaking about, say, the forces that Hitler massed for the ill-fated Operation Barbarossa, launched in June 1941 with the aim of crushing the Red Army and the Soviet Union, or those deployed for the June 1944 Normandy landing, which sealed Nazi Germany's fate. When applied to what China has been up to in the South China Sea, his statement fell instantly into the not-yet-named category of "alternative facts."

Candidate Trump also let it be known that he wouldn't allow Beijing to get away with such cheekiness on his watch. Why had the Chinese engaged in military construction on the islands? Trump had a simple answer (as he invariably does): China "has no respect for our president and no respect for our country." The implication was evident. Things would be different once he settled into the White House and made America great again. Then — it was easy enough to conclude — China had better watch out.

Standard campaign bombast? Well, Trump hasn't changed his tune a bit since being elected. On December 4th, using (of course!) his Twitter account, he blasted Beijing for having built "a massive military complex in the middle of the South China Sea." And it's safe to assume that he signed off on Spicer's combative comments as well.

In short, his administration has already drawn a red line — but in the way a petulant child might with a crayon. During and after the campaign he made much of his determination to regain the respect he claims the U.S. has lost in the world, notably from adversaries like China. The danger here is that, in dealing with that country, Trump could, as is typical, make it all about himself, all about "winning," one of his most beloved words, and disaster might follow.

Whose Islands?


China claims disputed islands are 'sacred territory'

A military clash between Trump-led America and a China led by President Xi Jinping? Understanding how it might happen requires a brief detour to the place where it's most likely to occur: the South China Sea. Our first task: to understand China's position on that body of water and the islands it contains, as well as the nature of Beijing's military projects there. So brace yourself for some necessary detail.

As Marina Tsirbas, a former diplomat now at the Australian National University's National Security College, explains, Beijing's written and verbal statements on the South China Sea lend themselves to two different interpretations. The Chinese government's position boils down to something like this: "We own everything — the waters, islands and reefs, marine resources, and energy and mineral deposits — within the Nine-Dash Line." That demarcation line, which incidentally has had ten dashes, and sometimes eleven, originally appeared in 1947 maps of the Republic of China, the Nationalist government that would soon flee to the island of Taiwan leaving the Chinese Communists in charge of the mainland. When Mao Ze Dong and his associates established the People's Republic, they retained that Nationalist map and the demarcation line that went with it, which just happened to enclose virtually all of the South China Sea, claiming sovereign rights.

This stance — think of it as Beijing's hard line on the subject — raises instant questions about other countries' navigation and overflight rights through that much-used region. In essence, do they have any and, if so, will Beijing alone be the one to define what those are? And will those definitions start to change as China becomes ever more powerful? These are hardly trivial concerns, given that about $5 trillion worth of goods pass through the South China Sea annually.

Then there's what might be called Beijing's softer line, based on rights accorded by the legal concepts of the territorial sea and the Exclusive Economic Zone (EEZ). Under the U.N. Convention on the Law of the Sea (UNCLOS), which took effect in 1994 and has been signed by 167 states (including China but not the United States), a country has sovereign control within 12 nautical miles of its coast as well as of land formations in that perimeter visible at high tide. But other countries have the right of "innocent passage." The EEZ goes further. It provides a rightful claimant control over access to fishing, as well as seabed and subsoil natural resources , within "an area beyond and adjacent to the territorial sea" extending 200 nautical miles, while ensuring other states' freedom of passage by air and sea. UNCLOS also gives a state with an EEZ control over "the establishment and use of artificial islands, installations, and structures" within that zone — an important provision at our present moment.

What makes all of this so much more complicated is that many of the islands and reefs in the South China Sea that provide the basis for defining China's EEZ are also claimed by other countries under the terms of UNCLOS. That, of course, immediately raises questions about the legality of Beijing's military construction projects in that watery expanse on islands, atolls, and strips of land it's dredging into existence, as well as its claims to seabed energy resources, fishing rights, and land reclamation rights there — to say nothing about its willingness to seize some of them by force, rival claims be damned.


Subi Reef, being built into an artificial island-landing strip in 2015

Moreover, figuring out which of these two positions — hard or soft — China embraces at any moment is tricky indeed. Beijing, for instance, insists that it upholds freedom of navigation and overflight rights in the Sea, but it has also said that these rights don't apply to warships and military aircraft. In recent years its warplanes have intercepted, and at close quarters, American military aircraft flying outside Chinese territorial waters in the same region. Similarly, in 2015, Chinese aircraft and ships followed and issued warnings to an American warship off Subi Reef in the Spratly Islands, which both China and Vietnam claim in their entirety. This past December, its Navy seized, but later returned, an underwater drone the American naval ship Bowditch had been operating near the coast of the Philippines.

There were similar incidents in 2000, 2001, 2002, 2009, 2013, and 2014. In the second of these episodes, a Chinese fighter jet collided with a US Navy EP-3 reconnaissance plane, which had a crew of 24 on board, less than 70 miles off Hainan island, forcing it to make an emergency landing in China and creating a tense standoff between Beijing and Washington. The Chinese detained the crew for 11 days. They disassembled the EP-3, returning it three months later in pieces.

Such muscle flexing in the South China Sea isn't new. China has long been tough on its weaker neighbors in those waters. Back in 1974, for instance, its forces ejected South Vietnamese troops from parts of the Paracel/Xisha islands that Beijing claimed but did not yet control. China has also backed up its claim to the Spratly/Nansha islands (which Taiwan, Vietnam, and other regional countries reject) with air and naval patrols, tough talk, and more. In 1988, it forcibly occupied the Vietnamese-controlled Johnson Reef, securing control over the first of what would eventually become seven possessions in the Spratlys.

Vietnam has not been the only Southeast Asian country to receive such rough treatment. China and the Philippines both claim ownership of Panatag (Scarborough) Shoal/Huangyang Island, located 124 nautical miles off Luzon Island in the Philippines. In 2012, Beijing simply seized it, having already ejected Manila from Panganiban Reef (aka Mischief Reef), about 129 nautical miles from the Philippines' Palawan Island, in 1995. In 2016, when an international arbitration tribunal upheld Manila's position on Mischief Reef and Scarborough Shoal, the Chinese Foreign Ministry sniffed that "the decision is invalid and has no binding force." Chinese president Xi Jinping added for good measure that China's claims to the South China Sea stretched back to "ancient times."

Then there's China's military construction work in the area, which includes the building of full-scale artificial islands, as well as harbors, military airfields, storage facilities, and hangars reinforced to protect military aircraft. In addition, the Chinese have installed radar systems, anti-aircraft missiles, and anti-missile defense systems on some of these islands.

These , then, are the projects that the Trump administration says it will stop. But China's conduct in the South China Sea leaves little doubt about its determination to hold onto what it has and continue its activities. The Chinese leadership has made this clear since Donald Trump's election, and the state-run press has struck a similarly defiant note, drawing crude red lines of its own. For example, the Global Times, a nationalist newspaper, mocked Trump's pretensions and issued a doomsday warning: "The U.S. has no absolute power to dominate the South China Sea. Tillerson had better bone up on nuclear strategies if he wants to force a big nuclear power to withdraw from its own territories."

Were the administration to follow its threatening talk with military action, the Global Times added ominously, "The two sides had better prepare for a military clash." Although the Chinese leadership hasn't been anywhere near as bombastic, top officials have made it clear that they won't yield an inch on the South China Sea, that disputes over territories are matters for China and its neighbors to settle, and that Washington had best butt out.

[...]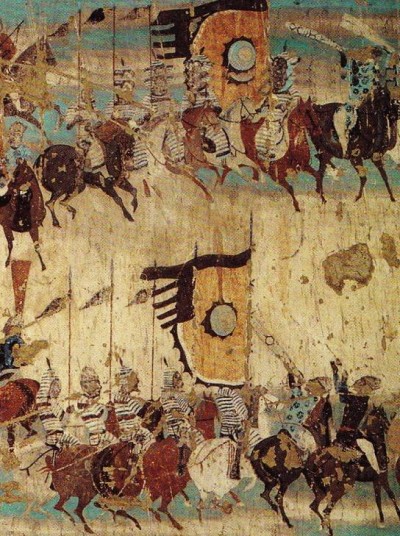 Details of painting of the meeting of Manjusri and Vimalakirti.
Originally Published Dec `2004 by John Jay, who said:
Both India and China are countries that have had the sort of moderate contact with the rest of Eurasia that their position at two extremities of Asia would lead one to expect. Both India and China have had their own sophisticated civilizations for at least two thousand years. The Chinese invented such things as gunpowder and printing. The Indians invented the so-called "Arabic" numerals that we use to this day and one of their religions (Buddhism) has been enormously influential outside their own borders. Both Indians and Chinese do extremely well economically outside their home countries. To me this is a picture of two generally intelligent populations. Yet the average IQ score for the two differs markedly. Chinese score somewhat above the Western norm and Indians score markedly below it. How come?
The comments have not been displaying after number 1000 - Sunny Mittal on Sat, 31 Aug 2013 14:41 | #, 1000 - therefore, I will include below the subsequent comments that were attempted since; and those who wish to comment on this thread may continue to do so here.
anonymous 2014-08-24 11:09 AM said:

You should continue this subject in another page from the 1001st post

Ok, as we said, there were a few dozen comments which didn't register after number 1000. The ones that did not appear span from 31 Aug 2013 to 27 Dec 2016 and are being displayed here, under the fold; the thread is continued anew and comments may resume.
Interviewed at the

ADDE

conference in Stockholm 4 Nov., Rolandas Paksas recommends Lithuana's participation in The Intermarium.

Visigrad Post, Lithuania – Interview with Rolandas Paksas, former President of Lithuania: "The Visegrád group could be a great ally for the Baltics and Lithuania, and we shall strengthen the cooperation."

Ferenc Almássy conducted an interview in Stockholm with Rolandas Paksas, MEP, former President and former Prime Minister of Lithuania, and former mayor of Vilnius. The controversial national-liberal politician accepted a request to answer a few questions for the Visegrád Post on 4 Nov. 2016, as he participated to a congress of the ADDE in Stockholm.

Ferenc Almássy: Thank you for your time Mr. President. Is it the case for you that you consider the Visegrád group a potential useful ally for Lithuania and for the Baltic states, for a military, economical and of course political cooperation? Within the EU, Orbán in Hungary, PiS in Poland but also Fico in Slovakia are doing a lot to support the idea of a Europe of sovereign nations. So, how do you see the V4, from a Baltic, or more precisely, a Lithuanian point of view?

Rolandas Paksas: In my opinion, yes, the Visegrád group could be a great ally for the Baltics and Lithuania, absolutely. When I served as Lithuanian President, and Lithuania became member of the EU on May 1, 2004, I was absolutely supporting the EU's membership of Lithuania, and I was very active in the campaign for the referendum on this topic, as I saw the membership as a very good opportunity for the country's future.

But it is a pity, the EU has changed. And not in the good direction. We have now one state, I mean, the European Union has became a state, with its unique capital, its own rules and one leader, but also many bureaucrats in Brussels.

So I see the Visegrád group as a possibility to save the European Union. The EU should be a Union between equals. No matter how much population of how many languages are spoken in a country. We need a new way in order to save the European Union, and I agree therefore that the Visegrád group is a good possibility for all of us.

FA: You are speaking about saving the European Union, but what is then your opinion on Brexit?

Rolandas Paksas: This is the decision of the people. And not stupid people or poor, uneducated people as we were told, each day, ten hours a day, by mainstream media. Not at all. It was the decision of clever people in order to save England and the European Union. For me it is a great pity that the opportunity to save the European Union right after Brexit has not been taken. The European Union should have been changed after the Brexit ; but actually, I saw the exact opposite. I see ugliness and dictator-like behaviors from Brussels' bureaucrats, and from the leaders of the European Union, and it seems to me, if nothing changes, that the European Union has four of five years left.

FA: The Visegrád countries are under the economical rule of Germany…

Rolandas Paksas: Yes!

FA: …but what is the situation in the Baltics countries, I mean, from an economical point of view?

Rolandas Paksas: Baltics countries are given money by the European Union. Economically, people are counting on this. Of course, it looks like a very good business to get four euros when you invested one! But that will not last. It is temporary. And it does not have a strong ground.

FA: How do you see the future of the Baltic countries if they stay in the EU and if the EU doesn't change?

Rolandas Paksas: I'm MEP for the second time. Seven years ago, for ideas such as the ones shared by the members of the ADDE, I saw 70 to 90 votes in the parliament. Nowadays, we can reach 250, sometimes 300, so basically the half of the parliament. Such is the situation in Lithuania and the Baltic states. People's ideas have changed a lot. People in Lithuania now fight for their nation, their culture, their language, and for the Lithuanian tradition. They do not want to be part of an other union destroying our country. We were in such a union once, it was called the Soviet Union. So no more of that, no more…

FA: Do you think the Baltic countries should join or at least be strong partners of the V4 to avoid such evolution?

Rolandas Paksas: I am absolutely in favor of any stronger cooperation. But our establishment is not ready for that.

FA: For what reason?

Rolandas Paksas: There are several reasons. For one, it's money. For another, it can be their position, their career… Our establishment is not ready for that.

FA: But you do think it is Lithuania's national interest to cooperate strongly with the V4?

Rolandas Paksas: Absolutely. And I think the establishment will change within a couple of years…
While Duda and Orbán's invocation of the centrality of Christianity to the nationalist cause will be disconcerting to many of us more wise to the fact that it is a Jewish Trojan horse, we should be charitable enough to understand that it has been, and remains still, a culturally habituated way of saying "not Jewish."
It is up to us to support native European nationalist efforts by pointing-out that this is a provisional distinction at best, albeit a 2,000 year old provision, which has had a way of binding nationalist masses and yoking their identity with Noahide laws (as Kumiko astutely observes) - thus, ultimately, to Jewish control if we do not successfully liberate ourselves from the false identity that is the "Gentile" (as GW astutely observes) - an "identity" which knows no distinction other than "the undifferentiated other" to Jews and its beholdenness to its Jewish forebears for its messiah and its law.
Enough sour grapes for now. There is certainly hope in Duda's concordance with Orbán in furtherance of the Intermarium project on display at the commemoration of the 1955 Hungarian Uprising -
Visigrad Post, "Duda and Orbán against Brussels' sovietisation", 24 Oct 2016:

Hungary, Budapest – On Sunday, October 23, Hungary celebrated the start of the '56 uprising. In front of the Hungarian parliament, Hungarian Prime Minister Viktor Orbán and Polish President Andrzej Duda gave a strong speech against the current policy of the European Union, about Christianity and about the deep friendship between Poland and Hungary.

Polish President Duda greeting the crowd. MTI Fotó: Szigetváry Zsolt

In front of thousands of people gathered on the place Kossuth, in the center of Budapest, Hungarian PM Orbán and Polish President Duda made a speech welcomed by Hungarian and Polish citizens. President Duda first talked in front of the crowd. The Polish President started his speech by saying few words in Hungarian. Hungarians "have always been friends" and they can always rely on Poland, "even in difficult moments of the future," said Andrzej Duda.

Poland is "proud and grateful" that it was able to provide aid to the Hungarian revolution, Duda said, and noted that his people had sent 44 tonnes of medicine and medical equipment as well as 800 litres of blood to Hungary shortly after the uprising broke out. "Poles are proud that the grandchildren of 1956 heroes have, symbolically, Polish blood in their veins", the president said. In Hungary's freedom fight "thousands died, but after some decades, finally, you recovered your freedom through much suffering and sacrifice," Duda said. He also voiced his conviction that "through hard work both Poles and Hungarians will achieve the living standards of western societies", reports Hungary Today.

Concerning the traditional friendship between the two countries, Duda said that they together "carry on the thousand-year-old Christian tradition in Europe", and insisted that those traditions were just as important as freedom. "God bless Poland and Hungary, glory to the heroes of the Hungarian revolution," Duda said concluding his address.

Viktor Orbán during his speech on Sunday, October 23

"Protect Brussels against Sovietisation"

Then, Prime Minister Orbán gave his speech. The European Union must not be turned into a "modern-age empire"; the community must not be replaced by a "United States of Europe", Hungarian Prime Minister Viktor Orbán said on Sunday. Viktor Orbán said that "freedom-loving peoples of Europe must save Brussels from Sovietisation".

"We, Hungarians, want to remain a European nation, rather than become an ethnic minority in Europe," Orbán insisted. "It is only our national independence that can save us from being devoured by an empire," Orbán said, and argued that it was that very "national idea" that had saved Hungary from being integrated into the Soviet Union. As descendants of 1956, Hungarians "cannot let Europe cut the roots that had once made it great and also helped us survive communist oppression," Orbán said. He added that Europe could not be "free, strong, and respectable without the revitalising power of nations and two thousand years of Christian wisdom". The prime minister insisted that Hungary had chosen "the hard way" when it "preferred children of its own to immigrants, work to speculation, earning a living to becoming a slave of indebtedness, and protecting borders to surrendering".

Hungarians will always fight for freedom and will achieve it "even in the most hopeless of situations," Prime Minister Viktor Orbán said at the state commemoration marking the 60th anniversary of Hungary's anti-Soviet uprising of 1956. "We, Hungarians, have a talent for freedom, we have always known how to use it. He warned that freedom is "not a final state but a way of existence; just like swimming: you stop doing it and you will sink". The question is always this simple: whether we decide on our own fate or other people," he added. October 23 is a day on which Hungarians should be proud, the prime minister said.

History puts Hungary in the mainstream of disputes on the future of Europe every 30 years, the prime minister said. He argued that in 1956 Hungary attempted to "shift the Iron Curtain east of our borders", then in 1989 the country opened its western borders "so that Germans could find a way to Germans". And most recently, Hungary "had to close its borders to stop the influx of migrants from the south", he said. Hungary will not falter "even if those whom we are trying to protect attack us from behind"; we have "the courage to face injustice… and Europe can always rely on us," Orbán said.
DAILYKENN.com— "Elated Muslim lunatic celebrates winning suicide bomber drawing", 21 Oct 2016:

You would have thought he just won the lottery. Video reveals a Muslim loon ecstatic over winning the role of suicide bomber.

The Muslim will get the opportunity to blow himself up and take the lives of others when he does.

White globalists do much the same. They are ecstatic about the prospects of destroying themselves while harming others through the destruction of Western culture.

Both are the victims of self-destructive thought reform.

Read more here: Sun, "JIHAD'S YOUR LOT: Warped ISIS fanatics celebrate after 'drawing straws' to win the chance to launch the next suicide bombing", 21 Oct 2016:
Chinese President Xi Jinping called Rodrigo Duterte's visit a "milestone" in ties, as he pulled out all the stops to welcome the Philippines' leader.

Huffington Post, "Philippine President Duterte Announces 'Separation' From The U.S.", 20 Oxt 2016:

BEIJING (Reuters) - Philippine President Rodrigo Duterte announced his "separation" from the United States on Thursday, declaring that it had "lost" and he had realigned with China as the two agreed to resolve their South China Sea dispute through talks.

Duterte made his comments in China, where he is visiting with at least 200 business people to pave the way for what he calls a new commercial alliance as relations with longtime ally the United States deteriorate.

His trade secretary, Ramon Lopez, said $13.5 billion in deals would be signed.

Duterte's efforts to engage China, months after a tribunal ruling in the Hague over South China Sea disputes in favor of the Philippines, marks a reversal in foreign policy since the 71-year-old former mayor took office on June 30.

"America has lost now," Duterte told Chinese and Philippine business people at a forum in the Great Hall of the People, attended by Chinese Vice Premier Zhang Gaoli.

"I've realigned myself in your ideological flow and maybe I will also go to Russia to talk to (President Vladimir) Putin and tell him that there are three of us against the world ― China, Philippines and Russia. It's the only way," he added.

"With that, in this venue, your honors, in this venue, I announce my separation from the UnitedStates," Duterte said to applause. "I have separated from them. So I will be dependent on you for all time. But do not worry. We will also help as you help us."

China has pulled out all the stops to welcome Duterte, including a marching band complete with batton-twirling band master at his official welcoming ceremony outside the Great Hall of the People, which most leaders do not get


Xi told Duterte their countries are now "brothers," who can "appropriately handle disputes," in an apparent nod to previous standoffs over the South China Sea.

RED CARPET WELCOME

President Xi Jinping, meeting Duterte earlier in the day, called the visit a "milestone" in ties.

Xi told Duterte that China and the Philippines were brothers and they could "appropriately handle disputes," though he did not mention the South China Sea in remarks made in front of reporters.

"I hope we can follow the wishes of the people and use this visit as an opportunity to push China-Philippines relations back on a friendly footing and fully improve things," Xi said.

Following their meeting, during which Duterte said relations with China had entered a new "springtime", Chinese vice foreign minister Liu Zhenmin said the South China Sea issue was not the sum total of relations.

"The two sides agreed that they will do what they agreed five years ago, that is to pursue bilateral dialogue and consultation in seeking a proper settlement of the South China Sea issue," Liu said.

China claims most of the energy-rich South China Sea through which about $5 trillion in ship-borne trade passes every year. Neighbours Brunei, Malaysia, the Philippines, Taiwan and Vietnam also have claims.

In 2012, China seized the disputed Scarborough Shoal and denied Philippine fishermen access to its fishing grounds.

Liu said the shoal was not mentioned and he did not answer a question about whether Philippinefishermen would be allowed there. He said both countries had agreed on coastguard and fisheries cooperation, but did not give details.

Duterte's declaration of a separation with the U.S. comes after he called President Barack Obama a "son of a bitch" and told him to "go to hell" while alluding to severing ties with the old colonial power.

SEA ROW TAKES 'BACK SEAT'

Duterte's tone toward Beijing is in contrast to the language he has used against the United States, after being infuriated by U.S. criticism of his bloody war on drugs.

He has called U.S. President Barack Obama a "son of a bitch" and told him to "go to hell" while alluding to severing ties with the old colonial power.

On Wednesday, to the cheers of hundreds of Filipinos in Beijing, Duterte said Philippine foreign policy was veering toward China.

"I will not go to America anymore. We will just be insulted there," Duterte said. "So time to say goodbye my friend."

The same day, about 1,000 anti-U.S. protesters gathered outside the U.S. embassy in Manila calling for the removal of U.S. troops from the southern island of Mindanao.

Duterte on Wednesday said the South China Sea arbitration case would "take the back seat" during talks, and that he would wait for the Chinese to bring up the issue rather than doing so himself.

Xi said issues that could not be immediately be resolved should be set aside, according to the Chinese foreign ministry.

China has welcomed the Philippines approaches, even as Duterte has vowed not to surrender any sovereignty to Beijing, which views the South China Sea Hague ruling as null and void.

China has also expressed support for his drug war, which has raised concern in Western capitals about extrajudicial killing.

Duterte's overtures to China have been accompanied by signs of improving business ties with the world's second largest economy.

China's Liu said Beijing will restore Philippine agricultural exports to China and provide financing for Philippine infrastructure.
Interesting that The Huffington Post made this the caption beneath the title of its article, though there is nothing in the article that discusses Russia -
"America has lost now," Rodrigo Duterte said, flagging closer ties with China and Russia during a visit to Beijing.
There is a strange misconception circulating among some in the west that Russia and China are good friends, some speaking as if they are practically joined at the hip.
And speaking of NOT friends, there are some interesting facts to come about the history of The US in The Philippines - a history that will explain much as to why The Philippines would be eager to declare their separatism and The US the loser.
Can the Daily Mail say "Muslim" ?
Is it so hard to say Islam? How about the fact that all of these rapists come from one notoriously Islamic area in Pakistan. Glossing over that fact by calling them "Asians" is an obvious obfuscation on the part of DM editors.
Mark Duell for MailOnline, 17 October 2016:

'All white girls are good for is sex. They're just sl*gs': Eight members of 'openly racist' violent Asian sex gang raped and 'sexually degraded' three teenage girls in Rotherham.

WHAT WERE THE 8 GANG MEMBERS CONVICTED OF?

The jury retired to consider verdicts on October 11 and today convicted all eight gang members on all counts after deliberating for almost 18 hours.

Ringleader Sageer Hussain, 30, of Clough Road, Rotherham, was convicted of four rapes and one indecent assault.

Mohammed Whied, 32, of Psalters Lane, Rotherham, was found guilty of one count of aiding and abetting rape.

Ishtiaq Khaliq, 33, of Cherry Brook, Rotherham, was found guilty of one rape and three indecent assaults.

Waleed Ali, 34, of Canklow Road, Rotherham, was found guilty of one rape and one indecent assault.

Asif Ali, 30, of Clough Road, Rotherham, was convicted on one rape.

Masoued Malik, 32, of Bridgewater Way, Rotherham, was found guilty of one rape, one count of conspiracy to commit indecent assault and one of false imprisonment.

Basharat Hussain, 40, from Goole, was convicted of one indecent assault.

And Naeem Rafiq, 33, of Clarendon Road, Rotherham, was convicted of one count of conspiracy to commit indecent assault and one of false imprisonment.

They were remanded in custody for sentencing on November 4.
Frontex.europa.eu

"European Border and Coast Guard Agency launches today", 6 Oct 2016:

Today the European Border and Coast Guard Agency is being officially launched, less than a year after it was first proposed by the European Commission. The launch event takes place at the Kapitan Andreevo Border Checkpoint at the Bulgarian external border with Turkey and includes a presentation of the vehicles, equipment and teams of the new Agency, as well as a press conference attended by Migration, Home Affairs and Citizenship Commissioner Dimitris Avramopoulos, Bulgarian Prime Minister Boyko Borissov, Deputy Prime Minister and Minister of Interior of Bulgaria Rumiana Bachvarova, State Secretary of the Interior Ministry of the Slovak Republic Denisa Sakova, Executive Director of the European Border and Coast Guard Agency Fabrice Leggeri, EU interior ministers and other senior officials. Building on the foundations of Frontex, the European Border and Coast Guard Agency will closely monitor the EU's external borders and work together with Member States to quickly identify and address any potential security threats to the EU's external borders.

Commissioner for Migration, Home Affairs and Citizenship, Avramopoulos, said: "Today is a milestone in the history of European border management. From now onwards, the external EU border of one Member State is the external border of all Member States – both legally and operationally. In less than one year we have established a fully-fledged European Border and Coast Guard system, turning into reality the principles of shared responsibility and solidarity among the Member States and the Union. This is exactly the European response that we need for the security and migration challenges of the 21st century."

Prime Minister of Slovakia, Robert Fico, holder of the rotating Presidency of the Council, said: "By launching the European Border and Coast Guard, we are creating a new reality at our external borders. This is a tangible outcome of the joint commitment agreed in the Bratislava Roadmap, as well as a practical display of unity among Member States. It will help us to get back to Schengen. The Presidency is determined to help further strengthen the European Border and Coast Guard, as well as translate other commitments from the Roadmap into action."

Executive Director of the European Border and Coast Guard Agency, Fabrice Leggeri, said: "This is a historic moment and I am very proud to see Frontex become the European Border and Coast Guard Agency. The new Agency is stronger and better equipped to tackle migration and security challenges at Europe's external borders. Its mandate has wider scope and new powers that will allow it to act effectively. The Agency will conduct stress tests at the external borders to identify vulnerabilities before a crisis hits. It will now also be able to offer operational support to neighbouring non-EU countries who ask for assistance at their border and share intelligence on cross-border criminal activities with national authorities and European agencies in support of criminal investigations. It also has a key role at Europe's maritime borders through its new coast guard functions."

Under the new mandate, the Agency's role and activities have been significantly expanded. The Agency's permanent staff will be more than doubled and the Agency will be able to purchase its own equipment and deploy them in border operations at short notice. A rapid reserve pool of at least 1,500 border guards and a technical equipment pool will be put at the disposal of the Agency – meaning there will no longer be shortages of staff or equipment for Agency operations. The European Border and Coast Guard will now ensure the implementation of Union standards of border management through periodic risk analysis and mandatory vulnerability assessments.

The European Border and Coast Guard will provide a missing link in strengthening Europe's external borders, so that people can continue to live and move freely within the European Union – helping to meet Europe's commitment to get back to the normal functioning of the Schengen area and the lifting of temporary internal border controls by the end of the year, as set out in the Commission's Back to Schengen Roadmap on 4 March.

Over the next months, the new Agency will be fully rolled out:

· 6 OCTOBER 2016: new Agency is legally operational

· 7 DECEMBER 2016: rapid reaction pool and the rapid reaction equipment pool become operational

· BY DECEMBER 2016: 50 new recruitments in the Agency

· 7 JANUARY 2017: return pools become operational

· JANUARY-MARCH 2017: first vulnerability assessments.

Background

The establishment of a European Border and Coast Guard, as announced by President Juncker in his State of the Union Speech on 9 September 2015, is part of the measures set out under the European Agenda on Migration to reinforce the management and security of the EU's external borders. The Schengen area without internal borders is only sustainable if the external borders are effectively secured and protected.

On 15 December 2015, the European Commission presented a legislative proposal for the creation of a European Border and Coast Guard, building on existing structures of Frontex, to meet the new challenges and political realities faced by the EU, both as regards migration and internal security. The European Border and Coast Guard was approved by the European Parliament and Council in a record time of just nine months.

The European Border and Coast Guard will help to manage migration more effectively, improve the internal security of the European Union and safeguard the principle of free movement of persons. The establishment of a European Border and Coast Guard will ensure a strong management of the EU's external borders as a shared responsibility between the Union and its Member States.