Majorityrights News > Category: Immigration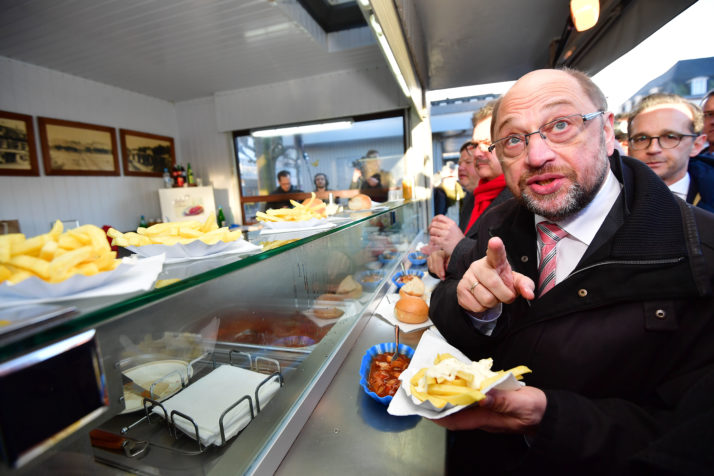 Wow, such a breadth of choice
The Germans are non-ironically having an election in which Angela Merkel and Martin Schulz are the two front runners.
The choice seems to be quite simple.
Either you vote for Angela Merkel's CDU and face the death by demographic replacement which will surely arrive by the year 2050 as things continue as they are, or alternately you vote for Martin Schulz's SPD and face the death by demographic replacement which will surely arrive by the year 2050 as things continue as they are.
There are some policy disagreements that they have on other issues and usually I would actually go to the length of highlighting them and describing them, but when it comes to the issue of Germany it frankly doesn't even matter anymore. After all, if Germany is going to seriously cease to exist as a nation then making projections about a nation which will not even be populated by the same people would be a pointless exercise from the perspective of ethno-nationalism. It is extremely sad.
In any case, let's see how the situation looks in the polls at present, for this thoroughly pointless election:
POLITICO, 'SPD in the lead according to German poll', 19 Feb 2017:

Germany's Christian Democrats (CDU/CSU) have slumped to second place in an opinion poll conducted by the Emnid institute, with the Social Democrats (SPD) in the top spot for the first time since 2006.

The SPD's climb comes after the party picked the former President of the European Parliament, Martin Schulz, as its candidate for chancellor.

Emnid's poll of 1,885 voters found that the SPD would get 33 percent of the German vote, while Chancellor Angela Merkel's CDU and its Bavarian sister party, the Christian Social Union, would get 32 percent.

Schulz's party has gained 12 points in the last four weeks, according to German newspaper Bild am Sonntag.

The SPD's surge in the polls will add more pressure on Merkel, as she seeks her fourth term as chancellor within an uneasy CDU/CSU alliance. Merkel has faced tough criticism from the sister party over the controversial decision to temporarily open Germany's borders to refugees in 2015.

This the latest in a series of polls that shows SPD's rapidly rising popularity among German voters. Emnid's poll chimes with separate findings by Politbarometer, a long-standing German election poll from German broadcaster ZDF, which showed Friday that only 38 percent of voters would like to see Merkel carry on her job as chancellor and that 49 percent preferred Schulz.

But Germany hasn't completely fallen out of love with Merkel. ZDF's poll also found that 71 percent of Germans think that the current chancellor is doing a good job, despite her party's drop in popularity.

German elections are scheduled for September.
Such vibrant campaigning
Meanwhile, the way that Martin Schulz is conducting his campaign has drawn criticism from Wolfgang Shaeuble, a very strange-looking criticism at first brush:
POLITICO, 'Wolfgang Schäuble: Martin Schulz is the German Donald Trump', 10 Feb 2017:

Martin Schulz, the German center-left's candidate to be chancellor, is behaving like U.S. President Donald Trump, according to German Finance Minister Wolfgang Schäuble.

"If Schulz calls upon his supporters to chant 'Make Europe great again' then that's almost literally [like] Trump," Schäuble told Der Spiegel in an interview published Friday.

He said Schulz, a former European Parliament president, was acting in a "populist way."

Schäuble said Schulz needed to "think a little [bit more]." He warned that in times when there is a surge in populist movements, politicians should be careful with their language.

The SPD's move to nominate Schulz as their candidate for chancellor in the September 24 federal election led to a surge in party membership applications. Opinion polls show that backing Schulz helped the party to its highest approval rating since 2013.
At first a person would think, "Hmm, something is very wrong here, in what important way does Martin Schulz resemble Donald Trump, aside from the use of a similar campaign slogan?"
Surely Schaeuble is just a ridiculous old man who is approaching senility, and he has begun to make even less sense than usual in his statement?
Nevertheless I decided to actually give Schaeuble's statement some thought. Could I manage to find some unintended 'sense' in Schaeuble's seemingly nonsensical statement?
After about twenty milliseconds of deep thought – which in neurological terms is basically 'instantly' – I arrived at the answer. First, take a look at this quote concerning Schulz:
Haaretz / Avraham Burg, 'Say a big 'thank you' to Martin Schulz', 14 Feb 2014:

[...] Martin Schulz, the president of the European Parliament, is a close friend of mine. On most issues connected to the Israeli-Palestinian conflict we disagree. He is closer to the Israeli mainstream, and his positions resemble those of Labor Party chairman Isaac Herzog. He once told me, during a frank and stern conversation, "For me, the new Germany exists only in order to ensure the existence of the State of Israel and the Jewish people." [...]
Secondly, take a look at this quote concerning Trump:
The Hill / Elliot Smilowitz, 'Trump: 'Stay strong Israel,' my inauguration is approaching', 28 Dec 2016:

President-elect Donald Trump on Wednesday morning ripped the Obama administration's treatment of Israel and pledged to end the "disdain and disrespect" for the country.

"We cannot continue to let Israel be treated with such total disdain and disrespect. They used to have a great friend in the U.S., but not anymore. The beginning of the end was the horrible Iran deal, and now this (U.N.)! Stay strong Israel, January 20th is fast approaching!" Trump wrote in a series of tweets. [...]
If you look at it from that angle, then Schaeuble accidentally spoke a kind of truth in the midst of his babbling, somehow.
There indeed is a resemblance between Schulz and Trump. From the perspective of Jewish Zionists in the global sense, the two individuals are almost completely identical.

Evening Standard, "Hundreds of protesters clash with police as riots spread into Paris", 15 Jan 2017:

Hundreds of protesters clashed with police as riots spread into Paris on Wednesday night.

Tear-gas was used by police as rioting that originated in the suburbs spilled into the French capital around the Barbes Metro station, close to Gare du Nord.

It follows the alleged rape of a young black man, named only as Theo, by French police.

Protesters started fires and smashed windows, while there were reports of riot police being attacked and shops looted.


The riots have been triggered by the alleged rape of a young black man by police (EPA)

Fire crews raced to the scene to extinguish the blazes as police desperately tried to disperse the crowds.

There has been heightened tension in council estates in Paris since February 2 when a 22-year-old youth worker named Theo was allegedly beaten up, raped and racially abused by police.


Rioting that originated in the suburbs have spread into the French capital (REUTERS)

...and you get typical black behavioral pattern response: hyper-assertiveness.
Ibid: One unidentified officer has been charged with rape, and three more with assault since Theo was sent to hospital where he underwent emergency surgery.

Since the alleged attack there have been reports of police stations and squad cars being targeted, as well as patrols operating around France.


There has been heightened tension in Paris since February 2 (EPA)

President Francois Hollande, who has visited Theo, has appealed for calm.

Wednesday night's protest at Barbes was illegal as police refused to give permission for it.
American tech companies are gearing up to protect the thousands of workers they rely on every year who aren't U.S. citizens and don't have green cards.

Silicon Valley has aggressively backed legislation to protect and expand the H-1B program for temporary workers, but President Trump appears to have other ideas. He is reportedly preparing to sign a new immigration-related executive order that includes an effort to overhaul the H-1B visa program, putting in place protectionist rules that would upend the way Silicon Valley recruits talent.

Tech leaders have been warning of a "brain drain" since Election Day — and now there's talk of companies moving employees to Canada.

A leaked draft of the executive order disseminated by Vox featured vague wording, calling for plans to "alter" the H-1B visa program, although experts point out that such changes would require an act of Congress. The draft order also discusses reforming programs that allow foreign students into the U.S. — since they pay full price, they're an important source of tuition dollars for top-flight public universities — before then entering the American workforce.

A spokesperson for the United States Citizenship and Immigration Services, which is part of the Department of Homeland Security, said that USCIS does not comment on pending legislation or executive actions.

Designed as a temporary visa for skilled workers, the H-1B became a way for corporate America to bring in highly skilled foreigners without having to tackle the permanent resident program — i.e., green cards, which are capped by country of origin, a rule that disproportionately affects places like China and India. When the program was introduced in 1990, about 800 H-1Bs were issued. By 2014, that number had grown to more than 160,000.

Both Republicans and Democrats are now pushing for reform of the program, ostensibly in order to protect U.S. workers.

GOP opposition to the H-1B in particular has been mounting for some time, but Republican politicians have generally been wary of either stifling some of America's most successful companies or taking on immigration reform and infuriating the party's anti-immigration base. Not all Republican politicians, however; in 2015, Alabama Sen. Jeff Sessions — Trump's nominee for Attorney General — introduced bipartisan legislation aimed at curtailing the number of visas given out.

A recent bipartisan effort to tackle the issue took the form of a Senate bill introduced by Iowa Republican Chuck Grassley and Illinois Democrat Dick Durbin that aimed to reform the program by creating higher salary floors for H-1B visas and making sure U.S. workers are given first dibs on potential H-1B jobs.

Two of Trump's top advisers who reportedly crafted the refugee ban — ex-Breitbart CEO Steve Bannon and former Sessions adviser Stephen Miller — have also taken aim at Silicon Valley in the past. Earlier in January, Miller is said to have proposed both completely scrapping the lottery system used to award H-1B visas and increasing the minimum salary companies must pay visa holders in order to prevent the undercutting of more expensive American labor. Before Bannon was tapped as Trump's campaign chief, he suggested in a 2015 interview with Trump that "when two-thirds or three-quarters of the CEOs in Silicon Valley are from South Asia or from Asia," it could undermine "civic society."

Silicon Valley says in no uncertain terms that its success is due in part to its meritocratic embrace of anybody from anywhere who has the talent to compete. As Google CEO Sundar Pichai, who emigrated to the U.S. from India, told columnist Walt Mossberg, "In Silicon Valley, being an immigrant doesn't matter. It's the ideas that matter. We are able to build products for everyone because we attract talent from around the world."
Allow all white South Africans the right to return to Europe

The idea that white South Africans have the right to return to Europe is based in the concept of indigenous rights and self determination.

The white South African population currently faces ethnic cleansing and persecutions at the hands of the ANC government, the EFF, and various individual anti-white aggressors. Over 4000 white farmers have been brutally murdered, often including torture and rape and mutilation. Many white South Africans today live in poverty and squalor as a consequence of the ANC government's Black Economic Empowerment policy which shuts whites out of the labour pool.

Based on the Israeli government's policy of allowing all Jews the right to return to Israel, we believe it is not only advisable but morally obligatory that Europe should allow all white South Africans the right to return.

As it currently stands, many white South Africans who try to apply for citizenship to European countries such as the Netherlands and UK are rejected. Many of these white South Africans seeking citizenship are direct descendants of the very same European nations that reject them.

Obviously certain details of this policy are subject to deliberation. For instance, whether the white South Africans would have the right to return to any European nation of their choosing, or if they would specifically have the right to return to whatever nation the majority of their ancestry is from (which in most cases would be the Netherlands or UK).

Also this would extend to whites in Zimbabwe and Namibia, given that they face a similar situation. But white South Africans are the largest population group of whites in southern Africa by far, so that is why the name of this petition references them specifically.

Sign this petition
55,854 supporters
19,146 needed to reach 75,000
Lara Gravenor signed this petition -

Please help us by signing our petition for White South Africans to return to Europe.

I just signed the petition "European Commission: Allow all white South Africans the right to return to Europe" and wanted to see if you could help by adding your name.

Our goal is to reach 75,000 signatures and we need more support. You can read more and sign the petition here:

Thanks!
Lara

This petition will be delivered to:

Council of the European Union
Rodrigo Herhaus de Campos of Joinville, Brazil, started this petition with a single signature, and now has 55,854 supporters.
Updates:
Success! The mainstream media is already talking about us:

Express: White South Africans 'fearing for their lives' ask EU for right to 'return'
Petition to establish reservation areas for the indigenous peoples of Europe
TNO, "Germany: 99.9% of Invaders Will Stay", 2 Feb 2017


Contrary to German government claims that "refugees" will go home once there is "peace in their countries," new statistics show that only one out of every 1,000 invaders granted "asylum" are ever refused permanent residence.

According to an investigation by Die Welt newspaper, "almost all refugees are allowed to stay permanently" in Germany, even those who were only initially granted "temporary subsidiary protection."


The investigation revealed that the latest figures from the Federal Office for Migration and Refugees (BAMF) proved that in 99 percent of cases, once anyone had been recognized as a "refugee," they could remain permanently in Germany.

According to the Geneva Convention, the report continued, "asylum and refugee protection are granted for a limited period of three years."

However, after the expiration of this period, those granted "protection" are then almost always given indefinite leave to remain, Die Welt revealed.
..after which time they are in position to spread to other parts of Europe.
Visigrad Post, "Hungary's PM Orbán: Nowhere Do Human Rights Prescribe National Suicide", Jan 2017:

Hungary – The Hungarian government goes further in its opposition to non-European immigration, both illegal and legal. Viktor Orbán made again a strong speech against "national suicide" and meantime, the government announces its will to put an end to the residency bonds.

In front of 532 new deputy border guards, Viktor Orbán explained, on Thursday, January 12, that their job will be to protect Hungary's borders and the safety of all Hungarians, "and that of all of Europe as well, as has been the fate of the nation for hundreds of years".

"Terror attacks, riots, violence, crime, ethnic and cultural clashes all show us that those who come do not want to live our lives," Orbán told the border guards. "They want to continue living their lives, just on the European standard of living. We understand them but we can't let them into Europe. Nowhere do human rights prescribe national suicide."

Asylum-seekers will be detained in close camps from now on

Systematic detention of migrants arriving in the country will be put in place, explained Viktor Orbán on Friday, January 13, during his weekly talk at the public radio. "We have reinstated alien police detention in the cases of those whose application to enter Europe has not yet been legally judged". "As long as there is a verdict outstanding (in their asylum applications) they cannot move freely in Hungary," said the Hungarian PM.

Under pressure from Brussels, the UN refugee agency and the European Court of Human Rights, Hungary in 2013 suspended the practice of detaining asylum applicants. The close camps are demanded by Jobbik's vice-president and mayor of a little town at the border with Serbia, László Toroczkai, from the beginning of 2015, the same man that asked for the fence first in Hungary.

"Since then there have been terror acts in western Europe," Orbán said Friday". Any legal regulation that facilitates terror acts must be changed in the interests of our own self-defense." He said he was aware that this "openly goes against the EU", taking the risk of an open-conflict with Brussels, once again.

No more residency bonds

Three months ago, the constitutional bill against mandatory quotas of migrants, proposed by the ruling Fidesz, failed due to the surprise boycott of the vote by the right-wing populist party Jobbik, which wanted to add into the bill the suppression of the residency bonds. These bonds allow non-EU citizens to buy a Schengen permanent residency permit.

Really harsh discussions took place in the Hungarian parliament between the national-conservative ruling Fidesz and the right-wing populist Jobbik on these bonds. Security threats, suspicion of high corruption and treason toward the Hungarians — who reject non-European immigration — were the main arguments of the Jobbik.

Eventually, the government will suspend indefinitely the program, claiming these bonds are not necessary anymore since ratings agency Moody's upgraded the country's credit rating. Several scandals of corruption related to these bonds merged in 2016 and it is most likely that the government wanted to put an end to this failed program. Therefore, no more residency bonds requests will be accepted from April 1.
TNO, "African Violence Chases Away Paris Tourists", 19 Jan 2017:

Criminal violence perpetrated by massed gangs of African invaders in Paris and Marseilles is driving foreign tourists away from France, with the number of Chinese tourists dropping by over half a million in one year, it has emerged.

According to a report in the French newspaper Le Parisien, the President of the Chinese Association of Travel Agencies in France, Jean-François Zhou, said that 2016 had been a "very bad year" for tourists from his country in France.

Zhou, who is also general manager of a travel agency and official representative of the Chinese tourist association Utour in France, said that "the scourge of criminality is especially aimed at Chinese tourists."

"They are robbed at the palace of Versailles, at the foot of the Eiffel Tower, in front of their hotels, on the steps of buses . . . during high season, there is not a day that goes by without tourists being assaulted," Zhou continued.

"I saw an 80-year-old man seriously injured because he was trying to resist the thieves. Women are pushed over, and as they fall, their bags are stolen."

Zhou said the level of crime had created a "panic on Chinese social networks," and that these reports had started to deter Chinese tourists since last year.

He explained that in 2016, about 1.6 million Chinese tourists came to Paris. This was a huge drop compared to 2015, when 2.2 million visited.

It is not only the Chinese who have stopped coming, but also the Japanese and Koreans, he added, pointing out that tourism from Japan had dropped 39 percent, and from Korea by 27 percent.