Majorityrights News > Category: Art & Design
DM, "Police call for Notting Hill Carnival to be banned after 31 officers attacked during the two-day event", 30 Aug 2017:

- Police were slashed with broken bottles, spat at, bitten and had acid thrown at them
- In one of the worst confrontations, three PCs had bloody spit sprayed in their faces
- Frontline police said 'enough is enough' and called for organisers to help safeguard them
- Four people were stabbed, more than 300 arrested and dozens of weapons seized

The Notting Hill Carnival was branded a disgrace last night after it was revealed that 31 police officers were attacked during the two-day event.

They were slashed with broken bottles, spat at, bitten and had acid thrown at them.

In one of the worst confrontations, three PCs had bloody spit sprayed in their faces by a man claiming to be HIV positive.

Frontline police said 'enough is enough' and called for organisers to help safeguard those who dedicate their lives protecting others.

Four people were stabbed, more than 300 arrested and dozens of weapons seized during Europe's biggest street carnival. Although there were fewer arrests than last year's record 454, a three-week crackdown had seen hundreds banned from attending.

Ken Marsh, chairman of the Metropolitan Police Federation representing the capital's 32,000 rank-and-file officers, said at least 31 officers were attacked.

'We cannot carry on like this. It is a disgrace,' he said. 'My brave colleagues were attacked for just doing their job.

'This is not acceptable. What other event would be allowed to carry on regardless with so many police colleagues under attack?'

'There is a growing lobby calling for the carnival to be moved to Hyde Park and made ticket-only to deter opportunist criminals. Changes were first proposed in 2000 when two men were murdered. In 2008 there was a riot.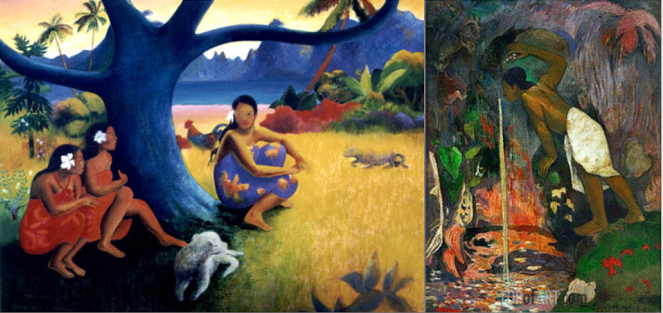 I may have sold Gauguin short in terms of his ethnographic conscientiousness. I'd been citing him as an example of the "artistic genius" who wasn't worth it for his moral failing. There is still a good measure of truth to that, but he may not have been quite as heinous and without effort to be considerate as I had thought in terms of concern for what is important to other people - at least those of Tahiti and their culture. My line had been that as an artist he is as satisfying as any to me, nevertheless as a man who infected who knows how many native girls with syphilis, he was a killer. His art, no matter how good, not worth that behavior.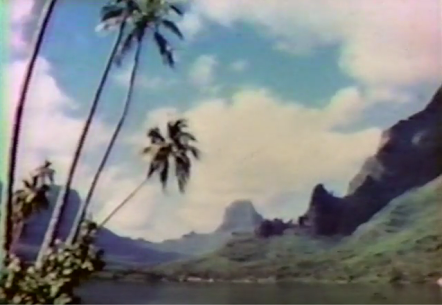 Gauguin in Tahiti: Search for Paradise (1967)
Even so, as I watch this biography, a couple of mitigating facts are revealed. True, he still would have infected at least one native girl with syphilis. However, he married her and apparently did not know that he had the disease when he infected her. Still bad, of course, as there was no effective treatment for the disease even with French civilization settled there. Add to that his knowledge of the risks of his own promiscuity beforehand along with his ultimate abandonment of his wife and kids back in France.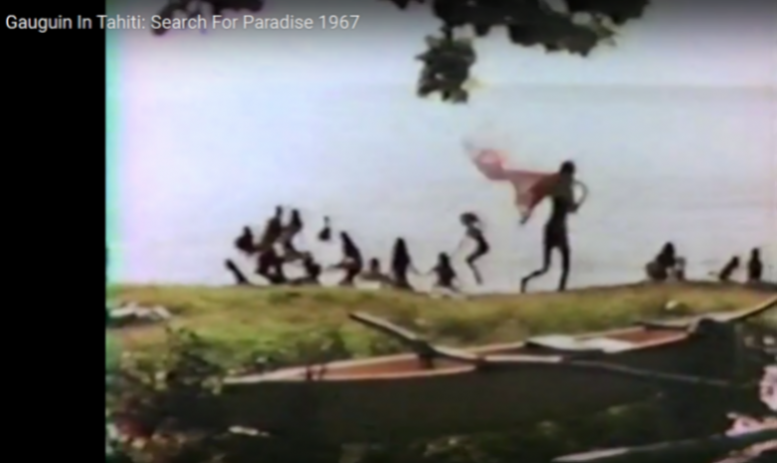 However, the biography reveals that before he fell ill, he was really concerned to find and help preserve the authentic Tahitian people and culture. With that, he was dismayed by the impact of French civilization and missionaries, how they'd already by his time begun to destroy the native culture. He was particularly bothered by the imposition of Christian schooling upon the native children that had by then caused them to lose their native religion. He would actually go to the children and their parents with a French law book - reading them their rights so that they would know that they did not have to go to the missionary school. Finally, he went so far as to try to recreate their native religious stories in writing and in his paintings…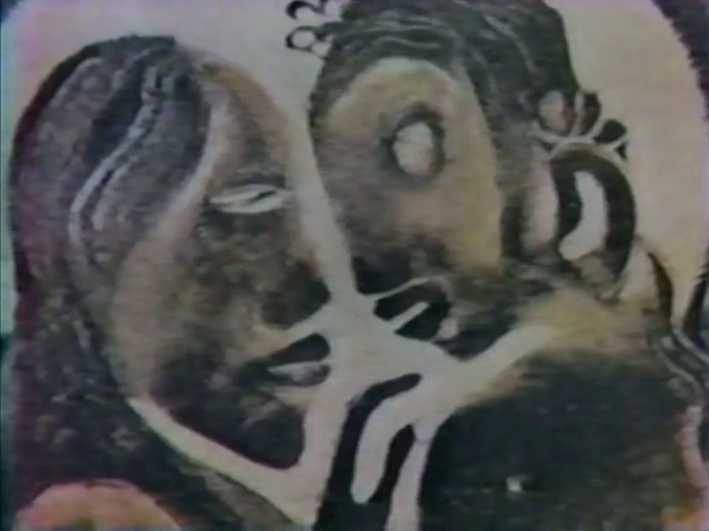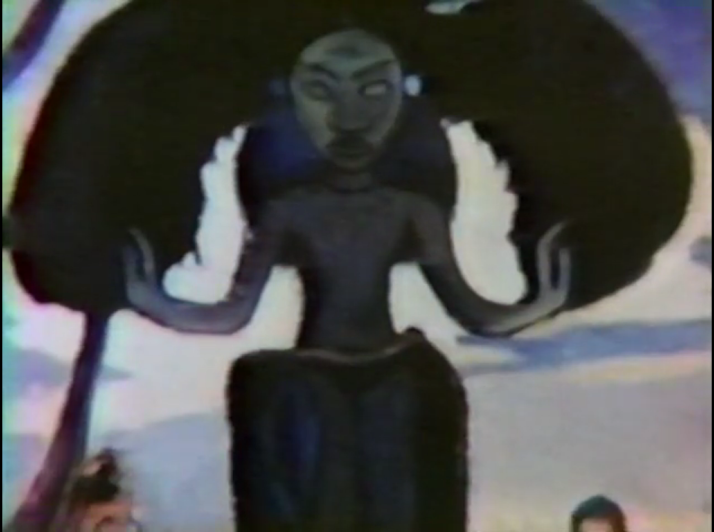 While the profusion of churches throughout the world can be disconcerting, as they are devoted to a religion that is obfuscating and mis-directing the natural instincts of our EGI (ethnic genetic interests), there is a note of optimism in that some of these sublime structures and the artisanship that went into their making can be converted for religion aligned with our ethno-national interests.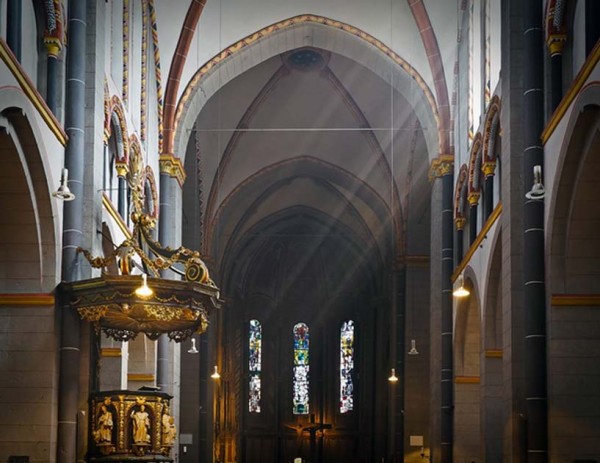 For example, hope for return to proper, natural religious function piques through some of the Spanish missions in California - some were configured to illumination of the solstice: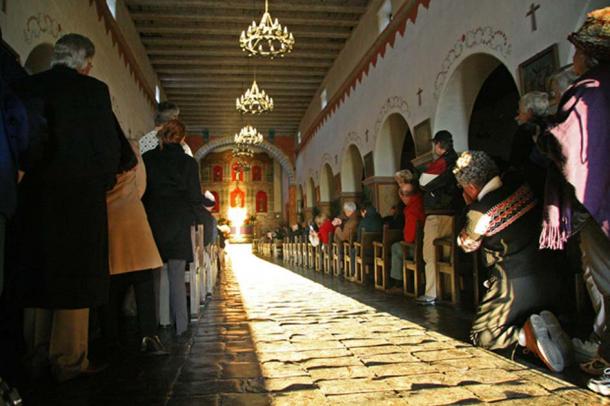 The 2007 midwinter solstice illumination of the main altar tabernacle of Old Mission San Juan Bautista, California. Rubén G. Mendoza/Ancient Editions, CC BY-ND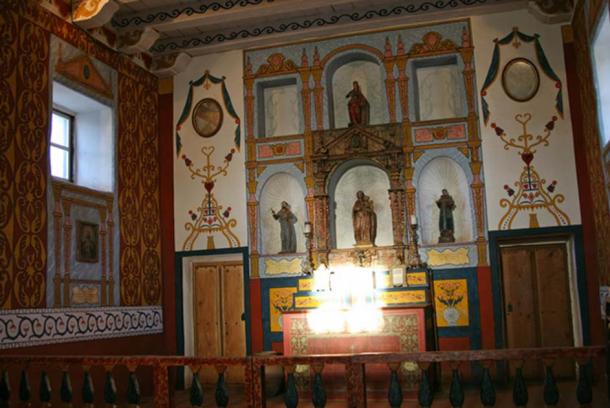 Winter solstice illumination of the main altar tabernacle of the Spanish Royal Presidio Chapel, Santa Barbara, California. The author first documented this solar illumination of the altar in 2004. Rubén G. Mendoza, CC BY-ND
On another level, some of the very elements of worship contained are only thinly veiled pagan icons and arrangement: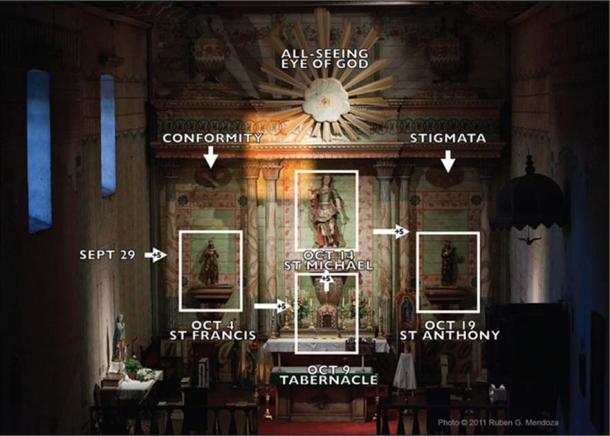 Schematic of the four successive solar illuminations of the saints of the main altar screen of Mission San Miguel Arcángel, California. Note illumination begins at the left with the Oct. 4 illumination of Saint Francis on his Feast Day. The author first identified and documented this solar array in 2003. Rubén G. Mendoza, CC BY-ND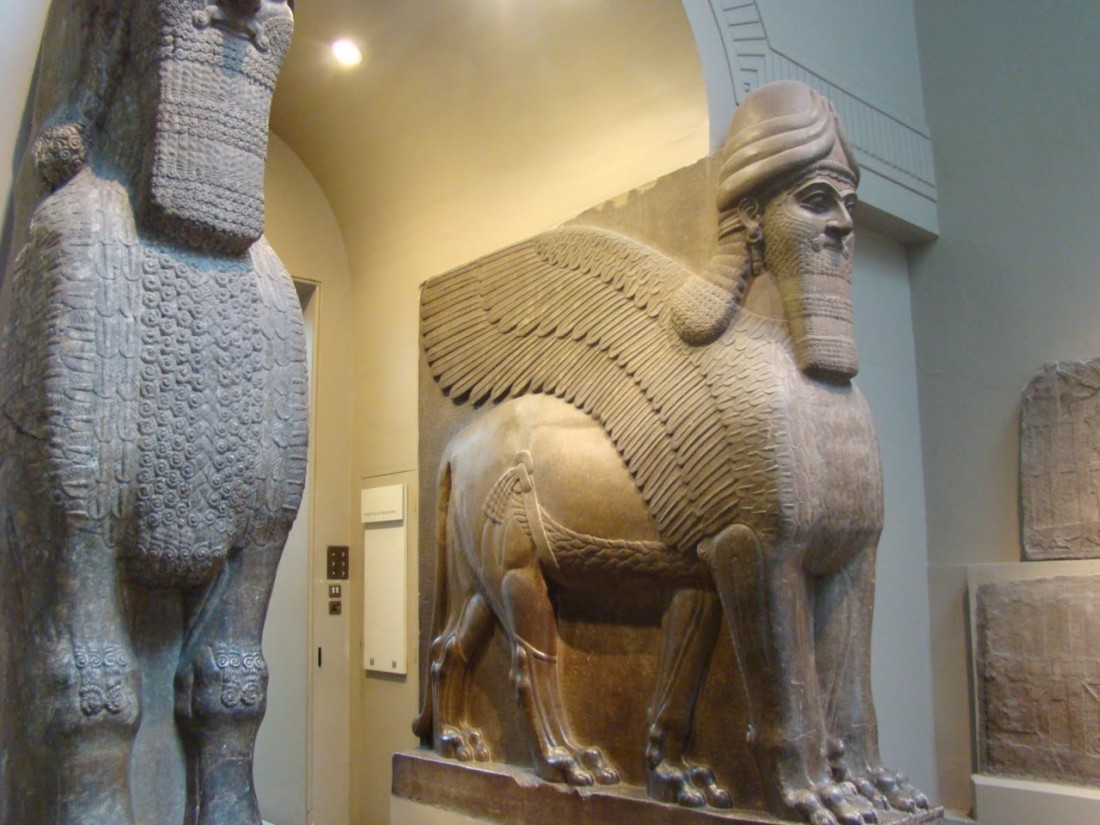 These ancient "guardians of the gates" of Nimrud, called "lamassu", were rescued by William Henry Layard and preserved at The British National Museum. Similar ancient treasures remaining at Nimrud were destroyed by Isil.
NPR, "In Northern Iraq, ISIS Leaves Behind An Archaeological Treasure In Ruins", 26 Nov 2016:

In northern Iraq, outside Mosulin 2014, The Islamic State captured the ancient site of Nimrud and destroyed many of its archaeological treasures that date back 3,000 years. Isil were recently driven out of Nimrud, allowing archaeologists and others to come back and survey the extensive damage.
....including what remained of the remnants of temples and roads to the ancient palace of Ashurnasirpal II.

The king of the Assyrian empire, he built his palace at Nimrud almost three millennia ago. Enough of the cuneiform inscriptions, carved stone friezes and sculptures were left that it had been reconstructed throughout the 20th century by Iraqi and international archaeologists, and later by the Iraqi State Board of Antiquities and Heritage, as a kind of on-site museum, where visitors could really imagine the stately building on a hill.

[There was] great pair of sculptures guarding the gate – the mythical beast called a lamassu with the face of a man, body of a bull and the wings of an eagle.

"It was very important to put them at the gates," she explained recently, "to drive away evil spirits from the city."


[...]

Then, in 2014, the Islamic State surged through Iraq, taking nearly a third of the country's territory, along with several ancient sites, including Nimrud, which is about 20 miles southeast of Mosul. They smashed and blew up Ashurnasirpal II's palace.

[...] attacking the masonry and sculptures, deeming them heretical.

Last week, the Iraqi army retook Nimrud from the extremists, part of a push by an assortment of Iraqi security forces to dislodge ISIS from Mosul and surrounding areas. So Salih returned to see the site for herself.

[...]


In front of the grand entrance to what archaeologists call the northwest palace, built with thick walls around a central courtyard, was a grim pile of chunks

[...]

Ancient tablets with cuneiform writing lie around in pieces. The entrance to the palace is blocked with rubble, with tiny pieces of ancient inscription mixed up in it. A climb to the top of the walls reveals a courtyard strewn with wreckage.

The pride of the palace used to be a stone frieze of the Assyrian figures known as winged genies.

[...]


Now they are all but destroyed.

And despite numerous international initiatives and conferences on emergency heritage management, despite regular statements by Iraqi officials about the importance of the country's ancient heritage, no soldier is guarding the site. Not so much as a local tribesman.

[...]

Although the site is historically Assyrian, it is not just Iraq's small, Assyrian minority that sees it as part of its history. Iraqis often cite Nimrud as a source of national pride, part of the long history of the land once known as Mesopotamia.

[...]

No one knows when that might start. The British Museum is leading a project to train Iraqi archaeologists in emergency management.

"All the area which has been under ISIS control will need to be inspected and assessed," said John MacGinnis, the archaeologist who leads the project.

But MacGinnis said for that to begin, the area has to be secure. And at Nimrud, ISIS is still within mortar range. The sounds of fighting nearby echo every day around the ruins.
Re-directing the Catholic Church, such that it would allow for birth control would actually be a good thing, of course, particularly if applied against African population explosion. But we know that's not likely to be the outcome of a Soros directed infiltration.
What is interesting, in a very creepy sense, is the exposure of how Soros acts to infiltrate and direct mass movements in activism against White solidarity.
In these Podesta emails, he is exposed attempting another permutation of what has been a historical pattern of Jewish infiltration into the Catholic Church:
(((George Soros and Sandy Newman))) promoted fake Catholic groups to try and "create a revolution" within the Catholic church -
From Diversity Macht Frei, 12 Oct, 2016:

From the John Podesta emails, here is a fascinating exchange between Podesta and (((Sandy Newman))).

From:john.podesta@gmail.com To: .(JavaScript must be enabled to view this email address) Date: 2012-02-11 11:45 Subject: Re: opening for a Catholic Spring? just musing . . . We created Catholics in Alliance for the Common Good to organize for a moment like this. But I think it lacks the leadership to do so now. Likewise Catholics United. Like most Spring movements, I think this one will have to be bottom up. I'll discuss with Tara. Kathleen Kennedy Townsend is the other person to consult.

On 2/10/12, Sandy Newman wrote: > Hi, John,

> > This whole controversy with the bishops opposing contraceptive coverage even > though 98% of Catholic women (and their conjugal partners) have used > contraception has me thinking . . . There needs to be a Catholic Spring, in > which Catholics themselves demand the end of a middle ages dictatorship and > the beginning of a little democracy and respect for gender equality in the > Catholic church. Is contraceptive coverage an issue around which that could > happen. The Bishops will undoubtedly continue the fight. Does the Catholic > Hospital Association support of the Administration's new policy, together > with "the 98%" create an opportunity? > > Of course, this idea may just reveal my total lack of understanding of the > Catholic church, the economic power it can bring to bear against nuns and > priests who count on it for their maintenance, etc. Even if the idea isn't > crazy, I don't qualify to be involved and I have not thought at all about > how one would "plant the seeds of the revolution," or who would plant them. > Just wondering . . .


> > Hoping you're well, and getting to focus your time in the ways you want. > > Sandy > > Sandy Newman, President > Voices for Progress > 202.669.8754 > voicesforprogress.org

Diversity Macht Frei, "Italy: African invader destroys four historic churches", 12 Oct. 2016:

Like a fury, he entered four churches in the historic center of Rome and destroyed ancient statues, crucifixes, candelabras. The damage is incalculable from an artistic point of view. In the end, when he was getting ready to make the fifth incursion, he was arrested by the police. The vandal is a 39-year-old citizen of Ghana with a criminal record, legally residing in Italy.

Note: This article has been re-posted in MR Central on 19 Dec. 2015. Any further comments are kindly directed there.

Refugee Resettlement Watch's Ten Reasons For Moratorium On Immigration & Appeal To Congressman Virgil Goode.
Noticing the style of the "moratorium" logo and its coincidence with an appeal to Virgil Goode, I couldn't help but find it reminiscent of Dietrich's VoR design..

...and also that Virgil Goode represented a unique experience for me, to actually be talking with a Congressman as I produced the Stark interview with him. Congressman Goode stayed available on my Google chat and otherwise in communique with me for several months afterwards. That was funny for me, in a good way. Though it should be normal, how many Congressmen speak openly with our kind? It speaks well of him. Ann Corcoran has placed her appeal in the right direction.
Here is the post of the Stark Interview -
VoR, The Stark Truth: Interview with Virgil Goode, 25 April 2012:


Rep. Virgil Goode

Robert interviews Virgil Goode. Topics include:

The Constitution Party;
The need for reduction in immigration both legal and illegal;
National sovereignty, NAFTA, and the North American Union;
Foreign policy and the Iraq war;
Energy independence.

Virgil Goode is the presidential nominee for the Constitution Party. He represented Virginia's 5th Congressional District as a Republic from 1997-2009. He previously served in the Virginia State Senate as a Democrat.
Refugee Resettlement Watch, 'Re-post: Ten reasons there should be a moratorium on refugee resettlement', 5 December 2015:

Posted by Ann Corcoran

Now that the mainstream media and the public are waking up to the UN/US State Department Refugee Admissions Program and how it has been operating for the last 35 years, I thought it would be a good idea to re-post this testimony I gave to the US State Department (first in 2012 at its annual scoping meeting and repeated in 2013 and 2014).

Anne Richard is the Asst. Secretary of State for Population Refugees and Migration. Here she testified last month at a House Judiciary Committee hearing on Syrian refugees. She needs to produce the hearing record for the 2015 'scoping meeting' which we believe was held in secrecy. Photo and story about Judiciary hearing: http://www.breitbart.com/big-government/2015/11/19/state-dept-official-syrian-refugees-less-threat-stops-tracking-3-months/

I just mentioned it in my previous post on annual reports.

As far as we can tell, the US State Department did not hold a public scoping hearing in 2015 (for FY2016) because we never saw a notice for it this year. In these 'scoping meetings/hearings' they ostensibly seek public input on the size of the program for the upcoming year and they want to know what countries should be the focus of protection.

The 'scoping' meeting (like a hearing) was usually held in late spring/early summer of the preceding year. Prior to our attendance in 2012, these meetings/hearings were dominated by the resettlement contractors and their groupies.

One more thing, the State Department does not keep and publish a hearing record for this meeting. The only way we could ever learn what others were saying is to obtain the hard copy testimony by attending in person! There ought to be a law!

Here is my testimony in 2012 (repeated in 2013 and 2014):

Ten Reasons there should be no refugees resettled in the US in FY2013—instead a moratorium should be put in place until the program is reformed and the economy completely recovers.

1) There are no jobs. The program was never meant to be simply a way to import impoverished people to the US and place them on an already overtaxed welfare system.

2) The program has become a cash cow for various "religious" organizations and other contractors who very often appear to care more about the next group of refugees coming in (and the cash that comes with each one) than the group they resettled only a few months earlier. Stories of refugees suffering throughout the US are rampant.

3) Terrorist organizations (mostly Islamic) are using the program that still clearly has many failings in the security screening system. Indeed consideration should be given to halting the resettlement of Muslims altogether. Also, the UN should have no role in choosing refugees for the US.

4) The public is not confident that screenings for potential terrorists (#3) or the incidences of other types of fraudulent entry are being properly and thoroughly investigated and stopped. When fraud is uncovered—either fraud to enter the country or illegal activity once the refugee has been resettled—punishment should be immediate deportation.

5) The agencies, specifically the Office of Refugee Resettlement (ORR), is in complete disarray as regards its legally mandated requirement to report to Congress every year on how refugees are doing and where the millions of tax dollars are going that run the program. The last (and most recent) annual report to be sent to Congress is the 2008 report—so they are out of compliance for fiscal years 2009, 2010 and 2011. A moratorium is necessary in order for the ORR to bring its records entirely up-to-date. Additionally, there needs to be an adequate tracking system designed to gather required data—frankly some of the numbers reported for such measures of dependence on welfare as food stamp usage, cash assistance and employment status are nothing more than guesses. (The lack of reports for recent years signals either bureaucratic incompetence and disregard for the law, or, causes one to wonder if there is something ORR is hiding.)

6) The State Department and the ORR have so far failed to adequately determine and report (and track once the refugee has been admitted) the myriad communicable and costly-to-treat diseases entering the country with the refugee population.

7) Congress needs to specifically disallow the use of the refugee program for other purposes of the US Government,especially using certain refugee populations to address unrelated foreign policy objectives—Uzbeks, Kosovars, Meshketians and Bhutanese (Nepalese) people come to mind.

8) Congress needs to investigate and specifically disallow any connection between this program and big businesseslooking for cheap and captive labor. The federal government should not be acting as head-hunter for corporations.

9) The Volag system should be completely abolished and the program should be run by state agencies with accountability to the public through their state legislatures. The system as presently constituted is surely unconstitutional. (One of many benefits of turning the program over to a state agency is to break up the government/contractor revolving door that is being demonstrated now at both the State Department and ORR.) The participating state agency's job would be to find groups, churches, or individuals who would sponsor a refugee family completely for at least a year and monitor those sponsors. Their job would include making sure refugees are assimilating. A mechanism should be established that would allow a refugee to go home if he or she is unhappy or simply can't make it in America. Short of a complete halt to resettlement-by-contractor, taxpayers should be protected by legally requiring financial audits of contractors and subcontractors on an annual basis.

10) As part of #9, there needs to be established a process for alerting communities to the impending arrival of refugees that includes reports from the federal government (with local input) about the social and economic impact a certain new group of refugees will have on a city or town. This report would be presented to the public through public hearings and the local government would have an opportunity to say 'no.'

For these reasons and more, the Refugee admissions program should be placed on hold and a serious effort made by Congress to either scrap the whole thing or reform it during the moratorium. My recommendation for 2013 is to stop the program now. The Office of the President could indeed ask for hearings to review the Refugee Resettlement Act of 1980-–three decades is time enough to see its failings and determine if reauthorization is feasible or whether a whole new law needs to be written.

Information on the three hearings we wrote about and attended are archived here, here and here. (Those files include posts in which we referenced the hearings/meetings as well.)

By the way, Richard revolved into the State Department from her contractor job at the International Rescue Committee. She had a previous stint at the State Dept. The revolving door is alive and well between contractor and federal agency involving refugee resettlement.

Come on, you can do it! Say "MORATORIUM", 5 Dec 2015:

Posted by Ann Corcoran


She could not be "vetted."

Where are you Virgil Goode?

Did you see that even the NY Times wrote about the female Islamic terrorist, how there was no way to "vet" her or to "screen" her as she came to live among us. Any logical person can see that. There was no d*** data, no biographic or biometric information to tap! And, if asked about any terror connections in personal interviews she certainly didn't tell the truth.

So, don't you wonder why only TEN US Senators can see that and that 89 others are so willfully blind. See our post on Senator Paul's failed attempt at a moratorium on issuing visas to those coming from jihad-producing countries.

And, here see Daniel Greenfield on the killers yesterday. If you read nothing else from Greenfield's post, this is the line every one must grasp:

It's a matter of simple math that as the population most likely to commit terrorist acts increases, so do the acts themselves.

I went back to our archives to see when I first heard anyone suggest a MORATORIUM on Muslim immigration and want to give a shout-out to former Virginia Congressman Virgil Goode who saw the San Bernardino slaughter coming 9 years ago! Learn about how the politically correct harpies at the Washington Post treated him then. His position, in support of a moratorium on legal (Muslim) immigration to America cost him his seat. We told you more about him here in 2010.

Political correctness is dead! Everyone of you must start saying the 'M' word! MORATORIUM! Moratorium on Muslim migration to America, NOW!

Thank you Mr. Goode! Goode is a Trump supporter in Virginia today!


Rep. Virgil Goode


See more to the story below..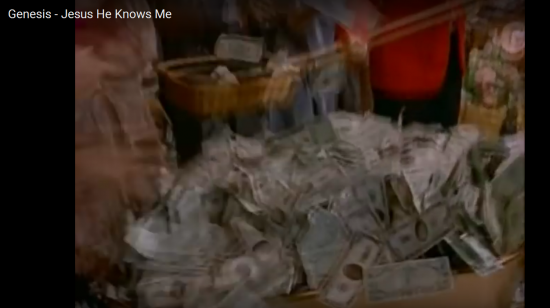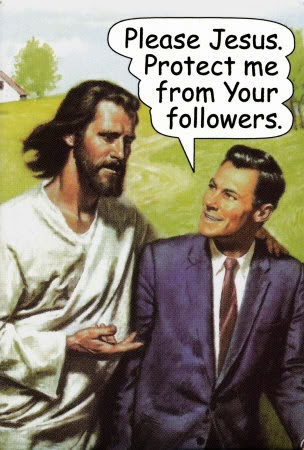 ...and…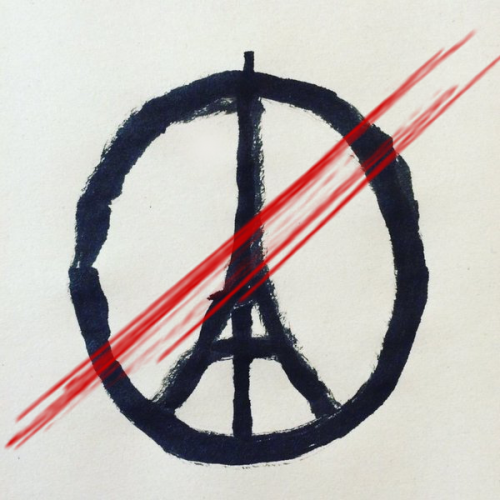 * No peace sign executed by Kumiko
It is not time for peace, but for the comprehensive conceptualization of non-European peoples as other, their place overwhelmingly is not among Europeans, and their imposition upon European EGI an act of war that calls for war in response.
Further, this calls for the undoing of "anti-racism", reversing it, to a legitimization of the comprehensive social classification of peoples, including full comprehension of non-Europeans, including their outliers (their "nice exceptions" to their pejorative patterns) as distinct others to be discriminated against in accordance of European interests.
Important and true though that statement is, it is necessary to capture the point in a pithy caption, that this is not a time for peace nor to be concerned for "the nice ones", if "the nice ones" refuse our terms and/or will not go back to their native countries, from amidst our citizenship. We would more assuredly die through differential birthrates and interbreeding with "the nice ones" than we would through acts of terrorism.
So, let there be a contest to capture the nuance of our concerns: supply a caption for the image, something like "No peace for non-European imposition"... or "No peace for non-European invaders", etc.

* Note: Kumiko and I had the same reaction (revulsion) to the peace sign in this context. When I saw it I was eager to make a statement to the effect of, no! it is not the time for that and this does not represent our stance. I wanted to put up the image with the typical street-sign type of cross-out (circle with one diagonal line through the center - in this case, over the peace sign). I discussed it with Kumiko and she was thinking something quite similar, but only much more emphatic - she was considering using an X scribbled with enraged thoroughness through the peace sign… but it was so thorough that you could barely see that there was a peace sign there. Still, I liked her idea of the hand written zeal of the strike through the peace sign, and suggested just one diagonal strike so that what was being crossed-out could still be seen; she agreed and we both had a try to see which of our renderings looked best. Interestingly, we both chose the same color, but hers looked better and there it is.
Despite our pugnacious enthusiasm, Ryan raises a hand of restraint, itemizing "peace as war" campaigns that had backfired. I wonder if that is not all the more reason to be explicit about who our enemies are. Kumiko is going to have some very interesting things to say about that in days to come in a discussion of the neo-cons.
And she might add her own evergreen post about the anti-peace sign.
In the meantime, I am importing the first few comments by way of responding to them in a first comment, and Kumiko's first comment will be added here (though I will also leave the comments under the Paris attack thread).
Kumiko Oumae in comment 148102 on Sun, 15 Nov 2015:

1. Yes. When I saw all these people holding up these idiotic signs calling for peace, the first thing I wanted was to cross it out because now is not the time for some mawkish calls for 'peace'. So that logo is one that will be used on Majorityrights so that we can express our fundamental disagreement with their idea of 'peace'.