Majorityrights News > Category: Art & Design
DM, "Police call for Notting Hill Carnival to be banned after 31 officers attacked during the two-day event", 30 Aug 2017:

- Police were slashed with broken bottles, spat at, bitten and had acid thrown at them
- In one of the worst confrontations, three PCs had bloody spit sprayed in their faces
- Frontline police said 'enough is enough' and called for organisers to help safeguard them
- Four people were stabbed, more than 300 arrested and dozens of weapons seized

The Notting Hill Carnival was branded a disgrace last night after it was revealed that 31 police officers were attacked during the two-day event.

They were slashed with broken bottles, spat at, bitten and had acid thrown at them.

In one of the worst confrontations, three PCs had bloody spit sprayed in their faces by a man claiming to be HIV positive.

Frontline police said 'enough is enough' and called for organisers to help safeguard those who dedicate their lives protecting others.

Four people were stabbed, more than 300 arrested and dozens of weapons seized during Europe's biggest street carnival. Although there were fewer arrests than last year's record 454, a three-week crackdown had seen hundreds banned from attending.

Ken Marsh, chairman of the Metropolitan Police Federation representing the capital's 32,000 rank-and-file officers, said at least 31 officers were attacked.

'We cannot carry on like this. It is a disgrace,' he said. 'My brave colleagues were attacked for just doing their job.

'This is not acceptable. What other event would be allowed to carry on regardless with so many police colleagues under attack?'

'There is a growing lobby calling for the carnival to be moved to Hyde Park and made ticket-only to deter opportunist criminals. Changes were first proposed in 2000 when two men were murdered. In 2008 there was a riot.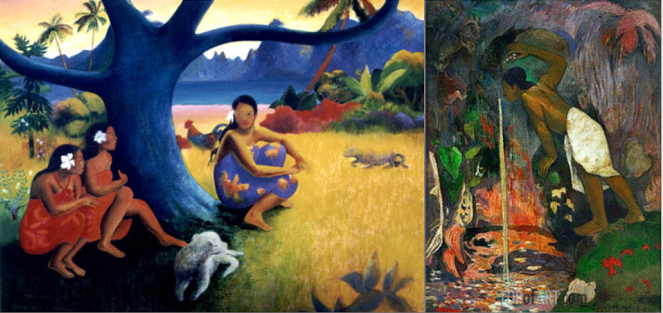 I may have sold Gauguin short in terms of his ethnographic conscientiousness. I'd been citing him as an example of the "artistic genius" who wasn't worth it for his moral failing. There is still a good measure of truth to that, but he may not have been quite as heinous and without effort to be considerate as I had thought in terms of concern for what is important to other people - at least those of Tahiti and their culture. My line had been that as an artist he is as satisfying as any to me, nevertheless as a man who infected who knows how many native girls with syphilis, he was a killer. His art, no matter how good, not worth that behavior.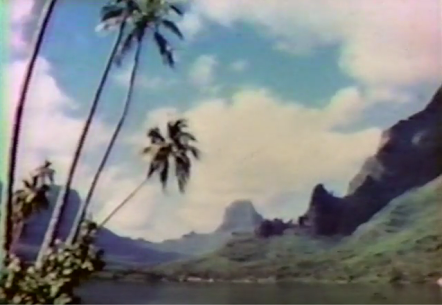 Gauguin in Tahiti: Search for Paradise (1967)
Even so, as I watch this biography, a couple of mitigating facts are revealed. True, he still would have infected at least one native girl with syphilis. However, he married her and apparently did not know that he had the disease when he infected her. Still bad, of course, as there was no effective treatment for the disease even with French civilization settled there. Add to that his knowledge of the risks of his own promiscuity beforehand along with his ultimate abandonment of his wife and kids back in France.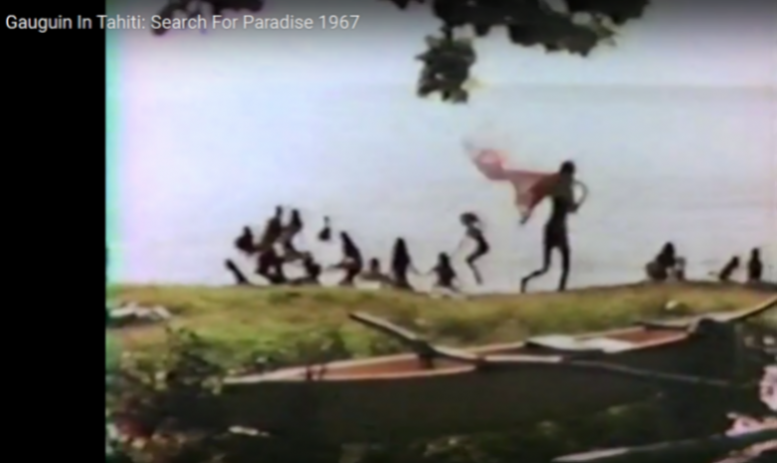 However, the biography reveals that before he fell ill, he was really concerned to find and help preserve the authentic Tahitian people and culture. With that, he was dismayed by the impact of French civilization and missionaries, how they'd already by his time begun to destroy the native culture. He was particularly bothered by the imposition of Christian schooling upon the native children that had by then caused them to lose their native religion. He would actually go to the children and their parents with a French law book - reading them their rights so that they would know that they did not have to go to the missionary school. Finally, he went so far as to try to recreate their native religious stories in writing and in his paintings…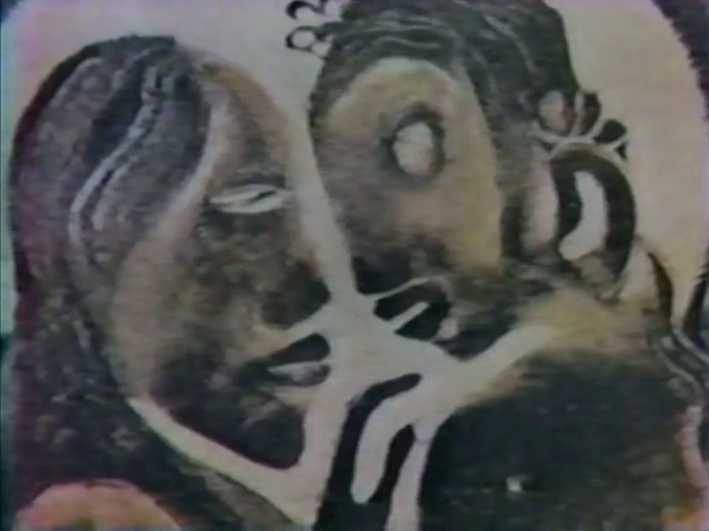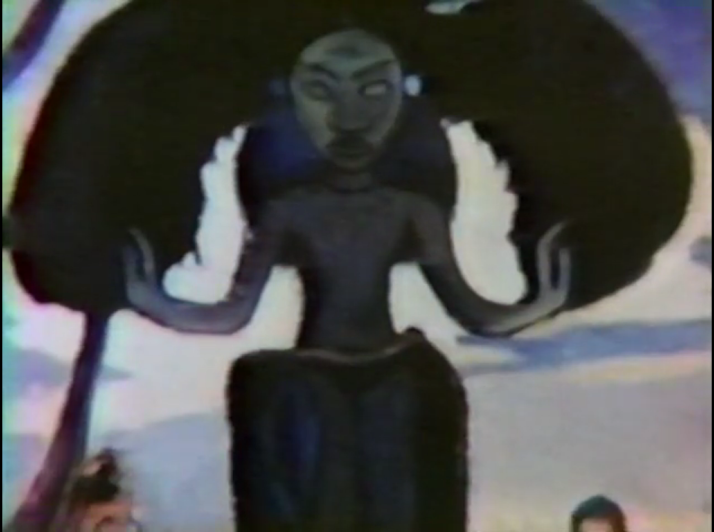 While the profusion of churches throughout the world can be disconcerting, as they are devoted to a religion that is obfuscating and mis-directing the natural instincts of our EGI (ethnic genetic interests), there is a note of optimism in that some of these sublime structures and the artisanship that went into their making can be converted for religion aligned with our ethno-national interests.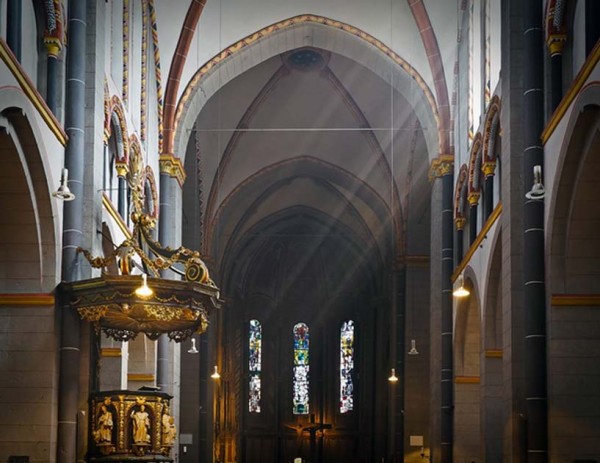 For example, hope for return to proper, natural religious function piques through some of the Spanish missions in California - some were configured to illumination of the solstice: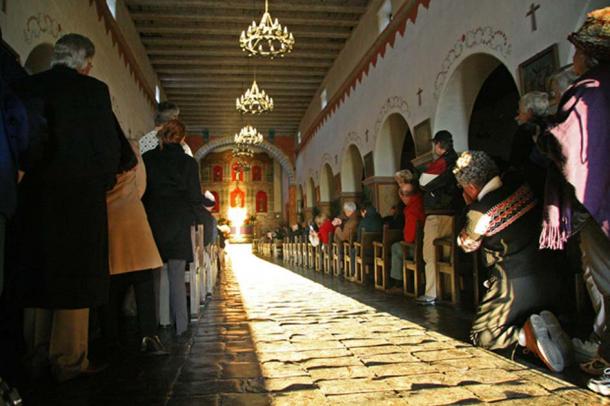 The 2007 midwinter solstice illumination of the main altar tabernacle of Old Mission San Juan Bautista, California. Rubén G. Mendoza/Ancient Editions, CC BY-ND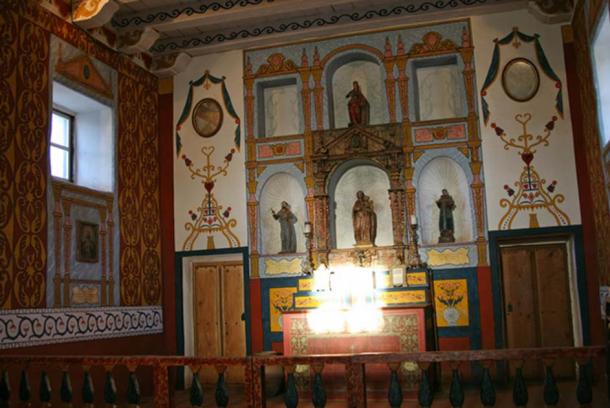 Winter solstice illumination of the main altar tabernacle of the Spanish Royal Presidio Chapel, Santa Barbara, California. The author first documented this solar illumination of the altar in 2004. Rubén G. Mendoza, CC BY-ND
On another level, some of the very elements of worship contained are only thinly veiled pagan icons and arrangement: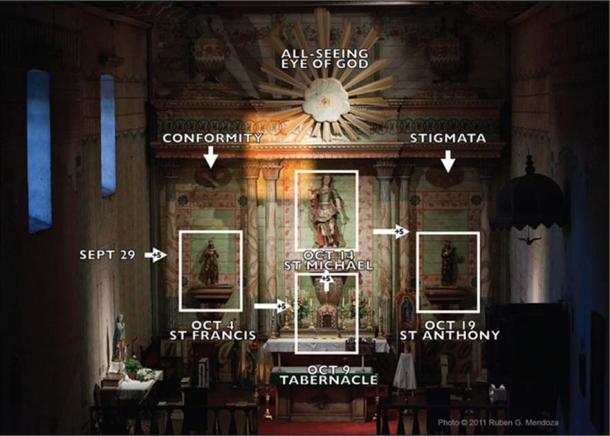 Schematic of the four successive solar illuminations of the saints of the main altar screen of Mission San Miguel Arcángel, California. Note illumination begins at the left with the Oct. 4 illumination of Saint Francis on his Feast Day. The author first identified and documented this solar array in 2003. Rubén G. Mendoza, CC BY-ND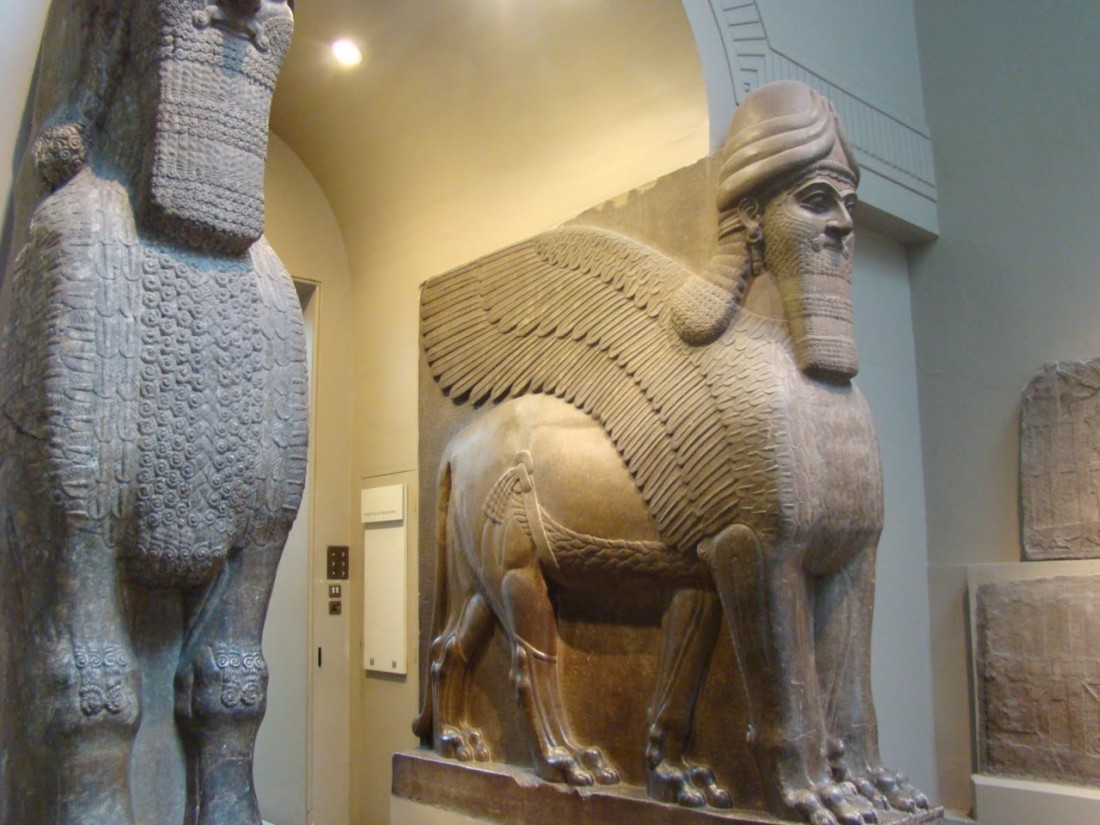 These ancient "guardians of the gates" of Nimrud, called "lamassu", were rescued by William Henry Layard and preserved at The British National Museum. Similar ancient treasures remaining at Nimrud were destroyed by Isil.
NPR, "In Northern Iraq, ISIS Leaves Behind An Archaeological Treasure In Ruins", 26 Nov 2016:

In northern Iraq, outside Mosulin 2014, The Islamic State captured the ancient site of Nimrud and destroyed many of its archaeological treasures that date back 3,000 years. Isil were recently driven out of Nimrud, allowing archaeologists and others to come back and survey the extensive damage.
....including what remained of the remnants of temples and roads to the ancient palace of Ashurnasirpal II.

The king of the Assyrian empire, he built his palace at Nimrud almost three millennia ago. Enough of the cuneiform inscriptions, carved stone friezes and sculptures were left that it had been reconstructed throughout the 20th century by Iraqi and international archaeologists, and later by the Iraqi State Board of Antiquities and Heritage, as a kind of on-site museum, where visitors could really imagine the stately building on a hill.

[There was] great pair of sculptures guarding the gate – the mythical beast called a lamassu with the face of a man, body of a bull and the wings of an eagle.

"It was very important to put them at the gates," she explained recently, "to drive away evil spirits from the city."


[...]

Then, in 2014, the Islamic State surged through Iraq, taking nearly a third of the country's territory, along with several ancient sites, including Nimrud, which is about 20 miles southeast of Mosul. They smashed and blew up Ashurnasirpal II's palace.

[...] attacking the masonry and sculptures, deeming them heretical.

Last week, the Iraqi army retook Nimrud from the extremists, part of a push by an assortment of Iraqi security forces to dislodge ISIS from Mosul and surrounding areas. So Salih returned to see the site for herself.

[...]


In front of the grand entrance to what archaeologists call the northwest palace, built with thick walls around a central courtyard, was a grim pile of chunks

[...]

Ancient tablets with cuneiform writing lie around in pieces. The entrance to the palace is blocked with rubble, with tiny pieces of ancient inscription mixed up in it. A climb to the top of the walls reveals a courtyard strewn with wreckage.

The pride of the palace used to be a stone frieze of the Assyrian figures known as winged genies.

[...]


Now they are all but destroyed.

And despite numerous international initiatives and conferences on emergency heritage management, despite regular statements by Iraqi officials about the importance of the country's ancient heritage, no soldier is guarding the site. Not so much as a local tribesman.

[...]

Although the site is historically Assyrian, it is not just Iraq's small, Assyrian minority that sees it as part of its history. Iraqis often cite Nimrud as a source of national pride, part of the long history of the land once known as Mesopotamia.

[...]

No one knows when that might start. The British Museum is leading a project to train Iraqi archaeologists in emergency management.

"All the area which has been under ISIS control will need to be inspected and assessed," said John MacGinnis, the archaeologist who leads the project.

But MacGinnis said for that to begin, the area has to be secure. And at Nimrud, ISIS is still within mortar range. The sounds of fighting nearby echo every day around the ruins.
Re-directing the Catholic Church, such that it would allow for birth control would actually be a good thing, of course, particularly if applied against African population explosion. But we know that's not likely to be the outcome of a Soros directed infiltration.
What is interesting, in a very creepy sense, is the exposure of how Soros acts to infiltrate and direct mass movements in activism against White solidarity.
In these Podesta emails, he is exposed attempting another permutation of what has been a historical pattern of Jewish infiltration into the Catholic Church:
(((George Soros and Sandy Newman))) promoted fake Catholic groups to try and "create a revolution" within the Catholic church -
From Diversity Macht Frei, 12 Oct, 2016:

From the John Podesta emails, here is a fascinating exchange between Podesta and (((Sandy Newman))).

From:john.podesta@gmail.com To: .(JavaScript must be enabled to view this email address) Date: 2012-02-11 11:45 Subject: Re: opening for a Catholic Spring? just musing . . . We created Catholics in Alliance for the Common Good to organize for a moment like this. But I think it lacks the leadership to do so now. Likewise Catholics United. Like most Spring movements, I think this one will have to be bottom up. I'll discuss with Tara. Kathleen Kennedy Townsend is the other person to consult.

On 2/10/12, Sandy Newman wrote: > Hi, John,

> > This whole controversy with the bishops opposing contraceptive coverage even > though 98% of Catholic women (and their conjugal partners) have used > contraception has me thinking . . . There needs to be a Catholic Spring, in > which Catholics themselves demand the end of a middle ages dictatorship and > the beginning of a little democracy and respect for gender equality in the > Catholic church. Is contraceptive coverage an issue around which that could > happen. The Bishops will undoubtedly continue the fight. Does the Catholic > Hospital Association support of the Administration's new policy, together > with "the 98%" create an opportunity? > > Of course, this idea may just reveal my total lack of understanding of the > Catholic church, the economic power it can bring to bear against nuns and > priests who count on it for their maintenance, etc. Even if the idea isn't > crazy, I don't qualify to be involved and I have not thought at all about > how one would "plant the seeds of the revolution," or who would plant them. > Just wondering . . .


> > Hoping you're well, and getting to focus your time in the ways you want. > > Sandy > > Sandy Newman, President > Voices for Progress > 202.669.8754 > voicesforprogress.org

Diversity Macht Frei, "Italy: African invader destroys four historic churches", 12 Oct. 2016:

Like a fury, he entered four churches in the historic center of Rome and destroyed ancient statues, crucifixes, candelabras. The damage is incalculable from an artistic point of view. In the end, when he was getting ready to make the fifth incursion, he was arrested by the police. The vandal is a 39-year-old citizen of Ghana with a criminal record, legally residing in Italy.