Majorityrights News > Category: The Proposition Nation
Nick Fuentes vs. RC Maxwell | Civic Nationalism Debate.
Fuentes stakes-out some classic arguments against civic nationalism and specifically in this case, against those arguments for inclusion of blacks within the nation. While a full endorsement is not implied, he establishes a plateau from which to elaborate, differ and/or transform.
ContraPoints has done his/her homework as well, also enough to stake out a polemic - by contrast to Fuentes, ContraPoints argues in defense of blacks - giving explanations/excuses for what are taken by who dislike them to be typical black behavior (bad) - again, providing a position for difference, elaboration and/or transformation.
This new PhD (below), "Mexie" the Vegan and anti-capitalist activist, considers that to be her favorite Contrapoints video, one that all "racists" (and anti-racists) should see.
Going Vegan: A Discussion with Mexie | ContraPointsLive
This Vox article concludes:
What we don't know

The shooter's motive
A safe bet is that the shooter's motive was rather an incoherent motive of broad revenge against societal incoherence and therefore lack of accountability, agency and warrant that socially delimited human ecologies would otherwise afford.
VOX, Marjory Stoneman Douglas High School shooting in Florida: what we know:

At least 17 people are dead. The 19-year-old suspect is in custody.


Parents wait for news after a shooting at Marjory Stoneman Douglas High School in Parkland, Florida. Joel Auerbach

A shooting at Marjory Stoneman Douglas High School in Parkland, Florida, has left at least 17 people dead. Students and adults are among the victims.

A 19-year-old male suspect, Nikolas Cruz, has been charged with 17 counts of premeditated murder. Cruz, a former student at Stoneman Douglas, took an Uber to the school Wednesday afternoon. He was armed with an AR-15 rifle, law enforcement officials said, which he used to carry out his rampage. He fled the scene on foot, blending in with the rush of students pouring from the building. The massacre unfolded in less than 10 minutes, according to the timeline released by the Broward County Sheriff's office.

"That should not happen in Parkland. It should not happen anywhere in this country," Broward County Public Schools superintendent Robert Runcie said on Wednesday night. "We have got to find a way for this to stop."

The investigation is still in its early stages. Details could change with more information. Here's what we know — and don't.

What we know

- Around 2:30 pm on Wednesday, just before class dismissal, the fire alarm went off, and shooting began. A law enforcement official told told CBS News it was believed the suspect pulled the fire alarm before the shooting rampage.

- At least 17 people were killed in the school shooting. At least 14 others were wounded, with five individuals sustaining life-threatening injuries. Teenagers and adults are among the victims, according to the Broward County Sheriff's Office.

- The victims we know of so far: Jaime Guttenberg, Martin Duque, Alyssa Alhadeff, Aaron Feis, Gina Montalto, Nicholas Dworet, Luke Hoyer, Carmen Schentrup, Meadow Pollack, Joaquin Oliver, Alaina Petty, Cara Loughran, Helena Ramsey, Alex Schachter, Chris Hixon, Scott Beigel, and Peter Wang. The Miami Herald has the full list with photos and more information.

- The lone suspect is 19-year-old Nikolas Cruz, according to the Broward County Sheriff's Office. He was taken into custody off school property about an hour after the shooting, the sheriff said.

- Cruz confessed to the shooting, according to a sheriff's report. He's been charged with 17 counts of premeditated murder.

The Russia Investigations: Trump Reportedly Wanted To Fire Mueller; D.C. Dumbstruck. A journalist describes Robert Mueller, pictured in 2007 when he was FBI director, as "about as apolitical and nonpartisan a figure as you could find in Washington." (photo credit Susan Walsh/AP).

NPR, "Mueller's Reputation In Washington Is 'Stunningly Bipartisan,' Journalist Says", 1 Feb 2018:

As the investigation into the Trump campaign and Russian interference in the 2016 election forges on, Robert Mueller, the Justice Department special counsel leading the investigation, has managed to stay largely out of public view.

Journalist Garrett Graff says that is in keeping with Mueller's personality: "This is not someone who in any way has tried to grab the spotlight, but instead has kept his head down and worked hard throughout his career."

Graff's 2011 book, The Threat Matrix, explores the transformation of the FBI under Mueller's leadership. Appointed by President George W. Bush, Mueller took over as director of the FBI one week before the Sept. 11 attacks. After Mueller completed his 10-year term as FBI director, President Barack Obama reappointed him for a two-year term, which required a special act of Congress.

"Bob Mueller is probably about as apolitical and nonpartisan a figure as you could find in Washington, particularly at the levels of government in which he has served," Graff says. "This is someone who really, truly believes in truth, justice [and] in the American way, in a way that very few people in American life today anymore do."

Interview Highlights

On Mueller's bipartisan record

We know him most recently, obviously, as the FBI director, but his tenure in government really dates back to the Reagan years. And he's been appointed or held top jobs in the administrations of all five of the last presidents, and was appointed to the Justice Department, the head of the criminal division, under George H.W. Bush's administration, then was appointed a U.S. attorney by Bill Clinton, then appointed the acting deputy attorney general by George W. Bush, and then later FBI director — a position he was reappointed to, in an unprecedented move, by President Obama and confirmed by the U.S. Senate by a vote 100-0, a stunningly bipartisan track record in today's times.

On Mueller's military service

Part of what makes Bob Mueller such a fascinating character is he has dedicated his life sort of time and again to public service. ... Mueller and a handful of other colleagues ... [signed] up for Vietnam after college. This was early in the 1960s, so it was before Vietnam became the cultural touchpoint that it did later.

White House Touts 'Unprecedented' Cooperation Amid Mueller Interview Talks

Second Lt. Marine Corps Bob Mueller ended up leading a platoon in the jungles of Vietnam for a year and really distinguished himself in combat. He received a Bronze Star with valor for his leadership in an ambush that his unit suffered in the fall of 1968, and then was actually shot himself in a separate incident in April 1969 where he received, of course, the Purple Heart and was quickly back on patrol, serving out the remainder of his year.

He came into the F.B.I. in part, in the summer of 2001 because he was known inside the department as a computer-guy. He had help found the Justice Department's first real computer crime unit. And, the FBI in the summer of 2001 had this incredibly outdated computer system…

On how the FBI changed after the Sept. 11 attacks

Bob Mueller, in the days after Sept. 11, sees this incredible sea change in the mission of the FBI, which until then for most of its first 90 years had primarily been a law enforcement agency focused domestically on solving crimes after the fact. And on Sept. 11, we saw an international plot that focused on a suicide attack with catastrophic results, and that that necessitated this top-to-bottom change in the way that the United States approached counterterrorism issues, that after-the-fact investigation was going to be inadequate in the face of these threats.

So Mueller was given a mission by [former Attorney General] John Ashcroft and President Bush to not just investigate attacks afterwards, but to stop plots in the first place, to disrupt the attack before it happened.

It led to this massive reorganization that Bob Mueller spent the next 12 years of his tenure working on, to move the FBI from what was traditionally a domestic law enforcement agency into something that is more akin to an international intelligence agency.

On how Mueller's investigation into the Trump campaign is similar to other FBI investigations

This is, in many ways, a perfectly standard and routine FBI investigation. The FBI, as an investigative agency, takes down corrupt organizations, that's what it's designed to do, go after street gangs, drug cartels, organized crime families, and the way that they do that is by starting on the outside and working their way in. And so that can either mean starting at the bottom of an organization, or starting with ancillary charges and working their way inwards, the equivalent of getting Al Capone for tax evasion.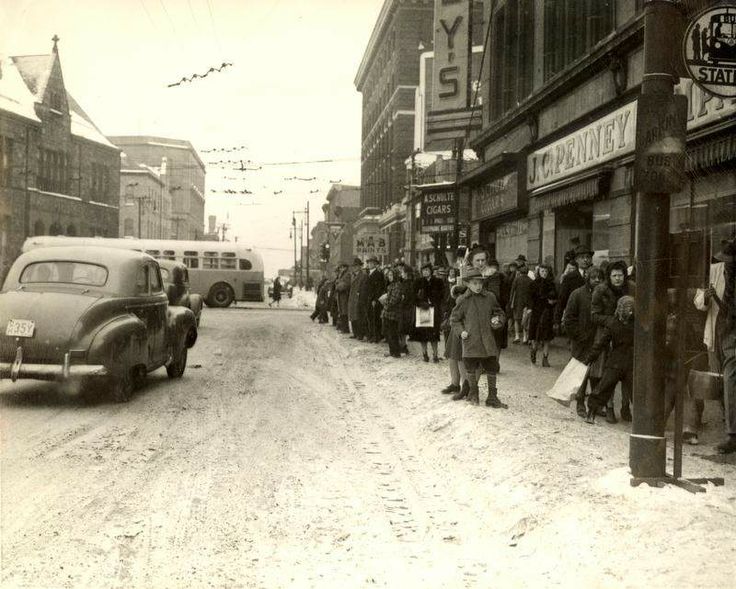 By 1940, Camden was 90 percent White and absolutely thriving.
Let's take the bus to the library for a reading of "Leaves of Grass", maybe Lovecraft, to contemplate what they all died for.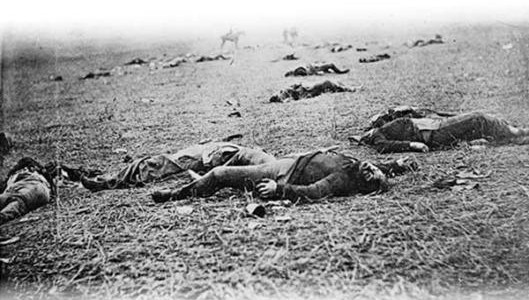 The Leaves of Grass
Keith Alexander once quoted one of the first black mayors of a major American city as predicting that Camden, New Jersey, foreshadowed America's future. That mayor was speaking as a "progressive", of course, predicting bright things, not the irony of his statement.
A Racial Lesson for Western Civilization: Built in 1905 when Camden was 100% White, the Carnegie Library Lays in Ruins in now 96% Non-White Camden

PK Note: Check out the latest Paul Kersey at VDare—thing is, we're supposed to believe this Black Panther black power fantasy.

What becomes of White civilization - western civilization - when White people abandon what their ancestors created?

Inside the roofless Camden branch of

Carnegie Libraries, trees grow among the ruins…

Camden, New Jersey tells us the tragic lesson, where a tree growing inside a long-abandoned library is symbolic of the desolation of western civilization once non-whites inherit what they had no hand in building.

What they are incapable of maintaining.

The roof is gone on the Carnegie Library in now 96% non-white Camden.

In 2018, Camden is nearly 96 percent non-white (49% Hispanic/ 42% black), requiring hundreds of millions of loans, grants, and aid from the taxpayers of New Jersey over the past decades to pay for services, employees, and infrastructure fixes the almost entirely non-white tax-base of the city can't provide.

In 1900, the city was almost 100 percent White, a growing metropolis and a vital contributor to the American economy with an innovative business sector burgeoning. By 1940, Camden was 90 percent White and absolutely thriving.

Camden chapter of

Carnegie Libraries

But as the demographics slowly shifted, and White people abandoned the city, the quality of life regressed to the black (and brown) mean.

What better illustrates the demise of White civilization in Camden then the Camden Free Library Building, built in 1905 when the city was nearly 100 percent White? Andrew Carnegie donated $100,000 for the library, to help provide continued education and a citadel of knowledge to the individual White people who would collectively make Camden on of America's most important industrial cities:

The Library Committee of City Council, on February 24th, adopted a resolution presented by Councilman Charles Ellis, formally accepting Andrew Carnegie's offer of $100,000 for a public library in Camden. On April 28, 1903 the Free Library Trustees recommended the purchase of the Dialogue property, at Broadway and Line Street, 80 x 1600 feet, for the new Carnegie Library. The sum asked was $15,0900 and on November 4, 1903 the property was obtained for that sum.

Carnegie Library, 1914

A competition for the design of the new library was held, with several local architects, including Arthur Truscott, submitting designs. Coming in first place in this contest was the firm of Hale & Morse. Hale and Morse represented the partnership of architects ordinarily not associated with Philadelphia: Herbert D. Hale and Henry G. Morse, both of whom were better known in Boston and New York. Nonetheless, for a period in the early twentieth century the firm established an office in the Drexel Building in Philadelphia, and their projects, reported by the Philadelphia Real Estate Record and Builders Guide included several residential operations.

Camden Free Library Building, built with money donated by Andrew Carnegie, Broadway and Line Street, opened to the public on June 27, 1905. 7,000 books were on the shelves. The cost of the building was about $86,000. Carnegie's donation eventually came to $120,000. It was Carnegie's belief that universities and libraries were the most worthwhile areas to give donations, and he made major donations to over 2500 libraries across the country. The firm of J.E. and A.L Pennock built the two-storied, neoclassical library. It was finished with a pedimented entrance portico on the west façade. When there were no funds left to purchase furniture for the library, Andrew Carnegie donated a supplementary $20,000. The was housed at its original site for eighty-one years. In 1986, the library was set up in a larger building, leaving the original Camden Free Public Library empty. The building was placed on the National Register of Historic Places in October of 1992, and still stands as a symbol of the City of Camden as well as a symbol of the generosity of Andrew Carnegie.

Sadly in the years between 1986 and 2004 the Carnegie Library stood as a symbol of much that was wrong with Camden- physical decay, political inertia, and an indifference to both the heritage of the past and the need to instill a love of books and learning in Camden's children. A few interested parties attempted to get government help in preserving the building, but met with little success.

Walt Whitman at his last residence, in Camden

When the Camden Free Library Building (also known as the Carnegie Library) was built in 1905, Camden was nearly 100 percent White. Designed to provide a sanctuary for conversing with the great White wordsmiths of the past, who in death still had much to tell the living through their tomes, the Carnegie Library was precious gift for posterity. For the benefit of not just maintaining, but advancing White civilization.

Today, in less than four percent White Camden, the building is abandoned, though on the ornate facade the names of great White authors (Chaucer, Irving, and Hawthorne) are inscribed, a visible reminder for the city's almost entirely non-White population of just who the Carnegie Library was built for and whom was expected to help grow the community for centuries to come.

But in the span of a century, Camden went from nearly 100 percent white to, in 2018, almost less than four percent White.

Buildings, especially those built long ago, have a way of speaking for the dead.

Built when White people were not just optimistic about their future (and their posterities), but desirous to advance western civilization, the Carnegie Library in 2018 is derelict and in ruin, a visible reminder of the true theme running through H.P. Lovecraft's horror fiction; the consequences of racial degeneracy, amalgamation, and, worse, the inability of those watching it all unfold to confront the evil.

Reminders of the civilization White people long ago built in Camden are still visible, though the ruin, decay and their degradation is a visible indication of what happens to western civilization in the hands of non-whites.

In now 96% non-white Camden, America's future as White people become a racial minority are on full display.
What it's like to argue with a bracket and why 'American founding fathers constitutionalism' is too complicated and flawed a premise to defend White nationalism.
When asked why she wanted to exclude certain people from White Nations…
Tara experiences what it's like to argue with a virulent bracket and why defending White America (let alone White Nations generally, of course) on the basis of the U.S. Constitution, founding fathers, exceptionalism, etc., is not the best angle.
If you mean to defend White Nationalism, defend White Nationalism, not American Nationalism of the Founding fathers, their constitution and not I.Q., as Tara does. The intentions of the founding fathers, what their text say, matters of I.Q. and the accomplishments (or lack of certain kinds of misdeeds) of White Nations can provide rebuts to fallacious counter arguments, but are not effective as a premisary thesis for defending White Nationalism.
MR's platform takes rather a premise of deep systemic, pervasive ecology and biodiversity ... to be deliberately coordinated among human and pervasive ecology; and to be distinguished from Hitler's 'ecology' which was more like Darwinism and absent the sufficient human and humane aspect of praxis.
Perhaps we should let Tara find out the hard way - she has been warned (as Mancinblack noted). There are reasons to be critical of her: she has associated with some pretty bracketed individuals, such as the guy promoting the Jewish alternative payment set up (I'll find the link a little later); in addition to going along with the fundamentally right wing and Jewish aligned platform that is the Alternative Right.
New Observer, "Egyptian 'Migrant' Terror Attack in Pennsylvania", 25 Dec 2017:

An Egyptian legal immigrant who entered the US on a "chain migrant" visa carried out the triple terrorist attack on police in the Pennsylvanian state capital Harrisburg this week—an attack largely deliberately ignored the by controlled media.

According to a statement issued by the Department of Homeland Security, "the suspect involved in a terror attack in Harrisburg, Pennsylvania and another suspect arrested on terror-related money laundering charges were both beneficiaries of extended family chain migration."

The invader, named as Ahmed Amin El-Mofty, was a naturalized U.S. citizen who was admitted to the United States from Egypt on a family-based immigrant visa.

El-Mofty was killed on Friday December 22 in a shootout after opening fire and targeting police at multiple locations in Harrisburg, Pennsylvania.

The Egyptian invader started his attack at the 100 block of State Street, when Ahmed El-Mofty started firing gunshots. He then got into a vehicle and headed off towards the State Capitol Building, rounded a corner and shot several times at a Capitol Police car near Third and Walnut streets.

One shot came "very close" to hitting the officer driving, but he was able to escape without injury, according to Dauphin County District Attorney Ed Marsico.

About 30 minutes later, El-Mofty fired several shots at a Pennsylvania State Police trooper. The officer suffered minor injuries and was chased by the shooter more than a mile to Allison Hill near the intersection of 17th and Mulberry streets. By then more officers had converged on scene and killed El-Mofty in the resulting shootout.

"The long chain of migration that led to the suspect's admission into the United States was initiated years ago by a distant relative of the suspect. One of the most recent links in that chain was an extended family member admitted into the United States from Egypt on an F24 visa," the DHS statement said.

"Separately, Zoobia Shahnaz, who has been charged with laundering bitcoins to support ISIS, is a naturalized U.S. citizen who came to the United States from Pakistan on an F43 visa.

"The F43 visa is available to the children of F41 visa holders who were sponsored by other family members that obtained citizenship."
Correction: I spoke too soon about Timothy Snyder being an anti-nationalist, and I did that in light of his estimation that Britain and France were not really nations while they were empires, that their "nationhoods" were creations of post hoc political convenience. Nevertheless, to say that he is against nationalism would not be correct, since in fact he sees the weak state and the destruction of the state as that which abets genocide.
Snyder's characterology of how Putin's and Trump's positions have emerged in fairly conjoint construction is uncanny…
As such he does make of himself a useful idiot in that he exposes one side of the YKW equation - the specific origin and characters of their right wing cohorts, Putin and Trump.
Youtube, "A Republic, If You Can Keep It: Masha Gessen Talks Autocracy with Timothy Snyder", 12 July 2017: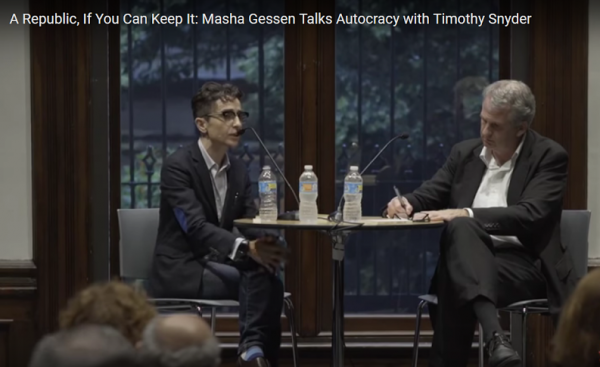 As his fellow Trump/Putin critic, (((Masha Gessen))) would suggest, we would miss the truth of these characters, more like mafia dons than statesmen, if we were to maintain a policy of sheer fact checking. Because essentially, they don't care. They both have a cynical world view and it is about power - logical consistency is for the naive. By contrast to that, one must have the courage and confidence to tell the true story -
Youtube, "Chatham House Primer: Modern Authoritarianism", 30 Oct 2017:


This guy, (Ivan) Ilyin, I think was a very interesting philosopher; he is kind of the grandfather of the current Russian "fascism." Current Russian "fascists" like Alexander Dugin are a little jealous of him and say that he just serves a technical function in the Kremlin and he's not that interesting. I think he's interesting. One of his ideas is that for Russia to have a leader, that person has to be free of history, which is a high demand.

He (Ilyin) was a right-wing Hegelian ...his whole idea was that god created the world and that was a mistake. It's an interesting view, those of you who know anything about Orthodox theology know that there are references… god created the world, it was a mistake, the factuality of the world is itself sinful, history is itself sinful, contingency, to use the technical term, contingency is sinful, all these facts and passions we have, they're inherently sinful.

So, in order for Russia to be rescued it has to be rescued by someone who is somehow clean of history.

It has to be a redeemer who comes from beyond history.

What I find so interesting is that this actually happened in a way.

The place that is not history is fiction.

When Mr. Putin came to power, Surkov and the others in the Kremlin literally had a kind of game and then a public opinion poll where they tried to figure out which Russian fictional character would be most attractive to Russians. They came up with this character (Max Otto von) Stierlitz, who was a double agent and a person in a novel, and in a film, in the 70's, who was a Russian spy who spoke German. That's why they chose Mr. Putin. So, he literally .. this true people! This is the world we live in. So he literally came from fiction.

Then you connect Mr. Putin to Mr. Trump. Mr. Trump is Not a successful real estate developer! That never happened. Mr. Trump bankrupted six companies. He owed billions of dollars to, I think, seventy banks. Until, low and behold, some nice Russians came and said, 'hey, why don't you just put your name on some buildings and we'll give you money for that, and we will build the buildings - which then became his business plan. Which is a great (((business plan))) if you can get it.

Rob Goldstone

relaxing, chatting with Trump

The Miss Universe pageant. How did he run (((the Miss Universe pageant)))? The Russians gave him twenty million dollars and he showed up. Which is a great business plan if you can do it.

So, a fictional Russian character comes to power and then creates a fictional American character called Mr. Trump. This happened!

Once the Russians had bailed him out, he then appeared on American television, on celebrity apprentice, playing a successful real estate developer - which he never was.

But as a character, he was great, he could say, "you're fired!" in a really convincing way.

So, one fictional character then creates another fictional character. And that fictional character also comes to power. ..with the help of all kinds of fictional devices, mostly delivered through the internet. So there really is an interesting problem of (((genre))) going on in our life.
Washington Post, Opinion, 3 Dec 2017:

Dec. 1, 2017, will be remembered as the day when the vast majority of Americans fully grasped the consequences of the 2016 elections. They installed a man in the White House "likely to be under investigation for criminality for a very, very long time to come." And they gave power to a Republican Party whose only purpose is to comfort the already extremely comfortable.

The quotation above, from Donald Trump's campaign rhetoric against Hillary Clinton, is now a better fit than ever for his own circumstances. The day after Michael Flynn's guilty plea on Friday, Trump compounded his legal jeopardy with a tweet suggesting that (contrary to what he had said before) he knew Flynn, his onetime national security adviser, had lied to the FBI.

Trump's lawyers will keep trying to explain his tweet away, but his overall vulnerability on obstructing justice has increased exponentially.

But it's almost as important that Friday was also the day Senate Republican leaders brought forth a tax bill heralding the death of anything resembling a populist form of conservatism within the Republican Party. Plutocracy will now be the GOP's calling card. Facing one of the most scandalous special-interest tax bills in a long history of such measures, even supposedly moderate members of the party caved in before the power of big money when the votes were counted early Saturday morning.

[...]

The leaders of "the world's greatest deliberative body," as the Senate pretentiously calls itself, no longer feel any obligation even to provide legible copies of complex legislation. The chicken scratches scribbled on the margins of their tax giveaway signed away any legitimacy these politicians can claim for their political project.

And deficits? Ah, deficits. They matter not a whit when there is money to pass out to corporations, rich heirs, private jet owners and the beer lobby represented by the son of one of our fine senators. But deficits will matter again soon, when Republicans will insist that they have no choice but to slash programs for the elderly, the sick and the poor.

One salutary outcome of this episode is that Trump showed how nonsensical were the widely repeated assertions that he was outside the Republican mainstream. We now know he is just a flamboyantly clownish and unconscionably mean version of an old-fashioned corporate conservative.

There is not an authentically populist bone in this billionaire's body. He regularly demonstrates his utter contempt for working people by treating them as rubes.

He seems to think that racist gestures and malicious comments about immigrants and Muslims will distract working-class voters from how far he is tilting government away from their interests and toward those of his family and his rich friends.

Trump and his party will learn how many of the Americans they are taking for granted are much smarter than this and know when someone is selling them out — because, sadly, it's something they are familiar with.

This is why the coincidence of the tax bill's passage and Flynn's decision to cooperate with special counsel Robert S. Mueller III is so dangerous to Trump: The president's populist mask is slipping at the very moment when he most needs to rally the troops. Flynn, who cherished the phrase "lock her up," came face to face with the slammer himself and decided that loyalty to this most unfaithful of leaders was not worth the price. About this, at least, Flynn is right.

But don't count on Republican politicians abandoning Trump quickly now that their tax victory is in sight. They and the president have a lot more in common than either side wants to admit. The primary loyalty they share is not to God or country or republican virtue. It is to the private accumulation of money, and this is a bond not easily broken.
For complete story, see Washington Post.
Subscribe