Majorityrights News > Category: The Proposition Nation

"I got the phone call Nov. 12 at 2:39 in the afternoon," Tina Snyder recalled. Her 24-year-old son, Lee Winder, had been found in a shopping center parking lot near his car outside a Dunkin' Donuts.

Winder had become addicted to pain pills and died of a heroin overdose.


Washington Post, "Amid a targeted lobbying effort, Congress weakened the DEA's ability to go after drug distributors, even as opioid-related deaths continue to rise, a Washington Post and '60 Minutes' investigation finds", 15 Oct 2017:

In April 2016, at the height of the deadliest drug epidemic in U.S. history, Congress effectively stripped the Drug Enforcement Administration of its most potent weapon against large drug companies suspected of spilling prescription narcotics onto the nation's streets.

By then, the opioid war had claimed 200,000 lives, more than three times the number of U.S. military deaths in the Vietnam War. Overdose deaths continue to rise. There is no end in sight.

A handful of members of Congress, allied with the nation's major drug distributors, prevailed upon the DEA and the Justice Department to agree to a more industry-friendly law, undermining efforts to stanch the flow of pain pills, according to an investigation by The Washington Post and "60 Minutes." The DEA had opposed the effort for years.

The law was the crowning achievement of a multifaceted campaign by the drug industry to weaken aggressive DEA enforcement efforts against drug distribution companies that were supplying corrupt doctors and pharmacists who peddled narcotics to the black market. The industry worked behind the scenes with lobbyists and key members of Congress, pouring more than a million dollars into their election campaigns.

The chief advocate of the law that hobbled the DEA was Rep. Tom Marino, a Pennsylvania Republican who is now President Trump's nominee to become the nation's next drug czar. Marino spent years trying to move the law through Congress. It passed after Sen. Orrin G. Hatch (R-Utah) negotiated a final version with the DEA.

For years, some drug distributors were fined for repeatedly ignoring warnings from the DEA to shut down suspicious sales of hundreds of millions of pills, while they racked up billions of dollars in sales.

The new law makes it virtually impossible for the DEA to freeze suspicious narcotic shipments from the companies, according to internal agency and Justice Department documents and an independent assessment by the DEA's chief administrative law judge in a soon-to-be-published law review article. That powerful tool had allowed the agency to immediately prevent drugs from reaching the street.

Political action committees representing the industry contributed at least $1.5 million to the 23 lawmakers who sponsored or co-sponsored four versions of the bill, including nearly $100,000 to Marino and $177,000 to Hatch. Overall, the drug industry spent $102 million lobbying Congress on the bill and other legislation between 2014 and 2016, according to lobbying reports.

[TUESDAY UPDATE: Trump announces drug czar Marino will withdraw]

"The drug industry, the manufacturers, wholesalers, distributors and chain drugstores, have an influence over Congress that has never been seen before," said Joseph T. Rannazzisi, who ran the DEA's division responsible for regulating the drug industry and led a decade-long campaign of aggressive enforcement until he was forced out of the agency in 2015. "I mean, to get Congress to pass a bill to protect their interests in the height of an opioid epidemic just shows me how much influence they have."

Besides the sponsors and co-sponsors of the bill, few lawmakers knew the true impact the law would have. It sailed through Congress and was passed by unanimous consent, a parliamentary procedure reserved for bills considered to be noncontroversial. The White House was equally unaware of the bill's import when President Barack Obama signed it into law, according to interviews with former senior administration officials.

Top officials at the White House and the Justice Department have declined to discuss how the bill came to pass.

Michael Botticelli, who led the White House Office of National Drug Control Policy at the time, said neither Justice nor the DEA objected to the bill, removing a major obstacle to the president's approval.

"We deferred to DEA, as is common practice," he said.

The bill also was reviewed by the White House Office of Management and Budget.

"Neither the DEA nor the Justice Department informed OMB about the policy change in the bill," a former senior OMB official with knowledge of the issue said recently. The official spoke on the condition of anonymity because of the sensitivity of internal White House deliberations.

The DEA's top official at the time, acting administrator Chuck Rosenberg, declined repeated requests for interviews. A senior DEA official said the agency fought the bill for years in the face of growing pressure from key members of Congress and industry lobbyists. But the DEA lost the battle and eventually was forced to accept a deal it did not want.

[...]

Deeply involved in the effort to help the industry was the DEA's former associate chief counsel, D. Linden Barber. While at the DEA, he helped design and carry out the early stages of the agency's tough enforcement campaign, which targeted drug companies that were failing to report suspicious orders of narcotics.

When Barber went to work for the drug industry in 2011, he brought an intimate knowledge of the DEA's strategy and how it could be attacked to protect the companies. He was one of dozens of DEA officials recruited by the drug industry during the past decade.

Barber played a key role in early version of the legislation that would eventually curtail the DEA's power, according to an internal email written by a Justice Department official to a colleague. "He wrote the Marino bill," the official wrote in 2014.

Barber declined repeated requests for an interview.

With a few words, the new law changed four decades of DEA practice. Previously, the DEA could freeze drug shipments that posed an "imminent danger" to the community, giving the agency broad authority. Now, the DEA must demonstrate that a company's actions represent "a substantial likelihood of an immediate threat," a much higher bar.

[...]

Today, Rannazzisi is a consultant for a team of lawyers suing the opioid industry. Separately, 41 state attorneys general have banded together to investigate the industry. Hundreds of counties, cities and towns also are suing.

"This is an industry that's out of control. If they don't follow the law in drug supply, and diversion occurs, people die. That's just it, people die," he said. "And what they're saying is, 'The heck with your compliance. We'll just get the law changed.' "

[...]

'Drug dealers in lab coats'

2006: 52,277 deaths from prescription opioid overdoses since 2000.

Joe Rannazzisi came to DEA headquarters as an outsider with an attitude. He worked as an agent in Detroit, where he watched prescription drugs flood small towns and cities in the Midwest.

Hundreds of millions of pain pills, such as Vicodin and oxycodone, ended up in the hands of dealers and illegal users.

Rogue doctors wrote fraudulent prescriptions for enormous numbers of pills, and complicit pharmacists filled them without question, often for cash. Internet pharmacies, supplied by drug distribution companies, allowed users to obtain drugs without seeing a doctor.

"There were just too many bad practitioners, too many bad pharmacies, and too many bad wholesalers and distributors," Rannazzisi recalled.

[...]

Rannazzisi brought an aggressive approach to the diversion control office.

The year he took over, Linden Barber was promoted to run diversion control's litigation office, which crafted the legal arguments that supported the team. He was a former Army lawyer who served in Iraq. The cadre of attorneys who worked for him saw him as a tough litigator unafraid of an influential industry.

Barber and Rannazzisi formed a powerful combination that the drug companies would learn to fear. "Early on he did really good work," Rannazzisi said. "He jumped into the Internet cases when he first came here."

After shutting down the Internet pharmacies, Rannazzisi and Barber pursued the pain management clinics that replaced them and soon became as ubiquitous in South Florida as the golden arches of McDonald's. To get there, drug dealers and users would take the "Oxy Express" down Interstate 75.

"Lines of customers coming in and going out," said Matthew Murphy, a veteran DEA supervisor in Boston whom Rannazzisi hired to be chief of pharmaceutical investigations. "Armed guards. Vanloads of people from the Appalachia region driving down to Florida to get a prescription from a pain clinic and then get the prescription filled, going back to wherever they're from."

Back home, each 30-pill vial of oxycodone was worth $900.

DEA officials realized they needed a new strategy to confront this new kind of drug dealer.

"They weren't slinging crack on the corner," Rannazzisi said. "These were professionals who were doing it. They were just drug dealers in lab coats."

Rather than focusing on bad doctors and pharmacists, Rannazzisi and Barber decided to target the companies feeding the pill mills: the wholesale drug distributors, some of them massive multinational corporations.

[...]

"They definitely didn't like Joe Rannazzisi," Murphy said. "Not at all. He wasn't viewed as a person that they could work with. And maybe that was appropriate. He didn't want to work with industry much."

Rannazzisi was unmoved by their complaints.

"We're worried about their feelings being hurt because we were doing our job?" he said. "We were making them comply. We were holding their feet to the fire."

Murphy recalled a telling meeting with drug company representatives.

He said the president of one of the drug companies sat on the other side of the table, put his hands up and said, " 'You got us. What can we do to make this right?' " Murphy recalled.

Murphy said he had heard the same thing from drug dealers.

There was an important difference, Murphy noted.

"You know," he said, "the heroin and cocaine traffickers didn't have a class ring on their finger from a prestigious university."

'This is war'

2011: 121,468 deaths from prescription opioid overdoses since 2000.

In 2011, Linden Barber left the DEA to join the Washington, D.C., office of the law firm Quarles & Brady. He started a practice representing drug companies. "If you have a DEA compliance issue or you're facing a government investigation," he said in a promotional video for the firm, "I'd be happy to hear from you."

Barber's move turned out to be a key moment in the struggle between drug companies and the government, but it was far from the only one. Dozens of top officials from the DEA and Justice Department have stepped through Washington's revolving door to work for drug companies.

[...]

'it was bad'

2013: 149,853 deaths from prescription opioid overdoses since 2000.

The field generals in the DEA's war on opioids are men and women such as Jim Geldhof, a 43-year agency veteran who managed the diversion control program in the Detroit field office. He witnessed firsthand the heartbreak pain pills were causing across the Midwest.

One night, at a town hall meeting in Portsmouth, Ohio, Geldhof sat quietly as the Portsmouth High School gym fell dark and a large screen flickered with photographs.

Geldhof was in tears.

"Sons and daughters and grandsons and granddaughters in graduation pictures," he recalled. "Some were wearing football jerseys. They had their whole lives ahead of them, and then they were gone."


[...]

Geldhof, the DEA program manager in Detroit, was investigating a midsize Ohio-based drug distributor. Between 2007 and 2012, Miami-Luken had shipped 20 million doses of oxycodone and hydrocodone to pharmacies in West Virginia. About 11 million wound up in one county, Mingo, population 25,000.

Despite the rising death rate in West Virginia — the highest in the nation — Geldhof said his pleas in 2013 to halt Miami-Luken's operations were ignored by the legal office at headquarters.

"First we got blown off by the company," he said, "and then we got blown off by our own lawyers."

Novak suspected another reason for the slowdown.

At times, he said, some of his colleagues appeared more concerned with pleasing the industry than working on behalf of the public. Some of the lawyers had simply given up fighting the industry and seemed to be preparing for a future working with the companies they were supposed to be regulating, he said.

"It was not just one person who left the office; everyone started to leave. That's your payout. You do your time, and more and more people were auditioning for the industry. It stopped us from doing our jobs."

The departures gave the industry an unfair advantage, Novak said.

"There was a fear," he said. "It comes from seeing that some of the best and brightest former DEA attorneys are now on the other side and know all of the weak points. Their fingerprints are on memos and policy and emails."

[...]

Epilogue

2016: 197,713 deaths from prescription opioid overdoses since 2000.

John Mulrooney, the chief DEA administrative law judge, has been documenting the falling number of immediate suspension orders against doctors, pharmacies and drug companies. That number has dropped from 65 in fiscal year 2011 to six so far this fiscal year, according to the DEA. Not a single order has targeted a distributor or manufacturer since late 2015, according to Mulrooney's reports, which were obtained under the Freedom of Information Act.

Mulrooney said in his reports that the judges under him were handling so few cases at the DEA that they began hearing the cases of other federal agencies.

Mingo County

, West Virginia, racial makeup 97.1% White

[...]

A spokesman for Whitehouse said that the DEA could have expressed its opposition at any time.

"The fact that it passed the entire Senate without hearing any sort of communication that would have triggered concern of at least one senator doesn't really pass the smell test," the spokesman said.

Jim Geldhof, the DEA program manager in Detroit, retired from the agency at the end of 2015 after 43 years on the job. He said the companies were fully aware of their responsibilities under the law.

"When you're selling half a million pills to some pharmacy and you're telling me that you don't know what the rules are for a suspicious order?" said Geldhof, who is now working as a consultant to lawyers suing the industry. "All we were looking for is a good-faith effort by these companies to do the right thing, and there was no good-faith effort. Greed always trumped compliance. It did every time. It was about money, and it's as simple as that."

Just before Geldhof left, his two-year quest to persuade the DEA to take action against Miami-Luken finally paid off. In November 2015, the DEA accused the company of multiple violations of the law for allegedly failing to report orders for tens of millions of pain pills from pharmacies, most of them in West Virginia. That case — the most recent one to target a distributor — is pending.

Of the millions of pills sent to Mingo County, many went to one pharmacy in Williamson, the county seat, population 2,924. In one month alone, Miami-Luken shipped 258,000 hydrocodone pills to the pharmacy, more than 10 times the typical amount for a West Virginia pharmacy.

The mayor of Williamson has since filed a lawsuit against Miami-Luken and other drug distributors, accusing them of flooding the city with pain pills and permitting them to saturate the black market.

"Like sharks circling their prey, multi-billion dollar companies descended upon Appalachia for the sole purpose of profiting off of the prescription drug-fueled feeding frenzy," the lawsuit says.

...West Virginia was not alone among poor White areas targeted, but provides a graphic example of how much big pharma, big business, big money and the government care for disadvantaged Whites, as West Virginia is markedly the poorest and Whitest state in America.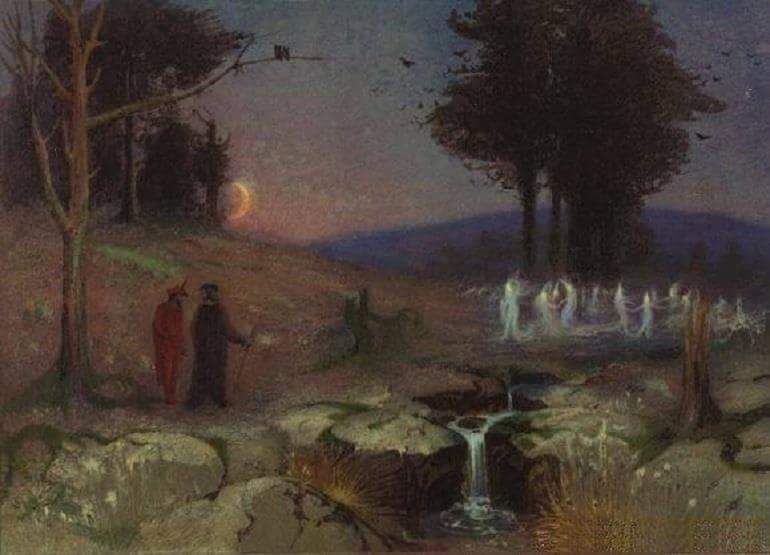 Almost heaven, West Virginia, the corporations can't lay off - Massey corp. strip mines its mountains, poisons its water and big pharma preys on the despair of the first casualties of cultural Marxism.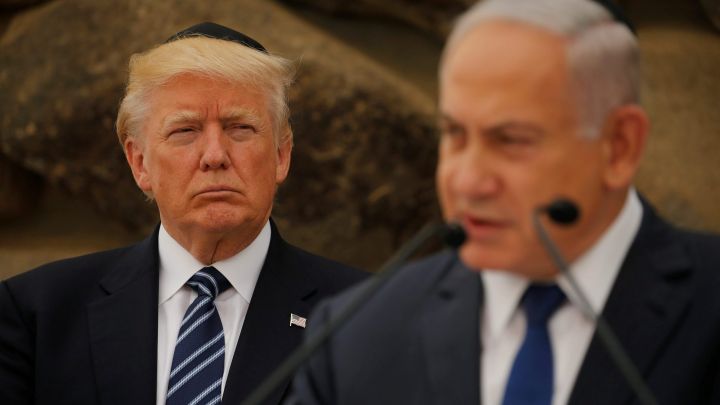 The US has now opened its first base inside Israel; meaning that US soldiers now will be in there and thus bound to it in a way that historically did not exist prior to this moment. No longer a satrap, it will be a ready base of operations prefigured for joint US/Israeli retaliation and deployment - markedly for operations against Iran at this point.
MSN, "US opens first permanent military base in Israel", 19 Sept 2017:

Israel and U.S. officials on Monday inaugurated the first permanent American military base in the country, which will house dozens of U.S. troops and a missile defense system.

The base will be located within the Israel Defense Forces Air Defense School in southern Israel, near Beersheba, Defense News reported.

The facility will include a barracks and several other buildings for U.S. troops to be stationed in the country, as well as systems to identify and intercept various aerial threats. It will operate under Israeli military directives.

"We inaugurated, with our partners from the United States Army, an American base, for the first time in Israel," Brigadier General Tzvika Heimowitz, head of Israeli missile defences, told journalists. "An American flag is flying permanently over a US army base situated inside one of our bases." (Tsafrir Abayov/Associated Press)

Israeli Air Force Brigadier General Zvika Haimovich said the base is largely to serve as "a joint Israeli and American effort to sustain and enhance our defensive capabilities," and will not bring operational changes such as training or exercises.

"It's a message that says Israel is better prepared. It's a message that says Israel is improving the response to threats," Haimovich, the commander of Israel's aerial defense, told Associated Press.

The Pentagon already operates an independent facility nearby in the Negev Desert. The facility is used only by The US and is meant to detect and warn of a possible ballistic missile attack from Iran.

Israel has been increasingly concerned with Iran's development of long-range missiles and considers the country to be its greatest threat.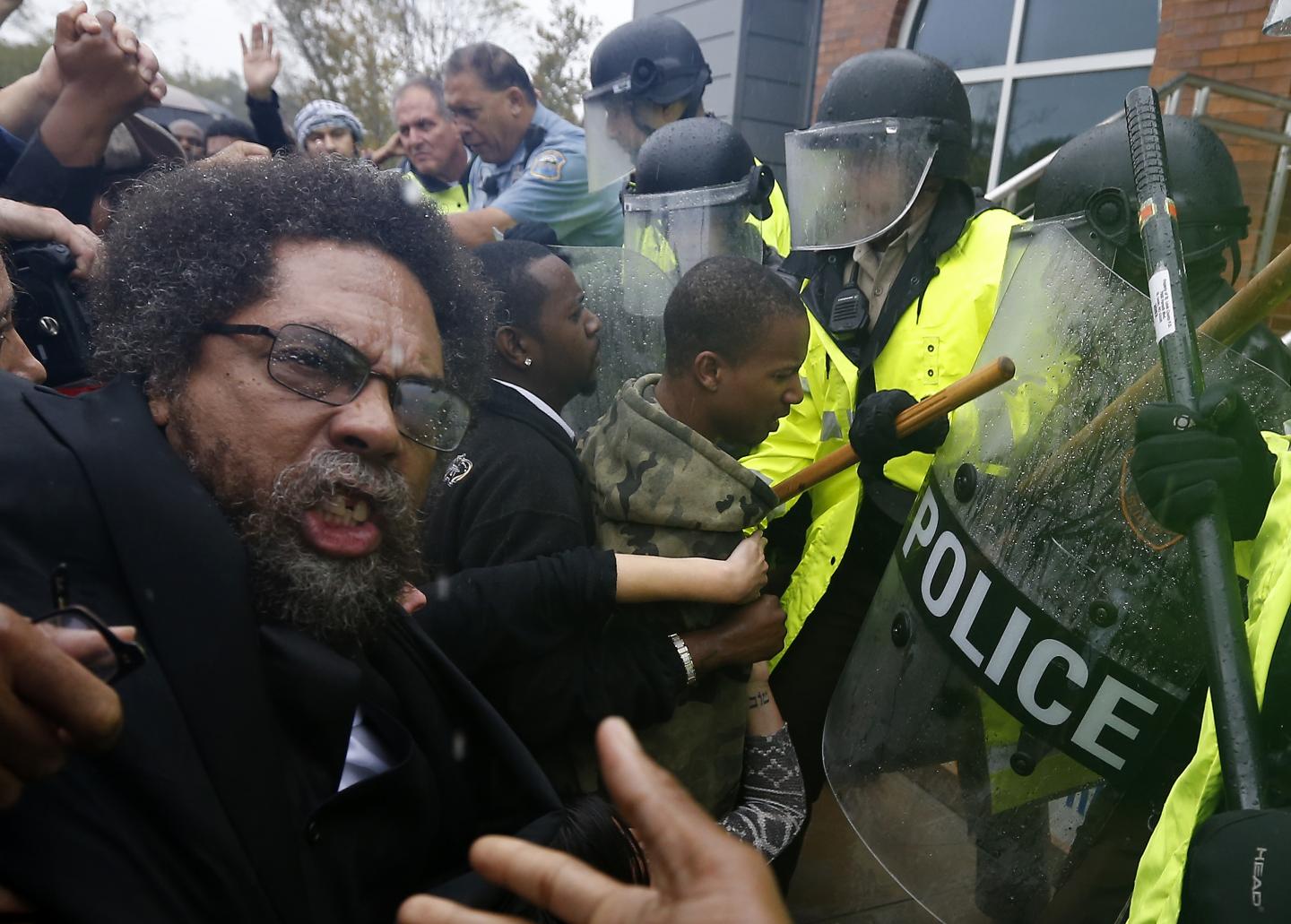 Black advocate Cornell West along with other blacks confronting the St. Louis Police Department
A week of riots have ensued in Saint Louis after police officer Jason Stockley was acquitted of murder charges in the 2011 shooting death of Anthony Lamar Smith.
Anthony Lamar Smith, a black inner city heroine dealer, was on parole after having already served a prison sentence on drugs and weapons charges.
Rolling Stone: On December 20th, 2011, Stockley and his partner, Brian Bianchi, stopped to question Anthony Lamar Smith and another man they suspected of dealing drugs at a North St. Louis Church's Fried Chicken. As the policemen approached Smith's Buick, Smith abruptly drove forward into the building before throwing the car in reverse, hitting the police vehicle twice. Stockley testified during trial that he heard Bianchi shout "gun." Stockley fired several shots at the fleeing car before both men returned to their police car.
After resisting arrest and ramming the police car, Smith then led Stockley and Bianchi on a dangerous, high speed car chase, nearing 90 mph and obviously putting lives at risk.
In the heat of the chase Stockley was heard on his squad car recording shouting,
"We're going to kill this motherfucker, don't you know it."
As a known heroine dealer and a parolee, Smith was facing a lengthy jail sentence if apprehended - he obviously would not want to go to jail again; after the high speed chase, his additional deadly resistance was likely to follow.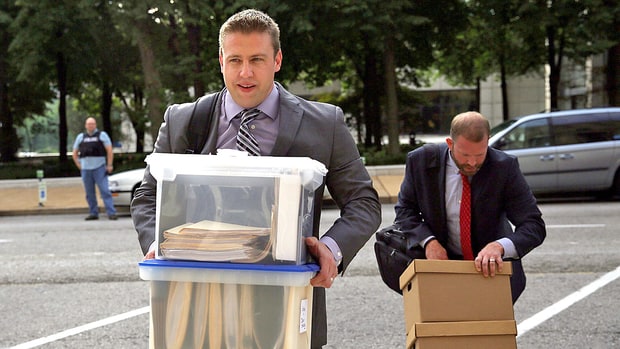 Former St. Louis city police officer Jason Stockley, center, arrives with his legal team on August 1st. Laurie Skrivan/St. Louis Post-Dispatch via AP
Ibid. The chase lasted three minutes and wound through city streets, with the vehicles travelling at speeds of above 80 miles per hour. Audio and video from the police car is garbled throughout, yet Stockley at one point audibly says "we're going to kill this motherfucker, don't you know it." Smith drove into traffic and Bianchi hit him with the police car, ending the chase.

Even with dashboard camera footage, what followed the chase is not entirely clear. In the video, Stockley and Bianchi are seen approaching the Buick. Stockley appears to have his weapon drawn. He leans into the car to talk to Smith and there seems to be some kind of struggle. Stockley then pulls back and fires several shots into the car. In his testimony, Stockley said he saw Smith turning to his right to grab a gun, causing Stockley to fear for his life. After he died, Smith was found to be in possession of a bag of heroin and a handgun.

Stockley then returned to the police car, placing an unauthorized AK-47 in the back seat. In an interview with the St. Louis Post-Dispatch, Stockley said he carried the gun, despite department regulations, "as a deterrent."

Stockley went back to Smith's car, before once again returning to the police vehicle to retrieve something from a duffel bag in the backseat. The prosecution argued that Stockley was grabbing a handgun, which he then planted in Smith's car. Stockley claimed he was retrieving "Quick Clot," which is used to stop bleeding.

During the subsequent investigation, Stockley's DNA was found on the handgun recovered from Smith's car. Investigators could find no trace of Smith's, despite Stockley's assertion that the gun belonged to the victim. Experts cautioned, however, that even though Smith's DNA is not present, it's impossible to say with certainty he had not touched the gun.
Presiding over officer Stockley's trial on murder charges, Judge Terry Wilson acquitted Stockley, observing that the entire episode was on video, with no opportunity for Stockley to plant a gun. The judge added,
"An urban heroin dealer not in possession of a firearm would be an anomaly."
The inference being clear, that Stockley was legitimately in fear for his life having already been led on a high speed chase by a heroine dealer on parole - Smith was very likely to continue to resist arrest in any way that he could rather than go to jail - the misreading of a quick movement could likely mean death.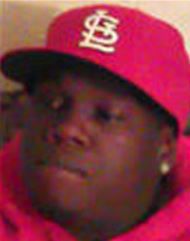 St. Anthony Lamar Smith's daughter is a millionaire for his martyrdom.
Nevertheless, the St. Louis board of Alderman passed a resolution to officially honor Anthony Lamar Smith.
Ibid. Moreover, in February 2012, a wrongful death and civil rights suit was filed on behalf of Smith's daughter, then one year old, against the St. Louis Police Board and Jason Stockley. The family was ultimately awarded a $900,000 settlement.

In 2013, Stockley was given a 30-day suspension for carrying the unauthorized AK-47 on duty. Shortly after he resigned from the St. Louis Police Department and moved to Texas where he began a management job at an oil company.
Blacks along with the "Black Lives Matter" and "Antifa" have rioted throughout St. Louis and surrounds for a week, making rounds to different sections, vandalizing businesses, even attacking the mayor's house.
TPC, 23 Sept, hour 2: Sean Bergin comprehensively explains what has been going on in St. Louis in recent days involving the police and Black Lives Matter criminals.
Hour 3: Sam Dickson and retired police officer Jim Lancia discuss the so-called "Antifa" street thugs.
.....just admit it, you can't live with them.
Separatism is the first step, separatism is the ultimate aim, separatism is always possible.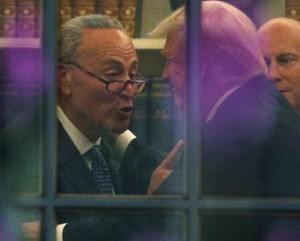 What did you really expect from Trumpstein?
My personal position with regard to so-called "Hispanics" is that we should first of all differentiate among them. "Hispanic" is an egregious term, auguring to do the very worst thing which we seek to stave-off, i.e., to blend away racial distinctions, as the term covers and then tends to politically coerce the blending of Amerindians, Whites, Jews and blacks.
We need to distinguish them hence. We need to distinguish Marrano "huWhites". We need to distinguish those who are black and have anything beyond a small amount of black - they should be looked upon as an out group - not our friends: e.g., Puerto Ricans typically have a significant amount of sub-Saharan African, 25%. Whereas Mexicans on average have only small amount, 4% as evaluated by National Geographic Human Genome Project, Gen 2.0. These kinds, Amerindians and Indios (mixed Indian and White) should be looked upon as people to cultivate as allies.
Certain Caribbean mixes should be shown some compassion in an effort to reconstruct as much as possible the now non-existent pure Indian strains which were forcibly bred-away with African slaves by Spanish conquistadors. Similarly, Indos should be allowed protection from furthering of the mongrelization that was visited upon them by the Spanish conquests.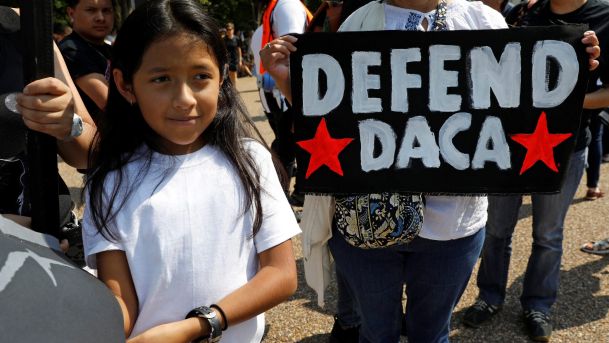 As these historical errors are corrected, "a new dream" act should be enunciated in which the riches and opportunities of the Americas are shared between Whites, Asians and Amerindios in exchange for friendly terms and alliance with Whites against black, Jewish and Muslim imposition.
This must be arranged in accordance with human ecological and resource management - especially population carrying capacity: which tends to be the elephant in the room that liberals overlook in their anti-racist fervor. Make the said kinds friends and hold them accountable to our alliance in pervasive ecology and human ecology of our distinct kinds. We do this deliberately, or we are without a vast alliance, in fact it is arrayed against us as distinct peoples (nationals) and our habitats all…

Opinion // Save DACA: We U.S. Jews Won't Let Trump End the American Dream

On DACA, the president appears unmoved by arguments of compassion, humanity, national interest or common sense. Now is the time to take a stand and take action.

"Dreamers" originally from Ecuador watch Attorney General Jeff Sessions' remarks on ending the DACA program on a smartphone in Manhattan, September 5, 2017. Credit: Drew Angerer/AFP

●DACA 'is being rescinded,' Sessions announces after Trump moves to kill 'Dreamers' program

●U.S. Jewish groups blast Trump's decision to scrap 'Dreamers' program as 'cruel, unnecessary'

●WATCH // Donald Trump vehemently defended 'Dreamers' on Fox News in 2011

The Trump administration moved on Tuesday to terminate the legal status of 800,000 immigrant children and young adults. These young people are currently protected by Deferred Action for Childhood Arrivals. DACA is only available to people who have been in the United States continuously since June 2007, so this decision will exclusively impact kids and young adults who have been in the country for at least 10 years and have impeccably clean records. About three quarters of the so-called "dreamers" have U.S. citizen family members, and one quarter have U.S. citizen children.

DACA is an executive action taken by President Barack Obama in 2012 after decades of failure in Congress to enact any kind of immigration reform. There is broad agreement across party lines that people who were brought to the United States as children by their parents did not make a choice to come here, and therefore should be allowed to stay in the country that they call home. Leaders of both parties, as well as business leaders, faith leaders, and the majority of Americans polled about it, support DACA and have urged President Donald Trump to keep it in place.

>> U.S. Jewish groups blast Trump's decision to scrap 'Dreamers' program as 'cruel, unnecessary'

■ Analysis: Trump's Cruel and Unusual Punishment of Unsullied Dreamers

Like generations of immigrants before, including millions of Jewish parents and grandparents, the parents of these kids have made enormous sacrifices, not for themselves, but in the hope that their children would have a chance at a real future.

These kids are American in all but paperwork, and they are now living in fear. In just a few months, they may not be able to legally work, and will face arrest, jail and deportation. These are kids who have gone to school, made friends, joined teams, grew up, enlisted in the military, went to college, went to work, volunteered and lived normal, American lives. This moment should feel scary, disturbing and eerily familiar to all Jewish Americans.

Ending DACA serves no legitimate policy purpose and in fact, will hurt the U.S. economy. Particularly as we work to recover from Hurricane Harvey, where many DACA recipients are actively taking part in rescue and rebuilding efforts, the cruelty of this decision is in plain view.

Ending DACA will also make us less safe. As losing legal status causes people to recede into the shadows, they will be afraid to call and cooperate with the police. More parents will be afraid to take their kids to school and to church, to the park and to the doctor. More kids will live in fear of the knock on the door that will take their parents away.

HIAS is the global Jewish organization that protects refugees. We stand for a world in which refugees find welcome, safety and freedom. Guided by our Jewish values and history, we bring more than 135 years of expertise to our work with refugees. But our work is just one piece of the larger culture of equality and welcome we strive to create together with our supporters in the American Jewish community. Threats to the DACA program are not only threats to immigrants, but to justice, fairness and the longstanding values of our country.

This country's history of accepting refugees and immigrants has offered generations of Jewish Americans the opportunity to recognize our full human potential and become part of the fabric of America. While there are disturbing elements that would deny this, and their voices are louder now, it is still true. It would be a stunning reversal and betrayal of our history to deny this opportunity to others who have already contributed so much.

The president appears unmoved by arguments of compassion, humanity, national interest or common sense. Now is the time for American Jews to take a stand and take action through elected officials in Congress. We can call Congress and insist that our representatives immediately pass a law that will allow these kids and young adults to stay here legally and permanently. This law must include no conditions or trade-offs, or in any way punish other immigrants.

We must restore basic fairness and morality to the way we treat immigrants in this country, and there is no better place to start than with these young Americans.

Melanie Nezer, Haaretz Contributor, is senior vice president of public affairs for HIAS, the global Jewish nonprofit that protects refugees
Unhinge the Right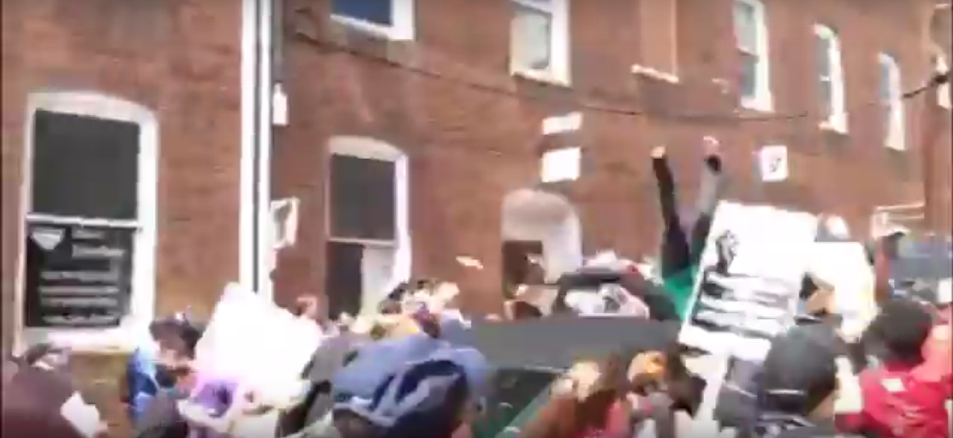 Video shows car crashing into Charlottesville protest. Witnesses say that it was absolutely intentional; it is being treated as homicide.
Fox News, A 32-year-old woman was killed Saturday and 19 others were injured, five of them critically, when a car rammed into a group of counter-protesters during the "Unite the Right" rally in Charlottesville, Va.

Virginia Secretary of Public Safety Brian Moran told the Associated Press that the driver of the car, a man, was in custody. Moran did not provide the driver's name.
While following the goings on of the "Unite The Right Rally" in Charlottesville, in a live feed, Tara McCarthy took friendly questions from the likes of Roosh V. and fielded reports from the likes of Pax Dickinson, recommending that people contribute to his Mencious Moldbug (a Jewish man of Neo Reactionary fame) backed crowdfunding; Tara scolded "The Left" for counter-protesting what she says was meant to be a peaceful rally for free speech, and to encourage "normies" to join the cause of ethno-nationalism by showing them they're not a bunch of neo-Nazis, skinheads and so-on. She might have wondered how that was supposed to happen with the motley array of right wingers that showed-up, including Commander Jeff Schoep's Neo-Nazi group in full regalia, Carolina K.K.K., Matt Heimbach's Jesus Freak Group, calling itself "The Traditional Workers Party" and a skinhead gang called "The Detroit Right Wings."
...and look at the headliners, starting with Mike Enoch Peinovich: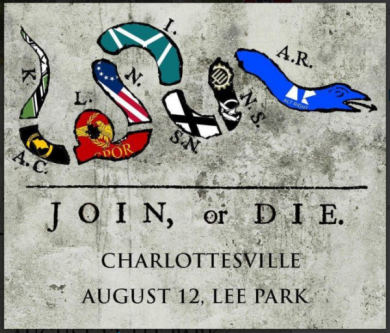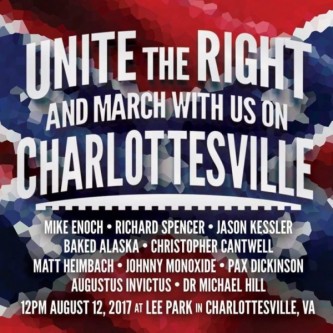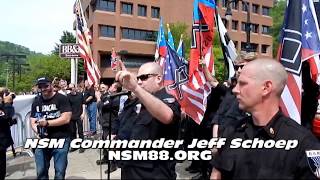 Yep, (((they've))) marshaled a reactionary formation against the so-called "left."
...with plenty of warning beforehand to nearly assure that there would be violence and prison sentences for those reactionaries coming most unhinged.
A death, dozens injured, including five critically, and a ruined life for the perpetrator of the car attack was only a somewhat surprising outcome of this mix.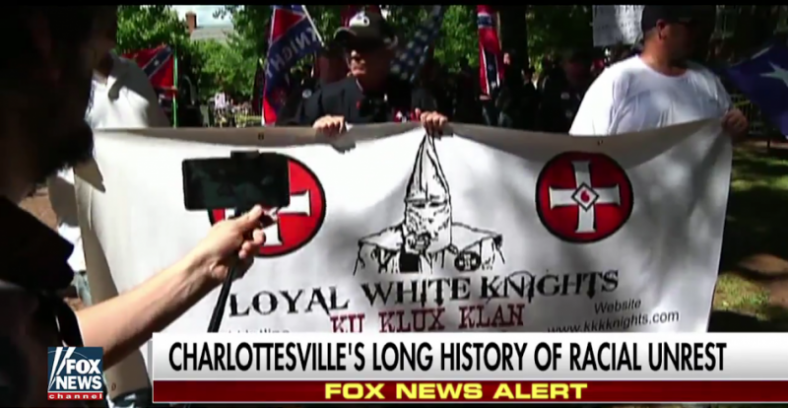 Fox News, "Charlottesville white nationalist rally blamed for 3 deaths, dozens of injuries", 12 Aug 2017:

A 32-year-old woman was killed Saturday and 19 others were injured, five of them critically, when a car rammed into a group of counter-protesters during the "Unite the Right" rally in Charlottesville, Va.

A helicopter crash that killed the pilot and a passenger later in the afternoon outside the university town also was linked to the rally by State Police, though officials did not elaborate on how the crash was connected.

At a late afternoon news conference, Charlottesville Police Chief Al Thomas said that 35 people had been injured in various confrontations during the rally and made a point of saying that none of those involved his officers. Thomas also said that the car crash was being treated as an act of "criminal homicide."
Blacks aren't natural allies of Asians and neither are Jews, with their propensity to impose Abrahamism, its liberalism, Christian submissionaries and Muslim compradors over Asians

Salon, "Donald Trump's Justice Department is fighting affirmative action for hurting white people", 2 August 2017:

Attorney General Sessions is furthering an anti-civil rights agenda by investigating affirmative action.
I'm going to begin with an unusual order in approaching this article and surrounding discussion - viz., I will begin by looking at some comments on the matter because they throw light on how the YKW are misleading and manipulating people with a concept of "the left" - not letting it be properly understood as discriminatory social unionization and coalitions thereof, but rather having it oxymoronically accepted as liberalism for all but those unionizations circumscribed and actively represented inasmuch as it is good for YKW interests - themselves stealthily behind the scenes of the unionizations, markedly of the black interests that they have represented - viz., especially as it serves to rupture the effective patterns of their perceived enemies: would-be unionized White and Asian power.
Until recently, around 2008 with the subprime mortgage crisis; and the re-branding of (((Frank Meyer's paleoconservatism))) as the "Alt-Right", the YKW had not been so ardent nor effective in getting the public to argue that THE Left was the great problem of our times.
But looking at the essence of "the left" as the YKW have permitted it to be spoken of in the public domain, what we've had is Jewish led coalitions, internationally, of Jewish interests and crony capitalist interests; and domestically, in The U.S., primarily Jewish led coalitions of Africans, sundry Mulattoes, where convenient, gays, lesbians and feminists where they might perceive a common axe to grind against White men ...at the same time these Jewish led coalitions have not been organized for sympathy or fairness to Asians interests either.
After this point, 2008, when the YKW and complicit right-wing sell outs had presided over the boom bust cycle to where they stood firmly atop, they no longer had any use for advocating left coalitions of unions against the power - because the YKW had crossed the intersection, they had become the predominant organized power. Suddenly, "the left" became the pervasive enemy. ...and in the background, only one social unionization was tolerated by them - though not called "the left" - it was, of course, the union of Jews; and it became more brazenly right wing and supremacist with regard to other peoples, seeking only to cooperate with their right wing sell outs against those who might collectively organize as leftist coalitions against their elitism, supremacism and imperialism.
Thus, Gavin Chan has been maneuvered by Jewish journalese, a disingenuous framing of discourse, into talking in terms of "THE left" being antagonistic to his interests, without recognizing that this is neither a White Left, nor an Asian Left, but Jewish organized black and other PC left that has been used to attack those who most threaten the YKW - viz. Whites and Asians - as they threaten, especially in coalition, the only social unionization that the YKW want to remain effective - their own.
Gavin Chan · Dallas, Texas
Affirmative action is in fact the biggest middle finger to Asians. But the left leaves this detail out in most affirmative action discussions because Asians don't fit into the leftist racial narrative.

Affirmative action in place to pay historical reparations, sure, but why at the expense of Asians? It's absolute bs.

It's time to end this super racist policy.
Gavin, they've given you the middle finger indeed with unions of blacks et. al, represented against you. But, where Elizabeth says..
Elizabeth Rodriguez · Ledyard, Connecticut
Sorry, but I don't think Trump and Sessions are doing this to fight for Asian rights.
...that is true, they are not. They are doing this as a part of disingenuous quid pro-quo between Jews and complicit White right/alt-right wingers. I.e., they are not doing this for a White Left nor an Asian Left, but for a system controlled by (((the invisible hand))) in cooperation with whomever will take their deals, take their side and share their enemies where they might have the nerve to organize against their supramacism and imperialism.
The proper response is to recognize that a repeal of the Consent Decrees of the 1964 Civil Right Act would help alleviate some of the pressure of active enforcement of reverse discrimination, but it does not go far enough, it is not the White and Asian unionization and necessary coalition thereof - which would constitute, in the case of America, ethno-nationalisms in diaspora.
When you criticize "the racism" of affirmative action you are, in effect, criticizing group genetic unionization, the capacity for accountability thereof and thus to discriminate necessarily in group interests - that is not necessarily the same as being unfair and impervious - and leaves us only the fall-out of a civic nation, its muddles and deleterious demographic mixing - which will be horrifically unjust and destructive to systems- a destruction imposed by cultural Marxism these last 70 years, which operates irrespective of objectivist rules such as civil rights, by whatever stealthy social organization that remains effective behind the scenes, largely YKW.
Let's focus more on the Salon article(s) now:
Some background: The Consent Decrees are effectively a scheme devised for U.S. Courts to stipulate and oversee enforcement of various concrete measures that must be taken over time to implement reverse discrimination, for all practical purposes, against White people (it eventually worked against Asians as well).
At first blush it appears to be simply good that this reverse discrimination of affirmative action might be overturned - and it really is good to an extent: at least it would repeal oversight of strict and punitive enforcement of (((Red Leftism))) and its defacto imposition of Mulatto supremacism over Whites (and Asians, Mestizos and Amerindians). It would curb the imposed liberalization of White (and Asian) boundaries in force since court decisions and consent decrees of the 50's and 60's; and make way for a return to a more generally liberal direction of civil individual rights, on the basis of civic nationalism - that, however, is always disingenuous. Who believes that the system is "objectively" backed?. What is the demographic make-up of this civic nation, where is it headed and which people have the invisible hand that is pulling the socially orchestrating strings that are not acknowledged?
Now that the demographic situation is muddled among the masses and unionized resistance appears near futile as it has been conflated for years with civic liberalism, Jewish interests are entrenched on top with the help of right wing sell outs they've bought off. They are now consistent in opposing "the left" - viz., unionized groups of people which might otherwise hold them to account. What they offer instead is civic nationalism and the mechanism of civil rights with no account to systemic backing other than the invisible hand that they, the YKW, and to some extent complicit right wing sell outs, control.
The initial financial boosters of the Trump administration, the people who made Trump's presidency possible, are Robert Mercer and his daughter Rebekah. They fall into the complicit with Jews category, at best, they work things out with Jews. Witness their having put Judeo-Christian Steve Bannon (who believes "the dark frorces of the far east are the greatest threat to Western civilization) in charge of the Trump campaign as a condition of their backing. Nevertheless, Robert has long been an opponent of the 1964 Civil Rights Act; and Sessions has obviously been tasked to set about deconstructing the 1964 Civil Rights Act; he was installed along with Bannon into the Trump administration apparently in large part with that aim.
Rebekah and her father Robert Mercer

NPR, 22 March 2017: "Jane Mayer - Dark Money: The Hidden History of the Billionaires Behind the Rise of the Radical Right."

Jane Mayer writes in the New Yorker about Robert Mercer and his daughter, Rebekah Mercer, who have poured millions of dollars into Breitbart News, and who pushed to have Bannon run Trump's campaign. Robert and daughter Rebekah's dark money is behind Bannon, Sessions,.. they were behind Flynn as well, would have been for Cruz, Bolton, almost anything but the Clintons.
Robert Mercer's Opinions on 1964 Civil Rights Act:

According to a March 2017 New Yorker article by investigative journalist Jane Mayer, David Magerman, a former Renaissance employee, said that Mercer called the Civil Rights Act of 1964, the landmark federal statute arising from the civil rights movement of the 1960s, a "major mistake." According to Magerman, Mercer said that African Americans were economically better off before the civil rights movement, that white racists no longer existed in the United States and that the only racists remaining were African American. Mercer vigorously denies being a white supremacist.
It remains true that White people, including 'lower class White people" NEVER needed such black unions having their interests imposed upon them, as they were imposed by Jewish legalists, right wing sell outs and liberal stooges.
Thus, a repeal of the Consent Decrees could relieve Whites some - but only after untold damage has already been done to human biological systems and the demographic situation is hideously muddled and swamped - leaving the only one apparent way out in systemic support - through dealing with the YKW: an option that right wing sell outs and the Alternative Right have already exercised.
While they may have some problems with blacks that they may not want to own up to, but would rather look upon as the unfairness of affirmative action according to pure objectivist criteria and civic nationalism, none of these people behind and in the Trump administration have any great affection for Asians either. None of these people are anti-Semitic. The circumstance has all the hallmarks of a continued program of collaboration of elite and Zionist Jewry and right wing sell-out Whites: i.e., now that these folks are on top of the seven power niches, who needs left coalitions, unions of people discriminating in their interests? Especially not against Jewish supremaicism and elitist right wing interests.
The YKW, you see, are the only systemic union allowed in the end, by the cause of Red Leftism. Ever since around 2008 "the left" has been popularized as the great villain by the YKW in power - largely by means of the popularization of the (((paleoconservative underpinned))) Alternative Right.
But, in a word, the liberalism that they offer - even if they would repeal the Consent Decrees (which they will probably not succeed in implementing to any great effect for White interests free of Jewish instigation of pan mixia) - does not go nearly far enough: Systemic White interests need to be unionized such as to afford discriminatory accountability in the interests of our social capital - that is what is called an ethno-nation - and it must exclude the YKW from any pretense that they are White as well. Jews being considered "White" and a part of "Western Civilization" is obviously a key to the Session's deal that they are floating to repeal the Consent Decrees. Jews cannot be trusted as part of our interest group for their manichean cunning and inevitable destruction to our people, any more than blacks can be a part of our people for their genetic distance and inevitably destructive biopower where it is allowed cohabitation and mixing.
The undoing of the Consent Decrees would be the theoretical ending of a Jewish led implementation of imposed black unionization and extortion against us all.
What we mean by unionization here is what we mean by ethno-nation on the broad scale and genetic interest groups on the subsidiary level - in our exclusionary interests.
The problem arises then with he fact that you still have to live in the world with other people as cooperatively as possible. Drawing upon friend enemy distinctions, most sane people would say Jews and blacks should be first to be most perfectly excluded; as people coordinated with at best, but not cooperated with in expectation of reciprocal good will.
Our best hope is in cooperating with coalitions of Asians, Amerindians and Mestizos against blacks and YKW.
Asian - Mestizo - White interaction is nevertheless, problematic and nobody wants to be naive - but if there is some way to coordinate our unions as a coalition against Jewish and other right wing supremaicsm, and Muslims and against black biopower, then we probably have the best possible coalition.
Of course the trick is how to manage these coalitions with Asians, Amerindians and Mestizos, without us getting abused - particularly with the Alt-Right, Right and Jews ostensibly representing us - The Asians, Amerindians and Mestizos might simply react by trying to swamp us in population if we let them, glibly citing historical grievances that we especially would have had nothing to do with, even historically; or they could do worse, taking guerilla tactics against us as if we are immune to cooperation, perhaps sicking https://www.youtube.com/watch?v=0Wvy5jXXg-E tuck ms 13">the likes of MS13 on us if we don't like their taking advantage, etc.
Some people would say that we do not have to coordinate with the better elements of these people; but in a world where we are faced with Jews, Muslims and Africans, and naive and disingenuous Whites, Jewed-out by Christianity, indeed we must try to coordinate with these peoples as left natonalist allies as best we can.
The Salon Article. An ostensible victory to unburden White servitude to blacks, but at what (((price))) and to what real effect, in whose "objective" interests?
Salon, "Donald Trump's Justice Department is fighting affirmative action for hurting white people", 2 August 2017:

Attorney General Jeff Sessions is furthering an anti-civil rights agenda by investigating affirmative action.


The bromance between President Donald Trump and Attorney General Jeff Sessions may have soured, but that doesn't mean the president isn't supporting the most reactionary aspects of Sessions' policies.

The Justice Department's civil rights division is going to have some of its resources allocated toward lawsuits against universities over affirmative action policies perceived as hostile to white people, according to a document reported by The New York Times. The Times also reports that the internal announcement to the civil rights division explicitly asks for lawyers who would be willing to pursue "investigations and possible litigation related to intentional race-based discrimination in college and university admissions."

This policy exists as part of a larger anti-civil rights agenda being pursued by Trump and Sessions. In May, Sessions doubled down on the drug war by instructing prosecutors to "charge and pursue the most serious, readily provable offense." In June, Sessions discontinued the use of consent decrees in civil rights cases, which goes against traditional Justice Department practice as it makes civil rights rulings more difficult to enforce. Last month the Justice Department argued that Title VII protections don't apply to the LGBT community.

Despite these social justice policies, Sessions has mainly been in the news for his deteriorating relationship with Trump. Although the two were reported to be close friends for years, and through the 2016 election, things soured between them when Sessions recused himself from the Russia investigation in March. Trump has blamed Sessions for what he perceives as a showing of weakness and said that he wouldn't have selected Sessions as attorney general if he'd known he would do that.
Salon, "Trump Administration quietly rolls back Civil Rights efforts across federal government", 15 June 2017: Previously unannounced directives will limit the Department of Justice's use of civil rights enforcement tools - Consent Decrees

Topics: Civil Rights, Department of Justice, Jeff Sessions, ProPublica, Trump Administration, Politics News

For decades, the Department of Justice has used court-enforced agreements to protect civil rights, successfully desegregating school systems, reforming police departments, ensuring access for the disabled and defending the religious.

Now, under Attorney General Jeff Sessions, the DOJ appears to be turning away from this storied tool, called consent decrees. Top officials in the DOJ civil rights division have issued verbal instructions through the ranks to seek settlements without consent decrees — which would result in no continuing court oversight.

The move is just one part of a move by the Trump administration to limit federal civil rights enforcement. Other departments have scaled back the power of their internal divisions that monitor such abuses. In a previously unreported development, the Education Department last week reversed an Obama-era reform that broadened the agency's approach to protecting rights of students. The Labor Department and the Environmental Protection Agency have also announced sweeping cuts to their enforcement.

"At best, this administration believes that civil rights enforcement is superfluous and can be easily cut. At worst, it really is part of a systematic agenda to roll back civil rights," said Vanita Gupta, the former acting head of the DOJ's civil rights division under President Barack Obama.

Consent decrees have not been abandoned entirely by the DOJ, a person with knowledge of the instructions said. Instead, there is a presumption against their use — attorneys should default to using settlements without court oversight unless there is an unavoidable reason for a consent decree. The instructions came from the civil rights division's office of acting Assistant Attorney General Tom Wheeler and Deputy Assistant Attorney General John Gore. There is no written policy guidance.

Devin O'Malley, a spokesperson for the DOJ, declined to comment for this story.

Consent decrees can be a powerful tool, and spell out specific steps that must be taken to remedy the harm. These are agreed to by both parties and signed off on by a judge, whom the parties can appear before again if the terms are not being met. Though critics say the DOJ sometimes does not enforce consent decrees well enough, they are more powerful than settlements that aren't overseen by a judge and have no built-in enforcement mechanism.

Such settlements have "far fewer teeth to ensure adequate enforcement," Gupta said.

Consent decrees often require agencies or municipalities to take expensive steps toward reform. Local leaders and agency heads then can point to the binding court authority when requesting budget increases to ensure reforms. Without consent decrees, many localities or government departments would simply never make such comprehensive changes, said William Yeomans, who spent 26 years at the DOJ, mostly in the civil rights division.

"They are key to civil rights enforcement," he said. "That's why Sessions and his ilk don't like them."
New Observer, "Nonwhites Majority of UK School Population within 20 Years", 15 July 2017:

Nonwhites will make up the majority population in British schools within the next twenty years, the direct result of decades of mass Third World immigration and their natural reproduction rates, an analysis of new data issued by the UK's Department of Education has revealed.


School class in Newham, London.

According to the report, titled "Schools, pupils and their characteristics: January 2017" and issued at the beginning of July 2017, nonwhites already make up over 25 percent of all school pupils in primary and secondary schools combined, and have increased their numbers by more than 10 percent in the last ten years.

According to the report, there are a total of 8.67 million pupils in all schools in England—which means that there are already in excess of 2.167 million nonwhite pupils.

The total number of pupils has grown every year since 2009 and there are now 577,000 more pupils The report reveals that the proportion of pupils from "minority ethnic origins," has "been rising steadily since 2006. In primary schools, 32.1% of pupils of compulsory school age are of minority ethnic origins, an increase from 31.4% in January 2016.

"Minority ethnic pupils made up 66.3% of the increase in pupil numbers in primary schools between 2016 and 2017.

"In secondary schools, 29.1% of pupils are of minority ethnic origins, an increase from 27.9% in 2016."

The Department of Education's figures however, include white children of "non-British origin"—in other words, those of Polish or Eastern European origin.

The report goes on to a specific breakdown of pupils by ethnic origin in State funded schools in England;

State-funded primary schools

White British 67.2

White Non-British 7.5

Asian 10.7

Black 5.6

Mixed 5.9

Chinese 0.4

Any other 1.9

Unclassified 0.7

State-funded secondary schools

White British 69.5

White Non-British 5.7

Asian 10.7

Black 5.6

Mixed 5.0

Chinese 0.4

Any other 1.7

Unclassified 1.5
Whitaker Online, " 6 June 2017:

Posted by Laura in About Bob, Bob, General on 06/06/2017

Bugsers,

It's with great sadness that I report Coach passed away in his bed, Saturday afternoon June 3rd, 2017.

His passing is going to leave a hole in so many people's life. But he has given the world the tools we need to expose this anti-White system and it's program of white genocide. We will keep on using what he has taught us.

"He left a huge legacy of words and audio, an entire world view way more in line with reality than the official world view.

That legacy lives on. I know he had a lifetime of frustration with people refusing to use the talking points and political strategies he came up with, no matter how devastating they were to the leftist establishment, but he lived long enough to see his methods start to work. His stuff is EVERYWHERE.

I hope he took comfort in that.

He taught us what to do. It's just a matter of doing it and teaching others. He's the exception to his own rule that no hero ever made a difference in a war.

This prophecy WILL come true.

http://www.whitakeronline.org/blog/2013/12/02/the-corner-has-been-turned/

We all know what Bob would want us to do."
Although there is reason to believe that the Bugsers are (((compromised))), and Bob's mantra and related memes such as "anti-White" were being misused as such, Bob was clearly well meaning - even if a tad naive; nevertheless, it was not only that his heart was in the right place, he actually did have some incisive ideas - e.g., "the greatest generation' having been beaten into passivity with their 'you can't fight city hall' WWII army training;" and in recognition of the destruction of that passivity, Bob sought to make up for that generation's passivity by becoming a trainer/memer of a new generation of activists instead - an activism that for his part, was radical enough for him see through the Trump facade after having gone for it initially - that Trump is not in control of his Presidency, but is in fact controlled - while so many "pro-Whites" remain snookered by Trumpism.