Majorityrights News > Category: Popular Culture
While the profusion of churches throughout the world can be disconcerting, as they are devoted to a religion that is obfuscating and mis-directing the natural instincts of our EGI (ethnic genetic interests), there is a note of optimism in that some of these sublime structures and the artisanship that went into their making can be converted for religion aligned with our ethno-national interests.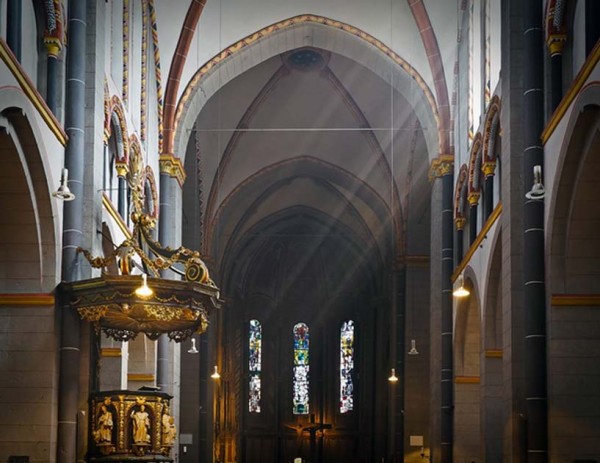 For example, hope for return to proper, natural religious function piques through some of the Spanish missions in California - some were configured to illumination of the solstice: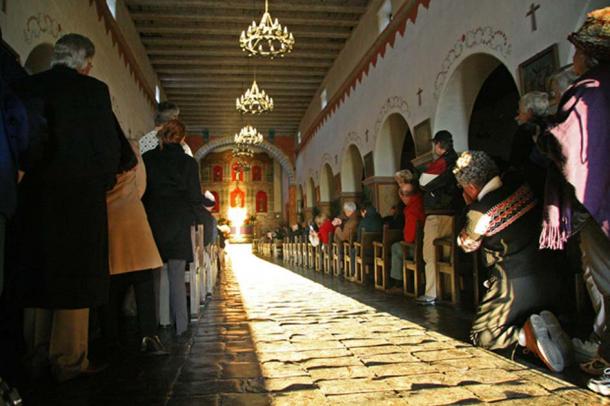 The 2007 midwinter solstice illumination of the main altar tabernacle of Old Mission San Juan Bautista, California. Rubén G. Mendoza/Ancient Editions, CC BY-ND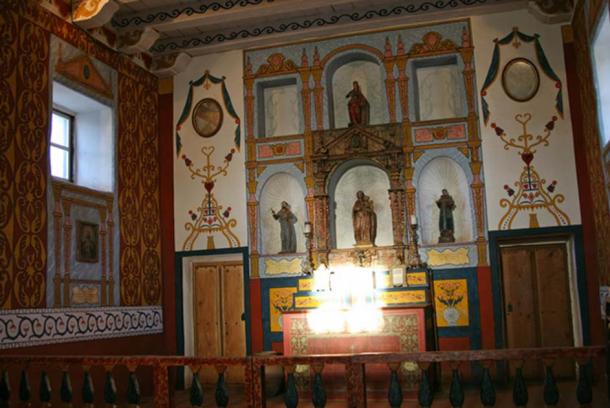 Winter solstice illumination of the main altar tabernacle of the Spanish Royal Presidio Chapel, Santa Barbara, California. The author first documented this solar illumination of the altar in 2004. Rubén G. Mendoza, CC BY-ND
On another level, some of the very elements of worship contained are only thinly veiled pagan icons and arrangement: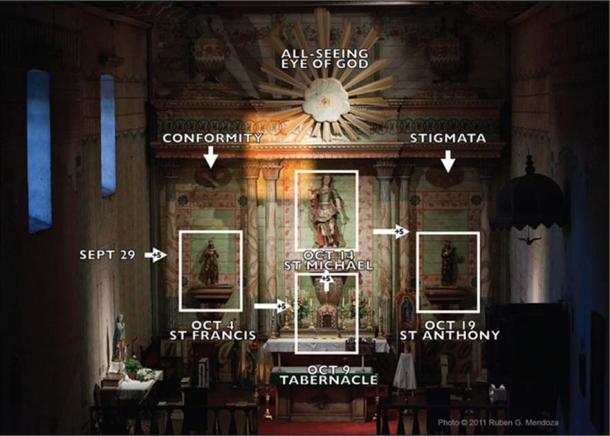 Schematic of the four successive solar illuminations of the saints of the main altar screen of Mission San Miguel Arcángel, California. Note illumination begins at the left with the Oct. 4 illumination of Saint Francis on his Feast Day. The author first identified and documented this solar array in 2003. Rubén G. Mendoza, CC BY-ND
TNO, "Is Trump "Draining the Swamp?", 23 Dec 2016:

At least four senior executives with international bankers Goldman Sachs will get critical posts in the Donald Trump administration—even though he campaigned fiercely against that institution, with his closing campaign ad using an image of that company's CEO Lloyd Blankfein to condemn the "global power structure" for robbing America's working class and enriching the elite.


Trump's closing campaign TV ad which depicted Goldman Sachs CEO Blankfein as part of the globalist enemy.

The Goldman Sachs appointments are not the first indication that Trump has no intention of "draining the swamp" in Washington D.C. either.

Former Goldman Sachs partner Steven Mnuchin served as Trump's national finance chairman and is now Trump's nominee for U.S. Treasury secretary.

Trump has also nominated Goldman Sachs President (and the bank's de facto number two) Gary Cohn as his top economic adviser in the White House.

Other Goldman alums in Trump's inner circle include Anthony Scaramucci, a former Goldman banker and a member of the Trump transition team's executive committee, as well as Steve Bannon, Trump's campaign manager.

Trump's campaign ad described Goldman Sachs as part of "a global power structure that is responsible for the economic decisions that have robbed our working class, stripped our country of its wealth and put that money into the pockets of a handful of large corporations and political entities."

As the Bloomberg news service has pointed out, after "years as the face of Wall Street greed and the target of public scorn, the bankers at Goldman Sachs can be cheerful again.

"Not only has Trump's election stoked hopes for looser regulatory policies that will make it easier for banks to take bigger risks and book fatter profits, but Goldman also appears to have regained its place at the nexus between Wall Street and Washington," Bloomberg wrote.
CBS, "Donald Trump's Cabinet richest in U.S. history, historians say", 20 Dec 2016:

As he traveled the country on his thank you tour, President-elect Donald Trump touted his choices for his Cabinet and inner circle, a group historians say is the richest in U.S. history.

"And one newspaper criticized me, 'Why can't they have people of modest means?'" Trump said at a Des Moines, Iowa rally. "Because I want people that made a fortune. Because now they're negotiating with you, okay?"

Donald Trump's 14 Billlion Dollar Cabinet

How rich? CBS News estimates seven of Trump's picks are worth a combined $11 billion.

"I guess they have a few poor millionaires on it, but mostly it's billionaires," said Sen. Bernie Sanders.

Critics like Sanders say Trump's choices fly in the face of his populist campaign message. "You don't appoint a Cabinet of billionaires to be taking on the establishment," he said on Sunday's "Face The Nation."

Steve Mnuchin, Trump's Treasury pick has been estimated to be worth as much as $655 million. He and commerce secretary nominee Wilbur Ross, worth $2.5 billion, recently said they were attuned to the plight of working Americans.

"It's also not true all jobs are created equal. A guy that used to work in the steel mill, now flipping hamburgers, he knows it's not the same," Ross said in an appearance on CNBC.

Having millionaire and billionaire cabinet secretaries is not unprecedented. They tend to attract slots at Treasury and Commerce. But neither President Obama nor President George W. Bush had a single billionaire in their first Cabinets.
Pardon for quoting Bernie and other brackets but these are merely verifiable facts being cited here.
Quartz, "Trump's 17 cabinet-level picks have more money than a third of American households combined", 15 Dec 2016:

The 17 people who US president-elect Donald Trump has selected for his cabinet or for posts with cabinet rank have well over $9.5 billion in combined wealth, with several positions still unfilled. This collection of wealth is greater than that of the 43 million least wealthy American households combined—over one third of the 126 million households total in the US.

Affluence of this magnitude in a US presidential cabinet is unprecedented.
It is a game that Republicans have been playing for years, a few dog whistles in exchange for implicit White support of deracinating elite White Republicans in tandem with Jewish interests ....what is a bit new is that they are throwing a few milk bones to placate the explicit Whiteness in the Alt-Right so that they can co-opt White identity, not only into the Republican party but into their global geo-political agenda - on the side of fellow bracketed proposition empires, The U.S., Russia and Israel against Asia. This is a backwards and utterly dangerous friend/enemy arrangement and ultimately eschews Whites to a war footing in the interest of Jews against the ethnonationalism of others and ultimately, irrespective of White ethno-nationalism.
"Berlin terror attack: twelve dead, 49 injured as truck ploughs into crowd at Christmas market"

Telegraph, 19 Dec 2016:

At least twelve dead, 49 injured at Berlin market.
Attack occurred at Breitscheidplatz, outside the landmark Kaiser Wilhelm Memorial Church.
Police indicate incident is likely to be terror related - Isil claims responsibility.
Initial suspect released, terrorist still at large, likely armed and dangerous.

A truck ploughed into a crowded Christmas market in the German capital Berlin on Monday evening, killing twelve people and injuring up to 49 others.

According to local police, the first indications pointed to a terrorist attack on the market, situated at the foot of the ruined Kaiser Wilhelm memorial church.

The incident evoked memories of an attack on Nice in France in July when Tunisian-born man drove a 19-tonne truck along the beach front, mowing down people who had gathered to watch the fireworks on Bastille Day, killing 86 people. The attack was claimed by Islamic State.

The truck careered into the Berlin market at what would have been one of the most crowded times for the Christmas market, when adults and children would be gathering in the traditional cluster of wooden huts that sell food and Christmas goods.

"I heard a big noise and then I moved on the Christmas market and saw much chaos…many injured people," Jan Hollitzer, deputy editor in chief of Berliner Morgenpost, told CNN. "It was really traumatic."

Update:
Berlin attacker Anis Amri killed in Milan
BBC, "Berlin attacker Anis Amri killed in Milan", 23 Dec 2016:

The Berlin market attacker, Anis Amri, has been shot dead by police in Milan.

The Tunisian criminal fired on police who asked him for ID during a routine patrol in the Sesto San Giovanni area in the early hours of Friday.

German authorities say fingerprints they provided have confirmed the dead man is Amri. They are trying to find out if he had accomplices.

Monday's attack on a Berlin Christmas market left 12 people dead and 49 injured.

Freedom or security, Berlin asks


IS released a video showing Amri pledging allegiance

...leading Eurosceptics - including French National Front leader Marine Le Pen - have criticised open European borders, a result of the Schengen pact, for allowing a fugitive to move between countries.

Meanwhile, the self-styled Islamic State (IS) group has released a video showing Amri pledging allegiance to its leader, Abu-Bakr al-Baghdadi.

He does not make any reference to the Berlin attack, which IS claimed soon afterwards. It is not clear when or where the video was filmed.

Shortly before releasing the video, IS acknowledged Amri's death in Milan.

When Italian police stopped the suspect, who was on foot, at 03:00 (02:00 GMT), he "immediately drew out a gun" and shot at the two policemen, Italian Interior Minister Marco Minniti said.

Officer Cristian Movio was injured in the shoulder but his injuries are not life-threatening.

His junior colleague, Luca Scata, who had been in the police for just nine months, was the one who fired the shot which killed Amri.

German officials found Amri's fingerprints inside the truck that was used in Monday evening's attack.

Federal prosecutor Peter Frank said the focus of the criminal investigation into the killings now was to establish whether Amri had had a network of supporters who helped him to plan and carry out the attack or to flee.

Investigators are also trying to establish whether the gun used in the shooting in Milan is the same weapon used to kill the Polish driver of the truck, who was found dead with stab and gun wounds in the cab.

The attack took place at a busy Christmas market at the Kaiser Wilhelm Memorial Church in the west of the German capital.

According to the Italian news agency Ansa, Anis Amri travelled by train from France to Turin, and then took another train to Milan.

From the central station he travelled on to Sesto San Giovanni, a working-class area.

Amri, a Tunisian national aged 24, had served a prison sentence in Italy after being convicted of vandalism, threats and theft in 2011.

He was known to Italian authorities for his violent behaviour while imprisoned.

After his release he was asked to leave the country. He later arrived in Germany where he applied for asylum in April of this year.

His application was rejected by the German authorities but they were unable to deport him to Tunisia because he had no valid identification papers.
Tanya Gersh has called upon Sherry Spencer to sell her Whitefish, Montana building.
Richard Spencer's mother, Sherry Spencer, had no intention of selling her Whitefish, Montana building until she received terrible threats, the threats she said came from Tanya Gersh, a local realtor with links to so-called "human rights" organizations.
According to Sherry Spencer, on November 22nd, Tanya Gersh spoke with her on the phone and she relayed that if Sherry Spencer did not sell her building that 200 protestors and the national media would show up outside - which would drive down the property value - until she complied. Gersh's other conditions included that Mrs. Spencer should publicly denounce her son in a statement written by the Montana Human Rights Network and that she make a donation to this organization from the sale of the property. As Gersh announced on Facebook, she was "spear heading" the campaign.
Gersh followed up on her conditions in a number of emails, which have been made public. She even shamelessly suggested that she act as Sherry's realtor! In other words, she and the local "human rights" organizations appeared to seek financial benefit from threats of protests and reputation damage. They also threatened tenants currently leasing space from Spencer's mom.
Sherry had no intention of selling her property in Whitefish until being harassed and receiving this pressure from Tanya Gersh, as leveraged by threats of protest from the anti-racist protest organizations - Love Lives Here and Montana Human Rights Network - apparently at her behest to serve three functions:
1) To punish her son for promoting White Nationalist sovereignty.
2) To profit her local real estate business by instigating Sherry to a fire sale of her property.
3) To profit liberal groups such as "Love Lives Here" through donation of sale proceeds to them or similar anti-racist organizations: which generally oppose the necessary practice of social classification and discrimination on the basis of those social classifications (a least as Whites may render them - as such, they call it "racism"); despite the fact that capacity for social classification and discrimination is humanly impossible to avoid and absolutely necessary for survival of and against certain human species; as well as a generally necessary practice in defense against predation in order to facilitate human and pervasive ecology.
The mother of white supremacist Richard Spencer claims she is suffering financially due to the backlash against her son's controversial views.

Sherry Spencer, who lives in Whitefish, Montana, said she is being forced to sell a building she owns in the small town because residents are rebelling against her son.


Sherry Spencer says she is being forced to considering selling the building she owns at 22 Lupfer Avenue (pictured), because of backlash against her son.

Richard Spencer shot to prominence last month when footage emerged of him delivering a 'hateful speech' at a white nationalist meeting held to celebrate Donald Trump's election win.

A video by The Atlantic taken inside the Ronald Reagan building showed Spencer, leader of the National Policy Institute, shouting, 'Hail Trump, hail our people, hail victory!' as some of the people in attendance lifted their hands in a Nazi salute.

He also claimed America belongs to white people, who he suggested are faced with the decision to either 'conquer or die'.

The speech drew intense criticism from the US Holocaust Memorial Museum, which said in a statement Spencer made: 'several direct and indirect references to Jews and other minorities, often alluding to Nazism.'

'He spoke in German to quote Nazi propaganda and refer to the mainstream media. He implied that the media was protecting Jewish interests and said, "One wonders if these people are people at all?"'

And according to Sherry Spencer, the criticism has been echoed by people in her hometown - where he son also has a business registered and visits regularly.

Sherry Spencer told KTMF she is selling a building she owns at 22 Lupfer Avenue, which she currently sublets. It houses a beauty salon and vacation rentals. She also runs a real estate business from the building.

'As painful as this is, I am exploring a potential sale of the building,' she said.

She also took aim at a local human rights group, Love Lives Here, and accused it of damaging her family.

'We are stunned by the actions of Love Lives Here, an organization claiming to advocate tolerance and equal treatment of all citizens, yet coursing financial harm to many innocent parties,' she said.

One of the strongest opponents to Sherry is local real estate agent Tanya Gersh, who said Spencer has backed her son and allowed him to spread his views.

'She is profiting off of the people of the local community, all the while having facilitated Richard's work spreading hate by letting him live and use her home address for his organization,' Gersh told the network.

Love Lives Here also responded to Sherry's remarks, saying it 'did not know what she (was) talking about'.

'We don't cause financial harm to anybody,' co-founder Ina Albert said, before going on to say the group does not have a specific problem with the Spencers.

'I don't know what (Richard) does when he comes here. But that is not our problem with Richard Spencer.

'It is the National Policy Institute and what that stands for and our town being smeared by his philosophy.'

The National Policy Institute was established in 2005 by Spencer, and it is described by the Southern Poverty Law Center as 'hate group'.

Gersh went on to call for Sherry to sell the building immediately, and then use the money to help human rights causes.

'(She) Could address this by selling the building, making a donation to human rights efforts, and making a statement in opposition to white supremacist ideas spread by Richard,' Gersh said.

Sherry Spencer also told the network she loves her son, but does not agree with his 'extreme positions'.


Sherry Spencer is pictured with her husband Dr. Rand Spencer at a benefit in April 2016
As Sherry Spencer writes:

These threats came from Tanya Gersh, a local realtor with links to "human rights" organizations Love Lives Here [Phone: 406-309-5678] and the Montana Human Rights Network [Phone:406-442-5506].

On November 22, Gersh and I spoke on the phone. She relayed to me that if I did not sell my building, 200 protesters and national media would show up outside — which would drive down the property value — until I complied. Gersh's other conditions included that I make a public denunciation of my son in a statement written by the Montana Human Rights Network and that I make a donation to this organization from the sale of the property. As Gersh announced on Facebook, she was "spear heading" the campaign.

Gersh followed up on her conditions in a number of emails, which I've just made public. She even shamelessly suggested that she act as my realtor! In other words, she and the local "human rights" organizations appeared to seek financial benefit from threats of protests and reputation damage.
Mark Collett:

Nationalism should never be about being edgy and scaring people. We aren't some 1% motorcycle club, with the motto, 'no one likes us and we don't care.' ..we aren't trying to scare people or offend them. In fact, we are trying to offer scared people hope…and our people have plenty to fear.
Update: New York Times, "Trump Picks Rex Tillerson, Exxon C.E.O., as Secretary of State", 12 Dec 2016:

WASHINGTON — President-elect Donald J. Trump on Monday settled on Rex W. Tillerson, the chief executive of Exxon Mobil, to be his secretary of state, dismissing bipartisan concerns that the globe-trotting leader of the energy giant had forged a too-cozy relationship with Vladimir V. Putin, the president of Russia, transition officials said.

Mr. Trump planned to announce the selection on Tuesday morning, finally bringing to an end his public and chaotic deliberations over choosing the nation's top diplomat — a process that at times veered from rewarding Rudolph W. Giuliani, one of his most loyal supporters, to musing about whether Mitt Romney, one of his most vicious critics, might be forgiven.
Russia's Prime Minister Putin speaks with Tillerson in Sochi in 2011

President-Elect Trump 'will name Exxon CEO with close links to Putin as his secretary of state', snubbing Mitt Romney."

DM, "BREAKING NEWS, 10 Dec 2016:

Trump is expected to name Rex Tillerson as secretary of state.

Exxon Mobil chief emerged on Friday as the leading candidate.

Favored status was revealed as Giuliani withdrew.

U.S. President-elect Donald Trump is expected to name the chief executive of Exxon Mobil as the country's top diplomat, NBC News reported Saturday.

Exxon chief Rex Tillerson emerged on Friday as Trump's leading candidate for U.S. secretary of state and is expected to meet with him later on Saturday, a transition official told Reuters.

NBC News cited two sources close to the transition team in reporting that Tillerson will be named as secretary of state.

The president-elect had interviewed 2012 GOP nominee Mitt Romney twice – taking him to a three-Michelin starred dinner on one of those occasions.

Should Tillerson be nominated, his business ties, too, will come under scrutiny. Exxon Mobil has operations in more than 50 countries and boasts that it explores for oil and natural gas on six continents.

In 2011, Exxon Mobil signed a deal with Rosneft, Russia's largest state-owned oil company, for joint oil exploration and production. Since then, the companies have formed 10 joint ventures for projects in Russia.

In 2013, Russian President Vladimir Putin awarded Tillerson his nation's Order of Friendship.

'He has had more interactive time with Vladimir Putin than probably any other American with the exception of Henry Kissinger,' John Hamre, a deputy defense secretary to Bill Clinton told the Wall Street Journal.

But U.S. sanctions against Russia for its incursion into Crimea cost Exxon Mobil dearly, forcing it to scrap some projects and costing it at least $1 billion in losses. Tillerson has been a vocal critic of the sanctions.

Trump has spoken of wanting warmer relations with Moscow, which has sparked concerns in Congress that he could lift or loosen some of the sanctions on Russia.

Tillerson has been chairman and CEO of Exxon Mobil since 2006. He is expected to retire from the company next year.

Should Tillerson be nominated, climate change could be another divisive issue. The company is under investigation by the New York Attorney General's Office for allegedly misleading investors, regulators and the public on what it knew about global warming.

Trump's campaign was unavailable for comment.
* Yes, that's (((Klitchko))) in avid attendance, front and center.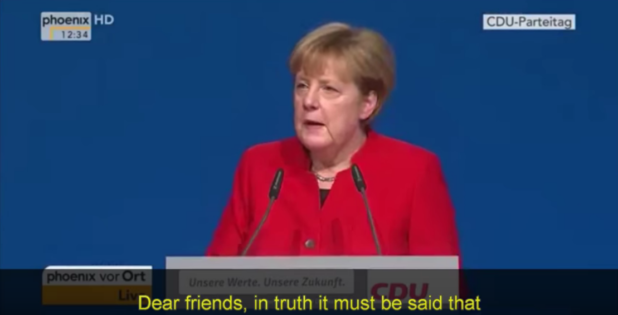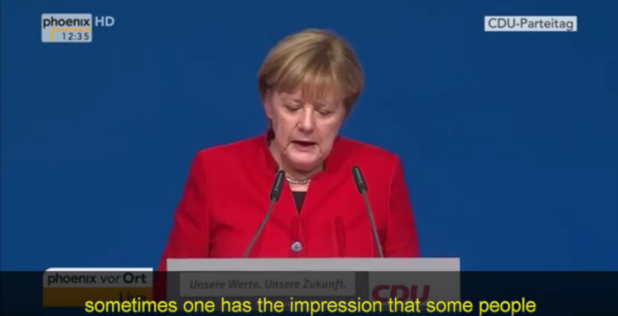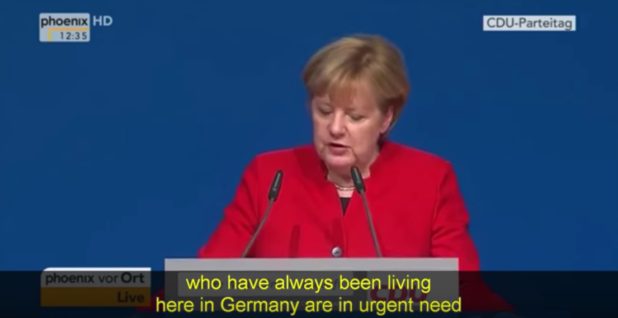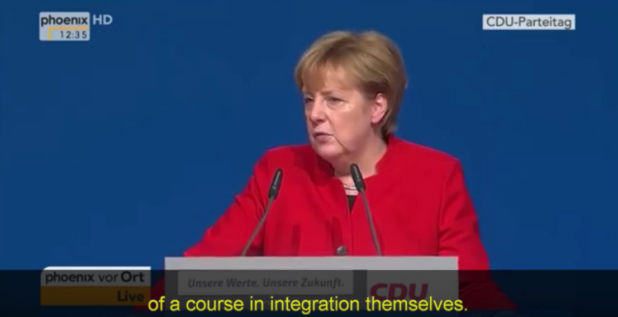 [...]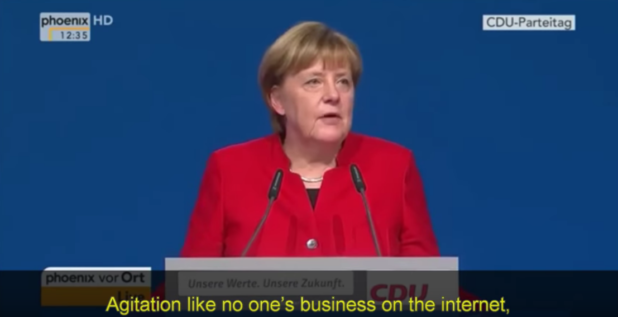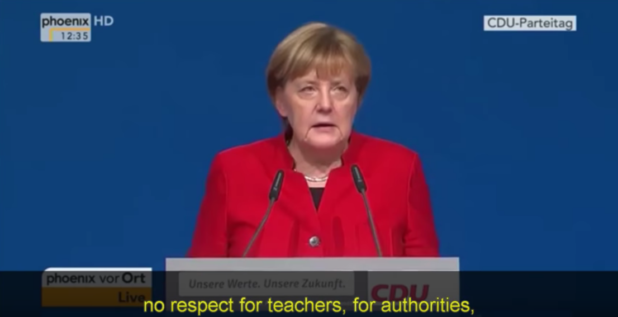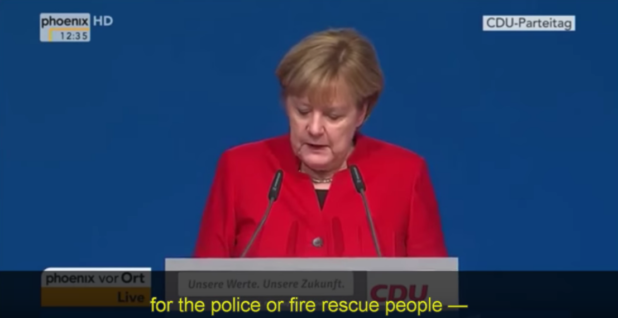 [...]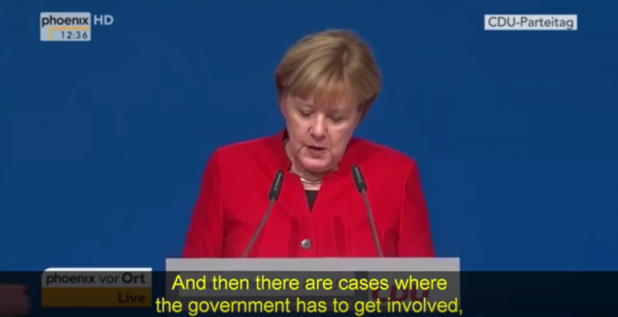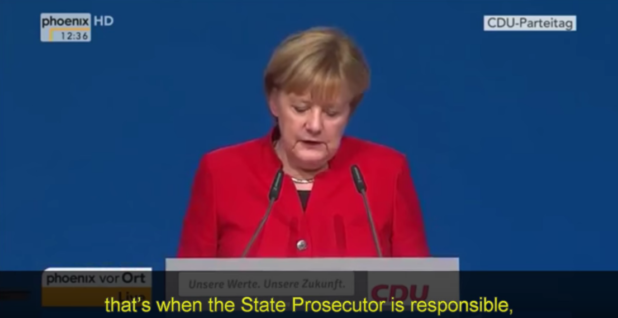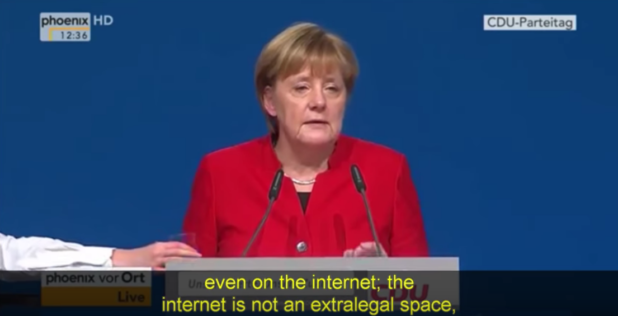 ..........
Visigrad Post, "Slovakia Prevents Islam From Becoming A State Religion", 1 Dec 2016: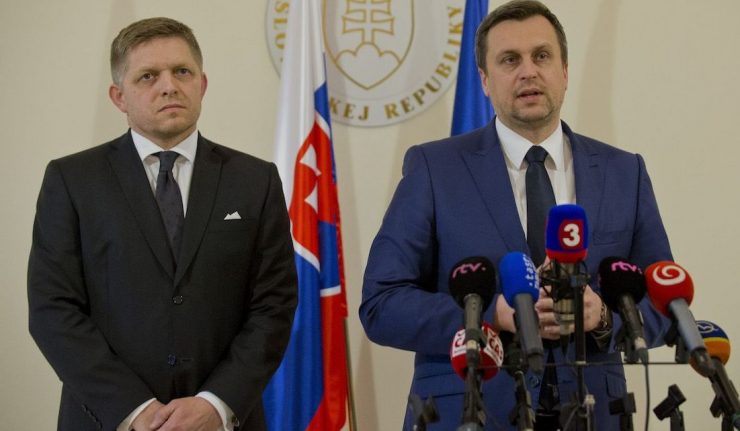 That's the way to do it: make Islam illegal.
Slovakia – On Wednesday 30 November the Slovak parliament passed a law proposed by members of the coalition of Prime Minister Robert Fico to prevent Islam from gaining official status in Slovakia.

The Slovak National Party (SNS) proposed that, in order for a religion to be formally recognized by the State, it should have at least 50,000 members -instead of the 20,000 members before that law- and so to have State grants and run its own schools.

For the time being according to the latest statistics Slovakia has 2,000 Muslims, 5,000 according to the Slovak Islamic Foundation. On the 5.4 million inhabitants in Slovakia, 62 per cent declare themselves Roman Catholics.

The president of the Slovak National Party Andrej Danko said on this subject that "Islamization begins with a kebab and this is what happens in Bratislava, we must be aware of what we could face in 5 or 10 years … We must do everything in our power to ensure that no mosques are built in the future."

The law was approved by two-thirds of the Slovak parliament, including the ruling coalition headed by left-wing prime minister Robert Fico and opposition parties. The Nationalist Party The SNS then proposed that not 50,000 but 250,000 should compose an official religion, which was immediately rejected.