Majorityrights News > Category: Popular Culture
Unhinge the Right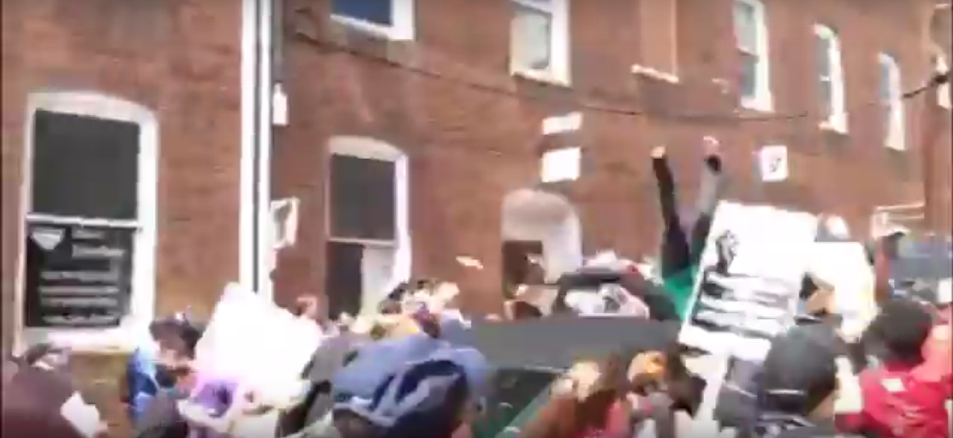 Video shows car crashing into Charlottesville protest. Witnesses say that it was absolutely intentional; it is being treated as homicide.
Fox News, A 32-year-old woman was killed Saturday and 19 others were injured, five of them critically, when a car rammed into a group of counter-protesters during the "Unite the Right" rally in Charlottesville, Va.

Virginia Secretary of Public Safety Brian Moran told the Associated Press that the driver of the car, a man, was in custody. Moran did not provide the driver's name.
While following the goings on of the "Unite The Right Rally" in Charlottesville, in a live feed, Tara McCarthy took friendly questions from the likes of Roosh V. and fielded reports from the likes of Pax Dickinson, recommending that people contribute to his Mencious Moldbug (a Jewish man of Neo Reactionary fame) backed crowdfunding; Tara scolded "The Left" for counter-protesting what she says was meant to be a peaceful rally for free speech, and to encourage "normies" to join the cause of ethno-nationalism by showing them they're not a bunch of neo-Nazis, skinheads and so-on. She might have wondered how that was supposed to happen with the motley array of right wingers that showed-up, including Commander Jeff Schoep's Neo-Nazi group in full regalia, Carolina K.K.K., Matt Heimbach's Jesus Freak Group, calling itself "The Traditional Workers Party" and a skinhead gang called "The Detroit Right Wings."
...and look at the headliners, starting with Mike Enoch Peinovich: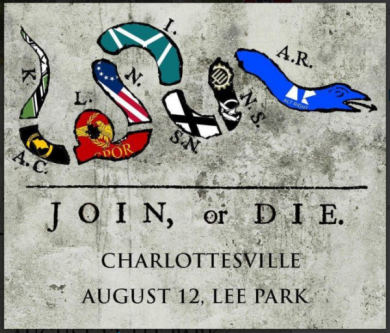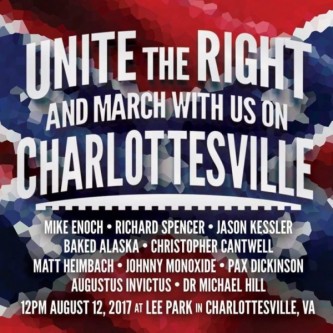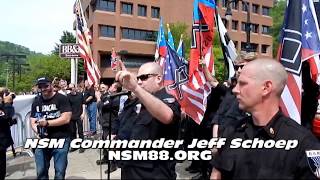 Yep, (((they've))) marshaled a reactionary formation against the so-called "left."
...with plenty of warning beforehand to nearly assure that there would be violence and prison sentences for those reactionaries coming most unhinged.
A death, dozens injured, including five critically, and a ruined life for the perpetrator of the car attack was only a somewhat surprising outcome of this mix.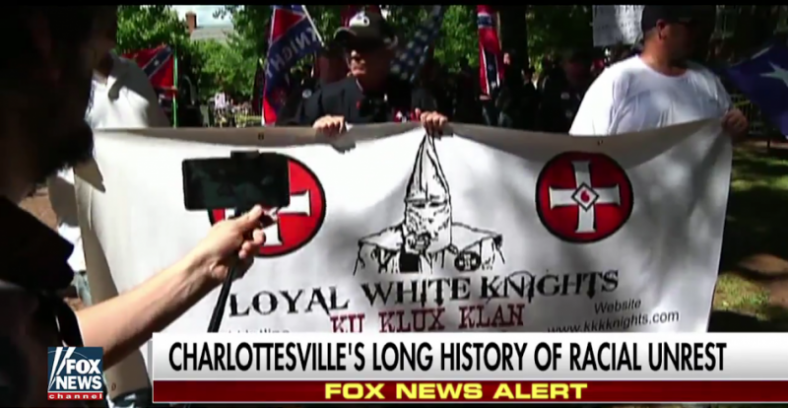 Fox News, "Charlottesville white nationalist rally blamed for 3 deaths, dozens of injuries", 12 Aug 2017:

A 32-year-old woman was killed Saturday and 19 others were injured, five of them critically, when a car rammed into a group of counter-protesters during the "Unite the Right" rally in Charlottesville, Va.

A helicopter crash that killed the pilot and a passenger later in the afternoon outside the university town also was linked to the rally by State Police, though officials did not elaborate on how the crash was connected.

At a late afternoon news conference, Charlottesville Police Chief Al Thomas said that 35 people had been injured in various confrontations during the rally and made a point of saying that none of those involved his officers. Thomas also said that the car crash was being treated as an act of "criminal homicide."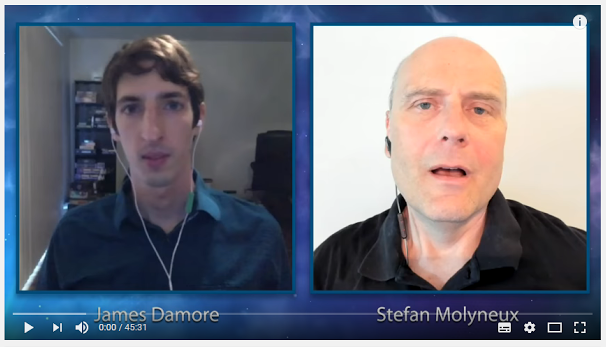 Damore was fired from Google for writing a memo alleging reverse discrimination at Google.
Not only is Damore an idiot by evidence of his rendering of a beginner level, completely idiotic definition of the "the left", a "definition" that is perfectly serviceable to Jewish and right-wing manipulation - i.e., suggesting that "the left is more open, while the right is more closed; the right is dealing with facts while the left is applying merely wishful social/humanitarian concepts to reality" - not only is this not someone worth listening to, but it is shocking that he and his statement would be trending exponentially at the lead among popular searches, such that he would be featured by the partial Jewish alt-liter, Stefan Molyneux - with popular concern far greater than the fact that North Korea (a regime propped up against the enemies of (((the Russian Federation))) now has 60 miniature (i.e., handy) nuclear bombs to deploy against the targets of their prerogative.
Meanwhile, the less naive, more obedient shabbos goy continue with their efforts to (mis)define and mislead people against "the left" as the enemy -
In yet another obnoxious effort to completely confound and conflate the idea of the left with liberalism, Jim Goad brings out someone calling himself "Michael Malice" - doing it again, here at the behest of (((Edwin Oslan's Savage Hippie))) platform:
Jim Goad Savage Hippie
Episode 2: MICHAEL MALICE (theme: LEFT/RIGHT), Aug 2017.
These people cannot be allowed to define what the left, i.e., social unionization, means for us. They cannot be allowed to cast it into universal and liberal terms, as if they are "just dealing with facts" while people concerned with full social groups are "just falsely applying liberal concepts" to reality.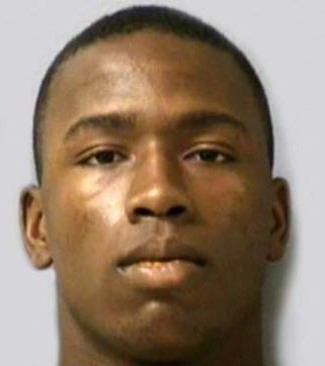 Oxygen Crime Time, "Man Accused Of Killing Girlfriend Over Cheating Accusations, 13 June 2017:
When arrested, the boyfriend's car reeked of bleach.
On Sunday, state police arrested a Pennsylvania man accused of killing a missing woman. Ishemer D. Ramsey, 21, has been arrested on a homicide charge, and police believe he fatally shot his 26-year-old girlfriend.
According to the Butler Eagle, police believe they found the body of Melissa Barto on Monday night. Police suspect she was killed Thursday, allegedly by Ramsey.
"The body was burned rather badly," said Trooper James Long said. "It was a pretty horrific scene."
According to court documents, Ramsey allegedly told a witness the shooting happened during an argument in the defendant's car after Ramsey accused Barto of cheating.
When police took Ramsey into custody following a traffic stop, they stated that his car reeked of bleach, and the passenger side seat was missing. In Ramsey's possession, a .45-caliber pistol in a drop holster, police say.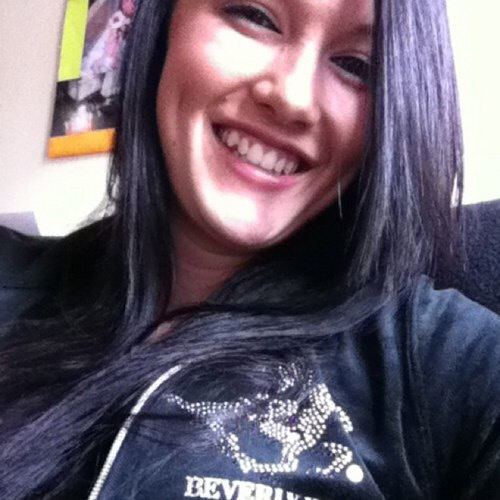 On Friday morning, Barto's mother reported her daughter missing, according to the report. She told police she last spoke to her daughter on Thursday.
On Saturday, a witness told police they saw Ramsey "cleaning and cutting the carpet" of the passenger side floor of his vehicle.
Two police officers interviewed Howard George, 23, on Saturday who told them that Ramsey confessed to him that he had killed the woman.
"Ramsey believed she was cheating," the police affidavit said, "and stated that he wanted her gone."
According to the Butler Eagle, Ramsey told George that he shot Barto in the head two times, and she said 'you shot me,' so Ramsey shot her a third time.
[Butler City Police Department]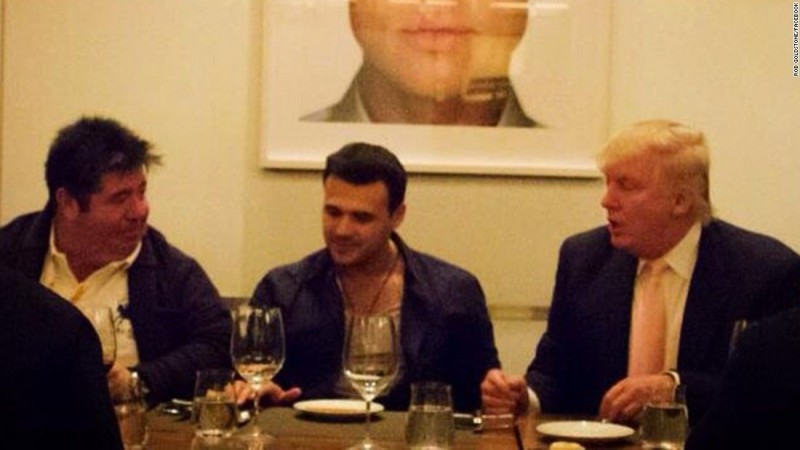 Rob Goldstone, left, shown in contact with Trump prior to his son's meeting with Goldstone that promised high level Russian dirt on Hillary Clinton.
Oh, Wait. Maybe It Was Collusion.

New York Times, Op-Ed Contributors JOHN SIPHER and STEVE HALL, August 2, 2017:


Did the Trump campaign collude with Russian agents trying to manipulate the course of the 2016 election? Some analysts have argued that the media has made too much of the collusion narrative; that Jared Kushner and Donald Trump Jr.'s meeting with Kremlin-linked Russians last year was probably innocent (if ill-advised); or that Russian operatives probably meant for the meeting to be discovered because they were not trying to recruit Mr. Kushner and Mr. Trump as agents, but mainly trying to undermine the American political system.

We disagree with these arguments. We like to think of ourselves as fair-minded and knowledgeable, having between us many years of experience with the C.I.A. dealing with Russian intelligence services. It is our view not only that the Russian government was running some sort of intelligence operation involving the Trump campaign, but also that it is impossible to rule out the possibility of collusion between the two.

The original plan drawn up by the Russian intelligence services was probably multilayered. They could have begun an operation intended to disrupt the presidential campaign, as well as an effort to recruit insiders to help them over time — the two are not mutually exclusive. It is the nature of Russian covert actions (or as the Russians would call them, "active measures") to adapt over time, providing opportunities for other actions that extend beyond the original intent.

It is entirely plausible, for example, that the original Russian hack of the Democratic National Committee's computer servers was an effort simply to collect intelligence and get an idea of the plans of the Democratic Party and its presidential candidate. Once derogatory information emerged from that operation, the Russians might then have seen an opportunity for a campaign to influence or disrupt the election. When Donald Trump Jr. responded "I love it" to proffers from a Kremlin-linked intermediary to provide derogatory information obtained by Russia on Hillary Clinton, the Russians might well have thought that they had found an inside source, an ally, a potential agent of influence on the election.

The goal of the Russian spy game is to nudge a person to step over the line into an increasingly conspiratorial relationship. First, for a Russian intelligence recruitment operation to work, they would have had some sense that Donald Trump Jr. was a promising target. Next, as the Russians often do, they made a "soft" approach, setting the bait for their target via the June email sent by Rob Goldstone, a British publicist, on behalf of a Russian pop star, Emin Agalarov.

They then employed a cover story — adoptions — to make it believable to the outside world that there was nothing amiss with the proposed meetings. They bolstered this idea by using cutouts, nonofficial Russians, for the actual meeting, enabling the Trump team to claim — truthfully — that there were no Russian government employees at the meeting and that it was just former business contacts of the Trump empire who were present.

When the Trump associates failed to do the right thing by informing the F.B.I., the Russians probably understood that they could take the next step toward a more conspiratorial relationship. They knew what bait to use and had a plan to reel in the fish once it bit.

While we don't know for sure whether the email solicitation was part of an intelligence ploy, there are some clues. A month after the June meeting at Trump Tower, WikiLeaks, a veritable Russian front, released a dump of stolen D.N.C. emails. The candidate and campaign surrogates increasingly mouthed talking points that seemed taken directly from Russian propaganda outlets, such as that there had been a terrorist attack on a Turkish military base, when no such attack had occurred. Also, at this time United States intelligence reportedly received indications from European intelligence counterparts about odd meetings between Russians and Trump campaign representatives overseas.

Of course, to determine whether collusion occurred, we would have to know whether the Trump campaign continued to meet with Russian representatives subsequent to the June meeting. The early "courting" stage is almost always somewhat open and discoverable. Only after the Russian intelligence officer develops a level of control can the relationship be moved out of the public eye. John Brennan, the former director of the C.I.A., recently testified, "Frequently, people who go along a treasonous path do not know they are on a treasonous path until it is too late."

Even intelligence professionals who respect one another and who understand the Russians can and often do disagree. On the Trump collusion question, the difference of opinion comes down to this: Would the Russians use someone like Mr. Goldstone to approach the Trump campaign? Our friend and former colleague Daniel Hoffman argued in this paper that this is unlikely — that the Russians would have relied on trained agents. We respectfully disagree. We believe that the Russians might well have used Mr. Goldstone. We also believe the Russians would have seen very little downside to trying to recruit someone on the Trump team — a big fish. If the fish bit and they were able to reel it in, the email from Mr. Goldstone could remain hidden and, since it was from an acquaintance, would be deniable if found. (Exactly what the Trump team is doing now.)

If the fish didn't take the bait, the Russians would always have had the option to weaponize the information later to embarrass the Trump team. In addition, if the Russians' first objective was chaos and disruption, the best way to accomplish that would have been to have someone on the inside helping. It is unlikely that the Russians would not use all the traditional espionage tools available to them.

However, perhaps the most telling piece of information may be the most obvious. Donald Trump himself made numerous statements in support of Russia, Russian intelligence and WikiLeaks during the campaign. At the same time, Mr. Trump and his team have gone out of their way to hide contacts with Russians and lied to the public about it. Likewise, Mr. Trump has attacked those people and institutions that could get to the bottom of the affair. He fired his F.B.I. director James Comey, criticized and bullied his attorney general and deputy attorney general, denigrated the F.B.I. and the C.I.A., and assails the news media, labeling anything he dislikes "fake news." Innocent people don't tend to behave this way.

The overall Russian intent is clear: disruption of the United States political system and society, a goal that in the Russian view was best served by a Trump presidency. What remains to be determined is whether the Russians also attempted to suborn members of the Trump team in an effort to gain their cooperation. This is why the investigation by the special counsel, Robert Mueller, is so important. It is why the F.B.I. counterintelligence investigation, also quietly progressing in the background, is critical. Because while a Russian disruption operation is certainly plausible, it is not inconsistent with a much darker Russian goal: gaining an insider ally at the highest levels of the United States government.

In short, and regrettably, collusion is not off the table.

John Sipher (@john_sipher), a former chief of station for the C.I.A., worked for over 27 years in Russia, Europe and Asia and now writes for The Cipher Brief and works for CrossLead, a consulting company. Steve Hall (@StevenLHall1) is a former C.I.A. chief of Russian operations and a CNN national security analyst.

Follow The New York Times Opinion section on Facebook and Twitter (@NYTopinion), and sign up for the Opinion Today newsletter.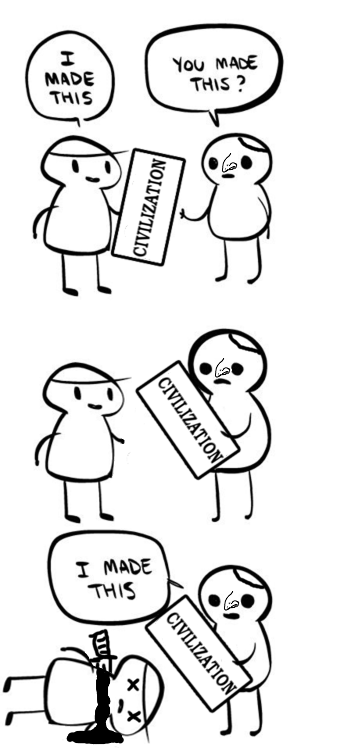 In Tanstaafl's latest theoretical fail:
The White Race and its Discontents:
He proffers:
1) "A civilization and its culture are racial constructs – the bottom up, grass-roots instincts of the masses largely modulated and moderated by the elite."
This is a desperate and lame attempt to ignore the better understanding of social consructionism that I have had to explain time and again, because right wingers cannot adjust to the fact that they are reacting to a misrepresentation of the term.
They refuse to deploy the exercise of trying the word "mere" before "social construct" and observing that if you need that word, then it is Cartesian and not a concept that you would apply to something substantive like race.
The White race as a social construct - not merely, but substantively - already IS from the ground up and that, as a social construct, is a MUCH better way to look at it than the way that Tanstaafl says is THE way to look at the matter, i.e., that "civilization and culture are racial constructs" - that doesn't even make logical sense (coming from a man who accused me of having poor logic): If he is emphasizing, as he does, the causal and deterministic aspect of our inheritance then why call it a "racial construct"? ..call it a byproduct, perhaps..
But he won't go with a proper understanding of social constructionism because he is beholden to his reactionary audience.
It is better to allow for our individual agency and contributions by talking in terms of social construct - it emphasizes our social responsibility, interdependence, degree of independence and most importantly, our people as central outlook and framework, not our subhuman nature.
Tanstaafl does not do this because he continually tries to suck Hitler to life again, desperately trying to make his subhuman ideology relevant again.
Social constructionism, properly understood, not only begins with the proper outlook, from our people, but does so in such a way that already begins with instinct and unconscious doings - we talk in terms of the agentive capacity to attribute how things count when they are on the more causative side of the spectrum. But they are never, mere constructs.
2) To illustrate how it is that Tanstaafl can't get over his wish to try to redeem Hitler and make him relevant again: in the context of Trump's speech in Poland, Tan tries the old, "they're going to call you a Nazi anyway."
No they aren't - especially not if you apply agency as a social constructionist. It's easier as a Pole, perhaps, to say I/we had nothing to do with Nazism; but it is not that hard for subsequent generations of Germans to reject the attribution of Nazism either.
3) In another example of how he wants to apply natural causality and tie our hands to passivity in regard to how the Jews say things count, Tan cites the infamous Susan Sontag quote - "White people are the cancer of the earth" - in its full context; relishing the opportunity to attack one of my most cherished observations on behalf of our European people - i.e. that the Hippies were about midtdasein, Being amidst our people for White males as opposed to say, the endless war mongering of Hitler or the corporations and their draft into Vietnam - by saying that Sontag was endorsing the "freak-out" in order to promote sheer insubordination to older generations.
Well, that is how (((Sontag))) might try to say the hippies counted, that is NOT how we should say they counted. For us the rebellion of midtdasein against sheer war mongering could not have been a more relevant and authentic motive.
The New Republic, "Trump's Russian Laundromat" July 2017:

How to use Trump Tower and other luxury high-rises to clean dirty money, run an international crime syndicate, and propel a failed real estate developer into the White House.

In 1984, a Russian émigré named David Bogatin went shopping for apartments in New York City. The 38-year-old had arrived in America seven years before, with just $3 in his pocket. But for a former pilot in the Soviet Army—his specialty had been shooting down Americans over North Vietnam—he had clearly done quite well for himself. Bogatin wasn't hunting for a place in Brighton Beach, the Brooklyn enclave known as "Little Odessa" for its large population of immigrants from the Soviet Union. Instead, he was fixated on the glitziest apartment building on Fifth Avenue, a gaudy, 58-story edifice with gold-plated fixtures and a pink-marble atrium: Trump Tower.

A monument to celebrity and conspicuous consumption, the tower was home to the likes of Johnny Carson, Steven Spielberg, and Sophia Loren. Its brash, 38-year-old developer was something of a tabloid celebrity himself. Donald Trump was just coming into his own as a serious player in Manhattan real estate, and Trump Tower was the crown jewel of his growing empire. From the day it opened, the building was a hit—all but a few dozen of its 263 units had sold in the first few months. But Bogatin wasn't deterred by the limited availability or the sky-high prices. The Russian plunked down $6 million to buy not one or two, but five luxury condos. The big check apparently caught the attention of the owner. According to Wayne Barrett, who investigated the deal for the Village Voice, Trump personally attended the closing, along with Bogatin.

If the transaction seemed suspicious—multiple apartments for a single buyer who appeared to have no legitimate way to put his hands on that much money—there may have been a reason. At the time, Russian mobsters were beginning to invest in high-end real estate, which offered an ideal vehicle to launder money from their criminal enterprises. "During the '80s and '90s, we in the U.S. government repeatedly saw a pattern by which criminals would use condos and high-rises to launder money," says Jonathan Winer, a deputy assistant secretary of state for international law enforcement in the Clinton administration. "It didn't matter that you paid too much, because the real estate values would rise, and it was a way of turning dirty money into clean money. It was done very systematically, and it explained why there are so many high-rises where the units were sold but no one is living in them." When Trump Tower was built, as David Cay Johnston reports in The Making of Donald Trump, it was only the second high-rise in New York that accepted anonymous buyers.

Semion Mogilevich.

In 1987, just three years after he attended the closing with Trump, Bogatin pleaded guilty to taking part in a massive gasoline-bootlegging scheme with Russian mobsters. After he fled the country, the government seized his five condos at Trump Tower, saying that he had purchased them to "launder money, to shelter and hide assets." A Senate investigation into organized crime later revealed that Bogatin was a leading figure in the Russian mob in New York. His family ties, in fact, led straight to the top: His brother ran a $150 million stock scam with none other than Semion Mogilevich, whom the FBI considers the "boss of bosses" of the Russian mafia. At the time, Mogilevich—feared even by his fellow gangsters as "the most powerful mobster in the world"—was expanding his multibillion-dollar international criminal syndicate into America.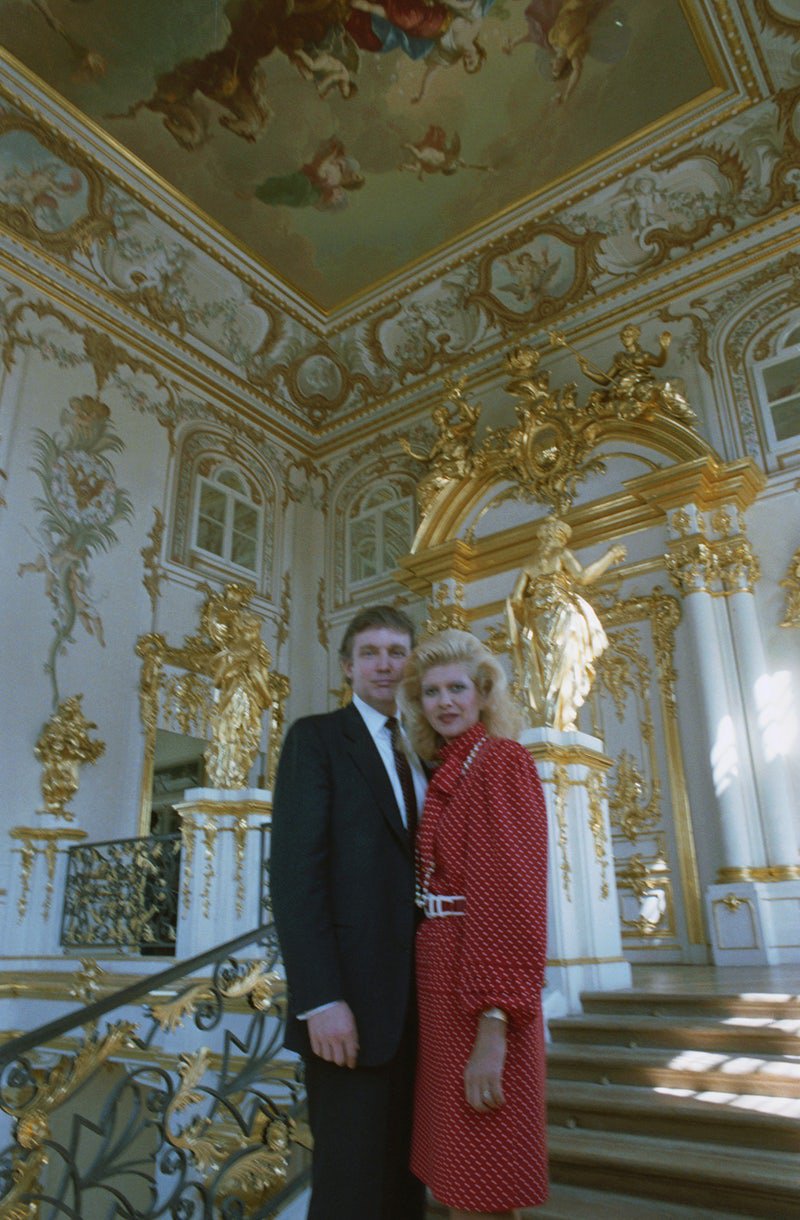 In 1987, on his first trip to Russia, Trump visited the Winter Palace with Ivana. The Soviets flew him to Moscow—all expenses paid—to discuss building a luxury hotel across from the Kremlin. Maxim Blokhin/TASS
Rubrics:
- Trump made his first trip to Russia in 1987, only a few years before the collapse of the Soviet Union.

- Throughout the 1990s, untold millions from the former Soviet Union flowed into Trump's luxury developments and Atlantic City casinos.

- Trump Taj Mahal paid the largest fine ever levied against a casino for having "willfully violated" anti-money-laundering rules.

- The influx of Russian money did more than save Trump's business from ruin—it set the stage for the next phase of his career. By 2004, to the outside world, it appeared that Trump was back on top after his failures in Atlantic City. That January, flush with the appearance of success, Trump launched his newly burnished brand…

- Russians spent at least $98 million on Trump's properties in Florida—and another third of the units were bought by shadowy shell companies.

- In 2013, police burst into Unit 63A of Trump Tower and rounded up 29 suspects in a $100 million money-laundering scheme.

- In April 2013, a little more than two years before Trump rode the escalator to the ground floor of Trump Tower to kick off his presidential campaign, police burst into Unit 63A of the high-rise and rounded up 29 suspects in two gambling rings.

Concluding paragraphs:
Semion Mogilevich, the Russian mob's "boss of bosses," also declined to respond to questions from the New Republic. "My ideas are not important to anybody," Mogilevich said in a statement provided by his attorney. "Whatever I know, I am a private person." Mogilevich, the attorney added, "has nothing to do with President Trump. He doesn't believe that anybody associated with him lives in Trump Tower. He has no ties to America or American citizens."

Back in 1999, the year before Trump staged his first run for president, Mogilevich gave a rare interview to the BBC. Living up to his reputation for cleverness, the mafia boss mostly joked and double-spoke his way around his criminal activities. (Q: "Why did you set up companies in the Channel Islands?" A: "The problem was that I didn't know any other islands. When they taught us geography at school, I was sick that day.") But when the exasperated interviewer asked, "Do you believe there is any Russian organized crime?" the "brainy don" turned half-serious.

"How can you say that there is a Russian mafia in America?" he demanded. "The word mafia, as far as I understand the word, means a criminal group that is connected with the political organs, the police and the administration. I don't know of a single Russian in the U.S. Senate, a single Russian in the U.S. Congress, a single Russian in the U.S. government. Where are the connections with the Russians? How can there be a Russian mafia in America? Where are their connections?"

Two decades later, we finally have an answer to Mogilevich's question.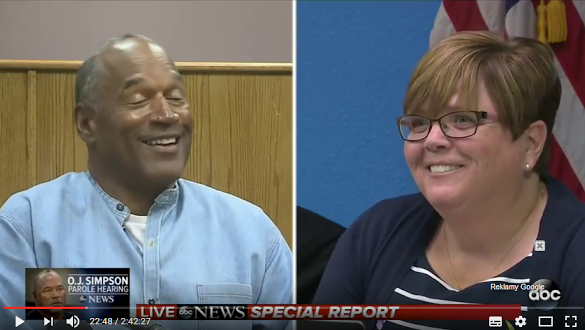 Connie Bisbee is Chairman of the Nevada Board of Parole. She addressed killer O.J. Simpson with giddy smiles at his parole hearing. In this moment (22:48 of the clip) she fawns over Simpson after accidentally citing his age as "90" - she gushed gleefully toward the murderer, Simpson, "that he looks great for 90." Is it any surprise that killer O.J. got parole with the likes of her presiding?
Simpson should not have been able to touch Nicole Brown in the first place.
The story of Simpson beating Nicole because she was disturbing him with complaints about Simpson having sex with another woman in another room in the house is a particularly graphic example of black hyper-assertiveness. And a problem with White women in that regard - the allure of sheer confidence to them, which, overweening in blacks, apparently can become like a drug to some women; causing them to ignore if not forgive all manner of destruction in order to have that fix.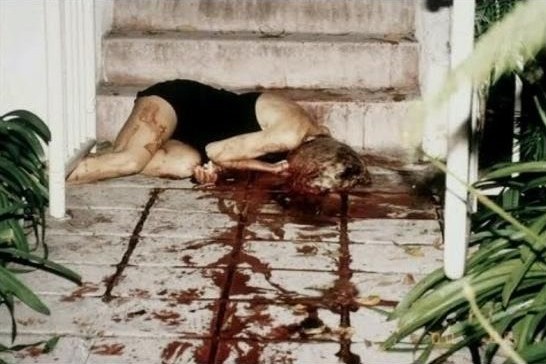 Related story: O.J. Simpson & Nicole Brown's Alleles Combined