Majorityrights News > Category: Popular Culture
Symbolically enough, assumes Enoch Powell's Wolverhampton seat.

Diversity Macht Frei, "Blacks celebrate white genocide: Negress elected to Enoch Powell's old seat."

10 June 2017:

LONGSTANDING LABOUR activist Eleanor Smith has made history by becoming the West Midlands' first African Caribbean MP – but she's also won a seat which is of enormous historic importance to the black community.

The swing seat of Wolverhampton South West was once the constituency of controversial Tory MP Enoch Powell, the politician behind the notorious Rivers of Blood speech which he gave 49 years ago warning of the consequences of unchecked immigration.

Smith, a hospital theatre nurse, who became the first-ever black woman president of Unison in 2011/2012 took the marginal seat by storm, scooping 49 per cent of the vote and beating Tory hopeful Paul Uppal by more than 2,000 votes.

In victory, after just two hours' sleep, she was quick to pay tribute to the local people who voted for her, saying: "Our team was built from the community and the trade union movement – Unison – helped me greatly. The trade union movement put me where I am today, along with the community who came out and helped me win this seat.

"Through The Voice I'd like to personally thank everyone who voted for me in what turned out to be the highest ever turnout of 71 percent. We did it together as a community from the grassroots upwards and I certainly won't let you down.

"We have a wonderfully diverse community here in Wolverhampton, which is a microcosm of the UK and rich in so many different faith groups.

"As a health professional, I am standing up to defend the NHS. From my own experience of being a nurse on the the front line – I was working until only recently doing 12-hour shifts – we can see what's happening and we don't like it. I have got to defend this."

Her other pledge is to move from her home in Northfield, Birmingham, near to where she worked at Birmingham's Women's Hospital, to live in the constituency she will serve.

She told The Voice: "You cannot support your constituency if you don't know what is going on there. I intend to have my finger on the pulse in my own patch."

Smith also pledged to tackle homelessness in Wolverhampton and youth unemployment which currently stands at 27%.

On the issue of taking over Enoch Powell's old seat, she told The Voice: "I feel it closes that chapter now for good."

Powell's full "Rivers of Blood" speech, not read by Powell himself, however.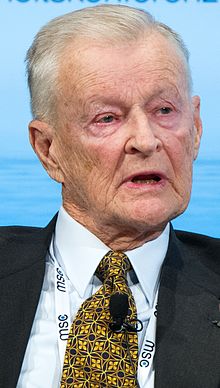 Zbigniew Brzezinski, whose "great chess game" thinking was behind some of the better geo-strategy that Obama and other Presidents are given credit for, has died. Unfortunately, it is a wisdom and judgment not in evidence in Trump - at all - whatever check and balance to Israeli influence that Obama had put in place through Brzezinski's coaching has been purged.
Obama was frequently given credit for resisting Israeli wishes - notably to go against the Iran Deal. But it would have been under the literal advice of Zbigniew Brzezinski to get behind the Iran Deal. The deal was perfect for the power of business interests to exercise its liberalizing effect not only for Iran, but against an eminently dangerous US comlicitness with Israeli-Russian Federation hegemony; along with complicitness to Islamic compradors and abetment of terror.
Say what you want about a cold war mindset, it taught western strategists to look at the Russian Federation and to not be naive about it.
The Russian Federation is not an ethno-state, and like the US, where it is not entirely mixed-up with Jewish interests, it is subject to right wing reactionary and imperialist politics.
The Alt-Right belatedly, grudgingly, acknowledges Jewish power and influence interwoven with not only Trump, but the Kremlin and Putin - it has even been forced to see the quid pro quo that Kumiko diagnosed - "support Israel and your Alt-Right can have backing - its a deal" - however, like David Duke, it will do anything but lay blame on its part for making these deals - what it will not see is the right wing shabbos goyim aspect of right wingers doing what right wingers do - blinding (themselves or others, depending) to their people's broad interests and selling them out for their narrow interests - including selling out in deals with Jews. Clearly the right does not have Israeli interests under control. It does not have and will not allow the concept that would do it. That would mean having to acknowledge what fuck-ups they are, how inane their concept, how typical that they would put Trump in power, blinding to the obvious, deal making, shaking hands with their fellow enemies of ethnonationalism.
They're ok with blaming Jews - and if Kumiko is able to force them to admit to a deal having been offered to them, they might even acknowledge it, almost acknowledge that they took the deal - so long as their masters allow them to lay blame on the "bad" Jews (not the "good ones" du jour); but they will not lay blame on the inherent defect of their right wing platform (heck, their Jewish masters wouldn't allow it), let alone specify the fact that for its inherent instability its adherents are bound to do it again; let alone will they call attention to the fact that they are using and being used for the supremacist, imperialist interests of Israel, its diaspora, its cohorts, the US, the Russian Federation ...add Turkey, Saudi and others to that equation.
If Jews say Asians and Asian ethnonationalism are the enemy, and a Judeo-Christian West is the answer to 'radical' Islam, black and mestizo population imposition, it's a deal for them. Our Asian friends are on notice, we true ethno-nationalists, including White Left nationalism, stand apart from the perfidy and the complicitness of the Alt-Right.
Mirror, 'Knifeman' arrested outside Buckingham Palace moments before Queen passes just yards away", 24 May 2017:


Her Majesty is pictured arriving at St Paul's Cathedral, apparently oblivious to the drama (Photo: PA)

A 'knifeman' was arrested outside Buckingham Palace - just 30 seconds before the Queen passed by in a car yards away.

The man was escorted away by officers after being found in possession of a knife in The Mall at around 10.40am, police say.

Dramatic footage showed him lying on the ground, dressed in a blue hoodie and a khaki coat, as cops searched his body.

Mirror photographer Ian Vogler snapped picture of suspect being held on the ground by police at the bottom of The Mall.


The man is pictured sitting on the ground, surrounded by officers (Photo: London News Pictures)

The arrest came less than 48 hours after a suicide bomber detonated an IED at Manchester Arena, killing 22, injuring 119.
Diversity Macht Frei, 23 May 2017, Request complied-with by police to investigate Katie Hopkins for inciting racial hatred over tweet: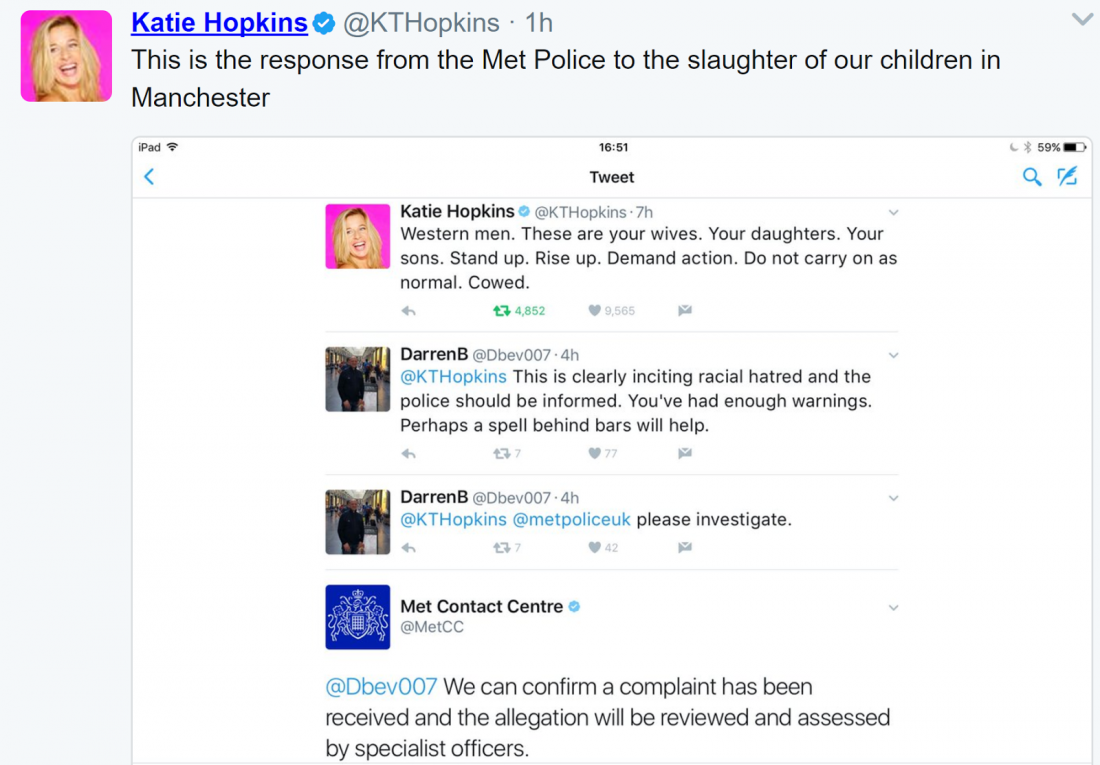 Hugh Muir thinks she is a peddler of hate and should be subject to laws against it -


While stories like this have been pushed under the rug, for that we have to thank those who've pushed and those who have accepted a definition of the "left" as liberal internationalism opposed to unionized defense of natives - especially of the working class. The Sikh community warned would-be coalitions about Muslim grooming but there was no White Left to hear them and take them up in coalition-building. However, now that the Jewish controlled Right points out these stories in compassion to Whites, it's ok to pay attention to them.
The actress stars in a gripping new drama about the Rochdale abuse scandal Credit: Jeff Gilbert

DT, "Lesley Sharp: 'What happened to the girls in Rochdale is never far from my mind", 15 May 2017:

Lesley Sharp still remembers how she felt when she read about the widespread scandal of teenage girls being sexually abused in Rochdale. "I felt desperately sad, because it's a real shock in the 21st century, where we're fortunate to live in amazing country like the UK, that there are areas where young women feel so desperate about what their future should be," says the 57-year-old actress quietly.

47 children are thought to have been groomed and sexually exploited by men in Rochdale between 2005 to 2008 and ignored by authorities. "I remember finding that shocking," says Sharp. "I was just perplexed and horrified by the idea that these girls had initially been treated as somehow deserving of what had been meted out to them. I don't think just because this case came to the fore that this situation has gone away. I think it's still out there."

Sharp's passion about ending child sexual exploitation in the UK is ongoing - she has been a Barnados ambassador for several years - but it is also reflected in her latest role. Anonymising the victims, BBC One's drama, Three Girls, depicts the real-life abuse of teenage girls in Rochdale. Sharp plays Detective Constable Margaret Oliver, the police officer who was so appalled by the way the force handled the girls' cases that she eventually resigned.
The poster's punchline reads "FPÖ—otherwise nothing will ever change." The FPÖ will also produce material mapping out the numerous false promises made by the SPÖ and ÖVP, and will concentrate on mapping its own major policies which include "zero tolerance of Islamism," the protection of women's rights, fighting welfare abuse, protectionism for Austrian workers, and the immediate "deportation of asylum seekers and criminal immigrants."

New Observer, "October Elections in Austria as Coalition Implodes", 17 May 2017:

The collapse of the ruling conservative-socialist Austrian coalition government has meant that Austria will have a snap general election on October 15—possibly opening the door to power for the anti-invasion Freedom Party (FPÖ).

The ruling coalition, made up of Chancellor Christian Kern's Social Democratic Party of Austria (SPÖ) and the Austrian People's Party (ÖVP) was supposed to govern until its term ran out in 2018.

However, the growth of the FPÖ—and the collapse of the SPÖ and ÖVP votes in last year's presidential elections, combined with internal fighting over leadership and policy toward the mass nonwhite fake refugee invasion, has finally caused the coalition to break apart.

The sudden resignation of ÖVP leader—and deputy chancellor—Reinhold Mitterlehner, from all his posts, brought the crisis to a head.

Mitterlehner complained that he was unable to continue because of infighting within his party, and therefore had no choice but to lay down his leadership and his deputy chancellorship.

The ÖVP moved quickly to replace him with the current foreign minister, the 30-year-old Sebastian Kurz, widely punted by the controlled media as a "dynamic" leader who could restore that party's fortunes.

Rather than try and carry on with the increasingly impossible coalition, Kurz however immediately called time on the coalition and announced that he would be withdrawing his party's support from the government.

The FPÖ is currently the single largest party with over 30 percent of the vote, but the presidential elections of last year saw its vote climb to 49 percent.

The chances are therefore extremely good that the FPÖ will emerge as the single largest party—and given recent developments, it may well consider a coalition government with the ÖVP.

[...]

The FPÖ campaign will start in Vienna on May 18, by which time 500,000 copies of the initial material will have been printed.
Diversity Macth Frei, "France's Chief Rabbi urges Jews to work with Muslims against nationalists", 10 May 2017:

France's Chief Rabbi Haim Korsia has said that the country's Jewish community must seek cooperation with French Muslims against far-right political forces in the country, Israel Radio reported on Wednesday.

"It is very important that we work also with the Muslims against National Front," Korsia said, referring to the populist anti-immigration party led by defeated presidential candidate Marine Le Pen.

Le Pen lost the second round of elections at the beginning of the week to centrist Emmanuel Macron, who will be sworn in on Sunday. Le Pen, 48, had portrayed the ballot as a contest between the "globalists" represented by her rival — those in favor of open trade, immigration and shared sovereignty — and the "nationalists" who defend strong borders and national identities.

Korsia's comments came against a wider trend in which European Jewish and Muslim leaders are coordinating activities against anti-religious legislation in the continent. Arab religious leaders are also involved, including some from Saudi Arabia, the radio station said.

Among other efforts, Jewish and Muslim groups have held meetings and seminars in pursuit of an agreement on joint action against parliamentary motions banning ritual slaughter or religious symbols in public places. The talks have led some Muslim leaders to back action against Muslim attacks on Jews in Europe, the report said.

In Europe, the Jewish and Muslim slaughter customs have united opponents both from liberal circles who cite animal welfare as their main concern and right-wing nationalists who view the custom as foreign to their countries' cultures. Source

This is, of course, unsurprising, because, as I discussed the other day, the Jews created Islam as a weapon against Christians and are still using it as such to this day. Unfortunately, knowledge of this truth is confined to, most likely, a few thousand people in the world; at worst, a few hundred; at best, tens of thousands. Yet if we could successfully establish this idea in the public mind - that the Jews created Islam -, even just to the extent of making people aware of it as a "conspiracy theory", as everyone is now aware of the claims of 9/11 truthers or birthers, it could genuinely alter the world.

First of all, it could unravel Islam itself if Muslims realised they had fallen for a 1400-year-old Jewish con trick. Second, it would weaken Jewish domination of our societies if recognition spread that the Jews and Muslims were working together against us. Third, and perhaps this is fanciful, but could it even sow self-doubt among Jewry itself, since I'm sure very few Jews know the role their people played in fostering the emergence of Islam?

If the Counterjewhad movement were really interested in undermining Islam, there is no more effective means of doing it than spreading awareness of the fact that Jews created it in the first place. Muslim antisemitism would then self-detonate, potentially taking Islam down with it, or, at the very least, significantly weakening it. Of course they won't do that, however, because their primary interest is not weakening Islam but promoting the interests of Jewry and it is not in the interests of Jewry to be known as the authors of this monster.

Please help disseminate the meme that "Jews created Islam" on forums and comment sections you participate in. Use those exact words and link to the Hagarism post with those words. Because of the way search-engine algorithms work, this makes it much more likely that when someone types those words into Google, the Hagarism post will come up.