Majorityrights News > Category: Popular Culture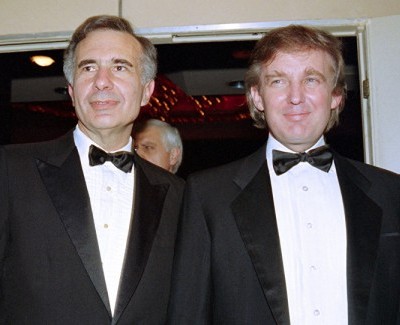 Together back in the 80s, when Carl Icahn was showing Donald Trump the ropes of "corporate-take-over", such as his plunder of TWA.
The Carl Icahn episode that pilfered the corporate culture of the once bustling American town—Lancaster, Ohio—is highly instructive of itself. It provides a lesson in its farther implications, however, as it set in motion transformations of that corporate culture which effected a perverse irony of its residents becoming Trump voters, seeking a return to their corporate culture as it had been - implicitly White - oblivious to the fact that they are hoping to do this through Trump, whose appointed gate-keeper is Carl Icahn - the very man who plundered Lancaster's corporate culture and set in motion its transformative demise, with devastating impact upon the now rust-belt town and its people (nearly all White).

(((NPR))) doesn't provide a transcript of portions which refer to Carl Icahn, e.g.
NPR, Glass House' Chronicles The Sharp Decline Of An All-American Factory Town, 6 Feb 2017:

13:10: Dave Davies: "When did outside financial interests first pose a challenge to the management of Anchor Hocking, this giant of a company?

Brian Alexander: The first time was Carl Icahn.
It is meaningful that the relatively brief episode of Carl Icahn's corporate raid on Anchor-Hocking did not merely lead to a limited financial downturn following the large (what amounts to) bribe that he levied against the company in order to get rid of him, but it had implicative force which transformed even the subsequent non-Jewish corporate culture, creating a new corporate culture - a new context, if you will. That is the kind of thing that the serious ethno-nationalist will want to examine further.
Brian Alexander: It's the 1980's, Carl Icahn has just begun his career of what became known at the time as "green mailing."

Dave Davies: "Corporate raiding", "corporate take-overs."

Alexander: "Corporate raiding", saying now I've just bought 5% of your stock. I want a seat on the board. You're running your company in a lousy way; and so I'm going to come and make all sorts of trouble for you, but you know, if you want to buy me out, at a profit, at a premium, well maybe I'll go away; and so that's exactly what happened with Carl Icahn.

Carl Icahn bought over 5% of the stock of Anchor Hocking, agitated the board, saying you need to make some different decisions, you could be returning more share-holder value and was eventually bought off at what I calculate to be about a three million dollar profit to Carl Icahn.

That episode did not last long, but I argue that it changed Anchor Hocking forever, from then on.

Dave Davies: In what way?

Brian Alexander: It scared people…
........................................................................

NPR, Glass House' Chronicles The Sharp Decline Of An All-American Factory Town, 6 Feb 2017:

NPR host Dave Davies: We heard a lot in the presidential campaign about anger and frustration among working class voters in America's heartland. Today we're going to focus on one factory town in central Ohio that was once a bustling center of industry and employment, but is now beset by low wages, unemployment and social decay.

Lancaster, Ohio isn't just a research subject for our guest Brian Alexander, it's his hometown.

His new book tells the story of the company that was once Lancaster's largest employer - Anchor-Hocking Glass Company was a Fortune 500 company with its headquarters in the town. The company provided jobs, civic leadership and community pride. It's decline Alexander argues isn't just a product of increased competition and changing markets, he says the firm was undone by Wall Street investors who had little knowledge of the company and little interest in anything besides short-term profit.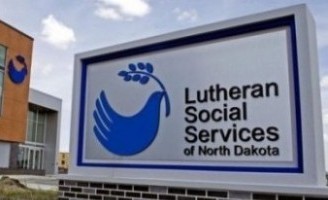 TNO, "Lutherans Pushing Invaders on North Dakota", 18 Jan 2017:

The Lutheran Social Services of North Dakota (LSSND) has been named as the group primarily responsible for pushing hundreds of nonwhite invaders pretending to be refugees into the state of North Dakota.

The LSSND resettled 558 "refugees" in the fiscal year 2016, which ended Sept. 30. Of those, 372 went to Fargo, 106 to Grand Forks, 50 to Bismarck, and eight to West Fargo. In fiscal year 2017, the group has projected it will resettle 315 refugees in the Fargo area, 110 in Grand Forks, and 50 in Bismarck.

The LSSND website says that as the "state refugee coordinator appointed by the North Dakota Department of Human Services, Lutheran Social Services of North Dakota" they "welcome about 400 refugees each year" who are "resettled in Fargo, West Fargo, Grand Forks, and Bismarck," and in total have "resettled" 7,600 "refugees" in those cities.

The LSSND "secures an apartment for the [refugee] family, provides deposit and first month's rent, basic furnishings, clothing, and a two week supply of food; provides assistance in applying for Social Security cards, registering adults and children in English Language Learning classes and public education programs; sets up medical appointments and assists in applying for other support services;" and "prepares a self-sufficiency plan together with client and employment specialist. Assists client in identifying and removing barriers to success."

The LSSND website says that it is supported by the Lutheran Services in America (LSA), the Lutheran Church Missouri Synod, and the Evangelical Lutheran Church in America.

Related Story: "Welcome to Leith" - A Review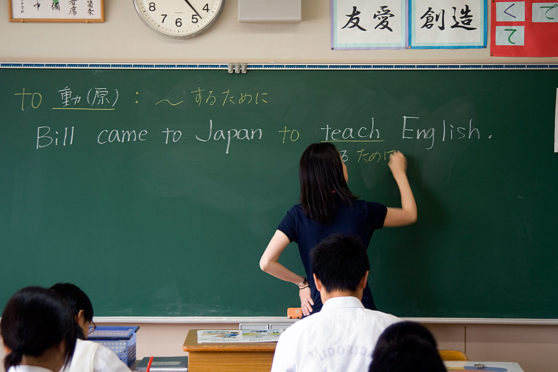 A couple of weeks ago (((Steve Sailer))) hypothesized in the Taki's Magazine article, "Choose Your Words Wisely" (4 Jan 2017), that right-wing populist nationalism was taking off in western countries NOT because of, say, any nefarious orchestration by Russian Jews, but rather perhaps because western elites, in their white, self destructive, integrationist madness all share the same lingua franca - English - and are therefore more easily seduced into eachother's madness.
One reason it's happening over much of the planet is because the various establishment elites have become so homogenous in their ideology, unconsciously egging each other on into more extremism. For example, after the normally cautious Angela Merkel made her historic refugee blunder in 2015, Hillary Clinton repeatedly endorsed Merkel's foolhardiness, even as the German leader herself came to regret her imprudence.

But the corporate press has been no more aware of its own drift toward anti-border fanaticism than a fish notices it's wet. Thus, the American establishment's increasingly comic conspiracy theory blaming its political failings on a nefarious Kremlin plot. After all, what else could explain why voters did not respond appropriately to the media's furious instructions to elect Hillary besides Muscovite mind-control rays?

A sensible exception has been Fareed Zakaria, who pointed out last month:

The one common factor present everywhere, however, is immigration. In fact, one statistical analysis of EU countries found that more immigrants invariably means more populists. One way to test this theory is to note that countries without large-scale immigration, such as Japan, have not seen the same rise of right-wing populism.

That raises the question of why Japan's ruling class didn't feel the necessity of going down the same mass-immigration path as did so many other advanced countries: Why is Japan such an exception?

"The coming global monoculture of English could be highly productive…until it's not."

One reason is that Japan isn't a white country, so it's immune to white guilt. Sure, the Japanese abused other East Asians 1931– 45, but that was in the name of organizing against white colonialism. So hassling Japan isn't a high priority like it is for Germany.

Another reason is that Japan is linguistically quite isolated from the growing worldwide dominance of the English language.

If elites unthinkingly think alike, one reason could be because they increasingly share a language: English. Across much of the world, English is becoming the lingua franca. ...
While the profusion of churches throughout the world can be disconcerting, as they are devoted to a religion that is obfuscating and mis-directing the natural instincts of our EGI (ethnic genetic interests), there is a note of optimism in that some of these sublime structures and the artisanship that went into their making can be converted for religion aligned with our ethno-national interests.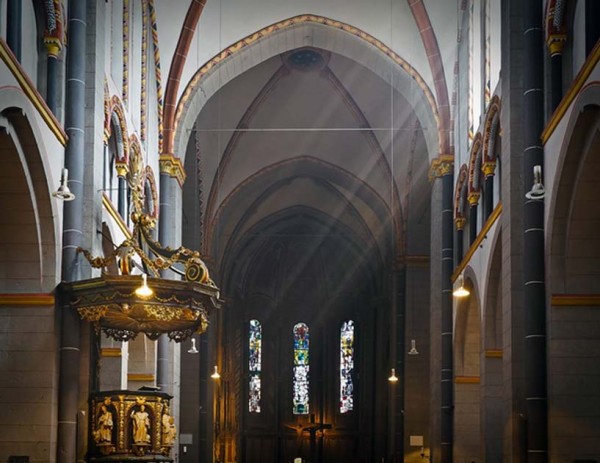 For example, hope for return to proper, natural religious function piques through some of the Spanish missions in California - some were configured to illumination of the solstice: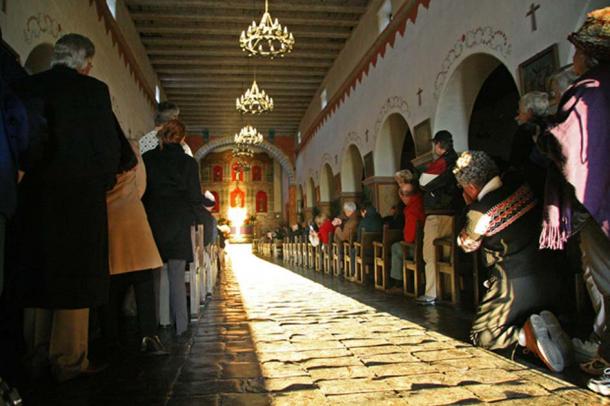 The 2007 midwinter solstice illumination of the main altar tabernacle of Old Mission San Juan Bautista, California. Rubén G. Mendoza/Ancient Editions, CC BY-ND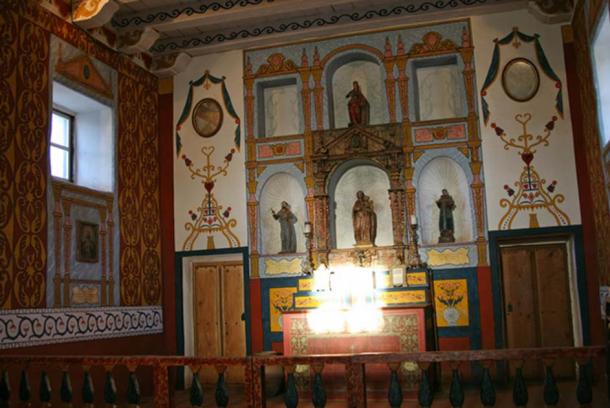 Winter solstice illumination of the main altar tabernacle of the Spanish Royal Presidio Chapel, Santa Barbara, California. The author first documented this solar illumination of the altar in 2004. Rubén G. Mendoza, CC BY-ND
On another level, some of the very elements of worship contained are only thinly veiled pagan icons and arrangement: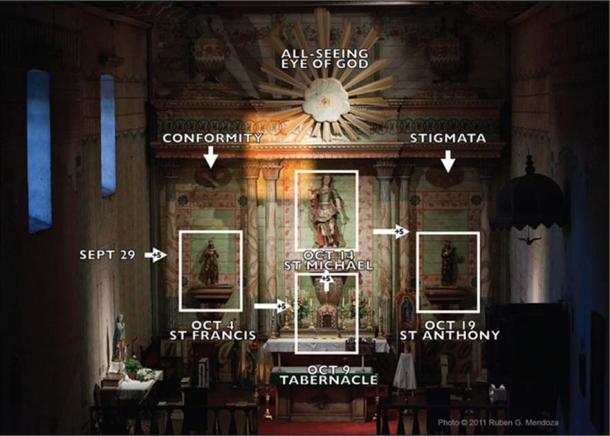 Schematic of the four successive solar illuminations of the saints of the main altar screen of Mission San Miguel Arcángel, California. Note illumination begins at the left with the Oct. 4 illumination of Saint Francis on his Feast Day. The author first identified and documented this solar array in 2003. Rubén G. Mendoza, CC BY-ND
TNO, "Is Trump "Draining the Swamp?", 23 Dec 2016:

At least four senior executives with international bankers Goldman Sachs will get critical posts in the Donald Trump administration—even though he campaigned fiercely against that institution, with his closing campaign ad using an image of that company's CEO Lloyd Blankfein to condemn the "global power structure" for robbing America's working class and enriching the elite.


Trump's closing campaign TV ad which depicted Goldman Sachs CEO Blankfein as part of the globalist enemy.

The Goldman Sachs appointments are not the first indication that Trump has no intention of "draining the swamp" in Washington D.C. either.

Former Goldman Sachs partner Steven Mnuchin served as Trump's national finance chairman and is now Trump's nominee for U.S. Treasury secretary.

Trump has also nominated Goldman Sachs President (and the bank's de facto number two) Gary Cohn as his top economic adviser in the White House.

Other Goldman alums in Trump's inner circle include Anthony Scaramucci, a former Goldman banker and a member of the Trump transition team's executive committee, as well as Steve Bannon, Trump's campaign manager.

Trump's campaign ad described Goldman Sachs as part of "a global power structure that is responsible for the economic decisions that have robbed our working class, stripped our country of its wealth and put that money into the pockets of a handful of large corporations and political entities."

As the Bloomberg news service has pointed out, after "years as the face of Wall Street greed and the target of public scorn, the bankers at Goldman Sachs can be cheerful again.

"Not only has Trump's election stoked hopes for looser regulatory policies that will make it easier for banks to take bigger risks and book fatter profits, but Goldman also appears to have regained its place at the nexus between Wall Street and Washington," Bloomberg wrote.
CBS, "Donald Trump's Cabinet richest in U.S. history, historians say", 20 Dec 2016:

As he traveled the country on his thank you tour, President-elect Donald Trump touted his choices for his Cabinet and inner circle, a group historians say is the richest in U.S. history.

"And one newspaper criticized me, 'Why can't they have people of modest means?'" Trump said at a Des Moines, Iowa rally. "Because I want people that made a fortune. Because now they're negotiating with you, okay?"

Donald Trump's 14 Billlion Dollar Cabinet

How rich? CBS News estimates seven of Trump's picks are worth a combined $11 billion.

"I guess they have a few poor millionaires on it, but mostly it's billionaires," said Sen. Bernie Sanders.

Critics like Sanders say Trump's choices fly in the face of his populist campaign message. "You don't appoint a Cabinet of billionaires to be taking on the establishment," he said on Sunday's "Face The Nation."

Steve Mnuchin, Trump's Treasury pick has been estimated to be worth as much as $655 million. He and commerce secretary nominee Wilbur Ross, worth $2.5 billion, recently said they were attuned to the plight of working Americans.

"It's also not true all jobs are created equal. A guy that used to work in the steel mill, now flipping hamburgers, he knows it's not the same," Ross said in an appearance on CNBC.

Having millionaire and billionaire cabinet secretaries is not unprecedented. They tend to attract slots at Treasury and Commerce. But neither President Obama nor President George W. Bush had a single billionaire in their first Cabinets.
Pardon for quoting Bernie and other brackets but these are merely verifiable facts being cited here.
Quartz, "Trump's 17 cabinet-level picks have more money than a third of American households combined", 15 Dec 2016:

The 17 people who US president-elect Donald Trump has selected for his cabinet or for posts with cabinet rank have well over $9.5 billion in combined wealth, with several positions still unfilled. This collection of wealth is greater than that of the 43 million least wealthy American households combined—over one third of the 126 million households total in the US.

Affluence of this magnitude in a US presidential cabinet is unprecedented.
It is a game that Republicans have been playing for years, a few dog whistles in exchange for implicit White support of deracinating elite White Republicans in tandem with Jewish interests ....what is a bit new is that they are throwing a few milk bones to placate the explicit Whiteness in the Alt-Right so that they can co-opt White identity, not only into the Republican party but into their global geo-political agenda - on the side of fellow bracketed proposition empires, The U.S., Russia and Israel against Asia. This is a backwards and utterly dangerous friend/enemy arrangement and ultimately eschews Whites to a war footing in the interest of Jews against the ethnonationalism of others and ultimately, irrespective of White ethno-nationalism.
"Berlin terror attack: twelve dead, 49 injured as truck ploughs into crowd at Christmas market"

Telegraph, 19 Dec 2016:

At least twelve dead, 49 injured at Berlin market.
Attack occurred at Breitscheidplatz, outside the landmark Kaiser Wilhelm Memorial Church.
Police indicate incident is likely to be terror related - Isil claims responsibility.
Initial suspect released, terrorist still at large, likely armed and dangerous.

A truck ploughed into a crowded Christmas market in the German capital Berlin on Monday evening, killing twelve people and injuring up to 49 others.

According to local police, the first indications pointed to a terrorist attack on the market, situated at the foot of the ruined Kaiser Wilhelm memorial church.

The incident evoked memories of an attack on Nice in France in July when Tunisian-born man drove a 19-tonne truck along the beach front, mowing down people who had gathered to watch the fireworks on Bastille Day, killing 86 people. The attack was claimed by Islamic State.

The truck careered into the Berlin market at what would have been one of the most crowded times for the Christmas market, when adults and children would be gathering in the traditional cluster of wooden huts that sell food and Christmas goods.

"I heard a big noise and then I moved on the Christmas market and saw much chaos…many injured people," Jan Hollitzer, deputy editor in chief of Berliner Morgenpost, told CNN. "It was really traumatic."

Update:
Berlin attacker Anis Amri killed in Milan
BBC, "Berlin attacker Anis Amri killed in Milan", 23 Dec 2016:

The Berlin market attacker, Anis Amri, has been shot dead by police in Milan.

The Tunisian criminal fired on police who asked him for ID during a routine patrol in the Sesto San Giovanni area in the early hours of Friday.

German authorities say fingerprints they provided have confirmed the dead man is Amri. They are trying to find out if he had accomplices.

Monday's attack on a Berlin Christmas market left 12 people dead and 49 injured.

Freedom or security, Berlin asks


IS released a video showing Amri pledging allegiance

...leading Eurosceptics - including French National Front leader Marine Le Pen - have criticised open European borders, a result of the Schengen pact, for allowing a fugitive to move between countries.

Meanwhile, the self-styled Islamic State (IS) group has released a video showing Amri pledging allegiance to its leader, Abu-Bakr al-Baghdadi.

He does not make any reference to the Berlin attack, which IS claimed soon afterwards. It is not clear when or where the video was filmed.

Shortly before releasing the video, IS acknowledged Amri's death in Milan.

When Italian police stopped the suspect, who was on foot, at 03:00 (02:00 GMT), he "immediately drew out a gun" and shot at the two policemen, Italian Interior Minister Marco Minniti said.

Officer Cristian Movio was injured in the shoulder but his injuries are not life-threatening.

His junior colleague, Luca Scata, who had been in the police for just nine months, was the one who fired the shot which killed Amri.

German officials found Amri's fingerprints inside the truck that was used in Monday evening's attack.

Federal prosecutor Peter Frank said the focus of the criminal investigation into the killings now was to establish whether Amri had had a network of supporters who helped him to plan and carry out the attack or to flee.

Investigators are also trying to establish whether the gun used in the shooting in Milan is the same weapon used to kill the Polish driver of the truck, who was found dead with stab and gun wounds in the cab.

The attack took place at a busy Christmas market at the Kaiser Wilhelm Memorial Church in the west of the German capital.

According to the Italian news agency Ansa, Anis Amri travelled by train from France to Turin, and then took another train to Milan.

From the central station he travelled on to Sesto San Giovanni, a working-class area.

Amri, a Tunisian national aged 24, had served a prison sentence in Italy after being convicted of vandalism, threats and theft in 2011.

He was known to Italian authorities for his violent behaviour while imprisoned.

After his release he was asked to leave the country. He later arrived in Germany where he applied for asylum in April of this year.

His application was rejected by the German authorities but they were unable to deport him to Tunisia because he had no valid identification papers.
Tanya Gersh has called upon Sherry Spencer to sell her Whitefish, Montana building.
Richard Spencer's mother, Sherry Spencer, had no intention of selling her Whitefish, Montana building until she received terrible threats, the threats she said came from Tanya Gersh, a local realtor with links to so-called "human rights" organizations.
According to Sherry Spencer, on November 22nd, Tanya Gersh spoke with her on the phone and she relayed that if Sherry Spencer did not sell her building that 200 protestors and the national media would show up outside - which would drive down the property value - until she complied. Gersh's other conditions included that Mrs. Spencer should publicly denounce her son in a statement written by the Montana Human Rights Network and that she make a donation to this organization from the sale of the property. As Gersh announced on Facebook, she was "spear heading" the campaign.
Gersh followed up on her conditions in a number of emails, which have been made public. She even shamelessly suggested that she act as Sherry's realtor! In other words, she and the local "human rights" organizations appeared to seek financial benefit from threats of protests and reputation damage. They also threatened tenants currently leasing space from Spencer's mom.
Sherry had no intention of selling her property in Whitefish until being harassed and receiving this pressure from Tanya Gersh, as leveraged by threats of protest from the anti-racist protest organizations - Love Lives Here and Montana Human Rights Network - apparently at her behest to serve three functions:
1) To punish her son for promoting White Nationalist sovereignty.
2) To profit her local real estate business by instigating Sherry to a fire sale of her property.
3) To profit liberal groups such as "Love Lives Here" through donation of sale proceeds to them or similar anti-racist organizations: which generally oppose the necessary practice of social classification and discrimination on the basis of those social classifications (a least as Whites may render them - as such, they call it "racism"); despite the fact that capacity for social classification and discrimination is humanly impossible to avoid and absolutely necessary for survival of and against certain human species; as well as a generally necessary practice in defense against predation in order to facilitate human and pervasive ecology.
The mother of white supremacist Richard Spencer claims she is suffering financially due to the backlash against her son's controversial views.

Sherry Spencer, who lives in Whitefish, Montana, said she is being forced to sell a building she owns in the small town because residents are rebelling against her son.


Sherry Spencer says she is being forced to considering selling the building she owns at 22 Lupfer Avenue (pictured), because of backlash against her son.

Richard Spencer shot to prominence last month when footage emerged of him delivering a 'hateful speech' at a white nationalist meeting held to celebrate Donald Trump's election win.

A video by The Atlantic taken inside the Ronald Reagan building showed Spencer, leader of the National Policy Institute, shouting, 'Hail Trump, hail our people, hail victory!' as some of the people in attendance lifted their hands in a Nazi salute.

He also claimed America belongs to white people, who he suggested are faced with the decision to either 'conquer or die'.

The speech drew intense criticism from the US Holocaust Memorial Museum, which said in a statement Spencer made: 'several direct and indirect references to Jews and other minorities, often alluding to Nazism.'

'He spoke in German to quote Nazi propaganda and refer to the mainstream media. He implied that the media was protecting Jewish interests and said, "One wonders if these people are people at all?"'

And according to Sherry Spencer, the criticism has been echoed by people in her hometown - where he son also has a business registered and visits regularly.

Sherry Spencer told KTMF she is selling a building she owns at 22 Lupfer Avenue, which she currently sublets. It houses a beauty salon and vacation rentals. She also runs a real estate business from the building.

'As painful as this is, I am exploring a potential sale of the building,' she said.

She also took aim at a local human rights group, Love Lives Here, and accused it of damaging her family.

'We are stunned by the actions of Love Lives Here, an organization claiming to advocate tolerance and equal treatment of all citizens, yet coursing financial harm to many innocent parties,' she said.

One of the strongest opponents to Sherry is local real estate agent Tanya Gersh, who said Spencer has backed her son and allowed him to spread his views.

'She is profiting off of the people of the local community, all the while having facilitated Richard's work spreading hate by letting him live and use her home address for his organization,' Gersh told the network.

Love Lives Here also responded to Sherry's remarks, saying it 'did not know what she (was) talking about'.

'We don't cause financial harm to anybody,' co-founder Ina Albert said, before going on to say the group does not have a specific problem with the Spencers.

'I don't know what (Richard) does when he comes here. But that is not our problem with Richard Spencer.

'It is the National Policy Institute and what that stands for and our town being smeared by his philosophy.'

The National Policy Institute was established in 2005 by Spencer, and it is described by the Southern Poverty Law Center as 'hate group'.

Gersh went on to call for Sherry to sell the building immediately, and then use the money to help human rights causes.

'(She) Could address this by selling the building, making a donation to human rights efforts, and making a statement in opposition to white supremacist ideas spread by Richard,' Gersh said.

Sherry Spencer also told the network she loves her son, but does not agree with his 'extreme positions'.


Sherry Spencer is pictured with her husband Dr. Rand Spencer at a benefit in April 2016
As Sherry Spencer writes:

These threats came from Tanya Gersh, a local realtor with links to "human rights" organizations Love Lives Here [Phone: 406-309-5678] and the Montana Human Rights Network [Phone:406-442-5506].

On November 22, Gersh and I spoke on the phone. She relayed to me that if I did not sell my building, 200 protesters and national media would show up outside — which would drive down the property value — until I complied. Gersh's other conditions included that I make a public denunciation of my son in a statement written by the Montana Human Rights Network and that I make a donation to this organization from the sale of the property. As Gersh announced on Facebook, she was "spear heading" the campaign.

Gersh followed up on her conditions in a number of emails, which I've just made public. She even shamelessly suggested that she act as my realtor! In other words, she and the local "human rights" organizations appeared to seek financial benefit from threats of protests and reputation damage.