Majorityrights News > Category: White Genocide: America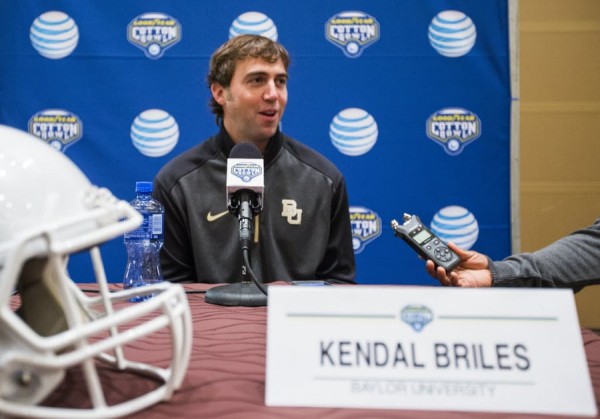 "Do you like white women? Because have a lot of them at Baylor, and they love football players." - Kendell Briles, Baylor College football recruiter, addressing black football prospects.
Washington Post, "Baylor moves to dismiss lawsuit alleging 52 rapes by 31 football players", 29 March 2017:

Baylor moved Tuesday to dismiss a federal lawsuit filed in January filed by a former student who claimed to have been gang-raped by a pair of football players in 2013. In addition, her complaint alleged 52 "acts of rape" committed by the school's football players between 2011 and 2014.

Those numbers were far higher than the eye-opening figures cited by school regents from the report of an outside law firm, which found that 17 women had reported 19 incidents of sexual or domestic assault by Baylor football players since 2011. However, in its court filing Tuesday, Baylor said it "does not agree with or concede the accuracy of Plaintiff's 146-paragraph complaint and its immaterial and inflammatory assertions."

"Baylor moves to dismiss Plaintiff's assault, failure to investigate, and negligence claims because they are barred by the two-year statute of limitations," stated the document, filed with a U.S. District Court that includes Baylor's home of Waco, Tex., in its jurisdiction. The move to dismiss also claimed that the allegations of the woman, referred to as Elizabeth Doe, "do not rise to the level of 'deliberate indifference.' "

Doe alleged in her complaint that on April 18, 2013 — an annual date known as "Diadeloso" ("Day of the Bear") at Baylor and marked by a lack of classes and an encouragement of social interaction — she was raped by two freshman football players, Tre'Von Armstead and Shamycheal Chatman, and that Baylor ignored the situation. She also claimed that her position as a member of the school's female recruiting team, called the Baylor Bruins, contributed to the incident.

"Baylor's recruiting policies and practices, along with the Baylor Bruin football hostess program, directly contributed to the creation of a culture of sexual violence that permeated Baylor and from which Ms. Doe would soon suffer," the lawsuit stated.

The lawsuit also contended that Kendal Briles, a former assistant football coach and son of former head coach Art Briles, told a recruit, "Do you like white women? Because we have a lot of them at Baylor, and they love football players."

[Art Briles says he 'did not cover up any sexual violence' at Baylor]

"While broadly and needlessly impugning the integrity of the many female students who honorably participated in the Bruins organization, Plaintiff does not allege that she herself was ever asked by any Baylor official, directly or indirectly, to participate in the 'good time' recruiting policy that she claims to have existed," Baylor said Tuesday, "nor does she claim that her alleged assault occurred in conjunction with any recruiting activity."

More broadly, the lawsuit claimed that "Baylor football players were responsible for … the most widespread culture of sexual violence and abuse of women ever reported in a collegiate athletic program," adding, "Baylor football under Briles had run wild, in more ways than one, and Baylor was doing nothing to stop it."

"Although Baylor appreciates the sensitivity and seriousness of the issue of sexual assault — a fact demonstrated by its voluntary release of the Pepper Hamilton investigation findings in May 2016 — Plaintiff's inflammatory and immaterial allegations must be disregarded when evaluating whether Plaintiff has stated a claim," the university said in Tuesday's filing.

Former Baylor football player Tre'Von Armstead arrested on sexual assault charges.

Armstead and Chatman were arrested last week and indicted in connection with the 2013 incident. Another former Baylor football player, Sam Ukwuachu, had a sexual-assault conviction overturned last week by a Texas appeals court, with the case remanded for retrial. Two other ex-Bears, Tevin Elliott and Shawn Oakman, have been convicted of and indicted on rape charges, respectively, in an ongoing scandal that has cost the jobs of Briles and other senior Baylor officials and spawned numerous lawsuits.

On Friday, lawyers for 10 women (in addition to Doe) who are suing Baylor for its alleged indifference to their rapes by football players filed notice to subpoena materials from Pepper Hamilton's investigation into the school. "It's long past time for the truth of how senior administrators discouraged and retaliated against the young women for reporting sexual assault," Jim Dunnam, one of the lawyers, said Monday (via the Waco Tribune-Herald).

"We'll never have transparency until they stop saying this was just a football problem," he added. "Every time they say it is just a football problem is further victimization of the over 100 young women who were wronged that had nothing to do with football."
Baylor's Kim Mulkey: "Knock Parents Concerned About Sexual Assault Scandal 'Right In The Face."

DeadSpin, "Baylor's Kim Mulkey: Knock Parents Concerned About Sexual Assault Scandal 'Right In The Face", 25 Feb 2017:

Today was senior day for the Baylor women's basketball team, and rather than spending her time at the mic focused solely on her soon-departing players, head coach Kim Mulkey took a different route.

The storied coach decided to share a few choice words for parents voicing concern over sending their daughters to a place currently being sued for allowing and enabling football players to commit an alleged 52 sexual assaults in four years. Or rather, she shared some instructions for the fans—who cheered her both during and after her speech—telling them that if a parent tells them they won't let their daughter attend Baylor, they should "knock them right in the face."
Related Story at MR: Miscegenating female college students.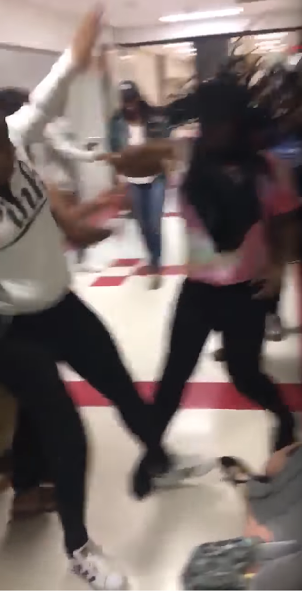 People from outside the United States frequently take a cavalier attitude toward the problem of blacks being imposed upon Whites (and others). They are not able to appreciate that even where you are able to escape temporarily in physical terms, you are still subject to the same rule structures. They are not able to appreciate its one-way reverse discrimination on behalf of a people who you should be able to discriminate against (blacks) for your safety and well being. They get caught up in (((media portrayals))) of your supposed responsibility to compensate for historical discrimination. They tend to add, "well, if you don't like blacks, you can just move to another place in The US." They are ignoring the fact discrimination, freedom of association and movement works one way - on behalf of blacks: absent the capacity to discriminate, i.e. with the anti-freedom from association rule structures of "The Civil Rights Act", its reverse discriminatory provisions of The Consent Decrees and Fair Housing Act will combine with the base bio-power of blacks, their hyper-assertiveness and prolific birthrates to put them everywhere - there is no sufficient White flight. And even where one can physically escape to some White enclave for a while, these right wing and YKW rule-structures and the (((media))) remain looming to leave you no recourse and no peace, ultimately, from the imposition of blacks.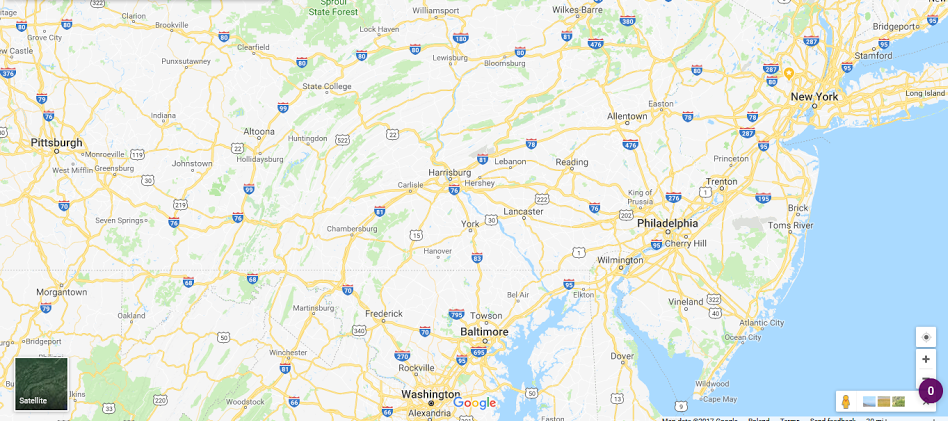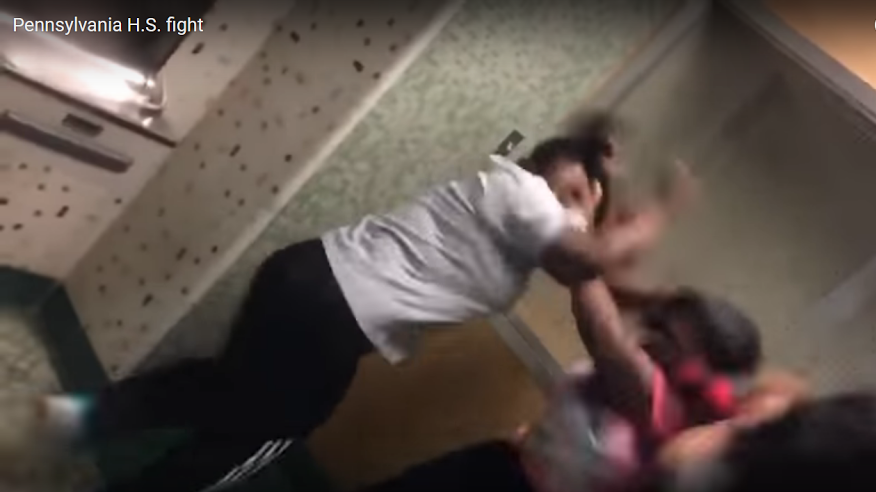 New Observer, "Teachers Flee PA's Nonwhite Schools", 21 Nov 2017:

Around 50 teachers have resigned in the last three months from schools in the Harrisburg, PA, school district, after being forced to flee massed group violence from "students" in the 97 percent nonwhite schools—a portend of what will happen as whites are ethnically cleansed from towns and cities across the country.

According to a report in the Philadelphia CBS Local—which of course ignores the school district's racial make-up—the "teachers in Pennsylvania's capital city are asking for support after a series of violent altercations with students has led to multiple resignations."

Quoting the Harrisburg Education Association President Jody Barksdale, the report says that at least 45 teachers have resigned since July and October, and "more have resigned since then."

Speaking at a school board meeting on Monday evening this week, first-grade teacher Amanda Sheaffer said she "had been hit and kicked by her students."

According to the 2010 Census—which is already nearly seven years old—Harrisburg's white population had dwindled to 30.65 percent, with blacks making up 52.4 percent, Hispanics 18 percent, and others the rest.

However, the school demographic is far more revealing about the ethnic cleansing taking place in that state's capital.

According to the official "Harrisburg School District, 2012 – 2013 District Profile" (which is also four years old), there are a total of 6,311 students at Elementary, Secondary, and High School level in that district.

The breakdown by "Race/Ethnicity," the statistics continue, are as follows:

"African American 64.09%

"Hispanic 26.27%

"Caucasian 3.45%

"Asian 5.36%

"Multi-Racial/Other 0.78%

"American Indian 0.05%"

Even given that "Caucasian" could mean (such as North African, or Arab—or white), it is thus fair to assume that the actual white element of the school population is around three percent.

The official statistics reveal further that there are students from 23 countries enrolled in the district's schools, and that they speak "over 18" languages.

Significantly, the official statistics reveal that the "Adequate Yearly Progress" (AYP—a measurement defined by the United States federal No Child Left Behind Act that allows the U.S. Department of Education to determine how every public school and school district in the country is performing academically) of the Harrisburg school district is sub-standard.

According to the official "Assessment Data: District 2011-12 AYP Status," report, overall the Harrisburg School district has an AYP status of 35 percent in mathematics, 34 percent in reading, 23 percent in science, and 41 percent in writing.

Finally, the official statistics reveal that 57 percent of all the employees in the Harrisburg School District are "Caucasian," 36 percent are "African American," 5 percent are Hispanic, and one percent are Asian and "Multiracial/Other."

The collapse of Harrisburg School District—a decline mirrored in other cities across America after whites had been ethnically cleansed out of those regions—is the latest clear indication of what will happen unless the displacement of white people is not only halted, but reversed.

Vancouver Sun, "The most 'Asian' city outside Asia."

What is the significance of Metro Vancouver becoming the most "Asian" city outside Asia? Forty-three per cent of Metro Vancouver residents have an Asian heritage, which is a much higher proportion than any other major city outside the continent of Asia.

Based on Statistic Canada reports, the number of those with Asian roots in Metro Vancouver will continue to grow at a faster rate than the non-Asian population.

Around the globe, the only major cities outside Asia that come close to Metro Vancouver for their portion of residents with Asian backgrounds are San Francisco (33 per cent Asian), London, England (21 per cent), Metro Toronto (35 per cent), Calgary (23 per cent) and Sydney, Australia.
Vancouver Sun, "Three million people snap up Canada's 10-year visas."

The global appetite for Canada's new 10-year visas appears insatiable, especially in China.

More than three million people from countries with which Canada has long had travel restrictions have obtained the 10-year, multiple-entry visas since the program began in 2014.

With almost half the 10-year visas being handed out in Mainland China, where Prime Minister Justin Trudeau's government this year opened seven new visa offices, the province of B.C., more than anywhere in Canada, has experienced a surge of visitors.

Immigration specialists say the 10-year visas are having multiple effects on Canada. They've markedly boosted tourism. And they've helped re-connect globally far-flung families for extended periods.

But they have also been vulnerable to abuse by rich trans-nationals with families in Canada who seek to avoid paying Canadian income taxes on their global income.

More than 1.4 million Mainland Chinese have gone through the vetting process to obtain Canada's 10-year visa, which allows visits of up to six months at a time.

More than 716,000 people from India have also obtained multiple-entry visas, followed by 273,000 from Brazil and 140,000 from the Philippines.

The federal government says Mainland China visitors now spend $1 billion a year in Canada. Travel from that country has soared and China has become Canada's third largest source of visitors after the U.S. and the U.K.

George Lee, a Burnaby immigration lawyer who was born in China, says Metro Vancouver hotels, retailers and restaurants are responding to the swelling stream of Chinese visitors by hiring more Mandarin-speaking employees and even making sure their staff "serve Coca-Cola warm," the custom in China.

In addition, Lee said wealthy Mainland Chinese visitors are increasingly buying hotels, resorts and residential real estate in B.C., particularly in Metro Vancouver and on Vancouver Island.

"Vancouver has become a global village," Lee said. "When we encounter a new trend … some, if not most, dislike it. They feel challenged and intimidated. But eventually people will get used to it."
"Aspen Institute": (((Panel discusses))) Active Measures
The Alt-Right is discussed in minute 14:45:
Evelyn Farkas: Former Assistant Secretary of Defense for Russia, Ukraine and Eurasia: 14:45: It drives me crazy when Former Director Comey says that the Russians are coming back. To your point, they never left. I mean they're still here, they have all that information, they're in our cyber- and in our information-sphere.

Ned Price: And its broader than just Wikileaks and the overt or semi overt organs of the Russian government. I think one thing we noticed even after the election; you take the sort of trending story in Alt-Right or so-called Alt-Right circles: [example] hashtag #Syriahoax started in Russia and somehow make their way to the United States and started trending in some of the same circles that are collectively known as the Alt-Right. And I think the linkage between the two is not something we fully understand; how something jumps across he Atlantic like that and tends to land with the same group of people after originating in pro-Russia circles.
Now we need a non-Jewish panel discussing Israeli and Jewish influence over the American electorate - lol.
..in fact, there are some questions toward the end that bear upon that -
Charlie D. from Duke Law: 52:00: Would it help if we broadened the discussion about all foreign nations who are trying to influence our campaigns?

Panel averts the question -

Ned Price: 52:19: I would start with the proposition that it's natural for governments to have policy preferences. Clearly I would suspect lots of the NATO member countries were made uncomfortable listening to Donald Trump during the campaign speak of NATO being obsolete. I think that the issue is that in today's environment there has been attempt at criminalization on policy preferences on the part of foreign capitals. But I think we have to remember is a far cry from a NATO country, you know, privately rooting for Hillary Clinton and a strategic adversary getting involved in our election with Active Measures, covert influence, social media, you name it.

Julia Ioffe: They weren't probing and scanning our election infrastructure, yeah.

Audience Member: Have any of you considered the business role of the president and Russia; because he has, right now, no one will lend him money in New York City, no one will do business with him in New York City. He owes a great deal of money. Where does he get the money? There are a lot of rumors that he gets it from Russia. Have any of your explored any of that?

Julia Ioffe: 53:48: Both of his sons said that he (Trump) gets most of his money from them (Russia) ...and its not a crazy proposition either that if he's doing real estate in New York and Florida ...and guess where (((Russians))) who want to park their money outside of Russia, guess where they want to buy real estate? - (((New York and Florida))).
Anthony McClanahan, 46, a former player for the Dallas Cowboys, is accused of being a suspect in the grisly murder of his wife, Keri "KC" McClanahan, 28, who was found dead in a Park City condominium resort.

Adding another twist, McClanahan, a former college football star before he was signed and then cut by the Cowboys in the 1990s, is also accused of kidnapping his young son in an earlier case. He was identified as a suspect in the murder of Keri in court documents in the earlier case, which occurred in October.

On social media, the couple's photos tell the story of a happy couple devoted to fitness, children, and disaster relief (Keri was the mother of two children, but Anthony was not their father.) However, Keri's sister told a different story to the Tribune.

She told the newspaper that "there had been a history of domestic violence in the relationship," reported the newspaper. "Since Keri and Anthony McClanahan's marriage in January, Keri McClanahan had fled from him a couple of times, her sister said. On one occasion, she returned to her home state of Washington, where her family lives, but later returned to the home she shared with Anthony McClanahan in Arizona.

Recently, Keri McClanahan had 'sought refuge' in Utah, the sister said." According to the Salt Lake Tribune, Keri's sister said that "Anthony McClanahan tried to blame his behavior on injuries he'd suffered while playing football."

In the separate kidnapping case, he was accused in early October of "child kidnapping" in a case in which Anthony McClanahan "is accused of taking his son from school and refusing to release him to the boy's mother," KUTV reported. That case is still pending, but authorities revealed in court documents associated with it that McClanahan had been detained and was a suspect in his wife's murder. Source, Heavy.
National Vanguard, "Indicted New Jersey Police Chief Says Blacks are Like ISIS: Worthless", 3 Nov 2017:

Former Bordentown Township N.J. Police Chief, Frank Nucera Jr.

60-year-old local chief now facing Federal charges from FBI, US Attorney, that could result in 20 years in the largely-Black Federal prison system — the equivalent of a death sentence at worst and a life sentence at best.

THE FORMER chief of police of Bordentown Township, NJ has been charged with "hate crimes" by the Trump Justice Department after using racial slurs in relation to Black people and allegedly using excessive force on a Black criminal. New Jersey has seen a massive increase in non-White crime and population in the last several decades.

The controlled media reported that Frank Nucera Jr., the former police chief of the predominantly White small town outside Trenton, had been secretly recorded for months by one of his officers, the racial ancestry of whom has not been disclosed. (Nucera was also recently Bordentown's Township Manager.)

The officer recorded Nucera, who retired from his Police Chief position in February, speaking about a Black arrested for slashing the tires of a police cruiser: "Niggers are like ISIS, they have no value," Nucera told the officer secretly recording him.

The audio recordings captured several instances of his use of negative remarks directed at Black people: "They should line them all up and mow 'em all down," Nucera said, according to the complaint. "I'd like to be on the firing squad, I could do it." In one of the recordings outlined by prosecutors, Nucera said of Blacks that he was "tired of them" and "it's getting to the point where I could shoot one."

The complaint says two officers responded when a Bordentown Ramada Inn manager reported an 18-year-old Black male with a 16-year-old girl (her race unstated by the controlled media) had obtained a room under false pretenses and had used the pool at the motel. The Black apparently invited five other Blacks to the "party" (evident from Nucera's alleged remarks, though unreported by the controlled media), whose unruly behavior alarmed the manager.

When officers arrived, the Blacks resisted them and pepper spray was used by the police. Additional officers, including Nucera, arrived after the Blacks resisted arrest.

The 18-year-old Black male was being led to a stairwell when he stopped walking and began shouting at the officers. The complaint says an officer had placed his hand on the suspect's back to push him forward when Nucera approached from behind, grabbed the teen's head and pushed it. It allegedly struck a metal doorjamb separating the hallway from the stairwell. The suspect at first asked to be sent to the hospital, but later retracted that request.

In a recorded conversation at the police station after the arrest, Nucera said "it would have been nice" if a K9 unit had come to the hotel. "That dog, that dog will stop anything right then and there, I'm telling you. . . You'd have seen two f**king niggers stop dead in their tracks. I love when they do that. I just love that," the chief allegedly said, according to the complaint.

Acting New Jersey U.S. Attorney William E. Fitzpatrick (right) and "FBI Special Agent in Charge" Timothy Gallagher: They want to send Chief Nucera to a Black-dominated prison for 20 years — a likely death sentence.

About three months later, the complaint adds, Nucera was recorded as he attempted to defend the use of force at the motel "by arguing that numerous officers had to respond to the call 'cause of six unruly f**king niggers.'"

According to the recently unsealed criminal complaint, Nucera also promoted the use of police guard dogs to prevent disruptive behavior by Blacks at local high school basketball games and at an apartment complex with many Black residents. Bordentown is only 9 percent Black.

Nucera was arrested on "hate crimes" and "civil rights" violations — charges which carry a maximum sentence of 20 years in prison — but was released on $500,000 bond and ordered to give up his guns.

It's important to understand the background of the racial situation in New Jersey. High Black crime has been a fact of life in the area for decades. Many Whites fled Trenton for Bordentown, among other areas, after Black riots resulted in scores of buildings being burnt to the ground in 1968. (And 1968 was the second year of Black riots in the city; in the previous year, rioting was only quelled by bringing in the National Guard.) Also in 1968, White students boycotted Trenton High School because of violent attacks on White students there by the rapidly-increasing Black population. The White resistance, led largely by the racially-conscious Italian-American community there, was significant at first, but with open hostility from Jewish-run media and the federal government through its forced association ("civil rights") laws, the White protests went unheeded and most Whites simply relocated in order to protect their families.


In this 1968 issue of The Trentonian, the widespread destruction caused by "marauding young Negroes" is detailed. Little — except for a worsening of the situation and Jewish control and censorship of the media — has changed since then.
Peter Ling in Trafalgar Sq.

Bill Baillie, regarding democracy, European Outlook, #47:

"Serendipity" - The occurrence and development of events by chance in a happy or beneficial way.

An old copy of Colin Jordan's magazine Gothic Ripples caught my eye. It was from February 1988 and posted by www.jrbooksonline.com

"Peter Ling, a life-long National Socialist, member of the British NSM, died 16/10/87."

I knew Peter Ling in the old days. He is pictured selling Combat at a meeting of the old BNP in Trafalgar Square. He was an accomplished writer, speaker and street fighter. I guessed that he was dead but I never knew the details. His powerful essay, Authoritarianism v Democracy, originally published in Combat in 1959, was reprinted in European Outlook # 5, May 2014. Here is an extract:

"But the most telling and final indictment of democracy is that in time of great human stress and endeavour it rejects and abandons its philosophical basis. In time of war when the ruling interests are really threatened, democratic values go overboard and the erstwhile democracy gears itself immediately to an authoritarian form of government. Even in time of peace democracy does not attempt to organize its armed forces "democratically" or to sail its great ships across the oceans of the world without the strong hand of authority and responsibility at the helm.

What an indictment of democracy that it can only weld its subjects into a single great united whole for the purpose of destruction! That its fundamental wealth and assets, which only too often represent the ill-rewarded toil of generation of its loyal citizens can be squandered overnight in order to procure fantastic financial sums for expenditure upon war and death, but when it comes to building something great for its own people – as a whole that is – in time of peace, the will and the credit dry up, and "Freedom" reigns once more; freedom for the poor to get out of the slums if they can and freedom for the financier to squat in his banking house and receive the lickspittle homage of parliamentarians of all parties."
With regard to capitalism, Bill Baillie writes in the same edition, European Outlook, #47:

Capitalism relies on unmoored physical movement, tenuous interpersonal connections, and sensual whim for its sustenance and has thus both facilitated the historical march of irony and provided a system of nostalgia to act as an opiate by which to provide temporary relief from the agony of meaninglessness. By disseminating palliative symbols and profiting on access to them, this system thrives and immobilizes white populations by reducing their understanding of history to false inevitabilities, superficialities, platitudes, and decontextualized assertions. Our histories, both personal and collective, become a collection of sounds, images, and texts to be bought, sold, and traded based on the emotional appeal of any particular example. There is no need for order, no need for context, and no need for contemplation. All that is required is a desire for temporary escape from the conditions maintained by capitalism.

Inherent in the practice of nostalgia is a search for meaning coupled with the unavoidable psychological tendency to mark the passage of time. These are neither unhealthy nor unnatural impulses on their own but under capitalism, as connections to "blood and soil" weaken, they take on a greater significance and work in concert to manufacture a toxic individual and collective mental state. Rather than producing minds that are energetically oriented towards the future, they produce minds mired in the past, emotionally dependent on the avoidance of reality, trapped by delusions of resurrection and romance. Whole populations of people are reduced to immobility and blind acceptance of whichever way the sociopolitical winds are blowing by dwelling on what are, somewhat paradoxically, calming images of defeat. The system of nostalgia preys on these vulnerabilities. Parasites will always take advantage of easily manipulated biological drives and psychological urges.

It is important, however, to make the distinction between historical memory and nostalgia. Historical memory — so crucial to all nationalisms — is an understanding of history as a part of a living, vital, forward-moving process. It is the integration of the essence of past collective experience into the present. It is the use of history to more deeply understand those forces which act upon groups in the present and which propel history forward. That is to say, it is a sense of history that enables the creation of history. Nostalgia, on the other hand, is a pathological obsession with turning back the clock, of venerating lost eras, of dreaming of racial or civilizational regeneration minus action. It is an inherently reactionary and therefore counterproductive orientation.

In a healthy society, the weakness of nostalgists is marginalized by the vitality of the society itself. After all, it is hard to utterly devote oneself to a romanticized past if that past is no more vital than the present. But under the capitalist order, in which the temporary has more value than the eternal, the trivial is prioritized over the meaningful, and every day brings some new example of social degradation, nostalgists — through little fault of their own, it must be said — blossom and are able to infect the masses with their weakness and indeed are rewarded for doing so. What would have been relatively simple and harmless reminiscences in a healthy society become a state of being in an unhealthy society. This leads ultimately to pessimism and political paralysis. If one's worldview is based on a return to a romanticized past, one will be doomed to failure and misery. Time moves in only one direction.

Instead of an adventurous life, nostalgia begets a safe life. Instead of engagement, nostalgia rewards retreat. Instead of optimism, nostalgia promotes pessimism. Each of us has witnessed the many years of media corporations and socially acceptable public figures reminding whites that we will become minorities in our own lands and that we should warmly embrace this fate. This message is, of course, fairly direct. But working alongside this message is this highly profitable system of nostalgia which temporarily soothes any discomfort. "You, white man," we are told, "are going to be a minority but please just watch this television show rerun, listen to this classic rock band, enjoy this old film and forget about it." Not only does nostalgia offer an escape from reality but upon return — after the high has worn off — one's sense of loss will be heightened. The chasm between the idealized past and unsatisfactory present seems to become increasingly insurmountable. We are conditioned on all sides to accept our demise, directly and indirectly. And we pay good money for this conditioning.

There is little under capitalism that cannot be bought and sold. The natural impulses of the human mind to memorialize its own existence and seek spiritual value provide the capitalist with opportunities to feed on our meaninglessness, on our discomfort in this world, on our desire for a better place, on our loss of hope and energy. Helpless, hopeless, and drugged by the omnipresent symbols of our planned fate, the capitalist is able to work freely with little resistance. The real engines of history become buried under layer upon layer of textual sludge. The system of nostalgia offers for sale an impossible dream which destines the buyer to political impotence and spiritual impoverishment.