Majorityrights News > Category: White Genocide: America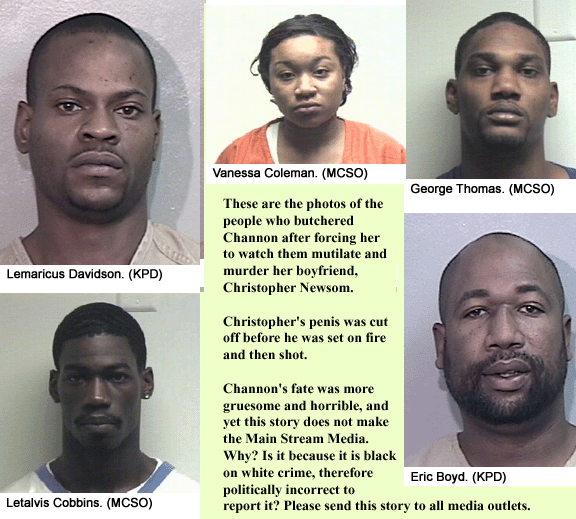 News Sentinel, "Horror of Christian/Newsom killings in focus: What happened on Chipman Street"

In one of Knoxville's most horrific crimes, Channon Christian, 21, and boyfriend Christopher Newsom, 23, were carjacked, kidnapped, raped and slain in January 2007. Five suspects were identified. One was tried federally as an accessory. Four others were tried in Knox County Criminal Court.

A drug scandal involving the judge in those state court proceedings would upend the convictions against two of those suspects. New trials were held, the most recent of which occurred last week.

Through it all, details of the horrors this young couple suffered have eked out. But with each suspect pointing the finger of blame at the other and jurors limited by law in what they are allowed to know, the real story of what happened when the couple were taken hostage and ultimately slain has proved just as elusive as the court cases convoluted.

Setting the stage

The News Sentinel has covered this case since its beginning. With the aid of interviews, trial coverage and transcripts of each defendant's statement to authorities, the newspaper can now offer up a snapshot of not only what happened to these two innocents but exactly who did what to them.

Chipman Street resident Lemaricus Davidson was broke and angry. His girlfriend, Daphne Sutton, had left him. He had no car and no way to earn money.

"Selling dope, that's what I do," Davidson would later tell law enforcement.

Law enforcers knew, however, that Davidson was not simply a drug dealer. He was on parole for carjacking and, in the days leading up to the abduction of Christian and Newsom, was suspected in a series of robberies.

In the days before the couple's abduction, Davidson's brother Letalvis Cobbins came to Knoxville from Kentucky to stay with him. He brought along friend George Thomas and girlfriend Vanessa Coleman.

None of the three had jobs, money or vehicles. Cobbins and Thomas were homeless. Coleman had a salt-of-the-earth family to turn to for help but chose not to.

Davidson grew increasingly angry over what he viewed as the freeloading of his brother and his guests. He turned that anger on Sutton. She left him on Jan. 5, 2007.

A day later, Davidson had concocted a plan to solve all his woes. He, with help from Cobbins and a buddy, Eric Boyd, would carjack someone. Cobbins insisted that he wasn't happy with the idea.

"Me and my brother got to arguing because he said he was going to do some crazy (expletive)," Cobbins said in an interview with law enforcement. "He like, man, I'm fixing to go carjack somebody, man, try and get me some money."

Savaging the victims

Christian and Newsom disappeared Jan. 6, 2007, from the Washington Ridge apartments where Christian's best friend lived.

Hours later, Newsom's body was found alongside railroad tracks near Chipman Street in East Knoxville. He had been raped with an object and then shot three times. The final shot was delivered execution style. He had been gagged with a sock stuffed in his mouth. His ankles were bound with his own belt. His hands were secured behind his back. His face was wrapped in a bandanna. His head was covered with a sweatshirt tied around his neck with shoestrings.Forensic evidence showed that he had been raped in the final hours of his life. He was forced to walk barefoot to the railroad tracks that ran parallel to Chipman Street and shot in the neck and back. As Newsom lay paralyzed on the ground, the muzzle of a .22-caliber gun was placed against his covered head and fired. His body would later be wrapped up in a comforter, doused in gasoline and set afire.

Christian, meanwhile, was tied up inside the Chipman Street house of Davidson, a stranger to her. She was repeatedly raped orally, vaginally and rectally. At some point, she was savagely attacked in her genital region, either kicked or beaten with an object. She suffered two blows to the head and was dragged into the carpeted living room of Davidson's Chipman Street home. Bleach was sprayed down her throat, an apparent effort to destroy DNA evidence. She was hogtied with strips of fabric from a bedding set. Still alive, her body was encased in black garbage bags and her head wrapped in a white plastic grocery bag. Christian was then stuffed inside a trash can and left to die, slowly suffocating.


The house at 2316 Chipman St., Knoxville

Suspect Boyd has long denied any role in the couple's abduction. With no forensic proof tying him to the crimes, authorities were left to prosecute him for hiding out Davidson after the slayings. He is serving an 18-year sentence as a result.

But his statement to authorities provides striking details of the carjacking, details he insisted came from Davidson, not his own memory.

Christian was angry with Newsom because he had tarried in picking her up for the birthday party of a friend. As she sat in the front seat of her Toyota 4-Runner parked outside, Newsom sought to set things right, hugging and kissing her as he stood just outside the driver's side door.

The couple never saw Boyd cruise into the parking lot at Washington Ridge with passengers Davidson and Cobbins. An armed Boyd and Davidson jumped from the car, leaving Cobbins behind. At that point, the pair intended only to rob Christian and Newsom of the SUV. But as they approached the couple, guns drawn, headlights from another vehicle spooked them. They pushed the couple into the SUV.

Testimony has shown that Christian and Newsom were bound in the SUV with whatever cords the assailants could find. Newsom was forced facedown in the vehicle. A bound Christian was dumped onto his back.

With Davidson behind the wheel of Christian's SUV and Cobbins trailing behind in a car Boyd had borrowed from his cousin, the crew headed back to Davidson's Chipman Street home.

There was no doubt then that the couple would die.

"Two white people, white kids, this (expletive) fixing to get crazy, man, you know what I mean?" Cobbins said.

Davidson and his cohorts are black, the victims white. Racial differences have never been suggested as a motivator for what authorities view as a random carjacking.
The perpetrators were never charged with "hate crimes."
... as Recorded by Refugee Resettlement Watch


20 Dec 2016: Terror around the world in the past few days…no thanks to these three 'leaders.'

Pictures speak a thousand words….

How many of you remember that when Obama took office, Turkish President Erdogan was supposed to be his best (only!) friend among world leaders? Later, after she opened the gates to migrant Muslim invaders, Erdogan and Merkel became pals.

21 Dec:

Austin, TX mayor works with White House to welcome Syrians against official state position.
22 Dec:
Obama State Department approves 100 Syrian Muslims for West Virginia state capitol

Where were you WV Republican Senator Shelley Moore Capito and Republican Rep. Alex Mooney? Only two choices!—either asleep-at-the-switch or in support of this move by a local 'interfaith' group to be named a federal subcontracting agency for the purpose of beginning a new refugee resettlement site in the state. (Charleston previously received a few refugees through Catholic Charities, but no where near this scale).


Did Mooney tell this nice lady that he is supporting Syrian Muslim resettlement in the state capitol? Charleston is in Mooney's district. Photo: https://www.nationaljournal.com/s/57741

If Capito and Mooney had put up significant opposition, we would have heard about it and this decision might have turned out differently.

So why go ahead with this new site at the West Virginia state capitol?

For new readers we have followed the growing controversy in Charleston extensively for months, see here.
West Virginia is one of the Whitest (and poorest) states in The United States. It is also one of the most beautiful, at least where Massey Corporation has not strip-mined its mountain tops (and poisoned drinking water and given cancer to locals with that same operation).
21 Dec: 23 years after Black Hawk Down we admit Somali 'refugees' to US at highest rates ever

Here is the map of where they went (again these are the numbers for October 1, 2016 to December 10, 2016). This is the number for resettled refugees only:
Tanya Gersh has called upon Sherry Spencer to sell her Whitefish, Montana building.
Richard Spencer's mother, Sherry Spencer, had no intention of selling her Whitefish, Montana building until she received terrible threats, the threats she said came from Tanya Gersh, a local realtor with links to so-called "human rights" organizations.
According to Sherry Spencer, on November 22nd, Tanya Gersh spoke with her on the phone and she relayed that if Sherry Spencer did not sell her building that 200 protestors and the national media would show up outside - which would drive down the property value - until she complied. Gersh's other conditions included that Mrs. Spencer should publicly denounce her son in a statement written by the Montana Human Rights Network and that she make a donation to this organization from the sale of the property. As Gersh announced on Facebook, she was "spear heading" the campaign.
Gersh followed up on her conditions in a number of emails, which have been made public. She even shamelessly suggested that she act as Sherry's realtor! In other words, she and the local "human rights" organizations appeared to seek financial benefit from threats of protests and reputation damage. They also threatened tenants currently leasing space from Spencer's mom.
Sherry had no intention of selling her property in Whitefish until being harassed and receiving this pressure from Tanya Gersh, as leveraged by threats of protest from the anti-racist protest organizations - Love Lives Here and Montana Human Rights Network - apparently at her behest to serve three functions:
1) To punish her son for promoting White Nationalist sovereignty.
2) To profit her local real estate business by instigating Sherry to a fire sale of her property.
3) To profit liberal groups such as "Love Lives Here" through donation of sale proceeds to them or similar anti-racist organizations: which generally oppose the necessary practice of social classification and discrimination on the basis of those social classifications (a least as Whites may render them - as such, they call it "racism"); despite the fact that capacity for social classification and discrimination is humanly impossible to avoid and absolutely necessary for survival of and against certain human species; as well as a generally necessary practice in defense against predation in order to facilitate human and pervasive ecology.
The mother of white supremacist Richard Spencer claims she is suffering financially due to the backlash against her son's controversial views.

Sherry Spencer, who lives in Whitefish, Montana, said she is being forced to sell a building she owns in the small town because residents are rebelling against her son.


Sherry Spencer says she is being forced to considering selling the building she owns at 22 Lupfer Avenue (pictured), because of backlash against her son.

Richard Spencer shot to prominence last month when footage emerged of him delivering a 'hateful speech' at a white nationalist meeting held to celebrate Donald Trump's election win.

A video by The Atlantic taken inside the Ronald Reagan building showed Spencer, leader of the National Policy Institute, shouting, 'Hail Trump, hail our people, hail victory!' as some of the people in attendance lifted their hands in a Nazi salute.

He also claimed America belongs to white people, who he suggested are faced with the decision to either 'conquer or die'.

The speech drew intense criticism from the US Holocaust Memorial Museum, which said in a statement Spencer made: 'several direct and indirect references to Jews and other minorities, often alluding to Nazism.'

'He spoke in German to quote Nazi propaganda and refer to the mainstream media. He implied that the media was protecting Jewish interests and said, "One wonders if these people are people at all?"'

And according to Sherry Spencer, the criticism has been echoed by people in her hometown - where he son also has a business registered and visits regularly.

Sherry Spencer told KTMF she is selling a building she owns at 22 Lupfer Avenue, which she currently sublets. It houses a beauty salon and vacation rentals. She also runs a real estate business from the building.

'As painful as this is, I am exploring a potential sale of the building,' she said.

She also took aim at a local human rights group, Love Lives Here, and accused it of damaging her family.

'We are stunned by the actions of Love Lives Here, an organization claiming to advocate tolerance and equal treatment of all citizens, yet coursing financial harm to many innocent parties,' she said.

One of the strongest opponents to Sherry is local real estate agent Tanya Gersh, who said Spencer has backed her son and allowed him to spread his views.

'She is profiting off of the people of the local community, all the while having facilitated Richard's work spreading hate by letting him live and use her home address for his organization,' Gersh told the network.

Love Lives Here also responded to Sherry's remarks, saying it 'did not know what she (was) talking about'.

'We don't cause financial harm to anybody,' co-founder Ina Albert said, before going on to say the group does not have a specific problem with the Spencers.

'I don't know what (Richard) does when he comes here. But that is not our problem with Richard Spencer.

'It is the National Policy Institute and what that stands for and our town being smeared by his philosophy.'

The National Policy Institute was established in 2005 by Spencer, and it is described by the Southern Poverty Law Center as 'hate group'.

Gersh went on to call for Sherry to sell the building immediately, and then use the money to help human rights causes.

'(She) Could address this by selling the building, making a donation to human rights efforts, and making a statement in opposition to white supremacist ideas spread by Richard,' Gersh said.

Sherry Spencer also told the network she loves her son, but does not agree with his 'extreme positions'.


Sherry Spencer is pictured with her husband Dr. Rand Spencer at a benefit in April 2016
As Sherry Spencer writes:

These threats came from Tanya Gersh, a local realtor with links to "human rights" organizations Love Lives Here [Phone: 406-309-5678] and the Montana Human Rights Network [Phone:406-442-5506].

On November 22, Gersh and I spoke on the phone. She relayed to me that if I did not sell my building, 200 protesters and national media would show up outside — which would drive down the property value — until I complied. Gersh's other conditions included that I make a public denunciation of my son in a statement written by the Montana Human Rights Network and that I make a donation to this organization from the sale of the property. As Gersh announced on Facebook, she was "spear heading" the campaign.

Gersh followed up on her conditions in a number of emails, which I've just made public. She even shamelessly suggested that she act as my realtor! In other words, she and the local "human rights" organizations appeared to seek financial benefit from threats of protests and reputation damage.
Creativity Movement Toronto, "Matt Harrigan gets a slap on the wrist…Matt Hale gets 40 years!" 24 Nov 2016:

Shortly after Donald Trump was elected to be the next President of the United States, Matt Harrigan the CEO of a Cybersecurity firm, threatened to kill him! Harrigan posted his threats on his facebook page or some F/B group page. Some of his threats…

" I'm going to kill the president. Elect." . " Bring it Secret Service".. " Nope, getting a sniper rifle and perching myself where it counts. Find a bedroom in the whitehouse that suits you motherfucker I'll find you."

Screen shot of threats

Harrigan has since apologised. "My humble apologies that a flawed joke has become public/out of context." Harrigan also resigned as the CEO of the company he worked for. He claimed to be surprised that his posts had become viral public consumption as they were only intended for his circle of friends, he was the CEO of a cybersecurity firm yet was surprised when his threats became viral?, he also played the drunk card. Harrigan was interviewed by the Secret Service and said he does not anticipate any charges.

BREITBART…...CEO Who threatened to kill Trump now blames Drunkenness

Rev Matt Hale was convicted of soliciting an FBI informant (Tony Evola) to kill Federal Judge Joan Lefkow and was subsequently sentenced to 40 years in prison. Rev Hale was set up by the government. I will not go into the details of his abduction by the government here as most of our readers are quite aware them. For those unaware of the details…

Poor Matt Hale was set up by an FBI informant posing as his security guard. From what I understand, the informant asked Matt "if he wanted to do something about the judge handling his case" (of a patent violation - a Jewish man had copyrighted the logo of Matt's church in order to file suit against him for copyright violation); Matt responded "yes, but don't do anything illegal." The Feds apparently wanted so badly to get Matt Hale incarcerated that that was "enough evidence" to sentence him for 40 years. Tragic. - DanielS

..

FREE MATT HALE!

I will play devils advocate and say the "evidence" used to convict Rev Matt Hale was valid, all the prosecutor had was hearsay from a government informant that Hale wanted a judge killed. There was no written pronouncement of his supposed intentions. Even if he was guilty of what he was accused of the sentence was extreme. I'm sure a president elect Trumps a Judge? Harrigan posted clearly for all to see that he himself was going to kill the President elect! All he had to do was resign from his job and apologise for his inappropriate conduct. If Rev Hale were to apologise for his supposed misdeed and claim that it evolved from a drunken state, would he be afforded the same leniency given to Harrigan? The answer of course is no, the government entrapped Hale to get him to shut up, he was awakening far too many people, he needed to be silenced for the Zionist narrative(s) to remain intact. The Harrigan incident just further solidifies the fact that the unjust and harsh punishment that Rev Hale received was undeserved and contrived.

I do not want Matt Harrigan to be held to the same standard as Matt Hale, I want Matt Hale to be held to the same standard as Matt Harrigan.

For Natures Finest
Brother Smith
Al.com, "Pair charged in explosive device at elementary school; planned to shoot cops, start race war", 24 Nov 2016:

A convicted felon who claims he wanted to shoot cops is behind bars in connection with the explosives device planted outside of a Trussville elementary school.

Authorities today announced state charges against 35-year-old Zachary Edwards and 34-year-old Raphel Dilligard, both of eastern Birmingham. They are charged with possession of a hoax destructive device, rendering false alarm and making terrorist threats, said Trussville police Capt. Jeff Bridges.

The warrants were issued this morning after the week-long probe by the federal Bureau of Alcohol, Tobacco, Firearms and Explosives, Trussville police, the Alabama State Fire Marshal's Office, the Alabama Law Enforcement Agency and the Jefferson County Sheriff's Office.

Edwards claimed to be a member of the Black Panthers and the Black Mafia, but authorities have not yet confirmed his reported associations with any organized group. "My guys believe this individual to be a very dangerous person,'' said Dave Hyche, ATF's assistant special agent in charge in Alabama.

Lawmen responded en masse to Magnolia Elementary School on Wednesday, Nov. 16, after they received a 911 from a woman who reported seeing a Hispanic male place the package on a pickup truck that belonged to a school cafeteria worker. The package was a box with wires and timer attached.

"When we first saw what we had, we knew this was something to take serious and we put on the full-court press. It disturbed us from the start,'' Hyche said. "I've never seen such a well-orchestrated and rapid response."

Hyche today said the children and staff weren't in any danger from the device, and even if it had been in working condition, it was on the far side of the school where there was no glass.

Teams of lawmen responded to Magnolia Elementary School after a device was found on a car in the school parking lot.

The first break in the case came when investigators were able to trace that 911 to a cell phone that had once been owned by Edwards, said Hyche and Bridges. The 911 call was actually placed by Edwards, who disguised his voice to try to sound like a woman.

Also, the timer – a stopwatch - used on the device was determined to have been sold at Walmart, and Hyche said investigators then analyzed all 18 recent buyers in the area. They quickly eliminated those that would have a legitimate reason for needing a timer – like a track coach - that ultimately led them to the store in Irondale where a woman - later determined to be Dilligard - was seen on video surveillance buying the timer.

Edwards and Dilligard were taken into custody Tuesday evening at their home in the 7700 block of Fifth Avenue South.

Once brought in for questioning, both gave confessions. Edwards admitted to planting the device, and said his plan was to get all police officers and first responders in one place so he could shoot them. "I guess he doesn't like cops,'' Bridges said.

Edwards also talked of using the incident as a diversion so he could commit crimes elsewhere - such as robbing a bank - while the police were tied up at the elementary school, but backed out of that plan.

"Probably because of the overwhelming response to the area,'' Hyche said. "He wanted everybody in one place so he could kill cops. He made it clear to our guys he wanted to commit acts of violence. This arrest probably did stop something bad from happening."

He discussed starting a race war, but authorities didn't elaborate on what he said.

The device – which was disabled in nearby woods – did contain gun powder. "It was painstakingly put together and it also had most of what you need to make a bomb,'' Hyche said. He said, however, that there was no way the device could have detonated, but he didn't elaborate.

Hyche said numerous tips came in to the ATF tip line, many of which named Edwards as the person who left the device. "It was someone that knew him, and was afraid he was going to do something,'' he said.

Edwards has a lengthy criminal record, including a 2000 conviction for second-degree assault. He was sentenced to 10 years in prison with three to serve in that case.

Both suspects are awaiting transport from Trussville to the Jefferson County Jail. Hyche said the investigation is ongoing and they could also face federal charges.
...aaah, soothing, calming immigration

"flows."

..

New Observer, "3,000 Haitian Invaders Per Month", 21 Nov. 2016:

More than 3,000 Haitian invaders are pouring into U.S. every month, exploiting new routes, special policies, and "lax enforcement" by the Obama regime, a secret government intelligence assessment reveals.

The document, revealed by the Washington Post, said that the African invaders are "spreading out across the border, testing crossings in Arizona and Texas."

There, the Washington Times report said, the invaders have been "told they will have an easier time getting through," quoting analysts in a November 17 bulletin from the U.S. Customs and Border Protection's office of intelligence.

It is not only Haitians, but also invaders from the Middle East who have been apprehended on the border, the bulletin added.

The bulletin also warned that word had spread to the 40,000 Haitians now living in Chile, and many of them have also started moving north.

Haitian arrivals at the U.S. southwest border (SWB) have continued to exponentially increase," the intelligence analysts said.
DAILYKENN.com—Donald Trump has promised to provide vouchers to inner city children, allowing them to attend high-quality private schools rather than being locked in to government schools dominated by teachers' unions.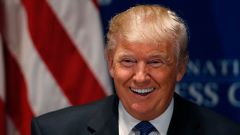 President-elect Donald Trump. (AP)
(CNSNews.com) - Trump's Education Plan: School Choice for 'Every Single Inner City Child in America", 11 Nov 2016:

As presented on the campaign trail and detailed on the Trump-Pence website, President–elect Donald Trump wants to implement school choice programs in all 50 states that will allow students and their parents to pick the school that works best for them, and the money to pay for it will follow the student, not the school bureaucracy.

"If we can put a man on the moon, dig out the Panama Canal, and win two World Wars, then I have no doubt that we, as a nation, can provide school choice to every disadvantaged child in America," said Trump in a Sept. 8 speech in Cleveland, Ohio.

The proposal calls for using $20 billion in federal funds to incentivize the states to start (or expand their existing) school choice programs.

From there, "if the states collectively contribute $110 billion of their own education budgets toward school choice," said Trump, "on top of the $20 billion in federal dollars, that could provide $12,000 in school choice funds to every K-12 student who today lives in poverty."

"The money will follow the student," he said. "That means the student will be able to attend the public, private, charter, or magnet school of their choice – and each state will develop its own system that works for them." Trump reportedly has added home schools to the proposal.

There are a some school choice programs in the United States, but they are limited and vary widely in terms of which schools a student may choose; who is eligible to participate; how many students may participate; and how much funding is available for each program.

For example, California does not offer private school choice, but it allows intra-district and inter-district open enrollment at its public schools, reports the Heritage Foundation. Texas offers the same as California. Virginia does not allow private school choice or public school choice and it has "weak charter school laws, reported Heritage.

In his speech, Trump emphasized the need to help American students in the inner cites to be offered the opportunity to pick their school, which will help them to get on the ladder to success.

"We are one nation, and when any part of our country hurts, our whole country hurts," said Trump. "My goal as president will be to ensure that every child in the nation – African-American, Hispanic-American, all Americans – will be placed on the ladder of success: a great education, a great job."

"The Democratic Party has trapped millions of African-American and Hispanic youth in failing government schools that deny them the opportunity to join the ladder of American success," he said. "It is time to break up that monopoly."

"I want every single inner-city child in America who is today trapped in a failing school to have the freedom – the civil right – to attend the school of their choice," said Trump. "Our government spends more than enough money to easily pay for this initiative, with billions left over. It's simply a matter of putting students first, not the education bureaucracy."

He then explained that the United States, at the state and federal levels, spends approximately $620 billion on K-12 education each year. (The federal government kicks in $64 billion and states provide about $570 billion.) That averages to $12,296 for every student.

Chicago, for instance, spends about $11,976 per student, said Trump, and Los Angeles spends about $10,602. New York City spends $20,226 per student.

By offering $20 billion more in federal funds to encourage states to participate in school choice – to establish (or expand) their own programs for their citizens – "it would create a massive education market that is competitive and produces better outcomes," said Trump. (Currently, only about $1.9 billion is spent on school choice programs nationwide.)

The $20 billion would be allocated to states that "have private school choice and charter laws, encouraging them to participate," said Trump.

"These schools would then cater to the needs of the individual student and family, not the needs of the Teachers' Union," he said. "But the $20 billion is only the beginning," said Trump. "As president, I will establish the national goal of providing school choice to every American child living in poverty…. Each state will develop its own formula, but we want the dollars to follow the student."

"I will use the pulpit of the presidency to campaign for this in all 50 states," he said, "and I will call upon the American people to elect officials at the city, state and federal level who support school choice."
Way to go White Trump voters!
Trump, ever "the advocate of White working people," has determined that it is teacher's unions and the capacity for educators to be discriminatory (by the de facto means in this case, of pricing out the pattern) of black menace to White school children, that is the problem - not the blacks: Donald is all for this group of Americans: in fact, it is the only racial/ethnic group that he explicitly supports.
Independent, "How does the electoral college work in the US election? And is it really the best system?", 8 Nov 2016:

A run-down of how the American president will be elected and why it matters

Map of how many electoral votes each state has to cast. 270 to Win

With polling showing the race between Hillary Clinton and Donald Trump is tight, the way in which the votes are counted is crucial.

Here is a run-down of the US Electoral College voting system and why it matters so much.

How does the Electoral College system work?

The US president is not directly chosen by voters, but by 'electors' that people in a state vote for.

The more people in a state, the more electors an area has. For example, Texas has a population of 25 million and is afforded 38 Electoral College votes, while Delaware has a population of 936,000 and has only three votes.

There are 538 electors in total, corresponding to 435 members of Congress, 100 Senators and three additional electors for the District of Columbia. They will meet in their respective states on 19 December to ultimately elect the President.

Why is the Electoral College in place?

The system was established to ensure regional balance — it makes it mathematically impossible for a candidate with large amounts of support in just one region to overwhelm the vote.

What are the criticisms of the Electoral College?

It renders safe states almost irrelevant to the result of the election: for example it does not matter if Ms Clinton wins a state by five or 40 per cent, she will still get the same number of Electoral College votes.

Five states can vote to legalize marijuana on Election Day

Instead, the result hinges on a handful of states that are politically divided, which some say is undemocratic.

The swing states have a lot of power because most of them choose to elect whoever is the state-wide winner, regardless of the margin they won by.

If Mr Trump wins or loses by a tiny fraction in Florida, for example, all 29 votes flip depending on it.

Analysts also say the system favours smaller and more rural states, since the minimum number of electors a state can have is three — so states with very small populations are over-represented.

And the system technically allows the electors to hijack the result, since it is not certain the electors will vote the way their state does.

Although around 30 of the 50 states have passed laws – meaning their electors must vote according to the popular vote in their state – the punishment for not doing so can merely be a fine. This means they could potentially defy the electorate's choice.

Almost every state chooses to allocate all its Electoral College votes to whoever comes in first place statewide, regardless of their margin of victory.

Whoever gets to 270 electoral votes first – the majority of the 578 total votes – will win the election.