Majorityrights News > Category: White Genocide: America
...he gets the wrong answer, of course. Garbage in means garbage out:
Emile Bruneau recently invited Muslim students and staff at the University of Pennsylvania to help him figure out one of the most pressing questions of our time: How can we stop despising each other?
Bruneau wanted to know more about what kind of arguments effectively combat common prejudices: that Muslims are terrorists, that they don't want to assimilate, that they are intolerant and hate American freedom. Liberals often believe that Muslim women are oppressed. He enlisted members of the Muslim Students Association to look for videos they thought might prove persuasive. He thought firsthand experience with discrimination might be helpful. (He's also working with former white nationalists.) He was looking, he told them, for "individualized psychological medicine."
What worked best was a "very cerebral" video from Al Jazeera in which a Muslim woman said blaming all Muslims for terrorism was like blaming all Christians for the actions of Westboro Baptist Church or the KKK.
The question to ask is not, "how can we bridge our divides and induce Abrahamic religions and peoples to accept one another?"
It is rather to ask, "how can we disabuse people of Abrahamic religion and its universal imperialism in order to defend ethno-nationalism and human ecology against it; and failing completion of that task, contain its extant effects on people; keep our sane interests from being affected by its intransigent elements and lingering influences?"
Communicology is a fascinating and eminently useful discipline that we will be applying here at MR - correctly, unlike this effort from the Annenberg school. Nevertheless, there are some interesting take-away propositions here - notably, that Americans are low information decision makers, therefore equipping them with particularly helpful analogies for them to rationalize their coming to a position we like for them (in our case, we would want them to come to a natural and healthy ethnonationalist position for them and their people) is liable to work better than emotional appeals, despite a commonly ascribed-to school of thought which holds emotions to be the effective means to that end.
Philly.com, "Penn professor uses science to bridge the political divide", 2 April 2017:


Emile Bruneau studies conflict between groups and how to combat prejudice at the University of Pennsylvania's Annenberg School of Communication.

Emile Bruneau recently invited Muslim students and staff at the University of Pennsylvania to help him figure out one of the most pressing questions of our time: How can we stop despising each other?

Muslims and Christians may have been the groups he had in mind that day, but Bruneau, a child of California hippies who took an unusual route to Penn's Annenberg School for Communication, ultimately has broader goals in mind. What if there is a psychological key that could defuse the animosity between hate-filled groups around the globe? That includes U.S. Republicans and Democrats, who, his research has found, are almost as alienated from one another as Palestinians and Israelis. The only difference, he said, "is that we're not actually killing each other."

Most of us think the antidote to hate and close-mindedness is emotional. But, so far, Bruneau's research shows that the way to the mind is not necessarily through the heart. In fact, he believes, the way to the heart is through the mind.

Bruneau wanted to know more about what kind of arguments effectively combat common prejudices: that Muslims are terrorists, that they don't want to assimilate, that they are intolerant and hate American freedom. Liberals often believe that Muslim women are oppressed. He enlisted members of the Muslim Students Association to look for videos they thought might prove persuasive. He thought firsthand experience with discrimination might be helpful. (He's also working with former white nationalists.) He was looking, he told them, for "individualized psychological medicine."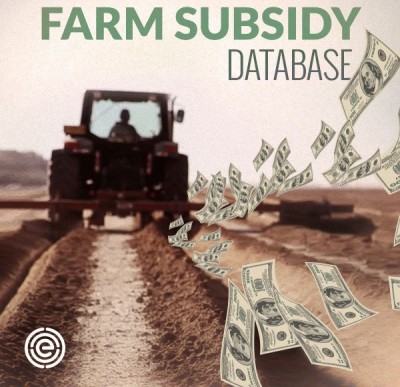 Reveal News, "White nationalist gets his money from cotton fields – and the government", By Lance Williams 17 March 2017:

Topics: Accountability

Two weeks after last year's presidential election, white nationalist Richard Spencer held forth on a cable news show about how white people built America.

"White people ultimately don't need other races in order to succeed," he told the audience of the black-oriented program, "NewsOne Now."

The exchange grew heated as host Roland Martin questioned Spencer's rhetoric: Didn't slaves help build America? Wasn't the nation's 19th-century economic boom propelled by the slave labor that produced the world's cotton on Southern plantations?

America's rise was "not through black people" and "has nothing to do with slavery," Spencer retorted. "White people could have figured out another way to pick cotton," he said. "We do it now."

He is in a position to know. Spencer, along with his mother and sister, are absentee landlords of 5,200 acres of cotton and corn fields in an impoverished, largely African American region of Louisiana, according to records examined by Reveal from The Center for Investigative Reporting. The farms, controlled by multiple family-owned businesses, are worth millions: A 1,600-acre parcel sold for $4.3 million in 2012.

The Spencer family's farms also are subsidized heavily by the federal government. From 2008 through 2015, the Spencers received $2 million in U.S. farm subsidy payments, according to federal data.

USDA farm subsidy payments to Spencer family companies, 2008-2015

Farm Payments

Dickenhorst Farms $1,014,558
Spencer Farms $524,655
Dickenhorst Trust $201,460
Sher-Di-Je Land $165,029
Poor Richard Partnership $98,878
A-Renee Partnership $78,016
Total $2,082,596

Source: U.S. Department of Agriculture data compiled by the Environmental Working Group

Although Spencer has attracted extensive media attention as a leader of the so-called alt-right movement – particularly after he drew Nazi salutes at an event celebrating Donald Trump's election – he never has explained publicly how he supports himself while actively promoting his agenda via conferences and media appearances. The finances of his nonprofit think tank, the National Policy Institute, are a mystery; the organization hasn't filed a public report since 2013. On Monday, the Los Angeles Times reported that the IRS revoked the institute's tax-exempt status.

Spencer, 38, is a dropout from a Duke University Ph.D. history program who emerged during the Trump campaign as one of the nation's most visible white separatist agitators. In his writing, speeches and interviews, he has given an intellectualized explanation for how he came to advocate creating a whites-only "ethno state" in North America. While in graduate school, he has said, he was compelled by critiques of multiculturalism and political correctness and by demographic data indicating that whites are en route to minority status in the United States.

But the Spencer family's business interests and geographic history suggest a different possible lineage for Richard Spencer's racist politics. The family's farm holdings are a legacy of its ties to the Jim Crow South, passed down by Spencer's grandfather, who built the business during the turbulent civil rights era.

Spencer family land holdings in Louisiana
Farming company Parish Acreage
Dickenhorst Farms Tensas 1,888
Dickenhorst Farms East Carroll 967
Sher-Di-Je Land Tensas 1,186
A-Renee Partners Madison 753
Poor Richard Partnership Franklin 400
Spencer, Sherry Madison 90
Total 5,284

Sources: Louisiana Tax Commission parish tax rolls; parish assessment records

Spencer declined in an interview this week to discuss how much money he personally receives from cotton farming and government subsidies and whether that income funds his political activities.

"I'm not involved in any direct day-to-day running of the business," he said, later adding: "I'm going to navigate the world as it is, and I'm not going to be a pauper."

One Spencer family farming company, which holds title to 400 acres of land, is called the Poor Richard Partnership.

In the interview, Spencer also downplayed his family's influence on his political views, saying, "My parents are very mainstream Episcopalian Republicans in Dallas."

Although Spencer grew up in an affluent neighborhood of Dallas and now splits his time between Montana and Washington, D.C., his family lived in the South for generations. Records show his mother attended segregated schools as a girl in the small northeast Louisiana city of Monroe. Later, Spencer's mother inherited farms in northeast Louisiana from her late father. Today, her two children are her business partners.

Spencer's mother did not respond to an email and voicemails seeking comment for this story. In the past, she has said she does not share her son's views. In an open letter sent to their local newspaper in December, Spencer's parents, Sherry and Rand, said that while they love their son, "we are not racists. We have never been racists. We do not endorse the idea of white nationalism."

The region that is home to the Spencers' farms has a history of slavery and racism. Through the civil rights era, the Klan targeted black residents there with lynchings, cross burnings and other violence. In Tensas Parish, where the Spencers own 3,000 acres of farmland, blacks didn't win the right to vote until 1964, according to Elvadus Fields Jr., mayor of the town of St. Joseph.

White supremacist views typically run in the family, said writer and race relations expert Cleo Scott Brown. Feelings of racial superiority often are passed "from generation to generation, because that's what they believe," said Brown, whose father – a civil rights leader in East Carroll Parish, where the Spencers own 900 acres of farmland – was shot and wounded during a 1962 voter registration drive, allegedly by a member of the Ku Klux Klan.

Agribusiness in the region today is heavily mechanized and provides few jobs. In 2013, CNN reported that East Carroll Parish suffers from the worst income inequality in the nation: The richest 5 percent of residents earned an average of $611,000 per year, 90 times what the poorest 20 percent earned. The parish's population is 67 percent black.

Ownership of Spencer family farming companies

Farming company

Owners
Dickenhorst Farms Sherry Spencer, Richard Spencer and sister
Dickenhorst Trust Dickenhorst Farms (Sherry Spencer, Richard Spencer and sister)
Sher-Di-Je Land Dickenhorst Farms (Sherry Spencer, Richard Spencer and sister)
Spencer Farms Sherry Spencer
Poor Richard Partnership Sherry Spencer*
A-Renee Partners Sherry Spencer and daughter

*Records show that Richard Spencer has received subsidy income from the partnership but don't identify him as an owner.

Sources: U.S. Department of Agriculture data compiled by the Environmental Working Group; Louisiana secretary of state filings

Race relations have improved significantly in recent decades. But after Trump's election, some white residents celebrated by draping their pickup trucks with Confederate flags and driving through the region's towns, according to the Rev. Roosevelt Grant, head of the NAACP branch in Winnsboro, Franklin Parish, near another of the Spencers' farms.

The Trump presidency, he said, "has caused people to pray more."

Spencer's maternal grandfather, Dr. R.W. Dickenhorst, established the family farming business. He was a radiologist who started a medical practice in Monroe in 1952 and became wealthy and socially prominent, according to local newspaper obituaries.

Racial segregation was a given in Monroe then. Blacks were barred from housing, schools and public facilities used by whites. White superiority "was the way of life; that was the way it was, and anyone challenging it was challenging God's will," said the Rev. Roosevelt Wright Jr., a local historian in Monroe.

Dickenhorst's daughter, Sherry, who would grow up to be Richard Spencer's mother, enrolled in all-white Neville High School in 1962, according to district records. In 1964, at the start of her junior year, integration of the school began, with a single African American student enrolling.

As Dickenhorst's medical practice prospered, he bought farmland in northeast Louisiana on the Mississippi River's west bank. He died decades later, in 2002, and his wife died the following year. By then, their only daughter was the wife of a wealthy Dallas eye surgeon and the mother of two grown children: Richard Spencer and his sister, who did not respond to an email and phone calls seeking comment.

Today, through Dickenhorst Farms and several related companies, Sherry Spencer, 68, and her two children jointly own most of the family farmland, according to U.S. Department of Agriculture data compiled by the nonprofit Environmental Working Group. Sherry Spencer is general partner of Dickenhorst Farms, and Richard Spencer and his sister are part owners, according to state and federal records. The family contracts out crop production to local farmers, a common practice in a region where corporations and absentee owners control much of the land.

The Spencer family's farms are headquartered at a $3 million home in the ski town of Whitefish, Montana, where Sherry Spencer now lives. Also headquartered there: Richard Spencer's think tank, his AltRight.com website and other white nationalist-related enterprises he controls, including a book publisher and web design outfit. Spencer also has lived in Whitefish in recent years ­– sometimes in his mother's home, sometimes in a condominium she owns, according to documents and interviews.

The Spencers have received payments from two federal farm programs. One is the commodity subsidy program, intended to guarantee income for farmers who are helping to maintain supplies of certain crops deemed important by the government. The other is the conservation reserve program, which pays farmers for environmentally sound farming practices. Most of the $2 million paid to the Spencers has been in commodity subsidy payments for growing cotton.

Yet, Spencer has been bitterly critical of America and its government.

"This is a sick, disgusting society," he declared in his speech at an alt-right gathering in Washington after the election, "run by the corrupt, defended by hysterics, drunk on self-hatred and degeneracy."
Note: I have no necessary qualms with Spencer's wealth (though ultimately, something like Bowery's/ William Jennings Bryan's progressive land taxation based on site value might be in order) nor do I have anything against his family's alleged history of wanting to live separately from blacks. - DanielS
"We must secure the existence of our people and a future for White children."

TRI-COLORED TREASON - by David Lane

Afflict me no more with your hypocrisy. If you insist on worshiping your executioner, then depart from me, for it is treason against the White race, against nature, against civilization, and against the Gods.

I have come under attack for articles I have written entitled The Right Wing, Cowards, Liars, Screwballs and David Lane on Religion. Also for naming one of the pro-american, anti-communists who profess to care about the continued existence of the White race. I come now to apologize for naming the specific individual and to admit my error. I will now indict them all.

You tell me you are anti-communist and you care about your White kinfolk? Well it was America who turned several million White men over to the Soviets to be outright murdered or die a slow death in slave camps in 1945. But you love America; is it delusion, cowardice, or race treason?

You tell me you are anti-communist and you care about the survival of the White race? Well, the Germans would have destroyed Communism and provided a secure base for the existence of our race in our European homeland fifty years ago if America hadn't intervened to save the Soviet Union and destroy our racial saviors. But you love America; is it delusion, cowardice, or race treason?

You tell me you are anti-communist and you care about your fellow White kinfolk? The Soviet enslavement of two hundred million White people would have ended decades ago except for the financial support of America. But you love America; is it delusion, cowardice, or race treason?

You tell me you hate Communism for what it does to White people in the Soviet Union. But Federal judges destroy and terrorize millions of little White children with their forced busing and integration plans, untold thousands of White women are raped by Negroes every year, the White race is now overrun and mixed probably beyond the point of no return, as a policy of the American government, and you love America. Is it delusion, cowardice, or race treason?

You tell me you hate Communism for what it did or what it does to the White people of Rhodesia and South Africa. Well, it was American political and economic pressure that destroyed White Rhodesia and now destroys White South Africa. And you love America; is it delusion, cowardice, or race treason?

It's a lot safer to talk about those mean, nasty old Communists over there, than to tangle with the head of the snake, the seat of jewish world power, the real murderer of the White race, isn't it? You could end up dead like Robert Mathews, or in prison forever like the Brüder Schweigen. But then I guess we all choose our own priorities. For some its political, economic or religious systems, and for some it's the biological existence of the White race, do or die. Get one thing straight all you double thinkers, self deluders, deceivers and dabblers: America is the murderer of the White race, and if we are to have any chance of resurrecting our race while there is still a gene pool to work with then we are going to face reality, discard our delusions, speak of and act on, the single greatest issue of all time, racial survival.

Oh no you say, it isn't America that's the head of the snake, the murderer of our race, it's just that some bad guys grabbed the reins of "our" government a few years or decades ago. I showed you the real history of "your" government, and America's dominant religion and you ignored me. As always happens when dogma is contradicted by fact, the believers react in the same ways. A few investigate the allegations and accept reality. Others pretend the unpleasant facts don't exist, and still others fly into a rage directed at those with the effrontery to check belief with reason. Or perhaps you just believe that "ancient history" is of no importance or effect. So let's discuss present day America.

You are quite correct that the entirety of the entity called America is not necessarily synonymous with the government in power. America is comprised of many interrelated parts and we will consider the most important components that make the whole: (1) Military power; (2) Police power; (3) Economic tenets; (4) Political tenets; (5) Religion; (6) News media; (7) Entertainment media; (8) Sports; (9) Demographics.

When I am through if you are still able to say the words "White American" then leave the company of sane men, for you can no more be both White and American than you can stop the motion of the planets. If you are not an implacable enemy of America, and all it has been and all it is, you are a traitor to the existence of our race. And if you support the aims or continued existence of the political entity known as America then your treason cannot be calculated in the words of mortals.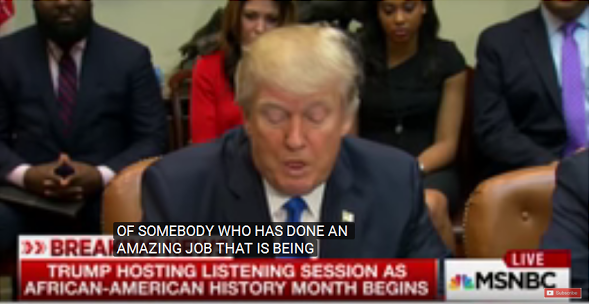 "Frederick Douglass as an example of somebody who has done and amazing job
.....that is being recognized more and more, I notice."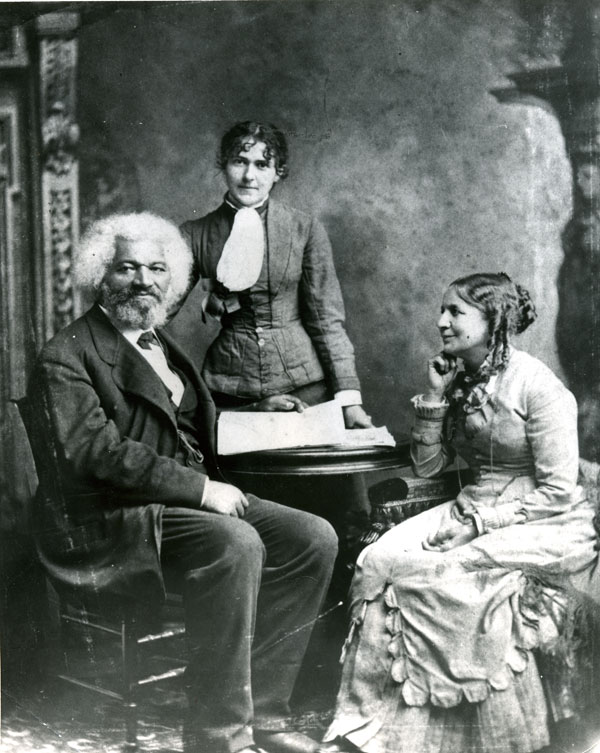 Jerusalem Post, 27 Jan 2017:

"Meet the top Jewish officials in the Trump Administration"

American Jews are watching the beginning of Donald Trump's presidency with both fear and hope. Many have expressed worries about some of his supporters' ties to the so-called "alt-right" movement, whose followers traffic variously in white nationalism, anti-immigration sentiment, anti-Semitism and a disdain for "political correctness." Those fears intensified when Trump named as his chief strategist Stephen Bannon, the former chairman of Breitbart News, a site Bannon once referred to as a "platform" of the alt-right. Trump's strongly conservative Cabinet picks also back policies on health care, the environment, abortion and civil rights often diametrically opposed to the views of most Jewish voters.

Yet others have praised Trump's stance on Israel and his nomination of David Friedman, a bankruptcy lawyer who supports West Bank settlement construction and has expressed doubts about the two-state solution, as US ambassador to Israel. Trump won 24% of the Jewish vote, with especially strong support in the Orthodox community.


(Trump: "We have to protect Israel")


Here is a look at the president's Jewish advisers who will be helping to shape US policy for the next four years.


Jared Kushner

Trump's Orthodox son-in law is serving as a senior adviser to the president. Kushner, the 36-year-old scion of a prominent real estate family from New Jersey, will not receive a salary and will focus on the Middle East and Israel as well as partnerships with the private sector and free trade, according to The New York Times. A day before his appointment was announced, Kushner said he would step down from his role as CEO of his family firm, Kushner Properties.

Kushner, who married Trump's daughter Ivanka in 2009, played a crucial role in the president's campaign, especially on Israel. He worked on Trump's speech to the AIPAC annual policy conference that earned the real estate mogul a standing ovation, and helped plan a trip to Israel for his father-in-law in 2016 (Trump canceled the trip after Prime Minister Benjamin Netanyahu slammed his call to ban Muslim immigration to the United States).

Trump appears to be smitten with Kushner, often referring to his "fantastic" son-in-law when boasting of his pro-Israel credentials.

Kushner may have become a household name during the campaign, but he's no stranger to the limelight. In 2006, at 25, he bought the New York Observer newspaper. Two years later he became CEO of Kushner Properties, four years after his father was sent to jail for tax evasion, illegal campaign donations and witness tampering. In 2015, Fortune named Kushner to its 40 Under 40 list, an "annual ranking of the most influential young people in business."


Stephen Miller

Trump named Miller, who has played a crucial role in his campaign by writing speeches and warming up crowds at rallies, as senior adviser for policy.

Miller, who has described himself as "a practicing Jew," joined the Trump campaign in early 2016, quickly rising through the ranks to become "one of the most important people in the campaign," as Trump's campaign manager told The Wall Street Journal.

Previously the 31-year-old worked for seven years as an aide to Trump's choice for attorney general, Sen. Jeff Sessions, R-Ala., helping the lawmaker draft materials to kill a bipartisan Senate immigration reform bill. Some of Sessions' arguments are similar to the harsh and often controversial statements by Trump on the issue, such as calling for building a wall on the Mexican border and banning Muslim immigration to the US.

Though Miller grew up in a liberal Jewish home in Southern California, he was drawn to conservative causes early. As a high school student he wrote a letter to the editor of a local paper in which he slammed his school for providing free condoms to students and for making announcements both in English and Spanish, among other things.


Carl Icahn

Icahn, a businessman and investor, is serving as a special adviser on regulatory reform issues. He is working as a private citizen rather than a federal employee or special government employee.

An early supporter of Trump's candidacy, Icahn, 80, is the founder of Icahn Enterprises, a diversified conglomerate based in New York City formerly known as American Real Estate Partners. He has also held substantial or controlling positions in numerous American companies over the years, including RJR Nabisco, Texaco, Philips Petroleum, Western Union, Gulf & Western, Viacom, Revlon, Time Warner, Motorola, Chesapeake Energy, Dell, Netflix, Apple and eBay.

Icahn is a major giver to Mount Sinai hospital in New York City, among other philanthropic endeavors. In 2012, he donated $200 million to the renamed Icahn School of Medicine there.

In addition, Icahn established seven Icahn Charter Schools in the Bronx borough of New York.


Steven Mnuchin

Trump picked Mnuchin, a former Goldman Sachs executive who worked as Trump's national finance chairman during the campaign, to serve as Treasury secretary.

Trump and Mnuchin have been friends for 15 years, and prior to being in charge of Trump's campaign finances, Mnuchin, 54, served as an adviser. Part of what The New York Times describes as one of Manhattan's "most influential families," Mnuchin and his father — the prominent art dealer Robert Mnuchin — both became wealthy working at Goldman Sachs. The younger Mnuchin also co-founded the entertainment company RatPac-Dune Entertainment, which has worked on such Hollywood hits as "Avatar" and "Black Swan."

Some saw Trump teaming up with Mnuchin as unusual, considering that the real-estate mogul had consistently bashed Goldman Sachs during his campaign — but it doesn't seem to have hindered a good working relationship.


Boris Epshteyn

Epshteyn, a Republican political strategist who appeared as a Trump surrogate on TV, is working as a special assistant to the president. Epshteyn, who is in his mid-30s, also is serving as assistant communications director for surrogate operations.

A New York-based investment banker and finance attorney, Epshteyn was a communications aide for Sen. John McCain's presidential campaign in 2008, focusing his efforts on the Arizona senator's running mate, then-Alaska Gov. Sarah Palin.

He defended Trump on major TV networks over 100 times, according to The New York Times. TV hosts have described Epshteyn, who moved to the United States from his native Moscow in 1993, as "very combative" and "abrasive."

In 2014, he was charged with misdemeanor assault after being involved in a bar tussle. The charge was dropped after Epshteyn agreed to undergo anger management training and perform community service.


Gary Cohn

Cohn, the outgoing president and chief operating officer at Goldman Sachs, heads the White House National Economic Council. At Goldman Sachs, where he had worked since 1990, Cohn answered to CEO Lloyd Blankfein and was considered a strong candidate to lead the bank.

The 56-year-old father of three has a reputation for abrasiveness, but also for getting things done, according to a Wall Street Journal profile last year. In a 2014 New York Times op-ed, Goldman Sachs executive Greg Smith wrote on the day he resigned that Blankfein and Cohn were responsible for a "decline in the firm's moral fiber" that placed its interests above those of its clients.

Cohn, a Cleveland native, in 2009 funded the Cohn Jewish Student Center at Kent State University named for his parents.

Success wasn't always obvious for Cohn, whose struggle with dyslexia made school difficult for him. But the Goldman Sachs banker, who was featured in a book on underdogs by writer Malcolm Gladwell, told the author that his learning disability also taught him how to deal with failure and that "I wouldn't be where I am today without my dyslexia."
Breitbart, "Pro-Life Leaders on Judge Gorsuch's Nomination
- Donald Trump 'A Man of His Word", 31 Jan 2017:

National pro-life leaders are applauding President Donald Trump's Supreme Court pick, Judge Neil Gorsuch of the Tenth Circuit, to take the seat of the late Justice Antonin Scalia.

"We want to express our thanks to President Trump for nominating a man of such stellar quality as Neil Gorsuch to the Supreme Court," said Operation Rescue president Troy Newman. "One of the reasons I endorsed Trump for president was because of the strong promises he made to pro-life leaders. Now, after less than two weeks in office, he is keeping those promises, and we are very encouraged. He has proved himself to be a man of his word."

"The nomination of Judge Neil Gorsuch to the United States Supreme Court is a tremendous victory for religious freedom and, indeed, for the entire nation," said Father Frank Pavone, national director of Priests for Life. "His reasoned opinions in decisions upholding the rights of groups who — like Priests for Life — have challenged the Obama administration's HHS mandate show that he respects the rights of Americans of all beliefs. His statements in favor of upholding the Constitution are totally in line with those of the late Justice Antonin Scalia. President Trump has made an excellent choice."

Regarding the nomination of Gorsuch, Leonard A. Leo, Trump's Supreme Court Advisor, said the announcement fulfilled the promise the president made to the American people.

"Judge Gorsuch possesses keen intellect, independence of judgment, integrity, courage, and a sense of fairness that is grounded in the Constitution and laws as they are written," Leo said in a statement. "This is what the President very much wanted in a nominee."

"Under our Constitution, power ultimately rests with the people," he added. "This ideal is at the core of Justice Scalia's legacy. As we heard from President Trump's inauguration speech, it is at the core of the President's agenda, and it's very much at the core of what Neil Gorsuch's record is as a jurist."

Rep. Diane Black (R-TN), a member of the Congressional Pro-Life Caucus, reacted to Gorsuch's nomination in a statement:

I applaud President Trump for nominating a fair-minded Constitutionalist like Judge Gorsuch to serve on our highest court. With this selection, President Trump has chosen a respected jurist who will uphold both the spirit and the letter of our law. I am especially encouraged by Judge Gorsuch's opinions in the cases of Hobby Lobby vs. Sebelius and Little Sisters of the Poor vs. Burwell, which display a clear respect for religious freedom that has been missing in too many corners of Washington over the last eight years. He is uniquely qualified for this role, having already been confirmed without opposition to the Tenth Circuit Court of Appeals by the US Senate in 2006, and I know that he will be a worthy successor to the esteemed legacy of Justice Antonin Scalia.

Family Research Council president Tony Perkins attended the White House announcement. He said in a statement:

I was pleased to witness President Trump follow through on his promise and select a nominee from the list he presented during the campaign. The president has been very clear on the type of justices that he would appoint: textualists who will not issue rulings based on the shadows of the Constitution.

Judge Gorsuch's record over the last 14 years, especially on religious liberty, gives Americans every reason to believe he will make a fine Supreme Court justice. His reputation as a judge with integrity and dedication to the Constitution should be an encouragement to all Americans.

Kristan Hawkins, president of Students for Life of America, the nation's largest pro-life youth organization, said:

We are thrilled with Judge Neil Gorsuch's nomination to the US Supreme Court by President Trump, who is continuing to fulfill campaign promises at a breakneck speed. A strict Constitutionalist and firm supporter of religious freedom and liberties dictated by the Founding Fathers, Judge Gorsuch is an excellent replacement for the late Justice Scalia, and one who has the potential to leave a powerful legacy.

The Supreme Court was of great concern to voters this past November and the Senate should take swift action to confirm Judge Gorsuch to the high Court to ensure a full slate of Justices. The Senate unanimously confirmed Judge Gorsuch to the 10th US Circuit of Appeals and they should follow their previous example. We aren't tired of winning yet.
Related Stories:
Rep. Steve King Files Idiotic Federal Pro-Life 'Heartbeat Bill'.
Poland's PiS Party Endorses Draconian Anti-Abortion Law
US Supreme Court: 9 very powerful & influential people - which ones (((are)))?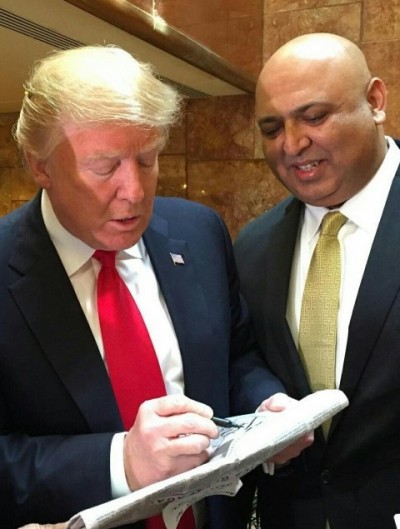 "Don't be surprised if the money he used to buy-up American real estate came from U.S. foreign aid" - TT. Pictured, Trump signalng 181 dimensional chess with Pakistani-American real estate tycoon, Sajid Tarahas, founder of 'Muslims for Trump.'
BBC, "Trump's Hindu, Sikh and Muslim power brokers", 24 Jan 2017:

When Indian-American industrialist Shalabh "Shalli" Kumar donated close to a million dollars to the Trump campaign, many in the community dismissed it as a poor investment.

But today, Mr Kumar is the go-to guy not just for Indian-Americans chasing opportunities in the new administration but apparently for the Indian officials seeking contacts with Trump aides.

A leading Indian TV channel NDTV introduced him as "the man with a direct line to Trump" on their show. Another top-ranking Diaspora website, The American Bazar, has called him "the most influential Indian-American power broker" in DC.

And Kumar isn't complaining about this new celebrity status. "I would like to be the bridge between the two sides," he told the BBC. "I have arranged two big meetings between Indian officials and leading figures in the Trump team."

A majority in the Indian immigrant community have traditionally supported Democrats and Trump's anti-immigrant campaign rhetoric seemed to have further alienated many.

Kumar says he and his Republican Hindu Coalition mobilised Hindu Indian-Americans votes in swing states like Florida.

Their message? Trump was the anti-terrorism candidate, and would help India and US see greater collaboration in defence, energy and manufacturing.


Trump's anti-Muslim rhetoric did appeal to some Hindus, but whether that actually swayed the community at large is unclear.


Kumar is not the only one whose stock has soared with a Trump victory.

Pakistani-American Sajid Tarar, who is a Muslim, and Sikh-American Jesse Singh, sided with Mr Trump at the peak of his anti-Muslim barbs. They were pilloried by their own communities for doing so. One exit poll suggested more than three-quarters of Muslims voted for Clinton.

Mr Tarar's Facebook inbox used to be swamped with negative messages, calling him a "disgrace to Pakistan and Islam".

But on the morning of 9 November, his phone wouldn't stop ringing. Mr Tarar had more than 80 messages congratulating him on Mr Trump's victory and how he had made Pakistan proud.

He says the Pakistan embassy reached out to him to facilitate a call between Pakistani Prime Minister Nawaz Sharif and the President-elect.

"I sent out a few emails and the call happened," says Mr Tarar, a real estate businessman.