Majorityrights News > Category: Journalism
According to Wolff book: Trump was shocked by presidential victory. He had run with anticipation of a loss to Hillary based on her "fake" media support which he could parlay into a "real" media empire by contrast; Bannon warned presidential victory would spotlight Trump's Russian money laundering; Melania cried in stress over "botched plan gone right" which actually landed the presidency for Donald.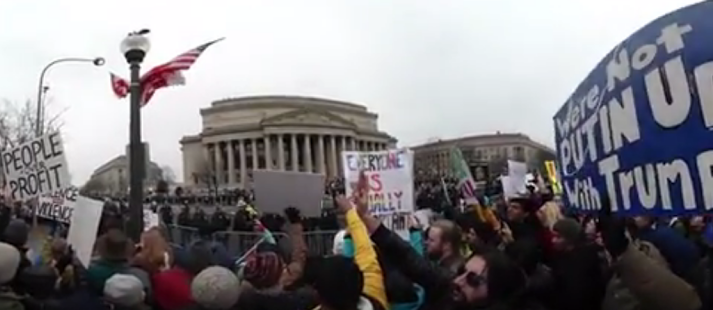 NewsWeek, "Trump Was Horrified When He Won the White House and Melania Cried, Book Claims", 3 Jan 2018:

No one on Donald Trump's presidential campaign team thought Trump would actually become president—and they didn't really want him to either, according to excerpts from Michael Wolff's book published Wednesday in New York magazine.

Now-President Trump, Vice President Mike Pence, Donald Trump Jr., campaign manager Kellyanne Conway and first lady Melania Trump were all reportedly left dumbfounded and afraid on the night of the election in 2016, the book claims. Shortly after 8 on election night, it became clear that Trump had a real shot of becoming president. Wolff wrote that Don Jr. said his father "looked as if he had seen a ghost. Melania was in tears—and not of joy." Steve Bannon, who helped run the Trump campaign and helped Trump's team through the transition, said he saw Trump morph from "a disbelieving Trump and then into a horrified Trump."

A week before the election, Trump was sure he would lose the presidency. But still, according to Wolff's book, he told Ailes that it was "bigger than I ever dreamed of. I don't think about losing, because it isn't losing. We've totally won."

Then he actually won.

Wolff's claims match various reporting on Trump's election: He certainly wanted the fame that goes along with running a successful campaign, but critics theorized that he wasn't quite as happy claiming the job of president. In February, The New York Times reported that Trump misses his access to "fans and supporters — an important source of feedback and validation." The Associated Press wrote that Trump didn't even want to live in the White House.

But Wolff's new book claims Trump and his campaign never planned to win and never wanted to accept the job that comes along with a victory. So once he did take office, the West Wing was in disarray, with Bannon, Ivanka Trump and Jared Kushner all operating in a free-form environment. Bannon, especially, saw his role as creating the "soul" of the White House, according to Wolff. And Trump's own behavior was credited as not befitting the White House.

"Nothing contributed to the chaos and dysfunction of the White House as much as Trump's own behavior," Wolff wrote. "The big deal of being president was just not apparent to him. Most victorious candidates, arriving in the White House from ordinary political life, could not help but be reminded of their transformed circumstances by their sudden elevation to a mansion with palacelike servants and security, a plane at constant readiness, and downstairs a retinue of courtiers and advisers. But this wasn't that different from Trump's former life in Trump Tower, which was actually more commodious and to his taste than the White House."

Wolff's book Fire and Fury: Inside the Trump White House is to be published by Henry Holt & Co. on January 9.
The Hill, "Bannon warned Russia probe would focus on money laundering: report", 3 January 2018:

Former White House chief strategist Stephen Bannon warned that the special counsel investigation into whether the Trump campaign colluded with Russia would focus on money laundering, according to a book to be published next week.

The revelation is included in "Fire and Fury: Inside the Trump White House," a new book by Michael Wolff. The Guardian, which has viewed a copy, published several stories on Wednesday about the book, which includes interviews with Bannon and President Trump.

Trump's former campaign chairman Paul Manafort was charged with money laundering in an October indictment brought by special counsel Robert Mueller, as was his associate Richard Gates.

In Wolff's book, Bannon identifies Weissmann, an attorney on Mueller's team, as a "money-laundering guy."

"You realize where this is going," Bannon said in the book. "This is all about money laundering. Mueller chose Weissmann first and he is a money-laundering guy. Their path to fucking Trump goes right through Paul Manafort, Don Jr and Jared Kushner. … It's as plain as a hair on your face."

"They're going to crack Don Junior like an egg on national TV," Bannon said, referring to the president's eldest son, Donald Trump Jr.

The former White House chief strategist also spoke about the 2016 meeting between Trump Jr. and a group of Russians, describing it as "treasonous."

And Bannon in "Fire and Fury" mentioned connections between Trump's son-in-law, Jared Kushner, and loans taken out from the German Deutsche Bank that have come under scrutiny in relation to the investigation.

In December, federal prosecutors subpoenaed Deutsche Bank for records tied to Kushner's family's real estate business, Kushner Companies.

"It goes through Deutsche Bank and all the Kushner shit," Bannon said of the probe. "The Kushner shit is greasy. They're going to go right through that. They're going to roll those two guys up and say play me or trade me."

Business Insider, "I know why Steve Bannon let Michael Wolff into the White House", 4 Jan 2018:

- Michael Wolff's new book, "The Fire and the Fury," is rocking the Trump White House, and it hasn't even been released yet.

- It has the president turning on former adviser Steve Bannon. This is in part because Bannon helped Wolff gain incredible access to the White House.

- Why? Add this to the long list of ego-driven media mistakes made by the administration - a costly one at that.

- What Bannon didn't count on was that Wolff isn't a soldier in his army.

I feel like I write this all the time, but the White House is in chaos.

The Trump administration is being thrown by the forthcoming publication of Michael Wolff's book "The Fire and The Fury: Inside the Trump White House."

The excerpts, until now jealously guarded at select media outlets like New York Magazine and NBC for weeks, tell of a shockingly incompetent president and the in-over-their-heads aides who openly disrespect him. It is chaos, and someone let Wolff take a front seat and watch it all.

That person, by all accounts, was former White House adviser Stever Bannon. While Trump may have known that the biographer of his idol, Rupert Murdoch, was on site, it was Bannon who ensured Wolff had access.

Why? Consider it one part self-aggrandizement, another part a desire for acceptance, and wholly and completely a continuation of Bannon's desperate search for ideological allies.
Correction: I spoke too soon about Timothy Snyder being an anti-nationalist, and I did that in light of his estimation that Britain and France were not really nations while they were empires, that their "nationhoods" were creations of post hoc political convenience. Nevertheless, to say that he is against nationalism would not be correct, since in fact he sees the weak state and the destruction of the state as that which abets genocide.
Snyder's characterology of how Putin's and Trump's positions have emerged in fairly conjoint construction is uncanny…
As such he does make of himself a useful idiot in that he exposes one side of the YKW equation - the specific origin and characters of their right wing cohorts, Putin and Trump.
Youtube, "A Republic, If You Can Keep It: Masha Gessen Talks Autocracy with Timothy Snyder", 12 July 2017: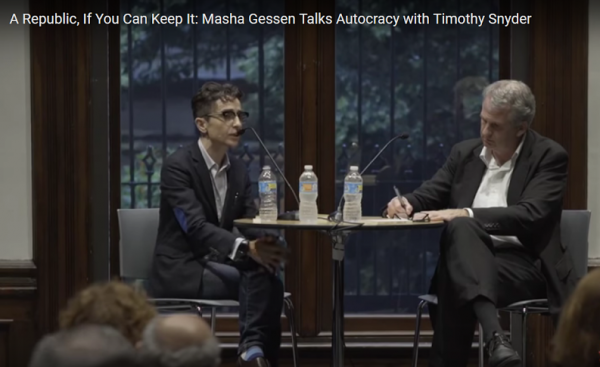 As his fellow Trump/Putin critic, (((Masha Gessen))) would suggest, we would miss the truth of these characters, more like mafia dons than statesmen, if we were to maintain a policy of sheer fact checking. Because essentially, they don't care. They both have a cynical world view and it is about power - logical consistency is for the naive. By contrast to that, one must have the courage and confidence to tell the true story -
Youtube, "Chatham House Primer: Modern Authoritarianism", 30 Oct 2017:


This guy, (Ivan) Ilyin, I think was a very interesting philosopher; he is kind of the grandfather of the current Russian "fascism." Current Russian "fascists" like Alexander Dugin are a little jealous of him and say that he just serves a technical function in the Kremlin and he's not that interesting. I think he's interesting. One of his ideas is that for Russia to have a leader, that person has to be free of history, which is a high demand.

He (Ilyin) was a right-wing Hegelian ...his whole idea was that god created the world and that was a mistake. It's an interesting view, those of you who know anything about Orthodox theology know that there are references… god created the world, it was a mistake, the factuality of the world is itself sinful, history is itself sinful, contingency, to use the technical term, contingency is sinful, all these facts and passions we have, they're inherently sinful.

So, in order for Russia to be rescued it has to be rescued by someone who is somehow clean of history.

It has to be a redeemer who comes from beyond history.

What I find so interesting is that this actually happened in a way.

The place that is not history is fiction.

When Mr. Putin came to power, Surkov and the others in the Kremlin literally had a kind of game and then a public opinion poll where they tried to figure out which Russian fictional character would be most attractive to Russians. They came up with this character (Max Otto von) Stierlitz, who was a double agent and a person in a novel, and in a film, in the 70's, who was a Russian spy who spoke German. That's why they chose Mr. Putin. So, he literally .. this true people! This is the world we live in. So he literally came from fiction.

Then you connect Mr. Putin to Mr. Trump. Mr. Trump is Not a successful real estate developer! That never happened. Mr. Trump bankrupted six companies. He owed billions of dollars to, I think, seventy banks. Until, low and behold, some nice Russians came and said, 'hey, why don't you just put your name on some buildings and we'll give you money for that, and we will build the buildings - which then became his business plan. Which is a great (((business plan))) if you can get it.

Rob Goldstone

relaxing, chatting with Trump

The Miss Universe pageant. How did he run (((the Miss Universe pageant)))? The Russians gave him twenty million dollars and he showed up. Which is a great business plan if you can do it.

So, a fictional Russian character comes to power and then creates a fictional American character called Mr. Trump. This happened!

Once the Russians had bailed him out, he then appeared on American television, on celebrity apprentice, playing a successful real estate developer - which he never was.

But as a character, he was great, he could say, "you're fired!" in a really convincing way.

So, one fictional character then creates another fictional character. And that fictional character also comes to power. ..with the help of all kinds of fictional devices, mostly delivered through the internet. So there really is an interesting problem of (((genre))) going on in our life.
Coalition building among the alt right:
Article currently running at
Alternative Right and Alt-Right: "Only the Alt-Right Can Save the Jews" by Colin Liddell:

Especially during the period in which Netanyahu has dominated its politics (1996-the present), Israel has become increasingly and blatantly ethnonationalist—the very antithesis of what are supposed to be contemporary "Western values" according to the position supported by the Jewish lobby in the West. This more overtly ethnonationalist tendency is driven by demographic shifts within Israel, as well as concerns about terrorism and territorial consolidation. But it also happened because America enjoyed for much of that period a relatively unchallenged hegemony (following the collapse of the Soviet Union), allowing Israel to take liberties it couldn't take in the 1970s and 80s, and which it will find difficult to take in the more Russian-dominated Middle East that is now emerging.

This means, however, that there is now a blatantly exposed moral contradiction at the heart of Israeli position, as it is increasingly recognised that the "Western democratic values" that Jewish organisations promote in the West ("open borders" and anti-nationalism) would in fact destroy Israel, if implemented there. This is something that the Left and the BDS movement clearly understand, and accordingly they attempt to hold Israel to the same values that the Jewish lobby promotes in the West.

Surprisingly, the main weakness of Israel has turned out to be its enormous donative and media might, which has allowed it to put itself in this ultimately untenable position through short-termist moral manipulations.

Israel has had enormous "moral power"—i.e. the ability to distort moral arguments in its favour—but moral power, let us be clear, is not the same as morality. Moral power is the ability to twist morality, and is therefore in a sense its exact opposite. Without broad-based strength, this is a major problem and indeed ultimately a weakness. Israel can constantly propagandise, bribe, and trick others, but in so doing it ultimately ends up tricking itself. More importantly, its reliance on such perverse "moral power" means that it avoids grounding itself in a true, sustainable morality that is suitable for its situation.

That situation, to be precise, is a situation of conquest, either in its own name or as part of a greater entity, namely the global West—or it is nothing (emphasis added). With that as the foundational premise, there are two possible true moralities for the state of Israel to adopt:

Complete Juche-style self-reliance, justified by constant vigilance and strength. Essentially this would see Israel morphing into a Yiddish version of North Korea or 18th-century Prussia, and relying on its nuclear arsenal and a culture of extreme militarism, to be the unloved catalyst of ever-increasing Islamic unity. End result, a perpetual regional Cold War, in which Israel would face increasing diplomatic isolation and where one major misstep could see its end, possibly in a nuclear war.

Israel as a true outpost of the the West, and thus supported by an undeceived West. But this would have to be a stronger, more expansionary, and anti-Islamic West, cleansed of the Leftist ideologies that the Jews have overwhelmingly supported in the past, and where Israel and the Jews fully supported Westerm ethno- and racio-centrism that echoed that of Israel itself. In such a West, Jews would no longer be seen as traitors, endeavouring to undermine the greater civilisation of which they were a part, but as defending that which defended them. This arrangement could only be achieved through what are essentially Alt-Right ideas of race realism, civilisational hierarchy, and (((culturism))) (brackets added).

There are many choices open to Israel. Choosing to avoid a true moral basis to the state of Israel means continued reliance on trickery and subterfuge, but this ultimately weakens the state of Israel and dooms it to a zombie existence of being a false and soulless state.

But the more moral choices are also hard. The first of the two mentioned above clearly has heavy social costs and would require a constant state of tension and alarm that the Jewish people seem temperamentally unsuited for. There would be extreme brittleness in all that. Indeed the present Israeli state is developing partly along these lines, and is showing some of these dangerous stresses and strains.

The second moral choice is perhaps the best one, the most natural, and also the easiest, although that too has deep costs. This is mainly because it would require World Jewry to start behaving in quite different ways from those that have defined it. But if the effort were made honestly and sincerely, this would have the best chance of reconciling Israel with the West, and thus securing the future of Israel, as part of a more assertive and ethnocentric Western civilisation, holding Islam in check.

However, most of the trends now underway are clearly working against this, creating the conditions of growing Israeli isolation, long-term weakness, and ultimate destruction.

In short, only the Alt-Right can save Israel. One wonders how that undeniable truth sits with the most perspicacious among the Jews.
It's called Jewing the Whites by first guilt tripping and advocating coalitions of non-or anti Whites against Whites, calling liberalism of their would-be White Left union/national boundaries "the left" and prohibiting Whites from doing the same thing as the anti White coalitions (organizing/unionizing) as that would be "racist" for Whites, if Whites did it. Further, the YKW misrepresent Leftism in a Cartesian way, as if it is not accountable to reality, "just mere constructs", appeal to White penchant for objectivism (rational blindness to, or denial of, self interest and accountability), as if compassion is only for people beyond their borders/group boundaries (golden rule/ Christianity) - i.e., that is the Problem - "leftist culture of critique" that does not recognize or allow for a White left, its unionized boundaries, the being of White peoplehood. Reaction - right wing, objectivism, Cartesianism, scientism, idealism, religion and most of all, Christianity; search for pure warrant and avoidance of tainted and incomplete warrant in social accountability. Solution - "The Alt Right" ...Whites join and merge with Jews in Zionist supremacist imperialism: "The Left" is the enemy now, all those people who see this reality of the 7 niches that Jewish interests control and what the right wing sell outs have done by selling out to them.
By contrast, we are almost certainly going to need our own left nationalist coalitions, particularly left ethno national coalitions with Asians against the YKW, their right wing cohorts, including Alt Right, Muslims and blacks.
The Israeli conquest of Palestine: by contrast to Colin Liddell's characterization

National Vanguard, "EU-Funded Report Tells Journalists not to Write Negative Articles on Migrant Crisis" - Christopher Rossetti 10 Dec 2017:

A new journalistic code of practice, funded by the EU, calls on journalists to avoid reporting on the migrant crisis in a negative way, refrain from linking Islam to terror and avoid mentioning whether or not a criminal migrant was in the country illegally.

The guideline even calls on journalists to report colleagues to the authorities for "hate speech" if they do so.

The code, financed by the European Union's Rights, Equality and Citizenship program, defines hate speech as expressions which 'promote or justify xenophobia' including 'intolerance expressed by aggressive nationalism'.

The report says that although journalism cannot 'solve the problem of hate speech on its own…the European Union must reinforce existing mechanisms and support new tools designed to combat hate speech'.

To do this, the report calls on journalists to shop their colleagues to police, as well as people who comment on their articles, on the grounds that they've committed a hate speech offence.

The new guidelines ask hacks to not to report 'migrants as exclusively having a negative impact on society' and singles out 'reports that present migration as constituting a net cost to the social safety net' and to only mention a migrant's ethnic origin or religion 'when necessary for the audience to understand the news'.

The code urges reporters not to focus on 'issues such as whether asylum seekers' claims are genuine', which is odd because the EU's own statistics show that most of those who come are economic migrants who don't qualify for protected refugee status.

It also calls on journalists to refrain from reporting on crimes committed by migrants unless they include 'statistics that disprove assumptions that migration leads to rising crime levels' — a worrying ask for those on the right who frequently write about no-go zones which are directly linked to mass migration.

"Don't fall into the trap of focusing solely on possible negative aspects of large-scale migration. It is also important to highlight positive contributions of migration and individual migrants," they say.

The report's author states: "When problems inside the asylum system occur — e.g, migrants riot, or an increase in small-time criminality is noted — look critically for the root cause" — which on the previous page, the authors say includes "poverty and climate change". Climate change?!

The report recommends that journalists should not use the adjective "illegal" when referring to migrants.

When reporting on Islam, journalists are asked not to refer to Islamic culture as 'barbaric, irrational, primitive, aggressive, threatening or prone to terrorism' and when reporting negative or 'hateful comments' towards Muslims, reporters should 'challenge any false premises on which such comments rely'.

Additionally, the group say that reporters shouldn't quote politicians or other public figures on migration 'without challenging their statements' and recommends approaching migrant advocacy groups for lines that can be used against anti-migration narratives — effectively asking supposedly neutral reporters to become pro-migrant advocates within the media.

* * *

Source: Locust Blog
Expendable money: Dmitry Rybolovlev, bought and sold Da Vinci for record price. Bought Florida mansion from Trump for $95 million only to tear it down after seeing it for the first time because it was moldy.

NPR, "Journalist Investigating Trump And Russia Says 'Full Picture Is One Of Collusion", 21 Nov 2017:

"The constellation of Russian connections circling around Planet Trump is quite extraordinary," says Guardian reporter Luke Harding. His new book is Collusion.

TERRY GROSS, HOST:

This is FRESH AIR. I'm Terry Gross. The new book "Collusion" is about what the author, my guest Luke Harding, says appears to be an emerging pattern of collusion between Russia, Trump and his campaign. Harding also writes about how Russia appears to have started cultivating Trump back in 1987. The book is based on original reporting as well as on the Trump-Russia dossier compiled by former British intelligence agent Christopher Steele. Harding met with Steele twice, once before and once after the dossier became public. Harding had a lot of good contacts to draw on for this book because he spent four years as Moscow bureau chief for the The Guardian. During that time, the Kremlin didn't like some of the stories Harding was investigating, and in 2011, he was expelled. In Moscow, he learned a lot about Russian espionage partly through his own experience of being spied on and harassed.

Harding is now a foreign correspondent for The Guardian. He's also the author of books about WikiLeaks, Edward Snowden and Alexander Litvinenko, the former Russian spy who fled to England, passed information to British intelligence about links between the Kremlin and the Russian mafia and then was assassinated with polonium-spiked tea.

Luke Harding, welcome back to FRESH AIR. So the dossier said that the Russian regime had been cultivating, supporting and assisting Donald Trump for at least five years with the goal of encouraging splits and divisions in the Western alliance. You write that the Russians had their eyes on Donald Trump as early as the 1970s when he married Ivana Trump, who is from Czechoslovakia. Why were they keeping an eye on him in the '70s? What were they looking for?

LUKE HARDING: Well, the KGB really forever has been interested in cultivating people, actually, who might be useful contacts for them, identifying targets for possible recruitments possibly to be agents. That's not saying that Donald Trump is an agent, but the point is that he would have been on their radar certainly by 1977 when he married Ivana, who came from Czechoslovakia, a kind of communist Eastern bloc country. And we know from Czechoslovak spy records de-classified last year that the spy agencies were in contact with Ivana's father, that they kept an eye on the Trumps in Manhattan throughout the 1980s. And we also know, from defectors and other sources, that whatever Prague learned, communist Prague, would have been funneled to the big guys in Moscow, to the KGB. So there would have been a file on Donald Trump.

But I think what's kind of interesting about this story, if you understand the kind of Russian espionage background, is Trump's first visit to Soviet Moscow in 1987. He went with Ivana. He writes about it in "The Art Of The Deal," his best-selling memoir. He talks about getting an invitation from the Soviet government to go over there. And he makes it seem kind of rather casual. But what I discovered from my research is that there was actually a concerted effort by the Soviet government via the ambassador at the time, who was newly arrived, a guy called Yuri Dubinin, to kind of charm Trump, to flatter him, to woo him almost. And Dubinin's daughter, sort of who was part of this process, said that the ambassador rushed up to the top of Trump Tower, basically kind of breezed into Trump's office and he melted. That's the verb she used. He melted.

GROSS: That Trump melted when he was flattered.

HARDING: Yeah. That Trump melted with this kind of flattery. And several months later, he gets an invitation to go on an all-expenses-paid trip behind the Iron Curtain to Soviet Moscow. Now, a couple of things which were important here. One of them is that his trip was arranged by Intourist, which is the Soviet travel agency. Now, I've talked to defectors and others who say - this is actually fairly well-known - that Intourist is basically the KGB. It was the organization which monitored foreigners going into the Soviet Union and kept an eye on them when they were there. So kind of he went with KGB travel. Now, according to "The Art Of The Deal," he met various Soviet officials there. Who they were, we don't know. But what we can say with certainty is that his hotel, just off Red Square, the National Hotel, would have been bugged, that there was already a kind of dossier on Trump. And this would have been supplemented with whatever was picked up from encounters with him, from intercept, from his hotel room.

You know, we can't say that Trump was recruited in 1987. But what we can say with absolute certainty is there was a very determined effort by the Soviets to bring him over, and that moreover, his personality was the kind of thing they were looking for. They were looking for narcissists. They were looking for people who were kind of - dare I say it - corruptible, interested in money, people who were not necessarily faithful in their marriages and also sort of opportunists who were not very strong analysts or principle people. And if you work your way down the list through these sort of - the KGB's personality questionnaire, Donald Trump ticks every single box.

If that's not collusion, what is collusion?

GROSS: So during this period when Trump is talking with Dubinin, the Soviet ambassador to the U.S., Dubinin suggested joint venture to do a Trump Hotel in Moscow. So that hotel never happens, but why of all the developers in the U.S. would they ask Trump?

HARDING: There was no randomness about this. I mean, we know from Dubinin's daughters that they picked on Trump. And there's a kind of curious coda to this, which is, two months after his trip - actually, less than two months, he comes back from Moscow and, having previously shown very little interest in foreign policy, he takes out these full-page advertisements in The Washington Post and a couple of other U.S. newspapers basically criticizing Ronald Reagan and criticizing Reagan's foreign policy. Now, Trump is many things, but he is not an expert on international affairs, and this is curious. I mean, it may not be conspiratorial, but nonetheless there he is criticizing Reagan, who was very much an enemy of the Soviet Union. They regarded him as a hawk and a hardliner and a bitter adversary. And guess what? He also says that he's thinking about politics, not as a senator or as a mayor, but he actually goes to New Hampshire and he actively floats the idea of running for president. It doesn't happen then. But it's in his head. This is a strategic thought he has after his Moscow trip.

GROSS: So the Russian cultivation of Donald Trump, you say, resumes in 2008 when Trump is a birther. What is this resumption of cultivation? What did that look like?

HARDING: If you believe the dossier by Christopher Steele, the former British intelligence officer, which I do broadly with some caveats, then at this point someone inside the Kremlin decided that Trump could be of use. And what began was a sort of transactional relationship where Trump was feeding to Moscow, according to Steele, details of Russian oligarchs living in the U.S. who have property or assets or business ventures in the United States, and in return he was getting kind of politically useful stuff. Now, just to explain, the thing is about Putin is that he is deeply paranoid. He's conspiratorial. He doesn't really trust anybody - maybe his family, his dog, a few people. But basically he's intensely suspicious. And so any Russian who travels regularly to the United States or builds property there or invests in Silicon Valley, he wants to know what's going on and so do his spy services. So this, at least according to Steele, is what Trump's people may have been supplying.

Now, of course they deny all this, but it's interesting when sort of Donald Trump says, when he tweeted out famously, I've got no loans with Russia, no deals, nothing. Well, that's kind of formally true. Actually, Trump's multiple attempts to do business in Russia failed. I mean, they kind of blew away with the wind. But what one can say with certainty is that over a long period of time, there's been plenty of Russian money going from Moscow into Trump properties, some of them in Trump Tower. There were Mafia guys staying there in the 1980s, for example, who were subsequently convicted and went to federal jail. And also into sort of Trump-branded resorts later on in Florida and elsewhere. And there's a pattern.

GROSS: In 2013, Trump holds the Miss Universe pageant in Moscow, where it's sponsored by the oligarch Agalarov. By this time you say the Kremlin was actively cultivating Trump. Is the Miss Universe pageant being held in Moscow part of the cultivation, do you think?

HARDING: That's a really interesting question. As always in Russia, quite often it's about politics and it's about money. And the money is often even more important than the politics. But clearly Aras Agalarov was keen to promote himself. But I've met him. He's rather a charming guy. I interviewed him. But also he has a sort of pop star son called Emin. And by bringing the Miss Universe contest to Moscow, several happy things happened. First of all, Trump came over, which I think, if you believe the Christopher Steele dossier, which I broadly do, was good for the Kremlin that there was Trump in Moscow, plenty of opportunities to interact with him. Also good for Emin's pop career because he was singing before a global audience. He's a nice guy, but, I think, a somewhat kind of mediocre singer, but there was massive TV exposure. And most of all, of course, this trip was of interest to the FSB, the Russian spy agency.

Now, the dossier says that Trump was recorded in the suite at the Ritz-Carlton hotel, a suite that Obama had stayed in and he watched this kind of famous, exotic show, if you can quote it like that. Now, I don't know if that's correct. Trump denies it. But what I can say with absolute certainty is that the Trump suite would have been bugged. It wouldn't have been bugged for everybody, but obviously they were interested in him, and there will be a tape. It may just show Trump going to bed early reading a novel. I don't know. Or it may show something else. But that there will have been technical surveillance of Trump is absolutely guaranteed.

I mean, the other interesting thing is that Aras Agalarov, who hosted him, is - he's the sort of perfect companion. He's smart, he speaks English brilliantly, he's quite charming. He drove me around, one day, this estate that he built on the outskirts of Moscow for the super rich where houses cost $25 million. And we were trundling along in his kind of blue, English Jeep with the bodyguards respectfully rolling behind us in a Mercedes about 200 meters away. And he sort of told me his vision. He told me that he was inspired by America, by some of the developments he's seen there, but that ultimately he was a Russian patriot and he couldn't live in America even though his daughter was there studying and his wife was there quite a lot. He felt his home was in Russia. And I think that's all kind of quite revealing. So he has all these billions. He's a developer like Trump, but he also knows, as an oligarch, that if the state calls on him to do something then he has to do it, and he has to do it well.

Rob Goldstone

GROSS: Well, there's people connected to Agalarov who figure into the campaign story, and here's an example. Agalarov's publicist, Rob Goldstone, who's British, enters into a key part of the campaign story involving the Trump campaign links to Russia. He sends a now-famous email to Don Junior explaining that there's an offer to provide the Trump campaign with some official documents and information that would incriminate Hillary, and Don Junior responds that he's on the road, he can't meet right away but, quote, "if what you say is true, I love it. Could we do a call first thing next week?" So connect the dots for us between Goldstone being Agalarov's publicist and Goldstone being the person who conveys this information about Russia having incriminating information about Hillary.

Rob Goldstone relaxing, chatting with Trump

HARDING: Yeah. I mean, I think the whole Goldstone story is fascinating. It's also faintly embarrassing. Now, I speak as a sort of fellow Brit (laughter). This kind of joking British press, and he clowns around all the time, seems to be in the middle of this story. But what you have to understand, again, is that Putin is not going to do things in a kind of linear way. There are going to be kind of intermediaries, and Goldstone's the perfect intermediary. He and Emin know Trump. They've been to Trump Tower. There are lots of Instagram photos of them all together having dinner, relaxed, chatting and so on. And at some point, he gets a message from the Agalarovs that the prosecutor general of Russia - and this is how the email goes - has got some incriminating material on the Hillary which they would like to share as part of the Russian government's support for Donald Trump and his campaign. It's absolutely explicit.

And so Goldstone gets in touch with Trump Junior, sends these emails which we've now seen, and the meeting happens. Now, the fact is that actually, the lawyer who flies from Moscow to Trump Tower in the summer of 2016, now-famous Natalia Veselnitskaya, she doesn't bring the emails that perhaps the Trump campaign might have hoped for. She brings something else. But nonetheless, this is a story about intent. Trump Junior took the meeting. He could have rung the FBI and said, look, I'm being approached by these kind of dodgy Russians. What do you advise? But he took the meeting, and then he concealed it afterwards for almost a year. If that's not collusion, what is collusion?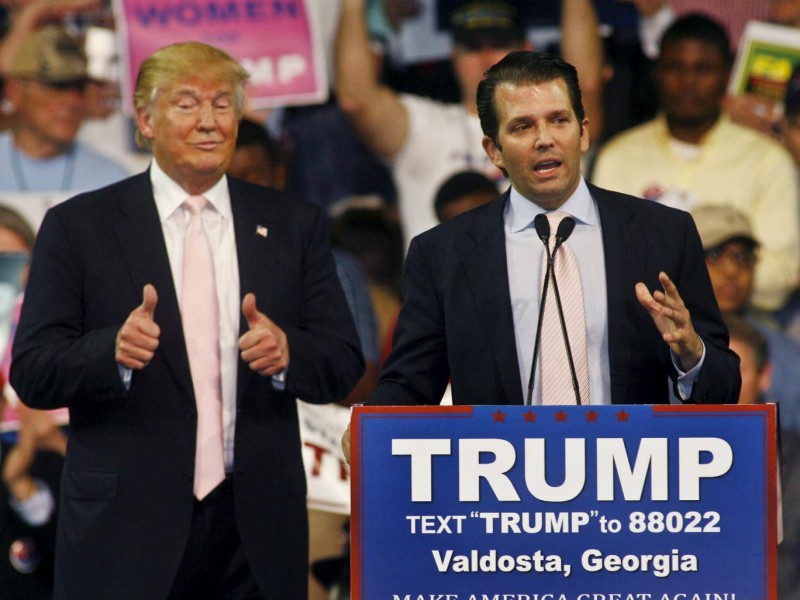 Donald Trump gives a thumbs up as his son Donald Trump, Jr. speaks at a campaign rally at Valdosta State University in Valdosta, Georgia February 29, 2016 Reuters.
NPR, "Donald Trump Jr. Had Direct Contact With WikiLeaks During Campaign", 14 Nov 2017:

During the 2016 presidential campaign, Donald Trump Jr. was in direct contact with WikiLeaks at the same time the muckraking website was publishing hacked emails from Democratic officials that proved damaging to the Clinton campaign, according to several major publications.

Following the reports, Trump Jr. acknowledged the contact in a tweet detailing one exchange with the radical transparency organization.

The Atlantic, The Wall Street Journal and The Washington Post, in articles published late Monday, said that then-candidate Donald Trump's eldest son used the messaging feature on Twitter to communicate with WikiLeaks, which in turn alerted the campaign to the impending release of the hacked emails.

The publications report that the messages between Trump Jr. and WikiLeaks were among thousands of documents turned over to Congress as part of its ongoing investigation into claims that Russia interfered in the November election — a finding backed unanimously by U.S. intelligence agencies, which have said that the Kremlin aimed to aid Donald Trump's campaign.
Peter Ling in Trafalgar Sq.

Bill Baillie, regarding democracy, European Outlook, #47:

"Serendipity" - The occurrence and development of events by chance in a happy or beneficial way.

An old copy of Colin Jordan's magazine Gothic Ripples caught my eye. It was from February 1988 and posted by www.jrbooksonline.com

"Peter Ling, a life-long National Socialist, member of the British NSM, died 16/10/87."

I knew Peter Ling in the old days. He is pictured selling Combat at a meeting of the old BNP in Trafalgar Square. He was an accomplished writer, speaker and street fighter. I guessed that he was dead but I never knew the details. His powerful essay, Authoritarianism v Democracy, originally published in Combat in 1959, was reprinted in European Outlook # 5, May 2014. Here is an extract:

"But the most telling and final indictment of democracy is that in time of great human stress and endeavour it rejects and abandons its philosophical basis. In time of war when the ruling interests are really threatened, democratic values go overboard and the erstwhile democracy gears itself immediately to an authoritarian form of government. Even in time of peace democracy does not attempt to organize its armed forces "democratically" or to sail its great ships across the oceans of the world without the strong hand of authority and responsibility at the helm.

What an indictment of democracy that it can only weld its subjects into a single great united whole for the purpose of destruction! That its fundamental wealth and assets, which only too often represent the ill-rewarded toil of generation of its loyal citizens can be squandered overnight in order to procure fantastic financial sums for expenditure upon war and death, but when it comes to building something great for its own people – as a whole that is – in time of peace, the will and the credit dry up, and "Freedom" reigns once more; freedom for the poor to get out of the slums if they can and freedom for the financier to squat in his banking house and receive the lickspittle homage of parliamentarians of all parties."
With regard to capitalism, Bill Baillie writes in the same edition, European Outlook, #47:

Capitalism relies on unmoored physical movement, tenuous interpersonal connections, and sensual whim for its sustenance and has thus both facilitated the historical march of irony and provided a system of nostalgia to act as an opiate by which to provide temporary relief from the agony of meaninglessness. By disseminating palliative symbols and profiting on access to them, this system thrives and immobilizes white populations by reducing their understanding of history to false inevitabilities, superficialities, platitudes, and decontextualized assertions. Our histories, both personal and collective, become a collection of sounds, images, and texts to be bought, sold, and traded based on the emotional appeal of any particular example. There is no need for order, no need for context, and no need for contemplation. All that is required is a desire for temporary escape from the conditions maintained by capitalism.

Inherent in the practice of nostalgia is a search for meaning coupled with the unavoidable psychological tendency to mark the passage of time. These are neither unhealthy nor unnatural impulses on their own but under capitalism, as connections to "blood and soil" weaken, they take on a greater significance and work in concert to manufacture a toxic individual and collective mental state. Rather than producing minds that are energetically oriented towards the future, they produce minds mired in the past, emotionally dependent on the avoidance of reality, trapped by delusions of resurrection and romance. Whole populations of people are reduced to immobility and blind acceptance of whichever way the sociopolitical winds are blowing by dwelling on what are, somewhat paradoxically, calming images of defeat. The system of nostalgia preys on these vulnerabilities. Parasites will always take advantage of easily manipulated biological drives and psychological urges.

It is important, however, to make the distinction between historical memory and nostalgia. Historical memory — so crucial to all nationalisms — is an understanding of history as a part of a living, vital, forward-moving process. It is the integration of the essence of past collective experience into the present. It is the use of history to more deeply understand those forces which act upon groups in the present and which propel history forward. That is to say, it is a sense of history that enables the creation of history. Nostalgia, on the other hand, is a pathological obsession with turning back the clock, of venerating lost eras, of dreaming of racial or civilizational regeneration minus action. It is an inherently reactionary and therefore counterproductive orientation.

In a healthy society, the weakness of nostalgists is marginalized by the vitality of the society itself. After all, it is hard to utterly devote oneself to a romanticized past if that past is no more vital than the present. But under the capitalist order, in which the temporary has more value than the eternal, the trivial is prioritized over the meaningful, and every day brings some new example of social degradation, nostalgists — through little fault of their own, it must be said — blossom and are able to infect the masses with their weakness and indeed are rewarded for doing so. What would have been relatively simple and harmless reminiscences in a healthy society become a state of being in an unhealthy society. This leads ultimately to pessimism and political paralysis. If one's worldview is based on a return to a romanticized past, one will be doomed to failure and misery. Time moves in only one direction.

Instead of an adventurous life, nostalgia begets a safe life. Instead of engagement, nostalgia rewards retreat. Instead of optimism, nostalgia promotes pessimism. Each of us has witnessed the many years of media corporations and socially acceptable public figures reminding whites that we will become minorities in our own lands and that we should warmly embrace this fate. This message is, of course, fairly direct. But working alongside this message is this highly profitable system of nostalgia which temporarily soothes any discomfort. "You, white man," we are told, "are going to be a minority but please just watch this television show rerun, listen to this classic rock band, enjoy this old film and forget about it." Not only does nostalgia offer an escape from reality but upon return — after the high has worn off — one's sense of loss will be heightened. The chasm between the idealized past and unsatisfactory present seems to become increasingly insurmountable. We are conditioned on all sides to accept our demise, directly and indirectly. And we pay good money for this conditioning.

There is little under capitalism that cannot be bought and sold. The natural impulses of the human mind to memorialize its own existence and seek spiritual value provide the capitalist with opportunities to feed on our meaninglessness, on our discomfort in this world, on our desire for a better place, on our loss of hope and energy. Helpless, hopeless, and drugged by the omnipresent symbols of our planned fate, the capitalist is able to work freely with little resistance. The real engines of history become buried under layer upon layer of textual sludge. The system of nostalgia offers for sale an impossible dream which destines the buyer to political impotence and spiritual impoverishment.