Majorityrights News > Category: Journalism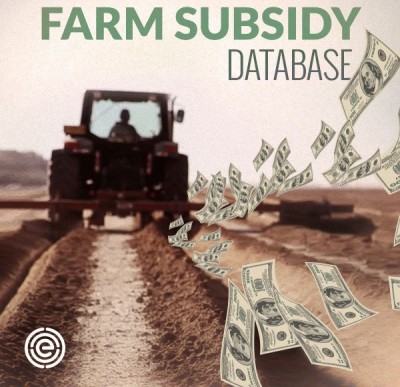 Reveal News, "White nationalist gets his money from cotton fields – and the government", By Lance Williams 17 March 2017:

Topics: Accountability

Two weeks after last year's presidential election, white nationalist Richard Spencer held forth on a cable news show about how white people built America.

"White people ultimately don't need other races in order to succeed," he told the audience of the black-oriented program, "NewsOne Now."

The exchange grew heated as host Roland Martin questioned Spencer's rhetoric: Didn't slaves help build America? Wasn't the nation's 19th-century economic boom propelled by the slave labor that produced the world's cotton on Southern plantations?

America's rise was "not through black people" and "has nothing to do with slavery," Spencer retorted. "White people could have figured out another way to pick cotton," he said. "We do it now."

He is in a position to know. Spencer, along with his mother and sister, are absentee landlords of 5,200 acres of cotton and corn fields in an impoverished, largely African American region of Louisiana, according to records examined by Reveal from The Center for Investigative Reporting. The farms, controlled by multiple family-owned businesses, are worth millions: A 1,600-acre parcel sold for $4.3 million in 2012.

The Spencer family's farms also are subsidized heavily by the federal government. From 2008 through 2015, the Spencers received $2 million in U.S. farm subsidy payments, according to federal data.

USDA farm subsidy payments to Spencer family companies, 2008-2015

Farm Payments

Dickenhorst Farms $1,014,558
Spencer Farms $524,655
Dickenhorst Trust $201,460
Sher-Di-Je Land $165,029
Poor Richard Partnership $98,878
A-Renee Partnership $78,016
Total $2,082,596

Source: U.S. Department of Agriculture data compiled by the Environmental Working Group

Although Spencer has attracted extensive media attention as a leader of the so-called alt-right movement – particularly after he drew Nazi salutes at an event celebrating Donald Trump's election – he never has explained publicly how he supports himself while actively promoting his agenda via conferences and media appearances. The finances of his nonprofit think tank, the National Policy Institute, are a mystery; the organization hasn't filed a public report since 2013. On Monday, the Los Angeles Times reported that the IRS revoked the institute's tax-exempt status.

Spencer, 38, is a dropout from a Duke University Ph.D. history program who emerged during the Trump campaign as one of the nation's most visible white separatist agitators. In his writing, speeches and interviews, he has given an intellectualized explanation for how he came to advocate creating a whites-only "ethno state" in North America. While in graduate school, he has said, he was compelled by critiques of multiculturalism and political correctness and by demographic data indicating that whites are en route to minority status in the United States.

But the Spencer family's business interests and geographic history suggest a different possible lineage for Richard Spencer's racist politics. The family's farm holdings are a legacy of its ties to the Jim Crow South, passed down by Spencer's grandfather, who built the business during the turbulent civil rights era.

Spencer family land holdings in Louisiana
Farming company Parish Acreage
Dickenhorst Farms Tensas 1,888
Dickenhorst Farms East Carroll 967
Sher-Di-Je Land Tensas 1,186
A-Renee Partners Madison 753
Poor Richard Partnership Franklin 400
Spencer, Sherry Madison 90
Total 5,284

Sources: Louisiana Tax Commission parish tax rolls; parish assessment records

Spencer declined in an interview this week to discuss how much money he personally receives from cotton farming and government subsidies and whether that income funds his political activities.

"I'm not involved in any direct day-to-day running of the business," he said, later adding: "I'm going to navigate the world as it is, and I'm not going to be a pauper."

One Spencer family farming company, which holds title to 400 acres of land, is called the Poor Richard Partnership.

In the interview, Spencer also downplayed his family's influence on his political views, saying, "My parents are very mainstream Episcopalian Republicans in Dallas."

Although Spencer grew up in an affluent neighborhood of Dallas and now splits his time between Montana and Washington, D.C., his family lived in the South for generations. Records show his mother attended segregated schools as a girl in the small northeast Louisiana city of Monroe. Later, Spencer's mother inherited farms in northeast Louisiana from her late father. Today, her two children are her business partners.

Spencer's mother did not respond to an email and voicemails seeking comment for this story. In the past, she has said she does not share her son's views. In an open letter sent to their local newspaper in December, Spencer's parents, Sherry and Rand, said that while they love their son, "we are not racists. We have never been racists. We do not endorse the idea of white nationalism."

The region that is home to the Spencers' farms has a history of slavery and racism. Through the civil rights era, the Klan targeted black residents there with lynchings, cross burnings and other violence. In Tensas Parish, where the Spencers own 3,000 acres of farmland, blacks didn't win the right to vote until 1964, according to Elvadus Fields Jr., mayor of the town of St. Joseph.

White supremacist views typically run in the family, said writer and race relations expert Cleo Scott Brown. Feelings of racial superiority often are passed "from generation to generation, because that's what they believe," said Brown, whose father – a civil rights leader in East Carroll Parish, where the Spencers own 900 acres of farmland – was shot and wounded during a 1962 voter registration drive, allegedly by a member of the Ku Klux Klan.

Agribusiness in the region today is heavily mechanized and provides few jobs. In 2013, CNN reported that East Carroll Parish suffers from the worst income inequality in the nation: The richest 5 percent of residents earned an average of $611,000 per year, 90 times what the poorest 20 percent earned. The parish's population is 67 percent black.

Ownership of Spencer family farming companies

Farming company

Owners
Dickenhorst Farms Sherry Spencer, Richard Spencer and sister
Dickenhorst Trust Dickenhorst Farms (Sherry Spencer, Richard Spencer and sister)
Sher-Di-Je Land Dickenhorst Farms (Sherry Spencer, Richard Spencer and sister)
Spencer Farms Sherry Spencer
Poor Richard Partnership Sherry Spencer*
A-Renee Partners Sherry Spencer and daughter

*Records show that Richard Spencer has received subsidy income from the partnership but don't identify him as an owner.

Sources: U.S. Department of Agriculture data compiled by the Environmental Working Group; Louisiana secretary of state filings

Race relations have improved significantly in recent decades. But after Trump's election, some white residents celebrated by draping their pickup trucks with Confederate flags and driving through the region's towns, according to the Rev. Roosevelt Grant, head of the NAACP branch in Winnsboro, Franklin Parish, near another of the Spencers' farms.

The Trump presidency, he said, "has caused people to pray more."

Spencer's maternal grandfather, Dr. R.W. Dickenhorst, established the family farming business. He was a radiologist who started a medical practice in Monroe in 1952 and became wealthy and socially prominent, according to local newspaper obituaries.

Racial segregation was a given in Monroe then. Blacks were barred from housing, schools and public facilities used by whites. White superiority "was the way of life; that was the way it was, and anyone challenging it was challenging God's will," said the Rev. Roosevelt Wright Jr., a local historian in Monroe.

Dickenhorst's daughter, Sherry, who would grow up to be Richard Spencer's mother, enrolled in all-white Neville High School in 1962, according to district records. In 1964, at the start of her junior year, integration of the school began, with a single African American student enrolling.

As Dickenhorst's medical practice prospered, he bought farmland in northeast Louisiana on the Mississippi River's west bank. He died decades later, in 2002, and his wife died the following year. By then, their only daughter was the wife of a wealthy Dallas eye surgeon and the mother of two grown children: Richard Spencer and his sister, who did not respond to an email and phone calls seeking comment.

Today, through Dickenhorst Farms and several related companies, Sherry Spencer, 68, and her two children jointly own most of the family farmland, according to U.S. Department of Agriculture data compiled by the nonprofit Environmental Working Group. Sherry Spencer is general partner of Dickenhorst Farms, and Richard Spencer and his sister are part owners, according to state and federal records. The family contracts out crop production to local farmers, a common practice in a region where corporations and absentee owners control much of the land.

The Spencer family's farms are headquartered at a $3 million home in the ski town of Whitefish, Montana, where Sherry Spencer now lives. Also headquartered there: Richard Spencer's think tank, his AltRight.com website and other white nationalist-related enterprises he controls, including a book publisher and web design outfit. Spencer also has lived in Whitefish in recent years ­– sometimes in his mother's home, sometimes in a condominium she owns, according to documents and interviews.

The Spencers have received payments from two federal farm programs. One is the commodity subsidy program, intended to guarantee income for farmers who are helping to maintain supplies of certain crops deemed important by the government. The other is the conservation reserve program, which pays farmers for environmentally sound farming practices. Most of the $2 million paid to the Spencers has been in commodity subsidy payments for growing cotton.

Yet, Spencer has been bitterly critical of America and its government.

"This is a sick, disgusting society," he declared in his speech at an alt-right gathering in Washington after the election, "run by the corrupt, defended by hysterics, drunk on self-hatred and degeneracy."
Note: I have no necessary qualms with Spencer's wealth (though ultimately, something like Bowery's/ William Jennings Bryan's progressive land taxation based on site value might be in order) nor do I have anything against his family's alleged history of wanting to live separately from blacks. - DanielS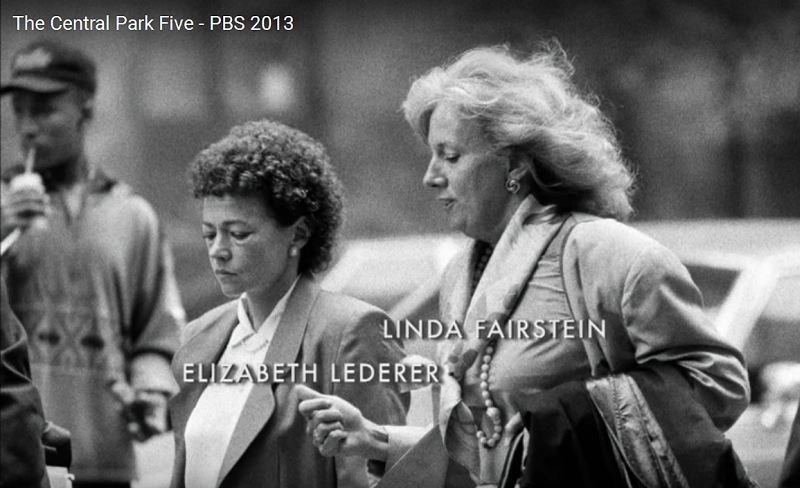 NYPD coerced confessions and prosecutors Lederer and Fairstein railroaded five kids (4 black, 1 Puerto Rican) for the 1989 rape and near murder of Trisha Meili (White), an investment banker who was jogging in Central Park. Despite my prejudices, I cannot imagine myself scripting confessions to a serious crime for some black kids to sign. The kids spent years in jail for a crime that they did not commit. As it turns out, a likely suspect, a black serial rapist at the time named Matias Reyes had committed the crime and could have been pursued, as there was plenty of evidence that could have led NYPD to find him the lone perpetrator. While Reyes was a DNA match that could have been corroborated at the time, Lederer and Fairstein are confronted with the fact that they forced the prosecution through, despite not having a DNA match in the case presented them by the NYPD, despite its coerced confessions and the contradictions that existed between those "confessions."
At "Killer Culture" Peter Quiggins (Tierney) has put together this very caring and painstaking compilation of native Britons killed by migrant peoples, murders which have not received a fraction of the attention that the rare instance of a murder of a black, Steve Lawrence, by native Britons, has received. It is a quibble compared to this travesty that Quiggins addresses, but something to note nevertheless, that entitling the piece "Diversity Kills!" is a bit of mistake. Just like arguing "against equality" is bad tact, arguing against "diversity" is a trick that the YKW have set up deliberately because by default, under the powers that be, you are arguing for integration - the last thing that we'd want. Diversity should not be argued against at this point, the circumstances being what they are, with massive immigrant populations among, or in close proximity to ours not going away any time soon; in some cases, never - and all the more reason to take the cause of diversity for ourselves. However, his subtitle is quite fine stand alone: Britons murdered in Britain since the death of Stephen Lawrence: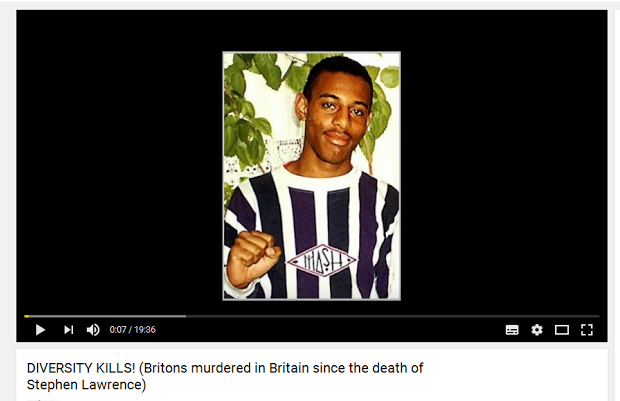 Stephen Lawrence has been mentioned over 2,000 times in Parliament.
MR carries great articles regarding the Stephen Lawrence case: A Nation Rejoices at last! - by Dan Dare; More Saint Stephenism on the way - by Guessedworker; The Crusade Against Discrimination in Britain - by Guessedworker; No Native Voices - by Guessedworker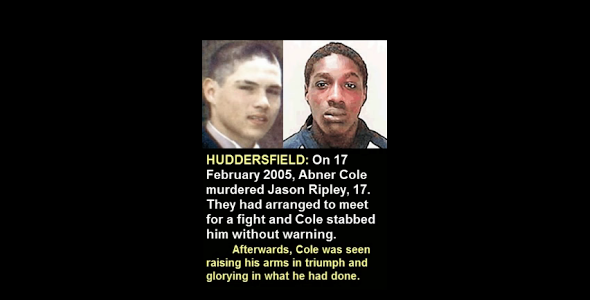 (Britons murdered in Britain since the death of Stephen Lawrence)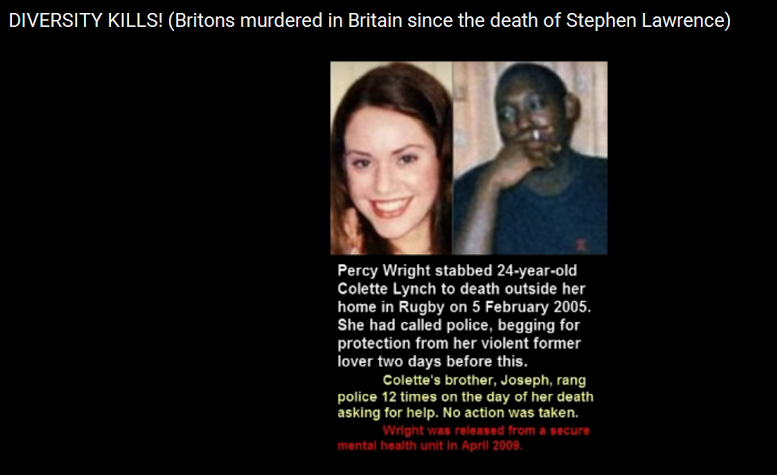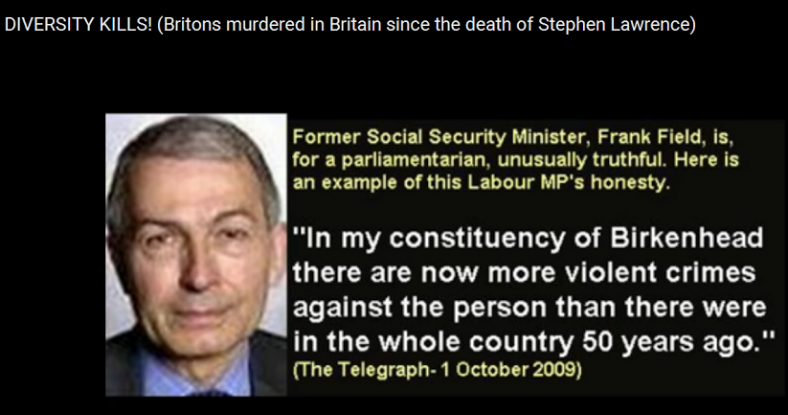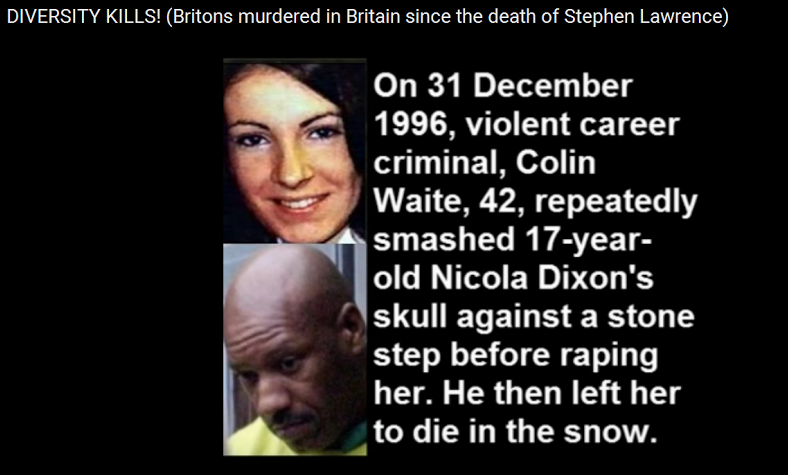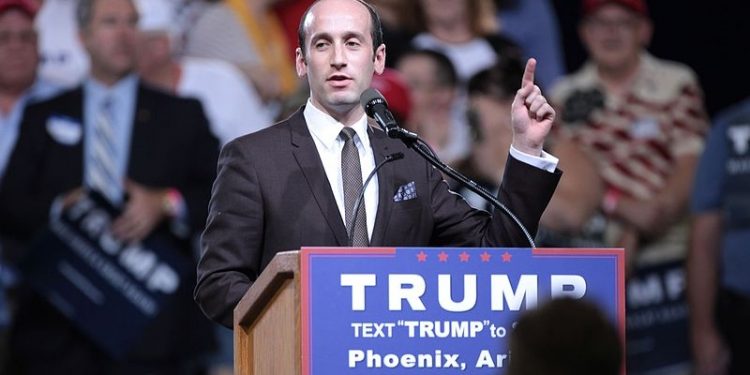 Thtar crothed path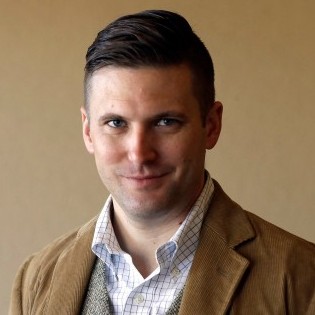 I wath tho proud to help him, to be a part of hith life.
...and hith thupport from Hillel. ...but ..(((Thtephen Miller))) - He ith hith own man. Tho, there, I thaid it!
Yeth I did! Tho what? Are you going to make thomething of it?
What ith the problem? He wath a conthervative just like I wath…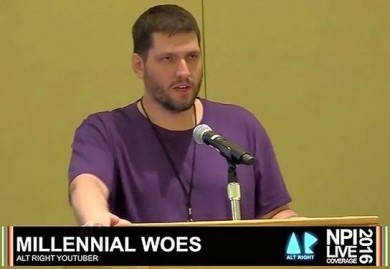 Mirror, 9 Jan 2017: "Racist vlogger who became global YouTube sensation unmasked"
...etc., so the headline and the hit piece reads.
On 5 June '15, Millennial Woes came to Majority Rights and left a comment * insisting that his link be removed from this site because I, DanielS, would not accept his friend, The Truth Will Live, a.k.a. (((Ruth))), as a part of our struggle, let alone as having a place to define our terms. I consider his position in her regard to have been naive at best, but probably more like an unsavory deal with the tentosphere. I really don't approve of this defense of the Jewish tent of the tentosphere. In addition, his going along with the Alt-Right's attribution of "THE Left" as the enemy is unacceptable; finally, he is annoying in coupling this attempt to join the Alt-Right in muting our platform, while perhaps garnering some of our ideas and auguring to misdirect them.
Even so, the doxing and smearing of him by a purportedly objective news source, The Mirror, is way out of line. Even I don't think he is remotely that bad or that he deserves that. But then again, beware the right, Alt-Right too - it's an unstable arrangement - the right has come back to bite countless adherents and those with misfortune to find themselves on the other side of their reactions over the years.
* The Millennial Woes comment that I am referring-to comes as the second in a series of three comments dated 3 - 5 June 2015, viz., #6, #14 and #17 and occurs within the post called "The Lies Will Try To Live But They're Not White, They're Jewish."
Posted by Millennial Woes on Wed, 03 Jun 2015 12:27 | #6

Ruth, who has the channel "The Truth Will Live", is a close friend of mine. She and I speak regularly about the key issues of the alt-right, including the JQ, and she is on-board with all of it. In particular, residing in a Somali-heavy area of the US, she has to deal with their shit just like the rest of us do, and she hates it and opposes immigration from the Third World as wholeheartedly as any of us do.

To repeat, she is a close friend of mine and I know that she is a good, kind, decent person. I think it is wrong of you to besmirch her unless you have some evidence that she is a fake.

PS. And no, she didn't ask me to write this post! AFAIK she doesn't even know about this article.

Posted by Millennial Woes on Fri, 05 Jun 2015 11:41 | # 14

DanielS,

I understand your position, and I do understand the danger. However, I cannot stand by as my close friends are bad-mouthed when they have done nothing wrong whatsoever. (Note that you conflate Ruth's statements with Rachel Haywire's, when they are two very different people.)

Though I am grateful to your site for linking to my channel this last year or so, I ask you to remove that hyperlink now. I do not want to be associated with a site, however worthy it might be, that insults and dismisses my own friends.

Thank you, MW.

Posted by Millennial Woes on Fri, 05 Jun 2015 20:26 | # 17

DanielS "One extreme is to do the Christian services bit, helping Africans to no end. The other is to not care." She says it is wrong and extreme because they cannot take care of themselves well enough and it is the White man's burden to help them.

This golden rule is one of the most Jewy things imposed on Whites from the Bible.

MW: That's very strange, because it was I, a non-Jewish, non-religious, British-native white guy, who introduced Ruth to the idea that the White Man's Burden is a real thing - having arrived at this belief myself without any help, Jewish or otherwise. I came up with it, of my own volition, based on my own observations of my (white, non-Jewish, non-religious) people.

DanielS If you are that defensive of these women then we would view your link as a bum steer anyway.

MW: I don't even know what that phrase means. All I'm asking for is decency. Without a shred of evidence, you are ascribing a calculating, deceitful nature to a woman who simply doesn't have such a nature. If defending her makes me "defensive," so be it.
Millennial Woes argues that I conflate Ruth and Rachel Haywire, but I do not. In fact, my position with regard to Ruth was developed with interviews of her separately. Nor was I picking on her without evidence or for trivial reasons - it is most important to separate White advocacy from her sort of influence. For the record, I did not conflate Ruth's position with Rachel's: Ruth wanted to define the left for us, to encourage Abrahamism, she said that she believes in "the White man's burden" (that we owe help to Africans); and in the end she would pursue an agenda to have us treat Jews as a part of our cause, having kindred issues and concern for Western culture. But for a myriad of reasons, it is critical that there be White advocacy platforms free of Jewish influence (active influence, in particular), however benign it may appear (and the reason to discriminate against this one (((Ruth's positions))) wasn't really particularly hard to discern).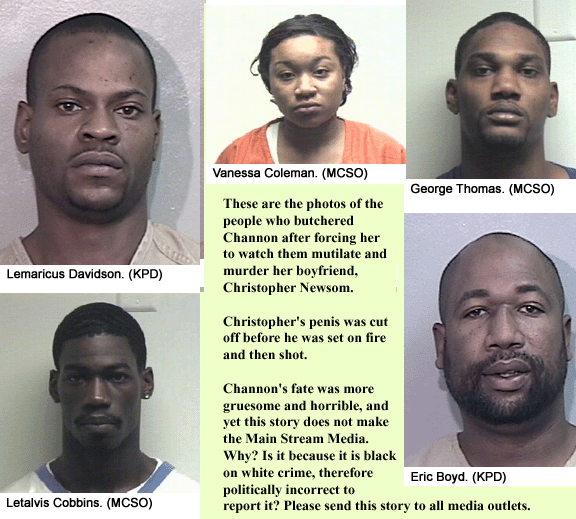 News Sentinel, "Horror of Christian/Newsom killings in focus: What happened on Chipman Street"

In one of Knoxville's most horrific crimes, Channon Christian, 21, and boyfriend Christopher Newsom, 23, were carjacked, kidnapped, raped and slain in January 2007. Five suspects were identified. One was tried federally as an accessory. Four others were tried in Knox County Criminal Court.

A drug scandal involving the judge in those state court proceedings would upend the convictions against two of those suspects. New trials were held, the most recent of which occurred last week.

Through it all, details of the horrors this young couple suffered have eked out. But with each suspect pointing the finger of blame at the other and jurors limited by law in what they are allowed to know, the real story of what happened when the couple were taken hostage and ultimately slain has proved just as elusive as the court cases convoluted.

Setting the stage

The News Sentinel has covered this case since its beginning. With the aid of interviews, trial coverage and transcripts of each defendant's statement to authorities, the newspaper can now offer up a snapshot of not only what happened to these two innocents but exactly who did what to them.

Chipman Street resident Lemaricus Davidson was broke and angry. His girlfriend, Daphne Sutton, had left him. He had no car and no way to earn money.

"Selling dope, that's what I do," Davidson would later tell law enforcement.

Law enforcers knew, however, that Davidson was not simply a drug dealer. He was on parole for carjacking and, in the days leading up to the abduction of Christian and Newsom, was suspected in a series of robberies.

In the days before the couple's abduction, Davidson's brother Letalvis Cobbins came to Knoxville from Kentucky to stay with him. He brought along friend George Thomas and girlfriend Vanessa Coleman.

None of the three had jobs, money or vehicles. Cobbins and Thomas were homeless. Coleman had a salt-of-the-earth family to turn to for help but chose not to.

Davidson grew increasingly angry over what he viewed as the freeloading of his brother and his guests. He turned that anger on Sutton. She left him on Jan. 5, 2007.

A day later, Davidson had concocted a plan to solve all his woes. He, with help from Cobbins and a buddy, Eric Boyd, would carjack someone. Cobbins insisted that he wasn't happy with the idea.

"Me and my brother got to arguing because he said he was going to do some crazy (expletive)," Cobbins said in an interview with law enforcement. "He like, man, I'm fixing to go carjack somebody, man, try and get me some money."

Savaging the victims

Christian and Newsom disappeared Jan. 6, 2007, from the Washington Ridge apartments where Christian's best friend lived.

Hours later, Newsom's body was found alongside railroad tracks near Chipman Street in East Knoxville. He had been raped with an object and then shot three times. The final shot was delivered execution style. He had been gagged with a sock stuffed in his mouth. His ankles were bound with his own belt. His hands were secured behind his back. His face was wrapped in a bandanna. His head was covered with a sweatshirt tied around his neck with shoestrings.Forensic evidence showed that he had been raped in the final hours of his life. He was forced to walk barefoot to the railroad tracks that ran parallel to Chipman Street and shot in the neck and back. As Newsom lay paralyzed on the ground, the muzzle of a .22-caliber gun was placed against his covered head and fired. His body would later be wrapped up in a comforter, doused in gasoline and set afire.

Christian, meanwhile, was tied up inside the Chipman Street house of Davidson, a stranger to her. She was repeatedly raped orally, vaginally and rectally. At some point, she was savagely attacked in her genital region, either kicked or beaten with an object. She suffered two blows to the head and was dragged into the carpeted living room of Davidson's Chipman Street home. Bleach was sprayed down her throat, an apparent effort to destroy DNA evidence. She was hogtied with strips of fabric from a bedding set. Still alive, her body was encased in black garbage bags and her head wrapped in a white plastic grocery bag. Christian was then stuffed inside a trash can and left to die, slowly suffocating.


The house at 2316 Chipman St., Knoxville

Suspect Boyd has long denied any role in the couple's abduction. With no forensic proof tying him to the crimes, authorities were left to prosecute him for hiding out Davidson after the slayings. He is serving an 18-year sentence as a result.

But his statement to authorities provides striking details of the carjacking, details he insisted came from Davidson, not his own memory.

Christian was angry with Newsom because he had tarried in picking her up for the birthday party of a friend. As she sat in the front seat of her Toyota 4-Runner parked outside, Newsom sought to set things right, hugging and kissing her as he stood just outside the driver's side door.

The couple never saw Boyd cruise into the parking lot at Washington Ridge with passengers Davidson and Cobbins. An armed Boyd and Davidson jumped from the car, leaving Cobbins behind. At that point, the pair intended only to rob Christian and Newsom of the SUV. But as they approached the couple, guns drawn, headlights from another vehicle spooked them. They pushed the couple into the SUV.

Testimony has shown that Christian and Newsom were bound in the SUV with whatever cords the assailants could find. Newsom was forced facedown in the vehicle. A bound Christian was dumped onto his back.

With Davidson behind the wheel of Christian's SUV and Cobbins trailing behind in a car Boyd had borrowed from his cousin, the crew headed back to Davidson's Chipman Street home.

There was no doubt then that the couple would die.

"Two white people, white kids, this (expletive) fixing to get crazy, man, you know what I mean?" Cobbins said.

Davidson and his cohorts are black, the victims white. Racial differences have never been suggested as a motivator for what authorities view as a random carjacking.
The perpetrators were never charged with "hate crimes."
TNO, "Germany: 3,000 Sex Attack Victims in 2016", 4 Jan 2016:

Third World invaders pretending to be refugees in Germany preyed upon 2,000 adults and 1,000 children in 2015, a new study by monitoring group XZ Einzefall has shown - at least 1,964 of the sex attacks were serious,

The true number of attacks and victims is much higher, because police are under orders to withhold hundreds of reports and only respond if the media makes inquiries.

XY Einzefall is a German-based monitoring group which has carefully recorded every sex assault carried out in Germany since Angela Merkel opened that country's gates to the mass Third World invasion in 2015.

Their final report for 2016, which can be found in spreadsheet format here, reveals that reported incidents only total 1,964, consisting of at least 201 rapes, 1,559 sex attacks, and 204 sex attacks in public swimming pools.

Only incidents which were actually reported by the police, or which were reported in the controlled media, were added to the XZ Einzefall list. Their spreadsheet contains the links to the police and media reports.

Of the 201 reported rapes, at least 35 were minors, the study showed. Of the 1,559 sex attacks, 653 victims were minors, and of the 204 swimming pool sex attacks, 286 were minors.

This works out at nearly six serious sex attacks every day during 2016.

However, as XY Einzelfall points out in its study, these figures are merely the tip of the iceberg. Quoting a separate study in Austria, the groups said that "only a tiny fraction of all crimes are published as a police or media-report."

The Austrian study quoted compared complaints laid with the police to those reported by the police's media officers and those reported in the media. The difference was vast, the study said, finding that in Vienna, of the more than 200,000 complaints made to police, less than 2,000 police reports were actually published.

With regard to rape cases, the study found, of the 647 rapes reported to the police, only 15 were ever mentioned by police reports and media.

"For this reason," the study says, "the total number of crimes committed by migrants is much higher."

XZ Einzelfall also maintains an incident map which is regularly updated and which can be found here.
TNO, "French Mayor on Trial for Truth", 24 Dec 2016:

The French mayor of the town of Béziers has been charged with "hate crimes" after saying that it was a "problem" that a class in a local school was 91 percent Muslim.

The charges were brought by the Jewish "International League against Racism and Anti-Semitism" (Ligue Internationale Contre le Racisme et l'Antisémitisme, LICRA).

Mayor Robert Menard denied his comments were discriminatory, saying he had "just described the situation in my town."


"The most striking proof of the great Replacement in progress. Just look at old class photos." - Mayor Robert Menard.

The comments were made back in September 2016, when Menard told French news channel LCI that "In a class in the city Center in my town, 91 percent of the children are Muslims. Obviously, this is a problem. There are limits to tolerance."

At the same time, Menard tweeted his regret at witnessing "the great replacement" of France's white population by Third World invaders.

According to French media, his comments were "seized upon" by LICRA, and the Jewish group immediately pressed charges for "hate" and "incitement."

After months of deliberation, Menard's trial date has now been set for March 8, LICRA announced on their Twitter feed.

After months of deliberation, Menard's trial date has now been set for March 8, LICRA announced on their Twitter feed.