Majorityrights News > Category: Hermeneutics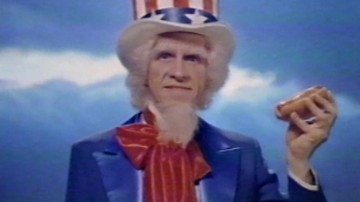 Television: Answering to an even higher authority.
[backing vocals Tina Turner & The Ikettes]
I am gross and perverted
I'm obsessed 'n deranged
I have existed for years
But very little has changed
I'm the tool of the Government
And industry too
For I am destined to rule
And regulate you
I may be vile and pernicious
But you can't look away
I make you think I'm delicious
With the stuff that I say
I'm the best you can get
Have you guessed me yet?
I'm the slime oozin' out
From your TV set
You will obey me while I lead you
And eat the garbage that I feed you
Until the day that we don't need you
Don't go for help . . . no one will heed you
Your mind is totally controlled
It has been stuffed into my mold
And you will do as you are told
Until the rights to you are sold
That's right, folks . . .
Don't touch that dial
Well, I am the slime from your video
Oozin' along on your livin' room floor
I am the slime from your video
Can't stop the slime, people, lookit me go
I am the slime from your video
Oozin' along on your livin' room floor
I am the slime from your video
Can't stop the slime, people, lookit me go
- Frank Zappa, "I'm The Slime"
TV: postmortem on passivity induced runaway destruction, including speculation on zombie effects despite the new dawn of interactive media. It's being a retrospective gives me an excuse to post this older show which I've only seen today for the first time. It's funny as hell. Charlie Brooker is clever. I don't vouch for his politics, am unfamiliar with that.
But as we say goodbye to the hegemonic days of television and the passive acceptance of its audiences of a world they could not interact with nor hope to change, it is worthwhile to take another look back on the days of how the Televitz shaped and manipulated our attention; and to speculate on some of its lingering effects, both on runaway systems in a world unchallenged, and its parallel tropisms in the computer screen, exponentially better though it is in the choice and interaction the mechanisms attached may provide…
"How Television Ruined Your Life"
Parts 1-6, BBC production, 2012, under Youtube license: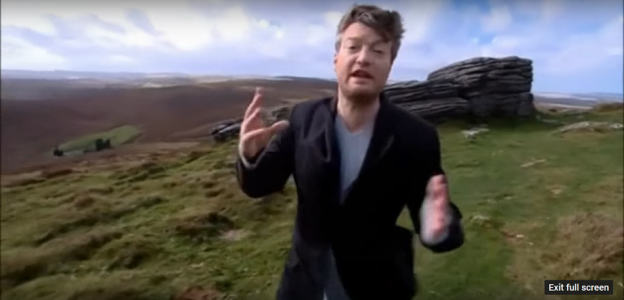 The New Observer, "White Race Doesn't Exist" says Rome's top bracket", 16 Jan 2018:

The White race does not exist, and to say it does is "ignorant," the President of the Jewish Community of Rome, Ruth Dureghello has announced on Twitter.

"It's inconceivable that in 2018 one must repeat to ignorant ones that there doesn't exist a white race to defend, 80 years after the promulgation of the racial laws," Dureghello wrote in Italian on her twitter feed.

She was reacting to a remark made by Attilio Fontana, a candidate of the Northern League party for the governorship of the province of Lombardy, earlier this week when he said that the Third World invasion of Europe was going to lead to the extermination of the white race.

Fontana, who is running with support from a center-right alliance, whose backers include former Premier Silvio Berlusconi, made the comments on Sunday on Radio Padania, which is run by the Northern League.

The controlled media in Italy was in uproar over his comment.

He said that being unwilling to "accept all" immigrants "isn't a question of being xenophobic or racist, but a question of being logical or rational.

""We can't [accept them all] because they don't all fit; we must make choices," Fontana said. "We must decide if our ethnicity, if our White race, if our society must continue to exist or if it must be cancelled out, because there are many more of them than us and they are much more determined to occupy this land than we are."

Though Fontana's remarks are completely accurate— given current nonwhite invasion levels and the staggering reproduction rates of nonwhites already present in western Europe, that part of the continent is due to be majority nonwhite by 2040 or 2050 - the controlled media in Italy went into "uproar" over the comment.

Not even Fontana's backtracking satisfied the hysteria. He later claimed it was "a lapse, an error in expression. I meant to say we must all re-organize a different kind of welcome, respecting our history, our society."

Meanwhile, the Northern League's charismatic leader, Matteo Salvini, refused to back down and said that Fontana had rightly raised a worry about an "invasion" by Muslims.

Salvini defended Fontana and said his party in government will "regulate every Islamic presence in the country." "Our culture, society, traditions, way of live are at risk," he said. "An invasion is underway."

The vote for governor is being held on March 4.

* Dureghello's reference to the "80 years after the promulgation of the racial laws" in her tweet is in relation to the racial laws promulgated by the Mussolini in 1938 which sought to keep Italy European, and which excluded Jews from holding position of public office, political parties, trade unions, banks, insurance companies, higher education, and all media in Italy.
Correction: I spoke too soon about Timothy Snyder being an anti-nationalist, and I did that in light of his estimation that Britain and France were not really nations while they were empires, that their "nationhoods" were creations of post hoc political convenience. Nevertheless, to say that he is against nationalism would not be correct, since in fact he sees the weak state and the destruction of the state as that which abets genocide.
Snyder's characterology of how Putin's and Trump's positions have emerged in fairly conjoint construction is uncanny…
As such he does make of himself a useful idiot in that he exposes one side of the YKW equation - the specific origin and characters of their right wing cohorts, Putin and Trump.
Youtube, "A Republic, If You Can Keep It: Masha Gessen Talks Autocracy with Timothy Snyder", 12 July 2017: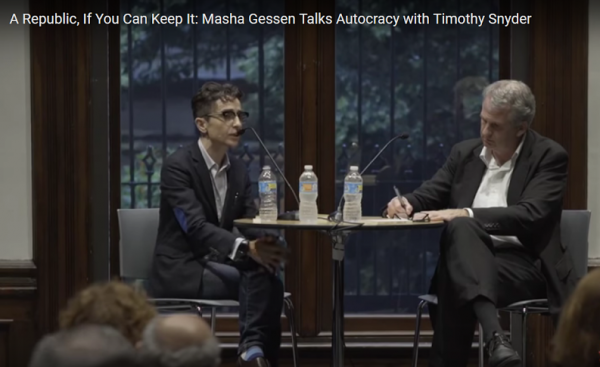 As his fellow Trump/Putin critic, (((Masha Gessen))) would suggest, we would miss the truth of these characters, more like mafia dons than statesmen, if we were to maintain a policy of sheer fact checking. Because essentially, they don't care. They both have a cynical world view and it is about power - logical consistency is for the naive. By contrast to that, one must have the courage and confidence to tell the true story -
Youtube, "Chatham House Primer: Modern Authoritarianism", 30 Oct 2017:


This guy, (Ivan) Ilyin, I think was a very interesting philosopher; he is kind of the grandfather of the current Russian "fascism." Current Russian "fascists" like Alexander Dugin are a little jealous of him and say that he just serves a technical function in the Kremlin and he's not that interesting. I think he's interesting. One of his ideas is that for Russia to have a leader, that person has to be free of history, which is a high demand.

He (Ilyin) was a right-wing Hegelian ...his whole idea was that god created the world and that was a mistake. It's an interesting view, those of you who know anything about Orthodox theology know that there are references… god created the world, it was a mistake, the factuality of the world is itself sinful, history is itself sinful, contingency, to use the technical term, contingency is sinful, all these facts and passions we have, they're inherently sinful.

So, in order for Russia to be rescued it has to be rescued by someone who is somehow clean of history.

It has to be a redeemer who comes from beyond history.

What I find so interesting is that this actually happened in a way.

The place that is not history is fiction.

When Mr. Putin came to power, Surkov and the others in the Kremlin literally had a kind of game and then a public opinion poll where they tried to figure out which Russian fictional character would be most attractive to Russians. They came up with this character (Max Otto von) Stierlitz, who was a double agent and a person in a novel, and in a film, in the 70's, who was a Russian spy who spoke German. That's why they chose Mr. Putin. So, he literally .. this true people! This is the world we live in. So he literally came from fiction.

Then you connect Mr. Putin to Mr. Trump. Mr. Trump is Not a successful real estate developer! That never happened. Mr. Trump bankrupted six companies. He owed billions of dollars to, I think, seventy banks. Until, low and behold, some nice Russians came and said, 'hey, why don't you just put your name on some buildings and we'll give you money for that, and we will build the buildings - which then became his business plan. Which is a great (((business plan))) if you can get it.

Rob Goldstone

relaxing, chatting with Trump

The Miss Universe pageant. How did he run (((the Miss Universe pageant)))? The Russians gave him twenty million dollars and he showed up. Which is a great business plan if you can do it.

So, a fictional Russian character comes to power and then creates a fictional American character called Mr. Trump. This happened!

Once the Russians had bailed him out, he then appeared on American television, on celebrity apprentice, playing a successful real estate developer - which he never was.

But as a character, he was great, he could say, "you're fired!" in a really convincing way.

So, one fictional character then creates another fictional character. And that fictional character also comes to power. ..with the help of all kinds of fictional devices, mostly delivered through the internet. So there really is an interesting problem of (((genre))) going on in our life.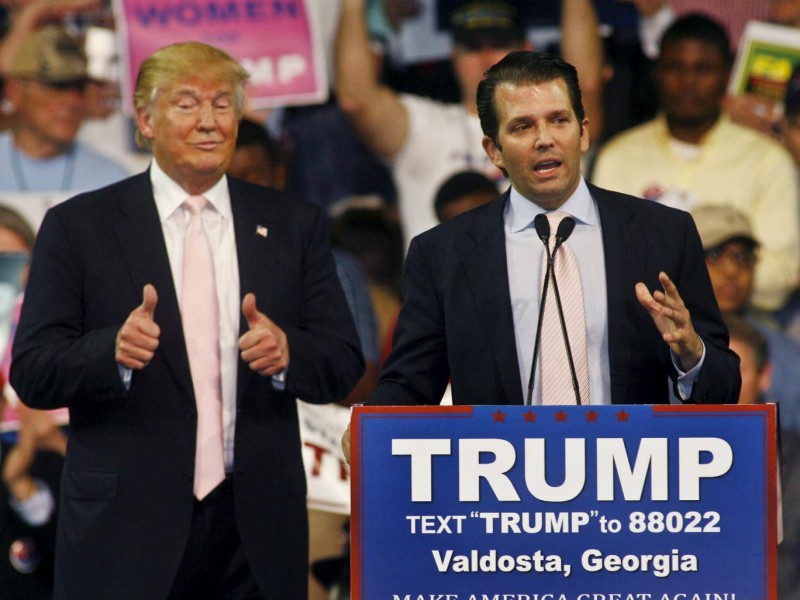 Donald Trump gives a thumbs up as his son Donald Trump, Jr. speaks at a campaign rally at Valdosta State University in Valdosta, Georgia February 29, 2016 Reuters.
NPR, "Donald Trump Jr. Had Direct Contact With WikiLeaks During Campaign", 14 Nov 2017:

During the 2016 presidential campaign, Donald Trump Jr. was in direct contact with WikiLeaks at the same time the muckraking website was publishing hacked emails from Democratic officials that proved damaging to the Clinton campaign, according to several major publications.

Following the reports, Trump Jr. acknowledged the contact in a tweet detailing one exchange with the radical transparency organization.

The Atlantic, The Wall Street Journal and The Washington Post, in articles published late Monday, said that then-candidate Donald Trump's eldest son used the messaging feature on Twitter to communicate with WikiLeaks, which in turn alerted the campaign to the impending release of the hacked emails.

The publications report that the messages between Trump Jr. and WikiLeaks were among thousands of documents turned over to Congress as part of its ongoing investigation into claims that Russia interfered in the November election — a finding backed unanimously by U.S. intelligence agencies, which have said that the Kremlin aimed to aid Donald Trump's campaign.
"Aspen Institute": (((Panel discusses))) Active Measures
The Alt-Right is discussed in minute 14:45:
Evelyn Farkas: Former Assistant Secretary of Defense for Russia, Ukraine and Eurasia: 14:45: It drives me crazy when Former Director Comey says that the Russians are coming back. To your point, they never left. I mean they're still here, they have all that information, they're in our cyber- and in our information-sphere.

Ned Price: And its broader than just Wikileaks and the overt or semi overt organs of the Russian government. I think one thing we noticed even after the election; you take the sort of trending story in Alt-Right or so-called Alt-Right circles: [example] hashtag #Syriahoax started in Russia and somehow make their way to the United States and started trending in some of the same circles that are collectively known as the Alt-Right. And I think the linkage between the two is not something we fully understand; how something jumps across he Atlantic like that and tends to land with the same group of people after originating in pro-Russia circles.
Now we need a non-Jewish panel discussing Israeli and Jewish influence over the American electorate - lol.
..in fact, there are some questions toward the end that bear upon that -
Charlie D. from Duke Law: 52:00: Would it help if we broadened the discussion about all foreign nations who are trying to influence our campaigns?

Panel averts the question -

Ned Price: 52:19: I would start with the proposition that it's natural for governments to have policy preferences. Clearly I would suspect lots of the NATO member countries were made uncomfortable listening to Donald Trump during the campaign speak of NATO being obsolete. I think that the issue is that in today's environment there has been attempt at criminalization on policy preferences on the part of foreign capitals. But I think we have to remember is a far cry from a NATO country, you know, privately rooting for Hillary Clinton and a strategic adversary getting involved in our election with Active Measures, covert influence, social media, you name it.

Julia Ioffe: They weren't probing and scanning our election infrastructure, yeah.

Audience Member: Have any of you considered the business role of the president and Russia; because he has, right now, no one will lend him money in New York City, no one will do business with him in New York City. He owes a great deal of money. Where does he get the money? There are a lot of rumors that he gets it from Russia. Have any of your explored any of that?

Julia Ioffe: 53:48: Both of his sons said that he (Trump) gets most of his money from them (Russia) ...and its not a crazy proposition either that if he's doing real estate in New York and Florida ...and guess where (((Russians))) who want to park their money outside of Russia, guess where they want to buy real estate? - (((New York and Florida))).