Majorityrights News > Category: Hermeneutics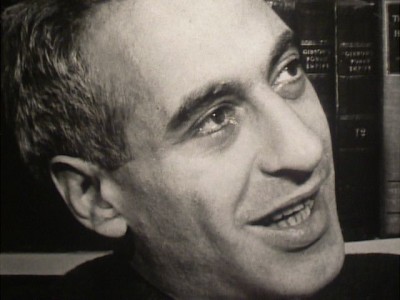 Frank Meyer, father of (((Paleocons))), grandfather of "The Alternative Right."
With the attack on Syria and the confirmation of Gorsuch to the Supreme Court, The Trump administration's (((paleocon agenda))) has come to explicit fruition - any pretenses to wear its new wardrobe lent by the Alternative Right in their disingenuous/naive trendy support has been thrown off - cucks: they've been used. The denial of having been used as paleocons takes the form of saying "Trump has gone neocon", when in fact, he hasn't changed - he has just come out in the open with the paleoconservatism that's always been behind the Alternative Right.
This turn of events should serve to illustrate why the terms we have to defend and negotiate our way in ethnonationalism are crucial to navigate our proper course. The terms to organize and understand our defense are not jargon, they are not complicated but they are very important.
If they were not important, Jewish interests would not have been so intent upon getting White advocates to identify their enemy as "the left" and to divert them into "the Alternative Right" big tent, which is just (((paleoconservatism))), revised with trendy terms, memes and a few more provisional adjunct circles to ease the entryism of Jews and sufficiently didactic right wingers (Captainchaos, take note) - largely a millennial generation internet bubble circle jerk; wherein they tell themselves that they are "rebelling" against boomer generation (((neoconservatism))), so that they can blame that instead of taking responsibility for having been hoodwinked in the garbed up (((paleoconservatism))) which had them as millennial fogies, getting behind Trump: "The Alternative Right" has aided, abetted, deepened entanglement and embrace of Whites with Jewish/Zionist interests.
While not naming the neocons explicitly, (((John K. Press)))'s "culturalism" - published at Alternative Right - is definitively paleoconservative by contrast to neoconservatism.
With Trump's coming out into the open in his paleocon agenda, Alt Righters are quickly encouraged to divert blame to the "neocons."
(((Edmund Oslan))), who identifies as Alt Right and contributes to Alternative Right.org as well, cites Trump as having gone "Neocon" - Savage Hippie Episode 41 – Did Trump Go Neocon, or Is He a Crackhead?
Matt Heimbach and Sven Longshanks follow suit, blaming boomer generation neoconservatism for Trump's actions in Syria.
MacDonald with Red Ice blames Trump for succumbing to neocon influence: Neocons to Remove Assad, Trump Buys the MSM Lie.
It goes without saying that the flagship of the AlternativeRight - viz Alt Right - would toe the Alternative Right/Paleocon line: Neocon Puppet Donald Trump Announces His Unilateral Attack On Syria.
Counter-Currents depicts their rightist contrast to Trump's Syrian venture "neoconservatism" as well, not seeing the culpability which its rightism shares with all of the above for playing a part in support of Trump, not having extricated themselves from paleoconservatism.
All the while, the paleocon jargon that entangles would-be White advocacy with Jewish interests under the rubric of the alternative right is protected and defended against clarification and correction.

Concerns for balkanization of the US are in order but not mutually exclusive to other ethnonationalist concerns - they occur in hermeneutic process, attended to as relevant - for those in The US, perhaps a predominantly regular concern.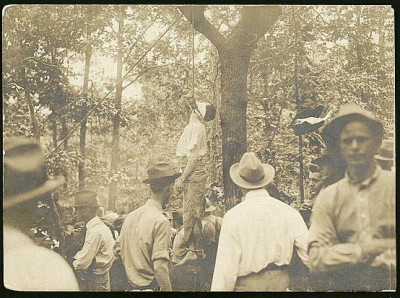 *Important editorial note: Though in this review Alexander Baron refers to Leo Frank as "white" in a few places, Majorityrights does not categorize Jews as "white."
The Lynching Of A Guilty Man reviewed by Alexander Baron
The Leo Frank Case subtitled The Lynching Of A Guilty Man is the third volume in a massive study The Secret Relationship Between Blacks And Jews. The first volume was published in 1991, so this is no rush job. It is also clearly a book written with an agenda, but even vested interest can speak the truth. And the obvious vested interest of the Nation Of Islam comes as a welcome counterpoint to the concealed vested interest of the rest of the American media which unthinkingly points the finger at a black suspect in spite of the conviction of a white* one.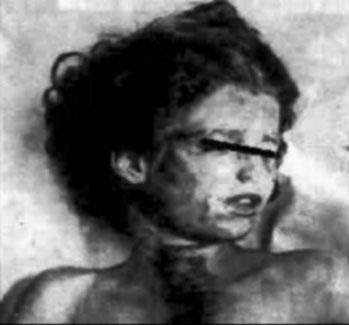 For those not au fait with this notorious case, it began when the body of Mary Phagan was found in the basement of the Atlanta Pencil Factory on April 26, 1913. The young worker had been murdered quite brutally for no apparent reason. The Negro security man who found the body quickly became a suspect - something that is more or less taken for granted nowadays unless the person who finds a body clearly has no connection with the victim, eg a hiker happening upon a skeleton.
Newt Lee aside, there was no shortage of more promising suspects, and two soon emerged: the factory manager/part owner Leo Frank, and his gofer Jim Conley. Although Conley was linked to the killing by forensic evidence, in particular two ludicrous notes written from the perspective of the victim, the authorities went with the prosecution of the white* man while Conley testified as an accessory after the fact. Frank was convicted and sentenced to death, but after extensive failed appeals his sentence was commuted. This led to outraged prominent citizens kidnapping him from the State Penitentiary, driving him back to Atlanta, and stringing him from a tree by his neck.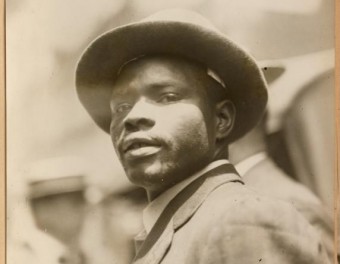 A century and more on there remain two competing narratives; the official and accepted narrative is that Leo Frank was innocent and Jim Conley the villain of the piece. Some might find that surprising as Conley was never indicted for the crime and Frank was never cleared officially in spite of enormous posthumous lobbying by especially the misnamed Anti-Defamation League. This book adheres to the second narrative, that ridiculous as Conley's tale may have been, he was in fact totally innocent, an accessory only after the fact, having found himself in a truly invidious position, a man of humble estate - in effect a third class citizen - who was told he must follow the orders of his boss or else.
In the past quarter to half century, quite a few authors have come out in support of this narrative, but none more impressively than the dedicated Leo Frank website and now this minutely documented book.
If anyone believes the fact that the forensic evidence pointing to Conley should have indicted him and him alone, here are two cases from the 1980s that show how wrong this kind of reasoning can be. In March 1984, the black American Sylvester Smith was accused of violating two young girls, cousins. As all the parties involved in this case were black, there was no racial angle. The girls had clearly been interfered with sexually, and unsurprisingly, Smith was convicted. Twenty years later he was cleared on appeal, the shocking truth was that the real perpetrator was a 9 year old boy (who went on as an adult to commit a murder). The girls had been coached by their grandmother to point the finger at Smith to protect him. After her death, they recanted.
An equally shocking case that made international headlines was that of Lindy Chamberlain. In 1980 while camping at Ayers Rock, Australia, her baby daughter Azaria was snatched by a dingo. She was convicted of the murder based largely on forensic evidence, but nearly six years later, more reliable forensic evidence was found - the girl's matinee jacket near a dingo lair.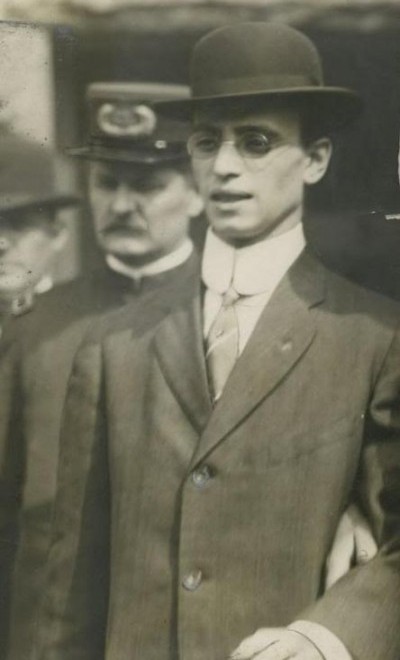 In the Mary Phagan case, the forensic evidence against Jim Conley (the notes) was outweighed by the forensic and other evidence against his boss, in particular there was evidence that the girl has been murdered upstairs. Almost all the other evidence pointed to Frank, everything from his demeanour to his willingness to point the finger at everyone else including at first Newt Lee. Conley on the other hand remained cool as a cucumber, so either he was a psychopath and a potential future Oscar winner, or he really was telling the truth, however outrageous or crazy his story may have sounded. But when the facts are all in, it wasn't that outrageous, it wasn't that crazy, and justice was done in the Deep South, both for Mary Phagan and for a black man whose word many of Frank's supporters believed should carry no weight at all.
A few criticisms are in order:
In the Preface, the claim is made that an "unknown posse" lynched Frank, and that he was and remains the only Jew ever lynched in America. The posse was hardly unknown, its members did not bother to hide their faces, and indeed appeared proud of their work. Later in the book it is made clear that their identities were in no way secret. The doubtful honour of being the first Jew lynched in America appears to belong to Samuel Bierfield in 1868, but neither he nor Frank were lynched because they were Jews.
Frank was hardly the most important Jew in the Deep South as claimed; he was certainly far from the wealthiest, and was the New York Times the world's most important newspaper? The most important in America maybe, but not more important than the London Times. And was World War One raging in 1913?
The reason the crime was committed and how it was committed are both laid out in impressive detail, as are the attempts by Leo Frank to point the finger of suspicion initially at Newt Lee, and then at anyone else without mentioning the fact that Conley was at the pencil factory at the material time. Why would he not do that? The only logical reason is that he didn't want Conley to open his mouth, and once Conley did, he too had to be accused. The book raises too the interesting speculation that Frank was considering murdering Conley – the only direct witness – as well.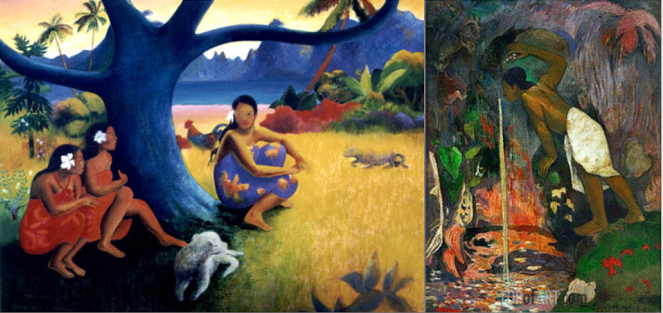 I may have sold Gauguin short in terms of his ethnographic conscientiousness. I'd been citing him as an example of the "artistic genius" who wasn't worth it for his moral failing. There is still a good measure of truth to that, but he may not have been quite as heinous and without effort to be considerate as I had thought in terms of concern for what is important to other people - at least those of Tahiti and their culture. My line had been that as an artist he is as satisfying as any to me, nevertheless as a man who infected who knows how many native girls with syphilis, he was a killer. His art, no matter how good, not worth that behavior.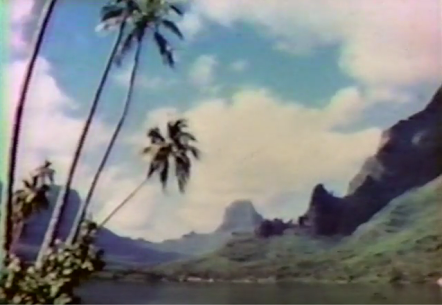 Gauguin in Tahiti: Search for Paradise (1967)
Even so, as I watch this biography, a couple of mitigating facts are revealed. True, he still would have infected at least one native girl with syphilis. However, he married her and apparently did not know that he had the disease when he infected her. Still bad, of course, as there was no effective treatment for the disease even with French civilization settled there. Add to that his knowledge of the risks of his own promiscuity beforehand along with his ultimate abandonment of his wife and kids back in France.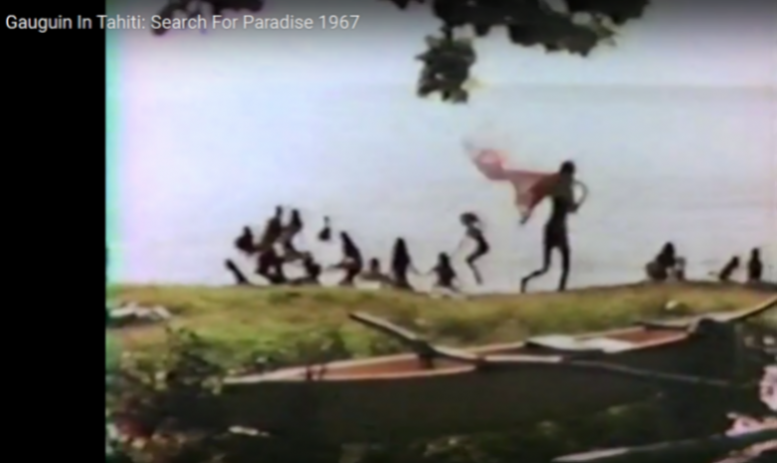 However, the biography reveals that before he fell ill, he was really concerned to find and help preserve the authentic Tahitian people and culture. With that, he was dismayed by the impact of French civilization and missionaries, how they'd already by his time begun to destroy the native culture. He was particularly bothered by the imposition of Christian schooling upon the native children that had by then caused them to lose their native religion. He would actually go to the children and their parents with a French law book - reading them their rights so that they would know that they did not have to go to the missionary school. Finally, he went so far as to try to recreate their native religious stories in writing and in his paintings…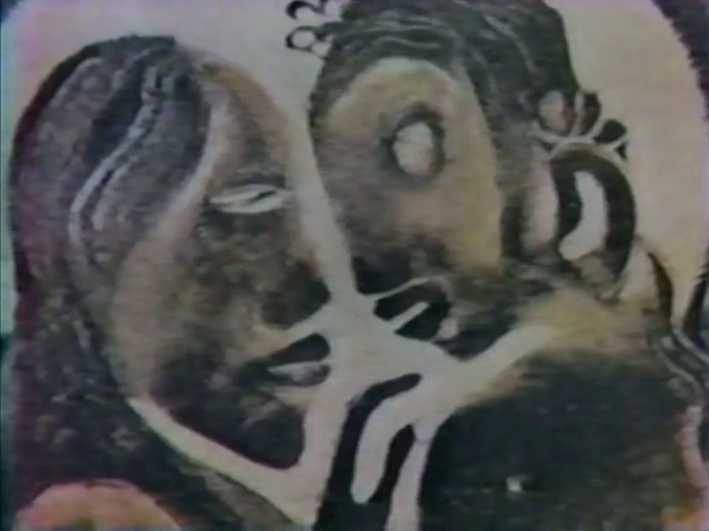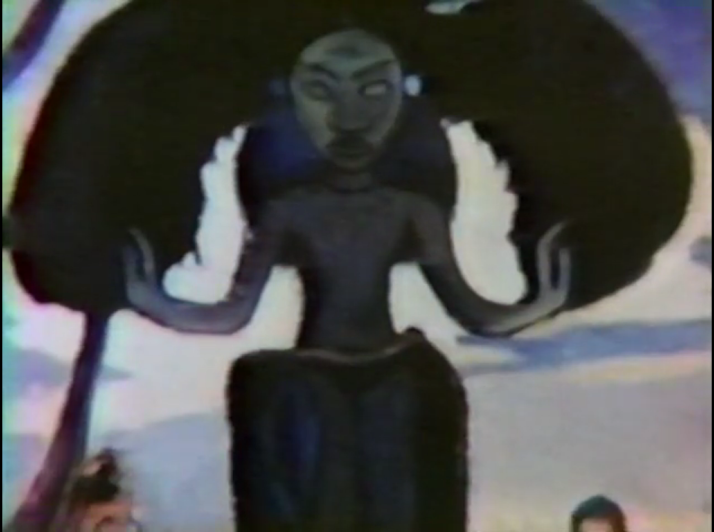 Backgrounding & Taken For Granted - Resistance is Futile. Add from Det Nya Landet - translation "Big Mulatto Brother"?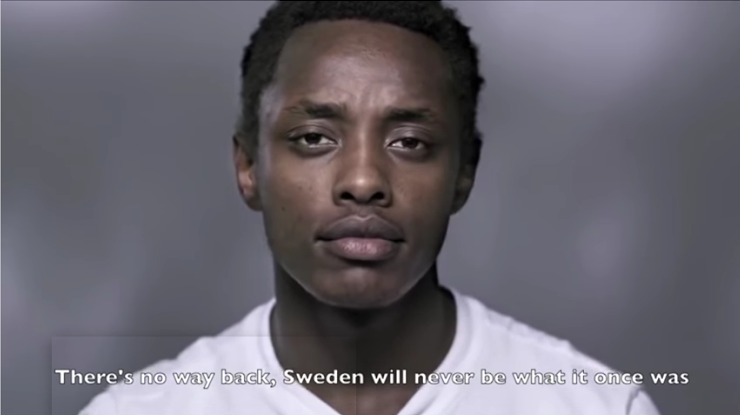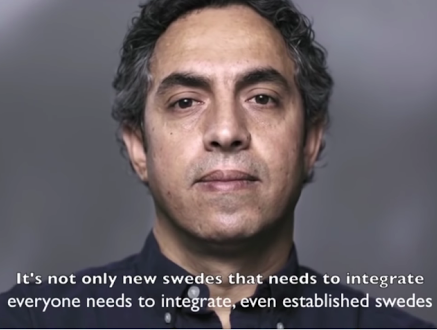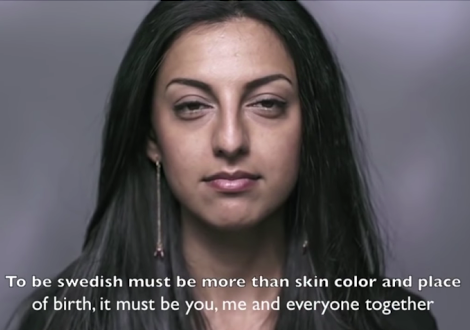 Below is another marketing campaign advert suggesting that "resistance is futile" - this one coming from the EU is a bit more subtle: It is an EU add run in Poland, and it is as if to suggest that blacks are to be taken for granted as a significant component of European history. However, in this instance, the "resistance is futile" message is not spoken, it is in the background - two blacks comfortably sit in the background of the same restaurant scene and a mulatto girl is fore-fronted; thus, backgrounding and taking for granted the interracial relationship of her parents.
The EU is backgrounding the racial integration of blacks, presenting to naive audiences (naive as to the bio-power of an invasive species) or audiences perhaps aware, but not in a position to voice objections (literally the case when these images are whisked-by semi-subliminally), that the place of blacks among them is something to be taken for granted. Resistance is futile, nobody will agree with your objection, it is taken for granted already.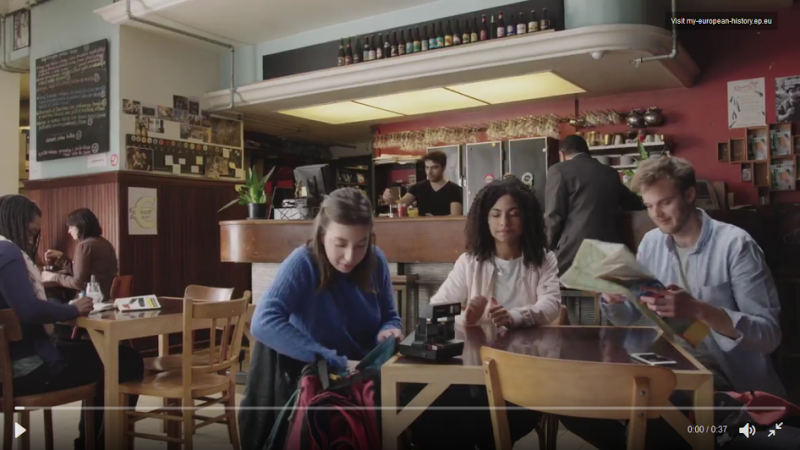 This is a screen shot from a quick add distributed by The European Union and shown in Poland to promote The EU's "My European History" program. Of seven people in the add, 3 are black. Of the blacks, a mulatto girl is centrally featured in the add, while the other two blacks are placed in the background, taking for granted their place in Europe and its history. The girl's mulattoness is also a form of backgrounding and taking for granted.
The add came by way of Twitter:
Parlament EuropejskiVerified account @Europarl_PL

My House of European History to kolekcja opowieści o Europie. Zgłoś swoją → https://my-european-history.ep.eu/?locale=pl ! RT i udostępnij!

#StoriesofEurope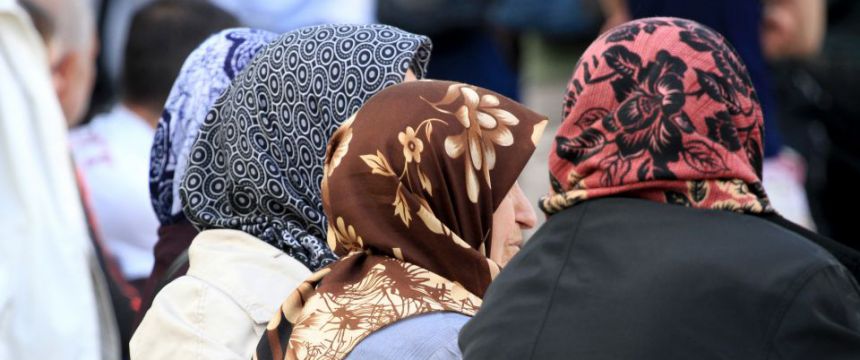 Incubators with headscarfs is what the Islamic incursion in Berlin has made of these women (Photo: picture alliance / dpa)
JungeFreiheit, "Demographic repression: Space without people."
Breitbart, "Germany: Nearly 40 Per Cent of Under Fives Now 'Migrant Background', 21 Sept. 2016:

Following the release of figures which reveal almost four in ten children under five have foreign roots, Michael Paulwitz says the demographic change will be the death of Germany's welfare state.

The journalist and historian predicts that "hard struggles" over resources will take place when ethnic Germans are a minority, and that native Germans "will inevitably lose out".

Mr Paulwitz' article follows the release on Friday of official figures from the Federal Statistics Office. While they show 21 per cent of the total population currently have a migrant background he notes that such people are disproportionately represented in the younger age cohorts.

One in three people aged under 18 who are resident in Germany have foreign roots, and the number jumps to 36 per cent among people under five.

This, he ominously points out, "allows one to appreciate where [Germany] is headed". Mr Paulwitz points to the demographics of Berlin, where people with a migration background comprise 30 per cent of residents.

Mr Paulwitz also mentions that ethnic Germans are already minority in the district centre and many of the surrounding central districts.

With these trends in mind, he observes: "First in the cities, later throughout the country, ethnic Germans are to become a minority in their own city and in their own country.

"Will Germany still be, in the coming years and decades, the land of the Germans when immigration of people from non-European cultures continues at a high level?" Mr Paulwitz asks.

The historian writes that "one does not need much imagination to imagine how profoundly the population picture will change within the next two decades".

He calls attention to the fact that in this timeframe many current pensioners will die and that the, mainly German lineage, cohort of 45 to 65 year olds — those "at the peak of their working lives" with regards to paying taxes — will have withdrawn from the workforce.

The demographic statistics for this year also show that people with foreign roots are twice as likely to be unemployed than Germans and are significantly more likely to have been educated to only a lower secondary school level, or have no education background at all.

Mr Paulwitz writes: "The social and redistributive state as we know it will no longer be affordable at its present level when the population is no longer dominated by ethnic Germans, and is a multicultural population mix."

Collected in mid 2015, the Federal Statistics Office data fails to reflect the more than 1.6 million migrants who arrived in 2015 and the first half of 2016, or the huge number of estimated illegal immigrants living in Germany.

Mr Paulwitz points out that while Angela Merkel's open door policy was a "dramatic escalation" of previous policies, even before she "opened the lock" a quarter of people aged between 15 and 45 had foreign roots in 2014.

He contends that these demographic trends can only increase as, "through family reunification, this number [1.6 million] is expected to at least double if not multiply".

Furthermore he observes there is an "inexhaustible supply" of Arabs and Africans who want to move to Germany. The historian typifies them as "second, third and fourth sons" of families, who are "demanding" but "lack the education or drive to create their own wealth".

Taking all of this into account, Mr Paulwitz diagnoses a grim future for Germany and its native population. He forecasts "hard struggles over resources will be the result" and contends that ethnic Germans are "pacified" and "ageing".

Considering the huge number of people with foreign roots already present, their far higher fertility rate and no sign of an end to the country's policy of importing hundreds of thousands of migrants a year, Mr Paulwitz says indigenous Germans "will inevitably lose out". He also foresees that "the sexual assaults, a result of the surplus men imported, will increase".

Mr Paulwitz concludes: "A government that decides to change the ethnic and cultural structure of the country without asking its people violates the principle of popular sovereignty, constitutional lawyer Dietrich Murswiek has said … It's surprising that citizens have begun to fight it at the ballot, but more surprising is that so few are doing so."
TNO, "Major New Find at Stonehenge", 24 Nov 2016:

A major new archaeological find of causewayed enclosures and artifacts near Britain's famous Stonehenge site is about to "rewrite" the history of the area and of northwestern Europe's early inhabited history.

Built 5,650 years ago—more than 1,000 years before Stonehenge—one of the enclosures appears to have been a major ceremonial gathering place.

The major enclosure's precise original function remains a mystery, but the scant available evidence suggests that it was used for a mixture of ceremonial, religious, political, and mortuary roles.

According to a press release issued by a construction consultancy company involved with an unrelated new building project at the site, archaeologists have "discovered important new sites that rewrite the Stonehenge landscape" and which "predate the construction of Stonehenge itself."

The remains, found at Larkhill and Bulford, were unearthed during excavations ahead of the construction of new British Army family accommodation.

About 70 enclosures of the type found are known across England and Europe, the press release continued.

The structure is one of the "earliest built structures in the British landscape," and was used "for temporary settlement, as ceremonial gathering places, to manage and exchange animals, including the first domesticated cattle and sheep and for ritual activity."

The Larkhill enclosure has produced freshly broken pottery, dumps of worked flint and even a large stone saddle quern used to turn grain into flour. The Neolithic period saw the first use of domesticated crops and this find provides evidence of this.

The Greater Cursus, an earthwork nearly 1.8 miles in length, is the longest structure. It connects and divides parts of the landscape, and separates the Larkhill causewayed enclosure from the place that became Stonehenge.

"The people who built the causewayed enclosure are the ancestors of the builders of Stonehenge and were shaping the landscape into which the stone circle was placed," the press release continued.

"Their work shows that this was a special landscape even before Stonehenge was constructed. People were already living and working within what we now call the Stonehenge landscape and they were building the structures that would culminate in the Stonehenge complex of stones and earthworks.

"The Larkhill site shows that they had the social organization necessary to come together to build significant earthworks and the resources to support the work, as well as the people to carry it out. The offerings in the ditches also show the rich religious life they had created."

So far, archaeologists from Wiltshire-based Wessex Archaeology have excavated around 100 m. of ditch, probably representing around 17 percent of the monument's outer circuit. That investigation has already enabled them to get a sense of some of the rituals that were carried out there.


Antlers and a quern recovered at the site.


Pottery shards and arrowheads recovered at the site.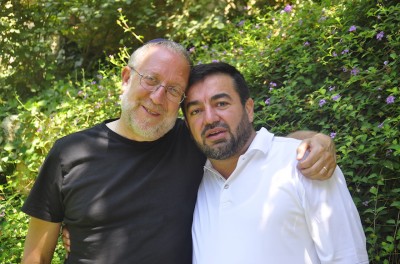 Yossi Klein Halevi, left, and Abdullah Antepli are co-directors of the Muslim Leadership Initiative. (Netanel Tobias/Shalom Hartman Inst.)
Examples which shattering the misconception that they are ultimately at odds; and that what bad for one is bad for the other and good for Whites.
"Jews and Muslims ramp up alliances in wake of Trump's election."

On Monday, the American Jewish Committee and the Islamic Society of North America launched the Muslim-Jewish Advisory Council, a group of religious and business leaders from both communities who will help draft domestic policy legislation and advocate on issues of shared concern.

The ADL is planning to increase its efforts to provide support for legal and legislative efforts in the fight against anti-Muslim bigotry.

And the Shalom Hartman Institute's Muslim Leadership Initiative, which educates young Muslim leaders about Judaism and Israel, held a retreat over the weekend titled "Living in Trump's America: Muslim Vulnerability and Jewish Echoes."

"What's happened as a result of the poisonous atmosphere that Trump has created is that American Muslims are desperate for allies," said Yossi Klein Halevi, the Muslim Leadership Initiative's co-director. "And the argument that MLI has made to the Muslim community — which is that the Jews are, at least in theory, natural allies for embattled Muslims — now has become compelling."

Both Jewish and Muslim groups have expressed worry about Trump's rhetoric, and his supporters' actions, over the course of the presidential campaign. Muslims have protested Trump's 2015 call for a ban on Muslim immigration to the United States, as well as his insinuations that Muslims celebrated the 9/11 attacks and have withheld information from law enforcement about terrorism. Anti-Muslim attacks rose during his campaign, and a string of attacks has followed his election.

And while Trump has not explicitly targeted Jews, Jewish groups raised alarm over his endorsements by white nationalists and online attacks on Jews by his supporters, along with his remarks late in the campaign that echoed anti-Semitic tropes. Jewish groups have protested his naming as his chief strategist Stephen Bannon, the executive chairman of a website, Breitbart News, that has been accused of incitement against Muslims and coddling anti-Semitism among its writers and readers. In addition, the ADL decried "a wave of anti-Semitic vandalism" following the election.

In the past, differing stances and sensitivities regarding Islamic extremism or Israeli military action drove groups apart. Ibrahim Hooper, spokesman for the Council on American-Islamic Relations, said he hopes Jewish groups will be more willing to work with his organization following Trump's election. Jewish groups, including the ADL, have resisted working with CAIR due to its anti-Israel stances.

"It's always been our position that we're open to shared and cooperative action with the Jewish community," Hooper said. "It doesn't really take Donald Trump to spur that. I think it's created an urgent need for mutual cooperation between all like-minded organizations and communities."

The newly formed Muslim-Jewish Advisory Council, which has 31 members from both communities, formed shortly before Trump was elected last week. The council will focus on protecting the right to wear religious head coverings, prohibiting discrimination in the workplace, recording hate crimes and advocating for immigrants and refugees, according to Robert Silverman, the American Jewish Committee's director of Muslim-Jewish relations.

"It is a reaction to some of the bigotry and hate speech that came out of the campaign," Silverman said. "We're concerned about the public discourse in the whole country. We're also concerned about messages that originated within the two communities. The Trump phenomenon is only going to make it come together more quickly."

Jewish activists who have long championed Jewish-Muslim collaboration believe their community is finally coming around.

Rabbi Marc Schneier, co-founder of the Foundation for Ethnic Understanding, which brings together leaders from the two religions, says he hopes Jews will come to the defense of Muslims if Trump follows through on his proposals to ban Muslims from entering the country, or to create a registry of American Muslims.

In June, Schneier's foundation launched an initiative called Muslims are Speaking Out that highlights Muslim condemnations of extremism and aims to dispel misconceptions Americans have about the Muslim community.

"We have the obstacle of greater Islamophobia and anti-Muslim rhetoric," Schneier said. "The opportunity is that this is another test for the American Jewish community. Will it step up to the plate, and will it perform as it has done in the past?"