Majorityrights News > Category: Law

The Russia Investigations: Trump Reportedly Wanted To Fire Mueller; D.C. Dumbstruck. A journalist describes Robert Mueller, pictured in 2007 when he was FBI director, as "about as apolitical and nonpartisan a figure as you could find in Washington." (photo credit Susan Walsh/AP).

NPR, "Mueller's Reputation In Washington Is 'Stunningly Bipartisan,' Journalist Says", 1 Feb 2018:

As the investigation into the Trump campaign and Russian interference in the 2016 election forges on, Robert Mueller, the Justice Department special counsel leading the investigation, has managed to stay largely out of public view.

Journalist Garrett Graff says that is in keeping with Mueller's personality: "This is not someone who in any way has tried to grab the spotlight, but instead has kept his head down and worked hard throughout his career."

Graff's 2011 book, The Threat Matrix, explores the transformation of the FBI under Mueller's leadership. Appointed by President George W. Bush, Mueller took over as director of the FBI one week before the Sept. 11 attacks. After Mueller completed his 10-year term as FBI director, President Barack Obama reappointed him for a two-year term, which required a special act of Congress.

"Bob Mueller is probably about as apolitical and nonpartisan a figure as you could find in Washington, particularly at the levels of government in which he has served," Graff says. "This is someone who really, truly believes in truth, justice [and] in the American way, in a way that very few people in American life today anymore do."

Interview Highlights

On Mueller's bipartisan record

We know him most recently, obviously, as the FBI director, but his tenure in government really dates back to the Reagan years. And he's been appointed or held top jobs in the administrations of all five of the last presidents, and was appointed to the Justice Department, the head of the criminal division, under George H.W. Bush's administration, then was appointed a U.S. attorney by Bill Clinton, then appointed the acting deputy attorney general by George W. Bush, and then later FBI director — a position he was reappointed to, in an unprecedented move, by President Obama and confirmed by the U.S. Senate by a vote 100-0, a stunningly bipartisan track record in today's times.

On Mueller's military service

Part of what makes Bob Mueller such a fascinating character is he has dedicated his life sort of time and again to public service. ... Mueller and a handful of other colleagues ... [signed] up for Vietnam after college. This was early in the 1960s, so it was before Vietnam became the cultural touchpoint that it did later.

White House Touts 'Unprecedented' Cooperation Amid Mueller Interview Talks

Second Lt. Marine Corps Bob Mueller ended up leading a platoon in the jungles of Vietnam for a year and really distinguished himself in combat. He received a Bronze Star with valor for his leadership in an ambush that his unit suffered in the fall of 1968, and then was actually shot himself in a separate incident in April 1969 where he received, of course, the Purple Heart and was quickly back on patrol, serving out the remainder of his year.

He came into the F.B.I. in part, in the summer of 2001 because he was known inside the department as a computer-guy. He had help found the Justice Department's first real computer crime unit. And, the FBI in the summer of 2001 had this incredibly outdated computer system…

On how the FBI changed after the Sept. 11 attacks

Bob Mueller, in the days after Sept. 11, sees this incredible sea change in the mission of the FBI, which until then for most of its first 90 years had primarily been a law enforcement agency focused domestically on solving crimes after the fact. And on Sept. 11, we saw an international plot that focused on a suicide attack with catastrophic results, and that that necessitated this top-to-bottom change in the way that the United States approached counterterrorism issues, that after-the-fact investigation was going to be inadequate in the face of these threats.

So Mueller was given a mission by [former Attorney General] John Ashcroft and President Bush to not just investigate attacks afterwards, but to stop plots in the first place, to disrupt the attack before it happened.

It led to this massive reorganization that Bob Mueller spent the next 12 years of his tenure working on, to move the FBI from what was traditionally a domestic law enforcement agency into something that is more akin to an international intelligence agency.

On how Mueller's investigation into the Trump campaign is similar to other FBI investigations

This is, in many ways, a perfectly standard and routine FBI investigation. The FBI, as an investigative agency, takes down corrupt organizations, that's what it's designed to do, go after street gangs, drug cartels, organized crime families, and the way that they do that is by starting on the outside and working their way in. And so that can either mean starting at the bottom of an organization, or starting with ancillary charges and working their way inwards, the equivalent of getting Al Capone for tax evasion.
'Refugees' by way of Israel with money enough from there for a one way ticket to Europe.

New Observer, "Africans Deported from Israel "Appear" in Rome", 9 Jan 2018:

African invaders who were earlier "voluntarily deported" from Israel to Rwanda with a $3,500 payment each have been found and interviewed in Rome, according to the United Nations High Commission on Refugees.

According to a statement issued by UNHCR spokesperson William Spindler at a press conference today at the Palais des Nations in Geneva, at least 80 of the Africans deported from Israel were interviewed by UN representatives "between November 2015 and December 2017 in reception centres and informal settlements in the Rome area."

The UNHCR statement called on the Jewish ethnostate not to proceed with its plans to deport nearly 40,000 Africans, as announced in November last year.

The UNHCR said that it was making the appeal to Israel after "some 80 cases were identified in which people relocated by Israel" had taken "onward journeys to Europe via Libya."

"All 80 cases involved Eritrean refugees or asylum seekers who were "interviewed by UNHCR staff in Rome," the statement said, adding that the Africans then travelled "hundreds of kilometers" through South Sudan, Sudan and Libya "after being relocated by Israel."

From Libya, they had crossed the Mediterranean to invade Europe,

"The interviews–all with adult males, some with family members still in Israel–took place between November 2015 and December 2017 in reception centers and informal settlements in the Rome area. All had entered Israel via the Sinai," the UNHCR statement continued, peppering each sentence with patently bogus claims that the invaders have been "tortured and mistreated" at every step—a standard tactic by those seeking to justify the Third World invasion of Europe.

"Most said they had been transferred from Israel to a country in Africa and provided with a lump sum of US$3,500 dollars. However, the situation on arrival was different to what most had expected and with little further support provided beyond accommodation on the first night," the UNHCR statement continued, providing some insight into how the Jewish state is getting rid of its African spongers.

"In light of this, UNHCR is seriously concerned over Israel's plans announced on January 1st to forcibly relocate Eritreans and Sudanese to countries in Africa or have them face indefinite detention," UNHCR statement said.

"Official statements that the plans may eventually target families and those with pending asylum claims, or that asylum seekers might be taken to the airport in handcuffs, are particularly alarming.

"At a time when UNHCR and partners in the international community are engaged in emergency evacuations from Libya, forced relocation to countries that do not offer effective protection and the onward movement of these people to Libya and Europe is particularly worrisome.

"There are some 27,000 Eritreans and 7,700 Sudanese in Israel. Since Israel took over refugee status determination from UNHCR in 2009, only ten Eritreans and one Sudanese have been recognized as refugees.

"Another 200 Sudanese, all from Darfur, were granted humanitarian status in Israel and there was an announcement that another 300 will follow. Israel has not received any Eritreans or Sudanese since May 2016."

Remarkably, the UNHCR said that it was prepared nonetheless to help the Jewish state get rid of its Africans:

"UNHCR stands ready to work with Israel to find alternative solutions for the protection needs of asylum seekers, in line with international standards. This includes resettlement out of Israel, as has happened previously", the statement ended.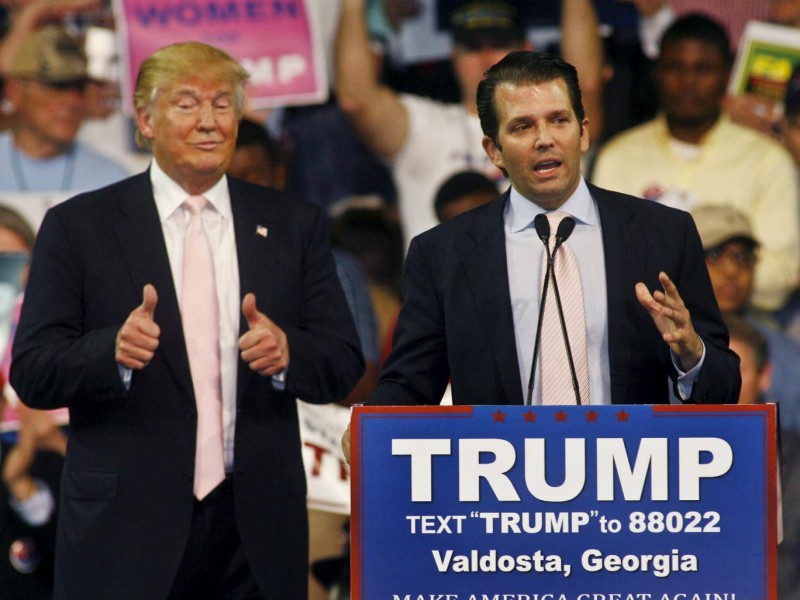 Donald Trump gives a thumbs up as his son Donald Trump, Jr. speaks at a campaign rally at Valdosta State University in Valdosta, Georgia February 29, 2016 Reuters.
NPR, "Donald Trump Jr. Had Direct Contact With WikiLeaks During Campaign", 14 Nov 2017:

During the 2016 presidential campaign, Donald Trump Jr. was in direct contact with WikiLeaks at the same time the muckraking website was publishing hacked emails from Democratic officials that proved damaging to the Clinton campaign, according to several major publications.

Following the reports, Trump Jr. acknowledged the contact in a tweet detailing one exchange with the radical transparency organization.

The Atlantic, The Wall Street Journal and The Washington Post, in articles published late Monday, said that then-candidate Donald Trump's eldest son used the messaging feature on Twitter to communicate with WikiLeaks, which in turn alerted the campaign to the impending release of the hacked emails.

The publications report that the messages between Trump Jr. and WikiLeaks were among thousands of documents turned over to Congress as part of its ongoing investigation into claims that Russia interfered in the November election — a finding backed unanimously by U.S. intelligence agencies, which have said that the Kremlin aimed to aid Donald Trump's campaign.
National Vanguard, "Indicted New Jersey Police Chief Says Blacks are Like ISIS: Worthless", 3 Nov 2017:

Former Bordentown Township N.J. Police Chief, Frank Nucera Jr.

60-year-old local chief now facing Federal charges from FBI, US Attorney, that could result in 20 years in the largely-Black Federal prison system — the equivalent of a death sentence at worst and a life sentence at best.

THE FORMER chief of police of Bordentown Township, NJ has been charged with "hate crimes" by the Trump Justice Department after using racial slurs in relation to Black people and allegedly using excessive force on a Black criminal. New Jersey has seen a massive increase in non-White crime and population in the last several decades.

The controlled media reported that Frank Nucera Jr., the former police chief of the predominantly White small town outside Trenton, had been secretly recorded for months by one of his officers, the racial ancestry of whom has not been disclosed. (Nucera was also recently Bordentown's Township Manager.)

The officer recorded Nucera, who retired from his Police Chief position in February, speaking about a Black arrested for slashing the tires of a police cruiser: "Niggers are like ISIS, they have no value," Nucera told the officer secretly recording him.

The audio recordings captured several instances of his use of negative remarks directed at Black people: "They should line them all up and mow 'em all down," Nucera said, according to the complaint. "I'd like to be on the firing squad, I could do it." In one of the recordings outlined by prosecutors, Nucera said of Blacks that he was "tired of them" and "it's getting to the point where I could shoot one."

The complaint says two officers responded when a Bordentown Ramada Inn manager reported an 18-year-old Black male with a 16-year-old girl (her race unstated by the controlled media) had obtained a room under false pretenses and had used the pool at the motel. The Black apparently invited five other Blacks to the "party" (evident from Nucera's alleged remarks, though unreported by the controlled media), whose unruly behavior alarmed the manager.

When officers arrived, the Blacks resisted them and pepper spray was used by the police. Additional officers, including Nucera, arrived after the Blacks resisted arrest.

The 18-year-old Black male was being led to a stairwell when he stopped walking and began shouting at the officers. The complaint says an officer had placed his hand on the suspect's back to push him forward when Nucera approached from behind, grabbed the teen's head and pushed it. It allegedly struck a metal doorjamb separating the hallway from the stairwell. The suspect at first asked to be sent to the hospital, but later retracted that request.

In a recorded conversation at the police station after the arrest, Nucera said "it would have been nice" if a K9 unit had come to the hotel. "That dog, that dog will stop anything right then and there, I'm telling you. . . You'd have seen two f**king niggers stop dead in their tracks. I love when they do that. I just love that," the chief allegedly said, according to the complaint.

Acting New Jersey U.S. Attorney William E. Fitzpatrick (right) and "FBI Special Agent in Charge" Timothy Gallagher: They want to send Chief Nucera to a Black-dominated prison for 20 years — a likely death sentence.

About three months later, the complaint adds, Nucera was recorded as he attempted to defend the use of force at the motel "by arguing that numerous officers had to respond to the call 'cause of six unruly f**king niggers.'"

According to the recently unsealed criminal complaint, Nucera also promoted the use of police guard dogs to prevent disruptive behavior by Blacks at local high school basketball games and at an apartment complex with many Black residents. Bordentown is only 9 percent Black.

Nucera was arrested on "hate crimes" and "civil rights" violations — charges which carry a maximum sentence of 20 years in prison — but was released on $500,000 bond and ordered to give up his guns.

It's important to understand the background of the racial situation in New Jersey. High Black crime has been a fact of life in the area for decades. Many Whites fled Trenton for Bordentown, among other areas, after Black riots resulted in scores of buildings being burnt to the ground in 1968. (And 1968 was the second year of Black riots in the city; in the previous year, rioting was only quelled by bringing in the National Guard.) Also in 1968, White students boycotted Trenton High School because of violent attacks on White students there by the rapidly-increasing Black population. The White resistance, led largely by the racially-conscious Italian-American community there, was significant at first, but with open hostility from Jewish-run media and the federal government through its forced association ("civil rights") laws, the White protests went unheeded and most Whites simply relocated in order to protect their families.


In this 1968 issue of The Trentonian, the widespread destruction caused by "marauding young Negroes" is detailed. Little — except for a worsening of the situation and Jewish control and censorship of the media — has changed since then.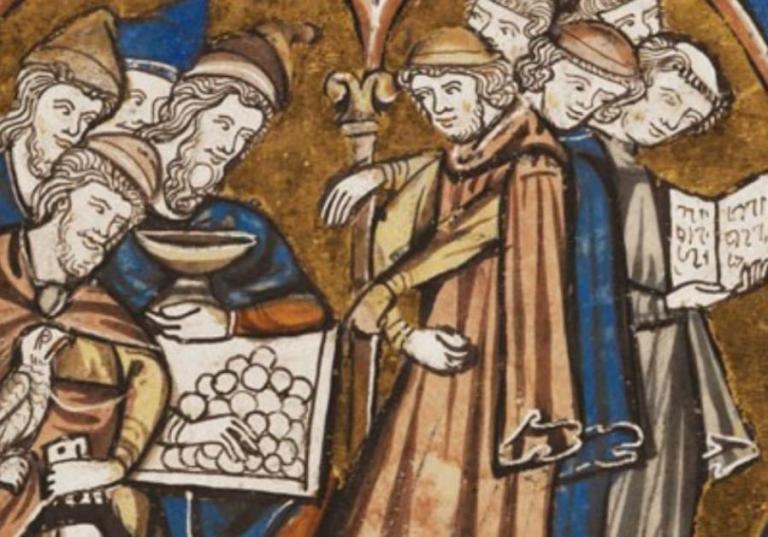 Story of Argobad
contextualizes the case brought against Jez Turner
First, some background on the Jez Turner case -
Europa, "BRITAIN'S VIGILANTE POLICE", 11 Oct 2017:

by Mike Walsh

Britain's most popular ethno-nationalists, supporters and members of the public, face a David and Goliath battle to protest a state-funded race-police force. Contrary to all legal precedents the Shomrim Security Group, with eighty guards, now patrols North London boroughs.

Shockingly, these armed and uniformed Jewish storm-troopers, are said to be the only 'private army on British soil' The patrolling race-police wear state-provided uniforms and cruise the streets in £15,000 patrol cars.

Ostensibly, the purpose of these menacing uniformed Jews, recruited from the Hasidic Jewish community in London, is to police boroughs and to act against what they describe as 'hate crimes'. Such would include criticism of Jewish or Israeli influence. Jewish and Asian groups are trained to make arrests and detain suspects until conventional police arrive.

It is well to reflect how news of a similar ethnic-European police force being sponsored would be greeted. Imagine for a moment, 80 British nationalists, concerned at the number of hate crimes perpetrated by non-Europeans on indigenous Britons, being given special status by the London police.

Shomrim, special Jewish police specifically looking after their community.

The self-appointed nationalist volunteers are trained, equipped and provided with liveried police cars by Britain's largest police force. Patrolling the streets of London this private force, not covered by authority or law, are tasked with identifying the perpetrators of anti-White hate criminals. Merely the suggestion would be considered preposterous. Is Britain the only country that sponsors a race-group private police force?

Jez Turner says: "It's utter disbelief that the Jews of Stamford Hill have set up their own police force which enforces their own Talmudic law on the streets of a White British city."

An anti-vigilante protest group, supported by members of the public, took their protest to the streets.Holding banners reading 'police impersonation is a crime' and surrounded by a large police escort, the group of 50 concerned residents gathered at Lea Bridge Roundabout. Speeches were made by the National Front's Tony Martin and the party's former organiser Martin Webster.

The massive police operation investigating this demonstration has been given the name Operation Saurus (reptile). Police officers openly admitted that it was carried out at the order of the far-left Jewish Community Security Trust (CST).

Mr Turner says, "All politicians are nothing but a bunch of puppets dancing to a Jewish tune, and the ruling regimes in the West for the last 100 years have danced to the same tune. Let's free England from Jewish control."

Britain's Crown Prosecution Service (CPS) is set to prosecute the founder of the London Forum debating society for alleged anti-Semitism after a Jewish group mounted an unprecedented challenge to their original decision not to prosecute.

The CPS case is likely to collapse as it is based on Article 17; European Human Rights Convention that says protection is not extended to 'those who would destroy that right'. It is unlikely that the organiser of an ad hoc debating society could be guilty of such a wacky bizarre allegation.

Why worry, lawyers will get richer, media will be enriched by anti-White propaganda, the political elite seen as tonguing the right backsides; the taxpayer pays for the repellent anti-White Carnival of Clowns.

When asked his reaction to the CPS decision to retreat under Jewish pressure, Jez Turner smiled and said: "Looks like I may be going away for a while, a free vacation at Her Majesty's pleasure. But whatever happens, I'll have a show trial first. And I'll make sure that I give them a show and go down fighting!"

The mask of liberal democracy is slipping away. As anger rises over mass immigration to the West, so the authorities will be resorting to ever more desperate methods to stifle dissent. The greatest consciousness-raising resource of the last twenty years may be lost to us.
Independent, "Crown Prosecution Service to review decision not to prosecute prolific anti-Semite", 8 Feb 2017:

Jez Turner's case re-examined after 13-month campaign against him.

Crown Prosecution Service has agreed to review decision not to prosecute far-right activist known for making vitrolic speeches against the "Jewish world order".

Jeremy Bedford-Turner's case will be re-examined following a 13-month campaign.

In a July 2015 speech to an "anti-Shorim" rally on Whitehall, Jeremy Bedford-Turner said "all politicians are nothing but a bunch of puppets dancing to a Jewish tune, and the ruling regimes in the West for the last one hundred years have danced to the same tune."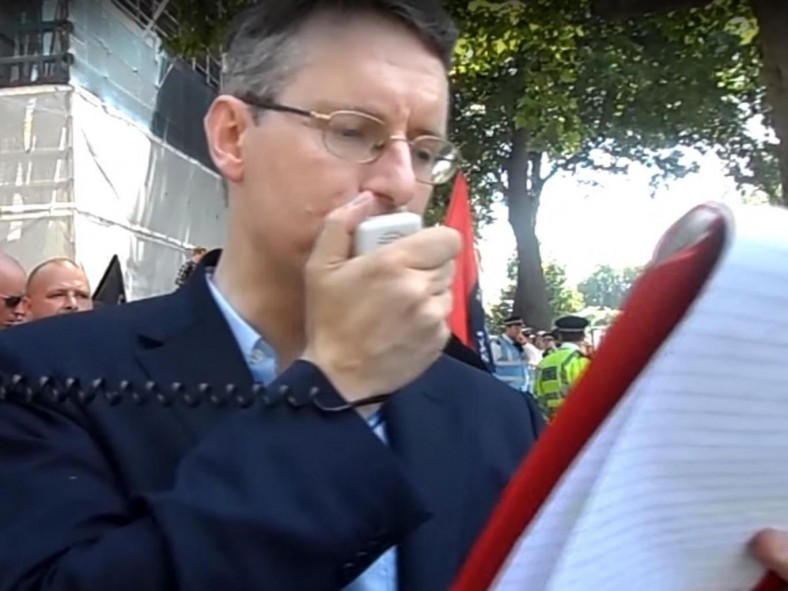 Jez Turner addresses small protest outside Whitehall
July 2015
"Agobard of Lyon and The Origins of the Hostile Elite"

Andrew Joyce, Ph.D., Occidental Observer, 2 Nov 2017:

As part of the introduction to my forthcoming volume of essays, Talmud and Taboo, I've included an overview of key developments in the historical relationship between Jews and Europeans. During the course of this overview I emphasize the historical suppression of European responses to Jewish group behavior, an important and perennial aspect of Jewish-European interactions. This suppression/taboo, as a thing in itself, tends to be less explored and understood when compared to the attention devoted to more obvious manifestations of Jewish influence (e.g. assertive action in influencing immigration control), but consideration of it is crucial to a complete understanding of Jews as a hostile elite. A working theoretical definition of what is meant by "Jews as a hostile elite" is of course also necessary, and is taken here as the implication not only that Jews have historically been opposed/hostile to the interests of the European masses, but also that Jews have had direct access to political power, or significant levels of influence over European elites in possession of it. While writing the introduction to Talmud and Taboo I was primarily concerned with the origins of the Jewish acquisition of this power or influence in Europe, the mode of its expression, and its evolution over the course of centuries. Due to restrictions of space in the introduction to Talmud and Taboo, I want to take the opportunity here to expand on one such example.

To date, our best understanding of modern Jewish political strategies in the context of the "taboo" can be found in Chapter 6 of Kevin MacDonald's Separation and Its Discontent: Toward an Evolutionary Theory of Anti-Semitism, titled "Jewish Strategies for Combatting Anti-Semitism." One section deals with "Political Strategies for Minimizing Anti-Semitism." MacDonald notes that Jews have been flexible strategizers in the political arena, buttressed by an IQ substantially above the Caucasian mean, and argues that the foundations for Jewish influence are wealth, education, and social status.[1] Today, Jews apply this influence in order to stifle negative discussion of their group, and at times to stifle any discussion of Jews at all. MacDonald points out that this is normally done via extensive communal support for "self-defense committees," which are a feature of every Diaspora population. These committees invariably lobby governments, utilize and influence legal systems, produce pro-Jewish and pro-multicultural propaganda, and fund pro-Jewish candidates or initiatives. Another of their vital functions has been to monitor and expose "anti-Semites," and to use legal systems in order to exact individual punishments, thereby making an example of individuals and thereby imposing a deterrent atmosphere on the rest of the population.

It almost goes without saying that in the modern era Jews have been very successful in making anti-Semitism a disreputable and unsavory enterprise. Perhaps more than any other shaming device, accusations of anti-Semitism can be socially and professionally devastating. Academic studies which argue that anti-Semitism has a rational and understandable basis, such as MacDonald's work, are monitored and excluded from scholarly discourse in an unceasing effort to maintain Jewish control over narratives concerning their group and deflecting antagonism to it. A foundational idea underpinning the creation of this most modern taboo is that anti-Semitism is a personal flaw indicative or psychiatric disorder and a social aberration, epitomized by the writing of the Frankfurt School of Social Research. Despite achieving an almost monolithic position in the public mind of most European populations, it is particularly noteworthy that such conceptualizations of anti-Semitism as an irrational and inexplicable form of psychosocial illness are extremely recent, having been developed only in the last sixty years by a cast of Jewish intellectuals—particularly those at the nexus of psychoanalysis and the Frankfurt School.

This reframing of European understandings of anti-Semitism has been due not only to Jewish influence in academia, the media, and the development of social policy, but also to a general ignorance among Europeans of the historical experiences of their ancestors. Europeans cannot come to terms with the issue of Jewish influence purely by confronting its contemporary manifestations – they must engage with the experiences of their forebears, and understand how and why they viewed Jews as a hostile elite.

All of these considerations led to me to one question: when and how did this "hostile elite" begin? Although Jewish influence was noted during the life of the Roman Empire, I excluded this period from my deliberations for a number of reasons. The first was that I wanted a close contextual proximity to present conditions; in other words, as a bare minimum I felt it necessary that I should find an early example of Jewish influence that still mirrored enough features of the modern experience to be broadly valid in comparison. Despite a proliferation of expatriate communities, during the Roman Empire, or at least until the sack of Jerusalem by Titus in AD 70, Jews could be considered as predominantly a national people rather than a Diaspora. It could thus be argued that relations between the Roman Empire and Jewish populations could on some level be understood within the framework of traditional diplomacy and power relations.

It was only after Rome's demolition of the Second Jewish Commonwealth in the first century that the Exilic period ushered in significantly novel forms of Jewish political activity. These political activities also became uniform, with Amichai Cohen and Stuart Cohen noting of the new Diaspora: "Notwithstanding variations dictated by vast differences of location and situation, all Jewish communities developed and refined a remarkably similar set of broad [political] strategies."[2] The second reason is related to the first in the sense that this set of Jewish political strategies had to be present in a broad geographical area of Europe. This breadth of geographical dispersion, and the subsequent extension of Jewish interactions with European populations, only occurred after the fall of the Roman Empire. A third and final reason for omitting the period of the Roman Empire was that my precondition of close contextual proximity required that the nation states of today, at least in their prototypical form, should be broadly recognizable. Finally, the Jews of Visigothic Spain, although wealthy, powerful, and incredibly hostile, have been discounted due to their failure to establish a relationship with Visigothic elites. This failure most notably resulted in the Jews providing assistance to a replacement elite — Muslim invaders.[3]

The set of "broad political strategies" referred to above requires further elaboration. Lacking a state, and insistent on remaining apart from their host nations, Diaspora Jewish populations developed an indirect and at times highly abstract style of politics in order to advance their interests. In Jewish sources it became known as shtadtlanut ("intercession" or "petitioning"), and represented a personal and highly involved form of diplomacy or statecraft that, in the words of the Cohens, "prioritized persuasion."[4] In the modern era we are familiar with such shtadlans as the Anti-Defamation League, and AIPAC. These bodies claim to represent all Jews, and the interests of all Jews, and do so when interacting with, interceding with, or "persuading" host nation governments or other arms of the White elite. However, the shtadlan as a large formal body or committee is a relatively modern development, and was a necessary response to the end of absolute monarchy at the beginning of the nineteenth century (and the corresponding rise of parliamentary democracy and the modern state). Prior to c.1815, Jews often pursued their interests via a small number of very wealthy and "persuasive" individual shtadlans who would form personal relationships with a king, prince, or other powerful members of the European elite. This was most pronounced during the Early Modern period when Hofjuden, or Court Jews, negotiated privileges and protections for Jews with European monarchs. An excellent example is that of Daniel Itzig (1723–1799), the Court Jew of Kings Frederick II the Great and Frederick William II of Prussia, who used his wealth and influence to persuade these monarchs to abolish many restrictions on Prussian Jews and grant them a succession of privileges. Put simply, the concentration of power in individuals meant that Jewish interests could also be negotiated by individuals.

However, although we may still see echoes of the old shtadlans in individuals like George Soros or Sheldon Adelson, the dispersal of political power following the collapse of the absolute monarchies required a greater number of Jewish "persuaders," thus necessitating the development of the modern Jewish "diplomatic" organization. Of course, the majority of these modern bodies vigorously deny their "diplomatic" or political function, preferring to style themselves as "self-defense" bodies or similar abstractions. Writing on the subject of shtadtlanut Samuel Freedman has argued that Jews have "become wedded to a "crisis model" in community-building, in which either Holocaust commemoration or opposition to anti-Semitism are the raison d'etre for the largest communal organizations, from the Simon Wiesenthal Center to the American Jewish Committee." This masking of deeper political interests should be seen as combining deception (of Europeans) and self-deception (among some Jews) in the broader Jewish strategy, or at least as a device designed to boost the recruitment of "persuaders." Jews (at least those not consciously engaged in deception) and Europeans are thus led to believe that such bodies are necessary to defend and protect a vulnerable community in crisis, when in fact their primary function is to advance the interests of an extremely wealthy, culturally invulnerable, and politically powerful community — a hostile elite.

Story of Argobad

contextualizes the case brought against Jez Turner

In searching for the origins of the hostile elite I was therefore looking for the earliest possible example of a Diaspora Jewish community in which shtadtlanut was in evidence — the obtaining of privileges and protections from a European elite, contrary to the interests of the masses of a given European population. Although I would very much welcome further suggestions from readers, the earliest convincing case that I have come upon concerns that of the Carolingian dynasty during the lifetime of Archbishop Agobard (c. 779–840).[5] Agobard was a Spanish-born priest and archbishop of Lyon during the Carolingian Renaissance. A fearless controversialist, Agobard gained fame and notoriety during his lifetime — and a place in posterity — by expressing his opposition to Jewish political influence in the Frankish kingdom. Agobard's Spanish origins are important. Bernard Bachrach notes that Agobard would have been very much aware of the scale and impact of Jewish influence, writing that "Agobard was born and raised in the Spanish March and Septimania where the Jews were extremely powerful. … He was aware of the power that the Jews of the Narbonnaise had exercised for centuries."[6]
The Hill, "Trump signs resolution condemning white supremacists", 14 Sept 2017:

President Trump has signed a resolution condemning white supremacists following violence at a rally in Charlottesville, Va., last month, the White House announced late Thursday.

"As Americans, we condemn the recent violence in Charlottesville and oppose hatred, bigotry, and racism in all forms," Trump said in a statement released by the White House.

"No matter the color of our skin or our ethnic heritage, we all live under the same laws, we all salute the same great flag, and we are all made by the same almighty God," he continued.

"We are a Nation founded on the truth that all of us are created equal. As one people, let us move forward to rediscover the bonds of love and loyalty that bring us together as Americans."

The White House announced that Trump signed the measure hours after the president revisited his controversial response to the white supremacist violence in Charlottesville, saying there are "some pretty bad dudes on the other side also."

A bipartisan group of senators had introduced the measure amid concerns about Trump's response to the violence, which erupted as white nationalists rallied to protest the removal of a statue of Confederate General Robert E. Lee.

The resolution condemns "the racist violence and domestic terrorist attack" in Charlottesville, where a suspected white supremacist was accused of plowing a car into a crowd of counterprotesters, killing one and injuring more than a dozen others. It also rejects "white nationalism, white supremacy, and neo-Nazism as hateful expressions of intolerance that are contradictory to the values that define the people of the United States."

The White House announced earlier this week that Trump would sign the resolution.
GoEagleSearch, "White House says Trump to sign resolution condemning white nationalists", 13 Sept 2017:

WASHINGTON—The White House said Wednesday that President Donald Trump will sign a bipartisan congressional resolution condemning white nationalists, after the measure passed both chambers earlier this week.

The joint resolution targets the Ku Klux Klan, neo-Nazis, and other hate groups and urges the Trump administration "to use all available resources to address the threats posed by those groups."

Lawmakers said the legislation would put the president on the record opposing hate groups after violence erupted at a racially charged rally in Virginia last month.

White House spokeswoman Sarah Huckabee Sanders said Wednesday the president would sign the legislation.
"The first time I saw 'It's a Wonderful Life', I had tremendous respect for George Bailey, who was the main character."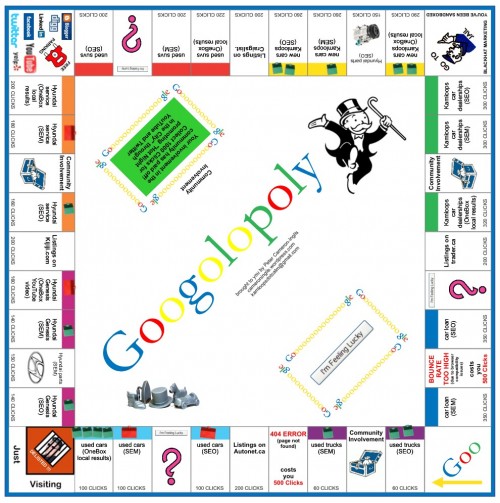 Background Briefing recently interviewed Johathan Taplin about his book, Move Fast and Break Things: How Google, Facebook and Amazon Cornered Culture and Undermine Democracy, and his op-ed at The New York Times, Google's Disturbing Influence Over Think Tanks.
Some highlights: The New America Foundation funded a group called The Open Markets Group, which was headed by a guy named Barry Lynn; and they were the most important group of scholars looking at monopoly in America. When the EU sanctioned Google with a 2.7 billion dollar fine, The Open Markets Group put out a statement applauding the EU and saying American anti-trust regulators should follow their example. Eric Schmidt, the Executive Chairman of Google, who provides most of the financing for the New American Foundation, was incredibly angry about this and essentially told the leader of New America, Ann Marie Slaughter, that she had to get rid of the Open Markets Group. She then wrote Barry Lynn an email saying that they had to leave by September 1, and essentially fired them. This is exactly the kind of political pressure that Google plies all over the world in terms of not just academic institutions, but think tanks and others in order to keep the political narrative in their favor and not have people who oppose them.
They pay off academics and think tanks, getting them to write favorable articles (totaling a hundred from each) about Google and denying their monopoly. This is how Google curries influence by dominating the communications channels of Washington D.C.
Eric Schmidt, who is the biggest funder of the New American Foundation and who is one of the top executives at Google, was the number one visitor during the Obama administration. He was logged in more times visiting the White House than any other single person in the entire eight years of the administration.
Google's regulatory capture: not only was Schmidt the most frequent White House visitor, more than any other CEO, by a long shot. But then Schmidt was able to put people from Google into the various agencies in the Obama administration. So, the person who ran the Patent Office was formerly the person who ran Google's patent practice; the person who was the Assistant Attorney General for anti-trust in the Obama administration was the person who had been Google's anti-trust attorney. Google had people high-up in The Federal Communications Agency. It was pernicious, it was everywhere…
One could say "Eric Schmidt is a liberal" and "he's helping Hillary Clinton", but literally the day after Clinton lost he was out there communicating with Ivanka Trump and Jared Kushner in the hopes of getting in bed with Trump. Not only did he extend invitations to them to come to his conference in Italy; but he also went to the White House and railed on about how Trump was going to be a great help to the economy with his new initiatives; so, its very clear that he has very little political conscience what-so-ever; he's just going to go where the money is.
People from all sides are recognizing the Google has too much money and power to frame narratives, to shape and influence culture; its platforms such as Facebook and Youtube are not only the way 3/4 of Americans get real news, but also conduits of propaganda: e.g., Steve Bannon and the Mercers used market targeting in their campaign to defeat Hillary Clinton, used social media very skillfully with fake news, used Russian bots to amplify their effect. An interesting note along with that, the intelligence community observes that Eric Schmidt's daughter worked for SCL, the company that controlled Cambridge Analytica - the company that Mercer owns and that Steve Bannon's on the board of.
They couldn't have done what they did if there hadn't been these two open platforms, Facebook and Youtube, which you could totally manipulate; there was nobody at the control of these platforms to block fake news in favor of Trump. However, there is no pornography on Youtube, which means that Youtube has very sophisticated technology which could filter out fake news, propaganda, etc., if desired.
Google's market capture is profound, its users provide content and profiles (which marketers value, of course) which competitors cannot match. Google is not just a virtual monopoly, not just one of the most wealthy companies, it is the richest company and perhaps the most powerful monopoly ever. More:
New York Times, "Is It Time to Break Up Google?", 22 Aug 2017:

By Johathan Taplin

In just 10 years, the world's five largest companies by market capitalization have all changed, save for one: Microsoft. Exxon Mobil, General Electric, Citigroup and Shell Oil are out and Apple, Alphabet (the parent company of Google), Amazon and Facebook have taken their place.

They're all tech companies, and each dominates its corner of the industry: Google has an 88 percent market share in search advertising, Facebook (and its subsidiaries Instagram, WhatsApp and Messenger) owns 77 percent of mobile social traffic and Amazon has a 74 percent share in the e-book market. In classic economic terms, all three are monopolies.

We have been transported back to the early 20th century, when arguments about "the curse of bigness" were advanced by President Woodrow Wilson's counselor, Louis Brandeis, before Wilson appointed him to the Supreme Court. Brandeis wanted to eliminate monopolies, because (in the words of his biographer Melvin Urofsky) "in a democratic society the existence of large centers of private power is dangerous to the continuing vitality of a free people." We need look no further than the conduct of the largest banks in the 2008 financial crisis or the role that Facebook and Google play in the "fake news" business to know that Brandeis was right.

While Brandeis generally opposed regulation — which, he worried, inevitably led to the corruption of the regulator — and instead advocated breaking up "bigness," he made an exception for "natural" monopolies, like telephone, water and power companies and railroads, where it made sense to have one or a few companies in control of an industry.

Could it be that these companies — and Google in particular — have become natural monopolies by supplying an entire market's demand for a service, at a price lower than what would be offered by two competing firms? And if so, is it time to regulate them like public utilities?

Consider a historical analogy: the early days of telecommunications.

In 1895 a photograph of the business district of a large city might have shown 20 phone wires attached to most buildings. Each wire was owned by a different phone company, and none of them worked with the others. Without network effects, the networks themselves were almost useless.

The solution was for a single company, American Telephone and Telegraph, to consolidate the industry by buying up all the small operators and creating a single network — a natural monopoly. The government permitted it, but then regulated this monopoly through the Federal Communications Commission.

AT&T (also known as the Bell System) had its rates regulated, and was required to spend a fixed percentage of its profits on research and development. In 1925 AT&T set up Bell Labs as a separate subsidiary with the mandate to develop the next generation of communications technology, but also to do basic research in physics and other sciences. Over the next 50 years, the basics of the digital age — the transistor, the microchip, the solar cell, the microwave, the laser, cellular telephony — all came out of Bell Labs, along with eight Nobel Prizes.

In a 1956 consent decree in which the Justice Department allowed AT&T to maintain its phone monopoly, the government extracted a huge concession: All past patents were licensed (to any American company) royalty-free, and all future patents were to be licensed for a small fee. These licenses led to the creation of Texas Instruments, Motorola, Fairchild Semiconductor and many other start-ups.

True, the internet never had the same problems of interoperability. And Google's route to dominance is different from the Bell System's. Nevertheless it still has all of the characteristics of a public utility.

We are going to have to decide fairly soon whether Google, Facebook and Amazon are the kinds of natural monopolies that need to be regulated, or whether we allow the status quo to continue, pretending that unfettered monoliths don't inflict damage on our privacy and democracy.

It is impossible to deny that Facebook, Google and Amazon have stymied innovation on a broad scale. To begin with, the platforms of Google and Facebook are the point of access to all media for the majority of Americans. While profits at Google, Facebook and Amazon have soared, revenues in media businesses like newspaper publishing or the music business have, since 2001, fallen by 70 percent.


According to the Bureau of Labor Statistics, newspaper publishers lost over half their employees between 2001 and 2016. Billions of dollars have been reallocated from creators of content to owners of monopoly platforms. All content creators dependent on advertising must negotiate with Google or Facebook as aggregator, the sole lifeline between themselves and the vast internet cloud.

It's not just newspapers that are hurting. In 2015 two Obama economic advisers, Peter Orszag and Jason Furman, published a paper arguing that the rise in "supernormal returns on capital" at firms with limited competition is leading to a rise in economic inequality. The M.I.T. economists Scott Stern and Jorge Guzman explained that in the presence of these giant firms, "it has become increasingly advantageous to be an incumbent, and less advantageous to be a new entrant."

There are a few obvious regulations to start with. Monopoly is made by acquisition — Google buying AdMob and DoubleClick, Facebook buying Instagram and WhatsApp, Amazon buying, to name just a few, Audible, Twitch, Zappos and Alexa. At a minimum, these companies should not be allowed to acquire other major firms, like Spotify or Snapchat.

The second alternative is to regulate a company like Google as a public utility, requiring it to license out patents, for a nominal fee, for its search algorithms, advertising exchanges and other key innovations.

The third alternative is to remove the "safe harbor" clause in the 1998 Digital Millennium Copyright Act, which allows companies like Facebook and Google's YouTube to free ride on the content produced by others. The reason there are 40,000 Islamic State videos on YouTube, many with ads that yield revenue for those who posted them, is that YouTube does not have to take responsibility for the content on its network. Facebook, Google and Twitter claim that policing their networks would be too onerous. But that's preposterous: They already police their networks for pornography, and quite well.

Removing the safe harbor provision would also force social networks to pay for the content posted on their sites. A simple example: One million downloads of a song on iTunes would yield the performer and his record label about $900,000. One million streams of that same song on YouTube would earn them about $900.

I'm under no delusion that, with libertarian tech moguls like Peter Thiel in President Trump's inner circle, antitrust regulation of the internet monopolies will be a priority. Ultimately we may have to wait four years, at which time the monopolies will be so dominant that the only remedy will be to break them up. Force Google to sell DoubleClick. Force Facebook to sell WhatsApp and Instagram.

Woodrow Wilson was right when he said in 1913, "If monopoly persists, monopoly will always sit at the helm of the government." We ignore his words at our peril.