Majorityrights News > Category: Political analysis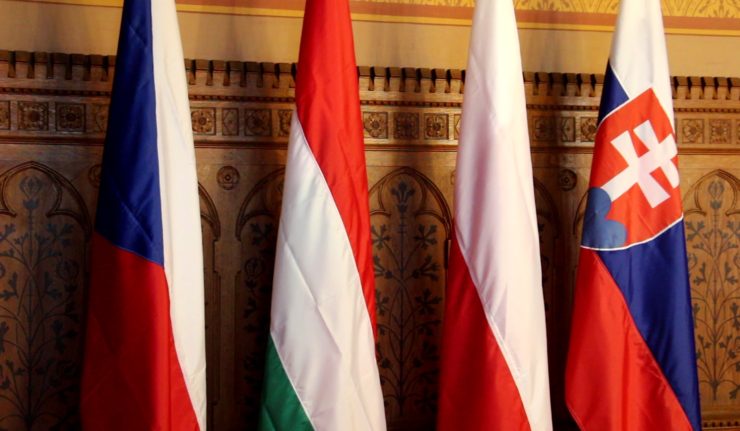 Take away the Trojan Horse that is Christianity, and replace it with a moral order that is authentic to European ethno-national interests and you've got an example of a sound ethno-national coalition in the Visegrad Group.
Visigrad Posy, Why so much fuss about the Visegrad Group?"

By Gabor Toth, President of the V4-China association, 8 Feb 2018:

Visegrad Group – In the recent years, the international media has helped make the profile of the V4 rise significantly. It is fair to say that the V4 have never been so important and well-known around the world as nowadays. But why is that? This formation has been around since 1335! In its modern form, it has been active since its resurrection in the 1990s. So how come we haven't really heard about it until about 2015-16?

And why the fuss about the V4, especially in European politics?

The story goes back to 2015, when a great number of both refugees and migrants mainly from the Middle East and Africa arrived at the borders of Hungary. They wanted to pass through, so they can go to Germany, Sweden and other western European countries. The Hungarian government did not allow this, saying that entering the territory of the EU can only be done legally, based on the existing treaties. The other three V4 countries quickly joined Hungary's position, while some western countries criticized Hungary for the move.

As the burden of the crisis became heavier, the profile of the V4's stance grew stronger. Today, only two years later, the situation has escalated so much that many experts see the V4, being the leading formation of CEE, as the only viable and strong enough opposition to the politics of Western Europe. A very clear divide has taken shape between East and West. To the west, countries that have accepted migration and multiculturalism, to the east, countries that wish to remain as they have always been. To the west, countries that are abandoning the idea of nation states and Christianity as the foundation of Europe, to the east, countries that want to stick to this foundation. Of course, this is not that simple, but these are the basic differences between the two sides.

In other words, the V4, lead by Viktor Orban, the Hungarian prime minister, have emerged as representatives of a future Europe that keeps its traditions, historic background and spiritual foundation, while some western countries, such as France, Belgium and Holland represent a future Europe with mixed societies and a way of life based on a progressive idea that the continent can be great without clearly separated nation states and many different religions can coexist, because it has happened in other places before, such as the United States.

But what will the peoples of Europe choose? Or is it really a choice they face?

History has the answer, and it is clear.

Europe and its people cannot and will not simply erase or even compromise their Christian roots and national pride. It is foolish for anyone to think that they will. It is rooted too deep in their genes, their traditions, even in their everyday habits…

This article does not mean to judge who is right or wrong. These are facts of history and those of us that live on this continent know it, even if this is something we don't think about on a daily basis. However, when European people feel that their way of life and long spiritual foundations are questioned or even threatened, they raise their voice. This has been going on since the end of 2015, and it's been getting more and more vocal. All eyes on Italy and Germany now. Will they take the position of the V4 and Viktor Orban? Those that say they will not, are likely to lose their bet, because all indicators show that the "opposing" side cannot come up with a clear vision for a future Europe where all peoples can live in peace and prosperity without having to change their foundations drastically. And even if that side did have a clear alternative, chances are high that the peoples of Europe would reject it, because in their mind Europe can hardly be greater than it was in those times when it was leading the world…

In football, there's a saying: "don't change a winning team". Europeans love football, but more importantly, this is the way they think about being a collection of strong, Christian nation states, too. They have absolutely no reason to change their ancient, winning formula.

Interestingly, however, some western countries call for a "United States of Europe", which is considered by some to be the alternative to the V4's position.

But this is not entirely true, because individually strong, Christian nation states must also find a way to unite and work out a way to organize themselves into a strong, unified block. Europe is crying for a strong leader to finally get it out of the rut it's been stuck in for a long period now. With troubles mounting on the borders of Europe and inside as well, this becomes more and more essential. Especially, if military conflicts escalate around her borders.

We can predict, that the dispute between East and West may very easily be settled in a way that Europe will turn back to its original strength by becoming a "United States of Europe", but not at all the way some western countries imagine it, instead, as an empire of strong nation states, coordinated by the already existing, soon-to-be drastically reformed European institutions, such as the Council and the Committee. The issue is NOT with the way the EU was born and developed. It is with the way it is organized and lead.

Weak leadership and governing without a solid ideological foundation that people agree with is what's causing the difficulties the EU is facing. Reorganizing the institutional system and placing strong leaders in their top seats, with a Council president, given that the council goes back to being the strongest of the three main institutions, which it was always meant to be. Recognizing that Christianity will make Europe great again, and instead of fighting it, using it as a starting point to reestablish the relationship of church and state, bringing back the "winning formula". These are the steps Europe is going to take, if it follows the clear pattern of history.

Time will tell how quickly the so-called "Hungarian model" (having found a modern way of church and state relations) will spread further, but the process has begun and is speeding up notably.

The next question is Europe's future partners in trade, because this major resurrection of the "old" Europe means a totally new alliance system as well. As power shifts from the West to the East, China's new silk road seems to be the clear alternative. China needs a strong Europe, and Europe needs China, and the "One belt, One Road" initiative presents itself as this new alliance system with the potential to make Europe great again.

Moreover, China's approach toward CEE countries is also evident, with the 16+1 platform and several projects already underway.

Interestingly, the V4 are in an historic position, because they hold the key to Europe's revival, as well as the success of the 16+1. Hungary holds the presidency of the V4 until July 2018, which gives a significant advantage to the Hungarian prime minister, Orban, who is considered to be the leader of the conservative camp in Europe, and considered to be the most friendly and pragmatic leader in Europe by the Chinese.

Ironically, the "United States of Europe" that Mr. Schulz talked about would also need a strong leader, and today, there is simply no match to the success of Mr. Orban as a politician in the EU, so even if the people voted for a European President, it would not be surprising at all, if they voted for him. Of course, this is not what Mr. Schulz or other EU leaders would be happy about. While current EU leaders struggle to find solutions to their problems, something powerful is happening in the eastern front. The V4 have started to build the new Silk Road, and China appreciates this enormously.

In the coming years, as the divide between western and eastern Europe deepens, watch for the rapidly developing sentiment, that opening to the East is what will provide the solution.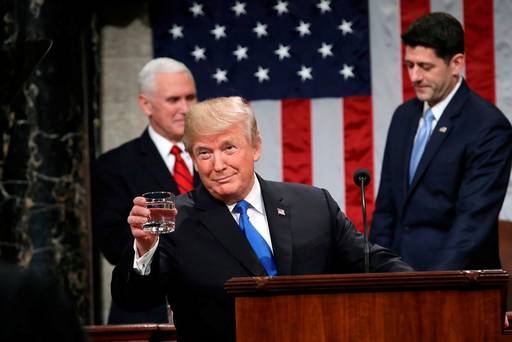 Trump strikes familiar Alt-Right pose: "Hail himself, Hail Israel, Hail our black feudalistic-henchmen enforcers."
Typical Right/Alt-Right:
A distinguishing characteristic of the Alt-Right, which betrays its right-wing stiltedness, its inorganicism, its artifice as pseudo-representation of White interests, is that it will align vigorously with Trump, turn its back on his complete merging with Jewish interests; with that, side with and pander to blacks, their feudalistic henchmen enforcers against White - Asian left nationalist coalition (here looking upon Amerindios as "Asian").
Whether it is the disingenuous fat kosher fuck, Mike Enoch, his Alt-Right and the TRS crew, with their deep kosher resource supplying them with foils and marketing memes, there's but one stipulation - that they endlessly back the Zionist Trump and phrase their argumentation as being against "the left."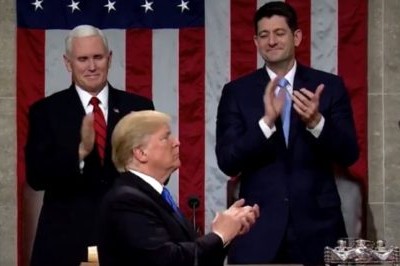 Trump tries to encourage blacks to applaud him for altercast role in the Judeo-Alt-Right coalition.
....or the unbearable 'logic' of "Father Francis" going on and on sweetly about his black friend, "Brother Carl," to show how objective and non-racist he is, how thoughtful he his is about the impact of Mexicans on American blacks (like a person normally and organically motivated by White interests would care about that).
We are highly cognizant of the critical issue of population control and carrying capacity, but with that do not look upon the YKW and blacks as our allies in those ethnonationalist concerns, as the Right/Alt-Right would pretend, or intimate that they are, in their phony campaign against the left natonalism, i.e., that which structures carrying capacity and population control against imperialist Abrahamic "coalition building," deal making/bribing with blacks and the Right/Alt-Right.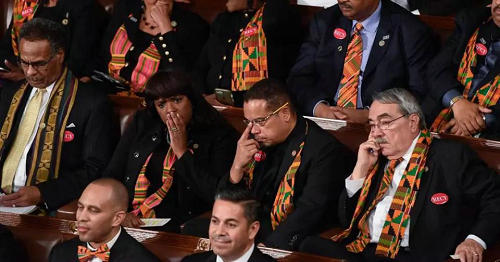 Members of Congressional Black Caucus offer no reaction as Pres. Trump says "African-American unemployment stands at the lowest rate ever recorded"
Like Trump's deal-making with the YKW, a quid pro quo with African Americans will be found to not reciprocate White interests very well. And while they can assist if the goal is to tear things down, nor will African Americas be much positive good for Asians and Amerindios if they know what's good for their long term interests.
President Donald J. Trump's State of the Union Address

Remarks as prepared for delivery

TO THE CONGRESS OF THE UNITED STATES:

Mr. Speaker, Mr. Vice President, Members of Congress, the First Lady of the United States, and my fellow Americans:

Less than 1 year has passed since I first stood at this podium, in this majestic chamber, to speak on behalf of the American People — and to address their concerns, their hopes, and their dreams. That night, our new Administration had already taken swift action. A new tide of optimism was already sweeping across our land.

Each day since, we have gone forward with a clear vision and a righteous mission — to make America great again for all Americans.

Over the last year, we have made incredible progress and achieved extraordinary success. We have faced challenges we expected, and others we could never have imagined. We have shared in the heights of victory and the pains of hardship. We endured floods and fires and storms. But through it all, we have seen the beauty of America's soul, and the steel in America's spine.

Each test has forged new American heroes to remind us who we are, and show us what we can be.

We saw the volunteers of the "Cajun Navy," racing to the rescue with their fishing boats to save people in the aftermath of a devastating hurricane.

We saw strangers shielding strangers from a hail of gunfire on the Las Vegas strip.

We heard tales of Americans like Coast Guard Petty Officer Ashlee Leppert, who is here tonight in the gallery with Melania. Ashlee was aboard one of the first helicopters on the scene in Houston during Hurricane Harvey. Through 18 hours of wind and rain, Ashlee braved live power lines and deep water, to help save more than 40 lives. Thank you, Ashlee.

We heard about Americans like firefighter David Dahlberg. He is here with us too. David faced down walls of flame to rescue almost 60 children trapped at a California summer camp threatened by wildfires.

To everyone still recovering in Texas, Florida, Louisiana, Puerto Rico, the Virgin Islands, California, and everywhere else — we are with you, we love you, and we will pull through together.

Some trials over the past year touched this chamber very personally. With us tonight is one of the toughest people ever to serve in this House — a guy who took a bullet, almost died, and was back to work three and a half months later: the legend from Louisiana, Congressman Steve Scalise.

We are incredibly grateful for the heroic efforts of the Capitol Police Officers, the Alexandria Police, and the doctors, nurses, and paramedics who saved his life, and the lives of many others in this room.

In the aftermath of that terrible shooting, we came together, not as Republicans or Democrats, but as representatives of the people. But it is not enough to come together only in times of tragedy. Tonight, I call upon all of us to set aside our differences, to seek out common ground, and to summon the unity we need to deliver for the people we were elected to serve.

Over the last year, the world has seen what we always knew: that no people on Earth are so fearless, or daring, or determined as Americans. If there is a mountain, we climb it. If there is a frontier, we cross it. If there is a challenge, we tame it. If there is an opportunity, we seize it.

So let us begin tonight by recognizing that the state of our Union is strong because our people are strong.

And together, we are building a safe, strong, and proud America.

Since the election, we have created 2.4 million new jobs, including 200,000 new jobs in manufacturing alone. After years of wage stagnation, we are finally seeing rising wages.

Unemployment claims have hit a 45-year low. African-American unemployment stands at the lowest rate ever recorded, and Hispanic American unemployment has also reached the lowest levels in history.

Small business confidence is at an all-time high. The stock market has smashed one record after another, gaining $8 trillion in value. That is great news for Americans' 401k, retirement, pension, and college savings accounts.

And just as I promised the American people from this podium 11 months ago, we enacted the biggest tax cuts and reforms in American history.

Our massive tax cuts provide tremendous relief for the middle class and small businesses.

To lower tax rates for hardworking Americans, we nearly doubled the standard deduction for everyone. Now, the first $24,000 earned by a married couple is completely tax-free. We also doubled the child tax credit.

A typical family of four making $75,000 will see their tax bill reduced by $2,000 — slashing their tax bill in half.

This April will be the last time you ever file under the old broken system — and millions of Americans will have more take-home pay starting next month.

We eliminated an especially cruel tax that fell mostly on Americans making less than $50,000 a year — forcing them to pay tremendous penalties simply because they could not afford government-ordered health plans. We repealed the core of disastrous Obamacare — the individual mandate is now gone.

We slashed the business tax rate from 35 percent all the way down to 21 percent, so American companies can compete and win against anyone in the world. These changes alone are estimated to increase average family income by more than $4,000.

Small businesses have also received a massive tax cut, and can now deduct 20 percent of their business income.

Here tonight are Steve Staub and Sandy Keplinger of Staub Manufacturing — a small business in Ohio. They have just finished the best year in their 20-year history. Because of tax reform, they are handing out raises, hiring an additional 14 people, and expanding into the building next door.

Welding together the Mulatto supremacist coalition.

One of Staub's employees, Corey Adams, is also with us tonight. Corey is an all-American worker. He supported himself through high school, lost his job during the 2008 recession, and was later hired by Staub, where he trained to become a welder. Like many hardworking Americans, Corey plans to invest his tax‑cut raise into his new home and his two daughters' education. Please join me in congratulating Corey.

Since we passed tax cuts, roughly 3 million workers have already gotten tax cut bonuses — many of them thousands of dollars per worker. Apple has just announced it plans to invest a total of $350 billion in America, and hire another 20,000 workers.

This is our new American moment. There has never been a better time to start living the American Dream.

So to every citizen watching at home tonight — no matter where you have been, or where you come from, this is your time. If you work hard, if you believe in yourself, if you believe in America, then you can dream anything, you can be anything, and together, we can achieve anything.

Condescending applause for Mulatto supremacists who help weld together the kosher - right wing - liberal - civic - alliance under imperial Abrahamism.

Tonight, I want to talk about what kind of future we are going to have, and what kind of Nation we are going to be. All of us, together, as one team, one people, and one American family.

We all share the same home, the same heart, the same destiny, and the same great American flag.

Together, we are rediscovering the American way.

In America, we know that faith and family, not government and bureaucracy, are the center of the American life. Our motto is "in God we trust."

The Russia Investigations: Trump Reportedly Wanted To Fire Mueller; D.C. Dumbstruck. A journalist describes Robert Mueller, pictured in 2007 when he was FBI director, as "about as apolitical and nonpartisan a figure as you could find in Washington." (photo credit Susan Walsh/AP).

NPR, "Mueller's Reputation In Washington Is 'Stunningly Bipartisan,' Journalist Says", 1 Feb 2018:

As the investigation into the Trump campaign and Russian interference in the 2016 election forges on, Robert Mueller, the Justice Department special counsel leading the investigation, has managed to stay largely out of public view.

Journalist Garrett Graff says that is in keeping with Mueller's personality: "This is not someone who in any way has tried to grab the spotlight, but instead has kept his head down and worked hard throughout his career."

Graff's 2011 book, The Threat Matrix, explores the transformation of the FBI under Mueller's leadership. Appointed by President George W. Bush, Mueller took over as director of the FBI one week before the Sept. 11 attacks. After Mueller completed his 10-year term as FBI director, President Barack Obama reappointed him for a two-year term, which required a special act of Congress.

"Bob Mueller is probably about as apolitical and nonpartisan a figure as you could find in Washington, particularly at the levels of government in which he has served," Graff says. "This is someone who really, truly believes in truth, justice [and] in the American way, in a way that very few people in American life today anymore do."

Interview Highlights

On Mueller's bipartisan record

We know him most recently, obviously, as the FBI director, but his tenure in government really dates back to the Reagan years. And he's been appointed or held top jobs in the administrations of all five of the last presidents, and was appointed to the Justice Department, the head of the criminal division, under George H.W. Bush's administration, then was appointed a U.S. attorney by Bill Clinton, then appointed the acting deputy attorney general by George W. Bush, and then later FBI director — a position he was reappointed to, in an unprecedented move, by President Obama and confirmed by the U.S. Senate by a vote 100-0, a stunningly bipartisan track record in today's times.

On Mueller's military service

Part of what makes Bob Mueller such a fascinating character is he has dedicated his life sort of time and again to public service. ... Mueller and a handful of other colleagues ... [signed] up for Vietnam after college. This was early in the 1960s, so it was before Vietnam became the cultural touchpoint that it did later.

White House Touts 'Unprecedented' Cooperation Amid Mueller Interview Talks

Second Lt. Marine Corps Bob Mueller ended up leading a platoon in the jungles of Vietnam for a year and really distinguished himself in combat. He received a Bronze Star with valor for his leadership in an ambush that his unit suffered in the fall of 1968, and then was actually shot himself in a separate incident in April 1969 where he received, of course, the Purple Heart and was quickly back on patrol, serving out the remainder of his year.

He came into the F.B.I. in part, in the summer of 2001 because he was known inside the department as a computer-guy. He had help found the Justice Department's first real computer crime unit. And, the FBI in the summer of 2001 had this incredibly outdated computer system…

On how the FBI changed after the Sept. 11 attacks

Bob Mueller, in the days after Sept. 11, sees this incredible sea change in the mission of the FBI, which until then for most of its first 90 years had primarily been a law enforcement agency focused domestically on solving crimes after the fact. And on Sept. 11, we saw an international plot that focused on a suicide attack with catastrophic results, and that that necessitated this top-to-bottom change in the way that the United States approached counterterrorism issues, that after-the-fact investigation was going to be inadequate in the face of these threats.

So Mueller was given a mission by [former Attorney General] John Ashcroft and President Bush to not just investigate attacks afterwards, but to stop plots in the first place, to disrupt the attack before it happened.

It led to this massive reorganization that Bob Mueller spent the next 12 years of his tenure working on, to move the FBI from what was traditionally a domestic law enforcement agency into something that is more akin to an international intelligence agency.

On how Mueller's investigation into the Trump campaign is similar to other FBI investigations

This is, in many ways, a perfectly standard and routine FBI investigation. The FBI, as an investigative agency, takes down corrupt organizations, that's what it's designed to do, go after street gangs, drug cartels, organized crime families, and the way that they do that is by starting on the outside and working their way in. And so that can either mean starting at the bottom of an organization, or starting with ancillary charges and working their way inwards, the equivalent of getting Al Capone for tax evasion.
Bill Bailie, The Nation Revisited # 136 February 2018:

The British Aerospace Industry

Hundreds of jobs at BAE Systems are threatened by a lack of orders. Unfortunately, the Typhoon multi-role aircraft is not suitable for use on our new aircraft carriers which require planes capable of short take-off and vertical landing. Instead of developing our own aircraft we have ordered fourteen F35B's from Lockheed Martin at a cost of £2.5 billion. We will eventually buy 48 planes, the cost of which will escalate as the pound falls against the dollar. We must also consider the cost of putting British aerospace engineers on the dole.

Our former Defence Minister, Michael Fallon, suggested that we support America by sending our new aircraft carrier HMS Queen Elizabeth to North Korea before she is properly commissioned and without aircraft. Perhaps he wants to ram the first North Korean ship that we encounter?

The government has wasted billions of pounds on two aircraft carriers with no means of launching or landing aircraft. Nuclear ships use steam to power 'cat and trap' equipment, but our new ships are diesels which generate no steam. We, therefore, have to use STOVL aircraft which are not readily available.

When we get our expensive American planes we will be capable of fighting all over the world but what we really need are more destroyers and frigates to defend the homeland. We are a European country with no empire to defend.


Michael Heseltine resigned from the Cabinet over the Westland helicopter affair in 1986. Margaret Thatcher wanted to sell the company to America but he insisted on keeping it in Britain. Today, Westland is part of Leonardo, an Italian company employing 3,300 workers in the UK

Airbus is a French company which employs 15,000 workers in the UK. They have just signed an order for thirty-six A320 superjumbos with the Emirates.

Bombardier is a Canadian company that employs 25,000 workers making trains and aircraft in the UK and Northern Ireland.

The industry is led by BAE, a British company which employs 82,5000 workers making ships, tanks, missiles and aircraft. These companies employ British workers and pay their taxes. They are a vital part of our economy.

The Far Right

The first fascist movement in Britain was the British Fascists, founded by Miss Rotha Lintorn-Orman in 1923. They were fiercely anti-communist and pro-monarchist. Arnold Leese, a former BF councillor for Stamford, called them "Tories with knobs on." In 1929 he founded a rival movement called the Imperial Fascist League which was openly anti-Semitic. According to folklore, when Ron Hargrave applied to join the IFL Arnold Leese first measured his head with a tape measure and told him to report back in a week's time. When he returned Leese said, "A lot of people here don't like the look of you but I have decided to let you in."


Ron Hargrave guarding the platform for JT in 1960.

In 1932 Oswald Mosley founded the British Union of Fascist which quickly became a mass movement but in 1940 it was banned and over a thousand Blackshirts were rounded up and thrown into prison under Defence Regulation 18B. After the war, he founded Union Movement to fight for 'Europe a Nation'. He died in 1980 and UM was wound up in the nineties. Union Movement was never far-right but because it opposed Commonwealth immigration it was branded as such by the media.

The National Front was founded in 1967 to stop immigration, start repatriation, and get Britain out of the Common Market. It peaked in 1979 and its successor movement the BNP peaked in 2010. Both movements were eclipsed by UKIP which is now in steep decline.

The term 'far-right' includes everything from traditional conservatives to neo-Nazis. They command about ten to fifteen percent of the vote in most of Europe. Britain's first-past-the-post system keeps them out of Parliament but in Germany, the AFD has won 94 seats in the Bundestag, in Austria the Freedom Party is part of the coalition government, and in the United States, Donald Trump, a billionaire Zionist warmonger, has promised to build a wall on the Mexican border and make America great again.

There is a crying need for a sensible patriotic movement to fight for Britain in Europe. Ukip and the remnants of the NF and the BNP are stuck in the past and incapable of change. Most of their members have got one foot in the grave and it's only a matter of time before a new party emerges to cater for the younger generation.

Readers who are suffering from mental health problems, including paranoia, should ask their doctor for help. Conspiracy theory can be cured by talking therapy. If you think that "they are out to get you", do not despair. The first step is to admit that you have a problem.

What is Nationalism?

We are familiar with Irish, Scottish and Welsh nationalism but less so with English nationalism. My generation was brought up on imperialism which embraced the four nations of the British Isles and even included Australians, New Zealanders, South Africans, and Canadians. We were all subjects of the British Empire.

I was proud to salute the Union Jack in the school playground on Empire Day but the Second World War had already destroyed the British Empire. One of the first men to realise it was Oswald Mosley who proclaimed 'Europe a Nation' in his book 'The Alternative' in 1947. Those of us who share his vision of a united continent with a progressive government are European Socialists.

Nationalism is a mixed blessing. At its best, it's a love of country, but at its worst, it's a fear and hatred of foreigners. Celebrating sporting achievements and holidays is a harmless expression of patriotism but beating up immigrants is entirely negative.

Some people believe in a 'Confederation of Europe', in which fiercely independent nation-states would co-exist with each other. But history tells a different story. The German Nazis murdered the Austrian leader Englebert Dollfuss, and the Italian Fascists invaded Greece, which was a fascist state under General Metaxas. Nationalist states do not live happily with their neighbours; they invariably attack them.

Little states tend to swagger and act tough, but great empires are self-confident. In the Roman Empire every citizen was protected by the declaration: "Civis Romanus Sum"- I am a Roman Citizen. In 1850 Lord Palmerston stated in Parliament that every citizen of the British Empire should enjoy the same protection. Britain is going through a painful divorce from the European Union but we will still be Europeans, and when the current outbreak of tribalism has subsided, it will only be necessary to say "I am a European".
Looking back a year, to the onset of the Russia investigation…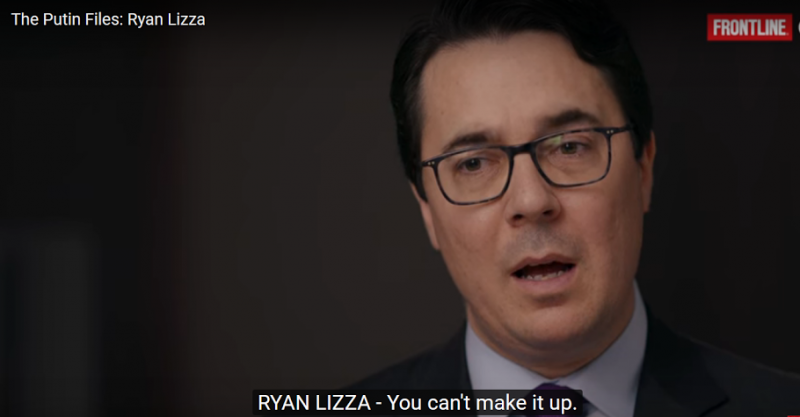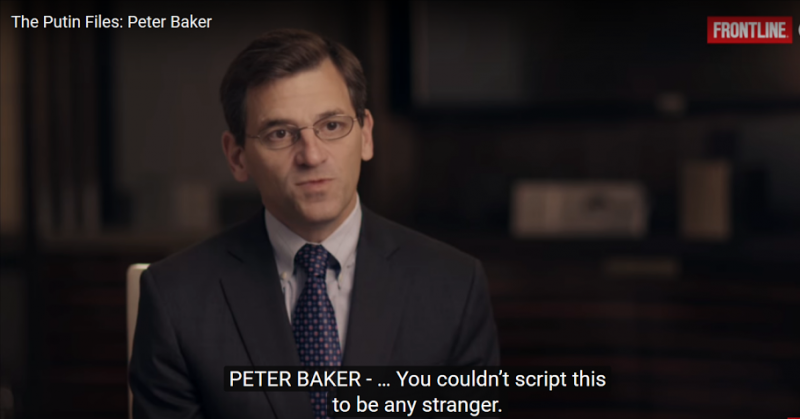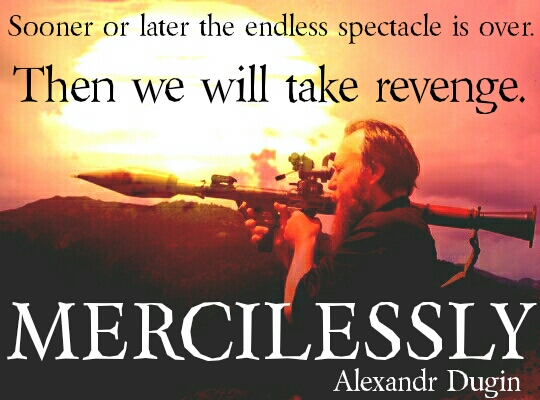 The Russian Federation
is still crying
: "Nobody likes traitors. Apparently, Kurds will stay alone with Turkish armed forces. Neither Damascus nor Moscow will provide any assistance to them. And only Kurdish leaders are responsible for that" - Alexandr Dugin.
It is a good sign that they are, along with their People's Protection Unit (YPJ), putting imperialist Turkey, US, Russia and Israel in a bind.
Having their origin in separation from the Jewy treachery of Soviet Russia, its imperialism, its Muslim Turkish cohorts, in favor of left nationalism in order to wrest national independence for the Kurds, it would be ideal if this Asian backed left nationalism could sheer off the eastern half of Turkey and, along with fellow ethnonationalists from the west, put the squeeze on those rats. The imperial Russian Federation is still crying that the Kurds have rejected them. In causing consternation for the JewSA, Russovitz and Israel's Turkish Friends, they are causing ethnonational consternation for imperial Israel as well.
Now, the Kurds have different facets and we are talking favorably about the ideal form and purpose of their left nationalism, not any assistance or alignment that some of them may have provided for radical Islam - on the contrary, that is just another form of imperialism.
Jerusalem Post, "Turkish and Syrian threats in Afrin put U.S., Russia in a bind, 19 January 2018:

What does it all mean for Israel?


People hold flags of People's Protection Unit (YPJ) as they walk during a protest against Turkish attacks on Afrin, in Hasaka, Syria, January 18, 2018. . (photo credit: RODI SAID / REUTERS)

On Friday, Turkey increased its shelling of the Kurdish-held Afrin enclave in northern Syria. According to the Kurdish People's Protection Units (YPG) up to 70 artillery shells were fired during the night.

While Turkey has threatened to invade the Kurdish area, which it says is being controlled by terrorists aligned with the Kurdistan Workers Party, Syria has threatened to shoot down Turkish warplanes in case of any attack on Syria's territory. The war of words in northern Syria puts the US and Russia in a bind because the US is allied with the Kurds in eastern Syria while Russia has been a close ally of the Syrian regime.

Since mid-January, there have been rumors and threats of a Turkish invasion of Afrin. The area has been controlled by the YPG since the early years of the Syrian civil war. In eastern Syria, the YPG and its affiliated Syrian Democratic Forces (SDF) have been successful at defeating Islamic State. However, in northern Syria, the Kurds have only come to control the thinly populated mountainous area of Afrin.

The autonomous canton is home to around one million people. The area is surrounded by Turkey on two sides and in Syria it borders areas controlled by Syrian rebel groups. The Kurds in this area have remained mostly outside the Syrian conflict because the Syrian rebel groups represent a buffer from most of the heavy fighting.

However, the Kurds here also have a complex relationship with the Syrian regime. They have not opposed Russian military personnel, for instance, who have been spotted in the Afrin area, and the YPG maintains amicable contact with the Russians, who are the Syrian regime's closet ally.

Since the fall of 2016, when Turkey began to intervene in Syria, the YPG has been targeted by the Turks and their Syrian rebel allies. When Turkey and those allies moved into the area between Jarabulus and Kilis in 2016, it was widely seen as an offensive not only against ISIS, but also to make sure the Kurdish forces did not get any closer to the Turkish border to link up Afrin with the areas they control in eastern Syria.

In March 2017, the US, which has been working closely with the SDF and YPG against ISIS, sent vehicles to Manbij to ward off any Turkish attack on its Kurdish partners. This was an important symbol because it showed the US had drawn a clear line around its partner forces and would warn off any attack. The US shot down a Syrian plane in June 2017 that was operating close to the SDF as well.

However, US-led coalition spokesman Ryan Dillon put out a statement on January 16 saying it is not operating in Afrin and the Pentagon told the Turkish news agency Anadolu that it was not involved with the YPG in Afrin. "We don't consider them as part of our defeat ISIS operations," a Pentagon spokesman said. This is a clear message to Turkey that the US would not be involved in any sort of operations if they happened in Afrin.

However, the US has indicated the US will be remaining in eastern Syria for the foreseeable future. Secretary of State Rex Tillerson reiterated this pledge Wednesday. The US has often urged Turkey to keep its focus on fighting ISIS, rather than mission creep that would lead to conflict with the Kurds. Any conflict with the Kurds would inevitably complicate the US mission in eastern Syria, because it would cause the Kurds in the east to want to aid their comrades in Afrin.

Turkey has posited that any operation into Afrin would be with rebel groups and that the operation is carried out "for them," and Turkey is "helping our brothers," according to statements from the Turkish Presidency. However, this poses problems because the Syrian rebels that Turkey wants to work with against Afrin are busy fighting the Syrian regime in Idlib, where they are hardpressed, suffering civilian and military loses.

Nevertheless Turkey's defense minister Nurettin Canikli vowed on January 19 that Ankara would carry out the operation, according to Turkish media. "The threat level against Turkey is increasing by the day. This operation will be carried out and we will combat terrorism." At the same time, the Syrian regime warns that any incursion could bring Syrian air defense into the picture. Syrian Deputy Foreign Minister Daisal Mekdad warned Friday that any attack on Afrin would be an act of "aggression" against Syria.

According to Al-Jazeera, Russia has moved military observers in Afrin "away" from the area, closer to Syrian regime-held territory. Any attack would therefore not harm the Russians who have become a key arbiter of issues in Syria. Russia has hosted the Astana and Sochi talks about the future of Syria, meeting with Turkey, Iran and Syria's governments. In Afrin, Russia is the key player because it has relations with all sides and it has warmed relations with Turkey over the last six months.

However, Russia has remained mum on any potential Turkish operation. It must balance its interests in cultivating relations with Syria, with its support of Damascus and its relations with the Kurds. Wishing to see itself as the broker of peace, Russia would hope that there is not a major Turkish incursion. That means any Turkish action might be limited, as it has been before, and the war of words is intended more to test the waters with the US, Russia and Syria, than lead to a major attack jeopardizing the lives of thousands.

For Israel, what does this mean? A similar scenario will eventually play out near the Golan, without Turkey but with the regime seeking to test the US, Jordan and Israel's resolve with Russia in the background. Afrin therefore matters greatly to the region and what transpires there will tell us about the future of Syria.
'Refugees' by way of Israel with money enough from there for a one way ticket to Europe.

New Observer, "Africans Deported from Israel "Appear" in Rome", 9 Jan 2018:

African invaders who were earlier "voluntarily deported" from Israel to Rwanda with a $3,500 payment each have been found and interviewed in Rome, according to the United Nations High Commission on Refugees.

According to a statement issued by UNHCR spokesperson William Spindler at a press conference today at the Palais des Nations in Geneva, at least 80 of the Africans deported from Israel were interviewed by UN representatives "between November 2015 and December 2017 in reception centres and informal settlements in the Rome area."

The UNHCR statement called on the Jewish ethnostate not to proceed with its plans to deport nearly 40,000 Africans, as announced in November last year.

The UNHCR said that it was making the appeal to Israel after "some 80 cases were identified in which people relocated by Israel" had taken "onward journeys to Europe via Libya."

"All 80 cases involved Eritrean refugees or asylum seekers who were "interviewed by UNHCR staff in Rome," the statement said, adding that the Africans then travelled "hundreds of kilometers" through South Sudan, Sudan and Libya "after being relocated by Israel."

From Libya, they had crossed the Mediterranean to invade Europe,

"The interviews–all with adult males, some with family members still in Israel–took place between November 2015 and December 2017 in reception centers and informal settlements in the Rome area. All had entered Israel via the Sinai," the UNHCR statement continued, peppering each sentence with patently bogus claims that the invaders have been "tortured and mistreated" at every step—a standard tactic by those seeking to justify the Third World invasion of Europe.

"Most said they had been transferred from Israel to a country in Africa and provided with a lump sum of US$3,500 dollars. However, the situation on arrival was different to what most had expected and with little further support provided beyond accommodation on the first night," the UNHCR statement continued, providing some insight into how the Jewish state is getting rid of its African spongers.

"In light of this, UNHCR is seriously concerned over Israel's plans announced on January 1st to forcibly relocate Eritreans and Sudanese to countries in Africa or have them face indefinite detention," UNHCR statement said.

"Official statements that the plans may eventually target families and those with pending asylum claims, or that asylum seekers might be taken to the airport in handcuffs, are particularly alarming.

"At a time when UNHCR and partners in the international community are engaged in emergency evacuations from Libya, forced relocation to countries that do not offer effective protection and the onward movement of these people to Libya and Europe is particularly worrisome.

"There are some 27,000 Eritreans and 7,700 Sudanese in Israel. Since Israel took over refugee status determination from UNHCR in 2009, only ten Eritreans and one Sudanese have been recognized as refugees.

"Another 200 Sudanese, all from Darfur, were granted humanitarian status in Israel and there was an announcement that another 300 will follow. Israel has not received any Eritreans or Sudanese since May 2016."

Remarkably, the UNHCR said that it was prepared nonetheless to help the Jewish state get rid of its Africans:

"UNHCR stands ready to work with Israel to find alternative solutions for the protection needs of asylum seekers, in line with international standards. This includes resettlement out of Israel, as has happened previously", the statement ended.
According to Wolff book: Trump was shocked by presidential victory. He had run with anticipation of a loss to Hillary based on her "fake" media support which he could parlay into a "real" media empire by contrast; Bannon warned presidential victory would spotlight Trump's Russian money laundering; Melania cried in stress over "botched plan gone right" which actually landed the presidency for Donald.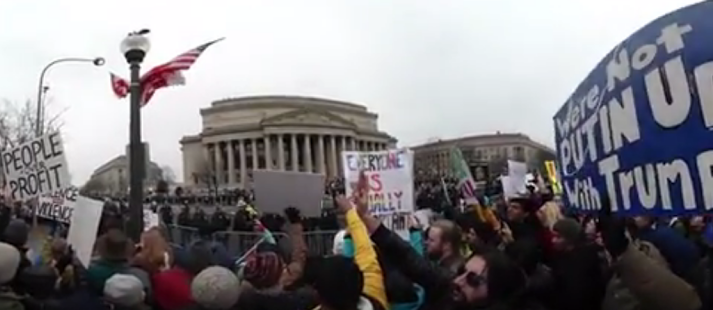 NewsWeek, "Trump Was Horrified When He Won the White House and Melania Cried, Book Claims", 3 Jan 2018:

No one on Donald Trump's presidential campaign team thought Trump would actually become president—and they didn't really want him to either, according to excerpts from Michael Wolff's book published Wednesday in New York magazine.

Now-President Trump, Vice President Mike Pence, Donald Trump Jr., campaign manager Kellyanne Conway and first lady Melania Trump were all reportedly left dumbfounded and afraid on the night of the election in 2016, the book claims. Shortly after 8 on election night, it became clear that Trump had a real shot of becoming president. Wolff wrote that Don Jr. said his father "looked as if he had seen a ghost. Melania was in tears—and not of joy." Steve Bannon, who helped run the Trump campaign and helped Trump's team through the transition, said he saw Trump morph from "a disbelieving Trump and then into a horrified Trump."

A week before the election, Trump was sure he would lose the presidency. But still, according to Wolff's book, he told Ailes that it was "bigger than I ever dreamed of. I don't think about losing, because it isn't losing. We've totally won."

Then he actually won.

Wolff's claims match various reporting on Trump's election: He certainly wanted the fame that goes along with running a successful campaign, but critics theorized that he wasn't quite as happy claiming the job of president. In February, The New York Times reported that Trump misses his access to "fans and supporters — an important source of feedback and validation." The Associated Press wrote that Trump didn't even want to live in the White House.

But Wolff's new book claims Trump and his campaign never planned to win and never wanted to accept the job that comes along with a victory. So once he did take office, the West Wing was in disarray, with Bannon, Ivanka Trump and Jared Kushner all operating in a free-form environment. Bannon, especially, saw his role as creating the "soul" of the White House, according to Wolff. And Trump's own behavior was credited as not befitting the White House.

"Nothing contributed to the chaos and dysfunction of the White House as much as Trump's own behavior," Wolff wrote. "The big deal of being president was just not apparent to him. Most victorious candidates, arriving in the White House from ordinary political life, could not help but be reminded of their transformed circumstances by their sudden elevation to a mansion with palacelike servants and security, a plane at constant readiness, and downstairs a retinue of courtiers and advisers. But this wasn't that different from Trump's former life in Trump Tower, which was actually more commodious and to his taste than the White House."

Wolff's book Fire and Fury: Inside the Trump White House is to be published by Henry Holt & Co. on January 9.
The Hill, "Bannon warned Russia probe would focus on money laundering: report", 3 January 2018:

Former White House chief strategist Stephen Bannon warned that the special counsel investigation into whether the Trump campaign colluded with Russia would focus on money laundering, according to a book to be published next week.

The revelation is included in "Fire and Fury: Inside the Trump White House," a new book by Michael Wolff. The Guardian, which has viewed a copy, published several stories on Wednesday about the book, which includes interviews with Bannon and President Trump.

Trump's former campaign chairman Paul Manafort was charged with money laundering in an October indictment brought by special counsel Robert Mueller, as was his associate Richard Gates.

In Wolff's book, Bannon identifies Weissmann, an attorney on Mueller's team, as a "money-laundering guy."

"You realize where this is going," Bannon said in the book. "This is all about money laundering. Mueller chose Weissmann first and he is a money-laundering guy. Their path to fucking Trump goes right through Paul Manafort, Don Jr and Jared Kushner. … It's as plain as a hair on your face."

"They're going to crack Don Junior like an egg on national TV," Bannon said, referring to the president's eldest son, Donald Trump Jr.

The former White House chief strategist also spoke about the 2016 meeting between Trump Jr. and a group of Russians, describing it as "treasonous."

And Bannon in "Fire and Fury" mentioned connections between Trump's son-in-law, Jared Kushner, and loans taken out from the German Deutsche Bank that have come under scrutiny in relation to the investigation.

In December, federal prosecutors subpoenaed Deutsche Bank for records tied to Kushner's family's real estate business, Kushner Companies.

"It goes through Deutsche Bank and all the Kushner shit," Bannon said of the probe. "The Kushner shit is greasy. They're going to go right through that. They're going to roll those two guys up and say play me or trade me."

Business Insider, "I know why Steve Bannon let Michael Wolff into the White House", 4 Jan 2018:

- Michael Wolff's new book, "The Fire and the Fury," is rocking the Trump White House, and it hasn't even been released yet.

- It has the president turning on former adviser Steve Bannon. This is in part because Bannon helped Wolff gain incredible access to the White House.

- Why? Add this to the long list of ego-driven media mistakes made by the administration - a costly one at that.

- What Bannon didn't count on was that Wolff isn't a soldier in his army.

I feel like I write this all the time, but the White House is in chaos.

The Trump administration is being thrown by the forthcoming publication of Michael Wolff's book "The Fire and The Fury: Inside the Trump White House."

The excerpts, until now jealously guarded at select media outlets like New York Magazine and NBC for weeks, tell of a shockingly incompetent president and the in-over-their-heads aides who openly disrespect him. It is chaos, and someone let Wolff take a front seat and watch it all.

That person, by all accounts, was former White House adviser Stever Bannon. While Trump may have known that the biographer of his idol, Rupert Murdoch, was on site, it was Bannon who ensured Wolff had access.

Why? Consider it one part self-aggrandizement, another part a desire for acceptance, and wholly and completely a continuation of Bannon's desperate search for ideological allies.