Majorityrights News > Category: Political analysis
Ending the Iran deal has been the veritable raison d'être for the Trump Presidency. Trump refers to an "international community" whose opinion on the matter he will take under consideration. The "international community", i.e., YKW and other right wingers.
Way to go Alt-Right! Along with Donald, you sure know how to make a deal.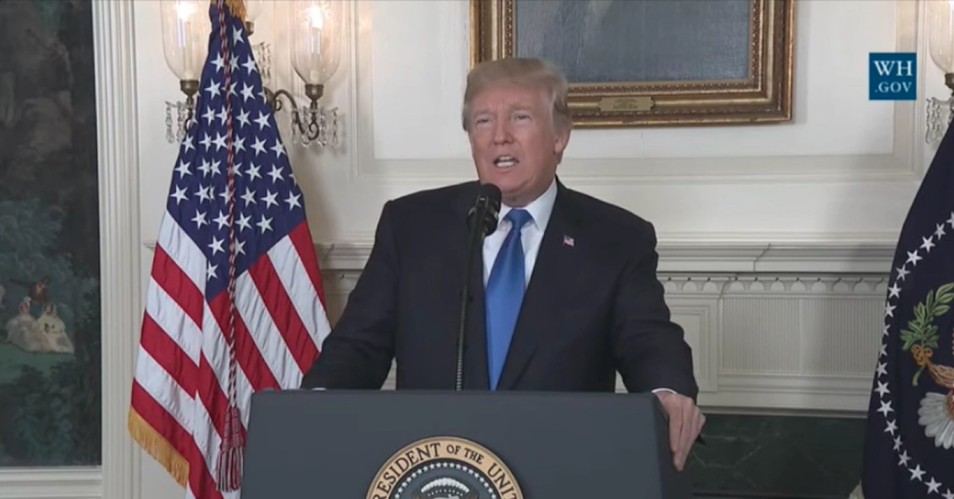 Donald Trump: Given the regime's murderous past and present, we should not take lightly its sinister vision for the future. As I have said many times, The Iran Deal was one of the worst and most one sided transactions The United States has ever entered into. The Iranian regime has committed multiple violations of the agreement, for example, on two separate occasions they have exceeded the limit of 130 metric tonnes of heavy water; until recently, the Iranian regime has also failed to meet our expectations in its operation of advanced centrifuges. The Iranian regime has also intimidated international inspectors into not using the full inspection authorities that the agreement calls for; Iranian officials and military leaders have repeatedly claimed they will not allow inspectors onto military sites even thought the international community suspects some of those sites were part of Iran's clandestine nuclear weapons program. Importantly, Iran is not living up to the spirit of the deal. So today, in recognition of the increasing menace posed by Iran and after extensive consultations with our allies, I am announcing a new strategy to address the full range of Iran's destructive actions. First, we will work with our allies to counter the regime's destabilizing activity and support for terrorist proxies in the region. Based on the factual record I have put forward, I am announcing today that we cannot and will not make this certification.

What about Saudi, Donald? He cites Iran's backing of terrorists; this, coming from a man who just a few months back lavished Saudi - Saudi - with a 110 billion dollar arms deal.
Related Story: 11 September Attacks: 28 Pages Declassified.
Related Story: What Saudi Arabia's royal reshuffle means for the world.
The Hill, "Trump makes his move on Iran nuke deal", 13 Oct 2017:

President Trump declared Friday that the Iran nuclear deal is no longer in the national security interest of the United States, but stopped short of withdrawing from the Obama-era pact.

"I am announcing today that we cannot and will not make this certification," Trump said during a speech at the White House.

"We will not continue down a path whose predictable conclusion is more violence, more terror and the very real threat of Iran's nuclear breakout," he continued.

The president said that Iran "has committed multiple violations of the agreement" and accused Tehran of "not living up to the spirit of the deal."

Trump ticked off a list of problems with the deal and laid out a new, tougher strategy to confront "the rogue regime" over a series of other "hostile actions" unrelated to its nuclear program.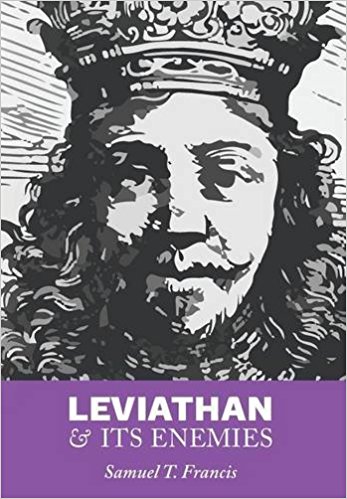 Sam Francis was creating 'young fogies' - Alex Linder.
It's going to require some nuance, but it is important to explain why James Lawrence is a walking piece of dog shit masquerading as a human being, a manifestation shown in his article at (((Alternative Right))):
Alternative Right, "THE COSMOPOLITAN CLASS", 24 Sept 2017.
In brief, James Lawrence has elevated Sam Francis young fogeyism = an aspiration to conceive of oneself as precociously wry in protection of the "traditional" already Jew infested culture against "progressivism." This is anti modernism without being sufficiently post modern (to incorporate the best while leaving behind the worst of both modern and inherited ways), as it stops with a neo-traditionalism, read (((paleoconservatism))).
Now, Francis, and by proxy Lawrence, have some things right.
Namely, that there is a significant portion of influential White people circulating among our elite functions who do not have our ethnonational interests at heart. More, that there is a managerial elite who want to share in this self interested good fortune, who will thus also betray ethno nationals in order to gain favor of this elite, internationalist power.
It is also true that both these kinds of White people can gain international backing by importing foreigners against Whites (or exporting elitist interests, e.g., compradors, against ethnonationals) and they can and do also virtue signal by sacrificing Whites and quelling any backlash against foreign impositions on ethnonationalism.
But I more accurately and descriptively call these people right wingers, and their underpinning objectivism: which is directed by Jewry - hence, Lawrence's commitment to end his article in (((his masters))) bidding by espousing the "true right" on behalf of (((paleoconservatism))) against "the left"..."the Cosmopolitans" and the occasional bad Jew - yes, they have bad ones too, he knows.
Here Lawrence takes a turn into disingenuous speculation, by saying these Whites who betray eithnonationalism are not "traitors" - well, objectivists are not perfectly described as "traitors", true - they are loyal to their own subjective interests through a disingenuous pretense of objectivism or naively subject to the subjective/relative interests of others through the pretense of objectivism.
Although there are distinct patterns of the treacherous Whites among elite positions, there is not necessarily a well organized elite group to which they subscribe as Lawrence would provide for the diversion of conspiracy theorists - it is more facile than that.
Indeed, the only real reason to circumscribe it so perfectly with the designation of a "Cosmopoitain" elite which is strictly loyal to its in group, is to function as a tool for Jews to deflect attention away from what is indeed their more organized half of the elite internationalist equation. So that they can point to their (((paleocons))), who can say, "see? we are the good ones", we have paleocons who are on your side, not like those bad Jews, we're here with you to protect your (((Christian traditions))) against those "Cosmopolitan elites" and the occasional bad Jew, like Soros and neo cons like William Kristol.
That is to say, like the site Alternative Right, James Lawrence is disguising, perhaps even to himself, the fact that he is kissing Jewish ass in order to keep his means to power afloat.
White elites who betray our interests are indeed one giant pole of our problem, but their loyalty functions a bit more arbitrarily on the happenstance of subjective fortune and selling out; along with the mutual admiration and facile croneyism of their "objective" attainment, which is why, in their unaccountabilty, they are so easily bribed and outmaneuvered by the Jewish group, which is organized as a distinct group in its relative interests (is it good for Jews?) and which will send forth posers as representatives of (((paleoconservatism))) against the "Cosmopolitan" elite.
That is to say, objectivism functions in a much more slippery way against ethnonational interests and Jewry knows how to play it - e.g., through reactionary narratives like those of Sam Francis and James Lawrence. It is a nebulous, quasi group created de facto by the ever present temptation of facile betrayal in self interest, and that is why it requires the ever present default vigilance of accountability through left nationalism and its White variant, the White class, White Left nationalism.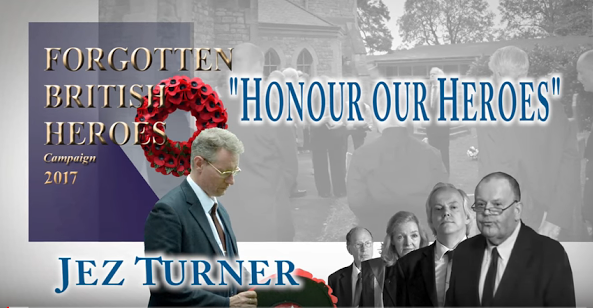 * Please feel free to forward or pass on to other nationalists *


The 2017 Annual John Tyndall Memorial Meeting


Friday 6th October, 2017

Preston - Lancashire. 1pm – 6pm

Keith Axon: Meeting Chairman: - Longstanding friend of JT, former NF and BNP organiser

Speakers include (in alphabetical order):

Benny Bullman: - lead singer of the Blood & honour band Whitelaw, and longstanding British Movement activist

Mark Collett: - former Young BNP organizer, twice acquitted on 'race-hate' charges and author of Decline of Western Man

Richard Edmonds: - Longstanding friend of JT, National Front directorate member activist - former BNP national organiser

Stephen Frost: - National secretary of the British Movement and author of the Colin Jordan biography 'TWAS A GOOD FIGHT'!

Julie Lake: - former BNP organiser, now National Front & South West Forum organiser

Dr. James Lewthwaite: - former Bradford City Councillor, archaeology lecturer, organiser for the British Democrats and Orangeman

Eddy Morrison: - Longstanding White nationalist, former NF, BNP and WNP organiser – now editor of the online newsletter White Voice

Peter Rushton: - Assistant editor of Heritage and Destiny magazine & Russia Today and Press TV commentator

Jez Turner: – former soldier, Arabic & Pashtun translator, & now chairman of The London Forum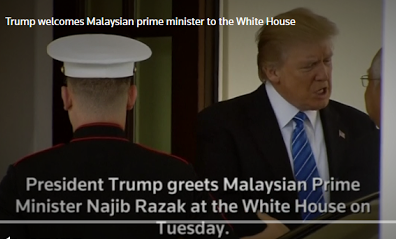 The YKW and right wing collude with Islam.
Malaysian Prime Minister Najib Razak is the comprador of compradors.
In what is going on a decade of the got-up (((paleoconservatism)) of the ((("alt-right"))), one of the key reasons its Jewish conception has fashioned "the left" as the grand-enemy is because left nationalism, its syndicalism, is a grand adversary of Abrahamism - especially the Islamic variant, a universalizing credo which prohibits ethnonational unionizations. Islam, as instituted by comprador imams, functions thereby as feudalist thuggery on behalf of Jewry and complicit right wingers - who make deals with the Islamic comprador (a middleman slave driver/enforcer upon the local population, killing them where they interfere) to exploit the labor and resources of would-be sovereign ethnostates.
Reuters, "Trump, Malaysia's Najib skirt round U.S. probe into 1MDB scandal", 12 Sept 2017:

WASHINGTON (Reuters) - U.S. President Donald Trump welcomed Malaysian Prime Minister Najib Razak to the White House on Tuesday, praising his country for investing in the United States while steering clear of an American investigation into a Malaysian corruption scandal.

The visit is important for Najib, who faces elections next year and wants to signal he is still welcome at the White House despite a criminal probe by the U.S. Justice Department into a state fund called 1Malaysia Development Berhad (1MDB).

Flanked by top advisers in the Cabinet Room, Najib told Trump that Malaysia Airlines would buy 25 Boeing 737 jets and eight 787 Dreamliners, and would probably add another 25 737s in the near future - a deal he said would be worth more than $10 billion within five years.

Najib said Malaysia's Employees Provident Fund, a major pension fund, wanted to spend $3 billion to $4 billion on U.S. infrastructure development.

Najib enjoyed close ties with Trump's predecessor, Barack Obama, playing golf in Hawaii in 2014, but relations cooled over human rights issues as well as the 1MDB scandal.

Najib founded the fund, which is facing money laundering probes in at least six countries including the United States, Switzerland and Singapore. He denies wrongdoing.

The U.S. Justice Department has said more than $4.5 billion was misappropriated from 1MDB by high-level officials of the fund and their associates, according to dozens of civil lawsuits it filed last year.

The Justice Department sued to seize some $1.7 billion in assets it said were bought with misappropriated 1MDB funds, but asked for a stay on its civil lawsuits in August because it was conducting a related criminal probe.

The White House had said it would not comment on the Justice Department investigation but a senior U.S. official acknowledged it was unusual to meet with Najib while 1MDB was under regulatory scrutiny.

"It's a weird situation, no doubt," the official said, explaining that the administration has prioritized developing relations with Southeast Asia to counter "huge gains" China has made in the region.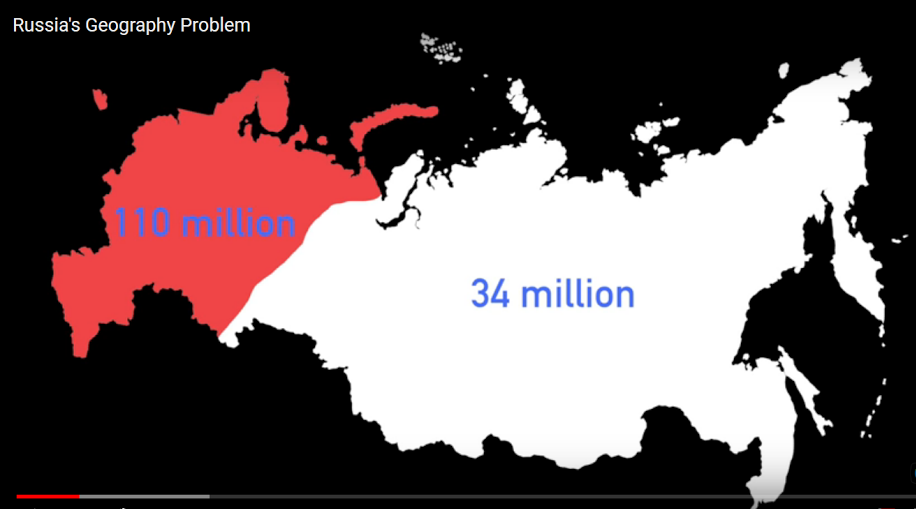 Related Story: European & Asian Regional Alliance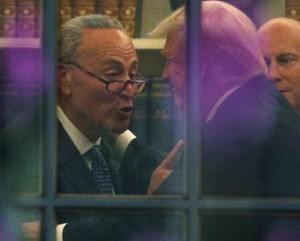 What did you really expect from Trumpstein?
Occidental Dissent, "(((Chuck Schumer))) Caught On Hot Mic Discussing Budding Partnership With President Cuck", 15 Sept 2017:

Hey, MAGApedes, I know you guys have gotten as slippery as water snakes in your defense of President Trump, but I would very much like to see y'all defend what you're about to hear courtesy of C-SPAN and a nice steaming hot mic.

Senate Minority Leader Chuck Schumer (D-N.Y.) took to the Senate floor Thursday morning to discuss Equifax's massive security breach; the physical limitations of a border wall; and his supposed agreement with President Trump, struck alongside his House counterpart Rep. Nancy Pelosi (D-Calif.), to work to preserve protections for immigrants who were brought to the U.S. illegally as children.

But before he officially took to the floor, Schumer bounded into the Senate chamber just after a speech by Senate Majority Leader Mitch McConnell (R-Ky.) and took a minute to converse with a colleague. "Sorry, just got here. Anything new?" Schumer can be heard saying on C-SPAN2's live feed of the Senate, though he's not seen on video. Then: "He likes us! He likes me, anyway," Schumer says with a chuckle.

Schumer is presumably referring to himself and Pelosi, and Trump's apparent affection for them — or one of them, anyway. He continues telling his unseen colleague that the statement he and Pelosi put out about Trump's DACA promise was "exactly accurate." "Here's what I told him," Schumer continues. "I said: 'Mr. President, you're much better off if you can sometimes step right and sometimes step left. If you have to step just in one direction, you're boxed.' He gets that."

Let's just be real here, Brothers, it's pretty damned bad.

Like, it's so bad that there really isn't much room for maneuver whatsoever.

You can't even make the argument that there is some sort of negotiating ploy alive here – most folks would say that we're either seeing Trump operating on a Sub-Saharan IQ level, or we're merely watching Jewry pulling a move honed by both time and use among peoples ranging from the Pagan Romans to the Catholic Poles.

Honestly, I see neither situation at play here – instead I see a man who because of blackmail (increasingly unlikely), through ignorance gifted by being a member of the 1% (possible), or by infection with the same egalitarian corruption that permeates both political parties (most possible) cares little about the White Man in the United States.

He would rather break bread with liberal Jews (and marry his daughter off to one), than sit with the working man whose ancestors built up this country from swamp, woods, and hostile wilderness.

But hey, if you're just an average Trump supporter, don't think I'm mocking you or gloating in the downfall of the President – the biggest fanbois are just in it for the money, their brand, or are trapped into a personality cult due to weird daddy issues that may never be cured.


Like you, I too was caught up in the frenzy during 2015 and 2016, and at points I truly hoped that Donald would at the very least buy us time by enacting policies that really aren't too radical when you break everything down.

I went to rallies, pushed The Don on normies sitting on the fence, and literally wrote 2,000 or so articles covering the most exciting political race in living memory.

I have no regrets, and I feel no remorse, but I would like you to take a long look at what the Alt-Right is offering – we'll actually fulfill our promises, and we'll actually work to make America (or at least a chunk of the country) great again.
Indeed, people should take a long hard look at what the Alt-Right is (((offering))), (((doing))), (((who they are collaborating with))) and not follow them into the Jewish bum steers that they take without regrets, remorse - without learning. People should also avoid following the Alt-Right's self defeating reactions thereof.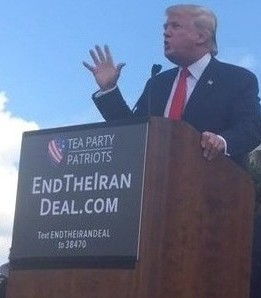 Trump
gained the White house
through
a pledge
to
un-do the Iran deal
and a claim that was his inspiration to run for President.
Newsweek, "Tillerson, Mattis and McMaster Present Trump With Plan to Stop Iranian Aggression", 12 Sept 2017:

A Kurdish-Arab coalition known as the Syrian Democratic Forces has been battling ISIS in eastern Syria but has encountered hostile fire from Iranian-backed forces, as well as Syrian rebels backed by Turkey.
Taking Newsweek's word for it, one would believe Iran is the aggressor and on the wrong side of this one - but is this true?
Ibid: Trump has railed against the landmark nuclear deal signed in July 2015 between the Islamic Republic and six world powers, threatening on the presidential campaign trail to rip up the agreement that lifted sanctions in return for reining in the country's uranium enrichment program.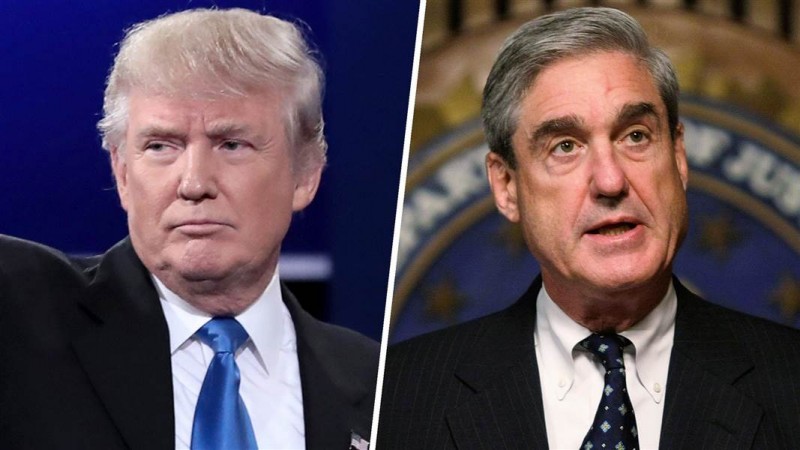 Trump administration cornered by Mueller in a grand jury investigation.
Trump was not able to veto new sanctions against Russian as it would have been hapless against Capitol Hill's unanimity on the measure, but betrayed his lack of innocence anyway by attaching a note of complaint (on behalf of his Russian friends?) to go along with his signing.
It would be a similar dead-ringer of guilt, revealing divided loyalties, if Trump tried to remove Mueller from the position of special investigation into Russian influence over his campaign, even if by the proxy of appointing someone who will do the dirty work where Sessions has recused himself - but now even that weasel-out of hiring someone to replace Sessions for the position to fire Meuller is being closed off; the Trump administration is being cornered, such that all administration personnel will be subject to appear before a grand jury and forced to present any documents, financial records, even emails that might have bearing - material evidence that they probably would not disclose voluntarily.
Politico, "Could Trump Fire Mueller? It's Complicated", 3 August 2017:

But the real question is what Congress would do to stop him.

It turns out that Senate Majority Leader Mitch McConnell has been calling ducks chickens all year long. In February, April and July, the Senate broke for 10 days or more. Each time, the Senate convened pro forma sessions. Subsequent reporting indicated that this was part of a plan hatched by the Senate GOP to prevent Trump from making any recess appointments at all. So it's highly unlikely that Trump will be able to make a recess appointment during the upcoming break.

Does this mean Trump can't ease out Sessions without sparking a messy confirmation process for his successor?

A Judiciary Committee confirmation hearing would inevitably rehash the firing of FBI Director James Comey, and even Republicans would be unlikely to confirm a nominee who didn't pledge to protect Mueller's investigation.

But Trump has other cards to play. He can appoint an acting attorney general and never get around to nominating a real one. By default, Rosenstein would take the helm. But Rosenstein is the one who hired Mueller, so if Trump's goal is to get rid of the special counsel, he needs to pick someone else as acting attorney general.
But while a Grand Jury investigation is anything but good news for Trump and his administration, it is not news failing his incapacity to get rid of the Mueller and the investigation altogether - it is standard operating procedure for a special investigation of this kind:
Washington Post, "Why Mueller's use of a grand jury confirms what we already knew", 3 August 2017:

reathless tweets and breaking-news banners notwithstanding, reports that special counsel Robert S. Mueller III has empaneled a grand jury in the ongoing investigation of the Trump campaign and potential Russian collusion are entirely unsurprising. This development isn't a nothing-burger, but it doesn't suggest anything we didn't already know.

Grand juries are how federal prosecutors conduct their investigations. The grand jury has the subpoena power that prosecutors need to compel reluctant witnesses to testify under oath. Grand jury subpoenas are also how prosecutors gather documents such as bank records, emails and corporate papers from entities or people who might not produce them voluntarily.

If a preliminary inquiry suggests there is nothing to a case, prosecutors might never empanel a grand jury. They and the FBI might conduct voluntary interviews, examine readily available documents and determine that no more formal inquiry is warranted.

That quick-look, let's-move-on scenario was never likely here. It's been clear for months that the allegations are sufficiently serious to merit a full investigation. And in the world of federal prosecutors, that means using a grand jury.

In fact, prosecutors in this probe have been using a grand jury for some time. Grand jury proceedings take place in secret, so there is often not a lot of news about what is happening in the room.

But someone who receives a subpoena to testify or produce documents is not bound by those secrecy rules. They are free to disclose — to the media or to anyone else — that they received a grand jury subpoena or testified in the grand jury. It may be that someone who just received a subpoena contacted a reporter and that has resulted in the "breaking news" stories.

The reality is that any investigation serious enough to warrant the appointment of a special counsel was always likely to involve a grand jury. It was always going to drag on for months. In a case this complex, it takes a long time to investigate the various allegations, subpoena and review relevant documents, and put relevant witnesses before the grand jury. If there are grants of immunity or plea deals to be negotiated, that takes time as well.

Mueller has already hired more than a dozen prosecutors to staff his investigation. Anyone who thought this was going to be over quickly was kidding themselves. The "news" confirms what we already knew.

Finally, it's important to remember that the existence of a grand jury investigation does not mean criminal charges will necessarily result. Especially in white-collar cases, it's not unusual for grand jury investigations to close with no charges being filed. The grand jury is the investigative tool that prosecutors use to determine whether charges are warranted – and sometimes the answer is no.

In the past weeks, there have been a number of startling and significant developments in the Russia probe. News that the special counsel is using a grand jury is not one of them.