Majorityrights News > Category: Peak Oil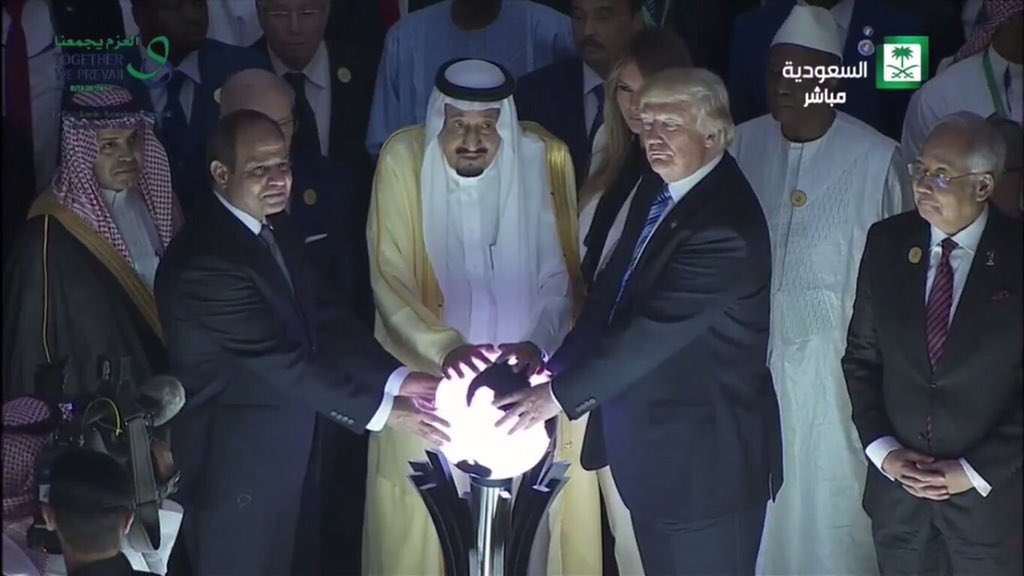 Trump feels the Israeli/Saudi orbit expanding over Qatar and (it is hoped) Iran as well.. (photo Matt Troller, Twitter).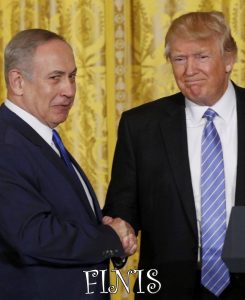 "Being on the left means never have to say, 'I'm sorry.'"

But the greatest lesson is this: Next time the Left gets hysterical, just assume the hysteria is fraudulent. There has been no exception to this rule in my lifetime. And that includes the hysteria about Trump-campaign "collusion" with Russia. - Dennis Pager, National Review, 13 June 2017.

Let's give credit where it's due. The Right says Trump is Not anti-Semitic and that's absolutely true. In fact, he's quite philo-Semitic. They go further to suggest that The Left is getting away with hysterical accusations by pulling at liberal heartstrings - and as the nominal protectorate of full group interests, including compassion for marginals, wouldn't "The Left" be in a good rhetorical position to do just that?


National Review, "Remember the Hysteria about Trump-Induced Anti-Semitism", 13 June 2017:

The hysteria was genuine. The anti-Semitism wasn't.

As I document in my book Still the Best Hope: Why the World Needs American Values to Triumph, which is an explanation of Americanism, leftism, and Islamism, hysteria is a major tactic of the Left. If you think about it, there is never an extended period of time — one year, let's say — during which society is not engulfed by a hysteria induced by the Left. The mother of them all is global warming, or "climate change," as the Left has come to call it (because the warming was not quite enough to induce widespread panic). Hysterics such as billionaires Al Gore and Tom Steyer, along with virtually all the Western news media, warn us that the existence of life on earth is threatened by carbon emissions.

But in its longevity, global warming is almost unique among left-wing hysterias. In general, left-wing hysterias last for much less time, from a few months to a year or two. And when they end — because the hysteria is widely recognized as fraudulent — they're immediately dropped and completely forgotten. The Left never pays a price for its hysteria.

Take, for example, the hysteria the Left created by charging President Trump's election with the unleashing of unprecedented amounts of anti-Semitism and racism in America. Being attuned to the Left's use of hysteria, I knew it was hysteria at the time. In the March 7, 2017, issue of the Jewish Journal, I wrote a column titled "There Is No Wave of Trump-Induced Anti-Semitism or Racism." It was all a lie. That's why you hardly hear anything now about an alleged wave of racism or anti-Semitism in the country. What rankles those who have a passion for justice is that the mendacious fomenters of the hysteria have gotten away with it.

So, as a Jew who understands how much damage left-wing Jews have done to the real fight against anti-Semitism, I think that some of these people are worth mentioning. Perhaps the individual who most spread the lie of Trump-induced anti-Semitism was a previously unknown man named Steven Goldstein, executive director of the previously unknown Anne Frank Center for Mutual Respect in New York.

[...]

Well, guess what. It turned out that President Trump was entirely right: There was no eruption of anti-Semitism in America, let alone one emanating from the White House. Furthermore, "those asking the question" did indeed deserve to be "lashed out" against.

And why aren't we hearing any more about Trump-induced anti-Semitism in America? Because law-enforcement officials reported that a disturbed Israeli-American Jewish teenager in Israel was the source of nearly all the threats against Jewish community centers. And that a handful of other threats to them came from an angry, obsessive black radical trying to frame an ex-girlfriend.

Will any of those who spread the lie and hysteria about Trump-induced anti-Semitism now apologize?

I wrote the answer to that question about 35 years ago: "Being on the left means never have to say, 'I'm sorry.'"

But the greatest lesson is this: Next time the Left gets hysterical, just assume the hysteria is fraudulent. There has been no exception to this rule in my lifetime. And that includes the hysteria about Trump-campaign "collusion" with Russia.

Read full article at National Review,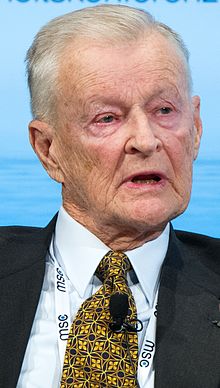 Zbigniew Brzezinski, whose "great chess game" thinking was behind some of the better geo-strategy that Obama and other Presidents are given credit for, has died. Unfortunately, it is a wisdom and judgment not in evidence in Trump - at all - whatever check and balance to Israeli influence that Obama had put in place through Brzezinski's coaching has been purged.
Obama was frequently given credit for resisting Israeli wishes - notably to go against the Iran Deal. But it would have been under the literal advice of Zbigniew Brzezinski to get behind the Iran Deal. The deal was perfect for the power of business interests to exercise its liberalizing effect not only for Iran, but against an eminently dangerous US comlicitness with Israeli-Russian Federation hegemony; along with complicitness to Islamic compradors and abetment of terror.
Say what you want about a cold war mindset, it taught western strategists to look at the Russian Federation and to not be naive about it.
The Russian Federation is not an ethno-state, and like the US, where it is not entirely mixed-up with Jewish interests, it is subject to right wing reactionary and imperialist politics.
The Alt-Right belatedly, grudgingly, acknowledges Jewish power and influence interwoven with not only Trump, but the Kremlin and Putin - it has even been forced to see the quid pro quo that Kumiko diagnosed - "support Israel and your Alt-Right can have backing - its a deal" - however, like David Duke, it will do anything but lay blame on its part for making these deals - what it will not see is the right wing shabbos goyim aspect of right wingers doing what right wingers do - blinding (themselves or others, depending) to their people's broad interests and selling them out for their narrow interests - including selling out in deals with Jews. Clearly the right does not have Israeli interests under control. It does not have and will not allow the concept that would do it. That would mean having to acknowledge what fuck-ups they are, how inane their concept, how typical that they would put Trump in power, blinding to the obvious, deal making, shaking hands with their fellow enemies of ethnonationalism.
They're ok with blaming Jews - and if Kumiko is able to force them to admit to a deal having been offered to them, they might even acknowledge it, almost acknowledge that they took the deal - so long as their masters allow them to lay blame on the "bad" Jews (not the "good ones" du jour); but they will not lay blame on the inherent defect of their right wing platform (heck, their Jewish masters wouldn't allow it), let alone specify the fact that for its inherent instability its adherents are bound to do it again; let alone will they call attention to the fact that they are using and being used for the supremacist, imperialist interests of Israel, its diaspora, its cohorts, the US, the Russian Federation ...add Turkey, Saudi and others to that equation.
If Jews say Asians and Asian ethnonationalism are the enemy, and a Judeo-Christian West is the answer to 'radical' Islam, black and mestizo population imposition, it's a deal for them. Our Asian friends are on notice, we true ethno-nationalists, including White Left nationalism, stand apart from the perfidy and the complicitness of the Alt-Right.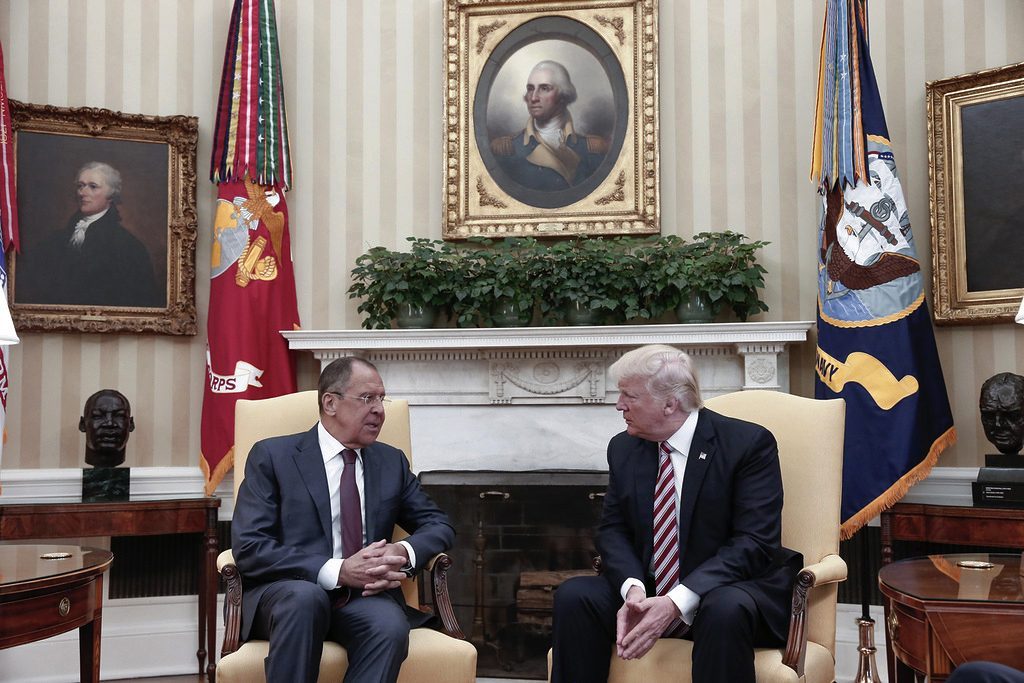 Massively botted to cover-up Trump's tactless disclosure to Lavrov and firing of Comey, the Seth Rich story is more of a non-story than many people realize; nevertheless, it has been massively botted (probably through Russia) to distract and obfuscate:
- Trump's tactless disclosure to Russian Foreign Minister, Sergei Lavrov, that the Mossad has infiltrators among Isil. While ethno-nationalists should be grateful for this tactless implication of the Mossad and Israel, it is not necessarily a feather in Trump's genius cap and he and his proponents would naturally want to distract from that fact.
- Trump's tactlessly clear motives in his firing of FBI director James Comey. Again, while we ethno-nationalists might be happy that he is exposing himself to be a disingenuous/naive oaf with regard to issues and inquiries touching upon the Russian Federation, it would not necessarily be in his interest to have a great deal of attention paid to that perception.
Trump's motives were exposed when firing Comey by tactlessly expressing 'gratitude' to Comey for having "assured him 'three times' that he was not under FBI investigation." Moreover, Trump's motivation to obstruct further inquiry by Comey into his (Trump's) ties to Russia were exposed by his opposition to Comey's investigation into Flynn's Russian ties:
Vice, 16 May, "Trump asked Comey to drop investigation into Flynn." [...] "A source told CNN that Trump's request so appalled Comey, he felt compelled to document it."
Reuters, 18 May: U.S. President Donald Trump asked then-FBI Director James Comey to end the agency's investigation into ties between former White House national security adviser Michael Flynn and Russia, according to a source who has seen a memo written by Comey.

The explosive new development on Tuesday followed a week of tumult at the White House after Trump fired Comey and then discussed sensitive national security information about Islamic State with Russian Foreign Minister Sergei Lavrov.

The Comey memo, first reported by the New York Times, caused alarm on Capitol Hill and raised questions about whether Trump tried to interfere with a federal investigation
..Tillerson is another elephant in the room.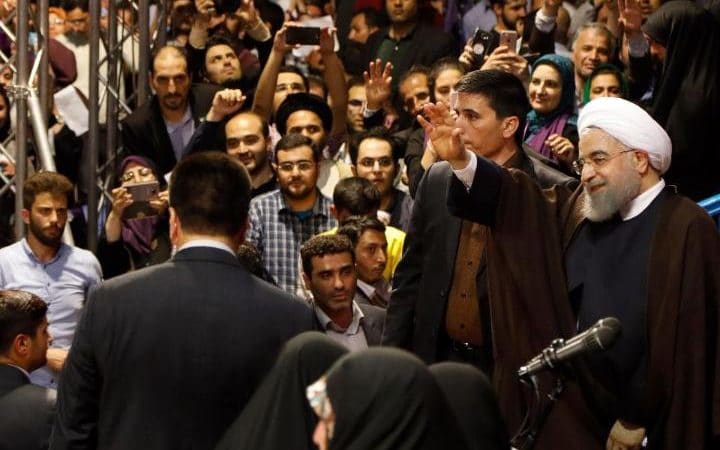 The impending failure of the Iran deal is being disingenuously blamed on the very moderate Iranians that ethno-nationalists would hope to empower in and of the deal - that failure being blamed on them, as opposed to who actually deserves the blame: primarily the Trump administration and its friends.
Daily Telegraph, "Iran presidential candidates lay blame for 'failed' nuclear deal on reformer Rouhani", 13 May 2017:

President Hassan Rouhani faced accusations of a failed nuclear deal which has not benefitted the Iranian people, during the final televised debate with his rivals before the country's presidential election next week.

The vote is being seen as largely a referendum on reformer Mr Rouhani's outreach to the rest of the world following a landmark accord with global powers, which ended sanctions but bitterly divided the country.

The president is believed to be the frontrunner in the May 19 election but the failure of the 2015 accord to bring economic gains for the public has brought an opening that his main competitors, powerful conservative cleric Ebrahim Raisi and hardline Tehran mayor Mohammad Bagher Qalibaf, have sought to exploit.
Update: New York Times, "Trump Picks Rex Tillerson, Exxon C.E.O., as Secretary of State", 12 Dec 2016:

WASHINGTON — President-elect Donald J. Trump on Monday settled on Rex W. Tillerson, the chief executive of Exxon Mobil, to be his secretary of state, dismissing bipartisan concerns that the globe-trotting leader of the energy giant had forged a too-cozy relationship with Vladimir V. Putin, the president of Russia, transition officials said.

Mr. Trump planned to announce the selection on Tuesday morning, finally bringing to an end his public and chaotic deliberations over choosing the nation's top diplomat — a process that at times veered from rewarding Rudolph W. Giuliani, one of his most loyal supporters, to musing about whether Mitt Romney, one of his most vicious critics, might be forgiven.
Russia's Prime Minister Putin speaks with Tillerson in Sochi in 2011

President-Elect Trump 'will name Exxon CEO with close links to Putin as his secretary of state', snubbing Mitt Romney."

DM, "BREAKING NEWS, 10 Dec 2016:

Trump is expected to name Rex Tillerson as secretary of state.

Exxon Mobil chief emerged on Friday as the leading candidate.

Favored status was revealed as Giuliani withdrew.

U.S. President-elect Donald Trump is expected to name the chief executive of Exxon Mobil as the country's top diplomat, NBC News reported Saturday.

Exxon chief Rex Tillerson emerged on Friday as Trump's leading candidate for U.S. secretary of state and is expected to meet with him later on Saturday, a transition official told Reuters.

NBC News cited two sources close to the transition team in reporting that Tillerson will be named as secretary of state.

The president-elect had interviewed 2012 GOP nominee Mitt Romney twice – taking him to a three-Michelin starred dinner on one of those occasions.

Should Tillerson be nominated, his business ties, too, will come under scrutiny. Exxon Mobil has operations in more than 50 countries and boasts that it explores for oil and natural gas on six continents.

In 2011, Exxon Mobil signed a deal with Rosneft, Russia's largest state-owned oil company, for joint oil exploration and production. Since then, the companies have formed 10 joint ventures for projects in Russia.

In 2013, Russian President Vladimir Putin awarded Tillerson his nation's Order of Friendship.

'He has had more interactive time with Vladimir Putin than probably any other American with the exception of Henry Kissinger,' John Hamre, a deputy defense secretary to Bill Clinton told the Wall Street Journal.

But U.S. sanctions against Russia for its incursion into Crimea cost Exxon Mobil dearly, forcing it to scrap some projects and costing it at least $1 billion in losses. Tillerson has been a vocal critic of the sanctions.

Trump has spoken of wanting warmer relations with Moscow, which has sparked concerns in Congress that he could lift or loosen some of the sanctions on Russia.

Tillerson has been chairman and CEO of Exxon Mobil since 2006. He is expected to retire from the company next year.

Should Tillerson be nominated, climate change could be another divisive issue. The company is under investigation by the New York Attorney General's Office for allegedly misleading investors, regulators and the public on what it knew about global warming.

Trump's campaign was unavailable for comment.
Chinese President Xi Jinping called Rodrigo Duterte's visit a "milestone" in ties, as he pulled out all the stops to welcome the Philippines' leader.

Huffington Post, "Philippine President Duterte Announces 'Separation' From The U.S.", 20 Oxt 2016:

BEIJING (Reuters) - Philippine President Rodrigo Duterte announced his "separation" from the United States on Thursday, declaring that it had "lost" and he had realigned with China as the two agreed to resolve their South China Sea dispute through talks.

Duterte made his comments in China, where he is visiting with at least 200 business people to pave the way for what he calls a new commercial alliance as relations with longtime ally the United States deteriorate.

His trade secretary, Ramon Lopez, said $13.5 billion in deals would be signed.

Duterte's efforts to engage China, months after a tribunal ruling in the Hague over South China Sea disputes in favor of the Philippines, marks a reversal in foreign policy since the 71-year-old former mayor took office on June 30.

"America has lost now," Duterte told Chinese and Philippine business people at a forum in the Great Hall of the People, attended by Chinese Vice Premier Zhang Gaoli.

"I've realigned myself in your ideological flow and maybe I will also go to Russia to talk to (President Vladimir) Putin and tell him that there are three of us against the world ― China, Philippines and Russia. It's the only way," he added.

"With that, in this venue, your honors, in this venue, I announce my separation from the UnitedStates," Duterte said to applause. "I have separated from them. So I will be dependent on you for all time. But do not worry. We will also help as you help us."

China has pulled out all the stops to welcome Duterte, including a marching band complete with batton-twirling band master at his official welcoming ceremony outside the Great Hall of the People, which most leaders do not get


Xi told Duterte their countries are now "brothers," who can "appropriately handle disputes," in an apparent nod to previous standoffs over the South China Sea.

RED CARPET WELCOME

President Xi Jinping, meeting Duterte earlier in the day, called the visit a "milestone" in ties.

Xi told Duterte that China and the Philippines were brothers and they could "appropriately handle disputes," though he did not mention the South China Sea in remarks made in front of reporters.

"I hope we can follow the wishes of the people and use this visit as an opportunity to push China-Philippines relations back on a friendly footing and fully improve things," Xi said.

Following their meeting, during which Duterte said relations with China had entered a new "springtime", Chinese vice foreign minister Liu Zhenmin said the South China Sea issue was not the sum total of relations.

"The two sides agreed that they will do what they agreed five years ago, that is to pursue bilateral dialogue and consultation in seeking a proper settlement of the South China Sea issue," Liu said.

China claims most of the energy-rich South China Sea through which about $5 trillion in ship-borne trade passes every year. Neighbours Brunei, Malaysia, the Philippines, Taiwan and Vietnam also have claims.

In 2012, China seized the disputed Scarborough Shoal and denied Philippine fishermen access to its fishing grounds.

Liu said the shoal was not mentioned and he did not answer a question about whether Philippinefishermen would be allowed there. He said both countries had agreed on coastguard and fisheries cooperation, but did not give details.

Duterte's declaration of a separation with the U.S. comes after he called President Barack Obama a "son of a bitch" and told him to "go to hell" while alluding to severing ties with the old colonial power.

SEA ROW TAKES 'BACK SEAT'

Duterte's tone toward Beijing is in contrast to the language he has used against the United States, after being infuriated by U.S. criticism of his bloody war on drugs.

He has called U.S. President Barack Obama a "son of a bitch" and told him to "go to hell" while alluding to severing ties with the old colonial power.

On Wednesday, to the cheers of hundreds of Filipinos in Beijing, Duterte said Philippine foreign policy was veering toward China.

"I will not go to America anymore. We will just be insulted there," Duterte said. "So time to say goodbye my friend."

The same day, about 1,000 anti-U.S. protesters gathered outside the U.S. embassy in Manila calling for the removal of U.S. troops from the southern island of Mindanao.

Duterte on Wednesday said the South China Sea arbitration case would "take the back seat" during talks, and that he would wait for the Chinese to bring up the issue rather than doing so himself.

Xi said issues that could not be immediately be resolved should be set aside, according to the Chinese foreign ministry.

China has welcomed the Philippines approaches, even as Duterte has vowed not to surrender any sovereignty to Beijing, which views the South China Sea Hague ruling as null and void.

China has also expressed support for his drug war, which has raised concern in Western capitals about extrajudicial killing.

Duterte's overtures to China have been accompanied by signs of improving business ties with the world's second largest economy.

China's Liu said Beijing will restore Philippine agricultural exports to China and provide financing for Philippine infrastructure.
Interesting that The Huffington Post made this the caption beneath the title of its article, though there is nothing in the article that discusses Russia -
"America has lost now," Rodrigo Duterte said, flagging closer ties with China and Russia during a visit to Beijing.
There is a strange misconception circulating among some in the west that Russia and China are good friends, some speaking as if they are practically joined at the hip.
And speaking of NOT friends, there are some interesting facts to come about the history of The US in The Philippines - a history that will explain much as to why The Philippines would be eager to declare their separatism and The US the loser.
Vistula Lagoon only accessible through an inlet in the north eastern part, in Russian Federation territory

The Moscow Times, "Jarosław Kaczyński, leader of Poland's ruling party, has announced plans to build a canal to bypass a stretch of territory controlled by Russia" 14 Oct 2016:

"By building this canal, we will demonstrate that we are a sovereign country," Kaczyński told journalists in the port city of Elbląg. "This is for political-military interests," he added.


The canal will go through the Vistula Split, a stretch of land that separates the Vistula Lagoon from the Gdańsk Bay in the Baltic Sea. The only way to access the Baltic from Elbląg is to go through Russian controlled waters. The canal, which authorities plan to complete by 2022, aims to change that.


"We already know that Russia will be against the building of the canal. But we will do it anyway. Soon, we will be celebrating the dig of the first shovel," said Kaczyński.

Ecologists and locals, many of whom live off holiday-makers who travel to the split's sandy beaches every year, have voiced concerns over the canal. But ministers say security concerns in the Kaliningrad region come before ecological threats.

"We already know that our eastern neighbors will be protesting this decision on ecological grounds," said Poland's minister for maritime trade Marek Gróbarczyk. "I call on ecological circles: do not become tools of their actions."


Presently, the only inlet to the bay is to the upper right of the map, just below Baltiysk, Kaliningrad, Russian Federation.
Related stories -
Intermarium: Alliance of nations between Germany and Russian Federation that can be a bulwark of nationalism against propositional imperialism and internationalism; it can also play a key part in The Silk Road and Alliance with the Asian region and ethno-nationalisms.
Photo credit: Saab

Defense News, "Poland Likely to Award Sub Deal to Saab", 14 Oct 2016:

WARSAW, Poland — In the aftermath of the spat between Poland and France over Warsaw's decision to cancel the Caracal helicopter deal with Airbus Helicopters, the Polish Defence Ministry is most likely to purchase three A26-class submarines from Sweden's Saab.

France's DCNS, which pitched its Scorpene-class sub, is no longer considered as the forerunner in Poland's sub procurement, Defence Ministry sources told pro-government daily Nasz Dziennik. Germany's ThyssenKrupp Marine Systems, which offers its HDW-class sub, is also regarded as having low chances of securing the contract. The deal is estimated to be worth up to 10 billion zloty (US $2.6 billion).

Earlier this month, Poland's Ministry of Economic Development decided to end its negotiations with Airbus Helicopters, whose Caracal was chosen by the previous government under its transport helo procurement. Since then, relations between Poland and France have remained stringent.

Following Warsaw's decision, French President Hollande decided to cancel his official visit to Poland, which was scheduled for Oct. 13, and Paris withdrew an invitation to a delegation of Polish officials for the forthcoming Euronaval trade show.

Defense News
France Withdraws Euronaval Invitation to Polish Officials

In response, Polish Defence Minister Bartosz Kownacki said in a televised interview that while there was no diplomatic war between the two countries, the French "learned to eat with a fork from us several centuries ago, so perhaps this is their way of behaving".

Under its Orka (or Orca) program, the Polish Defence Ministry is aiming to replace the Navy's outdated Kobben-class subs, which are to be decommissioned by 2021.
More Related Stories -
Council of European Canadians, "Deadliest Birthrates Affecting All of Humanity, Part IV. Recipient of Third World Population Overload: Western Civilization", 9 Oct 3016:

The driving force behind mass immigration into Western countries is the bloating populations of the Third World seeking fresh lands to inhabit.

by Frosty Wooldridge, frostywooldridge.com

Part I | Part II | Part III | Part IV

No one escapes this human juggernaut. Those added 3 billion people onto this planet within the next 34 years will invade first world countries. Let's take a look at what that means for the West.

How did the first three parts of this series affect you? Did you understand the enormity of what humanity faces in the next 30 years? How about the rest of the plant and animal life on this planet? What about your children? What about the oceans? What about quality of life?

Are you astounded that the mainstream media suppresses this demographic issue at all costs? Why? Answer: they lack intellectual comprehension that they will not escape its grip on them or their children. Catholics via the Pope, Islam, Hindus, Christians and virtually all religions stand in denial of this demographic juggernaut bearing down on humanity.

Yes, the media reports every consequence of overpopulation as to worldwide hunger, water shortages, species extinctions, wars for resources and catastrophic climate destabilization. But no one, not one world leader addresses or attempts to speak up on what we face.

If I could fulfill my own quest, I would see to it that every human being watch this short video by my friend Roy Beck. In a five minute astoundingly simple yet brilliant video, Immigration, Poverty, and Gum Balls, Roy Beck, director of Numbers USA, graphically illustrates the impact of overpopulation. Take five minutes to see for yourself.

As you can see, no one will escape the ramifications of the next added 3,000,000,000 (billion) people to this globe. No one will escape the implications of adding 138,000,000 (million) more people to America within 34 years. You may expect those consequences to invade your state, your community and your family.

Remember this: third world citizens will not stop their birth rates significantly enough to stop overloading their countries. Therefore, they will contribute to the 3.0 billion added, hungry and desperate refugees looking for a country to land.

In 2016, the United Nations estimates that 60,000,000 (million) refugees lack water, food, energy and homes, and look toward first world countries to immigrate. Their numbers will grow to 150,000,000 to as high as 200,000,000 (million) refugees by 2050 — a scant 34 years from now.

What Western Countries Face with the Refugee Armada

Canada houses 36,000,000 (million) people in 2016. Because of mass immigration, they expect 41.1 million by 2050. To give you an idea of Canada's dilemma, let's look at the numbers. We know Canada as a "big" little country. That means it's "big" but lacks ample arable land to grow crops. While its citizens chose 2.0 birth rates since 1970, its leaders forced massive immigration onto Canada. It faces food shortages, environmental breakdown, accelerating carbon footprint damage, species extinctions and lowered quality of life.

Europe houses 742.5 million people in 2016. It encompasses 3.9 million square miles. Not much bigger than the United States at 3.1 million square miles. The United Kingdom houses 62 million people in a landmass less than the size of Oregon. Oregon features 4.0 million people. Germany at 82 million holds less land than the state of New Mexico. That state holds 1.8 million. The tiny country of France holds 66 million. While Europe faces tremendous overcrowding today, it faces mass immigration overrunning every border of all of its countries from Middle Eastern and African population overload.

Australia holds 24 million in 2016, but expects to reach 38 to 48 million by mid century via mass immigration. It lacks water and arable land, but powerful developer interests force immigration onto that desert continent as if tomorrow never arrives.

In contrast, the USA holds 325 million in a landmass at 3.1 million square miles, but as you saw from the immigration invasion, America expects 438 million by 2050 and 625 million at the end of this century.

This 10 minute demonstration shows Americans the results of unending mass immigration on the quality of life and sustainability for future generations: in a few words, "Mind boggling!"

As you can imagine, immigration solves nothing. It stalls the inevitable for every Western country: ultimate collapse from overloading carrying capacity of every receiving country.

Can enough activists be created out of a series like this to create a movement to stop mass immigration into Western countries? Goal: we need a national discussion-debate on the future of our civilization. It's not going to happen by itself. That discussion-debate begins with you.

I work with top names in this arena who bring even greater knowledge and science:

Dr. Jack Alpert at skil.org
Bill Ryerson at populationmedia.org
David Paxson at worldpopulationbalance.org
Joanne Wideman at capsweb.org
Roy Beck at numbersusa.org
Dr. Diana Hull at thesocialcontract.com
Eric Rimmer at populationmatters.org
David Durham at carryingcapacitynetwork.org