Majorityrights News > Category: Peak Oil
Update: New York Times, "Trump Picks Rex Tillerson, Exxon C.E.O., as Secretary of State", 12 Dec 2016:

WASHINGTON — President-elect Donald J. Trump on Monday settled on Rex W. Tillerson, the chief executive of Exxon Mobil, to be his secretary of state, dismissing bipartisan concerns that the globe-trotting leader of the energy giant had forged a too-cozy relationship with Vladimir V. Putin, the president of Russia, transition officials said.

Mr. Trump planned to announce the selection on Tuesday morning, finally bringing to an end his public and chaotic deliberations over choosing the nation's top diplomat — a process that at times veered from rewarding Rudolph W. Giuliani, one of his most loyal supporters, to musing about whether Mitt Romney, one of his most vicious critics, might be forgiven.
Russia's Prime Minister Putin speaks with Tillerson in Sochi in 2011

President-Elect Trump 'will name Exxon CEO with close links to Putin as his secretary of state', snubbing Mitt Romney."

DM, "BREAKING NEWS, 10 Dec 2016:

Trump is expected to name Rex Tillerson as secretary of state.

Exxon Mobil chief emerged on Friday as the leading candidate.

Favored status was revealed as Giuliani withdrew.

U.S. President-elect Donald Trump is expected to name the chief executive of Exxon Mobil as the country's top diplomat, NBC News reported Saturday.

Exxon chief Rex Tillerson emerged on Friday as Trump's leading candidate for U.S. secretary of state and is expected to meet with him later on Saturday, a transition official told Reuters.

NBC News cited two sources close to the transition team in reporting that Tillerson will be named as secretary of state.

The president-elect had interviewed 2012 GOP nominee Mitt Romney twice – taking him to a three-Michelin starred dinner on one of those occasions.

Should Tillerson be nominated, his business ties, too, will come under scrutiny. Exxon Mobil has operations in more than 50 countries and boasts that it explores for oil and natural gas on six continents.

In 2011, Exxon Mobil signed a deal with Rosneft, Russia's largest state-owned oil company, for joint oil exploration and production. Since then, the companies have formed 10 joint ventures for projects in Russia.

In 2013, Russian President Vladimir Putin awarded Tillerson his nation's Order of Friendship.

'He has had more interactive time with Vladimir Putin than probably any other American with the exception of Henry Kissinger,' John Hamre, a deputy defense secretary to Bill Clinton told the Wall Street Journal.

But U.S. sanctions against Russia for its incursion into Crimea cost Exxon Mobil dearly, forcing it to scrap some projects and costing it at least $1 billion in losses. Tillerson has been a vocal critic of the sanctions.

Trump has spoken of wanting warmer relations with Moscow, which has sparked concerns in Congress that he could lift or loosen some of the sanctions on Russia.

Tillerson has been chairman and CEO of Exxon Mobil since 2006. He is expected to retire from the company next year.

Should Tillerson be nominated, climate change could be another divisive issue. The company is under investigation by the New York Attorney General's Office for allegedly misleading investors, regulators and the public on what it knew about global warming.

Trump's campaign was unavailable for comment.
Chinese President Xi Jinping called Rodrigo Duterte's visit a "milestone" in ties, as he pulled out all the stops to welcome the Philippines' leader.

Huffington Post, "Philippine President Duterte Announces 'Separation' From The U.S.", 20 Oxt 2016:

BEIJING (Reuters) - Philippine President Rodrigo Duterte announced his "separation" from the United States on Thursday, declaring that it had "lost" and he had realigned with China as the two agreed to resolve their South China Sea dispute through talks.

Duterte made his comments in China, where he is visiting with at least 200 business people to pave the way for what he calls a new commercial alliance as relations with longtime ally the United States deteriorate.

His trade secretary, Ramon Lopez, said $13.5 billion in deals would be signed.

Duterte's efforts to engage China, months after a tribunal ruling in the Hague over South China Sea disputes in favor of the Philippines, marks a reversal in foreign policy since the 71-year-old former mayor took office on June 30.

"America has lost now," Duterte told Chinese and Philippine business people at a forum in the Great Hall of the People, attended by Chinese Vice Premier Zhang Gaoli.

"I've realigned myself in your ideological flow and maybe I will also go to Russia to talk to (President Vladimir) Putin and tell him that there are three of us against the world ― China, Philippines and Russia. It's the only way," he added.

"With that, in this venue, your honors, in this venue, I announce my separation from the UnitedStates," Duterte said to applause. "I have separated from them. So I will be dependent on you for all time. But do not worry. We will also help as you help us."

China has pulled out all the stops to welcome Duterte, including a marching band complete with batton-twirling band master at his official welcoming ceremony outside the Great Hall of the People, which most leaders do not get


Xi told Duterte their countries are now "brothers," who can "appropriately handle disputes," in an apparent nod to previous standoffs over the South China Sea.

RED CARPET WELCOME

President Xi Jinping, meeting Duterte earlier in the day, called the visit a "milestone" in ties.

Xi told Duterte that China and the Philippines were brothers and they could "appropriately handle disputes," though he did not mention the South China Sea in remarks made in front of reporters.

"I hope we can follow the wishes of the people and use this visit as an opportunity to push China-Philippines relations back on a friendly footing and fully improve things," Xi said.

Following their meeting, during which Duterte said relations with China had entered a new "springtime", Chinese vice foreign minister Liu Zhenmin said the South China Sea issue was not the sum total of relations.

"The two sides agreed that they will do what they agreed five years ago, that is to pursue bilateral dialogue and consultation in seeking a proper settlement of the South China Sea issue," Liu said.

China claims most of the energy-rich South China Sea through which about $5 trillion in ship-borne trade passes every year. Neighbours Brunei, Malaysia, the Philippines, Taiwan and Vietnam also have claims.

In 2012, China seized the disputed Scarborough Shoal and denied Philippine fishermen access to its fishing grounds.

Liu said the shoal was not mentioned and he did not answer a question about whether Philippinefishermen would be allowed there. He said both countries had agreed on coastguard and fisheries cooperation, but did not give details.

Duterte's declaration of a separation with the U.S. comes after he called President Barack Obama a "son of a bitch" and told him to "go to hell" while alluding to severing ties with the old colonial power.

SEA ROW TAKES 'BACK SEAT'

Duterte's tone toward Beijing is in contrast to the language he has used against the United States, after being infuriated by U.S. criticism of his bloody war on drugs.

He has called U.S. President Barack Obama a "son of a bitch" and told him to "go to hell" while alluding to severing ties with the old colonial power.

On Wednesday, to the cheers of hundreds of Filipinos in Beijing, Duterte said Philippine foreign policy was veering toward China.

"I will not go to America anymore. We will just be insulted there," Duterte said. "So time to say goodbye my friend."

The same day, about 1,000 anti-U.S. protesters gathered outside the U.S. embassy in Manila calling for the removal of U.S. troops from the southern island of Mindanao.

Duterte on Wednesday said the South China Sea arbitration case would "take the back seat" during talks, and that he would wait for the Chinese to bring up the issue rather than doing so himself.

Xi said issues that could not be immediately be resolved should be set aside, according to the Chinese foreign ministry.

China has welcomed the Philippines approaches, even as Duterte has vowed not to surrender any sovereignty to Beijing, which views the South China Sea Hague ruling as null and void.

China has also expressed support for his drug war, which has raised concern in Western capitals about extrajudicial killing.

Duterte's overtures to China have been accompanied by signs of improving business ties with the world's second largest economy.

China's Liu said Beijing will restore Philippine agricultural exports to China and provide financing for Philippine infrastructure.
Interesting that The Huffington Post made this the caption beneath the title of its article, though there is nothing in the article that discusses Russia -
"America has lost now," Rodrigo Duterte said, flagging closer ties with China and Russia during a visit to Beijing.
There is a strange misconception circulating among some in the west that Russia and China are good friends, some speaking as if they are practically joined at the hip.
And speaking of NOT friends, there are some interesting facts to come about the history of The US in The Philippines - a history that will explain much as to why The Philippines would be eager to declare their separatism and The US the loser.
Vistula Lagoon only accessible through an inlet in the north eastern part, in Russian Federation territory

The Moscow Times, "Jarosław Kaczyński, leader of Poland's ruling party, has announced plans to build a canal to bypass a stretch of territory controlled by Russia" 14 Oct 2016:

"By building this canal, we will demonstrate that we are a sovereign country," Kaczyński told journalists in the port city of Elbląg. "This is for political-military interests," he added.


The canal will go through the Vistula Split, a stretch of land that separates the Vistula Lagoon from the Gdańsk Bay in the Baltic Sea. The only way to access the Baltic from Elbląg is to go through Russian controlled waters. The canal, which authorities plan to complete by 2022, aims to change that.


"We already know that Russia will be against the building of the canal. But we will do it anyway. Soon, we will be celebrating the dig of the first shovel," said Kaczyński.

Ecologists and locals, many of whom live off holiday-makers who travel to the split's sandy beaches every year, have voiced concerns over the canal. But ministers say security concerns in the Kaliningrad region come before ecological threats.

"We already know that our eastern neighbors will be protesting this decision on ecological grounds," said Poland's minister for maritime trade Marek Gróbarczyk. "I call on ecological circles: do not become tools of their actions."


Presently, the only inlet to the bay is to the upper right of the map, just below Baltiysk, Kaliningrad, Russian Federation.
Related stories -
Intermarium: Alliance of nations between Germany and Russian Federation that can be a bulwark of nationalism against propositional imperialism and internationalism; it can also play a key part in The Silk Road and Alliance with the Asian region and ethno-nationalisms.
Photo credit: Saab

Defense News, "Poland Likely to Award Sub Deal to Saab", 14 Oct 2016:

WARSAW, Poland — In the aftermath of the spat between Poland and France over Warsaw's decision to cancel the Caracal helicopter deal with Airbus Helicopters, the Polish Defence Ministry is most likely to purchase three A26-class submarines from Sweden's Saab.

France's DCNS, which pitched its Scorpene-class sub, is no longer considered as the forerunner in Poland's sub procurement, Defence Ministry sources told pro-government daily Nasz Dziennik. Germany's ThyssenKrupp Marine Systems, which offers its HDW-class sub, is also regarded as having low chances of securing the contract. The deal is estimated to be worth up to 10 billion zloty (US $2.6 billion).

Earlier this month, Poland's Ministry of Economic Development decided to end its negotiations with Airbus Helicopters, whose Caracal was chosen by the previous government under its transport helo procurement. Since then, relations between Poland and France have remained stringent.

Following Warsaw's decision, French President Hollande decided to cancel his official visit to Poland, which was scheduled for Oct. 13, and Paris withdrew an invitation to a delegation of Polish officials for the forthcoming Euronaval trade show.

Defense News
France Withdraws Euronaval Invitation to Polish Officials

In response, Polish Defence Minister Bartosz Kownacki said in a televised interview that while there was no diplomatic war between the two countries, the French "learned to eat with a fork from us several centuries ago, so perhaps this is their way of behaving".

Under its Orka (or Orca) program, the Polish Defence Ministry is aiming to replace the Navy's outdated Kobben-class subs, which are to be decommissioned by 2021.
More Related Stories -
Council of European Canadians, "Deadliest Birthrates Affecting All of Humanity, Part IV. Recipient of Third World Population Overload: Western Civilization", 9 Oct 3016:

The driving force behind mass immigration into Western countries is the bloating populations of the Third World seeking fresh lands to inhabit.

by Frosty Wooldridge, frostywooldridge.com

Part I | Part II | Part III | Part IV

No one escapes this human juggernaut. Those added 3 billion people onto this planet within the next 34 years will invade first world countries. Let's take a look at what that means for the West.

How did the first three parts of this series affect you? Did you understand the enormity of what humanity faces in the next 30 years? How about the rest of the plant and animal life on this planet? What about your children? What about the oceans? What about quality of life?

Are you astounded that the mainstream media suppresses this demographic issue at all costs? Why? Answer: they lack intellectual comprehension that they will not escape its grip on them or their children. Catholics via the Pope, Islam, Hindus, Christians and virtually all religions stand in denial of this demographic juggernaut bearing down on humanity.

Yes, the media reports every consequence of overpopulation as to worldwide hunger, water shortages, species extinctions, wars for resources and catastrophic climate destabilization. But no one, not one world leader addresses or attempts to speak up on what we face.

If I could fulfill my own quest, I would see to it that every human being watch this short video by my friend Roy Beck. In a five minute astoundingly simple yet brilliant video, Immigration, Poverty, and Gum Balls, Roy Beck, director of Numbers USA, graphically illustrates the impact of overpopulation. Take five minutes to see for yourself.

As you can see, no one will escape the ramifications of the next added 3,000,000,000 (billion) people to this globe. No one will escape the implications of adding 138,000,000 (million) more people to America within 34 years. You may expect those consequences to invade your state, your community and your family.

Remember this: third world citizens will not stop their birth rates significantly enough to stop overloading their countries. Therefore, they will contribute to the 3.0 billion added, hungry and desperate refugees looking for a country to land.

In 2016, the United Nations estimates that 60,000,000 (million) refugees lack water, food, energy and homes, and look toward first world countries to immigrate. Their numbers will grow to 150,000,000 to as high as 200,000,000 (million) refugees by 2050 — a scant 34 years from now.

What Western Countries Face with the Refugee Armada

Canada houses 36,000,000 (million) people in 2016. Because of mass immigration, they expect 41.1 million by 2050. To give you an idea of Canada's dilemma, let's look at the numbers. We know Canada as a "big" little country. That means it's "big" but lacks ample arable land to grow crops. While its citizens chose 2.0 birth rates since 1970, its leaders forced massive immigration onto Canada. It faces food shortages, environmental breakdown, accelerating carbon footprint damage, species extinctions and lowered quality of life.

Europe houses 742.5 million people in 2016. It encompasses 3.9 million square miles. Not much bigger than the United States at 3.1 million square miles. The United Kingdom houses 62 million people in a landmass less than the size of Oregon. Oregon features 4.0 million people. Germany at 82 million holds less land than the state of New Mexico. That state holds 1.8 million. The tiny country of France holds 66 million. While Europe faces tremendous overcrowding today, it faces mass immigration overrunning every border of all of its countries from Middle Eastern and African population overload.

Australia holds 24 million in 2016, but expects to reach 38 to 48 million by mid century via mass immigration. It lacks water and arable land, but powerful developer interests force immigration onto that desert continent as if tomorrow never arrives.

In contrast, the USA holds 325 million in a landmass at 3.1 million square miles, but as you saw from the immigration invasion, America expects 438 million by 2050 and 625 million at the end of this century.

This 10 minute demonstration shows Americans the results of unending mass immigration on the quality of life and sustainability for future generations: in a few words, "Mind boggling!"

As you can imagine, immigration solves nothing. It stalls the inevitable for every Western country: ultimate collapse from overloading carrying capacity of every receiving country.

Can enough activists be created out of a series like this to create a movement to stop mass immigration into Western countries? Goal: we need a national discussion-debate on the future of our civilization. It's not going to happen by itself. That discussion-debate begins with you.

I work with top names in this arena who bring even greater knowledge and science:

Dr. Jack Alpert at skil.org
Bill Ryerson at populationmedia.org
David Paxson at worldpopulationbalance.org
Joanne Wideman at capsweb.org
Roy Beck at numbersusa.org
Dr. Diana Hull at thesocialcontract.com
Eric Rimmer at populationmatters.org
David Durham at carryingcapacitynetwork.org
TNO, "Treason: Clinton Knows Saudis Fund ISIS", 11 Oct. 2016:

Hillary Clinton knew back in 2014 that the Saudi Arabian government has been secretly funding and supplying ISIS—but deliberately chose to keep this secret, probably because the Saudi government gives millions to the Clinton Foundation.

Clinton's shocking treason to America has been revealed in one of her emails, sent to her campaign chairman John Podesta, as now published by Wikileaks.

When Clinton sent the email to Podesta on August 17, 2014, the latter was still working as a "counselor" to President Barack Obama—which means that the president and his administration are all aware of the Saudi funding for ISIS.

In addition, the government of Qatar—another great "ally" of America and friend of the Clinton Foundation—is also named by Clinton in her email as giving financial and logistical support to ISIS.

The relevant part of Clinton's email—written by her from her personal email address of hrod17 @ clintonemail.com, says that the United States should support Kurdish forces on the ground with U.S. military advisers and avoid the use of a conventional ground operation.

"While this military/para-military operation is moving forward, we need to use our diplomatic and more traditional intelligence assets to bring pressure on the governments of Qatar and Saudi Arabia, which are providing clandestine financial and logistic support to ISIL and other radical Sunni groups in the region," Clinton wrote.

She continued: "This effort will be enhanced by the stepped up commitment in the [Kurdish Regional Government]. The Qataris and Saudis will be put in a position of balancing policy between their ongoing competition to dominate the Sunni world and the consequences of serious U.S. pressure."

Clinton's decision to cover up the truth about Saudi Arabia from the public and the world at large is unquestionably linked to the fact that the Saudis have donated in excess of $25 million to the Clinton Foundation.

At least $1 million more was donated by Friends of Saudi Arabia, which was co-founded by a Saudi prince.

In addition, according to the Clinton Foundation's own records, the "State of Qatar" gave between "$1 and $5 million" to that organization.
Alternet, "Hillary Clinton Tried to Push Fracking on Other Nations When She Was Secretary of State, New Emails Reveal", 27 May 2016:

The State Department hoped Poland could be a "laboratory for testing whether U.S. success in developing shale gas can be repeated in a different country."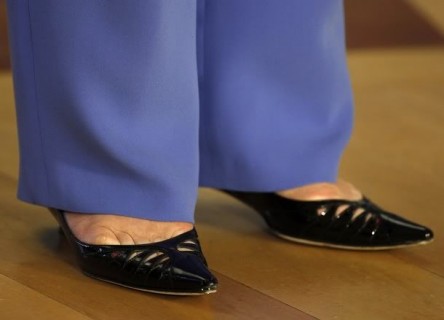 Until an Eastern European Intermarium can come into effect, Poland's land and people are in a position to be compromised by people like Hillary, her corporate and YKW backing. Fracking is a dubious technology, destructive to farms, ground water and public health. The profitability of the technology is highly suspect, while cash strapped farmers find it hard to resist (if they can at all) the short term pay-off.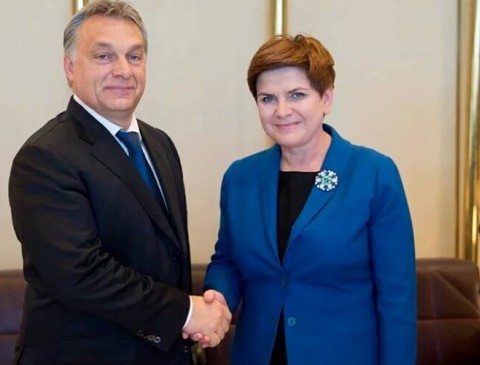 Viktor Orban and Premier Beata Szydło
Euractiv, "Polish premier says will never bow to EU 'ultimatum" 20 May 2016:

Poland's right-wing Prime Minister Beata Szydlo vowed Friday (20 May) that her government would never bow to any EU ultimatum and accused some members of the European Commission of trying to "destroy" the 28-member bloc.

Szydlo was responding to a Monday deadline (23 May) set by the Commission for Poland to reverse a controversial overhaul of the country's top court that has set off a fiery dispute between Warsaw and Brussels.

"Poland will never succumb to any ultimatum," Szydlo said during a stormy debate in parliament.

"There are some in the European Commission… who want to destroy the European Union rather than see it develop."

Hungary, Poland and illiberal democracy

The EU's problem is that others are following the illiberal regimes of Hungary and in Poland, and it is possible that among them be Germany, writes George Friedman.

The executive warned earlier this week it could take further action against Poland because of concerns over the commitment of the governing Law and Justice (PiS) to the rule of law.

"If there is no significant progress by 23 May, then the First Vice-President (Frans Timmermans) has been empowered to adopt the draft rule of law opinion," the commission said in a statement on Wednesday.

The exact contents of the opinion are not known, but if Warsaw fails to address the issues raised, it could eventually face a suspension of voting rights in the European council of ministers, the EU's most important decision-making body.

However, Poland's regional ally Hungary is likely to torpedo any possible sanctions, which would require the unanimous approval of all 28 EU members.

In Friday's parliamentary debate, leaders of Poland's liberal opposition party the Civic Platform blasted Szydlo for "desecrating the constitution" and "burning more bridges with Europe".

An MP from the conservative Polish Peasants' Party went so far as to charge that the actions of her administration risked "civil war".

Poles launch campaign against court reform

Tens of thousands of Poles took to Facebook Thursday (10 March) to support the country's top court in a constitutional battle against the right-wing government.

Szydlo's government plunged Poland into political crisis in December when it pushed through legislation to revamp the constitutional court and modify its decision-making rules.

The European Commission in January launched an unprecedented probe to see if the changes — seen by critics as endangering the court's independence — violated EU democracy rules and merited punitive measures.

Since taking office in November, the PiS government has pushed through several pieces of controversial legislation, including strengthening state control over public broadcasters and seeking to tighten already limited access to abortions.

Poland's rejection of refugees under an EU-wide plan to tackle Europe's worst migrant crisis since World War II has also chilled ties with Brussels.
Poland and Hungary: Tactical alliance or strategic partnership? Commentary for New Eastern Europe…