Majorityrights News > Category: Cultural Marxism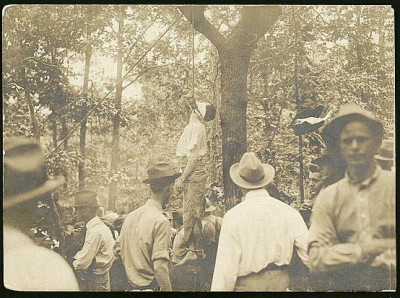 *Important editorial note: Though in this review Alexander Baron refers to Leo Frank as "white" in a few places, Majorityrights does not categorize Jews as "white."
The Lynching Of A Guilty Man reviewed by Alexander Baron
The Leo Frank Case subtitled The Lynching Of A Guilty Man is the third volume in a massive study The Secret Relationship Between Blacks And Jews. The first volume was published in 1991, so this is no rush job. It is also clearly a book written with an agenda, but even vested interest can speak the truth. And the obvious vested interest of the Nation Of Islam comes as a welcome counterpoint to the concealed vested interest of the rest of the American media which unthinkingly points the finger at a black suspect in spite of the conviction of a white* one.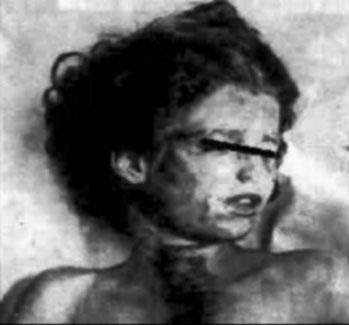 For those not au fait with this notorious case, it began when the body of Mary Phagan was found in the basement of the Atlanta Pencil Factory on April 26, 1913. The young worker had been murdered quite brutally for no apparent reason. The Negro security man who found the body quickly became a suspect - something that is more or less taken for granted nowadays unless the person who finds a body clearly has no connection with the victim, eg a hiker happening upon a skeleton.
Newt Lee aside, there was no shortage of more promising suspects, and two soon emerged: the factory manager/part owner Leo Frank, and his gofer Jim Conley. Although Conley was linked to the killing by forensic evidence, in particular two ludicrous notes written from the perspective of the victim, the authorities went with the prosecution of the white* man while Conley testified as an accessory after the fact. Frank was convicted and sentenced to death, but after extensive failed appeals his sentence was commuted. This led to outraged prominent citizens kidnapping him from the State Penitentiary, driving him back to Atlanta, and stringing him from a tree by his neck.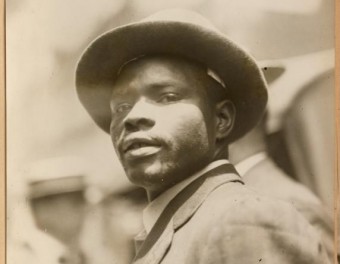 A century and more on there remain two competing narratives; the official and accepted narrative is that Leo Frank was innocent and Jim Conley the villain of the piece. Some might find that surprising as Conley was never indicted for the crime and Frank was never cleared officially in spite of enormous posthumous lobbying by especially the misnamed Anti-Defamation League. This book adheres to the second narrative, that ridiculous as Conley's tale may have been, he was in fact totally innocent, an accessory only after the fact, having found himself in a truly invidious position, a man of humble estate - in effect a third class citizen - who was told he must follow the orders of his boss or else.
In the past quarter to half century, quite a few authors have come out in support of this narrative, but none more impressively than the dedicated Leo Frank website and now this minutely documented book.
If anyone believes the fact that the forensic evidence pointing to Conley should have indicted him and him alone, here are two cases from the 1980s that show how wrong this kind of reasoning can be. In March 1984, the black American Sylvester Smith was accused of violating two young girls, cousins. As all the parties involved in this case were black, there was no racial angle. The girls had clearly been interfered with sexually, and unsurprisingly, Smith was convicted. Twenty years later he was cleared on appeal, the shocking truth was that the real perpetrator was a 9 year old boy (who went on as an adult to commit a murder). The girls had been coached by their grandmother to point the finger at Smith to protect him. After her death, they recanted.
An equally shocking case that made international headlines was that of Lindy Chamberlain. In 1980 while camping at Ayers Rock, Australia, her baby daughter Azaria was snatched by a dingo. She was convicted of the murder based largely on forensic evidence, but nearly six years later, more reliable forensic evidence was found - the girl's matinee jacket near a dingo lair.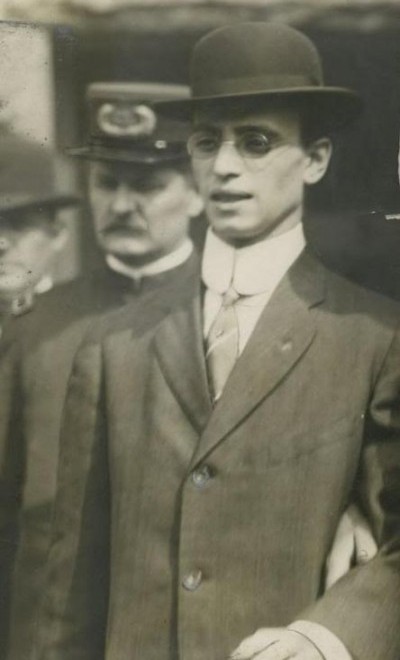 In the Mary Phagan case, the forensic evidence against Jim Conley (the notes) was outweighed by the forensic and other evidence against his boss, in particular there was evidence that the girl has been murdered upstairs. Almost all the other evidence pointed to Frank, everything from his demeanour to his willingness to point the finger at everyone else including at first Newt Lee. Conley on the other hand remained cool as a cucumber, so either he was a psychopath and a potential future Oscar winner, or he really was telling the truth, however outrageous or crazy his story may have sounded. But when the facts are all in, it wasn't that outrageous, it wasn't that crazy, and justice was done in the Deep South, both for Mary Phagan and for a black man whose word many of Frank's supporters believed should carry no weight at all.
A few criticisms are in order:
In the Preface, the claim is made that an "unknown posse" lynched Frank, and that he was and remains the only Jew ever lynched in America. The posse was hardly unknown, its members did not bother to hide their faces, and indeed appeared proud of their work. Later in the book it is made clear that their identities were in no way secret. The doubtful honour of being the first Jew lynched in America appears to belong to Samuel Bierfield in 1868, but neither he nor Frank were lynched because they were Jews.
Frank was hardly the most important Jew in the Deep South as claimed; he was certainly far from the wealthiest, and was the New York Times the world's most important newspaper? The most important in America maybe, but not more important than the London Times. And was World War One raging in 1913?
The reason the crime was committed and how it was committed are both laid out in impressive detail, as are the attempts by Leo Frank to point the finger of suspicion initially at Newt Lee, and then at anyone else without mentioning the fact that Conley was at the pencil factory at the material time. Why would he not do that? The only logical reason is that he didn't want Conley to open his mouth, and once Conley did, he too had to be accused. The book raises too the interesting speculation that Frank was considering murdering Conley – the only direct witness – as well.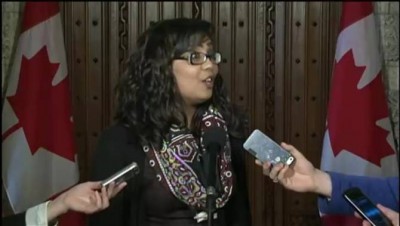 Ms. Iqra Khalid, a Muslim, pushes through anti-Islamophobia motion.
Breitbart, "Canadian Parliament Passes Controversial Islamophobia Motion", 24 March 2017:

The Canadian House of Commons has passed motion M103 which singles out the criticism of Islam as a form of "Islamophobia". Critics condemn it as an attack on free speech.

Motion M103 was tabled by Iqra Khalid, a Muslim member of Prime Minister Justin Trudeau's Liberal Party. It states the government must "condemn Islamophobia and all forms of systemic racism and religious discrimination", was taken to vote on Thursday evening where a total of 201 MPs voted for it and only 91 voted against, Canadian broadcaster Global News reports.

The text of the motion does not clarify what constitutes "Islamophobia" and has led many to speculate what that may mean in the future, with some critics fearing it could lead to Shariah law courts. This concern has led to the circulation of an anti-Shariah petition on the Parliament of Canada website, which has so far been signed by over 24,000 people.

Ms. Khalid, who was born in Pakistan and moved to the UK and then to Canada, said the definition of Islamophobia was: "The irrational hate of Muslims that leads to discrimination."

When Conservatives asked her to remove Islamophobia from the motion, she said: "I will not do so, any more than I would speak to the Holocaust and not mention that the overwhelming majority of victims were six million followers of the Jewish faith and that anti-Semitism was the root cause of the Holocaust."

Another part of the bill that has stirred controversy is the passage that asks the government to "recognise the need to quell the increasing public climate of hate and fear". It is currently unknown what measures the government will take to "quell" "hate and fear" as the motion is not classified as a law and has no effect on current criminal law.

The Conservative Party of Canada are currently holding leadership elections and many of the candidates have come out against M103 including one of the frontrunners, Quebecer Maxime Bernier. Mr. Bernier, a conservative with libertarian free market leanings, said he voted against the bill tweeting: "Free speech is the most fundamental right we have. I am opposed to #m103. Canadians should be treated equally regardless of religion."
At "Killer Culture" Peter Quiggins (Tierney) has put together this very caring and painstaking compilation of native Britons killed by migrant peoples, murders which have not received a fraction of the attention that the rare instance of a murder of a black, Steve Lawrence, by native Britons, has received. It is a quibble compared to this travesty that Quiggins addresses, but something to note nevertheless, that entitling the piece "Diversity Kills!" is a bit of mistake. Just like arguing "against equality" is bad tact, arguing against "diversity" is a trick that the YKW have set up deliberately because by default, under the powers that be, you are arguing for integration - the last thing that we'd want. Diversity should not be argued against at this point, the circumstances being what they are, with massive immigrant populations among, or in close proximity to ours not going away any time soon; in some cases, never - and all the more reason to take the cause of diversity for ourselves. However, his subtitle is quite fine stand alone: Britons murdered in Britain since the death of Stephen Lawrence: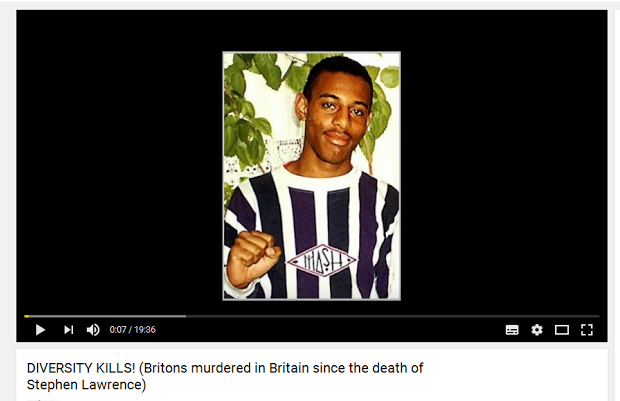 Stephen Lawrence has been mentioned over 2,000 times in Parliament.
MR carries great articles regarding the Stephen Lawrence case: A Nation Rejoices at last! - by Dan Dare; More Saint Stephenism on the way - by Guessedworker; The Crusade Against Discrimination in Britain - by Guessedworker; No Native Voices - by Guessedworker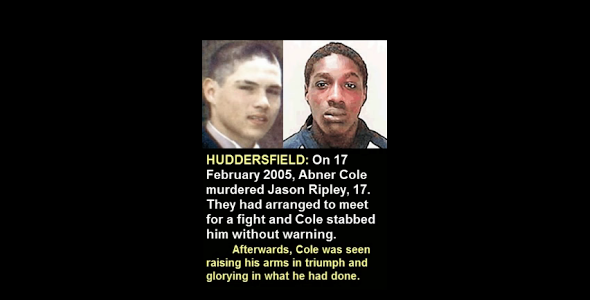 (Britons murdered in Britain since the death of Stephen Lawrence)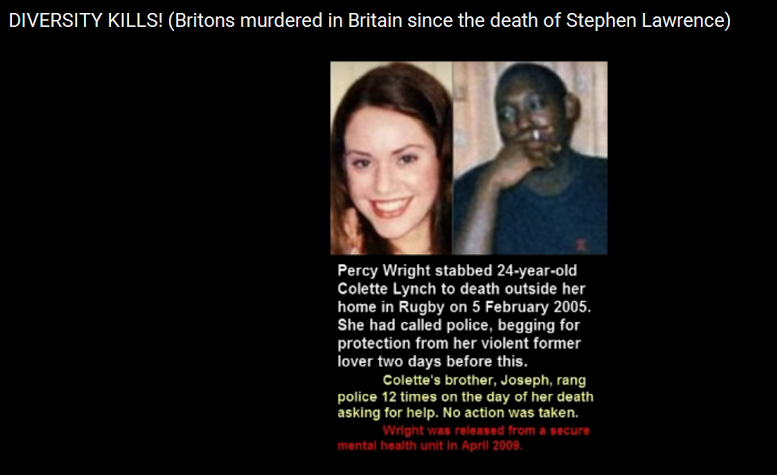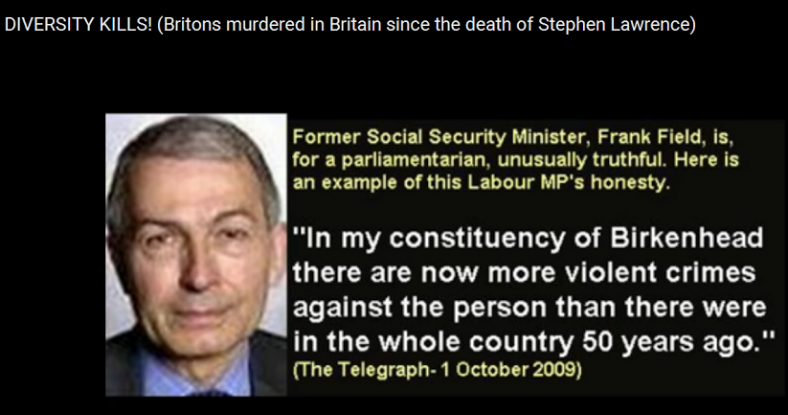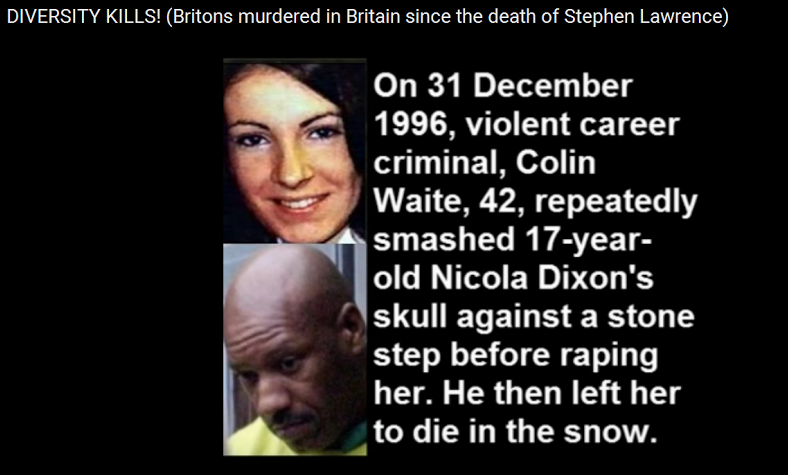 Backgrounding & Taken For Granted - Resistance is Futile. Add from Det Nya Landet - translation "Big Mulatto Brother"?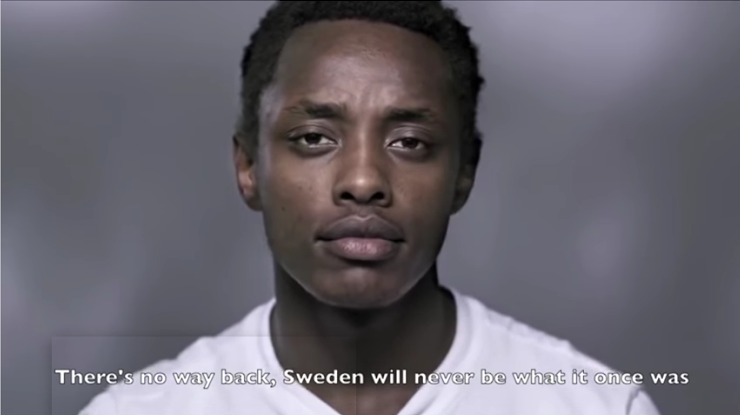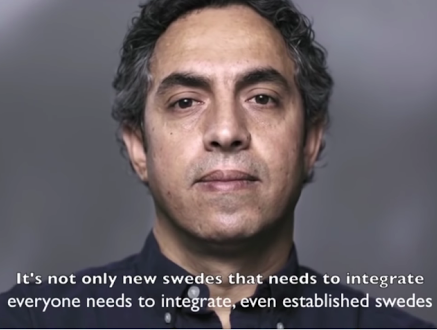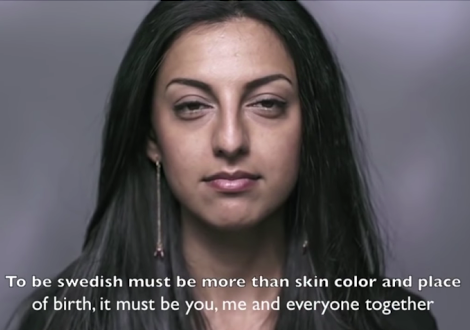 Below is another marketing campaign advert suggesting that "resistance is futile" - this one coming from the EU is a bit more subtle: It is an EU add run in Poland, and it is as if to suggest that blacks are to be taken for granted as a significant component of European history. However, in this instance, the "resistance is futile" message is not spoken, it is in the background - two blacks comfortably sit in the background of the same restaurant scene and a mulatto girl is fore-fronted; thus, backgrounding and taking for granted the interracial relationship of her parents.
The EU is backgrounding the racial integration of blacks, presenting to naive audiences (naive as to the bio-power of an invasive species) or audiences perhaps aware, but not in a position to voice objections (literally the case when these images are whisked-by semi-subliminally), that the place of blacks among them is something to be taken for granted. Resistance is futile, nobody will agree with your objection, it is taken for granted already.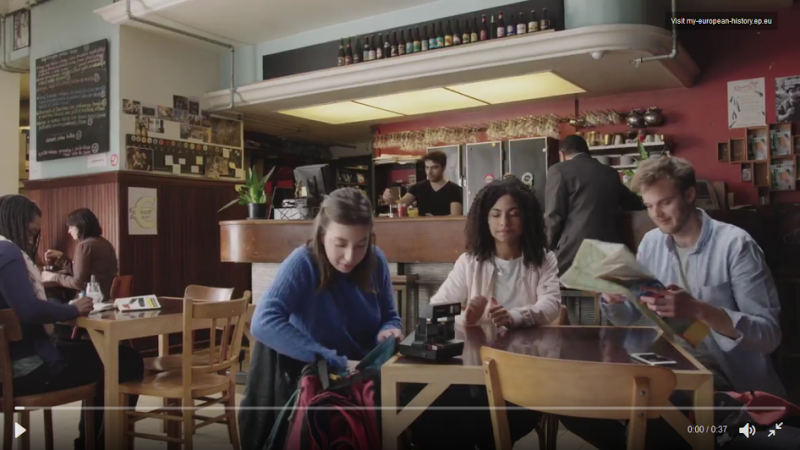 This is a screen shot from a quick add distributed by The European Union and shown in Poland to promote The EU's "My European History" program. Of seven people in the add, 3 are black. Of the blacks, a mulatto girl is centrally featured in the add, while the other two blacks are placed in the background, taking for granted their place in Europe and its history. The girl's mulattoness is also a form of backgrounding and taking for granted.
The add came by way of Twitter:
Parlament EuropejskiVerified account @Europarl_PL

My House of European History to kolekcja opowieści o Europie. Zgłoś swoją → https://my-european-history.ep.eu/?locale=pl ! RT i udostępnij!

#StoriesofEurope
"We must secure the existence of our people and a future for White children."

TRI-COLORED TREASON - by David Lane

Afflict me no more with your hypocrisy. If you insist on worshiping your executioner, then depart from me, for it is treason against the White race, against nature, against civilization, and against the Gods.

I have come under attack for articles I have written entitled The Right Wing, Cowards, Liars, Screwballs and David Lane on Religion. Also for naming one of the pro-american, anti-communists who profess to care about the continued existence of the White race. I come now to apologize for naming the specific individual and to admit my error. I will now indict them all.

You tell me you are anti-communist and you care about your White kinfolk? Well it was America who turned several million White men over to the Soviets to be outright murdered or die a slow death in slave camps in 1945. But you love America; is it delusion, cowardice, or race treason?

You tell me you are anti-communist and you care about the survival of the White race? Well, the Germans would have destroyed Communism and provided a secure base for the existence of our race in our European homeland fifty years ago if America hadn't intervened to save the Soviet Union and destroy our racial saviors. But you love America; is it delusion, cowardice, or race treason?

You tell me you are anti-communist and you care about your fellow White kinfolk? The Soviet enslavement of two hundred million White people would have ended decades ago except for the financial support of America. But you love America; is it delusion, cowardice, or race treason?

You tell me you hate Communism for what it does to White people in the Soviet Union. But Federal judges destroy and terrorize millions of little White children with their forced busing and integration plans, untold thousands of White women are raped by Negroes every year, the White race is now overrun and mixed probably beyond the point of no return, as a policy of the American government, and you love America. Is it delusion, cowardice, or race treason?

You tell me you hate Communism for what it did or what it does to the White people of Rhodesia and South Africa. Well, it was American political and economic pressure that destroyed White Rhodesia and now destroys White South Africa. And you love America; is it delusion, cowardice, or race treason?

It's a lot safer to talk about those mean, nasty old Communists over there, than to tangle with the head of the snake, the seat of jewish world power, the real murderer of the White race, isn't it? You could end up dead like Robert Mathews, or in prison forever like the Brüder Schweigen. But then I guess we all choose our own priorities. For some its political, economic or religious systems, and for some it's the biological existence of the White race, do or die. Get one thing straight all you double thinkers, self deluders, deceivers and dabblers: America is the murderer of the White race, and if we are to have any chance of resurrecting our race while there is still a gene pool to work with then we are going to face reality, discard our delusions, speak of and act on, the single greatest issue of all time, racial survival.

Oh no you say, it isn't America that's the head of the snake, the murderer of our race, it's just that some bad guys grabbed the reins of "our" government a few years or decades ago. I showed you the real history of "your" government, and America's dominant religion and you ignored me. As always happens when dogma is contradicted by fact, the believers react in the same ways. A few investigate the allegations and accept reality. Others pretend the unpleasant facts don't exist, and still others fly into a rage directed at those with the effrontery to check belief with reason. Or perhaps you just believe that "ancient history" is of no importance or effect. So let's discuss present day America.

You are quite correct that the entirety of the entity called America is not necessarily synonymous with the government in power. America is comprised of many interrelated parts and we will consider the most important components that make the whole: (1) Military power; (2) Police power; (3) Economic tenets; (4) Political tenets; (5) Religion; (6) News media; (7) Entertainment media; (8) Sports; (9) Demographics.

When I am through if you are still able to say the words "White American" then leave the company of sane men, for you can no more be both White and American than you can stop the motion of the planets. If you are not an implacable enemy of America, and all it has been and all it is, you are a traitor to the existence of our race. And if you support the aims or continued existence of the political entity known as America then your treason cannot be calculated in the words of mortals.
Jerusalem Post, 27 Jan 2017:

"Meet the top Jewish officials in the Trump Administration"

American Jews are watching the beginning of Donald Trump's presidency with both fear and hope. Many have expressed worries about some of his supporters' ties to the so-called "alt-right" movement, whose followers traffic variously in white nationalism, anti-immigration sentiment, anti-Semitism and a disdain for "political correctness." Those fears intensified when Trump named as his chief strategist Stephen Bannon, the former chairman of Breitbart News, a site Bannon once referred to as a "platform" of the alt-right. Trump's strongly conservative Cabinet picks also back policies on health care, the environment, abortion and civil rights often diametrically opposed to the views of most Jewish voters.

Yet others have praised Trump's stance on Israel and his nomination of David Friedman, a bankruptcy lawyer who supports West Bank settlement construction and has expressed doubts about the two-state solution, as US ambassador to Israel. Trump won 24% of the Jewish vote, with especially strong support in the Orthodox community.


(Trump: "We have to protect Israel")


Here is a look at the president's Jewish advisers who will be helping to shape US policy for the next four years.


Jared Kushner

Trump's Orthodox son-in law is serving as a senior adviser to the president. Kushner, the 36-year-old scion of a prominent real estate family from New Jersey, will not receive a salary and will focus on the Middle East and Israel as well as partnerships with the private sector and free trade, according to The New York Times. A day before his appointment was announced, Kushner said he would step down from his role as CEO of his family firm, Kushner Properties.

Kushner, who married Trump's daughter Ivanka in 2009, played a crucial role in the president's campaign, especially on Israel. He worked on Trump's speech to the AIPAC annual policy conference that earned the real estate mogul a standing ovation, and helped plan a trip to Israel for his father-in-law in 2016 (Trump canceled the trip after Prime Minister Benjamin Netanyahu slammed his call to ban Muslim immigration to the United States).

Trump appears to be smitten with Kushner, often referring to his "fantastic" son-in-law when boasting of his pro-Israel credentials.

Kushner may have become a household name during the campaign, but he's no stranger to the limelight. In 2006, at 25, he bought the New York Observer newspaper. Two years later he became CEO of Kushner Properties, four years after his father was sent to jail for tax evasion, illegal campaign donations and witness tampering. In 2015, Fortune named Kushner to its 40 Under 40 list, an "annual ranking of the most influential young people in business."


Stephen Miller

Trump named Miller, who has played a crucial role in his campaign by writing speeches and warming up crowds at rallies, as senior adviser for policy.

Miller, who has described himself as "a practicing Jew," joined the Trump campaign in early 2016, quickly rising through the ranks to become "one of the most important people in the campaign," as Trump's campaign manager told The Wall Street Journal.

Previously the 31-year-old worked for seven years as an aide to Trump's choice for attorney general, Sen. Jeff Sessions, R-Ala., helping the lawmaker draft materials to kill a bipartisan Senate immigration reform bill. Some of Sessions' arguments are similar to the harsh and often controversial statements by Trump on the issue, such as calling for building a wall on the Mexican border and banning Muslim immigration to the US.

Though Miller grew up in a liberal Jewish home in Southern California, he was drawn to conservative causes early. As a high school student he wrote a letter to the editor of a local paper in which he slammed his school for providing free condoms to students and for making announcements both in English and Spanish, among other things.


Carl Icahn

Icahn, a businessman and investor, is serving as a special adviser on regulatory reform issues. He is working as a private citizen rather than a federal employee or special government employee.

An early supporter of Trump's candidacy, Icahn, 80, is the founder of Icahn Enterprises, a diversified conglomerate based in New York City formerly known as American Real Estate Partners. He has also held substantial or controlling positions in numerous American companies over the years, including RJR Nabisco, Texaco, Philips Petroleum, Western Union, Gulf & Western, Viacom, Revlon, Time Warner, Motorola, Chesapeake Energy, Dell, Netflix, Apple and eBay.

Icahn is a major giver to Mount Sinai hospital in New York City, among other philanthropic endeavors. In 2012, he donated $200 million to the renamed Icahn School of Medicine there.

In addition, Icahn established seven Icahn Charter Schools in the Bronx borough of New York.


Steven Mnuchin

Trump picked Mnuchin, a former Goldman Sachs executive who worked as Trump's national finance chairman during the campaign, to serve as Treasury secretary.

Trump and Mnuchin have been friends for 15 years, and prior to being in charge of Trump's campaign finances, Mnuchin, 54, served as an adviser. Part of what The New York Times describes as one of Manhattan's "most influential families," Mnuchin and his father — the prominent art dealer Robert Mnuchin — both became wealthy working at Goldman Sachs. The younger Mnuchin also co-founded the entertainment company RatPac-Dune Entertainment, which has worked on such Hollywood hits as "Avatar" and "Black Swan."

Some saw Trump teaming up with Mnuchin as unusual, considering that the real-estate mogul had consistently bashed Goldman Sachs during his campaign — but it doesn't seem to have hindered a good working relationship.


Boris Epshteyn

Epshteyn, a Republican political strategist who appeared as a Trump surrogate on TV, is working as a special assistant to the president. Epshteyn, who is in his mid-30s, also is serving as assistant communications director for surrogate operations.

A New York-based investment banker and finance attorney, Epshteyn was a communications aide for Sen. John McCain's presidential campaign in 2008, focusing his efforts on the Arizona senator's running mate, then-Alaska Gov. Sarah Palin.

He defended Trump on major TV networks over 100 times, according to The New York Times. TV hosts have described Epshteyn, who moved to the United States from his native Moscow in 1993, as "very combative" and "abrasive."

In 2014, he was charged with misdemeanor assault after being involved in a bar tussle. The charge was dropped after Epshteyn agreed to undergo anger management training and perform community service.


Gary Cohn

Cohn, the outgoing president and chief operating officer at Goldman Sachs, heads the White House National Economic Council. At Goldman Sachs, where he had worked since 1990, Cohn answered to CEO Lloyd Blankfein and was considered a strong candidate to lead the bank.

The 56-year-old father of three has a reputation for abrasiveness, but also for getting things done, according to a Wall Street Journal profile last year. In a 2014 New York Times op-ed, Goldman Sachs executive Greg Smith wrote on the day he resigned that Blankfein and Cohn were responsible for a "decline in the firm's moral fiber" that placed its interests above those of its clients.

Cohn, a Cleveland native, in 2009 funded the Cohn Jewish Student Center at Kent State University named for his parents.

Success wasn't always obvious for Cohn, whose struggle with dyslexia made school difficult for him. But the Goldman Sachs banker, who was featured in a book on underdogs by writer Malcolm Gladwell, told the author that his learning disability also taught him how to deal with failure and that "I wouldn't be where I am today without my dyslexia."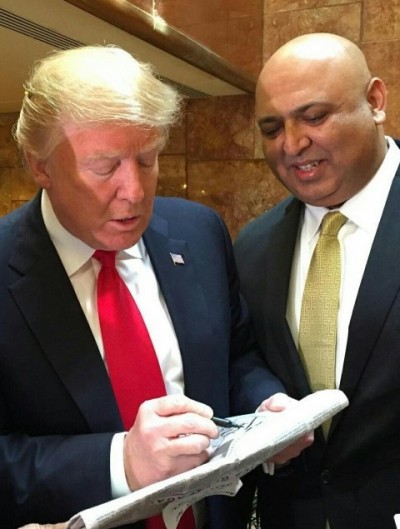 "Don't be surprised if the money he used to buy-up American real estate came from U.S. foreign aid" - TT. Pictured, Trump signalng 181 dimensional chess with Pakistani-American real estate tycoon, Sajid Tarahas, founder of 'Muslims for Trump.'
BBC, "Trump's Hindu, Sikh and Muslim power brokers", 24 Jan 2017:

When Indian-American industrialist Shalabh "Shalli" Kumar donated close to a million dollars to the Trump campaign, many in the community dismissed it as a poor investment.

But today, Mr Kumar is the go-to guy not just for Indian-Americans chasing opportunities in the new administration but apparently for the Indian officials seeking contacts with Trump aides.

A leading Indian TV channel NDTV introduced him as "the man with a direct line to Trump" on their show. Another top-ranking Diaspora website, The American Bazar, has called him "the most influential Indian-American power broker" in DC.

And Kumar isn't complaining about this new celebrity status. "I would like to be the bridge between the two sides," he told the BBC. "I have arranged two big meetings between Indian officials and leading figures in the Trump team."

A majority in the Indian immigrant community have traditionally supported Democrats and Trump's anti-immigrant campaign rhetoric seemed to have further alienated many.

Kumar says he and his Republican Hindu Coalition mobilised Hindu Indian-Americans votes in swing states like Florida.

Their message? Trump was the anti-terrorism candidate, and would help India and US see greater collaboration in defence, energy and manufacturing.


Trump's anti-Muslim rhetoric did appeal to some Hindus, but whether that actually swayed the community at large is unclear.


Kumar is not the only one whose stock has soared with a Trump victory.

Pakistani-American Sajid Tarar, who is a Muslim, and Sikh-American Jesse Singh, sided with Mr Trump at the peak of his anti-Muslim barbs. They were pilloried by their own communities for doing so. One exit poll suggested more than three-quarters of Muslims voted for Clinton.

Mr Tarar's Facebook inbox used to be swamped with negative messages, calling him a "disgrace to Pakistan and Islam".

But on the morning of 9 November, his phone wouldn't stop ringing. Mr Tarar had more than 80 messages congratulating him on Mr Trump's victory and how he had made Pakistan proud.

He says the Pakistan embassy reached out to him to facilitate a call between Pakistani Prime Minister Nawaz Sharif and the President-elect.

"I sent out a few emails and the call happened," says Mr Tarar, a real estate businessman.
This is the kind of example which has me recoil ... the kind of thing which can happen in America when White racial lines are deemed unimportant or when "Hispanics" and "Mexicans" are classified rough-shod along with "non-Whites" (even when they are White - largely enough, anyway), i.e., some really fine women can be written off as chum for blacks.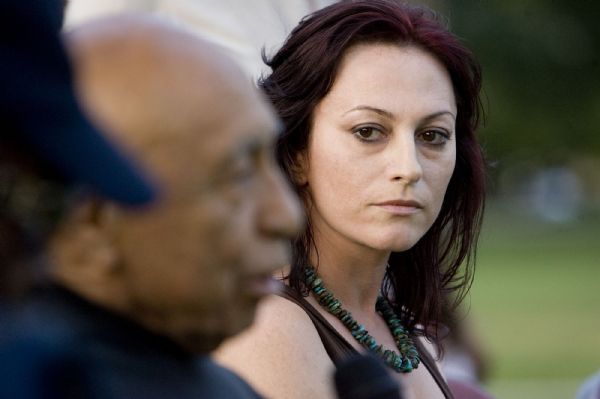 Compulsory Diversity News, Monday, November 04, 2013

The world's most-determined interracial sex practitioner.

Serial killer Joseph Paul Franklin is scheduled to be executed on November 20th, 2013. For those who may not know, Franklin was the inspiration for William Pierce's book Hunter. During his criminal career, Franklin targeted interracial couples, and public figures who encouraged race mixing. Franklin is the man who shot and paralyzed Larry Flynt, publisher of Hustler. But don't bother shedding a tear, for after >30 years in prison, Franklin has had a change of heart, according to this article:

Franklin now regrets his actions, saying he was suffering from manic depression. "I felt like a cloud descended over me," he said. "I was obviously mentally ill." After going to jail in St. Louis in 1996, Franklin interacted with African Americans and realized the error of his racism, he said. He no longer believes "race mixing" is an abomination, saying God could have easily had the human race all one color, he said. "For some reason, he made us different colors." As for his many crimes, "I feel like the Lord has forgiven me because I've repented," he said.

This summer, a bystander linked to one of Joseph Paul Franklin's shootings went public with her story. Terry Jackson-Mitchell was 15-years-old when her two male Negro friends were shot dead as the trio jogged in Liberty Park, Salt Lake City, Utah. Some media reports linked the girl to the shooter, while others simply laid the blame at her feet as a "White" woman who had been spared by the racist serial killer. She is in fact part Mexican, but having two of her black boy friends blown away in a racist shooting spree didn't dampen her spirits for interracial sex. In fact, she went on to produce two half-black children. She credits art therapy for giving her the ability to overcome the trauma of the killings and move on with her life (and fornication).

And so today, CDN proudly names Terry Jackson-Mitchell the world's most-determined interracial sex practitioner. Here she is proudly displaying some of her artwork at Art Access in Salt Lake City.