Majorityrights News > Category: Cultural Marxism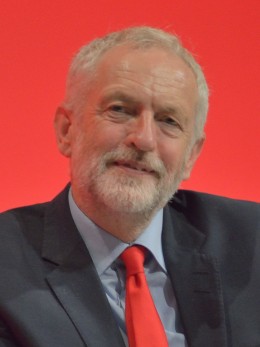 "Labour Party" in line with Jewish interests.
Jerusalem Post, "5 reasons why some UK Jews support Labour, despite antisemitism charges", 4 June 2017:

Relations between British Jewry and the country's Labour Party, which used to be their political home, appear to be at a historic lowpoint.

Ahead of the June 8 general elections in the United Kingdom, a Jewish Chronicle poll from last week put support for the center-left party — which has seen repeated scandals involving antisemitic rhetoric in recent months — at 13 percent, compared to 77 percent support for the Conservative Party.

Relations between British Jewry and the country's Labour Party, which used to be their political home, appear to be at a historic lowpoint.

Ahead of the June 8 general elections in the United Kingdom, a Jewish Chronicle poll from last week put support for the center-left party — which has seen repeated scandals involving antisemitic rhetoric in recent months — at 13 percent, compared to 77 percent support for the Conservative Party.

Despite the dismal results for Labour among the British Jewish community, that's up from 8.5 percent in a similar poll from last month.

By comparison, 35 percent of the general population supports Labour and 44 percent of Britons said they would vote Conservative in a June 1 poll commissioned by The Independent.

The Jewish vote is of little consequence in electoral terms — Jews are a minority of 300,000 people in Great Britain — but it is widely seen as proof of the change that has gripped Labour since Jeremy Corbyn won the party's 2015 leadership election. Corbyn is a far-left politician with pro-Palestinian sympathies who, critics say, has failed to address hate speech against Jews by his supporters.

Yet some prominent Jews, including Labour lawmakers Ruth Smeeth and Luciana Berger, remain loyal to the party under Corbyn — who was accused of being soft on antisemitism last year by an inter-parliamentary committee of inquiry on the problem.

For example, Corbyn did not kick out former London Mayor Ken Linvingstone, who was merely suspended for repeatedly suggesting that Adolf Hitler was in cahoots with Zionists. And then there was the suspension, readmission and re-suspension of Labour activist Jackie Walker, who said Jews led the slave trade and, later, said that there was no reason to offer special protection to Jewish schools. (Corbyn has refused to kick her out of the party as well, and she remains a member.)

Throughout these and other scandals, some Jews have remained loyal to Labour. Here are five reasons why.

1. Singled out for criticism?

Some of Corbyn's supporters, including Jewish ones, believe Labour is being singled out for criticism on antisemitism, which they say occurs on the fringes of all political parties — including the ruling Conservative Party.

A case in point is Michael Segalov, the News Editor at Huck Magazine, a publication about art and politics.

"Since Corbyn's election as Labour leader, unsupportive MPs, campaigning groups and journalists have been desperate to paint him and the movement who support him as antisemitic fanatics, despite knowing it's really not the case," Segalov, who is Jewish, wrote in September in a column published by The Independent.

Labour is certainly not the only British party with senior members who employ vitriol against Jews and Israel.

David Ward, a lawmaker for the Liberal Democrats party, was sacked last month for expressing a desire to see rockets hitting Tel Aviv and accusing "the Jews" of "inflicting atrocities on Palestinians".

But the Liberal Democrats have taken "strong and decisive action" against such politicians, Leslie Bergman, the London-based former president of the European Union for Progressive Judaism, told JTA.

"It is irrefutable that Corbyn has not taken the decisive action that a party in a Democratic Western country would take when there is manifest antisemitism in its ranks," he added.

2. This goes a long way back

The Jewish Labour Movement, a group within the party, was registered officially in 1920 — 20 years after the party's establishment. It was the first non-Christian minority group within Labour, according to Christine Collette and Stephen Bird, the authors of the 2000 book "Jews, Labour and the Left, 1918–48."

Once the party of choice for Jews, including impoverished immigrants from Eastern Europe, it lost some ground to the Conservative Party as Labour adopted an increasingly critical attitude towards Israel — part of a larger shift in the West of sympathy toward Israel from the center-left parties to ones on the right.

But in 2010, when the party was headed by Ed Miliband, who is Jewish, Labour was still slightly ahead of the Conservative Party among Jewish voters (31 percent to 30 percent), according to a poll.

3. Jewish values

Even Labour's Jewish critics concede its mission aligns better with Jewish values than the policies favored by the Conservative Party, with its repeated cuts to welfare budgets and free-market economics.

Bergman, who does not support Labour under Corbyn because he believes Corbyn has failed to address hate speech in the party's ranks, said he "can understand" Jews who vote for the party despite its problems. They "view Labour as more conscious of social issues, the need to support the less privileged in society. And that is a Jewish value," Bergman said.

This is also one of the main reasons that Berger, a 36-year-old Labour lawmaker from Liverpool, who has come under pressure from the Jewish community to leave the party, has decided to stay, she told The Jewish Chronicle last week.

"On every level the Conservatives have failed because of the savage cuts they have dished out," said Berger, an advocate of mental health issues who has cut short her maternity leave to campaign for Labour ahead of the election.

4. Not big on Israel? Not a problem!

Though they generally support Israel's right to exist, British Jews are growing uneasy over its settlement policy and perceived occupation of Palestinian land – issues that are also key to criticism of Israel within Labour.

In a 2015 poll conducted among 1,131 Jewish respondents by the dovish Jewish Yachad group, 47 percent of respondents said the Israeli government was "constantly creating obstacles to avoid engaging in the peace process." Three quarters of participants in that poll agreed that "the expansion of settlements on the West Bank is a major obstacle to peace," and two thirds reported having a "sense of despair" whenever new expansion is approved.

Indeed, a Jewish anti-Israel lawmaker, the late Gerald Kaufman, who died in February, was among the Labour politicians accused of promoting antisemitic rhetoric. In 2015 he was recorded saying that the British government had become more pro-Israel in recent years due to "Jewish money, Jewish donations to the Conservative Party."


5. It's a local thing

In the United Kingdom, which is a parliamentary democracy, voters elect a local representative from their constituency to represent them in parliament.

Some Jewish voters who may be uneasy about Corbyn are happy to vote for another Labour Party member whom they do trust.

This certainly applies to Linda Grant, a Jewish Labour volunteer from London who said that, while she believes Corbyn is not the right man to lead Labour, she nonetheless plans to vote for a party candidate who she says has an impeccable record on fighting antisemitism.

"If I was a few streets away, in Islington North, Corbyn's constituency, I can't say how I would vote. Probably not Labour," Grant wrote in a column that appeared last week in the Chronicle. "But I will have no difficulty voting for Catherine West and delivering even more leaflets on her behalf."
Express, "All 22 victims of Manchester terror attack named and identified", 25 May 2017:
The full list of the victims:
Saffie Rose Roussos, 8
Nell Jones, 14
Sorrell Leczkowski, 14
Eilidh MacLeod, 14
Olivia Campbell, 15
Megan Hurley, 15
Chloe Rutherford, 17
Georgina Callander, 18
Courtney Boyle, 19
Liam Curry, 19
John Atkinson, 28
Martyn Hett, 29
Kelly Brewster, 32
Philip Tron, 32
Angelika Klis, 40
Marcin Kils, 42
Elaine McIver 43
Alison Howe, 45
Michelle Kiss, 45
Lisa Lees, 47
Wendy Fawell, 50
Jane Tweddle-Taylor, 51

Photographer Zakaria Abdelkafi's shocking photograph of a French anti-riot policeman set ablaze by a molotov cocktail has quickly spread to every corner of the world. And yesterday, only one day after Abdelkafi captured the photograph, he shared the story behind it.

PetaPixel, "The Story Behind this Viral Photo of a French Policeman on Fire", 3 May 2017:

The photograph was taken during a march for the annual May Day workers' rally in Paris, and has since appeared on the covers of the New York Times, Wall Street Journal, and countless online publications and European newspapers. In an article for his employer, Agence France-Presse, Abdelkafi said he had no idea what was about to happen.

"I always follow [a group who hide their faces behind bandanas and hoodies] because, from past experience, I know they always cause trouble," he said. "They're very violent."

His dedication to following this group around occasionally gets him pushed down and beaten by the very people he's trying to photograph. This time, he placed himself between them and CRS (Republican Security Companies) police, taking photographs as the protesters began throwing rocks, bottles, "anything that they could get their hands on" at the riot police.

That's when a molotov cocktail went flying.

"When they threw the Molotov cocktail, I didn't actually see it. I just saw the guy engulfed in flames and I just snapped away," he says. "I kept on following the policeman who was burning." He was screaming, the officers around him were screaming, the scene was as horrific as you imagine it. "He was a human being being burned alive in front of me," says Abdelkafi. "And the demonstrators, they didn't care. They kept throwing things at the police."

Abdelkafi is no stranger to horrific sights—a Syrian refugee, he was forced to flee his country in 2015, ultimately receiving asylum in France and a job with AFP. He has witnessed truly horrific sights; this moment hit close to home.

"I kept thinking about his face and whether he would be scarred. I kept thinking of his family. I've had lots of friends who have become disfigured because they have been burned by bombs in Syria. So I know what it's like. I wonder if they do." he said in his AFP article. "I have seen many people die in front of me. I have seen many people wounded. But this policeman really got to me."

According to TIME, the unidentified 41-year-old police man suffered third-degree burns on his hands and neck, and second-degree burns on his face. As for Abdelkafi, he hopes to meet the man he photographed. "I would like to go see him in the hospital and bring him flowers."
Visigrad Post, "Poland: French presidential candidate Macron wants quick sanctions", 28 April 2017:

France, Paris – The Liberal-Libertarian candidate for the French presidency assured that he would take, once elected, measures against Poland. According to him, Poland violated "all the principles of the European Union".

"In the three months following my election, there will be a decision on Poland. I put my responsibility on the table on this subject," Emmanuel Macron said in an interview on Thursday, April 27th.

"One cannot have a country that plays social tax differentials within the European Union and which is in breach of all the principles of the Union," he warned.

But for the candidate who faces Marine Le Pen in the second round of the French presidential elections, the question also concerned the "values" of the European Union.

"I want sanctions on those who disrespect the rights and values ​​of the European Union," he said. "We cannot have a Europe that debates to the decimal each of the budgetary subjects on each country when there's a European Union member state that behaves like Poland or Hungary on such topics as University and knowledge, refugees, fundamental values, and decides not to do anything.

"According to his adviser for European affairs, Clément Beaune, this issue is close to the 39-year-old banker and former minister of the socialist government under François Hollande's presidency.

"He assumes to be pro-European but we cannot be European without respecting fundamental principles," his adviser told Reuters. "It is also a signal of strength and general credibility vis-à-vis Russia, vis-à-vis the United States and, internally, vis-à-vis Europeans."

Emmanuel Macron is the favorite to win the French presidential elections which will end on May 7th.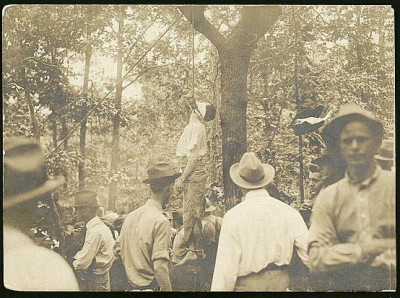 *Important editorial note: Though in this review Alexander Baron refers to Leo Frank as "white" in a few places, Majorityrights does not categorize Jews as "white."
The Lynching Of A Guilty Man reviewed by Alexander Baron
The Leo Frank Case subtitled The Lynching Of A Guilty Man is the third volume in a massive study The Secret Relationship Between Blacks And Jews. The first volume was published in 1991, so this is no rush job. It is also clearly a book written with an agenda, but even vested interest can speak the truth. And the obvious vested interest of the Nation Of Islam comes as a welcome counterpoint to the concealed vested interest of the rest of the American media which unthinkingly points the finger at a black suspect in spite of the conviction of a white* one.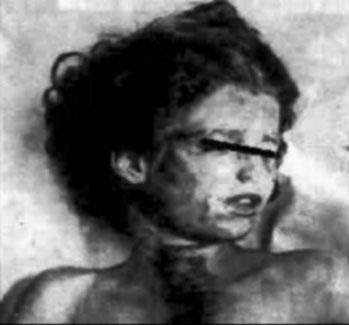 For those not au fait with this notorious case, it began when the body of Mary Phagan was found in the basement of the Atlanta Pencil Factory on April 26, 1913. The young worker had been murdered quite brutally for no apparent reason. The Negro security man who found the body quickly became a suspect - something that is more or less taken for granted nowadays unless the person who finds a body clearly has no connection with the victim, eg a hiker happening upon a skeleton.
Newt Lee aside, there was no shortage of more promising suspects, and two soon emerged: the factory manager/part owner Leo Frank, and his gofer Jim Conley. Although Conley was linked to the killing by forensic evidence, in particular two ludicrous notes written from the perspective of the victim, the authorities went with the prosecution of the white* man while Conley testified as an accessory after the fact. Frank was convicted and sentenced to death, but after extensive failed appeals his sentence was commuted. This led to outraged prominent citizens kidnapping him from the State Penitentiary, driving him back to Atlanta, and stringing him from a tree by his neck.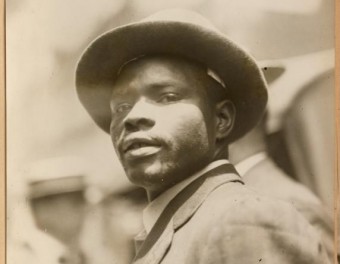 A century and more on there remain two competing narratives; the official and accepted narrative is that Leo Frank was innocent and Jim Conley the villain of the piece. Some might find that surprising as Conley was never indicted for the crime and Frank was never cleared officially in spite of enormous posthumous lobbying by especially the misnamed Anti-Defamation League. This book adheres to the second narrative, that ridiculous as Conley's tale may have been, he was in fact totally innocent, an accessory only after the fact, having found himself in a truly invidious position, a man of humble estate - in effect a third class citizen - who was told he must follow the orders of his boss or else.
In the past quarter to half century, quite a few authors have come out in support of this narrative, but none more impressively than the dedicated Leo Frank website and now this minutely documented book.
If anyone believes the fact that the forensic evidence pointing to Conley should have indicted him and him alone, here are two cases from the 1980s that show how wrong this kind of reasoning can be. In March 1984, the black American Sylvester Smith was accused of violating two young girls, cousins. As all the parties involved in this case were black, there was no racial angle. The girls had clearly been interfered with sexually, and unsurprisingly, Smith was convicted. Twenty years later he was cleared on appeal, the shocking truth was that the real perpetrator was a 9 year old boy (who went on as an adult to commit a murder). The girls had been coached by their grandmother to point the finger at Smith to protect him. After her death, they recanted.
An equally shocking case that made international headlines was that of Lindy Chamberlain. In 1980 while camping at Ayers Rock, Australia, her baby daughter Azaria was snatched by a dingo. She was convicted of the murder based largely on forensic evidence, but nearly six years later, more reliable forensic evidence was found - the girl's matinee jacket near a dingo lair.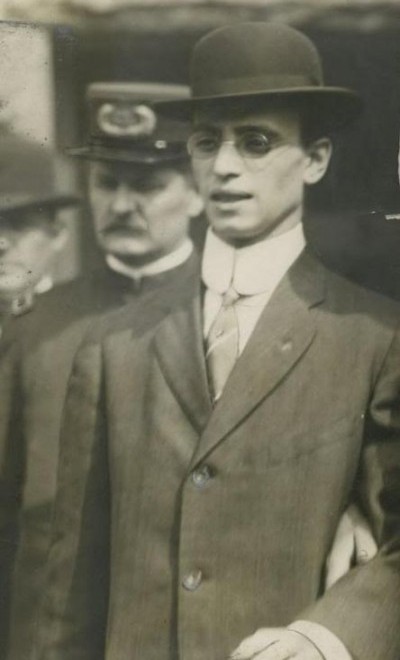 In the Mary Phagan case, the forensic evidence against Jim Conley (the notes) was outweighed by the forensic and other evidence against his boss, in particular there was evidence that the girl has been murdered upstairs. Almost all the other evidence pointed to Frank, everything from his demeanour to his willingness to point the finger at everyone else including at first Newt Lee. Conley on the other hand remained cool as a cucumber, so either he was a psychopath and a potential future Oscar winner, or he really was telling the truth, however outrageous or crazy his story may have sounded. But when the facts are all in, it wasn't that outrageous, it wasn't that crazy, and justice was done in the Deep South, both for Mary Phagan and for a black man whose word many of Frank's supporters believed should carry no weight at all.
A few criticisms are in order:
In the Preface, the claim is made that an "unknown posse" lynched Frank, and that he was and remains the only Jew ever lynched in America. The posse was hardly unknown, its members did not bother to hide their faces, and indeed appeared proud of their work. Later in the book it is made clear that their identities were in no way secret. The doubtful honour of being the first Jew lynched in America appears to belong to Samuel Bierfield in 1868, but neither he nor Frank were lynched because they were Jews.
Frank was hardly the most important Jew in the Deep South as claimed; he was certainly far from the wealthiest, and was the New York Times the world's most important newspaper? The most important in America maybe, but not more important than the London Times. And was World War One raging in 1913?
The reason the crime was committed and how it was committed are both laid out in impressive detail, as are the attempts by Leo Frank to point the finger of suspicion initially at Newt Lee, and then at anyone else without mentioning the fact that Conley was at the pencil factory at the material time. Why would he not do that? The only logical reason is that he didn't want Conley to open his mouth, and once Conley did, he too had to be accused. The book raises too the interesting speculation that Frank was considering murdering Conley – the only direct witness – as well.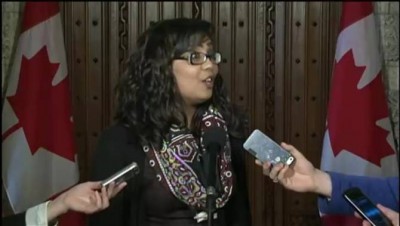 Ms. Iqra Khalid, a Muslim, pushes through anti-Islamophobia motion.
Breitbart, "Canadian Parliament Passes Controversial Islamophobia Motion", 24 March 2017:

The Canadian House of Commons has passed motion M103 which singles out the criticism of Islam as a form of "Islamophobia". Critics condemn it as an attack on free speech.

Motion M103 was tabled by Iqra Khalid, a Muslim member of Prime Minister Justin Trudeau's Liberal Party. It states the government must "condemn Islamophobia and all forms of systemic racism and religious discrimination", was taken to vote on Thursday evening where a total of 201 MPs voted for it and only 91 voted against, Canadian broadcaster Global News reports.

The text of the motion does not clarify what constitutes "Islamophobia" and has led many to speculate what that may mean in the future, with some critics fearing it could lead to Shariah law courts. This concern has led to the circulation of an anti-Shariah petition on the Parliament of Canada website, which has so far been signed by over 24,000 people.

Ms. Khalid, who was born in Pakistan and moved to the UK and then to Canada, said the definition of Islamophobia was: "The irrational hate of Muslims that leads to discrimination."

When Conservatives asked her to remove Islamophobia from the motion, she said: "I will not do so, any more than I would speak to the Holocaust and not mention that the overwhelming majority of victims were six million followers of the Jewish faith and that anti-Semitism was the root cause of the Holocaust."

Another part of the bill that has stirred controversy is the passage that asks the government to "recognise the need to quell the increasing public climate of hate and fear". It is currently unknown what measures the government will take to "quell" "hate and fear" as the motion is not classified as a law and has no effect on current criminal law.

The Conservative Party of Canada are currently holding leadership elections and many of the candidates have come out against M103 including one of the frontrunners, Quebecer Maxime Bernier. Mr. Bernier, a conservative with libertarian free market leanings, said he voted against the bill tweeting: "Free speech is the most fundamental right we have. I am opposed to #m103. Canadians should be treated equally regardless of religion."
At "Killer Culture" Peter Quiggins (Tierney) has put together this very caring and painstaking compilation of native Britons killed by migrant peoples, murders which have not received a fraction of the attention that the rare instance of a murder of a black, Steve Lawrence, by native Britons, has received. It is a quibble compared to this travesty that Quiggins addresses, but something to note nevertheless, that entitling the piece "Diversity Kills!" is a bit of mistake. Just like arguing "against equality" is bad tact, arguing against "diversity" is a trick that the YKW have set up deliberately because by default, under the powers that be, you are arguing for integration - the last thing that we'd want. Diversity should not be argued against at this point, the circumstances being what they are, with massive immigrant populations among, or in close proximity to ours not going away any time soon; in some cases, never - and all the more reason to take the cause of diversity for ourselves. However, his subtitle is quite fine stand alone: Britons murdered in Britain since the death of Stephen Lawrence: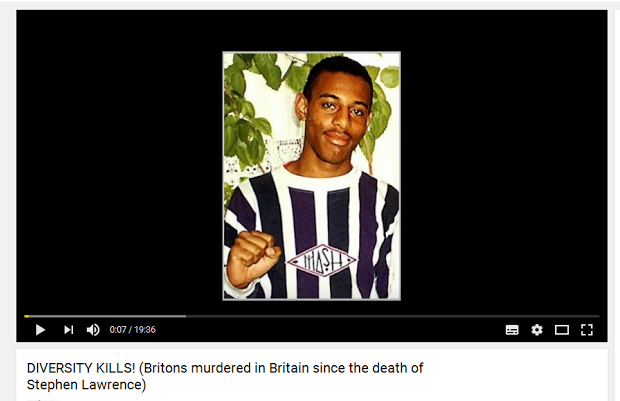 Stephen Lawrence has been mentioned over 2,000 times in Parliament.
MR carries great articles regarding the Stephen Lawrence case: A Nation Rejoices at last! - by Dan Dare; More Saint Stephenism on the way - by Guessedworker; The Crusade Against Discrimination in Britain - by Guessedworker; No Native Voices - by Guessedworker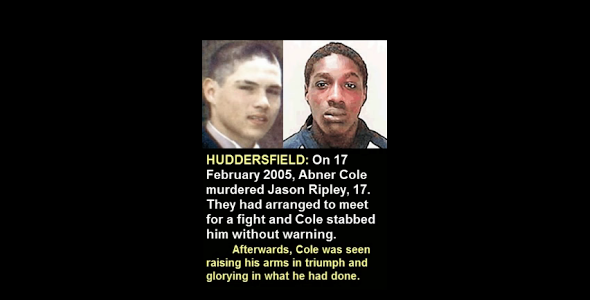 (Britons murdered in Britain since the death of Stephen Lawrence)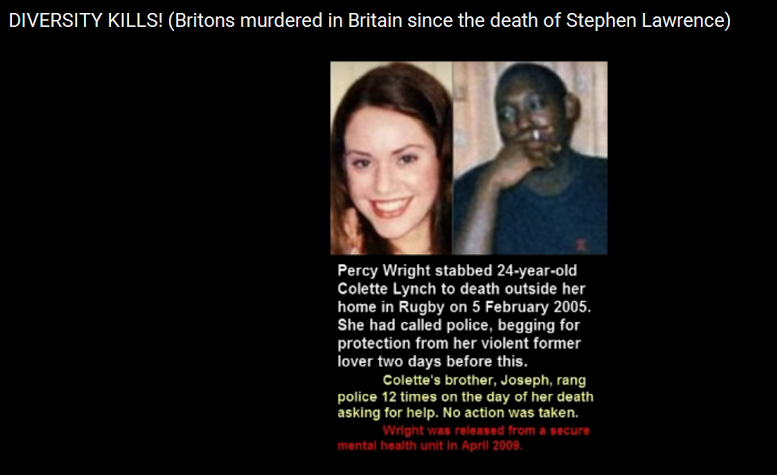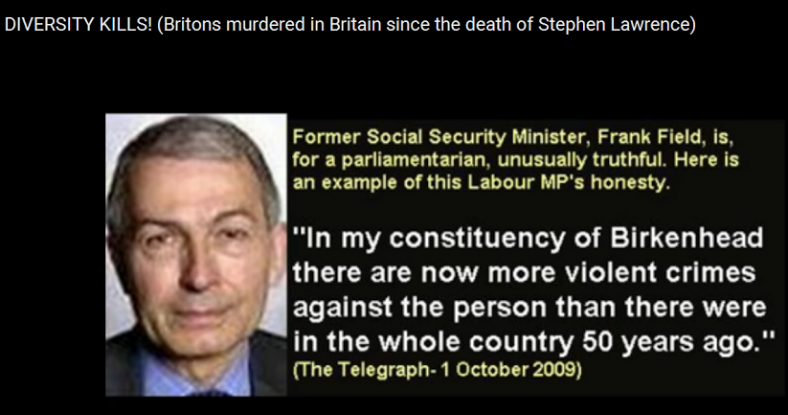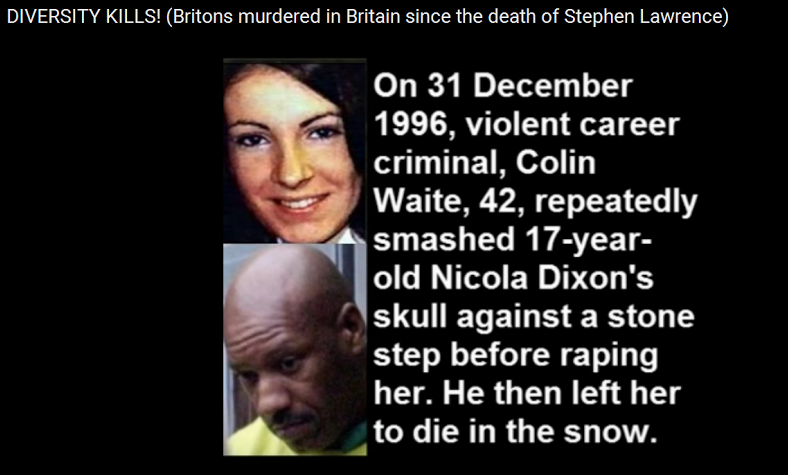 Backgrounding & Taken For Granted - Resistance is Futile. Add from Det Nya Landet - translation "Big Mulatto Brother"?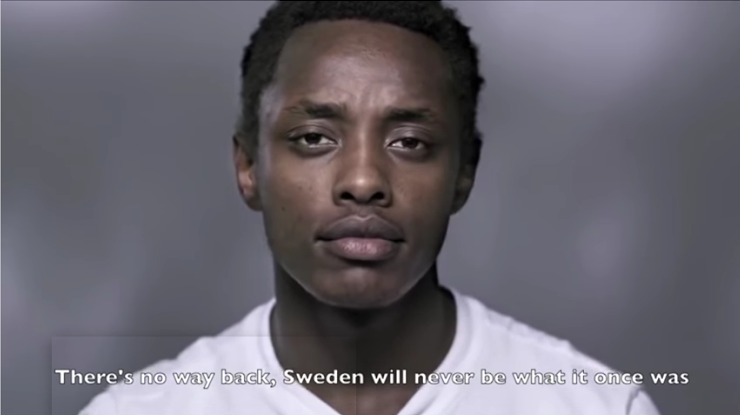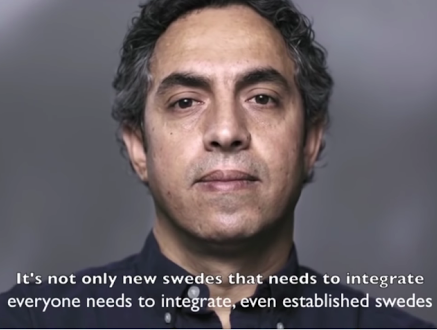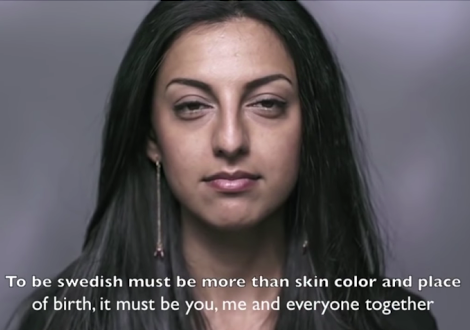 Below is another marketing campaign advert suggesting that "resistance is futile" - this one coming from the EU is a bit more subtle: It is an EU add run in Poland, and it is as if to suggest that blacks are to be taken for granted as a significant component of European history. However, in this instance, the "resistance is futile" message is not spoken, it is in the background - two blacks comfortably sit in the background of the same restaurant scene and a mulatto girl is fore-fronted; thus, backgrounding and taking for granted the interracial relationship of her parents.
The EU is backgrounding the racial integration of blacks, presenting to naive audiences (naive as to the bio-power of an invasive species) or audiences perhaps aware, but not in a position to voice objections (literally the case when these images are whisked-by semi-subliminally), that the place of blacks among them is something to be taken for granted. Resistance is futile, nobody will agree with your objection, it is taken for granted already.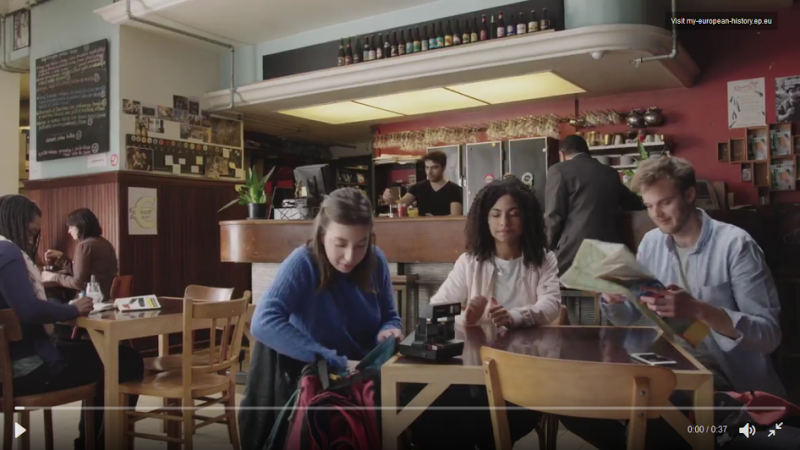 This is a screen shot from a quick add distributed by The European Union and shown in Poland to promote The EU's "My European History" program. Of seven people in the add, 3 are black. Of the blacks, a mulatto girl is centrally featured in the add, while the other two blacks are placed in the background, taking for granted their place in Europe and its history. The girl's mulattoness is also a form of backgrounding and taking for granted.
The add came by way of Twitter:
Parlament EuropejskiVerified account @Europarl_PL

My House of European History to kolekcja opowieści o Europie. Zgłoś swoją → https://my-european-history.ep.eu/?locale=pl ! RT i udostępnij!

#StoriesofEurope