Majorityrights News > Category: Demographics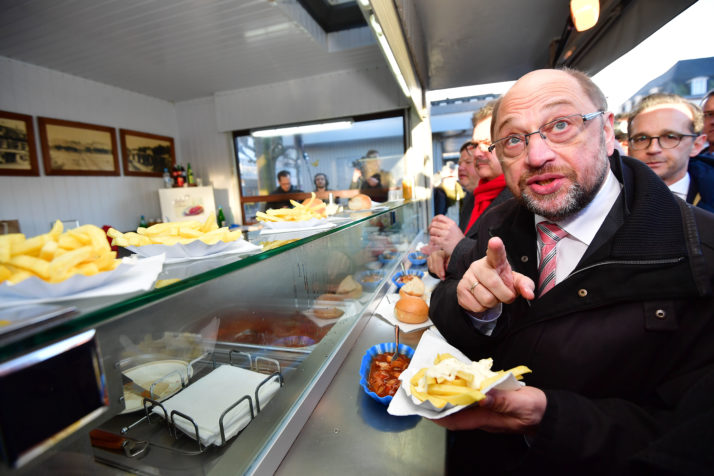 Wow, such a breadth of choice
The Germans are non-ironically having an election in which Angela Merkel and Martin Schulz are the two front runners.
The choice seems to be quite simple.
Either you vote for Angela Merkel's CDU and face the death by demographic replacement which will surely arrive by the year 2050 as things continue as they are, or alternately you vote for Martin Schulz's SPD and face the death by demographic replacement which will surely arrive by the year 2050 as things continue as they are.
There are some policy disagreements that they have on other issues and usually I would actually go to the length of highlighting them and describing them, but when it comes to the issue of Germany it frankly doesn't even matter anymore. After all, if Germany is going to seriously cease to exist as a nation then making projections about a nation which will not even be populated by the same people would be a pointless exercise from the perspective of ethno-nationalism. It is extremely sad.
In any case, let's see how the situation looks in the polls at present, for this thoroughly pointless election:
POLITICO, 'SPD in the lead according to German poll', 19 Feb 2017:

Germany's Christian Democrats (CDU/CSU) have slumped to second place in an opinion poll conducted by the Emnid institute, with the Social Democrats (SPD) in the top spot for the first time since 2006.

The SPD's climb comes after the party picked the former President of the European Parliament, Martin Schulz, as its candidate for chancellor.

Emnid's poll of 1,885 voters found that the SPD would get 33 percent of the German vote, while Chancellor Angela Merkel's CDU and its Bavarian sister party, the Christian Social Union, would get 32 percent.

Schulz's party has gained 12 points in the last four weeks, according to German newspaper Bild am Sonntag.

The SPD's surge in the polls will add more pressure on Merkel, as she seeks her fourth term as chancellor within an uneasy CDU/CSU alliance. Merkel has faced tough criticism from the sister party over the controversial decision to temporarily open Germany's borders to refugees in 2015.

This the latest in a series of polls that shows SPD's rapidly rising popularity among German voters. Emnid's poll chimes with separate findings by Politbarometer, a long-standing German election poll from German broadcaster ZDF, which showed Friday that only 38 percent of voters would like to see Merkel carry on her job as chancellor and that 49 percent preferred Schulz.

But Germany hasn't completely fallen out of love with Merkel. ZDF's poll also found that 71 percent of Germans think that the current chancellor is doing a good job, despite her party's drop in popularity.

German elections are scheduled for September.
Such vibrant campaigning
Meanwhile, the way that Martin Schulz is conducting his campaign has drawn criticism from Wolfgang Shaeuble, a very strange-looking criticism at first brush:
POLITICO, 'Wolfgang Schäuble: Martin Schulz is the German Donald Trump', 10 Feb 2017:

Martin Schulz, the German center-left's candidate to be chancellor, is behaving like U.S. President Donald Trump, according to German Finance Minister Wolfgang Schäuble.

"If Schulz calls upon his supporters to chant 'Make Europe great again' then that's almost literally [like] Trump," Schäuble told Der Spiegel in an interview published Friday.

He said Schulz, a former European Parliament president, was acting in a "populist way."

Schäuble said Schulz needed to "think a little [bit more]." He warned that in times when there is a surge in populist movements, politicians should be careful with their language.

The SPD's move to nominate Schulz as their candidate for chancellor in the September 24 federal election led to a surge in party membership applications. Opinion polls show that backing Schulz helped the party to its highest approval rating since 2013.
At first a person would think, "Hmm, something is very wrong here, in what important way does Martin Schulz resemble Donald Trump, aside from the use of a similar campaign slogan?"
Surely Schaeuble is just a ridiculous old man who is approaching senility, and he has begun to make even less sense than usual in his statement?
Nevertheless I decided to actually give Schaeuble's statement some thought. Could I manage to find some unintended 'sense' in Schaeuble's seemingly nonsensical statement?
After about twenty milliseconds of deep thought – which in neurological terms is basically 'instantly' – I arrived at the answer. First, take a look at this quote concerning Schulz:
Haaretz / Avraham Burg, 'Say a big 'thank you' to Martin Schulz', 14 Feb 2014:

[...] Martin Schulz, the president of the European Parliament, is a close friend of mine. On most issues connected to the Israeli-Palestinian conflict we disagree. He is closer to the Israeli mainstream, and his positions resemble those of Labor Party chairman Isaac Herzog. He once told me, during a frank and stern conversation, "For me, the new Germany exists only in order to ensure the existence of the State of Israel and the Jewish people." [...]
Secondly, take a look at this quote concerning Trump:
The Hill / Elliot Smilowitz, 'Trump: 'Stay strong Israel,' my inauguration is approaching', 28 Dec 2016:

President-elect Donald Trump on Wednesday morning ripped the Obama administration's treatment of Israel and pledged to end the "disdain and disrespect" for the country.

"We cannot continue to let Israel be treated with such total disdain and disrespect. They used to have a great friend in the U.S., but not anymore. The beginning of the end was the horrible Iran deal, and now this (U.N.)! Stay strong Israel, January 20th is fast approaching!" Trump wrote in a series of tweets. [...]
If you look at it from that angle, then Schaeuble accidentally spoke a kind of truth in the midst of his babbling, somehow.
There indeed is a resemblance between Schulz and Trump. From the perspective of Jewish Zionists in the global sense, the two individuals are almost completely identical.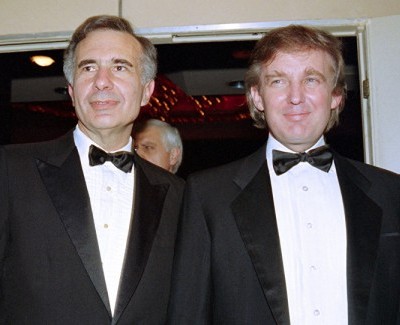 Together back in the 80s, when Carl Icahn was showing Donald Trump the ropes of "corporate-take-over", such as his plunder of TWA.
The Carl Icahn episode that pilfered the corporate culture of the once bustling American town—Lancaster, Ohio—is highly instructive of itself. It provides a lesson in its farther implications, however, as it set in motion transformations of that corporate culture which effected a perverse irony of its residents becoming Trump voters, seeking a return to their corporate culture as it had been - implicitly White - oblivious to the fact that they are hoping to do this through Trump, whose appointed gate-keeper is Carl Icahn - the very man who plundered Lancaster's corporate culture and set in motion its transformative demise, with devastating impact upon the now rust-belt town and its people (nearly all White).

(((NPR))) doesn't provide a transcript of portions which refer to Carl Icahn, e.g.
NPR, Glass House' Chronicles The Sharp Decline Of An All-American Factory Town, 6 Feb 2017:

13:10: Dave Davies: "When did outside financial interests first pose a challenge to the management of Anchor Hocking, this giant of a company?

Brian Alexander: The first time was Carl Icahn.
It is meaningful that the relatively brief episode of Carl Icahn's corporate raid on Anchor-Hocking did not merely lead to a limited financial downturn following the large (what amounts to) bribe that he levied against the company in order to get rid of him, but it had implicative force which transformed even the subsequent non-Jewish corporate culture, creating a new corporate culture - a new context, if you will. That is the kind of thing that the serious ethno-nationalist will want to examine further.
Brian Alexander: It's the 1980's, Carl Icahn has just begun his career of what became known at the time as "green mailing."

Dave Davies: "Corporate raiding", "corporate take-overs."

Alexander: "Corporate raiding", saying now I've just bought 5% of your stock. I want a seat on the board. You're running your company in a lousy way; and so I'm going to come and make all sorts of trouble for you, but you know, if you want to buy me out, at a profit, at a premium, well maybe I'll go away; and so that's exactly what happened with Carl Icahn.

Carl Icahn bought over 5% of the stock of Anchor Hocking, agitated the board, saying you need to make some different decisions, you could be returning more share-holder value and was eventually bought off at what I calculate to be about a three million dollar profit to Carl Icahn.

That episode did not last long, but I argue that it changed Anchor Hocking forever, from then on.

Dave Davies: In what way?

Brian Alexander: It scared people…
........................................................................

NPR, Glass House' Chronicles The Sharp Decline Of An All-American Factory Town, 6 Feb 2017:

NPR host Dave Davies: We heard a lot in the presidential campaign about anger and frustration among working class voters in America's heartland. Today we're going to focus on one factory town in central Ohio that was once a bustling center of industry and employment, but is now beset by low wages, unemployment and social decay.

Lancaster, Ohio isn't just a research subject for our guest Brian Alexander, it's his hometown.

His new book tells the story of the company that was once Lancaster's largest employer - Anchor-Hocking Glass Company was a Fortune 500 company with its headquarters in the town. The company provided jobs, civic leadership and community pride. It's decline Alexander argues isn't just a product of increased competition and changing markets, he says the firm was undone by Wall Street investors who had little knowledge of the company and little interest in anything besides short-term profit.
Stare in amazement
Christians and pro-lifers in general are so stupid that quite honestly I have to say that the Eastern mind boggles at the sheer scale of cascading stupid decisions that Christians choose to make.
Here's the Breitbart article on it:
Breitbart, 'Rep. Steve King Files Federal Pro-Life Heartbeat Bill: 'If a Heartbeat Is Detected, the Baby Is Protected'', 24 Jan 2017:

Pro-life congressmen stood in front of the Capitol — along with Janet Porter, the Ohio woman who led the fight for passage of that state's "heartbeat bill" — all in support of Rep. Steve A. King (R.-Iowa) and his Heartbeat Protection Act of 2017, H.R. 490, which restores legal protection to unborn children once their pulse is detected.

"It is a profound religious and moral understanding that every human person has the right to life," said King, who was joined by Rep. Louie Gohmert (R.-Texas), Rep. Trent Franks (R.-Ariz.), Rep. Scott G. Perry (R.-Pa.), and Rep.Don Bacon R.-Neb.), along with other prolife supporters of the bill.

"The question that has hung before the courts, since 1973 is: 'When does life begin?'–we all know when that is," the congressman said.

"We stand here and assert that it has to be a distinctive moment. You can't guess a thing called viability. You can't say 22 weeks versus 20 weeks. You have to say it is at a specific instant. The most precise instant that we can describe and that we can identify by science is the moment that that heartbeat begins," he said.

"The core tenet is this: If a heartbeat can be detected, the baby is protected," he said.
White America will now die by its own hand. White America will die because these comprehensive restrictions on abortion which are being tabled will have an effect of increasing the birth-rates of those minority populations which traditionally utilise abortion services more.
Where next?
Restrictions on abortion will hasten the decline of the overall White American population which already only comprises 47% of children under age 18.
The 2010 census shows where those effects would be grouped: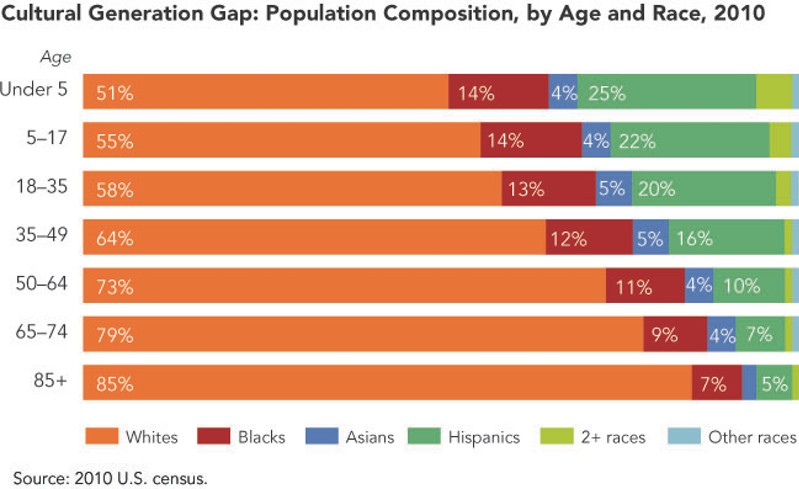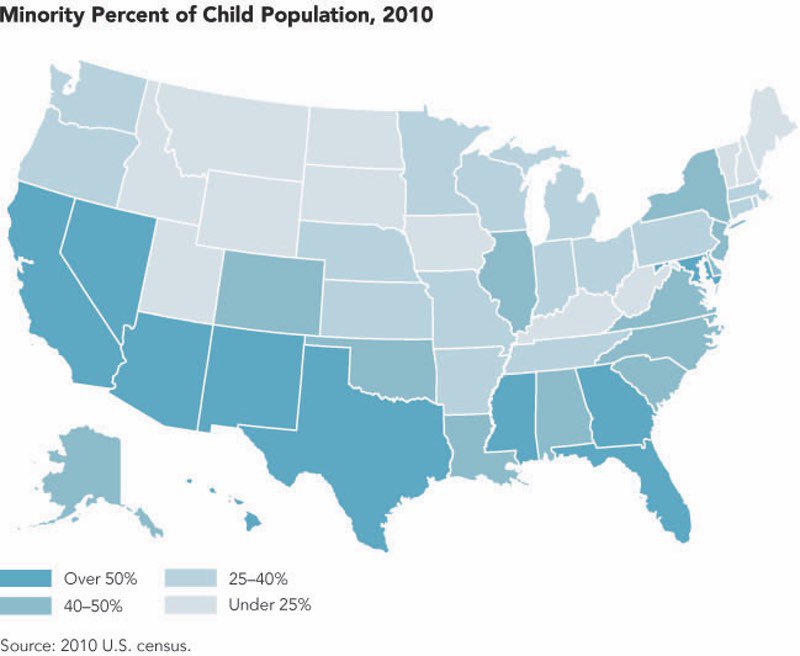 Is it going to be extremely inconvenient for minority groups to have a sharply reduced access to abortion services? Yes. No woman wants to have to be perpetually worrying about what her family planning options are as restrictions are tightening over and over again. But perhaps the inconvenience would be ironically 'embraced', particularly among Hispanics who could just go with the flow and have a Hispanic baby-boom. Hispanics can wait these laws out and reverse them in about half a generation, when demographics will dictate elections and identity politics will be entrenched in different ways in different zones within the United States.
Outcomes
The Northeast and Midwest of the United States will experience a ballooning African-American population next to White Americans. The Southwest will continue merrily along its way into becoming a Hispanic outpost, and the Southeast will be a mixture of all those things happening simultaneously.
Technically, 'White America' as a geographically contiguous concept has been pushed further upwards on the age-pyramid for quite a while now. The incoming administration is now taking moves that—unintentionally—will guarantee that the concept will be brought to an end.
The United States will have one of two futures to choose from:
Ethnic balkanisation within two generations.
Turning itself into Brazil.
Of course, Americans will probably manage to muddle around and inadvertently choose both options simultaneously, so that they can experience the worst aspects of both scenarios. Because why? Because it's America of course.
Visigrad Post, "Hungary's PM Orbán: Nowhere Do Human Rights Prescribe National Suicide", Jan 2017:

Hungary – The Hungarian government goes further in its opposition to non-European immigration, both illegal and legal. Viktor Orbán made again a strong speech against "national suicide" and meantime, the government announces its will to put an end to the residency bonds.

In front of 532 new deputy border guards, Viktor Orbán explained, on Thursday, January 12, that their job will be to protect Hungary's borders and the safety of all Hungarians, "and that of all of Europe as well, as has been the fate of the nation for hundreds of years".

"Terror attacks, riots, violence, crime, ethnic and cultural clashes all show us that those who come do not want to live our lives," Orbán told the border guards. "They want to continue living their lives, just on the European standard of living. We understand them but we can't let them into Europe. Nowhere do human rights prescribe national suicide."

Asylum-seekers will be detained in close camps from now on

Systematic detention of migrants arriving in the country will be put in place, explained Viktor Orbán on Friday, January 13, during his weekly talk at the public radio. "We have reinstated alien police detention in the cases of those whose application to enter Europe has not yet been legally judged". "As long as there is a verdict outstanding (in their asylum applications) they cannot move freely in Hungary," said the Hungarian PM.

Under pressure from Brussels, the UN refugee agency and the European Court of Human Rights, Hungary in 2013 suspended the practice of detaining asylum applicants. The close camps are demanded by Jobbik's vice-president and mayor of a little town at the border with Serbia, László Toroczkai, from the beginning of 2015, the same man that asked for the fence first in Hungary.

"Since then there have been terror acts in western Europe," Orbán said Friday". Any legal regulation that facilitates terror acts must be changed in the interests of our own self-defense." He said he was aware that this "openly goes against the EU", taking the risk of an open-conflict with Brussels, once again.

No more residency bonds

Three months ago, the constitutional bill against mandatory quotas of migrants, proposed by the ruling Fidesz, failed due to the surprise boycott of the vote by the right-wing populist party Jobbik, which wanted to add into the bill the suppression of the residency bonds. These bonds allow non-EU citizens to buy a Schengen permanent residency permit.

Really harsh discussions took place in the Hungarian parliament between the national-conservative ruling Fidesz and the right-wing populist Jobbik on these bonds. Security threats, suspicion of high corruption and treason toward the Hungarians — who reject non-European immigration — were the main arguments of the Jobbik.

Eventually, the government will suspend indefinitely the program, claiming these bonds are not necessary anymore since ratings agency Moody's upgraded the country's credit rating. Several scandals of corruption related to these bonds merged in 2016 and it is most likely that the government wanted to put an end to this failed program. Therefore, no more residency bonds requests will be accepted from April 1.
TNO, "US Black/Jewish Alliance—But Not in Israel", 17 Jan 2017:

The Jewish supremacist "Foundation for Ethnic Understanding" and the Anti-Defamation League have called for a new alliance with blacks against Donald Trump—but in Israel, which both organizations support, black "refugees" are locked up and deported in order to preserve the "Jewish nature of the state."

According to a report in the Jewish Forward newspaper ("Why Jews Must Fight for the Civil Rights of Muslims," January 9, 2017), Rabbi Marc Schneier, the president of the Foundation for Ethnic Understanding, said that:

"As we celebrate the birthday of Martin Luther King Jr., American Jews should reflect anew upon the epic struggle he led to free African-Americans from the shackles of bigotry and take pride in the singular role played by the Jewish community in support of King and African-Americans."

Rabbi Schneier continued by saying that

"As we await the advent of the new Trump administration, it is more important than ever for our community to reconnect with that uplifting chapter in American history half a century ago," and that to this end, "American Jews in 2017 must resolve that we will continue to speak out openly and assertively in support of the principle that Americans of all faiths and ethnicities — including Muslim Americans — must be accorded full civil rights and religious freedom as guaranteed by the U.S. Constitution and Bill of Rights."

Finally, Rabbi Schneier says that in "recent weeks, many rabbis and Jewish leaders have vowed that if the new administration institutes a Muslim registry, they themselves will be among the first to sign up for it."
Diversity Macht Frei, 5 Jan 2017:


Alex Cioni, leader del Comitato Prima Noi, condannato dal Tribunale di Vicenza a 5 giorni di galera e 1.310 euro di ammenda per manifestazione non autorizzata.

Virtually every day, when I read Italian patriot sites, I see stories about asylum seekers, mainly sub-Saharans, staging spontaneous demonstrations, blocking traffic, holding up hand-scrawled placards protesting about something or other, usually the quality of the food they are given. Usually I don't even bother posting articles about these incidents here, because there are simply too many of them.

Sometimes the police divert traffic so the invaders can carry on their protests undisturbed; sometimes they talk to them and persuade them to return to their accommodation; they almost never arrest them unless the invaders physically attack them. But here we have an incident where a small group of Italian patriots gathered and held up banners for a few minutes at a hotel that had been marked as a future asylum centre. And were charged and convicted for doing so. The incident in question is shown in the video above. Their banners say things like "Stop fake refugees. Stop the Asylum Industry".

Five days in prison and a fine of 1,310 euros. This is the penalty imposed on Alex Cioni, leader of the Prima Noi Committee, by the Vicenza Tribunal His offence was to have demonstrated in front of a hotel marked as a future reception centre for migrants to show his disagreement with the arrival of the refugees.

The incident took place last 17 July when some representatives of the Prima Noi Committee displayed a banner and placards in front of the glass door in the Hotel Eden in Schio, expressing their unhappiness about the announced arrival of a substantial number of asylum seekers. An unauthorised demonstration, because - according to the judge - no request had been made in advance to the authorities responsible for public security.

Cioni was convicted for this reason, although the sentence was suspended because he had no criminal record. "The complaint filed by the Digos officials and the related judgement from the tribunal in Vicenza," said the Committee management, "represents an unequivocal clumsy attempt to intimidate our activity."

"A banner in a private place is not a demonstration for which reason the conviction for demonstrating is absurd," the person involved explained to the Alto Vicentino Online. "It makes no sense to call an initiative like ours a demonstration, lasting only a few minutes. It is clear the incident has been instrumentalised." Cioni will file an appeal however
Kevin Crehan, 35, executed in his cell at HMP Bristol

DM, "Man jailed for leaving a bacon sandwich outside a mosque is found dead in prison halfway through his 12-month sentence", 30 Dec 2016:

He was serving a one-year sentence for racist attack on a Bristol mosque
Crehan and accomplices left bacon sandwiches outside the building
They also left a St George flag outside with 'No Mosques' written on it
Man jailed after leaving bacon sandwiches outside mosque been found dead in his cell.

Kevin Crehan, 35, was halfway through a one-year prison sentence he received in July after admitting the racially-motivated attack on the Jamia Mosque in Bristol earlier this year.

He was accompanied by Alison Bennett, 46, and Mark Bennett, 48, and Angelina Swales, 31, who also pleaded guilty over the incident.

A St George flag with the words 'no mosques' was also tied to the fence outside the building in Totterdown, Bristol, and shouted racial abuse at a worshipper.

Bacon was tied to the door handles and sandwiches made of raw meat and sliced white bread were left at the entrance, in what was described in court by the judge as an 'an attack on England'.

The prison service confirmed Crehan was found dead in his cell at HMP Bristol on Tuesday, December 27.

A spokesman told the Sun: 'HMP Bristol prisoner Kevin Crehan died in custody on Tuesday 27 December.


The incident occurred at Jamia Mosque in Totterdown, Bristol, pictured, and all four of the gang were banned from going near a mosque for 10 years

'As with all deaths in custody, the independent Prisons and Probation Ombudsman will investigate.'

Crehan was jailed for a year while Bennett was given a nine-month sentence.

Bennett was given a six-month sentence and Swales was given a four-month sentence - both suspended for two years.

They were all banned from going within 330ft of a mosque anywhere in England or Wales for the next 10 years.
Tory MP Philip Hollobone said: "Migration Watch's forecasts have always been thoroughly reliable."

Express, "BREXIT WARNING: 12 MILLION more migrants to arrive in UK in 25 years without hard Brexit", 29 Dec 2016:

MASS immigration will continue at "unacceptable" levels for at least two decades unless Britain makes a full break with Brussels, a report predicted last night.

Figures showed that annual net migration to the UK from EU countries would be unlikely to fall below 155,000 in the "medium term" if the country stays in the EU's Single Market.

And the Government's ability to reduce the influx will be "extremely limited" as long as the EU's free movement rules remain in force.

The disturbing forecast of near-record levels of migration for years ahead was set out in a report from the population think tank Migration Watch. It was being seen last night as a devastating blow to campaigners for a so-called "soft Brexit" that retain the UK's full Single Market membership.

[...]

"An increase of anything like 12 million in just 25 years is, quite simply, unacceptable to the British public and certainly not what they voted for in the referendum."

Tory MP Philip Hollobone said: "Migration Watch's forecasts have always been thoroughly reliable and are the best we are going to get from anyone.

[...]

"The picture they paint is completely unacceptable.

"We simply can't stay in the Single Market if it means we are going to get that sort of level of immigration.

"Above all, people voted in the referendum for a change in our approach to immigration."

[...]

"Total net immigration will add 12 million people to the population in just 25 years, more than the equivalent of the entire current populations of Bulgaria and New Zealand."

He added: "Theresa May needs to set out in no uncertain terms that when the UK leaves the EU it will also cease to be a member of the Single Market.