Majorityrights News > Category: European Nationalism
Theresa May confirms white man attacked Muslims leaving mosque after Ramadan prayers

Security at mosques across the UK will be reviewed in the wake of the Finsbury Park terror attack, the Prime Minister has said. More follows…

Independent, 19 June, 2017 - Here is Theresa May's statement in full:

"This morning, our country woke to news of another terrorist attack on the streets of our capital city: the second this month and every bit as sickening as those which have come before.

"It was an attack that once again targeted the ordinary and the innocent going about their daily lives – this time British Muslims as they left a Mosque having broken their fast and prayed together at this sacred time of year.

"Today we come together - as we have done before – to condemn this act and to state once again that hatred and evil of this kind will never succeed.

"The Government's Emergency Committee, COBRA, has just met and I can set out what we know about what happened, and the steps that we are taking to respond.

"Just after twenty-past midnight, the Metropolitan Police received reports that a van had been driven into a crowd of people on Seven Sisters Road in Finsbury Park.

"Officers were in the immediate vicinity as the attack unfolded and responded within one minute.

"Police declared it a terrorist incident within eight minutes.

"One man was pronounced dead at the scene; eight injured were taken to three separate hospitals; while two were treated at the scene for more minor injuries.

"The driver of the van - a white man aged 48 - was bravely detained by members of the public at the scene and then arrested by police.

"The early assessment by the police is that the attacker acted alone.

"Our thoughts and prayers this morning are with the family and friends of the man who died and those who were injured.

"On behalf of the people of London – and the whole country – I want to thank the police and the emergency services once again for responding as they always do with great professionalism and courage.

"Extra police resources have already been deployed to reassure communities, and the police will continue to assess the security needs of Mosques and provide any additional resources needed, especially during this final week before Eid Al-Fitr, a particularly important time for the whole Muslim community.

"This was an attack on Muslims near their place of worship. And like all terrorism, in whatever form, it shares the same fundamental goal.

"It seeks to drive us apart; and to break the precious bonds of solidarity and citizenship that we share in this country.

"We will not let this happen.

"When I stood here for the first time as Prime Minister last Summer I spoke about our precious belief in the Union – not just the bond between the four nations of the United Kingdom – but the bond between all our citizens, every one of us, whoever we are and wherever we are from.

"At the heart of that bond is a belief in the fundamental freedoms and liberties that we all cherish; the freedom of speech; the freedom to live how we choose and yes, the freedom to practice religion in peace.

"This morning we have seen a sickening attempt to destroy those freedoms; and to break those bonds of citizenship that define our United Kingdom.

"It is a reminder that terrorism, extremism and hatred take many forms; and our determination to tackle them must be the same whoever is responsible.

"As I said here two weeks ago, there has been far too much tolerance of extremism in our country over many years – and that means extremism of any kind, including Islamophobia.

"That is why this Government will act to stamp out extremist and hateful ideology – both across society and on the internet, so it is denied a safe space to grow.

"It is why we will be reviewing our Counter-Terrorism strategy and ensuring that police and security services have the powers they need.

"And it is why we will establish a new Commission for Countering Extremism as a statutory body to help fight hatred and extremism in the same way as we have fought racism – because this extremism is every bit as insidious and destructive to our values and our way of life and we will stop at nothing to defeat it.

"Today's attack falls at a difficult time in the life of this city, following on from the attack on London Bridge two weeks ago – and of course the unimaginable tragedy of Grenfell Tower last week, on which I will chair another meeting of Ministers and officials later today.

"But what we have seen throughout – whether in the heroism of the ordinary citizens who fought off the attackers at London Bridge; the unbreakable resolve of the residents in Kensington; or this morning the spirit of the community that apprehended this attacker – is that this is an extraordinary city of extraordinary people.

"It is home to a multitude of communities that together make London one of the greatest cities on earth.

"Diverse, welcoming, vibrant, compassionate, confident and determined never to give in to hate.

"These are the values that define this city.

"These are the values that define this country.

"These are the values that this government will uphold.

"These are the values that will prevail."
"The 600 million crowns earmarked for the resettlement could have been used for many better purposes." - Milos Zeman

New Observer, "Czech President, 'Refugee Quotas' a 'Violation of National Sovereignty', 18 June 2017:

The refugee quotas are a violation of the sovereignty of European Union member countries as each country should decide on its own whom to accept, Czech President Milos Zeman has announced.

Zeman said he is not going to yield to the pressure that the EU exerted. "We must beware of this, all disasters begin in an inconspicuous way. Once you bow your heads, you will start bowing to them again and again," he said.

The EC has opened legal cases against the Czech Republic, Hungary and Poland for refusing to take in invaders pretending to be asylum seekers from Italy and Greece within the quota plan.

Zeman said migrants are not interested in staying in the Czech Republic and they are heading for Germany and other West European countries because they can get higher welfare benefits there.

Zeman said 600 million crowns were earmarked for the resettlement. "This money could have been used for many better purposes," he said.

The Czech Republic pledged to accept 2,600 refugees from the Middle East, but it has resettled only 12 so far.

If the country opened to a higher number of migrants, millions from Africa would start streaming to it.

The Flame. Here is the sexy fascist torch bearer.
Fiamma Negrini is her name, appropriately enough - in addition to being fairly hot for an aspiring politician, "fiamma" meaning "flame", could be said to be taking the torch from formerly hot fascist torch bearer, Alessandra Mussolini (now 54). Fiamma's full name has the unfortunate metaphorical capacity to be stretched further - Fiamma Negrini could read like "put a fire under Negro butts and get them running back to Africa."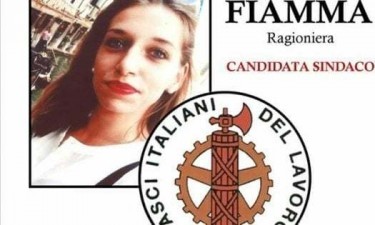 Emergency parliamentary inquiries have been announced for the affair of the 20-year-old Fiamma having been elected to the City Council in Sermide-Fellonica, in Mantua, Italy. She gained standing there by 10.42 percent of the vote through her Italian Workers' Party (Fasci) platform.
The Red Left is asking for explanations. That is echoed by the explicitly Jewish Communities Union, which expressed concern for Flame's emergence. In recent days, Claudio Negrini, the father of the young Flame, had even thought of withdrawing from public listings in order to avoid social insults. This has not happened and his daughter continues to have the Facebook profile as "Boia chi molla". Source.
Gateway Pundit, "Czech Republic Joins Poland, Hungary and Slovakia in Refusing EU-Imposed Migrants", 10 June 2017:

The Czech Republic has joined its Central European neighbors in officially announcing a withdrawal from the European Union's 2015 migrant resettlement program.

After much criticism of the scheme, which seeks to resettle an initial 160,000 migrants from Italy and Greece across EU member states, the Czechs have finally withdrawn citing concerns over security and the ''dysfunctionality'' of what has been criticized as a shambolic program.

Prague had accepted only 12 of the 1,600 migrants required by Brussels before leaving the program, which imposes quotas on all 28 member states under threat of sanction.

The resettlement scheme was the EU's initial response to the near Biblical wave of migrants which arrived in autumn 2015 following Angela Merkel's decision to open Germany's borders.

In April, Czech Interior Minister, Milan Chovanec, had stated that his government would have to decide whether resistance to the EU's quotas was worth the massive fines such a refusal would incur. On Monday, Chovanec announced their decision, a definitive withdrawal based on concerns over terrorism and the vetting of migrants, mainly Muslims from the Middle East.

The decision was supported by a majority of parties across the political spectrum, with even left-wing parties, including the Communist Party, welcoming the announcement.
Symbolically enough, assumes Enoch Powell's Wolverhampton seat.

Diversity Macht Frei, "Blacks celebrate white genocide: Negress elected to Enoch Powell's old seat."

10 June 2017:

LONGSTANDING LABOUR activist Eleanor Smith has made history by becoming the West Midlands' first African Caribbean MP – but she's also won a seat which is of enormous historic importance to the black community.

The swing seat of Wolverhampton South West was once the constituency of controversial Tory MP Enoch Powell, the politician behind the notorious Rivers of Blood speech which he gave 49 years ago warning of the consequences of unchecked immigration.

Smith, a hospital theatre nurse, who became the first-ever black woman president of Unison in 2011/2012 took the marginal seat by storm, scooping 49 per cent of the vote and beating Tory hopeful Paul Uppal by more than 2,000 votes.

In victory, after just two hours' sleep, she was quick to pay tribute to the local people who voted for her, saying: "Our team was built from the community and the trade union movement – Unison – helped me greatly. The trade union movement put me where I am today, along with the community who came out and helped me win this seat.

"Through The Voice I'd like to personally thank everyone who voted for me in what turned out to be the highest ever turnout of 71 percent. We did it together as a community from the grassroots upwards and I certainly won't let you down.

"We have a wonderfully diverse community here in Wolverhampton, which is a microcosm of the UK and rich in so many different faith groups.

"As a health professional, I am standing up to defend the NHS. From my own experience of being a nurse on the the front line – I was working until only recently doing 12-hour shifts – we can see what's happening and we don't like it. I have got to defend this."

Her other pledge is to move from her home in Northfield, Birmingham, near to where she worked at Birmingham's Women's Hospital, to live in the constituency she will serve.

She told The Voice: "You cannot support your constituency if you don't know what is going on there. I intend to have my finger on the pulse in my own patch."

Smith also pledged to tackle homelessness in Wolverhampton and youth unemployment which currently stands at 27%.

On the issue of taking over Enoch Powell's old seat, she told The Voice: "I feel it closes that chapter now for good."

Powell's full "Rivers of Blood" speech, not read by Powell himself, however.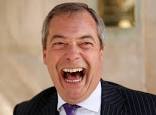 Backed by "Indian givers", playing both sides and shifting the focus..
One take on the British election results -
UKIP / the banker class…
"Gave you Brexit" then dissolved themselves into Labour to take away Theresa May's power to do anything about it..
..the objectivists told you that their invisible hand would work with you, naturally, to take care of Merkel's migration assault on native Europeans… then their invisible hand played the other side of populism to leverage withdrawal of motions to exit from the common EU economic market - and with it, to withdraw an effective Brexit - by having voters distracted with a focus on Labour as the "savior of social services"...as if Theresa May was going to take that away.
..it seems that similar as with Trump and the Republicans in the US, that elite cadres are infusing whichever moribund party with angles of populist narratives that they can play in order to manipulate the electorate.
Express, "All 22 victims of Manchester terror attack named and identified", 25 May 2017:
The full list of the victims:
Saffie Rose Roussos, 8
Nell Jones, 14
Sorrell Leczkowski, 14
Eilidh MacLeod, 14
Olivia Campbell, 15
Megan Hurley, 15
Chloe Rutherford, 17
Georgina Callander, 18
Courtney Boyle, 19
Liam Curry, 19
John Atkinson, 28
Martyn Hett, 29
Kelly Brewster, 32
Philip Tron, 32
Angelika Klis, 40
Marcin Kils, 42
Elaine McIver 43
Alison Howe, 45
Michelle Kiss, 45
Lisa Lees, 47
Wendy Fawell, 50
Jane Tweddle-Taylor, 51