Majorityrights News > Category: European Nationalism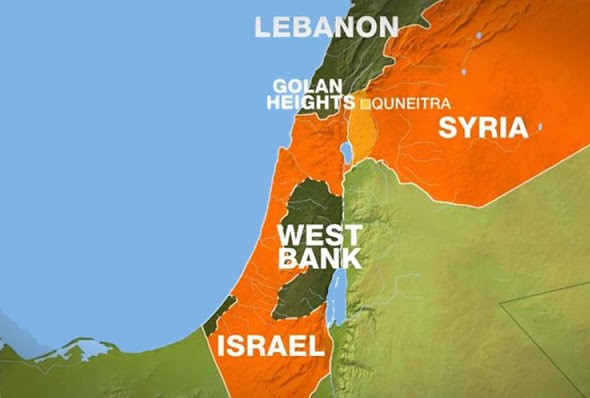 NewObserver, "Israeli Air Force Bombs Anti-ISIS Forces in Syria", 23 Apr 2017:
The Israeli Air Force has carried out two bombing raids against anti-ISIS army forces in the west of Syria as part of the [Israeli imperialist state's] long-running campaign to disrupt the Syrian government's military campaign against the terrorist army.
According to a report by the Syrian Arab News Agency (SANA), a military source announced that the "Israeli enemy's warplanes fired two missiles at 18:45 from within occupied territory at a military position in the surroundings of Khan Arnabeh in Quneitra countryside, causing material damage."
The "occupied territory" being referred to is the Golan Heights, which Israel seized in 1967, and annexed against all international law.
The SANA report said that the Israeli "aggression came after an attempt by terrorists to infiltrate military positions in Quneitra countryside was foiled and the terrorists suffered heavy losses."
This, SANA said, "proves that Israel provides direct support to terrorist organizations," adding that their source "affirmed that such desperate attempts will not dissuade the Army and Armed Forces from continuing to crush the terrorist groups that act as Israel's proxy in the area."
A follow-up report in Al Jazeera revealed that Sunday's attacks targeted fighters loyal to the Syrian government in the Naba al-Fawwar area of Quneitra province, which is located in the 30 percent of the Golan Heights that is not under Israeli occupation.
Three fighters from the pro-government National Defence Forces (NDF) were killed and at least two more were wounded in the attack, an NDF official said.
The terrorist armies fighting Syria's Bashar al-Assad government and its allies control much of the Quneitra area.
Unusually, the Israeli Army confirmed that it had targeted positions inside Syria in retaliation for mortar fire that hit the northern part of the occupied Golan Heights.
"The Israeli army targeted the source of the fire," an army statement said without giving further details.
In reality, the terrorist groups operating in the area against the Syrian government often operate close to Israeli lines—because Israel treats their wounded in hospitals inside the Jewish state, and it is therefore inevitable that the Israeli side will be hit occasionally by stray rounds.
The Israelis however always take these stray rounds as an excuse to bomb Syrian government positions.
The Jerusalem Post even admitted as much, saying that the Israeli attack was due to "errant rocket fire" caused by "fighting between Hezbollah and regime troops against rebel groups near Ain Ayshaa, Samadiniyah Sharqiyah & Madinat al-Baath near Quneitra."
The other excuse which the Jewish [imperialist] state uses to attack the anti-ISIS forces in Syria is that they are "carrying weapons to Lebanon" to fight Israel—as if Syria could at this stage spare such military effort.
The Lebanese Hezbollah organization—most famous for defeating the 2006 Israeli invasion of Lebanon—is one of the Syrian government's key military allies, providing tens of thousands of troops on the ground in the fight against ISIS.
Claus Hjort Frederiksen [Council]

Euractiv, "Minister: Russia hacked Danish defence for two years", 23 April 2017:

Russia has hacked the Danish Defence Ministry and gained access to employees' emails in 2015 and 2016, NATO member Denmark's defence minister told newspaper Berlingske on Sunday (23 April).

The report comes at a time when several Western governments, including the United States, France and Britain, have accused Russia of hacking in order to influence elections — allegations Moscow has repeatedly dismissed as baseless.

A report from the Danish Defence Intelligence Service's unit for cyber security said "a foreign player" had spied against Danish authorities and gained access to non-classified documents.

It did not name the country behind the espionage, but Foreign Minister Claus Hjort Frederiksen told Berlingske it was Russia.

"It is linked to the intelligence services or central elements in the Russian government, and it is a constant battle to keep them away," Frederiksen told the newspaper.

A spokeswoman from the Danish Defence Ministry confirmed that the minister had been quoted correctly but said he would give no further comments for the time being.

Spokespeople at the Kremlin were not available to comment on Sunday.

Frederiksen told Berlingske the hacking had been possible due to insufficient security around emails with non-classified material, something that has since been improved.

The group behind the attack went under the name APT28 or Fancy Bear and was one of two groups which allegedly gained illegal access to US Democrats' emails last year, according to Berlingske.

Frederiksen said in January that Denmark plans to increase military spending in response to Russian missile deployments in the Baltic region that it perceives as a threat.

Polish Minister of National Defence Antoni Macierewicz told EURACTIV.com last June that Russia had conducted a cyber-attack against the Polish ministry of defence and stole the telephone numbers of 10,000 Polish soldiers.

Polish defence minister: 'Helpless requests' don't work with Russia

"Bon voyage" to Commission President Jean-Claude Juncker in Russia. He should know that Moscow only understands equal partnerships from a position of strength, Polish Minister of National Defence Antoni Macierewicz told EURACTIV.com in an exclusive interview.

Montenegro has reportedly been hit by cyber-attacks on the day of its last elections – 16 October 2016.

Montenegro hit by cyber-attacks on election day

The Ministry for Information Society and Telecommunications of Montenegro has announced that several important websites were targeted by cyber-attacks on Sunday (16 October), the day of the country's parliamentary elections.

Hans-Georg Maassen, head of Germany's domestic intelligence agency BfV, recently said that his services are seeing increased cyber spying and cyber operations that could potentially endanger German government officials, members of parliament and employees of democratic parties.

German spy agency warns of rise in Russian propaganda and cyber-attacks

Germany's domestic intelligence agency yesterday (8 December) reported a striking increase in Russian propaganda and disinformation campaigns aimed at destabilising German society, and targeted cyber-attacks against political parties.
Visigrad Post, "No more than 12 migrants for Czechia", 20 April 2017:

Czechia, Prague – According to the redistribution scheme of migrants, Czechia should have taken in 1,600 migrants. But Czechia just said it will not take in more than the 12 migrants it has welcomed.

Czechia is not prepared to accept more than the 12 migrants it has already taken under the quota scheme set up by the European Union (EU) even if that means facing sanctions, the nation's interior minister has said.

"The ongoing security checking of remaining refugees showed that [we] no longer can accept anyone," Chovanec said, as quoted by the Parlamentni Listy newspaper.

The security checking of refugees has been obstructed by a number of difficulties and sometimes can take up to several months as refugees tend to leave the camps in Greece and Italy, the minister added.

"The Czech government has to make a final decision on whether [finalization of accepting refugees] should be done at the expense of sanctions. I am in favor of it. We can not let people in here without control," Chovanec said.

In March, Chovanec rejected Austria's proposal to punish EU members who refuse to take in refugees with subsidy cuts, calling it divisive, recalls Sputnik.com.

Two-thirds of Czechs believe there is strong tension between Czechs and foreigners, which is virtually the same as a year ago, according to a new poll by the Stem agency. It had been at just 50 percent in 2013. The recent high response reflects concerns over the refugee crisis and terrorist attacks, according to Stem.

This position of the Czech government comes at a key moment, as Hungary and Poland are targeted by senior EU officials for their current policies, especially on the migrant topic, and as Hungary and Slovakia's trial against the migrants' quotas begins on May 10.
Small boats facilitate invasion

New Observer, "Italy: 2,074 Seaborne African Invaders Land in One Day", 15 April 2017:

The ongoing African invasion of Europe continues to speed up, with 2,074 Africans landing in Italy in just one day.

The mass invasion—by [Africans] who have absolutely no right to claim asylum anywhere, and who are motivated purely by what they can get by way of charity handouts from liberal Europeans—is aided and abetted by the "rescue" missions run by private leftist charities and naval units from various European states.

An Italian coast guard spokesman told media that on Friday last week, 19 such "rescue operations" by his nation's coast guard, or ships operated by non-governmental organizations, had plucked the 2,074 invaders from "16 rubber dinghies and three small wooden boats."

The fact that the Africans were in such small vessels shows once again that they do not even have to cross the Mediterranean, but only have to set sail from the coast of Libya before being picked up by the Europeans and transported in comfort and safety to Europe—instead of being dumped back on the nearby African coast as they should be.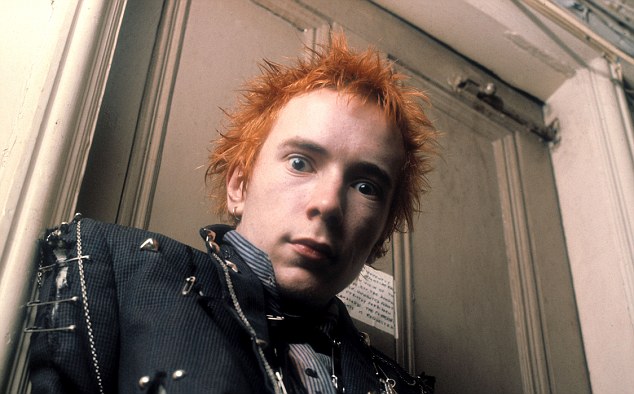 A liberal, not a leftist
MjolnrMagazine, "WHY JOHNNY ROTTEN CAN GO F*** HIMSELF", 13 April 2017:

Never mind the bollocks, although it's very difficult where John Lydon is concerned. John Lydon, once styled Johnny Rotten, suddenly jumped onto the Brexit and Trump bandwagons and into the headlines a couple of weeks back, which caused a bit of a stir among the chatterers of society. Over the past forty years, Lydon has been groomed as a cultural ambassador by those in power, while playing the old game that he is somehow an anti-establishment rebel. The unfortunate thing is that many on the Alt Right - rather like what happened with Donald Trump - seem to have been taken in by him, so let us take a look at this new 'hero' and the cultural movement known as punk at large, which John Lydon as Johnny Rotten represented.
This could be a good article if corrected for the Jewish red cape and its misdirection into rightism or the "no left (social unionization) or right" reaction by contrast. I will add some annotation that would have helped a better telling of the story.
Let us begin with Lydon's origins and rise, for these are intertwined with the punk phenomenon at large. Lydon's immediate heritage is Irish, hence the title of his autobiography: Rotten: No Irish, No Blacks, No Dogs - the title being based on a typical sign on properties to let in the 1950s. The 'No Irish' part, which may look strange to us today, can be explained by the IRA terrorism of the time and also by the behaviour of Irish gypsies, otherwise known as Travellers. I remember in the good old days before political correctness, many public houses and inns would have signs on the entrance saying 'No Travellers'.

It is clear, then, from the book's title that he identifies his own purported second-class citizen status with that of the Negro, who, at the time of Lydon's birth, had only been in the country in any meaningful sense for barely a decade. This has extended to raising his elderly wife's half-caste grandchildren like a good little cuck. He has always identified himself with the Other and has an Irish rather than British passport to foreground his at least civic otherness. He therefore also identifies himself as working class in a Marxian sense, his idea of working class as being antagonistic to traditional British and even European norms. He talks about being purportedy working class at every given opportunity.


(((McLaren))), the YKW behind punk and its "ideology"

Certainly, his parents were working class, but is Lydon? There are two ironies here: the first is that he has married Nora Forster, a German publishing heiress fourteen years his senior; the second is that he has never done a working-class job in his life, manager Malcolm McLaren having turned him into a pop singer at the age of eighteen. Lydon is as bourgeois as they come. Indeed, it is telling that the venue for the very first Sex Pistols concert was St Martin's Art College, about as middle-class as one can get. I must point out that I have nothing against anyone who is born into one class or another, but John Lydon has spent his entire life sneering at the middle classes despite his own bourgeois existence.

As regards that sneer - and the sneer worn by punks in general - one must look at the chief architect of punk rock itself, Malcolm McLaren. Born into a family of Jewish diamond merchants on his mother's side and raised by his Jewish grandmother, McLaren was heavily influenced at art college by the Situationist avant-garde movement, led by French Communist Guy Debord and his Jewess wife Michèle Bernstein. On the artistic level, Situationism was a Leftist attack on the arts through absurdist or provocative happenings that deconstructed traditional norms and underpinned the May 1968 cultural revolution in France and Germany. The ultimate goal was to normalise the idea of a dictatorship of the proletariat.
We need to pause in the article here. Whenever you see a situation where Jews, Whether Marx, The Frankfurt School or McLaren, are defining a movement, its terms and their deployment, that should send up immediate red flags that the protection and interests of the native European nationalist union is not at heart - on the contrary, coalitions and anarchist forces are being drummed-up to attack these interests, terms are being reversed from their normalizing semantic content in order to confuse - the leftist unionization for fair treatment of workers; to protect them against scab labor (including migrants), to allow them to function unexploited alongside other vital functions/roles of society, is absurdly confounded with liberalism - with scabbing, dissolution of accountability, degeneracy of vital functions - not all of which can be captured by a "dictatorship of the proletariat" - a non genetic, economic group by Jewish design; and in opposition to the genetic union of the nation by contrast. That said, lets continue to look at the Jewish boondoggle against native nationalism that was Punk…
McLaren's store

Starting with the shop that became SEX, a fetishwear retailer co-managed with fashion designer Vivienne Westwood, McLaren applied this ideology firstly to clothing and then to music. Clothing included t-shirts with two homosexual cowboys naked from the waist down and red leather fetishwear emblazoned with the hammer and sickle for the New York Dolls. John Lydon, a young nihilistic eighteen-year-old without any discernable talent but self-defined by what he hated, fit the bill perfectly for McLaren's new musical project. Lydon could not sing a note in tune, but this was a plus point, as was his green hair, overall ugliness and 'I hate Pink Floyd' t-shirt.

The story of Glen Matlock within the band is interesting. The only member who could actually play to a good level, he was ousted when McLaren caused friction between Matlock and Rotten. This made way for the talentless drug addict known as Sid Vicious. Matlock co-wrote all but a handful of the band's songs and was just too good for a band with the intention of marketing crap to the masses. McLaren also set up post-punk band Bow Wow Wow, with its thirteen-year-old half-caste lead singer, Annabella Lwin, born Myant Myant Aye to a Burmese father and English mother. Lwin appeared naked on Bow Wow Wow's debut album as McLaren assaulted traditional norms with miscegenation and child pornography. You will never watch the video to McLaren's single 'Double Dutch' in the same way again.

Lydon is very fond of telling how he exposed Jimmy Savile as a paedophile. It is interesting though that he has tried to ban the recording of his comments back in 1978 from public usage in order to sell them as part of his latest album. Ever the altruist. He has also always been suspiciously quiet about his own ex-manager McLaren's involvement in the world of paedophilia. Financed by both the BBC, under the auspices of (((Alan Yentob))), and EMI, in 1980 McLaren began creating an ostensibly music-related magazine that would be a more risqué version of Smash Hits, which had just been launched two years previously. In reality, the publication, originally titled Playkids, but then changed to Chicken, would serve to get child pornography into the mainstream. McLaren attempted to get the aforementioned Annabella Lwin to do a full-frontal nude shoot, but after she became distressed and tearful, brought in a replacement thirteen-year-old girl. Fortunately, enough concerns about the magazine ensured its shelving.

Punk rock was essentially a perversion of pub rock for middle-class Leftists.
Correction: Punk rock was perversion of pub rock as a vehicle to enlist naive/disingenuous middle-class liberals into rebellion against native nationalism.
For all the talk of it being a roots, working-class movement that 'just sprang up', it was in reality orchestrated by middle-class communists, who used a (sometimes miscegenated) underclass rabble as a musical battering ram against traditional norms. Pub rock, with bands like early Slade, Captain Beefheart, The Who and The Sensational Alex Harvey Band, was what punk rock purported to be.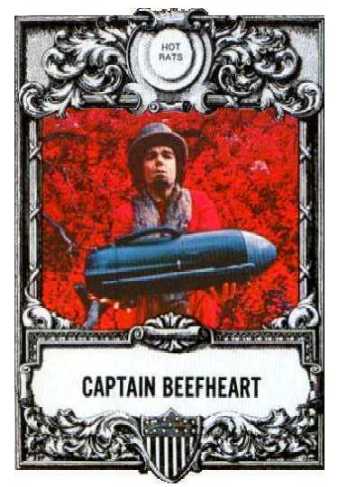 I've seen both the Who and Captain Beefheart, have enjoyed them both - particularly Captain Beefheart on album - but they shouldn't be accorded undue philosophical significance and authenticity (as they tend to be accorded).
Incidentally, my father rated the latter as the best live band he had ever seen. Bands like the Sex Pistols were fawned over by the Leftist media
Fawned over by the Jewish and (what is for us) liberal media.
and catapulted into the mainstream, while Beefheart and Harvey remained genuinely underground.
Beefheart's producers tried very hard to make him a commercial success; it wasn't in his nature to be commercial - it was just the opposite.
And therefore I say to Johnny Rotten in a style he might appreciate: Go fuck yourself, you fake posturing establishment shill.
That I can agree with. Good ending to the story.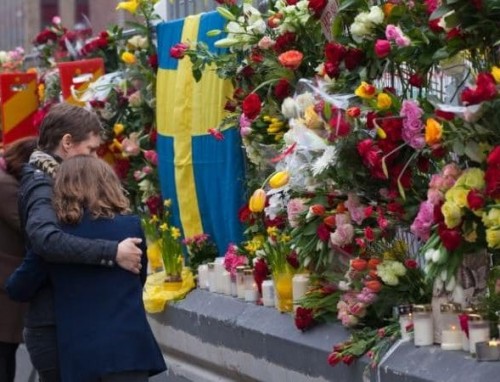 A Briton was among four killed in Stockholm terror attack
Telegraph, "Stockholm terror attack: four reported dead as hijacked truck ploughs into pedestrians," 7 April 2017:

Truck is hijacked and driven into Stockholm department store

At least four reported dead and many injured after terror attack

Witnesses report hundreds of shoppers running for their lives

Swedish capital goes into lockdown and central station evacuated

Swedish Prime Minister: Everything indicates this is terrorism

EU's Jean-Claude Juncker: Terror assault is attack on us all

Crash comes after trucks used in Nice and Berlin atrocities

At least four people are reported dead and many more injured after a terror attack that saw a hijacked lorry plough into pedestrians outside a Stockholm department store
Visigrad Post, "The Visegrád Group Will Not Yield to Blackmail, and Hungary Strengthens Anti-Immigration Policy", 28 March 2017: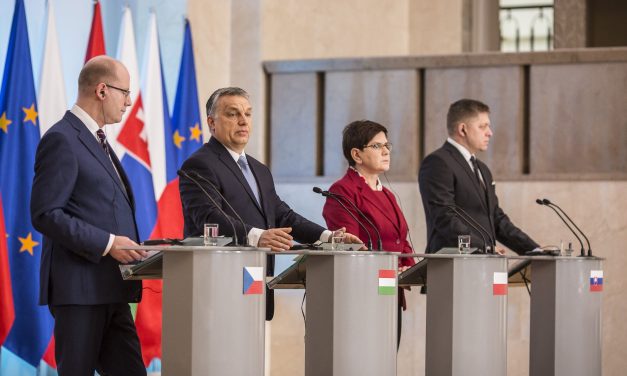 Poland, Warsaw – The leaders of the Visegrád Group, meeting in Warsaw on Tuesday (March 28th), denounced with one voice the European blackmail and diktat over them regarding migration policy.
The four prime ministers strongly opposed the idea of ​​linking the distribution of EU funds to the EU's migration policy.
"The idea of ​​linking the funds due to us from the EU with migration policy is bad. Together as the Visegrad Group, we cannot be intimidated, "Hungarian Prime Minister Viktor Orban said at a joint press conference with his Czech counterpart Bohuslav Sobotka, Slovakian Robert Fico and Polish Beata Szydlo.
"The Visegrad Group, including Poland, will never accept this blackmail, nor be dictated conditions. We are saying clearly that the migration policy that has been followed up until now by the EU has not proved its worth, and we must learn from it, "Szydlo insisted.
Hungary continues anti-immigration policy
On the same day, the law allowing detention of illegal immigrants and asylum-seekers entered into force in Hungary. "Hungary is now in a position to respond even if the agreement between the EU and Turkey fails. We are able to stop any wave of immigration on the Serbian-Hungarian border, "Orban said, adding that "the Austrians and Germans can now sleep peacefully."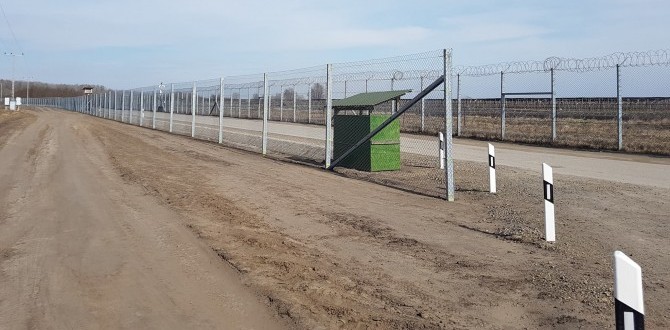 The second fence will be completed by summer, the Hungarian Interior Ministry said.
It is important to note, however, that migrant detention centers are not prisons. Placed on the border, asylum seekers and illegal immigrants are allowed to leave for Serbia at any time, if they do not wish to follow the legal procedures for entering into Hungary, Schengen and the European Union.
The FBI is now investigating a story that almost everyone intuitively knew was true from the start:
The Hill, 'FBI probing far-right news sites: report', 20 Mar 2017:

The FBI is investigating whether far-right news websites contributed to Russia's interference in the 2016 presidential election, according to a new report.

The probe is focused on discovering whether Russian operatives used conservative outlets to help spread stories favoring now-President Trump, McClatchy said Monday.

McClatchy confirmed with two people familiar with the inquiry that the FBI's Counterintelligence Division is driving the investigation.

The sources said Russian operatives seemingly strategically timed computer commands called "bots" to blitz social media with pro-Trump stories.

The bots were used at times when Trump appeared struggling with 2016 Democratic presidential nominee Hillary Clinton, they continued.

McClatchy's sources said the bots mainly created millions of Facebook and Twitter posts linking to articles on far-right websites including Breitbart News, InfoWars and the Kremlin-backed RT News and Sputnik News.

The sources added that some of the stories were false or contained a mixture of fact and fiction.

Federal investigators are now examining whether the far-right news organizations took any actions aiding Russian operatives, they said.

The bots could have amplified pro-Trump news on Facebook and Twitter, regardless of the outlets' knowledge or involvement, the pair of sources noted.

"This may be one of the most impactful information operations in the history of intelligence," one former U.S. intelligence official told McClatchy, speaking on the condition of anonymity due to the matter's sensitivity.

FBI Director James Comey earlier Monday confirmed the Department of Justice (DOJ) is scrutinizing Russia's meddling in the 2016 race, including any possible ties between Moscow and officials from Trump's election campaign.

"As you know our practice is not to confirm the existence of an ongoing investigation," he said during a House Intelligence Committee hearing.

"But in unusual circumstances where it is in the public interest, it may be appropriate to do so," Comey added, noting the DOJ had authorized him to break bureau policy and publicly disclose the probe.

"This is one of those circumstances. I can promise you we will follow the facts wherever they lead."

Comey added the FBI's investigation began in late July and will include an assessment of whether any crimes were committed.
During the campaign itself, Louise Mensch had reported on basically the same thing. You can revisit that at Heatstreet, and I'll just give you an exerpt from that:
Heatstreet, 'How Russia's Twitter Bots And Trolls Work With Donald Trump Campaign Accounts', 20 Oct 2016:

If you've been following the Twitter fiasco that is the Donald Trump campaign, you will be aware of his association with the Alt-right and with Russia bot accounts.

Broadly speaking, Trump has two categories of support on Twitter. Alt-right trolls, and Russian bot accounts pretending to be patriotic Americans.*

In many cases, these two groups cross over. The altright contains actual humans, such as @prisonplanet, and many, many bots.

In this article I shall however examine the way in which Russian bots are created and used to follow and boost Trump online.

It is not that Donald Trump does not have widespread support. He does; even at his current polling lows, his support includes millions of Americans. It is, rather, that Trump's supporters are incredibly unlikely to use Twitter.

Broadly speaking ,Trump's real supporters aren't on Twitter – and Trump's Twitter supporters aren't real.

[...]

Three such bots that I videoed in the act of using this method were @Commander6080, @Sbragusa, and @jamesdgriffin. All have profiles that pretend to be Americans and to live in the USA.

How might this affect a twitter trend? What is the point of it? One scientist theorized as follows. It is a "fake trend" theory called "A Handoff":

Let's say you had a hashtag you wanted to get trending. You have a thousand bots (or Russian Trolls) and a popular account like Ricky Vaughn. You have the bots start using the hashtag, they start flooding twitter until it gets a high count (but not in the top 20 trends) then have a real person, Ricky Vaughn, start pitching the hashtag to his followers. Here is where the window of timing kicks in: within minutes, Ricky Vaughn can have something trending, but before he gets the hashtag to the top 15 you have almost all of the bots automatically delete their tweets with the hashtags. You've now started "a trend" quickly and have had it associated with "Ricky Vaughn" and not a 1,000 odd bots or Russian trolls.

[...]
This whole arrangement of social media manipulation is part of the communication operations side of the modern form of Russian Active Measures. The most remarkable thing about this arrangement is how it is tactically innovative and well-timed to exploit a particular weakness in American society specifically, but it is strategically unsophisticated because Russian commanders have also permanently ruined their own country's reputation among the international journalist community and among most people on social media.
It's highly abnormal for an entire country to transparently do something like that. Why would they choose to so carelessly and openly abandon even the appearance of any kind of 'normality' on national level?
There are a few reasons as to why they would have chosen to behave this way, but all of them seem to be capable of being summarised like this: Russian commanders may have been willing to sacrifice their country's perceived journalistic integrity in the eyes of most of the world, because they've already given up on the idea that they could ever create a narrative that could appeal to a broad audience. Instead, Russia is seeking to cultivate a very particular audience in Europe and North America (excluding the United Kingdom which they seem to be abandoning). They are seeking to cultivate that roughly 20% of the population which is somewhere vaguely in the nationalistic spectrum and is disillusioned about the political situation in their country, but also lacks grounding and experience in how the world actually works. Russian commanders want to shape the media experience through which those people will come to terms with the world around them, and thus, create a long-term 'following', even if those followers are not necessarily aware of what it is that they are following.
The utility of this is clear. 20% of a population is enough to seriously impact the operation of political institutions in western democracies which operate in a pluralistic mode. Russian journalism is not seeking to be liked by everyone, or even trusted. Russia just wants 20% of any given European population to be responsive to their input because that is the bare minimum that they need.