Majorityrights News > Category: European Nationalism

The march in London was attended by thousands, with one Twitter user putting the demonstration's attendance figure at 30,000. Ex-servicemen marched alongside the Football Lads Alliance in a demonstration against recent terror attacks that have hit the UK.

Daily Mail, "Thousands of football supporters march" in London, 8 Oct 2017:

Thousands of football fans marched against extremism today at a protest attended by English Defence League founder Tommy Robinson.

The ex-English Defence League founder appeared to be reporting on the march for The Rebel Media, but was also spotted smiling with supporters

The Football Lads Alliance (FLA) descended on London for a demonstration condemned by charity Stand up to Racism (SUTR) as well as Labour's shadow home secretary Dianne Abbott. Dianne Abbott was among the signatories of a statement penned by Stand up to Racism, who said the group should make clear there is no place for right-wing extremists to speak on the march.

FLA founder John Meighan said the event was organised to show concern at a 'recent upsurge' in UK terrorist attacks, according to the Evening Standard.
Although hobbled by the kinds of constraint that Tommy Robinson is beholden to, including Dianne Abbott's "Stand Up to Racism" (SUTR) statement, the march's implicit Whiteness is overwhelming, and is cause for optimism that it will have momentum to carry beyond superficialities of anti-nativist political "correctness."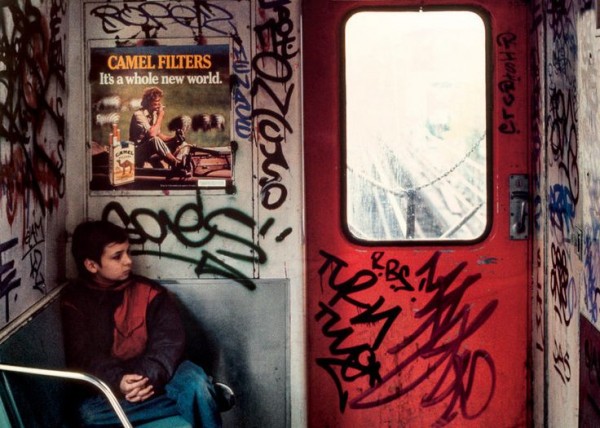 I have nothing against this particular chap; he isn't strictly European but he is grouped along with others who very much are not, and who spell genetic and neighborhood alienation and destruction when mixed in America.
It's a bit belated a discussion as news items go, but a few issues emerge worthy of consideration for ethnonationalists in regard to the matter of how Puerto Rican relief (of hurricane Maria) is being handled or mishandled as it were and why that is so:
I am always keen to discuss the concept of unionization and how it is an integral concept to model social organization, but I am also always eager to address problems of unionization - terrible obstruction along with the facilitation that they can bring.
As a facilitative model of the social group/system, only a person so retarded as to believe that the pre eminent concern for ethnonationalists should be a "model of the mind"* and with that, perhaps being fixated on Austrian school positivism in reaction to Jewish abuses of sociology, would try to suggest that unionization is a trivial concern. Nevertheless, there are real life problems in the assimilation of optimal form and function, especially if unionization is to be conducive to EGI.
1. There is the matter of the trucker's unions of Puerto Rico which apparently refused to break a strike and transport crucial relief items around Puerto Rico; at the same time, there were unions in the United States who went above and beyond to answer the call.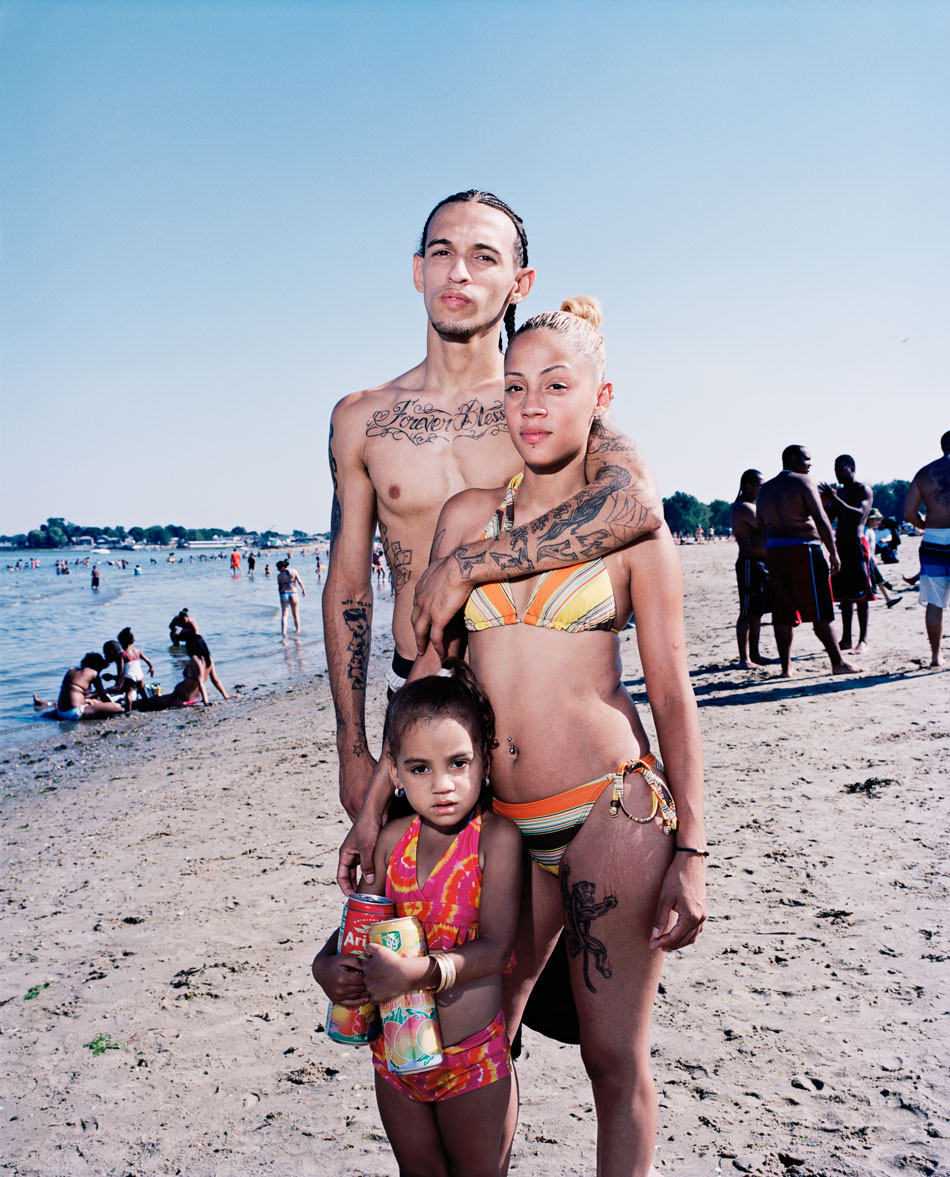 Namely, facile political alliance with Puerto Ricans brings along Amerindio/Spanish mixes of Puerto Rico but also Mulattoes such as this man's woman.
2. The next matter represents an existential choice between right wing economic advantage or the left nationalist protection of European genome (and Amerindian genome, for those of us who care).
If Puerto Rico had its independence and could figure out how to facilitate shipping container transportation of its sovereign accord, it has a potentially lucrative position to advance its GNP markedly for the sake of the Puerto Ricans; by the same token, if The US gave up control of Puerto Rico, it would be losing a great deal of profit that it gains from concomitant control of the Puerto Rican shipping industry. That is a gain economically for the proposition US Nation.
On the other hand, by having Puerto Ricans associated with the United States in any way, you are including to that extent a demography that is 25% black: they are a very strong, mixed people who are very destructive to the White genome where forced together with us; and other than blacks, the only people who tend to destroy their neighborhoods.
I don't have anything especially against the young chap in the top photo, but the alienating and nightmarish environment that surrounds him is apparently a typical byproduct of the Puerto Rican genome in aggregate. He typically comes along or is wrongly grouped with people who are largely black or mulatto, like this guy's woman (photo right, couple on beach). Like blacks, they are not only destructive to us genetically, but having a great deal of biopower (adding to their challenge), as anyone who witnesses their athletic prowess can attest.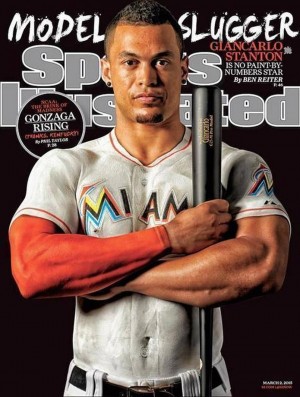 Puerto Ricans are not only destructive to our genome, but very strong and hard to defend against. Giancarlo Stanton, who is Puerto Rican / Irish, nearly passed Babe Ruth's single season home run record this year.
With Puerto Rico not having its sovereignty, one of the relief strategies that is on the table is bringing them to the United States: Hence the question - do you want the advantages of economic exploitation, or do you want to protect your genome?
* As a footnote: If one's concern is the integrity and interiority of individual mentation, then it is a different concern from EGI. One is assuredly expressing undue faith to presume the invisible hand will do what the "artifice of unioization" would otherwise for group-systemic homeostasis. The sure guidance of the invisible hand is more applicable to animals than humans. In fact, one should suppose that the very idea of a generic model, even if only applied to a specific group, is a contradiction to the goal of human nature, individual autonomy and authenticity.
Granting that one might not be quite that stupid, and can grasp the inexorable fact of interaction, and wants to trace check points of mentation and homeostasis that extend to the natural and social environment, then we are getting somewhere, but not until.
"A model of the mind" might be a good idea for the individual or, rather, the very act of "modeling" might betray the authentic expression of emergent mentation that one seeks to allow to manifest.
However, this (individual mind) is not the unit of analysis, the unit of model, as it were, that anyone should prioritize for racial defense - obvious to anyone but one who is perhaps insulated from the hurley burley of prohibitions against group discrimination that they might be somewhat buffered from, say, within a provincial English fishbowl.
A similar refrain with regard to faith in the natural invisible hand also applies to the principle of adaptive fitness: it is no guarantor of racial or even individual homeostasis and integrity.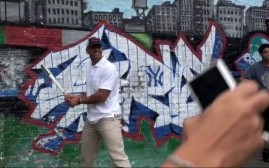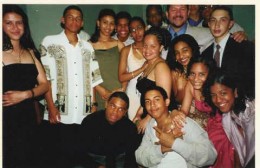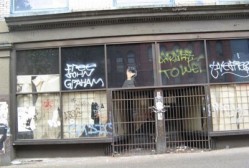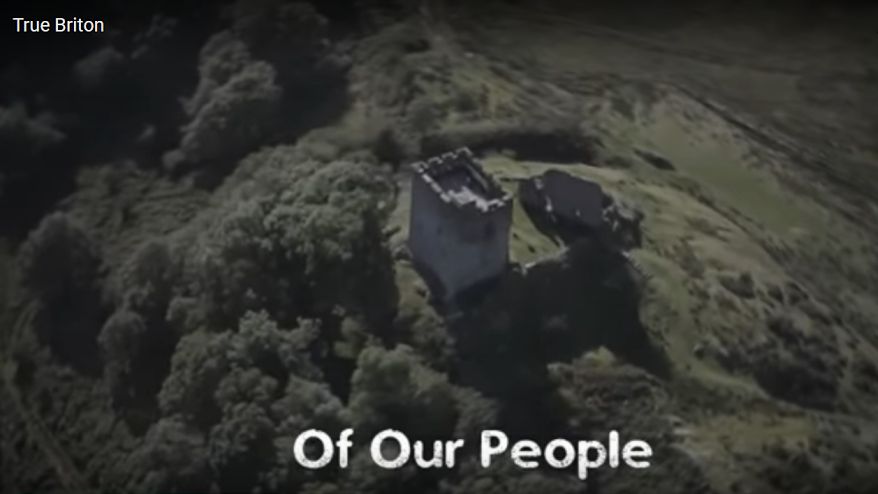 True Briton by Oswald Mosley
Oswald Mosley's Union Movement

Oswald Mosley died in 1980 but his ideas live on. 'Ten Points For Action' was published forty years ago but they are still relevant. Compare these visionary policies to the paranoid fantasies of the far-right.

1) Action to Build Houses. We want Action to solve the housing problem. It should be taken out of the hands of local authorities and entrusted to Government leadership with powers to mass produce houses and flats like an 'operation of war', turning out homes as munitions were mass-produced in time of war.

2) Stop the Land and Rent Rackets. Give the Government the power to acquire land at pre-boom prices and to finance housing by low-interest loans, paid for by high-interest charges on all non-essential and luxury building. Such action would bring down house prices and rents and at last provide good but cheap housing for all.

3) Stop Immigration - Start Repatriation. We want Action to ease the pressure on housing and other social problems (like the reintroduction of diseases unknown in Britain for hundreds of years) by stopping all further immigration and by repatriating all post-war immigrants to good jobs and conditions in their homelands, to which prosperity had been restored by using the surplus wealth and production of united Europe. But Britain could make a start now before the complete union of Europe is achieved.

4) Choice in Education and Health. We want Action to build good schools, colleges, universities and hospitals, just as we would mass-produce houses and flats. Parents should have a choice of schools for their children. We should not be taxed to provide those health services we will never use (maternity benefits for confirmed bachelors!) but free to pay in proportion to our requirements.

5) Free Speech - Law and Order. We want Action to ensure freedom of speech for everyone, guaranteed by the Government, which has a duty to maintain law and order in the State and to take effective action against mob violence, which today denies freedom of expression to any views of which its agitators disapprove. Let us maintain local police forces with their local knowledge and experience, but let us supplement them with a highly-trained, well-equipped, mobile national police force, to put down organised crime and to maintain public order.

We would ensure freedom of the Press for both newspapers and the public. Any man who felt himself misrepresented in the Press should be guaranteed (by law) equal space to reply in the newspaper concerned. This would free the public from the expense of seeking justice through costly libel action and free the newspapers from the legal blackmail of a threatened libel action by some unscrupulous racketeer.

6) Capital Punishment. The death penalty should be restored to the statute book, to be used sparingly in the case of premeditated murder. The Court of Appeal should have a solemn duty to reprieve if in any doubt. The sentence could be carried out not by hanging, but by a quick and painless injection or by some other humane method.

7) Action in Europe. To put these policies into practice Britain must advance beyond the concept of a so-called united Europe and Common Market to which the Conservative Party has at last been converted and which the Labour Party still opposes. We must advance quickly to "Europe a Nation", which we have advocated since 1948. We stand for a union of all Europe, our former white Dominions and southern Africa, a great "third force" independent of both America and Russia.

This "third force" must have a central government for its defence, the economy, finance and scientific development, with power to raise wages and control prices as production increases for a guaranteed market, insulated against unfair competition from the rest of the world.

We need a European army, equipped with the most modern weapons to defend our continent against attack from any quarter. This should be financed on a European budget, instead of each small country straining its economy to finance its own defence.

8) National and Regional Governments. There should be independent national and regional governments for each European country and the main regions. This would enable England, Wales, Scotland, Ireland and other European countries and regions to have their own parliaments for internal affairs and for the preservation of their national and regional cultures.

9) The Irish Problem. The ultimate solution to the Irish problem is the union of that country within a united Europe. But the bloodshed must first be brought to an end by a free vote on a county basis in each of the Six Counties and a subsequent readjustment of the border. The bulk of the Catholic population in the North would then be ruled (as is their wish) from Dublin, with a lessening of present tensions, the IRA would lose its bases in the North and the British Army would have a much shorter border to patrol against infiltration from the South. In this improved situation agreement could more easily be reached on the eventual union of Ireland, with the rights of the Protestant minority protected and guaranteed by European government.

10) Government of National Union. We stand for a government of national union and effective action, drawn from the whole nation, from the professions and the trade unions, arts and science, the law and the armed forces. Government elected by the whole people alone should govern. It should have power to lead the economy, raising wages and controlling prices as science increased production. Then we will have cooperation instead of conflict in industry.

We want Action to halt the "brain drain" and to arouse a new spirit of national service in our British people, by relating all reward directly to skill, effort, initiative and responsibility. There should be "great reward for great service", crowned by higher pensions drawn from the wealth of the new economic system, as the reward in old age for those who had loyally served the nation throughout their lives.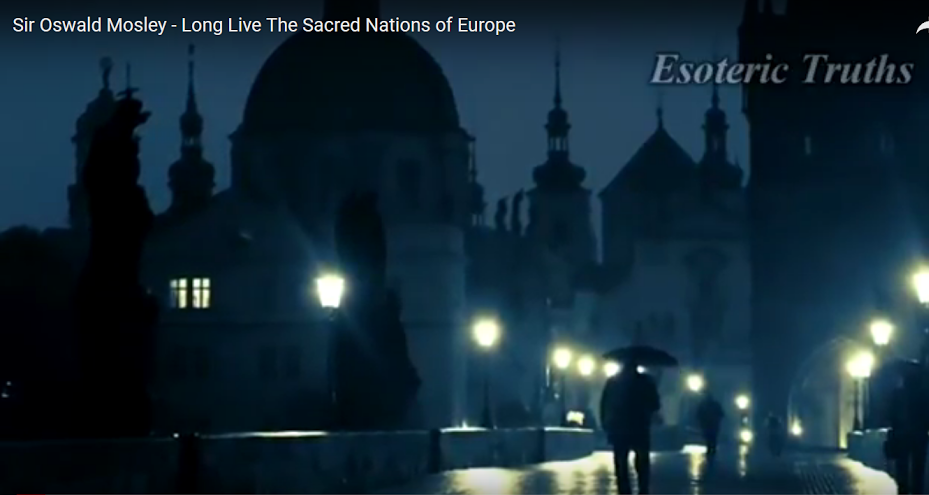 Long Live The Sacred Nations of Europe by Oswald Mosley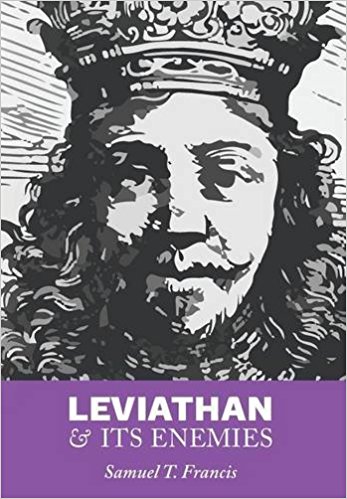 Sam Francis was creating 'young fogies' - Alex Linder.
It's going to require some nuance, but it is important to explain why James Lawrence is a walking piece of dog shit masquerading as a human being, a manifestation shown in his article at (((Alternative Right))):
Alternative Right, "THE COSMOPOLITAN CLASS", 24 Sept 2017.
In brief, James Lawrence has elevated Sam Francis young fogeyism = an aspiration to conceive of oneself as precociously wry in protection of the "traditional" already Jew infested culture against "progressivism." This is anti modernism without being sufficiently post modern (to incorporate the best while leaving behind the worst of both modern and inherited ways), as it stops with a neo-traditionalism, read (((paleoconservatism))).
Now, Francis, and by proxy Lawrence, have some things right.
Namely, that there is a significant portion of influential White people circulating among our elite functions who do not have our ethnonational interests at heart. More, that there is a managerial elite who want to share in this self interested good fortune, who will thus also betray ethno nationals in order to gain favor of this elite, internationalist power.
It is also true that both these kinds of White people can gain international backing by importing foreigners against Whites (or exporting elitist interests, e.g., compradors, against ethnonationals) and they can and do also virtue signal by sacrificing Whites and quelling any backlash against foreign impositions on ethnonationalism.
But I more accurately and descriptively call these people right wingers, and their underpinning objectivism: which is directed by Jewry - hence, Lawrence's commitment to end his article in (((his masters))) bidding by espousing the "true right" on behalf of (((paleoconservatism))) against "the left"..."the Cosmopolitans" and the occasional bad Jew - yes, they have bad ones too, he knows.
Here Lawrence takes a turn into disingenuous speculation, by saying these Whites who betray eithnonationalism are not "traitors" - well, objectivists are not perfectly described as "traitors", true - they are loyal to their own subjective interests through a disingenuous pretense of objectivism or naively subject to the subjective/relative interests of others through the pretense of objectivism.
Although there are distinct patterns of the treacherous Whites among elite positions, there is not necessarily a well organized elite group to which they subscribe as Lawrence would provide for the diversion of conspiracy theorists - it is more facile than that.
Indeed, the only real reason to circumscribe it so perfectly with the designation of a "Cosmopoitain" elite which is strictly loyal to its in group, is to function as a tool for Jews to deflect attention away from what is indeed their more organized half of the elite internationalist equation. So that they can point to their (((paleocons))), who can say, "see? we are the good ones", we have paleocons who are on your side, not like those bad Jews, we're here with you to protect your (((Christian traditions))) against those "Cosmopolitan elites" and the occasional bad Jew, like Soros and neo cons like William Kristol.
That is to say, like the site Alternative Right, James Lawrence is disguising, perhaps even to himself, the fact that he is kissing Jewish ass in order to keep his means to power afloat.
White elites who betray our interests are indeed one giant pole of our problem, but their loyalty functions a bit more arbitrarily on the happenstance of subjective fortune and selling out; along with the mutual admiration and facile croneyism of their "objective" attainment, which is why, in their unaccountabilty, they are so easily bribed and outmaneuvered by the Jewish group, which is organized as a distinct group in its relative interests (is it good for Jews?) and which will send forth posers as representatives of (((paleoconservatism))) against the "Cosmopolitan" elite.
That is to say, objectivism functions in a much more slippery way against ethnonational interests and Jewry knows how to play it - e.g., through reactionary narratives like those of Sam Francis and James Lawrence. It is a nebulous, quasi group created de facto by the ever present temptation of facile betrayal in self interest, and that is why it requires the ever present default vigilance of accountability through left nationalism and its White variant, the White class, White Left nationalism.
The key difference is that we are Left Ethnonationalists, therefore Not imperialists, not supremacists, with no aim of genocide or its denial; thus, if our organizational meetings were infiltrated the only possible complaint would be that we wanted separatism and sovereignty; we do not want "them" to be part of our government and governing; do not want them imposed upon us; and if they refuse our wish for separatism and sovereignty, then they are revealed as the imperialists, supremacists, the exploitative, the slave masters.
Independent, 20 Sept 2017:

"Anti-fascist activist goes undercover with 'alt right' to expose movement's rapid European expansion."

Hope Not Hate report reveals how the group is breathing new life into once dormant far-right and racist groups around the world. A toxic mix of antisemitism, Islamophobia and sexism is revealed at the heart of the "alt-right" movement, following an investigation by an openly-gay anti-fascist activist that sheds new light on the far-right's rising influence over political parties on both sides of the Atlantic.

Members of the group were caught discussing "gassing Jews" and killing their left-wing opponents after Hope Not Hate conducted a major study of white supremacists in the US and Europe.

The exposé reveals how the "alt-right" is breathing new life into once dormant far-right and racist groups around the world, uniting them under one international movement.

It uncovers the infiltration of the "alt-right" in the UK, with Sheffield-born blogger Paul Joseph Watson among those using their online following to reach audiences the traditional far-right has until now been unable to muster.

As a general principle The Independent avoids using the term "alt-right", on the basis it is a euphemism employed to disguise racist aims.

The report says a second, "moderate" wing – dubbed the "alt-light" – has become increasingly influential on right-wing politics in Britain, pushing Ukip and others into ever-more hard-line territory.

Far right

banned from using

their favorite meme.

Authors of the study The International Alternative Right: From Charlottesville to the White House also claim to have found links between the hard-right network and the Trump administration.

Speaking of his experiences infiltrating the network of white supremacists, Patrik Hermansson said: "For almost a year I've been at the heart of a world of extreme racism, antisemitism, Holocaust denial, esoteric Nazi rituals and wild conspiracy theories.

"What I found was a movement that sometimes glorifies Nazi Germany, openly supports genocidal ideas and is unrelentingly racist, sexist and homophobic."

Mr Hermansson said he first gained access to the movement after joining the far-right "think tank" London Forum, having claimed to have come to the UK as a disillusioned Swede curious about the "alt-right" and inspired by Brexit.

He was then introduced to other groups, including the Extremists Club and the Traditional Britain Group, which aims to "preserve the ancient traditions, peoples and beliefs" of the UK.

He said: "In this world, Holocaust denial and conspiracy theories are commonplace, so much so that a whole group exists to cater specifically for them.

"I spent endless mind-numbing hours at meetings of the [conspiracy theorist group] Keep Talking, listening to speakers deny climate change, debate whether 9/11 was a false flag attack or if an ill-defined 'they' sold birth certificates on the stock market. Trestle tables at the edge of the hall were adorned with Holocaust denial books."

The label "alt-right" was first adopted by white supremacist Richard Spencer, but was brought to mainstream attention by individuals with a larger social media presence such as Milo Yiannopoulos and Mike Cernovich.
With this spring's resurgence of support for Angela Merkel and the Union parties, and the resignation of Frauke Petry from the AfD leadership on 20th April, polling had shown an alarming collapse in support for the fledgeling party. But now, with the election imminent on 24th September, there is evidence that a surprisingly strong performance is likely.
In a recent survey by polling institute Emnid in Bild am Sonntag newspaper on Sunday, the AfD ranked in at 11 per cent, behind Mrs Merkel's Christian Democratic Union at 36 per cent and the SPD at 22 per cent. While predictions, published in Berlin's Tagesspiegel newspaper, suggest the party could have 89 out of 703 members in the Bundestag.
One might consider this a triumph of low expectations. But this is Germany, the most cowed nation on earth, where any expression of German pride is scandalous:
AfD has experienced a surge in popularity fuelled by concerns over the escalating migrant crisis, terror attacks and mass sexual assaults in Germany.

And the rise has been unaffected by recent scandals, including AfD MP Alexander Gauland who recently said Germany should not shy away from its military achievements. The Express article continues:

The 76-year-old said: "If the French are rightly proud of their emperor and the Britons of Nelson and Churchill, we have the right to be proud of the achievements the German soldiers in world wars.

"People no longer need to reproach us with these 12 years. They don't relate to our identity nowadays."
Gauland is right. The freeing of Germans from the shadow of the National Socialist past ... the acknowledgement of Germans themselves that they, like any other people, have a life to live, and that life is ethnic and unique, as well as noble and precious ... is a keystone in the wider struggle of all European-descended peoples for a sovereign and free life. A reasonable result for the AfD on Sunday will show not only that the party is still viable and can move forward, but that German self-respect and German destining are also not impossible dreams, but historical necessities and, perhaps, coming facts.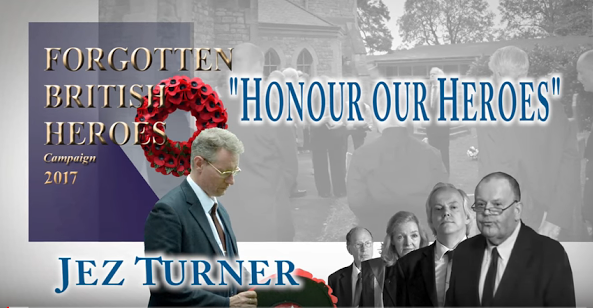 * Please feel free to forward or pass on to other nationalists *


The 2017 Annual John Tyndall Memorial Meeting


Friday 6th October, 2017

Preston - Lancashire. 1pm – 6pm

Keith Axon: Meeting Chairman: - Longstanding friend of JT, former NF and BNP organiser

Speakers include (in alphabetical order):

Benny Bullman: - lead singer of the Blood & honour band Whitelaw, and longstanding British Movement activist

Mark Collett: - former Young BNP organizer, twice acquitted on 'race-hate' charges and author of Decline of Western Man

Richard Edmonds: - Longstanding friend of JT, National Front directorate member activist - former BNP national organiser

Stephen Frost: - National secretary of the British Movement and author of the Colin Jordan biography 'TWAS A GOOD FIGHT'!

Julie Lake: - former BNP organiser, now National Front & South West Forum organiser

Dr. James Lewthwaite: - former Bradford City Councillor, archaeology lecturer, organiser for the British Democrats and Orangeman

Eddy Morrison: - Longstanding White nationalist, former NF, BNP and WNP organiser – now editor of the online newsletter White Voice

Peter Rushton: - Assistant editor of Heritage and Destiny magazine & Russia Today and Press TV commentator

Jez Turner: – former soldier, Arabic & Pashtun translator, & now chairman of The London Forum