Majorityrights News > Category: European Nationalism
New Observer, "8,606 Fake Refugees Invade Europe in first 37 Days of 2018", 11 Feb 2018:

At least 8,606 nonwhites pretending to be "refugees" invaded Europe in the first 37 days of 2018, meaning that 232 invaders landed every day, according to new figures released by the United Nations' International Organization of Migration (IOM).

The IOM figures show that 7,795 of the nonwhites invaded Europe by sea, and 811 by land as of 7 Feb 2018.

At least 186,768 nonwhites invaded Europe this way in 2017, and 392,879 in 2016, the IOM added.

The main nationalities of the invaders are, in descendant order, as follows:

To Italy: Nigeria, Guinea, Cote d'Ivoire, Bangladesh, Mali, and Eritrea;

To Greece: Syria, Iraq, Afghanistan, Democratic Republic of the Congo, Pakistan, and Algeria;

To Spain: Morocco, Algeria, Guinea, Cote d'Ivoire, Gambia, and Syria;

To Bulgaria: Syria, Iraq, Afghanistan, Turkey, and Pakistan.

In the period from 1 February 1 to 7, 11 nonwhites invaders landed in Cyprus, and in the same period, 10 nonwhites demanded "refuge" in Hungary.

At the same time, 29 nonwhites demanded "refuge" in the former Yugoslav Republic of Macedonia.

In 2017, at least 92 percent of the invaders landed by sea (172,362) to Italy, Greece, Spain and Cyprus. The remaining 14,406 invaded Europe by using land routes to the Spanish enclaves Ceuta and Melilla in North Africa (6,293) and from Turkey to Greece (5,551) and Bulgaria (2,562).

The IOM also revealed in its "Flows Compilation Report" for Decemebr 2017 that under the "EU Relocation Scheme"—through which that organization moves nonwhites from the countries of landing to other EU nations, another 106,000 nonwhites were moved from their landing points in Greece and Italy to elsewhere in Europe.

To date, 25 countries have committed to make places available under the scheme, namely Austria (50) Belgium (1,530), Bulgaria (1,070), Croatia (316), Cyprus (205), Czech Republic (50), Estonia (396), Finland (2,128), France (6,940), Germany (13,250), Ireland (1,152), Latvia (627), Liechtenstein (10), Lithuania (1,160), Luxembourg (545), Malta (205), the Netherlands (2,825), Norway (1,500), Poland (100), Portugal (3,218), Romania (2,182), Slovakia (60), Slovenia (579), Spain (2,500), Sweden (3,777) and Switzerland (1,530) with an overall number of 47,905 places.

An additional 54,000 nonwhites claiming to be Syrians were flown out of Turkey for "resettlement" in Europe.
While growing up a child refugee in Britain he acquired the accent that would have him nicknamed among the infam four, 'the Beatles', heard promoting the mania of their terror campaign…
The Infam Four: El Shafee Elsheikh ( far right), one of the four infamous ISIS murderers, identified as a "child refugee" accepted into Britain. The other three were also admitted into Britain through legal immigration channels.

TNO, One of the four ISIS murderers infamous for appearing in the "Jihadi John" decapitation videos has been revealed as a former "child refugee" granted "asylum" in Britain through that country's open doors "asylum" policy.

The former "child refugee" has been named as El Shafee Elsheikh, whose family managed to swindle their way into Britain—and UK citizenship—by claiming to be "refugees" from the Sudan in the 1990s.

Elsheikh was one of four nonwhite invaders in Britain who went off to join ISIS in Syria when that "caliphate" was at its height.

The group to which Elsheikh belonged (named as Alexandar Kotey, Aine Davis, and Mohammed Emwazi) was nicknamed the "Beatles" by the media because of their British accents.

Emwazi was born Muhammad Jassim Abdulkarim Olayan al-Dhafiri in Kuwait, and moved to Britain as a six-year-old with his family in 1994. He was dubbed "jihad John" and was the most famous of the group, doing the speaking on the numerous decapitation videos they produced.

Emwazi was killed in an air strike in November 2015.

Davis—the mixed race grandson of Jamaican trombonist in the 1980s UK "Ska" band, The Specials—was arrested in Turkey while planning a new attack and sentenced to seven-and-a-half years' jail for membership of terrorist organization in May 2017.

In 2014 Davis's wife, Amal El-Wahabi, 27, became the first woman in the UK to be jailed for terrorism offences connected to Syria after she was caught paying a smuggler to take €20,000 in cash to Turkey for her husband.

Kotey is also of mixed-race origin—Ghanaian and Greek-Cypriot—and he, along with Elsheikh, were arrested by Kurdish fighters in the east of Syria at the beginning of 2018.

The two were identified and handed over to American Special Operations forces, who confirmed their identities using fingerprints and other biometric measurements.

Together, the four nonwhites—all of who were initially based in London—beheaded atr least 27 hostages and tortured many more.

It is still not clear what is going to Kotey and Elsheikh. They could be put on trial in the US for killing American hostages, or they could be returned to the UK for trial.

Some reports have said that the two have had their UK citizenship stripped—something that is only possible if they have been naturalized as British nationals, and have citizenship of another nation.

No matter what their eventual fate, one thing is clear: the open borders "asylum" policy and the promotion of mass Third World immigration by successive UK governments has proven to be a disaster, and may yet destroy Britain forever.



Beheading of 21 Egyptian Coptic Christians in Libya by ISIL functionaries.

"UN: ISIL holds several thousand blank passports"

NKWorld, 9 Feb 2018:

The United Nations has warned that fighters belonging to the Islamic State militant group may be using blank Syrian passports to cross borders.

The UN Security Council on Thursday released a report prepared by experts on the militant group and other terrorist organizations. It is based on information collected from local UN staff and governments of member states.

The report says the group has collected travel and identification documents from fighters coming from outside Syria and Iraq for potential use in travel. It also says the group has thousands of blank Syrian passports. It adds that they may be used by fighters seeking to return home or relocate.

Croatian Tomislav Salopek in 2016

The report also says the group continues to try to maintain and expand its influence despite recent setbacks in Iraq and Syria. It says the group is sending fighters and weapons to Libya and Somalia.

It also notes that the group obtains funds through systematic human trafficking.

The report says the group commands between 1,000 and 4,000 fighters in Afghanistan, including Afghan defectors from the Taliban as well as militant Islamist groups in Pakistan and Uzbekistan.

It warns that the Islamic State group continues to pose a significant and evolving threat around the world.


Arrow points to Millenial Filipino ISIL recruit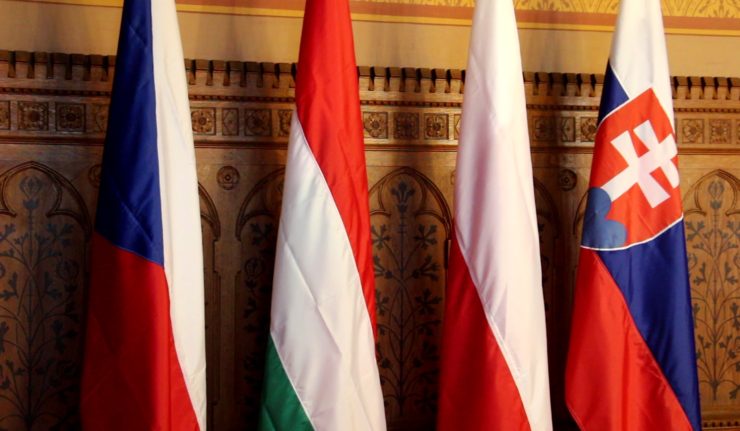 Take away the Trojan Horse that is Christianity, and replace it with a moral order that is authentic to European ethno-national interests and you've got an example of a sound ethno-national coalition in the Visegrad Group.
Visigrad Posy, Why so much fuss about the Visegrad Group?"

By Gabor Toth, President of the V4-China association, 8 Feb 2018:

Visegrad Group – In the recent years, the international media has helped make the profile of the V4 rise significantly. It is fair to say that the V4 have never been so important and well-known around the world as nowadays. But why is that? This formation has been around since 1335! In its modern form, it has been active since its resurrection in the 1990s. So how come we haven't really heard about it until about 2015-16?

And why the fuss about the V4, especially in European politics?

The story goes back to 2015, when a great number of both refugees and migrants mainly from the Middle East and Africa arrived at the borders of Hungary. They wanted to pass through, so they can go to Germany, Sweden and other western European countries. The Hungarian government did not allow this, saying that entering the territory of the EU can only be done legally, based on the existing treaties. The other three V4 countries quickly joined Hungary's position, while some western countries criticized Hungary for the move.

As the burden of the crisis became heavier, the profile of the V4's stance grew stronger. Today, only two years later, the situation has escalated so much that many experts see the V4, being the leading formation of CEE, as the only viable and strong enough opposition to the politics of Western Europe. A very clear divide has taken shape between East and West. To the west, countries that have accepted migration and multiculturalism, to the east, countries that wish to remain as they have always been. To the west, countries that are abandoning the idea of nation states and Christianity as the foundation of Europe, to the east, countries that want to stick to this foundation. Of course, this is not that simple, but these are the basic differences between the two sides.

In other words, the V4, lead by Viktor Orban, the Hungarian prime minister, have emerged as representatives of a future Europe that keeps its traditions, historic background and spiritual foundation, while some western countries, such as France, Belgium and Holland represent a future Europe with mixed societies and a way of life based on a progressive idea that the continent can be great without clearly separated nation states and many different religions can coexist, because it has happened in other places before, such as the United States.

But what will the peoples of Europe choose? Or is it really a choice they face?

History has the answer, and it is clear.

Europe and its people cannot and will not simply erase or even compromise their Christian roots and national pride. It is foolish for anyone to think that they will. It is rooted too deep in their genes, their traditions, even in their everyday habits…

This article does not mean to judge who is right or wrong. These are facts of history and those of us that live on this continent know it, even if this is something we don't think about on a daily basis. However, when European people feel that their way of life and long spiritual foundations are questioned or even threatened, they raise their voice. This has been going on since the end of 2015, and it's been getting more and more vocal. All eyes on Italy and Germany now. Will they take the position of the V4 and Viktor Orban? Those that say they will not, are likely to lose their bet, because all indicators show that the "opposing" side cannot come up with a clear vision for a future Europe where all peoples can live in peace and prosperity without having to change their foundations drastically. And even if that side did have a clear alternative, chances are high that the peoples of Europe would reject it, because in their mind Europe can hardly be greater than it was in those times when it was leading the world…

In football, there's a saying: "don't change a winning team". Europeans love football, but more importantly, this is the way they think about being a collection of strong, Christian nation states, too. They have absolutely no reason to change their ancient, winning formula.

Interestingly, however, some western countries call for a "United States of Europe", which is considered by some to be the alternative to the V4's position.

But this is not entirely true, because individually strong, Christian nation states must also find a way to unite and work out a way to organize themselves into a strong, unified block. Europe is crying for a strong leader to finally get it out of the rut it's been stuck in for a long period now. With troubles mounting on the borders of Europe and inside as well, this becomes more and more essential. Especially, if military conflicts escalate around her borders.

We can predict, that the dispute between East and West may very easily be settled in a way that Europe will turn back to its original strength by becoming a "United States of Europe", but not at all the way some western countries imagine it, instead, as an empire of strong nation states, coordinated by the already existing, soon-to-be drastically reformed European institutions, such as the Council and the Committee. The issue is NOT with the way the EU was born and developed. It is with the way it is organized and lead.

Weak leadership and governing without a solid ideological foundation that people agree with is what's causing the difficulties the EU is facing. Reorganizing the institutional system and placing strong leaders in their top seats, with a Council president, given that the council goes back to being the strongest of the three main institutions, which it was always meant to be. Recognizing that Christianity will make Europe great again, and instead of fighting it, using it as a starting point to reestablish the relationship of church and state, bringing back the "winning formula". These are the steps Europe is going to take, if it follows the clear pattern of history.

Time will tell how quickly the so-called "Hungarian model" (having found a modern way of church and state relations) will spread further, but the process has begun and is speeding up notably.

The next question is Europe's future partners in trade, because this major resurrection of the "old" Europe means a totally new alliance system as well. As power shifts from the West to the East, China's new silk road seems to be the clear alternative. China needs a strong Europe, and Europe needs China, and the "One belt, One Road" initiative presents itself as this new alliance system with the potential to make Europe great again.

Moreover, China's approach toward CEE countries is also evident, with the 16+1 platform and several projects already underway.

Interestingly, the V4 are in an historic position, because they hold the key to Europe's revival, as well as the success of the 16+1. Hungary holds the presidency of the V4 until July 2018, which gives a significant advantage to the Hungarian prime minister, Orban, who is considered to be the leader of the conservative camp in Europe, and considered to be the most friendly and pragmatic leader in Europe by the Chinese.

Ironically, the "United States of Europe" that Mr. Schulz talked about would also need a strong leader, and today, there is simply no match to the success of Mr. Orban as a politician in the EU, so even if the people voted for a European President, it would not be surprising at all, if they voted for him. Of course, this is not what Mr. Schulz or other EU leaders would be happy about. While current EU leaders struggle to find solutions to their problems, something powerful is happening in the eastern front. The V4 have started to build the new Silk Road, and China appreciates this enormously.

In the coming years, as the divide between western and eastern Europe deepens, watch for the rapidly developing sentiment, that opening to the East is what will provide the solution.
Diversity Macht Frei, "It's too late for Germany': German feminist SJW admits she got it wrong on immigration, plans to emigrate to Poland", 5 Feb 2018:

In 2012 Rebecca Sommer founded the refugee aid association Arbeitsgruppe Flucht + Menschen-Rechte (AG F+M) [Working Group Asylum + Human Rights]. At the end of 2015, this artist, photographer and journalist and documentary maker applauded Angela Merkel's decision to open German's borders to the "refugees" who had been blocked in Hungary, despite the vacuum effect this would create. "At that time I wanted to help everyone and truly believed that all these people were fleeing hell and were in a state of complete distress," the German activist explained in an article published by the conservative Polish weekly Do Rzeczy on 15 January, discussing how she woke up to reality.

In 2015, her NGO had almost 300 volunteers who were giving German courses to the new arrivals.

…"I thought their medieval view was going to change with time…but after having seen these situations occur repeatedly and observing what was happening around me, as a volunteer, I have had to recognise that the Muslim refugees have grown up with values that are totally different, they have undergone brainwashing from childhood on and are indoctrinated by Islam and absolutely do not intend to adopt our values. Worse, they regard we infidels with disdain and arrogance."

"It was a jarring perception when I noticed that these people I had helped, who were eating, drinking, dancing and laughing with me, who didn't pray, who didn't go to the mosque, who didn't respect Ramadan, who made fun of religion and deeply religious people, called me 'the stupid German whore' when they were eating my food and were in my garden."

…Rebecca Sommer says she is not an isolated case, that many other volunteers also came ultimately to have the same perception and that there are now far fewer volunteers ready to work with the new arrivals today in Germany. She also acknowledges that, through their numbers, these Muslim immigrants pose a threat to the German way of life, and that this will get worse with family reunification.
She also told the Polish weekly magazine Do Rzeczy that she personally knows Germans who are getting ready to emigrate to Poland because they had have enough, and she added: "If Poland and Hungary do not give in on this question, you could become countries that some Germans and French will flee to. You could become islands of stability in Europe."

Islands of stability but also democracy because Rebecca Sommer also notes that democracy no longer really exists in Germany….When the human rights activists wanted to denounce forced conversions to Islam in Indonesia, her account was blocked.

This Berlin woman no longer dares to go out on her own on New Year's Eve and she has already been attacked five times by men speaking Arabic!

She thinks it is already too late for Germany and she plans to emigrate for her retirement. Political Islam is present everywhere, including in the government, in political parties, in the police and schools. With family reunification, millions of additional Muslim immigrants are going to come. In the German capital where she lives, entire districts are already dominated by the Muslim community which forms a parallel society.
Bill Bailie, The Nation Revisited # 136 February 2018:

The British Aerospace Industry

Hundreds of jobs at BAE Systems are threatened by a lack of orders. Unfortunately, the Typhoon multi-role aircraft is not suitable for use on our new aircraft carriers which require planes capable of short take-off and vertical landing. Instead of developing our own aircraft we have ordered fourteen F35B's from Lockheed Martin at a cost of £2.5 billion. We will eventually buy 48 planes, the cost of which will escalate as the pound falls against the dollar. We must also consider the cost of putting British aerospace engineers on the dole.

Our former Defence Minister, Michael Fallon, suggested that we support America by sending our new aircraft carrier HMS Queen Elizabeth to North Korea before she is properly commissioned and without aircraft. Perhaps he wants to ram the first North Korean ship that we encounter?

The government has wasted billions of pounds on two aircraft carriers with no means of launching or landing aircraft. Nuclear ships use steam to power 'cat and trap' equipment, but our new ships are diesels which generate no steam. We, therefore, have to use STOVL aircraft which are not readily available.

When we get our expensive American planes we will be capable of fighting all over the world but what we really need are more destroyers and frigates to defend the homeland. We are a European country with no empire to defend.


Michael Heseltine resigned from the Cabinet over the Westland helicopter affair in 1986. Margaret Thatcher wanted to sell the company to America but he insisted on keeping it in Britain. Today, Westland is part of Leonardo, an Italian company employing 3,300 workers in the UK

Airbus is a French company which employs 15,000 workers in the UK. They have just signed an order for thirty-six A320 superjumbos with the Emirates.

Bombardier is a Canadian company that employs 25,000 workers making trains and aircraft in the UK and Northern Ireland.

The industry is led by BAE, a British company which employs 82,5000 workers making ships, tanks, missiles and aircraft. These companies employ British workers and pay their taxes. They are a vital part of our economy.

The Far Right

The first fascist movement in Britain was the British Fascists, founded by Miss Rotha Lintorn-Orman in 1923. They were fiercely anti-communist and pro-monarchist. Arnold Leese, a former BF councillor for Stamford, called them "Tories with knobs on." In 1929 he founded a rival movement called the Imperial Fascist League which was openly anti-Semitic. According to folklore, when Ron Hargrave applied to join the IFL Arnold Leese first measured his head with a tape measure and told him to report back in a week's time. When he returned Leese said, "A lot of people here don't like the look of you but I have decided to let you in."


Ron Hargrave guarding the platform for JT in 1960.

In 1932 Oswald Mosley founded the British Union of Fascist which quickly became a mass movement but in 1940 it was banned and over a thousand Blackshirts were rounded up and thrown into prison under Defence Regulation 18B. After the war, he founded Union Movement to fight for 'Europe a Nation'. He died in 1980 and UM was wound up in the nineties. Union Movement was never far-right but because it opposed Commonwealth immigration it was branded as such by the media.

The National Front was founded in 1967 to stop immigration, start repatriation, and get Britain out of the Common Market. It peaked in 1979 and its successor movement the BNP peaked in 2010. Both movements were eclipsed by UKIP which is now in steep decline.

The term 'far-right' includes everything from traditional conservatives to neo-Nazis. They command about ten to fifteen percent of the vote in most of Europe. Britain's first-past-the-post system keeps them out of Parliament but in Germany, the AFD has won 94 seats in the Bundestag, in Austria the Freedom Party is part of the coalition government, and in the United States, Donald Trump, a billionaire Zionist warmonger, has promised to build a wall on the Mexican border and make America great again.

There is a crying need for a sensible patriotic movement to fight for Britain in Europe. Ukip and the remnants of the NF and the BNP are stuck in the past and incapable of change. Most of their members have got one foot in the grave and it's only a matter of time before a new party emerges to cater for the younger generation.

Readers who are suffering from mental health problems, including paranoia, should ask their doctor for help. Conspiracy theory can be cured by talking therapy. If you think that "they are out to get you", do not despair. The first step is to admit that you have a problem.

What is Nationalism?

We are familiar with Irish, Scottish and Welsh nationalism but less so with English nationalism. My generation was brought up on imperialism which embraced the four nations of the British Isles and even included Australians, New Zealanders, South Africans, and Canadians. We were all subjects of the British Empire.

I was proud to salute the Union Jack in the school playground on Empire Day but the Second World War had already destroyed the British Empire. One of the first men to realise it was Oswald Mosley who proclaimed 'Europe a Nation' in his book 'The Alternative' in 1947. Those of us who share his vision of a united continent with a progressive government are European Socialists.

Nationalism is a mixed blessing. At its best, it's a love of country, but at its worst, it's a fear and hatred of foreigners. Celebrating sporting achievements and holidays is a harmless expression of patriotism but beating up immigrants is entirely negative.

Some people believe in a 'Confederation of Europe', in which fiercely independent nation-states would co-exist with each other. But history tells a different story. The German Nazis murdered the Austrian leader Englebert Dollfuss, and the Italian Fascists invaded Greece, which was a fascist state under General Metaxas. Nationalist states do not live happily with their neighbours; they invariably attack them.

Little states tend to swagger and act tough, but great empires are self-confident. In the Roman Empire every citizen was protected by the declaration: "Civis Romanus Sum"- I am a Roman Citizen. In 1850 Lord Palmerston stated in Parliament that every citizen of the British Empire should enjoy the same protection. Britain is going through a painful divorce from the European Union but we will still be Europeans, and when the current outbreak of tribalism has subsided, it will only be necessary to say "I am a European".
Sick of living in fear, destruction and betrayal of her German nation's people, German woman calls for others to join her in Bottrop, Germany protest.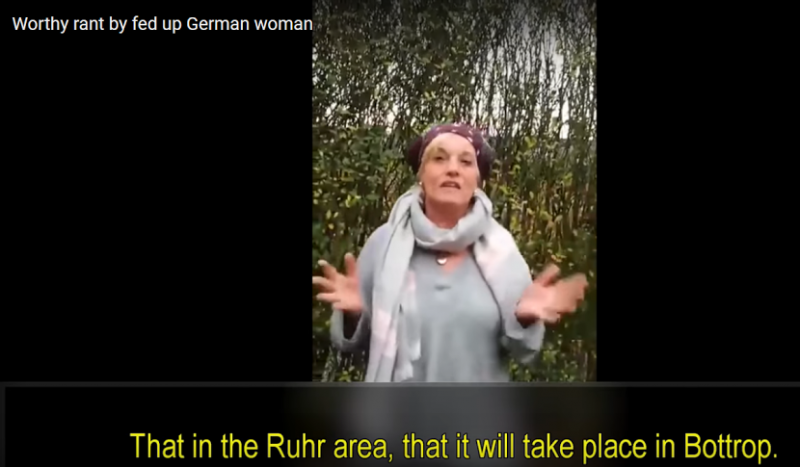 Now, one should beware that this opposition is at least somewhat controlled - note the Gates of Vienna and Rebel Media, etc. sponsorship at the end of the video; but it probably still provides a way to voice some aspects and semblance of ethnonational sanity, as this woman does.

Squawker, "Greece Fights Back", 23 Jan 2018:

Over four hundred thousand flag waving patriots joined together yesterday. In a display of purely Nationalistic based pride that seemed almost out of place in today's modern diversity first Europe. Taking to the streets in protest of neighboring country Macedonia, a nation they feel has stolen an important part of their heritage and culture. Here below is some drone footage of the rally, which provides a proper sense of just how large this crowd truly was.

Not everyone was thrilled by the huge turnout however. Including Greece's Liberal government, who made their disapproval of the entire event quite clear before it even began. With multiple senior lawmakers today calling the event an irresponsible act, that only fanned the flames of the over 25 year long feud with neighboring Macedonia.

The political disapproval for the rally is likely why despite a purported 68% of Greeks backing the protests overall goals, the crowd yesterday was met with an incredibly large militarized police presence. A presence that sadly and almost inevitably led to numerous reports of violence and the crowd clashing with authorities.

The Greek government even attempted to use its control of the media to limit the influence and reach of the protest. With the state controlled national broadcaster ERT, purposely not mentioning the largest demonstration in Greek history on their nightly news broadcast.

Beyond even these blatant examples of Government censorship, the real story however might just be the fact that the Greek people appear to have seemingly run out of patience for the Anarcho-Liberal extremists living among them. With witnesses claiming to have seen a handful of protesters break away from the crowd and throw a Molotov cocktail into a building widely known to be used by a local Antifa chapter operating in the city. While no damage was done to neighboring houses, nor anyone injured in the attack as the house was empty at the time. The Antifa occupied house was in fact completely destroyed in the ensuing blaze.

Government opposition leader Kyriakos Mitsotakis called the rally a demonstration of "the indignation of Greek citizens towards a government that acts secretly and, with its acts and omissions, shows that it is incapable of serving national interests." This declaration in support of the rally was met with an official government spokesperson quickly calling Mitsotakis "unreliable, irresponsible and populist." Proving once again that anyone who has his own people's interests at heart, is considered unacceptable by the Liberal ruling political class.

Despite the blow back from their own Government, the people of Greece don't appear to be backing down. With the rally this weekend revealing just how many were still willing to take to the streets and openly display their love of country and national heritage. Some even, whether right or wrong, even dared to back up those words with actions against those who might otherwise want to quiet them. It's uncertain for now if this violence was merely a one off or signs of continued conflict to come, but we do know for sure that the peaceful protests at least will be continuing. With another demonstration set for February 4th, this time located in the capital city of Athens itself.