Majorityrights News > Category: Global Elitism
While the profusion of churches throughout the world can be disconcerting, as they are devoted to a religion that is obfuscating and mis-directing the natural instincts of our EGI (ethnic genetic interests), there is a note of optimism in that some of these sublime structures and the artisanship that went into their making can be converted for religion aligned with our ethno-national interests.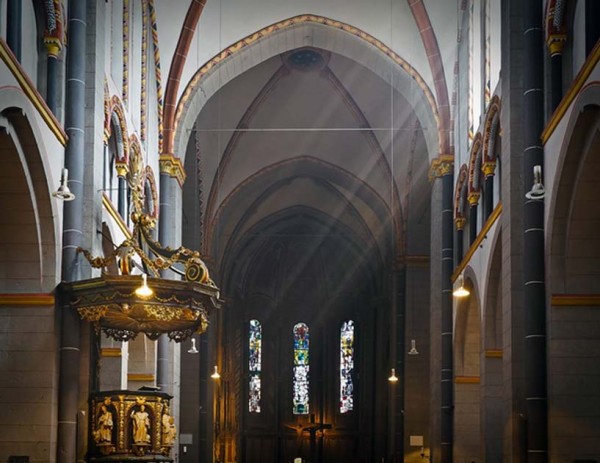 For example, hope for return to proper, natural religious function piques through some of the Spanish missions in California - some were configured to illumination of the solstice: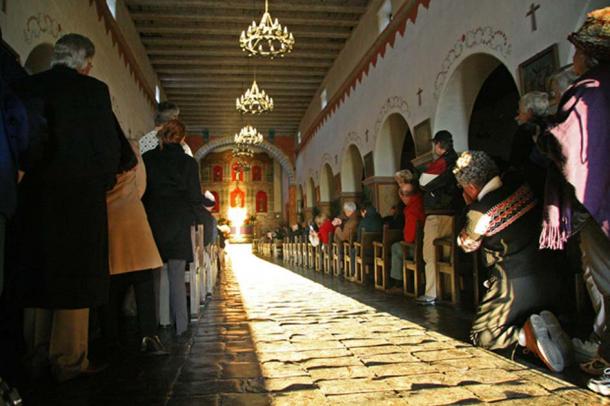 The 2007 midwinter solstice illumination of the main altar tabernacle of Old Mission San Juan Bautista, California. Rubén G. Mendoza/Ancient Editions, CC BY-ND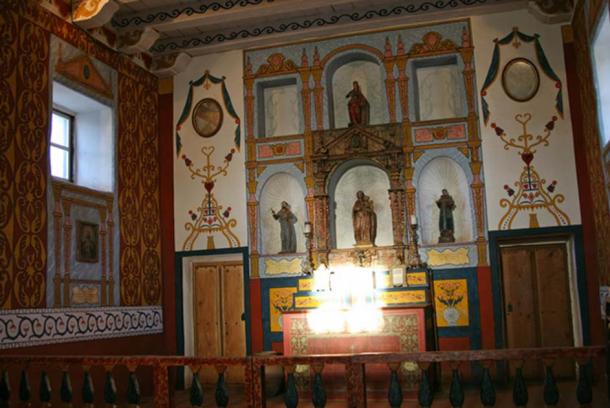 Winter solstice illumination of the main altar tabernacle of the Spanish Royal Presidio Chapel, Santa Barbara, California. The author first documented this solar illumination of the altar in 2004. Rubén G. Mendoza, CC BY-ND
On another level, some of the very elements of worship contained are only thinly veiled pagan icons and arrangement: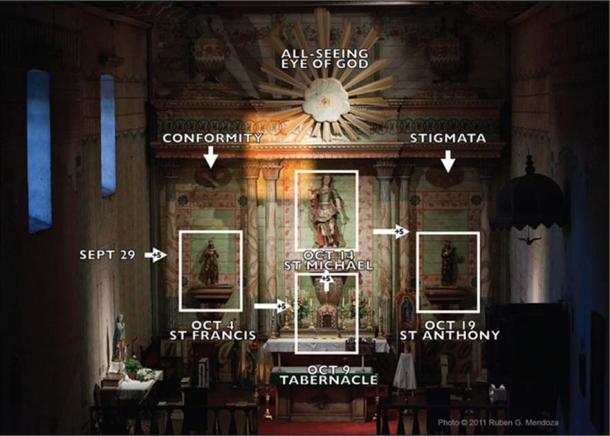 Schematic of the four successive solar illuminations of the saints of the main altar screen of Mission San Miguel Arcángel, California. Note illumination begins at the left with the Oct. 4 illumination of Saint Francis on his Feast Day. The author first identified and documented this solar array in 2003. Rubén G. Mendoza, CC BY-ND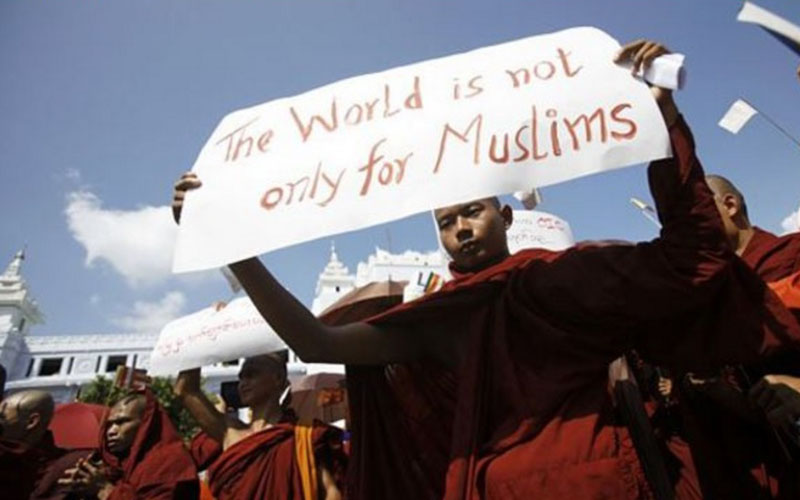 Burma, Malaysia, spat over Islam and migrants

Tensions between Buddhist-dominated Burma and Muslim-dominated Malaysia are rising once again after five Burmese workers were hacked to death with swords by a Malaysian mob in an ongoing dispute over religion and immigration between the two countries.

The government of Burma—properly named Myanmar—announced this week that it had sent out "safety instructions" to its nationals working in Malaysia after the sword attack—one of the latest in many such incidents in which hundreds have been killed.

The Burma government officially banned its nationals from seeking work in Malaysia a few weeks ago, precisely because of security fears following the ongoing clashes.

In the latest incident, four masked men wielding swords attacked Burmese workers after they had left a factory in the Serdang district on the outskirts of the Malaysian capital, Kuala Lumpur. Five were killed and two wounded.

Malaysian police said seven Burmese men had been detained shortly after the attack.

The origin of the violence is the current status of Burma's Rohingya Muslims—a Muslim group some 1.5 million strong. The Rohingyas have been involved in separatist activities—often linked to Islamism—for decades, and violent clashes between Buddhists and Muslims are common in that country.

Burma stopped its workers going to Malaysia in December, after Najib Razak, prime minister of the predominantly Muslim country, described Burma's treatment of the Rohingyas as "genocide" and called for foreign intervention.

There are however, at least 147,000 Burmese workers in Malaysia.
Diversity Macht Frei, 5 Jan 2017:


Alex Cioni, leader del Comitato Prima Noi, condannato dal Tribunale di Vicenza a 5 giorni di galera e 1.310 euro di ammenda per manifestazione non autorizzata.

Virtually every day, when I read Italian patriot sites, I see stories about asylum seekers, mainly sub-Saharans, staging spontaneous demonstrations, blocking traffic, holding up hand-scrawled placards protesting about something or other, usually the quality of the food they are given. Usually I don't even bother posting articles about these incidents here, because there are simply too many of them.

Sometimes the police divert traffic so the invaders can carry on their protests undisturbed; sometimes they talk to them and persuade them to return to their accommodation; they almost never arrest them unless the invaders physically attack them. But here we have an incident where a small group of Italian patriots gathered and held up banners for a few minutes at a hotel that had been marked as a future asylum centre. And were charged and convicted for doing so. The incident in question is shown in the video above. Their banners say things like "Stop fake refugees. Stop the Asylum Industry".

Five days in prison and a fine of 1,310 euros. This is the penalty imposed on Alex Cioni, leader of the Prima Noi Committee, by the Vicenza Tribunal His offence was to have demonstrated in front of a hotel marked as a future reception centre for migrants to show his disagreement with the arrival of the refugees.

The incident took place last 17 July when some representatives of the Prima Noi Committee displayed a banner and placards in front of the glass door in the Hotel Eden in Schio, expressing their unhappiness about the announced arrival of a substantial number of asylum seekers. An unauthorised demonstration, because - according to the judge - no request had been made in advance to the authorities responsible for public security.

Cioni was convicted for this reason, although the sentence was suspended because he had no criminal record. "The complaint filed by the Digos officials and the related judgement from the tribunal in Vicenza," said the Committee management, "represents an unequivocal clumsy attempt to intimidate our activity."

"A banner in a private place is not a demonstration for which reason the conviction for demonstrating is absurd," the person involved explained to the Alto Vicentino Online. "It makes no sense to call an initiative like ours a demonstration, lasting only a few minutes. It is clear the incident has been instrumentalised." Cioni will file an appeal however
TNO, "Germany: 3,000 Sex Attack Victims in 2016", 4 Jan 2016:

Third World invaders pretending to be refugees in Germany preyed upon 2,000 adults and 1,000 children in 2015, a new study by monitoring group XZ Einzefall has shown - at least 1,964 of the sex attacks were serious,

The true number of attacks and victims is much higher, because police are under orders to withhold hundreds of reports and only respond if the media makes inquiries.

XY Einzefall is a German-based monitoring group which has carefully recorded every sex assault carried out in Germany since Angela Merkel opened that country's gates to the mass Third World invasion in 2015.

Their final report for 2016, which can be found in spreadsheet format here, reveals that reported incidents only total 1,964, consisting of at least 201 rapes, 1,559 sex attacks, and 204 sex attacks in public swimming pools.

Only incidents which were actually reported by the police, or which were reported in the controlled media, were added to the XZ Einzefall list. Their spreadsheet contains the links to the police and media reports.

Of the 201 reported rapes, at least 35 were minors, the study showed. Of the 1,559 sex attacks, 653 victims were minors, and of the 204 swimming pool sex attacks, 286 were minors.

This works out at nearly six serious sex attacks every day during 2016.

However, as XY Einzelfall points out in its study, these figures are merely the tip of the iceberg. Quoting a separate study in Austria, the groups said that "only a tiny fraction of all crimes are published as a police or media-report."

The Austrian study quoted compared complaints laid with the police to those reported by the police's media officers and those reported in the media. The difference was vast, the study said, finding that in Vienna, of the more than 200,000 complaints made to police, less than 2,000 police reports were actually published.

With regard to rape cases, the study found, of the 647 rapes reported to the police, only 15 were ever mentioned by police reports and media.

"For this reason," the study says, "the total number of crimes committed by migrants is much higher."

XZ Einzelfall also maintains an incident map which is regularly updated and which can be found here.
Iohannis stops accession of Muslim Prime Minister

Visigrad Post, "Romania On The Brink Of A Political Crisis", 28 Dec 2016:

Romania – President Klaus Iohannis rejected the nomination of the country's first ever Muslim – and woman – candidate for Prime Minister, Sevil Shhaideh.

After winning the election early December, the PSD – Social Democrats – had to nominate a candidate for the office of Prime Minister. The president of the PSD, Liviu Dragnea is unable to become Prime Minister as he has been preliminarily refused by President Iohannis as he has been convicted for electoral fraud. Hence, he proposed Sevil Shhaideh, and it was likely he'd run the government through her.

Although President Klaus Iohannis asked the Social Democrats to pick someone else to lead the government, but he did not give any reason for this rejection.

Mr Dragnea has previously suggested he will fight any attempt by the president to block his choice of Prime Minister. "If Iohannis rejects our proposal, I'm not going to make a second one. We'll see each other in some other place," he said.


Sevil Shhaideh - rejected nominee for Romania' first ever Muslim – and woman - Prime Minister

Following the rejection, Mr Dragnea said he could begin the process of seeking to remove Mr Iohannis as president. "It seems the president clearly wants to be suspended," Mr Dragnea said. "We'll weigh our options very carefully, because we don't want to take emotional decisions. We don't want to trigger a political crisis for nothing, but if we come to the conclusion that the president must be suspended, I won't hesitate." As a matter of fact, several political observers claim that the two refusals – the first one, unofficial, of Dragnea, and the second one of Shhaideh – are unconstitutional.

On December 28, Mr Dragnea proposed Sorin Grindeanu as candidate for Prime Minister. President Iohannis is expected to name the Prime Minister on December 29. According to the Romanian constitution, if the candidate is not nominated by the President, the parliament will be dissolved and new elections will be held.
President Iohannis is indeed going along with the nomination of Grindeanu -
Sofia Globe "Romanian president designates Grindeanu new prime minister", 30 Dec 2016:

President Klaus Iohannis has designated veteran leftist Sorin Grindeanu as the new Romanian head of government. Previously, Iohannis refused to endorse a female, Muslim candidate who was criticized for her inexperience.

The 43-year-old Sorin Grindeanu would have 10 days to unveil his cabinet and seek the parliament's vote of confidence after being named by Iohannis on Friday.

The process is expected to go smoothly for the former telecommunications minister after the triumph of his moderate left PSD party in the parliamentary election earlier this month. The PSD won 45 percent of the seats and now holds a firm majority with their junior partners, the ALDE.

Grindeanu is a mathematician who has served as deputy mayor of the western city of Timisoara.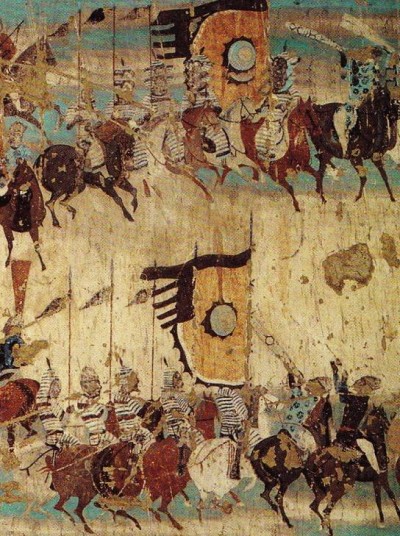 Details of painting of the meeting of Manjusri and Vimalakirti.
Originally Published Dec `2004 by John Jay, who said:
Both India and China are countries that have had the sort of moderate contact with the rest of Eurasia that their position at two extremities of Asia would lead one to expect. Both India and China have had their own sophisticated civilizations for at least two thousand years. The Chinese invented such things as gunpowder and printing. The Indians invented the so-called "Arabic" numerals that we use to this day and one of their religions (Buddhism) has been enormously influential outside their own borders. Both Indians and Chinese do extremely well economically outside their home countries. To me this is a picture of two generally intelligent populations. Yet the average IQ score for the two differs markedly. Chinese score somewhat above the Western norm and Indians score markedly below it. How come?
The comments have not been displaying after number 1000 - Sunny Mittal on Sat, 31 Aug 2013 14:41 | #, 1000 - therefore, I will include below the subsequent comments that were attempted since; and those who wish to comment on this thread may continue to do so here.
anonymous 2014-08-24 11:09 AM said:

You should continue this subject in another page from the 1001st post

Ok, as we said, there were a few dozen comments which didn't register after number 1000. The ones that did not appear span from 31 Aug 2013 to 27 Dec 2016 and are being displayed here, under the fold; the thread is continued anew and comments may resume.
TNO, "U.N. Vote and Jewish Lobby Hypocrisy", 24 Dec 2016:
And Alt-Right hypocrisy as well, since The US was the only nation which supported Israel in the UN with regard to their illegal settlements - their chutzpah to fly in the face of the rest of the world probably rests on anticipation of help from their boy Trump
Ibid:

The U.S. Jewish lobby has rushed to defend Israel following the United Nations' Security Council (UNSC) motion condemning the illegal seizure of Palestinian land—highlighting the fact that they support the right of Jews to preserve their racial identity in their own ethnostate, but always strongly oppose any European demands for that same right.
TNO, "Israeli Illegal Settlements: The Facts", 26 Dec 2016:

Israel has demanded that the 14 nations who voted against the illegal Jewish settlements in the occupied West Bank "explain themselves"—for daring to oppose the Jewish ethnostate's breach of international law.

In reality, the Jewish settlements are illegal in terms of the Geneva Convention and the Hague Regulations, and if undertaken by any other state, would have resulted in international military intervention.

According to "Convention (IV) relative to the Protection of Civilian Persons in Time of War" of the Geneva Convention, an occupier is forbidden from transferring its own civilians into the territory it occupies.

"Individual or mass forcible transfers, as well as deportations of protected persons from occupied territory to the territory of the Occupying Power or to that of any other country, occupied or not, are prohibited, regardless of their motive. (12 August 1949. "Deportations, Transfers, Evacuations, Article 49.)

In addition, Article 55 of the Hague Regulations states that an occupying power's role is to safeguard occupied properties and maintain the status quo:

Art. 55. The occupying State shall be regarded only as administrator and usufructuary of public buildings, real estate, forests, and agricultural estates belonging to the hostile State, and situated in the occupied country. It must safeguard the capital of these properties, and administer them in accordance with the rules of usufruct. (Annex To The Convention: Regulations Respecting The Laws And Customs Of War On Land – Section III : Military Authority Over The Territory Of The Hostile State – Regulations: Art. 55.)

The construction of Jewish settlements in the occupied West Bank are clear violations of both these international treaties, and for Israel to demand that nations who uphold this law "explain themselves" is merely an indication of the chutzpah and hypocrisy which underpins that state.

These then, are the facts about the occupied West Bank:

The West Bank—including East Jerusalem—and the Gaza Strip together constitute the Occupied Palestinian Territories (OPT), which have been under Israeli military occupation since June 1967.

Prior to Israeli occupation, the West Bank was controlled by Jordan, and the Gaza Strip by Egypt.

Before the State of Israel was established in 1948, the West Bank and Gaza Strip were simply parts of Mandate Palestine; their "borders" are the result of Israeli expansion and armistice lines.

More than 300,000 Palestinians in the West Bank and Gaza Strip became refugees during Israel's conquest in June 1967; the vast majority were unable to return.

In 1967, Israeli forces ethnically cleansed and destroyed a number of Palestinian villages in the OPT, including Imwas, Beit Nuba, and others.

One of the first acts of Israeli authorities in East Jerusalem was to demolish the Mughrabi Quarter, expelling 600 residents and destroying 135 homes. In place of the 800-year-old Mughrabi Quarter, Israel created the Western Wall Plaza.
TNO, "French Mayor on Trial for Truth", 24 Dec 2016:

The French mayor of the town of Béziers has been charged with "hate crimes" after saying that it was a "problem" that a class in a local school was 91 percent Muslim.

The charges were brought by the Jewish "International League against Racism and Anti-Semitism" (Ligue Internationale Contre le Racisme et l'Antisémitisme, LICRA).

Mayor Robert Menard denied his comments were discriminatory, saying he had "just described the situation in my town."


"The most striking proof of the great Replacement in progress. Just look at old class photos." - Mayor Robert Menard.

The comments were made back in September 2016, when Menard told French news channel LCI that "In a class in the city Center in my town, 91 percent of the children are Muslims. Obviously, this is a problem. There are limits to tolerance."

At the same time, Menard tweeted his regret at witnessing "the great replacement" of France's white population by Third World invaders.

According to French media, his comments were "seized upon" by LICRA, and the Jewish group immediately pressed charges for "hate" and "incitement."

After months of deliberation, Menard's trial date has now been set for March 8, LICRA announced on their Twitter feed.

After months of deliberation, Menard's trial date has now been set for March 8, LICRA announced on their Twitter feed.