Majorityrights News > Category: Global Elitism
Visigrad Post, "Orbán: Brussels Must be Halted, and Hungary Must Stand Up Against International Capital", 24 March 2017:
Hungary – Prime Minister Viktor Orbán called March 15 an "indisputable proof" of the Hungarian nation's past, present and future, at a commemoration of the 1848-49 revolution and freedom fight on Wednesday, March 15.

Speaking in front of the National Museum, the prime minister said that European nations are in a "state of revolt", with the "winds of 48 blowing again on the continent". Over the past years European nations once again revolted against "the hypocritical alliance of the Brussels bureaucrats, the liberal international media and the insatiable global capital," Orbán said.

First the British, then the Americans rebelled, to be followed by others this year, he added. Orbán stressed the need for Brussels to take off the "masks of hypocrisy", and opt for straight speech and an open discussion of the future.

Orbán emphasised that the resettlement of illegal migrants must be prevented, the network financed from foreign funds made transparent, and the right to regulate taxes, wages and utility prices kept in national competence.

Orbán called March 15 an "indisputable proof" of the Hungarian nation's past, present and future. "We, living in the Carpathian Basin, at the buffer zone of cultures, empires and civilisations, can be proud of the greatest triumph of all, winning all wars for the survival of our homeland, our nation," he said.

He said 1848 had become a "moral compass" for the nation, one that shows who is "loyal, patriotic, dedicated and brave" on the one hand, and exposes "pettiness, perfidy and efforts to kill dreams and destroy the nation" on the other. The prime minister insisted that national unity should be retained and cemented day by day.

"But what should we do with those who want unrest and division rather than peace and unity . whose only pleasure lies in spoiling the holiday of others," he asked, referring to a group whistling during his speech. "It would be easy to mock them but we should not do that," he said adding that Hungarians should "stand their ground on the horizon of building the nation rather than in the skirmishes of petty parties."

"From the horizon of the Hungarian nation, one can choose the road that leads us to the wide gate of greatness or the one that leads to the swamp of hatred," he said.

Article originally published at Daily News Hungary.
Breitbart, "EU Says They Can Force All Members, Including Poland, to Take Migrants", 21 March 2017:

WARSAW, Poland (AP) — The European Union's commissioner for migration says there are ways to make all EU members states comply with the program of relocation of migrants among them.

Dimitris Avramopoulos made the statement Tuesday in Warsaw, where he is visiting the growing European border guard agency, Frontex.

Poland is refusing to accept migrants, arguing they are chiefly economic migrants, not war refugees, and may potentially pose a threat.

The relocation plan is intended to ease the pressure on countries that have taken the brunt of the migrant wave: Italy and Greece.

Without naming Poland, Avramopoulos said the EU has the "tools, the means and the power" to convince all members to comply and will make an assessment of response by the end of September. He mentioned no sanctions.
Avramopoulos

Since 1 November 2014 he is serving as EU Commissioner for Migration, Home Affairs and Citizenship in the Juncker Commission.

Avramopoulos has a friendly relation with the Turkish President Recep Tayyip Erdoğan since they were Mayors of Athens and Istanbul respectively. He is deemed one of the main proponents of Greek-Turkish rapprochement.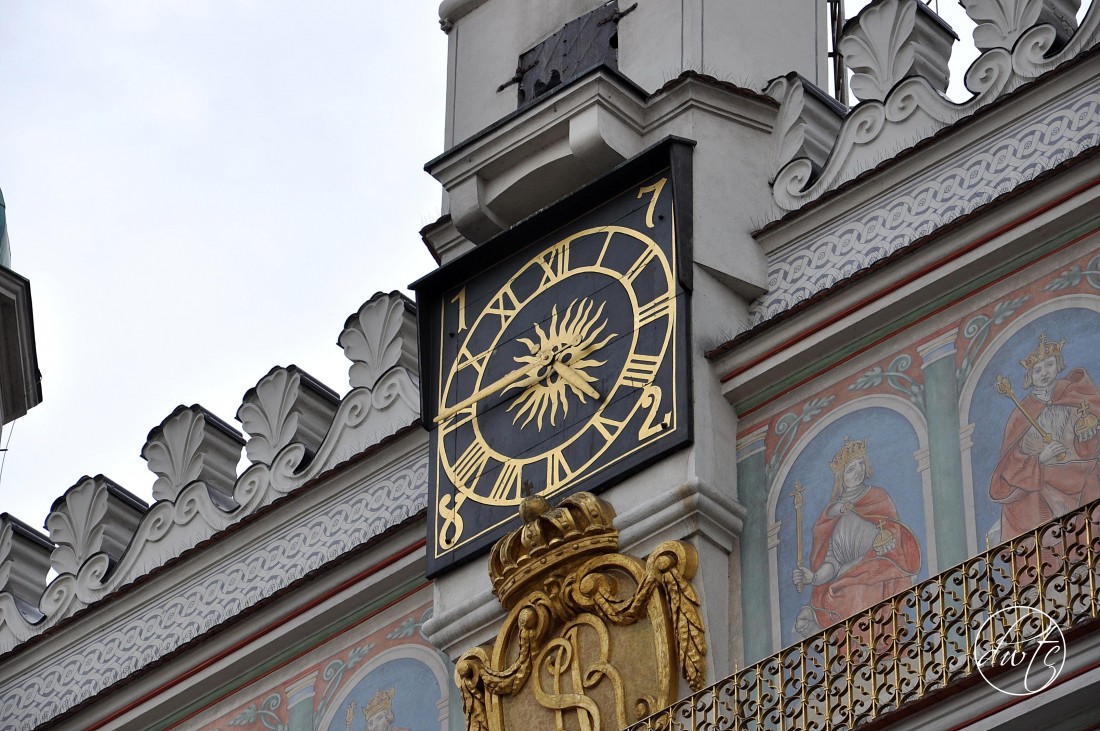 Western Voices World News, "Poland: Europe's Vanguard Nation," 1 March 2017"

In spite of its own internal issues, like every other European nation has, Poland refuses to take a single refugee because of 'security' fears. Poland has accepted less asylum-seekers per capita than almost any other European nation.

Poland will not be accepting a single refugee "because there is no mechanism that would ensure safety", the most powerful politician in the country has said.

Jaroslaw Kaczynski is the leader of Poland's ruling Law and Justice (PiS) party. PiS takes a nationalist, right-wing stance on most issues, vocally opposing EU plans to house and feed refugees fleeing the Syrian civil war and other humanitarian crises.

In a political broadcast published on YouTube, he said: "After recent events connected with acts of terror, [Poland] will not accept refugees because there is no mechanism that would ensure security."

The European Union has recently suggested that countries should be asked to accept a quota of refugees, or pay €250,000 (£200,000) for each asylum-seeker they turn away.

The money raised would be given to countries such as Greece, Germany and Italy who are currently housing a disproportionately high number of refugees.

But Mr Kaczynski also spoke out in opposition to these plans, which would see Poland asked to meet a quota of 6500 refugees or provide over €1.6bn (£1.25bn) in support for the humanitarian effort.

"Such a decision would abolish the sovereignty of EU member states – of course, the weaker ones," he said. "We don't agree to that, we have to oppose that, because we are and we will be in charge in our own country,"

Since taking control of the Polish government in 2015, the autocratic PiS has seized control of state media and the civil service, as well as passing a law to cripple the Polish supreme court by landing it with an unworkable caseload.

In 2015, Mr Kaczynski claimed that refugees were bringing "various parasites and protozoa" to Europe, including dysentery and cholera. PiS were elected on a vehemently anti-refugee and Eurosceptic platform.

With a population of nearly 40,000,000, Poland has a lower quota than other large European nations, though it is also a relatively poor country.

Last year, Eurostat found Poland accepted just 0.21 asylum-seekers per 1000 citizens, compared to 0.5 per thousand in the United Kingdom or 8.43 in Sweden.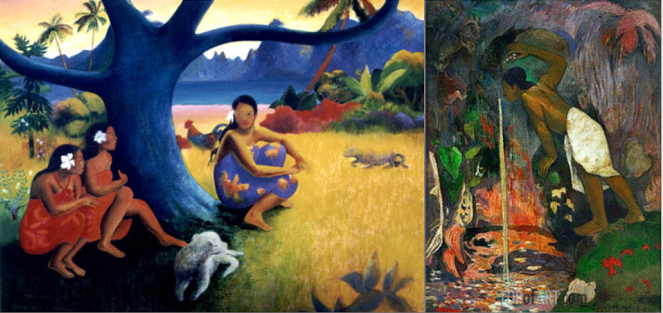 I may have sold Gauguin short in terms of his ethnographic conscientiousness. I'd been citing him as an example of the "artistic genius" who wasn't worth it for his moral failing. There is still a good measure of truth to that, but he may not have been quite as heinous and without effort to be considerate as I had thought in terms of concern for what is important to other people - at least those of Tahiti and their culture. My line had been that as an artist he is as satisfying as any to me, nevertheless as a man who infected who knows how many native girls with syphilis, he was a killer. His art, no matter how good, not worth that behavior.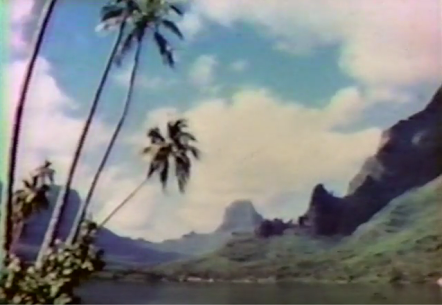 Gauguin in Tahiti: Search for Paradise (1967)
Even so, as I watch this biography, a couple of mitigating facts are revealed. True, he still would have infected at least one native girl with syphilis. However, he married her and apparently did not know that he had the disease when he infected her. Still bad, of course, as there was no effective treatment for the disease even with French civilization settled there. Add to that his knowledge of the risks of his own promiscuity beforehand along with his ultimate abandonment of his wife and kids back in France.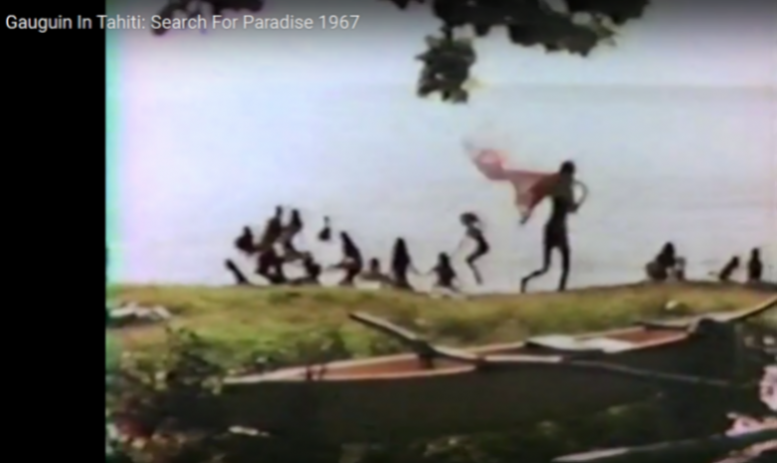 However, the biography reveals that before he fell ill, he was really concerned to find and help preserve the authentic Tahitian people and culture. With that, he was dismayed by the impact of French civilization and missionaries, how they'd already by his time begun to destroy the native culture. He was particularly bothered by the imposition of Christian schooling upon the native children that had by then caused them to lose their native religion. He would actually go to the children and their parents with a French law book - reading them their rights so that they would know that they did not have to go to the missionary school. Finally, he went so far as to try to recreate their native religious stories in writing and in his paintings…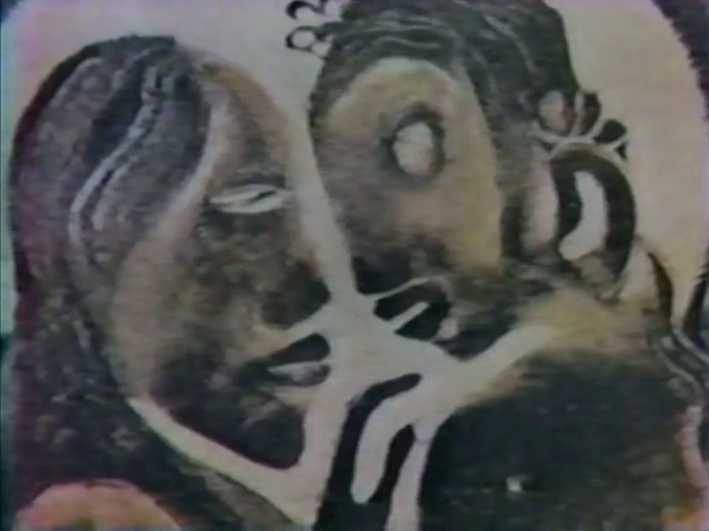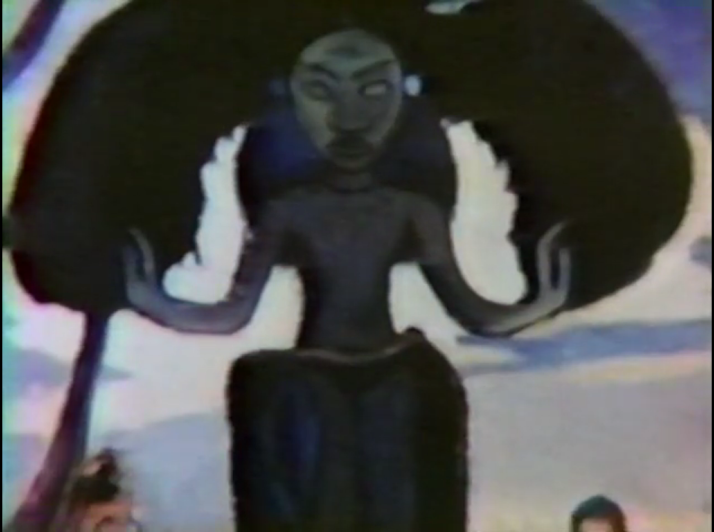 At "Killer Culture" Peter Quiggins (Tierney) has put together this very caring and painstaking compilation of native Britons killed by migrant peoples, murders which have not received a fraction of the attention that the rare instance of a murder of a black, Steve Lawrence, by native Britons, has received. It is a quibble compared to this travesty that Quiggins addresses, but something to note nevertheless, that entitling the piece "Diversity Kills!" is a bit of mistake. Just like arguing "against equality" is bad tact, arguing against "diversity" is a trick that the YKW have set up deliberately because by default, under the powers that be, you are arguing for integration - the last thing that we'd want. Diversity should not be argued against at this point, the circumstances being what they are, with massive immigrant populations among, or in close proximity to ours not going away any time soon; in some cases, never - and all the more reason to take the cause of diversity for ourselves. However, his subtitle is quite fine stand alone: Britons murdered in Britain since the death of Stephen Lawrence: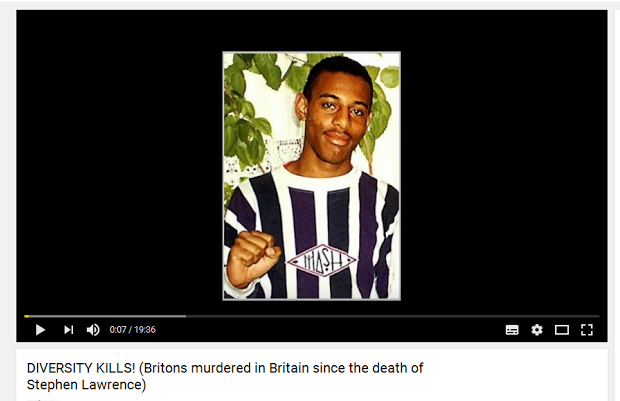 Stephen Lawrence has been mentioned over 2,000 times in Parliament.
MR carries great articles regarding the Stephen Lawrence case: A Nation Rejoices at last! - by Dan Dare; More Saint Stephenism on the way - by Guessedworker; The Crusade Against Discrimination in Britain - by Guessedworker; No Native Voices - by Guessedworker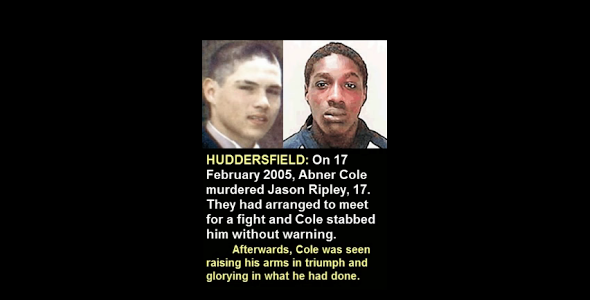 (Britons murdered in Britain since the death of Stephen Lawrence)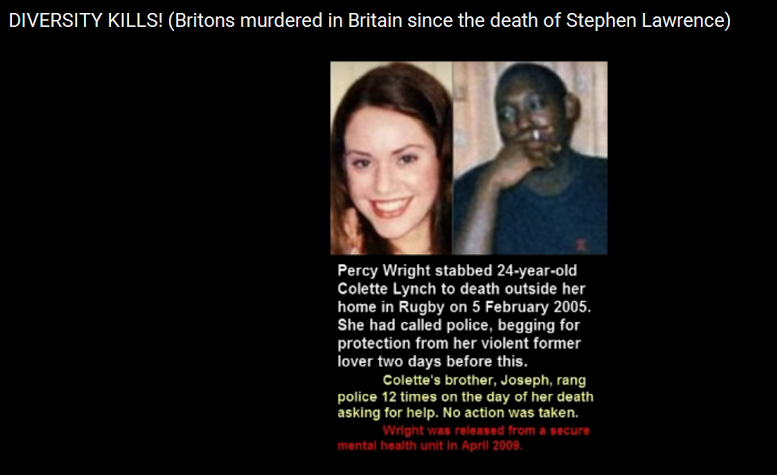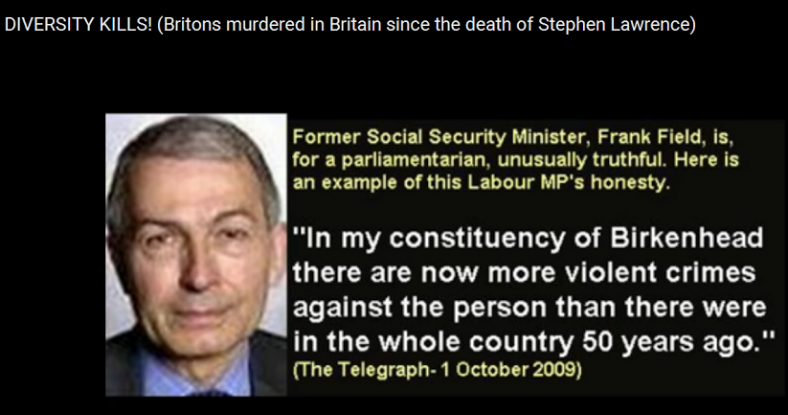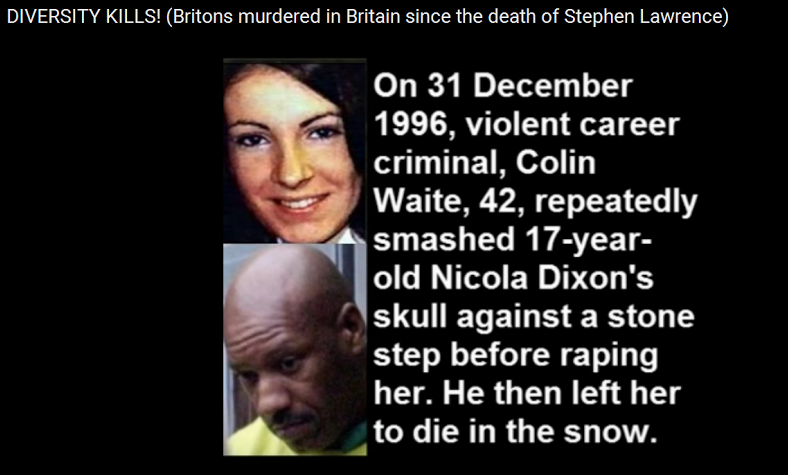 Backgrounding & Taken For Granted - Resistance is Futile. Add from Det Nya Landet - translation "Big Mulatto Brother"?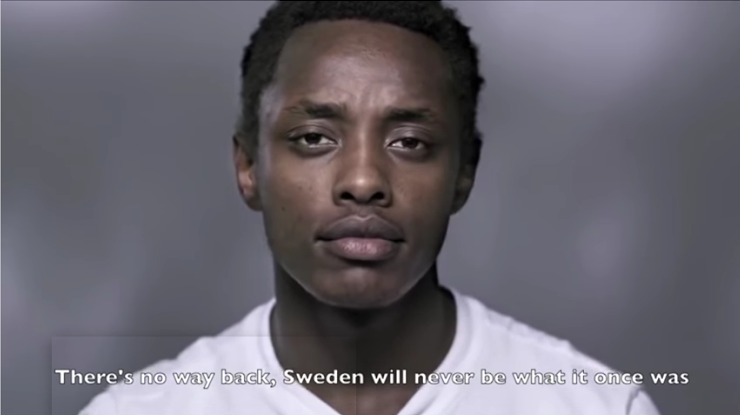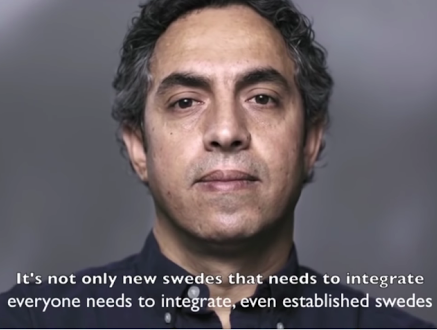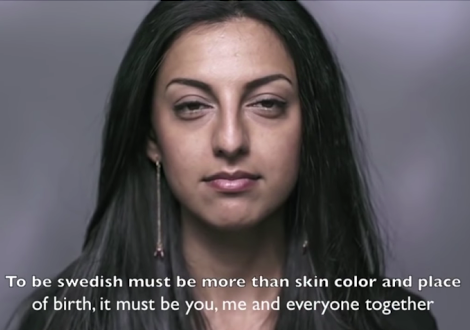 Below is another marketing campaign advert suggesting that "resistance is futile" - this one coming from the EU is a bit more subtle: It is an EU add run in Poland, and it is as if to suggest that blacks are to be taken for granted as a significant component of European history. However, in this instance, the "resistance is futile" message is not spoken, it is in the background - two blacks comfortably sit in the background of the same restaurant scene and a mulatto girl is fore-fronted; thus, backgrounding and taking for granted the interracial relationship of her parents.
The EU is backgrounding the racial integration of blacks, presenting to naive audiences (naive as to the bio-power of an invasive species) or audiences perhaps aware, but not in a position to voice objections (literally the case when these images are whisked-by semi-subliminally), that the place of blacks among them is something to be taken for granted. Resistance is futile, nobody will agree with your objection, it is taken for granted already.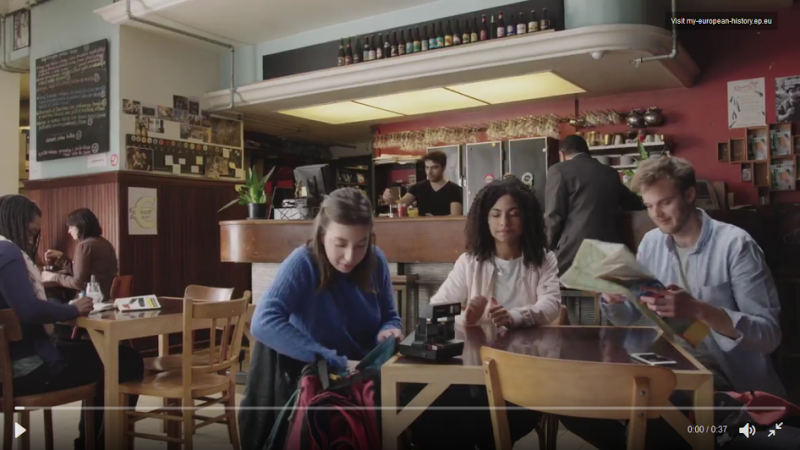 This is a screen shot from a quick add distributed by The European Union and shown in Poland to promote The EU's "My European History" program. Of seven people in the add, 3 are black. Of the blacks, a mulatto girl is centrally featured in the add, while the other two blacks are placed in the background, taking for granted their place in Europe and its history. The girl's mulattoness is also a form of backgrounding and taking for granted.
The add came by way of Twitter:
Parlament EuropejskiVerified account @Europarl_PL

My House of European History to kolekcja opowieści o Europie. Zgłoś swoją → https://my-european-history.ep.eu/?locale=pl ! RT i udostępnij!

#StoriesofEurope
...along with Trump, adores Putin and Le debt, er, Le Pen.
Active Measures is playing the right populist card across The US and Europe and The Alt Right is distributing their propaganda enthusiastically.
Vincent Law, another one coming from a perspective down on Britain, while fancying an expansive bridge between Germany and Russia, registers his enthusiasm for Trump, Putin and le Pen in this regard.
Original article, Russia Insider. Translation, Vincent Law.

AltRight, "Russia's "Alt Right" Ecstatic About Trump", 17 Feb 2017:

The author is director of the Liberty Institute, a Russian think tank, and a senior official in the Motherland (Rodina) party, a conservative party represented in Russian parliament.

The popularity of the new US president among Russian New Right patriots seems, at first glance, to be something of a paradoxical phenomenon. However it is in fact, a continuation of an old Russian custom. Russians have a tradition of taking foreign ideas concerning politics as their own, adapting them to Russia.

It all started back in the days of Prince Vladimir- (whose historical memory is experiencing a Renaissance in Russia.) Vladimir, for political, economic and military reasons, embraced the faith and order of the neighboring Byzantine Empire, laying the foundation for the future concept of a "Third Rome." It was Vladimir who carried out large-scale social and political reforms, influenced by ideas taken (this time) from the East.

The next major political and social import came from the West. Peter the Great "opened a window into Europe" as the saying goes when he established the city of St. Petersburg. He immediately began importing Dutch and German culture into Russia.

Soon after, French influence began to influence Russian society. The Russian aristocratic class began to speak almost entirely in French. Even on the eve of the War of 1812, Napoleon Bonaparte enjoyed incredible popularity among the Russian officers that were arrayed against him. What is remarkable is that Napoleon was probably more popular then among Russians than Trump is now. But this did not prevent the Russian people from going out to stop Napoleon's invasion and eventually going on to march all the way to Paris.

Moving along through history, the Decembrists in 1825 picked up many ideas from the French and American revolutions as a result of their time in the West after the defeat of Napoleon. Liberty, equality and fraternity; the republic and nationalism, populism and aristocracy. They eventually would go on to unsuccessfully lead an officer's coup in Russia in the name of these principles.

Then of course came the events of 1917. The February Revolution was imbued with the spirit of both the French Revolution and the pathos of the English parliamentary system…even if the end result resembled neither. And the October Socialist Revolution bore the hallmark of German and American ideological strains (old Russian patriots in this case like to focus on the Jewish roots of the Bolshevik movement, but I'm putting that detail aside for now). The theory of the Bolsheviks was imported from Germany (Marx and Engels). And the pace of the public-political movement was borrowed from the United States. Trotsky admired America quite a bit, and believed that the revolution would not have been possible without America's help.

Many Third Position philosophers in Europe considered the United States and the Soviet Union to be two sides to the same coin. They referred to both entities as "mondialist" (which is similar to the term "globalist" which is more in vogue now.)

In turn, the Russian White Army exiles of the 20s and 30s borrowed many ideas from the European Right. But unlike the Russian Bolsheviks, the Russian White Army exiles never succeeded in bringing reforms to Russia based on these Third Position principles.

Then came Gorbachev's perestroika program and Yeltsin's democratic reforms, where the Western model was imported wholesale to Russia- even if it was never quite fully adopted. During that period, even the Russian opposition youth movements tried to adopt Third Position ideas from the first half of the 20th century.

Therefore, the current Russian fascination with Trump and Le Pen is quite normal for Russia. The American and French populist right-wing alternative movements serve as inspiration for Russian patriots just as previous historical movements have throughout all of Russia's history. Only now, there is an interesting new element in the relationship. There is a mirror-effect where patriots in the West seem to have taken a great liking to President Putin as well. He seems to be especially popular among the so called "Alternative Right".

We don't yet know how Trumpism and Le-Penism will be adapted and adopted in Russia. But now it is clear from Trump's victory, the potential success of Le Pen, and the rise of Eurosceptic parties all over Europe that things have finally started to go our way. All signals from the West are clear to the Russian New Right. They read: "Alternatives exist & victory is possible."

"Everything will change, right here and right now" – Trump said in his inaugural speech. He was speaking to the American people, but his message was heard loud and clear in Russia as well. To everyone in Russia, in whose veins "flows the red blood of patriots," a new day has come.

The Alternative Right everywhere is ablaze with excitement at Trump's victory.
TomDispatch: "Is President Trump Headed for a War with China?" All Options Are "On The Table" - Rajan Menon, 12 Feb 2017:

Forget those "bad hombres down there" in Mexico that U.S. troops might take out. Ignore the way National Security Adviser Michael Flynn put Iran "on notice" and the new president insisted, that, when it comes to that country, "nothing is off the table." Instead, focus for a moment on something truly scary: the possibility that Donald Trump's Washington might slide into an actual war with the planet's rising superpower, China. No kidding. It could really happen.

Let's start with silver-maned, stately Rex Tillerson, Donald Trump's pick for secretary of state. Who could deny that the former ExxonMobil CEO has a foreign minister's bearing? Trump reportedly chose him over neocon firebrand John Bolton partly for that reason. (Among other things, Bolton was mustachioed, something the new president apparently doesn't care for.) But an august persona can only do so much; it can't offset a lack of professional diplomatic experience.

That became all-too-apparent during Tillerson's January 11th confirmation hearing before the Senate Foreign Relations Committee. He was asked for his view on the military infrastructure China has been creating on various islands in the South China Sea, the ownership of which other Asian countries, including Taiwan, the Philippines, Vietnam, Malaysia, and Brunei claim as well . China's actions, he replied, were "extremely worrisome," likening them to Russia's annexation of Ukraine's Crimean peninsula, an infraction for which Russia was slapped with economic sanctions.

The then-secretary-of-state-designate — he's since been confirmed, despite many negative votes — didn't, however, stop there. Evidently, he wanted to communicate to the Chinese leadership in Beijing that the new administration was already irked beyond measure with them. So he added, "We're going to have to send China's leaders a clear signal: that, first, the island building stops and, second, your access to those islands is not going to be allowed." Functionally, that fell little short of being an announcement of a future act of war, since not allowing "access" to those islands would clearly involve military moves. In what amounted to a there's-a-new-sheriff-in-town warning, he then doubled down yet again, insisting, slightly incoherently (in the tradition of his new boss) that "the failure of a response has allowed them to just keep pushing the envelope on this."

All right, so maybe a novice had a bad day. Maybe the secretary-of-state-to-be simply ad-libbed and misspoke… whatever. If so, you might have expected a later clarification from him or from someone on the Trump national security team anyway.

That didn't happen; instead, that team stuck to its guns. White House Press Secretary Sean Spicer made no effort to add nuance to, let alone walk back, Tillerson's remarks. During his first official press briefing on January 23rd, Spicer declared that the United States "is going to make sure we defend our interests there" — in the South China Sea, that is — and that "if those islands are in fact in international waters and not part of China proper, then yes, we are going to make sure that we defend international territories from being taken over by one country."

And what of Trump's own views on the island controversy? Never one to pass up an opportunity for hyperbole, during the presidential campaign he swore that, on those tiny islands, China was building "a military fortress the likes of which the world has not seen." As it happened, he wasn't speaking about, say, the forces that Hitler massed for the ill-fated Operation Barbarossa, launched in June 1941 with the aim of crushing the Red Army and the Soviet Union, or those deployed for the June 1944 Normandy landing, which sealed Nazi Germany's fate. When applied to what China has been up to in the South China Sea, his statement fell instantly into the not-yet-named category of "alternative facts."

Candidate Trump also let it be known that he wouldn't allow Beijing to get away with such cheekiness on his watch. Why had the Chinese engaged in military construction on the islands? Trump had a simple answer (as he invariably does): China "has no respect for our president and no respect for our country." The implication was evident. Things would be different once he settled into the White House and made America great again. Then — it was easy enough to conclude — China had better watch out.

Standard campaign bombast? Well, Trump hasn't changed his tune a bit since being elected. On December 4th, using (of course!) his Twitter account, he blasted Beijing for having built "a massive military complex in the middle of the South China Sea." And it's safe to assume that he signed off on Spicer's combative comments as well.

In short, his administration has already drawn a red line — but in the way a petulant child might with a crayon. During and after the campaign he made much of his determination to regain the respect he claims the U.S. has lost in the world, notably from adversaries like China. The danger here is that, in dealing with that country, Trump could, as is typical, make it all about himself, all about "winning," one of his most beloved words, and disaster might follow.

Whose Islands?


China claims disputed islands are 'sacred territory'

A military clash between Trump-led America and a China led by President Xi Jinping? Understanding how it might happen requires a brief detour to the place where it's most likely to occur: the South China Sea. Our first task: to understand China's position on that body of water and the islands it contains, as well as the nature of Beijing's military projects there. So brace yourself for some necessary detail.

As Marina Tsirbas, a former diplomat now at the Australian National University's National Security College, explains, Beijing's written and verbal statements on the South China Sea lend themselves to two different interpretations. The Chinese government's position boils down to something like this: "We own everything — the waters, islands and reefs, marine resources, and energy and mineral deposits — within the Nine-Dash Line." That demarcation line, which incidentally has had ten dashes, and sometimes eleven, originally appeared in 1947 maps of the Republic of China, the Nationalist government that would soon flee to the island of Taiwan leaving the Chinese Communists in charge of the mainland. When Mao Ze Dong and his associates established the People's Republic, they retained that Nationalist map and the demarcation line that went with it, which just happened to enclose virtually all of the South China Sea, claiming sovereign rights.

This stance — think of it as Beijing's hard line on the subject — raises instant questions about other countries' navigation and overflight rights through that much-used region. In essence, do they have any and, if so, will Beijing alone be the one to define what those are? And will those definitions start to change as China becomes ever more powerful? These are hardly trivial concerns, given that about $5 trillion worth of goods pass through the South China Sea annually.

Then there's what might be called Beijing's softer line, based on rights accorded by the legal concepts of the territorial sea and the Exclusive Economic Zone (EEZ). Under the U.N. Convention on the Law of the Sea (UNCLOS), which took effect in 1994 and has been signed by 167 states (including China but not the United States), a country has sovereign control within 12 nautical miles of its coast as well as of land formations in that perimeter visible at high tide. But other countries have the right of "innocent passage." The EEZ goes further. It provides a rightful claimant control over access to fishing, as well as seabed and subsoil natural resources , within "an area beyond and adjacent to the territorial sea" extending 200 nautical miles, while ensuring other states' freedom of passage by air and sea. UNCLOS also gives a state with an EEZ control over "the establishment and use of artificial islands, installations, and structures" within that zone — an important provision at our present moment.

What makes all of this so much more complicated is that many of the islands and reefs in the South China Sea that provide the basis for defining China's EEZ are also claimed by other countries under the terms of UNCLOS. That, of course, immediately raises questions about the legality of Beijing's military construction projects in that watery expanse on islands, atolls, and strips of land it's dredging into existence, as well as its claims to seabed energy resources, fishing rights, and land reclamation rights there — to say nothing about its willingness to seize some of them by force, rival claims be damned.


Subi Reef, being built into an artificial island-landing strip in 2015

Moreover, figuring out which of these two positions — hard or soft — China embraces at any moment is tricky indeed. Beijing, for instance, insists that it upholds freedom of navigation and overflight rights in the Sea, but it has also said that these rights don't apply to warships and military aircraft. In recent years its warplanes have intercepted, and at close quarters, American military aircraft flying outside Chinese territorial waters in the same region. Similarly, in 2015, Chinese aircraft and ships followed and issued warnings to an American warship off Subi Reef in the Spratly Islands, which both China and Vietnam claim in their entirety. This past December, its Navy seized, but later returned, an underwater drone the American naval ship Bowditch had been operating near the coast of the Philippines.

There were similar incidents in 2000, 2001, 2002, 2009, 2013, and 2014. In the second of these episodes, a Chinese fighter jet collided with a US Navy EP-3 reconnaissance plane, which had a crew of 24 on board, less than 70 miles off Hainan island, forcing it to make an emergency landing in China and creating a tense standoff between Beijing and Washington. The Chinese detained the crew for 11 days. They disassembled the EP-3, returning it three months later in pieces.

Such muscle flexing in the South China Sea isn't new. China has long been tough on its weaker neighbors in those waters. Back in 1974, for instance, its forces ejected South Vietnamese troops from parts of the Paracel/Xisha islands that Beijing claimed but did not yet control. China has also backed up its claim to the Spratly/Nansha islands (which Taiwan, Vietnam, and other regional countries reject) with air and naval patrols, tough talk, and more. In 1988, it forcibly occupied the Vietnamese-controlled Johnson Reef, securing control over the first of what would eventually become seven possessions in the Spratlys.

Vietnam has not been the only Southeast Asian country to receive such rough treatment. China and the Philippines both claim ownership of Panatag (Scarborough) Shoal/Huangyang Island, located 124 nautical miles off Luzon Island in the Philippines. In 2012, Beijing simply seized it, having already ejected Manila from Panganiban Reef (aka Mischief Reef), about 129 nautical miles from the Philippines' Palawan Island, in 1995. In 2016, when an international arbitration tribunal upheld Manila's position on Mischief Reef and Scarborough Shoal, the Chinese Foreign Ministry sniffed that "the decision is invalid and has no binding force." Chinese president Xi Jinping added for good measure that China's claims to the South China Sea stretched back to "ancient times."

Then there's China's military construction work in the area, which includes the building of full-scale artificial islands, as well as harbors, military airfields, storage facilities, and hangars reinforced to protect military aircraft. In addition, the Chinese have installed radar systems, anti-aircraft missiles, and anti-missile defense systems on some of these islands.

These , then, are the projects that the Trump administration says it will stop. But China's conduct in the South China Sea leaves little doubt about its determination to hold onto what it has and continue its activities. The Chinese leadership has made this clear since Donald Trump's election, and the state-run press has struck a similarly defiant note, drawing crude red lines of its own. For example, the Global Times, a nationalist newspaper, mocked Trump's pretensions and issued a doomsday warning: "The U.S. has no absolute power to dominate the South China Sea. Tillerson had better bone up on nuclear strategies if he wants to force a big nuclear power to withdraw from its own territories."

Were the administration to follow its threatening talk with military action, the Global Times added ominously, "The two sides had better prepare for a military clash." Although the Chinese leadership hasn't been anywhere near as bombastic, top officials have made it clear that they won't yield an inch on the South China Sea, that disputes over territories are matters for China and its neighbors to settle, and that Washington had best butt out.

[...]