Majorityrights News > Category: War on Terror
Oukabir confirmed shot dead in Cambrils

"Barcelona attack: Police raid home of imam linked to cell behind twin terror attacks."

Moussa Oukabir confirmed shot dead in Cambrils
​Cambrils shoot out ' was like a horror movie'
Who are the victims? British boy, seven, among the missing
Who are the suspects in the Spanish terror attacks?
Everything we know about first attack on Spain in 13 years


Catalan investigators on Saturday raided the house of an imam in the town of Ripoll they believe may have overseen the cell which killed 14 people in twin terrorist attacks in Barcelona and the seaside resort of Cambrils.

Police are trying to piece together how a cell composed of multiple sets of brothers from the same sleepy Pyreenes town came to carry out the devastating attacks, amid reports they planned to blow up the Sagrada Familia.

The home of the imam, named as Abdelbaki Es Satty, was raided overnight from Friday to Saturday, with officers reportedly seeking - among other evidence - DNA samples which might link him to a building in the town of Alcanar believed to be where the attack was prepared.

El Pais, a leading Spanish daily, said they were investigating whether the imam, who apparently left Ripoll around a month ago, might be one of two dead bodies discovered in the Alcanar house. Sources involved in the investigation told El Confidencial they believed he was a "spiritual or idealogical leader" to the cell members, radicalising them and helping them to plan the attacks.

The sources cited the lack of previous terror links among the group, and said they had detected a number of trips by some members to France and Morocco. Police did not officially confirm or deny the reports.

A spokesperson for the Catalan force told the Telegraph they were working on the "principle hypothesis" that the cell was comprised of 12 members, 11 of whom have now been identified and hail almost exclusively from Ripoll.

Five members died at the hands of police in the attack on Cambrils late on Thursday night, which killed one woman and injured several others.
Telegraph, "Barcelona terror attack: van crashes into crowd at La Rambla, killing 'at least 13", 17 Aug 2017:

Terror in Barcelona as van hits crowd in Las Ramblas

Driver arrested after escaping scene on foot

Spanish media reports 13 people killed

A white van plowed into a packed summer crowd this evening in Barcelona's historic Las Ramblas district. Barcelona police called it a terror attack and local media reported 13 dead and dozens more injured.

The driver was arrested around two and a half hours after the attack, reports said.

The vehicle hit pedestrians in Las Ramblas, a busy tree-lined promenade in the centre of the city.

Catalan police tweeted "there are mortal victims and injured from the crash" without specifying any numbers. Spanish media, including Cadena SER radio station and TV3, reported up to 13 dead, while other media had varying death tolls.

The street is one of the most well-known and popular parts of the city, visited by tourists and locals alike.

Images posted on social media appear to show people being tended to as they lay on the street.

Reports said the driver escaped the scene on foot and was holed up in a bar in Tallers Street. Armed police ran down the streets and through a market, checking in stores and cafes.

In photographs and videos, at least five people could be seen lying on the ground in the streets of the northern Spanish city on Thursday afternoon, being helped by police and others. Other video recorded people screaming as they fled the van.
Telegraph, "Barcelona attack victims: dead named, as fate of seven-year-old boy remains unconfirmed", 19 Aug 2017:

Family and friends have confirmed the death of loved ones following the attack in Barcelona which killed at least 14 people and left many others injured.



Vice News, "ISIS claims responsibility for deadly Barcelona van attack", 17 Aug 2017:

A speeding white Fiat van plowed into pedestrians walking down Barcelona's popular La Rambla boulevard Thursday, killing at least 14 and injuring more than 100, in what Catalan police are calling a terror attack.
Advertisement

The Islamic State group, through its media arm Amaq news agency, claimed credit for the deadly attack.

Police arrested two suspects in connection with the attack, identifying one as Driss Oukabir, a Moroccan man in his late 20s and another, still unnamed, as a Spanish national from Melilla. Oukabir reportedly rented the van from the town of Santa Perpetua de la Mogada, just north of the city. Neither of the two men arrested were driving the van, according to a senior police official. Police are actively searching for the driver.

The van mowed down dozens of people driving for about 500m before the suspects fled on foot, according to local media. Police say it was an attack "intended to kill as many people as possible." The Spanish newspaper El Pais, quoting unnamed police sources, reported the perpetrators of the crash were holed up in a bar on Tallers Street, near Las Ramblas. Police said rumors circulating on local media that a hostage situation had unfolded after the crash were unfounded.

Catalonia's Interior Minister Joaquim Forn confirmed that 13 people were dead, and more than 100 wounded.

"It looked like something out of a film, guts and flesh."

Officials initially described the incident as a "massive crash" and emergency services warned people to stay away from the area, closing metro and train stations in the general vicinity.

Eyewitnesses described the unfolding chaos as the reality of a terror attack set in.

"It looked like something out of a film — guts and flesh," Alec Rugo, an American vacationing in Barcelona, told VICE News.

"It was really crazy. I didn't know it was happening on the Ramblas," said vacationer Moran Keren. "I saw some lady that I think was dying. It was crazy. A lot of people injured."

Spanish Prime Minister Mariano Rajoy said he is in contact with the authorities and that the priority for now was to attend to the wounded. Barcelona's mayor said she was suspending her vacation to attend to the emergency.

[...]

In the last 12 months across Europe, there have been multiple incidents where vehicles have been driven into crowds of people, killing well over 100 people in Nice, Berlin, London, and Stockholm combined.
Native blood trashed amidst aliens: Tarku, Finland.

"Finland 'terror attack.'

'Three' knife-wielding attackers 'shouting Allahu Akbar' stab five women and man in sickening rampage leaving two dead."

Police have confirmed "several people have been knifed" in the centre of Turku this afternoon - and there are reports 'a woman and a baby' was attacked.

Armed police have opened fire on knife-wielding attackers who witnesses claim were 'screaming Allahu Akbar' as they went on a rampage 'randomly stabbing people' in Finland.

Two people have died in what is suspected to be a terror-related incident - although police say it's too early to be certain.

Police have confirmed "several people have been knifed" in the centre of Turku this afternoon - including 'a woman and a baby' in a pushchair, according to local media.

Early confused reports appear to suggest there may be as many as three attackers - and at least five women and one man stabbed, possibly more.

Other reports say there was just one "young male" assailant spotted covered in blood instead - who bystanders tried to fend off with a baseball bat while others rushed to help victims.

Video footage has emerged of police arresting a man on the ground near a pool of blood - and an assailant is being treated in hospital, police say.

One person is reported to have died at the scene - while another died in hospital.

Breitbart, "Eighteen Convicted in Mostly Muslim Rape Gang, Police Paid Child Rapist Informant £10k", 9 Aug 2017:

Seventeen South Asian men and one Caucasian woman have been convicted of involvement in a mostly Muslim sex grooming gang operating in Newcastle, in the largest case of its kind since Rotherham and Rochdale.

The gang was found guilty of nearly 100 offences, including the rape and human trafficking of vulnerable women and girls. They preyed upon teenage girls with drugs and alcohol at sex parties known as "sessions", Chronicle Live reports.

The police have come under strong criticism for paying almost £10,000 to a convicted child rapist to work as an informant in the case.

"We're appalled to learn that police paid a child rapist and planted him in the midst of vulnerable young girls", - Jon Brown, NSPCC

The victims were aged between 14 and 22 years old. They were passed around by their abusers and were sometimes said to be too intoxicated to even know what was happening to them.

One victim said she had been to 60 such "sessions", the BBC reports. She spoke of seeing two older men at one of them with a woman who seemed "frightened and scared, like a slave".
Mike Cernovich is exposed as being at best a dumb vehicle for Active Measures, as his #FireMcMaster hashtag is botted and propagated hundreds of thousands of times by the 600 most active Russian fake Twitter accounts ...

John Ziegler confronts Cernovich with that and Cernovich's conspiracy theory nonsense - that Soros* is pulling McMaster's strings - Cernovich quivers nervously and makes the feeble counter-allegation that 'Ziegler is anti-Zionist; just like McMaster.'
* We have long observed that Soros is a convenient Jew for other Jews to throw under the bus, particularly the more ardent Zionists.
John Ziegler, Free Speech Broadcasting.com, August 6th 2017, hour 2:

John Ziegler (25:55): Are you claiming that you alone are the reason that #FireMcMaster has been re-Tweeted at last check over 600,000 times worldwide - you're saying that's because of you?

Mike Cernovich: Amazing, the great citizens out there who support "America first", participating very active, there was a protest today in front of The White House, the people are showing up…

John Ziegler: No, Mike, let me tell you the facts. That happened because of Russian operatives on Twitter.

Mike Cernovich: They're everywhere, oh my god, the Russians. Imagine you talked about Jewish people the way you talk about Russians? Or you talked about Israel the way you talk about Russians?

John Ziegler: Are you anti-Semitic?

Mike Cernovich: You sound anti-Semitic and you sound xenophobic, because to me you're xenophobic of Russians, an entire race of people…Russia, Russia, Russia, Russia…

Do you hate Israel the way McMaster does?

John Ziegler: You don't want to answer the question because its troubling for you.

Mike Cernovich: McMaster hates Israel, do you hate Israel the way McMaster does? He fired pro-Israel Jews, he fired a guy for going to a Bar Mitzvah in Israel. Do you support that decision by McMaster?

John Ziegler (27:15): Are you denying that the 600 most well known Russian operative Twitter handles are responsible for the re-Tweets of the hashtag #FireMcMaster and that it was the top re-Tweet for all 600? Are you (Cernovich) denying that?

Mike Cernovich: I categorically deny that.

John Ziegler (29:03): "Here is my assessment; unless you're totally lying and since we're on the phone and we've never talked before in any substantive matter so I can't know for sure; but my sense is that you are not actively working on behalf of Russia; but that Russian forces see you as somebody that they can use because he is so dumb he doesn't realize he is being used and effectively you are being used as a stooge by Russia to do their dirty work for them among certain elements of the American population, i.e., the Trump cult.

That's my belief, why am I wrong?

Mike Cernovich: Well my belief is you're being used by anti-Zionist forces to support McMaster's attacks on Israel and that's why you support the purge of Jewish Trump supporters from the Trump administration.

John Ziegler: So you just think it is a coincidence that Russia is behind the fact that the #FireMcMaster hashtag has been re-Tweeted hundreds of thousands of times?

Mike Cernovich: I'm behind hat, I came up with that.

John Ziegler: Donald Trump, when he Tweets, if its a good Tweet, it might get 20,000 re-Tweets. #FireMcMaster has been re-Tweeted over 600,000 times world-wide because of you and you alone?

[...]

You think it's beautiful that the President said, basically, you're wrong, I'm not going to fire McMaster?

You implied on line that you did not believe that Trump wrote the statement that supported McMaster.

Mike Cernovich: No, Gen. Kelley definitely wrote that. I don't believe Trump wrote that, it doesn't sound anything like him.

John Ziegler: So, you don't believe Trump is in charge then?

Mike Cernovich: Trump delegates a lot of things.

John Ziegler: Delegates a statement of his personal beliefs about McMaster, his National Security Advisor?

With that, thanks for your time, and I'll be happy to send you the link to the entire interview un-edited.

Cernovich and Milo, Shills for the (((Trump agenda)))

That's Mike Cernovich, a conspiracy nut-job, who has become famous in the Alt-Right by being a Donald Trump supporter, who no longer wants to be known as a Donald Trump supporter but is still doing the work for Donald Trump, although Trump is rejecting that work on the issue of whether National Security Advisor, H.R. McMaster should be fired; if you understand all that, you've been listening very carefully and I appreciate it.
Related Story: From the week before, Ziegler does a good job exposing Milo Yiannopoulis as a mercenary stooge for Trump, brought onto Breitbart by Bannon and backed by Robert Mercer's agenda and money. Milo did not promote the interview, which he would tend to do if he thought he came off well (he didn't, his arguments came across as highly prefigurative, ill-fitting and mercenary for Trump).
The refugee-terrorist attacker lies prone after being arrested.

New Observer, "1 Dead, 4 Injured: Another Refugee-Terrorist Attack in Hamburg", 28 July 2017:

Yet another nonwhite invader pretending to be a "refugee" in Germany—this time a United Arab Emirates national—today carried out a mass knife attack against white people in Hamburg, only blocks away from the "refugee home" where he had been living off the Germany taxpayers.

According to a report in the Bild newspaper, the nonwhite swindler, named Ahmad A, is 26 years old and first entered Germany as a "refugee" during the mass invasion of 2015.


The nonwhite launched his attack on local white people in a Hamburg supermarket in the Barmbek district of the north German city. He killed one man, aged 50, on the scene, and severely wounded another four.

The invader then headed towards a metro station in an attempt to continue his rampage.

He was however followed by eyewitnesses who tackled him to the ground. Police officers then him.

Two eyewitnesses to the attack said the man shouted "Allahu Akbar" while carrying out the attack.

According to the Tagesspiegel newspaper, the attacker was "already known to security services as an Islamist."

That newspaper said that the invader had been wearing religious clothing during the attack, and claimed his family was originally of Palestinian origin.

The attack is not the first such incident to be carried out by members of the nonwhite invasion force invited into Europe by the race-denying liberal ruling elite. Knife attacks have been encouraged by ISIS and other Islamists as an easy way of killing white people, who are described as "citizens of Crusader states."
However much of a taboo one is breaking by saying it, there is no cultural identity in a population without a stable ethnic composition

Visigrad Post, "Full speech of V. Orbán : Will Europe belong to Europeans?" 24 July 2017:

Viktor Orbán's speech at the 28th Bálványos Summer Open University and Student Camp, 22 July 2017, Tusnádfürdő (Băile Tuşnad, Romania)

Hungarian Prime Minister Viktor Orbán: "First of all, I'd like to remind everyone that we started a process of collective thinking 27 years ago in Bálványosfürdő, a few kilometres from here. That is where we came to a realisation. Just think back: at that time, at the beginning of the nineties, most people – not only in Hungary, but also across the whole of Central Europe – thought that full assimilation into the Western world was just opening up to us again. The obvious approach was adjustment to that world: to in a way shed our skin and grow a new, fashionable Western skin. From this it followed that in our politics we would simply need to copy what they were doing in the West. Back then – 27 years, 28 years ago – we came together here, and we thought that we freedom fighters living on this side of the Iron Curtain could also have something valuable to say to a Europe which had by then been living in peace, freedom and prosperity for forty years. Back then we weren't surrounded by television cameras, and our words commanded no attention whatsoever.

Now, however, they do. And if I were to name the most important event, the most important Hungarian and European event of the past year – the twelve months since our last meeting – I would say that it is the strengthening of the Visegrád Four. Although there was a presidential election in the United States, and not so long ago the French presidential and parliamentary elections swept away the entire French party system – which are both important things – I'm convinced that the most important development of the past year has been the Visegrád Four cooperation becoming closer than ever before. We can say that Warsaw, Prague, Bratislava and Budapest are speaking with one voice. This is a great achievement, as these are countries which are very different in their characters. Here we have the enthusiastic Poles, the ever-cautious Czechs, the sober Slovaks and the romantic Hungarians; and yet we are able to speak the same language. We can be truly proud of this.

It is customary for the Open University presentations to seek to give an account of the extent of change over the past year, also in a broader civilisational context. Certainly not everyone remembers that in 2009, after his election, President Obama made his first important speech abroad in the city of Cairo. This year the newly-elected US president delivered his first important speech abroad in the city of Warsaw. To illustrate the extent of the changes, it's enough to quote a few sentences from the speech made by the American president in Warsaw. I'll quote from it now:

"We have to remember […] that the defence of the West ultimately rests not only on means, but also on the will of its people to prevail and be successful and get what you have to have. […] Our own fight for the West does not begin on the battlefield. It begins with our minds, our wills and our souls. […] Our freedom, our civilization and our survival depend on these bonds of history, culture, and memory."

He then went on to say: "So together let us all fight like the Poles: for family, for freedom, for country and for God."

Ladies and Gentlemen,

These words would have been inconceivable anywhere in the Western world two years ago. This is the extent of the change that is taking place around us. This, perhaps, is the point at which I should greet Piotr Naimski and the Polish delegation led by him. He is the President of the Hungarian-Polish Parliamentary Group in Warsaw. Welcome, Dear Polish Friends.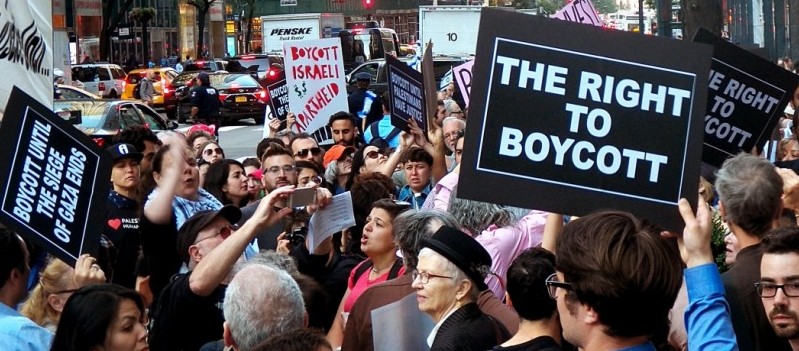 The Intercept, "U.S. Lawmakers Seek to Criminally Outlaw Support for Boycott Campaign Against Israel", 19 July, 2017:
The criminalization of political speech and activism against Israel has become one of the gravest threats to free speech in the West. In France, activists have been arrested and prosecuted for wearing T-shirts advocating a boycott of Israel. The U.K. has enacted a series of measures designed to outlaw such activism. In the U.S., governors compete with one another over who can implement the most extreme regulations to bar businesses from participating in any boycotts aimed even at Israeli settlements, which the world regards as illegal. On U.S. campuses, punishment of pro-Palestinian students for expressing criticisms of Israel is so commonplace that the Center for Constitutional Rights refers to it as "the Palestine Exception" to free speech.
But now, a group of 43 senators — 29 Republicans and 14 Democrats — wants to implement a law that would make it a felony for Americans to support the international boycott against Israel, which was launched in protest of that country's decades-old occupation of Palestine. The two primary sponsors of the bill are Democrat Ben Cardin of Maryland and Republican Rob Portman of Ohio. Perhaps the most shocking aspect is the punishment: Anyone guilty of violating the prohibitions will face a minimum civil penalty of $250,000 and a maximum criminal penalty of $1 million and 20 years in prison.
The proposed measure, called the Israel Anti-Boycott Act (S. 720), was introduced by Cardin on March 23. The Jewish Telegraphic Agency reports that the bill "was drafted with the assistance of the American Israel Public Affairs Committee." Indeed, AIPAC, in its 2017 lobbying agenda, identified passage of this bill as one of its top lobbying priorities for the year: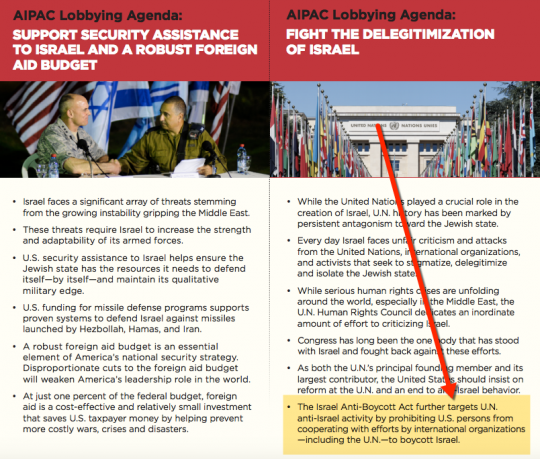 The bill's co-sponsors include the senior Democrat in Washington, Minority Leader Chuck Schumer, his New York colleague Kirsten Gillibrand, and several of the Senate's more liberal members, such as Ron Wyden of Oregon, Richard Blumenthal of Connecticut, and Maria Cantwell of Washington. Illustrating the bipartisanship that AIPAC typically summons, it also includes several of the most right-wing senators such as Ted Cruz of Texas, Ben Sasse of Nebraska, and Marco Rubio of Florida.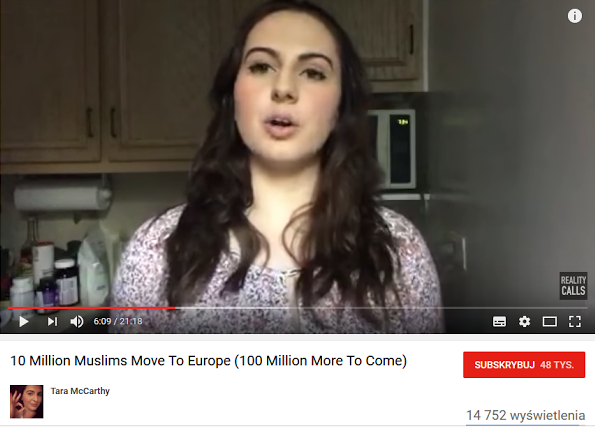 Tara McCarthy ♥️@TaraMcCarthy_14 Jul 22
Replying to @MajorityRights

Anyone who talks about the JQ gets shut down. I don't have a choice.
daniel sienkiewicz‏ @MajorityRights Jul 22
Replying to @TaraMcCarthy_14

It's not Not talking about the JQ that's the big problem, it's going along with their wish to make "The Left" the enemy that is the problem.

In ordinary language, "left" corresponds with unionization of people against elitist bullying and betrayal.

With J's on top, they cooperate with right wing sellouts to argue that "The left" is the enemy as they don't want us organizing against them.

What has been called "the Left" by the (((controlled media and academia))) is liberalism as it applies to Whites. It is not a White Left.

(((They)))'ve associated it with all manner of absurdity as they do not want Whites deploying the concept of unionization.

They do not want us to have the means of accountability and compassion for OUR marginals that would popularize our cause.

They want to say its all about "equality" but White Left ethno-nationalism doesn't have to mean anything so absurd for us.

It doesn't mean people can't be wealthy; or that people who are not contributing as much to the social capital aren't accountable as well.

It doesn't deny the reality of race, genetics, science, differing human abilities and limitations..

But we do have some agency and choice, we can unionize as left ethnonationalists to protect ourselves in coordination with other (coalitions of) ethno-nationalists.

Alt Right/Lite is a (((paleocon))) scam to co-opt White reaction into the alienating, manipulable that's just-the-way-it-isness of the right.

.."that's just the way it is" - just so happens (((these people))) are on top, its "just nature". The problems are being caused by "THE Left" (now that its convenient for the YKW and right wing sellouts in cooperation to say-so).

Illustration: Is "The left" imposing Islam on Indonesia and Turkey? No. Left nationalism's bitterly opposed to Islam &vis versa

daniel sienkiewicz‏ @MajorityRights Jul 22
Replying to @TaraMcCarthy_14