Majorityrights News > Category: World Affairs
Washington Post, 24 June 2017:

"Obama's secret struggle to punish Russia for Putin's election assault"

In political terms, Russia's interference was the crime of the century. It was a case that took almost no time to solve and was traced to Russian President Vladimir Putin. But because of the ways President Barack Obama and President Trump handled it, the Kremlin has yet to face severe consequences. Through interviews with more than three dozen current and former U.S. officials, The Post tells the inside story of how the Obama administration handled the Kremlin's meddling in the 2016 U.S. election.


ROUNDING UP THE REVELATIONS

•••••••••••

Stunning intelligence: U.S. intelligence agencies had sourcing deep inside the Russian government capturing Vladimir Putin's direct instructions to damage Hillary Clinton's chances of winning and help elect Donald Trump.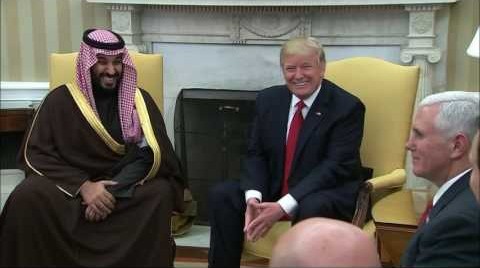 Trump the great deal -maker not.
It means that Trump has helped to make matters much worse by encouraging Saudi Arabia's King Salman to elevate his 31-year-old son Mohammed bin Salman to first in line to the throne - in a "dramatic reordering of the kingdom's line of succession that will have far-reaching consequences for the key US ally and the Middle East as a whole."...
CNN, "What Saudi Arabia's royal reshuffle means for the world", 21 June 2017:

What does it mean for the US?

The key US priorities in the Middle East are stability and predictability, and the appointment of the relatively inexperienced Mohammed bin Salman is undoubtedly a shift away from that.

As defense minister, the prince has taken a hard line with Qatar, Iran and Yemen—and the US should expect to find itself increasingly caught up in the ebb and flow of the region's ever-increasing political tensions.

The current diplomatic crisis between the Saudis and Qatar—Riyadh is trying to isolate Doha over claims that the latter supports terrorism—is a study in diplomatic tightrope-walking for the US.

Washington is publicly backing the Saudis over the spat—which has been led on the Saudi side by the new crown prince—while at the same time maintaining its large military base in Qatar.

Now, with a more gung-ho crown prince set to take charge, it is fair to assume that the Saudis will double down on its hardline positions on Qatar, Iran and the Yemen conflict.

What does it mean for Qatar?

In the short term, it's hard to tell. The message to Qatar is clear: Expect more of the same. Mohammed bin Salman's appointment means that the hard line taken by the Saudis is here to stay—and that no older, wiser voices are going to swoop in and moderate the stance any time soon.

What does it mean for Iran?

The move will further destabilize an already dangerously unstable situation.

Earlier in June, the Iranians pointed the finger at Saudi for a terror attack in their capital, Tehran. They then used this as a reason to fire missiles into Syria—a shot across the proverbial Saudi bow.

Tension between the two has been slowly building recently, and Mohammed bin Salman has taken a hard line against Iran. "We are a primary target for the Iranian regime," he said in one recent interview. "We won't wait for the battle to be in Saudi Arabia. Instead, we'll work so that the battle is for them in Iran."

Again, without more experienced voices around him, the new crown prince will feel emboldened to pursue his vision of a larger Sunni alliance, in which Saudi Arabia is the unchallenged leading power in the Middle East. This could lead to a dangerous miscalculation.

What does it mean for the Yemen conflict?

This is a conflict that Mohammed bin Salman has played a large part in—assisting the Yemeni forces in fighting off Iranian-backed Houthi rebels. In some respects, it is his war and he has to see it through.

But this is more than about saving face; Saudi stability is linked to Yemeni stability and, for that reason, the kingdom needs to continue supporting Yemen.

The brutal reality is that the conflict in Yemen is an Iran-Saudi proxy war, and the new crown prince one of its architects. It is not going to be solved through diplomacy any time soon.

Will the new crown prince loosen up Saudi's conservative culture?

Forget about the monarchy lifting the ban on women driving any time soon. That will happen on the Saudis' time frame—regardless of international pressure to change the law—and whatever they say, it is not a priority. One day it will arrive, but it's not coming fast.

Alt-Right and Zero-Hedge are reporting this evacuation as having been allowed by The US Military. ZOG being what it is, it is not inconceivable that they would allow them to escape and leave them well equipped.
However, given that Alt-Right and Zero-Hedge are effectively organs of Russian Active Measures at this point, neither can we simply take their word for it as if presenting the whole truth and nothing but… as if The Russian Federation's hands are clean in this.
Reports from a year ago highlighted the accusation that Isil was allowed to leave from Mosul unmolested to go to Syria for another stab at another phase of "Clean Break" implementation - against al-Assad in that case.
They cite the "anti-Russian newspaper, The Guardian":
"An anonymous source claiming to a Russian newspaper something as conspiratorial as the U.S. directly aiding ISIS militants may seem a dubious, but since the offensive was launched on Monday of this week, this has been the reality on the ground."

"According to Army Lieutenant General Talib Shaghati, as reported by anti-Russian newspaper, the Guardian, ISIS militants are already fleeing Mosul to Syria. This was further confirmed by the Saudi foreign minister, Adel al-Jubeir, who said that if ISIS were forced out of Mosul, they would likely go on to Syria."
Whitaker Online, " 6 June 2017:

Posted by Laura in About Bob, Bob, General on 06/06/2017

Bugsers,

It's with great sadness that I report Coach passed away in his bed, Saturday afternoon June 3rd, 2017.

His passing is going to leave a hole in so many people's life. But he has given the world the tools we need to expose this anti-White system and it's program of white genocide. We will keep on using what he has taught us.

"He left a huge legacy of words and audio, an entire world view way more in line with reality than the official world view.

That legacy lives on. I know he had a lifetime of frustration with people refusing to use the talking points and political strategies he came up with, no matter how devastating they were to the leftist establishment, but he lived long enough to see his methods start to work. His stuff is EVERYWHERE.

I hope he took comfort in that.

He taught us what to do. It's just a matter of doing it and teaching others. He's the exception to his own rule that no hero ever made a difference in a war.

This prophecy WILL come true.

http://www.whitakeronline.org/blog/2013/12/02/the-corner-has-been-turned/

We all know what Bob would want us to do."
Although there is reason to believe that the Bugsers are (((compromised))), and Bob's mantra and related memes such as "anti-White" were being misused as such, Bob was clearly well meaning - even if a tad naive; nevertheless, it was not only that his heart was in the right place, he actually did have some incisive ideas - e.g., "the greatest generation' having been beaten into passivity with their 'you can't fight city hall' WWII army training;" and in recognition of the destruction of that passivity, Bob sought to make up for that generation's passivity by becoming a trainer/memer of a new generation of activists instead - an activism that for his part, was radical enough for him see through the Trump facade after having gone for it initially - that Trump is not in control of his Presidency, but is in fact controlled - while so many "pro-Whites" remain snookered by Trumpism.
The Intercept, "Top-Secret NSA Report Details Russian Hacking Effort Days Before 2016 Election", 5 June 2017:

Russian military intelligence executed a cyberattack on at least one U.S. voting software supplier and sent spear-phishing emails to more than 100 local election officials just days before last November's presidential election, according to a highly classified intelligence report obtained by The Intercept.

The top-secret National Security Agency document, which was provided anonymously to The Intercept and independently authenticated, analyzes intelligence very recently acquired by the agency about a months-long Russian intelligence cyber effort against elements of the U.S. election and voting infrastructure. The report, dated May 5, 2017, is the most detailed U.S. government account of Russian interference in the election that has yet come to light.

While the document provides a rare window into the NSA's understanding of the mechanics of Russian hacking, it does not show the underlying "raw" intelligence on which the analysis is based. A U.S. intelligence officer who declined to be identified cautioned against drawing too big a conclusion from the document because a single analysis is not necessarily definitive.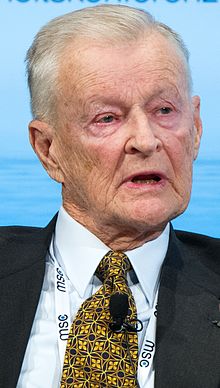 Zbigniew Brzezinski, whose "great chess game" thinking was behind some of the better geo-strategy that Obama and other Presidents are given credit for, has died. Unfortunately, it is a wisdom and judgment not in evidence in Trump - at all - whatever check and balance to Israeli influence that Obama had put in place through Brzezinski's coaching has been purged.
Obama was frequently given credit for resisting Israeli wishes - notably to go against the Iran Deal. But it would have been under the literal advice of Zbigniew Brzezinski to get behind the Iran Deal. The deal was perfect for the power of business interests to exercise its liberalizing effect not only for Iran, but against an eminently dangerous US comlicitness with Israeli-Russian Federation hegemony; along with complicitness to Islamic compradors and abetment of terror.
Say what you want about a cold war mindset, it taught western strategists to look at the Russian Federation and to not be naive about it.
The Russian Federation is not an ethno-state, and like the US, where it is not entirely mixed-up with Jewish interests, it is subject to right wing reactionary and imperialist politics.
The Alt-Right belatedly, grudgingly, acknowledges Jewish power and influence interwoven with not only Trump, but the Kremlin and Putin - it has even been forced to see the quid pro quo that Kumiko diagnosed - "support Israel and your Alt-Right can have backing - its a deal" - however, like David Duke, it will do anything but lay blame on its part for making these deals - what it will not see is the right wing shabbos goyim aspect of right wingers doing what right wingers do - blinding (themselves or others, depending) to their people's broad interests and selling them out for their narrow interests - including selling out in deals with Jews. Clearly the right does not have Israeli interests under control. It does not have and will not allow the concept that would do it. That would mean having to acknowledge what fuck-ups they are, how inane their concept, how typical that they would put Trump in power, blinding to the obvious, deal making, shaking hands with their fellow enemies of ethnonationalism.
They're ok with blaming Jews - and if Kumiko is able to force them to admit to a deal having been offered to them, they might even acknowledge it, almost acknowledge that they took the deal - so long as their masters allow them to lay blame on the "bad" Jews (not the "good ones" du jour); but they will not lay blame on the inherent defect of their right wing platform (heck, their Jewish masters wouldn't allow it), let alone specify the fact that for its inherent instability its adherents are bound to do it again; let alone will they call attention to the fact that they are using and being used for the supremacist, imperialist interests of Israel, its diaspora, its cohorts, the US, the Russian Federation ...add Turkey, Saudi and others to that equation.
If Jews say Asians and Asian ethnonationalism are the enemy, and a Judeo-Christian West is the answer to 'radical' Islam, black and mestizo population imposition, it's a deal for them. Our Asian friends are on notice, we true ethno-nationalists, including White Left nationalism, stand apart from the perfidy and the complicitness of the Alt-Right.

First on CNN: Russian officials bragged they could use Flynn to influence Trump, sources say," 20 May 2017:

Washington (CNN)Russian officials bragged in conversations during the presidential campaign that they had cultivated a strong relationship with former Trump adviser retired Gen. Michael Flynn and believed they could use him to influence Donald Trump and his team, sources told CNN.

The conversations deeply concerned US intelligence officials, some of whom acted on their own to limit how much sensitive information they shared with Flynn, who was tapped to become Trump's national security adviser, current and former governments officials said.

"This was a five-alarm fire from early on," one former Obama administration official said, "the way the Russians were talking about him." Another former administration official said Flynn was viewed as a potential national security problem.

The conversations picked up by US intelligence officials indicated the Russians regarded Flynn as an ally, sources said. That relationship developed throughout 2016, months before Flynn was caught on an intercepted call in December speaking with Russia's ambassador in Washington, Sergey Kislyak. That call, and Flynn's changing story about it, ultimately led to his firing as Trump's first national security adviser.

Officials cautioned, however, that the Russians might have exaggerated their sway with Trump's team during those conversations.

Flynn's lawyer declined to comment.

"We are confident that when these inquiries are complete there will be no evidence to support any collusion between the campaign and Russia," a White House official said in a statement. "... This matter is not going to distract the President or this administration from its work to bring back jobs and keep America safe."

Flynn has emerged as a central figure—and Trump's biggest liability—in the intensifying investigations into possible collusion between the Trump campaign and the Russians. His financial ties to Turkish government interests, which paid him $530,000 in a lobbying deal that he failed to disclose during the campaign, are also under scrutiny by federal investigators.

One major concern for Obama administration officials was the subject of conversations between Flynn and Kislyak that took place shortly after President Barack Obama slapped new sanctions on Russia for meddling in the election. Sources tell CNN that Flynn told Kislyak that the Trump administration would look favorably on a decision by Russia to hold off on retaliating with its own sanctions. The next day, Putin said he wouldn't retaliate.

Sources say Flynn also told Kislyak that the incoming Trump administration would revisit US sanctions on Russia once in office. The US has applied sanctions on Russia since 2014 for its actions in Ukraine.

Flynn's calls with Kislyak in December have received the most attention, but his relationship with the Russian ambassador goes back four years.

He first met Kislyak in June 2013 during an official trip to Russia, according to The Washington Post. He led the Defense Intelligence Agency at the time and met his counterparts at the Russian military intelligence agency known as the GRU.