Majorityrights News > Category: Socialism
This posting is not meant as an endorsement, but rather to allow for Hoppa to speak for himself since he is a central figure of Libertarianism and is frequently cited as an authority of its orientation as such. The talk is particularly relevant as a reference point as this lecture is on the topic of Libertarianism as it bears on The Alt-Right.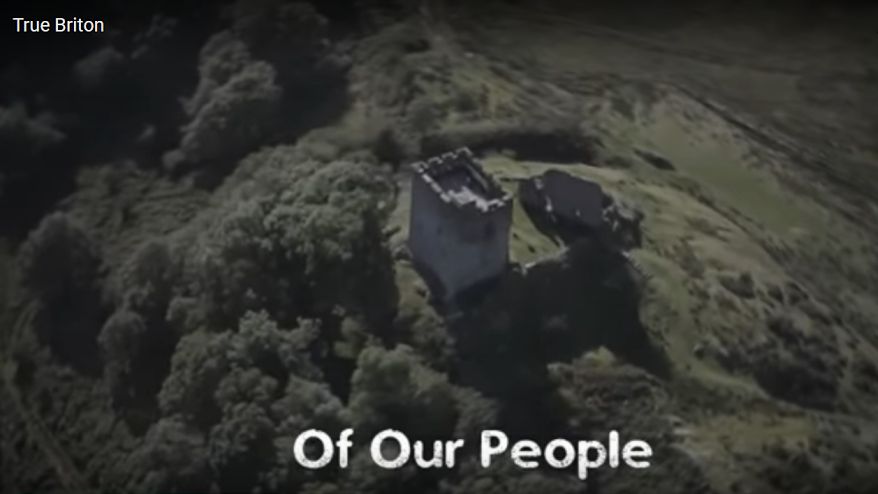 True Briton by Oswald Mosley
Oswald Mosley's Union Movement

Oswald Mosley died in 1980 but his ideas live on. 'Ten Points For Action' was published forty years ago but they are still relevant. Compare these visionary policies to the paranoid fantasies of the far-right.

1) Action to Build Houses. We want Action to solve the housing problem. It should be taken out of the hands of local authorities and entrusted to Government leadership with powers to mass produce houses and flats like an 'operation of war', turning out homes as munitions were mass-produced in time of war.

2) Stop the Land and Rent Rackets. Give the Government the power to acquire land at pre-boom prices and to finance housing by low-interest loans, paid for by high-interest charges on all non-essential and luxury building. Such action would bring down house prices and rents and at last provide good but cheap housing for all.

3) Stop Immigration - Start Repatriation. We want Action to ease the pressure on housing and other social problems (like the reintroduction of diseases unknown in Britain for hundreds of years) by stopping all further immigration and by repatriating all post-war immigrants to good jobs and conditions in their homelands, to which prosperity had been restored by using the surplus wealth and production of united Europe. But Britain could make a start now before the complete union of Europe is achieved.

4) Choice in Education and Health. We want Action to build good schools, colleges, universities and hospitals, just as we would mass-produce houses and flats. Parents should have a choice of schools for their children. We should not be taxed to provide those health services we will never use (maternity benefits for confirmed bachelors!) but free to pay in proportion to our requirements.

5) Free Speech - Law and Order. We want Action to ensure freedom of speech for everyone, guaranteed by the Government, which has a duty to maintain law and order in the State and to take effective action against mob violence, which today denies freedom of expression to any views of which its agitators disapprove. Let us maintain local police forces with their local knowledge and experience, but let us supplement them with a highly-trained, well-equipped, mobile national police force, to put down organised crime and to maintain public order.

We would ensure freedom of the Press for both newspapers and the public. Any man who felt himself misrepresented in the Press should be guaranteed (by law) equal space to reply in the newspaper concerned. This would free the public from the expense of seeking justice through costly libel action and free the newspapers from the legal blackmail of a threatened libel action by some unscrupulous racketeer.

6) Capital Punishment. The death penalty should be restored to the statute book, to be used sparingly in the case of premeditated murder. The Court of Appeal should have a solemn duty to reprieve if in any doubt. The sentence could be carried out not by hanging, but by a quick and painless injection or by some other humane method.

7) Action in Europe. To put these policies into practice Britain must advance beyond the concept of a so-called united Europe and Common Market to which the Conservative Party has at last been converted and which the Labour Party still opposes. We must advance quickly to "Europe a Nation", which we have advocated since 1948. We stand for a union of all Europe, our former white Dominions and southern Africa, a great "third force" independent of both America and Russia.

This "third force" must have a central government for its defence, the economy, finance and scientific development, with power to raise wages and control prices as production increases for a guaranteed market, insulated against unfair competition from the rest of the world.

We need a European army, equipped with the most modern weapons to defend our continent against attack from any quarter. This should be financed on a European budget, instead of each small country straining its economy to finance its own defence.

8) National and Regional Governments. There should be independent national and regional governments for each European country and the main regions. This would enable England, Wales, Scotland, Ireland and other European countries and regions to have their own parliaments for internal affairs and for the preservation of their national and regional cultures.

9) The Irish Problem. The ultimate solution to the Irish problem is the union of that country within a united Europe. But the bloodshed must first be brought to an end by a free vote on a county basis in each of the Six Counties and a subsequent readjustment of the border. The bulk of the Catholic population in the North would then be ruled (as is their wish) from Dublin, with a lessening of present tensions, the IRA would lose its bases in the North and the British Army would have a much shorter border to patrol against infiltration from the South. In this improved situation agreement could more easily be reached on the eventual union of Ireland, with the rights of the Protestant minority protected and guaranteed by European government.

10) Government of National Union. We stand for a government of national union and effective action, drawn from the whole nation, from the professions and the trade unions, arts and science, the law and the armed forces. Government elected by the whole people alone should govern. It should have power to lead the economy, raising wages and controlling prices as science increased production. Then we will have cooperation instead of conflict in industry.

We want Action to halt the "brain drain" and to arouse a new spirit of national service in our British people, by relating all reward directly to skill, effort, initiative and responsibility. There should be "great reward for great service", crowned by higher pensions drawn from the wealth of the new economic system, as the reward in old age for those who had loyally served the nation throughout their lives.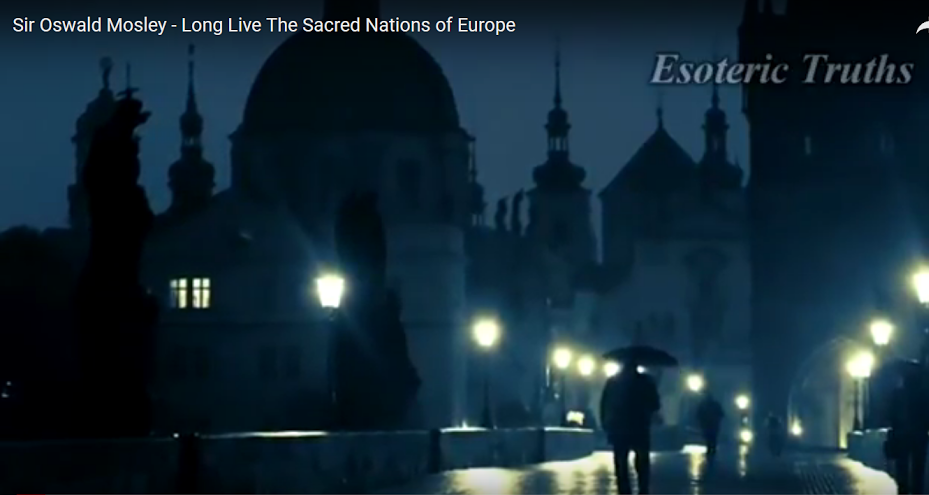 Long Live The Sacred Nations of Europe by Oswald Mosley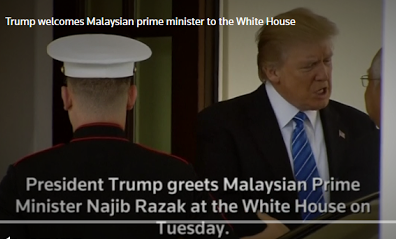 The YKW and right wing collude with Islam.
Malaysian Prime Minister Najib Razak is the comprador of compradors.
In what is going on a decade of the got-up (((paleoconservatism)) of the ((("alt-right"))), one of the key reasons its Jewish conception has fashioned "the left" as the grand-enemy is because left nationalism, its syndicalism, is a grand adversary of Abrahamism - especially the Islamic variant, a universalizing credo which prohibits ethnonational unionizations. Islam, as instituted by comprador imams, functions thereby as feudalist thuggery on behalf of Jewry and complicit right wingers - who make deals with the Islamic comprador (a middleman slave driver/enforcer upon the local population, killing them where they interfere) to exploit the labor and resources of would-be sovereign ethnostates.
Reuters, "Trump, Malaysia's Najib skirt round U.S. probe into 1MDB scandal", 12 Sept 2017:

WASHINGTON (Reuters) - U.S. President Donald Trump welcomed Malaysian Prime Minister Najib Razak to the White House on Tuesday, praising his country for investing in the United States while steering clear of an American investigation into a Malaysian corruption scandal.

The visit is important for Najib, who faces elections next year and wants to signal he is still welcome at the White House despite a criminal probe by the U.S. Justice Department into a state fund called 1Malaysia Development Berhad (1MDB).

Flanked by top advisers in the Cabinet Room, Najib told Trump that Malaysia Airlines would buy 25 Boeing 737 jets and eight 787 Dreamliners, and would probably add another 25 737s in the near future - a deal he said would be worth more than $10 billion within five years.

Najib said Malaysia's Employees Provident Fund, a major pension fund, wanted to spend $3 billion to $4 billion on U.S. infrastructure development.

Najib enjoyed close ties with Trump's predecessor, Barack Obama, playing golf in Hawaii in 2014, but relations cooled over human rights issues as well as the 1MDB scandal.

Najib founded the fund, which is facing money laundering probes in at least six countries including the United States, Switzerland and Singapore. He denies wrongdoing.

The U.S. Justice Department has said more than $4.5 billion was misappropriated from 1MDB by high-level officials of the fund and their associates, according to dozens of civil lawsuits it filed last year.

The Justice Department sued to seize some $1.7 billion in assets it said were bought with misappropriated 1MDB funds, but asked for a stay on its civil lawsuits in August because it was conducting a related criminal probe.

The White House had said it would not comment on the Justice Department investigation but a senior U.S. official acknowledged it was unusual to meet with Najib while 1MDB was under regulatory scrutiny.

"It's a weird situation, no doubt," the official said, explaining that the administration has prioritized developing relations with Southeast Asia to counter "huge gains" China has made in the region.
European Outlook, "Propaganda", 31 July 2017:
By Bill Bailie #44 August 2017
Propaganda
Technology has revolutionised communications. Martin Luther nailed his thesis to the door of All Saints' Church in Wittenberg and changed the world. Benito Mussolini led the March on Rome to sieze power. And, in the sixties, we relied on street corner meetings and literature. Today, such primitive methods have been overtaken by the Internet.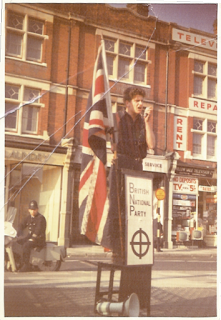 A young Bill Baillie campaigning for John Bean's British National Party in the 1964 general election.
We were not an insular nationalist party, we believed in European solidarity and social justice. I went overseas in 1965 and when I came home in 1970 we had been taken over by the National Front and our progressive policies had been dumped. I therefore joined Union Movement and embraced Oswald Mosley's vision of 'Europe a Nation'.
Social media is the modern way of communicating and video platforms such as Youtube are very effective. Donald Trump used Twitter and Facebook extensively in his presidential campaign and so did Emmanuel Macron in France.
Newspapers and magazines are expensive to produce and distribute but websites are affordable. We can reach more people on the Internet than we did in the old days by putting leaflets through letterboxes or selling newspapers on street corners. Competing with the mass media is obviously an unequal challenge but having discovered the truth it's our duty to encourage people to think for themselves and reject media brainwashing.
Newspapers, radio and television dominate public opinion but we can fight back by using the Internet. The State uses anti-terrorist legislation to silence its enemies but we can stay within the law by avoiding insulting or threatening language.
Ten years ago immigration was a taboo subject and only the lunatic-left talked about a "crisis of capitalism." Today, these ideas have gone mainstream and you don't have to be a political party in order to have an opinion. So, carry on blogging and posting on Facebook and Twitter. Let our voices be heard.
A Garden Green by William Harris,
first published in 'Lodestar' Winter 1986
Each year brings thousands of American tourists to Britain, and it is clear that many of them are seeking something the do not posses in their own continent. This, I suggest, is a past: their own past forged by their own ancestors, and not the pre-Colombian past of the Indian, which is the only true ancient thing they have. They must travel all these hundreds of miles in order to find their roots, be they of Celtic, Anglo-Saxon or Norman descent.
As so much nonsense is talked about Britain's 'mixture of races', it is worth quoting the words of Brian Branson in 'The Lost Gods of England'. In his chapter 'Who were the English?' he mentions these ethnic groups, adding "But none of these inter-breedings was what might be called in genetic terms 'a violent out-cross' such as would have been the case if Britain had been successfully invaded by an armada of Chinese, or Red Indians or African Bushmen. Apart from any alteration in physical appearance that would have befallen the new Island Race under such circumstances, one has only to suppose a pagoda in Canterbury, a totem pole in Trafalgar Square, and rock paintings in the Cheddar Gorge to imagine the cultural changes that would have ensued." He concludes that "the mongrelism of the English turns out to be more apparent than real." That was first published in 1957, before the minarets of the mosque loomed over the trees in Regent's Park.
Names are among the most ancient and lasting monuments in a culture, particularly those given to natural features in the landscape. In Britain they are usually Celtic, the Celts being the earliest of the above ethnic groups. The prefix 'Pen' for 'head' or 'headland' and the many instances of the name 'Avon', which means simply 'river' are two of the most obvious.
The names of our pubs are often far older than the buildings they adorn, and they tell us much. 'The George', and 'The Green Man', for instance, take us back to the traditional Mummers' Play of St George and the Turkish knight, and to a character in the Morris Dance, 'Jack in the Green'. The mummers would usually herald their appearance by announcing "Here come I". . . and in all these traditions, including that of traditional dance and song which is inseparable from it, there are a number of folk-heroes who emerge: St George, Robin Hood and Maid Marion, King Arthur, Hereward the Wake, Dick Whittington, Dick Turpin, Nelson and Lord Collingwood. The villains (all of whom are often cut down by St George in the course of the mummers' play) include: Prince Valentine, Captain Rover, Turkey Snipe, Little John, Bonaparte and Sambo. The last prompts me to remark that the blackening of faces (so upsetting to the susceptibilities of the liberal left of today), is probably far older than the 'Black and White Minstrels', or the minstrels who used to perform on seaside piers. There are accounts of wassailers or masqueraders blackening their faces, and the 'Giant of Salisbury' (a huge effigy , which used to be carried in all important processions in the city, which is now in the Salisbury and South Wiltshire museum) was found to have had his face blackened at some stage in the past, before he was 'cleaned up'. 'Morris', of course, is thought to derive from 'Moorish' so, like the Mummers' Play, it may date from the time of the Crusades.
After St George in the play has felled the Turkish knight, a doctor is called for, to 'cure' him. He is often played by a small boy dressed in a top hat and frock coat far too big for him and (in the version from Camborne, Cornwall) he says:
"I can cure the itch, the specs and the gout -
If there's nine devils, I can kick ten out."
He always cures the wounded knight so that the audience can then enjoy another bout of fighting but, in fact, his origins go back to the idea of death and resurrection which is the basis of most of the world's religions.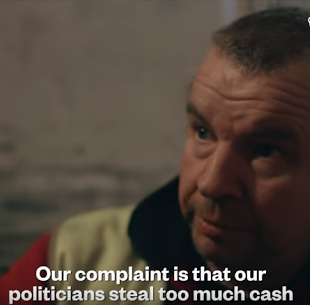 Even more than through Alex Navalny's protests against the Putin/Medvedev government of the Russian Federation, a nation-wide trucker's strike, and what its proponents have to say throw light upon the facts of people, unlike Putin and Medvedev, whom we ethno-nationalists might identify with as having a similar end in mind, in hope for a ethnonationalist basis that might be allied against its propositional imperialism.

A far cry from Putin apologetics of the Atl-Right, through these folk the corruption and imperial disconnect of the Russian Federation's leadership is highlighted as analogous to The US Government's propositional disconnect from peoplehood - the ethnostate.
Though the segment in this Vice News episode about Milo is sufficiently unflattering and won't hurt anybody to watch, nor the other segments, it is the two corresponding segments - from 2:17 - 9:05 - that I would like to bring to your attention. Starting at 2:17, there is a brief segment discussing the mass "bourgeois" government protest and problems of its national organizer, Alex Navalny, who, after having recently gotten out of jail for organizing the protests, suffered a chemical attack on two occasions with no one being arrested for the attacks.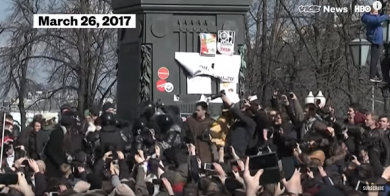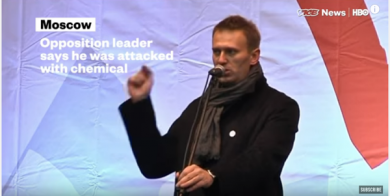 But this protest - whether it could be Soros backed or what - is not the most interesting one from an ethno-nationalist standpoint.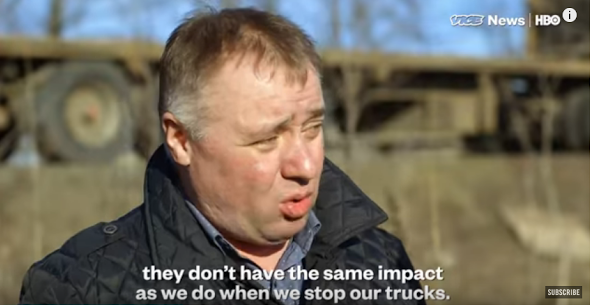 What is more interesting for ethno-nationalists is the subsequent story which more clearly indicates that the government of the Russian Federation is cutting into the meat of would-be ethno-national constituents. It is further indication that the Russian Federation is not functioning at an ethnostate, but is functioning to serve its political class as divorced from ethno-nationalism - particularly as its implications bear upon European and Asian peoples - while it might serve the group interests of others - Jews, blacks, even Muslims. Indeed it is a comparable beast to The United States: It's leadership is corrupt and functioning with a different agenda from the rank and file. (((Medvedev))) is highly disapproved-of for having implemented such a schism, but Putin is looked upon critically as well, as an intimate part of the same system as Medvedev, a manifestation of a corrupt system that will simply grow another head like him when he goes away.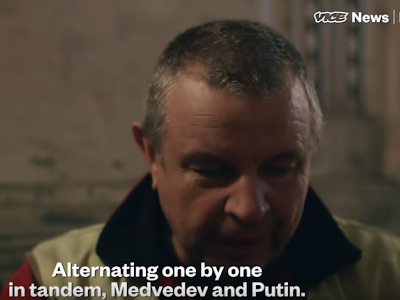 That outlook - which you will see a trucker's unionist discuss in the clip - that outlook upon a systemically corrupt leadership of the Russian Federation is where to look for a way for ethno-nationalism to organize and overthrow the Russian Federation's propositional imperialism - its growing connection with propositionalism and prescription against would-be ethno-states. A propositional imperialism emanating from its right-wing leadership in coalition with YKW, a corruption quite similar to that of the U.S. leadership (Trump et al.) which it supports and which is "coincidentally" acting quite like the YKW in this prescription to advance by contrast to ethnonationalism their own elite imperialism.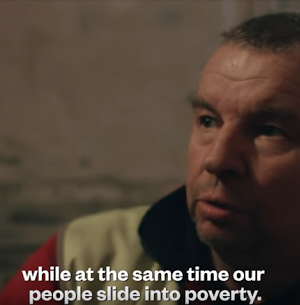 What that means for ethnonationalists is that there is a level headed perspective among the working Russian populace which sees things from an incipient ethnonationalist perspective, which might ultimately cooperate with us against the kind of supremacist imperialism of which Medvedev, Putin and the vastly aggrandized Russian Federation are a part.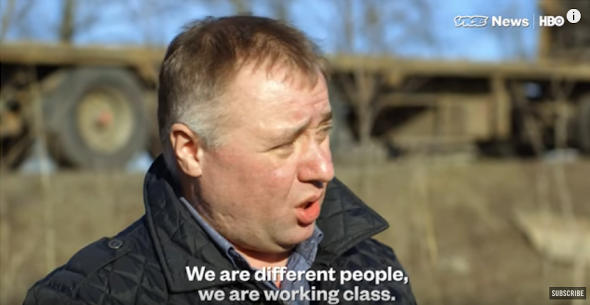 The truckers talk about their travails in Irkutsk - a good ride east; and a little beyond Lake Baikal might form the border of one of the biggest ethno states in the world, where they might see fit that enough is enough; better that there be less conflict and more natural support by peacefully coordinating with native ethnonationalists to the east of that.
Heidegger midtdasein

LARB, "Heidegger and Anti-Semitism Yet Again: The Correspondence Between the Philosopher and His Brother Fritz Heidegger Exposed", 25 Dec 2016:

FOR QUITE SOME TIME, there has been a fair bit of murmuring and speculation surrounding the letters exchanged between the philosopher Martin Heidegger and his brother Fritz. Those who had seen the more than 500 pieces of correspondence, which have been stored at the German Literature Archive in Marburg since 2014, knew how explosive they would be. But in accordance with the wishes of Heidegger's family, they were not allowed to quote from them. But now — apparently in response to the intense international debate surrounding Heidegger's anti-Semitism triggered by the publication of the Black Notebooks three years ago — the family has agreed to release an abridged version of the letters, written between 1930 and 1946, in a newly published volume called Heidegger und der Antisemitismus ("Heidegger and Anti-Semitism") (Verlag Herder, Freiburg 2016). Inside these pages one finds an unvarnished picture of the philosopher's political disposition. In the Black Notebooks, a kind of diary of thoughts, Heidegger approached anti-Semitism from a philosophical remove, but these personal letters published expose him as a bona fide, unrepentant anti-Semite. They also show that — in contrast to prevailing beliefs — the Freiburg professor was politically well informed, and was an early and passionate supporter of National Socialism.

As early as the tail end of 1931, the 43-year-old Heidegger sent his brother a copy of Adolf Hitler's Mein Kampf for Christmas, praising the future dictator's "extraordinary and unwavering political instincts." Heidegger interprets the right-wing conservative minority cabinet under Reich Chancellor Franz von Papen — which governed with the help of President Hindenburg between June and December 1932 — as a Jewish conspiracy. And he complains that the Jews are:

gradually extricating themselves from the mood of panic into which they had fallen. That the Jews were able to pull off such a maneuver as the Papen episode just shows how difficult it will be to push back against everything represented by Big Capital (Großkapital) and the like.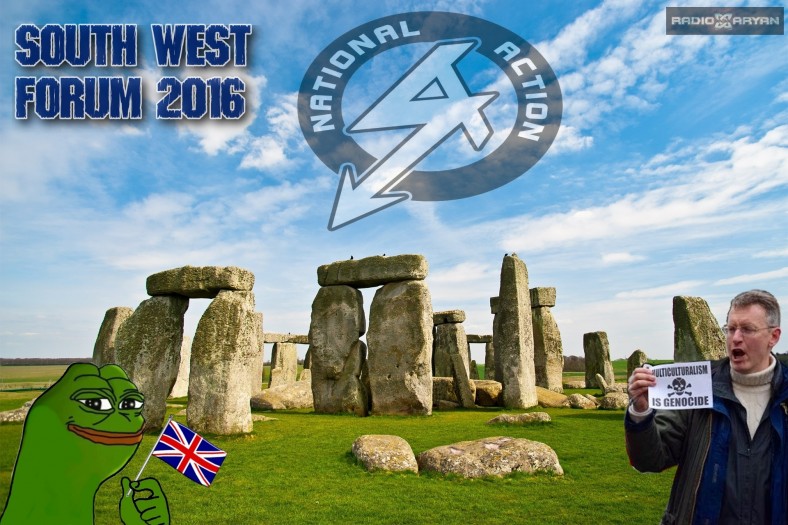 South West Forum: White British Nationalists, Max Musson, Ian Fotheringham and Jez Turner.
Paradise Island, A Parable by Max Musson which discusses the advantages of in-group preference.
TNO, "Italy: Invaders Flee from CasaPound" 1 June 2016:

Hundreds of nonwhite invaders squatting in the seaside town of Ostia, outside Rome, last night fled in the face of a mass show of force by Italian nationalist organization CasaPound, supported by hundreds of locals.

The invaders had turned the town's park into a squalid shantytown, used it as a public toilet, and had terrorized locals for months with their criminal activities—and leftist authorities had refused to act.

CasaPound—which sprang to international prominence with a 10,000-strong anti-invasion march and demonstration in Rome in May this year—announced that they were going to "clean up" the Ostia Lido Centro area after residents had asked them to help.

They said that local authorities had refused to move the invaders—many of them Africans who had landed in Italy during the ongoing boat-invasion which is being encouraged and supported by the European Union.

"CasaPound took to the streets with exasperated residents," CasaPound Ostia leader Luca Marsella said.

"We're not leaving until these people who have been here for months are gone. The residents are afraid. This cannot be allowed to carry on," he added, before taking up a megaphone to lead the growing crowd.

After more than three hours of confrontation, which took place with police present, the invaders decided to flee in the face of the angry crowd.