European Outlook, "Propaganda", 31 July 2017:
By Bill Bailie #44 August 2017
Propaganda
Technology has revolutionised communications. Martin Luther nailed his thesis to the door of All Saints' Church in Wittenberg and changed the world. Benito Mussolini led the March on Rome to sieze power. And, in the sixties, we relied on street corner meetings and literature. Today, such primitive methods have been overtaken by the Internet.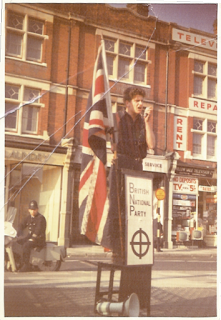 A young Bill Baillie campaigning for John Bean's British National Party in the 1964 general election.
We were not an insular nationalist party, we believed in European solidarity and social justice. I went overseas in 1965 and when I came home in 1970 we had been taken over by the National Front and our progressive policies had been dumped. I therefore joined Union Movement and embraced Oswald Mosley's vision of 'Europe a Nation'.
Social media is the modern way of communicating and video platforms such as Youtube are very effective. Donald Trump used Twitter and Facebook extensively in his presidential campaign and so did Emmanuel Macron in France.
Newspapers and magazines are expensive to produce and distribute but websites are affordable. We can reach more people on the Internet than we did in the old days by putting leaflets through letterboxes or selling newspapers on street corners. Competing with the mass media is obviously an unequal challenge but having discovered the truth it's our duty to encourage people to think for themselves and reject media brainwashing.
Newspapers, radio and television dominate public opinion but we can fight back by using the Internet. The State uses anti-terrorist legislation to silence its enemies but we can stay within the law by avoiding insulting or threatening language.
Ten years ago immigration was a taboo subject and only the lunatic-left talked about a "crisis of capitalism." Today, these ideas have gone mainstream and you don't have to be a political party in order to have an opinion. So, carry on blogging and posting on Facebook and Twitter. Let our voices be heard.
A Garden Green by William Harris,
first published in 'Lodestar' Winter 1986
Each year brings thousands of American tourists to Britain, and it is clear that many of them are seeking something the do not posses in their own continent. This, I suggest, is a past: their own past forged by their own ancestors, and not the pre-Colombian past of the Indian, which is the only true ancient thing they have. They must travel all these hundreds of miles in order to find their roots, be they of Celtic, Anglo-Saxon or Norman descent.
As so much nonsense is talked about Britain's 'mixture of races', it is worth quoting the words of Brian Branson in 'The Lost Gods of England'. In his chapter 'Who were the English?' he mentions these ethnic groups, adding "But none of these inter-breedings was what might be called in genetic terms 'a violent out-cross' such as would have been the case if Britain had been successfully invaded by an armada of Chinese, or Red Indians or African Bushmen. Apart from any alteration in physical appearance that would have befallen the new Island Race under such circumstances, one has only to suppose a pagoda in Canterbury, a totem pole in Trafalgar Square, and rock paintings in the Cheddar Gorge to imagine the cultural changes that would have ensued." He concludes that "the mongrelism of the English turns out to be more apparent than real." That was first published in 1957, before the minarets of the mosque loomed over the trees in Regent's Park.
Names are among the most ancient and lasting monuments in a culture, particularly those given to natural features in the landscape. In Britain they are usually Celtic, the Celts being the earliest of the above ethnic groups. The prefix 'Pen' for 'head' or 'headland' and the many instances of the name 'Avon', which means simply 'river' are two of the most obvious.
The names of our pubs are often far older than the buildings they adorn, and they tell us much. 'The George', and 'The Green Man', for instance, take us back to the traditional Mummers' Play of St George and the Turkish knight, and to a character in the Morris Dance, 'Jack in the Green'. The mummers would usually herald their appearance by announcing "Here come I". . . and in all these traditions, including that of traditional dance and song which is inseparable from it, there are a number of folk-heroes who emerge: St George, Robin Hood and Maid Marion, King Arthur, Hereward the Wake, Dick Whittington, Dick Turpin, Nelson and Lord Collingwood. The villains (all of whom are often cut down by St George in the course of the mummers' play) include: Prince Valentine, Captain Rover, Turkey Snipe, Little John, Bonaparte and Sambo. The last prompts me to remark that the blackening of faces (so upsetting to the susceptibilities of the liberal left of today), is probably far older than the 'Black and White Minstrels', or the minstrels who used to perform on seaside piers. There are accounts of wassailers or masqueraders blackening their faces, and the 'Giant of Salisbury' (a huge effigy , which used to be carried in all important processions in the city, which is now in the Salisbury and South Wiltshire museum) was found to have had his face blackened at some stage in the past, before he was 'cleaned up'. 'Morris', of course, is thought to derive from 'Moorish' so, like the Mummers' Play, it may date from the time of the Crusades.
After St George in the play has felled the Turkish knight, a doctor is called for, to 'cure' him. He is often played by a small boy dressed in a top hat and frock coat far too big for him and (in the version from Camborne, Cornwall) he says:
"I can cure the itch, the specs and the gout -
If there's nine devils, I can kick ten out."
He always cures the wounded knight so that the audience can then enjoy another bout of fighting but, in fact, his origins go back to the idea of death and resurrection which is the basis of most of the world's religions.