Majorityrights News > Category: Business & Industry
...purposefully leaked or not, apparently kissing-up to YKW
Robert Kuttner revealed his conversation with Bannon: "To me," Bannon said, "the economic war with China is everything." ... "Ethno-nationalism—it's losers. It's a fringe element. I think the media plays it up too much, and we gotta help crush it, you know, uh, help crush it more." ..."These guys are a collection of clowns," he added.

American Prospect, "Steve Bannon, Unrepentant", by Robert Kuttner, 16 Aug 2017:

Trump's embattled strategist phones me, unbidden, to opine on China, Korea, and his enemies in the administration.

You might think from recent press accounts that Steve Bannon is on the ropes and therefore behaving prudently. In the aftermath of events in Charlottesville, he is widely blamed for his boss's continuing indulgence of white supremacists. Allies of National Security Adviser H.R. McMaster hold Bannon responsible for a campaign by Breitbart News, which Bannon once led, to vilify the security chief. Trump's defense of Bannon, at his Tuesday press conference, was tepid.

But Bannon was in high spirits when he phoned me Tuesday afternoon to discuss the politics of taking a harder line with China, and minced no words describing his efforts to neutralize his rivals at the Departments of Defense, State, and Treasury. "They're wetting themselves," he said, proceeding to detail how he would oust some of his opponents at State and Defense.

Needless to say, I was a little stunned to get an email from Bannon's assistant midday Tuesday, just as all hell was breaking loose once again about Charlottesville, saying that Bannon wished to meet with me.

Needless to say, I was a little stunned to get an email from Bannon's assistant midday Tuesday, just as all hell was breaking loose once again about Charlottesville, saying that Bannon wished to meet with me. I'd just published a column on how China was profiting from the U.S.-North Korea nuclear brinkmanship, and it included some choice words about Bannon's boss.

"In Kim, Trump has met his match," I wrote. "The risk of two arrogant fools blundering into a nuclear exchange is more serious than at any time since October 1962." Maybe Bannon wanted to scream at me?

I told the assistant that I was on vacation, but I would be happy to speak by phone. Bannon promptly called.

Far from dressing me down for comparing Trump to Kim, he began, "It's a great honor to finally track you down. I've followed your writing for years and I think you and I are in the same boat when it comes to China. You absolutely nailed it."

"We're at economic war with China," he added. "It's in all their literature. They're not shy about saying what they're doing. One of us is going to be a hegemon in 25 or 30 years and it's gonna be them if we go down this path. On Korea, they're just tapping us along. It's just a sideshow."

Bannon said he might consider a deal in which China got North Korea to freeze its nuclear buildup with verifiable inspections and the United States removed its troops from the peninsula, but such a deal seemed remote. Given that China is not likely to do much more on North Korea, and that the logic of mutually assured destruction was its own source of restraint, Bannon saw no reason not to proceed with tough trade sanctions against China.

Contrary to Trump's threat of fire and fury, Bannon said: "There's no military solution [to North Korea's nuclear threats], forget it. Until somebody solves the part of the equation that shows me that ten million people in Seoul don't die in the first 30 minutes from conventional weapons, I don't know what you're talking about, there's no military solution here, they got us." Bannon went on to describe his battle inside the administration to take a harder line on China trade, and not to fall into a trap of wishful thinking in which complaints against China's trade practices now had to take a backseat to the hope that China, as honest broker, would help restrain Kim.

"To me," Bannon said, "the economic war with China is everything. And we have to be maniacally focused on that. If we continue to lose it, we're five years away, I think, ten years at the most, of hitting an inflection point from which we'll never be able to recover."

Bannon's plan of attack includes: a complaint under Section 301 of the 1974 Trade Act against Chinese coercion of technology transfers from American corporations doing business there, and follow-up complaints against steel and aluminum dumping. "We're going to run the tables on these guys. We've come to the conclusion that they're in an economic war and they're crushing us."

But what about his internal adversaries, at the departments of State and Defense, who think the United States can enlist Beijing's aid on the North Korean standoff, and at Treasury and the National Economic Council who don't want to mess with the trading system?

"Oh, they're wetting themselves," he said, explaining that the Section 301 complaint, which was put on hold when the war of threats with North Korea broke out, was shelved only temporarily, and will be revived in three weeks. As for other cabinet departments, Bannon has big plans to marginalize their influence.
Advertisement

"I'm changing out people at East Asian Defense; I'm getting hawks in. I'm getting Susan Thornton [acting head of East Asian and Pacific Affairs] out at State."

But can Bannon really win that fight internally?

"That's a fight I fight every day here," he said. "We're still fighting. There's Treasury and [National Economic Council chair] Gary Cohn and Goldman Sachs lobbying."

"We gotta do this. The president's default position is to do it, but the apparatus is going crazy. Don't get me wrong. It's like, every day."

Bannon explained that his strategy is to battle the trade doves inside the administration while building an outside coalition of trade hawks that includes left as well as right. Hence the phone call to me.

There are a couple of things that are startling about this premise. First, to the extent that most of the opponents of Bannon's China trade strategy are other Trump administration officials, it's not clear how reaching out to the left helps him. If anything, it gives his adversaries ammunition to characterize Bannon as unreliable or disloyal.

More puzzling is the fact that Bannon would phone a writer and editor of a progressive publication (the cover lines on whose first two issues after Trump's election were "Resisting Trump" and "Containing Trump") and assume that a possible convergence of views on China trade might somehow paper over the political and moral chasm on white nationalism.

The question of whether the phone call was on or off the record never came up. This is also puzzling, since Steve Bannon is not exactly Bambi when it comes to dealing with the press. He's probably the most media-savvy person in America.

I asked Bannon about the connection between his program of economic nationalism and the ugly white nationalism epitomized by the racist violence in Charlottesville and Trump's reluctance to condemn it. Bannon, after all, was the architect of the strategy of using Breitbart to heat up white nationalism and then rely on the radical right as Trump's base.

He dismissed the far right as irrelevant and sidestepped his own role in cultivating it: "Ethno-nationalism—it's losers. It's a fringe element. I think the media plays it up too much, and we gotta help crush it, you know, uh, help crush it more."

"These guys are a collection of clowns," he added.

From his lips to Trump's ear.

"The Democrats," he said, "the longer they talk about identity politics, I got 'em. I want them to talk about racism every day. If the left is focused on race and identity, and we go with economic nationalism, we can crush the Democrats."

I had never before spoken with Bannon. I came away from the conversation with a sense both of his savvy and his recklessness. The waters around him are rising, but he is going about his business of infighting, and attempting to cultivate improbable outside allies, to promote his China strategy. His enemies will do what they do.

Either the reports of the threats to Bannon's job are grossly exaggerated and leaked by his rivals, or he has decided not to change his routine and to go down fighting. Given Trump's impulsivity, neither Bannon nor Trump really has any idea from day to day whether Bannon is staying or going. He has survived earlier threats. So what the hell, damn the torpedoes.

The conversation ended with Bannon inviting me to the White House after Labor Day to continue the discussion of China and trade. We'll see if he's still there.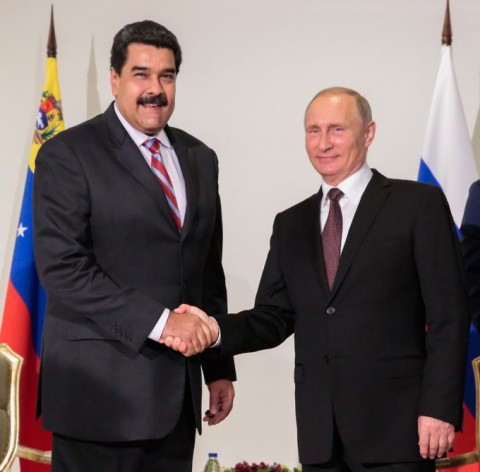 Venezuela, a back door against sanctions and a foothold in the Caribbean in the face of America once again: Venezuela's Maduro selling oil to Putin.
Venezuela tried to build their economy the wrong way, by selling oil and other natural resources rather than developing the infrastructure by which they might process the oil and other resources in order to sustain and advance their economy.
Venezuela is one of the pariah states along with Belarus and North Korea that the Russian Federation likes to play games with; the RF is now swooping-in for a foothold, for what could be increasing geopolitical control over the Caribbean and Gulf of Mexico.
Breitbart, "Report: Moscow Takes Control of Venezuelan Oil Assets amid Socialist Meltdown", 14 Aug 2017:

Venezuela needs cash, and Russia has it. Venezuela has oil, and Russia wants it. According to a special report at Reuters, the socialist meltdown in Venezuela is likely to end with Moscow controlling a good deal of that tormented country's most valuable asset: its oil fields.

According to Reuters, Russia's giant state-owned oil company Rosneft has been holding secret negotiations with its opposite number in Venezuela, PDVSA, to purchase "ownership interests in up to nine of Venezuela's most productive petroleum projects."

The number of Venezuela projects Russia would have substantial or ownership stakes in would jump from five to 14 if these deals go through. The new acquisitions would include projects in some of Venezuela's richest oil and natural gas fields.

The article goes on to note that Rosneft has already floated a billion dollars to PDVSA for promised future oil shipments, and the regime of socialist dictator Nicolas Maduro used Russian money to avoid defaulting on bonds at least twice. Russia announced one of these seemingly risky advance payments immediately after the United States announced a new round of sanctions against Maduro at the beginning of August.

Barron's explains that Russia's advance payments for Venezuelan crude are essentially a stealth strategy for buying the oil fields themselves. Russia writes huge checks for barrels of oil, Venezuela is unable to deliver the product or pay the debt, and Russia swaps the debt for equity in the oil projects.
New York Times, "Is Putin Getting What He Wanted With Trump?" 10 June 2017:

In the Senate last week, Richard Burr, a Republican from North Carolina, asked the fired F.B.I. director James Comey if he had "any doubt that Russia attempted to interfere in the 2016 elections." Mr. Comey responded with a single word: "None."

Indeed, he went on to tell the American public that the Russians "did it with purpose, they did it with sophistication, they did it with overwhelming technical efforts." And he warned: "They will be back," adding, "they are coming after America."

Vodka shots in the Kremlin, right? Not exactly.

Doubtless Vladimir Putin continues to derive satisfaction from having assaulted American democracy and embarrassed Hillary Clinton. But the Russian president had one paramount priority: to lift Western sanctions.
As MR has noted, the parasite "federation" that is the Russian Federation, works with rogue nations such as North Korea and Belarus. The Times article adds -
[ibid]

According to one estimate, a quarter of Russia's global weapons exports in 2015 were to rogue Venezuela, in transactions predominantly effected via loans. Last week, Moscow cut $1 billion from projected state budget revenues.
The Express -
Express, "TRUMP'S NEW THREAT? US President urged to act as Venezuela forges closer links to RUSSIA", 8 April 2017:

DONALD Trump could be forced to step in to save Venezuela amid fears the failing South American country could be about to turn to Russia or Iran for support.

The Trump administration in Washington is already dealing with a string of crises across the globe - including deadly conflict in Iraq and Syria and the fight against Islamic extremism.

But improving relations with Russia, who today claimed its relationship with the US was in "tatters", could prove to be the government's biggest challenge to date.

Russia has not been a threat to America since the Cold War era - yet Moscow could now have found a sneaky way to stir up new tensions with the US without even lifting a finger.

Venezuela has always enjoyed warm relations with Russia, purchasing more than £3.2billion worth of arms from the former Soviet state since 2005.

And in 2009, Russia approved a whopping £1.6bn loan for the Latin American nation as it struggled with an inflation crisis that has left thousands of people struggling to afford food.

However, experts in the US have now warned there could be more to the 'friendship' than meets the eye.

Speaking to the Senate Armed Services Committee, a US top military official warned Venezuela could be a "destabilising" factor in Latin America - claiming a "regional response" could be needed following the country's growing humanitarian crisis.

But he also warned the relationships fostered by Venezuela could pose a real threat to the US in the future.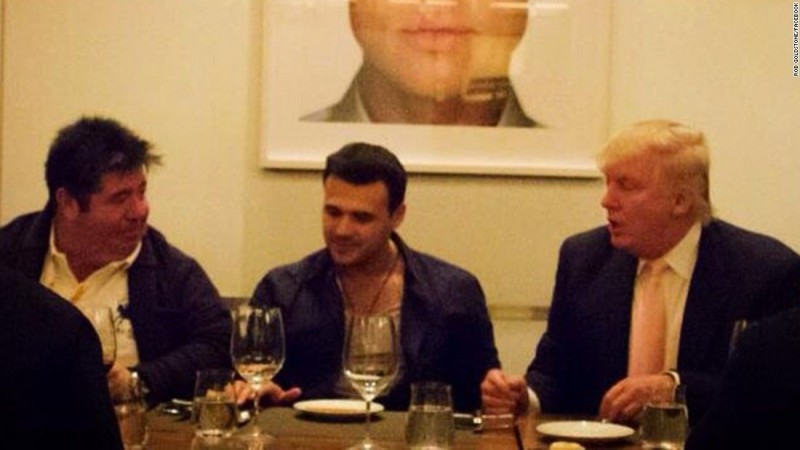 Rob Goldstone, left, shown in contact with Trump prior to his son's meeting with Goldstone that promised high level Russian dirt on Hillary Clinton.
Oh, Wait. Maybe It Was Collusion.

New York Times, Op-Ed Contributors JOHN SIPHER and STEVE HALL, August 2, 2017:


Did the Trump campaign collude with Russian agents trying to manipulate the course of the 2016 election? Some analysts have argued that the media has made too much of the collusion narrative; that Jared Kushner and Donald Trump Jr.'s meeting with Kremlin-linked Russians last year was probably innocent (if ill-advised); or that Russian operatives probably meant for the meeting to be discovered because they were not trying to recruit Mr. Kushner and Mr. Trump as agents, but mainly trying to undermine the American political system.

We disagree with these arguments. We like to think of ourselves as fair-minded and knowledgeable, having between us many years of experience with the C.I.A. dealing with Russian intelligence services. It is our view not only that the Russian government was running some sort of intelligence operation involving the Trump campaign, but also that it is impossible to rule out the possibility of collusion between the two.

The original plan drawn up by the Russian intelligence services was probably multilayered. They could have begun an operation intended to disrupt the presidential campaign, as well as an effort to recruit insiders to help them over time — the two are not mutually exclusive. It is the nature of Russian covert actions (or as the Russians would call them, "active measures") to adapt over time, providing opportunities for other actions that extend beyond the original intent.

It is entirely plausible, for example, that the original Russian hack of the Democratic National Committee's computer servers was an effort simply to collect intelligence and get an idea of the plans of the Democratic Party and its presidential candidate. Once derogatory information emerged from that operation, the Russians might then have seen an opportunity for a campaign to influence or disrupt the election. When Donald Trump Jr. responded "I love it" to proffers from a Kremlin-linked intermediary to provide derogatory information obtained by Russia on Hillary Clinton, the Russians might well have thought that they had found an inside source, an ally, a potential agent of influence on the election.

The goal of the Russian spy game is to nudge a person to step over the line into an increasingly conspiratorial relationship. First, for a Russian intelligence recruitment operation to work, they would have had some sense that Donald Trump Jr. was a promising target. Next, as the Russians often do, they made a "soft" approach, setting the bait for their target via the June email sent by Rob Goldstone, a British publicist, on behalf of a Russian pop star, Emin Agalarov.

They then employed a cover story — adoptions — to make it believable to the outside world that there was nothing amiss with the proposed meetings. They bolstered this idea by using cutouts, nonofficial Russians, for the actual meeting, enabling the Trump team to claim — truthfully — that there were no Russian government employees at the meeting and that it was just former business contacts of the Trump empire who were present.

When the Trump associates failed to do the right thing by informing the F.B.I., the Russians probably understood that they could take the next step toward a more conspiratorial relationship. They knew what bait to use and had a plan to reel in the fish once it bit.

While we don't know for sure whether the email solicitation was part of an intelligence ploy, there are some clues. A month after the June meeting at Trump Tower, WikiLeaks, a veritable Russian front, released a dump of stolen D.N.C. emails. The candidate and campaign surrogates increasingly mouthed talking points that seemed taken directly from Russian propaganda outlets, such as that there had been a terrorist attack on a Turkish military base, when no such attack had occurred. Also, at this time United States intelligence reportedly received indications from European intelligence counterparts about odd meetings between Russians and Trump campaign representatives overseas.

Of course, to determine whether collusion occurred, we would have to know whether the Trump campaign continued to meet with Russian representatives subsequent to the June meeting. The early "courting" stage is almost always somewhat open and discoverable. Only after the Russian intelligence officer develops a level of control can the relationship be moved out of the public eye. John Brennan, the former director of the C.I.A., recently testified, "Frequently, people who go along a treasonous path do not know they are on a treasonous path until it is too late."

Even intelligence professionals who respect one another and who understand the Russians can and often do disagree. On the Trump collusion question, the difference of opinion comes down to this: Would the Russians use someone like Mr. Goldstone to approach the Trump campaign? Our friend and former colleague Daniel Hoffman argued in this paper that this is unlikely — that the Russians would have relied on trained agents. We respectfully disagree. We believe that the Russians might well have used Mr. Goldstone. We also believe the Russians would have seen very little downside to trying to recruit someone on the Trump team — a big fish. If the fish bit and they were able to reel it in, the email from Mr. Goldstone could remain hidden and, since it was from an acquaintance, would be deniable if found. (Exactly what the Trump team is doing now.)

If the fish didn't take the bait, the Russians would always have had the option to weaponize the information later to embarrass the Trump team. In addition, if the Russians' first objective was chaos and disruption, the best way to accomplish that would have been to have someone on the inside helping. It is unlikely that the Russians would not use all the traditional espionage tools available to them.

However, perhaps the most telling piece of information may be the most obvious. Donald Trump himself made numerous statements in support of Russia, Russian intelligence and WikiLeaks during the campaign. At the same time, Mr. Trump and his team have gone out of their way to hide contacts with Russians and lied to the public about it. Likewise, Mr. Trump has attacked those people and institutions that could get to the bottom of the affair. He fired his F.B.I. director James Comey, criticized and bullied his attorney general and deputy attorney general, denigrated the F.B.I. and the C.I.A., and assails the news media, labeling anything he dislikes "fake news." Innocent people don't tend to behave this way.

The overall Russian intent is clear: disruption of the United States political system and society, a goal that in the Russian view was best served by a Trump presidency. What remains to be determined is whether the Russians also attempted to suborn members of the Trump team in an effort to gain their cooperation. This is why the investigation by the special counsel, Robert Mueller, is so important. It is why the F.B.I. counterintelligence investigation, also quietly progressing in the background, is critical. Because while a Russian disruption operation is certainly plausible, it is not inconsistent with a much darker Russian goal: gaining an insider ally at the highest levels of the United States government.

In short, and regrettably, collusion is not off the table.

John Sipher (@john_sipher), a former chief of station for the C.I.A., worked for over 27 years in Russia, Europe and Asia and now writes for The Cipher Brief and works for CrossLead, a consulting company. Steve Hall (@StevenLHall1) is a former C.I.A. chief of Russian operations and a CNN national security analyst.

Follow The New York Times Opinion section on Facebook and Twitter (@NYTopinion), and sign up for the Opinion Today newsletter.
European Outlook, "Propaganda", 31 July 2017:
By Bill Bailie #44 August 2017
Propaganda
Technology has revolutionised communications. Martin Luther nailed his thesis to the door of All Saints' Church in Wittenberg and changed the world. Benito Mussolini led the March on Rome to sieze power. And, in the sixties, we relied on street corner meetings and literature. Today, such primitive methods have been overtaken by the Internet.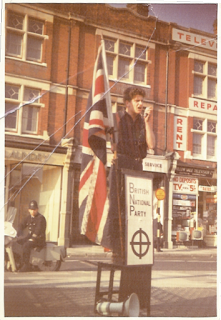 A young Bill Baillie campaigning for John Bean's British National Party in the 1964 general election.
We were not an insular nationalist party, we believed in European solidarity and social justice. I went overseas in 1965 and when I came home in 1970 we had been taken over by the National Front and our progressive policies had been dumped. I therefore joined Union Movement and embraced Oswald Mosley's vision of 'Europe a Nation'.
Social media is the modern way of communicating and video platforms such as Youtube are very effective. Donald Trump used Twitter and Facebook extensively in his presidential campaign and so did Emmanuel Macron in France.
Newspapers and magazines are expensive to produce and distribute but websites are affordable. We can reach more people on the Internet than we did in the old days by putting leaflets through letterboxes or selling newspapers on street corners. Competing with the mass media is obviously an unequal challenge but having discovered the truth it's our duty to encourage people to think for themselves and reject media brainwashing.
Newspapers, radio and television dominate public opinion but we can fight back by using the Internet. The State uses anti-terrorist legislation to silence its enemies but we can stay within the law by avoiding insulting or threatening language.
Ten years ago immigration was a taboo subject and only the lunatic-left talked about a "crisis of capitalism." Today, these ideas have gone mainstream and you don't have to be a political party in order to have an opinion. So, carry on blogging and posting on Facebook and Twitter. Let our voices be heard.
A Garden Green by William Harris,
first published in 'Lodestar' Winter 1986
Each year brings thousands of American tourists to Britain, and it is clear that many of them are seeking something the do not posses in their own continent. This, I suggest, is a past: their own past forged by their own ancestors, and not the pre-Colombian past of the Indian, which is the only true ancient thing they have. They must travel all these hundreds of miles in order to find their roots, be they of Celtic, Anglo-Saxon or Norman descent.
As so much nonsense is talked about Britain's 'mixture of races', it is worth quoting the words of Brian Branson in 'The Lost Gods of England'. In his chapter 'Who were the English?' he mentions these ethnic groups, adding "But none of these inter-breedings was what might be called in genetic terms 'a violent out-cross' such as would have been the case if Britain had been successfully invaded by an armada of Chinese, or Red Indians or African Bushmen. Apart from any alteration in physical appearance that would have befallen the new Island Race under such circumstances, one has only to suppose a pagoda in Canterbury, a totem pole in Trafalgar Square, and rock paintings in the Cheddar Gorge to imagine the cultural changes that would have ensued." He concludes that "the mongrelism of the English turns out to be more apparent than real." That was first published in 1957, before the minarets of the mosque loomed over the trees in Regent's Park.
Names are among the most ancient and lasting monuments in a culture, particularly those given to natural features in the landscape. In Britain they are usually Celtic, the Celts being the earliest of the above ethnic groups. The prefix 'Pen' for 'head' or 'headland' and the many instances of the name 'Avon', which means simply 'river' are two of the most obvious.
The names of our pubs are often far older than the buildings they adorn, and they tell us much. 'The George', and 'The Green Man', for instance, take us back to the traditional Mummers' Play of St George and the Turkish knight, and to a character in the Morris Dance, 'Jack in the Green'. The mummers would usually herald their appearance by announcing "Here come I". . . and in all these traditions, including that of traditional dance and song which is inseparable from it, there are a number of folk-heroes who emerge: St George, Robin Hood and Maid Marion, King Arthur, Hereward the Wake, Dick Whittington, Dick Turpin, Nelson and Lord Collingwood. The villains (all of whom are often cut down by St George in the course of the mummers' play) include: Prince Valentine, Captain Rover, Turkey Snipe, Little John, Bonaparte and Sambo. The last prompts me to remark that the blackening of faces (so upsetting to the susceptibilities of the liberal left of today), is probably far older than the 'Black and White Minstrels', or the minstrels who used to perform on seaside piers. There are accounts of wassailers or masqueraders blackening their faces, and the 'Giant of Salisbury' (a huge effigy , which used to be carried in all important processions in the city, which is now in the Salisbury and South Wiltshire museum) was found to have had his face blackened at some stage in the past, before he was 'cleaned up'. 'Morris', of course, is thought to derive from 'Moorish' so, like the Mummers' Play, it may date from the time of the Crusades.
After St George in the play has felled the Turkish knight, a doctor is called for, to 'cure' him. He is often played by a small boy dressed in a top hat and frock coat far too big for him and (in the version from Camborne, Cornwall) he says:
"I can cure the itch, the specs and the gout -
If there's nine devils, I can kick ten out."
He always cures the wounded knight so that the audience can then enjoy another bout of fighting but, in fact, his origins go back to the idea of death and resurrection which is the basis of most of the world's religions.
Technology Decisions, 12 July 2017:

"Donald Trump threatens net neutrality, says academic"

Internet neutrality and freedom of speech are under threat by Donald Trump's administration, according to a QUT academic.

Matthew Rimmer from the Faculty of Law said that the Trump administration has been seeking to dismantle network neutrality rules as part of its deregulation agenda.

"There will be a massive online protest by a wide array of companies, including Amazon, Netflix, Shapeways, Kickstarter, Twitter and Reddit, along with organisations like the American Civil Liberties Union, Greenpeace and the American Library Association," said Rimmer.

Ajit Pai: the man who could destroy the open internet

"July 12 2017 is a Day of Action to Save Net Neutrality in the US, an event responding to plans by the Federal Communications Commission under the leadership of President Donald Trump's chair, Ajit Pai, to repeal government rules which established net neutrality."

Network neutrality started out as a philosophical concept, developed by Professor Timothy Wu from Columbia University, to address discrimination by broadband service providers. It was designed to preserve a free and open internet by preventing broadband providers from blocking, throttling or slowing internet services.

It ensures consumer rights are not undermined by internet service providers and that they do not suffer a dystopia of slow lanes and fast-paid lanes on the internet.

It also helps ensure the internet is a free and open platform which supports innovation. In particular, it ensures that start-up companies and new market entrants have an equal playing field. Without such protections, internet service providers could use their role as gatekeepers to reinforce their monopolies.

"We have not seen such a massive online action since the protests against the Stop Online Piracy Act, in which Wikipedia and other online sites staged a blackout against draconian copyright laws," Rimmer said.

However, while the United States debates network neutrality, Australia still has not had a proper conversation about network neutrality.

"The issue has been periodically raised in the context of debates over the nbn, media convergence and competition reform. There are, though, concerns about the speed of broadband services in Australia and the problem of the data drought," said Rimmer.

"At a time at which it is modernising its media laws, Australia would benefit from the introduction of the principle of network neutrality. The public interest doctrine would boost consumer choice, competition and innovation in Australia."
Trump would try to stop election hacking by working with the man who has turned election hacking into an art form

Vox, 9 July 2017: No, really.

"Trump wants to work with Putin to fight election hacking."

President Donald Trump began his high-profile Europe trip by publicly questioning the US intelligence community's unanimous conclusion that Russia interfered in the 2016 election. He used a one-one-one meeting with Russian President Vladimir Putin to make clear Moscow wouldn't be punished for the hack.

Then, on Sunday, Trump capped his time at the G20 summit in Hamburg, Germany, with an announcement that he and Putin had agreed to create "an impenetrable Cyber Security unit so that election hacking, & many other negative things" will be prevented.


Trump, if he sticks with the plan, will be trying to stop election hacking by working with the man who has turned election hacking into an art form.

The announcement stunned lawmakers from both parties, with Republican Sen. Lindsey Graham describing it as "pretty close" to the "dumbest idea I've ever heard." Graham also blasted Trump for his continued refusal to acknowledge the Russian hacking campaign.

"He is literally the only person I know of who doesn't believe Russia attacked our election in 2016," Graham said on NBC News's Meet the Press.

With criticism pouring in, Trump tried to slightly distance himself from the idea late Sunday night, with a tweet that said the "fact that President Putin and I discussed a Cyber Security unit doesn't mean I think it can happen. It can't-but a ceasefire can, and did!"

Trump's quasi-denial aside, there was something genuinely startling about his first announcement. Trump left for the G20 summit with his presidency engulfed in an array of Russia-related scandals, including a criminal investigation into whether his campaign knowingly colluded with Kremlin hackers.

That meant there was one major question hanging over Trump as he prepared for his face-to-face meeting with Putin: whether he would hold the Russian leader accountable for directing what US spies describe as a systematic hacking campaign designed to hurt Hillary Clinton and help him win the White House.

On Sunday, Trump appeared to answer that question with a resounding "no."

The summit was a win for Putin and a loss for everyone else.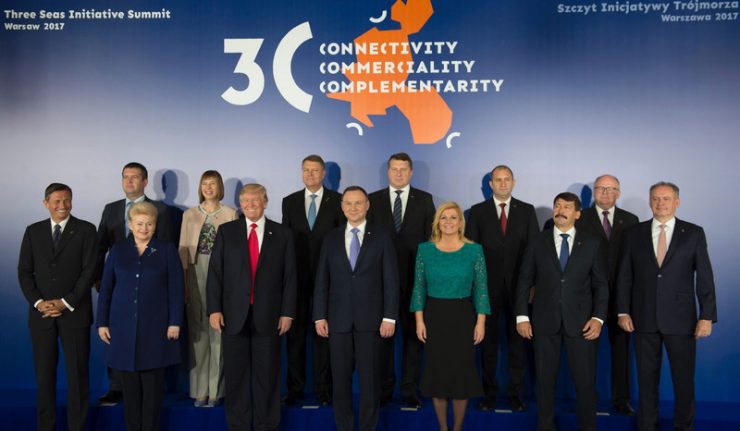 Visigrad Post, "Three Seas Initiative: Trump in Warsaw supports the project", 8 July 2017:

Poland, Warsaw – Poland received the US President Trump alongside with representatives of the countries of the Three Seas Initiative, a recent Central European project. An "incredibly successful" meeting, according to Donald Trump.

For his first press conference abroad, US President Donald Trump came on July 5 and 6 to the Polish capital city of Warsaw. He attended the meeting of the Three Seas Initiative – reuniting the Baltic countries, Poland, Czechia, Slovakia, Hungary, Austria, Slovenia, Croatia, Romania and Bulgaria-, organized by Poland.

"America is eager to expand our partnership with you. We welcome stronger ties of trade and commerce as you grow your economies and we are committed to securing your access to alternate sources of energy so Poland and its neighbors are never again held hostage to a single supplier of energy," told the US President referring to the former Russian monopoly of gaz supplying in the region.

From an economical project to a political one?

Poland and Croatia initiated the Three Seas Initiative (3SI) a year ago. All the twelve members of the 3SI were – except for Austria – under the rule of USSR until the fall of the iron curtain. Since 2007, all of them are part of the European Union, but remain less rich and developed than western member states. Also most of the critical roads, pipelines and rail services run on an east-west corridor, mainly due to former Soviet and current German dominance.

The 3SI's goal is therefore to improve infrastructure and trade and to develop more and better connections in energy, transportation and digital communications along a north-south axis, so the members of the group might benefit from more mutual exchanges and investments, while strengthening their ties and getting more cohesive.

The 3SI has already some big plans; The Via Carpathia, a huge highway connecting the Baltic Sea ( Kalipedia, Lithuania ) to the Aegean Sea ( Thessaloniki, Greece ); The LNG terminals connecting pipeline, from Croatia to Poland (Croatia plans to finish the construction of its LNG terminal in Krk in 2019); And the construction of the pipeline from the Black Sea through Bulgaria, Romania, Hungary and Austria. All these heavy infrastructure projects are also pleasing China, which invests more and more in the region and takes also part in some of the improvements of infrastructure, for both Central European and Chinese interests.

Though, some critics rise their voices regarding the 3SI. As the core fo the 3SI, V4 (the Visegrád group: Poland, Czechia, Slovakia, Hungary) leads an anti-federalization fight and refuse the EU's migrant policy, observers fear that the 3SI would become an extension of the V4 and would lead the EU to split.

US plan? Polish dominance scheme? Response to the two-speed Europe?

The summit of Warsaw, attended by Donald Trump, raised many questions. The 3SI is quite close to the Polish project of Miedzymore (Between the Seas) known as Intermarium. As such, some political observers see this new project, led by the current conservative PiS (Law and Justice) Polish government – which is close to Trump and its policies, and distrusts neo-cons – as a way to achieve regional domination with the support of the USA. Poland is the biggest military in Central Europe, and the main economics.

It is also recalled by commentators that the Intermarium is a kind of anti-Russian geopolitical device. Proposed during the interwar period, the Intermarium was aimed to block and counter the Soviet Union, and therefore one important thing is to be noted: while the Intermarium included nowadays Ukraine, the 3SI does not, and extends more towards the West, covering all Central Europe and Eastern Balkans; And adding another shore to the project.

Poland and Croatia are also known to have long-term good relations with the USA. It is therefore suspected that since the 3SI is a project initiated by both Croatia – and more exactly by its current President, Kolinda Grabar-Kitarović, senior officer of NATO – and Poland – one of the most ardent partisan of NATO – the 3SI might be planned also to serve US interests.

Even if the relation between the USA and Russia shows a relative improvement since the beginning of the Trump presidency, many suspect the USA to still wish to dispose of a European buffer zone at the gates of Russia. And they argue their point by recalling the recent American missile complex established in Poland and Romania and the current conflict in Ukraine.

During his speech, Trump expressed his satisfaction for the opening of the Polish LNG terminal to US suppliers of gaz. "The United States is proud to see that our abundant energy resources are already helping the Three Seas Nations achieve much-needed energy diversification," told Donald Trump in front of the leaders of the 3SI, still mainly dependent on Russian gaz. He then quickly continued his speech by inciting CEEC to invest in US technology and weapons. Polish President Duda said he hopes for a long-term contract regarding supplying of liquid gaz.
"Malmström in Tokyo to clinch trade deal in time for G20."

The European Union and Japan said on Tuesday (21 March) they intend to complete talks for a free trade agreement with Japan by the end of the year.

European Commission President Jean-Claude Juncker dispatched the EU's top trade officials to Tokyo Thursday (29 June) for crucial talks to seal a long-awaited deal with Japan.

After four years of talks, the two sides are working toward signing a deal at a G20 meeting in Hamburg next week, but Juncker said further work was needed.

"There are still a few sticking points. I have therefore sent the European agriculture commissioner and the trade commissioner to Japan," Juncker said.

Trade Commissioner Cecilia Malmström and Agriculture Commissioner Phil Hogan will arrive on Friday (30 June) for talks with Japanese Foreign Minister Fumio Kishida.

Clinching a deal would be a victory for free-trade advocates after US President Donald Trump pulled the United States out of the Trans-Pacific Partnership this year, dealing a possibly fatal blow to the mooted 12-nation deal.

Juncker said he wanted the negotiations to be finished before Japanese Prime Minister Shinzo Abe holds talks with Juncker and EU President Donald Tusk in Brussels on July 6.

"The trade agreement with Japan, if it materialises, is important. And I am assuming that it will materialise," Juncker said at a pre-G20 press conference with EU leaders in Berlin.