Majorityrights News > Category: Business & Industry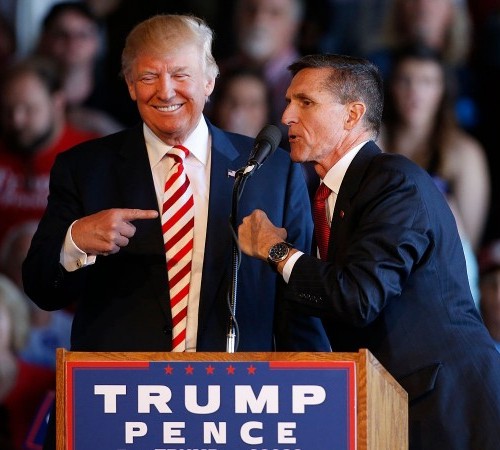 Washington Post, "Michael Flynn is the key to the Russia scandal — and he may have just flipped on Trump", 24 Nov 2017:

A lawyer for Michael Flynn has ended communications with President Trump's legal team, a sign that Flynn may be preparing to cooperate in the Russia probe.

Michael Flynn, who served as President Trump's national security adviser for just 24 days before being cut loose, may be the key figure to unraveling the entire Russia scandal. If that's true, the president just got some very, very bad news in the form of a New York Times report:

Lawyers for Michael T. Flynn, President Trump's former national security adviser, notified the president's legal team in recent days that they could no longer discuss the special counsel's investigation, according to four people involved in the case — an indication that Mr. Flynn is cooperating with prosecutors or negotiating a deal.

Mr. Flynn's lawyers had been sharing information with Mr. Trump's lawyers about the investigation by the special counsel, Robert S. Mueller III, who is examining whether anyone around Mr. Trump was involved in Russian efforts to undermine Hillary Clinton's presidential campaign.

That agreement has been terminated, the four people said. Defense lawyers frequently share information during investigations, but they must stop when doing so would pose a conflict of interest. It is unethical for lawyers to work together when one client is cooperating with prosecutors and another is still under investigation.

We should be clear that this news is not definitive proof that Flynn is cooperating with Mueller. It may mean only that he is in the process of negotiating a deal to avoid prosecution, and that deal might or might not involve giving information on other figures in the investigation. But if Flynn is indeed cooperating, Trump is in big trouble.

That's because if Flynn is cooperating, it can only be because he has information to offer Mueller on someone more important than himself. That's how it works. And who is more important than Flynn? Only a very small number of people. Among those implicated in this whole affair, that group may consist of Jared Kushner and Trump, and that's about it.
Frontline, "A Dispatch From Bonn: "1.5 To Stay Alive", 18 Nov 2017:


Faith Debrum, 12, is pictured near her home on the Marshall Islands. The island nation is part of an international coalition fighting to keep global temperatures from rising above 1.5 degrees Celsius. (Michelle Mizner/FRONTLINE)

BONN, Germany — One of 12-year-old Faith Debrum's favorite hobbies is diving off the seawall in front of her house and swimming to a nearby reef in search of interesting fish. When asked how climate change might affect that hobby, she had a ready answer: "1.5 to stay alive!"

It was a phrase that my reporting partner and I heard again and again while we were in the Republic of the Marshall Islands earlier this year speaking to children like Faith about the risks climate change pose to their country's future. "One-point-five" refers to the degrees Celsius (2.7 F) that scientists believe world temperatures can afford to rise by 2100 without making life on low-elevation island nations like the Marshall Islands nearly impossible. Researchers believe it would also keep the number of new heatwaves and heavy rains globally in check.

Beach house in Arno Atoll

"In the seminal 2015 Paris Agreement on climate, the world committed to holding global warming below 2 degrees Celsius by 2100 – but also "pursuing efforts to limit" warming to 1.5 degrees. That additional proviso was added under pressure from a "high ambition coalition" of 100 nations, which had spent years advocating for a 1.5-degree goal to be included in the agreement, and, against political odds, succeeded.

By all accounts, staving off the extra half-degree of warming will require radically new efforts – and soon. Climate experts say every year that passes without significant action will make it harder to reach the 1.5 target.

Already, temperatures have risen 1.1 degrees Celsius (2.0 F) since pre-industrial times. And, even with the Paris accord in place, temperatures are on track to surge by 3.2 degrees Celsius (5.8 F) by the end of the century. One study published this year pinned the planet's odds of achieving 2 degrees at just 5 percent – and of achieving 1.5 at just 1 percent.

Despite seemingly unsurmountable obstacles, those who advocated for 1.5 degrees in Paris were once again advocating for it at this year's United Nations climate negotiations in Bonn, while preparing for another major push at next year's conference in Katowice, Poland.

The half-degree between 1.5 and 2 may seem minor, but for low-lying coastal areas, it is imperative: According to climate models, it likely means an extra 10 centimeters (3.9 inches) of sea level rise, perhaps more. Those extra inches are critical for places like the Marshall Islands, where the mean elevation is six feet above sea level.

Researchers and environmental groups insist the goal is achievable.

The train has not left the station," said Andrew Jones, co-director of the nonprofit climate research group Climate Interactive. "It's leaving, though, and we need to run faster than we ever have in our lives to catch it."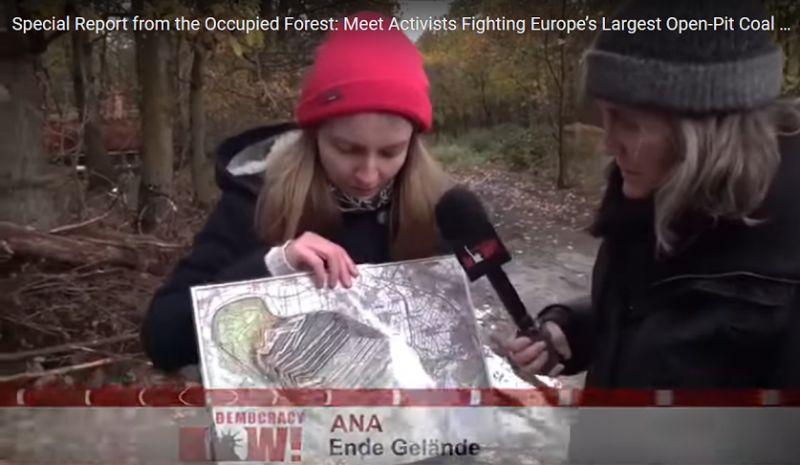 Again, while the source of this news story, unfortunately, is the anti-White Democracy Now, the protestors "look huWhite to me"; and their protests should not be at odds with the survival and protection of European peoples; quite the opposite, they are a part of pervasive ecology.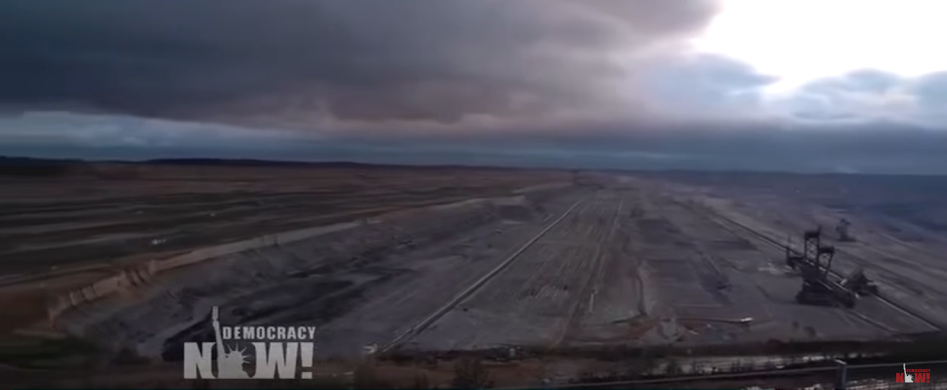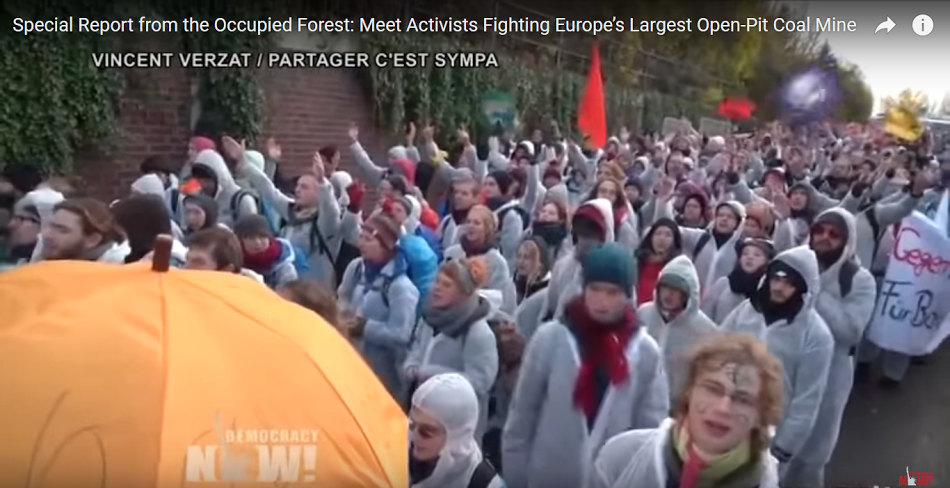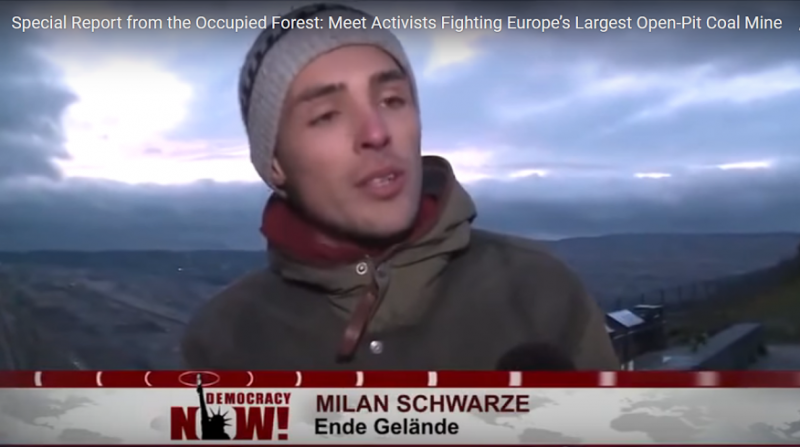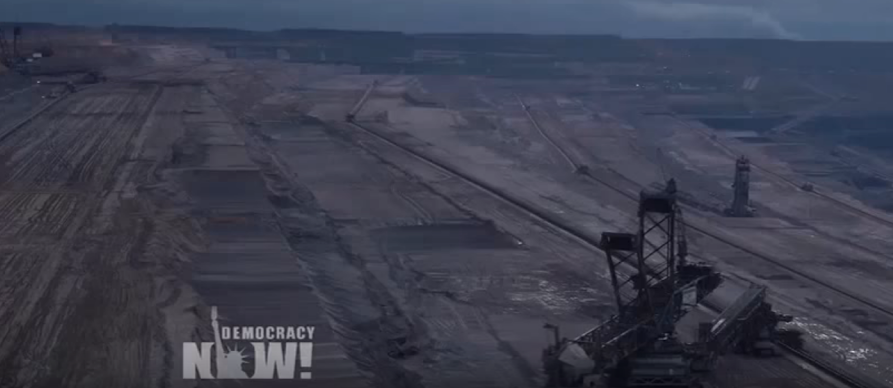 This open coal pit is nearly as big as Cologne, which is the next city here, where over one million people live.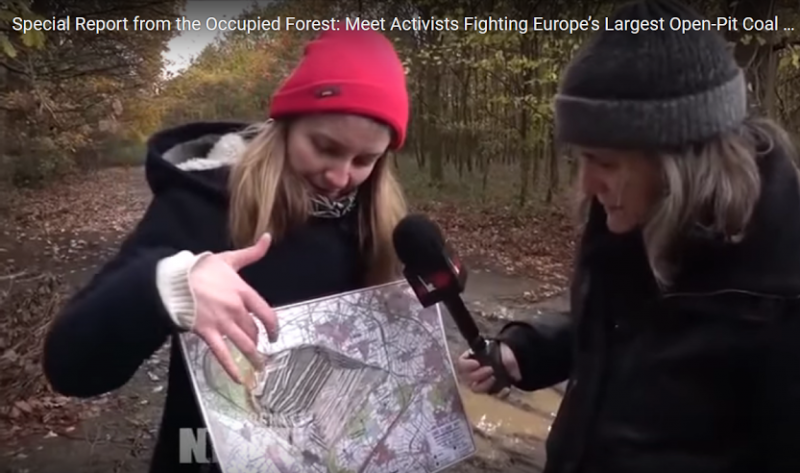 Basically, 90 percent of the forest is destroyed already because of the coal mining ...and we have less than 10 percent of the Hambach forest left.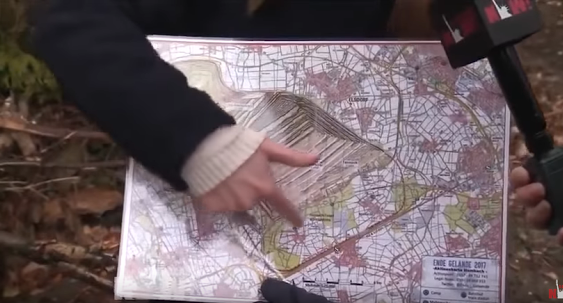 ...and we are trying to protect this last ten percent of the Hambach forest.
We will take you to the occupation of the Hambach forest…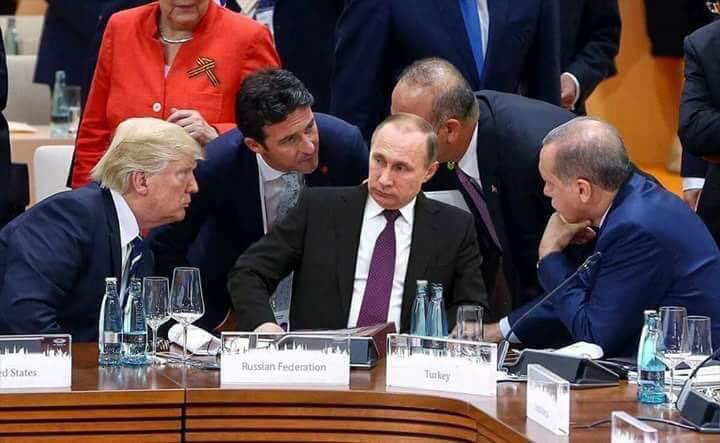 Newsweek, "Evidence of Trump-Russia Collusion Already Exists, Watergate Prosecutors Say", 14 Nov 2017:

There is definitive proof of whether the Trump campaign colluded with Russia during the 2016 election — and it exists in the email inboxes of Jared Kushner, Stephen Miller, Hope Hicks and others.

That's what several former Watergate prosecutors believe, telling Newsweek that evidence of collaboration between the Kremlin and the president's top campaign aides could literally be at Special Counsel Robert Mueller's fingertips. It just has to be uncovered.

"The key difference between this and Watergate is … at the time, you certainly didn't have computers," said Nick Ackerman, one of the prosecutors who probed the 1972 break-in at the Democratic party's Watergate offices. "Rather than use burglars to break into the Democratic National headquarters, they used Russian hackers. ... The question is whether that was coordinated in any way with the Trump campaign. Their emails will answer that question, once the special counsel gets its hands on them."

Kushner has reportedly turned over documents related to his campaign contacts with Russians to Mueller earlier this month, a voluntary move of cooperation between the White House senior adviser and the federal probe. Still, it remains unclear whether those documents include emails, as well as whether Kushner provided the entirety of his communications with Russians to the investigators. If he didn't provide investigators the full details about his correspondences, it certainly wouldn't be the first time the president's son-in-law failed to disclose his Russian contacts (or his business interests, for that matter), having been forced to revise his government security clearance forms with at least 100 foreign contacts previously left off the list.

Even if he's cooperating, Kushner may be lying about the campaign's interactions with the Russians, and doing a terrible job of covering it up, according to Jill Wine-Banks, another former Watergate prosecutor. At issue is his response to the discovery of a June meeting in Trump Tower attended by Kushner, other Trump campaign officials and Russian operatives. The meeting was set up by Donald Trump Jr.; Kushner said he didn't know what was going to be discussed and left early after being bored by the conversation.

"The data ... will make Kushner's defense fall entirely apart," Wine-Banks told Newsweek. "We know that statement was a total fabrication since the [Trump] campaign was looking for dirt on Hillary Clinton from the Russians … I have faith the grand jury will get down to the bottom of what really happened in that meeting."

Also at issue is the Trump campaign's involvement with Cambridge Analytica, the controversial data mining operation with apparent ties to Russia, which Kushner boasted was "brought in" to steer the campaign to victory.

"As far as Russian collision, right now there are two aspects: one is, did they micro target Hillary Clinton voters to suppress the vote?" Ackerman said. "We know that there was a data mining process that was done by Kushner out of Texas and we know that the Russians were doing targeting with Facebook and Twitter. The question is trying to compare the data sets to see if there was coordination between those two things.

"Email evidence already shows that the purpose of the meeting on June 9 was to bring incriminating evidence, supposedly emails about Clinton, to the campaign, but we don't know exactly what they did with that evidence after that meeting," Ackerman continued.
John Ziegler on possible evidence of collusion:

Why is Donald Trump reacting to Vlaimir Putin the way he has?

Because, if this was all bull crap, and there was nothing the Putin had on Trump; he was not compromised by Russia or by Putin at all; if only for political purposes, and Trump's not an imbecile, he's not brilliant but he's not an imbecile and he clearly is a political person - he likes to be liked… he would be attacking Vladimir Putin at every opportunity.

..especially on the issue of their meddling in the election. That would be just the natural inclination.

Now, not only is he not doing that, he's done the opposite of that.

He has been complimentary of Putin at every opportunity. And there is no evidence that he has punished Putin at all, for Russia's meddling, regardless of whether or not the Trump team colluded in that meddling.

And today, something even more startling than Trump's prior ass-kissing of Putin and his unwillingness to address this issue directly, of meddling having occurred.

Trump is on his foreign trip, he met with Putin, and then he told the press, that Putin told him, that Russia had nothing to do with the meddling; that it was the democrats doing, supposedly Trump quoting Putin.

And then Trump went our of his way to bash, by name - by name - the former heads of several of our intelligence agencies - including James Comey, calling them hacks and liars!

And completely buying into the idea, that the persons telling him the truth are not the people working for our own intelligence agencies, including, by the way, people that are still working for our intelligence agencies, including every major member of Congress, anybody with any credibility on this issue, or our side, has said, it's not even a question. Russia attempted to meddle in our elections.

8:03: It's not even a question. Russia attempted to meddle in our elections. And Trump is publicly saying, "no, I don't believe any of that because Vladimir Putin told me so." Seriously?

If Barack Obama had ever had a meeting with Vladimir Putin after winning re-election ..remember that election he won where he got caught telling .the Russian official tell Vladimir "I'll have more flexibility after the election?" Remember that whole thing which the media buried, and should have been a massive scandal, the conservative media went ape crap over that little thing, frankly only little in comparison, that was a bid deal to me at the time ...

Sean Hannity

Can you imagine if after winning the 2012 election, Obama had met with Putin, and all of our intelligence agencies were saying that yeah, Putin helped Obama win; and Obama then came out and bashed those intelligence agencies of The United States of America and said, "I believe Putin because he seems very sincere in what he's telling me" ...can you imagine the reaction of the Republicans in Congress, can you imagine the so-called conservatives in media? ...Sean Hannity would be live 24/7 outside of the White house.

Instead from the conservative media there is silence. In fact, if anything, they'll support Putin and Russia because Trump told us to. They'll be the one's we're supposed to believe over our own intelligence agencies. By the way, not a couple of them, all of them - with unanimity and certitude.
"Aspen Institute": (((Panel discusses))) Active Measures
The Alt-Right is discussed in minute 14:45:
Evelyn Farkas: Former Assistant Secretary of Defense for Russia, Ukraine and Eurasia: 14:45: It drives me crazy when Former Director Comey says that the Russians are coming back. To your point, they never left. I mean they're still here, they have all that information, they're in our cyber- and in our information-sphere.

Ned Price: And its broader than just Wikileaks and the overt or semi overt organs of the Russian government. I think one thing we noticed even after the election; you take the sort of trending story in Alt-Right or so-called Alt-Right circles: [example] hashtag #Syriahoax started in Russia and somehow make their way to the United States and started trending in some of the same circles that are collectively known as the Alt-Right. And I think the linkage between the two is not something we fully understand; how something jumps across he Atlantic like that and tends to land with the same group of people after originating in pro-Russia circles.
Now we need a non-Jewish panel discussing Israeli and Jewish influence over the American electorate - lol.
..in fact, there are some questions toward the end that bear upon that -
Charlie D. from Duke Law: 52:00: Would it help if we broadened the discussion about all foreign nations who are trying to influence our campaigns?

Panel averts the question -

Ned Price: 52:19: I would start with the proposition that it's natural for governments to have policy preferences. Clearly I would suspect lots of the NATO member countries were made uncomfortable listening to Donald Trump during the campaign speak of NATO being obsolete. I think that the issue is that in today's environment there has been attempt at criminalization on policy preferences on the part of foreign capitals. But I think we have to remember is a far cry from a NATO country, you know, privately rooting for Hillary Clinton and a strategic adversary getting involved in our election with Active Measures, covert influence, social media, you name it.

Julia Ioffe: They weren't probing and scanning our election infrastructure, yeah.

Audience Member: Have any of you considered the business role of the president and Russia; because he has, right now, no one will lend him money in New York City, no one will do business with him in New York City. He owes a great deal of money. Where does he get the money? There are a lot of rumors that he gets it from Russia. Have any of your explored any of that?

Julia Ioffe: 53:48: Both of his sons said that he (Trump) gets most of his money from them (Russia) ...and its not a crazy proposition either that if he's doing real estate in New York and Florida ...and guess where (((Russians))) who want to park their money outside of Russia, guess where they want to buy real estate? - (((New York and Florida))).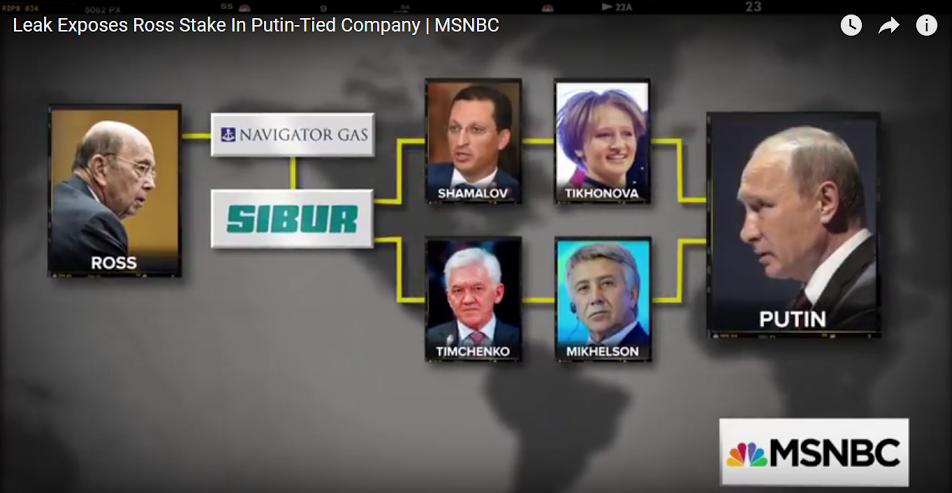 Pardon the liberal sources, but in the case of Democracy Now, for example, it was among the first sources to interview the author of the investigation and the coverage sticks pretty much to what he has to say. Democracy Now is literally an anti-White news program and Jewish as well - beginning with Amy Goodman, of course. Hence they are not going to amplify the wrong doings of Jews per se. Please take that under consideration. Critiques as such and suggestions of alternative sources on the story are welcome.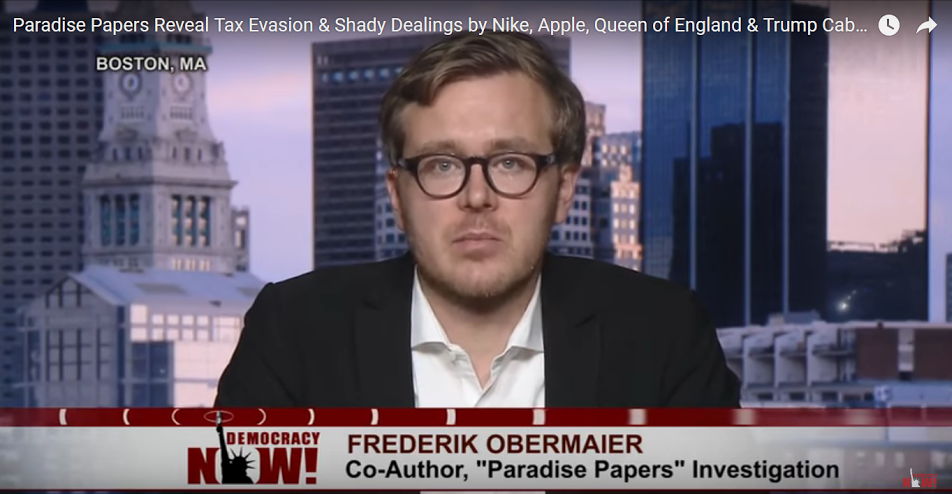 Although Schumer remains as self righteous a bracket about immigration as ever, in point of fact, he was part of a group of eight which proposed a bill in 2013 to end the Visa Lottery Program. True, he was perhaps opposed to the Visa Lottery for the same reason that the Republican dominated Capital Hill shot down the bill to end the lottery - because it provided a loop hole in which some Whites, who might not otherwise be able, could actually immigrate to the Unites States despite the anti-White measures of the 1965 Immigration and Naturalization Act.
Either way - "lottery" or sheer "merit" - Trump's proposing a "merit based immigration system" to replace the Visa Lottery is just proposition-nation rigmarole; and in fact, disingenuous: Though he's promised to adopt a system that gives preference to skilled immigrants, in fact he's doing the exact opposite.
NBC News, "Trump: Suspect Entered U.S. in 'Diversity Visa Lottery,' Blames Schumer", 1 Nov 2017:

President Donald Trump said Wednesday that the Uzbek immigrant suspected of killing eight people in New York City with a rental truck entered the U.S. through the "Diversity Visa Lottery Program," and the president accused Sen. Chuck Schumer and other Democrats of having loosened the nation's borders.

Trump did not provide any supporting evidence for the claim about the visa program, which was being discussed on the morning TV program "Fox and Friends" that the president indicated in his tweets he was watching.

"The terrorist came into our country through what is called the 'Diversity Visa Lottery Program,' a Chuck Schumer beauty. I want merit based," Trump tweeted.

At a Cabinet meeting later, Trump said he would work with Congress to end the visa program.

"I am today starting the process of terminating the diversity lottery program. I am going to ask Congress to immediately…get rid of this program," said the president, who called the suspect an "animal." "Diversity lottery — sounds nice, it's not nice. It's not good. It hasn't been good."

Trump continued, "We want people that are going to help our country, we want people that are going to keep our country safe. We don't want lotteries where the wrong people are in the lotteries and guess what? Who are the suckers that get those people? We want a merit-based system."

A spokesman for the Department of Homeland Security later confirmed the suspect in the attack, a 29-year-old Uzbek immigrant named Sayfullo Saipov, had been admitted to the U.S. "upon presentation of a passport with a valid diversity immigrant visa to U.S. Customs and Border Protection in 2010."

After Trump's attacks on him, Schumer shot back on Twitter: "I guess it's not too soon to politicize a tragedy."

In a statement, the New York senator slammed Trump for "dividing America" and called on the president not to follow through on proposed cuts to "vital anti-terrorism funding."

"I have always believed and continue to believe that immigration is good for America," Schumer said. "President Trump, instead of politicizing and dividing America, which he always seems to do at times of national tragedy, should be focusing on the real solution — anti-terrorism funding — which he proposed cutting in his most recent budget."

Schumer also took on Trump in a passionate speech from the Senate floor, asking, "President Trump, where is your leadership?"

The New York lawmaker drew a comparison between Trump's conduct after Tuesday's attack and the way former President George W. Bush responded to 9/11.

Bush "understood the meaning of his high office" in the midst of a national tragedy, Schumer said. "The contrast between President Bush's actions after 9/11 and President Trump's actions this morning couldn't be starker."

The Trump-Schumer back and forth came less than 24 hours after eight people were killed and more than a dozen injured when a motorist in a rented pickup truck deliberately drove down a bike path in lower Manhattan and mowed down several people before crashing into a school bus in what officials said was a terror attack.

Police found a note inside the truck indicating the suspect claimed to have carried out the attack to show his support for ISIS.

In a planned attack which he declared on behalf of ISIL, Sayfullo Saipov rented a pickup truck and mowed down pedestrians and cyclists along a busy bike path near the World Trade Center memorial 31 Oct 2017, killing eight.

According to The New York Times, he had obtained a green card, giving him permanent legal resident status in the U.S.

Trump, in his tweets Wednesday, was apparently referring to the Diversity Immigrant Visa lottery, which was established by the Immigration Act of 1990. That bill was passed with bipartisan support and signed into law by then-President George H.W. Bush.

The program allows the State Department to offer 50,000 visas annually to immigrants from countries with low immigration rates.

Meanwhile, Democrats and Republicans alike hit back against Trump.

Rep. Adam Schiff, D-Calif., the ranking Democrat on the House Intelligence Committee, said on "Morning Joe" that "it was kind of absurd (for Trump)...to be using it as a fulcrum for…this kind of a debate."

New York Gov. Andrew Cuomo, at a press conference later Wednesday, said Trump's tweets "were not factual" and "were not helpful."

"You play into the hands of the terrorists," Cuomo, a Democrat, said when asked for his thoughts on the tweets. "The tone now should be the exact opposite on all levels."

Sens. Bob Corker, R-Tenn., and Jeff Flake, R-Ariz., who have both become vocal Trump critics since announcing they would not run for reelection next year, also took on the president.

"I don't think that brings out the best in our country," Corker told NBC News, while Flake called Trump's response "premature."

"He should express solidarity with those trying to fix this (visa) program," Flake said.

Another Republican defended the diversity visa lottery.

"To be honest with you, I've known a number of people in New York who come in under the lottery system — they've made outstanding contributions, they've become citizens," Rep. Peter King, R-N.Y., a former House Homeland Security Committee chairman, told the Fox Business Network. "So that really is separate from the idea of the vetting."

According to the State Department, diversity visa lottery applicants must meet certain education and work experience requirements, including having obtained "at least a high school education or its equivalent" or "two years of work experience within the past five years in an occupation that requires at least two years of training or experience to perform."

The State Department determines those accepted under the program through a randomized computer drawing, its website states.

In 2013, a bipartisan group of senators, including Schumer, known as the "Gang of Eight" proposed a compromise immigration reform bill that would have eliminated the diversity lottery. The bill did not make it through Congress.