Majorityrights News > Category: Business & Industry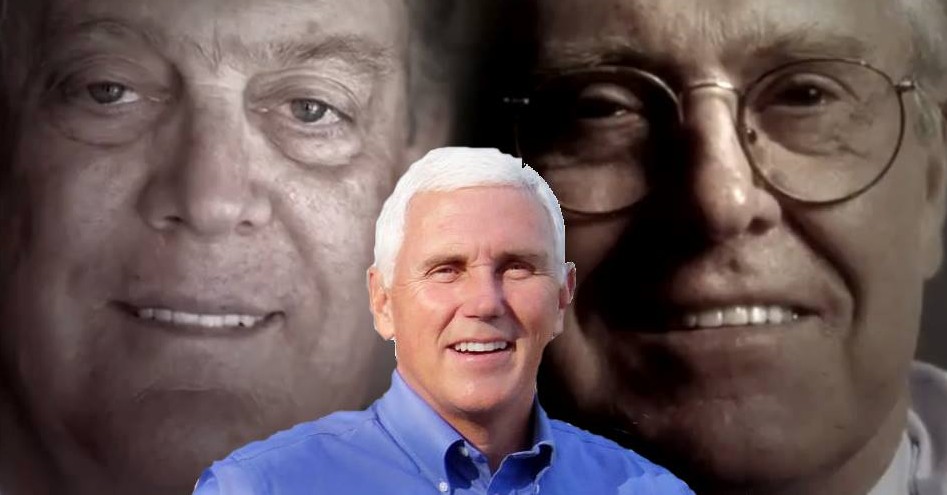 Pence owes his position to doing the dirty bidding of the Koch brother's interests, starting with lobbying against carbon tax, an initiative that wound up putting oil man Scott Pruitt in charge of EPA - the proverbial fox in charge of the hen house. That's not the half of Pence's classic story of right wing corruption.
NPR, "Understanding Mike Pence And His Relationship To Trump: 'His Public Role Is Fawning", 18 Oct 2017:

Though President Trump ran as an outsider, New Yorker writer Jane Mayer describes his vice president as "the connective tissue" between Trump and the billionaire donors in the Republican party.

TERRY GROSS, HOST:

This is FRESH AIR. I'm Terry Gross. Many of President Trump's critics are hoping he won't serve his full term, but what kind of president would Mike Pence make? That's one of the questions Jane Mayer sets out to answer in her new article about Pence titled "The President Pence Delusion." It's published in the current issue of The New Yorker.

She writes about how Pence became an evangelical Christian and how he became a favored candidate of billionaire backers, most especially the Koch brothers. She traces how religion and money shaped his ideology. She investigates how Pence became Trump's running mate and how much power he has in the White House and how he's used it.

Mayer is a staff writer for The New Yorker. She's also the author of the bestseller about the Koch Brothers titled "Dark Money: The Hidden History Of The Billionaires Behind The Rise Of The Radical Right." Last March in The New Yorker, she profiled another billionaire funder of right-wing causes, Robert Mercer, who she says has become a major force behind the Trump presidency.

Jane Mayer, welcome back to FRESH AIR. So I feel like I don't see Mike Pence very much, and I often wonder if he's a power behind the scenes or if he really doesn't matter that much within the Trump administration. So what's your impression?

JANE MAYER: Well, it's really hard to tell. He is - as Joel Goldstein, a specialist in the vice presidency, told me, he calls him the sycophant in chief because when you do see him, he's usually acting as an emcee to Trump or kind of echoing Trump and praising Trump. So his public role is really fawning. Behind the scenes, though, according to Newt Gingrich, he's 1 of the 3 people who have the most power in the Trump administration along with the chief of staff, John Kelly, and Trump himself.

GROSS: What are the signs that he's that powerful?

MAYER: Well, (laughter) that's a good question - because I think he acts as the connective tissue between the Trump administration and Congress, between the Trump administration and the - kind of the socially conservative base of the party. And most importantly, he is the connector between the Trump administration and the billionaire donors in the Republican Party. He is the guy who does most of the fundraising and outreach to the money.

GROSS: And the money includes the Koch brothers and Robert Mercer.

MAYER: It does. And one of the interesting things to me in writing about Pence is it poses such a juxtaposition between the way that Trump ran, which was as a populist outsider who was attacking the big-money forces in the Republican Party as corrupt and saying that they were puppeteers trying to control the candidates as puppets. And Trump made a huge point of saying, I'm my own man; I'm so rich; no one controls me. Yet as his vice president, he chose Mike Pence. And you could hardly find a candidate in the American political scene who has closer ties to the big donors and particularly the Koch brothers. He's been sponsored by them for years.

GROSS: So how do the Kochs first start backing Mike Pence?

MAYER: So this was when Pence was in Congress in 2009. He really did the Kochs a big favor. There was legislation pending that might have put a tax on carbon pollution, and it would have been terrible for Koch Industries. And Pence took up the cause and tried to help defeat that legislation and specifically carried around a pledge that the Kochs had created, trying to get people to sign it. And after he was successful in that, the Kochs invited him to come to their secret donor summits. And at that point on, they started showering him in money. So it was - it's really became a working relationship then. And I hadn't realized that until recently.

GROSS: One of the things you say Mike Pence is responsible for is bringing the Kochs and Donald Trump together. The Kochs didn't support Trump's candidacy. Charles Koch described the choice between Trump and Hillary as one between cancer or a heart attack. (Laughter) So what did Pence do to bring the Kochs and Trump together?

MAYER: Well, so this is what was interesting to me - is that Pence has been very close with the Kochs, and they have just showered money on his campaigns. And he's kind of act as a peacemaker between the Kochs and Trump. And but in that process, what interested me most was that I really do think that Trump ran as a different kind of Republican. He ran against the big-donors orthodoxy and kind of libertarian vision of people like the Kochs. He said he was going to deliver something for the little guys and build infrastructure all across the country and use the government in various ways that the Kochs disapprove of.

And what you've seen with Pence is that in many ways, Pence has brought in a ton of people who are allied with the Kochs into the government, and he's brought a lot of their policies in - so whether it's on environmental issues or tax policy now where the Kochs are working very closely with the Trump White House on the Trump tax plan. And it is a tax plan that the Kochs love, and it's a tax plan that's going to help the super-rich according to many nonpartisan analyses and not do very much for the middle class. So you're beginning to kind of see the government moving in the direction of the Kochs.

GROSS: You say 16 high-ranking officials in the Trump White House have ties to the Koch brothers.

MAYER: Well, and that's according to a study by a group called the Checks And Balances Program. And you can count them. You can see it online. They're - that's in the White House. There are also many, many people who've worked for the Kochs in the government at large, in the cabinet, in the other departments. And a tremendous number of people who work with and for Pence have gone in and out of working for the Kochs to the point that you had Politico saying - they quoted a Republican operative saying that the Koch operation really was the shadow campaign for Pence for president.

And chief among them really has been Pence's former chief of staff, Marc Short, who went - after working for Pence in Congress, he went to run the Koch's political operation, Freedom Partners. And then when Pence was chosen as vice president on the ticket, Marc Short came back, worked with Pence in the campaign and is now the head of Congressional Liaison in the Trump White House. So the man that actually ran the Koch's political operation is a key player inside the Trump White House.

"I got the phone call Nov. 12 at 2:39 in the afternoon," Tina Snyder recalled. Her 24-year-old son, Lee Winder, had been found in a shopping center parking lot near his car outside a Dunkin' Donuts.

Winder had become addicted to pain pills and died of a heroin overdose.


Washington Post, "Amid a targeted lobbying effort, Congress weakened the DEA's ability to go after drug distributors, even as opioid-related deaths continue to rise, a Washington Post and '60 Minutes' investigation finds", 15 Oct 2017:

In April 2016, at the height of the deadliest drug epidemic in U.S. history, Congress effectively stripped the Drug Enforcement Administration of its most potent weapon against large drug companies suspected of spilling prescription narcotics onto the nation's streets.

By then, the opioid war had claimed 200,000 lives, more than three times the number of U.S. military deaths in the Vietnam War. Overdose deaths continue to rise. There is no end in sight.

A handful of members of Congress, allied with the nation's major drug distributors, prevailed upon the DEA and the Justice Department to agree to a more industry-friendly law, undermining efforts to stanch the flow of pain pills, according to an investigation by The Washington Post and "60 Minutes." The DEA had opposed the effort for years.

The law was the crowning achievement of a multifaceted campaign by the drug industry to weaken aggressive DEA enforcement efforts against drug distribution companies that were supplying corrupt doctors and pharmacists who peddled narcotics to the black market. The industry worked behind the scenes with lobbyists and key members of Congress, pouring more than a million dollars into their election campaigns.

The chief advocate of the law that hobbled the DEA was Rep. Tom Marino, a Pennsylvania Republican who is now President Trump's nominee to become the nation's next drug czar. Marino spent years trying to move the law through Congress. It passed after Sen. Orrin G. Hatch (R-Utah) negotiated a final version with the DEA.

For years, some drug distributors were fined for repeatedly ignoring warnings from the DEA to shut down suspicious sales of hundreds of millions of pills, while they racked up billions of dollars in sales.

The new law makes it virtually impossible for the DEA to freeze suspicious narcotic shipments from the companies, according to internal agency and Justice Department documents and an independent assessment by the DEA's chief administrative law judge in a soon-to-be-published law review article. That powerful tool had allowed the agency to immediately prevent drugs from reaching the street.

Political action committees representing the industry contributed at least $1.5 million to the 23 lawmakers who sponsored or co-sponsored four versions of the bill, including nearly $100,000 to Marino and $177,000 to Hatch. Overall, the drug industry spent $102 million lobbying Congress on the bill and other legislation between 2014 and 2016, according to lobbying reports.

[TUESDAY UPDATE: Trump announces drug czar Marino will withdraw]

"The drug industry, the manufacturers, wholesalers, distributors and chain drugstores, have an influence over Congress that has never been seen before," said Joseph T. Rannazzisi, who ran the DEA's division responsible for regulating the drug industry and led a decade-long campaign of aggressive enforcement until he was forced out of the agency in 2015. "I mean, to get Congress to pass a bill to protect their interests in the height of an opioid epidemic just shows me how much influence they have."

Besides the sponsors and co-sponsors of the bill, few lawmakers knew the true impact the law would have. It sailed through Congress and was passed by unanimous consent, a parliamentary procedure reserved for bills considered to be noncontroversial. The White House was equally unaware of the bill's import when President Barack Obama signed it into law, according to interviews with former senior administration officials.

Top officials at the White House and the Justice Department have declined to discuss how the bill came to pass.

Michael Botticelli, who led the White House Office of National Drug Control Policy at the time, said neither Justice nor the DEA objected to the bill, removing a major obstacle to the president's approval.

"We deferred to DEA, as is common practice," he said.

The bill also was reviewed by the White House Office of Management and Budget.

"Neither the DEA nor the Justice Department informed OMB about the policy change in the bill," a former senior OMB official with knowledge of the issue said recently. The official spoke on the condition of anonymity because of the sensitivity of internal White House deliberations.

The DEA's top official at the time, acting administrator Chuck Rosenberg, declined repeated requests for interviews. A senior DEA official said the agency fought the bill for years in the face of growing pressure from key members of Congress and industry lobbyists. But the DEA lost the battle and eventually was forced to accept a deal it did not want.

[...]

Deeply involved in the effort to help the industry was the DEA's former associate chief counsel, D. Linden Barber. While at the DEA, he helped design and carry out the early stages of the agency's tough enforcement campaign, which targeted drug companies that were failing to report suspicious orders of narcotics.

When Barber went to work for the drug industry in 2011, he brought an intimate knowledge of the DEA's strategy and how it could be attacked to protect the companies. He was one of dozens of DEA officials recruited by the drug industry during the past decade.

Barber played a key role in early version of the legislation that would eventually curtail the DEA's power, according to an internal email written by a Justice Department official to a colleague. "He wrote the Marino bill," the official wrote in 2014.

Barber declined repeated requests for an interview.

With a few words, the new law changed four decades of DEA practice. Previously, the DEA could freeze drug shipments that posed an "imminent danger" to the community, giving the agency broad authority. Now, the DEA must demonstrate that a company's actions represent "a substantial likelihood of an immediate threat," a much higher bar.

[...]

Today, Rannazzisi is a consultant for a team of lawyers suing the opioid industry. Separately, 41 state attorneys general have banded together to investigate the industry. Hundreds of counties, cities and towns also are suing.

"This is an industry that's out of control. If they don't follow the law in drug supply, and diversion occurs, people die. That's just it, people die," he said. "And what they're saying is, 'The heck with your compliance. We'll just get the law changed.' "

[...]

'Drug dealers in lab coats'

2006: 52,277 deaths from prescription opioid overdoses since 2000.

Joe Rannazzisi came to DEA headquarters as an outsider with an attitude. He worked as an agent in Detroit, where he watched prescription drugs flood small towns and cities in the Midwest.

Hundreds of millions of pain pills, such as Vicodin and oxycodone, ended up in the hands of dealers and illegal users.

Rogue doctors wrote fraudulent prescriptions for enormous numbers of pills, and complicit pharmacists filled them without question, often for cash. Internet pharmacies, supplied by drug distribution companies, allowed users to obtain drugs without seeing a doctor.

"There were just too many bad practitioners, too many bad pharmacies, and too many bad wholesalers and distributors," Rannazzisi recalled.

[...]

Rannazzisi brought an aggressive approach to the diversion control office.

The year he took over, Linden Barber was promoted to run diversion control's litigation office, which crafted the legal arguments that supported the team. He was a former Army lawyer who served in Iraq. The cadre of attorneys who worked for him saw him as a tough litigator unafraid of an influential industry.

Barber and Rannazzisi formed a powerful combination that the drug companies would learn to fear. "Early on he did really good work," Rannazzisi said. "He jumped into the Internet cases when he first came here."

After shutting down the Internet pharmacies, Rannazzisi and Barber pursued the pain management clinics that replaced them and soon became as ubiquitous in South Florida as the golden arches of McDonald's. To get there, drug dealers and users would take the "Oxy Express" down Interstate 75.

"Lines of customers coming in and going out," said Matthew Murphy, a veteran DEA supervisor in Boston whom Rannazzisi hired to be chief of pharmaceutical investigations. "Armed guards. Vanloads of people from the Appalachia region driving down to Florida to get a prescription from a pain clinic and then get the prescription filled, going back to wherever they're from."

Back home, each 30-pill vial of oxycodone was worth $900.

DEA officials realized they needed a new strategy to confront this new kind of drug dealer.

"They weren't slinging crack on the corner," Rannazzisi said. "These were professionals who were doing it. They were just drug dealers in lab coats."

Rather than focusing on bad doctors and pharmacists, Rannazzisi and Barber decided to target the companies feeding the pill mills: the wholesale drug distributors, some of them massive multinational corporations.

[...]

"They definitely didn't like Joe Rannazzisi," Murphy said. "Not at all. He wasn't viewed as a person that they could work with. And maybe that was appropriate. He didn't want to work with industry much."

Rannazzisi was unmoved by their complaints.

"We're worried about their feelings being hurt because we were doing our job?" he said. "We were making them comply. We were holding their feet to the fire."

Murphy recalled a telling meeting with drug company representatives.

He said the president of one of the drug companies sat on the other side of the table, put his hands up and said, " 'You got us. What can we do to make this right?' " Murphy recalled.

Murphy said he had heard the same thing from drug dealers.

There was an important difference, Murphy noted.

"You know," he said, "the heroin and cocaine traffickers didn't have a class ring on their finger from a prestigious university."

'This is war'

2011: 121,468 deaths from prescription opioid overdoses since 2000.

In 2011, Linden Barber left the DEA to join the Washington, D.C., office of the law firm Quarles & Brady. He started a practice representing drug companies. "If you have a DEA compliance issue or you're facing a government investigation," he said in a promotional video for the firm, "I'd be happy to hear from you."

Barber's move turned out to be a key moment in the struggle between drug companies and the government, but it was far from the only one. Dozens of top officials from the DEA and Justice Department have stepped through Washington's revolving door to work for drug companies.

[...]

'it was bad'

2013: 149,853 deaths from prescription opioid overdoses since 2000.

The field generals in the DEA's war on opioids are men and women such as Jim Geldhof, a 43-year agency veteran who managed the diversion control program in the Detroit field office. He witnessed firsthand the heartbreak pain pills were causing across the Midwest.

One night, at a town hall meeting in Portsmouth, Ohio, Geldhof sat quietly as the Portsmouth High School gym fell dark and a large screen flickered with photographs.

Geldhof was in tears.

"Sons and daughters and grandsons and granddaughters in graduation pictures," he recalled. "Some were wearing football jerseys. They had their whole lives ahead of them, and then they were gone."


[...]

Geldhof, the DEA program manager in Detroit, was investigating a midsize Ohio-based drug distributor. Between 2007 and 2012, Miami-Luken had shipped 20 million doses of oxycodone and hydrocodone to pharmacies in West Virginia. About 11 million wound up in one county, Mingo, population 25,000.

Despite the rising death rate in West Virginia — the highest in the nation — Geldhof said his pleas in 2013 to halt Miami-Luken's operations were ignored by the legal office at headquarters.

"First we got blown off by the company," he said, "and then we got blown off by our own lawyers."

Novak suspected another reason for the slowdown.

At times, he said, some of his colleagues appeared more concerned with pleasing the industry than working on behalf of the public. Some of the lawyers had simply given up fighting the industry and seemed to be preparing for a future working with the companies they were supposed to be regulating, he said.

"It was not just one person who left the office; everyone started to leave. That's your payout. You do your time, and more and more people were auditioning for the industry. It stopped us from doing our jobs."

The departures gave the industry an unfair advantage, Novak said.

"There was a fear," he said. "It comes from seeing that some of the best and brightest former DEA attorneys are now on the other side and know all of the weak points. Their fingerprints are on memos and policy and emails."

[...]

Epilogue

2016: 197,713 deaths from prescription opioid overdoses since 2000.

John Mulrooney, the chief DEA administrative law judge, has been documenting the falling number of immediate suspension orders against doctors, pharmacies and drug companies. That number has dropped from 65 in fiscal year 2011 to six so far this fiscal year, according to the DEA. Not a single order has targeted a distributor or manufacturer since late 2015, according to Mulrooney's reports, which were obtained under the Freedom of Information Act.

Mulrooney said in his reports that the judges under him were handling so few cases at the DEA that they began hearing the cases of other federal agencies.

Mingo County

, West Virginia, racial makeup 97.1% White

[...]

A spokesman for Whitehouse said that the DEA could have expressed its opposition at any time.

"The fact that it passed the entire Senate without hearing any sort of communication that would have triggered concern of at least one senator doesn't really pass the smell test," the spokesman said.

Jim Geldhof, the DEA program manager in Detroit, retired from the agency at the end of 2015 after 43 years on the job. He said the companies were fully aware of their responsibilities under the law.

"When you're selling half a million pills to some pharmacy and you're telling me that you don't know what the rules are for a suspicious order?" said Geldhof, who is now working as a consultant to lawyers suing the industry. "All we were looking for is a good-faith effort by these companies to do the right thing, and there was no good-faith effort. Greed always trumped compliance. It did every time. It was about money, and it's as simple as that."

Just before Geldhof left, his two-year quest to persuade the DEA to take action against Miami-Luken finally paid off. In November 2015, the DEA accused the company of multiple violations of the law for allegedly failing to report orders for tens of millions of pain pills from pharmacies, most of them in West Virginia. That case — the most recent one to target a distributor — is pending.

Of the millions of pills sent to Mingo County, many went to one pharmacy in Williamson, the county seat, population 2,924. In one month alone, Miami-Luken shipped 258,000 hydrocodone pills to the pharmacy, more than 10 times the typical amount for a West Virginia pharmacy.

The mayor of Williamson has since filed a lawsuit against Miami-Luken and other drug distributors, accusing them of flooding the city with pain pills and permitting them to saturate the black market.

"Like sharks circling their prey, multi-billion dollar companies descended upon Appalachia for the sole purpose of profiting off of the prescription drug-fueled feeding frenzy," the lawsuit says.

...West Virginia was not alone among poor White areas targeted, but provides a graphic example of how much big pharma, big business, big money and the government care for disadvantaged Whites, as West Virginia is markedly the poorest and Whitest state in America.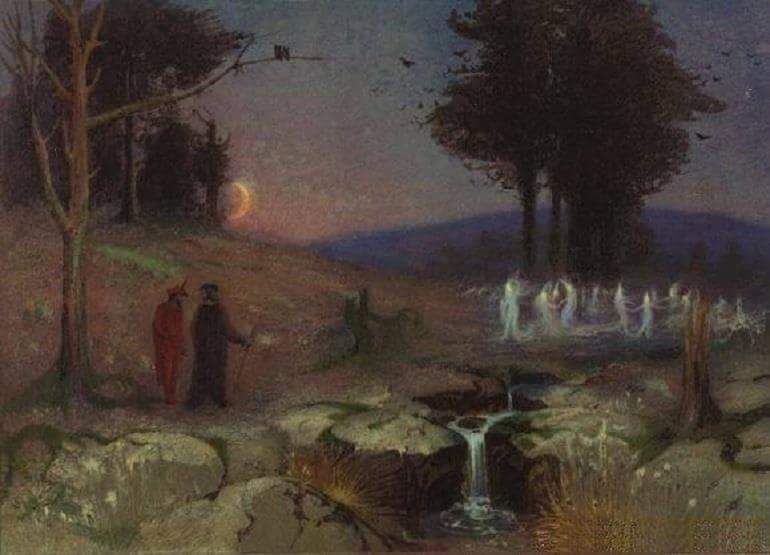 Almost heaven, West Virginia, the corporations can't lay off - Massey corp. strip mines its mountains, poisons its water and big pharma preys on the despair of the first casualties of cultural Marxism.
Scotland's ban on fracking poses something of a dilemma for nationalists. While it is indisputable that fracking is environmentally destructive, it is also the case that the destruction can be mitigated some in that the process can be turned off such that it is not an endless source of pollution; and it can be turned on when, for example, Russia threatens to withhold oil supply for not yielding to its political pressure as an oil supplier; which it aspires to do and that's why Russian Active Measures has a certifiable presence in anti-fracking movements, including that of Scotland.
BBC, "Scottish government backs ban on fracking", 3 Oct 2017:

The Scottish government has announced an "effective ban" on fracking.

Energy Minister Paul Wheelhouse told MSPs that the practice "cannot and will not take place in Scotland".

He said an existing moratorium on the technique, which has been in place since 2015, would continue "indefinitely" after a consultation showed "overwhelming" opposition.

The government will seek Holyrood's endorsement for the ban in a vote following the October recess.

But with only the Conservatives now opposed to a ban, the vote is likely to be a formality.

The move was welcomed by environmental groups but has been slammed by Ineos, operators of the huge Grangemouth petrochemical plant, which holds fracking exploration licences across 700 square miles of the country.

Scotland and fracking: how did we get here?

The Scottish government has previously imposed a similar block on underground coal gasification (UCG) - a separate technique used to extract gas from coal seams deep underground - on environmental grounds.

It followed the introduction of a moratorium on both fracking and UCG in 2015, which saw a series of expert reports published on the potential health, environmental and economic impact of the controversial techniques, as well as a public consultation being carried out.

Mr Wheelhouse said the consultation came back with "overwhelming" opposition to fracking, with 99% of the 60,000 respondents supporting a ban. He said this showed that "there is no social licence for unconventional oil and gas to be taken forward at this time".

The move comes almost exactly a year on from the UK government giving the go-ahead to horizontal fracking in Lancashire.

Shale gas is currently processed in Scotland at a site in Grangemouth, having been shipped in from abroad, but cannot be extracted from beneath Scottish soil under the current moratorium, which is enforced through planning regulations.

Mr Wheelhouse said local authorities would be instructed to continue this moratorium "indefinitely" - calling this "action sufficient to effectively ban the development of unconventional oil and gas extraction in Scotland".

He said: "The decision I am announcing today means that fracking cannot and will not take place in Scotland."

Mr Wheelhouse's announcement was welcomed by environmental groups, with Friends of the Earth Scotland and WWF Scotland both hailing a victory for campaigners.

WWF Scotland official Sam Gardner said it was "excellent news", saying "the climate science is clear" that fossil fuels should be "left in the ground".

Mary Church from Friends of the Earth Scotland said it was a "huge win for the anti-fracking movement" which would be "warmly welcomed across the country and around the world".
'Poor decision'

However Ineos said the move could see "large numbers of Scottish workers leaving the country to find work".

Tom Pickering, operations director of Ineos Shale, said: "It is a sad day for those of us who believe in evidence-led decision making. The Scottish government has turned its back on a potential manufacturing and jobs renaissance and lessened Scottish academia's place in the world by ignoring its findings."

Ken Cronin of UK Onshore Oil and Gas also said it was a "poor decision", which ignored "extensive independent research" and was "based on dogma not evidence or geopolitical reality".

And the GMB Scotland trade union said the move was "mired in dishonesty" and "an abandonment of the national interest", saying Scotland would now be dependent on gas shipped in from "the likes of Qatar and Russia".

The Scottish Conservatives also said Scotland would miss out on a "much needed economic boost" and high-skilled jobs as a result of the decision.

Tory MSP Dean Lockhart said ministers had ignored scientific and economic evidence to take a "short-sighted and economically damaging decision which is nothing more than a bid to appease the green elements of the pro-independence movement".

However Labour MSP Claudia Beamish said the move did not go far enough, arguing that ministers were merely extending the existing moratorium which "could be overturned at any point at the whim of a minister".
'Legally shaky'

Ms Beamish has a member's bill tabled at Holyrood calling for a "full legal ban", but Mr Wheelhouse said this would not be needed until his proposals.

The Scottish Greens said the announcement was "a step in the right direction". However, they also wanted a more permanent ban, with MSP Mark Ruskell saying the moratorium was "legally shaky" and open to challenge.

This was also echoed by Friends of the Earth Scotland, with Ms Church saying ministers should "go further than relying on planning powers" and "instead commit to passing a law to ban the fracking industry for good".

Scottish Lib Dem MSP Liam McArthur welcomed the decision, saying that ministers had taken the "scenic route" but had ultimately decided "effectively to ban fracking".

MSPs have previously voted to support a ban on fracking, but SNP members abstained from that vote.
What is fracking and why is it controversial?


- Fracking is the process of drilling down into the earth before a high-pressure water mixture is directed at the rock to release the gas inside.
- The extensive use of fracking in the US, where it has revolutionised the energy industry, has prompted environmental concerns.
- The first is that fracking uses huge amounts of water that must be transported to the fracking site, at significant environmental cost.
- The second is the worry that potentially carcinogenic chemicals used may escape and contaminate groundwater around the fracking site.
- But the industry suggests fracking of shale gas could contribute significantly to the UK's future energy needs

find out more…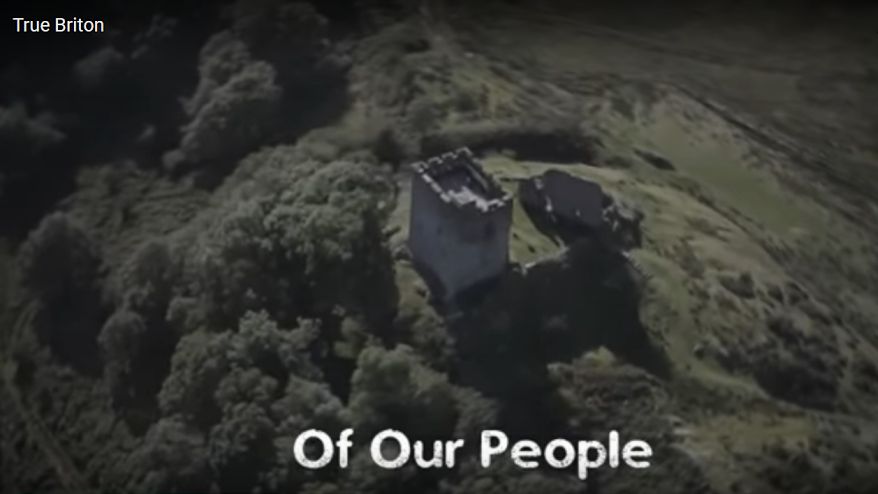 True Briton by Oswald Mosley
Oswald Mosley's Union Movement

Oswald Mosley died in 1980 but his ideas live on. 'Ten Points For Action' was published forty years ago but they are still relevant. Compare these visionary policies to the paranoid fantasies of the far-right.

1) Action to Build Houses. We want Action to solve the housing problem. It should be taken out of the hands of local authorities and entrusted to Government leadership with powers to mass produce houses and flats like an 'operation of war', turning out homes as munitions were mass-produced in time of war.

2) Stop the Land and Rent Rackets. Give the Government the power to acquire land at pre-boom prices and to finance housing by low-interest loans, paid for by high-interest charges on all non-essential and luxury building. Such action would bring down house prices and rents and at last provide good but cheap housing for all.

3) Stop Immigration - Start Repatriation. We want Action to ease the pressure on housing and other social problems (like the reintroduction of diseases unknown in Britain for hundreds of years) by stopping all further immigration and by repatriating all post-war immigrants to good jobs and conditions in their homelands, to which prosperity had been restored by using the surplus wealth and production of united Europe. But Britain could make a start now before the complete union of Europe is achieved.

4) Choice in Education and Health. We want Action to build good schools, colleges, universities and hospitals, just as we would mass-produce houses and flats. Parents should have a choice of schools for their children. We should not be taxed to provide those health services we will never use (maternity benefits for confirmed bachelors!) but free to pay in proportion to our requirements.

5) Free Speech - Law and Order. We want Action to ensure freedom of speech for everyone, guaranteed by the Government, which has a duty to maintain law and order in the State and to take effective action against mob violence, which today denies freedom of expression to any views of which its agitators disapprove. Let us maintain local police forces with their local knowledge and experience, but let us supplement them with a highly-trained, well-equipped, mobile national police force, to put down organised crime and to maintain public order.

We would ensure freedom of the Press for both newspapers and the public. Any man who felt himself misrepresented in the Press should be guaranteed (by law) equal space to reply in the newspaper concerned. This would free the public from the expense of seeking justice through costly libel action and free the newspapers from the legal blackmail of a threatened libel action by some unscrupulous racketeer.

6) Capital Punishment. The death penalty should be restored to the statute book, to be used sparingly in the case of premeditated murder. The Court of Appeal should have a solemn duty to reprieve if in any doubt. The sentence could be carried out not by hanging, but by a quick and painless injection or by some other humane method.

7) Action in Europe. To put these policies into practice Britain must advance beyond the concept of a so-called united Europe and Common Market to which the Conservative Party has at last been converted and which the Labour Party still opposes. We must advance quickly to "Europe a Nation", which we have advocated since 1948. We stand for a union of all Europe, our former white Dominions and southern Africa, a great "third force" independent of both America and Russia.

This "third force" must have a central government for its defence, the economy, finance and scientific development, with power to raise wages and control prices as production increases for a guaranteed market, insulated against unfair competition from the rest of the world.

We need a European army, equipped with the most modern weapons to defend our continent against attack from any quarter. This should be financed on a European budget, instead of each small country straining its economy to finance its own defence.

8) National and Regional Governments. There should be independent national and regional governments for each European country and the main regions. This would enable England, Wales, Scotland, Ireland and other European countries and regions to have their own parliaments for internal affairs and for the preservation of their national and regional cultures.

9) The Irish Problem. The ultimate solution to the Irish problem is the union of that country within a united Europe. But the bloodshed must first be brought to an end by a free vote on a county basis in each of the Six Counties and a subsequent readjustment of the border. The bulk of the Catholic population in the North would then be ruled (as is their wish) from Dublin, with a lessening of present tensions, the IRA would lose its bases in the North and the British Army would have a much shorter border to patrol against infiltration from the South. In this improved situation agreement could more easily be reached on the eventual union of Ireland, with the rights of the Protestant minority protected and guaranteed by European government.

10) Government of National Union. We stand for a government of national union and effective action, drawn from the whole nation, from the professions and the trade unions, arts and science, the law and the armed forces. Government elected by the whole people alone should govern. It should have power to lead the economy, raising wages and controlling prices as science increased production. Then we will have cooperation instead of conflict in industry.

We want Action to halt the "brain drain" and to arouse a new spirit of national service in our British people, by relating all reward directly to skill, effort, initiative and responsibility. There should be "great reward for great service", crowned by higher pensions drawn from the wealth of the new economic system, as the reward in old age for those who had loyally served the nation throughout their lives.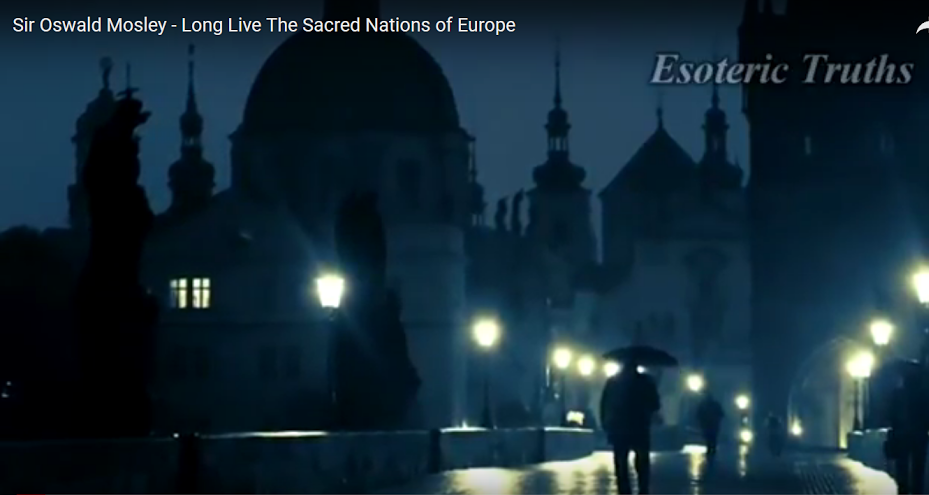 Long Live The Sacred Nations of Europe by Oswald Mosley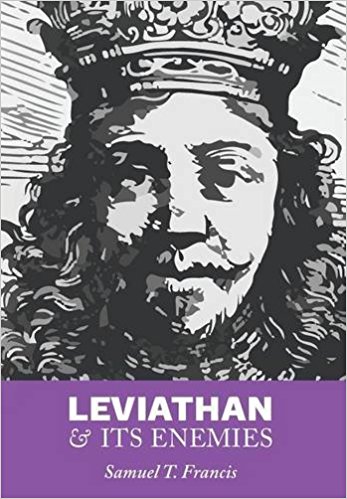 Sam Francis was creating 'young fogies' - Alex Linder.
It's going to require some nuance, but it is important to explain why James Lawrence is a walking piece of dog shit masquerading as a human being, a manifestation shown in his article at (((Alternative Right))):
Alternative Right, "THE COSMOPOLITAN CLASS", 24 Sept 2017.
In brief, James Lawrence has elevated Sam Francis young fogeyism = an aspiration to conceive of oneself as precociously wry in protection of the "traditional" already Jew infested culture against "progressivism." This is anti modernism without being sufficiently post modern (to incorporate the best while leaving behind the worst of both modern and inherited ways), as it stops with a neo-traditionalism, read (((paleoconservatism))).
Now, Francis, and by proxy Lawrence, have some things right.
Namely, that there is a significant portion of influential White people circulating among our elite functions who do not have our ethnonational interests at heart. More, that there is a managerial elite who want to share in this self interested good fortune, who will thus also betray ethno nationals in order to gain favor of this elite, internationalist power.
It is also true that both these kinds of White people can gain international backing by importing foreigners against Whites (or exporting elitist interests, e.g., compradors, against ethnonationals) and they can and do also virtue signal by sacrificing Whites and quelling any backlash against foreign impositions on ethnonationalism.
But I more accurately and descriptively call these people right wingers, and their underpinning objectivism: which is directed by Jewry - hence, Lawrence's commitment to end his article in (((his masters))) bidding by espousing the "true right" on behalf of (((paleoconservatism))) against "the left"..."the Cosmopolitans" and the occasional bad Jew - yes, they have bad ones too, he knows.
Here Lawrence takes a turn into disingenuous speculation, by saying these Whites who betray eithnonationalism are not "traitors" - well, objectivists are not perfectly described as "traitors", true - they are loyal to their own subjective interests through a disingenuous pretense of objectivism or naively subject to the subjective/relative interests of others through the pretense of objectivism.
Although there are distinct patterns of the treacherous Whites among elite positions, there is not necessarily a well organized elite group to which they subscribe as Lawrence would provide for the diversion of conspiracy theorists - it is more facile than that.
Indeed, the only real reason to circumscribe it so perfectly with the designation of a "Cosmopoitain" elite which is strictly loyal to its in group, is to function as a tool for Jews to deflect attention away from what is indeed their more organized half of the elite internationalist equation. So that they can point to their (((paleocons))), who can say, "see? we are the good ones", we have paleocons who are on your side, not like those bad Jews, we're here with you to protect your (((Christian traditions))) against those "Cosmopolitan elites" and the occasional bad Jew, like Soros and neo cons like William Kristol.
That is to say, like the site Alternative Right, James Lawrence is disguising, perhaps even to himself, the fact that he is kissing Jewish ass in order to keep his means to power afloat.
White elites who betray our interests are indeed one giant pole of our problem, but their loyalty functions a bit more arbitrarily on the happenstance of subjective fortune and selling out; along with the mutual admiration and facile croneyism of their "objective" attainment, which is why, in their unaccountabilty, they are so easily bribed and outmaneuvered by the Jewish group, which is organized as a distinct group in its relative interests (is it good for Jews?) and which will send forth posers as representatives of (((paleoconservatism))) against the "Cosmopolitan" elite.
That is to say, objectivism functions in a much more slippery way against ethnonational interests and Jewry knows how to play it - e.g., through reactionary narratives like those of Sam Francis and James Lawrence. It is a nebulous, quasi group created de facto by the ever present temptation of facile betrayal in self interest, and that is why it requires the ever present default vigilance of accountability through left nationalism and its White variant, the White class, White Left nationalism.
Why I Left The Altright, Sept 20, 2017:

viz., regarding AltRight.com Inc.

Jason Reza Jorjani writes:

A recent piece of trash 'journalism' in The New York Times entitled "Undercover With the Alt-Right" features video footage of me that was obtained surreptitiously and under false pretenses. It has been deceptively edited to make it appear as if I am advocating genocidal extreme right-wing policies. The five minute clip has been spliced together from a two hour meeting in a pub. My nightmarish prediction of a future that would follow from Western policymakers' failure to address the Muslim migrant crisis in the present has been taken out of context and made to appear as if it is advocacy for "concentration camps and expulsions and war… at the cost of a few hundred million people." It is one thing for such a deceptive film clip to have been produced by the Antifa organization Help Not Hate, it is another altogether for it to be embedded into a New York Times article. Jesse Singal and the Times are responsible for libel – or worse. I had a long and heated conversation with Mr. Singal in the course of which I clarified the concealed context of my butchered statements, but he did not convey my clarification in a responsible fashion when reproducing Antifa's slanderously spliced misquotes of me.

The article also suggests that the Alt-Right Corporation was created in a context that involved my dialogue with individuals in the Trump Administration, and that our aim was to become their policy advisement group (comparable to the Straussian think tank inside the Bush-Cheney Administration). In this context, the one-sentence parenthetical reference to my August 15th resignation from the Alt-Right Corporation and Arktos Media makes it appear as if I left the corporation only because lines of communication to people who had the ear of President Trump were cut off. It is true that my greater responsibilities to the Iranian opposition were not the sole cause of my departure. The formation of the Iranian United Front during the very same days as the Charlottesville disaster were only an opportunity to leave an organization with which I was already profoundly dissatisfied – an organization that I created. The New York Times hit piece did get one thing right, I was in fact "the architect of the Alt-Right Corporation." I suggested it to Richard Spencer. I'm afraid the time has come to confess why I did that, and to explain what the organization was supposed to be as opposed to what it has become.

Just after a very warmly received speech on "Occult Science and the Organic State" at the Identitarian Ideas conference in Stockholm in October of 2016, Daniel Friberg hired me as the Editor-in-Chief of Arktos Media – the press that had published my first book, Prometheus and Atlas, which went on to win the 2016 Parapsychological Association Book Award (the PA is a serious scientific organization accredited by the AAAS). In November of 2016, on the heels of President Trump's electoral victory, I attended the National Policy Institute conference in Washington DC in my capacity as a book distributor. In addition to being Editor-in-Chief, I was also the Head of Arktos US, so I was there manning the book stand. Richard Spencer and I had barely known each other for 24 hours when he called me up to the stage to present my vision for the future evolution of Arktos under my editorship. But subsequent events would draw us together.

You see, on account of the grossly distorted propaganda perpetrated by mainstream media infiltrators who lingered at our private dinner after the NPI press conference was dismissed, a mere handful of Roman saluting folks out of the more than 300 attendees cheering for Richard's speech were used to tar the entire gathering as some kind of Neo-Nazi rally. Less than a month after #Hailgate, a very prominent academic Philosophy blogger ran a story branding me as a "Neo-Nazi". The Leiter Report on me identified both my doctoral granting institution, the State University of New York at Stony Brook, and my place of work, the New Jersey Institute of Technology. Shortly thereafter, at a SUNY Stony Brook faculty meeting, I was denounced as an "Aryan White Supremacist" and a review of my doctorate was suggested with a view to making a public statement that would, for all intents and purposes, invalidate my degree in the eyes of my present employer and any future employers. The faculty forgot that I was still subscribed to the department listserv, and I was afforded the possibility of preparing a preemptive response that warranted further media coverage within the academic sphere. Leiter, however, dug his heels in.

Even the community of rebel scientists who had embraced me just months earlier, by honoring Prometheus and Atlas with the highest award in their circles, turned on me with a vengeance. Fortunately, thanks to the intervention of two prominent scientists whose names I will not mention, but one of whom is a Nobel Laureate, discussions about expelling me from the Parapsychological Association (PA) and the Society for Scientific Exploration (SSE) ended with a decision to publicly uphold the apolitical character of these organizations. Privately, however, the damage was done. I became a heretic even among heretics.

When the post-Hailgate writing was on the wall for me in academia, Richard Spencer visited New York for a few days. His right hand man, former Radix journal editor 'Hannibal Bateman' (who I really respect), slept over in my apartment and Richard and I got to spend a lot of time together. Between a business lunch at my favorite Persian restaurant on one day, and a long evening that ended with a Dionysian, intoxicated hours-long discussion at my apartment, my idea for a corporatist unification of the major institutions of the Alt-Right movement was seeded in Richard's psyche. But Richard did not know something about this act of inception, which I commemorated by leaving an Easter egg for the future in this picture that I suggested we take in front of Hermes, the Trickster, that evening.

What Richard did not know I disclosed to him about a month later during a late night dinner at the Hamilton restaurant in DC. After publishing Prometheus and Atlas with Arktos Media, I was approached by some people who had already been aware of my (entirely voluntary and unpaid) high-level advisement work with the (501c3 non-profit) Iranian Renaissance organization. These individuals facilitated some initially promising private meetings with incoming Trump Administration policy makers, with the aim of interesting them in our vision for an Iranian cultural revolution. They wanted to help build a new Persian Empire that would offer the West a staunch ally in the war against a nascent Islamic Caliphate. I was told that my book, Prometheus and Atlas, expressed exactly the kind of vision that they had for the future evolution of Man.

Hillary Clinton had given the so-called "Alt-Right" a great deal of unwarranted media attention, to the point where she helped to damn-near mainstream what she herself had described as a "fringe" movement. If the total mess that was then the Alt-Right could be unified, under my intellectual and ideological leadership, then it could be used to forward the aims that these backers claimed to share in common with me. This would have involved a course-correction that extricated the Alt-Right from the ghetto of "White Nationalism" – or as the mainstream media calls it, "White Supremacy" – toward a discourse of Indo-European identity. This inclusion of the Persian, Indian, and Buddhist traditions of the Eastern Aryan world was integral to another key aim: to transform divisive and defensively weak ethno-nationalism into a different vision for a new world order than the deracinating one of soulless globalist financiers. An inclusively identitarian Indo-European Community would be strong enough to take on China and Islam in the battle for planetary hegemony, as humanity faces existential threats from convergent advancements in technology that promise a superhuman future but could also yield a horrifyingly transhuman dystopia. My second book, World State of Emergency, basically lays out what we had in mind.

I corporatized the Alt-Right because a corporate structure allows for both outside investment and hierarchical governance. The key was to have a real brain installed at the pinnacle of the hierarchy. I was supposed to be the conduit for a major investment during the formative phase of the Alt-Right Corporation, and thereby assume its leadership – at least as far as fundamental questions of ideology were concerned. After listening to my explanation of who my potential backers were, and of what capabilities they had (which I urge him, even now, not to disclose for his own sake), Richard agreed that granted such an investment would be forthcoming I would be on point. What was especially compelling to him was the promise of direct engagement, through me, with people inside the White House such as Steve Bannon – something my backers suggested that I could, and should do, but that would not be possible with Richard at the helm. (Bannon, an avid reader of Julius Evola, is consequently familiar with Arktos, one of the only two English language publishers of Evola's writings.) After this meeting with Richard, I went on to discuss this scenario with every single core board member of our company, including Arktos CEO Daniel Friberg. In February of 2017, during another Identitarian Ideas conference in Stockholm, where the lead-in to my speech on "The Failure of Democracy" hinted at my central role in forming the Alt-Right Corporation, Daniel and I even shook on this deal.

That policy speech, in February of 2017, just a few weeks after the formation of the Alt-Right Corporation in late January, was supposed to be a prelude to the investment that I was promised would come later the same month. Well, the investment did not come in February. I was told that the funds would certainly be available by March. Then it was explained to me why there would have to be another delay until May. Meanwhile, Daniel Friberg had moved from a 53% shareholding in Arktos Media to 82%. This was never supposed to happen. I was promised the funds to buy out troublesome shareholders at Arktos and become Daniel's partner, rather than his employee.

I am afraid that I cannot disclose the reason for the repeated delays without also revealing the precise source of the funding and classified information about the particular persons involved in securing it. Suffice it to say, consulting open source material in the mainstream media will inform you that beginning in February of 2016, there was a sustained campaign by Neo-Cons and Neo-Liberals to derail the Trump Train. This began with the dismissal and threatened prosecution of General Michael Flynn, and continued with the sidelining of Steve Bannon. (Eventually this ended with the train-wreck of Bannon being forced out in August, the month I resigned from the Alt-Right.)

In addition to losing my opportunity to acquire a major shareholding in Arktos, Richard and Daniel increased their shares in the Alt-Right Corporation at my expense by making a deal involving what Richard admits was "monopoly money." Richard "sold" his website altright.com to the corporation, while Daniel made his website Metapedia a joint holding as well. At a board meeting on May 9th, Richard and Daniel came up with arbitrary monetary values for their websites, $10K and $15K respectively, and gave themselves 25% and 30% of our corporate shares, reducing my shareholding to 10% in the process. Initially, we had a 'knights of the round table' share structure, with each partner as an equal shareholder, a provisional arrangement arrived at as we awaited the funding that would have established me as the majority shareholder. If I were to apply the same principle that they did with their "monopoly money" deal, the scale of investment that I was supposed to bring in to the Alt-Right Corporation would have left me with something like a 95% shareholding.

Moreover, once the ownership of altright.com was officially handed over to our board, during a board meeting Tor Westman, who I insisted be brought onto the board in the first place (against Richard's objection), suggested that not everyone on the board should have access to the domain account information. Daniel added that not everyone on the Arktos Board had access to the Arktos website domain information (he meant me), and that it should be handled on a "need to know" basis. While this discussion, which took place with me present, was couched in terms of a suspicion of Henrik Palmgren of Red Ice, who was absent, Richard rightly understood Daniel's remarks as aiming to exclude me and agreed by replying, "I don't think Jason would go in and change anything, but…" He didn't need to finish the sentence. He only added that after restricting the access to Richard, Daniel, and Tor, the passwords should be changed.

What is worse is that in the long months of the Spring of 2017, as I waited for funding to materialize, I watched the corporation that was my brainchild turn into a magnet for white trash. Exactly the kind of people who were supposed to be sidelined by my centralization and corporatization of the Alt-Right were cultivated by Richard as the populist base for 'his' movement. I was sorry to see Daniel's Arktos affiliated and European-centered Right On journal, which had been in the business of publishing serious intellectual content when John Morgan was editing it, merged into an altright.com news and 'perspective' platform that has about as much perspective as a tabloid. The comments sections of our website devolved into a cesspool filled by the most despicable pond scum, former 4-chaners who would routinely pile on in trolling attacks against me every time I published something with a bit of intellectual content. "Iranians is brown poo-poo people" kind of sums it up. I decided to stop contributing until the investment came in and I could really clean things up. When Daniel and Richard agreed to lazily use Daniel's "Points of Orientation" from his pamphlet, The Real Right Returns, as the basis for an ideological statement to appear on the website, consulting the serious philosopher on the board to help edit it was only an afterthought to them.

In May, at a meeting in London, I was assured by the investors that the obstacles had at last been cleared and I could expect our collaboration to begin in June. When I reported this to Richard at a New York lunch at the end of the same month, he thoughtlessly and angrily dismissed a plan that the investors had shared with me for creating an economic and security corridor from the Baltic Sea to the Black Sea and across to the Caucasus. This "Neo-Scythian" Ukraine-based approach to the long-term revitalization and liberation of Europe – linked to a future, post-Islamic Greater Iran via the Caucasus – offended the Russophilia that has been fostered by his wife.

So I cannot say I was surprised when the backers ultimately failed to follow through with their long-promised investment. By late June the movement was long past its embryonic stage. A deformed creature, a mindless Frankenstein's monster had already entered the world. Of course this would not have happened if, between February and May, the angel investors had made good on their promises. Even though they are now responsible for my being libeled in the New York Times, potentially at the cost of my career in academia, I will not reveal their identities. It would catalyze a mainstream media scandal that none of us want to see. I am not interested in testifying before Congress, because the truth I would have to tell is stranger than fiction.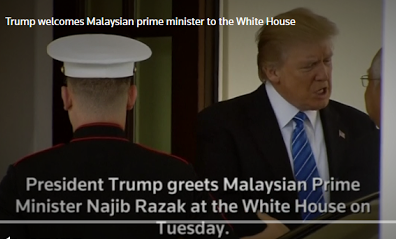 The YKW and right wing collude with Islam.
Malaysian Prime Minister Najib Razak is the comprador of compradors.
In what is going on a decade of the got-up (((paleoconservatism)) of the ((("alt-right"))), one of the key reasons its Jewish conception has fashioned "the left" as the grand-enemy is because left nationalism, its syndicalism, is a grand adversary of Abrahamism - especially the Islamic variant, a universalizing credo which prohibits ethnonational unionizations. Islam, as instituted by comprador imams, functions thereby as feudalist thuggery on behalf of Jewry and complicit right wingers - who make deals with the Islamic comprador (a middleman slave driver/enforcer upon the local population, killing them where they interfere) to exploit the labor and resources of would-be sovereign ethnostates.
Reuters, "Trump, Malaysia's Najib skirt round U.S. probe into 1MDB scandal", 12 Sept 2017:

WASHINGTON (Reuters) - U.S. President Donald Trump welcomed Malaysian Prime Minister Najib Razak to the White House on Tuesday, praising his country for investing in the United States while steering clear of an American investigation into a Malaysian corruption scandal.

The visit is important for Najib, who faces elections next year and wants to signal he is still welcome at the White House despite a criminal probe by the U.S. Justice Department into a state fund called 1Malaysia Development Berhad (1MDB).

Flanked by top advisers in the Cabinet Room, Najib told Trump that Malaysia Airlines would buy 25 Boeing 737 jets and eight 787 Dreamliners, and would probably add another 25 737s in the near future - a deal he said would be worth more than $10 billion within five years.

Najib said Malaysia's Employees Provident Fund, a major pension fund, wanted to spend $3 billion to $4 billion on U.S. infrastructure development.

Najib enjoyed close ties with Trump's predecessor, Barack Obama, playing golf in Hawaii in 2014, but relations cooled over human rights issues as well as the 1MDB scandal.

Najib founded the fund, which is facing money laundering probes in at least six countries including the United States, Switzerland and Singapore. He denies wrongdoing.

The U.S. Justice Department has said more than $4.5 billion was misappropriated from 1MDB by high-level officials of the fund and their associates, according to dozens of civil lawsuits it filed last year.

The Justice Department sued to seize some $1.7 billion in assets it said were bought with misappropriated 1MDB funds, but asked for a stay on its civil lawsuits in August because it was conducting a related criminal probe.

The White House had said it would not comment on the Justice Department investigation but a senior U.S. official acknowledged it was unusual to meet with Najib while 1MDB was under regulatory scrutiny.

"It's a weird situation, no doubt," the official said, explaining that the administration has prioritized developing relations with Southeast Asia to counter "huge gains" China has made in the region.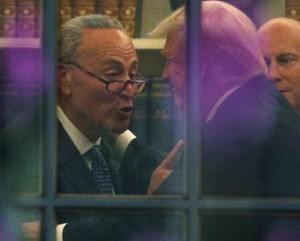 What did you really expect from Trumpstein?
Occidental Dissent, "(((Chuck Schumer))) Caught On Hot Mic Discussing Budding Partnership With President Cuck", 15 Sept 2017:

Hey, MAGApedes, I know you guys have gotten as slippery as water snakes in your defense of President Trump, but I would very much like to see y'all defend what you're about to hear courtesy of C-SPAN and a nice steaming hot mic.

Senate Minority Leader Chuck Schumer (D-N.Y.) took to the Senate floor Thursday morning to discuss Equifax's massive security breach; the physical limitations of a border wall; and his supposed agreement with President Trump, struck alongside his House counterpart Rep. Nancy Pelosi (D-Calif.), to work to preserve protections for immigrants who were brought to the U.S. illegally as children.

But before he officially took to the floor, Schumer bounded into the Senate chamber just after a speech by Senate Majority Leader Mitch McConnell (R-Ky.) and took a minute to converse with a colleague. "Sorry, just got here. Anything new?" Schumer can be heard saying on C-SPAN2's live feed of the Senate, though he's not seen on video. Then: "He likes us! He likes me, anyway," Schumer says with a chuckle.

Schumer is presumably referring to himself and Pelosi, and Trump's apparent affection for them — or one of them, anyway. He continues telling his unseen colleague that the statement he and Pelosi put out about Trump's DACA promise was "exactly accurate." "Here's what I told him," Schumer continues. "I said: 'Mr. President, you're much better off if you can sometimes step right and sometimes step left. If you have to step just in one direction, you're boxed.' He gets that."

Let's just be real here, Brothers, it's pretty damned bad.

Like, it's so bad that there really isn't much room for maneuver whatsoever.

You can't even make the argument that there is some sort of negotiating ploy alive here – most folks would say that we're either seeing Trump operating on a Sub-Saharan IQ level, or we're merely watching Jewry pulling a move honed by both time and use among peoples ranging from the Pagan Romans to the Catholic Poles.

Honestly, I see neither situation at play here – instead I see a man who because of blackmail (increasingly unlikely), through ignorance gifted by being a member of the 1% (possible), or by infection with the same egalitarian corruption that permeates both political parties (most possible) cares little about the White Man in the United States.

He would rather break bread with liberal Jews (and marry his daughter off to one), than sit with the working man whose ancestors built up this country from swamp, woods, and hostile wilderness.

But hey, if you're just an average Trump supporter, don't think I'm mocking you or gloating in the downfall of the President – the biggest fanbois are just in it for the money, their brand, or are trapped into a personality cult due to weird daddy issues that may never be cured.


Like you, I too was caught up in the frenzy during 2015 and 2016, and at points I truly hoped that Donald would at the very least buy us time by enacting policies that really aren't too radical when you break everything down.

I went to rallies, pushed The Don on normies sitting on the fence, and literally wrote 2,000 or so articles covering the most exciting political race in living memory.

I have no regrets, and I feel no remorse, but I would like you to take a long look at what the Alt-Right is offering – we'll actually fulfill our promises, and we'll actually work to make America (or at least a chunk of the country) great again.
Indeed, people should take a long hard look at what the Alt-Right is (((offering))), (((doing))), (((who they are collaborating with))) and not follow them into the Jewish bum steers that they take without regrets, remorse - without learning. People should also avoid following the Alt-Right's self defeating reactions thereof.