Majorityrights News > Category: Blacks & black violence
Kera and her daughter (who is still alive)...

SBDL, "A Black Gang Responsible for the Death of Pregnant White Mother Kera Teel"...

Previously on SBPDL: Her Name is Kera [and Kyndal] Teel: Pregnant White Woman Gunned Down by Three Black Males, Daughter Passes Away After Being Born

A pregnant white mother, returning home from a visit to the doctor to see the progress and health of the daughter she carried.

Her mother was accompanying her on this trip.

Her child, Kera Teel, already had one young white daughter at home. This grandchild and daughter was excited to soon become an older sister.

But a member of a black gang ended Teel's and the daughter she carried lives. It should be noted friends of this black gang member claim he "is innocent" because he has four children… [Who is the gang connected to Beaumont murder of mother, newborn?, 12NewsNow.com, June 16, 2017]:

Jared Bias (AKA BullDawg), member of Y.O.G. gang, is the suspect behind the murder of Kera Teel and the daughter she was carrying.

Capital murder suspect for the Kera Teel case is identified as Jared Bias (AKA BullDawg), apparent member of the "Y.O.G." gang, short for "Young Original Gorillas".

Just less than a mile away from Clark Elementary school, you'll find graffiti on the wall that says "YOG" and "RIP BIG MARV," off of Magnolia Ave. Investigators say this group has roots here in North Beaumont, especially in local high schools.

"No use for gangs," says Jason

Banks, who has been living in Beaumont's North end for over 10 years.

"We're all trying to make it in this world, there is no use for violence or anything," He says. For Banks, It's a reminder of friendships to avoid. "I just stay to myself and pray up," Bank says. "I don't involve myself around certain people," he says. Police say, Jared Bias, who was recently arrested for the capital murder of 19-year-old Kera Teel and her newborn daughter, is a member of the YOG gang.

"She was so young and pregnant, it makes me really bad," Banks says. "It's not safe to go out our own house," he says.

"Keep out of trouble or it'll get you hurt or in jail," Banks says. The gangs' activity plays a prominent role on the local rap scene. It's affiliations and marks, representing various local music groups on YouTube. Some refer to the gang as a family, but are now leaving behind footprints of criminal activity. "That's not right, stay in school, go to church or something," says Banks. "Gangs are not the answer," he explains. 12News reached out to several members of the organization who tell us they do not have an interest in speaking.

What is there left to say about this story and the actors involved in Kera's (and the daughter she carried) murder?

Just terrifying there's virtually no coverage of this story outside of Beaumont, Texas…

We're being exterminated.
12 News Now, "Second suspect in capital murder of Beaumont mother, newborn baby turns self in at jail" 15 June 2017:

BEAUMONT - A Beaumont man has been served with a capital murder warrant in the death of a Beaumont mother and her newborn baby girl.

Jared Javon Bias, 22, of Beaumont, was served with the warrant Wednesday night at the Jefferson County Correctional Center not long after he turned himself in on a previous charge of "hindering apprehension" according to a release from the Beaumont Police Department.

Bias' bond on the hindering apprehension charge is set at $1 million.

Bias is the second suspect in custody related to the murder of Kera Teel, 19, of Beaumont, and her newborn daughter Kyndal.

Detectives have not yet spoken to Bias who turned himself in at the jail Wednesday night according to the release.


Atayanna Asia Nicole Douglas,17 (right), of Beaumont, was arrested on Tuesday and is being held on a $1.5 million bond for three aggravated robberies which police say are related to the Teel murder case.

Police expect more arrests as they continue to investigate the case.
Theresa May confirms white man attacked Muslims leaving mosque after Ramadan prayers

Security at mosques across the UK will be reviewed in the wake of the Finsbury Park terror attack, the Prime Minister has said. More follows…

Independent, 19 June, 2017 - Here is Theresa May's statement in full:

"This morning, our country woke to news of another terrorist attack on the streets of our capital city: the second this month and every bit as sickening as those which have come before.

"It was an attack that once again targeted the ordinary and the innocent going about their daily lives – this time British Muslims as they left a Mosque having broken their fast and prayed together at this sacred time of year.

"Today we come together - as we have done before – to condemn this act and to state once again that hatred and evil of this kind will never succeed.

"The Government's Emergency Committee, COBRA, has just met and I can set out what we know about what happened, and the steps that we are taking to respond.

"Just after twenty-past midnight, the Metropolitan Police received reports that a van had been driven into a crowd of people on Seven Sisters Road in Finsbury Park.

"Officers were in the immediate vicinity as the attack unfolded and responded within one minute.

"Police declared it a terrorist incident within eight minutes.

"One man was pronounced dead at the scene; eight injured were taken to three separate hospitals; while two were treated at the scene for more minor injuries.

"The driver of the van - a white man aged 48 - was bravely detained by members of the public at the scene and then arrested by police.

"The early assessment by the police is that the attacker acted alone.

"Our thoughts and prayers this morning are with the family and friends of the man who died and those who were injured.

"On behalf of the people of London – and the whole country – I want to thank the police and the emergency services once again for responding as they always do with great professionalism and courage.

"Extra police resources have already been deployed to reassure communities, and the police will continue to assess the security needs of Mosques and provide any additional resources needed, especially during this final week before Eid Al-Fitr, a particularly important time for the whole Muslim community.

"This was an attack on Muslims near their place of worship. And like all terrorism, in whatever form, it shares the same fundamental goal.

"It seeks to drive us apart; and to break the precious bonds of solidarity and citizenship that we share in this country.

"We will not let this happen.

"When I stood here for the first time as Prime Minister last Summer I spoke about our precious belief in the Union – not just the bond between the four nations of the United Kingdom – but the bond between all our citizens, every one of us, whoever we are and wherever we are from.

"At the heart of that bond is a belief in the fundamental freedoms and liberties that we all cherish; the freedom of speech; the freedom to live how we choose and yes, the freedom to practice religion in peace.

"This morning we have seen a sickening attempt to destroy those freedoms; and to break those bonds of citizenship that define our United Kingdom.

"It is a reminder that terrorism, extremism and hatred take many forms; and our determination to tackle them must be the same whoever is responsible.

"As I said here two weeks ago, there has been far too much tolerance of extremism in our country over many years – and that means extremism of any kind, including Islamophobia.

"That is why this Government will act to stamp out extremist and hateful ideology – both across society and on the internet, so it is denied a safe space to grow.

"It is why we will be reviewing our Counter-Terrorism strategy and ensuring that police and security services have the powers they need.

"And it is why we will establish a new Commission for Countering Extremism as a statutory body to help fight hatred and extremism in the same way as we have fought racism – because this extremism is every bit as insidious and destructive to our values and our way of life and we will stop at nothing to defeat it.

"Today's attack falls at a difficult time in the life of this city, following on from the attack on London Bridge two weeks ago – and of course the unimaginable tragedy of Grenfell Tower last week, on which I will chair another meeting of Ministers and officials later today.

"But what we have seen throughout – whether in the heroism of the ordinary citizens who fought off the attackers at London Bridge; the unbreakable resolve of the residents in Kensington; or this morning the spirit of the community that apprehended this attacker – is that this is an extraordinary city of extraordinary people.

"It is home to a multitude of communities that together make London one of the greatest cities on earth.

"Diverse, welcoming, vibrant, compassionate, confident and determined never to give in to hate.

"These are the values that define this city.

"These are the values that define this country.

"These are the values that this government will uphold.

"These are the values that will prevail."
"The 600 million crowns earmarked for the resettlement could have been used for many better purposes." - Milos Zeman

New Observer, "Czech President, 'Refugee Quotas' a 'Violation of National Sovereignty', 18 June 2017:

The refugee quotas are a violation of the sovereignty of European Union member countries as each country should decide on its own whom to accept, Czech President Milos Zeman has announced.

Zeman said he is not going to yield to the pressure that the EU exerted. "We must beware of this, all disasters begin in an inconspicuous way. Once you bow your heads, you will start bowing to them again and again," he said.

The EC has opened legal cases against the Czech Republic, Hungary and Poland for refusing to take in invaders pretending to be asylum seekers from Italy and Greece within the quota plan.

Zeman said migrants are not interested in staying in the Czech Republic and they are heading for Germany and other West European countries because they can get higher welfare benefits there.

Zeman said 600 million crowns were earmarked for the resettlement. "This money could have been used for many better purposes," he said.

The Czech Republic pledged to accept 2,600 refugees from the Middle East, but it has resettled only 12 so far.

If the country opened to a higher number of migrants, millions from Africa would start streaming to it.

The Flame. Here is the sexy fascist torch bearer.
Fiamma Negrini is her name, appropriately enough - in addition to being fairly hot for an aspiring politician, "fiamma" meaning "flame", could be said to be taking the torch from formerly hot fascist torch bearer, Alessandra Mussolini (now 54). Fiamma's full name has the unfortunate metaphorical capacity to be stretched further - Fiamma Negrini could read like "put a fire under Negro butts and get them running back to Africa."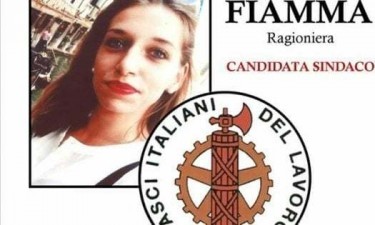 Emergency parliamentary inquiries have been announced for the affair of the 20-year-old Fiamma having been elected to the City Council in Sermide-Fellonica, in Mantua, Italy. She gained standing there by 10.42 percent of the vote through her Italian Workers' Party (Fasci) platform.
The Red Left is asking for explanations. That is echoed by the explicitly Jewish Communities Union, which expressed concern for Flame's emergence. In recent days, Claudio Negrini, the father of the young Flame, had even thought of withdrawing from public listings in order to avoid social insults. This has not happened and his daughter continues to have the Facebook profile as "Boia chi molla". Source.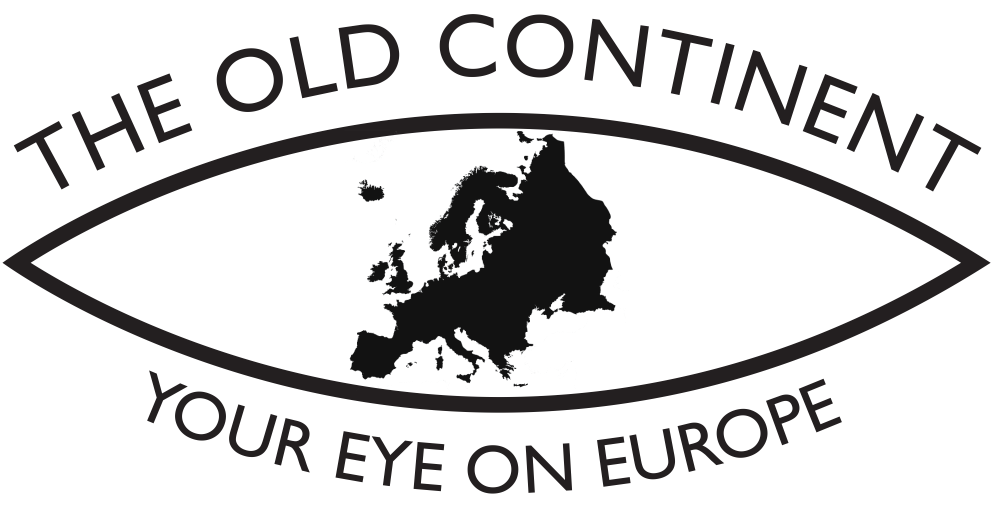 A relatively new site called The Old Continent: Your Eye on Europe might be of some limited utility to ethnonationalism, but requires significant caveat.
Its four listed "authors", Timon Dias, Vincent van den Born, Frank Kasteel and Benjamin de Wolf all seem to be coming from some sort of military / policing background - and thus given to a platform that aspires to an objective presentation of criminality and its sources antagonistic to, where not outrightly designated the enemy of European civic union.


The site is performing a service in reporting on migrant rape crimes, a type of crime very very important to us and under-reported by the media to date; however, their purported objectivity fails to conceal a pandering to a prejudicial social classification that nevertheless remains salient despite the objectivist prejudice against discriminatory social classification - i.e. the classification female remains, irrespective of the prejudice against social classifications - in fact, emerges to impose itself as a category undeniably. And through the disingenuous objectivist premise, males, any males who are most "objectively" manly, are suitable to look after the interests of European union females:
Case in point - of the posts that Timon Dias has recently put up at the time of this writing, two of them are lauding the virtue and strength of black boxing champions, here and here, one post is some voodoo about a cloud that formed in the sky "miraculously" in the shape of Great Britain - "forming a sign from God for Brexit," and finally he put up a story about a police car having been burned in Amsterdam by migrants. So, we may guess that Dias is black, part black, perhaps otherwise colored, but at least "philo-black", i.e., not having European people's subjective and relative interests as empirically grounded systemic wholes, close to heart.
The other writers seem to be more coherently focused on reporting migrant crime in Europe, particularly as it comes by way of Islam. In pursuing these crime stories as an objective matter, emphasizing previously under-reported incidents of migrant rape, they can supply facts that counter the heretofore mainstream media's liberal prejudices against ethno-nationalism. Though "Old Continent" is the same as the legacy media in that it purports to be objective, it differs in its undeclared bias in this way of having a prejudicial eye on immigrant crime and particularly Islamic sourcing of that criminal behavior. Whereas the heretofore mainstream media has had a prejudicial eye against conservative reaction to liberal causes, such as problems perpetrated through immigration and Muslim people. This liberal prejudice and de-emphasis on the crimes aided and abetted by liberalism has left us acutely susceptible.
Thus, the site can be helpful to us for this "objective" angle in a few different ways. Firstly by directly providing us with factual events to help supply and support our own arguments and secondly their "objectivity" can help us indirectly to put together our arguments for ethnonationalism as a means of systemic accountability and protection - indirectly, for example, through their "objective" reporting on sources of "anti-Semitism" they can inadvertently call attention to Jewish culpability as Muslim "anti-Semitism" is "objectively" aired. That helps us, of course, because Jewish prejudice and culpability has been something that you cannot talk about in mainstream media as it has been under their sway, but the facts get out through a back door of "objectivity", despite that, albeit indirectly.
Nevertheless, while the site is helpful to us in providing factual episodes to supply argument against liberal and Jewish media bias, it remains incumbent upon the wise, upon the ethnonationalist, to put together an assessment of patterns from these factual reports, to overcome the pseudo-objectivity that Jews, right-wingers and liberals have enforced upon us, and to warrant necessary prejudicial, discriminatory social classification, to marshal these patterns in our relative interests by contrast to show the way to our salvation - warrant that ethno-national activists can take up in the cause of its implementation.
Thus, where I have not published information from enemy sources or sites with platforms markedly different form ours for the fact that they didactically reveal their prejudices, then I have done so because they are presenting information that is basically factual enough such that much spin cannot be applied to mislead our audience. This would be the case, for example, when I publish material, e.g., from NPR, Haaretz, the Jerusalem Post ..and where I reluctantly publish material from Russian Active Measures organs, RT and Sputnik.
Thus, I issue the caveat about this site, The Old Continent: Your Eye on Europe, that I cannot vouch that they are operating fundamentally in ethnonational interests, they seem rather to be operating as civic European unionists at best. At worst, and this is likely, they are of the counter-Jihadist mold. In fact, not only are they not likely to ask the "J.Q.", their kosherness is evident in their focus on "extreme" Islam, their pro-Geert Wilders articles, e.g., here and here (as opposed to our stance on Wilders); the site's apparent institutional sympathy, technical and informational backing, along with its verbal i.q. are still more kosher indication.
With that caveat, and given that Majority Rights will run information coming through sites with platforms a bit off, or even from opposing platforms, we might avail ourselves of facts that help our cause, where they supply them. Let's try this story for starters…
...with one more preliminary remark: note the glib and inappropriate caption to the inappropriate image placed with the article - does that reflect subjective and heartfelt relative concern?
A picture of a blatantly unrelated Swedish police car. But man, aren't they sweet

The Old Continent, Swedish migrant gang-rape: Court can't establish which suspect did what. So they all walk free, avoiding deportation", 15 June 2017:

On October 17, 2015, a woman in the Swedish town of Ludvika was raped outside of a restaurant in the center of town. The two men suspected of the crime were arrested on the 22nd of January 2016, followed a month later by a third man, suspected of aiding and abetting. All three of them were accused in court of rape. One of them confessed he was at the scene with the woman, but claimed that the other two were the ones to rape her.

They, in turn, said they were nowhere near the incident and didn't even know anything had happened.

The Falu District Court, however, found the woman's story to be very credible. Besides that, cigaret butts had been found on the site, which, according to the police, indicated hat the men had been present. The court, therefore, concluded that one of the men raped the woman, the other held her down and the third stood watch, or at the very least did nothing to prevent the crime. Consequently, all three of them would be sentenced for conspiring to jointly rape the woman. They received four years in prison, after which they were to be deported. They would also have to pay damages of 166.860 SEK (around €17.000) to the woman.

Prosecutor Sanna Gens chose to appeal the decision, seeking higher sentences. This backfired, when on appeal the defendants were acquitted entirely.

Although Court of Appeal agreed that the woman was forced into "sexual acts comparable to intercourse" and that the three men were on the scene with the woman, it did not follow District Court in concluding that this made them guilty of rape.

The case against the men was based heavily on the testimony of the victim. The Court of Appeal found that some elements of her story "appeared to be unclear and to some extent inconsistent with the other investigation."

Because it is unclear exactly which suspect did what, reasoned the Court of Appeal, none of the men ought to have been convicted and all three of them "should therefore have been acquitted of all charges" as the Court deliberated. So out went the four-year prison sentences and the deportation order.

One of the men, a 25-year-old living in Ludvika, even received 140.000 SEK (around €14.000) compensation for time spent in prison, while another claimed compensation for his 'suffering' at the hands of the Attorney General, as well as loss of earnings to the amount of 37.600 SEK (slightly over €3850). This has been rejected, however, on the grounds that he was evidently present at the crime scene.
Symbolically enough, assumes Enoch Powell's Wolverhampton seat.

Diversity Macht Frei, "Blacks celebrate white genocide: Negress elected to Enoch Powell's old seat."

10 June 2017:

LONGSTANDING LABOUR activist Eleanor Smith has made history by becoming the West Midlands' first African Caribbean MP – but she's also won a seat which is of enormous historic importance to the black community.

The swing seat of Wolverhampton South West was once the constituency of controversial Tory MP Enoch Powell, the politician behind the notorious Rivers of Blood speech which he gave 49 years ago warning of the consequences of unchecked immigration.

Smith, a hospital theatre nurse, who became the first-ever black woman president of Unison in 2011/2012 took the marginal seat by storm, scooping 49 per cent of the vote and beating Tory hopeful Paul Uppal by more than 2,000 votes.

In victory, after just two hours' sleep, she was quick to pay tribute to the local people who voted for her, saying: "Our team was built from the community and the trade union movement – Unison – helped me greatly. The trade union movement put me where I am today, along with the community who came out and helped me win this seat.

"Through The Voice I'd like to personally thank everyone who voted for me in what turned out to be the highest ever turnout of 71 percent. We did it together as a community from the grassroots upwards and I certainly won't let you down.

"We have a wonderfully diverse community here in Wolverhampton, which is a microcosm of the UK and rich in so many different faith groups.

"As a health professional, I am standing up to defend the NHS. From my own experience of being a nurse on the the front line – I was working until only recently doing 12-hour shifts – we can see what's happening and we don't like it. I have got to defend this."

Her other pledge is to move from her home in Northfield, Birmingham, near to where she worked at Birmingham's Women's Hospital, to live in the constituency she will serve.

She told The Voice: "You cannot support your constituency if you don't know what is going on there. I intend to have my finger on the pulse in my own patch."

Smith also pledged to tackle homelessness in Wolverhampton and youth unemployment which currently stands at 27%.

On the issue of taking over Enoch Powell's old seat, she told The Voice: "I feel it closes that chapter now for good."

Powell's full "Rivers of Blood" speech, not read by Powell himself, however.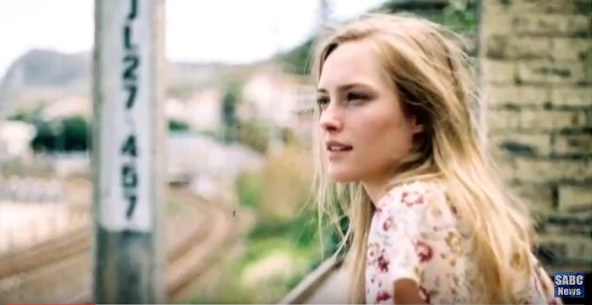 IncogMan "..Rape and Murder Super Cute White SA Girl", 31 May 2017:

Last Friday night in South Africa, Cheslin Marsh and Hannah Cornelius were sitting in a car when 4 black males carjacked and beat them with bricks. They threw him into the car trunk and her into the backseat. After getting beaten to a pulp, suffering a broken arm and concussion, he managed to escape. The beautiful young girl was found dead the next morning several miles away - gang-raped, strangled, stabbed to death. Hannah was a 21 years-old student at the University of Stellenbosch.
New Observer, " Germany Spent €20 Billion on Invasion in 2016", 24 May 2017:

The German government in 2016 provided €9.3 billion euros ($10.4 billion) to its sixteen states for assisting nonwhite invaders pretending to be refugees and a further €11 billion euros on welfare handouts in Third World countries in failed efforts to halt the flow.

The figures are from a federal government report approved and published by Chancellor Merkel's cabinet on Wednesday.

A total of €5.5 billion was spent on invaders who were seeking asylum and were not yet recognized by the state. The funds spent within Germany also went towards an "integration package" that cost €2 billion, while €400 million was spent on shelter for "asylum seekers" and €350 million on "unaccompanied minors."

The state of North Rhine-Westphalia received the most funding (€1.2 billion), followed by Bavaria (€860 million) and Baden-Württemberg (€728 million)

The Federal Ministry of Finance announced that €11 billion were spent directly on "additional measures to fight the causes of forced migration and displacement."

These measures include welfare and handouts in African states, none of which has made the slightest impact on halting the sub-Saharan invasion of Europe.

In fact, if anything, it has speeded up the invasion, as the Africans see for themselves that the Europeans apparently have an endless flow of cash they can throw about—and white-provided cell phone technology allows them to tell their families back home how well they are living once in Europe.