Majorityrights News > Category: Blacks & black violence
Chapo Trap House on How Richard Spencer Plays the Liberal Media, 14 June 2017:

Matt Christman

Angela Nagle (7:53): They think (also) that women making the completely voluntary choice to have children with a non-White man is White genocide (laughs) you know, it's just so ridiculous, I mean…

Matt Christman (8:05): interjecting sarcastically: Ah, excuse me, but, "cultural Marxism" much? Frankfurt School?

Angela Nagle (8:10): Laughs uproariously

Matt Christman (8:14): "It's not of their own volition."

Angela Nagle (8:14): laughing

Matt Christman (8:15): Porn! Jewish produced porn has brainwashed them into thinking that big dicks are more pleasurable to have sex with.

Angela Nagle (8:22): Continues to laugh in approval of the sarcasm.

Matt Christman (8:24): They literally believe that by the way.
It has always been theoretically uncomfortable when White advocates White knight or try to counter "the misogyny" of White advocacy on behalf of White mudsharks by suggesting that they are sheerly brainwashed by cultural Marxsim.
I have tended to lay off these arguments as I believe there is truth to cultural coercion and veritable psy-ops of cultural Marxism and demoralization through Jewish porn; and it is a help to take a step away from completely deterministic, objectivist arguments; better still, as opposed to the White genders blaming one another, to look critically at Jews, who have been egregiously critical of us and divisive of White men and women. These angles are true enough to consider along with being helpful to take the pressure off of gender antipathy and to put the social realm and culture (by which I mean rule structured practices) into play.
However, the cultural Marxism angle has always been insufficiently explanatory when dealing with "voluntary" miscegenation and White genocide. The little discourse above provides occasion for correction.
Angela Nagle might believe that outbreeding is not killing European genotypes; here White advocates haven't done that bad in showing that it (coercion that suppresses breeding of a race) can meet with the UN definition of genocide.
Matt Christman might think that all White advocates believe miscegenation and outbreeding is only a result of brainwashing; and maybe some do. But his and Angela Nagle's mockery exposes a puerility and weakness of their own argument, which calls for exploitation through the added sophistication of the hermeneutic circle.
White females, as any females, do have base drives that can incite genetic competition, miscegenation, incline toward strong black men with big weenies (though even I, in my distaste and disrespect for blacks on the whole, would not reduce miscegenation to only these causes) an inclination that can be activated under certain circumstances - particularly by pandering to them in atavistic circumstances such as the disorder of modernity. However, for a self proclaimed leftist, Nagle is making a surprisingly reductionist, liberal, right wing argument in saying "it's completely voluntary." There are definitely cultural rule structures that are encouraging and promoting it; and even more significantly, there are heavy taboos against criticizing it; even literal laws against taking critical and opposing stances against it. These are cultural/political violation of even the most reasonable and natural extent for mature White men (and women) to protect their kind.
This would be a part of the pleasure pain matrix that Matt Christman invokes. As White men overcome their right wing reactionary position and adopt the reality of social construction and the hermeneutic circle, they will not have to accept the "way it is-ness" of Matt Christman's "White knighting" on behalf of mudsharks (likely overcompensating pandering for the fact that he is ugly - about as ugly as the typical black woman - and desperate to be in the good graces of Jews, if not part Jewish himself).
But as we step into hermeneutics, we move beyond the tropism of the high contrast porn episode of the gargantuan black weenie and the White woman. But first, porn does some corrective favor in the sense that it is compelled to show that we White men can be quite well hung - so, if that's what a woman feels she needs. Finally, porn does not tend to reveal the fact that blacks are not necessarily heavy hung; I don't need to belabor this point here, except for the fact that their Not having a big weenie does not suddenly make them OK to intermarry with by our estimation. And as a very fundamental point, we are not discriminating against White guys with big Weenies.
Our kind was averse to blacks as children, before sexuality was even an issue, let alone weenies. After that it was the presumtuousness, arrogance, hyper-assertiveness, aggression, brutal antagonism and violence against Whites. Things that the puerile might find titillating, perhaps puerile girls, but not us. Along the way, we noticed subtleties of our female co-evolutionaries which we found compelling; and the physicality of blacks generally displeasing by contrast, let alone their behavior and the fall-out of their way of life.
We did not expect that we would be blamed for everything and told we owe them everything, including those we might hope to be our wives and daughters. We never could have imagined that we would be expected to accept this in servitude. We thought others would naturally think as we do, and though some naive adults thought it was a good idea to integrate us with blacks, when we got old enough, that we would join the rest of normal Whites who want to get away from them and be with Whites.
That didn't happen in any articulate way. And we have to confront not only the fact of cultural Marxism, but that our enemies are playing the objectivist angle where it works against us - heavily now that they've hoodwinked the Alt Right and other large tracts of popular culture to argue against PC and "the left."
We have to confront the fact of thrownness, that our group co-evolutionaries can miscegenate, but by the same token, thrownness, we are thereupon able to invoke and collaborate on cultural rule structures; it is not something that we have to accept as just the way it is, merely a voluntary choice that owes nothing to the tens of thousands of years of evolutionary struggle that went into our differentiation; along with its hundreds and thousands of years of social capital.
Even if they argue that some black guy might provide a more pleasurable moment and episode than some White guy, might be more confident (and coherent of identity, in part as a Jewish backed thug coalition) in the Jewish provoked disorder of modernity, where the rule structure of our guard and classificatory boundary is down, we can easily counter that plenty of us White guys are going to provide not only quite fine moments, but as we rebuild our full class, a far more pleasurable and satisfying way of life than the blacks manage.
With that, rather than mocking and laughing at the servitude of black interests that has been imposed upon White men, we will be having the last laugh as we send miscegenators and their half cast broods to live with blacks and the way of life that they create. They will either accept that or the recognition that they are indeed the supremacists and slave masters who need to be overturned by any means necessary. Do you know Angela and Matt, a White guy might not want to be a slave, paying for the babies of the mudsharks who destroy the genome bestowed them through tens of thousand of years of struggle, might just find a White woman's face and skin color more appealing, a European's way of life more pleasurable.
Angela Nagle claims to be open to talking to people who are dealing in topics forbidden by PC. We have offered to talk to her and that remains a standing invitation.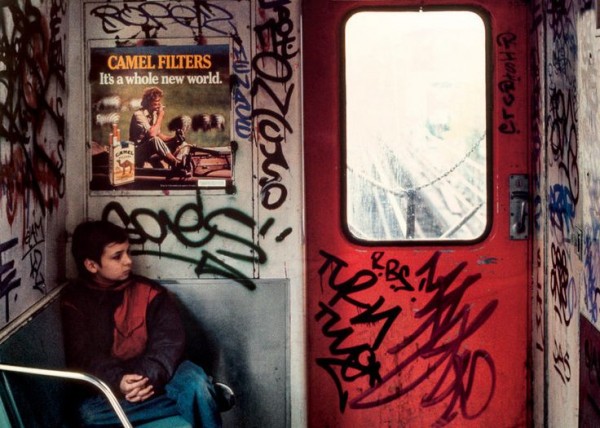 I have nothing against this particular chap; he isn't strictly European but he is grouped along with others who very much are not, and who spell genetic and neighborhood alienation and destruction when mixed in America.
It's a bit belated a discussion as news items go, but a few issues emerge worthy of consideration for ethnonationalists in regard to the matter of how Puerto Rican relief (of hurricane Maria) is being handled or mishandled as it were and why that is so:
I am always keen to discuss the concept of unionization and how it is an integral concept to model social organization, but I am also always eager to address problems of unionization - terrible obstruction along with the facilitation that they can bring.
As a facilitative model of the social group/system, only a person so retarded as to believe that the pre eminent concern for ethnonationalists should be a "model of the mind"* and with that, perhaps being fixated on Austrian school positivism in reaction to Jewish abuses of sociology, would try to suggest that unionization is a trivial concern. Nevertheless, there are real life problems in the assimilation of optimal form and function, especially if unionization is to be conducive to EGI.
1. There is the matter of the trucker's unions of Puerto Rico which apparently refused to break a strike and transport crucial relief items around Puerto Rico; at the same time, there were unions in the United States who went above and beyond to answer the call.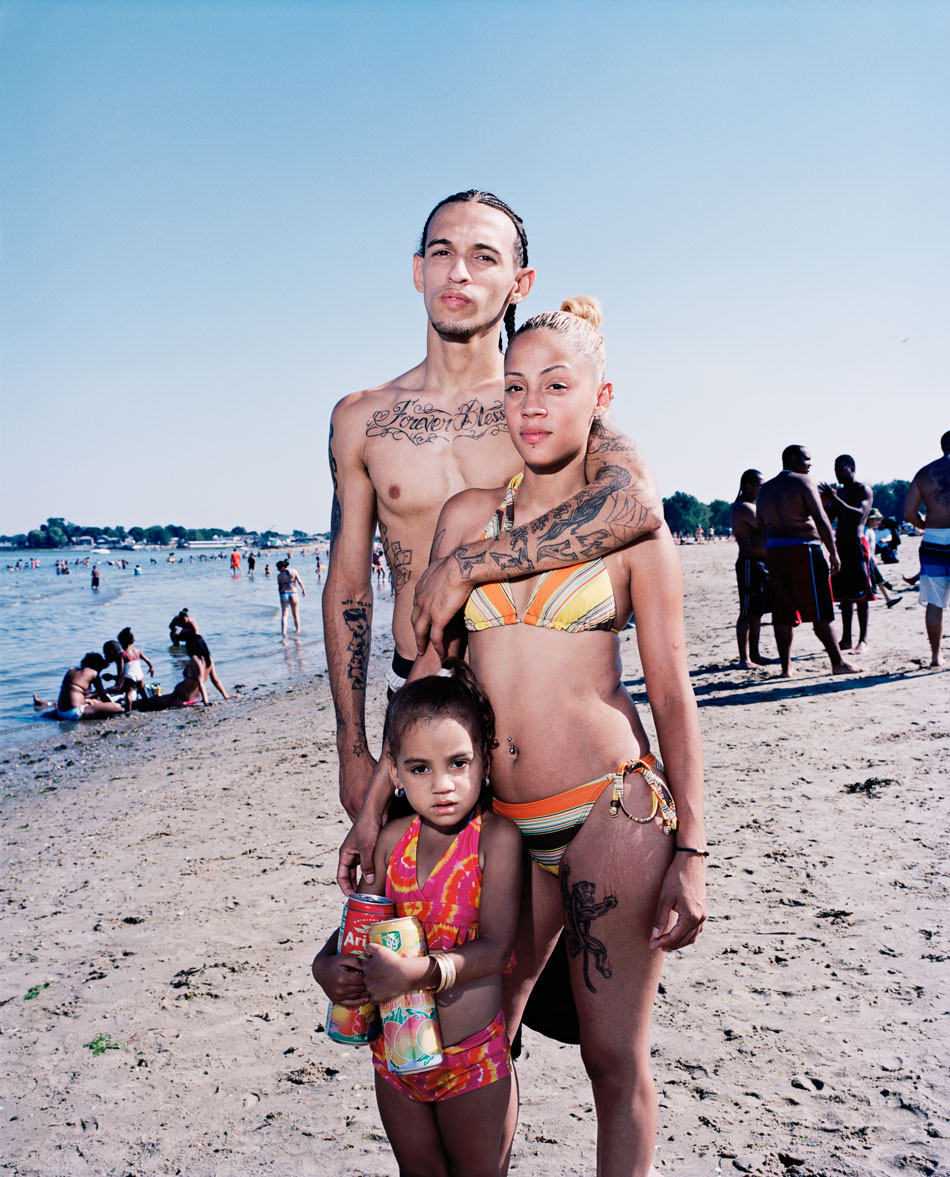 Namely, facile political alliance with Puerto Ricans brings along Amerindio/Spanish mixes of Puerto Rico but also Mulattoes such as this man's woman.
2. The next matter represents an existential choice between right wing economic advantage or the left nationalist protection of European genome (and Amerindian genome, for those of us who care).
If Puerto Rico had its independence and could figure out how to facilitate shipping container transportation of its sovereign accord, it has a potentially lucrative position to advance its GNP markedly for the sake of the Puerto Ricans; by the same token, if The US gave up control of Puerto Rico, it would be losing a great deal of profit that it gains from concomitant control of the Puerto Rican shipping industry. That is a gain economically for the proposition US Nation.
On the other hand, by having Puerto Ricans associated with the United States in any way, you are including to that extent a demography that is 25% black: they are a very strong, mixed people who are very destructive to the White genome where forced together with us; and other than blacks, the only people who tend to destroy their neighborhoods.
I don't have anything especially against the young chap in the top photo, but the alienating and nightmarish environment that surrounds him is apparently a typical byproduct of the Puerto Rican genome in aggregate. He typically comes along or is wrongly grouped with people who are largely black or mulatto, like this guy's woman (photo right, couple on beach). Like blacks, they are not only destructive to us genetically, but having a great deal of biopower (adding to their challenge), as anyone who witnesses their athletic prowess can attest.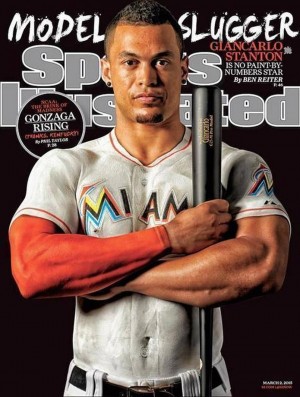 Puerto Ricans are not only destructive to our genome, but very strong and hard to defend against. Giancarlo Stanton, who is Puerto Rican / Irish, nearly passed Babe Ruth's single season home run record this year.
With Puerto Rico not having its sovereignty, one of the relief strategies that is on the table is bringing them to the United States: Hence the question - do you want the advantages of economic exploitation, or do you want to protect your genome?
* As a footnote: If one's concern is the integrity and interiority of individual mentation, then it is a different concern from EGI. One is assuredly expressing undue faith to presume the invisible hand will do what the "artifice of unioization" would otherwise for group-systemic homeostasis. The sure guidance of the invisible hand is more applicable to animals than humans. In fact, one should suppose that the very idea of a generic model, even if only applied to a specific group, is a contradiction to the goal of human nature, individual autonomy and authenticity.
Granting that one might not be quite that stupid, and can grasp the inexorable fact of interaction, and wants to trace check points of mentation and homeostasis that extend to the natural and social environment, then we are getting somewhere, but not until.
"A model of the mind" might be a good idea for the individual or, rather, the very act of "modeling" might betray the authentic expression of emergent mentation that one seeks to allow to manifest.
However, this (individual mind) is not the unit of analysis, the unit of model, as it were, that anyone should prioritize for racial defense - obvious to anyone but one who is perhaps insulated from the hurley burley of prohibitions against group discrimination that they might be somewhat buffered from, say, within a provincial English fishbowl.
A similar refrain with regard to faith in the natural invisible hand also applies to the principle of adaptive fitness: it is no guarantor of racial or even individual homeostasis and integrity.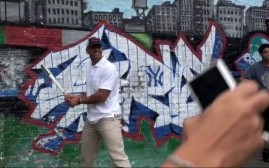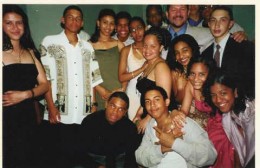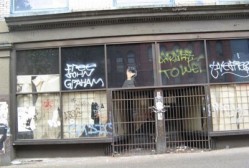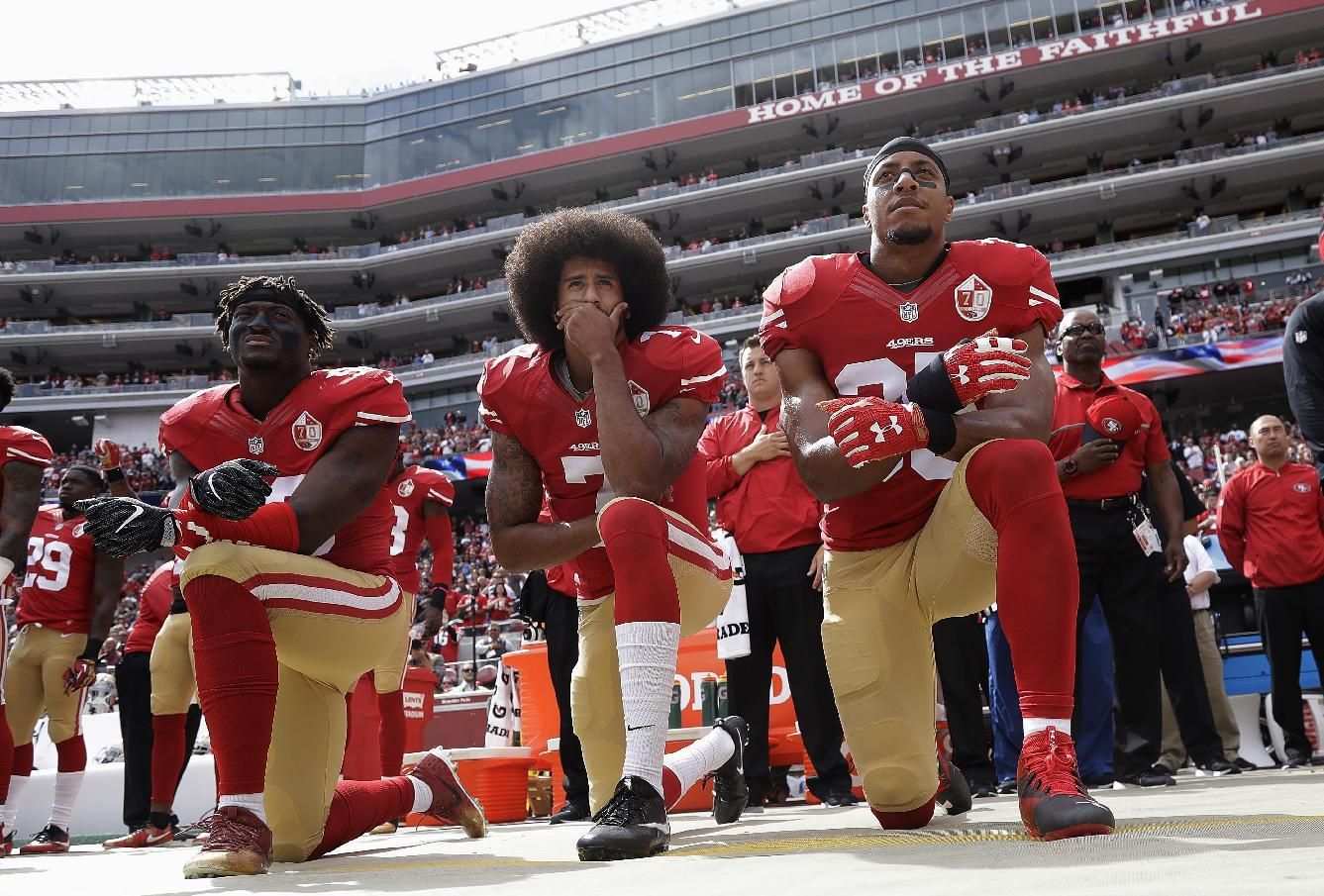 The Kaepernickan Revolution Not
As ethno-nationalists, we should bear accord with those who would hold that the American flag represents propositional liberalism and ever represents as such, an adversary to ethno-nationalism.
While it is theoretically valid for black football players to protest the history of slavery that is taken for granted in the anthem, it was not just any Whites who brought them to the Americas, it was right wing hubris that brought them to the Americas.
There was no bigger error in history than to bring African slaves to the Americas - a classic right wing hubris compounded ultimately in its disingenuous liberal expression of anti-racism that was not only disastrous for the human ecologies of the Americas both native American and White, but an economic short-cut that threw the world's economy into a perilous imbalance in relation to Asia; an imbalance from which it has not recovered.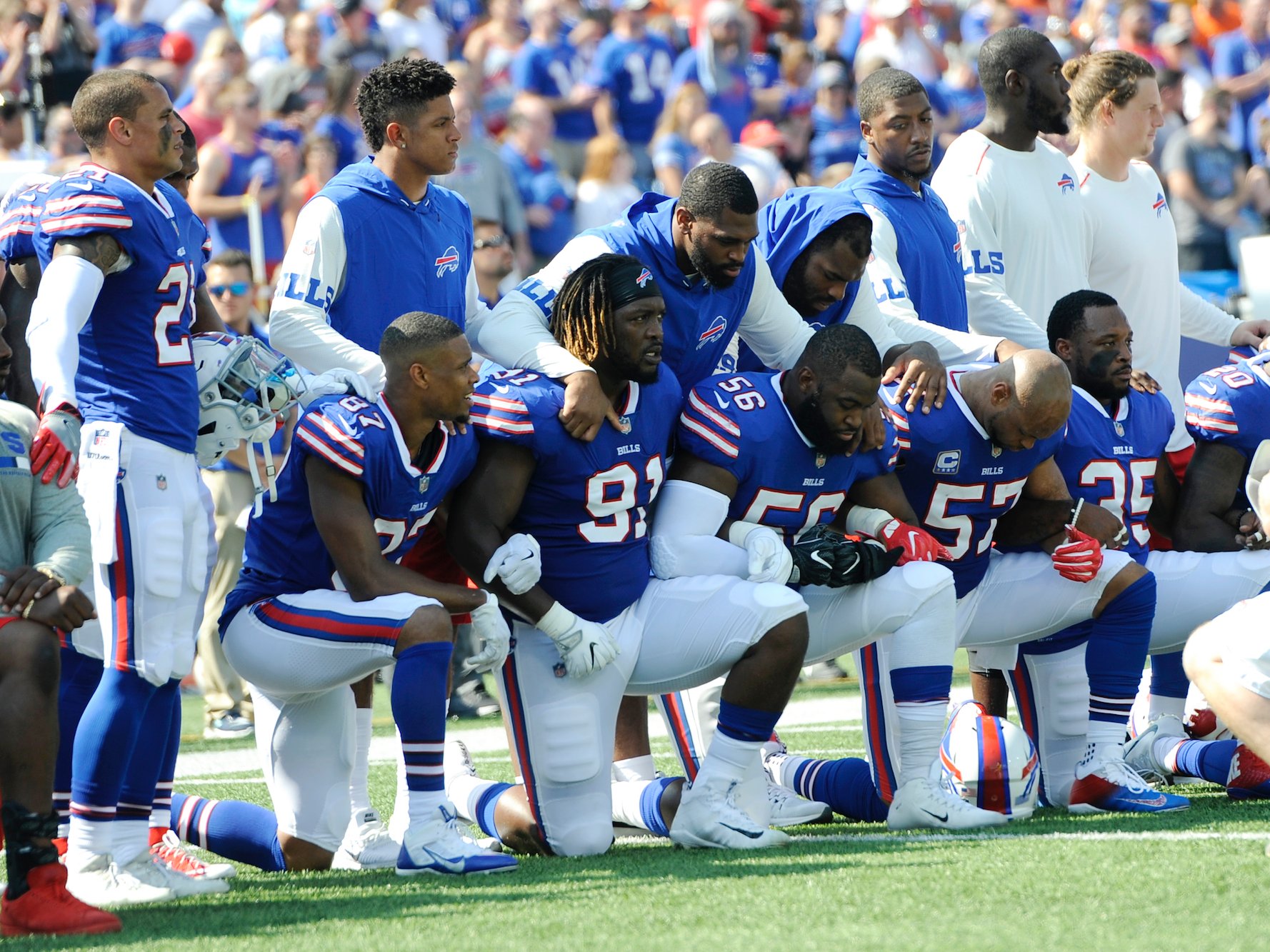 It is a hubris for which we, as ethnonatiolists, have little responsibility and deserve no penalty where we fight the right wing system that brought this about -
Nevertheless, the liberal system will continue to try to penalize us, and disingenuously wall paper our difference from these right wingers, will do all it can to associate our liberation with the right. Many Whites will take the bait - our "enemies" are trying to divide us from our "brothers", the black Americans - so says the idiot, Father Francis.
It was a hubris, typical of the right wing, falsely and vainly comparing Africans to others - of course finding them "wanting and in need of help" - they are just misguided by the YKW, it is not that these right wingers are complicit with destroying the ethnonationalsm that never would have forcibly mixed Africans with Whites and Native Americans - as they did, in the cases of some tribes to virtual extinction.
Their idea of "inequality" is based on false comparison. In a world where Heidegger can only hope to guide Europeans to be at home in their skins, in their land, among their folk, in a world where the African is always at home, always comfortable, never at a loss and always ready to assert as much - there is no more self righteous, hyper-assertive, aggressive, no more alpha a male, than the black.
Madison Avenue knows this, knows that the puerile follow the alpha, that's why it leads with it in marketing campaigns; the rest of Jewry knows this too, ready in its institutional positions to pander to the puerile, both male and female.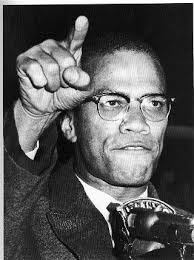 Thus, we must beware when blacks are upheld as making a revolutionary protest. We must be aware of black nature. Black nature is of Alpha R selection, and like a male lion, it will do nothing but be brought tribute and breed with supplicant females.
The talented tenth, mostly Mulattoes, who are able to function somewhat as leaders of their community, serve to articulate the narratives of how the system supposedly oppresses blacks: but the system does not oppress blacks, the system reacts to blacks and tries to placate them, pays tribute to them.
Blacks are natural compradors and henchmen of the system.
For this creature, "revolution" means solidifying its being imbued in the American power structure; its nature is right wing - whether it can rule or not, this is what it always aims for: "The honorable Elija Muhammad said the black man will rule" - Malcolm X - a Muslim, of course, not a left nationalist. The wish to "rule over others" or the belief in its destiny is right wing.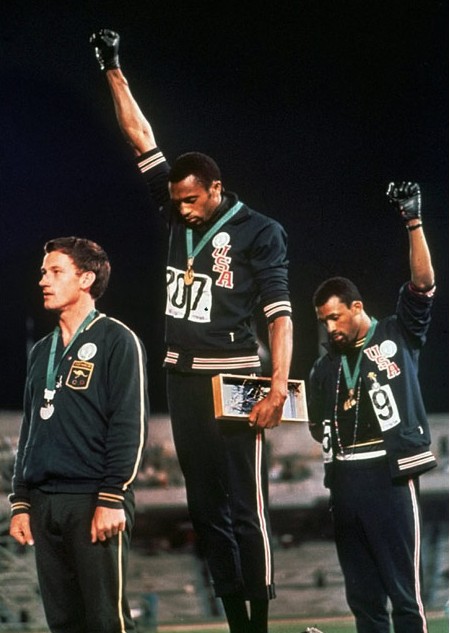 Blacks will not be revolutionaries of America - America will adjust to them in its puerile idolatry, enshrinement and institutionalization: not only paying them millions and lavishing them with adulation and women for their sports and entertainment, but making endless excuses to engraft them further in the power structure - as illustrated by sports reporter Bob Costas, saying that Kaepernick's protest is an expression of true American patriotism; and indeed it is. Blacks, adulation of them, no matter how perverted, no matter how unjust, brutal and violent, no matter how lavished with undue reward as a pattern, they are to be adulated as a part of the American institution. And as the admired alpha R selection breeders that they are, they are free to go through women, including what probably should have been your wife, and leave litters of babies behind - everyone else's social problem, while you wonder how you might pay for one of your own and give it a decent environment.
Their males and the females they impregnate and discard at their convenience are placed on US welfare - to the servitude of everyone else, not to mention that their less athletically capable brothers and sisters are to be set aside government programs, well paying government jobs with solid benefits; also affirmative action and special provisions in corporate America and academia as a result of civil rights court actions (the consent decrees) are to be given them ...not because they are revolutionaries, but because they are an integral part and parcel of feudal enforcement.
What revolution is going to come from these people? Their protest is the protest of consummate alpha pigs, whose tribute is not yet 1,0000 percent granted by the obsequious.
They are not motivated to overturn America; they are motivated to imbue themselves, engraft themselves inexorably within this most powerful right wing system in the world.
Colin Kaepernick, the Mulatto (who looks part Jewish) has a (Egyptian-Muslim) girlfriend who was taught by Jewish professors that America was founded by slave holders - and so it was. She pointed out that a part of the National Anthem - verses that nobody ever sings, knows or adheres-to, verses that were written hundreds of yeas ago by right wingers - can be used as a publicity stunt to further engraft themselves into America's power structure; this, by pretending on the basis of these long ago verses that they are oppressed in their multi-million dollar football contracts.
She tells a story based on the Jewish wall papering of the White Class, that Whites put blacks in jail for the arbitrary racism of it, not because they want to defend themselves from violent criminals.
In truth, and at best, blacks might alert dissent from American patriotism in this protest, and finally disgust White Americans and others enough to disabuse them of their negrophelia.
But would-be ethnonationalists are not likely to suspend disbelief in the black liberation narrative, as the protest is allowed to proceed and is commended by the liberal, the right wing (they merge) powers that be - they know how to play and deepen the beholdenness of the puerile to the position of blacks as "leaders" of the so called vanguard. Blacks are the ultimate "Whitey be cool stick" for liberals, for the right wing, for puerile females who wish to retain undue privilege, to license.
There should be no enthusiasm from revolutionaries for this protest. Only cold analysis. The danger is to us, that in sympathy and admiration for blacks, as Madison Ave knows, it will only help them to become embedded in "a revolution" of the American system which is no revolution, it is its mere reconstruction, and has them only more privileged in their elite tenth, especially, which will be highly protective and ethnocentric of the rest of black Americans - which will have little concern for the pesky concerns of other's rank and file.
The Kaepernickan revolution Not
Madison Ave. knows how stupid Whites can be in their right wing reaction, like those of Stormfront, the unbearably stupid "Father Francis" who says blacks should be grateful for having been brought to America for all the good its done them, and Whites should be proud for having liberated the slaves… how benign blacks are, their nature not really so destructive that Whites cannot live with them, they're just a bit misguided by the YKW. Yet in truth it was the right wing that brought them upon us and unleashed these hyper assertive primitives upon us. They have done no White people a favor, least of all in the virtue signal of liberation and tolerance of a Father Francis - idiot.
Our admiration for their assertion in valid recognition of an ancient injustice of America must be cut short; for they are not liberators, they have been inflicted upon working class Whites and native Americans by right wingers. It is an alpha capacity known all too well to Madison ave and the rest of Jewry to create followers among those who would become assimilated to Mulatto supremacism.
Blacks are not revolutionaries because they are the descendants of alpha selection and alphas are not revolutionaries - blacks will only be bulwarks of the status quo.
One has but to watch the Vietnam documentaries to see that America's liberal propositionalism is a dubious if not disingenuous and totally destructive prospect to support and export - viz., it illustrates why any conscientious person should be a revolutionary with regard to America.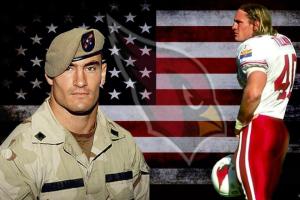 Some Americans find this out when after signing up for wars in patriotic enthusiasm, they come to realize that they are being used in the most abject way:
Ironically, this is the case of Pat Tillman - the NFL player who left a lucrative contract in order to fight in Iraq - who President Trump invoked as a true patriot in contrast to the kneeling black footballers. If Tillman were alive, he'd be kneeling during the national anthem as well; he did not have opportunity for such widely publicized protest because he was apparently executed by "friendly fire", when he exasperated fellow troops in Iraq by expressing strong denunciation of the war.
Yes, the mulatto Kaepernick got a tip that attention may be garnered by the liberal press looking for left cover where the National Anthem reveals America to have been on the wrong side side of ethno-nationalism, the workers, "the hirlings."
But it is up to White ethnonationalism to take the exposure of those flagrantly dissatisfied with the American flag, even those who in economic terms perhaps should not be dissatisfied, as a point of departure to coordinate matters of ethnic genetic interests, ethnonational liberation with Indios, Amerindians and Asians.
Lyrics

O say can you see, by the dawn's early light,
What so proudly we hailed at the twilight's last gleaming,
Whose broad stripes and bright stars through the perilous fight,
O'er the ramparts we watched, were so gallantly streaming?
And the rockets' red glare, the bombs bursting in air,
Gave proof through the night that our flag was still there;
O say does that star-spangled banner yet wave
O'er the land of the free and the home of the brave?

On the shore dimly seen through the mists of the deep,
Where the foe's haughty host in dread silence reposes,
What is that which the breeze, o'er the towering steep,
As it fitfully blows, half conceals, half discloses?
Now it catches the gleam of the morning's first beam,
In full glory reflected now shines in the stream:
'Tis the star-spangled banner, O long may it wave
O'er the land of the free and the home of the brave.

And where is that band who so vauntingly swore
That the havoc of war and the battle's confusion,
A home and a country, should leave us no more?
Their blood has washed out their foul footsteps' pollution.
No refuge could save the hireling and slave
From the terror of flight, or the gloom of the grave:
And the star-spangled banner in triumph doth wave,
O'er the land of the free and the home of the brave.

O thus be it ever, when freemen shall stand
Between their loved homes and the war's desolation.
Blest with vict'ry and peace, may the Heav'n rescued land
Praise the Power that hath made and preserved us a nation!
Then conquer we must, when our cause it is just,
And this be our motto: 'In God is our trust.'
And the star-spangled banner in triumph shall wave
O'er the land of the free and the home of the brave!
It is not valid for protests, which would be rightfully directed against right wingers, to be allowed to brush and wall paper all Whites as privileged implementors and beneficiaries across the board (talking about taking genetic interests, quality of life and stress or lack there-of into the equation, not just economic numbers) of that right wing hubris - as ethnonationalists, it is dubious to admire these blacks in their protests. Their assertion is right wing, and to wish to share in their assertiveness is the way of puerile females and right wing pandering to that powerful gate-keeping position in the disorder of modernity. Madison Ave knows this, Jews know this, that they can shepherd the sheep through the alpha….Stormfront and the unbearable "Father Francis" apparently are oblivious to this, the alpha nature of blacks that his techno-nerdom allows him to weasel around, to build psychological fire walls around and do calculative gymnastics to sympathize with the blacks who are being pushed-out by Mexican gangs - rather than saying "go Mexicans!" as we do, they sympathize with these blacks on multi-million dollars of collective welfare, government jobs and programs, multi million dollars in celebrity careers ... they protest their "oppression".... for they are not revolutionaries, they are a part of their same right wing system, and seeking only to engraft themselves more fully into its central governance.
The Occidental Observer, "Who Commits Murder in America?", 19 Sept 2017:

- by Hubert Collins

Most Americans suspect that Blacks commit the majority of crime in this country. They are, in a word, correct. However, the government takes great strides to cover this up. From the federal on down to the city level, our rulers are loathe to release data on crime that includes racial breakdowns. Such data disrupts the preferred narratives about race in this country.

However, there are a handful of cities that do let the public see the numbers, and, no matter the city, it is Blacks who are running riot. Philadelphia is one those few forthright cities, so we will start there. To begin, here are the demographics for the city in 2016, according to the US Census:
44.2% Black
34.9% White
14.4% Hispanic
7.4% Asian
2.6% mixed
0.9% American Indian
0.2% Hawaiian/Pacific Islander

Here is the demographic makeup of arrestees for shootings, both fatal and non-fatal, that same year in Philadelphia:

For shootings, Blacks were just shy of doubling their share of the general population, with 80.3% of arrests. Whites were the opposite — just shy of halving their population share at 18.5% of arrests. Asians arrest rates, at 0.6%, are about one twelfth their share of the population.

Here are the same shooting arrests broken up between the uniquely clumsy categories "Latino" and "non-Latino."

Hispanics/Latinos are quite close to being exactly proportional. They were 14.4% of the population at large, and 15.2% of arrests for shootings.

The numbers for murder arrests in 2015 reveal a similar pattern.
White: 18 total, or 17.1%
Black: 86 total, or 81.9%
Asian: 1 total, or less than 1%
Hispanic: 10 total, or 9.5%

The same goes for 2014:
White: 29 total, or 20.4%
Black: 103 total, or 72.5%
Asian: 10 total, or 7
Hispanic: 20 total, or 14.1%

The same pattern holds over the last 10 years of data that I looked at.

Conclusion: Blacks commit the overwhelming number of murders, with their arrest numbers being nearly double their share of the population.

Whites commit murder at about half the rate their share of the population would suggest.

Asians commit an infinitesimally small amount of murder relative to their population size.

Hispanics commit murders at rates more-or-less proportional to their population size.

Here is the demographic makeup of arrestees for shootings, both fatal and non-fatal, that same year in Philadelphia: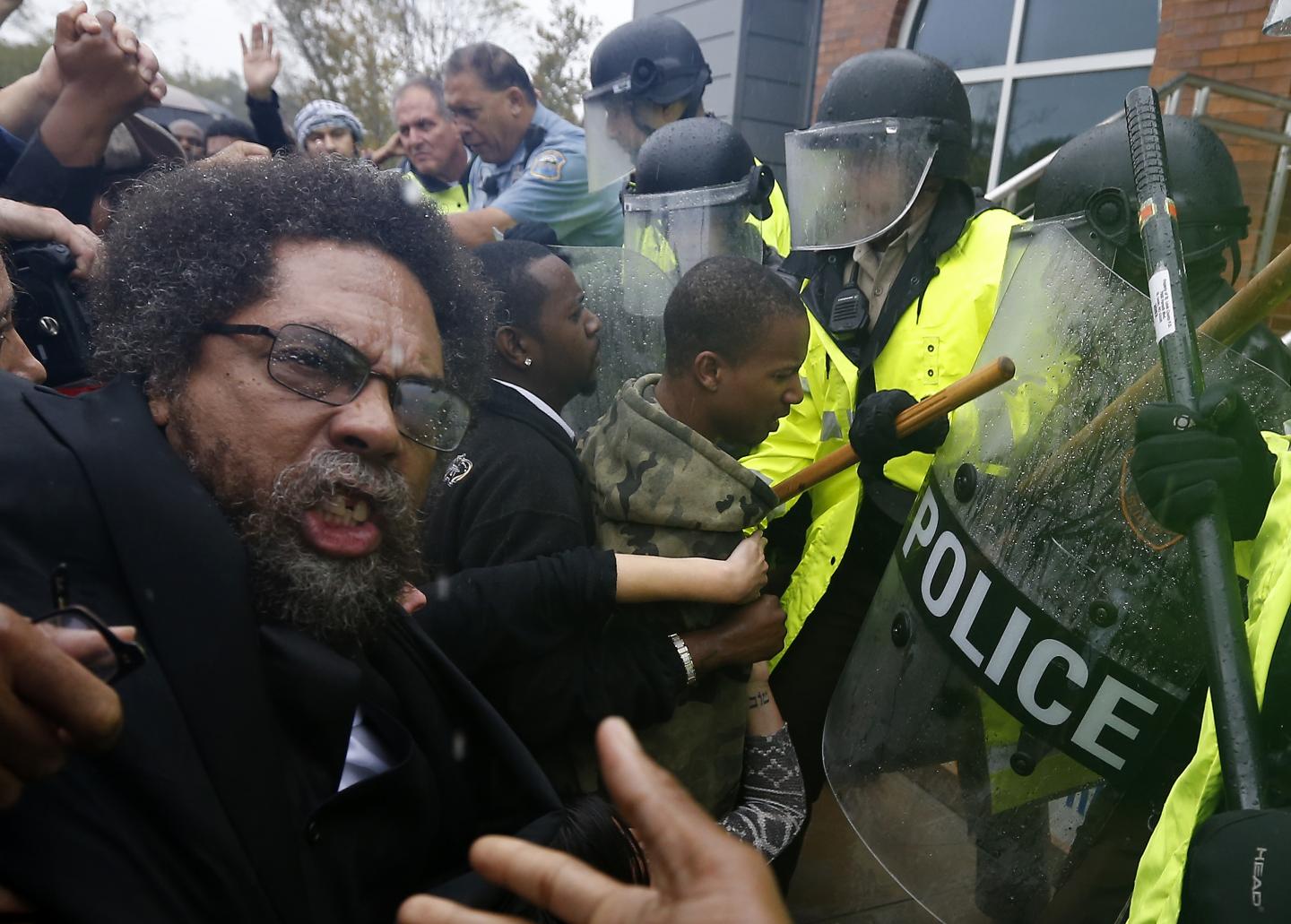 Black advocate Cornell West along with other blacks confronting the St. Louis Police Department
A week of riots have ensued in Saint Louis after police officer Jason Stockley was acquitted of murder charges in the 2011 shooting death of Anthony Lamar Smith.
Anthony Lamar Smith, a black inner city heroine dealer, was on parole after having already served a prison sentence on drugs and weapons charges.
Rolling Stone: On December 20th, 2011, Stockley and his partner, Brian Bianchi, stopped to question Anthony Lamar Smith and another man they suspected of dealing drugs at a North St. Louis Church's Fried Chicken. As the policemen approached Smith's Buick, Smith abruptly drove forward into the building before throwing the car in reverse, hitting the police vehicle twice. Stockley testified during trial that he heard Bianchi shout "gun." Stockley fired several shots at the fleeing car before both men returned to their police car.
After resisting arrest and ramming the police car, Smith then led Stockley and Bianchi on a dangerous, high speed car chase, nearing 90 mph and obviously putting lives at risk.
In the heat of the chase Stockley was heard on his squad car recording shouting,
"We're going to kill this motherfucker, don't you know it."
As a known heroine dealer and a parolee, Smith was facing a lengthy jail sentence if apprehended - he obviously would not want to go to jail again; after the high speed chase, his additional deadly resistance was likely to follow.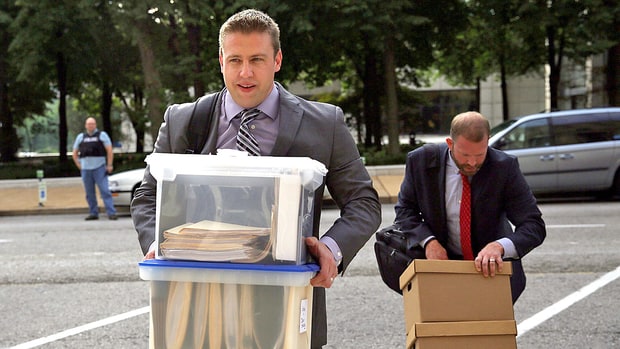 Former St. Louis city police officer Jason Stockley, center, arrives with his legal team on August 1st. Laurie Skrivan/St. Louis Post-Dispatch via AP
Ibid. The chase lasted three minutes and wound through city streets, with the vehicles travelling at speeds of above 80 miles per hour. Audio and video from the police car is garbled throughout, yet Stockley at one point audibly says "we're going to kill this motherfucker, don't you know it." Smith drove into traffic and Bianchi hit him with the police car, ending the chase.

Even with dashboard camera footage, what followed the chase is not entirely clear. In the video, Stockley and Bianchi are seen approaching the Buick. Stockley appears to have his weapon drawn. He leans into the car to talk to Smith and there seems to be some kind of struggle. Stockley then pulls back and fires several shots into the car. In his testimony, Stockley said he saw Smith turning to his right to grab a gun, causing Stockley to fear for his life. After he died, Smith was found to be in possession of a bag of heroin and a handgun.

Stockley then returned to the police car, placing an unauthorized AK-47 in the back seat. In an interview with the St. Louis Post-Dispatch, Stockley said he carried the gun, despite department regulations, "as a deterrent."

Stockley went back to Smith's car, before once again returning to the police vehicle to retrieve something from a duffel bag in the backseat. The prosecution argued that Stockley was grabbing a handgun, which he then planted in Smith's car. Stockley claimed he was retrieving "Quick Clot," which is used to stop bleeding.

During the subsequent investigation, Stockley's DNA was found on the handgun recovered from Smith's car. Investigators could find no trace of Smith's, despite Stockley's assertion that the gun belonged to the victim. Experts cautioned, however, that even though Smith's DNA is not present, it's impossible to say with certainty he had not touched the gun.
Presiding over officer Stockley's trial on murder charges, Judge Terry Wilson acquitted Stockley, observing that the entire episode was on video, with no opportunity for Stockley to plant a gun. The judge added,
"An urban heroin dealer not in possession of a firearm would be an anomaly."
The inference being clear, that Stockley was legitimately in fear for his life having already been led on a high speed chase by a heroine dealer on parole - Smith was very likely to continue to resist arrest in any way that he could rather than go to jail - the misreading of a quick movement could likely mean death.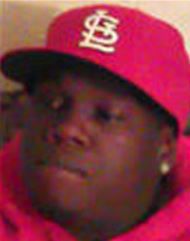 St. Anthony Lamar Smith's daughter is a millionaire for his martyrdom.
Nevertheless, the St. Louis board of Alderman passed a resolution to officially honor Anthony Lamar Smith.
Ibid. Moreover, in February 2012, a wrongful death and civil rights suit was filed on behalf of Smith's daughter, then one year old, against the St. Louis Police Board and Jason Stockley. The family was ultimately awarded a $900,000 settlement.

In 2013, Stockley was given a 30-day suspension for carrying the unauthorized AK-47 on duty. Shortly after he resigned from the St. Louis Police Department and moved to Texas where he began a management job at an oil company.
Blacks along with the "Black Lives Matter" and "Antifa" have rioted throughout St. Louis and surrounds for a week, making rounds to different sections, vandalizing businesses, even attacking the mayor's house.
TPC, 23 Sept, hour 2: Sean Bergin comprehensively explains what has been going on in St. Louis in recent days involving the police and Black Lives Matter criminals.
Hour 3: Sam Dickson and retired police officer Jim Lancia discuss the so-called "Antifa" street thugs.
.....just admit it, you can't live with them.
Separatism is the first step, separatism is the ultimate aim, separatism is always possible.
DM, "Police call for Notting Hill Carnival to be banned after 31 officers attacked during the two-day event", 30 Aug 2017:

- Police were slashed with broken bottles, spat at, bitten and had acid thrown at them
- In one of the worst confrontations, three PCs had bloody spit sprayed in their faces
- Frontline police said 'enough is enough' and called for organisers to help safeguard them
- Four people were stabbed, more than 300 arrested and dozens of weapons seized

The Notting Hill Carnival was branded a disgrace last night after it was revealed that 31 police officers were attacked during the two-day event.

They were slashed with broken bottles, spat at, bitten and had acid thrown at them.

In one of the worst confrontations, three PCs had bloody spit sprayed in their faces by a man claiming to be HIV positive.

Frontline police said 'enough is enough' and called for organisers to help safeguard those who dedicate their lives protecting others.

Four people were stabbed, more than 300 arrested and dozens of weapons seized during Europe's biggest street carnival. Although there were fewer arrests than last year's record 454, a three-week crackdown had seen hundreds banned from attending.

Ken Marsh, chairman of the Metropolitan Police Federation representing the capital's 32,000 rank-and-file officers, said at least 31 officers were attacked.

'We cannot carry on like this. It is a disgrace,' he said. 'My brave colleagues were attacked for just doing their job.

'This is not acceptable. What other event would be allowed to carry on regardless with so many police colleagues under attack?'

'There is a growing lobby calling for the carnival to be moved to Hyde Park and made ticket-only to deter opportunist criminals. Changes were first proposed in 2000 when two men were murdered. In 2008 there was a riot.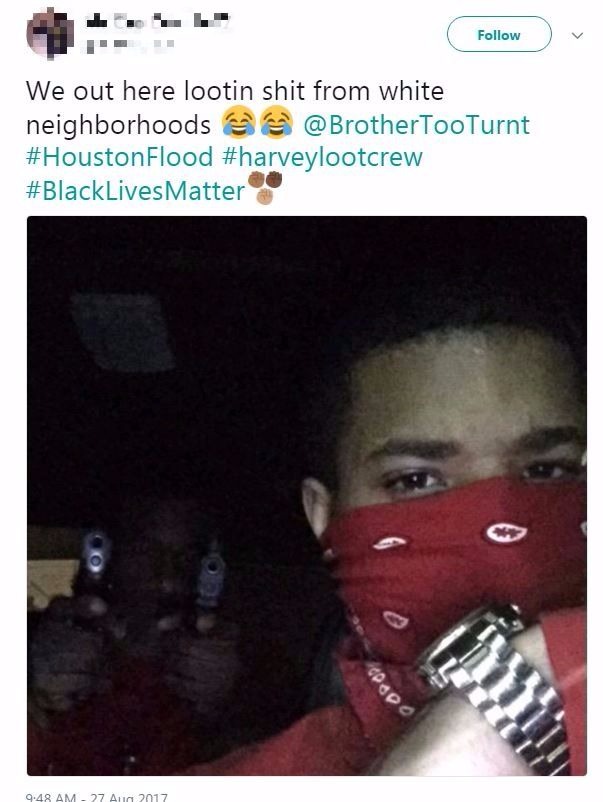 The intimidating posts have been appearing all over Twitter (Picture: Twitter)
By contrast to the typical right-wing claim that "they" are trying to divide us with racial conflict (DDRR: dems da real racists), we should of course encourage racial divisiveness. However, it must be said that Tweets alleged of black gangs in the Houston area, of their intent to 'loot the property of Trump voters" appear to be a ham-fisted attempt (e.g., using Sambo language) to instigate such division - not that we should put it past blacks to loot and terrorize the vulnerable and that is precisely the point: there is no need to exaggerate or characterize their criminality and hyper-aggression to the detriment of our ethic genetic interests.
There is no reason to doubt that there would be blacks taking advantage of vulnerable property in the wake of hurricane Harvey, but there are not many confirmed reports - yet.
Metro, "Gang members brandish guns and joke about looting 'white neighborhoods' in Hurricane Harvey", 28 Aug 2017:

Gang members are boasting about looting homes as thousands are rescued from floods after Hurricane Harvey battered Texas.

Unverified Twitter accounts and hashtags like 'harveylootcrew' show men brandishing guns in posts about breaking into Houston houses and stealing goods.

One account shows a man wearing a bandanna with someone pointing two handguns at the camera. It's captioned: 'We out here lootin shit from white neighborhoods.'

Another post included a photo of a gun stuffed into his pants pocket and the comment: 'I stay strapped when we out here lootin this bitch.'

Photos and videos on this particular account have since been deleted. The authenticity of these accounts are not known.

Blacks might talk this way, but they are unlikely to write this way - "foh racist Trump supporters."

Many people on Twitter are reporting them by looping in the Houston Police Department in the gang's tweets.

A spokeswoman for Houston Police Department told Metro US officers are aware of four cases of looting that have taken place since Hurricane Harvey hit, and arrests have been made in each of those cases.

However, she said she could not speak to the Twitter accounts and hashtags which appear to show gangs making claims of looting.

At least six people have died in the chaos since Hurricane Harvey struck landfall on Friday.

Parts of Texas are bracing for up to 25 more inches of rain as Hurricane Harvey continues to batter the area.

Alexendre Jorge evacuates Ethan Colman, four, from a neighborhood severely affected (Picture: AP)
Sunday Express, 27 Aug 2017:

A POLISH tourist was gang raped in a "brutal and bestial attack" in front of her boyfriend before he was beaten up at an Italian tourist hotspot.

Police said the vicious attack on the Polish couple, who are 26-years-old, took place in Rimini on the Adriatic coast of Italy.

The man was beaten on the head and robbed according to Italian police.

The woman was raped repeatedly by four men early on Saturday on a stretch of the beach in Rimini, which is one of the most famous seaside resorts in Italy.

Passers-by called police after seeing the couple, bloodied and dazed, on the beach.

The couple were both hospitalised with injuries.

Italian police are still searching for the suspects of what they described as a "brutal and bestial attack."

Forensics officers have been seen investigating the crime scene with images of Italian Scientific Police combing the beach for evidence.

They have called on the public "to cooperate with the police forces informing each and every element that may be of use in the investigation."

The Polish consulate in Milan have said they are assisting the couple.

Italian newspaper Ansa said the girl's attackers have been described as dark skinned.

The couple were planning a trip to Tuscany before returning to their native Poland.

Rimini is known for attracting young people and is a popular resort.