Majorityrights News > Category: European culture
How it feels to me is that the walls are closing-in, and the walls are closing-in more every day. You see it all the time: There was a girl, a woman in Sweden, recently, and she was raped by Syrian migrants in her own flat. Now, the evidence was all there, her body was black and blue, there was DNA, there was semen, there was all the rest of it. And the prosecution, the police told her that there wasn't enough evidence for a prosecution, and she killed herself.

Now, we have seen this happen up in Sunderland, with Justice for Chelsea, again, a massive load of evidence, but no prosecutions brought. So, they are closing in, they are closing-in and we are being told that black is white. We have all this evidence and we're being told there's no evidence. We have all these migrant rapes and we're being told there's no migrant rapes. We have what happened in Cologne; and the next day we were told that it has nothing to do with migrants, even though migrants had committed it.

We are essentially living in Orwell's 1984, where we are seeing something with our own eyes and we're told it's not happening. And if we identify it and we dare to speak it, then we are shunned. We have people who are threatened with loss of their livelihood. A friend of mine, Annie the Greek, who some of you who follow me on Twitter might know, has lost her job. She lost her job in the NHS because she refused to apologize for her political opinion.

Now we're in a situation, now take this in, take this in. In the last… I remember twenty years ago, it wasn't like this, it wasn't like this; ten years ago, it wasn't like this; but take it in - we are now at risk of losing our jobs if we say the wrong thing. We are at risk of having our venues closed if we say the wrong thing. We are at risk of going to prison, quite frankly, if we say the wrong thing. That's the situation we're in. It is deathly serious. it really is. And no amount of calling me a far-right fascist is going to change the reality.

- Anne Marie Waters
Essence, "Black Twitter Wants An Invite To Prince Harry And Meghan Markle's Royal Wedding", 27 Nov 2017:

Thanksgiving holiday weekend is over, but Black Twitter is still feeling thankful for Prince Harry and Meghan Markle's surprise engagement news.

Monday morning, Kensington Palace announced that the Royal and Suits actress will marry in the spring of 2018. To say that the Twitter timeline was lit would be an understatement.

From general excitement over the news to plans on how we'd collectively attend the wedding (should our invites not get lost in the mail), there's no stopping the Black Twitter celebrations.

Jasmyn Lawson@JasmynBeKnowing:

Meghan does pass and there are conversations we can have about that, but the reality is she is biological a Black woman who was raised by a Black woman. No one can take that away from her. So Imma celebrate.

Are you as excited for Prince Harry and Meghan's nuptials as we are?

GirlTyler@sheistyler:
We got us a Black princess ya'll. You really can't tell me a damn thing for the rest of the day because it won't matter. Shout out to Prince Harry and Meghan Markle. Their wedding will be my Super Bowl.

1:52 PM - Nov 27, 2017
120 Replies, 2,751 Retweets, 6,838

S. @Samara_Linton:

Prince Harry's future mother-in-law is a black woman with dreadlocks. There are no words for this kind of joy.
11:58 AM - Nov 27, 2017

612 612 Replies
24,545 24,545 Retweets, 97,389

36 year old divorcee, Meghan Merkel (inset, upper left), doesn't wear dreadlocks like her mother (right) but chooses rather to straighten her erstwhile Afro, giving her more of a White appearance.
60,000 join nationalist march carrying racist banners and chanting for 'White Europe.'
An estimated 60,000 people turned out in Warsaw for the march, with many chanting 'clean blood', 'pure Poland' and 'White Poland' and carrying posters with the words: 'White Europe of brotherly nations.'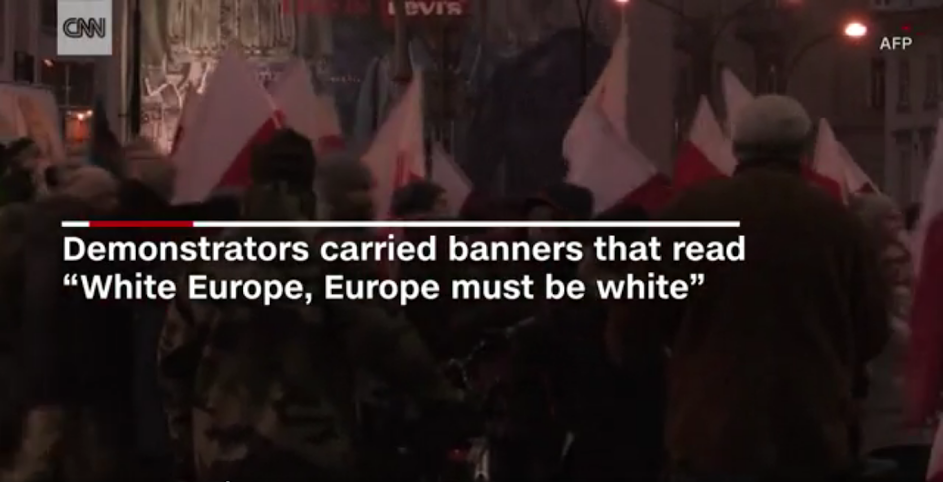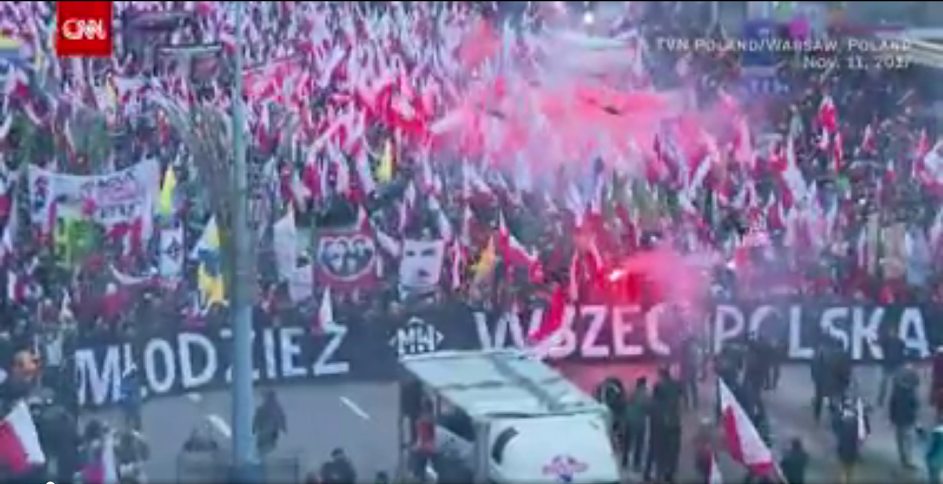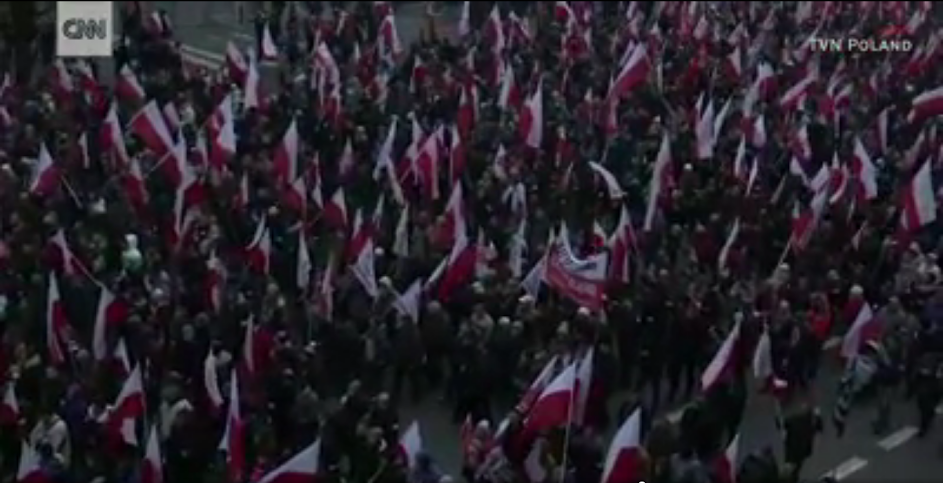 The Guardian, "'White Europe': 60,000 nationalists march on Poland's independence day", 12 Nov 2017:

60,000 join far-right march carrying racist banners and chanting for 'White Europe'

An estimated 60,000 people turned out in Warsaw for the march, with many chanting 'clean blood', 'pure Poland' and 'White Poland' and carrying posters with the words: 'White Europe of brotherly nations.

Demonstrators with faces covered chanted "Pure Poland, White Poland!" and "Refugees get out!". A banner hung over a bridge that read: "Pray for Islamic Holocaust."
Metro, "60,000 join nationalist march carrying racist banners and chanting for 'white Europe," 12 Nov 2017:

Tens of thousands of people carried symbols, religious slogans on banners and made racist chants during a march in Poland on Saturday.

An estimated 60,000 people turned out in Warsaw for the march, with many chanting 'clean blood', 'pure Poland' and 'white Poland' and carrying posters with the words: 'white Europe of brotherly nations'.
Poland's independence day celebrations turned ugly this weekend, as tens of thousands of nationalist protesters took to the streets, chanting anti-Muslim and anti-Jewish slogans and setting off flares.

The day celebrates the re-birth of Poland in November 1918, 123 years after the Prussian, Habsburg and Russian empires carved up Poland among themselves and erased it from the map of Europe. CNN.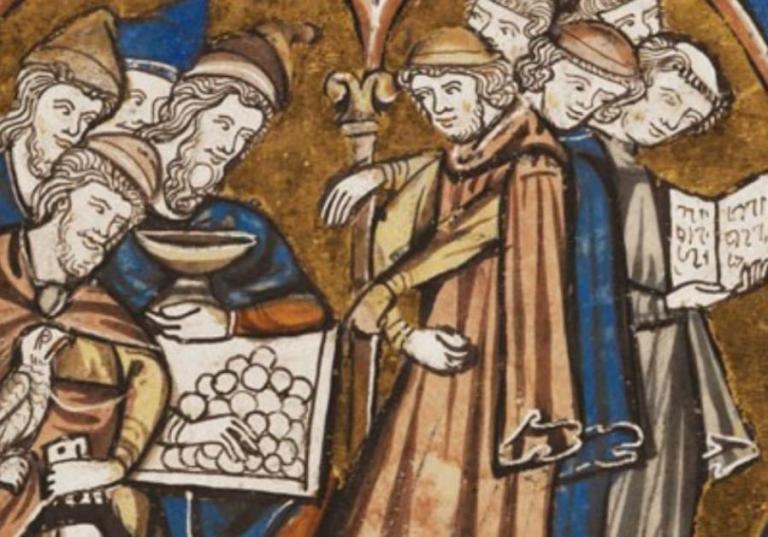 Story of Argobad
contextualizes the case brought against Jez Turner
First, some background on the Jez Turner case -
Europa, "BRITAIN'S VIGILANTE POLICE", 11 Oct 2017:

by Mike Walsh

Britain's most popular ethno-nationalists, supporters and members of the public, face a David and Goliath battle to protest a state-funded race-police force. Contrary to all legal precedents the Shomrim Security Group, with eighty guards, now patrols North London boroughs.

Shockingly, these armed and uniformed Jewish storm-troopers, are said to be the only 'private army on British soil' The patrolling race-police wear state-provided uniforms and cruise the streets in £15,000 patrol cars.

Ostensibly, the purpose of these menacing uniformed Jews, recruited from the Hasidic Jewish community in London, is to police boroughs and to act against what they describe as 'hate crimes'. Such would include criticism of Jewish or Israeli influence. Jewish and Asian groups are trained to make arrests and detain suspects until conventional police arrive.

It is well to reflect how news of a similar ethnic-European police force being sponsored would be greeted. Imagine for a moment, 80 British nationalists, concerned at the number of hate crimes perpetrated by non-Europeans on indigenous Britons, being given special status by the London police.

Shomrim, special Jewish police specifically looking after their community.

The self-appointed nationalist volunteers are trained, equipped and provided with liveried police cars by Britain's largest police force. Patrolling the streets of London this private force, not covered by authority or law, are tasked with identifying the perpetrators of anti-White hate criminals. Merely the suggestion would be considered preposterous. Is Britain the only country that sponsors a race-group private police force?

Jez Turner says: "It's utter disbelief that the Jews of Stamford Hill have set up their own police force which enforces their own Talmudic law on the streets of a White British city."

An anti-vigilante protest group, supported by members of the public, took their protest to the streets.Holding banners reading 'police impersonation is a crime' and surrounded by a large police escort, the group of 50 concerned residents gathered at Lea Bridge Roundabout. Speeches were made by the National Front's Tony Martin and the party's former organiser Martin Webster.

The massive police operation investigating this demonstration has been given the name Operation Saurus (reptile). Police officers openly admitted that it was carried out at the order of the far-left Jewish Community Security Trust (CST).

Mr Turner says, "All politicians are nothing but a bunch of puppets dancing to a Jewish tune, and the ruling regimes in the West for the last 100 years have danced to the same tune. Let's free England from Jewish control."

Britain's Crown Prosecution Service (CPS) is set to prosecute the founder of the London Forum debating society for alleged anti-Semitism after a Jewish group mounted an unprecedented challenge to their original decision not to prosecute.

The CPS case is likely to collapse as it is based on Article 17; European Human Rights Convention that says protection is not extended to 'those who would destroy that right'. It is unlikely that the organiser of an ad hoc debating society could be guilty of such a wacky bizarre allegation.

Why worry, lawyers will get richer, media will be enriched by anti-White propaganda, the political elite seen as tonguing the right backsides; the taxpayer pays for the repellent anti-White Carnival of Clowns.

When asked his reaction to the CPS decision to retreat under Jewish pressure, Jez Turner smiled and said: "Looks like I may be going away for a while, a free vacation at Her Majesty's pleasure. But whatever happens, I'll have a show trial first. And I'll make sure that I give them a show and go down fighting!"

The mask of liberal democracy is slipping away. As anger rises over mass immigration to the West, so the authorities will be resorting to ever more desperate methods to stifle dissent. The greatest consciousness-raising resource of the last twenty years may be lost to us.
Independent, "Crown Prosecution Service to review decision not to prosecute prolific anti-Semite", 8 Feb 2017:

Jez Turner's case re-examined after 13-month campaign against him.

Crown Prosecution Service has agreed to review decision not to prosecute far-right activist known for making vitrolic speeches against the "Jewish world order".

Jeremy Bedford-Turner's case will be re-examined following a 13-month campaign.

In a July 2015 speech to an "anti-Shorim" rally on Whitehall, Jeremy Bedford-Turner said "all politicians are nothing but a bunch of puppets dancing to a Jewish tune, and the ruling regimes in the West for the last one hundred years have danced to the same tune."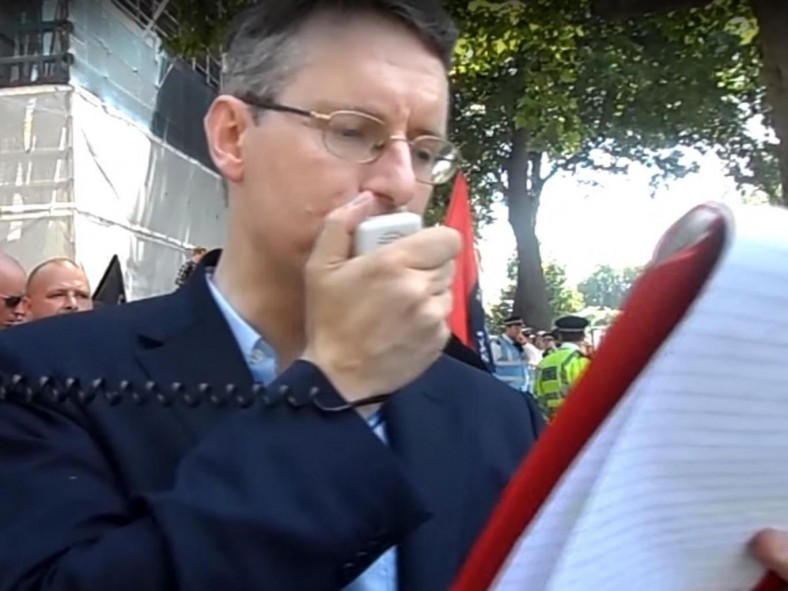 Jez Turner addresses small protest outside Whitehall
July 2015
"Agobard of Lyon and The Origins of the Hostile Elite"

Andrew Joyce, Ph.D., Occidental Observer, 2 Nov 2017:

As part of the introduction to my forthcoming volume of essays, Talmud and Taboo, I've included an overview of key developments in the historical relationship between Jews and Europeans. During the course of this overview I emphasize the historical suppression of European responses to Jewish group behavior, an important and perennial aspect of Jewish-European interactions. This suppression/taboo, as a thing in itself, tends to be less explored and understood when compared to the attention devoted to more obvious manifestations of Jewish influence (e.g. assertive action in influencing immigration control), but consideration of it is crucial to a complete understanding of Jews as a hostile elite. A working theoretical definition of what is meant by "Jews as a hostile elite" is of course also necessary, and is taken here as the implication not only that Jews have historically been opposed/hostile to the interests of the European masses, but also that Jews have had direct access to political power, or significant levels of influence over European elites in possession of it. While writing the introduction to Talmud and Taboo I was primarily concerned with the origins of the Jewish acquisition of this power or influence in Europe, the mode of its expression, and its evolution over the course of centuries. Due to restrictions of space in the introduction to Talmud and Taboo, I want to take the opportunity here to expand on one such example.

To date, our best understanding of modern Jewish political strategies in the context of the "taboo" can be found in Chapter 6 of Kevin MacDonald's Separation and Its Discontent: Toward an Evolutionary Theory of Anti-Semitism, titled "Jewish Strategies for Combatting Anti-Semitism." One section deals with "Political Strategies for Minimizing Anti-Semitism." MacDonald notes that Jews have been flexible strategizers in the political arena, buttressed by an IQ substantially above the Caucasian mean, and argues that the foundations for Jewish influence are wealth, education, and social status.[1] Today, Jews apply this influence in order to stifle negative discussion of their group, and at times to stifle any discussion of Jews at all. MacDonald points out that this is normally done via extensive communal support for "self-defense committees," which are a feature of every Diaspora population. These committees invariably lobby governments, utilize and influence legal systems, produce pro-Jewish and pro-multicultural propaganda, and fund pro-Jewish candidates or initiatives. Another of their vital functions has been to monitor and expose "anti-Semites," and to use legal systems in order to exact individual punishments, thereby making an example of individuals and thereby imposing a deterrent atmosphere on the rest of the population.

It almost goes without saying that in the modern era Jews have been very successful in making anti-Semitism a disreputable and unsavory enterprise. Perhaps more than any other shaming device, accusations of anti-Semitism can be socially and professionally devastating. Academic studies which argue that anti-Semitism has a rational and understandable basis, such as MacDonald's work, are monitored and excluded from scholarly discourse in an unceasing effort to maintain Jewish control over narratives concerning their group and deflecting antagonism to it. A foundational idea underpinning the creation of this most modern taboo is that anti-Semitism is a personal flaw indicative or psychiatric disorder and a social aberration, epitomized by the writing of the Frankfurt School of Social Research. Despite achieving an almost monolithic position in the public mind of most European populations, it is particularly noteworthy that such conceptualizations of anti-Semitism as an irrational and inexplicable form of psychosocial illness are extremely recent, having been developed only in the last sixty years by a cast of Jewish intellectuals—particularly those at the nexus of psychoanalysis and the Frankfurt School.

This reframing of European understandings of anti-Semitism has been due not only to Jewish influence in academia, the media, and the development of social policy, but also to a general ignorance among Europeans of the historical experiences of their ancestors. Europeans cannot come to terms with the issue of Jewish influence purely by confronting its contemporary manifestations – they must engage with the experiences of their forebears, and understand how and why they viewed Jews as a hostile elite.

All of these considerations led to me to one question: when and how did this "hostile elite" begin? Although Jewish influence was noted during the life of the Roman Empire, I excluded this period from my deliberations for a number of reasons. The first was that I wanted a close contextual proximity to present conditions; in other words, as a bare minimum I felt it necessary that I should find an early example of Jewish influence that still mirrored enough features of the modern experience to be broadly valid in comparison. Despite a proliferation of expatriate communities, during the Roman Empire, or at least until the sack of Jerusalem by Titus in AD 70, Jews could be considered as predominantly a national people rather than a Diaspora. It could thus be argued that relations between the Roman Empire and Jewish populations could on some level be understood within the framework of traditional diplomacy and power relations.

It was only after Rome's demolition of the Second Jewish Commonwealth in the first century that the Exilic period ushered in significantly novel forms of Jewish political activity. These political activities also became uniform, with Amichai Cohen and Stuart Cohen noting of the new Diaspora: "Notwithstanding variations dictated by vast differences of location and situation, all Jewish communities developed and refined a remarkably similar set of broad [political] strategies."[2] The second reason is related to the first in the sense that this set of Jewish political strategies had to be present in a broad geographical area of Europe. This breadth of geographical dispersion, and the subsequent extension of Jewish interactions with European populations, only occurred after the fall of the Roman Empire. A third and final reason for omitting the period of the Roman Empire was that my precondition of close contextual proximity required that the nation states of today, at least in their prototypical form, should be broadly recognizable. Finally, the Jews of Visigothic Spain, although wealthy, powerful, and incredibly hostile, have been discounted due to their failure to establish a relationship with Visigothic elites. This failure most notably resulted in the Jews providing assistance to a replacement elite — Muslim invaders.[3]

The set of "broad political strategies" referred to above requires further elaboration. Lacking a state, and insistent on remaining apart from their host nations, Diaspora Jewish populations developed an indirect and at times highly abstract style of politics in order to advance their interests. In Jewish sources it became known as shtadtlanut ("intercession" or "petitioning"), and represented a personal and highly involved form of diplomacy or statecraft that, in the words of the Cohens, "prioritized persuasion."[4] In the modern era we are familiar with such shtadlans as the Anti-Defamation League, and AIPAC. These bodies claim to represent all Jews, and the interests of all Jews, and do so when interacting with, interceding with, or "persuading" host nation governments or other arms of the White elite. However, the shtadlan as a large formal body or committee is a relatively modern development, and was a necessary response to the end of absolute monarchy at the beginning of the nineteenth century (and the corresponding rise of parliamentary democracy and the modern state). Prior to c.1815, Jews often pursued their interests via a small number of very wealthy and "persuasive" individual shtadlans who would form personal relationships with a king, prince, or other powerful members of the European elite. This was most pronounced during the Early Modern period when Hofjuden, or Court Jews, negotiated privileges and protections for Jews with European monarchs. An excellent example is that of Daniel Itzig (1723–1799), the Court Jew of Kings Frederick II the Great and Frederick William II of Prussia, who used his wealth and influence to persuade these monarchs to abolish many restrictions on Prussian Jews and grant them a succession of privileges. Put simply, the concentration of power in individuals meant that Jewish interests could also be negotiated by individuals.

However, although we may still see echoes of the old shtadlans in individuals like George Soros or Sheldon Adelson, the dispersal of political power following the collapse of the absolute monarchies required a greater number of Jewish "persuaders," thus necessitating the development of the modern Jewish "diplomatic" organization. Of course, the majority of these modern bodies vigorously deny their "diplomatic" or political function, preferring to style themselves as "self-defense" bodies or similar abstractions. Writing on the subject of shtadtlanut Samuel Freedman has argued that Jews have "become wedded to a "crisis model" in community-building, in which either Holocaust commemoration or opposition to anti-Semitism are the raison d'etre for the largest communal organizations, from the Simon Wiesenthal Center to the American Jewish Committee." This masking of deeper political interests should be seen as combining deception (of Europeans) and self-deception (among some Jews) in the broader Jewish strategy, or at least as a device designed to boost the recruitment of "persuaders." Jews (at least those not consciously engaged in deception) and Europeans are thus led to believe that such bodies are necessary to defend and protect a vulnerable community in crisis, when in fact their primary function is to advance the interests of an extremely wealthy, culturally invulnerable, and politically powerful community — a hostile elite.

Story of Argobad

contextualizes the case brought against Jez Turner

In searching for the origins of the hostile elite I was therefore looking for the earliest possible example of a Diaspora Jewish community in which shtadtlanut was in evidence — the obtaining of privileges and protections from a European elite, contrary to the interests of the masses of a given European population. Although I would very much welcome further suggestions from readers, the earliest convincing case that I have come upon concerns that of the Carolingian dynasty during the lifetime of Archbishop Agobard (c. 779–840).[5] Agobard was a Spanish-born priest and archbishop of Lyon during the Carolingian Renaissance. A fearless controversialist, Agobard gained fame and notoriety during his lifetime — and a place in posterity — by expressing his opposition to Jewish political influence in the Frankish kingdom. Agobard's Spanish origins are important. Bernard Bachrach notes that Agobard would have been very much aware of the scale and impact of Jewish influence, writing that "Agobard was born and raised in the Spanish March and Septimania where the Jews were extremely powerful. … He was aware of the power that the Jews of the Narbonnaise had exercised for centuries."[6]
Chapo Trap House on How Richard Spencer Plays the Liberal Media, 14 June 2017:

Matt Christman

Angela Nagle (7:53): They think (also) that women making the completely voluntary choice to have children with a non-White man is White genocide (laughs) you know, it's just so ridiculous, I mean…

Matt Christman (8:05): interjecting sarcastically: Ah, excuse me, but, "cultural Marxism" much? Frankfurt School?

Angela Nagle (8:10): Laughs uproariously

Matt Christman (8:14): "It's not of their own volition."

Angela Nagle (8:14): laughing

Matt Christman (8:15): Porn! Jewish produced porn has brainwashed them into thinking that big dicks are more pleasurable to have sex with.

Angela Nagle (8:22): Continues to laugh in approval of the sarcasm.

Matt Christman (8:24): They literally believe that by the way.
It has always been theoretically uncomfortable when White advocates white knight or try to counter "the misogyny" of White advocacy on behalf of White mudsharks by suggesting that they are sheerly brainwashed by cultural Marxsim.
I have tended to lay off these arguments as I believe there is truth to cultural coercion and veritable psy-ops of cultural Marxism and demoralization through Jewish porn; and it is a help to take a step away from completely deterministic, objectivist arguments; better still, as opposed to the White genders blaming one another, to look critically at Jews, who have been egregiously critical of us and divisive of White men and women. These angles are true enough to consider along with being helpful to take the pressure off of gender antipathy and to put the social realm and culture (by which I mean rule structured practices) into play.
However, the cultural Marxism angle has always been insufficiently explanatory when dealing with "voluntary" miscegenation and White genocide. The little discourse above provides occasion for correction.
Angela Nagle might believe that outbreeding is not killing European genotypes; here White advocates haven't done that bad in showing that it (coercion that suppresses breeding of a race) can meet with the UN definition of genocide.
Matt Christman might think that all White advocates believe miscegenation and outbreeding is only a result of brainwashing; and maybe some do. But his and Angela Nagle's mockery exposes a puerility and weakness of their own argument, which calls for exploitation through the added sophistication of the hermeneutic circle.
White females, as any females, do have base drives that can incite genetic competition, miscegenation, incline toward strong black men with big weenies (though even I, in my distaste and disrespect for blacks on the whole, would not reduce miscegenation to only these causes) an inclination that can be activated under certain circumstances - particularly by pandering to them in atavistic circumstances such as the disorder of modernity. However, for a self proclaimed leftist, Nagle is making a surprisingly reductionist, liberal, right wing argument in saying "it's completely voluntary." There are definitely cultural rule structures that are encouraging and promoting it; even more significantly, there are heavy taboos against criticizing it; literal laws against taking critical and opposing stances against it. These are cultural/ political violations of even the most reasonable and natural extent for mature White men (and women) to protect their kind.
This would be a part of the pleasure pain matrix that Matt Christman invokes. As White men overcome their right wing reactionary position and adopt the reality of social construction and the hermeneutic circle, they will not have to accept the "way it is-ness" of Matt Christman's "white knighting" on behalf of mudsharks (likely overcompensating pandering for the fact that he is ugly - about as ugly as the typical black woman - and desperate to be in the good graces of Jews, if not part Jewish himself).
But as we step into hermeneutics, we move beyond the tropism of the high contrast porn episode of the gargantuan black weenie and the White woman. But first, porn does some corrective favor in the sense that it is compelled to show that we White men can be quite well hung - so, if that's what a woman feels she needs. Finally, porn does not tend to reveal the fact that blacks are not necessarily heavy hung; I don't need to belabor this point here, except for the fact that their Not having a big weenie does not suddenly make them OK to intermarry with by our estimation. And as a very fundamental point, we are not discriminating against White guys with big Weenies.
Our kind was averse to blacks as children, before sexuality was even an issue, let alone weenies. After that it was the presumtuousness, arrogance, hyper-assertiveness, aggression, brutal antagonism and violence against Whites. Things that the puerile might find titillating, perhaps puerile girls, but not us. Along the way, we noticed subtleties of our female co-evolutionaries which we found compelling; and the physicality of blacks generally displeasing by contrast, let alone their behavior and the fall-out of their way of life.
We did not expect that we would be blamed for everything and told we owe them everything, including those we might hope to be our wives and daughters. We never could have imagined that we would be expected to accept this in servitude. We thought others would naturally think as we do, and though some naive adults thought it was a good idea to integrate us with blacks, when we got old enough, that we would join the rest of normal Whites who want to get away from them and be with Whites.
That didn't happen in any articulate way. And we have to confront not only the fact of cultural Marxism, but that our enemies are playing the objectivist angle where it works against us - heavily now that they've hoodwinked the Alt Right and other large tracts of popular culture to argue against PC and "the left."
We have to confront the fact of thrownness, that our group co-evolutionaries can miscegenate, but by the same token, thrownness, we are thereupon able to invoke and collaborate on cultural rule structures; it is not something that we have to accept as just the way it is, merely a voluntary choice that owes nothing to the tens of thousands of years of evolutionary struggle that went into our differentiation; along with its hundreds and thousands of years of social capital.
Even if they argue that some black guy might provide a more pleasurable moment and episode than some White guy, might be more confident (and coherent of identity, in part as a Jewish backed thug coalition) in the Jewish provoked disorder of modernity, where the rule structure of our guard and classificatory boundary is down, we can easily counter that plenty of us White guys are going to provide not only quite fine moments, but as we rebuild our full class, a far more pleasurable and satisfying way of life than the blacks manage.
With that, rather than mocking and laughing at the servitude of black interests that has been imposed upon White men, we will be having the last laugh as we send miscegenators and their half cast broods to live with blacks and the way of life that they create. They will either accept that or the recognition that they are indeed the supremacists and slave masters who need to be overturned by any means necessary. Do you know Angela and Matt, a White guy might not want to be a slave, paying for the babies of the mudsharks who destroy the genome bestowed them through tens of thousand of years of struggle, might just find a White woman's face and skin color more appealing, a European's way of life more pleasurable.
Angela Nagle claims to be open to talking to people who are dealing in topics forbidden by PC. We have offered to talk to her and that remains a standing invitation.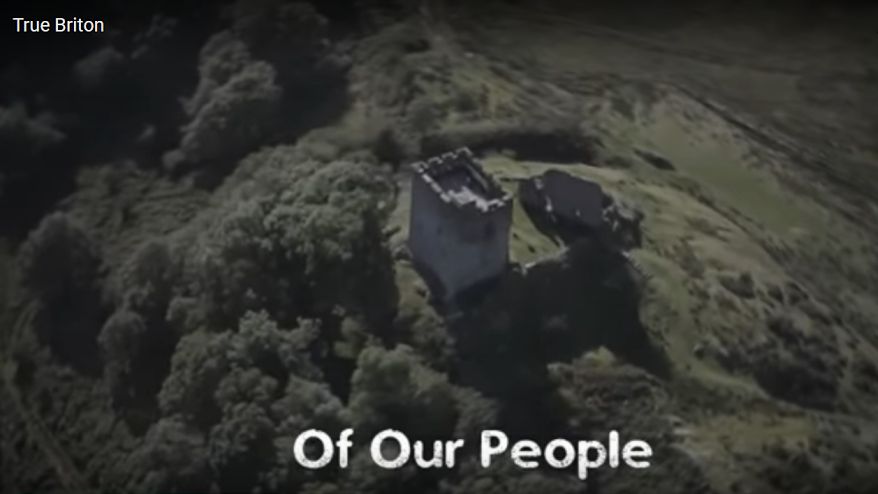 True Briton by Oswald Mosley
Oswald Mosley's Union Movement

Oswald Mosley died in 1980 but his ideas live on. 'Ten Points For Action' was published forty years ago but they are still relevant. Compare these visionary policies to the paranoid fantasies of the far-right.

1) Action to Build Houses. We want Action to solve the housing problem. It should be taken out of the hands of local authorities and entrusted to Government leadership with powers to mass produce houses and flats like an 'operation of war', turning out homes as munitions were mass-produced in time of war.

2) Stop the Land and Rent Rackets. Give the Government the power to acquire land at pre-boom prices and to finance housing by low-interest loans, paid for by high-interest charges on all non-essential and luxury building. Such action would bring down house prices and rents and at last provide good but cheap housing for all.

3) Stop Immigration - Start Repatriation. We want Action to ease the pressure on housing and other social problems (like the reintroduction of diseases unknown in Britain for hundreds of years) by stopping all further immigration and by repatriating all post-war immigrants to good jobs and conditions in their homelands, to which prosperity had been restored by using the surplus wealth and production of united Europe. But Britain could make a start now before the complete union of Europe is achieved.

4) Choice in Education and Health. We want Action to build good schools, colleges, universities and hospitals, just as we would mass-produce houses and flats. Parents should have a choice of schools for their children. We should not be taxed to provide those health services we will never use (maternity benefits for confirmed bachelors!) but free to pay in proportion to our requirements.

5) Free Speech - Law and Order. We want Action to ensure freedom of speech for everyone, guaranteed by the Government, which has a duty to maintain law and order in the State and to take effective action against mob violence, which today denies freedom of expression to any views of which its agitators disapprove. Let us maintain local police forces with their local knowledge and experience, but let us supplement them with a highly-trained, well-equipped, mobile national police force, to put down organised crime and to maintain public order.

We would ensure freedom of the Press for both newspapers and the public. Any man who felt himself misrepresented in the Press should be guaranteed (by law) equal space to reply in the newspaper concerned. This would free the public from the expense of seeking justice through costly libel action and free the newspapers from the legal blackmail of a threatened libel action by some unscrupulous racketeer.

6) Capital Punishment. The death penalty should be restored to the statute book, to be used sparingly in the case of premeditated murder. The Court of Appeal should have a solemn duty to reprieve if in any doubt. The sentence could be carried out not by hanging, but by a quick and painless injection or by some other humane method.

7) Action in Europe. To put these policies into practice Britain must advance beyond the concept of a so-called united Europe and Common Market to which the Conservative Party has at last been converted and which the Labour Party still opposes. We must advance quickly to "Europe a Nation", which we have advocated since 1948. We stand for a union of all Europe, our former white Dominions and southern Africa, a great "third force" independent of both America and Russia.

This "third force" must have a central government for its defence, the economy, finance and scientific development, with power to raise wages and control prices as production increases for a guaranteed market, insulated against unfair competition from the rest of the world.

We need a European army, equipped with the most modern weapons to defend our continent against attack from any quarter. This should be financed on a European budget, instead of each small country straining its economy to finance its own defence.

8) National and Regional Governments. There should be independent national and regional governments for each European country and the main regions. This would enable England, Wales, Scotland, Ireland and other European countries and regions to have their own parliaments for internal affairs and for the preservation of their national and regional cultures.

9) The Irish Problem. The ultimate solution to the Irish problem is the union of that country within a united Europe. But the bloodshed must first be brought to an end by a free vote on a county basis in each of the Six Counties and a subsequent readjustment of the border. The bulk of the Catholic population in the North would then be ruled (as is their wish) from Dublin, with a lessening of present tensions, the IRA would lose its bases in the North and the British Army would have a much shorter border to patrol against infiltration from the South. In this improved situation agreement could more easily be reached on the eventual union of Ireland, with the rights of the Protestant minority protected and guaranteed by European government.

10) Government of National Union. We stand for a government of national union and effective action, drawn from the whole nation, from the professions and the trade unions, arts and science, the law and the armed forces. Government elected by the whole people alone should govern. It should have power to lead the economy, raising wages and controlling prices as science increased production. Then we will have cooperation instead of conflict in industry.

We want Action to halt the "brain drain" and to arouse a new spirit of national service in our British people, by relating all reward directly to skill, effort, initiative and responsibility. There should be "great reward for great service", crowned by higher pensions drawn from the wealth of the new economic system, as the reward in old age for those who had loyally served the nation throughout their lives.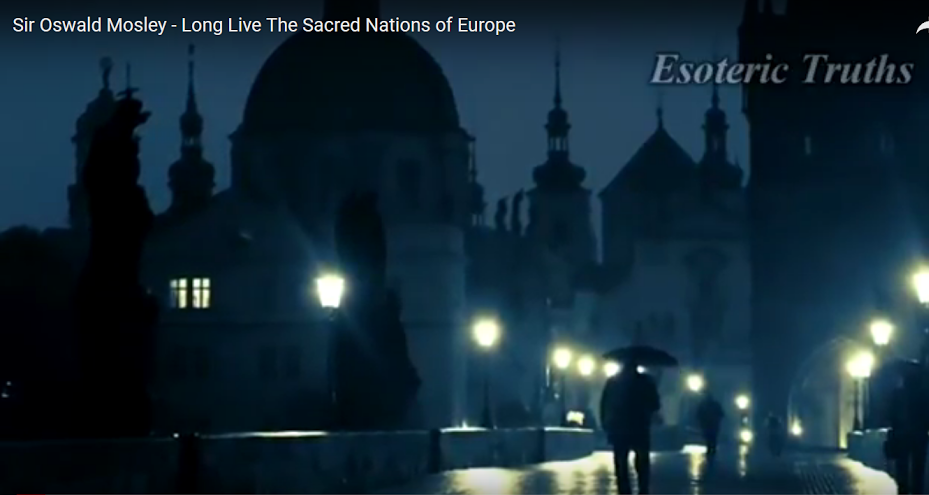 Long Live The Sacred Nations of Europe by Oswald Mosley