Majorityrights News > Category: European culture
Baby Spitter Rezzas Abdulla

Regarding below - I'm taking bets/guesstimates on how long a prison sentence a white man would have got if he had spat in a non-white baby's face and shouted ''non-white people should not breed!''. So far legal advice had told me 'at least a year'. Such are the double standards under a multi-racial society. Multi-racial societies in any case are only the stepping stone to the extinction of one race, and the double standards against whites emphasize that for those too foolish to otherwise realise it, and also indicates just which race is being marked for extinction. - Jez Turner

Subject: Remove Judge Darren Preston for freeing Mr Abdulla after a racist attack on baby. Sign petition e mail on.

Rezzas Abdulla spat into a 9 month-old baby's face & shouted 'white people shouldn't breed' in a sickening race-hate assault in South Shields. Judge Darren Preston allowed Abdulla to walk free from court. We the undersigned demand Judge Preston be removed as a judge.

Click this link to sign the petition "Remove Judge Darren Preston for freeing Abdulla after a racist attack on baby"


https://petition.parliament.uk/signatures/34964001/verify?token=k0SZz3MY3sovWR8zq2R4

Petition:

Remove Judge Darren Preston for freeing Mr Abdulla after a racist attack on baby

Rezzas Abdulla spat into a 9 month-old baby's face & shouted 'white people shouldn't breed' in a sickening race-hate assault in South Shields. Judge Darren Preston allowed Abdulla to walk free from court. We the undersigned demand Judge Preston be removed as a judge.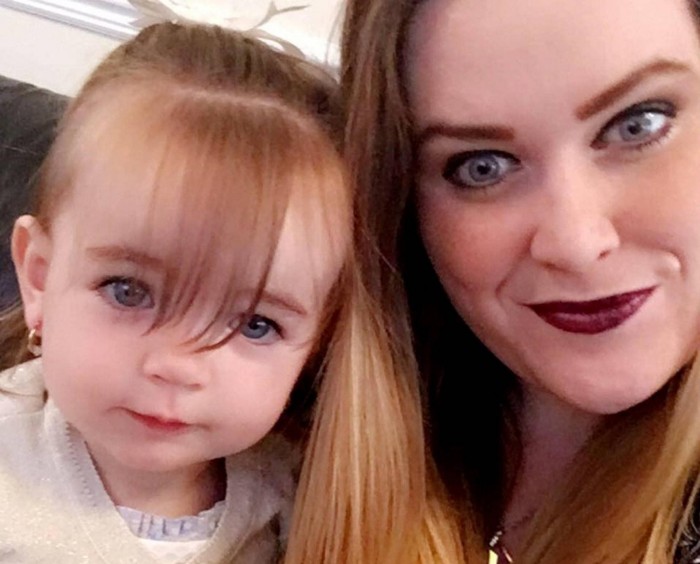 The court heard that Layla-Jeam, now almost two, was taken to the doctor after the attack for tests amid fears she could have contracted TB. Metro 21 Feb
TNO, "Mass Rapes: Islamic Weapon of Conquest and Domination", 18 Feb 2017:

By Yolanda Couceiro Morín. Since the sordid episode of the massive New Year's Eve rape of 2015 in Cologne and other German cities (more than a thousand complaints), cases of sexual assaults against European women by immigrants and "refugees", overwhelmingly Muslim, have multiplied throughout Europe, especially in Germany and the Nordic countries.

Seeing what happened at the last end of the year celebrations, rapes are becoming part of the European folklore of these dates: together with the nativity scenes, the Christmas markets and the Three Kings' cavalcades, we will now have Massive Rapes New Year´s Eve.

Traditions change from the usual gift of red underwear to the latest chastity belts. This is the march towards the progress of our battered Europe.

We witness a retreat from civilization, the decline of an entire society, a rupture of the anthropological foundations of our societies. Es el regreso a la caverna. It is the return to the cave.

This social collapse, this degradation of coexistence norms, is not only a change of culture, but the implantation of a savagery that we could call prehistoric.

We all have in mind the classic caricature of the relations between the sexes of those antediluvian times in the scene of a troglodyte, with a club on the shoulder, dragging by the hair to its pair.

This typical image of cartoons represents in a comic sense the terrible situation to which we are forced to march, with the importation of populations manifestly unfit for modern and civilized society.

From the peaks of the highest and most refined civilization that the Earth has carried on its surface, we have fallen into a state of semi-fearlessness.

We must be clear that these are not simple criminal acts, however reprehensible they may be.

Among the European population, of race and native culture, this type of aggression also occurs, although in quantitative terms much lower than this wave of savagery that has invaded us.

But it is the qualitative nature of these violations that should be the object of special attention.

In these cases we are not in front of habitual criminal acts, but in front of cultural facts.

Among us, abuses and sexual assaults against women are considered a social scourge, a highly reprehensible behavior, an improper indignity of decent people, an extreme violation of people´s freedom and dignity.

In the Islamic world, where women are considered inferior to men, abusive treatment and aggression of all kinds against women do not deserve the same reprobation and condemnation as among European, Christian and modern civilized nations: are accepted and justified facts. Therein lies the difference.

[...]

The scarce intellect of these individuals who, in fact, believe that we are all "human beings", and that culture is something that is put on and removed, as if it were a dress or shoes, is enough to justify these events as something inherent to the human race.

[...]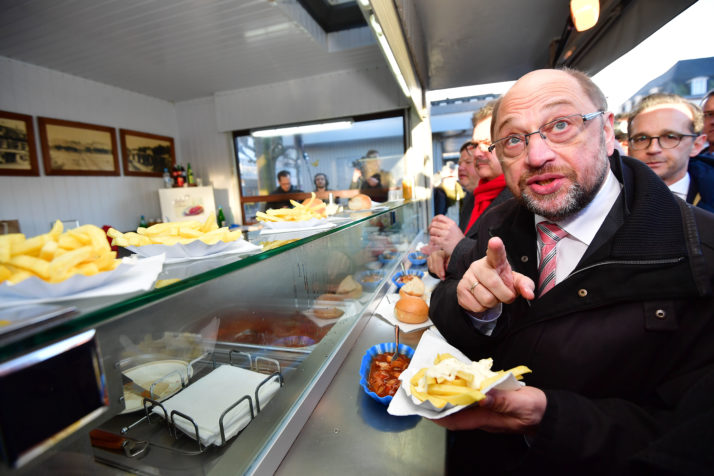 Wow, such a breadth of choice
The Germans are non-ironically having an election in which Angela Merkel and Martin Schulz are the two front runners.
The choice seems to be quite simple.
Either you vote for Angela Merkel's CDU and face the death by demographic replacement which will surely arrive by the year 2050 as things continue as they are, or alternately you vote for Martin Schulz's SPD and face the death by demographic replacement which will surely arrive by the year 2050 as things continue as they are.
There are some policy disagreements that they have on other issues and usually I would actually go to the length of highlighting them and describing them, but when it comes to the issue of Germany it frankly doesn't even matter anymore. After all, if Germany is going to seriously cease to exist as a nation then making projections about a nation which will not even be populated by the same people would be a pointless exercise from the perspective of ethno-nationalism. It is extremely sad.
In any case, let's see how the situation looks in the polls at present, for this thoroughly pointless election:
POLITICO, 'SPD in the lead according to German poll', 19 Feb 2017:

Germany's Christian Democrats (CDU/CSU) have slumped to second place in an opinion poll conducted by the Emnid institute, with the Social Democrats (SPD) in the top spot for the first time since 2006.

The SPD's climb comes after the party picked the former President of the European Parliament, Martin Schulz, as its candidate for chancellor.

Emnid's poll of 1,885 voters found that the SPD would get 33 percent of the German vote, while Chancellor Angela Merkel's CDU and its Bavarian sister party, the Christian Social Union, would get 32 percent.

Schulz's party has gained 12 points in the last four weeks, according to German newspaper Bild am Sonntag.

The SPD's surge in the polls will add more pressure on Merkel, as she seeks her fourth term as chancellor within an uneasy CDU/CSU alliance. Merkel has faced tough criticism from the sister party over the controversial decision to temporarily open Germany's borders to refugees in 2015.

This the latest in a series of polls that shows SPD's rapidly rising popularity among German voters. Emnid's poll chimes with separate findings by Politbarometer, a long-standing German election poll from German broadcaster ZDF, which showed Friday that only 38 percent of voters would like to see Merkel carry on her job as chancellor and that 49 percent preferred Schulz.

But Germany hasn't completely fallen out of love with Merkel. ZDF's poll also found that 71 percent of Germans think that the current chancellor is doing a good job, despite her party's drop in popularity.

German elections are scheduled for September.
Such vibrant campaigning
Meanwhile, the way that Martin Schulz is conducting his campaign has drawn criticism from Wolfgang Shaeuble, a very strange-looking criticism at first brush:
POLITICO, 'Wolfgang Schäuble: Martin Schulz is the German Donald Trump', 10 Feb 2017:

Martin Schulz, the German center-left's candidate to be chancellor, is behaving like U.S. President Donald Trump, according to German Finance Minister Wolfgang Schäuble.

"If Schulz calls upon his supporters to chant 'Make Europe great again' then that's almost literally [like] Trump," Schäuble told Der Spiegel in an interview published Friday.

He said Schulz, a former European Parliament president, was acting in a "populist way."

Schäuble said Schulz needed to "think a little [bit more]." He warned that in times when there is a surge in populist movements, politicians should be careful with their language.

The SPD's move to nominate Schulz as their candidate for chancellor in the September 24 federal election led to a surge in party membership applications. Opinion polls show that backing Schulz helped the party to its highest approval rating since 2013.
At first a person would think, "Hmm, something is very wrong here, in what important way does Martin Schulz resemble Donald Trump, aside from the use of a similar campaign slogan?"
Surely Schaeuble is just a ridiculous old man who is approaching senility, and he has begun to make even less sense than usual in his statement?
Nevertheless I decided to actually give Schaeuble's statement some thought. Could I manage to find some unintended 'sense' in Schaeuble's seemingly nonsensical statement?
After about twenty milliseconds of deep thought – which in neurological terms is basically 'instantly' – I arrived at the answer. First, take a look at this quote concerning Schulz:
Haaretz / Avraham Burg, 'Say a big 'thank you' to Martin Schulz', 14 Feb 2014:

[...] Martin Schulz, the president of the European Parliament, is a close friend of mine. On most issues connected to the Israeli-Palestinian conflict we disagree. He is closer to the Israeli mainstream, and his positions resemble those of Labor Party chairman Isaac Herzog. He once told me, during a frank and stern conversation, "For me, the new Germany exists only in order to ensure the existence of the State of Israel and the Jewish people." [...]
Secondly, take a look at this quote concerning Trump:
The Hill / Elliot Smilowitz, 'Trump: 'Stay strong Israel,' my inauguration is approaching', 28 Dec 2016:

President-elect Donald Trump on Wednesday morning ripped the Obama administration's treatment of Israel and pledged to end the "disdain and disrespect" for the country.

"We cannot continue to let Israel be treated with such total disdain and disrespect. They used to have a great friend in the U.S., but not anymore. The beginning of the end was the horrible Iran deal, and now this (U.N.)! Stay strong Israel, January 20th is fast approaching!" Trump wrote in a series of tweets. [...]
If you look at it from that angle, then Schaeuble accidentally spoke a kind of truth in the midst of his babbling, somehow.
There indeed is a resemblance between Schulz and Trump. From the perspective of Jewish Zionists in the global sense, the two individuals are almost completely identical.
Visigrad Post, "Central Europe Unites to Put an End to Illegal Immigration" 9 Feb 2017:

Austria, Vienna – Ministers from 15 countries gathered in Vienna on Wednesday, February 8, in order to find a common way to put an end to the illegal immigration in the Balkans and Central Europe.

Representatives from Austria, Hungary, Bulgaria, Czechia, Croatia, Poland, Romania, Slovakia, Slovenia, Albania, Bosnia, Montenegro, Macedonia, Serbia, Kosovo, and Greece, as well as officials of the Central European Defence Cooperation took part at the meeting.

Countries along the Balkan migration route agreed on Wednesday to seal the already hard borders and prevent a possible new surge of people trying to reach wealthy EU countries. Since the countries on the Balkans' route already secured their borders a year ago, the number of illegal immigrants has dramatically dwindled, but hundreds of migrants still try each month to take this route.

A plan to plug the remaining gaps on the route from Greece to Austria and Germany is to be drawn up by April, defence and interior ministers from affected countries decided at a conference in Vienna.

The agreement anticipates the potential collapse of the EU's deal with Turkey to keep migrants and refugees.
​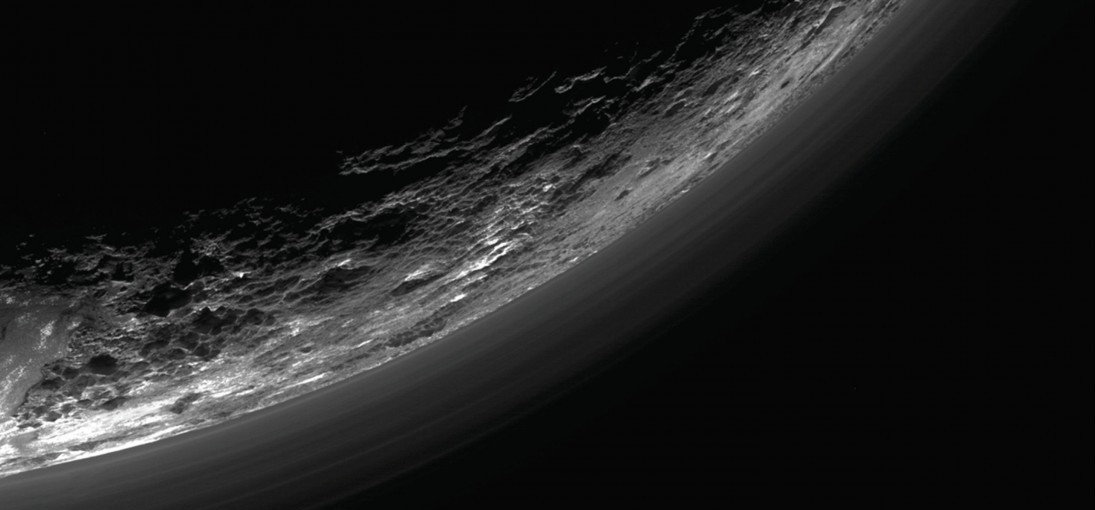 This is the kind of reach a European-Asian Alliance is capable of, even while heavily burdened: imagine what we could accomplish if we were not saddled by the YKW, their Abrahamism (Judaism, Islam and Christianity), complicit right-wing arrogation and liberal irresponsibly - pinning us down with the irresponsible among us, their consequences; as well as in obsequiousness toward, and over-burdened necessity to defend against, African aggression and bio-power, Muslim colonization ("Hijra") and terror.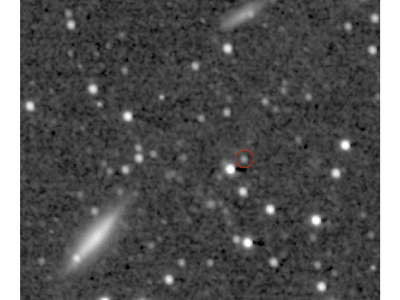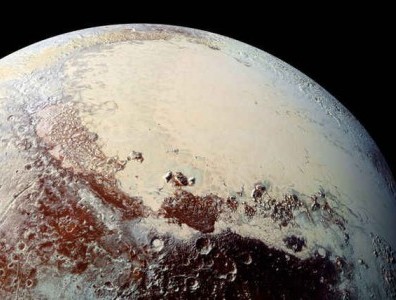 Nasa, New Horizons image gallery.
Visigrad Post, "Hungary's PM Orbán: Nowhere Do Human Rights Prescribe National Suicide", Jan 2017:

Hungary – The Hungarian government goes further in its opposition to non-European immigration, both illegal and legal. Viktor Orbán made again a strong speech against "national suicide" and meantime, the government announces its will to put an end to the residency bonds.

In front of 532 new deputy border guards, Viktor Orbán explained, on Thursday, January 12, that their job will be to protect Hungary's borders and the safety of all Hungarians, "and that of all of Europe as well, as has been the fate of the nation for hundreds of years".

"Terror attacks, riots, violence, crime, ethnic and cultural clashes all show us that those who come do not want to live our lives," Orbán told the border guards. "They want to continue living their lives, just on the European standard of living. We understand them but we can't let them into Europe. Nowhere do human rights prescribe national suicide."

Asylum-seekers will be detained in close camps from now on

Systematic detention of migrants arriving in the country will be put in place, explained Viktor Orbán on Friday, January 13, during his weekly talk at the public radio. "We have reinstated alien police detention in the cases of those whose application to enter Europe has not yet been legally judged". "As long as there is a verdict outstanding (in their asylum applications) they cannot move freely in Hungary," said the Hungarian PM.

Under pressure from Brussels, the UN refugee agency and the European Court of Human Rights, Hungary in 2013 suspended the practice of detaining asylum applicants. The close camps are demanded by Jobbik's vice-president and mayor of a little town at the border with Serbia, László Toroczkai, from the beginning of 2015, the same man that asked for the fence first in Hungary.

"Since then there have been terror acts in western Europe," Orbán said Friday". Any legal regulation that facilitates terror acts must be changed in the interests of our own self-defense." He said he was aware that this "openly goes against the EU", taking the risk of an open-conflict with Brussels, once again.

No more residency bonds

Three months ago, the constitutional bill against mandatory quotas of migrants, proposed by the ruling Fidesz, failed due to the surprise boycott of the vote by the right-wing populist party Jobbik, which wanted to add into the bill the suppression of the residency bonds. These bonds allow non-EU citizens to buy a Schengen permanent residency permit.

Really harsh discussions took place in the Hungarian parliament between the national-conservative ruling Fidesz and the right-wing populist Jobbik on these bonds. Security threats, suspicion of high corruption and treason toward the Hungarians — who reject non-European immigration — were the main arguments of the Jobbik.

Eventually, the government will suspend indefinitely the program, claiming these bonds are not necessary anymore since ratings agency Moody's upgraded the country's credit rating. Several scandals of corruption related to these bonds merged in 2016 and it is most likely that the government wanted to put an end to this failed program. Therefore, no more residency bonds requests will be accepted from April 1.