Majorityrights News > Category: European culture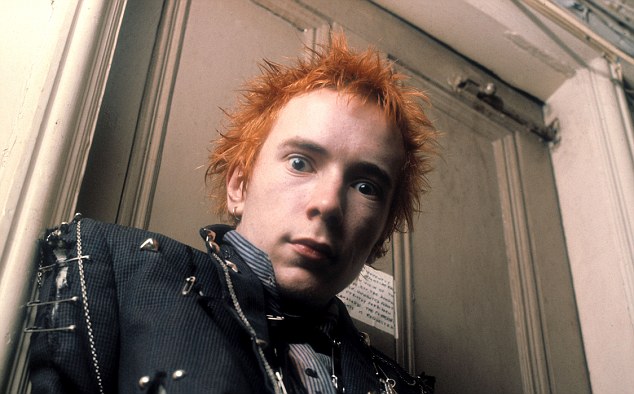 A liberal, not a leftist
MjolnrMagazine, "WHY JOHNNY ROTTEN CAN GO F*** HIMSELF", 13 April 2017:

Never mind the bollocks, although it's very difficult where John Lydon is concerned. John Lydon, once styled Johnny Rotten, suddenly jumped onto the Brexit and Trump bandwagons and into the headlines a couple of weeks back, which caused a bit of a stir among the chatterers of society. Over the past forty years, Lydon has been groomed as a cultural ambassador by those in power, while playing the old game that he is somehow an anti-establishment rebel. The unfortunate thing is that many on the Alt Right - rather like what happened with Donald Trump - seem to have been taken in by him, so let us take a look at this new 'hero' and the cultural movement known as punk at large, which John Lydon as Johnny Rotten represented.
This could be a good article if corrected for the Jewish red cape and its misdirection into rightism or the "no left (social unionization) or right" reaction by contrast. I will add some annotation that would have helped a better telling of the story.
Let us begin with Lydon's origins and rise, for these are intertwined with the punk phenomenon at large. Lydon's immediate heritage is Irish, hence the title of his autobiography: Rotten: No Irish, No Blacks, No Dogs - the title being based on a typical sign on properties to let in the 1950s. The 'No Irish' part, which may look strange to us today, can be explained by the IRA terrorism of the time and also by the behaviour of Irish gypsies, otherwise known as Travellers. I remember in the good old days before political correctness, many public houses and inns would have signs on the entrance saying 'No Travellers'.

It is clear, then, from the book's title that he identifies his own purported second-class citizen status with that of the Negro, who, at the time of Lydon's birth, had only been in the country in any meaningful sense for barely a decade. This has extended to raising his elderly wife's half-caste grandchildren like a good little cuck. He has always identified himself with the Other and has an Irish rather than British passport to foreground his at least civic otherness. He therefore also identifies himself as working class in a Marxian sense, his idea of working class as being antagonistic to traditional British and even European norms. He talks about being purportedy working class at every given opportunity.


(((McLaren))), the YKW behind punk and its "ideology"

Certainly, his parents were working class, but is Lydon? There are two ironies here: the first is that he has married Nora Forster, a German publishing heiress fourteen years his senior; the second is that he has never done a working-class job in his life, manager Malcolm McLaren having turned him into a pop singer at the age of eighteen. Lydon is as bourgeois as they come. Indeed, it is telling that the venue for the very first Sex Pistols concert was St Martin's Art College, about as middle-class as one can get. I must point out that I have nothing against anyone who is born into one class or another, but John Lydon has spent his entire life sneering at the middle classes despite his own bourgeois existence.

As regards that sneer - and the sneer worn by punks in general - one must look at the chief architect of punk rock itself, Malcolm McLaren. Born into a family of Jewish diamond merchants on his mother's side and raised by his Jewish grandmother, McLaren was heavily influenced at art college by the Situationist avant-garde movement, led by French Communist Guy Debord and his Jewess wife Michèle Bernstein. On the artistic level, Situationism was a Leftist attack on the arts through absurdist or provocative happenings that deconstructed traditional norms and underpinned the May 1968 cultural revolution in France and Germany. The ultimate goal was to normalise the idea of a dictatorship of the proletariat.
We need to pause in the article here. Whenever you see a situation where Jews, Whether Marx, The Frankfurt School or McLaren, are defining a movement, its terms and their deployment, that should send up immediate red flags that the protection and interests of the native European nationalist union is not at heart - on the contrary, coalitions and anarchist forces are being drummed-up to attack these interests, terms are being reversed from their normalizing semantic content in order to confuse - the leftist unionization for fair treatment of workers; to protect them against scab labor (including migrants), to allow them to function unexploited alongside other vital functions/roles of society, is absurdly confounded with liberalism - with scabbing, dissolution of accountability, degeneracy of vital functions - not all of which can be captured by a "dictatorship of the proletariat" - a non genetic, economic group by Jewish design; and in opposition to the genetic union of the nation by contrast. That said, lets continue to look at the Jewish boondoggle against native nationalism that was Punk…
McLaren's store

Starting with the shop that became SEX, a fetishwear retailer co-managed with fashion designer Vivienne Westwood, McLaren applied this ideology firstly to clothing and then to music. Clothing included t-shirts with two homosexual cowboys naked from the waist down and red leather fetishwear emblazoned with the hammer and sickle for the New York Dolls. John Lydon, a young nihilistic eighteen-year-old without any discernable talent but self-defined by what he hated, fit the bill perfectly for McLaren's new musical project. Lydon could not sing a note in tune, but this was a plus point, as was his green hair, overall ugliness and 'I hate Pink Floyd' t-shirt.

The story of Glen Matlock within the band is interesting. The only member who could actually play to a good level, he was ousted when McLaren caused friction between Matlock and Rotten. This made way for the talentless drug addict known as Sid Vicious. Matlock co-wrote all but a handful of the band's songs and was just too good for a band with the intention of marketing crap to the masses. McLaren also set up post-punk band Bow Wow Wow, with its thirteen-year-old half-caste lead singer, Annabella Lwin, born Myant Myant Aye to a Burmese father and English mother. Lwin appeared naked on Bow Wow Wow's debut album as McLaren assaulted traditional norms with miscegenation and child pornography. You will never watch the video to McLaren's single 'Double Dutch' in the same way again.

Lydon is very fond of telling how he exposed Jimmy Savile as a paedophile. It is interesting though that he has tried to ban the recording of his comments back in 1978 from public usage in order to sell them as part of his latest album. Ever the altruist. He has also always been suspiciously quiet about his own ex-manager McLaren's involvement in the world of paedophilia. Financed by both the BBC, under the auspices of (((Alan Yentob))), and EMI, in 1980 McLaren began creating an ostensibly music-related magazine that would be a more risqué version of Smash Hits, which had just been launched two years previously. In reality, the publication, originally titled Playkids, but then changed to Chicken, would serve to get child pornography into the mainstream. McLaren attempted to get the aforementioned Annabella Lwin to do a full-frontal nude shoot, but after she became distressed and tearful, brought in a replacement thirteen-year-old girl. Fortunately, enough concerns about the magazine ensured its shelving.

Punk rock was essentially a perversion of pub rock for middle-class Leftists.
Correction: Punk rock was perversion of pub rock as a vehicle to enlist naive/disingenuous middle-class liberals into rebellion against native nationalism.
For all the talk of it being a roots, working-class movement that 'just sprang up', it was in reality orchestrated by middle-class communists, who used a (sometimes miscegenated) underclass rabble as a musical battering ram against traditional norms. Pub rock, with bands like early Slade, Captain Beefheart, The Who and The Sensational Alex Harvey Band, was what punk rock purported to be.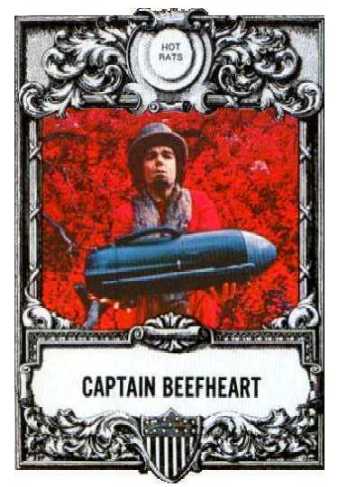 I've seen both the Who and Captain Beefheart, have enjoyed them both - particularly Captain Beefheart on album - but they shouldn't be accorded undue philosophical significance and authenticity (as they tend to be accorded).
Incidentally, my father rated the latter as the best live band he had ever seen. Bands like the Sex Pistols were fawned over by the Leftist media
Fawned over by the Jewish and (what is for us) liberal media.
and catapulted into the mainstream, while Beefheart and Harvey remained genuinely underground.
Beefheart's producers tried very hard to make him a commercial success; it wasn't in his nature to be commercial - it was just the opposite.
And therefore I say to Johnny Rotten in a style he might appreciate: Go fuck yourself, you fake posturing establishment shill.
That I can agree with. Good ending to the story.
RT, a propaganda organ of "Active Measures," is pressuring a private London club to have open doors liberalism. Cirque le Soir nightclub in Soho has a policy standard for private clubs, of not allowing-in groups of unaccompanied males. When confronted with a group of black male athletes, a bouncer for the club apparently observed their demeanor and added what was perhaps a code-reason for discrimination - "too urban." RT jumped all over that for being racial profiling, racial stereotyping and therefore "racist".
Nevertheless, if "too urban" was indeed a code word for a black group with a dangerous profile, it would merely be a practical observation and precaution to take to discriminate against them. Young black males, especially in groups (including wealthy professional athletes) are statistically far more violent; and the club was exercising what should be its right as a free and private club to deny servitude, to protect its interests and protect is clients.
The freedom of London clubs to defend not only their businesses, but their patrons against profiles known to be violent and otherwise destructive is apparently of no concern to RT and Active Measures. This is a swift route to the destruction of our native European EGI and the naive among us who lack meaningful experience of blacks in numbers.
The kind of liberal "anti-racist" propaganda that RT is engaging-in goes back to the days of The Soviet Union - it put such pressure on The US to atone for its history of slavery that it empowered liberals to destroy untold numbers of innocent Whites, attempting by their sanctioned means (The Constitution and The Golden Rule), compelled by their politicians and (((those coercing))) their politicians to force them to try to live the impossible - "Thou Shalt Not Discriminate", "Thou Shalt Not have senses and defend yourself", "Thou Shalt Enter into involuntary contract" - "thou" must live pure in pure servitude, fresh White prey: un-hypocritical, ideologically living-up to the pure banner of "freedom and liberty for all" - non-discrimination: this has led basically to the destruction of America - America did not win the cold war. When you cannot discriminate against blacks, you are not free and you have big problems.
"Deep ecologists" may argue that blacks are returning American cities like Baltimore, Detroit and New Orleans—the city these athletes are nominally playing for—that they are returning these cities harrowed by blacks to a "state of nature." It is a feral state indeed: let those who advocate non-discrimination against them go and live with them.
RT's charges of "racism", compelling Whites and White institutions to leave themselves vulnerable to black aggression - a phenomenon that any fool would instinctively know to be on guard and discriminate against - is unconscionable.
The Alt Right is incredibly naive as it continues to treat The Russian Federation as being in perfect alignment with White Nationalism - its great White hope even: what they are actually doing is serving as free propaganda for a very cynical Kremlin.
RT, "NFL players turned away from London nightclub for being 'too urban", 1 March 2017:

A popular London nightclub which allegedly barred a group of American football NFL stars for being "too urban" is being accused of racial profiling.

The New Orleans Saints team members had booked a table at Cirque le Soir nightclub in Soho, but said on arrival the bouncer turned them away for being "six big guys" and "too urban" – a phrase often used as a euphemism for black.

The nightclub has since denied it would turn anyone away based on ethnicity, but has a policy of not admitting all-male groups.

Mark Ingram Jr, 27, a running back, was with Sterling Moore, 27, BW Webb, 26, Vonn Bell, 22, all defensive players, and two friends when they tried to get into the club on Monday.

The players were visiting London in preparation for their game at Wembley in October against the Miami Dolphins as part of the NFL's international series.

Mark Ingram II
✔
@MarkIngram22

Is this what 6 big "too urban" guys look like?! @CirqueLeSoir @TheVonnBell7 @SterlingMoore @OhGi_3Dawg3 @burtleyc @Flintsbadguy #AllSmiles
2:10 AM - 28 Feb 2017

Ingram tweeted: "We pull up to Cirque le Soir where we have reservations and this is what they tell us. They told us we were 'six big guys' that are too 'urban' but nobody taller than 5'11!"

Following the tweet, the hashtag #TooUrban began trending on Twitter. Many have accused the club of racial profiling.

Suzanne @girls_with_guts

@MarkIngram22 one of the #toourban "big guys" next to my 5'7" daughter…ooooh he's so scary. @CirqueLeSoir your moms didn't

D @barker1980

I'm confused. This is the same place that called @MarkIngram22 #TooUrban ? https://twitter.com/cirquelesoir/status/827565983720230912 …
3:54 AM - 28 Feb 2017

84 84 Retweets
116

Chris @burtleyc

Thanks to everyone for support! Historical socioeconomic and racial prejudices still impact society. I'm from Flint, proud to be #TooUrban
10:47 PM - 28 Feb 2017

Sly Gemstone @SlyGems

Thanks to everyone who has reached out to us! Stereotyping and discrimination are real in our world. Never let anyone define you! #TooUrban
7:23 AM - 1 Mar 2017

Gillian 'Slick' E. @SlickEToffee

#TooUrban So are white British celebs gonna boycott @CirqueLeSoir or do they only stand up against American racism?
12:46 PM - 1 Mar 2017

The club is a favorite with US music stars including Rihanna, Lady Gaga and Kanye West, and actor Leonardo DiCaprio.

In response to criticism, a nightclub spokesperson said: "All of the team at Cirque le Soir are really upset by the suggestion that there was anything malicious in our turning away of Mark Ingram and his friends. We proudly celebrate diversity, not only as part of our shows, but as part of who we are.

"We would not dismiss anyone as 'too urban' and we would not turn anyone away on the basis of their ethnicity, sexuality or any other characteristic, other than those expressed in our door policy.

"Admitting an all-male group goes against our policy and is clearly stated on Facebook and all reservation confirmation emails."
At "Killer Culture" Peter Quiggins (Tierney) has put together this very caring and painstaking compilation of native Britons killed by migrant peoples, murders which have not received a fraction of the attention that the rare instance of a murder of a black, Steve Lawrence, by native Britons, has received. It is a quibble compared to this travesty that Quiggins addresses, but something to note nevertheless, that entitling the piece "Diversity Kills!" is a bit of mistake. Just like arguing "against equality" is bad tact, arguing against "diversity" is a trick that the YKW have set up deliberately because by default, under the powers that be, you are arguing for integration - the last thing that we'd want. Diversity should not be argued against at this point, the circumstances being what they are, with massive immigrant populations among, or in close proximity to ours not going away any time soon; in some cases, never - and all the more reason to take the cause of diversity for ourselves. However, his subtitle is quite fine stand alone: Britons murdered in Britain since the death of Stephen Lawrence: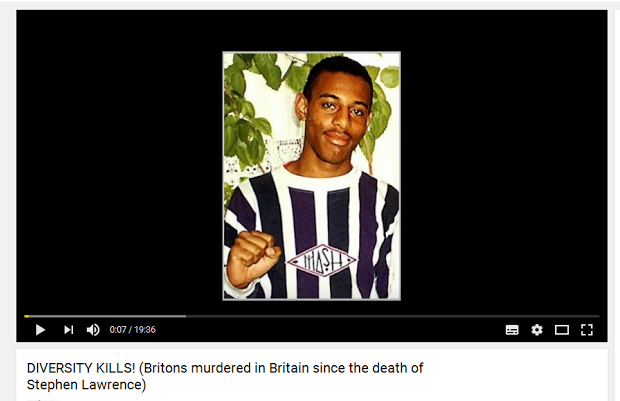 Stephen Lawrence has been mentioned over 2,000 times in Parliament.
MR carries great articles regarding the Stephen Lawrence case: A Nation Rejoices at last! - by Dan Dare; More Saint Stephenism on the way - by Guessedworker; The Crusade Against Discrimination in Britain - by Guessedworker; No Native Voices - by Guessedworker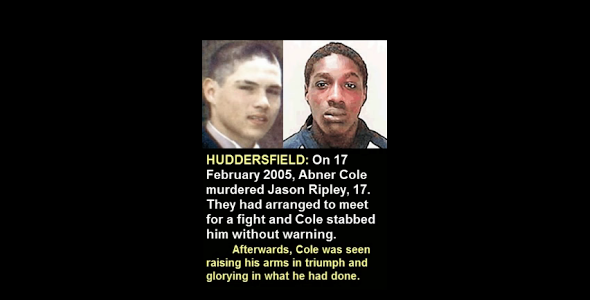 (Britons murdered in Britain since the death of Stephen Lawrence)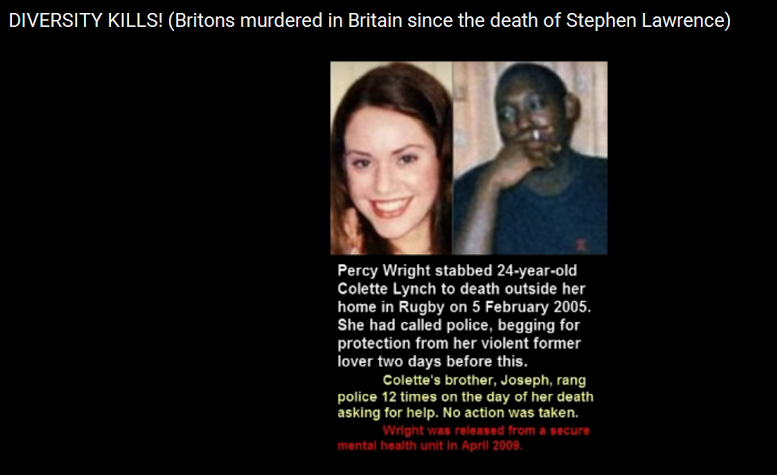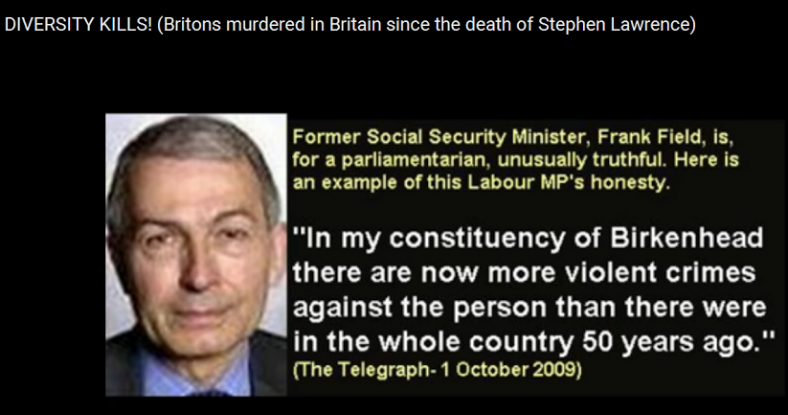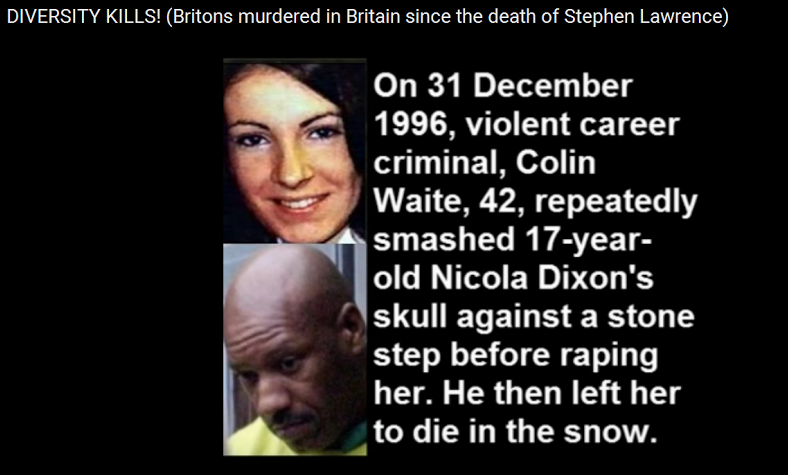 Backgrounding & Taken For Granted - Resistance is Futile. Add from Det Nya Landet - translation "Big Mulatto Brother"?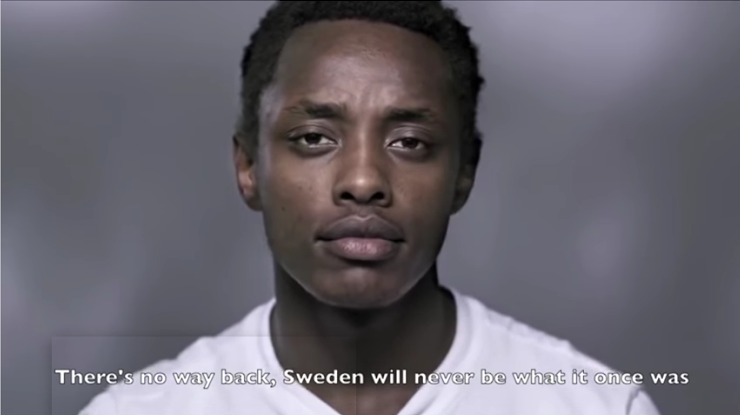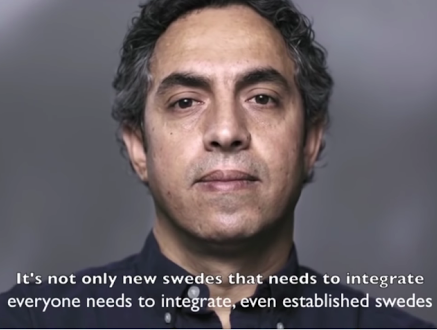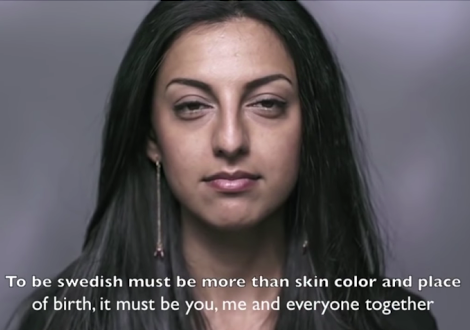 Below is another marketing campaign advert suggesting that "resistance is futile" - this one coming from the EU is a bit more subtle: It is an EU add run in Poland, and it is as if to suggest that blacks are to be taken for granted as a significant component of European history. However, in this instance, the "resistance is futile" message is not spoken, it is in the background - two blacks comfortably sit in the background of the same restaurant scene and a mulatto girl is fore-fronted; thus, backgrounding and taking for granted the interracial relationship of her parents.
The EU is backgrounding the racial integration of blacks, presenting to naive audiences (naive as to the bio-power of an invasive species) or audiences perhaps aware, but not in a position to voice objections (literally the case when these images are whisked-by semi-subliminally), that the place of blacks among them is something to be taken for granted. Resistance is futile, nobody will agree with your objection, it is taken for granted already.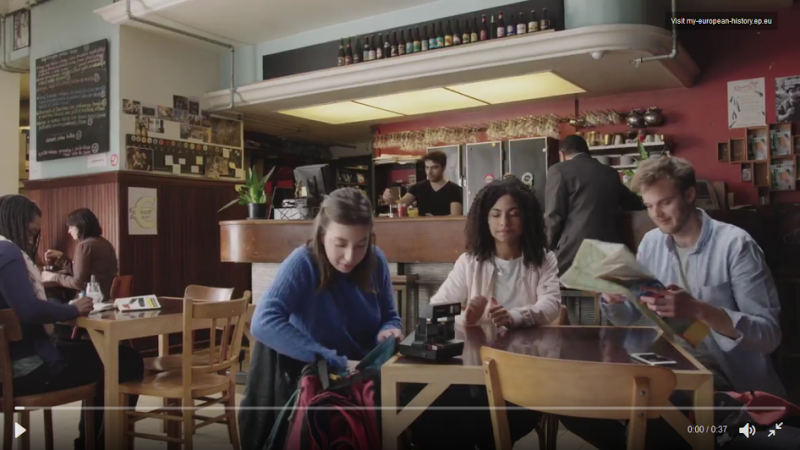 This is a screen shot from a quick add distributed by The European Union and shown in Poland to promote The EU's "My European History" program. Of seven people in the add, 3 are black. Of the blacks, a mulatto girl is centrally featured in the add, while the other two blacks are placed in the background, taking for granted their place in Europe and its history. The girl's mulattoness is also a form of backgrounding and taking for granted.
The add came by way of Twitter:
Parlament EuropejskiVerified account @Europarl_PL

My House of European History to kolekcja opowieści o Europie. Zgłoś swoją → https://my-european-history.ep.eu/?locale=pl ! RT i udostępnij!

#StoriesofEurope
TNO, "Mass Rapes: Islamic Weapon of Conquest and Domination", 18 Feb 2017:

By Yolanda Couceiro Morín. Since the sordid episode of the massive New Year's Eve rape of 2015 in Cologne and other German cities (more than a thousand complaints), cases of sexual assaults against European women by immigrants and "refugees", overwhelmingly Muslim, have multiplied throughout Europe, especially in Germany and the Nordic countries.

Seeing what happened at the last end of the year celebrations, rapes are becoming part of the European folklore of these dates: together with the nativity scenes, the Christmas markets and the Three Kings' cavalcades, we will now have Massive Rapes New Year´s Eve.

Traditions change from the usual gift of red underwear to the latest chastity belts. This is the march towards the progress of our battered Europe.

We witness a retreat from civilization, the decline of an entire society, a rupture of the anthropological foundations of our societies. Es el regreso a la caverna. It is the return to the cave.

This social collapse, this degradation of coexistence norms, is not only a change of culture, but the implantation of a savagery that we could call prehistoric.

We all have in mind the classic caricature of the relations between the sexes of those antediluvian times in the scene of a troglodyte, with a club on the shoulder, dragging by the hair to its pair.

This typical image of cartoons represents in a comic sense the terrible situation to which we are forced to march, with the importation of populations manifestly unfit for modern and civilized society.

From the peaks of the highest and most refined civilization that the Earth has carried on its surface, we have fallen into a state of semi-fearlessness.

We must be clear that these are not simple criminal acts, however reprehensible they may be.

Among the European population, of race and native culture, this type of aggression also occurs, although in quantitative terms much lower than this wave of savagery that has invaded us.

But it is the qualitative nature of these violations that should be the object of special attention.

In these cases we are not in front of habitual criminal acts, but in front of cultural facts.

Among us, abuses and sexual assaults against women are considered a social scourge, a highly reprehensible behavior, an improper indignity of decent people, an extreme violation of people´s freedom and dignity.

In the Islamic world, where women are considered inferior to men, abusive treatment and aggression of all kinds against women do not deserve the same reprobation and condemnation as among European, Christian and modern civilized nations: are accepted and justified facts. Therein lies the difference.

[...]

The scarce intellect of these individuals who, in fact, believe that we are all "human beings", and that culture is something that is put on and removed, as if it were a dress or shoes, is enough to justify these events as something inherent to the human race.

[...]
Baby Spitter Rezzas Abdulla

Regarding below - I'm taking bets/guesstimates on how long a prison sentence a white man would have got if he had spat in a non-white baby's face and shouted ''non-white people should not breed!''. So far legal advice had told me 'at least a year'. Such are the double standards under a multi-racial society. Multi-racial societies in any case are only the stepping stone to the extinction of one race, and the double standards against whites emphasize that for those too foolish to otherwise realise it, and also indicates just which race is being marked for extinction. - Jez Turner

Subject: Remove Judge Darren Preston for freeing Mr Abdulla after a racist attack on baby. Sign petition e mail on.

Rezzas Abdulla spat into a 9 month-old baby's face & shouted 'white people shouldn't breed' in a sickening race-hate assault in South Shields. Judge Darren Preston allowed Abdulla to walk free from court. We the undersigned demand Judge Preston be removed as a judge.

Click this link to sign the petition "Remove Judge Darren Preston for freeing Abdulla after a racist attack on baby"


https://petition.parliament.uk/signatures/34964001/verify?token=k0SZz3MY3sovWR8zq2R4

Petition:

Remove Judge Darren Preston for freeing Mr Abdulla after a racist attack on baby

Rezzas Abdulla spat into a 9 month-old baby's face & shouted 'white people shouldn't breed' in a sickening race-hate assault in South Shields. Judge Darren Preston allowed Abdulla to walk free from court. We the undersigned demand Judge Preston be removed as a judge.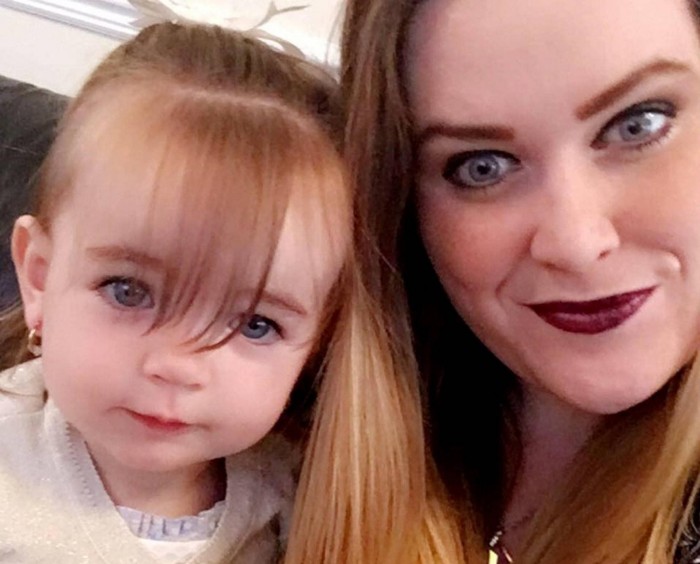 The court heard that Layla-Jeam, now almost two, was taken to the doctor after the attack for tests amid fears she could have contracted TB. Metro 21 Feb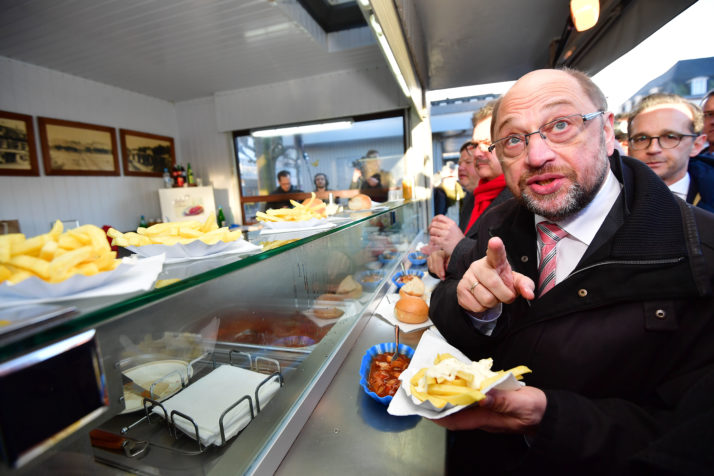 Wow, such a breadth of choice
The Germans are non-ironically having an election in which Angela Merkel and Martin Schulz are the two front runners.
The choice seems to be quite simple.
Either you vote for Angela Merkel's CDU and face the death by demographic replacement which will surely arrive by the year 2050 as things continue as they are, or alternately you vote for Martin Schulz's SPD and face the death by demographic replacement which will surely arrive by the year 2050 as things continue as they are.
There are some policy disagreements that they have on other issues and usually I would actually go to the length of highlighting them and describing them, but when it comes to the issue of Germany it frankly doesn't even matter anymore. After all, if Germany is going to seriously cease to exist as a nation then making projections about a nation which will not even be populated by the same people would be a pointless exercise from the perspective of ethno-nationalism. It is extremely sad.
In any case, let's see how the situation looks in the polls at present, for this thoroughly pointless election:
POLITICO, 'SPD in the lead according to German poll', 19 Feb 2017:

Germany's Christian Democrats (CDU/CSU) have slumped to second place in an opinion poll conducted by the Emnid institute, with the Social Democrats (SPD) in the top spot for the first time since 2006.

The SPD's climb comes after the party picked the former President of the European Parliament, Martin Schulz, as its candidate for chancellor.

Emnid's poll of 1,885 voters found that the SPD would get 33 percent of the German vote, while Chancellor Angela Merkel's CDU and its Bavarian sister party, the Christian Social Union, would get 32 percent.

Schulz's party has gained 12 points in the last four weeks, according to German newspaper Bild am Sonntag.

The SPD's surge in the polls will add more pressure on Merkel, as she seeks her fourth term as chancellor within an uneasy CDU/CSU alliance. Merkel has faced tough criticism from the sister party over the controversial decision to temporarily open Germany's borders to refugees in 2015.

This the latest in a series of polls that shows SPD's rapidly rising popularity among German voters. Emnid's poll chimes with separate findings by Politbarometer, a long-standing German election poll from German broadcaster ZDF, which showed Friday that only 38 percent of voters would like to see Merkel carry on her job as chancellor and that 49 percent preferred Schulz.

But Germany hasn't completely fallen out of love with Merkel. ZDF's poll also found that 71 percent of Germans think that the current chancellor is doing a good job, despite her party's drop in popularity.

German elections are scheduled for September.
Such vibrant campaigning
Meanwhile, the way that Martin Schulz is conducting his campaign has drawn criticism from Wolfgang Shaeuble, a very strange-looking criticism at first brush:
POLITICO, 'Wolfgang Schäuble: Martin Schulz is the German Donald Trump', 10 Feb 2017:

Martin Schulz, the German center-left's candidate to be chancellor, is behaving like U.S. President Donald Trump, according to German Finance Minister Wolfgang Schäuble.

"If Schulz calls upon his supporters to chant 'Make Europe great again' then that's almost literally [like] Trump," Schäuble told Der Spiegel in an interview published Friday.

He said Schulz, a former European Parliament president, was acting in a "populist way."

Schäuble said Schulz needed to "think a little [bit more]." He warned that in times when there is a surge in populist movements, politicians should be careful with their language.

The SPD's move to nominate Schulz as their candidate for chancellor in the September 24 federal election led to a surge in party membership applications. Opinion polls show that backing Schulz helped the party to its highest approval rating since 2013.
At first a person would think, "Hmm, something is very wrong here, in what important way does Martin Schulz resemble Donald Trump, aside from the use of a similar campaign slogan?"
Surely Schaeuble is just a ridiculous old man who is approaching senility, and he has begun to make even less sense than usual in his statement?
Nevertheless I decided to actually give Schaeuble's statement some thought. Could I manage to find some unintended 'sense' in Schaeuble's seemingly nonsensical statement?
After about twenty milliseconds of deep thought – which in neurological terms is basically 'instantly' – I arrived at the answer. First, take a look at this quote concerning Schulz:
Haaretz / Avraham Burg, 'Say a big 'thank you' to Martin Schulz', 14 Feb 2014:

[...] Martin Schulz, the president of the European Parliament, is a close friend of mine. On most issues connected to the Israeli-Palestinian conflict we disagree. He is closer to the Israeli mainstream, and his positions resemble those of Labor Party chairman Isaac Herzog. He once told me, during a frank and stern conversation, "For me, the new Germany exists only in order to ensure the existence of the State of Israel and the Jewish people." [...]
Secondly, take a look at this quote concerning Trump:
The Hill / Elliot Smilowitz, 'Trump: 'Stay strong Israel,' my inauguration is approaching', 28 Dec 2016:

President-elect Donald Trump on Wednesday morning ripped the Obama administration's treatment of Israel and pledged to end the "disdain and disrespect" for the country.

"We cannot continue to let Israel be treated with such total disdain and disrespect. They used to have a great friend in the U.S., but not anymore. The beginning of the end was the horrible Iran deal, and now this (U.N.)! Stay strong Israel, January 20th is fast approaching!" Trump wrote in a series of tweets. [...]
If you look at it from that angle, then Schaeuble accidentally spoke a kind of truth in the midst of his babbling, somehow.
There indeed is a resemblance between Schulz and Trump. From the perspective of Jewish Zionists in the global sense, the two individuals are almost completely identical.
Visigrad Post, "Central Europe Unites to Put an End to Illegal Immigration" 9 Feb 2017:

Austria, Vienna – Ministers from 15 countries gathered in Vienna on Wednesday, February 8, in order to find a common way to put an end to the illegal immigration in the Balkans and Central Europe.

Representatives from Austria, Hungary, Bulgaria, Czechia, Croatia, Poland, Romania, Slovakia, Slovenia, Albania, Bosnia, Montenegro, Macedonia, Serbia, Kosovo, and Greece, as well as officials of the Central European Defence Cooperation took part at the meeting.

Countries along the Balkan migration route agreed on Wednesday to seal the already hard borders and prevent a possible new surge of people trying to reach wealthy EU countries. Since the countries on the Balkans' route already secured their borders a year ago, the number of illegal immigrants has dramatically dwindled, but hundreds of migrants still try each month to take this route.

A plan to plug the remaining gaps on the route from Greece to Austria and Germany is to be drawn up by April, defence and interior ministers from affected countries decided at a conference in Vienna.

The agreement anticipates the potential collapse of the EU's deal with Turkey to keep migrants and refugees.