Majorityrights News > Category: European culture
Chapo Trap House on How Richard Spencer Plays the Liberal Media, 14 June 2017:

Matt Christman

Angela Nagle (7:53): They think (also) that women making the completely voluntary choice to have children with a non-White man is White genocide (laughs) you know, it's just so ridiculous, I mean…

Matt Christman (8:05): interjecting sarcastically: Ah, excuse me, but, "cultural Marxism" much? Frankfurt School?

Angela Nagle (8:10): Laughs uproariously

Matt Christman (8:14): "It's not of their own volition."

Angela Nagle (8:14): laughing

Matt Christman (8:15): Porn! Jewish produced porn has brainwashed them into thinking that big dicks are more pleasurable to have sex with.

Angela Nagle (8:22): Continues to laugh in approval of the sarcasm.

Matt Christman (8:24): They literally believe that by the way.
It has always been theoretically uncomfortable when White advocates White knight or try to counter "the misogyny" of White advocacy on behalf of White mudsharks by suggesting that they are sheerly brainwashed by cultural Marxsim.
I have tended to lay off these arguments as I believe there is truth to cultural coercion and veritable psy-ops of cultural Marxism and demoralization through Jewish porn; and it is a help to take a step away from completely deterministic, objectivist arguments; better still, as opposed to the White genders blaming one another, to look critically at Jews, who have been egregiously critical of us and divisive of White men and women. These angles are true enough to consider along with being helpful to take the pressure off of gender antipathy and to put the social realm and culture (by which I mean rule structured practices) into play.
However, the cultural Marxism angle has always been insufficiently explanatory when dealing with "voluntary" miscegenation and White genocide. The little discourse above provides occasion for correction.
Angela Nagle might believe that outbreeding is not killing European genotypes; here White advocates haven't done that bad in showing that it (coercion that suppresses breeding of a race) can meet with the UN definition of genocide.
Matt Christman might think that all White advocates believe miscegenation and outbreeding is only a result of brainwashing; and maybe some do. But his and Angela Nagle's mockery exposes a puerility and weakness of their own argument, which calls for exploitation through the added sophistication of the hermeneutic circle.
White females, as any females, do have base drives that can incite genetic competition, miscegenation, incline toward strong black men with big weenies (though even I, in my distaste and disrespect for blacks on the whole, would not reduce miscegenation to only these causes) an inclination that can be activated under certain circumstances - particularly by pandering to them in atavistic circumstances such as the disorder of modernity. However, for a self proclaimed leftist, Nagle is making a surprisingly reductionist, liberal, right wing argument in saying "it's completely voluntary." There are definitely cultural rule structures that are encouraging and promoting it; and even more significantly, there are heavy taboos against criticizing it; even literal laws against taking critical and opposing stances against it. These are cultural/political violation of even the most reasonable and natural extent for mature White men (and women) to protect their kind.
This would be a part of the pleasure pain matrix that Matt Christman invokes. As White men overcome their right wing reactionary position and adopt the reality of social construction and the hermeneutic circle, they will not have to accept the "way it is-ness" of Matt Christman's "White knighting" on behalf of mudsharks (likely overcompensating pandering for the fact that he is ugly - about as ugly as the typical black woman - and desperate to be in the good graces of Jews, if not part Jewish himself).
But as we step into hermeneutics, we move beyond the tropism of the high contrast porn episode of the gargantuan black weenie and the White woman. But first, porn does some corrective favor in the sense that it is compelled to show that we White men can be quite well hung - so, if that's what a woman feels she needs. Finally, porn does not tend to reveal the fact that blacks are not necessarily heavy hung; I don't need to belabor this point here, except for the fact that their Not having a big weenie does not suddenly make them OK to intermarry with by our estimation. And as a very fundamental point, we are not discriminating against White guys with big Weenies.
Our kind was averse to blacks as children, before sexuality was even an issue, let alone weenies. After that it was the presumtuousness, arrogance, hyper-assertiveness, aggression, brutal antagonism and violence against Whites. Things that the puerile might find titillating, perhaps puerile girls, but not us. Along the way, we noticed subtleties of our female co-evolutionaries which we found compelling; and the physicality of blacks generally displeasing by contrast, let alone their behavior and the fall-out of their way of life.
We did not expect that we would be blamed for everything and told we owe them everything, including those we might hope to be our wives and daughters. We never could have imagined that we would be expected to accept this in servitude. We thought others would naturally think as we do, and though some naive adults thought it was a good idea to integrate us with blacks, when we got old enough, that we would join the rest of normal Whites who want to get away from them and be with Whites.
That didn't happen in any articulate way. And we have to confront not only the fact of cultural Marxism, but that our enemies are playing the objectivist angle where it works against us - heavily now that they've hoodwinked the Alt Right and other large tracts of popular culture to argue against PC and "the left."
We have to confront the fact of thrownness, that our group co-evolutionaries can miscegenate, but by the same token, thrownness, we are thereupon able to invoke and collaborate on cultural rule structures; it is not something that we have to accept as just the way it is, merely a voluntary choice that owes nothing to the tens of thousands of years of evolutionary struggle that went into our differentiation; along with its hundreds and thousands of years of social capital.
Even if they argue that some black guy might provide a more pleasurable moment and episode than some White guy, might be more confident (and coherent of identity, in part as a Jewish backed thug coalition) in the Jewish provoked disorder of modernity, where the rule structure of our guard and classificatory boundary is down, we can easily counter that plenty of us White guys are going to provide not only quite fine moments, but as we rebuild our full class, a far more pleasurable and satisfying way of life than the blacks manage.
With that, rather than mocking and laughing at the servitude of black interests that has been imposed upon White men, we will be having the last laugh as we send miscegenators and their half cast broods to live with blacks and the way of life that they create. They will either accept that or the recognition that they are indeed the supremacists and slave masters who need to be overturned by any means necessary. Do you know Angela and Matt, a White guy might not want to be a slave, paying for the babies of the mudsharks who destroy the genome bestowed them through tens of thousand of years of struggle, might just find a White woman's face and skin color more appealing, a European's way of life more pleasurable.
Angela Nagle claims to be open to talking to people who are dealing in topics forbidden by PC. We have offered to talk to her and that remains a standing invitation.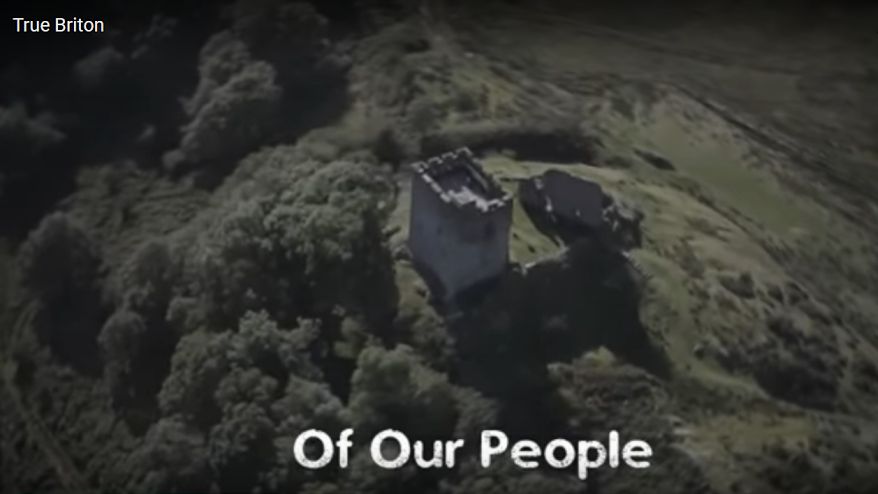 True Briton by Oswald Mosley
Oswald Mosley's Union Movement

Oswald Mosley died in 1980 but his ideas live on. 'Ten Points For Action' was published forty years ago but they are still relevant. Compare these visionary policies to the paranoid fantasies of the far-right.

1) Action to Build Houses. We want Action to solve the housing problem. It should be taken out of the hands of local authorities and entrusted to Government leadership with powers to mass produce houses and flats like an 'operation of war', turning out homes as munitions were mass-produced in time of war.

2) Stop the Land and Rent Rackets. Give the Government the power to acquire land at pre-boom prices and to finance housing by low-interest loans, paid for by high-interest charges on all non-essential and luxury building. Such action would bring down house prices and rents and at last provide good but cheap housing for all.

3) Stop Immigration - Start Repatriation. We want Action to ease the pressure on housing and other social problems (like the reintroduction of diseases unknown in Britain for hundreds of years) by stopping all further immigration and by repatriating all post-war immigrants to good jobs and conditions in their homelands, to which prosperity had been restored by using the surplus wealth and production of united Europe. But Britain could make a start now before the complete union of Europe is achieved.

4) Choice in Education and Health. We want Action to build good schools, colleges, universities and hospitals, just as we would mass-produce houses and flats. Parents should have a choice of schools for their children. We should not be taxed to provide those health services we will never use (maternity benefits for confirmed bachelors!) but free to pay in proportion to our requirements.

5) Free Speech - Law and Order. We want Action to ensure freedom of speech for everyone, guaranteed by the Government, which has a duty to maintain law and order in the State and to take effective action against mob violence, which today denies freedom of expression to any views of which its agitators disapprove. Let us maintain local police forces with their local knowledge and experience, but let us supplement them with a highly-trained, well-equipped, mobile national police force, to put down organised crime and to maintain public order.

We would ensure freedom of the Press for both newspapers and the public. Any man who felt himself misrepresented in the Press should be guaranteed (by law) equal space to reply in the newspaper concerned. This would free the public from the expense of seeking justice through costly libel action and free the newspapers from the legal blackmail of a threatened libel action by some unscrupulous racketeer.

6) Capital Punishment. The death penalty should be restored to the statute book, to be used sparingly in the case of premeditated murder. The Court of Appeal should have a solemn duty to reprieve if in any doubt. The sentence could be carried out not by hanging, but by a quick and painless injection or by some other humane method.

7) Action in Europe. To put these policies into practice Britain must advance beyond the concept of a so-called united Europe and Common Market to which the Conservative Party has at last been converted and which the Labour Party still opposes. We must advance quickly to "Europe a Nation", which we have advocated since 1948. We stand for a union of all Europe, our former white Dominions and southern Africa, a great "third force" independent of both America and Russia.

This "third force" must have a central government for its defence, the economy, finance and scientific development, with power to raise wages and control prices as production increases for a guaranteed market, insulated against unfair competition from the rest of the world.

We need a European army, equipped with the most modern weapons to defend our continent against attack from any quarter. This should be financed on a European budget, instead of each small country straining its economy to finance its own defence.

8) National and Regional Governments. There should be independent national and regional governments for each European country and the main regions. This would enable England, Wales, Scotland, Ireland and other European countries and regions to have their own parliaments for internal affairs and for the preservation of their national and regional cultures.

9) The Irish Problem. The ultimate solution to the Irish problem is the union of that country within a united Europe. But the bloodshed must first be brought to an end by a free vote on a county basis in each of the Six Counties and a subsequent readjustment of the border. The bulk of the Catholic population in the North would then be ruled (as is their wish) from Dublin, with a lessening of present tensions, the IRA would lose its bases in the North and the British Army would have a much shorter border to patrol against infiltration from the South. In this improved situation agreement could more easily be reached on the eventual union of Ireland, with the rights of the Protestant minority protected and guaranteed by European government.

10) Government of National Union. We stand for a government of national union and effective action, drawn from the whole nation, from the professions and the trade unions, arts and science, the law and the armed forces. Government elected by the whole people alone should govern. It should have power to lead the economy, raising wages and controlling prices as science increased production. Then we will have cooperation instead of conflict in industry.

We want Action to halt the "brain drain" and to arouse a new spirit of national service in our British people, by relating all reward directly to skill, effort, initiative and responsibility. There should be "great reward for great service", crowned by higher pensions drawn from the wealth of the new economic system, as the reward in old age for those who had loyally served the nation throughout their lives.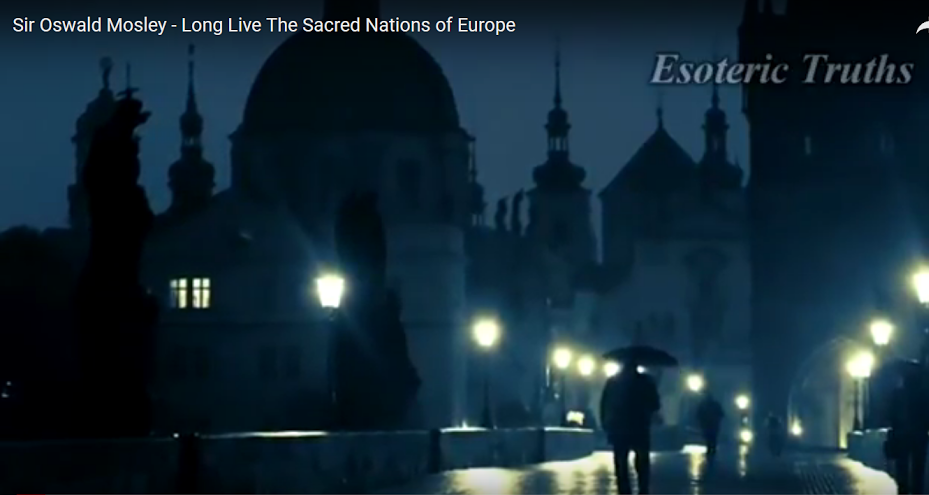 Long Live The Sacred Nations of Europe by Oswald Mosley
In this picture taken on July 17, 2015 and made available on Tuesday, Aug. 18, 2015, Venice mayor Luigi Brugnaro delivers his speech during a ceremony in St. Mark's Square, in Venice. (AP Photo/Luigi Costantini).

Washignton Times, "Venice Mayor Luigi Brugnaro says people who shout 'Allahu akbar' in St. Mark's Square will be shot", 24 Aug 2017:

The mayor of Venice, Italy, turned heads during a conference Tuesday after he reportedly threatened that anyone who yells "Allahu akbar," or "God is the greatest" in Arabic, in the city's main square will be shot on sight.

Luigi Brugnaro, an Independent, made the threat while speaking in Rimini about the recent attack in Barcelona, Spain, where 13 people were killed and 130 injured when terrorists drove a van down the popular tourist street, La Rambla, The Times reported.

"In contrast with Barcelona, where they had not set up protection, we keep our guard up," Mr. Brugnaro was quoted as saying. "If anyone runs into St. Mark's Square shouting 'Allahu akbar,' we will take him down. A year ago I said after four steps, now after three. I will say it in Venetian: 'Ghe Sparemo' [We will shoot him]."

"In Venice, we arrested four terrorists who wanted to blow up the Rialto Bridge, saying they wanted to go to Allah. But we'll send them straight to Allah before they can do any damage," he added, Business Insider UK reported.

Business Insider UK rightly points out that the phrase, "Allahu akbar," is repeated four times at the start of the Muslim call to worship, which is recognized five times a day. Given that Italy has the fourth-largest Muslim population in Europe, Mr. Brugnaro's threat might prove difficult to carry out.
European Outlook, "Propaganda", 31 July 2017:
By Bill Bailie #44 August 2017
Propaganda
Technology has revolutionised communications. Martin Luther nailed his thesis to the door of All Saints' Church in Wittenberg and changed the world. Benito Mussolini led the March on Rome to sieze power. And, in the sixties, we relied on street corner meetings and literature. Today, such primitive methods have been overtaken by the Internet.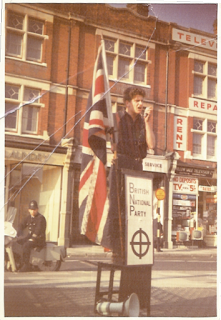 A young Bill Baillie campaigning for John Bean's British National Party in the 1964 general election.
We were not an insular nationalist party, we believed in European solidarity and social justice. I went overseas in 1965 and when I came home in 1970 we had been taken over by the National Front and our progressive policies had been dumped. I therefore joined Union Movement and embraced Oswald Mosley's vision of 'Europe a Nation'.
Social media is the modern way of communicating and video platforms such as Youtube are very effective. Donald Trump used Twitter and Facebook extensively in his presidential campaign and so did Emmanuel Macron in France.
Newspapers and magazines are expensive to produce and distribute but websites are affordable. We can reach more people on the Internet than we did in the old days by putting leaflets through letterboxes or selling newspapers on street corners. Competing with the mass media is obviously an unequal challenge but having discovered the truth it's our duty to encourage people to think for themselves and reject media brainwashing.
Newspapers, radio and television dominate public opinion but we can fight back by using the Internet. The State uses anti-terrorist legislation to silence its enemies but we can stay within the law by avoiding insulting or threatening language.
Ten years ago immigration was a taboo subject and only the lunatic-left talked about a "crisis of capitalism." Today, these ideas have gone mainstream and you don't have to be a political party in order to have an opinion. So, carry on blogging and posting on Facebook and Twitter. Let our voices be heard.
A Garden Green by William Harris,
first published in 'Lodestar' Winter 1986
Each year brings thousands of American tourists to Britain, and it is clear that many of them are seeking something the do not posses in their own continent. This, I suggest, is a past: their own past forged by their own ancestors, and not the pre-Colombian past of the Indian, which is the only true ancient thing they have. They must travel all these hundreds of miles in order to find their roots, be they of Celtic, Anglo-Saxon or Norman descent.
As so much nonsense is talked about Britain's 'mixture of races', it is worth quoting the words of Brian Branson in 'The Lost Gods of England'. In his chapter 'Who were the English?' he mentions these ethnic groups, adding "But none of these inter-breedings was what might be called in genetic terms 'a violent out-cross' such as would have been the case if Britain had been successfully invaded by an armada of Chinese, or Red Indians or African Bushmen. Apart from any alteration in physical appearance that would have befallen the new Island Race under such circumstances, one has only to suppose a pagoda in Canterbury, a totem pole in Trafalgar Square, and rock paintings in the Cheddar Gorge to imagine the cultural changes that would have ensued." He concludes that "the mongrelism of the English turns out to be more apparent than real." That was first published in 1957, before the minarets of the mosque loomed over the trees in Regent's Park.
Names are among the most ancient and lasting monuments in a culture, particularly those given to natural features in the landscape. In Britain they are usually Celtic, the Celts being the earliest of the above ethnic groups. The prefix 'Pen' for 'head' or 'headland' and the many instances of the name 'Avon', which means simply 'river' are two of the most obvious.
The names of our pubs are often far older than the buildings they adorn, and they tell us much. 'The George', and 'The Green Man', for instance, take us back to the traditional Mummers' Play of St George and the Turkish knight, and to a character in the Morris Dance, 'Jack in the Green'. The mummers would usually herald their appearance by announcing "Here come I". . . and in all these traditions, including that of traditional dance and song which is inseparable from it, there are a number of folk-heroes who emerge: St George, Robin Hood and Maid Marion, King Arthur, Hereward the Wake, Dick Whittington, Dick Turpin, Nelson and Lord Collingwood. The villains (all of whom are often cut down by St George in the course of the mummers' play) include: Prince Valentine, Captain Rover, Turkey Snipe, Little John, Bonaparte and Sambo. The last prompts me to remark that the blackening of faces (so upsetting to the susceptibilities of the liberal left of today), is probably far older than the 'Black and White Minstrels', or the minstrels who used to perform on seaside piers. There are accounts of wassailers or masqueraders blackening their faces, and the 'Giant of Salisbury' (a huge effigy , which used to be carried in all important processions in the city, which is now in the Salisbury and South Wiltshire museum) was found to have had his face blackened at some stage in the past, before he was 'cleaned up'. 'Morris', of course, is thought to derive from 'Moorish' so, like the Mummers' Play, it may date from the time of the Crusades.
After St George in the play has felled the Turkish knight, a doctor is called for, to 'cure' him. He is often played by a small boy dressed in a top hat and frock coat far too big for him and (in the version from Camborne, Cornwall) he says:
"I can cure the itch, the specs and the gout -
If there's nine devils, I can kick ten out."
He always cures the wounded knight so that the audience can then enjoy another bout of fighting but, in fact, his origins go back to the idea of death and resurrection which is the basis of most of the world's religions.
New Observer, "Orban: Hungary is a "Refuge for Europeans," and Uses Tax Money to Boost Birthrate", 24 July 2017:

Hungarian Prime Minister Viktor Orbán has announced that his nation will "remain a place where Western European Christians will always be able to find security"—and that his government is using taxes on multinational companies to fund social policies to spur families to have more children.

Speaking at a cultural festival in Baile Tusnad, Romania, Orbán also said that the European Union, together with Open Society founder—and Hungarian Jew—George Soros was seeking a "new, mixed, Muslimized Europe."

He went on to say that Hungary's border fences, supported by other Central European countries, "will block the EU-Soros effort to increase Muslim migration into Europe."

While Hungary opposed taking in migrants "who could change the country's cultural identity," Orban said under his leadership, Hungary would remain a place where "Western European Christians will always be able to find security."

He also said that Hungary's opposition parties were no match for his government, and that he would win the next election in April 2018.

"In the upcoming campaign, first of all we have to confront external powers," Orban said.

"We have to stand our ground against the Soros mafia network and the Brussels bureaucrats. And, during the next nine months, we will have to fight against the media they operate."

Recent legislation in Hungary seeks to close or expel the Budapest-based Central European University, founded by Soros in 1991. There are also new rules about non-governmental organizations funded at least partly from abroad.

Orban reiterated his charge that Soros-funded NGOs want to weaken Hungary's security with their advocacy for asylum-seekers and said Hungary had managed to stop the "migrant invasion" with razor-wire fences on its borders with Serbia and Croatia.

In the speech, broadcast by Hungarian state media, Orban repeated his claim that the EU leadership was encroaching on member states' rights and trying to apply policies, such as increased immigration, which he said were opposed by most Europeans.

Orban said Poland, which is under pressure from the EU because of attempts to put its Supreme Court under political control, had replaced Hungary as the target of the EU's "chief inquisitor," whom he identified as European Commission Vice-President Frans Timmermans.

"The main target of the inquisition, the example of national governance to be weakened, destroyed and broken is Poland," Orban said, vowing to defend the Polish government. "Hungary will use every legal possibility in the European Union to be in solidarity with the Poles."

Finally, Orban said Hungary's low birth rate made the country an "endangered species," and that the government was using taxes on multinational companies to fund social policies that would spur families to have more children.
However much of a taboo one is breaking by saying it, there is no cultural identity in a population without a stable ethnic composition

Visigrad Post, "Full speech of V. Orbán : Will Europe belong to Europeans?" 24 July 2017:

Viktor Orbán's speech at the 28th Bálványos Summer Open University and Student Camp, 22 July 2017, Tusnádfürdő (Băile Tuşnad, Romania)

Hungarian Prime Minister Viktor Orbán: "First of all, I'd like to remind everyone that we started a process of collective thinking 27 years ago in Bálványosfürdő, a few kilometres from here. That is where we came to a realisation. Just think back: at that time, at the beginning of the nineties, most people – not only in Hungary, but also across the whole of Central Europe – thought that full assimilation into the Western world was just opening up to us again. The obvious approach was adjustment to that world: to in a way shed our skin and grow a new, fashionable Western skin. From this it followed that in our politics we would simply need to copy what they were doing in the West. Back then – 27 years, 28 years ago – we came together here, and we thought that we freedom fighters living on this side of the Iron Curtain could also have something valuable to say to a Europe which had by then been living in peace, freedom and prosperity for forty years. Back then we weren't surrounded by television cameras, and our words commanded no attention whatsoever.

Now, however, they do. And if I were to name the most important event, the most important Hungarian and European event of the past year – the twelve months since our last meeting – I would say that it is the strengthening of the Visegrád Four. Although there was a presidential election in the United States, and not so long ago the French presidential and parliamentary elections swept away the entire French party system – which are both important things – I'm convinced that the most important development of the past year has been the Visegrád Four cooperation becoming closer than ever before. We can say that Warsaw, Prague, Bratislava and Budapest are speaking with one voice. This is a great achievement, as these are countries which are very different in their characters. Here we have the enthusiastic Poles, the ever-cautious Czechs, the sober Slovaks and the romantic Hungarians; and yet we are able to speak the same language. We can be truly proud of this.

It is customary for the Open University presentations to seek to give an account of the extent of change over the past year, also in a broader civilisational context. Certainly not everyone remembers that in 2009, after his election, President Obama made his first important speech abroad in the city of Cairo. This year the newly-elected US president delivered his first important speech abroad in the city of Warsaw. To illustrate the extent of the changes, it's enough to quote a few sentences from the speech made by the American president in Warsaw. I'll quote from it now:

"We have to remember […] that the defence of the West ultimately rests not only on means, but also on the will of its people to prevail and be successful and get what you have to have. […] Our own fight for the West does not begin on the battlefield. It begins with our minds, our wills and our souls. […] Our freedom, our civilization and our survival depend on these bonds of history, culture, and memory."

He then went on to say: "So together let us all fight like the Poles: for family, for freedom, for country and for God."

Ladies and Gentlemen,

These words would have been inconceivable anywhere in the Western world two years ago. This is the extent of the change that is taking place around us. This, perhaps, is the point at which I should greet Piotr Naimski and the Polish delegation led by him. He is the President of the Hungarian-Polish Parliamentary Group in Warsaw. Welcome, Dear Polish Friends.
Tara can be an epoch figure for White sovereignty, will be in all likelihood; but she needs to be wary of furthering enemy interests, their tandem YKW/right-wing coalition, by coddling their plants (((e.g., Lauren Southern))) and inadvertently advancing their agenda through the Alt-Lite/ the Alt-Right - the (((co-option)))/reaction paradigm they seek to control.