Majorityrights News > Category: Anthropology
10NewsDK, "48 stains of semen found after refugee gang rape mother of two", 31 Dec 2016:

The Swedish mother of two was gang-raped to the sound of laughter and joyful shouts by at least nine refugees at a refugee camp in Småland Mariannelund, Sweden. The woman was almost apathetic after the rape and still feels that she has something stuffed in the genital area. Today, the prosecutor presented the evidence, consisting of semen probes, against nine men, of whom several defends their actions against the woman.


Photo of Rafi Bahaduri, translator for the Swedish state and one of the accused gang rapists.

'She is a whore,' says the Swedish Migration Board interpreter Bahaduri Rafi, 25, who is one of the defendants. …

Prosecutor Gunnar Brodin disclosed that forensic scientists found 48 semen stains in the refugee apartment where the gang rape took place. Inside the victim's rectum and farther up the digestive system was recovered sperm from at least four people. In total, nine men are connected to the rape.

Besides the sadistic gang rape, which was committed by Afghan refugees, the mother of two was close to death because her airways was clogged during the rape, stated courtroom clerk Charlotte Bokelund during the trial. …

The mother of two, who have chosen to follow the trial, repeatedly felt so bad that she had to leave the courtroom to vomit.

48 semen deposits and at least 4 in her rectum were found. She was near death after incident.
Richard Spencer destroys a Rabbi asking a "Inclusion" question, Jew refuses to support Diversity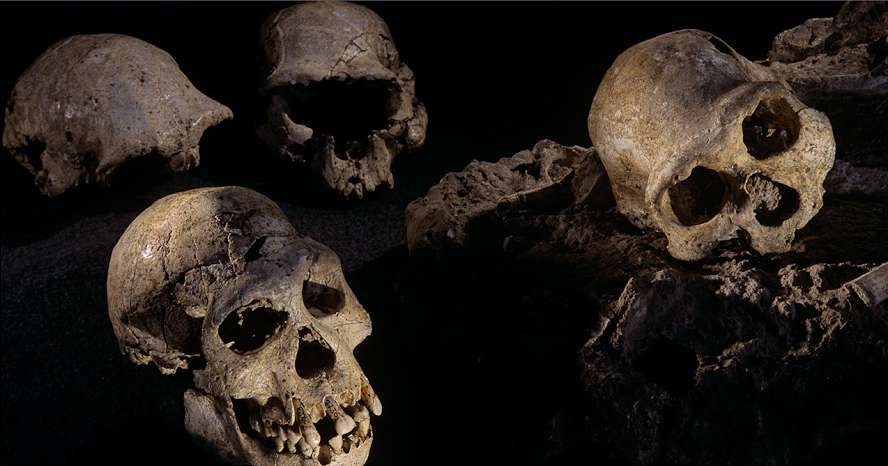 Science Mag, "Meet the frail, small-brained people who first trekked out of Africa, 22 Nov 2016:

On a promontory high above the sweeping grasslands of the Georgian steppe, a medieval church marks the spot where humans have come and gone along Silk Road trade routes for thousands of years. But 1.77 million years ago, this place was a crossroads for a different set of migrants. Among them were saber-toothed cats, Etruscan wolves, hyenas the size of lions—and early members of the human family.

Here, primitive hominins poked their tiny heads into animal dens to scavenge abandoned kills, fileting meat from the bones of mammoths and wolves with crude stone tools and eating it raw. They stalked deer as the animals drank from an ancient lake and gathered hackberries and nuts from chestnut and walnut trees lining nearby rivers. Sometimes the hominins themselves became the prey, as gnaw marks from big cats or hyenas on their fossilized limb bones now testify.

"Someone rang the dinner bell in gully one," says geologist Reid Ferring of the University of North Texas in Denton, part of an international team analyzing the site. "Humans and carnivores were eating each other."

What was it that allowed them to move out of Africa without fire, without very large brains? How did they survive?
Donald Johanson, Arizona State University

This is the famous site of Dmanisi, Georgia, which offers an unparalleled glimpse into a harsh early chapter in human evolution, when primitive members of our genus Homo struggled to survive in a new land far north of their ancestors' African home, braving winters without clothes or fire and competing with fierce carnivores for meat. The 4-hectare site has yielded closely packed, beautifully preserved fossils that are the oldest hominins known outside of Africa, including five skulls, about 50 skeletal bones, and an as-yet-unpublished pelvis unearthed 2 years ago. "There's no other place like it," says archaeologist Nick Toth of Indiana University in Bloomington. "It's just this mother lode for one moment in time."

Until the discovery of the first jawbone at Dmanisi 25 years ago, researchers thought that the first hominins to leave Africa were classic H. erectus (also known as H. ergaster in Africa). These tall, relatively large-brained ancestors of modern humans arose about 1.9 million years ago and soon afterward invented a sophisticated new tool, the hand ax. They were thought to be the first people to migrate out of Africa, making it all the way to Java, at the far end of Asia, as early as 1.6 million years ago. But as the bones and tools from Dmanisi accumulate, a different picture of the earliest migrants is emerging.

By now, the fossils have made it clear that these pioneers were startlingly primitive, with small bodies about 1.5 meters tall, simple tools, and brains one-third to one-half the size of modern humans'. Some paleontologists believe they provide a better glimpse of the early, primitive forms of H. erectus than fragmentary African fossils. "I think for the first time, by virtue of the Dmanisi hominins, we have a solid hypothesis for the origin of H. erectus," says Rick Potts, a paleoanthropologist at the Smithsonian Institution's National Museum of Natural History in Washington, D.C.

This fall, paleontologists converged in Georgia for "Dmanisi and beyond," a conference held in Tbilisi and at the site itself from 20–24 September. There researchers celebrated 25 years of discoveries, inspected a half-dozen pits riddled with unexcavated fossils, and debated a geographic puzzle: How did these primitive hominins—or their ancestors—manage to trek at least 6000 kilometers from sub-Saharan Africa to the Caucasus Mountains? "What was it that allowed them to move out of Africa without fire, without very large brains? How did they survive?" asks paleoanthropologist Donald Johanson of Arizona State University in Tempe.

They did not have it easy. To look at the teeth and jaws of the hominins at Dmanisi is to see a mouthful of pain, says Ann Margvelashvili, a postdoc in the lab of paleoanthropologist Marcia Ponce de León at the University of Zurich in Switzerland and the Georgian National Museum in Tbilisi. Margvelashvili found that compared with modern hunter-gatherers from Greenland and Australia, a teenager at Dmanisi had dental problems at a much younger age—a sign of generally poor health. The teen had cavities, dental crowding, and hypoplasia, a line indicating that enamel growth was halted at some point in childhood, probably because of malnutrition or disease. Another individual suffered from a serious dental infection that damaged the jawbone and could have been the cause of death. Chipping and wear in several others suggested that they used their teeth as tools and to crack bones for marrow. And all the hominins' teeth were coated with plaque, the product of bacteria thriving in their mouths because of inflammation of the gums or the pH of their food or water. The dental mayhem put every one of them on "a road to toothlessness," Ponce de León says

[...]

Regardless of the Dmanisi people's precise identity, researchers studying them agree that the wealth of fossils and artifacts coming from the site offer rare evidence for a critical moment in the human saga. They show that it didn't take a technological revolution or a particularly big brain to cross continents. And they suggest an origin story for first migrants all across Asia: Perhaps some members of the group of primitive H. erectus that gave rise to the Dmanisi people also pushed farther east, where their offspring evolved into later, bigger-brained H. erectus on Java (at the same time as H. erectus in Africa was independently evolving bigger brains and bodies). "For me, Dmanisi could be the ancestor for H. erectus in Java," says paleoanthropologist Yousuke Kaifu of the National Museum of Nature and Science in Tokyo.

In spite of the remaining mysteries about the ancient people who died on this windy promontory, they have already taught researchers lessons that extend far beyond Georgia. And for that, Lordkipanidze is grateful. At the end of a barbecue in the camp house here, he raised a glass of wine and offered a toast: "I want to thank the people who died here," he said.
Brandon Victor Dixon: At the end of the show on Friday, he told Mr. Pence, "We truly hope that this show has inspired you to uphold our American values and to work on behalf all of us."


Hamilton's black Rule (image and issue courtesy John Derbyshire).

Having emerged through that casting call, "Hamilton" cast member Brandon Victor Dixon (a black playing White Vice President Hamilton) lectured Vice President-elect Pence on diversity and racism -
NYT, "Brandon Victor Dixon: At the end of the show on Friday, he told Mr. Pence, "We truly hope that this show has inspired you to uphold our American values and to work on behalf all of us." 19 Nov 2016:

As the play ended, the actor who played Vice President Aaron Burr, Brandon Victor Dixon, acknowledged that Mr. Pence was in the audience, thanked him for attending and added, "We hope you will hear us out."

"We, sir — we — are the diverse America who are alarmed and anxious that your new administration will not protect us, our planet, our children, our parents, or defend us and uphold our inalienable rights," he said. "We truly hope that this show has inspired you to uphold our American values and to work on behalf of all of us."
TNO, "Major New Find at Stonehenge", 24 Nov 2016:

A major new archaeological find of causewayed enclosures and artifacts near Britain's famous Stonehenge site is about to "rewrite" the history of the area and of northwestern Europe's early inhabited history.

Built 5,650 years ago—more than 1,000 years before Stonehenge—one of the enclosures appears to have been a major ceremonial gathering place.

The major enclosure's precise original function remains a mystery, but the scant available evidence suggests that it was used for a mixture of ceremonial, religious, political, and mortuary roles.

According to a press release issued by a construction consultancy company involved with an unrelated new building project at the site, archaeologists have "discovered important new sites that rewrite the Stonehenge landscape" and which "predate the construction of Stonehenge itself."

The remains, found at Larkhill and Bulford, were unearthed during excavations ahead of the construction of new British Army family accommodation.

About 70 enclosures of the type found are known across England and Europe, the press release continued.

The structure is one of the "earliest built structures in the British landscape," and was used "for temporary settlement, as ceremonial gathering places, to manage and exchange animals, including the first domesticated cattle and sheep and for ritual activity."

The Larkhill enclosure has produced freshly broken pottery, dumps of worked flint and even a large stone saddle quern used to turn grain into flour. The Neolithic period saw the first use of domesticated crops and this find provides evidence of this.

The Greater Cursus, an earthwork nearly 1.8 miles in length, is the longest structure. It connects and divides parts of the landscape, and separates the Larkhill causewayed enclosure from the place that became Stonehenge.

"The people who built the causewayed enclosure are the ancestors of the builders of Stonehenge and were shaping the landscape into which the stone circle was placed," the press release continued.

"Their work shows that this was a special landscape even before Stonehenge was constructed. People were already living and working within what we now call the Stonehenge landscape and they were building the structures that would culminate in the Stonehenge complex of stones and earthworks.

"The Larkhill site shows that they had the social organization necessary to come together to build significant earthworks and the resources to support the work, as well as the people to carry it out. The offerings in the ditches also show the rich religious life they had created."

So far, archaeologists from Wiltshire-based Wessex Archaeology have excavated around 100 m. of ditch, probably representing around 17 percent of the monument's outer circuit. That investigation has already enabled them to get a sense of some of the rituals that were carried out there.


Antlers and a quern recovered at the site.


Pottery shards and arrowheads recovered at the site.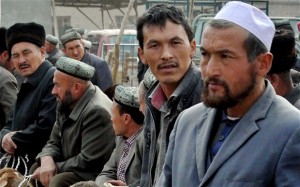 Social rule structures, notably citizenship, are an excellent place to focus when setting-about to re-constitute nationalism.
...simply (in theory, anyway) begin by designation those to be left out, those who should not be a part of your nation; as the Chinese have in the case of Muslims -
FT, "China orders Xinjiang residents to hand in passports", 24 Nov 2016:

Citizens of restive region of 11m Muslim Uighurs must apply to get papers back.

China has ordered all residents in its western frontier region of Xinjiang to hand in their passports, the latest in a series of draconian moves in the restive province home to an 11m Muslim minority.

Citizens of Xinjiang, an oil-rich but ethnically divided region more than six times the size of the UK, must hand their documents to police and apply to get them back if they want to travel, state-controlled newspaper Global Times reported on Thursday. The purpose was to "maintain social order", the paper said.
Figures compiled over 30 years:
Young black males, 4% of the population, commit half of all murders in America.
Don't heed the trivializing girl argument that the problem with blacks is that they do not work. While that is true, to merely put your nose to the grindstone and work to prove yourself responsible, unlike them, and make a state function that permits of these circumstances is the epitome of naivete (of being a cuck).
We don't have a black laziness problem, we have a Jewish, objectivist and black hyper-assertiveness problem, which imposes blacks, their cuckolding and violence upon us.
Example among the affliction -
DM, "Mother calls police on her son after he admits killing his pretty girlfriend and dumping her body in a lake", 6 Aug 2013

Khambrel Hadley and Alyssa Oakes had only moved in together in May

They often fought, police even responded to one of the arguments and classified a domestic incident

Hadley was caught when he was reported as having stolen a neighbor's car


A Florida mother made the toughest decision a parent can make Friday when she turned her son into police for murdering his girlfriend.

Shortly after Khambrel Hadley, 21, confessed to murdering girlfriend, Alyssa Oakes, 19, and told her where he dumped the body, his mother called 911 to report the crime. The alleged murderer was arrested later that afternoon, according to reports.

The doomed couple had moved into a Delano, FL., apartment just two months ago.


Accused murderer: Khambrel Hadley (right) allegedly confessed to murdering girlfriend Alyssa Oakes (left) and dumping her body in a wooded area near a lake.

Hadley's getaway was foiled when a neighbor called 911 to report his car stolen, according to WFTV, it didn't take long for cops to finger Hadley as the thief.

Oddly enough, Hadley had been hanging out with a man who's car he stole just the night before.

'He was pulling out of the apartment complex when I saw him take off,' the man told the station.

Police responded to Hadley's mother's 911 call by visiting the apartment he and Oakes shared, instead of finding the young woman, they found evidence of a struggle and what WESH called a 'brutal' murder.
TNO, "White British: Minority within 50 Years" 2 Nov 2016:

Mass nonwhite immigration, explosive immigrant birth rates, and declining white reproduction will have ethnically cleansed white people in Britain into minority status within the next 50 years, new statistics have confirmed.

A new report has revealed that white populations in towns and cities are dwindling at record levels and in many cases have halved over the past ten years alone.


A street scene in London, near the iconic "Gherkin" building in the background.

The report, issued by a UK government adviser on "community cohesion," Prof. Ted Cantle, and Eric Kaufmann, Prof. of Politics at Birkbeck College, said that many towns and cities, such as Birmingham, Leicester, Slough, Luton, Bradford, and London, have seen areas develop where the white British population is "increasingly dwindling" as minorities increase.

Professor Cantle cited the Yorkshire town of Blackburn as one of the most segregated towns in Britain, whose Whalley Range area is now 95 percent Asian.

According to the report, the white population of England has dropped to 79 percent of the total, down from 86 percent just ten years ago.

The city of Slough has seen its white population drop from 58.3 percent to 34.5 percent;

Birmingham from 65.6 percent to 53.1 percent;

Bradford from 76.0 percent to 63.9 percent;

Leicester from 60.5 percent to 45.1 percent;

Luton from 64.9 percent to 44.6 percent;

Blackburn With Darwen from 76.0 percent to 66.5 percent;

Coventry from 78.3 percent to 66.6 percent;

Brent from 29.4 percent to 18.0 percent;

Tower Hamlets from 43.1 percent to 31.2 percent;

Newham from 33.6 percent to 16.7 percent;

Hounslow from 55.7 percent to 37.9 percent; and

Redbridge from 57.2 percent to 34.5 percent—all in once decade, from 2001 to 2011.


All these figures are, the report fails to point out, already more than five years old, so the situation in 2016 is likely to be as much of a gap again, compared to 2011.