Majorityrights News > Category: Anthropology
Amerika.org, "WHAT THE WEST CAN LEARN FROM THE MORIORI", 6 Aug 2017:
by Daryl Withycombe
The history of the Moriori, little known outside of Oceania, might appear like a fable, a cautionary tale that people came up with to educate their children. As unnerving as the dark legend about this forgotten tribe might be, the entire story really happened. Hopefully it will serve as a warning, to all other people around the world who chose to rebel against the laws of nature and descend down the path of the Moriori.
The story of the Moriori begins more than five hundred years ago, when a group of Maori left New Zealand by boat, looking for new unpopulated land to settle. After a long journey they landed on a remote island group, now known to us as the Chatham islands. The environment they encountered here was different from the one they left. Temperatures were colder and the crops they were used to growing would not grow. They were forced to adapt to these new circumstances. Their diet changed to one largely composed of fish and plants native on the islands.
These isolated islands never sustained a lot of people, thus the Moriori society inevitably remained a tight-knitted community. After a violent tribal conflict between different groups, a 16th century chief known as Nunuku-whenua declared that from now on, all violence would be forbidden, because of its destructive impact on such a small community. Disputes from now on would be settled through consensus, or, in the worst case, through a duel that would stop as soon as first blood was drawn. Cannibalism was forbidden and passive resistance to oppression was endorsed. This became known as the Code of Nunuku.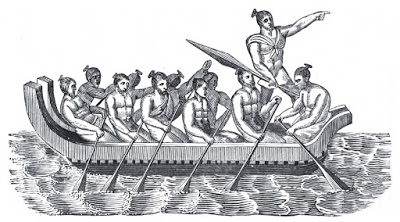 Maori war canoe
Because overpopulation would lead to violence, the Moriori decided to implement cruel measures to artificially constrain their population. It was not uncommon for them to castrate some of their newborn boys. The birth rate would be constrained as a consequence and the boys would remain docile, growing up to be the hunter-gatherer equivalent of Antifa and social justice bloggers.
Living in isolation, the Moriori could sustain their way of life for over 300 years. But then, in the 19th century, the vacuum they had created was suddenly punctured. British people began to land, bringing with them ex-convicts and Maori sailors. The formerly culturally homogeneous Moriori now had to learn to adapt to the presence of different cultures, but greater problems were still ahead of them.
The growth of the British population on New Zealand's Northern island had displaced two Maori tribes, the Ngāti Tama and Ngāti Mutunga. In 1835 these tribes, numbering about 500 people in total, captured a British ship and its crew and forced it to set sail for the Chatham islands. Some sources seem to claim that the Maori tribes traveled to the Chatham Islands, precisely because they knew how passive the Moriori were.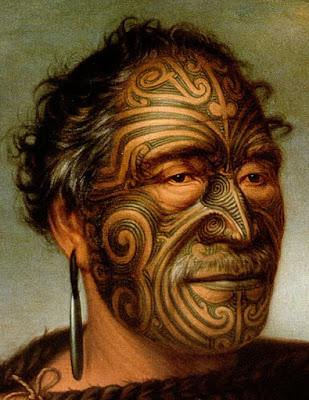 Tattooed warrior
When the Maori landed, the Moriori, who numbered around 2000 people, decided to take care of them. After they figured out that the Maori were not temporary visitors but planned on staying on the islands, the Moriori decided to withdraw to their sacred place. Here the Moriori debated with each other how they should deal with the newcomers. They decided to implement a policy of non-aggression, reportedly against the insistence of the young. The code of Nunuku had to be followed under all circumstances.
The Maori then began to lay claim to the land, wandering through it carrying weapons, without greeting the natives. If the Moriori inquired, they were told that they were now their vassals. Although most narratives don't lay out a precise time-line, it is clear that the first boatload of Maori killed a twelve year old Moriori girl and hung her flesh from posts. A second ship arrived a few weeks after this event, carrying another 400 Maori.
Hundreds of Moriori were murdered and cannibalized, the rest were enslaved. Instead of fighting back, the Moriori hid in holes beneath the ground. Moriori were forbidden from marrying each other by their Maori overlords and the Moriori women married Maori men. The Maori prohibited the Moriori language, and forced them to desecrate their sacred sites by urinating and defecating on them. Only 101 Moriori out of a population of about 2,000 were left alive by 1862. The last Moriori of unmixed ancestry, Tommy Solomon, died in 1933.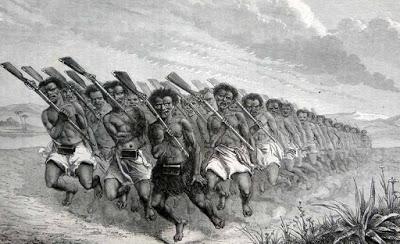 Maori warriors in the 19th century.
Lessons to Learn
It doesn't take a genius to figure out what the Moriori did wrong. Had the Moriori been ruthless, they could have sunk the first ship before it landed. Had the Moriori been more balanced, they could have risen up when a 12-year-old girl was murdered and hung from a pole. At the time, they were still dealing with a mere 500 invaders, among whom were women and children. Sadly, the Moriori submitted. By the time the second boat arrived, the outcome had been determined.
It's interesting that children in school are never taught about the Moriori. Instead, they are taught about the sacred trinity of Martin Luther King, Nelson Mandela, and Gandhi. We teach our children that they should submit when wronged and these children then grow up to be adults who will only submit when wronged.
We could consider it the outgrowth of Christianity, but it seems that Jesus's teachings never quite became dominant until the 20th century. Had these teachings become dominant earlier, Christianity would never have grown to be successful. Medieval knights were slapped in the face when knighted, told that these would be the last slaps they could ever accept without having to retaliate.
Europeans are modern day Moriori. When their continent is invaded by men in boats, they worry about the boats that sink, offer Turkey billions of dollars and decide to take in more invaders through an "air-bridge." When their children are raped in swimming pools and their women harassed, they do not see an invading force that's testing the waters, they see people who need to be educated about how to treat women. I'm sure the Moriori assumed the invading tribes could be taught to adapt their pacifist ethos too.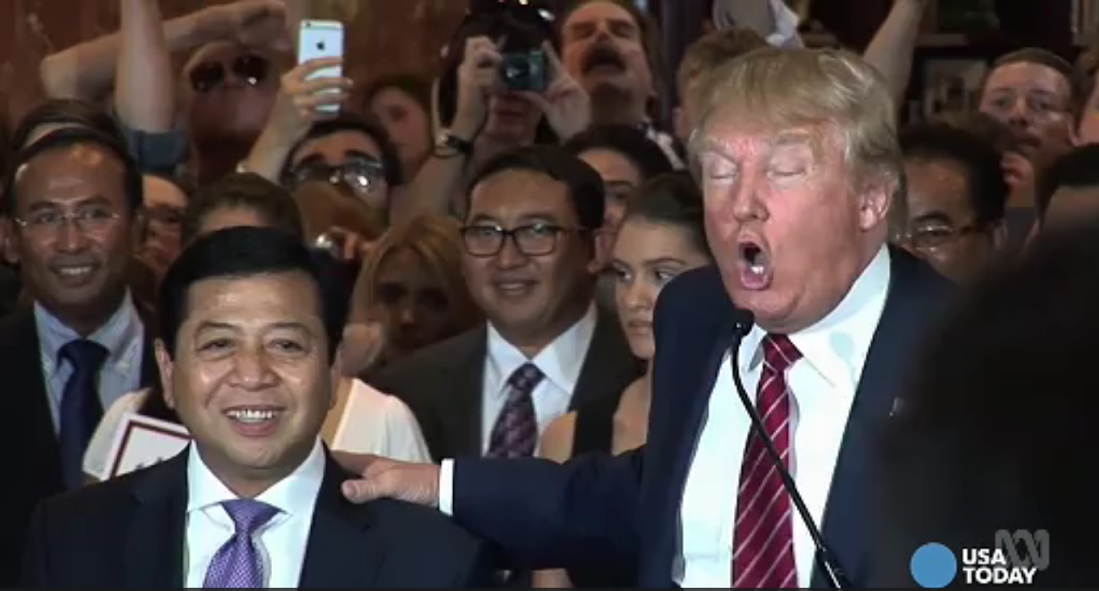 At a press conference at Trump Tower in New York to declare his loyalty to the Republican Party, Donald Trump was flanked by guests from Indonesia, and made a big show of announcing one very special guest, Setya Novanto.
"He wants it big, and overlooking the sacred Tanah-Lot."
Trump deal in Indonesia imposes Islamic compradors over ethno-nationalism and his hotel and business upon what is sacred to Indonesian ethno-nationalists.
While running for President, Trump was courting the Indonesians over lucrative resort deals in Bali and Java; and lobbying Indonesian MP's to expedite a toll road that would benefit his development.

The secretive dealings raise new questions about Trump's corporate interests abroad and about the unholy business and political alliances he's forged.

While at home, Trump rails against Muslim extremists, in the world's largest Muslim country, his allies are cozying-up to Islamists who are posing a direct threat the country's ethno-nationalism.

Donald Trump has entered into two huge deals in Indonesia, and the first of them will land here, on the southern edge of Bali almost on top of one of the Island's most sacred religious sites, Tanah Lot - an hour or two away from the main tourist areas, the Balanese have fought for decades to protect this temple and its surrounds.

"Not much is known of Trump's plans but what is known that he wants it big, the biggest in Bali he says, he wants a tower on an island that bans them, and he wants it over looking the sacred Tahan Lot."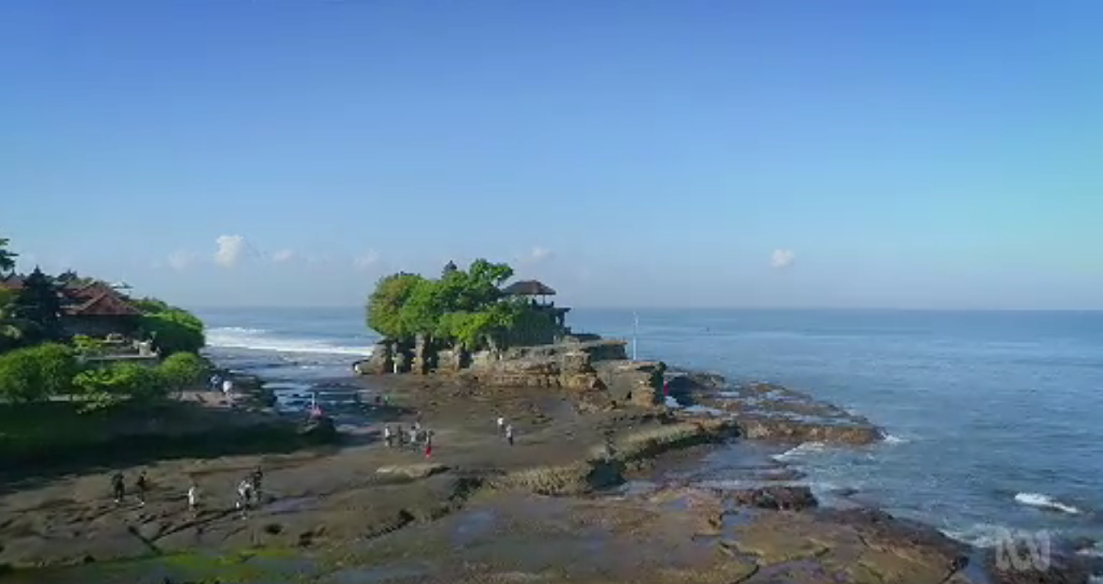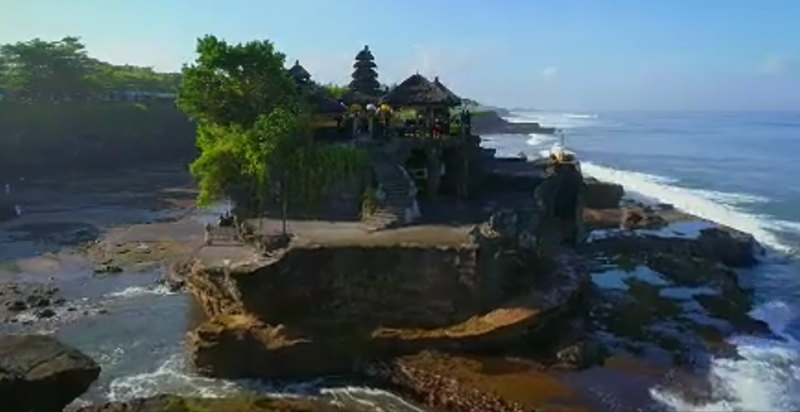 "It's one of the island-wide temples that are sacred to the Balanese, its the land, pana, and lot, which means ocean."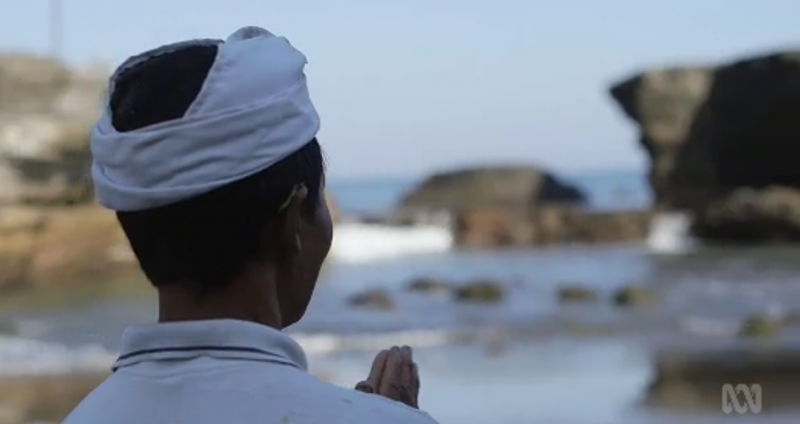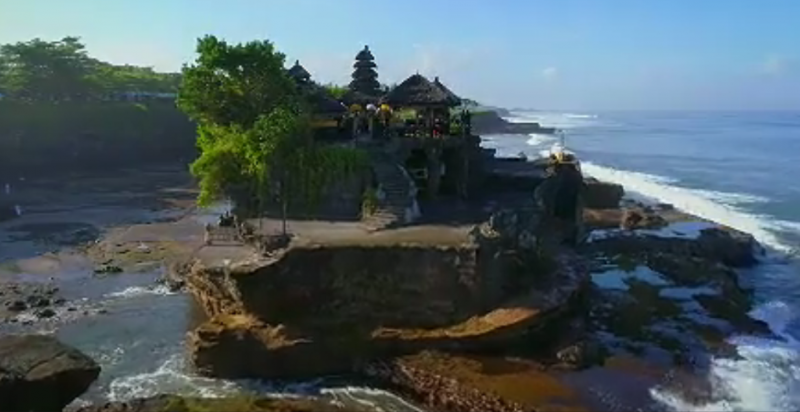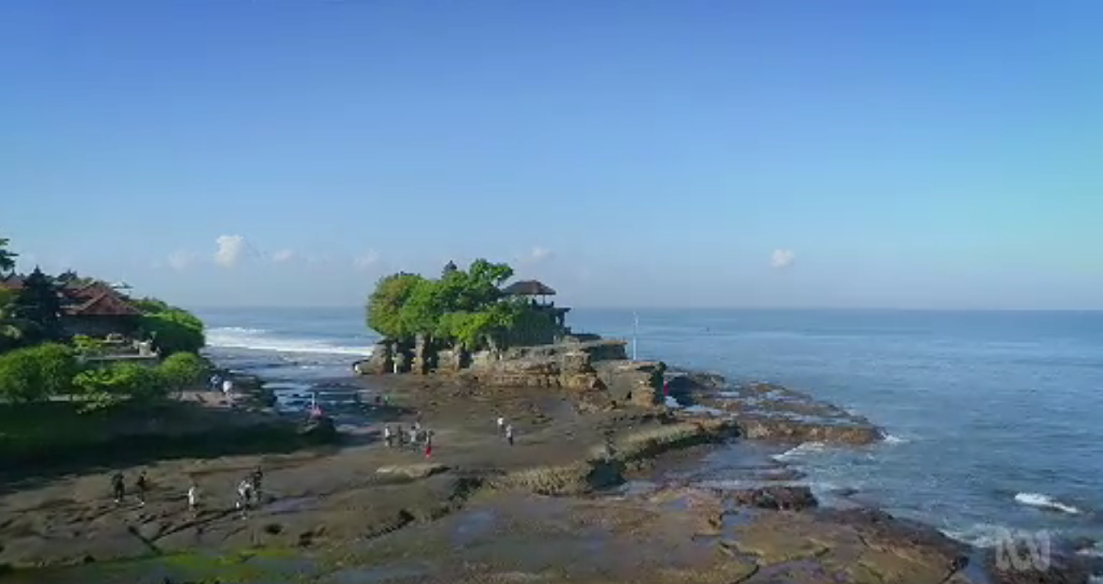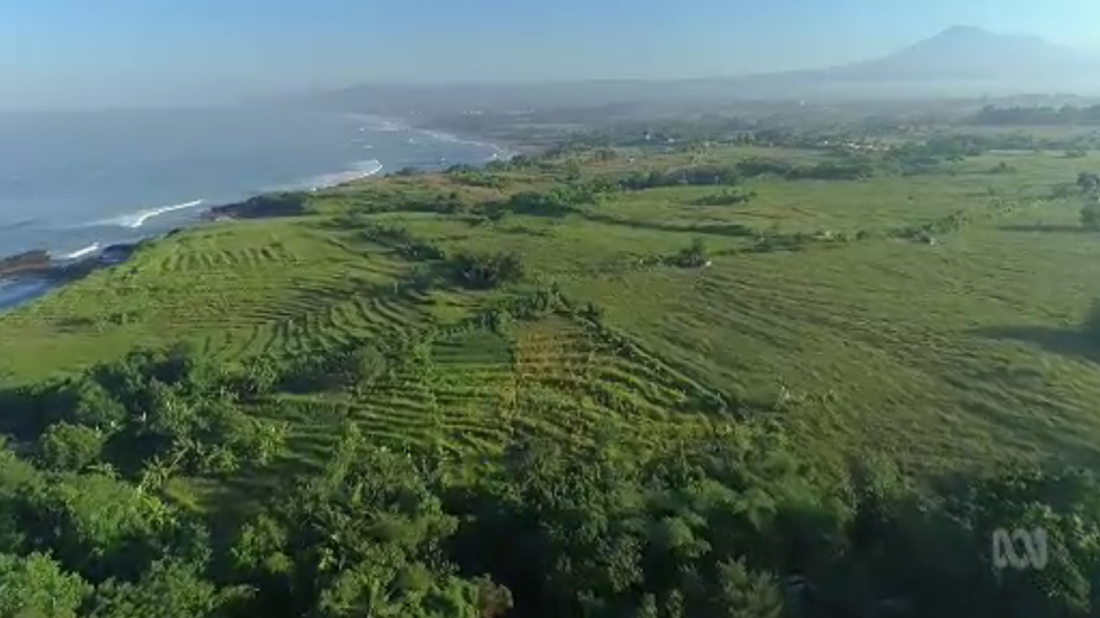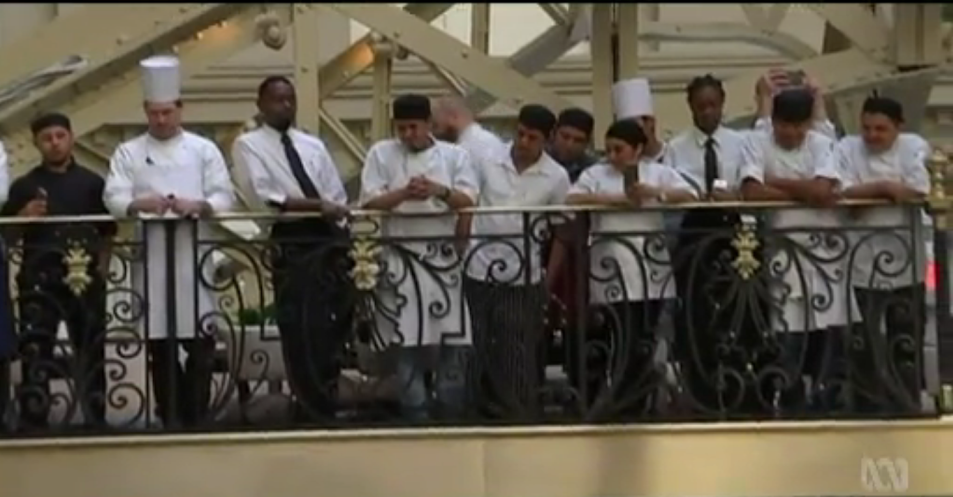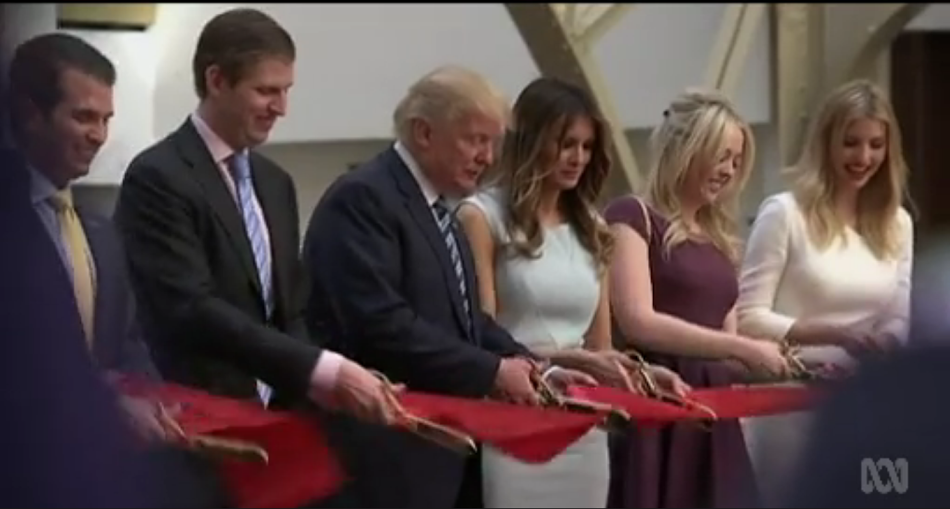 Donald Trump makes deal with Islamic compradors in Indonesia, imposing them against the native stasis of Left ethno-nationalism, and his hotel and business upon what is sacred to native ethno-nationalists.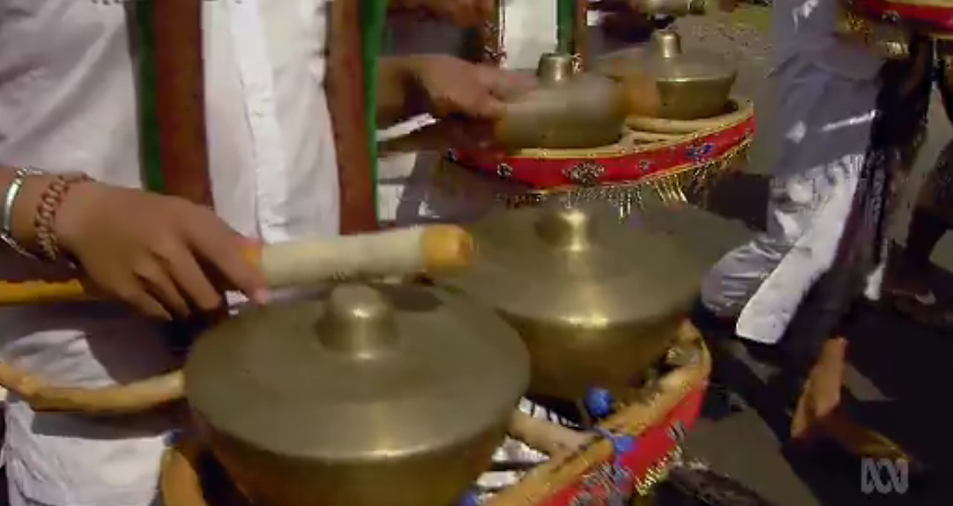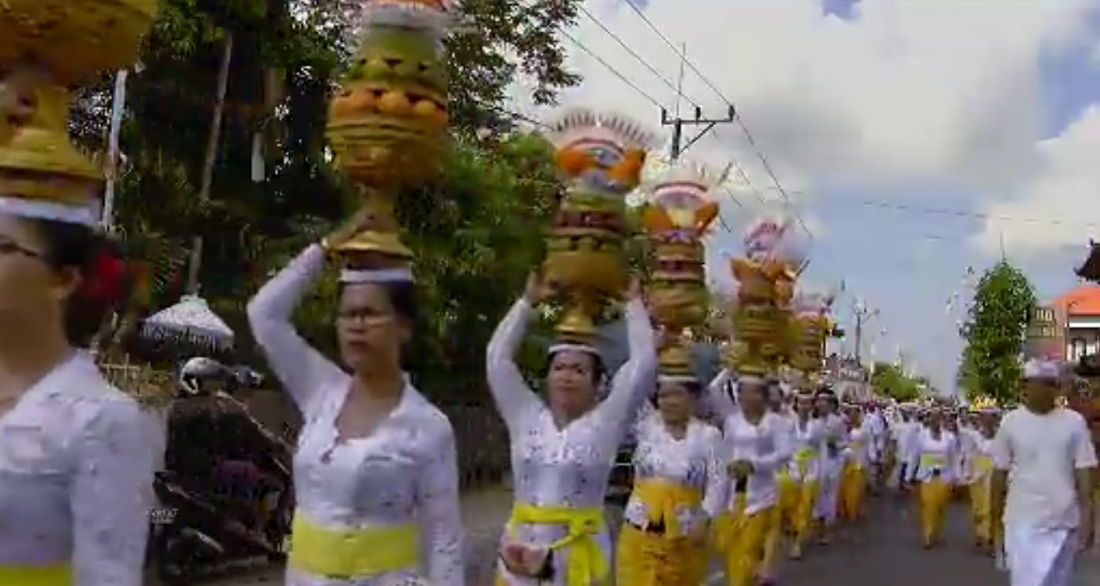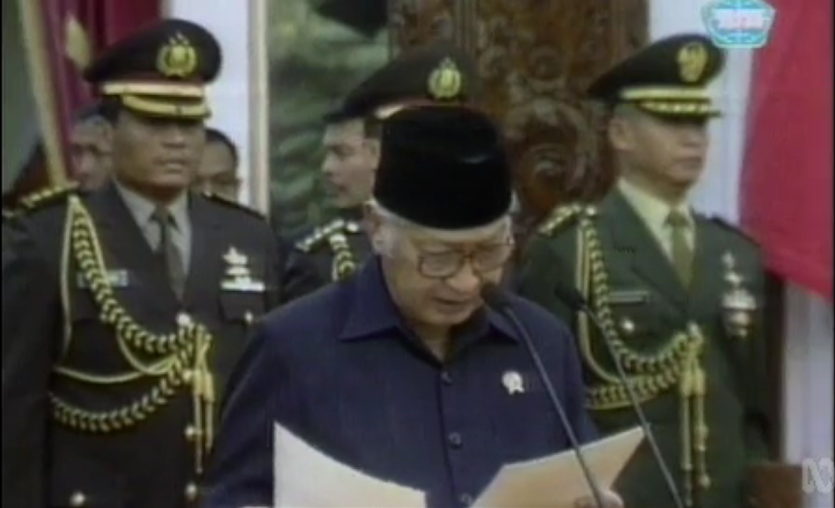 80,000 Indonesians were killed by Suharto on that beach in 1965, the victims were accused of being Leftists….
When President Suharto exited power in 1998, he took three decades of loot with him, estimated at 30 billion dollars.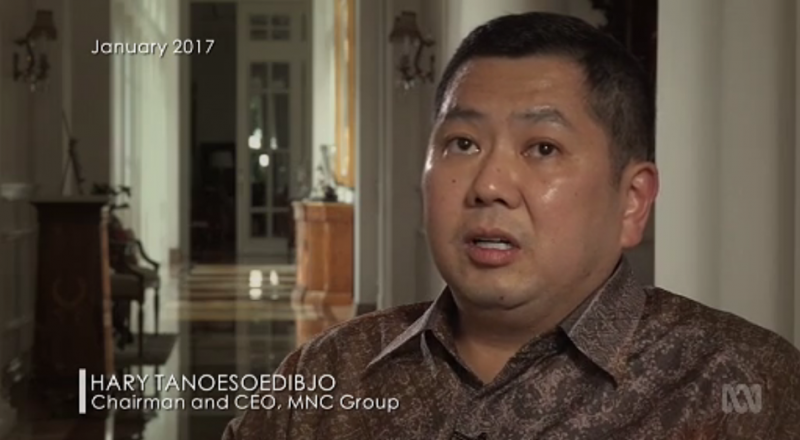 Trump's business partner in the deal, Harry Tanno, was a close friend of Suharto.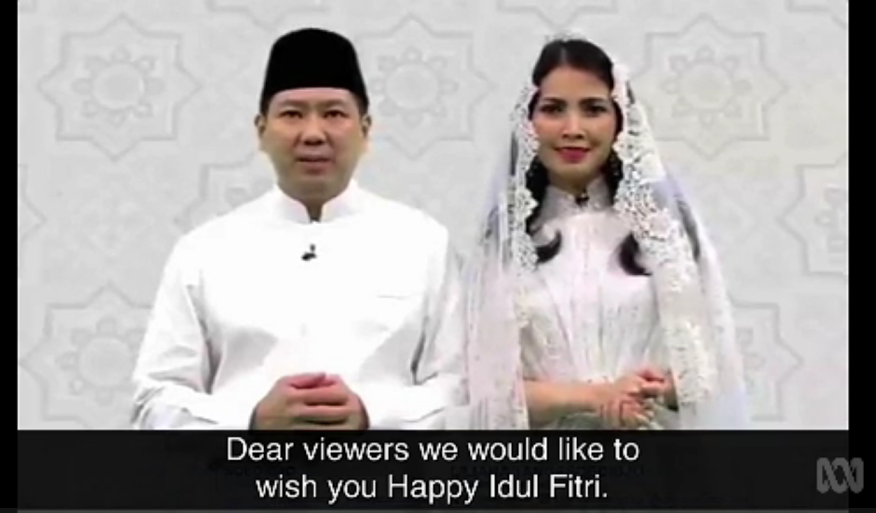 Tanno welcomes Trump and Sharia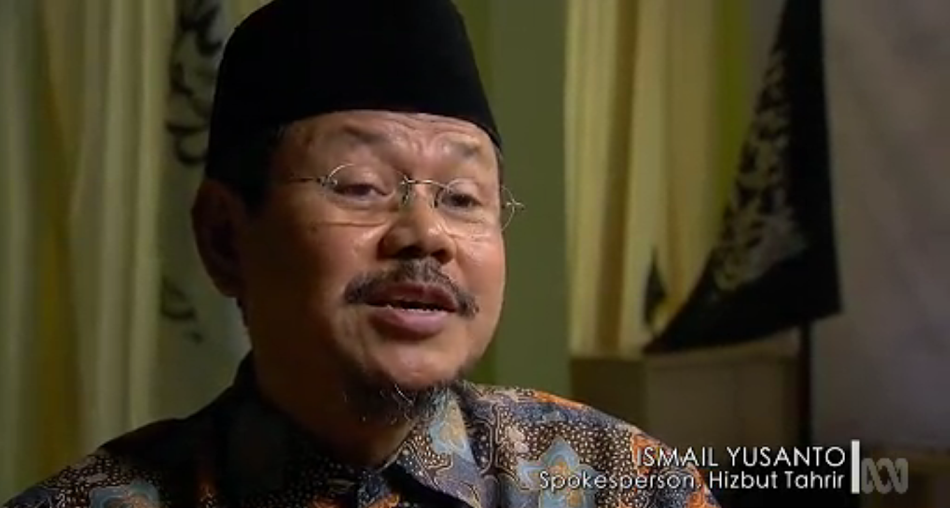 Hizb-ut-Tahrir's man is on screen talking after 37 minute mark - his appearance was the biggest thing in the whole video:
"Is it your ambition to impose Sharia Law in Indonesia?" "It is not our ambition, but our duty."
An abstract kind of wild quid pro quo white America has going on there.
All imagery and story, THE COMPANY HE KEEPS: FOUR CORNERS, 3 July 2017.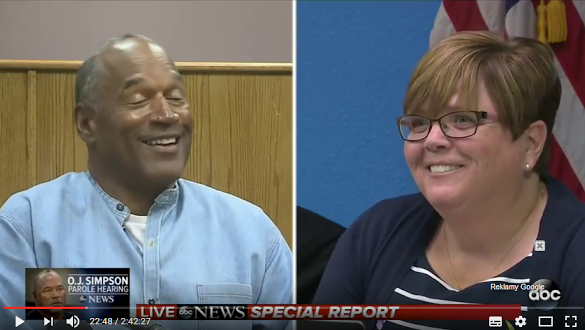 Connie Bisbee is Chairman of the Nevada Board of Parole. She addressed killer O.J. Simpson with giddy smiles at his parole hearing. In this moment (22:48 of the clip) she fawns over Simpson after accidentally citing his age as "90" - she gushed gleefully toward the murderer, Simpson, "that he looks great for 90." Is it any surprise that killer O.J. got parole with the likes of her presiding?
Simpson should not have been able to touch Nicole Brown in the first place.
The story of Simpson beating Nicole because she was disturbing him with complaints about Simpson having sex with another woman in another room in the house is a particularly graphic example of black hyper-assertiveness. And a problem with White women in that regard - the allure of sheer confidence to them, which, overweening in blacks, apparently can become like a drug to some women; causing them to ignore if not forgive all manner of destruction in order to have that fix.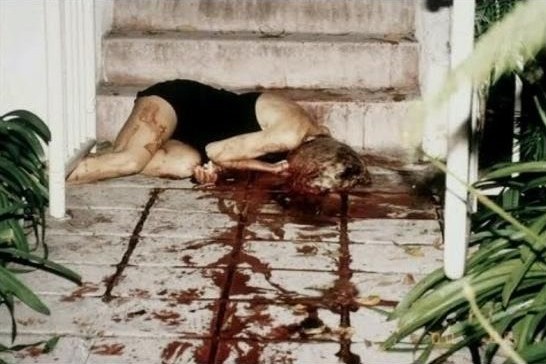 Related story: O.J. Simpson & Nicole Brown's Alleles Combined

Darwin Digest: North, East and West Africa. ..."We" was Not Kangs.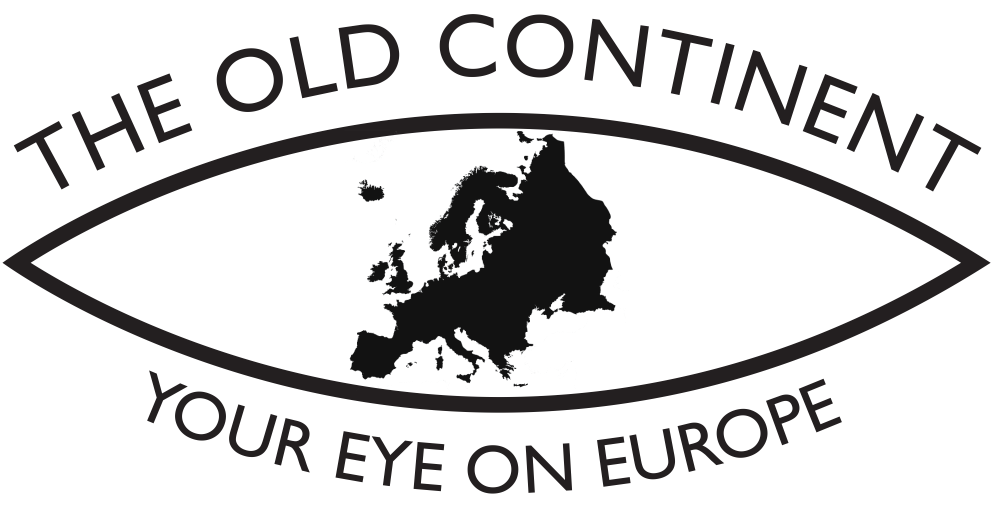 A relatively new site called The Old Continent: Your Eye on Europe might be of some limited utility to ethnonationalism, but requires significant caveat.
Its four listed "authors", Timon Dias, Vincent van den Born, Frank Kasteel and Benjamin de Wolf all seem to be coming from some sort of military / policing background - and thus given to a platform that aspires to an objective presentation of criminality and its sources antagonistic to, where not outrightly designated the enemy of European civic union.


The site is performing a service in reporting on migrant rape crimes, a type of crime very very important to us and under-reported by the media to date; however, their purported objectivity fails to conceal a pandering to a prejudicial social classification that nevertheless remains salient despite the objectivist prejudice against discriminatory social classification - i.e. the classification female remains, irrespective of the prejudice against social classifications - in fact, emerges to impose itself as a category undeniably. And through the disingenuous objectivist premise, males, any males who are most "objectively" manly, are suitable to look after the interests of European union females:
Case in point - of the posts that Timon Dias has recently put up at the time of this writing, two of them are lauding the virtue and strength of black boxing champions, here and here, one post is some voodoo about a cloud that formed in the sky "miraculously" in the shape of Great Britain - "forming a sign from God for Brexit," and finally he put up a story about a police car having been burned in Amsterdam by migrants. So, we may guess that Dias is black, part black, perhaps otherwise colored, but at least "philo-black", i.e., not having European people's subjective and relative interests as empirically grounded systemic wholes, close to heart.
The other writers seem to be more coherently focused on reporting migrant crime in Europe, particularly as it comes by way of Islam. In pursuing these crime stories as an objective matter, emphasizing previously under-reported incidents of migrant rape, they can supply facts that counter the heretofore mainstream media's liberal prejudices against ethno-nationalism. Though "Old Continent" is the same as the legacy media in that it purports to be objective, it differs in its undeclared bias in this way of having a prejudicial eye on immigrant crime and particularly Islamic sourcing of that criminal behavior. Whereas the heretofore mainstream media has had a prejudicial eye against conservative reaction to liberal causes, such as problems perpetrated through immigration and Muslim people. This liberal prejudice and de-emphasis on the crimes aided and abetted by liberalism has left us acutely susceptible.
Thus, the site can be helpful to us for this "objective" angle in a few different ways. Firstly by directly providing us with factual events to help supply and support our own arguments and secondly their "objectivity" can help us indirectly to put together our arguments for ethnonationalism as a means of systemic accountability and protection - indirectly, for example, through their "objective" reporting on sources of "anti-Semitism" they can inadvertently call attention to Jewish culpability as Muslim "anti-Semitism" is "objectively" aired. That helps us, of course, because Jewish prejudice and culpability has been something that you cannot talk about in mainstream media as it has been under their sway, but the facts get out through a back door of "objectivity", despite that, albeit indirectly.
Nevertheless, while the site is helpful to us in providing factual episodes to supply argument against liberal and Jewish media bias, it remains incumbent upon the wise, upon the ethnonationalist, to put together an assessment of patterns from these factual reports, to overcome the pseudo-objectivity that Jews, right-wingers and liberals have enforced upon us, and to warrant necessary prejudicial, discriminatory social classification, to marshal these patterns in our relative interests by contrast to show the way to our salvation - warrant that ethno-national activists can take up in the cause of its implementation.
Thus, where I have not published information from enemy sources or sites with platforms markedly different form ours for the fact that they didactically reveal their prejudices, then I have done so because they are presenting information that is basically factual enough such that much spin cannot be applied to mislead our audience. This would be the case, for example, when I publish material, e.g., from NPR, Haaretz, the Jerusalem Post ..and where I reluctantly publish material from Russian Active Measures organs, RT and Sputnik.
Thus, I issue the caveat about this site, The Old Continent: Your Eye on Europe, that I cannot vouch that they are operating fundamentally in ethnonational interests, they seem rather to be operating as civic European unionists at best. At worst, and this is likely, they are of the counter-Jihadist mold. In fact, not only are they not likely to ask the "J.Q.", their kosherness is evident in their focus on "extreme" Islam, their pro-Geert Wilders articles, e.g., here and here (as opposed to our stance on Wilders); the site's apparent institutional sympathy, technical and informational backing, along with its verbal i.q. are still more kosher indication.
With that caveat, and given that Majority Rights will run information coming through sites with platforms a bit off, or even from opposing platforms, we might avail ourselves of facts that help our cause, where they supply them. Let's try this story for starters…
...with one more preliminary remark: note the glib and inappropriate caption to the inappropriate image placed with the article - does that reflect subjective and heartfelt relative concern?
A picture of a blatantly unrelated Swedish police car. But man, aren't they sweet

The Old Continent, Swedish migrant gang-rape: Court can't establish which suspect did what. So they all walk free, avoiding deportation", 15 June 2017:

On October 17, 2015, a woman in the Swedish town of Ludvika was raped outside of a restaurant in the center of town. The two men suspected of the crime were arrested on the 22nd of January 2016, followed a month later by a third man, suspected of aiding and abetting. All three of them were accused in court of rape. One of them confessed he was at the scene with the woman, but claimed that the other two were the ones to rape her.

They, in turn, said they were nowhere near the incident and didn't even know anything had happened.

The Falu District Court, however, found the woman's story to be very credible. Besides that, cigaret butts had been found on the site, which, according to the police, indicated hat the men had been present. The court, therefore, concluded that one of the men raped the woman, the other held her down and the third stood watch, or at the very least did nothing to prevent the crime. Consequently, all three of them would be sentenced for conspiring to jointly rape the woman. They received four years in prison, after which they were to be deported. They would also have to pay damages of 166.860 SEK (around €17.000) to the woman.

Prosecutor Sanna Gens chose to appeal the decision, seeking higher sentences. This backfired, when on appeal the defendants were acquitted entirely.

Although Court of Appeal agreed that the woman was forced into "sexual acts comparable to intercourse" and that the three men were on the scene with the woman, it did not follow District Court in concluding that this made them guilty of rape.

The case against the men was based heavily on the testimony of the victim. The Court of Appeal found that some elements of her story "appeared to be unclear and to some extent inconsistent with the other investigation."

Because it is unclear exactly which suspect did what, reasoned the Court of Appeal, none of the men ought to have been convicted and all three of them "should therefore have been acquitted of all charges" as the Court deliberated. So out went the four-year prison sentences and the deportation order.

One of the men, a 25-year-old living in Ludvika, even received 140.000 SEK (around €14.000) compensation for time spent in prison, while another claimed compensation for his 'suffering' at the hands of the Attorney General, as well as loss of earnings to the amount of 37.600 SEK (slightly over €3850). This has been rejected, however, on the grounds that he was evidently present at the crime scene.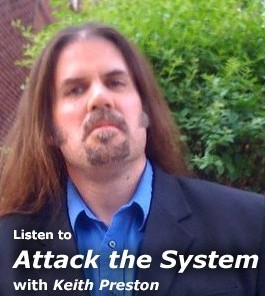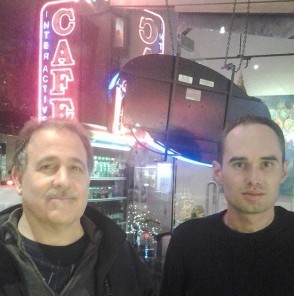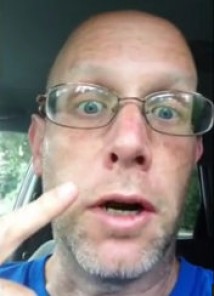 Keith Preston (((John K. Press)))) and Robert Stark Andy Nowicki
We've had a couple of talks with Pilleater recently, talks which have stalled for the time being. Pilleater is starting a podcast/platform called Radio Asian-Aryan - Be warned that he is mixing with a highly dubious crowd and point of view.
I would like to warn our audience against the Regnery circus game that the Stark tent presides over - a tent where Pilleater gained entry into the "alt-right" - an integral part of their game is: Anything to bury MR's platform of the White Left / Left Nationalism.
To date, the go-to guys for The Regnery Circus in that burying effort have been Keith Preston and Andy Nowicki, and that remains the case as evidenced by this first episode of Pilleater's "Asian Aryanism" - Andy Nowicki is the first guest (coincidence?). Andy is a natural "Alt Liter" (Jew friendly paleoconservative, promoting a Judeo-Christian order on the order of (((John K. Press's))) prescription). Andy is basically in the mold of so many struggling writers turned Alt-liter as it provides a niche for one who is willing to suck Jewish cock in order to keep a career afloat (He tells himself he is being well balanced).
Keith Preston (who doesn't speak here, but posts the audio and supports the project of subverting the White Left/Left Nationalism) is a reactionary of a different kind - against his right wing upbringing and into anarcho-liberalism to sustain his career (read, need to be Jew-friendly) - as such, his position is also convenient for the Regnery circus as a go-to-guy to subvert MR's White-Left / Left Nationalist platform (he constantly does this - it is his angle).
Stark, always Jewish friendly, has provided the basic forum of an entryist tent of Jews into the Alt-Right, while depicting "The Left" as the enemy or the "Right/Left" dichotomy as phony or non existent; and The White Left as non-existent..
They've been trying to bury the White Left with "Alt-left" - i.e., with a more liberal, Jew friendly, Jewish participatory kind of alt-right.
They are also trying to subvert Left Nationalist alliance between Whites and Asians by grooming Pilleater's "Asian Aryanism" - a more liberal, slightly more friendly-to-Asians and friendly-to-mixing platform than the alt-right.

The Alt-Left is Poison
...Pilleater adds "Adventure-kid" (a black) to his co-host entourage…
Radio Asian-Aryan Episode 1: Andy Nowicki
by Keith Preston • Left and Right

Radio Asian-Aryan.

Presented by pilleater.

Episode 1.

Andy Nowicki talks about his new book, Meta-#Pizzagate: On the "Unspeakable Rites" of Those Who Rule Our Demon-ocracy.

With Robert Stark and The Adventure Kid.

Also:
-Twin Peaks
-Alt-Left
-Yuko Mishima
-Asian-Aryanism
-and a whole lot of bantz