Majorityrights News > Category: Economics & Finance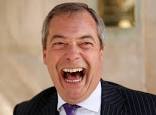 Backed by "Indian givers", playing both sides and shifting the focus..
One take on the British election results -
UKIP / the banker class…
"Gave you Brexit" then dissolved themselves into Labour to take away Theresa May's power to do anything about it..
..the objectivists told you that their invisible hand would work with you, naturally, to take care of Merkel's migration assault on native Europeans… then their invisible hand played the other side of populism to leverage withdrawal of motions to exit from the common EU economic market - and with it, to withdraw an effective Brexit - by having voters distracted with a focus on Labour as the "savior of social services"...as if Theresa May was going to take that away.
..it seems that similar as with Trump and the Republicans in the US, that elite cadres are infusing whichever moribund party with angles of populist narratives that they can play in order to manipulate the electorate.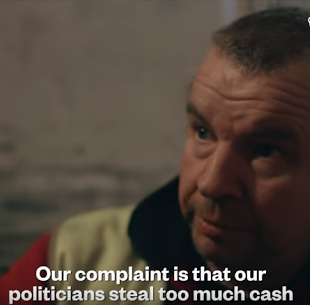 Even more than through Alex Navalny's protests against the Putin/Medvedev government of the Russian Federation, a nation-wide trucker's strike, and what its proponents have to say throw light upon the facts of people, unlike Putin and Medvedev, whom we ethno-nationalists might identify with as having a similar end in mind, in hope for a ethnonationalist basis that might be allied against its propositional imperialism.

A far cry from Putin apologetics of the Atl-Right, through these folk the corruption and imperial disconnect of the Russian Federation's leadership is highlighted as analogous to The US Government's propositional disconnect from peoplehood - the ethnostate.
Though the segment in this Vice News episode about Milo is sufficiently unflattering and won't hurt anybody to watch, nor the other segments, it is the two corresponding segments - from 2:17 - 9:05 - that I would like to bring to your attention. Starting at 2:17, there is a brief segment discussing the mass "bourgeois" government protest and problems of its national organizer, Alex Navalny, who, after having recently gotten out of jail for organizing the protests, suffered a chemical attack on two occasions with no one being arrested for the attacks.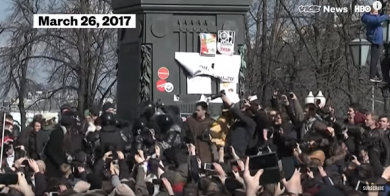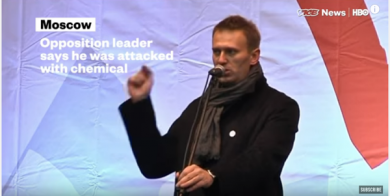 But this protest - whether it could be Soros backed or what - is not the most interesting one from an ethno-nationalist standpoint.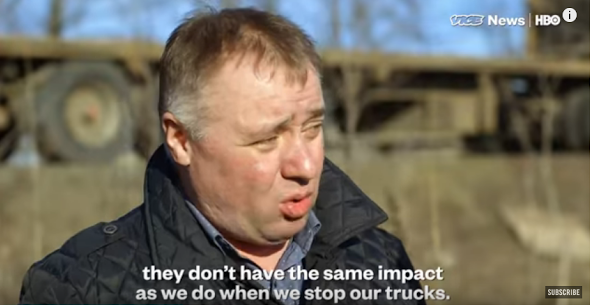 What is more interesting for ethno-nationalists is the subsequent story which more clearly indicates that the government of the Russian Federation is cutting into the meat of would-be ethno-national constituents. It is further indication that the Russian Federation is not functioning at an ethnostate, but is functioning to serve its political class as divorced from ethno-nationalism - particularly as its implications bear upon European and Asian peoples - while it might serve the group interests of others - Jews, blacks, even Muslims. Indeed it is a comparable beast to The United States: It's leadership is corrupt and functioning with a different agenda from the rank and file. (((Medvedev))) is highly disapproved-of for having implemented such a schism, but Putin is looked upon critically as well, as an intimate part of the same system as Medvedev, a manifestation of a corrupt system that will simply grow another head like him when he goes away.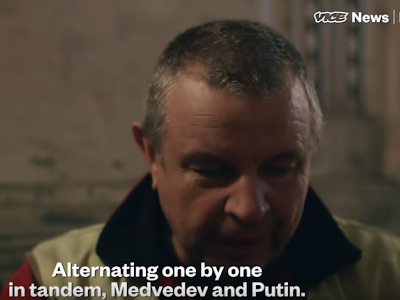 That outlook - which you will see a trucker's unionist discuss in the clip - that outlook upon a systemically corrupt leadership of the Russian Federation is where to look for a way for ethno-nationalism to organize and overthrow the Russian Federation's propositional imperialism - its growing connection with propositionalism and prescription against would-be ethno-states. A propositional imperialism emanating from its right-wing leadership in coalition with YKW, a corruption quite similar to that of the U.S. leadership (Trump et al.) which it supports and which is "coincidentally" acting quite like the YKW in this prescription to advance by contrast to ethnonationalism their own elite imperialism.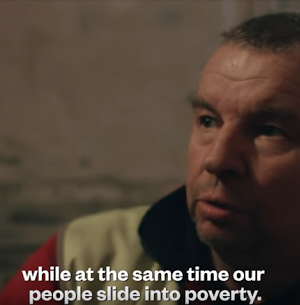 What that means for ethnonationalists is that there is a level headed perspective among the working Russian populace which sees things from an incipient ethnonationalist perspective, which might ultimately cooperate with us against the kind of supremacist imperialism of which Medvedev, Putin and the vastly aggrandized Russian Federation are a part.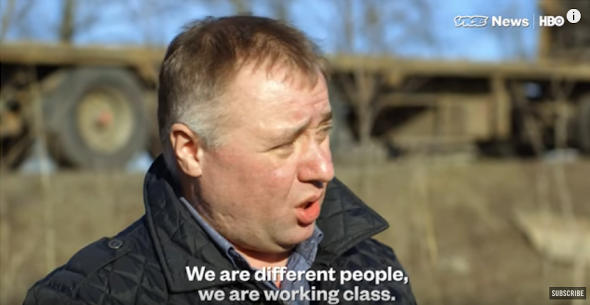 The truckers talk about their travails in Irkutsk - a good ride east; and a little beyond Lake Baikal might form the border of one of the biggest ethno states in the world, where they might see fit that enough is enough; better that there be less conflict and more natural support by peacefully coordinating with native ethnonationalists to the east of that.

Visigrad Post, "The Three Seas Initiative: Strengthening Cooperation in Central and Eastern Europe", 13 May 2017:

By Olivier Bault.

Poland, Helenów – Pressed between Moscow's energy and military pressure in the east, and the economic and ideological pressure of Brussels, Berlin and Paris to the west, twelve Central and Eastern European countries are taking part in the Three Seas Initiative (The Adriatic, Baltic and the Black Sea) aimed at strengthening regional cooperation and infrastructure in the fields of transport, telecommunications, energy and the environment. On 4 May, Polish President Andrzej Duda's Head of Cabinet met the foreign advisors of the Presidents of the Three Seas countries near Warsaw: the Visegrád Group countries (V4: Poland, Czechia, Slovakia and Hungary), the Baltic States (Lithuania, Latvia and Estonia), as well as Austria, Romania, Bulgaria, Slovenia and Croatia. The aim was to prepare for the summit which is to be held by these countries in Wrocław, in southwestern Poland, next July, after last year's Dubrovnik summit in Croatia.

The message that the participating countries want to spread, according to Andrzej Duda's Chief of Cabinet, however, goes in the direction of integration and solidarity with the European Union as a whole. With regard to infrastructure, this includes strengthening the previously neglected North-South links rather than the West-East links.

The Three Seas Initiative has been at the center of Polish foreign policy since the Conservatives (PiS) came to power in Warsaw. Already between the two World Wars, Poland had dreamed of a great "Międzymorze" Federation of the countries of Central and Eastern Europe to resist together the supremacy of Soviet Russia and Germany. If this project derived its inspiration from the history of the Republic of the Two Nations, the union of the Kingdom of Poland and the Grand Duchy of Lithuania which extended to its peak (around 1600) from the Baltic to the Black Sea, geopolitics of the 1920s and 1930s did not make it possible to realize it. Polish President Andrzej Duda, elected in 2015, re-launched the idea, this time in the framework of enhanced cooperation within the European Union, with Croatian President Kolinda Grabar-Kitarovic.

It is unclear whether US President Donald Trump will attend the Wrocław summit but he has been invited.

Translated from French by the Visegrád Post.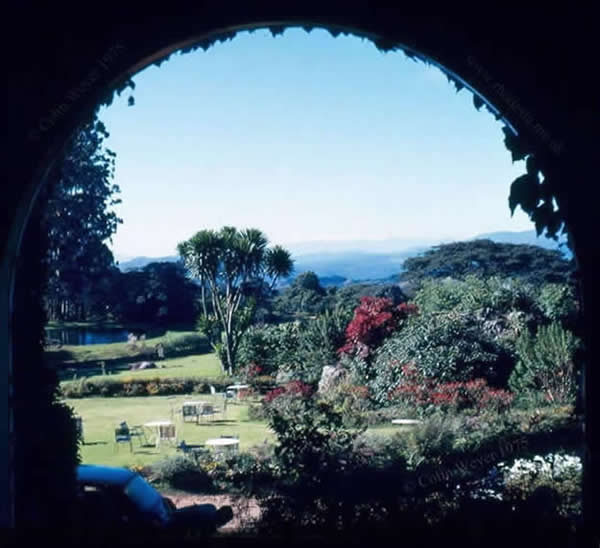 Please advertise this book if you can - Jez

75 Proud Years: Pioneers and Progress of Rhodesia

As someone with an interest in Rhodesia, we thought you might like to know that we now have a reprint of this 1965 Rhodesian Government publication :

With an introduction by Ian Smith , the book covers the history of Rhodesia from 1890 to 1965 in some detail and surveys the enormous progress made in agriculture, commerce, industry and social development of benefit to both white and black Rhodesians.

With 124 pages, this A4-size softcover book is a facsimile copy of the original with contemporary advertisements and would be an invaluable addition to any collection of Rhodesiana .

The book costs £12.50 and p&p is £2.90 (with a 10% discount to former customers) .

To order a copy please contact us at :

.(JavaScript must be enabled to view this email address) for payment details and other information .
JPost, "Lauder: Antisemitism and anti-Zionism are one in the same", May 2017:

World Jewish Congress president outlines three-pronged approach for tackling Jew hatred.

Ronald S. Lauder at the 2017 JPost Annual Conference .. (photo credit:NOA GRAYEVSKY)

In a powerful speech at The Jerusalem Post annual conference in New York on Sunday, World Jewish Congress President Ronald S. Lauder presented a clear message to Boycott, Divestment and Sanctions activists and Israel haters everywhere: anti-Zionism and antisemitism are one in the same.

"Being anti-Israel is being antisemitic, plain and simple," Lauder said, pointing to the latest UNESCO vote that denied Jewish ties to the Temple Mount, and to rising levels of antisemitism on college campuses.

Lauder argued that anti-Zionism is antisemitism in a new form, one that has emerged in recent years.

"There's also something new, antisemitism that tries to hide itself and anti-Zionism. People who want to destroy the world's only Jewish state – having failed to destroy Israel militarily and economically – are now trying to destroy Israel politically and morally," he said.

To combat these threats, Lauder laid out his organization's three-pronged plan to combat these issues.

"The World Jewish Congress has a plan to meet these challenges. We at the WJC created three new divisions that are hard at work to defeat this new form of antisemitism. These efforts will form an 'iron dome' to defend Israel against anti-Semitism," he asserted.

To that end, the WJC has launched a communications department to enable Jews in being "proactive and aggressive" against "enemies who define us."

The organization has also assembled a team of top-tier lawyers to actively promote legislation against BDS, an initiative that has already seen some progress, with 19 states in the US passing anti- BDS laws.

As the third part of its plan, the organization is working to increase its presence on college campuses, where young Jews are most likely to encounter anti-Israel vitriol.

The speech came a day after the New York Times reported that Lauder was pushing US President Donald Trump to broker a deal with the Palestinians.

Lauder praised Trump in his remarks. "We have a new pro-Israel American President, Donald Trump," he said.

"A man I've known almost 50 years. Let me tell you, Israel has a great and true friend."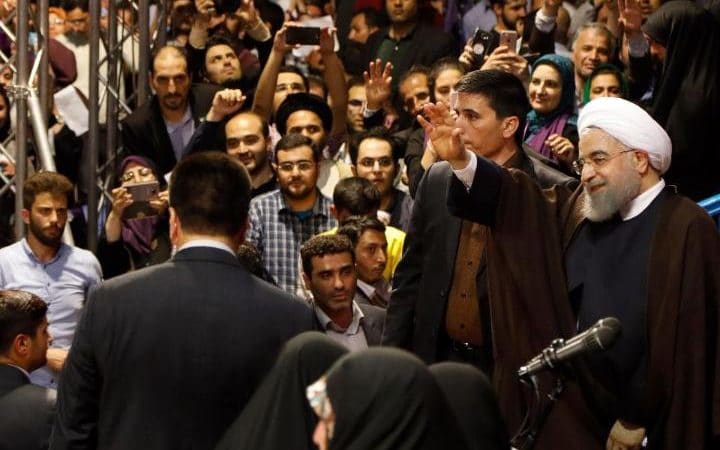 The impending failure of the Iran deal is being disingenuously blamed on the very moderate Iranians that ethno-nationalists would hope to empower in and of the deal - that failure being blamed on them, as opposed to who actually deserves the blame: primarily the Trump administration and its friends.
Daily Telegraph, "Iran presidential candidates lay blame for 'failed' nuclear deal on reformer Rouhani", 13 May 2017:

President Hassan Rouhani faced accusations of a failed nuclear deal which has not benefitted the Iranian people, during the final televised debate with his rivals before the country's presidential election next week.

The vote is being seen as largely a referendum on reformer Mr Rouhani's outreach to the rest of the world following a landmark accord with global powers, which ended sanctions but bitterly divided the country.

The president is believed to be the frontrunner in the May 19 election but the failure of the 2015 accord to bring economic gains for the public has brought an opening that his main competitors, powerful conservative cleric Ebrahim Raisi and hardline Tehran mayor Mohammad Bagher Qalibaf, have sought to exploit.
Visigrad Post, "French-Polish relations undermined by Macron's presidential campaign"

Poland – "You know the friends of Madame Le Pen, her allies: these are the regimes of misters Orbán, Kaczyński, Putin. These are not open and free democracies. Many freedoms are violated every day and, by this, so are our principles." (Extract from Emmanuel Macron's speech of May 1). Which freedoms exactly? We do not know, but this phrase made the headlines throughout Polish media this week.

The candidate has already been widely talked about on the banks of the Vistula the previous week with his promise to introduce sanctions against Poland within the first three months of his investiture. The sanctions are based on the relocation of Whirlpool – Ed. in Poland - but would relate to alleged non-compliance by Poland with the EU's "principles": "Regarding the Whirlpool case, within three months after election, a decision will be taken on Poland. I put my responsibility on the table on this subject," declared the replacement candidate of Voix du Nord – on April 27 by mentioning the use of Article 7 of the EU Treaty which provides for the suspension of a country's rights as a Member State.

Even before being elected, the candidate Emmanuel Macron [...] managed to quarrel with Poland and Hungary, the two leading countries in Central and Eastern Europe. His [...] election to the presidency of the French Republic promises therefore complicated relations with the former Eastern Europe.

[...]

Polish President Andrzej Duda made it very clear on May 3 in an interview with Polish television TVP: "He will have to start work on getting Poland back to trust him and France". The Polish Foreign Ministry reacted to Emmanuel Macron's speech on May 1 in an official statement: "We are following with interest the election campaign in France because of the importance of this country for the future of the EU. In this context, we regret to note that once again during this presidential campaign in France, an Allied country that belongs like Poland to NATO and the European Union, a candidate for the highest office uses unacceptable comparisons and intellectual shortcuts that mislead public opinion. […] The values ​​and principles of free democracy are respected in Poland. Among the fundamental values ​​that have been present in the Polish culture and tradition for several hundred years, there is respect and tolerance for those with different political views […]. We expect the French President [...] to carry out an in-depth analysis before making judgments on the policies of other States and to clarify any doubts in the context of bilateral contacts".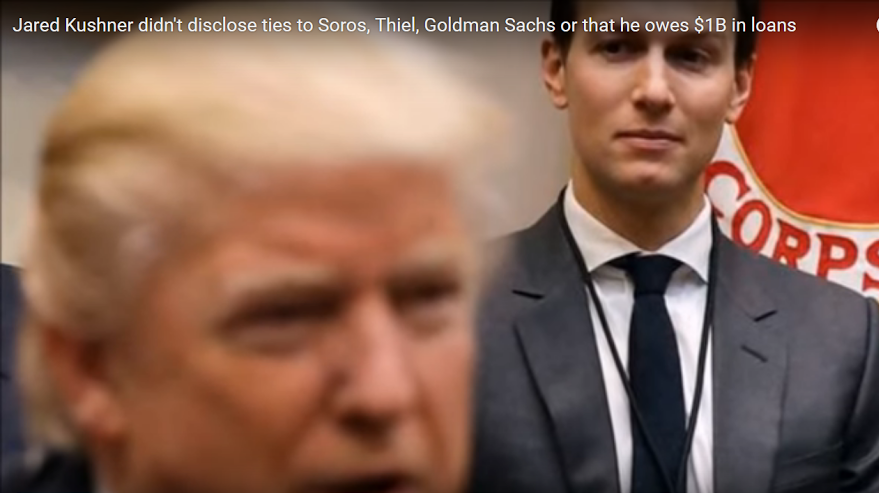 Wall Street Journal, "Trump Adviser Kushner's Undisclosed Partners Include Goldman and Soros", 3 May 2017

Investments show ties to major finance and technology names

Jared Kushner, the president's son-in-law and senior adviser, didn't identify on his government financial disclosure form that he is currently a part-owner of a real-estate finance startup and has a number of loans from banks on properties he co-owns, according to securities filings.

Mr. Kushner's stake in Cadre—a tech startup that pairs investors with big real-estate projects—means the senior White House official is currently a business partner of Goldman Sachs Group Inc.GS 0.47%▲ and billionaires including George Soros and Peter Thiel, according to people close to the company.

The Cadre stake is one of many interests—and ties to large financial institutions—that Mr. Kushner didn't identify on his disclosure form, according to a Wall Street Journal review of securities and other filings. Others include loans totaling at least $1 billion, from more than 20 lenders, to properties and companies part-owned by Mr. Kushner, the Journal found. He has also provided personal guarantees on more than $300 million of the debt, according to the analysis.

Jamie Gorelick, a lawyer representing Mr. Kushner, said in a statement that his stake in Cadre is housed in a company he owns called BFPS Ventures LLC. His ownership of BFPS is reported in his financial-disclosure form, although it doesn't mention Cadre.

Ms. Gorelick said the Cadre stake is described in a revised version of his financial-disclosure form that will be made public after it has been certified by ethics officials. She said Mr. Kushner has previously discussed his Cadre ownership with the Office of Government Ethics and that Mr. Kushner has "resigned from Cadre's board, assigned his voting rights, and reduced his ownership share." A spokesman for the Office of Government Ethics didn't immediately respond to a request for comment.

Ms. Gorelick added that it is "very normal" for a financial disclosure form to be revised and that the form was prepared by Mr. Kushner's lawyers on his behalf.