Majorityrights News > Category: Health
'Refugees' by way of Israel with money enough from there for a one way ticket to Europe.

New Observer, "Africans Deported from Israel "Appear" in Rome", 9 Jan 2018:

African invaders who were earlier "voluntarily deported" from Israel to Rwanda with a $3,500 payment each have been found and interviewed in Rome, according to the United Nations High Commission on Refugees.

According to a statement issued by UNHCR spokesperson William Spindler at a press conference today at the Palais des Nations in Geneva, at least 80 of the Africans deported from Israel were interviewed by UN representatives "between November 2015 and December 2017 in reception centres and informal settlements in the Rome area."

The UNHCR statement called on the Jewish ethnostate not to proceed with its plans to deport nearly 40,000 Africans, as announced in November last year.

The UNHCR said that it was making the appeal to Israel after "some 80 cases were identified in which people relocated by Israel" had taken "onward journeys to Europe via Libya."

"All 80 cases involved Eritrean refugees or asylum seekers who were "interviewed by UNHCR staff in Rome," the statement said, adding that the Africans then travelled "hundreds of kilometers" through South Sudan, Sudan and Libya "after being relocated by Israel."

From Libya, they had crossed the Mediterranean to invade Europe,

"The interviews–all with adult males, some with family members still in Israel–took place between November 2015 and December 2017 in reception centers and informal settlements in the Rome area. All had entered Israel via the Sinai," the UNHCR statement continued, peppering each sentence with patently bogus claims that the invaders have been "tortured and mistreated" at every step—a standard tactic by those seeking to justify the Third World invasion of Europe.

"Most said they had been transferred from Israel to a country in Africa and provided with a lump sum of US$3,500 dollars. However, the situation on arrival was different to what most had expected and with little further support provided beyond accommodation on the first night," the UNHCR statement continued, providing some insight into how the Jewish state is getting rid of its African spongers.

"In light of this, UNHCR is seriously concerned over Israel's plans announced on January 1st to forcibly relocate Eritreans and Sudanese to countries in Africa or have them face indefinite detention," UNHCR statement said.

"Official statements that the plans may eventually target families and those with pending asylum claims, or that asylum seekers might be taken to the airport in handcuffs, are particularly alarming.

"At a time when UNHCR and partners in the international community are engaged in emergency evacuations from Libya, forced relocation to countries that do not offer effective protection and the onward movement of these people to Libya and Europe is particularly worrisome.

"There are some 27,000 Eritreans and 7,700 Sudanese in Israel. Since Israel took over refugee status determination from UNHCR in 2009, only ten Eritreans and one Sudanese have been recognized as refugees.

"Another 200 Sudanese, all from Darfur, were granted humanitarian status in Israel and there was an announcement that another 300 will follow. Israel has not received any Eritreans or Sudanese since May 2016."

Remarkably, the UNHCR said that it was prepared nonetheless to help the Jewish state get rid of its Africans:

"UNHCR stands ready to work with Israel to find alternative solutions for the protection needs of asylum seekers, in line with international standards. This includes resettlement out of Israel, as has happened previously", the statement ended.
Diversity Macht Frei, "Asylum Seeker with HIV had Sex with Two Dozen Icelandic Women", 9 Aug 2017:

The man arrested on the suspicion of having infected numerous young women with the HIV virus claims that he did not know that he was HIV positive. The man is an asylum seeker in Iceland.

This has been confirmed by his lawyer Guðmundína Ragnarsdóttir who is appealing a verdict of a four-week long custody.

Ragnarsdóttir cannot confirm at this time whether or not the man underwent the neccessary medical examinations required by asylum seekers. Another lawyer is processing his asylum application.

Two women have been confirmed to have been infected with the virus and nearly twenty more are awaiting test results.

According to Kristín Völundardóttir at the Directorate of Immigration, an asylum seeker has between 1 to 5 days after he has sought asylum in Iceland until he is summoned for a medical examination.

The man has later been released from custody.

"The suspect, believed to be an asylum seeker of Nigerian nationality, was arrested last month. Police have grounds to believe that the man knew that he was HIV+.

He was released from custody yesterday and served with a four-month travel ban.

According to Inspector Friðrik Smári Björg­vins­son­, Head of the Reykjavik Metropolitan Police Criminal Investigation Department, there is no reason to keep the suspect in custody any longer.

The case is currently being investigated by the police and the Icelandic Directorate of Health and is said to be proceeding well. As at 24 July, two women had been confirmed HIV+ and 10-20 more had been tested."

For more on the topic of Iceland opening its doors to "refugees" and the spread of muslims and non-whites in this formerly homogeneous country check this video and the articles below.
10,000 Icelanders offer to house Syrian refugees after author's call

Bryndis Bjorgvinsdottir urged her fellow Icelanders to speak out on Facebook if they wanted Iceland to take in more Syrian refugees Photo: Óli Gneisti / Creative Commons

Ten thousand Icelanders have offered to welcome Syrian refugees into their homes, as part of a Facebook campaign launched by a prominent author after the government said it would take in only a handful.

After the Icelandic government announced last month that it would only accept 50 humanitarian refugees from Syria, Bryndis Bjorgvinsdottir encouraged fellow citizens to speak out in favour of those in need of asylum. In the space of 24 hours, 10,000 Icelanders – in a country of 300,000 – took to Facebook to offer up their homes and urge their government to do more.
Iceland importing race replacement

Another related story: rapey Roosh in Iceland -


Roosh rape targets

In Daryush Valizadeh´s own words, his descriptions of how he raped two passed-out drunk girls in Iceland (from the guide Roosh V – Bang Iceland):

I went so fast in her bedroom. Clothes ripped off. Jam the dick inside. Barely any kissing. she was too drunk to produce much in the way of lubrication, so after five minutes we stopped having sex, if that's what you want to call it. She fell asleep and started snoring. Then I got dressed and left while she slept.
Roosh explains how he gets always unprotected raw sex, no matter if the girl insisted for condom.
Theresa May confirms white man attacked Muslims leaving mosque after Ramadan prayers

Security at mosques across the UK will be reviewed in the wake of the Finsbury Park terror attack, the Prime Minister has said. More follows…

Independent, 19 June, 2017 - Here is Theresa May's statement in full:

"This morning, our country woke to news of another terrorist attack on the streets of our capital city: the second this month and every bit as sickening as those which have come before.

"It was an attack that once again targeted the ordinary and the innocent going about their daily lives – this time British Muslims as they left a Mosque having broken their fast and prayed together at this sacred time of year.

"Today we come together - as we have done before – to condemn this act and to state once again that hatred and evil of this kind will never succeed.

"The Government's Emergency Committee, COBRA, has just met and I can set out what we know about what happened, and the steps that we are taking to respond.

"Just after twenty-past midnight, the Metropolitan Police received reports that a van had been driven into a crowd of people on Seven Sisters Road in Finsbury Park.

"Officers were in the immediate vicinity as the attack unfolded and responded within one minute.

"Police declared it a terrorist incident within eight minutes.

"One man was pronounced dead at the scene; eight injured were taken to three separate hospitals; while two were treated at the scene for more minor injuries.

"The driver of the van - a white man aged 48 - was bravely detained by members of the public at the scene and then arrested by police.

"The early assessment by the police is that the attacker acted alone.

"Our thoughts and prayers this morning are with the family and friends of the man who died and those who were injured.

"On behalf of the people of London – and the whole country – I want to thank the police and the emergency services once again for responding as they always do with great professionalism and courage.

"Extra police resources have already been deployed to reassure communities, and the police will continue to assess the security needs of Mosques and provide any additional resources needed, especially during this final week before Eid Al-Fitr, a particularly important time for the whole Muslim community.

"This was an attack on Muslims near their place of worship. And like all terrorism, in whatever form, it shares the same fundamental goal.

"It seeks to drive us apart; and to break the precious bonds of solidarity and citizenship that we share in this country.

"We will not let this happen.

"When I stood here for the first time as Prime Minister last Summer I spoke about our precious belief in the Union – not just the bond between the four nations of the United Kingdom – but the bond between all our citizens, every one of us, whoever we are and wherever we are from.

"At the heart of that bond is a belief in the fundamental freedoms and liberties that we all cherish; the freedom of speech; the freedom to live how we choose and yes, the freedom to practice religion in peace.

"This morning we have seen a sickening attempt to destroy those freedoms; and to break those bonds of citizenship that define our United Kingdom.

"It is a reminder that terrorism, extremism and hatred take many forms; and our determination to tackle them must be the same whoever is responsible.

"As I said here two weeks ago, there has been far too much tolerance of extremism in our country over many years – and that means extremism of any kind, including Islamophobia.

"That is why this Government will act to stamp out extremist and hateful ideology – both across society and on the internet, so it is denied a safe space to grow.

"It is why we will be reviewing our Counter-Terrorism strategy and ensuring that police and security services have the powers they need.

"And it is why we will establish a new Commission for Countering Extremism as a statutory body to help fight hatred and extremism in the same way as we have fought racism – because this extremism is every bit as insidious and destructive to our values and our way of life and we will stop at nothing to defeat it.

"Today's attack falls at a difficult time in the life of this city, following on from the attack on London Bridge two weeks ago – and of course the unimaginable tragedy of Grenfell Tower last week, on which I will chair another meeting of Ministers and officials later today.

"But what we have seen throughout – whether in the heroism of the ordinary citizens who fought off the attackers at London Bridge; the unbreakable resolve of the residents in Kensington; or this morning the spirit of the community that apprehended this attacker – is that this is an extraordinary city of extraordinary people.

"It is home to a multitude of communities that together make London one of the greatest cities on earth.

"Diverse, welcoming, vibrant, compassionate, confident and determined never to give in to hate.

"These are the values that define this city.

"These are the values that define this country.

"These are the values that this government will uphold.

"These are the values that will prevail."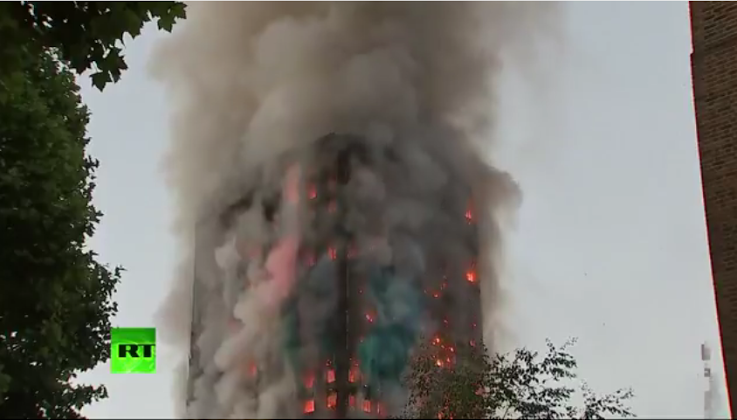 Alt-Right, "LONDON'S BURNING: TOWERING INFERNO EXPECTED TO COLLAPSE", 13 June 2017:

A 24-storey residential tower block in West London is ablaze in scenes reminiscent of the 9-11 "terrorist attack" in New York, with the building, gutted by fire, expected to collapse.

The fire broke out just after 1am on Wednesday, with many residents in their beds. Some people appear to be trapped and have been attempting to signal the 200 firefighters and rescue workers attending the blaze with torches and lights from their smartphones.

The building in question is Grenfell Tower on the Lancaster West Estate. It was built in the 1970s and in recent years has been going through rather chaotic renovation.

In December 2015 the Grenfell Action group reported a number of serious problems caused by renovation work:

- There were big queues for lifts on each floor because the workers were using both of them.

- The condition of the lifts at the start of the day were unacceptable; they were in the state that would be expected by the end of the day.

- Cllr Atkinson stated that he had seen sad notes on front doors asking Rydon workers at least to knock before entering flats.

In 2016 the same group reported a major fire hazard in the building:

"In recent weeks TMO staff allowed a quantity of household 'bulk' rubbish to accumulate, including old mattresses, in the temporary entrance foyer of the tower. This accumulation constituted a potential fire risk and a danger to residents. The TMO area manager and her staff were slow to react and no-one had been bothered to organise the clearence of this rubbish."


It is not yet known if the fire is connected to problems with renovation, or if there is another cause. At present it appears to be linked to the extreme overcrowding in London, combined with neglect by the local Conservative-run council. But, this being London, terrorism must also be considered as a possible cause.
New Observer, " Germany Spent €20 Billion on Invasion in 2016", 24 May 2017:

The German government in 2016 provided €9.3 billion euros ($10.4 billion) to its sixteen states for assisting nonwhite invaders pretending to be refugees and a further €11 billion euros on welfare handouts in Third World countries in failed efforts to halt the flow.

The figures are from a federal government report approved and published by Chancellor Merkel's cabinet on Wednesday.

A total of €5.5 billion was spent on invaders who were seeking asylum and were not yet recognized by the state. The funds spent within Germany also went towards an "integration package" that cost €2 billion, while €400 million was spent on shelter for "asylum seekers" and €350 million on "unaccompanied minors."

The state of North Rhine-Westphalia received the most funding (€1.2 billion), followed by Bavaria (€860 million) and Baden-Württemberg (€728 million)

The Federal Ministry of Finance announced that €11 billion were spent directly on "additional measures to fight the causes of forced migration and displacement."

These measures include welfare and handouts in African states, none of which has made the slightest impact on halting the sub-Saharan invasion of Europe.

In fact, if anything, it has speeded up the invasion, as the Africans see for themselves that the Europeans apparently have an endless flow of cash they can throw about—and white-provided cell phone technology allows them to tell their families back home how well they are living once in Europe.

Brescia

Council of Canadian Citizens, "Brescia, Italy: Suicide of the Lioness?", 15 May 2017

Known as the Lioness of Italy for its resistance to the Austrian army in 1849 during the First War of Italian Independence, is the city of Brescia blindly building its own funeral pyre as it takes in thousands of African migrants on a daily basis? It has been argued by liberals and many Catholics that the city is a model of integration and that Italian "conviviality" can succeed where Anglo-Saxon multiculturalism and French assimilationism have failed.1 Indeed, Brescia supposedly offers a third way: "interculturality" involving face-to-face "dialogue" between different cultures.2 What this actually means in practice is difficult to decipher. In any case, such claims are dangerously optimistic and utopian, to say the least.

History

Before considering the current wave of (state aided) migration let us take a very brief look at the origins of the city and its experience during another period of large scale of migration: the Völkerwanderung. We will see that during and after the collapse of the Western Roman Empire in the 5th century AD, Germanic tribes settled in and around Brescia, as they did in many other parts of Italy, but that these warriors and their families were ultimately assimilated into the Roman population. It could be said that Brescia conquered its conquerors. But what of the current migrants? As one former mayor put it, Brescia is in effect a "frontier city." Can Africans and other non-Europeans arriving in such huge numbers also be assimilated? And, assuming for the sake of argument that they can be, how long will the process take and at what cost?

The Roman historian Livy wrote that Brescia, or Brixia as it was then called in Latin, had been the chief settlement of the Cenomanian Gauls who crossed the Alps and established themselves in Italy north of the River Po,3 which is thought to have been inhabited by the Ligurians, possibly a pre-Indo European population. In the period before and after the Second Punic War (218/201 BC), the Roman Republic defeated the Celtic tribes south of the River Po and founded colonies in the area. The Cenomanian Gauls north of the Po for their part were defeated in 197 BC and Romanisation gradually ensued. In 27 BC, Octavian Augustus granted Brixia, now a significant urban centre, the status of colonia civica augusta.

As the Western Roman Empire collapsed in the fifth century and in the centuries that followed, Brescia frequently found itself centre stage of the Völkerwanderung. In 402 AD the city was ravaged by the Ostrogoths under Alaric and in 451 it was besieged and sacked by Attila the Hun. In 496 Odoacer, the general who had deposed the last Roman Emperor in the West, Romulus August, was defeated and killed by the Ostrogoths under Theoderic who styled himself "King of the Goths and Romans." The Ostrogoths finally succumbed to a resurgent Byzantine Empire and Brescia fell in 562. But Brescia remained in Byzantine hands for just six years when another Germanic tribe, the Lombards, invaded Italy almost unopposed and established a Kingdom that lasted until the Frankish conquest of 774. As least as far as Brescia was concerned the barbarian incursions and migrations had now largely come to an end. What is striking about these arrivals is the ultimate assimilation of these conquering Germanic populations into the Roman population. The Lombards gradually abandoned their social customs and clothing and the use of their Germanic tongue was replaced by the neo-Latin vernacular of the local population.

African and Asian Invaders

National Geography and Academics call them the "New Italians"

It is estimated that less than 3% of those who cross the Mediterranean are actually fully-fledged refugees. In Brescia the situation is even worse with around 72% of the arrivals classified as illegals. And these figures refer to 2016 only. Few clandestini are ever deported and most drift into the black economy, try to reach northern Europe or end up in the criminal underworld. A truly monstrous situation has arisen which amounts to failure by the state to fulfill its fundamental duty of upholding the rule of law and defend its citizens. A whole industry has now grown up around migrants: lawyers, think tanks, hotel owners, landlords and liberal/catholic cooperatives providing accommodation for them. The costs are enormous. According to one report, in 2016 the system of "accoglienza" (welcoming) was costing the province of Brescia around 2 million Euro a month!

The phenomenon of migration from Africa began in the late 1980's but, to be fair, the much-maligned Berlusconi actually managed to get the situation under a degree of control thanks to his relations with Libya. Then came the chaos caused by the overthrow of Gaddafi and the civil war, the ousting of Berlusconi and a series of "technocrat" and liberal governments appointed by President Napolitano, a former communist who in 1956 backed the Soviet invasion of Hungary. Key figures in government circles are known globalists with connections to refugee organisations. Laura Boldrini, Speaker of the Chamber of Deputies, is a former spokesperson for the UNHCR in Rome and was editor of its magazine Rifiugiati (Refugees).

Now, in addition to this onslaught from Africa, Brescia already has a non-European population that makes up around 13% of its roughly 200,000 inhabitants, the biggest groups being North Africans, West Africans and South Asians.5 This is the one of highest in percentage terms in Italy and the real figure is without doubt higher because of illegal immigration and the figures do not include foreigners naturalised as Italian citizens. The vast majority are unskilled workers and their dependents. Foreigners suffer a disproportionately high rate of unemployment and it goes without saying that they make up the bulk of the prison population. The member of the Lombard Regional Council in charge of Security, Civil Protection and Immigration called Brescia "the capital of foreign crime" in Northern Italy.6 Brescia too has had its fair share of terror plots, foreign fighters and Islamists.

Political Climate

Italian opinion now reflects the divisions we see over much of the Western World between the globalist metropolitan establishment on the one side and "provincials" and defenders of the nation state on the other. Much of the media, academia, big business, the professions, the church, the school system and polite society generally are politically correct and anti-populist. The courts too have taken controversial decisions. In a town near Brescia recently, a member of Lega Nord, the northern separatist party critical of mass immigration, was fined for writing that certain cooperatives "profit from the traffic in illegal immigrants." The judge held that the statement was "discriminatory" as asylum seekers are given temporary leave to stay in the country and technically are not in Italy illegally!8 As public anger over the situation rises (see below) such cases are likely to mushroom in future. Comparisons have been drawn with medieval heresy trials as a nervous establishment seeks to criminalise beliefs contrary to prevailing liberal orthodoxy.

Africans demanding that Italians live up to the ideals of Freedom and Democracy first nurtured in Africa

However, when pressed on the issue one finds that even people within these milieus will privately express deep concern, especially about Islam. There may be self-censorship as well because opposition to mass immigration is considered provincial and low status. A survey of ten European countries conducted by Chatham House (hardly an evil populist hotbed) suggested that over half the population of those countries wanted a ban on Muslim immigration. The survey suggested that 69% of Italians have an unfavourable view of Muslims. Fortunately, two national newspapers Il Giornale and Libero Quotidiano and websites such as Tutti i Crimini degli Immigrati (All the Crimes of the Immigrants) do not hesitate to cover immigration related issues.

The liberal and liberal elements in the Catholic church in Italy have a curious belief they can succeed where so many others have failed. In autumn 2015 the liberal newspaper La Repubblica ran an article claiming that a school in downtown Brescia where the children are entirely foreign is an example of how Brescia is a "model" and that integration "works here."

Yet the journalist goes on to say that one reason that the school population is almost entirely non-Italian, and indeed largely non-European, is that Italian parents no longer send their children there because of the concentration of foreigners. Indeed, at times the teachers have to "educate" not only the kids but also the parents who hold regressive social attitudes in relation to activities such as mixed swimming classes. Even the journalist admits that sometimes it is "they," i.e. the foreigners, who create problems, citing a Nigerian parent who said that boys must be served by girls.

Liberals and immigrants protest against Italian "racists" in Brescia, 2010

We are told that time, patience and resources are required. But here we are speaking about relatively new arrivals. Other countries now face the failed integration of many adult second and third generation Muslims turning to traditionalism, fundamentalism and even terrorism. It is surely complacent to argue that such problems can be avoided by time, patience and resources. Is it not more realistic to admit a basic incompatibility of cultures? Italian progressives who pride themselves on their cosmopolitanism and openness actually seem to live in a national, or in the case of Brescia, provincial bubble, complacent in their belief that when it comes to integrating immigrants Italians do it better. They seem to have learned little or nothing from the experiences of other countries.

So far the Italian state so far has had no official policy of multiculturalism and does not engage in practices such as affirmative action. It is rare to find members of ethnic minorities working for the state as mass immigration is, compared to most other countries, a relatively recent phenomenon. Further, the country also enjoys relatively restrictive citizenship laws which also tends to exclude individuals of foreign origin from working for the state and voting in elections. The country has therefore also escaped the sort of scandals seen for example in UK where there have been cases of electoral fraud in South Asian communities in London10 and reports of a disproportionate number of misconduct proceedings against ethnic minority police officers.

That said, the Italian education system in particular suffers from liberal bias. History textbooks, for example, are heavily influenced by multiculturalist thinking, provide a vulgar Marxist interpretation of colonialism, push cultural relativism and fail to conduct any analysis of crimes committed by communist regimes. Classroom tasks and activities with a pro-immigration bias are commonplace.

But will Italy go down the same path as some other Western countries and loosen its nationality laws, introduce diversity quotas in the state and, in effect, discriminate against its indigenous population? Will its liberals also play the identity politics card and seek to buy support from enfranchised Africans and Asians? Or will Italy learn from mistakes of other countries now enjoying the bloody harvest of mass immigration that went too fast and too deep? Some of the things we see do not augur well as liberalism in Italy is slavishly enamoured with what it sees as more "advanced" multicultural societies.

There are, however, signs of resistance at a popular level. In August 2015 villagers in Collio near Brescia protested the arrival of migrants and in November 2016 200 residents of the town of Montichiari also near Brescia staged a week long protested outside a former barracks that was being transformed into a refuge centre for hundreds of asylum seekers. The rejection of the left's referendum proposals and the downfall of Matteo Renzi in December 2016 was arguably in part due the government's open door migrant policy.

One Sicilian Public Prosecutor has raised questions about possible connections between people traffickers and NGOs operating in the Mediterranean and even went so far as to say that some NGOs might have "interests in the manoeuvres of international speculation." But without evidence and without the resources to conduct further enquiries the Prosecutor has said that the investigation has suffered a setback. It was reported in the Italian press that on 3 May 2017 Prime Minister Gentiloni held a meeting with wealthy liberal philanthropist George Soros, a man who reportedly funds NGOs operating off the Libyan coast, to discuss "investments in Italy."

We shall see whether the prosecutor gets his resources. Until the next general election, expected to be held in 2018, and until perhaps we see a thorough going transformation of the political culture and collapse of liberal consensus, we can expect migrant numbers to swell still further as Brescia, like the West generally, continues to build its own funeral pyre.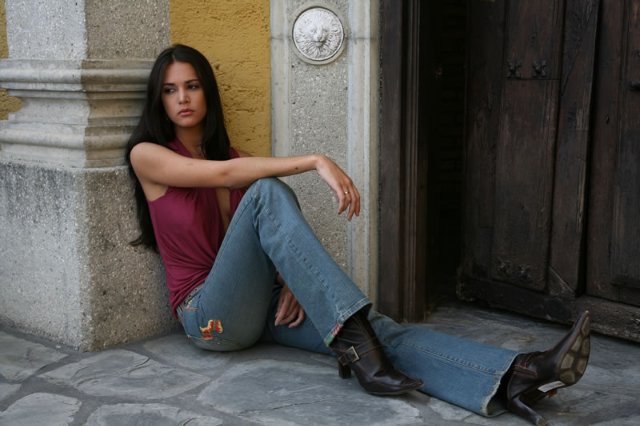 Former Miss Venezuela, Monica Spear, murdered with her boyfriend in 2014
1 Caracas, Venezuela 119.87
2 San Pedro Sula, Honduras 111.03
3 San Salvador, El Salvador 108.54
4 Acapulco, Mexico 104.73
5 Maturin, Venezuela 86.45
6 Distrito Central, Honduras 73.51
7 Valencia, Venezuela 72.31
8 Palmira, Colombia 70.88
9 Cape Town, South Africa 65.53
10 Cali, Colombia 64.27
11 Ciudad Guayana, Venezuela 62.33
12 Fortaleza, Brazil 60.77
13 Natal, Brazil 60.66
14 Salvador, Brazil 60.63
15 St. Louis, U.S.A. 59.23
16 Joao Pessoa, Brazil 58.4
17 Culiacan, Mexico 56.09
18 Maceio, Brazil 55.63
19 Baltimore, U.S.A. 54.98
20 Barquisimeto, Venezuela 54.96
New Observer, "Race and Crime: The Most Dangerous Cities in the World", 24 April 2017:

The new list of the 50 most dangerous cities, compiled from official government policing figures, has been published on the Canadian-based Worldatlas news service, and shows that the worst crime rates appear in the cities with the largest racially mixed populations.

Eight of the 50 most dangerous cities—including the top ranked one—are in Venezuela, two are in Honduras, one is in El Salvador, five are in Mexico, three are in Colombia, four are in South Africa, one in Jamaica, 21 in Brazil, four in the USA, and one in Guatemala.

According to the figures, Caracas, Venezuela, has risen to the number one spot with 119.87 murders per 100,000. That city surged ahead of San Pedro Sula in Honduras, which formerly held top place with 171.2 murders per 100,000 people in 2015 (this rate has since dropped to 111.03 in 2016).

The clear link between race and crime has been highlighted once again with the release of the 2016 rankings of the world's most dangerous cities—and the fact that every single one of them, including those in the U.S.—have majority nonwhite populations.

The report said that "some of the factors that may be to blame" for the murder rates that measure over 100 include illegal drug distribution, extensive poverty, and gangs.

For example, a rise in mass killings and escalating violence between gang members has resulted in the murder rate of San Salvador practically doubling in a year from 61.21 to 108.54, allowing it to take the third spot.

August was the most violent month in San Salvador, with more than 900 killings, including an unprecedented 52 deaths registered in a single day.

The other two cities that complete the top five most dangerous places in the world are Acapulco, Mexico and Maturin, Venezuela.

Four cities in the United States have a place among the top 50 most dangerous cities in the world (on the basis of murder per capita statistics). St. Louis ranks 15th on the list with a murder rate of 59.23 per 100,000 inhabitants, a rise from 2015's rate of 49.93, making it the most dangerous urban area in the country.

The city is also present in rankings based on considerations for other crimes—the Missouri city has a burglary rate of 606.9 per 100,000 and an aggravated assault rate of 317.7 per 100,000. This has led many to the conclusion that St. Louis is the most dangerous city in the U.S.

Also of note is Baltimore, Maryland's position on the list. In 2015, it was ranked 40th with a murder rate of 33.92. For 2016, however, it rose to 19th with a murder rate of 54.98 per 100,000 people.

Detroit is the third city included in the 2016 ranking of the world's most dangerous cities in terms of murder rates. With its 43.89 murders per 100,000 people, it is a bit further down the list than St. Louis, but is still classified a dangerous place. Factoring in all violent crime Detroit tops the list of the most dangerous cities in the United States.

Although Chicago is often cited as the most dangerous urban area in the United States, even with a near record-breaking 762 murders in 2016, the murder rate remains at 28.2, making its position fall further on the list.

New Orleans falls further down with 41.44 murders per 100,000 residents a year.

The most dangerous cities in the world, as listed according to ranking, name, and murder rate per 100,000, are as follows:

1 Caracas, Venezuela 119.87
2 San Pedro Sula, Honduras 111.03
3 San Salvador, El Salvador 108.54
4 Acapulco, Mexico 104.73
5 Maturin, Venezuela 86.45