Majorityrights News > Category: Free Speech
Unhinge the Right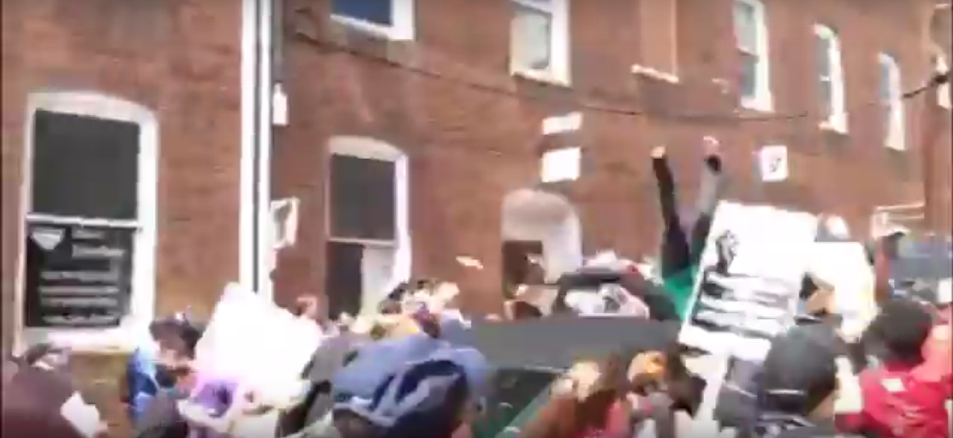 Video shows car crashing into Charlottesville protest. Witnesses say that it was absolutely intentional; it is being treated as homicide.
Fox News, A 32-year-old woman was killed Saturday and 19 others were injured, five of them critically, when a car rammed into a group of counter-protesters during the "Unite the Right" rally in Charlottesville, Va.

Virginia Secretary of Public Safety Brian Moran told the Associated Press that the driver of the car, a man, was in custody. Moran did not provide the driver's name.
While following the goings on of the "Unite The Right Rally" in Charlottesville, in a live feed, Tara McCarthy took friendly questions from the likes of Roosh V. and fielded reports from the likes of Pax Dickinson, recommending that people contribute to his Mencious Moldbug (a Jewish man of Neo Reactionary fame) backed crowdfunding; Tara scolded "The Left" for counter-protesting what she says was meant to be a peaceful rally for free speech, and to encourage "normies" to join the cause of ethno-nationalism by showing them they're not a bunch of neo-Nazis, skinheads and so-on. She might have wondered how that was supposed to happen with the motley array of right wingers that showed-up, including Commander Jeff Schoep's Neo-Nazi group in full regalia, Carolina K.K.K., Matt Heimbach's Jesus Freak Group, calling itself "The Traditional Workers Party" and a skinhead gang called "The Detroit Right Wings."
...and look at the headliners, starting with Mike Enoch Peinovich: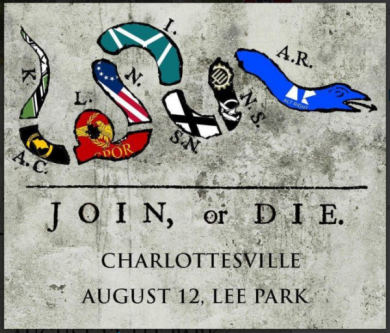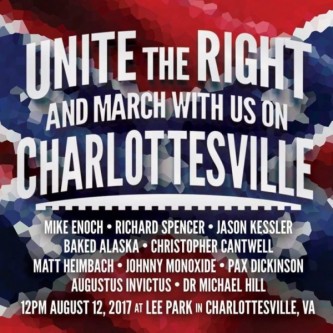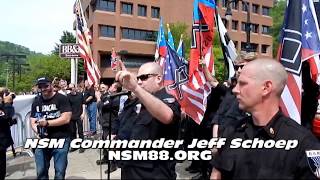 Yep, (((they've))) marshaled a reactionary formation against the so-called "left."
...with plenty of warning beforehand to nearly assure that there would be violence and prison sentences for those reactionaries coming most unhinged.
A death, dozens injured, including five critically, and a ruined life for the perpetrator of the car attack was only a somewhat surprising outcome of this mix.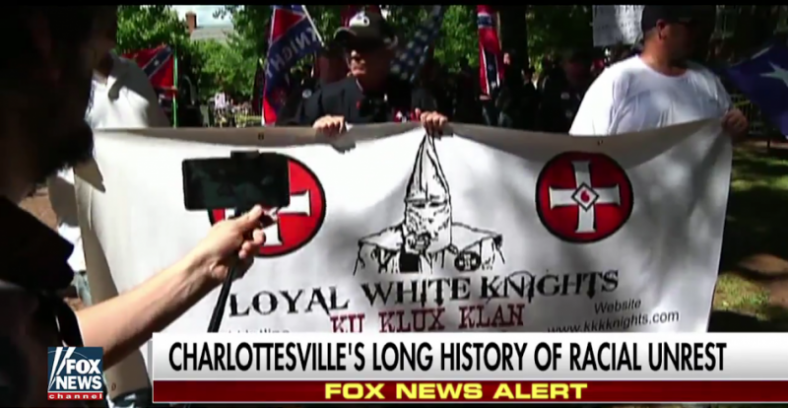 Fox News, "Charlottesville white nationalist rally blamed for 3 deaths, dozens of injuries", 12 Aug 2017:

A 32-year-old woman was killed Saturday and 19 others were injured, five of them critically, when a car rammed into a group of counter-protesters during the "Unite the Right" rally in Charlottesville, Va.

A helicopter crash that killed the pilot and a passenger later in the afternoon outside the university town also was linked to the rally by State Police, though officials did not elaborate on how the crash was connected.

At a late afternoon news conference, Charlottesville Police Chief Al Thomas said that 35 people had been injured in various confrontations during the rally and made a point of saying that none of those involved his officers. Thomas also said that the car crash was being treated as an act of "criminal homicide."
Blacks aren't natural allies of Asians and neither are Jews, with their propensity to impose Abrahamism, its liberalism, Christian submissionaries and Muslim compradors over Asians

Salon, "Donald Trump's Justice Department is fighting affirmative action for hurting white people", 2 August 2017:

Attorney General Sessions is furthering an anti-civil rights agenda by investigating affirmative action.
I'm going to begin with an unusual order in approaching this article and surrounding discussion - viz., I will begin by looking at some comments on the matter because they throw light on how the YKW are misleading and manipulating people with a concept of "the left" - not letting it be properly understood as discriminatory social unionization and coalitions thereof, but rather having it oxymoronically accepted as liberalism for all but those unionizations circumscribed and actively represented inasmuch as it is good for YKW interests - themselves stealthily behind the scenes of the unionizations, markedly of the black interests that they have represented - viz., especially as it serves to rupture the effective patterns of their perceived enemies: would-be unionized White and Asian power.
Until recently, around 2008 with the subprime mortgage crisis; and the re-branding of (((Frank Meyer's paleoconservatism))) as the "Alt-Right", the YKW had not been so ardent nor effective in getting the public to argue that THE Left was the great problem of our times.
But looking at the essence of "the left" as the YKW have permitted it to be spoken of in the public domain, what we've had is Jewish led coalitions, internationally, of Jewish interests and crony capitalist interests; and domestically, in The U.S., primarily Jewish led coalitions of Africans, sundry Mulattoes, where convenient, gays, lesbians and feminists where they might perceive a common axe to grind against White men ...at the same time these Jewish led coalitions have not been organized for sympathy or fairness to Asians interests either.
After this point, 2008, when the YKW and complicit right-wing sell outs had presided over the boom bust cycle to where they stood firmly atop, they no longer had any use for advocating left coalitions of unions against the power - because the YKW had crossed the intersection, they had become the predominant organized power. Suddenly, "the left" became the pervasive enemy. ...and in the background, only one social unionization was tolerated by them - though not called "the left" - it was, of course, the union of Jews; and it became more brazenly right wing and supremacist with regard to other peoples, seeking only to cooperate with their right wing sell outs against those who might collectively organize as leftist coalitions against their elitism, supremacism and imperialism.
Thus, Gavin Chan has been maneuvered by Jewish journalese, a disingenuous framing of discourse, into talking in terms of "THE left" being antagonistic to his interests, without recognizing that this is neither a White Left, nor an Asian Left, but Jewish organized black and other PC left that has been used to attack those who most threaten the YKW - viz. Whites and Asians - as they threaten, especially in coalition, the only social unionization that the YKW want to remain effective - their own.
Gavin Chan · Dallas, Texas
Affirmative action is in fact the biggest middle finger to Asians. But the left leaves this detail out in most affirmative action discussions because Asians don't fit into the leftist racial narrative.

Affirmative action in place to pay historical reparations, sure, but why at the expense of Asians? It's absolute bs.

It's time to end this super racist policy.
Gavin, they've given you the middle finger indeed with unions of blacks et. al, represented against you. But, where Elizabeth says..
Elizabeth Rodriguez · Ledyard, Connecticut
Sorry, but I don't think Trump and Sessions are doing this to fight for Asian rights.
...that is true, they are not. They are doing this as a part of disingenuous quid pro-quo between Jews and complicit White right/alt-right wingers. I.e., they are not doing this for a White Left nor an Asian Left, but for a system controlled by (((the invisible hand))) in cooperation with whomever will take their deals, take their side and share their enemies where they might have the nerve to organize against their supramacism and imperialism.
The proper response is to recognize that a repeal of the Consent Decrees of the 1964 Civil Right Act would help alleviate some of the pressure of active enforcement of reverse discrimination, but it does not go far enough, it is not the White and Asian unionization and necessary coalition thereof - which would constitute, in the case of America, ethno-nationalisms in diaspora.
When you criticize "the racism" of affirmative action you are, in effect, criticizing group genetic unionization, the capacity for accountability thereof and thus to discriminate necessarily in group interests - that is not necessarily the same as being unfair and impervious - and leaves us only the fall-out of a civic nation, its muddles and deleterious demographic mixing - which will be horrifically unjust and destructive to systems- a destruction imposed by cultural Marxism these last 70 years, which operates irrespective of objectivist rules such as civil rights, by whatever stealthy social organization that remains effective behind the scenes, largely YKW.
Let's focus more on the Salon article(s) now:
Some background: The Consent Decrees are effectively a scheme devised for U.S. Courts to stipulate and oversee enforcement of various concrete measures that must be taken over time to implement reverse discrimination, for all practical purposes, against White people (it eventually worked against Asians as well).
At first blush it appears to be simply good that this reverse discrimination of affirmative action might be overturned - and it really is good to an extent: at least it would repeal oversight of strict and punitive enforcement of (((Red Leftism))) and its defacto imposition of Mulatto supremacism over Whites (and Asians, Mestizos and Amerindians). It would curb the imposed liberalization of White (and Asian) boundaries in force since court decisions and consent decrees of the 50's and 60's; and make way for a return to a more generally liberal direction of civil individual rights, on the basis of civic nationalism - that, however, is always disingenuous. Who believes that the system is "objectively" backed?. What is the demographic make-up of this civic nation, where is it headed and which people have the invisible hand that is pulling the socially orchestrating strings that are not acknowledged?
Now that the demographic situation is muddled among the masses and unionized resistance appears near futile as it has been conflated for years with civic liberalism, Jewish interests are entrenched on top with the help of right wing sell outs they've bought off. They are now consistent in opposing "the left" - viz., unionized groups of people which might otherwise hold them to account. What they offer instead is civic nationalism and the mechanism of civil rights with no account to systemic backing other than the invisible hand that they, the YKW, and to some extent complicit right wing sell outs, control.
The initial financial boosters of the Trump administration, the people who made Trump's presidency possible, are Robert Mercer and his daughter Rebekah. They fall into the complicit with Jews category, at best, they work things out with Jews. Witness their having put Judeo-Christian Steve Bannon (who believes "the dark frorces of the far east are the greatest threat to Western civilization) in charge of the Trump campaign as a condition of their backing. Nevertheless, Robert has long been an opponent of the 1964 Civil Rights Act; and Sessions has obviously been tasked to set about deconstructing the 1964 Civil Rights Act; he was installed along with Bannon into the Trump administration apparently in large part with that aim.
Rebekah and her father Robert Mercer

NPR, 22 March 2017: "Jane Mayer - Dark Money: The Hidden History of the Billionaires Behind the Rise of the Radical Right."

Jane Mayer writes in the New Yorker about Robert Mercer and his daughter, Rebekah Mercer, who have poured millions of dollars into Breitbart News, and who pushed to have Bannon run Trump's campaign. Robert and daughter Rebekah's dark money is behind Bannon, Sessions,.. they were behind Flynn as well, would have been for Cruz, Bolton, almost anything but the Clintons.
Robert Mercer's Opinions on 1964 Civil Rights Act:

According to a March 2017 New Yorker article by investigative journalist Jane Mayer, David Magerman, a former Renaissance employee, said that Mercer called the Civil Rights Act of 1964, the landmark federal statute arising from the civil rights movement of the 1960s, a "major mistake." According to Magerman, Mercer said that African Americans were economically better off before the civil rights movement, that white racists no longer existed in the United States and that the only racists remaining were African American. Mercer vigorously denies being a white supremacist.
It remains true that White people, including 'lower class White people" NEVER needed such black unions having their interests imposed upon them, as they were imposed by Jewish legalists, right wing sell outs and liberal stooges.
Thus, a repeal of the Consent Decrees could relieve Whites some - but only after untold damage has already been done to human biological systems and the demographic situation is hideously muddled and swamped - leaving the only one apparent way out in systemic support - through dealing with the YKW: an option that right wing sell outs and the Alternative Right have already exercised.
While they may have some problems with blacks that they may not want to own up to, but would rather look upon as the unfairness of affirmative action according to pure objectivist criteria and civic nationalism, none of these people behind and in the Trump administration have any great affection for Asians either. None of these people are anti-Semitic. The circumstance has all the hallmarks of a continued program of collaboration of elite and Zionist Jewry and right wing sell-out Whites: i.e., now that these folks are on top of the seven power niches, who needs left coalitions, unions of people discriminating in their interests? Especially not against Jewish supremaicism and elitist right wing interests.
The YKW, you see, are the only systemic union allowed in the end, by the cause of Red Leftism. Ever since around 2008 "the left" has been popularized as the great villain by the YKW in power - largely by means of the popularization of the (((paleoconservative underpinned))) Alternative Right.
But, in a word, the liberalism that they offer - even if they would repeal the Consent Decrees (which they will probably not succeed in implementing to any great effect for White interests free of Jewish instigation of pan mixia) - does not go nearly far enough: Systemic White interests need to be unionized such as to afford discriminatory accountability in the interests of our social capital - that is what is called an ethno-nation - and it must exclude the YKW from any pretense that they are White as well. Jews being considered "White" and a part of "Western Civilization" is obviously a key to the Session's deal that they are floating to repeal the Consent Decrees. Jews cannot be trusted as part of our interest group for their manichean cunning and inevitable destruction to our people, any more than blacks can be a part of our people for their genetic distance and inevitably destructive biopower where it is allowed cohabitation and mixing.
The undoing of the Consent Decrees would be the theoretical ending of a Jewish led implementation of imposed black unionization and extortion against us all.
What we mean by unionization here is what we mean by ethno-nation on the broad scale and genetic interest groups on the subsidiary level - in our exclusionary interests.
The problem arises then with he fact that you still have to live in the world with other people as cooperatively as possible. Drawing upon friend enemy distinctions, most sane people would say Jews and blacks should be first to be most perfectly excluded; as people coordinated with at best, but not cooperated with in expectation of reciprocal good will.
Our best hope is in cooperating with coalitions of Asians, Amerindians and Mestizos against blacks and YKW.
Asian - Mestizo - White interaction is nevertheless, problematic and nobody wants to be naive - but if there is some way to coordinate our unions as a coalition against Jewish and other right wing supremaicsm, and Muslims and against black biopower, then we probably have the best possible coalition.
Of course the trick is how to manage these coalitions with Asians, Amerindians and Mestizos, without us getting abused - particularly with the Alt-Right, Right and Jews ostensibly representing us - The Asians, Amerindians and Mestizos might simply react by trying to swamp us in population if we let them, glibly citing historical grievances that we especially would have had nothing to do with, even historically; or they could do worse, taking guerilla tactics against us as if we are immune to cooperation, perhaps sicking https://www.youtube.com/watch?v=0Wvy5jXXg-E tuck ms 13">the likes of MS13 on us if we don't like their taking advantage, etc.
Some people would say that we do not have to coordinate with the better elements of these people; but in a world where we are faced with Jews, Muslims and Africans, and naive and disingenuous Whites, Jewed-out by Christianity, indeed we must try to coordinate with these peoples as left natonalist allies as best we can.
The Salon Article. An ostensible victory to unburden White servitude to blacks, but at what (((price))) and to what real effect, in whose "objective" interests?
Salon, "Donald Trump's Justice Department is fighting affirmative action for hurting white people", 2 August 2017:

Attorney General Jeff Sessions is furthering an anti-civil rights agenda by investigating affirmative action.


The bromance between President Donald Trump and Attorney General Jeff Sessions may have soured, but that doesn't mean the president isn't supporting the most reactionary aspects of Sessions' policies.

The Justice Department's civil rights division is going to have some of its resources allocated toward lawsuits against universities over affirmative action policies perceived as hostile to white people, according to a document reported by The New York Times. The Times also reports that the internal announcement to the civil rights division explicitly asks for lawyers who would be willing to pursue "investigations and possible litigation related to intentional race-based discrimination in college and university admissions."

This policy exists as part of a larger anti-civil rights agenda being pursued by Trump and Sessions. In May, Sessions doubled down on the drug war by instructing prosecutors to "charge and pursue the most serious, readily provable offense." In June, Sessions discontinued the use of consent decrees in civil rights cases, which goes against traditional Justice Department practice as it makes civil rights rulings more difficult to enforce. Last month the Justice Department argued that Title VII protections don't apply to the LGBT community.

Despite these social justice policies, Sessions has mainly been in the news for his deteriorating relationship with Trump. Although the two were reported to be close friends for years, and through the 2016 election, things soured between them when Sessions recused himself from the Russia investigation in March. Trump has blamed Sessions for what he perceives as a showing of weakness and said that he wouldn't have selected Sessions as attorney general if he'd known he would do that.
Salon, "Trump Administration quietly rolls back Civil Rights efforts across federal government", 15 June 2017: Previously unannounced directives will limit the Department of Justice's use of civil rights enforcement tools - Consent Decrees

Topics: Civil Rights, Department of Justice, Jeff Sessions, ProPublica, Trump Administration, Politics News

For decades, the Department of Justice has used court-enforced agreements to protect civil rights, successfully desegregating school systems, reforming police departments, ensuring access for the disabled and defending the religious.

Now, under Attorney General Jeff Sessions, the DOJ appears to be turning away from this storied tool, called consent decrees. Top officials in the DOJ civil rights division have issued verbal instructions through the ranks to seek settlements without consent decrees — which would result in no continuing court oversight.

The move is just one part of a move by the Trump administration to limit federal civil rights enforcement. Other departments have scaled back the power of their internal divisions that monitor such abuses. In a previously unreported development, the Education Department last week reversed an Obama-era reform that broadened the agency's approach to protecting rights of students. The Labor Department and the Environmental Protection Agency have also announced sweeping cuts to their enforcement.

"At best, this administration believes that civil rights enforcement is superfluous and can be easily cut. At worst, it really is part of a systematic agenda to roll back civil rights," said Vanita Gupta, the former acting head of the DOJ's civil rights division under President Barack Obama.

Consent decrees have not been abandoned entirely by the DOJ, a person with knowledge of the instructions said. Instead, there is a presumption against their use — attorneys should default to using settlements without court oversight unless there is an unavoidable reason for a consent decree. The instructions came from the civil rights division's office of acting Assistant Attorney General Tom Wheeler and Deputy Assistant Attorney General John Gore. There is no written policy guidance.

Devin O'Malley, a spokesperson for the DOJ, declined to comment for this story.

Consent decrees can be a powerful tool, and spell out specific steps that must be taken to remedy the harm. These are agreed to by both parties and signed off on by a judge, whom the parties can appear before again if the terms are not being met. Though critics say the DOJ sometimes does not enforce consent decrees well enough, they are more powerful than settlements that aren't overseen by a judge and have no built-in enforcement mechanism.

Such settlements have "far fewer teeth to ensure adequate enforcement," Gupta said.

Consent decrees often require agencies or municipalities to take expensive steps toward reform. Local leaders and agency heads then can point to the binding court authority when requesting budget increases to ensure reforms. Without consent decrees, many localities or government departments would simply never make such comprehensive changes, said William Yeomans, who spent 26 years at the DOJ, mostly in the civil rights division.

"They are key to civil rights enforcement," he said. "That's why Sessions and his ilk don't like them."
Western Spring, "Jez Turner at the JTMM – Talks of Three Essential Truths!", 27 July 2017:

Jez Turner was the fifth guest speaker at the recent John Tyndall Memorial Meeting and in his speech he examines whether we have the ability or the time to awaken our people to the dangers that beset us? He goes on to develop his theme by presenting what he sees as three essential truths about which we should be aware; the truth of race; the truth of power and the truth about the agenda.

ez ends his speech by talking about the dedication, determination and resilience exhibited by most nationalists, qualities that John Tyndall epitomised, devoting as he did, his entire life to our cause.
European Outlook, "Propaganda", 31 July 2017:
By Bill Bailie #44 August 2017
Propaganda
Technology has revolutionised communications. Martin Luther nailed his thesis to the door of All Saints' Church in Wittenberg and changed the world. Benito Mussolini led the March on Rome to sieze power. And, in the sixties, we relied on street corner meetings and literature. Today, such primitive methods have been overtaken by the Internet.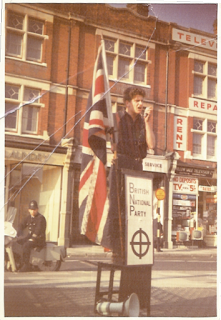 A young Bill Baillie campaigning for John Bean's British National Party in the 1964 general election.
We were not an insular nationalist party, we believed in European solidarity and social justice. I went overseas in 1965 and when I came home in 1970 we had been taken over by the National Front and our progressive policies had been dumped. I therefore joined Union Movement and embraced Oswald Mosley's vision of 'Europe a Nation'.
Social media is the modern way of communicating and video platforms such as Youtube are very effective. Donald Trump used Twitter and Facebook extensively in his presidential campaign and so did Emmanuel Macron in France.
Newspapers and magazines are expensive to produce and distribute but websites are affordable. We can reach more people on the Internet than we did in the old days by putting leaflets through letterboxes or selling newspapers on street corners. Competing with the mass media is obviously an unequal challenge but having discovered the truth it's our duty to encourage people to think for themselves and reject media brainwashing.
Newspapers, radio and television dominate public opinion but we can fight back by using the Internet. The State uses anti-terrorist legislation to silence its enemies but we can stay within the law by avoiding insulting or threatening language.
Ten years ago immigration was a taboo subject and only the lunatic-left talked about a "crisis of capitalism." Today, these ideas have gone mainstream and you don't have to be a political party in order to have an opinion. So, carry on blogging and posting on Facebook and Twitter. Let our voices be heard.
A Garden Green by William Harris,
first published in 'Lodestar' Winter 1986
Each year brings thousands of American tourists to Britain, and it is clear that many of them are seeking something the do not posses in their own continent. This, I suggest, is a past: their own past forged by their own ancestors, and not the pre-Colombian past of the Indian, which is the only true ancient thing they have. They must travel all these hundreds of miles in order to find their roots, be they of Celtic, Anglo-Saxon or Norman descent.
As so much nonsense is talked about Britain's 'mixture of races', it is worth quoting the words of Brian Branson in 'The Lost Gods of England'. In his chapter 'Who were the English?' he mentions these ethnic groups, adding "But none of these inter-breedings was what might be called in genetic terms 'a violent out-cross' such as would have been the case if Britain had been successfully invaded by an armada of Chinese, or Red Indians or African Bushmen. Apart from any alteration in physical appearance that would have befallen the new Island Race under such circumstances, one has only to suppose a pagoda in Canterbury, a totem pole in Trafalgar Square, and rock paintings in the Cheddar Gorge to imagine the cultural changes that would have ensued." He concludes that "the mongrelism of the English turns out to be more apparent than real." That was first published in 1957, before the minarets of the mosque loomed over the trees in Regent's Park.
Names are among the most ancient and lasting monuments in a culture, particularly those given to natural features in the landscape. In Britain they are usually Celtic, the Celts being the earliest of the above ethnic groups. The prefix 'Pen' for 'head' or 'headland' and the many instances of the name 'Avon', which means simply 'river' are two of the most obvious.
The names of our pubs are often far older than the buildings they adorn, and they tell us much. 'The George', and 'The Green Man', for instance, take us back to the traditional Mummers' Play of St George and the Turkish knight, and to a character in the Morris Dance, 'Jack in the Green'. The mummers would usually herald their appearance by announcing "Here come I". . . and in all these traditions, including that of traditional dance and song which is inseparable from it, there are a number of folk-heroes who emerge: St George, Robin Hood and Maid Marion, King Arthur, Hereward the Wake, Dick Whittington, Dick Turpin, Nelson and Lord Collingwood. The villains (all of whom are often cut down by St George in the course of the mummers' play) include: Prince Valentine, Captain Rover, Turkey Snipe, Little John, Bonaparte and Sambo. The last prompts me to remark that the blackening of faces (so upsetting to the susceptibilities of the liberal left of today), is probably far older than the 'Black and White Minstrels', or the minstrels who used to perform on seaside piers. There are accounts of wassailers or masqueraders blackening their faces, and the 'Giant of Salisbury' (a huge effigy , which used to be carried in all important processions in the city, which is now in the Salisbury and South Wiltshire museum) was found to have had his face blackened at some stage in the past, before he was 'cleaned up'. 'Morris', of course, is thought to derive from 'Moorish' so, like the Mummers' Play, it may date from the time of the Crusades.
After St George in the play has felled the Turkish knight, a doctor is called for, to 'cure' him. He is often played by a small boy dressed in a top hat and frock coat far too big for him and (in the version from Camborne, Cornwall) he says:
"I can cure the itch, the specs and the gout -
If there's nine devils, I can kick ten out."
He always cures the wounded knight so that the audience can then enjoy another bout of fighting but, in fact, his origins go back to the idea of death and resurrection which is the basis of most of the world's religions.
New Observer, "Orban: Hungary is a "Refuge for Europeans," and Uses Tax Money to Boost Birthrate", 24 July 2017:

Hungarian Prime Minister Viktor Orbán has announced that his nation will "remain a place where Western European Christians will always be able to find security"—and that his government is using taxes on multinational companies to fund social policies to spur families to have more children.

Speaking at a cultural festival in Baile Tusnad, Romania, Orbán also said that the European Union, together with Open Society founder—and Hungarian Jew—George Soros was seeking a "new, mixed, Muslimized Europe."

He went on to say that Hungary's border fences, supported by other Central European countries, "will block the EU-Soros effort to increase Muslim migration into Europe."

While Hungary opposed taking in migrants "who could change the country's cultural identity," Orban said under his leadership, Hungary would remain a place where "Western European Christians will always be able to find security."

He also said that Hungary's opposition parties were no match for his government, and that he would win the next election in April 2018.

"In the upcoming campaign, first of all we have to confront external powers," Orban said.

"We have to stand our ground against the Soros mafia network and the Brussels bureaucrats. And, during the next nine months, we will have to fight against the media they operate."

Recent legislation in Hungary seeks to close or expel the Budapest-based Central European University, founded by Soros in 1991. There are also new rules about non-governmental organizations funded at least partly from abroad.

Orban reiterated his charge that Soros-funded NGOs want to weaken Hungary's security with their advocacy for asylum-seekers and said Hungary had managed to stop the "migrant invasion" with razor-wire fences on its borders with Serbia and Croatia.

In the speech, broadcast by Hungarian state media, Orban repeated his claim that the EU leadership was encroaching on member states' rights and trying to apply policies, such as increased immigration, which he said were opposed by most Europeans.

Orban said Poland, which is under pressure from the EU because of attempts to put its Supreme Court under political control, had replaced Hungary as the target of the EU's "chief inquisitor," whom he identified as European Commission Vice-President Frans Timmermans.

"The main target of the inquisition, the example of national governance to be weakened, destroyed and broken is Poland," Orban said, vowing to defend the Polish government. "Hungary will use every legal possibility in the European Union to be in solidarity with the Poles."

Finally, Orban said Hungary's low birth rate made the country an "endangered species," and that the government was using taxes on multinational companies to fund social policies that would spur families to have more children.
However much of a taboo one is breaking by saying it, there is no cultural identity in a population without a stable ethnic composition

Visigrad Post, "Full speech of V. Orbán : Will Europe belong to Europeans?" 24 July 2017:

Viktor Orbán's speech at the 28th Bálványos Summer Open University and Student Camp, 22 July 2017, Tusnádfürdő (Băile Tuşnad, Romania)

Hungarian Prime Minister Viktor Orbán: "First of all, I'd like to remind everyone that we started a process of collective thinking 27 years ago in Bálványosfürdő, a few kilometres from here. That is where we came to a realisation. Just think back: at that time, at the beginning of the nineties, most people – not only in Hungary, but also across the whole of Central Europe – thought that full assimilation into the Western world was just opening up to us again. The obvious approach was adjustment to that world: to in a way shed our skin and grow a new, fashionable Western skin. From this it followed that in our politics we would simply need to copy what they were doing in the West. Back then – 27 years, 28 years ago – we came together here, and we thought that we freedom fighters living on this side of the Iron Curtain could also have something valuable to say to a Europe which had by then been living in peace, freedom and prosperity for forty years. Back then we weren't surrounded by television cameras, and our words commanded no attention whatsoever.

Now, however, they do. And if I were to name the most important event, the most important Hungarian and European event of the past year – the twelve months since our last meeting – I would say that it is the strengthening of the Visegrád Four. Although there was a presidential election in the United States, and not so long ago the French presidential and parliamentary elections swept away the entire French party system – which are both important things – I'm convinced that the most important development of the past year has been the Visegrád Four cooperation becoming closer than ever before. We can say that Warsaw, Prague, Bratislava and Budapest are speaking with one voice. This is a great achievement, as these are countries which are very different in their characters. Here we have the enthusiastic Poles, the ever-cautious Czechs, the sober Slovaks and the romantic Hungarians; and yet we are able to speak the same language. We can be truly proud of this.

It is customary for the Open University presentations to seek to give an account of the extent of change over the past year, also in a broader civilisational context. Certainly not everyone remembers that in 2009, after his election, President Obama made his first important speech abroad in the city of Cairo. This year the newly-elected US president delivered his first important speech abroad in the city of Warsaw. To illustrate the extent of the changes, it's enough to quote a few sentences from the speech made by the American president in Warsaw. I'll quote from it now:

"We have to remember […] that the defence of the West ultimately rests not only on means, but also on the will of its people to prevail and be successful and get what you have to have. […] Our own fight for the West does not begin on the battlefield. It begins with our minds, our wills and our souls. […] Our freedom, our civilization and our survival depend on these bonds of history, culture, and memory."

He then went on to say: "So together let us all fight like the Poles: for family, for freedom, for country and for God."

Ladies and Gentlemen,

These words would have been inconceivable anywhere in the Western world two years ago. This is the extent of the change that is taking place around us. This, perhaps, is the point at which I should greet Piotr Naimski and the Polish delegation led by him. He is the President of the Hungarian-Polish Parliamentary Group in Warsaw. Welcome, Dear Polish Friends.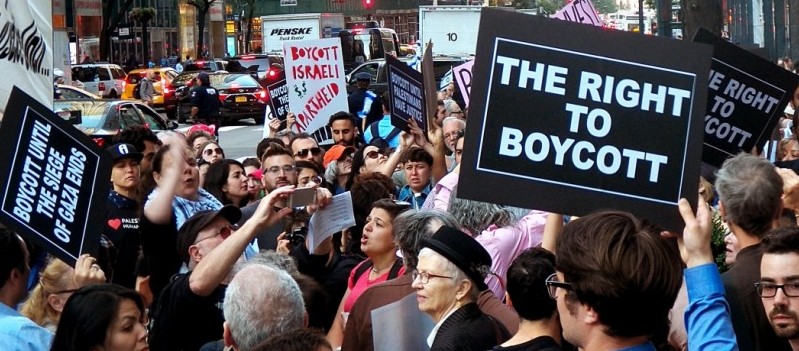 The Intercept, "U.S. Lawmakers Seek to Criminally Outlaw Support for Boycott Campaign Against Israel", 19 July, 2017:
The criminalization of political speech and activism against Israel has become one of the gravest threats to free speech in the West. In France, activists have been arrested and prosecuted for wearing T-shirts advocating a boycott of Israel. The U.K. has enacted a series of measures designed to outlaw such activism. In the U.S., governors compete with one another over who can implement the most extreme regulations to bar businesses from participating in any boycotts aimed even at Israeli settlements, which the world regards as illegal. On U.S. campuses, punishment of pro-Palestinian students for expressing criticisms of Israel is so commonplace that the Center for Constitutional Rights refers to it as "the Palestine Exception" to free speech.
But now, a group of 43 senators — 29 Republicans and 14 Democrats — wants to implement a law that would make it a felony for Americans to support the international boycott against Israel, which was launched in protest of that country's decades-old occupation of Palestine. The two primary sponsors of the bill are Democrat Ben Cardin of Maryland and Republican Rob Portman of Ohio. Perhaps the most shocking aspect is the punishment: Anyone guilty of violating the prohibitions will face a minimum civil penalty of $250,000 and a maximum criminal penalty of $1 million and 20 years in prison.
The proposed measure, called the Israel Anti-Boycott Act (S. 720), was introduced by Cardin on March 23. The Jewish Telegraphic Agency reports that the bill "was drafted with the assistance of the American Israel Public Affairs Committee." Indeed, AIPAC, in its 2017 lobbying agenda, identified passage of this bill as one of its top lobbying priorities for the year: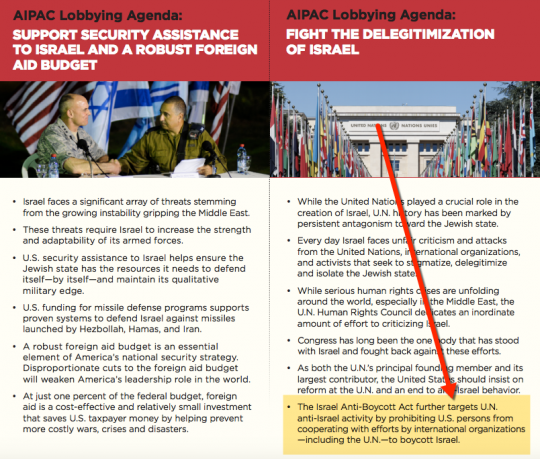 The bill's co-sponsors include the senior Democrat in Washington, Minority Leader Chuck Schumer, his New York colleague Kirsten Gillibrand, and several of the Senate's more liberal members, such as Ron Wyden of Oregon, Richard Blumenthal of Connecticut, and Maria Cantwell of Washington. Illustrating the bipartisanship that AIPAC typically summons, it also includes several of the most right-wing senators such as Ted Cruz of Texas, Ben Sasse of Nebraska, and Marco Rubio of Florida.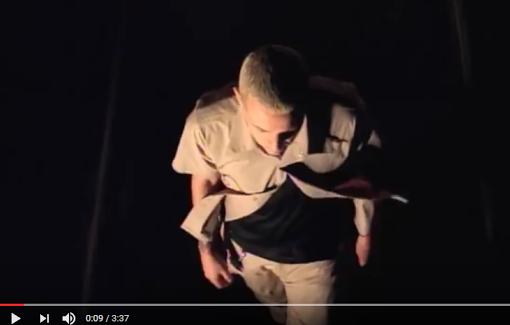 The End, Linkin Park's Chester Bennington
When false opposition forces you to imagine lyrics/text different than theirs and supply protest lyrics authentic to your interests:
Back in the days before Internet, decades before in fact, we young folks didn't have much outlet for protest via the media - TV, movies, newspapers and magazines, book publishing (((all controlled))). Music, concerts and festivals were ostensible outlets of protest expression - and even they were so (((controlled))) by pervasive liberalism that I had to change lyrics in my head to de-liberalize them and make them properly aligned to my grievances. Neil Young's "Alabama" is a classic example of a song that had righteous passion totally misdirected into liberalism. Lynard Skynard noticed it in their song "Sweet Home Alabama", citing Young and his song "Alabama" directly for criticism. But it wasn't only they who objected and I could not relate to their southern patriotism either. No, I had my own protest lyrics in mind - lyrics, wouldn't you know, that I can't even spell out today, this protest remains so forbidden by the powers-that-be and their do-gooders multatto supremacist gate keepers: it goes to show HOW FAR we have NOT come in some ways - ridiculously, you can't even say the N word: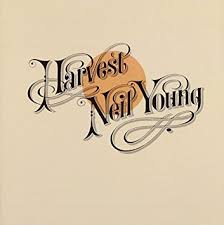 "Alabama", Neil Young - Lyrics

Oh Alabama N-lover
Banjos playing
through the broken glass
Windows down in Alabama.
See the old folks
tied in white ropes
Hear the banjo.
Don't it take you down home?


Alabama N-lover, you got
the weight on your shoulders
That's breaking your back.
Your Cadillac
has got a wheel in the ditch
And a wheel on the track

Oh Alabama N-lover.
Can I see you
and shake your hand.
Make friends down in Alabama.
I'm from a new land
I come to you
and see all this ruin
What are you doing Alabama N-lover?
You got the rest of the union
to help you along
What's going wrong?
Neil did a bit better with the lyrics to "Southern Man", particularly in the last stanza, although I don't think Neil was looking at it from the same angle that I have… that's my imagination supplying the protest angle once again.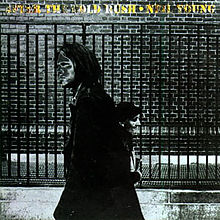 Southern Man, Neil Young – Lyrics
Southern man
Better keep your head
Don't forget
What your good book said
Southern change
Gonna come at last
Now your crosses
Are burning fast
Southern man

I saw cotton
And I saw black
Tall white mansions
And little shacks.
Southern man
When will you
Pay them back?
I heard screamin'
And bullwhips cracking
How long? How long?

Southern man
Better keep your head
Don't forget
What your good book said
Southern change
Gonna come at last
Now your crosses
Are burning fast
Southern man

Lily Belle,
Your hair is golden brown
I've seen your black man
Comin' round
Swear by God
I'm gonna cut him down!
I heard screamin'
And bullwhips cracking
How long? How long?
Neil Young's politics are well off the mark; no need to belabor that, but I'd like to caution that anybody trafficking in the emotion of sadness as much as Neil Young has is promoting a neutering kind of propaganda in that very sadness - it's better to veer in the direction of anger.
Now, a primary outlet for rebellion against political tyranny has been largely co-opted again, this time it is the (((alternative-k*ke er, alternative-right))) that's doing much of the co-opting.
And unfortunately, they are putting their (((brand))) on to some intelligent text, you might say, protest lyrics text.
I feel the same yearning as co-opted passions and thoughtful consideration could be deployed for our authentic protest, and not for the (((alternative-k*ke))), when I read Melissa Meszaros' article about the suicide of Linkin Park frontman, Chester Bennington.
The strikeouts of "alt-rights" and "the left" in one place are strictly my wish and of course not how Melissa wrote the article - as she did, in order to brand it for the (((Alt-Right))). In one place I have to comment where, typical of right wing misguidance, the negative significance and anti stance she registers for the homosexual issue is disproportionate. Everything else remains as she has written it.
Melissa Meszaros

Alt-Right, "What The Alt-Right Can Learn From The Death Of Chester Bennington, 24 July 2017:

Linkin Park touched the millennial generation's frustrations with modern society like no other band could. For this reason, it's worth spending a few moments looking into the life of frontman Chester Bennington and seeing what we can learn after his suicide.

Sexually molested from the age of seven, divorced parents, a steady cocktail of drugs from the age of eleven, with alcoholism and depression entering later on — these are the things that framed the childhood of Linkin Park's frontman Chester Bennington.

Unable to overcome his traumas and subsequent addictions, he chose to use them as a painful source of inspiration in his lyrics. His suicide is unfortunate, especially for his children and wife, and whether we listened personally to the band or not as we were growing up, Linkin Park held a central position representing the millennial generation's frustrations with life and all the associated mental effects relating to the increase of broken homes and fragmenting communities. The band spoke of problems most of us experienced as teenagers, back when we were confused and distrustful of the direction our supposedly fantastic and free society was heading. Now, as adults in the Alt-Right, with infinitely more resources and knowledge at our fingertips, we are dedicated to overcoming and fixing these issues within ourselves and our societies. But still, for many of us, Linkin Park was the herald awakening millions of teens to the realization that the world is messed-up and it was time to prepare for a long battle. For this reason, I believe it's worth spending a few moments looking into Bennington's life of inescapable addiction and seeing what we in the Alt-Right can learn from it.

For me, I remember Linkin Park being the most popular band in my freshman year of high school in Central New Jersey. It was the last year I'd spend in the United States before moving to Hungary with my parents. My friends would carry around the Hybrid Theory CD and hold it reverently during recess while talking about the lyrics. We'd sit with crossed-legs in a circle in the shady corner of a grassy lot while spawns of diversity hollered and beat each other on the nearby basketball courts.

I only got into the band later, for a few months when my father was in the hospital in Hungary, dying from terminal lung cancer. The music is not positive and it does not remind me of a good place. Rather, I envision a constant delirious struggle with myself, getting caught in a loop over thinking various problems and feeling uncertain of ever being able to overcome the odds and live in peace. These are the very thought processes Chester Bennington described himself dealing with, in an interview with 102.7 KIISFM radio in February of this year. After a while, I realized the music was keeping me from moving past my own issues, so I grew out of it.

When it comes to Bennington himself, there are three things worth highlighting. First, there is the molestation by an older male friend. In his own words, Bennington described:

"It escalated from a touchy, curious, 'what does this thing do' into full-on, crazy violations. I was getting beaten up and being forced to do things I didn't want to do. It destroyed my self-confidence. I didn't want people to think I was gay or that I was lying. It was a horrible experience."