Majorityrights News > Category: Homeschooling & Adult Education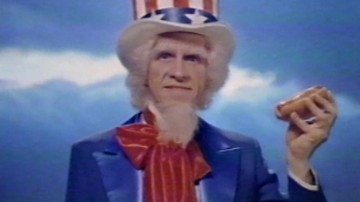 Television: Answering to an even higher authority.
[backing vocals Tina Turner & The Ikettes]
I am gross and perverted
I'm obsessed 'n deranged
I have existed for years
But very little has changed
I'm the tool of the Government
And industry too
For I am destined to rule
And regulate you
I may be vile and pernicious
But you can't look away
I make you think I'm delicious
With the stuff that I say
I'm the best you can get
Have you guessed me yet?
I'm the slime oozin' out
From your TV set
You will obey me while I lead you
And eat the garbage that I feed you
Until the day that we don't need you
Don't go for help . . . no one will heed you
Your mind is totally controlled
It has been stuffed into my mold
And you will do as you are told
Until the rights to you are sold
That's right, folks . . .
Don't touch that dial
Well, I am the slime from your video
Oozin' along on your livin' room floor
I am the slime from your video
Can't stop the slime, people, lookit me go
I am the slime from your video
Oozin' along on your livin' room floor
I am the slime from your video
Can't stop the slime, people, lookit me go
- Frank Zappa, "I'm The Slime"
TV: postmortem on passivity induced runaway destruction, including speculation on zombie effects despite the new dawn of interactive media. It's being a retrospective gives me an excuse to post this older show which I've only seen today for the first time. It's funny as hell. Charlie Brooker is clever. I don't vouch for his politics, am unfamiliar with that.
But as we say goodbye to the hegemonic days of television and the passive acceptance of its audiences of a world they could not interact with nor hope to change, it is worthwhile to take another look back on the days of how the Televitz shaped and manipulated our attention; and to speculate on some of its lingering effects, both on runaway systems in a world unchallenged, and its parallel tropisms in the computer screen, exponentially better though it is in the choice and interaction the mechanisms attached may provide…
"How Television Ruined Your Life"
Parts 1-6, BBC production, 2012, under Youtube license: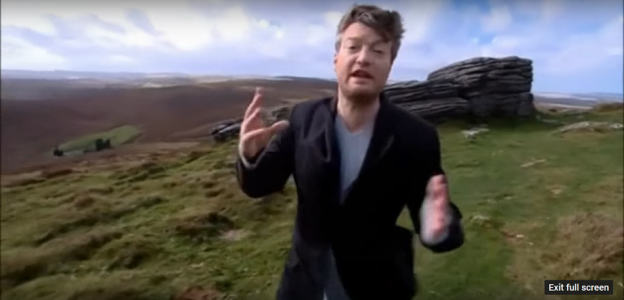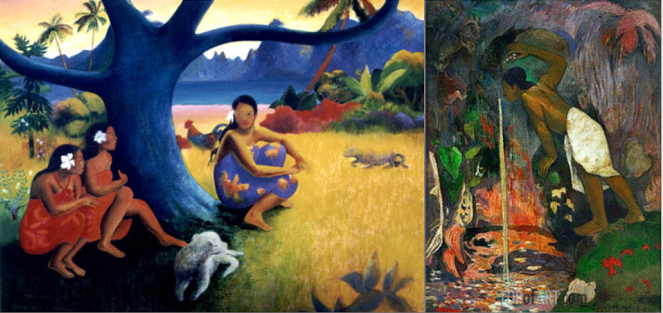 I may have sold Gauguin short in terms of his ethnographic conscientiousness. I'd been citing him as an example of the "artistic genius" who wasn't worth it for his moral failing. There is still a good measure of truth to that, but he may not have been quite as heinous and without effort to be considerate as I had thought in terms of concern for what is important to other people - at least those of Tahiti and their culture. My line had been that as an artist he is as satisfying as any to me, nevertheless as a man who infected who knows how many native girls with syphilis, he was a killer. His art, no matter how good, not worth that behavior.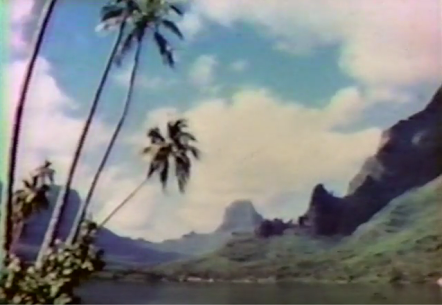 Gauguin in Tahiti: Search for Paradise (1967)
Even so, as I watch this biography, a couple of mitigating facts are revealed. True, he still would have infected at least one native girl with syphilis. However, he married her and apparently did not know that he had the disease when he infected her. Still bad, of course, as there was no effective treatment for the disease even with French civilization settled there. Add to that his knowledge of the risks of his own promiscuity beforehand along with his ultimate abandonment of his wife and kids back in France.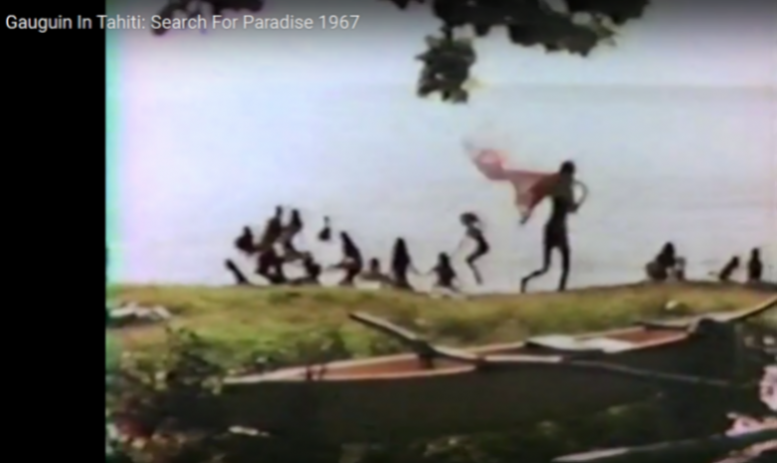 However, the biography reveals that before he fell ill, he was really concerned to find and help preserve the authentic Tahitian people and culture. With that, he was dismayed by the impact of French civilization and missionaries, how they'd already by his time begun to destroy the native culture. He was particularly bothered by the imposition of Christian schooling upon the native children that had by then caused them to lose their native religion. He would actually go to the children and their parents with a French law book - reading them their rights so that they would know that they did not have to go to the missionary school. Finally, he went so far as to try to recreate their native religious stories in writing and in his paintings…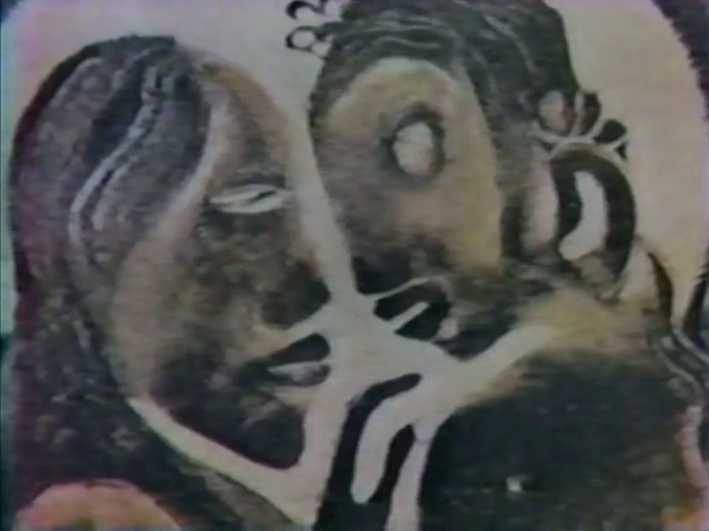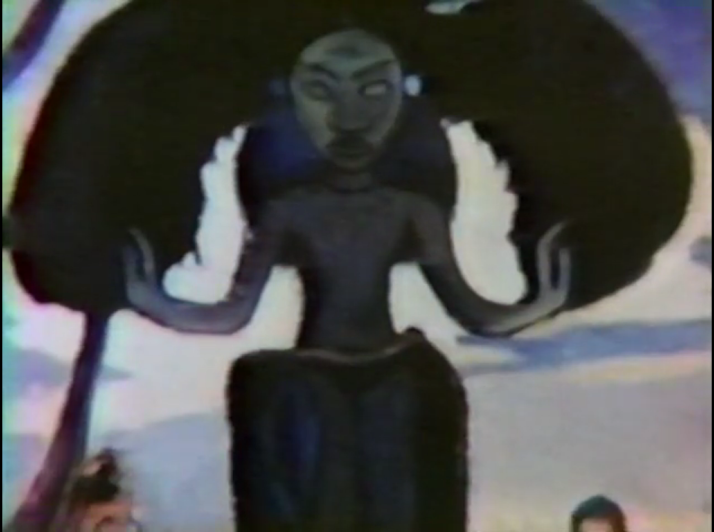 DAILYKENN.com—Donald Trump has promised to provide vouchers to inner city children, allowing them to attend high-quality private schools rather than being locked in to government schools dominated by teachers' unions.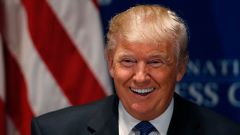 President-elect Donald Trump. (AP)
(CNSNews.com) - Trump's Education Plan: School Choice for 'Every Single Inner City Child in America", 11 Nov 2016:

As presented on the campaign trail and detailed on the Trump-Pence website, President–elect Donald Trump wants to implement school choice programs in all 50 states that will allow students and their parents to pick the school that works best for them, and the money to pay for it will follow the student, not the school bureaucracy.

"If we can put a man on the moon, dig out the Panama Canal, and win two World Wars, then I have no doubt that we, as a nation, can provide school choice to every disadvantaged child in America," said Trump in a Sept. 8 speech in Cleveland, Ohio.

The proposal calls for using $20 billion in federal funds to incentivize the states to start (or expand their existing) school choice programs.

From there, "if the states collectively contribute $110 billion of their own education budgets toward school choice," said Trump, "on top of the $20 billion in federal dollars, that could provide $12,000 in school choice funds to every K-12 student who today lives in poverty."

"The money will follow the student," he said. "That means the student will be able to attend the public, private, charter, or magnet school of their choice – and each state will develop its own system that works for them." Trump reportedly has added home schools to the proposal.

There are a some school choice programs in the United States, but they are limited and vary widely in terms of which schools a student may choose; who is eligible to participate; how many students may participate; and how much funding is available for each program.

For example, California does not offer private school choice, but it allows intra-district and inter-district open enrollment at its public schools, reports the Heritage Foundation. Texas offers the same as California. Virginia does not allow private school choice or public school choice and it has "weak charter school laws, reported Heritage.

In his speech, Trump emphasized the need to help American students in the inner cites to be offered the opportunity to pick their school, which will help them to get on the ladder to success.

"We are one nation, and when any part of our country hurts, our whole country hurts," said Trump. "My goal as president will be to ensure that every child in the nation – African-American, Hispanic-American, all Americans – will be placed on the ladder of success: a great education, a great job."

"The Democratic Party has trapped millions of African-American and Hispanic youth in failing government schools that deny them the opportunity to join the ladder of American success," he said. "It is time to break up that monopoly."

"I want every single inner-city child in America who is today trapped in a failing school to have the freedom – the civil right – to attend the school of their choice," said Trump. "Our government spends more than enough money to easily pay for this initiative, with billions left over. It's simply a matter of putting students first, not the education bureaucracy."

He then explained that the United States, at the state and federal levels, spends approximately $620 billion on K-12 education each year. (The federal government kicks in $64 billion and states provide about $570 billion.) That averages to $12,296 for every student.

Chicago, for instance, spends about $11,976 per student, said Trump, and Los Angeles spends about $10,602. New York City spends $20,226 per student.

By offering $20 billion more in federal funds to encourage states to participate in school choice – to establish (or expand) their own programs for their citizens – "it would create a massive education market that is competitive and produces better outcomes," said Trump. (Currently, only about $1.9 billion is spent on school choice programs nationwide.)

The $20 billion would be allocated to states that "have private school choice and charter laws, encouraging them to participate," said Trump.

"These schools would then cater to the needs of the individual student and family, not the needs of the Teachers' Union," he said. "But the $20 billion is only the beginning," said Trump. "As president, I will establish the national goal of providing school choice to every American child living in poverty…. Each state will develop its own formula, but we want the dollars to follow the student."

"I will use the pulpit of the presidency to campaign for this in all 50 states," he said, "and I will call upon the American people to elect officials at the city, state and federal level who support school choice."
Way to go White Trump voters!
Trump, ever "the advocate of White working people," has determined that it is teacher's unions and the capacity for educators to be discriminatory (by the de facto means in this case, of pricing out the pattern) of black menace to White school children, that is the problem - not the blacks: Donald is all for this group of Americans: in fact, it is the only racial/ethnic group that he explicitly supports.
The "Double Jeopardy" answer is…
CDN, "Rape-ity, Rape-ity, Raper Roosh", 12 July 2016

- Adrean Arlott

Rape-ity, Rape-ity, Raper Roosh

Recently, someone asked me what I thought of Roosh V. Well, I personally think it is an excellent name for a vacuum; has ten times the sucking power of other bagless floor cleaners.

To be honest, I haven't thought about him since the Alt-Fags tussled over him in February of this year. It was one of the reasons I grew so disgusted with the Alt-Right and their ever widening circus tent of internet clowns. They lauded his hatred of White women and his rapey philosophy right up to the point he crawled out his mother's basement and onto the pages of the Daily Mail. Then, suddenly, most of them realized he was a mud, figured the rape allegations might be true, and distanced themselves from him.

Roosh has an amazing amount in common with Alt-Right internet personalities. He plays on the paranoia, helplessness, and angst of a bunch of failures and channels it into modest financial gains that keep him from having to get a real job. It's pretty much the business model of the Cult-Right. The Cult-Right are filled with fanboy's eager to proclaim the genius of their own personal Jebus, and that is, I think, why there is so much overlap between the Alex Jones / Stephen Molyneaux / Roosh acolytes, the Alt-Right Richard Spennttthhher fanboys, and the troll Army of the Quadroon Streicher. Their followers are professional cult members who are used to receiving their validation impersonally from a minor internet celebrity.
"The Answer Is"...
5. How Donald Trump Is Helping White Christian America Commit Suicide
At least it's the way they want to go out - grinning deliriously from under an ugly trucker hat.

4. Dallas Cop-Killer Micah Johnson Was Blacklisted by Black-Power Groups as 'Unstable'
HA! What's sad is that the Black-Power movement has higher standards for recruits than the White-Power movement.

3. Boi-nie Endorses Shillary
He waited as long as he could hoping for the FBI indictment, but once there was no chance of that, he finally compromised his principles as we all knew he would.

2. GRAPHIC PHOTOS: On Black Death Porn
If you were a visitor to Der Daily Interracial Cuckold Porn Stormer, I am sure you would not be reading this line right now. Instead, you would have broken your finger eagerly clicking on the link because it contained the words "black" and "porn". But, since you are still with us, I can let you know that this article makes a valid point that the 'Kwa is strangely comfortable with images of dead and dying black men in the Mass Media.

1. Rape-ity, Rape-ity, Raper Roosh

But perhaps things changed in the intervening months? Perhaps I needed to reevaluate my impression? To find out, I scanned through Roosh's Twitter feed, checked out some of the articles he linked, and then captured screenshots of the one's that made me laugh the most. Conclusion: He is just as laughable a figure now as then. Why? Well, let's start out with this…

I'll take things a rapist might say for $400. I cannot take credit for that joke, though I wish I could. It was from an episode of Cinematic Titanic.

Because those are basically the only options the West has left, right Roosh? You're sure you aren't an EBT-card-carrying member of the Alt-Right?

You tell us, because previously you decried the Alt-Right as a bunch of racist betas.

Because you look like one of the muds arrested in Rotherham scandal? And while we are on the subject ...

This one is funny to me, because it is so poorly thought out. You see, the problem is: What morality do men possess, if women evolved the way they did because men were a bunch of murdering rapists? But I am sure there are White disciples of this mud who so hate White women that they would defend this defamation, because remember - the Rotherham girls loved their rapists!

So that's what I think about Roosh, and by extension his whole alpha-male of yo' mama's basement philosophy. The fact that this mud is funded by White fanboys so he can wander around in White countries like some typical Middle Eastern child sex predator doesn't prove how alpha he is, but how beta his followers are.
"Diana sees it as good preparation for the time when the real children come."
German girls being given black baby simulator dolls in preparation for early motherhood -
MK, "Baby simulators make it possible for girls to be ready be a mother so young?" 3 June 2016:


Eight Syker Real pupils yesterday experienced how it is to be a mother of an infant. Through Monday, they had to take care of the baby simulators - changing diapers and feeding included. - Photo: Ehlers

Suspiciously an elderly man looks at the girl who just wants to board the bus. She carries a small bundle in her arms. So young and already a mama?" He asked me how I could be [a mother] because of my age." Zoé describes their encounter the previous day. The 15-year-old let the stranger know immediately. "This is not a baby in her arms, but just a doll." Or more precisely, a baby simulator.

Eight Real pupils have since Thursday been a part of offspring "on time". The girls from the ninth grade attend on Mondays to the life-sized puppets, computer-controlled to simulate the daily routine of an infant.

A chip on the wrist identifies the "right" mama, all their activities are recorded and evaluated at the end. Before starting the experiment, the group has worked intensively with the topic, watched a movie, and is at once busy with the "theoretical" aspects of the baby. Why is a child crying? What can and should you do? What is there to consider?

On Thursday, each student received her seven-pound junior. Some have previously never had a real baby in their arms, but with a newborn, it is "a bit difficult with the head," Lea says. The head just always has to be supported by hand. But after a day that is already well learned.

The babies get correct name. And if Luke, Chris or Ryan after four days must be issued again, and they are returned to nameless baby simulators, it could well be emotional: Brunhilde Maskos has often experienced in the past that parting was clearly difficult for the girls .

Marie is grateful for the opportunity to learn how to deal responsibly with the potential reality of a baby. Diana sees it as good preparation for the time when the real children come. One thing all eight girls have in common is the desire to have children. There should be two at most. But after her experience with the electronic baby, Stephanie "wouldn't be sad if there are three."

What's going on in the minds of young people when they are seen with their electronic appendages? A "strange mixture of pride and embarrassment" says Neele. After a few hours a bond to the small companion is established.
TNO, "Mississippi: Whites Ordered to "Integrate", 18 May 2016:

Two Cleveland, Mississippi, schools which are only 40 percent white have been ordered to forcibly mix with neighboring 99 percent black schools—because the US Department of Justice still thinks they are too white.

US District Judge Debra Brown ruled last week that Cleveland must merge its two high schools and two middle schools to provide the "constitutionally guaranteed right of an integrated education."

Brown ordered the district to merge East Side High, where all but one student is black, with Cleveland High, where 48 percent of students are white and 45 percent are black.

Similarly, the district must merge D.M. Smith Middle, where all but two students are black, with Margaret Green Junior High, where 41 percent of students are white and 54 percent are black.

Across the entire 3,700-student district, only about 29 percent of students are white and 67 percent are black. The state counts the remainder as Asian or Hispanic.

"The court concludes that the continued operation of East Side High and D.M. Smith as single-race schools is a vestige of discrimination and that, therefore, a plan which allows such continued operation must be rejected," the judge wrote.

Judge Brown added that the "delay in desegregation has deprived generations of students of the constitutionally guaranteed right of an integrated education."
Background stories at Majorityrights:
Nicholas Katzenbach: Soft Spoken Evil
NY DAILY NEWS, 'Lovett: State Attorney General probes Long Island German-American bias', 14 Dec. 2015:

New York State Attorney General Eric Schneiderman's office has issued a subpoena to the German-American Settlement League in Suffolk County's Yaphank, where it only leases land to individuals "primarily of German extraction," according to group bylaws.

ALBANY - State Attorney General Eric Schneiderman's office issued a subpoena to a Long Island organization that only allows individuals of primarily German descent to live on its land.

"The fair housing laws were passed to help promote racial integration and not promote racial segregation, which is a big concern here," a source familiar with the situation said.

The subpoena was recently sent to the German-American Settlement League in Suffolk County's Yaphank, sources said.

The league, a non-profit organization, was created in the 1930s and at the time openly promoted support for the Nazi regime.

The organization now owns 40 acres of land in Yaphank, which it leases to homeowners.

According to the group's bylaws, only individuals who are "primarily of German extraction and of good character and reputation" can own the homes on league-owned property.

"At the end of the day, (Schneiderman's office) wants to make sure the league is in compliance with the state's fair housing laws and everyone has an equal opportunity to buy a home or sell a home if they so choose," said a source familiar with the subpoena.

[...]


State Senate and Assembly staffers who testified, were subpoenaed, or cooperated with the federal cases against Sheldon Silver (pictured) and Dean Skelos are eligible to have their legal fees reimbursed by the state.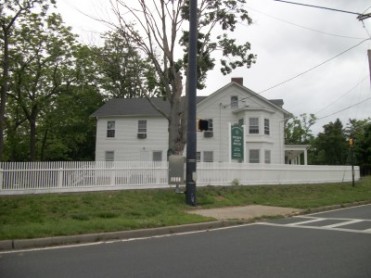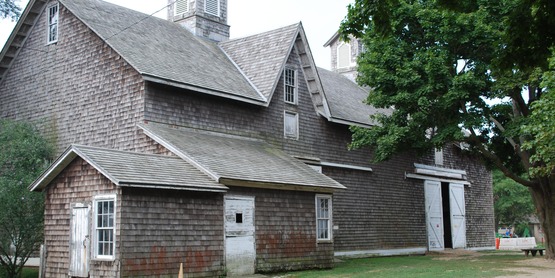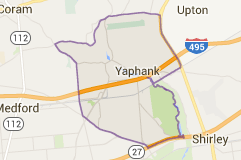 Wikipedia: Yaphank (pronounced /'jæpeɪŋk/) is a hamlet and census-designated place (CDP) in Suffolk County, New York, United States. The population was 5,945 at the time of the 2010 census.

Yaphank is a community in the south part of the Town of Brookhaven. It is served by the Longwood Central School District, except for extreme southwestern Yaphank, which is served by the South Country Central School District.

History

Captain Robert Robinson came to Yaphank and built his Dutch Colonial house with the building dated at 1726. He was then granted permission to dam the Carmans River to build a mill across the street from his house. The construction of this mill in 1739 was considered the founding date of the Hamlet of Yaphank.

[...]

Yaphank was the home of Camp Upton, which was used as a boot camp in 1917. In 1947, the U.S. Department of War transferred the Camp Upton site to the Atomic Energy Commission, and it now serves as the home of Brookhaven National Laboratory. Before the end of World War I, more than 30,000 men received their basic training there. Perhaps the most notable person to have trained at Camp Upton was the songwriter Irving Berlin. It was there he composed the musical comedy revue Yip Yip Yaphank, which had a brief run on Broadway.

Yaphank was also home to Camp Siegfried, a summer camp which taught Nazi ideology. It was owned and operated by the German American Bund, an American Nazi organization devoted to promoting a favorable view of Nazi Germany. Camp Siegfried was one of many such camps in the US in the 1930s, including Camp Hindenberg in Grafton, Wisconsin, Camp Nordland in Andover, New Jersey, and Deutschhorst Country Club in Sellersville, Pennsylvania. Camp Siegfried was shut down by the US government when Germany declared war on the United States. It had been protected by the 1st Amendment until that time, when it became illegal for US citizens to swear allegiance to Germany.

Today Yaphank is home to about half of those industries. The grist mills, blacksmith, physician, shoe shop, wheelwright shops, meat markets and the dressmakers are long gone, although the rail road station is still here along with the general stores. Yaphank holds three delis, one pizza shop, a shooting supply company, a skeet range, a bank, and a house moving company.
Yaphank hasn't been so flamboyant as Butler's "Aryan Nations" or Craig Cobb's efforts in Leith, but there are similarities to be heeded:
Correspondence between TT Metzger and associate:
Metzger associate, "TT, Keep telling people to swim in the sea of the people. I'm very concerned about the movement to set up white communities. They don't seem to understand that they're being closely watched by those who have a maniacal hatred for them. Owning their own land won't be any protection. It'll simply be taken from them on one pretext or another. They say that some communities have existed for 10 years without being molested. As you can see from this article, that means nothing. When they're ready to take them down, they will."

TT Says:
"Very important observation that I have stressed for years. In the 80's Butler, Miles and I promoted this solution in the Northwest Imperative. However I stressed a scattered individual plan of settlement. We dumped the plan when the Northwest became as unresponsive as the rest of the country."


Haden Lake, Idaho (former location of Richard Butler's Aryan Nations compound)


Metzger, Richard Butler and Billy Roper at Aryan Nations


Butler lost his Aryan Nations compound to an $PLC lawsuit after compound guards mistook the backfiring of a passing car as if it were gun fire and opened fire upon the vehicle.

TT goes on to say, "This is the fatal mistake being floated again by Craig Cobb and others who should know better."


Cobb became frustrated and still more flamboyant when he failed to attract low key cooperation in PLE community building.

..."also its been noticed that if any do come, they are usually flag fetish types or others that make poor White ambassadors."


Leith, North Dakota location
Study Finds Students Underperform in Schools With Large Black Populations:

Federal study sheds new light on racial achievement gap in schools.

As concerns mount over the resegregation of the nation's public schools, a new federal study shows that black and white students at schools with a high density of black students perform worse than those at schools with a lower density of black students.

The report, released Thursday by the National Center for Education Statistics, the research arm of the U.S. Department of Education, sheds new light on the achievement gap between white and black students and bolsters policymakers' fears about the ramifications of increasingly segregated schools.

"I think that we all have some sort of anecdotal sense that racial isolation or the resegregation of schools going in that direction is not a good thing," says acting NCES Commissioner Peggy Carr. "It's not good for anyone. But being able to define it and put your finger on it … and be more diagnostic about the probable impact was really eye-opening for me."

The report found that, on average, white students attended schools that were 9 percent black while black students attended schools that were 48 percent black.

Achievement was lower for both black and white students in schools where black students accounted for more than 40% of the student body, compared to schools where black students accounted for less than 20 percent of the student body.
"Students underperform in schools with large black populations" - that's supposed to be a surprise, I guess.
Students underperform in schools with large black populations / including both black and White students - but "its not good for anyone to have school resegregation".
Can anyone make sense of this Jewish / liberal "reasoning" ??????

Getting bused to go to an integrated school back in the early 70s was a nightmare. When school wasn't like being in a monkey cage, it was like being in planet of the apes.