Majorityrights News > Category: Nazism
JTA, "Neo-Nazi who co-runs Daily Stormer has Jewish relatives on both sides of family", 3 Jan 2018:

Andrew "Weev" Auernheimer

(JTA) — The mother of a neo-Nazi who co-runs the white supremacist website Daily Stormer and said Jewish children "deserve to die" has Jewish relatives on both sides of his family.

Andrew "Weev" Auernheimer's mother, Alyse, confirmed to Newsweek magazine in an article published Wednesday that her son comes from a "large, mixed race family" with Native American heritage, and that he has Jewish lineage "on both sides of his family." His Jewish heritage was first reported by Gawker in 2012 when he volunteered the information to a reporter, but this is the first time a family member has confirmed his background.

"Weev" Auernheimer works for both Daily Stormer and TRS.

Auernheimer, who runs the technical side of the Daily Stormer, with its more well-known editor Andrew Anglin, is believed to be in Ukraine, where he has lived since serving jail time in the United States on a computer hacking charge. He has been estranged from his mother for over a decade, she told Newsweek.

Auernheimer, 32, on the podcast Radical Agenda last month said Jews were to blame for the Daily Stormer website losing its dot-com status, causing it to jump from domain to domain in recent months.

"If you don't let us dissent peacefully, then our only option is to murder you. To kill your children. To kill your whole families," he said in an interview. "There is only one thing absent free speech that we can do to express our dissent and that's to slaughter you like dogs, and you're gonna have it coming and your children will deserve to die."

While normal WN have been intent on denying a supremacist message in favor of a separatist message, Weev sent this missive everywhere from China to the University of Massachusetts at Amherst

Podcast host Christopher Cantwell, who is under house arrest in Virginia on two felony charges for allegedly using tear gas and pepper spray at the Charlottesville rally in August, tried to walk back the statements, saying that killing Jews "is certainly an undesirable option I'll state for the FBI agents and prosecutors who are listening to this show."

Auernheimer also said that the retaliation against the Jews should focus on the "top" Jews, "the most Jewish Jews."

Related, Weev added in that show that he just wants Jews to convert to Christianity. He has in mind a special new denomination of Christianity which would conform to "natural order."
The Paleoconservative deal…
Mancinblack remarked, "Oy vey Maria. Weev should go poke a polar bear with a crucifix. I'd pay good money for the film rights."

Related, "Weev: Master Tactician, Semi-Tactful Infiltrator or Tactless Fool?"
Correction: I spoke too soon about Timothy Snyder being an anti-nationalist, and I did that in light of his estimation that Britain and France were not really nations while they were empires, that their "nationhoods" were creations of post hoc political convenience. Nevertheless, to say that he is against nationalism would not be correct, since in fact he sees the weak state and the destruction of the state as that which abets genocide.
Snyder's characterology of how Putin's and Trump's positions have emerged in fairly conjoint construction is uncanny…
As such he does make of himself a useful idiot in that he exposes one side of the YKW equation - the specific origin and characters of their right wing cohorts, Putin and Trump.
Youtube, "A Republic, If You Can Keep It: Masha Gessen Talks Autocracy with Timothy Snyder", 12 July 2017: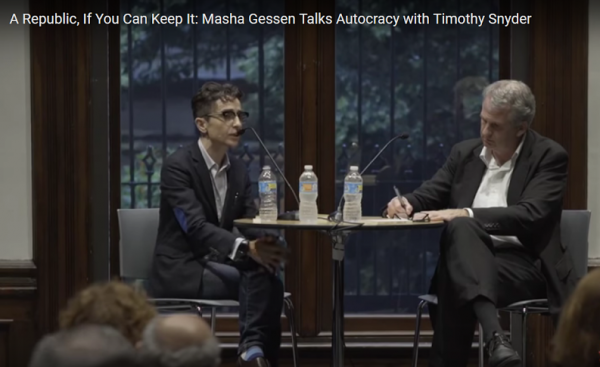 As his fellow Trump/Putin critic, (((Masha Gessen))) would suggest, we would miss the truth of these characters, more like mafia dons than statesmen, if we were to maintain a policy of sheer fact checking. Because essentially, they don't care. They both have a cynical world view and it is about power - logical consistency is for the naive. By contrast to that, one must have the courage and confidence to tell the true story -
Youtube, "Chatham House Primer: Modern Authoritarianism", 30 Oct 2017:


This guy, (Ivan) Ilyin, I think was a very interesting philosopher; he is kind of the grandfather of the current Russian "fascism." Current Russian "fascists" like Alexander Dugin are a little jealous of him and say that he just serves a technical function in the Kremlin and he's not that interesting. I think he's interesting. One of his ideas is that for Russia to have a leader, that person has to be free of history, which is a high demand.

He (Ilyin) was a right-wing Hegelian ...his whole idea was that god created the world and that was a mistake. It's an interesting view, those of you who know anything about Orthodox theology know that there are references… god created the world, it was a mistake, the factuality of the world is itself sinful, history is itself sinful, contingency, to use the technical term, contingency is sinful, all these facts and passions we have, they're inherently sinful.

So, in order for Russia to be rescued it has to be rescued by someone who is somehow clean of history.

It has to be a redeemer who comes from beyond history.

What I find so interesting is that this actually happened in a way.

The place that is not history is fiction.

When Mr. Putin came to power, Surkov and the others in the Kremlin literally had a kind of game and then a public opinion poll where they tried to figure out which Russian fictional character would be most attractive to Russians. They came up with this character (Max Otto von) Stierlitz, who was a double agent and a person in a novel, and in a film, in the 70's, who was a Russian spy who spoke German. That's why they chose Mr. Putin. So, he literally .. this true people! This is the world we live in. So he literally came from fiction.

Then you connect Mr. Putin to Mr. Trump. Mr. Trump is Not a successful real estate developer! That never happened. Mr. Trump bankrupted six companies. He owed billions of dollars to, I think, seventy banks. Until, low and behold, some nice Russians came and said, 'hey, why don't you just put your name on some buildings and we'll give you money for that, and we will build the buildings - which then became his business plan. Which is a great (((business plan))) if you can get it.

Rob Goldstone

relaxing, chatting with Trump

The Miss Universe pageant. How did he run (((the Miss Universe pageant)))? The Russians gave him twenty million dollars and he showed up. Which is a great business plan if you can do it.

So, a fictional Russian character comes to power and then creates a fictional American character called Mr. Trump. This happened!

Once the Russians had bailed him out, he then appeared on American television, on celebrity apprentice, playing a successful real estate developer - which he never was.

But as a character, he was great, he could say, "you're fired!" in a really convincing way.

So, one fictional character then creates another fictional character. And that fictional character also comes to power. ..with the help of all kinds of fictional devices, mostly delivered through the internet. So there really is an interesting problem of (((genre))) going on in our life.
"Aspen Institute": (((Panel discusses))) Active Measures
The Alt-Right is discussed in minute 14:45:
Evelyn Farkas: Former Assistant Secretary of Defense for Russia, Ukraine and Eurasia: 14:45: It drives me crazy when Former Director Comey says that the Russians are coming back. To your point, they never left. I mean they're still here, they have all that information, they're in our cyber- and in our information-sphere.

Ned Price: And its broader than just Wikileaks and the overt or semi overt organs of the Russian government. I think one thing we noticed even after the election; you take the sort of trending story in Alt-Right or so-called Alt-Right circles: [example] hashtag #Syriahoax started in Russia and somehow make their way to the United States and started trending in some of the same circles that are collectively known as the Alt-Right. And I think the linkage between the two is not something we fully understand; how something jumps across he Atlantic like that and tends to land with the same group of people after originating in pro-Russia circles.
Now we need a non-Jewish panel discussing Israeli and Jewish influence over the American electorate - lol.
..in fact, there are some questions toward the end that bear upon that -
Charlie D. from Duke Law: 52:00: Would it help if we broadened the discussion about all foreign nations who are trying to influence our campaigns?

Panel averts the question -

Ned Price: 52:19: I would start with the proposition that it's natural for governments to have policy preferences. Clearly I would suspect lots of the NATO member countries were made uncomfortable listening to Donald Trump during the campaign speak of NATO being obsolete. I think that the issue is that in today's environment there has been attempt at criminalization on policy preferences on the part of foreign capitals. But I think we have to remember is a far cry from a NATO country, you know, privately rooting for Hillary Clinton and a strategic adversary getting involved in our election with Active Measures, covert influence, social media, you name it.

Julia Ioffe: They weren't probing and scanning our election infrastructure, yeah.

Audience Member: Have any of you considered the business role of the president and Russia; because he has, right now, no one will lend him money in New York City, no one will do business with him in New York City. He owes a great deal of money. Where does he get the money? There are a lot of rumors that he gets it from Russia. Have any of your explored any of that?

Julia Ioffe: 53:48: Both of his sons said that he (Trump) gets most of his money from them (Russia) ...and its not a crazy proposition either that if he's doing real estate in New York and Florida ...and guess where (((Russians))) who want to park their money outside of Russia, guess where they want to buy real estate? - (((New York and Florida))).
Poland is correct to denounce Richard Spencer in his neo-Molotov-Ribbentrop larp.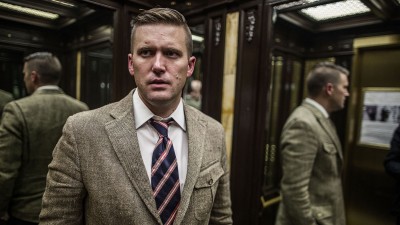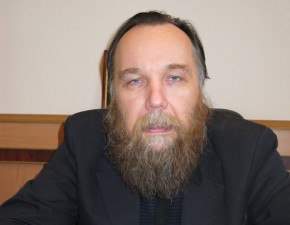 While the Polish government is not perfectly articulate of its reasons to denounce Richard Spencer for his advocacy of a counter productive world view, they are not far off the mark and not wrong to reject him either.
Typical of American right wingers, Spencer is nursing a neo-Germanophilic world view, overly sympathetic to the German imperialism of the world wars (and antagonistic to Great Britain's 'interference'), with a new twist that would larp and valence a re-empowered German / Russian axis - i.e., a newly got up Molotov-Ribbentrop agreement for an "imperium", i.e., imperialism that would run rough shod over the interests of many necessary allies - Hungary rejected him for the same reason Poland rejects him for the same reason Britain rejected him for the same reason Japan would reject him (for the same reason all of Asia would reject him for the same reason Zionism embraces him, for the quid pro quo reasoning that comprador wielding right wing enterprises embrace him) etc. - while his larped empire (Lisbon to Vladivastok) would be governed by whom? Apparently he would depend heavily on working with Jewish interests to facilitate (maneuver) his Russo-Germanic grand civic Euro larp, in Duginesque delusion of grandeur - a delusion coddled by ((())).
News Week, "Richard Spencer Is Too Racist for Poland's Right-Wing Government", 27 Oct 2017:

Poland's right-wing government doesn't want white supremacist Richard Spencer to visit the Eastern European country, calling him a "threat" to democracy.

Spencer was scheduled to speak at a conference organized by Poland's far right to celebrate Polish Independence Day on November 11, but the country's Foreign Ministry condemned the alt-right leader, whose condemnation of diversity has found support among neo-Nazis, whose ideological predecessors invaded Poland and killed millions during World War II.

"As a country which was one of the biggest victims of Nazism, we believe that the ideas promoted by Mr. Spencer and his followers could pose a threat to all those who hold dear the values of human rights and democracy," the Polish Foreign Ministry said in a statement, adding that Spencer's views are in conflict with Poland's legal order.
Poland is not beyond criticism in its brand and particular expressions of nationalism, but Richard Spencer is highly dubious in his imperial larp; and the Poles are correct to denounce Spencer and like apologists for the imperialist aspirations of Nazi Germany and the casualties it left in the wake of its aspired imperialism, relevantly in this case, the Poland that came back not as "a gift of Woodrow Wilson", but through the endurance and perseverance of Polish nationalism through 123 years in exile during the tri-partition; and then again through 50 years in exile during the Nazi and Soviet regimes.