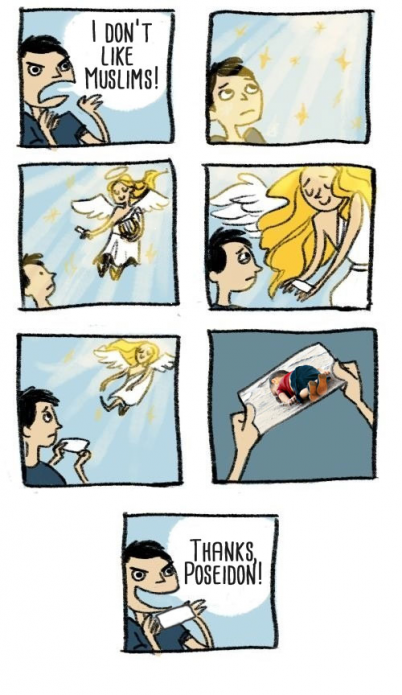 Thanks be to Poseidon
In agreement and endorsement of Kumiko's position on Christianity, Jimmy Marr provides an excellent statement as to why White advocates must jettison Christianity for the sake of our race's contiguity and militarized defense:
Jimmy Marr wrote:

Christianity is a code word for white genocide.

We are because of our ancestors, and we will be because of our descendants. Our eternal and authentic being depends on our exclusive sanctification and consecration of this fundamental ontological relationship. Any doctrine which attempts to supplant this sacred relationship by promising life beyond death by means other than perennial, intergenerational, sexual reproduction is genocidal and idolatrous cuckoldry by the lifeless ghost of intellectual abstraction and metaphysical masturbation. It is the shameless exaltation of a counterfeit being by garish erections of architectural phallic symbols.

As long as this mind-worm wiggles within us we will be a threat to our race even as we presumptuously attend to its salvation. Jews attack christ-insanity because it is indefensible. It is our race's Achilles' heel. It is what allows Japanese women to humiliate nominally racialized white men. It is an embarrassment to our racial cause. If we can't get over it, we should at least refrain from flaunting our lack of ontological chastity in public. It's the mother of all obscenities: arrogance masquerading as humility.

The ship of christendom is not merely unseaworthy in the waters of postmodernity. It is being used to transport our genetic replacements to our shores. The only honorable and adequate response is to scuttle it.
Discussion opened on Majorityrights FORUM