Majorityrights News > Category: Australian Politics
DM, "The WHITE ghettos that blight South Africa: 20 years after the fall of apartheid, how it is now white people who live in squalid camps", 4 Oct 2016:

There are 42,000 white South Africans living in poverty, a figure which has grown in last 20 years

Munsieville is a squatter camp west of Johannesburg which is home to 300 of them, many of them kids

Under apartheid white South Africans lorded it over blacks and 'coloureds' but now there is equality

There are 4.5 million white South Africans and every year thousands emigrate to Australia or New Zealand
TNO, "Abbott: Europe is Being Invaded", 20 September 2016:

Former Australian prime minister Tony Abbott has warned that Europe is being "invaded," that white nations are "losing their character" through mass Third World immigration, and that the invasion needs to be turned back at the borders.

In addition, he said, Turkey's leaders have urged Muslims to take back parts of Europe and among the invaders are "soldiers of the caliphate bent on mayhem."


Making the direct comments during a speech to the Alliance of European Conservatives and Reformists—a group of conservative European parties—at their major annual meeting in Prague, Abbott asked, "why shouldn't each country keep the final say over who can enter?"

"After all," he said, "a country or a continent that can't control who enters its territory will eventually lose control of its future."
Al Jazeera, "Australia's Pauline Hanson wins on anti-Islam ticket", 11 July 2016:

The right-wing politician and her One Nation Party have been voted into Australia's senate.


Australian politician and leader of the One Nation Party Pauline Hanson stands with supporters on election night
[Dan Peled/Reuters]

Sydney, Australia - Fresh on the heels of a federal election, Australia is preparing to welcome its most multicultural senate ever, a congress that will include three indigenous Australians and its first indigenous woman. But the senate will also feature Pauline Hanson, a controversial figure who has made a career campaigning against multiculturalism.

A former fish-and-chip shop owner from the northern state of Queensland, who seems to resonate with some blue-collar and rural voters, Hanson first came to prominence 20 years ago on a broad anti-establishment, anti-free trade, anti-immigration ticket when she became the country's first independent female member of parliament.

In her now famous maiden speech to parliament in 1996, Hanson warned that "we are in danger of being swamped by Asians … [who] have their own culture and religion, form ghettos and do not assimilate".

To some, Hanson seemed to be a reminder of an ugly white past Australia was trying to forget. Belittling her in the media became almost a national sport, most famously during a 60 Minute interview when she asked the presenter to "please explain" the word "xenophobe" because she didn't know what it meant.
The "Double Jeopardy" answer is…
CDN, "Rape-ity, Rape-ity, Raper Roosh", 12 July 2016

- Adrean Arlott

Rape-ity, Rape-ity, Raper Roosh

Recently, someone asked me what I thought of Roosh V. Well, I personally think it is an excellent name for a vacuum; has ten times the sucking power of other bagless floor cleaners.

To be honest, I haven't thought about him since the Alt-Fags tussled over him in February of this year. It was one of the reasons I grew so disgusted with the Alt-Right and their ever widening circus tent of internet clowns. They lauded his hatred of White women and his rapey philosophy right up to the point he crawled out his mother's basement and onto the pages of the Daily Mail. Then, suddenly, most of them realized he was a mud, figured the rape allegations might be true, and distanced themselves from him.

Roosh has an amazing amount in common with Alt-Right internet personalities. He plays on the paranoia, helplessness, and angst of a bunch of failures and channels it into modest financial gains that keep him from having to get a real job. It's pretty much the business model of the Cult-Right. The Cult-Right are filled with fanboy's eager to proclaim the genius of their own personal Jebus, and that is, I think, why there is so much overlap between the Alex Jones / Stephen Molyneaux / Roosh acolytes, the Alt-Right Richard Spennttthhher fanboys, and the troll Army of the Quadroon Streicher. Their followers are professional cult members who are used to receiving their validation impersonally from a minor internet celebrity.
"The Answer Is"...
5. How Donald Trump Is Helping White Christian America Commit Suicide
At least it's the way they want to go out - grinning deliriously from under an ugly trucker hat.

4. Dallas Cop-Killer Micah Johnson Was Blacklisted by Black-Power Groups as 'Unstable'
HA! What's sad is that the Black-Power movement has higher standards for recruits than the White-Power movement.

3. Boi-nie Endorses Shillary
He waited as long as he could hoping for the FBI indictment, but once there was no chance of that, he finally compromised his principles as we all knew he would.

2. GRAPHIC PHOTOS: On Black Death Porn
If you were a visitor to Der Daily Interracial Cuckold Porn Stormer, I am sure you would not be reading this line right now. Instead, you would have broken your finger eagerly clicking on the link because it contained the words "black" and "porn". But, since you are still with us, I can let you know that this article makes a valid point that the 'Kwa is strangely comfortable with images of dead and dying black men in the Mass Media.

1. Rape-ity, Rape-ity, Raper Roosh

But perhaps things changed in the intervening months? Perhaps I needed to reevaluate my impression? To find out, I scanned through Roosh's Twitter feed, checked out some of the articles he linked, and then captured screenshots of the one's that made me laugh the most. Conclusion: He is just as laughable a figure now as then. Why? Well, let's start out with this…

I'll take things a rapist might say for $400. I cannot take credit for that joke, though I wish I could. It was from an episode of Cinematic Titanic.

Because those are basically the only options the West has left, right Roosh? You're sure you aren't an EBT-card-carrying member of the Alt-Right?

You tell us, because previously you decried the Alt-Right as a bunch of racist betas.

Because you look like one of the muds arrested in Rotherham scandal? And while we are on the subject ...

This one is funny to me, because it is so poorly thought out. You see, the problem is: What morality do men possess, if women evolved the way they did because men were a bunch of murdering rapists? But I am sure there are White disciples of this mud who so hate White women that they would defend this defamation, because remember - the Rotherham girls loved their rapists!

So that's what I think about Roosh, and by extension his whole alpha-male of yo' mama's basement philosophy. The fact that this mud is funded by White fanboys so he can wander around in White countries like some typical Middle Eastern child sex predator doesn't prove how alpha he is, but how beta his followers are.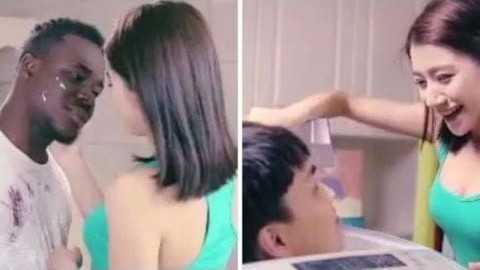 Chinese laundry commercial
washing away the fraud of anti-racism
A Chinese ban on interracial marriage is largely a step in the right direction, but it is troubling that the rule would not extend to men for a few reasons: they have a disproportionate male population which, like black women, tend to be shunned in interracial partner selection. Similar as with Muslims, this frustrated excess male population can create an explosive effect in interaction with other populations.
From a European man's perspective, the Chinese situation is complicated, since it can relate to the Chinese banning of interracial marriage - to blacks in particular, recognizing that in terms of feminine qualities and those sublimated qualities necessary to create a reasonable and sufficiently complex civilization, that blacks are not offering anything near sufficient exchange.
East Asian Tribune, 8 June 2016:

China Bans Interracial Marriages For Females; No Plans To Restrict Men

The Supreme People's Court of China today passed legislation that will ban Chinese women from marrying non-Chinese men, with the law coming into effect at the beginning of 2018. The policy had been fiercely debated for a number of months before it finally won approval from the required number of legislators earlier today. Civil rights groups in China have condemned the restriction, pointing out that it discriminates against women by still permitting males to enter into interracial marriages.

"We strongly urge the People's Court to reconsider this new law, and repeal the legislation before it comes into force." A small group of protesters staged a rally outside the courthouse in central Beijing today, but were soon dispersed by authorities. Following decades of the one-child policy, China is now faced with a shocking gender imbalance – for every girl below the age of 18 in China, there are now three boys. "The law was introduced in order to promote social harmony," commented one of the People's Courts legislators. "We need to ensure there are enough Chinese women available for marriage; otherwise there is a high probability of increased levels of rape and other violence." One of the more controversial aspects of the new law is the fact that Chinese men are not banned from marrying women of other races. "Because we have such a shortage of women in China, we need to make sure Chinese men have as many opportunities as possible to find a bride."

The news comes as a positive to matchmaking businesses that introduce prospective brides from neighboring countries, such as Vietnam and Thailand, to Chinese men. "I had feared that they might also ban men from interracial marriage," commented the owner of a successful matchmaking business in China's Fujian Province. "Thankfully common sense has prevailed, although by banning Chinese women from marrying foreigners, my business will have more competition." Meanwhile, industry groups representing ESL teachers in China have also criticized the new policy. "The majority of teachers are male, and most end up wedding local women," said a spokesperson for a chain of English-teaching cram schools in Shanghai. "If our teachers are banned from marrying Chinese girls, they may not stay in the country as long, and we risk losing talented staff."
European men might see a bit more legitimacy obtaining to intermarriage with more civilized peoples - viz., Asians - casting it more in terms of the accountability necessary to sustain important qualities and quantities of native populations. However, while broaching European group delimitation with blacks, Jews and probably Arabs would entail prohibition in any number, broaching an accountable number and quality with any group would entail exclusion from citizenship. Nevertheless, Europeans are not primarily accountable to bear excesses and imbalances in Asian populations - the Asians are.
TNO, 'African Rioting Tears through Melbourne', 27 Dec. 2015:

by TNO Staff — in Australia ·

"Hundreds" of African invaders engaged in a widespread orgy of violence over the Christmas weekend in Melbourne, the capital and most populous city in the Australian state of Victoria.

According to local media reports—all of which deliberately failed to report on the race of the rioters—the incidents took place outside a train station in Melbourne's southeast and outside a Carlton nightclub on Queensberry Street, North Melbourne.

In addition, a further brawl took place later at a police station when groups of the arrested Africans went on a rampage, attacking each other and wounding two policemen in the process.

The violence outside the Kananook Railway Station in Seaford took place on Sunday, December 27, with two large gangs of Africans—estimated at around 200 in total—battled it out with knives, baseball bats, stones, and at least one samurai sword and a machete.

One of the Africans was stabbed several times and admitted to the hospital with what was described as "life-threatening" wounds.

None of the controlled media coverage dared point out the race of the rioters, with only the News.com.au website making a slight reference to their origin by reporting that the fight was believed to have started in the car park of the nearby Frankston Basketball Centre during the "South Sudanese Australian Summer Slam" basketball competition.

However, CCTV and photographs of the fighting showed clearly that the perpetrators were Africans, despite the controlled media's efforts to ignore that reality.

Police arrested 12 Africans, aged between 19 and 32, and detained them for questioning.

However, not long after the Africans were placed in a communal cell at Frankston Police Station, at least two of them started fighting with one another again, forcing a second police intervention which also saw two officers slightly wounded.

The second incident involved at least 250 Africans outside a Carlton nightclub on Queensberry Street about 5:30 a.m. on Sunday, local media reported. A police car was damaged and a woman suffered minor injuries.

Officers were forced to use pepper spray to control the crowd, and four men and a woman were arrested and will be issued with penalty notices for riotous behavior.

Once again, the controlled media coverage refused to mention the race of the rioters, although their efforts at censorship were also once again undone by the video and still photography footage of the event.

According to the Australian Census Bureau, there are some 19,370 Sudanese-born Africans in Australia. Of that number some 5,911 live in Melbourne. Sudanese are by far the single largest black immigrant group in Australia.

If nearly 500 Sudanese were rioting over Christmas in these two incidents, this means that at least 10 percent of Melbourne's Sudanese took part in the street violence in the space of one day.
It does not matter where they are and barely even matters when their economic circumstances are better: blacks will behave as blacks.