Majorityrights News > Category: Religion
...he gets the wrong answer, of course. Garbage in means garbage out:
Emile Bruneau recently invited Muslim students and staff at the University of Pennsylvania to help him figure out one of the most pressing questions of our time: How can we stop despising each other?
Bruneau wanted to know more about what kind of arguments effectively combat common prejudices: that Muslims are terrorists, that they don't want to assimilate, that they are intolerant and hate American freedom. Liberals often believe that Muslim women are oppressed. He enlisted members of the Muslim Students Association to look for videos they thought might prove persuasive. He thought firsthand experience with discrimination might be helpful. (He's also working with former white nationalists.) He was looking, he told them, for "individualized psychological medicine."
What worked best was a "very cerebral" video from Al Jazeera in which a Muslim woman said blaming all Muslims for terrorism was like blaming all Christians for the actions of Westboro Baptist Church or the KKK.
The question to ask is not, "how can we bridge our divides and induce Abrahamic religions and peoples to accept one another?"
It is rather to ask, "how can we disabuse people of Abrahamic religion and its universal imperialism in order to defend ethno-nationalism and human ecology against it; and failing completion of that task, contain its extant effects on people; keep our sane interests from being affected by its intransigent elements and lingering influences?"
Communicology is a fascinating and eminently useful discipline that we will be applying here at MR - correctly, unlike this effort from the Annenberg school. Nevertheless, there are some interesting take-away propositions here - notably, that Americans are low information decision makers, therefore equipping them with particularly helpful analogies for them to rationalize their coming to a position we like for them (in our case, we would want them to come to a natural and healthy ethnonationalist position for them and their people) is liable to work better than emotional appeals, despite a commonly ascribed-to school of thought which holds emotions to be the effective means to that end.
Philly.com, "Penn professor uses science to bridge the political divide", 2 April 2017:


Emile Bruneau studies conflict between groups and how to combat prejudice at the University of Pennsylvania's Annenberg School of Communication.

Emile Bruneau recently invited Muslim students and staff at the University of Pennsylvania to help him figure out one of the most pressing questions of our time: How can we stop despising each other?

Muslims and Christians may have been the groups he had in mind that day, but Bruneau, a child of California hippies who took an unusual route to Penn's Annenberg School for Communication, ultimately has broader goals in mind. What if there is a psychological key that could defuse the animosity between hate-filled groups around the globe? That includes U.S. Republicans and Democrats, who, his research has found, are almost as alienated from one another as Palestinians and Israelis. The only difference, he said, "is that we're not actually killing each other."

Most of us think the antidote to hate and close-mindedness is emotional. But, so far, Bruneau's research shows that the way to the mind is not necessarily through the heart. In fact, he believes, the way to the heart is through the mind.

Bruneau wanted to know more about what kind of arguments effectively combat common prejudices: that Muslims are terrorists, that they don't want to assimilate, that they are intolerant and hate American freedom. Liberals often believe that Muslim women are oppressed. He enlisted members of the Muslim Students Association to look for videos they thought might prove persuasive. He thought firsthand experience with discrimination might be helpful. (He's also working with former white nationalists.) He was looking, he told them, for "individualized psychological medicine."
Stare in amazement
Christians and pro-lifers in general are so stupid that quite honestly I have to say that the Eastern mind boggles at the sheer scale of cascading stupid decisions that Christians choose to make.
Here's the Breitbart article on it:
Breitbart, 'Rep. Steve King Files Federal Pro-Life Heartbeat Bill: 'If a Heartbeat Is Detected, the Baby Is Protected'', 24 Jan 2017:

Pro-life congressmen stood in front of the Capitol — along with Janet Porter, the Ohio woman who led the fight for passage of that state's "heartbeat bill" — all in support of Rep. Steve A. King (R.-Iowa) and his Heartbeat Protection Act of 2017, H.R. 490, which restores legal protection to unborn children once their pulse is detected.

"It is a profound religious and moral understanding that every human person has the right to life," said King, who was joined by Rep. Louie Gohmert (R.-Texas), Rep. Trent Franks (R.-Ariz.), Rep. Scott G. Perry (R.-Pa.), and Rep.Don Bacon R.-Neb.), along with other prolife supporters of the bill.

"The question that has hung before the courts, since 1973 is: 'When does life begin?'–we all know when that is," the congressman said.

"We stand here and assert that it has to be a distinctive moment. You can't guess a thing called viability. You can't say 22 weeks versus 20 weeks. You have to say it is at a specific instant. The most precise instant that we can describe and that we can identify by science is the moment that that heartbeat begins," he said.

"The core tenet is this: If a heartbeat can be detected, the baby is protected," he said.
White America will now die by its own hand. White America will die because these comprehensive restrictions on abortion which are being tabled will have an effect of increasing the birth-rates of those minority populations which traditionally utilise abortion services more.
Where next?
Restrictions on abortion will hasten the decline of the overall White American population which already only comprises 47% of children under age 18.
The 2010 census shows where those effects would be grouped: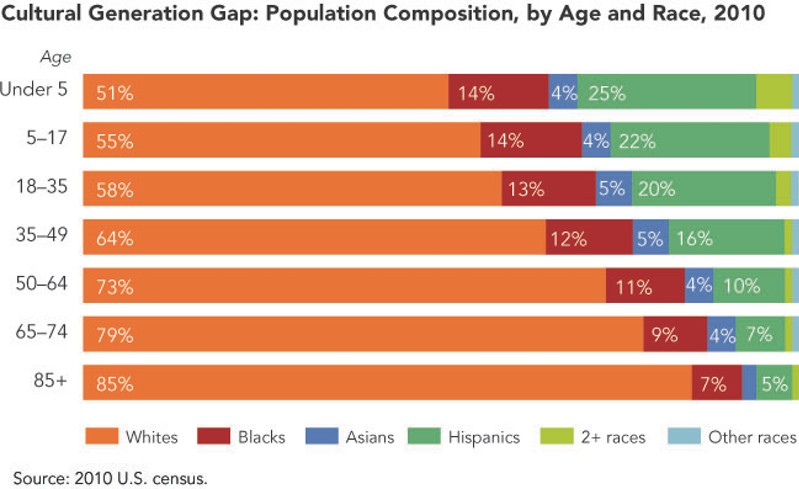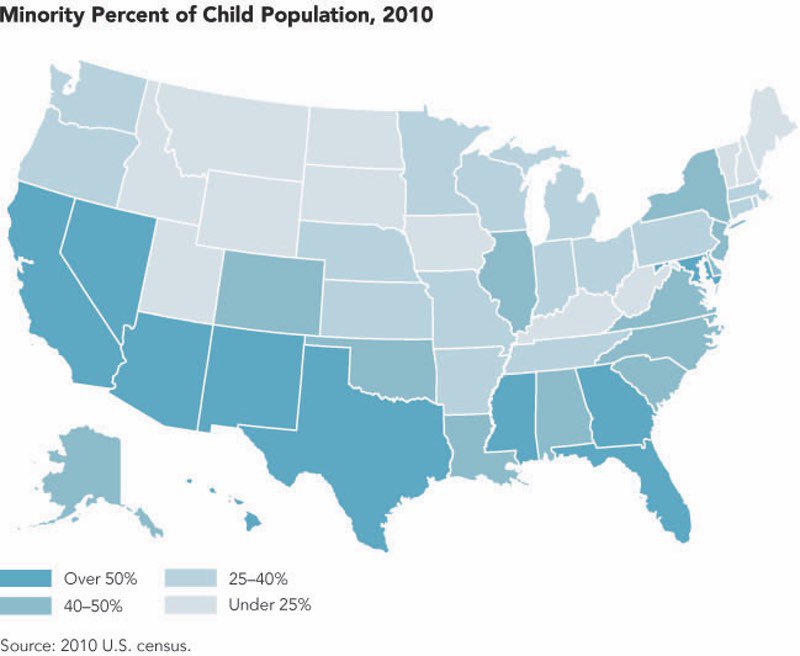 Is it going to be extremely inconvenient for minority groups to have a sharply reduced access to abortion services? Yes. No woman wants to have to be perpetually worrying about what her family planning options are as restrictions are tightening over and over again. But perhaps the inconvenience would be ironically 'embraced', particularly among Hispanics who could just go with the flow and have a Hispanic baby-boom. Hispanics can wait these laws out and reverse them in about half a generation, when demographics will dictate elections and identity politics will be entrenched in different ways in different zones within the United States.
Outcomes
The Northeast and Midwest of the United States will experience a ballooning African-American population next to White Americans. The Southwest will continue merrily along its way into becoming a Hispanic outpost, and the Southeast will be a mixture of all those things happening simultaneously.
Technically, 'White America' as a geographically contiguous concept has been pushed further upwards on the age-pyramid for quite a while now. The incoming administration is now taking moves that—unintentionally—will guarantee that the concept will be brought to an end.
The United States will have one of two futures to choose from:
Ethnic balkanisation within two generations.
Turning itself into Brazil.
Of course, Americans will probably manage to muddle around and inadvertently choose both options simultaneously, so that they can experience the worst aspects of both scenarios. Because why? Because it's America of course.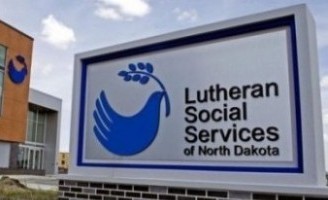 TNO, "Lutherans Pushing Invaders on North Dakota", 18 Jan 2017:

The Lutheran Social Services of North Dakota (LSSND) has been named as the group primarily responsible for pushing hundreds of nonwhite invaders pretending to be refugees into the state of North Dakota.

The LSSND resettled 558 "refugees" in the fiscal year 2016, which ended Sept. 30. Of those, 372 went to Fargo, 106 to Grand Forks, 50 to Bismarck, and eight to West Fargo. In fiscal year 2017, the group has projected it will resettle 315 refugees in the Fargo area, 110 in Grand Forks, and 50 in Bismarck.

The LSSND website says that as the "state refugee coordinator appointed by the North Dakota Department of Human Services, Lutheran Social Services of North Dakota" they "welcome about 400 refugees each year" who are "resettled in Fargo, West Fargo, Grand Forks, and Bismarck," and in total have "resettled" 7,600 "refugees" in those cities.

The LSSND "secures an apartment for the [refugee] family, provides deposit and first month's rent, basic furnishings, clothing, and a two week supply of food; provides assistance in applying for Social Security cards, registering adults and children in English Language Learning classes and public education programs; sets up medical appointments and assists in applying for other support services;" and "prepares a self-sufficiency plan together with client and employment specialist. Assists client in identifying and removing barriers to success."

The LSSND website says that it is supported by the Lutheran Services in America (LSA), the Lutheran Church Missouri Synod, and the Evangelical Lutheran Church in America.

Related Story: "Welcome to Leith" - A Review

While the profusion of churches throughout the world can be disconcerting, as they are devoted to a religion that is obfuscating and mis-directing the natural instincts of our EGI (ethnic genetic interests), there is a note of optimism in that some of these sublime structures and the artisanship that went into their making can be converted for religion aligned with our ethno-national interests.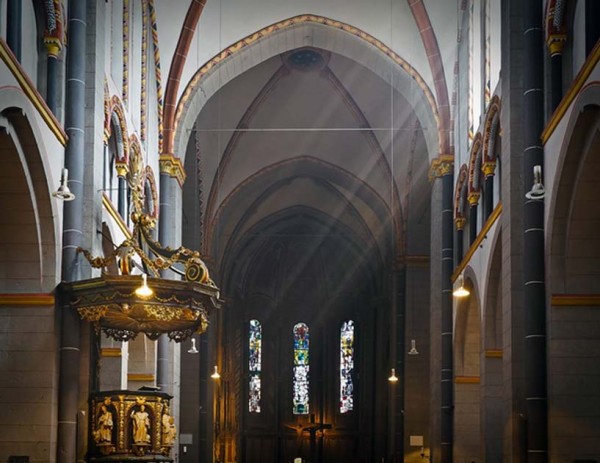 For example, hope for return to proper, natural religious function piques through some of the Spanish missions in California - some were configured to illumination of the solstice: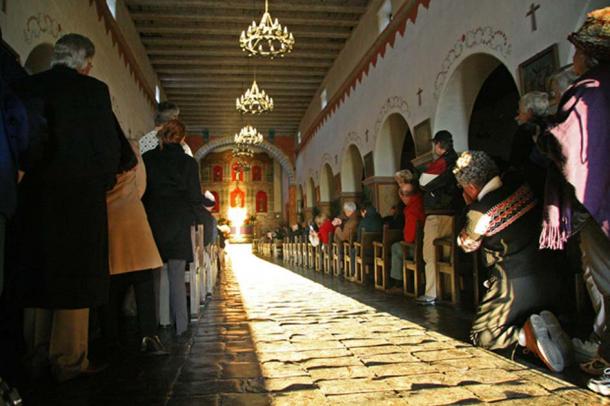 The 2007 midwinter solstice illumination of the main altar tabernacle of Old Mission San Juan Bautista, California. Rubén G. Mendoza/Ancient Editions, CC BY-ND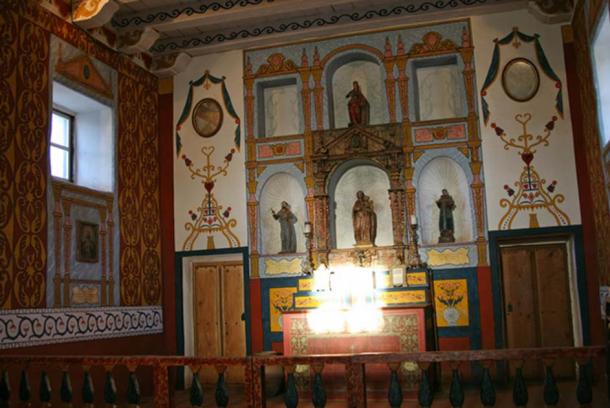 Winter solstice illumination of the main altar tabernacle of the Spanish Royal Presidio Chapel, Santa Barbara, California. The author first documented this solar illumination of the altar in 2004. Rubén G. Mendoza, CC BY-ND
On another level, some of the very elements of worship contained are only thinly veiled pagan icons and arrangement: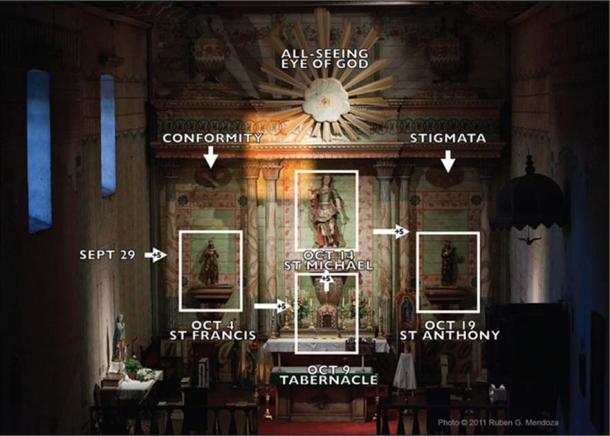 Schematic of the four successive solar illuminations of the saints of the main altar screen of Mission San Miguel Arcángel, California. Note illumination begins at the left with the Oct. 4 illumination of Saint Francis on his Feast Day. The author first identified and documented this solar array in 2003. Rubén G. Mendoza, CC BY-ND
​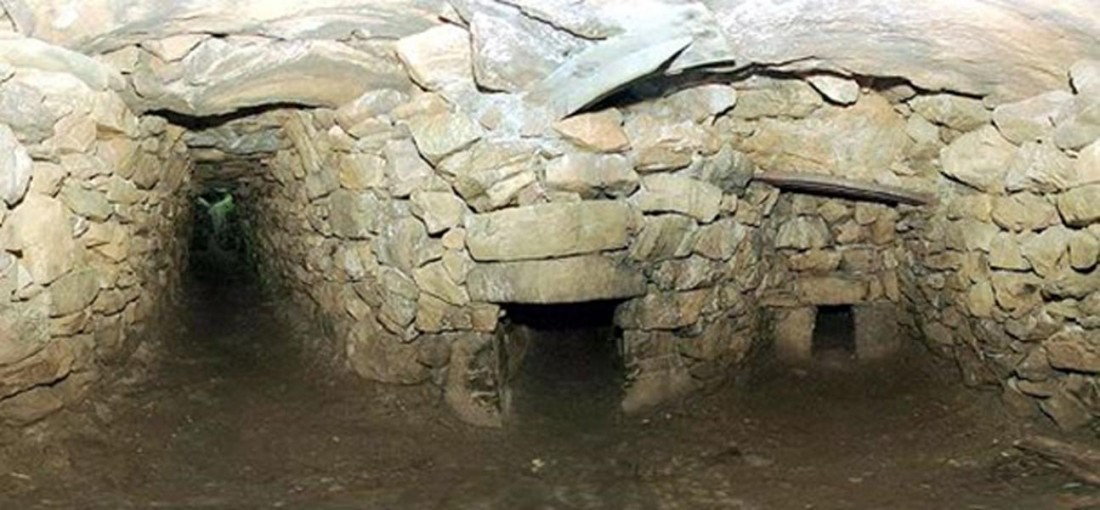 The Halliggye Fogou (megalithics.com)
Ancient Origins, "More than a Dozen Mysterious Prehistoric Tunnels in Cornwall, England, Mystify Researchers"

More than a dozen tunnels have been found in Cornwall, England, that are unique in the British Isles. No one knows why Iron Age people created them. The fact that the ancients supported their tops and sides with stone, suggests that they wanted them to endure, and that they have, for about 2,400 years.

Many of the fogous, as they're called in Cornish after their word for cave, ogo, were excavated by antiquarians who didn't keep records, so their purpose is hard to fathom, says a BBC Travel story on the mysterious structures.

The landscape of Cornwall is covered with hundreds of ancient, stone, man-made features, including enclosures, cliff castles, roundhouses, ramparts and forts. In terms of stone monuments, the Cornwall countryside has barrows, menhirs, dolmens, cairns and of course stone circles. In addition, there are 13 inscribed stones.


The Cornish landscape is dotted with ancient megalithic structures like this Lanyon Quoit Megalith ( public domain )

"Obviously, all of this monument building did not take place at the same time. Man has been leaving his mark on the surface of the planet for thousands of years and each civilisation has had its own method of honouring their dead and/or their deities," says the site Cornwall in Focus.

The site says Cornwall has 74 Bronze Age structures, 80 from the Iron Age, 55 from the Neolithic and one from the Mesolithic. In addition, there are nine Roman sites and 24 post-Roman. The Mesolithic dates from 8000 to 4500 BC, so people have been occupying this southwestern peninsula of Britain for a long, long time.

About 150 generations of people worked the land there. But it's believed the fogous date to the Iron Age, which lasted from about 700 BC to 43 AD. Though they're unique, the fogou tunnels of Cornwall are similar to souterrains in Scotland, Ireland, Normandy and Brittany, says the BBC.


Carn Euny fogou in Cornwall ( public domain )

The fogous required considerable investment of time and resources "and no one knows why they would have done so," says the BBC. It's interesting to note that all 14 of the fogous have been found within the confines of prehistoric settlements.

Because the society was preliterate, there are no written records that explain the enigmatic structures.
Kevin Crehan, 35, executed in his cell at HMP Bristol

DM, "Man jailed for leaving a bacon sandwich outside a mosque is found dead in prison halfway through his 12-month sentence", 30 Dec 2016:

He was serving a one-year sentence for racist attack on a Bristol mosque
Crehan and accomplices left bacon sandwiches outside the building
They also left a St George flag outside with 'No Mosques' written on it
Man jailed after leaving bacon sandwiches outside mosque been found dead in his cell.

Kevin Crehan, 35, was halfway through a one-year prison sentence he received in July after admitting the racially-motivated attack on the Jamia Mosque in Bristol earlier this year.

He was accompanied by Alison Bennett, 46, and Mark Bennett, 48, and Angelina Swales, 31, who also pleaded guilty over the incident.

A St George flag with the words 'no mosques' was also tied to the fence outside the building in Totterdown, Bristol, and shouted racial abuse at a worshipper.

Bacon was tied to the door handles and sandwiches made of raw meat and sliced white bread were left at the entrance, in what was described in court by the judge as an 'an attack on England'.

The prison service confirmed Crehan was found dead in his cell at HMP Bristol on Tuesday, December 27.

A spokesman told the Sun: 'HMP Bristol prisoner Kevin Crehan died in custody on Tuesday 27 December.


The incident occurred at Jamia Mosque in Totterdown, Bristol, pictured, and all four of the gang were banned from going near a mosque for 10 years

'As with all deaths in custody, the independent Prisons and Probation Ombudsman will investigate.'

Crehan was jailed for a year while Bennett was given a nine-month sentence.

Bennett was given a six-month sentence and Swales was given a four-month sentence - both suspended for two years.

They were all banned from going within 330ft of a mosque anywhere in England or Wales for the next 10 years.
Iohannis stops accession of Muslim Prime Minister

Visigrad Post, "Romania On The Brink Of A Political Crisis", 28 Dec 2016:

Romania – President Klaus Iohannis rejected the nomination of the country's first ever Muslim – and woman – candidate for Prime Minister, Sevil Shhaideh.

After winning the election early December, the PSD – Social Democrats – had to nominate a candidate for the office of Prime Minister. The president of the PSD, Liviu Dragnea is unable to become Prime Minister as he has been preliminarily refused by President Iohannis as he has been convicted for electoral fraud. Hence, he proposed Sevil Shhaideh, and it was likely he'd run the government through her.

Although President Klaus Iohannis asked the Social Democrats to pick someone else to lead the government, but he did not give any reason for this rejection.

Mr Dragnea has previously suggested he will fight any attempt by the president to block his choice of Prime Minister. "If Iohannis rejects our proposal, I'm not going to make a second one. We'll see each other in some other place," he said.


Sevil Shhaideh - rejected nominee for Romania' first ever Muslim – and woman - Prime Minister

Following the rejection, Mr Dragnea said he could begin the process of seeking to remove Mr Iohannis as president. "It seems the president clearly wants to be suspended," Mr Dragnea said. "We'll weigh our options very carefully, because we don't want to take emotional decisions. We don't want to trigger a political crisis for nothing, but if we come to the conclusion that the president must be suspended, I won't hesitate." As a matter of fact, several political observers claim that the two refusals – the first one, unofficial, of Dragnea, and the second one of Shhaideh – are unconstitutional.

On December 28, Mr Dragnea proposed Sorin Grindeanu as candidate for Prime Minister. President Iohannis is expected to name the Prime Minister on December 29. According to the Romanian constitution, if the candidate is not nominated by the President, the parliament will be dissolved and new elections will be held.
President Iohannis is indeed going along with the nomination of Grindeanu -
Sofia Globe "Romanian president designates Grindeanu new prime minister", 30 Dec 2016:

President Klaus Iohannis has designated veteran leftist Sorin Grindeanu as the new Romanian head of government. Previously, Iohannis refused to endorse a female, Muslim candidate who was criticized for her inexperience.

The 43-year-old Sorin Grindeanu would have 10 days to unveil his cabinet and seek the parliament's vote of confidence after being named by Iohannis on Friday.

The process is expected to go smoothly for the former telecommunications minister after the triumph of his moderate left PSD party in the parliamentary election earlier this month. The PSD won 45 percent of the seats and now holds a firm majority with their junior partners, the ALDE.

Grindeanu is a mathematician who has served as deputy mayor of the western city of Timisoara.
"Berlin terror attack: twelve dead, 49 injured as truck ploughs into crowd at Christmas market"

Telegraph, 19 Dec 2016:

At least twelve dead, 49 injured at Berlin market.
Attack occurred at Breitscheidplatz, outside the landmark Kaiser Wilhelm Memorial Church.
Police indicate incident is likely to be terror related - Isil claims responsibility.
Initial suspect released, terrorist still at large, likely armed and dangerous.

A truck ploughed into a crowded Christmas market in the German capital Berlin on Monday evening, killing twelve people and injuring up to 49 others.

According to local police, the first indications pointed to a terrorist attack on the market, situated at the foot of the ruined Kaiser Wilhelm memorial church.

The incident evoked memories of an attack on Nice in France in July when Tunisian-born man drove a 19-tonne truck along the beach front, mowing down people who had gathered to watch the fireworks on Bastille Day, killing 86 people. The attack was claimed by Islamic State.

The truck careered into the Berlin market at what would have been one of the most crowded times for the Christmas market, when adults and children would be gathering in the traditional cluster of wooden huts that sell food and Christmas goods.

"I heard a big noise and then I moved on the Christmas market and saw much chaos…many injured people," Jan Hollitzer, deputy editor in chief of Berliner Morgenpost, told CNN. "It was really traumatic."

Update:
Berlin attacker Anis Amri killed in Milan
BBC, "Berlin attacker Anis Amri killed in Milan", 23 Dec 2016:

The Berlin market attacker, Anis Amri, has been shot dead by police in Milan.

The Tunisian criminal fired on police who asked him for ID during a routine patrol in the Sesto San Giovanni area in the early hours of Friday.

German authorities say fingerprints they provided have confirmed the dead man is Amri. They are trying to find out if he had accomplices.

Monday's attack on a Berlin Christmas market left 12 people dead and 49 injured.

Freedom or security, Berlin asks


IS released a video showing Amri pledging allegiance

...leading Eurosceptics - including French National Front leader Marine Le Pen - have criticised open European borders, a result of the Schengen pact, for allowing a fugitive to move between countries.

Meanwhile, the self-styled Islamic State (IS) group has released a video showing Amri pledging allegiance to its leader, Abu-Bakr al-Baghdadi.

He does not make any reference to the Berlin attack, which IS claimed soon afterwards. It is not clear when or where the video was filmed.

Shortly before releasing the video, IS acknowledged Amri's death in Milan.

When Italian police stopped the suspect, who was on foot, at 03:00 (02:00 GMT), he "immediately drew out a gun" and shot at the two policemen, Italian Interior Minister Marco Minniti said.

Officer Cristian Movio was injured in the shoulder but his injuries are not life-threatening.

His junior colleague, Luca Scata, who had been in the police for just nine months, was the one who fired the shot which killed Amri.

German officials found Amri's fingerprints inside the truck that was used in Monday evening's attack.

Federal prosecutor Peter Frank said the focus of the criminal investigation into the killings now was to establish whether Amri had had a network of supporters who helped him to plan and carry out the attack or to flee.

Investigators are also trying to establish whether the gun used in the shooting in Milan is the same weapon used to kill the Polish driver of the truck, who was found dead with stab and gun wounds in the cab.

The attack took place at a busy Christmas market at the Kaiser Wilhelm Memorial Church in the west of the German capital.

According to the Italian news agency Ansa, Anis Amri travelled by train from France to Turin, and then took another train to Milan.

From the central station he travelled on to Sesto San Giovanni, a working-class area.

Amri, a Tunisian national aged 24, had served a prison sentence in Italy after being convicted of vandalism, threats and theft in 2011.

He was known to Italian authorities for his violent behaviour while imprisoned.

After his release he was asked to leave the country. He later arrived in Germany where he applied for asylum in April of this year.

His application was rejected by the German authorities but they were unable to deport him to Tunisia because he had no valid identification papers.