Majorityrights News > Category: Religion
While the profusion of churches throughout the world can be disconcerting, as they are devoted to a religion that is obfuscating and mis-directing the natural instincts of our EGI (ethnic genetic interests), there is a note of optimism in that some of these sublime structures and the artisanship that went into their making can be converted for religion aligned with our ethno-national interests.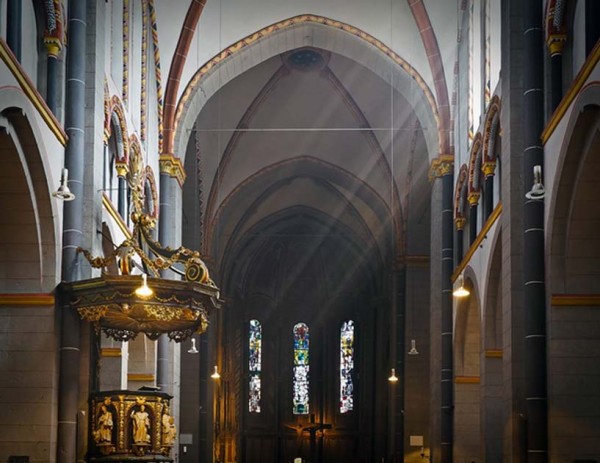 For example, hope for return to proper, natural religious function piques through some of the Spanish missions in California - some were configured to illumination of the solstice: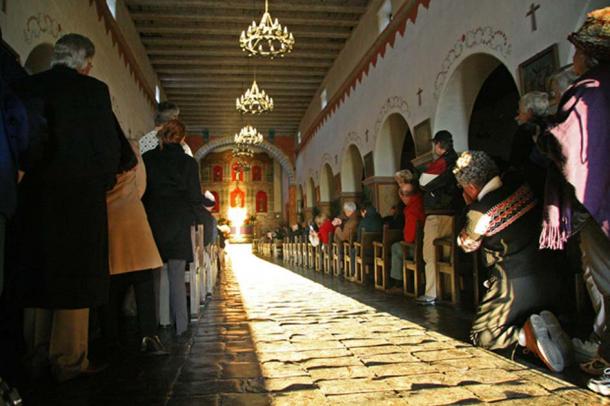 The 2007 midwinter solstice illumination of the main altar tabernacle of Old Mission San Juan Bautista, California. Rubén G. Mendoza/Ancient Editions, CC BY-ND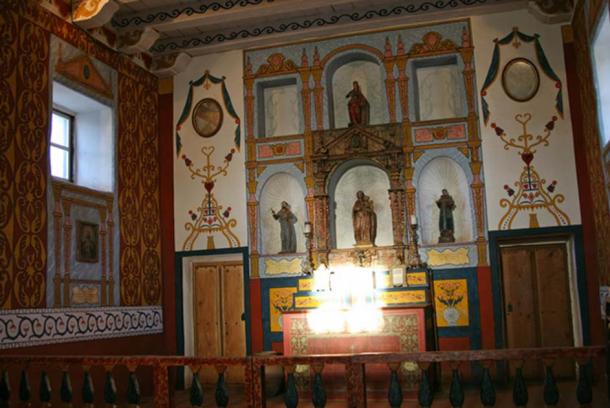 Winter solstice illumination of the main altar tabernacle of the Spanish Royal Presidio Chapel, Santa Barbara, California. The author first documented this solar illumination of the altar in 2004. Rubén G. Mendoza, CC BY-ND
On another level, some of the very elements of worship contained are only thinly veiled pagan icons and arrangement: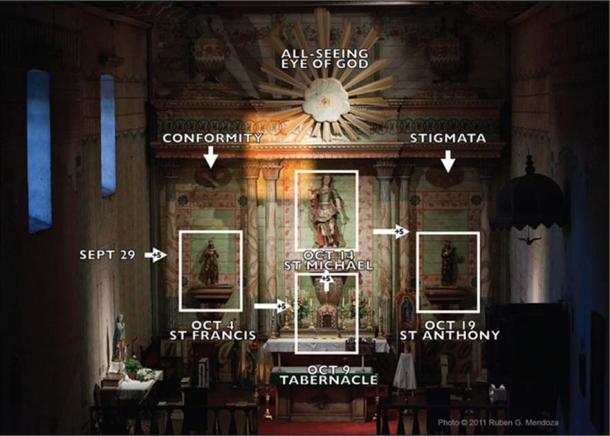 Schematic of the four successive solar illuminations of the saints of the main altar screen of Mission San Miguel Arcángel, California. Note illumination begins at the left with the Oct. 4 illumination of Saint Francis on his Feast Day. The author first identified and documented this solar array in 2003. Rubén G. Mendoza, CC BY-ND
​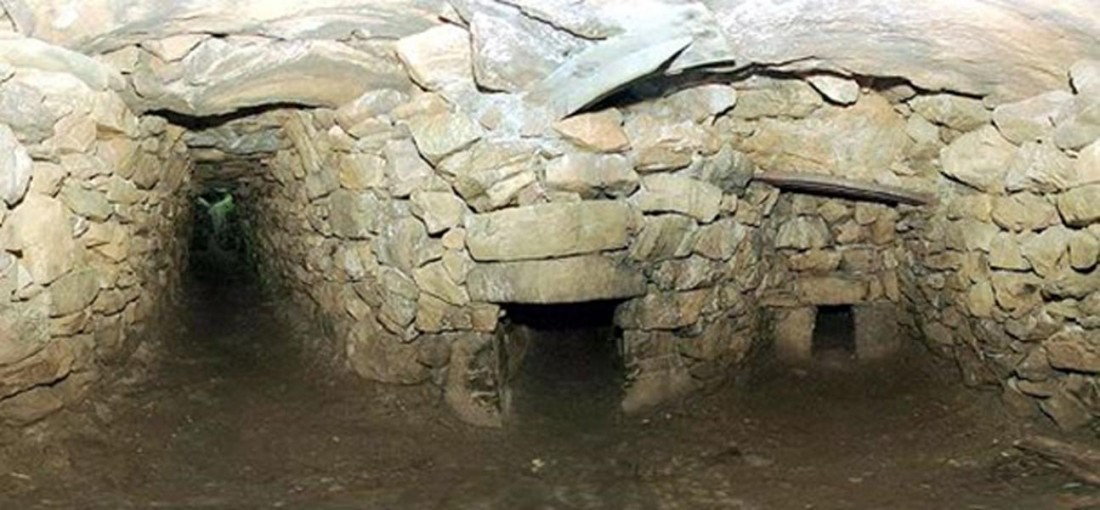 The Halliggye Fogou (megalithics.com)
Ancient Origins, "More than a Dozen Mysterious Prehistoric Tunnels in Cornwall, England, Mystify Researchers"

More than a dozen tunnels have been found in Cornwall, England, that are unique in the British Isles. No one knows why Iron Age people created them. The fact that the ancients supported their tops and sides with stone, suggests that they wanted them to endure, and that they have, for about 2,400 years.

Many of the fogous, as they're called in Cornish after their word for cave, ogo, were excavated by antiquarians who didn't keep records, so their purpose is hard to fathom, says a BBC Travel story on the mysterious structures.

The landscape of Cornwall is covered with hundreds of ancient, stone, man-made features, including enclosures, cliff castles, roundhouses, ramparts and forts. In terms of stone monuments, the Cornwall countryside has barrows, menhirs, dolmens, cairns and of course stone circles. In addition, there are 13 inscribed stones.


The Cornish landscape is dotted with ancient megalithic structures like this Lanyon Quoit Megalith ( public domain )

"Obviously, all of this monument building did not take place at the same time. Man has been leaving his mark on the surface of the planet for thousands of years and each civilisation has had its own method of honouring their dead and/or their deities," says the site Cornwall in Focus.

The site says Cornwall has 74 Bronze Age structures, 80 from the Iron Age, 55 from the Neolithic and one from the Mesolithic. In addition, there are nine Roman sites and 24 post-Roman. The Mesolithic dates from 8000 to 4500 BC, so people have been occupying this southwestern peninsula of Britain for a long, long time.

About 150 generations of people worked the land there. But it's believed the fogous date to the Iron Age, which lasted from about 700 BC to 43 AD. Though they're unique, the fogou tunnels of Cornwall are similar to souterrains in Scotland, Ireland, Normandy and Brittany, says the BBC.


Carn Euny fogou in Cornwall ( public domain )

The fogous required considerable investment of time and resources "and no one knows why they would have done so," says the BBC. It's interesting to note that all 14 of the fogous have been found within the confines of prehistoric settlements.

Because the society was preliterate, there are no written records that explain the enigmatic structures.
Kevin Crehan, 35, executed in his cell at HMP Bristol

DM, "Man jailed for leaving a bacon sandwich outside a mosque is found dead in prison halfway through his 12-month sentence", 30 Dec 2016:

He was serving a one-year sentence for racist attack on a Bristol mosque
Crehan and accomplices left bacon sandwiches outside the building
They also left a St George flag outside with 'No Mosques' written on it
Man jailed after leaving bacon sandwiches outside mosque been found dead in his cell.

Kevin Crehan, 35, was halfway through a one-year prison sentence he received in July after admitting the racially-motivated attack on the Jamia Mosque in Bristol earlier this year.

He was accompanied by Alison Bennett, 46, and Mark Bennett, 48, and Angelina Swales, 31, who also pleaded guilty over the incident.

A St George flag with the words 'no mosques' was also tied to the fence outside the building in Totterdown, Bristol, and shouted racial abuse at a worshipper.

Bacon was tied to the door handles and sandwiches made of raw meat and sliced white bread were left at the entrance, in what was described in court by the judge as an 'an attack on England'.

The prison service confirmed Crehan was found dead in his cell at HMP Bristol on Tuesday, December 27.

A spokesman told the Sun: 'HMP Bristol prisoner Kevin Crehan died in custody on Tuesday 27 December.


The incident occurred at Jamia Mosque in Totterdown, Bristol, pictured, and all four of the gang were banned from going near a mosque for 10 years

'As with all deaths in custody, the independent Prisons and Probation Ombudsman will investigate.'

Crehan was jailed for a year while Bennett was given a nine-month sentence.

Bennett was given a six-month sentence and Swales was given a four-month sentence - both suspended for two years.

They were all banned from going within 330ft of a mosque anywhere in England or Wales for the next 10 years.
Iohannis stops accession of Muslim Prime Minister

Visigrad Post, "Romania On The Brink Of A Political Crisis", 28 Dec 2016:

Romania – President Klaus Iohannis rejected the nomination of the country's first ever Muslim – and woman – candidate for Prime Minister, Sevil Shhaideh.

After winning the election early December, the PSD – Social Democrats – had to nominate a candidate for the office of Prime Minister. The president of the PSD, Liviu Dragnea is unable to become Prime Minister as he has been preliminarily refused by President Iohannis as he has been convicted for electoral fraud. Hence, he proposed Sevil Shhaideh, and it was likely he'd run the government through her.

Although President Klaus Iohannis asked the Social Democrats to pick someone else to lead the government, but he did not give any reason for this rejection.

Mr Dragnea has previously suggested he will fight any attempt by the president to block his choice of Prime Minister. "If Iohannis rejects our proposal, I'm not going to make a second one. We'll see each other in some other place," he said.


Sevil Shhaideh - rejected nominee for Romania' first ever Muslim – and woman - Prime Minister

Following the rejection, Mr Dragnea said he could begin the process of seeking to remove Mr Iohannis as president. "It seems the president clearly wants to be suspended," Mr Dragnea said. "We'll weigh our options very carefully, because we don't want to take emotional decisions. We don't want to trigger a political crisis for nothing, but if we come to the conclusion that the president must be suspended, I won't hesitate." As a matter of fact, several political observers claim that the two refusals – the first one, unofficial, of Dragnea, and the second one of Shhaideh – are unconstitutional.

On December 28, Mr Dragnea proposed Sorin Grindeanu as candidate for Prime Minister. President Iohannis is expected to name the Prime Minister on December 29. According to the Romanian constitution, if the candidate is not nominated by the President, the parliament will be dissolved and new elections will be held.
President Iohannis is indeed going along with the nomination of Grindeanu -
Sofia Globe "Romanian president designates Grindeanu new prime minister", 30 Dec 2016:

President Klaus Iohannis has designated veteran leftist Sorin Grindeanu as the new Romanian head of government. Previously, Iohannis refused to endorse a female, Muslim candidate who was criticized for her inexperience.

The 43-year-old Sorin Grindeanu would have 10 days to unveil his cabinet and seek the parliament's vote of confidence after being named by Iohannis on Friday.

The process is expected to go smoothly for the former telecommunications minister after the triumph of his moderate left PSD party in the parliamentary election earlier this month. The PSD won 45 percent of the seats and now holds a firm majority with their junior partners, the ALDE.

Grindeanu is a mathematician who has served as deputy mayor of the western city of Timisoara.
"Berlin terror attack: twelve dead, 49 injured as truck ploughs into crowd at Christmas market"

Telegraph, 19 Dec 2016:

At least twelve dead, 49 injured at Berlin market.
Attack occurred at Breitscheidplatz, outside the landmark Kaiser Wilhelm Memorial Church.
Police indicate incident is likely to be terror related - Isil claims responsibility.
Initial suspect released, terrorist still at large, likely armed and dangerous.

A truck ploughed into a crowded Christmas market in the German capital Berlin on Monday evening, killing twelve people and injuring up to 49 others.

According to local police, the first indications pointed to a terrorist attack on the market, situated at the foot of the ruined Kaiser Wilhelm memorial church.

The incident evoked memories of an attack on Nice in France in July when Tunisian-born man drove a 19-tonne truck along the beach front, mowing down people who had gathered to watch the fireworks on Bastille Day, killing 86 people. The attack was claimed by Islamic State.

The truck careered into the Berlin market at what would have been one of the most crowded times for the Christmas market, when adults and children would be gathering in the traditional cluster of wooden huts that sell food and Christmas goods.

"I heard a big noise and then I moved on the Christmas market and saw much chaos…many injured people," Jan Hollitzer, deputy editor in chief of Berliner Morgenpost, told CNN. "It was really traumatic."

Update:
Berlin attacker Anis Amri killed in Milan
BBC, "Berlin attacker Anis Amri killed in Milan", 23 Dec 2016:

The Berlin market attacker, Anis Amri, has been shot dead by police in Milan.

The Tunisian criminal fired on police who asked him for ID during a routine patrol in the Sesto San Giovanni area in the early hours of Friday.

German authorities say fingerprints they provided have confirmed the dead man is Amri. They are trying to find out if he had accomplices.

Monday's attack on a Berlin Christmas market left 12 people dead and 49 injured.

Freedom or security, Berlin asks


IS released a video showing Amri pledging allegiance

...leading Eurosceptics - including French National Front leader Marine Le Pen - have criticised open European borders, a result of the Schengen pact, for allowing a fugitive to move between countries.

Meanwhile, the self-styled Islamic State (IS) group has released a video showing Amri pledging allegiance to its leader, Abu-Bakr al-Baghdadi.

He does not make any reference to the Berlin attack, which IS claimed soon afterwards. It is not clear when or where the video was filmed.

Shortly before releasing the video, IS acknowledged Amri's death in Milan.

When Italian police stopped the suspect, who was on foot, at 03:00 (02:00 GMT), he "immediately drew out a gun" and shot at the two policemen, Italian Interior Minister Marco Minniti said.

Officer Cristian Movio was injured in the shoulder but his injuries are not life-threatening.

His junior colleague, Luca Scata, who had been in the police for just nine months, was the one who fired the shot which killed Amri.

German officials found Amri's fingerprints inside the truck that was used in Monday evening's attack.

Federal prosecutor Peter Frank said the focus of the criminal investigation into the killings now was to establish whether Amri had had a network of supporters who helped him to plan and carry out the attack or to flee.

Investigators are also trying to establish whether the gun used in the shooting in Milan is the same weapon used to kill the Polish driver of the truck, who was found dead with stab and gun wounds in the cab.

The attack took place at a busy Christmas market at the Kaiser Wilhelm Memorial Church in the west of the German capital.

According to the Italian news agency Ansa, Anis Amri travelled by train from France to Turin, and then took another train to Milan.

From the central station he travelled on to Sesto San Giovanni, a working-class area.

Amri, a Tunisian national aged 24, had served a prison sentence in Italy after being convicted of vandalism, threats and theft in 2011.

He was known to Italian authorities for his violent behaviour while imprisoned.

After his release he was asked to leave the country. He later arrived in Germany where he applied for asylum in April of this year.

His application was rejected by the German authorities but they were unable to deport him to Tunisia because he had no valid identification papers.
Visigrad Post, "Slovakia Prevents Islam From Becoming A State Religion", 1 Dec 2016: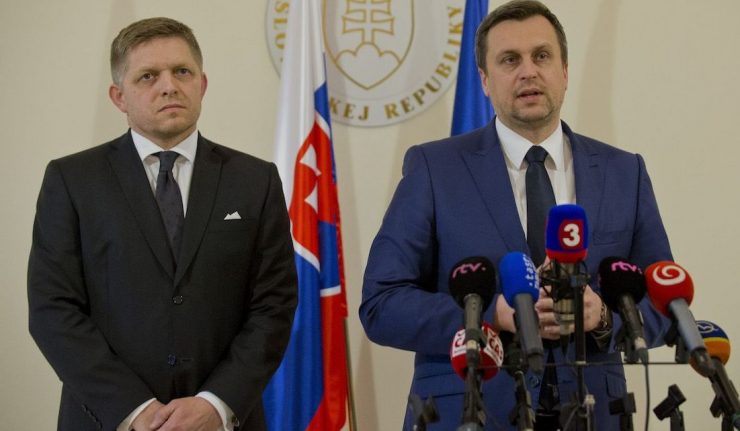 That's the way to do it: make Islam illegal.
Slovakia – On Wednesday 30 November the Slovak parliament passed a law proposed by members of the coalition of Prime Minister Robert Fico to prevent Islam from gaining official status in Slovakia.

The Slovak National Party (SNS) proposed that, in order for a religion to be formally recognized by the State, it should have at least 50,000 members -instead of the 20,000 members before that law- and so to have State grants and run its own schools.

For the time being according to the latest statistics Slovakia has 2,000 Muslims, 5,000 according to the Slovak Islamic Foundation. On the 5.4 million inhabitants in Slovakia, 62 per cent declare themselves Roman Catholics.

The president of the Slovak National Party Andrej Danko said on this subject that "Islamization begins with a kebab and this is what happens in Bratislava, we must be aware of what we could face in 5 or 10 years … We must do everything in our power to ensure that no mosques are built in the future."

The law was approved by two-thirds of the Slovak parliament, including the ruling coalition headed by left-wing prime minister Robert Fico and opposition parties. The Nationalist Party The SNS then proposed that not 50,000 but 250,000 should compose an official religion, which was immediately rejected.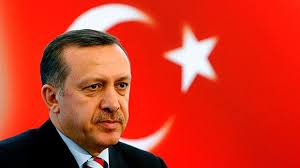 MailOnline, 25 Nov 2016:
Erdogan: "I'll let EVERY migrant into Europe."

The furious Turkish president has vowed to open his country's borders to all migrants in revenge after the European Parliament voted to halt EU membership talks.

Turkey's bid to join the EU now looks doomed after the European Parliament demanded that membership talks with Ankara are frozen.

The demand was made amid growing unease over Turkish President Recep Tayyip Erdogan's 'increasingly authoritarian regime' in the country

The EU struck a deal earlier this year to return migrants to Turkey in return for a package including aid for the refugees and accelerated membership talks.

But now Erdogan has declared that if the freeze continues he will open Turkey's gates for all migrants to flood into Europe.

Speaking at a congress on women's justice in Istanbul, he said: 'If you go any further, these border gates will be opened.
Creativity Movement Toronto, "Matt Harrigan gets a slap on the wrist…Matt Hale gets 40 years!" 24 Nov 2016:

Shortly after Donald Trump was elected to be the next President of the United States, Matt Harrigan the CEO of a Cybersecurity firm, threatened to kill him! Harrigan posted his threats on his facebook page or some F/B group page. Some of his threats…

" I'm going to kill the president. Elect." . " Bring it Secret Service".. " Nope, getting a sniper rifle and perching myself where it counts. Find a bedroom in the whitehouse that suits you motherfucker I'll find you."

Screen shot of threats

Harrigan has since apologised. "My humble apologies that a flawed joke has become public/out of context." Harrigan also resigned as the CEO of the company he worked for. He claimed to be surprised that his posts had become viral public consumption as they were only intended for his circle of friends, he was the CEO of a cybersecurity firm yet was surprised when his threats became viral?, he also played the drunk card. Harrigan was interviewed by the Secret Service and said he does not anticipate any charges.

BREITBART…...CEO Who threatened to kill Trump now blames Drunkenness

Rev Matt Hale was convicted of soliciting an FBI informant (Tony Evola) to kill Federal Judge Joan Lefkow and was subsequently sentenced to 40 years in prison. Rev Hale was set up by the government. I will not go into the details of his abduction by the government here as most of our readers are quite aware them. For those unaware of the details…

Poor Matt Hale was set up by an FBI informant posing as his security guard. From what I understand, the informant asked Matt "if he wanted to do something about the judge handling his case" (of a patent violation - a Jewish man had copyrighted the logo of Matt's church in order to file suit against him for copyright violation); Matt responded "yes, but don't do anything illegal." The Feds apparently wanted so badly to get Matt Hale incarcerated that that was "enough evidence" to sentence him for 40 years. Tragic. - DanielS

..

FREE MATT HALE!

I will play devils advocate and say the "evidence" used to convict Rev Matt Hale was valid, all the prosecutor had was hearsay from a government informant that Hale wanted a judge killed. There was no written pronouncement of his supposed intentions. Even if he was guilty of what he was accused of the sentence was extreme. I'm sure a president elect Trumps a Judge? Harrigan posted clearly for all to see that he himself was going to kill the President elect! All he had to do was resign from his job and apologise for his inappropriate conduct. If Rev Hale were to apologise for his supposed misdeed and claim that it evolved from a drunken state, would he be afforded the same leniency given to Harrigan? The answer of course is no, the government entrapped Hale to get him to shut up, he was awakening far too many people, he needed to be silenced for the Zionist narrative(s) to remain intact. The Harrigan incident just further solidifies the fact that the unjust and harsh punishment that Rev Hale received was undeserved and contrived.

I do not want Matt Harrigan to be held to the same standard as Matt Hale, I want Matt Hale to be held to the same standard as Matt Harrigan.

For Natures Finest
Brother Smith