Majorityrights News > Category: Anti-racism and white genocide


These were the folks who showed up to clean up the cemetery in St. Louis today, and stayed for an interfaith vigil - TT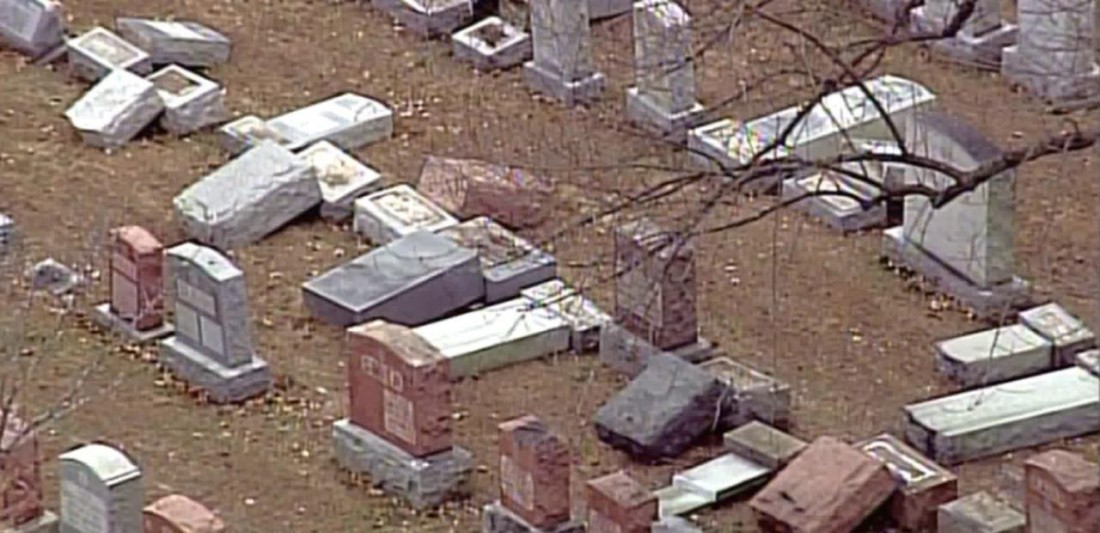 Washington Post, "Missouri authorities are investigating after dozens of headstones were damaged at a Jewish cemetery near St.Louis. (AP)" February 21, 2017.
...and, surprise, surprise, but not to our Asian friends who know about Abrahamic solidarity at radical bottom - the Muslims joined in solidarity as well:
NBC News, "Muslim Fundraiser to Repair Jewish Cemetery Raises $100k", 22 Feb 2017:

In just over 24 hours, an online fundraiser encouraging Muslims to donate to repair vandalism at a Jewish cemetery has raised over $100,000.
Baby Spitter Rezzas Abdulla

Regarding below - I'm taking bets/guesstimates on how long a prison sentence a white man would have got if he had spat in a non-white baby's face and shouted ''non-white people should not breed!''. So far legal advice had told me 'at least a year'. Such are the double standards under a multi-racial society. Multi-racial societies in any case are only the stepping stone to the extinction of one race, and the double standards against whites emphasize that for those too foolish to otherwise realise it, and also indicates just which race is being marked for extinction. - Jez Turner

Subject: Remove Judge Darren Preston for freeing Mr Abdulla after a racist attack on baby. Sign petition e mail on.

Rezzas Abdulla spat into a 9 month-old baby's face & shouted 'white people shouldn't breed' in a sickening race-hate assault in South Shields. Judge Darren Preston allowed Abdulla to walk free from court. We the undersigned demand Judge Preston be removed as a judge.

Click this link to sign the petition "Remove Judge Darren Preston for freeing Abdulla after a racist attack on baby"


https://petition.parliament.uk/signatures/34964001/verify?token=k0SZz3MY3sovWR8zq2R4

Petition:

Remove Judge Darren Preston for freeing Mr Abdulla after a racist attack on baby

Rezzas Abdulla spat into a 9 month-old baby's face & shouted 'white people shouldn't breed' in a sickening race-hate assault in South Shields. Judge Darren Preston allowed Abdulla to walk free from court. We the undersigned demand Judge Preston be removed as a judge.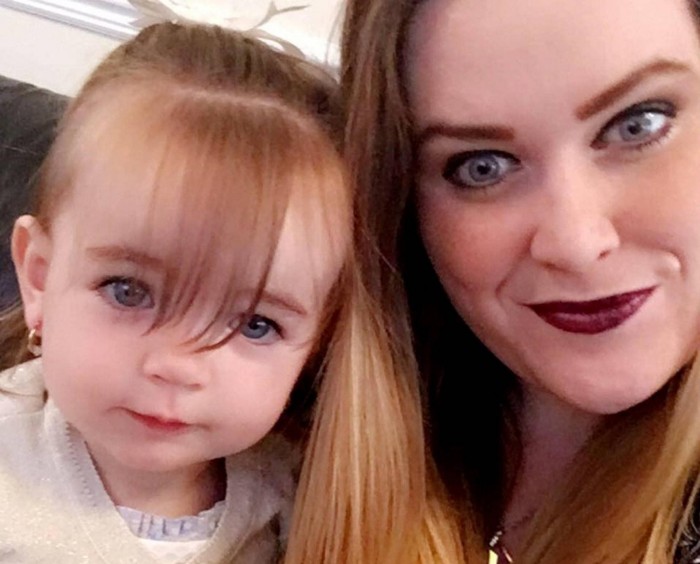 The court heard that Layla-Jeam, now almost two, was taken to the doctor after the attack for tests amid fears she could have contracted TB. Metro 21 Feb
TNO, "Mass Rapes: Islamic Weapon of Conquest and Domination", 18 Feb 2017:

By Yolanda Couceiro Morín. Since the sordid episode of the massive New Year's Eve rape of 2015 in Cologne and other German cities (more than a thousand complaints), cases of sexual assaults against European women by immigrants and "refugees", overwhelmingly Muslim, have multiplied throughout Europe, especially in Germany and the Nordic countries.

Seeing what happened at the last end of the year celebrations, rapes are becoming part of the European folklore of these dates: together with the nativity scenes, the Christmas markets and the Three Kings' cavalcades, we will now have Massive Rapes New Year´s Eve.

Traditions change from the usual gift of red underwear to the latest chastity belts. This is the march towards the progress of our battered Europe.

We witness a retreat from civilization, the decline of an entire society, a rupture of the anthropological foundations of our societies. Es el regreso a la caverna. It is the return to the cave.

This social collapse, this degradation of coexistence norms, is not only a change of culture, but the implantation of a savagery that we could call prehistoric.

We all have in mind the classic caricature of the relations between the sexes of those antediluvian times in the scene of a troglodyte, with a club on the shoulder, dragging by the hair to its pair.

This typical image of cartoons represents in a comic sense the terrible situation to which we are forced to march, with the importation of populations manifestly unfit for modern and civilized society.

From the peaks of the highest and most refined civilization that the Earth has carried on its surface, we have fallen into a state of semi-fearlessness.

We must be clear that these are not simple criminal acts, however reprehensible they may be.

Among the European population, of race and native culture, this type of aggression also occurs, although in quantitative terms much lower than this wave of savagery that has invaded us.

But it is the qualitative nature of these violations that should be the object of special attention.

In these cases we are not in front of habitual criminal acts, but in front of cultural facts.

Among us, abuses and sexual assaults against women are considered a social scourge, a highly reprehensible behavior, an improper indignity of decent people, an extreme violation of people´s freedom and dignity.

In the Islamic world, where women are considered inferior to men, abusive treatment and aggression of all kinds against women do not deserve the same reprobation and condemnation as among European, Christian and modern civilized nations: are accepted and justified facts. Therein lies the difference.

[...]

The scarce intellect of these individuals who, in fact, believe that we are all "human beings", and that culture is something that is put on and removed, as if it were a dress or shoes, is enough to justify these events as something inherent to the human race.

[...]
Evening Standard, "Hundreds of protesters clash with police as riots spread into Paris", 15 Jan 2017:

Hundreds of protesters clashed with police as riots spread into Paris on Wednesday night.

Tear-gas was used by police as rioting that originated in the suburbs spilled into the French capital around the Barbes Metro station, close to Gare du Nord.

It follows the alleged rape of a young black man, named only as Theo, by French police.

Protesters started fires and smashed windows, while there were reports of riot police being attacked and shops looted.


The riots have been triggered by the alleged rape of a young black man by police (EPA)

Fire crews raced to the scene to extinguish the blazes as police desperately tried to disperse the crowds.

There has been heightened tension in council estates in Paris since February 2 when a 22-year-old youth worker named Theo was allegedly beaten up, raped and racially abused by police.


Rioting that originated in the suburbs have spread into the French capital (REUTERS)

...and you get typical black behavioral pattern response: hyper-assertiveness.
Ibid: One unidentified officer has been charged with rape, and three more with assault since Theo was sent to hospital where he underwent emergency surgery.

Since the alleged attack there have been reports of police stations and squad cars being targeted, as well as patrols operating around France.


There has been heightened tension in Paris since February 2 (EPA)

President Francois Hollande, who has visited Theo, has appealed for calm.

Wednesday night's protest at Barbes was illegal as police refused to give permission for it.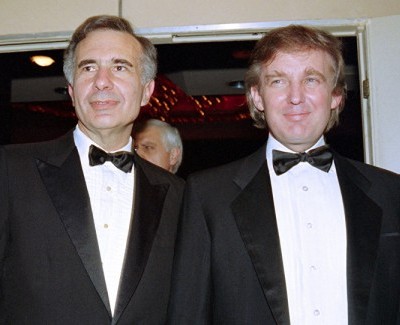 Together back in the 80s, when Carl Icahn was showing Donald Trump the ropes of "corporate-take-over", such as his plunder of TWA.
The Carl Icahn episode that pilfered the corporate culture of the once bustling American town—Lancaster, Ohio—is highly instructive of itself. It provides a lesson in its farther implications, however, as it set in motion transformations of that corporate culture which effected a perverse irony of its residents becoming Trump voters, seeking a return to their corporate culture as it had been - implicitly White - oblivious to the fact that they are hoping to do this through Trump, whose appointed gate-keeper is Carl Icahn - the very man who plundered Lancaster's corporate culture and set in motion its transformative demise, with devastating impact upon the now rust-belt town and its people (nearly all White).

(((NPR))) doesn't provide a transcript of portions which refer to Carl Icahn, e.g.
NPR, Glass House' Chronicles The Sharp Decline Of An All-American Factory Town, 6 Feb 2017:

13:10: Dave Davies: "When did outside financial interests first pose a challenge to the management of Anchor Hocking, this giant of a company?

Brian Alexander: The first time was Carl Icahn.
It is meaningful that the relatively brief episode of Carl Icahn's corporate raid on Anchor-Hocking did not merely lead to a limited financial downturn following the large (what amounts to) bribe that he levied against the company in order to get rid of him, but it had implicative force which transformed even the subsequent non-Jewish corporate culture, creating a new corporate culture - a new context, if you will. That is the kind of thing that the serious ethno-nationalist will want to examine further.
Brian Alexander: It's the 1980's, Carl Icahn has just begun his career of what became known at the time as "green mailing."

Dave Davies: "Corporate raiding", "corporate take-overs."

Alexander: "Corporate raiding", saying now I've just bought 5% of your stock. I want a seat on the board. You're running your company in a lousy way; and so I'm going to come and make all sorts of trouble for you, but you know, if you want to buy me out, at a profit, at a premium, well maybe I'll go away; and so that's exactly what happened with Carl Icahn.

Carl Icahn bought over 5% of the stock of Anchor Hocking, agitated the board, saying you need to make some different decisions, you could be returning more share-holder value and was eventually bought off at what I calculate to be about a three million dollar profit to Carl Icahn.

That episode did not last long, but I argue that it changed Anchor Hocking forever, from then on.

Dave Davies: In what way?

Brian Alexander: It scared people…
........................................................................

NPR, Glass House' Chronicles The Sharp Decline Of An All-American Factory Town, 6 Feb 2017:

NPR host Dave Davies: We heard a lot in the presidential campaign about anger and frustration among working class voters in America's heartland. Today we're going to focus on one factory town in central Ohio that was once a bustling center of industry and employment, but is now beset by low wages, unemployment and social decay.

Lancaster, Ohio isn't just a research subject for our guest Brian Alexander, it's his hometown.

His new book tells the story of the company that was once Lancaster's largest employer - Anchor-Hocking Glass Company was a Fortune 500 company with its headquarters in the town. The company provided jobs, civic leadership and community pride. It's decline Alexander argues isn't just a product of increased competition and changing markets, he says the firm was undone by Wall Street investors who had little knowledge of the company and little interest in anything besides short-term profit.
Visigrad Post, "Central Europe Unites to Put an End to Illegal Immigration" 9 Feb 2017:

Austria, Vienna – Ministers from 15 countries gathered in Vienna on Wednesday, February 8, in order to find a common way to put an end to the illegal immigration in the Balkans and Central Europe.

Representatives from Austria, Hungary, Bulgaria, Czechia, Croatia, Poland, Romania, Slovakia, Slovenia, Albania, Bosnia, Montenegro, Macedonia, Serbia, Kosovo, and Greece, as well as officials of the Central European Defence Cooperation took part at the meeting.

Countries along the Balkan migration route agreed on Wednesday to seal the already hard borders and prevent a possible new surge of people trying to reach wealthy EU countries. Since the countries on the Balkans' route already secured their borders a year ago, the number of illegal immigrants has dramatically dwindled, but hundreds of migrants still try each month to take this route.

A plan to plug the remaining gaps on the route from Greece to Austria and Germany is to be drawn up by April, defence and interior ministers from affected countries decided at a conference in Vienna.

The agreement anticipates the potential collapse of the EU's deal with Turkey to keep migrants and refugees.