Majorityrights News > Category: History
Bill Bailie, The Nation Revisited # 136 February 2018:

The British Aerospace Industry

Hundreds of jobs at BAE Systems are threatened by a lack of orders. Unfortunately, the Typhoon multi-role aircraft is not suitable for use on our new aircraft carriers which require planes capable of short take-off and vertical landing. Instead of developing our own aircraft we have ordered fourteen F35B's from Lockheed Martin at a cost of £2.5 billion. We will eventually buy 48 planes, the cost of which will escalate as the pound falls against the dollar. We must also consider the cost of putting British aerospace engineers on the dole.

Our former Defence Minister, Michael Fallon, suggested that we support America by sending our new aircraft carrier HMS Queen Elizabeth to North Korea before she is properly commissioned and without aircraft. Perhaps he wants to ram the first North Korean ship that we encounter?

The government has wasted billions of pounds on two aircraft carriers with no means of launching or landing aircraft. Nuclear ships use steam to power 'cat and trap' equipment, but our new ships are diesels which generate no steam. We, therefore, have to use STOVL aircraft which are not readily available.

When we get our expensive American planes we will be capable of fighting all over the world but what we really need are more destroyers and frigates to defend the homeland. We are a European country with no empire to defend.


Michael Heseltine resigned from the Cabinet over the Westland helicopter affair in 1986. Margaret Thatcher wanted to sell the company to America but he insisted on keeping it in Britain. Today, Westland is part of Leonardo, an Italian company employing 3,300 workers in the UK

Airbus is a French company which employs 15,000 workers in the UK. They have just signed an order for thirty-six A320 superjumbos with the Emirates.

Bombardier is a Canadian company that employs 25,000 workers making trains and aircraft in the UK and Northern Ireland.

The industry is led by BAE, a British company which employs 82,5000 workers making ships, tanks, missiles and aircraft. These companies employ British workers and pay their taxes. They are a vital part of our economy.

The Far Right

The first fascist movement in Britain was the British Fascists, founded by Miss Rotha Lintorn-Orman in 1923. They were fiercely anti-communist and pro-monarchist. Arnold Leese, a former BF councillor for Stamford, called them "Tories with knobs on." In 1929 he founded a rival movement called the Imperial Fascist League which was openly anti-Semitic. According to folklore, when Ron Hargrave applied to join the IFL Arnold Leese first measured his head with a tape measure and told him to report back in a week's time. When he returned Leese said, "A lot of people here don't like the look of you but I have decided to let you in."


Ron Hargrave guarding the platform for JT in 1960.

In 1932 Oswald Mosley founded the British Union of Fascist which quickly became a mass movement but in 1940 it was banned and over a thousand Blackshirts were rounded up and thrown into prison under Defence Regulation 18B. After the war, he founded Union Movement to fight for 'Europe a Nation'. He died in 1980 and UM was wound up in the nineties. Union Movement was never far-right but because it opposed Commonwealth immigration it was branded as such by the media.

The National Front was founded in 1967 to stop immigration, start repatriation, and get Britain out of the Common Market. It peaked in 1979 and its successor movement the BNP peaked in 2010. Both movements were eclipsed by UKIP which is now in steep decline.

The term 'far-right' includes everything from traditional conservatives to neo-Nazis. They command about ten to fifteen percent of the vote in most of Europe. Britain's first-past-the-post system keeps them out of Parliament but in Germany, the AFD has won 94 seats in the Bundestag, in Austria the Freedom Party is part of the coalition government, and in the United States, Donald Trump, a billionaire Zionist warmonger, has promised to build a wall on the Mexican border and make America great again.

There is a crying need for a sensible patriotic movement to fight for Britain in Europe. Ukip and the remnants of the NF and the BNP are stuck in the past and incapable of change. Most of their members have got one foot in the grave and it's only a matter of time before a new party emerges to cater for the younger generation.

Readers who are suffering from mental health problems, including paranoia, should ask their doctor for help. Conspiracy theory can be cured by talking therapy. If you think that "they are out to get you", do not despair. The first step is to admit that you have a problem.

What is Nationalism?

We are familiar with Irish, Scottish and Welsh nationalism but less so with English nationalism. My generation was brought up on imperialism which embraced the four nations of the British Isles and even included Australians, New Zealanders, South Africans, and Canadians. We were all subjects of the British Empire.

I was proud to salute the Union Jack in the school playground on Empire Day but the Second World War had already destroyed the British Empire. One of the first men to realise it was Oswald Mosley who proclaimed 'Europe a Nation' in his book 'The Alternative' in 1947. Those of us who share his vision of a united continent with a progressive government are European Socialists.

Nationalism is a mixed blessing. At its best, it's a love of country, but at its worst, it's a fear and hatred of foreigners. Celebrating sporting achievements and holidays is a harmless expression of patriotism but beating up immigrants is entirely negative.

Some people believe in a 'Confederation of Europe', in which fiercely independent nation-states would co-exist with each other. But history tells a different story. The German Nazis murdered the Austrian leader Englebert Dollfuss, and the Italian Fascists invaded Greece, which was a fascist state under General Metaxas. Nationalist states do not live happily with their neighbours; they invariably attack them.

Little states tend to swagger and act tough, but great empires are self-confident. In the Roman Empire every citizen was protected by the declaration: "Civis Romanus Sum"- I am a Roman Citizen. In 1850 Lord Palmerston stated in Parliament that every citizen of the British Empire should enjoy the same protection. Britain is going through a painful divorce from the European Union but we will still be Europeans, and when the current outbreak of tribalism has subsided, it will only be necessary to say "I am a European".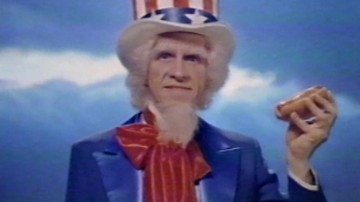 Television: Answering to an even higher authority.
[backing vocals Tina Turner & The Ikettes]
I am gross and perverted
I'm obsessed 'n deranged
I have existed for years
But very little has changed
I'm the tool of the Government
And industry too
For I am destined to rule
And regulate you
I may be vile and pernicious
But you can't look away
I make you think I'm delicious
With the stuff that I say
I'm the best you can get
Have you guessed me yet?
I'm the slime oozin' out
From your TV set
You will obey me while I lead you
And eat the garbage that I feed you
Until the day that we don't need you
Don't go for help . . . no one will heed you
Your mind is totally controlled
It has been stuffed into my mold
And you will do as you are told
Until the rights to you are sold
That's right, folks . . .
Don't touch that dial
Well, I am the slime from your video
Oozin' along on your livin' room floor
I am the slime from your video
Can't stop the slime, people, lookit me go
I am the slime from your video
Oozin' along on your livin' room floor
I am the slime from your video
Can't stop the slime, people, lookit me go
- Frank Zappa, "I'm The Slime"
TV: postmortem on passivity induced runaway destruction, including speculation on zombie effects despite the new dawn of interactive media. It's being a retrospective gives me an excuse to post this older show which I've only seen today for the first time. It's funny as hell. Charlie Brooker is clever. I don't vouch for his politics, am unfamiliar with that.
But as we say goodbye to the hegemonic days of television and the passive acceptance of its audiences of a world they could not interact with nor hope to change, it is worthwhile to take another look back on the days of how the Televitz shaped and manipulated our attention; and to speculate on some of its lingering effects, both on runaway systems in a world unchallenged, and its parallel tropisms in the computer screen, exponentially better though it is in the choice and interaction the mechanisms attached may provide…
"How Television Ruined Your Life"
Parts 1-6, BBC production, 2012, under Youtube license: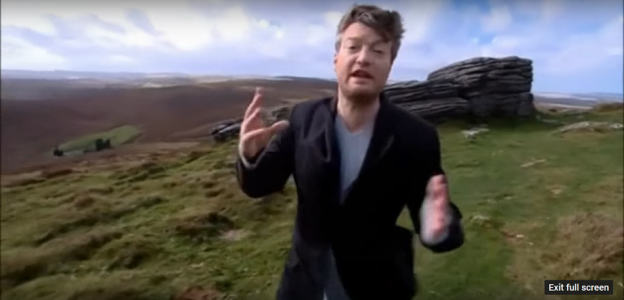 Correction: I spoke too soon about Timothy Snyder being an anti-nationalist, and I did that in light of his estimation that Britain and France were not really nations while they were empires, that their "nationhoods" were creations of post hoc political convenience. Nevertheless, to say that he is against nationalism would not be correct, since in fact he sees the weak state and the destruction of the state as that which abets genocide.
Snyder's characterology of how Putin's and Trump's positions have emerged in fairly conjoint construction is uncanny…
As such he does make of himself a useful idiot in that he exposes one side of the YKW equation - the specific origin and characters of their right wing cohorts, Putin and Trump.
Youtube, "A Republic, If You Can Keep It: Masha Gessen Talks Autocracy with Timothy Snyder", 12 July 2017: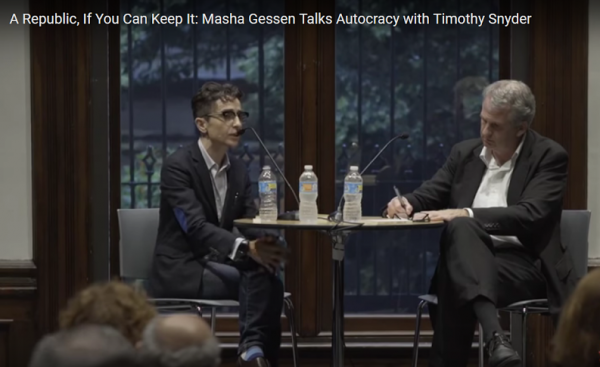 As his fellow Trump/Putin critic, (((Masha Gessen))) would suggest, we would miss the truth of these characters, more like mafia dons than statesmen, if we were to maintain a policy of sheer fact checking. Because essentially, they don't care. They both have a cynical world view and it is about power - logical consistency is for the naive. By contrast to that, one must have the courage and confidence to tell the true story -
Youtube, "Chatham House Primer: Modern Authoritarianism", 30 Oct 2017:


This guy, (Ivan) Ilyin, I think was a very interesting philosopher; he is kind of the grandfather of the current Russian "fascism." Current Russian "fascists" like Alexander Dugin are a little jealous of him and say that he just serves a technical function in the Kremlin and he's not that interesting. I think he's interesting. One of his ideas is that for Russia to have a leader, that person has to be free of history, which is a high demand.

He (Ilyin) was a right-wing Hegelian ...his whole idea was that god created the world and that was a mistake. It's an interesting view, those of you who know anything about Orthodox theology know that there are references… god created the world, it was a mistake, the factuality of the world is itself sinful, history is itself sinful, contingency, to use the technical term, contingency is sinful, all these facts and passions we have, they're inherently sinful.

So, in order for Russia to be rescued it has to be rescued by someone who is somehow clean of history.

It has to be a redeemer who comes from beyond history.

What I find so interesting is that this actually happened in a way.

The place that is not history is fiction.

When Mr. Putin came to power, Surkov and the others in the Kremlin literally had a kind of game and then a public opinion poll where they tried to figure out which Russian fictional character would be most attractive to Russians. They came up with this character (Max Otto von) Stierlitz, who was a double agent and a person in a novel, and in a film, in the 70's, who was a Russian spy who spoke German. That's why they chose Mr. Putin. So, he literally .. this true people! This is the world we live in. So he literally came from fiction.

Then you connect Mr. Putin to Mr. Trump. Mr. Trump is Not a successful real estate developer! That never happened. Mr. Trump bankrupted six companies. He owed billions of dollars to, I think, seventy banks. Until, low and behold, some nice Russians came and said, 'hey, why don't you just put your name on some buildings and we'll give you money for that, and we will build the buildings - which then became his business plan. Which is a great (((business plan))) if you can get it.

Rob Goldstone

relaxing, chatting with Trump

The Miss Universe pageant. How did he run (((the Miss Universe pageant)))? The Russians gave him twenty million dollars and he showed up. Which is a great business plan if you can do it.

So, a fictional Russian character comes to power and then creates a fictional American character called Mr. Trump. This happened!

Once the Russians had bailed him out, he then appeared on American television, on celebrity apprentice, playing a successful real estate developer - which he never was.

But as a character, he was great, he could say, "you're fired!" in a really convincing way.

So, one fictional character then creates another fictional character. And that fictional character also comes to power. ..with the help of all kinds of fictional devices, mostly delivered through the internet. So there really is an interesting problem of (((genre))) going on in our life.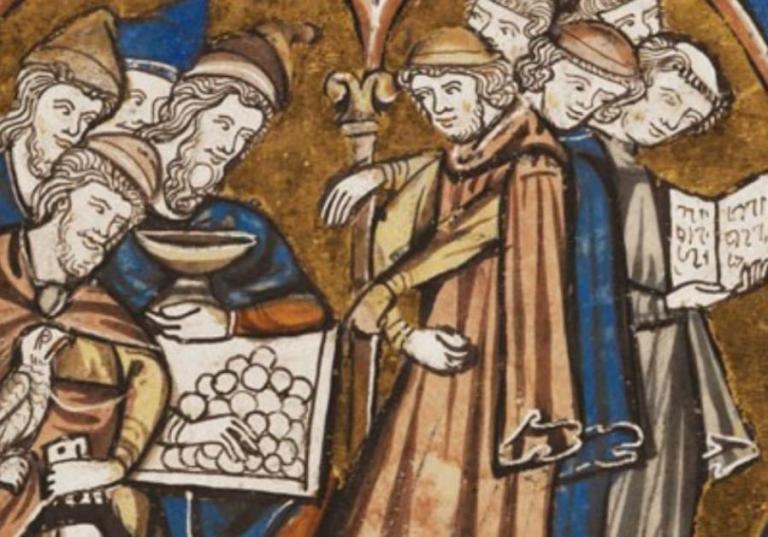 Story of Argobad
contextualizes the case brought against Jez Turner
First, some background on the Jez Turner case -
Europa, "BRITAIN'S VIGILANTE POLICE", 11 Oct 2017:

by Mike Walsh

Britain's most popular ethno-nationalists, supporters and members of the public, face a David and Goliath battle to protest a state-funded race-police force. Contrary to all legal precedents the Shomrim Security Group, with eighty guards, now patrols North London boroughs.

Shockingly, these armed and uniformed Jewish storm-troopers, are said to be the only 'private army on British soil' The patrolling race-police wear state-provided uniforms and cruise the streets in £15,000 patrol cars.

Ostensibly, the purpose of these menacing uniformed Jews, recruited from the Hasidic Jewish community in London, is to police boroughs and to act against what they describe as 'hate crimes'. Such would include criticism of Jewish or Israeli influence. Jewish and Asian groups are trained to make arrests and detain suspects until conventional police arrive.

It is well to reflect how news of a similar ethnic-European police force being sponsored would be greeted. Imagine for a moment, 80 British nationalists, concerned at the number of hate crimes perpetrated by non-Europeans on indigenous Britons, being given special status by the London police.

Shomrim, special Jewish police specifically looking after their community.

The self-appointed nationalist volunteers are trained, equipped and provided with liveried police cars by Britain's largest police force. Patrolling the streets of London this private force, not covered by authority or law, are tasked with identifying the perpetrators of anti-White hate criminals. Merely the suggestion would be considered preposterous. Is Britain the only country that sponsors a race-group private police force?

Jez Turner says: "It's utter disbelief that the Jews of Stamford Hill have set up their own police force which enforces their own Talmudic law on the streets of a White British city."

An anti-vigilante protest group, supported by members of the public, took their protest to the streets.Holding banners reading 'police impersonation is a crime' and surrounded by a large police escort, the group of 50 concerned residents gathered at Lea Bridge Roundabout. Speeches were made by the National Front's Tony Martin and the party's former organiser Martin Webster.

The massive police operation investigating this demonstration has been given the name Operation Saurus (reptile). Police officers openly admitted that it was carried out at the order of the far-left Jewish Community Security Trust (CST).

Mr Turner says, "All politicians are nothing but a bunch of puppets dancing to a Jewish tune, and the ruling regimes in the West for the last 100 years have danced to the same tune. Let's free England from Jewish control."

Britain's Crown Prosecution Service (CPS) is set to prosecute the founder of the London Forum debating society for alleged anti-Semitism after a Jewish group mounted an unprecedented challenge to their original decision not to prosecute.

The CPS case is likely to collapse as it is based on Article 17; European Human Rights Convention that says protection is not extended to 'those who would destroy that right'. It is unlikely that the organiser of an ad hoc debating society could be guilty of such a wacky bizarre allegation.

Why worry, lawyers will get richer, media will be enriched by anti-White propaganda, the political elite seen as tonguing the right backsides; the taxpayer pays for the repellent anti-White Carnival of Clowns.

When asked his reaction to the CPS decision to retreat under Jewish pressure, Jez Turner smiled and said: "Looks like I may be going away for a while, a free vacation at Her Majesty's pleasure. But whatever happens, I'll have a show trial first. And I'll make sure that I give them a show and go down fighting!"

The mask of liberal democracy is slipping away. As anger rises over mass immigration to the West, so the authorities will be resorting to ever more desperate methods to stifle dissent. The greatest consciousness-raising resource of the last twenty years may be lost to us.
Independent, "Crown Prosecution Service to review decision not to prosecute prolific anti-Semite", 8 Feb 2017:

Jez Turner's case re-examined after 13-month campaign against him.

Crown Prosecution Service has agreed to review decision not to prosecute far-right activist known for making vitrolic speeches against the "Jewish world order".

Jeremy Bedford-Turner's case will be re-examined following a 13-month campaign.

In a July 2015 speech to an "anti-Shorim" rally on Whitehall, Jeremy Bedford-Turner said "all politicians are nothing but a bunch of puppets dancing to a Jewish tune, and the ruling regimes in the West for the last one hundred years have danced to the same tune."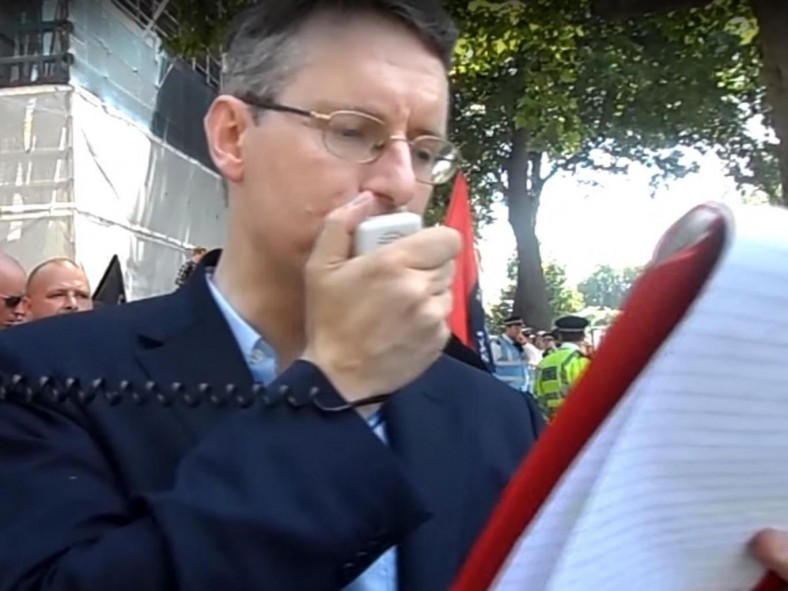 Jez Turner addresses small protest outside Whitehall
July 2015
"Agobard of Lyon and The Origins of the Hostile Elite"

Andrew Joyce, Ph.D., Occidental Observer, 2 Nov 2017:

As part of the introduction to my forthcoming volume of essays, Talmud and Taboo, I've included an overview of key developments in the historical relationship between Jews and Europeans. During the course of this overview I emphasize the historical suppression of European responses to Jewish group behavior, an important and perennial aspect of Jewish-European interactions. This suppression/taboo, as a thing in itself, tends to be less explored and understood when compared to the attention devoted to more obvious manifestations of Jewish influence (e.g. assertive action in influencing immigration control), but consideration of it is crucial to a complete understanding of Jews as a hostile elite. A working theoretical definition of what is meant by "Jews as a hostile elite" is of course also necessary, and is taken here as the implication not only that Jews have historically been opposed/hostile to the interests of the European masses, but also that Jews have had direct access to political power, or significant levels of influence over European elites in possession of it. While writing the introduction to Talmud and Taboo I was primarily concerned with the origins of the Jewish acquisition of this power or influence in Europe, the mode of its expression, and its evolution over the course of centuries. Due to restrictions of space in the introduction to Talmud and Taboo, I want to take the opportunity here to expand on one such example.

To date, our best understanding of modern Jewish political strategies in the context of the "taboo" can be found in Chapter 6 of Kevin MacDonald's Separation and Its Discontent: Toward an Evolutionary Theory of Anti-Semitism, titled "Jewish Strategies for Combatting Anti-Semitism." One section deals with "Political Strategies for Minimizing Anti-Semitism." MacDonald notes that Jews have been flexible strategizers in the political arena, buttressed by an IQ substantially above the Caucasian mean, and argues that the foundations for Jewish influence are wealth, education, and social status.[1] Today, Jews apply this influence in order to stifle negative discussion of their group, and at times to stifle any discussion of Jews at all. MacDonald points out that this is normally done via extensive communal support for "self-defense committees," which are a feature of every Diaspora population. These committees invariably lobby governments, utilize and influence legal systems, produce pro-Jewish and pro-multicultural propaganda, and fund pro-Jewish candidates or initiatives. Another of their vital functions has been to monitor and expose "anti-Semites," and to use legal systems in order to exact individual punishments, thereby making an example of individuals and thereby imposing a deterrent atmosphere on the rest of the population.

It almost goes without saying that in the modern era Jews have been very successful in making anti-Semitism a disreputable and unsavory enterprise. Perhaps more than any other shaming device, accusations of anti-Semitism can be socially and professionally devastating. Academic studies which argue that anti-Semitism has a rational and understandable basis, such as MacDonald's work, are monitored and excluded from scholarly discourse in an unceasing effort to maintain Jewish control over narratives concerning their group and deflecting antagonism to it. A foundational idea underpinning the creation of this most modern taboo is that anti-Semitism is a personal flaw indicative or psychiatric disorder and a social aberration, epitomized by the writing of the Frankfurt School of Social Research. Despite achieving an almost monolithic position in the public mind of most European populations, it is particularly noteworthy that such conceptualizations of anti-Semitism as an irrational and inexplicable form of psychosocial illness are extremely recent, having been developed only in the last sixty years by a cast of Jewish intellectuals—particularly those at the nexus of psychoanalysis and the Frankfurt School.

This reframing of European understandings of anti-Semitism has been due not only to Jewish influence in academia, the media, and the development of social policy, but also to a general ignorance among Europeans of the historical experiences of their ancestors. Europeans cannot come to terms with the issue of Jewish influence purely by confronting its contemporary manifestations – they must engage with the experiences of their forebears, and understand how and why they viewed Jews as a hostile elite.

All of these considerations led to me to one question: when and how did this "hostile elite" begin? Although Jewish influence was noted during the life of the Roman Empire, I excluded this period from my deliberations for a number of reasons. The first was that I wanted a close contextual proximity to present conditions; in other words, as a bare minimum I felt it necessary that I should find an early example of Jewish influence that still mirrored enough features of the modern experience to be broadly valid in comparison. Despite a proliferation of expatriate communities, during the Roman Empire, or at least until the sack of Jerusalem by Titus in AD 70, Jews could be considered as predominantly a national people rather than a Diaspora. It could thus be argued that relations between the Roman Empire and Jewish populations could on some level be understood within the framework of traditional diplomacy and power relations.

It was only after Rome's demolition of the Second Jewish Commonwealth in the first century that the Exilic period ushered in significantly novel forms of Jewish political activity. These political activities also became uniform, with Amichai Cohen and Stuart Cohen noting of the new Diaspora: "Notwithstanding variations dictated by vast differences of location and situation, all Jewish communities developed and refined a remarkably similar set of broad [political] strategies."[2] The second reason is related to the first in the sense that this set of Jewish political strategies had to be present in a broad geographical area of Europe. This breadth of geographical dispersion, and the subsequent extension of Jewish interactions with European populations, only occurred after the fall of the Roman Empire. A third and final reason for omitting the period of the Roman Empire was that my precondition of close contextual proximity required that the nation states of today, at least in their prototypical form, should be broadly recognizable. Finally, the Jews of Visigothic Spain, although wealthy, powerful, and incredibly hostile, have been discounted due to their failure to establish a relationship with Visigothic elites. This failure most notably resulted in the Jews providing assistance to a replacement elite — Muslim invaders.[3]

The set of "broad political strategies" referred to above requires further elaboration. Lacking a state, and insistent on remaining apart from their host nations, Diaspora Jewish populations developed an indirect and at times highly abstract style of politics in order to advance their interests. In Jewish sources it became known as shtadtlanut ("intercession" or "petitioning"), and represented a personal and highly involved form of diplomacy or statecraft that, in the words of the Cohens, "prioritized persuasion."[4] In the modern era we are familiar with such shtadlans as the Anti-Defamation League, and AIPAC. These bodies claim to represent all Jews, and the interests of all Jews, and do so when interacting with, interceding with, or "persuading" host nation governments or other arms of the White elite. However, the shtadlan as a large formal body or committee is a relatively modern development, and was a necessary response to the end of absolute monarchy at the beginning of the nineteenth century (and the corresponding rise of parliamentary democracy and the modern state). Prior to c.1815, Jews often pursued their interests via a small number of very wealthy and "persuasive" individual shtadlans who would form personal relationships with a king, prince, or other powerful members of the European elite. This was most pronounced during the Early Modern period when Hofjuden, or Court Jews, negotiated privileges and protections for Jews with European monarchs. An excellent example is that of Daniel Itzig (1723–1799), the Court Jew of Kings Frederick II the Great and Frederick William II of Prussia, who used his wealth and influence to persuade these monarchs to abolish many restrictions on Prussian Jews and grant them a succession of privileges. Put simply, the concentration of power in individuals meant that Jewish interests could also be negotiated by individuals.

However, although we may still see echoes of the old shtadlans in individuals like George Soros or Sheldon Adelson, the dispersal of political power following the collapse of the absolute monarchies required a greater number of Jewish "persuaders," thus necessitating the development of the modern Jewish "diplomatic" organization. Of course, the majority of these modern bodies vigorously deny their "diplomatic" or political function, preferring to style themselves as "self-defense" bodies or similar abstractions. Writing on the subject of shtadtlanut Samuel Freedman has argued that Jews have "become wedded to a "crisis model" in community-building, in which either Holocaust commemoration or opposition to anti-Semitism are the raison d'etre for the largest communal organizations, from the Simon Wiesenthal Center to the American Jewish Committee." This masking of deeper political interests should be seen as combining deception (of Europeans) and self-deception (among some Jews) in the broader Jewish strategy, or at least as a device designed to boost the recruitment of "persuaders." Jews (at least those not consciously engaged in deception) and Europeans are thus led to believe that such bodies are necessary to defend and protect a vulnerable community in crisis, when in fact their primary function is to advance the interests of an extremely wealthy, culturally invulnerable, and politically powerful community — a hostile elite.

Story of Argobad

contextualizes the case brought against Jez Turner

In searching for the origins of the hostile elite I was therefore looking for the earliest possible example of a Diaspora Jewish community in which shtadtlanut was in evidence — the obtaining of privileges and protections from a European elite, contrary to the interests of the masses of a given European population. Although I would very much welcome further suggestions from readers, the earliest convincing case that I have come upon concerns that of the Carolingian dynasty during the lifetime of Archbishop Agobard (c. 779–840).[5] Agobard was a Spanish-born priest and archbishop of Lyon during the Carolingian Renaissance. A fearless controversialist, Agobard gained fame and notoriety during his lifetime — and a place in posterity — by expressing his opposition to Jewish political influence in the Frankish kingdom. Agobard's Spanish origins are important. Bernard Bachrach notes that Agobard would have been very much aware of the scale and impact of Jewish influence, writing that "Agobard was born and raised in the Spanish March and Septimania where the Jews were extremely powerful. … He was aware of the power that the Jews of the Narbonnaise had exercised for centuries."[6]
Peter Ling in Trafalgar Sq.

Bill Baillie, regarding democracy, European Outlook, #47:

"Serendipity" - The occurrence and development of events by chance in a happy or beneficial way.

An old copy of Colin Jordan's magazine Gothic Ripples caught my eye. It was from February 1988 and posted by www.jrbooksonline.com

"Peter Ling, a life-long National Socialist, member of the British NSM, died 16/10/87."

I knew Peter Ling in the old days. He is pictured selling Combat at a meeting of the old BNP in Trafalgar Square. He was an accomplished writer, speaker and street fighter. I guessed that he was dead but I never knew the details. His powerful essay, Authoritarianism v Democracy, originally published in Combat in 1959, was reprinted in European Outlook # 5, May 2014. Here is an extract:

"But the most telling and final indictment of democracy is that in time of great human stress and endeavour it rejects and abandons its philosophical basis. In time of war when the ruling interests are really threatened, democratic values go overboard and the erstwhile democracy gears itself immediately to an authoritarian form of government. Even in time of peace democracy does not attempt to organize its armed forces "democratically" or to sail its great ships across the oceans of the world without the strong hand of authority and responsibility at the helm.

What an indictment of democracy that it can only weld its subjects into a single great united whole for the purpose of destruction! That its fundamental wealth and assets, which only too often represent the ill-rewarded toil of generation of its loyal citizens can be squandered overnight in order to procure fantastic financial sums for expenditure upon war and death, but when it comes to building something great for its own people – as a whole that is – in time of peace, the will and the credit dry up, and "Freedom" reigns once more; freedom for the poor to get out of the slums if they can and freedom for the financier to squat in his banking house and receive the lickspittle homage of parliamentarians of all parties."
With regard to capitalism, Bill Baillie writes in the same edition, European Outlook, #47:

Capitalism relies on unmoored physical movement, tenuous interpersonal connections, and sensual whim for its sustenance and has thus both facilitated the historical march of irony and provided a system of nostalgia to act as an opiate by which to provide temporary relief from the agony of meaninglessness. By disseminating palliative symbols and profiting on access to them, this system thrives and immobilizes white populations by reducing their understanding of history to false inevitabilities, superficialities, platitudes, and decontextualized assertions. Our histories, both personal and collective, become a collection of sounds, images, and texts to be bought, sold, and traded based on the emotional appeal of any particular example. There is no need for order, no need for context, and no need for contemplation. All that is required is a desire for temporary escape from the conditions maintained by capitalism.

Inherent in the practice of nostalgia is a search for meaning coupled with the unavoidable psychological tendency to mark the passage of time. These are neither unhealthy nor unnatural impulses on their own but under capitalism, as connections to "blood and soil" weaken, they take on a greater significance and work in concert to manufacture a toxic individual and collective mental state. Rather than producing minds that are energetically oriented towards the future, they produce minds mired in the past, emotionally dependent on the avoidance of reality, trapped by delusions of resurrection and romance. Whole populations of people are reduced to immobility and blind acceptance of whichever way the sociopolitical winds are blowing by dwelling on what are, somewhat paradoxically, calming images of defeat. The system of nostalgia preys on these vulnerabilities. Parasites will always take advantage of easily manipulated biological drives and psychological urges.

It is important, however, to make the distinction between historical memory and nostalgia. Historical memory — so crucial to all nationalisms — is an understanding of history as a part of a living, vital, forward-moving process. It is the integration of the essence of past collective experience into the present. It is the use of history to more deeply understand those forces which act upon groups in the present and which propel history forward. That is to say, it is a sense of history that enables the creation of history. Nostalgia, on the other hand, is a pathological obsession with turning back the clock, of venerating lost eras, of dreaming of racial or civilizational regeneration minus action. It is an inherently reactionary and therefore counterproductive orientation.

In a healthy society, the weakness of nostalgists is marginalized by the vitality of the society itself. After all, it is hard to utterly devote oneself to a romanticized past if that past is no more vital than the present. But under the capitalist order, in which the temporary has more value than the eternal, the trivial is prioritized over the meaningful, and every day brings some new example of social degradation, nostalgists — through little fault of their own, it must be said — blossom and are able to infect the masses with their weakness and indeed are rewarded for doing so. What would have been relatively simple and harmless reminiscences in a healthy society become a state of being in an unhealthy society. This leads ultimately to pessimism and political paralysis. If one's worldview is based on a return to a romanticized past, one will be doomed to failure and misery. Time moves in only one direction.

Instead of an adventurous life, nostalgia begets a safe life. Instead of engagement, nostalgia rewards retreat. Instead of optimism, nostalgia promotes pessimism. Each of us has witnessed the many years of media corporations and socially acceptable public figures reminding whites that we will become minorities in our own lands and that we should warmly embrace this fate. This message is, of course, fairly direct. But working alongside this message is this highly profitable system of nostalgia which temporarily soothes any discomfort. "You, white man," we are told, "are going to be a minority but please just watch this television show rerun, listen to this classic rock band, enjoy this old film and forget about it." Not only does nostalgia offer an escape from reality but upon return — after the high has worn off — one's sense of loss will be heightened. The chasm between the idealized past and unsatisfactory present seems to become increasingly insurmountable. We are conditioned on all sides to accept our demise, directly and indirectly. And we pay good money for this conditioning.

There is little under capitalism that cannot be bought and sold. The natural impulses of the human mind to memorialize its own existence and seek spiritual value provide the capitalist with opportunities to feed on our meaninglessness, on our discomfort in this world, on our desire for a better place, on our loss of hope and energy. Helpless, hopeless, and drugged by the omnipresent symbols of our planned fate, the capitalist is able to work freely with little resistance. The real engines of history become buried under layer upon layer of textual sludge. The system of nostalgia offers for sale an impossible dream which destines the buyer to political impotence and spiritual impoverishment.