Majorityrights News > Category: History
While the profusion of churches throughout the world can be disconcerting, as they are devoted to a religion that is obfuscating and mis-directing the natural instincts of our EGI (ethnic genetic interests), there is a note of optimism in that some of these sublime structures and the artisanship that went into their making can be converted for religion aligned with our ethno-national interests.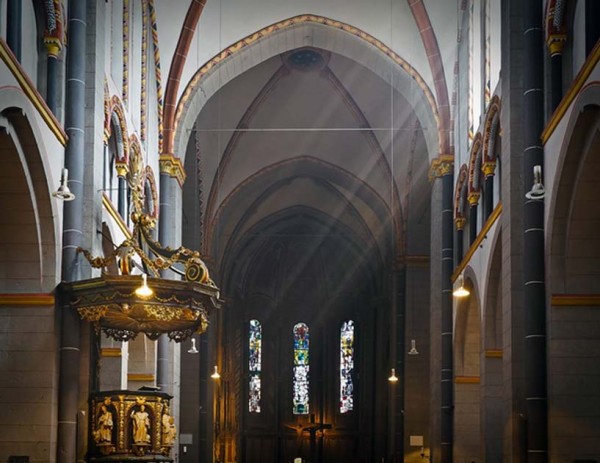 For example, hope for return to proper, natural religious function piques through some of the Spanish missions in California - some were configured to illumination of the solstice: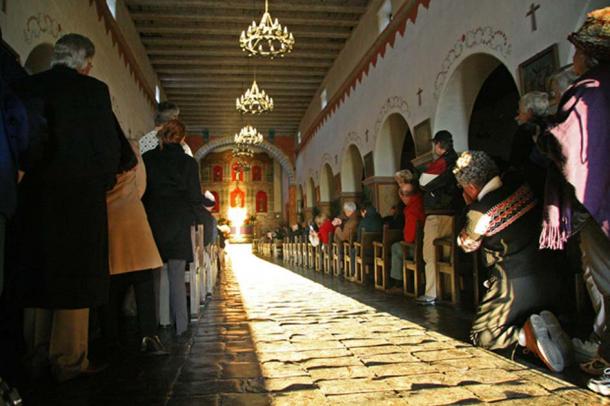 The 2007 midwinter solstice illumination of the main altar tabernacle of Old Mission San Juan Bautista, California. Rubén G. Mendoza/Ancient Editions, CC BY-ND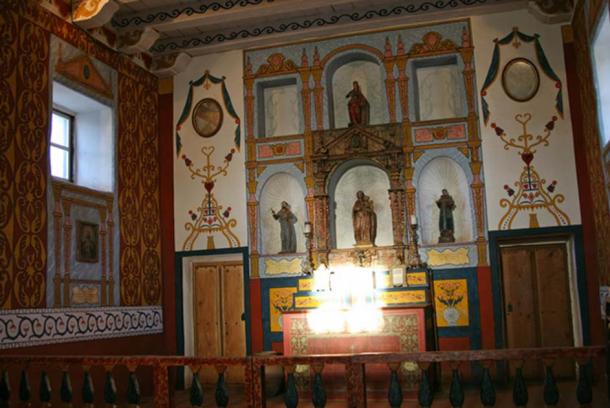 Winter solstice illumination of the main altar tabernacle of the Spanish Royal Presidio Chapel, Santa Barbara, California. The author first documented this solar illumination of the altar in 2004. Rubén G. Mendoza, CC BY-ND
On another level, some of the very elements of worship contained are only thinly veiled pagan icons and arrangement: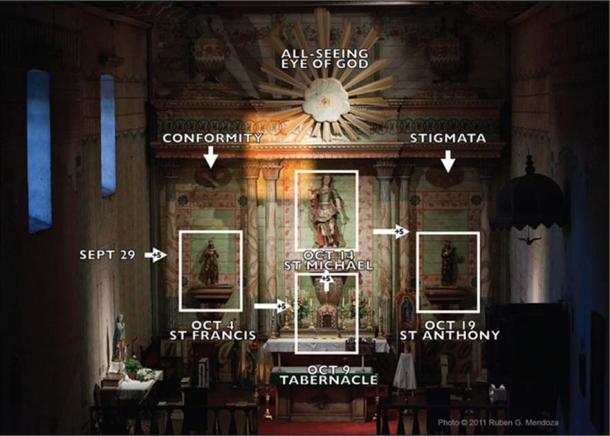 Schematic of the four successive solar illuminations of the saints of the main altar screen of Mission San Miguel Arcángel, California. Note illumination begins at the left with the Oct. 4 illumination of Saint Francis on his Feast Day. The author first identified and documented this solar array in 2003. Rubén G. Mendoza, CC BY-ND
TNO, "Major New Find at Stonehenge", 24 Nov 2016:

A major new archaeological find of causewayed enclosures and artifacts near Britain's famous Stonehenge site is about to "rewrite" the history of the area and of northwestern Europe's early inhabited history.

Built 5,650 years ago—more than 1,000 years before Stonehenge—one of the enclosures appears to have been a major ceremonial gathering place.

The major enclosure's precise original function remains a mystery, but the scant available evidence suggests that it was used for a mixture of ceremonial, religious, political, and mortuary roles.

According to a press release issued by a construction consultancy company involved with an unrelated new building project at the site, archaeologists have "discovered important new sites that rewrite the Stonehenge landscape" and which "predate the construction of Stonehenge itself."

The remains, found at Larkhill and Bulford, were unearthed during excavations ahead of the construction of new British Army family accommodation.

About 70 enclosures of the type found are known across England and Europe, the press release continued.

The structure is one of the "earliest built structures in the British landscape," and was used "for temporary settlement, as ceremonial gathering places, to manage and exchange animals, including the first domesticated cattle and sheep and for ritual activity."

The Larkhill enclosure has produced freshly broken pottery, dumps of worked flint and even a large stone saddle quern used to turn grain into flour. The Neolithic period saw the first use of domesticated crops and this find provides evidence of this.

The Greater Cursus, an earthwork nearly 1.8 miles in length, is the longest structure. It connects and divides parts of the landscape, and separates the Larkhill causewayed enclosure from the place that became Stonehenge.

"The people who built the causewayed enclosure are the ancestors of the builders of Stonehenge and were shaping the landscape into which the stone circle was placed," the press release continued.

"Their work shows that this was a special landscape even before Stonehenge was constructed. People were already living and working within what we now call the Stonehenge landscape and they were building the structures that would culminate in the Stonehenge complex of stones and earthworks.

"The Larkhill site shows that they had the social organization necessary to come together to build significant earthworks and the resources to support the work, as well as the people to carry it out. The offerings in the ditches also show the rich religious life they had created."

So far, archaeologists from Wiltshire-based Wessex Archaeology have excavated around 100 m. of ditch, probably representing around 17 percent of the monument's outer circuit. That investigation has already enabled them to get a sense of some of the rituals that were carried out there.


Antlers and a quern recovered at the site.


Pottery shards and arrowheads recovered at the site.
While Duda and Orbán's invocation of the centrality of Christianity to the nationalist cause will be disconcerting to many of us more wise to the fact that it is a Jewish Trojan horse, we should be charitable enough to understand that it has been, and remains still, a culturally habituated way of saying "not Jewish."
It is up to us to support native European nationalist efforts by pointing-out that this is a provisional distinction at best, albeit a 2,000 year old provision, which has had a way of binding nationalist masses and yoking their identity with Noahide laws (as Kumiko astutely observes) - thus, ultimately, to Jewish control if we do not successfully liberate ourselves from the false identity that is the "Gentile" (as GW astutely observes) - an "identity" which knows no distinction other than "the undifferentiated other" to Jews and its beholdenness to its Jewish forebears for its messiah and its law.
Enough sour grapes for now. There is certainly hope in Duda's concordance with Orbán in furtherance of the Intermarium project on display at the commemoration of the 1955 Hungarian Uprising -
Visigrad Post, "Duda and Orbán against Brussels' sovietisation", 24 Oct 2016:

Hungary, Budapest – On Sunday, October 23, Hungary celebrated the start of the '56 uprising. In front of the Hungarian parliament, Hungarian Prime Minister Viktor Orbán and Polish President Andrzej Duda gave a strong speech against the current policy of the European Union, about Christianity and about the deep friendship between Poland and Hungary.

Polish President Duda greeting the crowd. MTI Fotó: Szigetváry Zsolt

In front of thousands of people gathered on the place Kossuth, in the center of Budapest, Hungarian PM Orbán and Polish President Duda made a speech welcomed by Hungarian and Polish citizens. President Duda first talked in front of the crowd. The Polish President started his speech by saying few words in Hungarian. Hungarians "have always been friends" and they can always rely on Poland, "even in difficult moments of the future," said Andrzej Duda.

Poland is "proud and grateful" that it was able to provide aid to the Hungarian revolution, Duda said, and noted that his people had sent 44 tonnes of medicine and medical equipment as well as 800 litres of blood to Hungary shortly after the uprising broke out. "Poles are proud that the grandchildren of 1956 heroes have, symbolically, Polish blood in their veins", the president said. In Hungary's freedom fight "thousands died, but after some decades, finally, you recovered your freedom through much suffering and sacrifice," Duda said. He also voiced his conviction that "through hard work both Poles and Hungarians will achieve the living standards of western societies", reports Hungary Today.

Concerning the traditional friendship between the two countries, Duda said that they together "carry on the thousand-year-old Christian tradition in Europe", and insisted that those traditions were just as important as freedom. "God bless Poland and Hungary, glory to the heroes of the Hungarian revolution," Duda said concluding his address.

Viktor Orbán during his speech on Sunday, October 23

"Protect Brussels against Sovietisation"

Then, Prime Minister Orbán gave his speech. The European Union must not be turned into a "modern-age empire"; the community must not be replaced by a "United States of Europe", Hungarian Prime Minister Viktor Orbán said on Sunday. Viktor Orbán said that "freedom-loving peoples of Europe must save Brussels from Sovietisation".

"We, Hungarians, want to remain a European nation, rather than become an ethnic minority in Europe," Orbán insisted. "It is only our national independence that can save us from being devoured by an empire," Orbán said, and argued that it was that very "national idea" that had saved Hungary from being integrated into the Soviet Union. As descendants of 1956, Hungarians "cannot let Europe cut the roots that had once made it great and also helped us survive communist oppression," Orbán said. He added that Europe could not be "free, strong, and respectable without the revitalising power of nations and two thousand years of Christian wisdom". The prime minister insisted that Hungary had chosen "the hard way" when it "preferred children of its own to immigrants, work to speculation, earning a living to becoming a slave of indebtedness, and protecting borders to surrendering".

Hungarians will always fight for freedom and will achieve it "even in the most hopeless of situations," Prime Minister Viktor Orbán said at the state commemoration marking the 60th anniversary of Hungary's anti-Soviet uprising of 1956. "We, Hungarians, have a talent for freedom, we have always known how to use it. He warned that freedom is "not a final state but a way of existence; just like swimming: you stop doing it and you will sink". The question is always this simple: whether we decide on our own fate or other people," he added. October 23 is a day on which Hungarians should be proud, the prime minister said.

History puts Hungary in the mainstream of disputes on the future of Europe every 30 years, the prime minister said. He argued that in 1956 Hungary attempted to "shift the Iron Curtain east of our borders", then in 1989 the country opened its western borders "so that Germans could find a way to Germans". And most recently, Hungary "had to close its borders to stop the influx of migrants from the south", he said. Hungary will not falter "even if those whom we are trying to protect attack us from behind"; we have "the courage to face injustice… and Europe can always rely on us," Orbán said.
Re-directing the Catholic Church, such that it would allow for birth control would actually be a good thing, of course, particularly if applied against African population explosion. But we know that's not likely to be the outcome of a Soros directed infiltration.
What is interesting, in a very creepy sense, is the exposure of how Soros acts to infiltrate and direct mass movements in activism against White solidarity.
In these Podesta emails, he is exposed attempting another permutation of what has been a historical pattern of Jewish infiltration into the Catholic Church:
(((George Soros and Sandy Newman))) promoted fake Catholic groups to try and "create a revolution" within the Catholic church -
From Diversity Macht Frei, 12 Oct, 2016:

From the John Podesta emails, here is a fascinating exchange between Podesta and (((Sandy Newman))).

From:john.podesta@gmail.com To: .(JavaScript must be enabled to view this email address) Date: 2012-02-11 11:45 Subject: Re: opening for a Catholic Spring? just musing . . . We created Catholics in Alliance for the Common Good to organize for a moment like this. But I think it lacks the leadership to do so now. Likewise Catholics United. Like most Spring movements, I think this one will have to be bottom up. I'll discuss with Tara. Kathleen Kennedy Townsend is the other person to consult.

On 2/10/12, Sandy Newman wrote: > Hi, John,

> > This whole controversy with the bishops opposing contraceptive coverage even > though 98% of Catholic women (and their conjugal partners) have used > contraception has me thinking . . . There needs to be a Catholic Spring, in > which Catholics themselves demand the end of a middle ages dictatorship and > the beginning of a little democracy and respect for gender equality in the > Catholic church. Is contraceptive coverage an issue around which that could > happen. The Bishops will undoubtedly continue the fight. Does the Catholic > Hospital Association support of the Administration's new policy, together > with "the 98%" create an opportunity? > > Of course, this idea may just reveal my total lack of understanding of the > Catholic church, the economic power it can bring to bear against nuns and > priests who count on it for their maintenance, etc. Even if the idea isn't > crazy, I don't qualify to be involved and I have not thought at all about > how one would "plant the seeds of the revolution," or who would plant them. > Just wondering . . .


> > Hoping you're well, and getting to focus your time in the ways you want. > > Sandy > > Sandy Newman, President > Voices for Progress > 202.669.8754 > voicesforprogress.org

Diversity Macht Frei, "Italy: African invader destroys four historic churches", 12 Oct. 2016:

Like a fury, he entered four churches in the historic center of Rome and destroyed ancient statues, crucifixes, candelabras. The damage is incalculable from an artistic point of view. In the end, when he was getting ready to make the fifth incursion, he was arrested by the police. The vandal is a 39-year-old citizen of Ghana with a criminal record, legally residing in Italy.
TNO, "World's Oldest Snowshoe Found", 16 September 2016:

The world's oldest snowshoe, made in the late Neolithic age, over 5,800 years old— made of birch wood and twine, has been discovered at an altitude of 3,134 meters (10,280ft) on the Gurgler Eisjoch glacier, close to Italy's border with Austria.

"It is the oldest snowshoe in the world so far discovered, dating to around 5,800 years ago," scientists said in a statement.

According to a report on the Archaeology News Network, the ice and freezing temperatures of the glacier had provided "ideal conditions for the preservation of organic material."

The shoe, which consists of an oval-shaped frame with strands of twine tied across it, was found by Simone Bartolini, a cartographer from Italy's Military Geographical Institute, who was mapping the border with Austria.

He came across it in 2003 but for the next 12 years kept it in his office in Florence as a curiosity.

"At first I thought it was maybe 100 years old and was a snowshoe that belonged to a farmer who lost it while driving cattle. I kept it in my office as a keepsake," Dr. Bartolini said at a press conference this week in Bolzano, the capital of the autonomous, Germany-speaking province of South Tyrol.

It was only last year that it dawned on him that it could be much older and more significant. He gave it to archaeologists to study.

The discovery was made close to where the frozen, mummified remains of a Neolithic hunter, nicknamed "Otzi," were found by two German hikers 25 years ago.

That mummified corpse has revealed a wealth of information on what people of the period wore and ate, how they hunted and armed themselves and how they traveled.

Scientists at the press conference said the discovery of the snowshoe was "exceptional."

"The shoe is evidence that people in the Neolithic period were living in the Alps area and had equipped themselves accordingly," said Dr. Catrin Marzoli, the director of the province's cultural heritage department.

It was unclear why people were traveling through such an inhospitable region, she said. They may have been hunting animals, fleeing enemies from a rival tribe, or visiting ancient pre-Christian sites of worship.

Irena Pozar, the director of social media at Swedish Bonnier Magazines, has posted a ridiculous anti-White article complaining that there are too many White people in Europe, and Sweden in particular.

Red Ice and White Genocide Project: Irena Pozar, "Sweden and Europe are too White" -

Editor's comment: The Bonnier family who dominate Swedish media, are Jewish. Would Irena Pozar ever call Israel too Jewish or 'too White?'

In the article titled, "Our Whiteness – a democracy problem", she says:

"I was in Gothenburg recently to attend Media Days 2016 [a media conference]," adding, "The whole day went well. I survived two air flights and being on stage."

"But oh my God how it was White. EVERYWHERE. After a quick check in the seminar program it became clear: I could count the number of Swedes with foreign names on one hand (and then it became fingers over)."

"To the world, Europe and Sweden has trouble with this problem [of being too White], we know. The media industry has a problem with it, we know very well."

"A completely white and the Western perspective is a sleeping pill."

"The lack of diversity creates blind spots that in the long run can be dangerous."

"In 2016 diversity is not only an opportunity but a necessity. Otherwise, all the fine words about freedom of speech and democracy are nothing."

For about a year now, Sweden has legally denied that race exists. So how can it be "too White?"

Anti-Whites always do this. They say race doesn't exist or that it doesn't matter, then they complain about it being "too White" and in need of "diversity."

If "diversity" is so great, surely Africa would be the first to place in need of "diversity", and the last place would be White first world countries.

But you see, "diversity" is their excuse to eliminate White majorities. It's a code word for White genocide.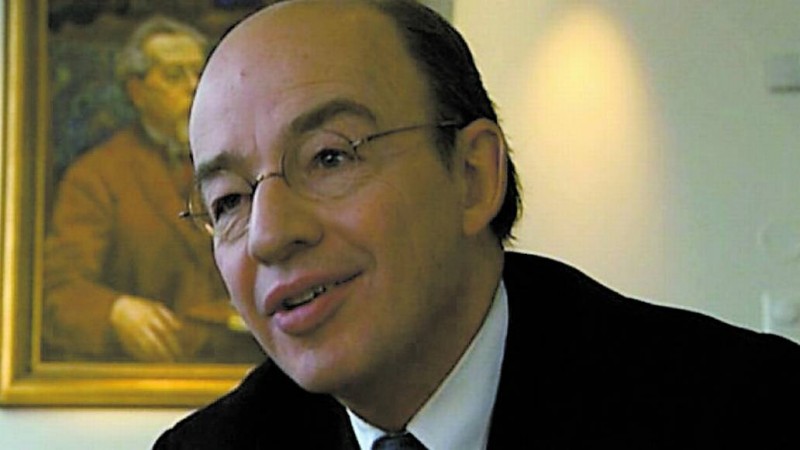 Carl-Johan Bonnier, Chairman of the Board.
Having already planned to reinforce some information on the Bonnier family's control of media in Scandinavia and Sweden in particular, I belatedly happened upon the somewhat more recent story (3 May 2016) above by White Genocide Project and Red Ice, discussing chutzpah on the part of the Bonnier family's director of social media, Irena Pozar. With that, I thought it might be good to introduce the issue through that story before giving some of the historical background of the Bonnier media empire as provided by yet other sites.
With the profusion of information that the Internet facilitates it becomes less the task to continually find new information than to feature, focus, cull and coordinate available research so that ethno-nationalists are sensitized to patterns and some concrete facts that they can operate on and follow as their practical concerns allow.
That is the case with Jewish media influence in Sweden and other parts of Scandinavia by way of the so called "Bonnier" family and other Jewish media owners. This information is dated in part and is not presented as if a neutral disposition toward Jewish media ownership in Scandanavia, but is rather meant to lend support for those concerned to defend native European nationals against the well established liberal motivations of Jewish politics as it is laced in their media. It is the kind of feedback that has to circulate within our hermeneutic circle - viz., in our carousel and archives:

The Times, 'MP's dying words: 'I can't get up, my pain is too much'', 18 Jun 2016:

Jo Cox's last words as she lay dying were to tell her assistant that she could not get up because "my pain is too much".

In a dramatic account of the MP's final moments, Gulham Maniyar described how his daughter Fazila Aswat, who worked as Mrs Cox's assistant, cradled her in her arms as she lay covered in blood.
That was the scene of the attack, an attack not just on one MP, but on the institution of parliamentary democracy itself. I open with that quote for context, to remind everyone of the gravity of what we are actually talking about here.
The Occidental Observer has an article called 'The selective compassion of Jo Cox', by Francis Carr Begbie, in which he, and I assume the editors at Occidental Observer share his view since they didn't dissent from it, comes out and trashes the reputation of Jo Cox and tries to style as almost the worst thing that ever happened to the United Kingdom.
It's truly astonishing to see the amount of hatred being directed toward an MP who was tragically assassinated by a crazed gunman, a woman who most of these writers were unaware of the existence of before she was killed, and who stood on the right wing of the Labour Party. She had also only held her seat in Batley and Spen for one year.
Mind reading and time travelling
The range of criticisms directed against the deceased is pretty wide. For example, Begbie accuses Cox of not caring about the white members of her constituency, because she didn't comment on the Muslim rape epidemic when it had reached her town. Begbie writes, "of all the subjects she enjoyed sounding off on, this world-famous crisis affecting the poorest Whites on her doorstep was not one of them". What was she supposed to say? How do they know what she was or wasn't thinking about?
Jo Cox became the MP for Batley and Spen in May 2015, everything that preceded her taking that seat could not possibly be attributed to her, yet somehow ethno-nationalist sites across the internet have transformed her into the symbol of everything that is 'wrong' with Batley and Spen. That district became more demographically South Asian in 1950 because British businesses decided that they wanted South Asian workers from Gujarat, Punjab, and Kashmir to migrate to West Yorkshire to desperately protect the already-in-fact doomed textile industry which Britain had been maintaining with the use of protectionist policies since the 1880s.
Jo Cox showing up in 2015, cannot possibly be blamed for making the best of the constituency that the bourgeoisie themselves had given her. This makes no sense. It makes no sense at all.
She only just got there
No article is complete at the Occidental Observer without some kind anti-feminist insinuation, and so Begbie strangely includes this line, "Her constituency seat had been represented by local White men for decades so an all-female shortlist had to be imposed on the local party to ensure an acceptable candidate could be given this plum." What complete nonsense! No mention at all is made of the fact that the constituency was redrawn multiple times and only came into existence in its present form in 1997. Neither is any mention made of the fact that the 'local white man' who held that seat was none other than Mike Wood who held that seat from 1997 to 2015. Mike Wood literally presided over every single development that the Occidental Observer complains about, including the gerrymandering and creation of the constituency called 'Batley and Spen', yet no mention is made of this man's existence! He is merely glossed over as a 'local white man', as though that somehow makes everything okay.
Mike Wood presides over Batley and Spen for 18 years, is blamed for nothing. Jo Cox runs it for 13 months, gets shot by some idiot, and suddenly the Occidental Observer has magically discovered that everything is the fault of Jo Cox. Truly breathtaking. Fucking incredible. Maybe Jo Cox is a time traveller, she time travelled to 1997, and to 1950, perhaps?
Middle-Eastern migrant strategy
Begbie also writes of Jo Cox, that "she was also calculating enough to help more dubious causes, as when she lent her name to a government minister who was lobbying for Britain to begin bombing in Syria".
What is dubious about this? Nothing. Begbie is referring to the letter which Cox wrote in a Guardian article on 11 Oct 2015, co-written with Conservative MP Andrew Mitchell, in which she places the rescuing of civilians at the centre of the parliamentary debate, and advocates for the creation of safe zones inside Syria so that the migrant influx can be stemmed.
Yes, you read that correctly. I will quote her directly. Here:
The Guardian / Jo Cox MP, 'British forces could help achieve an ethical solution in Syria', 11 Oct 2015 (emphasis added):

[...]

Some may think that a military component has no place in an ethical response to Syria. We completely disagree. It is not ethical to wish away the barrel bombs from the Syrian government when you have the capacity to stop them. The deaths and fear generated by these indiscriminate air attacks are the main drivers of the refugee crisis in Europe. Nor is it ethical to watch when villages are overrun by Isis fighters who make sex slaves of children and slaughter their fellow Muslims, when we have the capability to hold them back.

What is critical in advancing any military component is that the protection of civilians must be at the centre of the mission. This objective becomes ever more imperative in the light of Russia's bombing in recent days. We need a military component that protects civilians as a necessary prerequisite to any future UN or internationally provided safe havens. The creation of safe havens inside Syria would eventually offer sanctuary from both the actions of Assad and Isis, as we cannot focus on Isis without an equal focus on Assad. They would save lives, reduce radicalisation and help to slow down the refugee exodus.

The approach of focusing on civilian protection will also make a political solution more likely. Preventing the regime from killing civilians, and signalling intent to Russia, is far more likely to compel the regime to the negotiating table than anything currently being done or mooted. Of course, a military approach by itself won't work, nor will any of the other components. Only through an integrated strategy with the protection of civilians at its core can we rescue something from this crisis.

[...]
I invite anyone to tell me what precisely is wrong with that. No one can tell me what is wrong with that, because there's nothing wrong with it. Some may ask, "But isn't her mention of Assad a problem?" In actual practice, no. Only actions against ISIL could have had efficiacy since we know Russia's presence in the theatre had already made it impossible for the west to directly attack the Syrian Arab Army (SAA) in the first place. The way I've highlighted bold text in that quotation is entirely deliberate.
Allowing all of the refugees to be contained within safe zones inside Syria and Iraq, would prevent migrants of all kinds—whether they are fleeing from the SAA or from ISIL—from actually feeling the need to cross to Europe, seriuosly reducing the scale of the crisis and accomplishing an objective that people concerned about migration ought to have been able to agree with.
Obviously the conflict should not even be happening. But it is happening and so selecting a solution that does not involve trying to house all the Arabs inside Europe, made her stance significantly better than the ridiculous mainstream stance of 'just open the borders and absorb all migrants forever'.
This general pattern is similar to the idea that Anthony Zinni suggested.
I'll quote Anthony Zinni:
TIME, 'U.S. Military Plan For Looming ISIS Offensive Takes Shape', 26 Feb 2015 (emphasis added):

There's only one way to take land, and that's with well-trained ground forces. That's why retired Marine general Anthony Zinni thinks the time is right for Obama to acknowledge reality and tell the nation he is sending 10,000 American troops into the fight. Zinni ran the U.S. military in the Middle East and Persian Gulf regions as chief of U.S. Central Command from 1997 to 2000, and still has business dealings in the region. He's just back from a trip to Cairo, and he says he's hearing a growing willingness among regional powers to put troops on the ground to fight ISIS—so long as the U.S. is alongside them.

Rumbles from Egypt, Jordan and the United Arab Emirates all suggest those nations are willing to fight on the ground. "I think this is all designed to try to push the United States to put something on the ground," Zinni said Feb. 23. "If we put a couple of brigades in, I think you'd get five or six regional countries. And I think you could twist the arms of the French, the Belgians and maybe even the Brits."

Two U.S. brigades, with their supporting personnel, would total about 10,000 troops. Zinni says the nations in the region are not coordinating their efforts in an effort to lure the U.S. into the fight on the ground. "But they're getting scared, and have gotten angry at ISIS's atrocious behavior and they're willing to step up," he says. "It would have to be a whole set of bilateral relationships, and we would have to pull it together.

The U.S. would have to act as the catalyst to make this happen, says Zinni, who was an early advocate of sending U.S. ground troops into the fight. "There's an opportunity now to put a small piece in terms of ground forces in there, and get a lot more from these countries, and be the glue that puts it together," he says. "There is no unifying structure and no single entity out there that can bring this all together—it has to be the United States," Zinni insists.

But what about Obama's pledge to keep U.S. combat boots out of the fight? "They have a moment here and it'll blow by if they're not careful," he says. Obama "could always say that the situation on the ground has changed, and the willingness of the Arabs to stand up to this gives us this moment," says Zinni, showing why he's a better general than a politician.
What Zinni was describing there, is very close to 'Seek, Destroy, Clear, Hold', a strategy currently being employed in Operation Zarb-e-Azb by the Pakistani Army with relative success.
It stems the flow of migrants because by holding the zones that have been cleared and rebuilding infrastructure on the fly, it prevents migrants from making dangerous trips to flee the violence, since obviously they could just stay in the location that they are in and receive assistance and protection around the clock.
The political problem is that selling 'SDCH' to whiny white western liberal populations is next to impossible, and that's where MPs like Jo Cox are incredibly useful. She could provide the political and 'humanitarian' argument which constituents needed to hear, that the defence sector was unable to convincingly enunciate. I shouldn't have to be explaining this, but what Jo Cox's feelings about entirely hypothetical refugees in the United Kingdom were, didn't frankly matter, given that the part of her plan that takes precedence in terms of the order of battle is that she supported the creation of safe zones in Syria.
No one would have to worry about whether she is or is not going to cuddle and appease Syrian and Iraqi refugees in the United Kingdom, if those migrants had never arrived due to the creation of safe zones in Syria. This is basic logic.
When you've been around white liberals and experienced them for long enough, you learn to accept that there are some aspects of their psyche which are biased toward indiscriminate kindness, and this is a bias that is not going to be changed by anyone's words, but if they are willing to help find common sense solutions to problems then it is fine to link up with them in order to scrape out some limited gains in a bad situation.
What is treason anyway?
Jo Cox was among the best that you could expect from the Labour Party. It would be unreasonable to expect anything greater than what she had offered.
This is why I never had a big problem with Jo Cox, beyond the obvious fact that she's a liberal. I was deeply saddened the day that she died.
Jo Cox is not 'a traitor'.
Tom Mair is the real traitor here, and if the death penalty were not unfortunately abolished in the United Kingdom, I would hope that Mair would end up being hung from the gallows until dead. Mair has probably done more to assist our enemies than anyone else in recent years. Perhaps Mair will end up being inexplicably and mysteriously hung from the side of his bedpost using his own clothes knotted into a noose, but I can only hope. Hey, it happens sometimes, at times the CCTV in prisons just suddenly stops working for no apparent reason.
In overview, ethno-nationalists need to get more politically savvy, and stop running to defend every mentally ill white male who makes grief-stricken faces after committing some absurd, stupid, and horrific crime. Tom Mair was not a victim of anything, if he didn't like the fact that all the South Asian Muslims had been concentrated into one area of that West Yorkshire constituency, he should have exercised some patience and self-control, thanked the stars that self-segregation had occurred and moved to one of the white areas of the constituency instead. He was not being forced to integrate with them, and Jo Cox had only just arrived in the constituency in May 2015 and had literally done nothing to him.
Tom Mair is stupid. This is not even 57-dimensional chess. It's simple 2-dimensional chess. But he was a fucking idiot consumed by his own sense of entitlement and lack of strategic thinking. He is stupid, he is subhuman trash. And he is condemned.
Kumiko Oumae works in the defence and security sector in the UK. Her opinions here are entirely her own.
WSJ, "Brexit: A Very British Revolution," 24 June 2016:

The vote to leave the EU began as a cry for liberty and ended as a rebuke to the establishment


A Leave supporter holds up a Union Jack flag after the result of the EU referendum outside London's Downing Street Friday. Photo: Neil Hall/Reuters

The world is looking at Britain and asking: What on Earth just happened? Those who run Britain are asking the same question.

Never has there been a greater coalition of the establishment than that assembled by Prime Minister David Cameron for his referendum campaign to keep the U.K. in the European Union. There was almost every Westminster party leader, most of their troops and almost every trade union and employers' federation. There were retired spy chiefs, historians, football clubs, national treasures like Stephen Hawking and divinities like Keira Knightley. And some global glamour too: President Barack Obama flew to London to do his bit, and Goldman Sachs opened its checkbook.

And none of it worked. The opinion polls barely moved over the course of the campaign, and 52% of Britons voted to leave the EU. That slender majority was probably the biggest slap in the face ever delivered to the British establishment in the history of universal suffrage.

Mr. Cameron announced that he would resign because he felt the country has taken a new direction—one that he disagrees with. If everyone else did the same, the House of Commons would be almost empty. Britain's exit from the EU, or Brexit, was backed by barely a quarter of his government members and by not even a tenth of Labour politicians. It was a very British revolution.