Majorityrights News > Category: History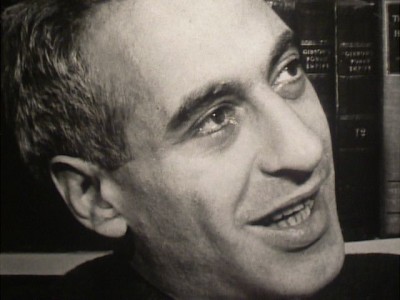 Frank Meyer, father of (((Paleocons))), grandfather of "The Alternative Right."
With the attack on Syria and the confirmation of Gorsuch to the Supreme Court, The Trump administration's (((paleocon agenda))) has come to explicit fruition - any pretenses to wear its new wardrobe lent by the Alternative Right in their disingenuous/naive trendy support has been thrown off - cucks: they've been used. The denial of having been used as paleocons takes the form of saying "Trump has gone neocon", when in fact, he hasn't changed - he has just come out in the open with the paleoconservatism that's always been behind the Alternative Right.
This turn of events should serve to illustrate why the terms we have to defend and negotiate our way in ethnonationalism are crucial to navigate our proper course. The terms to organize and understand our defense are not jargon, they are not complicated but they are very important.
If they were not important, Jewish interests would not have been so intent upon getting White advocates to identify their enemy as "the left" and to divert them into "the Alternative Right" big tent, which is just (((paleoconservatism))), revised with trendy terms, memes and a few more provisional adjunct circles to ease the entryism of Jews and sufficiently didactic right wingers (Captainchaos, take note) - largely a millennial generation internet bubble circle jerk; wherein they tell themselves that they are "rebelling" against boomer generation (((neoconservatism))), so that they can blame that instead of taking responsibility for having been hoodwinked in the garbed up (((paleoconservatism))) which had them as millennial fogies, getting behind Trump: "The Alternative Right" has aided, abetted, deepened entanglement and embrace of Whites with Jewish/Zionist interests.
While not naming the neocons explicitly, (((John K. Press)))'s "culturalism" - published at Alternative Right - is definitively paleoconservative by contrast to neoconservatism.
With Trump's coming out into the open in his paleocon agenda, Alt Righters are quickly encouraged to divert blame to the "neocons."
(((Edmund Oslan))), who identifies as Alt Right and contributes to Alternative Right.org as well, cites Trump as having gone "Neocon" - Savage Hippie Episode 41 – Did Trump Go Neocon, or Is He a Crackhead?
Matt Heimbach and Sven Longshanks follow suit, blaming boomer generation neoconservatism for Trump's actions in Syria.
MacDonald with Red Ice blames Trump for succumbing to neocon influence: Neocons to Remove Assad, Trump Buys the MSM Lie.
It goes without saying that the flagship of the AlternativeRight - viz Alt Right - would toe the Alternative Right/Paleocon line: Neocon Puppet Donald Trump Announces His Unilateral Attack On Syria.
Counter-Currents depicts their rightist contrast to Trump's Syrian venture "neoconservatism" as well, not seeing the culpability which its rightism shares with all of the above for playing a part in support of Trump, not having extricated themselves from paleoconservatism.
All the while, the paleocon jargon that entangles would-be White advocacy with Jewish interests under the rubric of the alternative right is protected and defended against clarification and correction.

Concerns for balkanization of the US are in order but not mutually exclusive to other ethnonationalist concerns - they occur in hermeneutic process, attended to as relevant - for those in The US, perhaps a predominantly regular concern.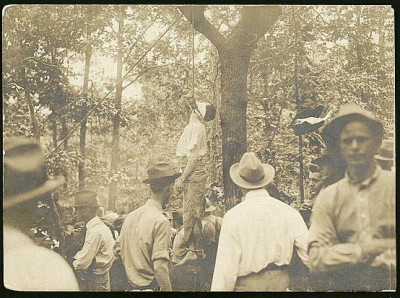 *Important editorial note: Though in this review Alexander Baron refers to Leo Frank as "white" in a few places, Majorityrights does not categorize Jews as "white."
The Lynching Of A Guilty Man reviewed by Alexander Baron
The Leo Frank Case subtitled The Lynching Of A Guilty Man is the third volume in a massive study The Secret Relationship Between Blacks And Jews. The first volume was published in 1991, so this is no rush job. It is also clearly a book written with an agenda, but even vested interest can speak the truth. And the obvious vested interest of the Nation Of Islam comes as a welcome counterpoint to the concealed vested interest of the rest of the American media which unthinkingly points the finger at a black suspect in spite of the conviction of a white* one.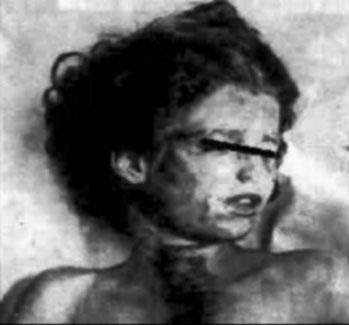 For those not au fait with this notorious case, it began when the body of Mary Phagan was found in the basement of the Atlanta Pencil Factory on April 26, 1913. The young worker had been murdered quite brutally for no apparent reason. The Negro security man who found the body quickly became a suspect - something that is more or less taken for granted nowadays unless the person who finds a body clearly has no connection with the victim, eg a hiker happening upon a skeleton.
Newt Lee aside, there was no shortage of more promising suspects, and two soon emerged: the factory manager/part owner Leo Frank, and his gofer Jim Conley. Although Conley was linked to the killing by forensic evidence, in particular two ludicrous notes written from the perspective of the victim, the authorities went with the prosecution of the white* man while Conley testified as an accessory after the fact. Frank was convicted and sentenced to death, but after extensive failed appeals his sentence was commuted. This led to outraged prominent citizens kidnapping him from the State Penitentiary, driving him back to Atlanta, and stringing him from a tree by his neck.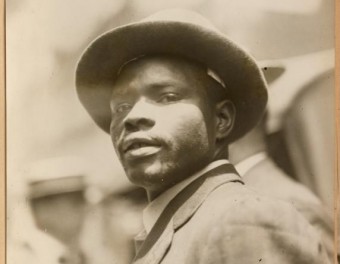 A century and more on there remain two competing narratives; the official and accepted narrative is that Leo Frank was innocent and Jim Conley the villain of the piece. Some might find that surprising as Conley was never indicted for the crime and Frank was never cleared officially in spite of enormous posthumous lobbying by especially the misnamed Anti-Defamation League. This book adheres to the second narrative, that ridiculous as Conley's tale may have been, he was in fact totally innocent, an accessory only after the fact, having found himself in a truly invidious position, a man of humble estate - in effect a third class citizen - who was told he must follow the orders of his boss or else.
In the past quarter to half century, quite a few authors have come out in support of this narrative, but none more impressively than the dedicated Leo Frank website and now this minutely documented book.
If anyone believes the fact that the forensic evidence pointing to Conley should have indicted him and him alone, here are two cases from the 1980s that show how wrong this kind of reasoning can be. In March 1984, the black American Sylvester Smith was accused of violating two young girls, cousins. As all the parties involved in this case were black, there was no racial angle. The girls had clearly been interfered with sexually, and unsurprisingly, Smith was convicted. Twenty years later he was cleared on appeal, the shocking truth was that the real perpetrator was a 9 year old boy (who went on as an adult to commit a murder). The girls had been coached by their grandmother to point the finger at Smith to protect him. After her death, they recanted.
An equally shocking case that made international headlines was that of Lindy Chamberlain. In 1980 while camping at Ayers Rock, Australia, her baby daughter Azaria was snatched by a dingo. She was convicted of the murder based largely on forensic evidence, but nearly six years later, more reliable forensic evidence was found - the girl's matinee jacket near a dingo lair.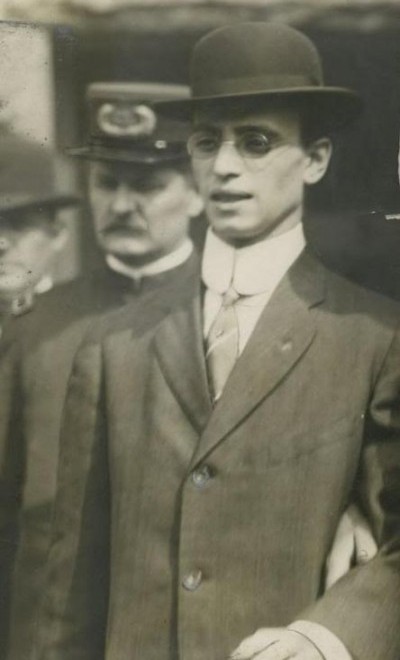 In the Mary Phagan case, the forensic evidence against Jim Conley (the notes) was outweighed by the forensic and other evidence against his boss, in particular there was evidence that the girl has been murdered upstairs. Almost all the other evidence pointed to Frank, everything from his demeanour to his willingness to point the finger at everyone else including at first Newt Lee. Conley on the other hand remained cool as a cucumber, so either he was a psychopath and a potential future Oscar winner, or he really was telling the truth, however outrageous or crazy his story may have sounded. But when the facts are all in, it wasn't that outrageous, it wasn't that crazy, and justice was done in the Deep South, both for Mary Phagan and for a black man whose word many of Frank's supporters believed should carry no weight at all.
A few criticisms are in order:
In the Preface, the claim is made that an "unknown posse" lynched Frank, and that he was and remains the only Jew ever lynched in America. The posse was hardly unknown, its members did not bother to hide their faces, and indeed appeared proud of their work. Later in the book it is made clear that their identities were in no way secret. The doubtful honour of being the first Jew lynched in America appears to belong to Samuel Bierfield in 1868, but neither he nor Frank were lynched because they were Jews.
Frank was hardly the most important Jew in the Deep South as claimed; he was certainly far from the wealthiest, and was the New York Times the world's most important newspaper? The most important in America maybe, but not more important than the London Times. And was World War One raging in 1913?
The reason the crime was committed and how it was committed are both laid out in impressive detail, as are the attempts by Leo Frank to point the finger of suspicion initially at Newt Lee, and then at anyone else without mentioning the fact that Conley was at the pencil factory at the material time. Why would he not do that? The only logical reason is that he didn't want Conley to open his mouth, and once Conley did, he too had to be accused. The book raises too the interesting speculation that Frank was considering murdering Conley – the only direct witness – as well.
ASPI - The Strategist, 'Would a US–China trade war pay dividends to Australia?', 09 Mar 2017:

Among many other colourful characters, Donald Trump's cabinet appointments include two protectionist and anti-China hardliners, Robert Lighthizer and Peter Navarro, who sit at the helm of US trade and industry policy. That decision confirms a belligerent change of tack in Sino­–American economic relations. But what are the implications for Australia?

A number of monetary economists, including Saul Eslake, have warned that a potential escalation to a full-blown China–US trade war poses the single biggest economic threat to Australia. That position argues that the already struggling global economy can't face a superpower trade war, likely to be triggered by the Trump administration at the monetary level, when the RMB/USD exchange rate will reach the unprecedented level of 7 to 1 (it's currently sitting at around 6.9). Furthermore, a falling Chinese currency combined with protectionist measures in the US will dampen the Chinese economy by way of reduced volumes of exports and higher interest rates that will spread across the Asia–Pacific. According to such reasoning, that could have negative impacts for Australia's economy; prices for iron ore, coal and natural gas could possibly drop—we'll know by the middle of the year.

However, it's questionable that such crisis would be detrimental to Australia. In fact, focusing on monetary dynamics alone fails to capture the role of industrial production and regulatory arrangements in the global supply chain.

On the contrary, after triangulating the trade and industrial data of the US, China and Australia and considering the current trade regulatory framework, there are substantial reasons to argue that Australia is well placed to fill the gaps left by a wrecked US–China trade relationship at the best of its industrial capacity. Australia is indeed one of a handful of countries to have solid free trade agreements in place with both the US and China.

As it currently stands, the annual US–China trade balance is worth over US$600 billion—around the yearly value of Australia's overall trade volumes.

Australia's rocks and crops economy—in particular the growing productivity potential of its agricultural and mining sectors—is strong enough to rise above global monetary tensions and falling commodity prices, thanks to rising export volumes to both the US and China. It appears that the harder the two superpowers use their trade relations as leverage in their strategic competition, the harder they'll need to look for other sources to sustain their industrial production levels and corporate supply chain.

In a trade war scenario, the possible initial hiccups in the global supply chain will likely be short-lived. In fact, let's consider that about half of US imports are estimated to be made of intra-firm trade, and that protectionist measures from abroad tend to have insignificant effects on the production input of Chinese State-owned firms. Thus, multinational corporations are proven to be particularly adept at quickly replacing the flows of their industrial production and distribution, as is shown by history.

In other words, in the event of a Sino–American crisis, the major trading actors in both countries will be able and willing to promptly move their business somewhere else.

Thanks to the existing spaghetti bowl of international economic partnerships, Australia is in prime position to be this "somewhere else" for both countries. In fact, Australia is the second largest economy and Sino–American trading partner of the only six countries that have in place free trade agreements with both the US and China, including South Korea, Singapore, Chile, Peru and Costa Rica.

The liquefied natural gas (LNG) trade is a significant case study for Australia in this instance. Australia is the world's second largest LNG exporter, and is set to become the first by 2020. It exports more than $16 billion a year of LNG and by 2020 the LNG industry is expected to contribute $65 billion to the Australian economy, equating to 3.5% of its GDP. 2016 saw the start of LNG exports from the US and an unprecedented boost of Chinese imports. In a trade war scenario, the US would be locked out of China's thriving market and thus LNG prices would rise even higher than they already have. With sharply rising production capacity, Australia needs to expand and diversify its customer base to keep the lion's share of the global LNG market. China's response to Trump's trade policy is set to dampen the rise of a strong emerging competitor of Australia's highly lucrative LNG industry, and thus open up new commercial frontiers.

The LNG example clearly shows that Australia's economy would benefit from a contained US–China trade crisis. Nevertheless, should that trade crisis escalate beyond the economy, Australia's luck may run out.

The Chinese leadership doesn't hide the fact that promoting international economic integration outside of the US control serves the purpose of carving greater geopolitical autonomy and flexibility in the global decision-making processes. Beside Trump's trade policy, Xi Jinping's diplomatic strategy may also speed up the end of the US­–China detente initiated by Nixon and Kissinger in the 1970s. It remains to be seen whether China will also pursue hard-line policies to push the US outside of the Asia–Pacific. In that instance, Australia would be caught between a rock and a hard place.

If the US­–China trade war were to escalate to the geopolitical level, the American order in the Asia–Pacific would enter uncharted waters. For one thing, such an unsavoury development may compel Australia to make a clear choice between trading with China and preserving America's security patronage.

Giovanni Di Lieto lectures International Trade Law at Monash University.
One of the most interesting things about all this is that while Australia is going to be compelled to make that choice, the choice has essentially already been made through the pattern of trade relationships which Australian politicians have chosen to cultivate.
The only way that Australia would choose the United States in that scenario, would be if Australians decided that they would like to deliberately take a massive economic dive so that they can 'Make America Great Again' even though that is not their country, and so that they can avoid being called 'anti-White' by the legions of anonymous Alt-Right trolls roaming around on Twitter using Robert Whitacker's 'mantra' on anyone who won't support the geostrategic and geoeconomic intertests of the United States, the Russian Federation, and Exxonmobil specifically.
Given that we know that Australians don't care about America or Russia more than they care about the economic prosperity of their own country, the outcome is already baked into the cake. AFR carried an article last year which can be used to forecast what is likely to happen, and I'll quote it in full here now:
AFR.com, 'How our free trade deals are helping Australian companies right now', 17 Nov 2016 (emphasis added):

Free trade should be embraced, not feared.

It has lifted living standards, grown Australia's economy and created thousands of jobs.

While it is becoming more popular to denounce globalisation and flirt with protectionism, we cannot turn our back on free trade.

Australia's economy has withstood global challenges and recorded 25 years of continuous growth because we're open to the world. Since Australia's trade barriers came down, we've reaped the rewards.

Trade liberalisation has lifted the income of households by around $4500 a year and boosted the country's gross domestic product by 2.5 per cent to 3.5 per cent, creating thousands of jobs.

One in five jobs now involve trade-related activities. This will grow as liberalised trade gives our producers, manufacturers and services providers better access to billions of consumers across the globe, not just the 24 million who call Australia home.

However, not everyone sees the value of free trade. Some see it, and the forces of globalisation, as a threat to their standard of living, rather than an opportunity to improve it.

When it comes to free trade, we often hear about the bad but not the good.

The nature of news means the factory closing gets more coverage than the one opening.

Chances are you heard about the Ford plant closing, but not the $800 million Boeing has invested in Australia and the 1200 people who work at their Port Melbourne facility.

You may have heard about Cubbie Station, but not heard that its purchase staved off bankruptcy, and has since seen millions of dollars invested in upgrades of water-saving infrastructure, a doubling of contractors, more workers, and of course, money put into the local economy supporting jobs and local businesses.

Key to attracting investment, jobs

The free trade agreements the Coalition concluded with the North Asian powerhouse economies of China, Japan and Korea are key to attracting investment and creating more local jobs.

The Weilong Grape Wine Company has said the China-Australia Free Trade Agreement is the reason it's planning to build a new plant in Mildura.

This is a story being played out across the country.

Businesses large and small, rural and urban, are taking advantage of the preferential market access the FTAs offer Aussie businesses into the giant, growing markets of North Asia.

Australian Honey Products is building a new factory in Tasmania to meet the demand the trifecta of FTAs has created.

Owner Lindsay Bourke says the free trade agreements have been "wonderful" for his business. "We know that we are going to grow and it's enabled us to employ more people, more local people," he said.

It is the same story for NSW skincare manufacturer Cherub Rubs, who will have to double the size of their factory. "The free trade agreements with China and Korea really mean an expansion, which means new Australian jobs manufacturing high-quality products," said Cherub CEO John Lamont.

It is easy to see why the three North Asian FTAs are forecast to create 7,900 jobs this year, according to modelling conducted by the Centre for International Economics.

Australia has a good story when it comes to free trade. In the past three years, net exports accounted for more than half of Australia's GDP growth.

Exports remain central to sustaining growth and economic prosperity. Last year exports delivered $316 billion to our economy, representing around 19 per cent of GDP.

This underscores the importance of free trade and why it is a key element of the Turnbull Government's national economic plan.

The Coalition is pursuing an ambitious trade agenda, and more free trade agreements, to ensure our economy keeps growing and creating new jobs.

On Friday I arrive in Peru for the Asia-Pacific Economic Cooperation (APEC) Ministerial Meeting.

Free trade will be at front of everyone's mind.

With the future of the Trans-Pacific Partnership (TPP) looking grim, my ministerial counterparts and I will work to conclude a study on the Free Trade Area of the Asia-Pacific (FTAAP), which sets out agreed actions towards a future free trade zone.

We will also work to finalise a services road map, which will help grow Australian services exports in key markets including education, finance and logistics.

More to be done

The Coalition has achieved a lot when it comes to free trade, but there is more to do.

Momentum is building for concluding a free trade agreement with Indonesia, work towards launching free trade agreement negotiations with the European Union continues, we've established a working group with the United Kingdom that will scope out the parameters of a future ambitious and comprehensive Australia-UK FTA and we're continuing to negotiate the Regional Comprehensive Economic Partnership (RCEP), which brings together 16 countries that account for almost half of the world's population.

The Turnbull government will continue to pursue an ambitious free trade agenda to keep our economy growing and creating more jobs.

Meanwhile Opposition Leader Bill Shorten continues to build the case for Labor's embrace of more protectionist policies, claiming he will learn the lessons of the US election where it featured heavily.

What Labor doesn't say though is that by adopting a closed economy mindset, they will close off the investment and jobs flowing from free trade. They're saying no to Boeing's $800 million investment in Australia and the Cubbie Station improvements; they're saying no to businesses like Cherub Rubs and Australian Honey Products building new factories and the many local jobs they will create.

Steven Ciobo is the Minister for Trade, Tourism and Investment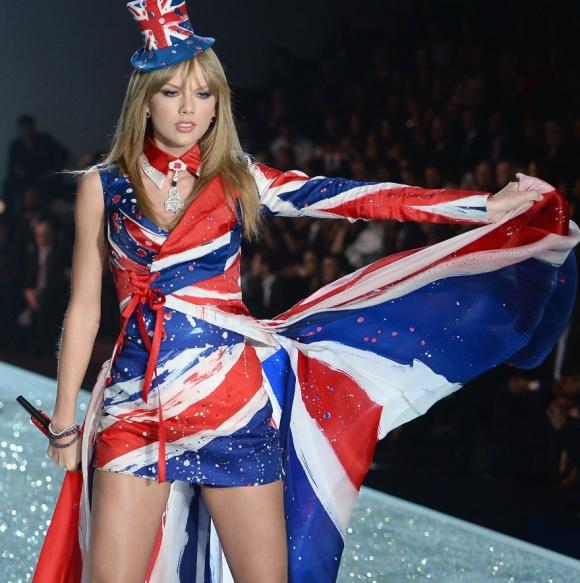 What's not to love about all this?
I really think I love Anglo-Saxons. This is going to be fun, isn't it?
When Mr. Ciobo spoke of 'a working group with the United Kingdom that will scope out the parameters of a future ambitious and comprehensive Australia-UK FTA', he was not joking. That is happening and it is likely going to be another window that the UK will have into the formation of both RCEP and FTAAP, even though technically the UK is not physically in the Indo-Asian region.
I wrote an article several days ago called 'A view of Brexit from Asia: Britain as a Pacific trading power in the 21st century.' I chose at that time not to mention the Australian or New Zealand interface at all, but that article's main point should be viewed as being reinforced by the point I've presented in here now.
I have also written an article today called, 'US Government to build American competitiveness atop socio-economic retrogression and misery.' It's crucial to understand that time is of the essence, since the Americans are at the present moment in relative disarray compared to the rest of us. The Americans have not yet tamed and pacified the various economic actors in their own country, they are still working on that, and they also have yet to form a coherent internationalist counter-narrative to the one that is being enunciated by the governments of Britain, Australia, New Zealand, Japan, South Korea, Taiwan, China, and so on.
Some of you may be mystified by that statement. What do I mean that the Americans don't have a coherent 'internationalist counter-narrative'? I mean that while they are capable of explaining and rationalising their own position as a narrowly 'America first' position in a way that is pleasing to Americans, they are not able to export that view to regular people anywhere else in a way that would induce any other European-demography country to comply with America's geoeconomic interests.
After all, if the Alt-Right people are going to careen all over the internet essentially screaming, "put America first ahead of your own country's interests or be accused of White genocide", and alternately equally absurdly, "you're an evil Russophobe who supports White genocide if you invested in BP instead of Exxon", then they should not expect that they are going to win the sympathy of anyone who is neither American nor Russian.
I want to say to British people, to Australians, to New Zealanders, to Canadians, Commonwealth citizens in general, that you know, it's been a long time since you've taken your own side. This coming phase is going to be a time when it will become possible to do precisely that.
The time is fast approaching when it will be possible to choose neither America nor Russia. You'll be able to finally choose yourselves and your own geoeconomic interests, and you'll be able to choose to trade and associate with whoever else in the world you want to trade and associate with.
Kumiko Oumae works in the defence and security sector in the UK. Her opinions here are entirely her own.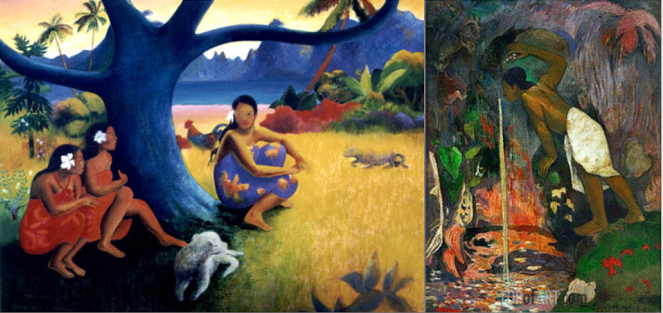 I may have sold Gauguin short in terms of his ethnographic conscientiousness. I'd been citing him as an example of the "artistic genius" who wasn't worth it for his moral failing. There is still a good measure of truth to that, but he may not have been quite as heinous and without effort to be considerate as I had thought in terms of concern for what is important to other people - at least those of Tahiti and their culture. My line had been that as an artist he is as satisfying as any to me, nevertheless as a man who infected who knows how many native girls with syphilis, he was a killer. His art, no matter how good, not worth that behavior.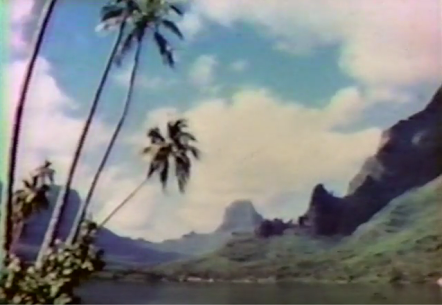 Gauguin in Tahiti: Search for Paradise (1967)
Even so, as I watch this biography, a couple of mitigating facts are revealed. True, he still would have infected at least one native girl with syphilis. However, he married her and apparently did not know that he had the disease when he infected her. Still bad, of course, as there was no effective treatment for the disease even with French civilization settled there. Add to that his knowledge of the risks of his own promiscuity beforehand along with his ultimate abandonment of his wife and kids back in France.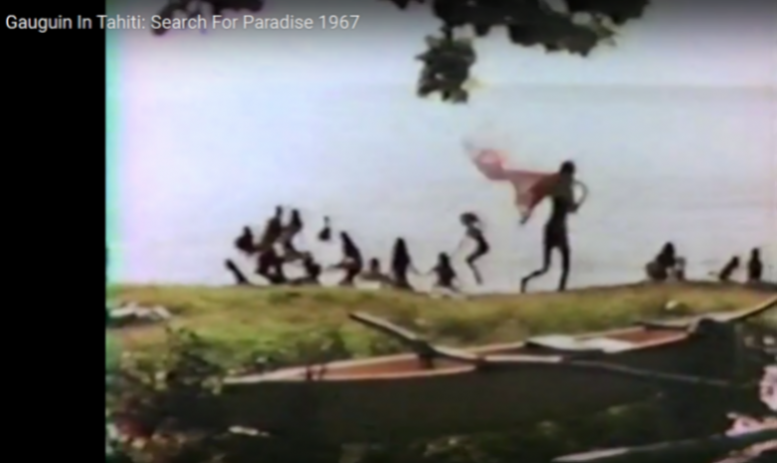 However, the biography reveals that before he fell ill, he was really concerned to find and help preserve the authentic Tahitian people and culture. With that, he was dismayed by the impact of French civilization and missionaries, how they'd already by his time begun to destroy the native culture. He was particularly bothered by the imposition of Christian schooling upon the native children that had by then caused them to lose their native religion. He would actually go to the children and their parents with a French law book - reading them their rights so that they would know that they did not have to go to the missionary school. Finally, he went so far as to try to recreate their native religious stories in writing and in his paintings…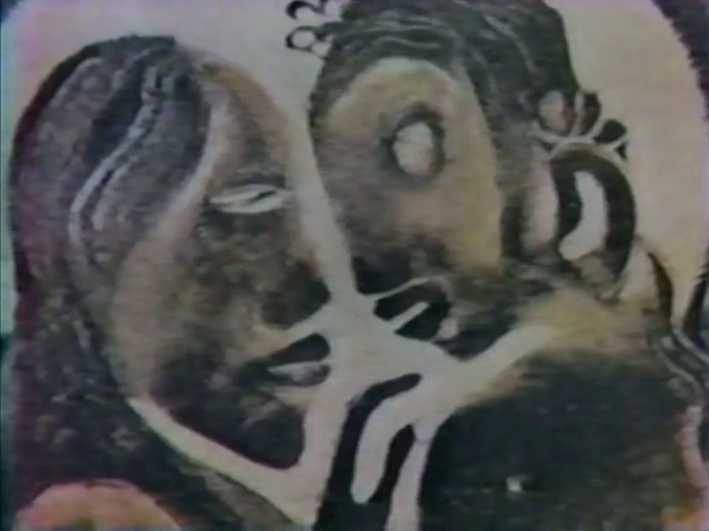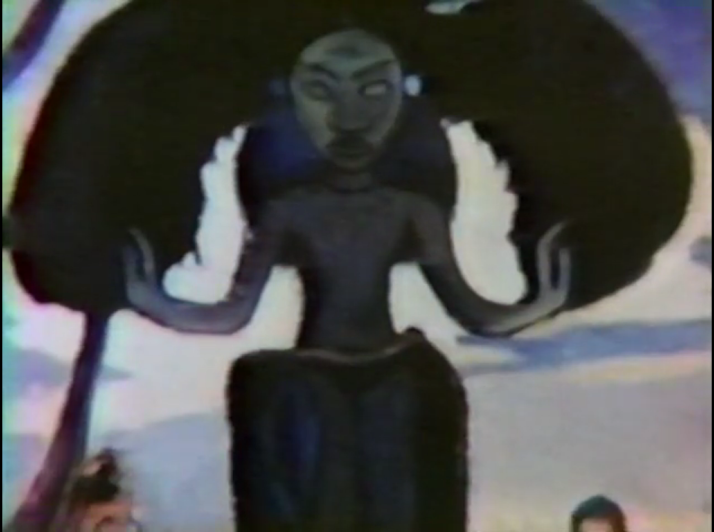 Backgrounding & Taken For Granted - Resistance is Futile. Add from Det Nya Landet - translation "Big Mulatto Brother"?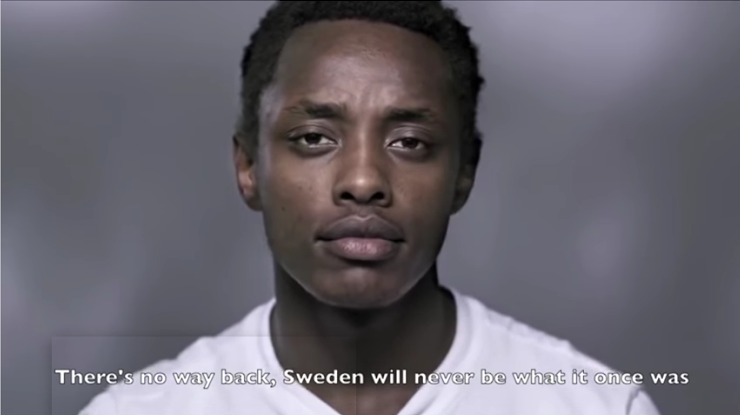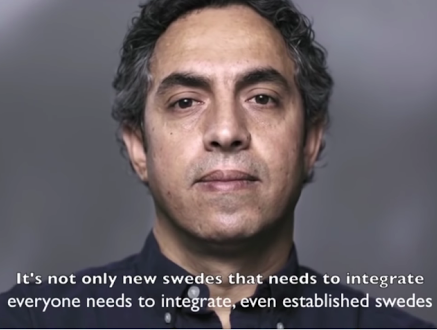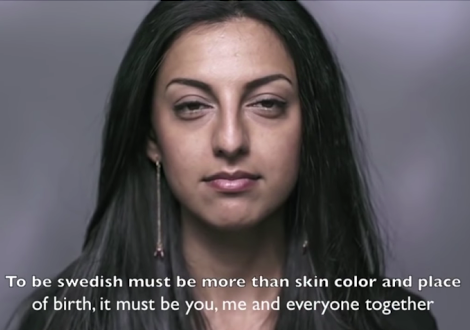 Below is another marketing campaign advert suggesting that "resistance is futile" - this one coming from the EU is a bit more subtle: It is an EU add run in Poland, and it is as if to suggest that blacks are to be taken for granted as a significant component of European history. However, in this instance, the "resistance is futile" message is not spoken, it is in the background - two blacks comfortably sit in the background of the same restaurant scene and a mulatto girl is fore-fronted; thus, backgrounding and taking for granted the interracial relationship of her parents.
The EU is backgrounding the racial integration of blacks, presenting to naive audiences (naive as to the bio-power of an invasive species) or audiences perhaps aware, but not in a position to voice objections (literally the case when these images are whisked-by semi-subliminally), that the place of blacks among them is something to be taken for granted. Resistance is futile, nobody will agree with your objection, it is taken for granted already.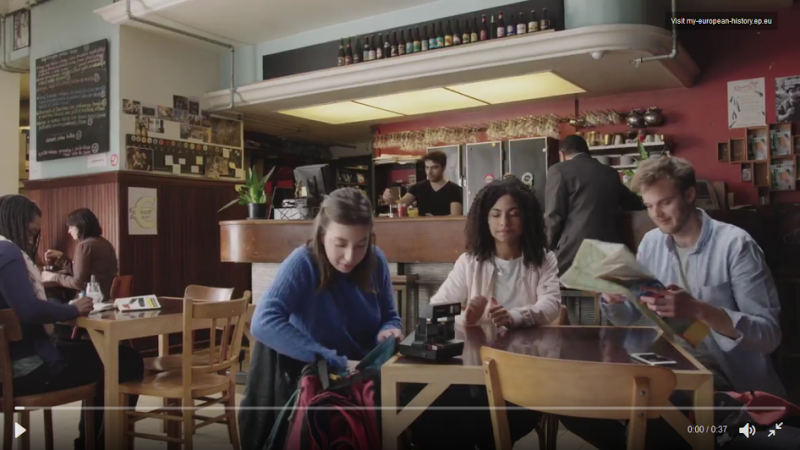 This is a screen shot from a quick add distributed by The European Union and shown in Poland to promote The EU's "My European History" program. Of seven people in the add, 3 are black. Of the blacks, a mulatto girl is centrally featured in the add, while the other two blacks are placed in the background, taking for granted their place in Europe and its history. The girl's mulattoness is also a form of backgrounding and taking for granted.
The add came by way of Twitter:
Parlament EuropejskiVerified account @Europarl_PL

My House of European History to kolekcja opowieści o Europie. Zgłoś swoją → https://my-european-history.ep.eu/?locale=pl ! RT i udostępnij!

#StoriesofEurope
While the profusion of churches throughout the world can be disconcerting, as they are devoted to a religion that is obfuscating and mis-directing the natural instincts of our EGI (ethnic genetic interests), there is a note of optimism in that some of these sublime structures and the artisanship that went into their making can be converted for religion aligned with our ethno-national interests.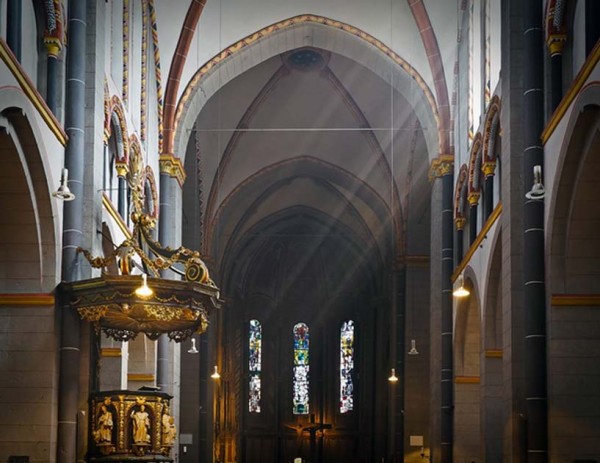 For example, hope for return to proper, natural religious function piques through some of the Spanish missions in California - some were configured to illumination of the solstice: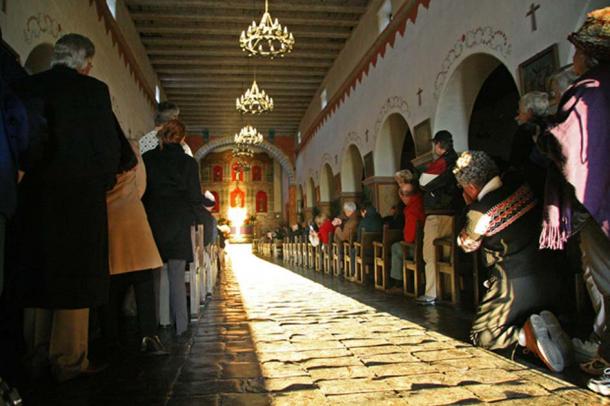 The 2007 midwinter solstice illumination of the main altar tabernacle of Old Mission San Juan Bautista, California. Rubén G. Mendoza/Ancient Editions, CC BY-ND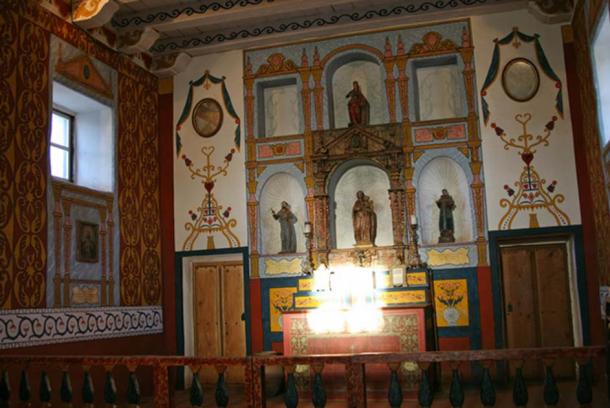 Winter solstice illumination of the main altar tabernacle of the Spanish Royal Presidio Chapel, Santa Barbara, California. The author first documented this solar illumination of the altar in 2004. Rubén G. Mendoza, CC BY-ND
On another level, some of the very elements of worship contained are only thinly veiled pagan icons and arrangement: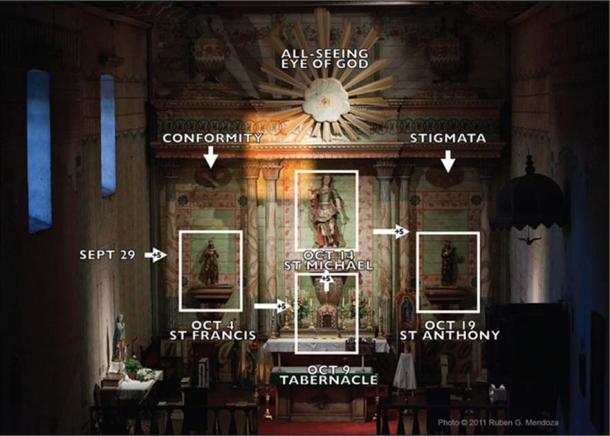 Schematic of the four successive solar illuminations of the saints of the main altar screen of Mission San Miguel Arcángel, California. Note illumination begins at the left with the Oct. 4 illumination of Saint Francis on his Feast Day. The author first identified and documented this solar array in 2003. Rubén G. Mendoza, CC BY-ND
TNO, "Major New Find at Stonehenge", 24 Nov 2016:

A major new archaeological find of causewayed enclosures and artifacts near Britain's famous Stonehenge site is about to "rewrite" the history of the area and of northwestern Europe's early inhabited history.

Built 5,650 years ago—more than 1,000 years before Stonehenge—one of the enclosures appears to have been a major ceremonial gathering place.

The major enclosure's precise original function remains a mystery, but the scant available evidence suggests that it was used for a mixture of ceremonial, religious, political, and mortuary roles.

According to a press release issued by a construction consultancy company involved with an unrelated new building project at the site, archaeologists have "discovered important new sites that rewrite the Stonehenge landscape" and which "predate the construction of Stonehenge itself."

The remains, found at Larkhill and Bulford, were unearthed during excavations ahead of the construction of new British Army family accommodation.

About 70 enclosures of the type found are known across England and Europe, the press release continued.

The structure is one of the "earliest built structures in the British landscape," and was used "for temporary settlement, as ceremonial gathering places, to manage and exchange animals, including the first domesticated cattle and sheep and for ritual activity."

The Larkhill enclosure has produced freshly broken pottery, dumps of worked flint and even a large stone saddle quern used to turn grain into flour. The Neolithic period saw the first use of domesticated crops and this find provides evidence of this.

The Greater Cursus, an earthwork nearly 1.8 miles in length, is the longest structure. It connects and divides parts of the landscape, and separates the Larkhill causewayed enclosure from the place that became Stonehenge.

"The people who built the causewayed enclosure are the ancestors of the builders of Stonehenge and were shaping the landscape into which the stone circle was placed," the press release continued.

"Their work shows that this was a special landscape even before Stonehenge was constructed. People were already living and working within what we now call the Stonehenge landscape and they were building the structures that would culminate in the Stonehenge complex of stones and earthworks.

"The Larkhill site shows that they had the social organization necessary to come together to build significant earthworks and the resources to support the work, as well as the people to carry it out. The offerings in the ditches also show the rich religious life they had created."

So far, archaeologists from Wiltshire-based Wessex Archaeology have excavated around 100 m. of ditch, probably representing around 17 percent of the monument's outer circuit. That investigation has already enabled them to get a sense of some of the rituals that were carried out there.


Antlers and a quern recovered at the site.


Pottery shards and arrowheads recovered at the site.
While Duda and Orbán's invocation of the centrality of Christianity to the nationalist cause will be disconcerting to many of us more wise to the fact that it is a Jewish Trojan horse, we should be charitable enough to understand that it has been, and remains still, a culturally habituated way of saying "not Jewish."
It is up to us to support native European nationalist efforts by pointing-out that this is a provisional distinction at best, albeit a 2,000 year old provision, which has had a way of binding nationalist masses and yoking their identity with Noahide laws (as Kumiko astutely observes) - thus, ultimately, to Jewish control if we do not successfully liberate ourselves from the false identity that is the "Gentile" (as GW astutely observes) - an "identity" which knows no distinction other than "the undifferentiated other" to Jews and its beholdenness to its Jewish forebears for its messiah and its law.
Enough sour grapes for now. There is certainly hope in Duda's concordance with Orbán in furtherance of the Intermarium project on display at the commemoration of the 1955 Hungarian Uprising -
Visigrad Post, "Duda and Orbán against Brussels' sovietisation", 24 Oct 2016:

Hungary, Budapest – On Sunday, October 23, Hungary celebrated the start of the '56 uprising. In front of the Hungarian parliament, Hungarian Prime Minister Viktor Orbán and Polish President Andrzej Duda gave a strong speech against the current policy of the European Union, about Christianity and about the deep friendship between Poland and Hungary.

Polish President Duda greeting the crowd. MTI Fotó: Szigetváry Zsolt

In front of thousands of people gathered on the place Kossuth, in the center of Budapest, Hungarian PM Orbán and Polish President Duda made a speech welcomed by Hungarian and Polish citizens. President Duda first talked in front of the crowd. The Polish President started his speech by saying few words in Hungarian. Hungarians "have always been friends" and they can always rely on Poland, "even in difficult moments of the future," said Andrzej Duda.

Poland is "proud and grateful" that it was able to provide aid to the Hungarian revolution, Duda said, and noted that his people had sent 44 tonnes of medicine and medical equipment as well as 800 litres of blood to Hungary shortly after the uprising broke out. "Poles are proud that the grandchildren of 1956 heroes have, symbolically, Polish blood in their veins", the president said. In Hungary's freedom fight "thousands died, but after some decades, finally, you recovered your freedom through much suffering and sacrifice," Duda said. He also voiced his conviction that "through hard work both Poles and Hungarians will achieve the living standards of western societies", reports Hungary Today.

Concerning the traditional friendship between the two countries, Duda said that they together "carry on the thousand-year-old Christian tradition in Europe", and insisted that those traditions were just as important as freedom. "God bless Poland and Hungary, glory to the heroes of the Hungarian revolution," Duda said concluding his address.

Viktor Orbán during his speech on Sunday, October 23

"Protect Brussels against Sovietisation"

Then, Prime Minister Orbán gave his speech. The European Union must not be turned into a "modern-age empire"; the community must not be replaced by a "United States of Europe", Hungarian Prime Minister Viktor Orbán said on Sunday. Viktor Orbán said that "freedom-loving peoples of Europe must save Brussels from Sovietisation".

"We, Hungarians, want to remain a European nation, rather than become an ethnic minority in Europe," Orbán insisted. "It is only our national independence that can save us from being devoured by an empire," Orbán said, and argued that it was that very "national idea" that had saved Hungary from being integrated into the Soviet Union. As descendants of 1956, Hungarians "cannot let Europe cut the roots that had once made it great and also helped us survive communist oppression," Orbán said. He added that Europe could not be "free, strong, and respectable without the revitalising power of nations and two thousand years of Christian wisdom". The prime minister insisted that Hungary had chosen "the hard way" when it "preferred children of its own to immigrants, work to speculation, earning a living to becoming a slave of indebtedness, and protecting borders to surrendering".

Hungarians will always fight for freedom and will achieve it "even in the most hopeless of situations," Prime Minister Viktor Orbán said at the state commemoration marking the 60th anniversary of Hungary's anti-Soviet uprising of 1956. "We, Hungarians, have a talent for freedom, we have always known how to use it. He warned that freedom is "not a final state but a way of existence; just like swimming: you stop doing it and you will sink". The question is always this simple: whether we decide on our own fate or other people," he added. October 23 is a day on which Hungarians should be proud, the prime minister said.

History puts Hungary in the mainstream of disputes on the future of Europe every 30 years, the prime minister said. He argued that in 1956 Hungary attempted to "shift the Iron Curtain east of our borders", then in 1989 the country opened its western borders "so that Germans could find a way to Germans". And most recently, Hungary "had to close its borders to stop the influx of migrants from the south", he said. Hungary will not falter "even if those whom we are trying to protect attack us from behind"; we have "the courage to face injustice… and Europe can always rely on us," Orbán said.