Majorityrights News > Category: Liberalism
New Observer, "8,606 Fake Refugees Invade Europe in first 37 Days of 2018", 11 Feb 2018:

At least 8,606 nonwhites pretending to be "refugees" invaded Europe in the first 37 days of 2018, meaning that 232 invaders landed every day, according to new figures released by the United Nations' International Organization of Migration (IOM).

The IOM figures show that 7,795 of the nonwhites invaded Europe by sea, and 811 by land as of 7 Feb 2018.

At least 186,768 nonwhites invaded Europe this way in 2017, and 392,879 in 2016, the IOM added.

The main nationalities of the invaders are, in descendant order, as follows:

To Italy: Nigeria, Guinea, Cote d'Ivoire, Bangladesh, Mali, and Eritrea;

To Greece: Syria, Iraq, Afghanistan, Democratic Republic of the Congo, Pakistan, and Algeria;

To Spain: Morocco, Algeria, Guinea, Cote d'Ivoire, Gambia, and Syria;

To Bulgaria: Syria, Iraq, Afghanistan, Turkey, and Pakistan.

In the period from 1 February 1 to 7, 11 nonwhites invaders landed in Cyprus, and in the same period, 10 nonwhites demanded "refuge" in Hungary.

At the same time, 29 nonwhites demanded "refuge" in the former Yugoslav Republic of Macedonia.

In 2017, at least 92 percent of the invaders landed by sea (172,362) to Italy, Greece, Spain and Cyprus. The remaining 14,406 invaded Europe by using land routes to the Spanish enclaves Ceuta and Melilla in North Africa (6,293) and from Turkey to Greece (5,551) and Bulgaria (2,562).

The IOM also revealed in its "Flows Compilation Report" for Decemebr 2017 that under the "EU Relocation Scheme"—through which that organization moves nonwhites from the countries of landing to other EU nations, another 106,000 nonwhites were moved from their landing points in Greece and Italy to elsewhere in Europe.

To date, 25 countries have committed to make places available under the scheme, namely Austria (50) Belgium (1,530), Bulgaria (1,070), Croatia (316), Cyprus (205), Czech Republic (50), Estonia (396), Finland (2,128), France (6,940), Germany (13,250), Ireland (1,152), Latvia (627), Liechtenstein (10), Lithuania (1,160), Luxembourg (545), Malta (205), the Netherlands (2,825), Norway (1,500), Poland (100), Portugal (3,218), Romania (2,182), Slovakia (60), Slovenia (579), Spain (2,500), Sweden (3,777) and Switzerland (1,530) with an overall number of 47,905 places.

An additional 54,000 nonwhites claiming to be Syrians were flown out of Turkey for "resettlement" in Europe.
Diversity Macht Frei, "It's too late for Germany': German feminist SJW admits she got it wrong on immigration, plans to emigrate to Poland", 5 Feb 2018:

In 2012 Rebecca Sommer founded the refugee aid association Arbeitsgruppe Flucht + Menschen-Rechte (AG F+M) [Working Group Asylum + Human Rights]. At the end of 2015, this artist, photographer and journalist and documentary maker applauded Angela Merkel's decision to open German's borders to the "refugees" who had been blocked in Hungary, despite the vacuum effect this would create. "At that time I wanted to help everyone and truly believed that all these people were fleeing hell and were in a state of complete distress," the German activist explained in an article published by the conservative Polish weekly Do Rzeczy on 15 January, discussing how she woke up to reality.

In 2015, her NGO had almost 300 volunteers who were giving German courses to the new arrivals.

…"I thought their medieval view was going to change with time…but after having seen these situations occur repeatedly and observing what was happening around me, as a volunteer, I have had to recognise that the Muslim refugees have grown up with values that are totally different, they have undergone brainwashing from childhood on and are indoctrinated by Islam and absolutely do not intend to adopt our values. Worse, they regard we infidels with disdain and arrogance."

"It was a jarring perception when I noticed that these people I had helped, who were eating, drinking, dancing and laughing with me, who didn't pray, who didn't go to the mosque, who didn't respect Ramadan, who made fun of religion and deeply religious people, called me 'the stupid German whore' when they were eating my food and were in my garden."

…Rebecca Sommer says she is not an isolated case, that many other volunteers also came ultimately to have the same perception and that there are now far fewer volunteers ready to work with the new arrivals today in Germany. She also acknowledges that, through their numbers, these Muslim immigrants pose a threat to the German way of life, and that this will get worse with family reunification.
She also told the Polish weekly magazine Do Rzeczy that she personally knows Germans who are getting ready to emigrate to Poland because they had have enough, and she added: "If Poland and Hungary do not give in on this question, you could become countries that some Germans and French will flee to. You could become islands of stability in Europe."

Islands of stability but also democracy because Rebecca Sommer also notes that democracy no longer really exists in Germany….When the human rights activists wanted to denounce forced conversions to Islam in Indonesia, her account was blocked.

This Berlin woman no longer dares to go out on her own on New Year's Eve and she has already been attacked five times by men speaking Arabic!

She thinks it is already too late for Germany and she plans to emigrate for her retirement. Political Islam is present everywhere, including in the government, in political parties, in the police and schools. With family reunification, millions of additional Muslim immigrants are going to come. In the German capital where she lives, entire districts are already dominated by the Muslim community which forms a parallel society.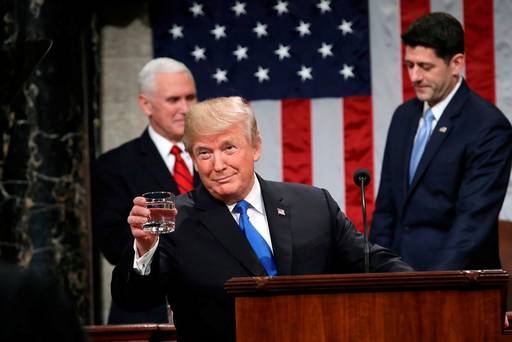 Trump strikes familiar Alt-Right pose: "Hail himself, Hail Israel, Hail our black feudalistic-henchmen enforcers."
Typical Right/Alt-Right:
A distinguishing characteristic of the Alt-Right, which betrays its right-wing stiltedness, its inorganicism, its artifice as pseudo-representation of White interests, is that it will align vigorously with Trump, turn its back on his complete merging with Jewish interests; with that, side with and pander to blacks, their feudalistic henchmen enforcers against White - Asian left nationalist coalition (here looking upon Amerindios as "Asian").
Whether it is the disingenuous fat kosher fuck, Mike Enoch, his Alt-Right and the TRS crew, with their deep kosher resource supplying them with foils and marketing memes, there's but one stipulation - that they endlessly back the Zionist Trump and phrase their argumentation as being against "the left."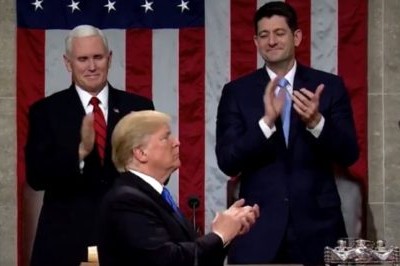 Trump tries to encourage blacks to applaud him for altercast role in the Judeo-Alt-Right coalition.
....or the unbearable 'logic' of "Father Francis" going on and on sweetly about his black friend, "Brother Carl," to show how objective and non-racist he is, how thoughtful he his is about the impact of Mexicans on American blacks (like a person normally and organically motivated by White interests would care about that).
We are highly cognizant of the critical issue of population control and carrying capacity, but with that do not look upon the YKW and blacks as our allies in those ethnonationalist concerns, as the Right/Alt-Right would pretend, or intimate that they are, in their phony campaign against the left natonalism, i.e., that which structures carrying capacity and population control against imperialist Abrahamic "coalition building," deal making/bribing with blacks and the Right/Alt-Right.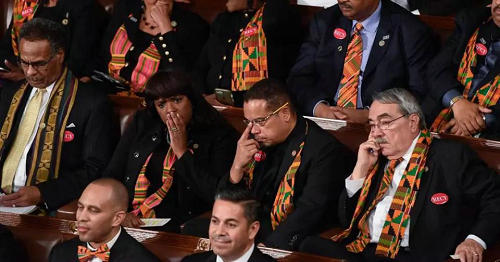 Members of Congressional Black Caucus offer no reaction as Pres. Trump says "African-American unemployment stands at the lowest rate ever recorded"
Like Trump's deal-making with the YKW, a quid pro quo with African Americans will be found to not reciprocate White interests very well. And while they can assist if the goal is to tear things down, nor will African Americas be much positive good for Asians and Amerindios if they know what's good for their long term interests.
President Donald J. Trump's State of the Union Address

Remarks as prepared for delivery

TO THE CONGRESS OF THE UNITED STATES:

Mr. Speaker, Mr. Vice President, Members of Congress, the First Lady of the United States, and my fellow Americans:

Less than 1 year has passed since I first stood at this podium, in this majestic chamber, to speak on behalf of the American People — and to address their concerns, their hopes, and their dreams. That night, our new Administration had already taken swift action. A new tide of optimism was already sweeping across our land.

Each day since, we have gone forward with a clear vision and a righteous mission — to make America great again for all Americans.

Over the last year, we have made incredible progress and achieved extraordinary success. We have faced challenges we expected, and others we could never have imagined. We have shared in the heights of victory and the pains of hardship. We endured floods and fires and storms. But through it all, we have seen the beauty of America's soul, and the steel in America's spine.

Each test has forged new American heroes to remind us who we are, and show us what we can be.

We saw the volunteers of the "Cajun Navy," racing to the rescue with their fishing boats to save people in the aftermath of a devastating hurricane.

We saw strangers shielding strangers from a hail of gunfire on the Las Vegas strip.

We heard tales of Americans like Coast Guard Petty Officer Ashlee Leppert, who is here tonight in the gallery with Melania. Ashlee was aboard one of the first helicopters on the scene in Houston during Hurricane Harvey. Through 18 hours of wind and rain, Ashlee braved live power lines and deep water, to help save more than 40 lives. Thank you, Ashlee.

We heard about Americans like firefighter David Dahlberg. He is here with us too. David faced down walls of flame to rescue almost 60 children trapped at a California summer camp threatened by wildfires.

To everyone still recovering in Texas, Florida, Louisiana, Puerto Rico, the Virgin Islands, California, and everywhere else — we are with you, we love you, and we will pull through together.

Some trials over the past year touched this chamber very personally. With us tonight is one of the toughest people ever to serve in this House — a guy who took a bullet, almost died, and was back to work three and a half months later: the legend from Louisiana, Congressman Steve Scalise.

We are incredibly grateful for the heroic efforts of the Capitol Police Officers, the Alexandria Police, and the doctors, nurses, and paramedics who saved his life, and the lives of many others in this room.

In the aftermath of that terrible shooting, we came together, not as Republicans or Democrats, but as representatives of the people. But it is not enough to come together only in times of tragedy. Tonight, I call upon all of us to set aside our differences, to seek out common ground, and to summon the unity we need to deliver for the people we were elected to serve.

Over the last year, the world has seen what we always knew: that no people on Earth are so fearless, or daring, or determined as Americans. If there is a mountain, we climb it. If there is a frontier, we cross it. If there is a challenge, we tame it. If there is an opportunity, we seize it.

So let us begin tonight by recognizing that the state of our Union is strong because our people are strong.

And together, we are building a safe, strong, and proud America.

Since the election, we have created 2.4 million new jobs, including 200,000 new jobs in manufacturing alone. After years of wage stagnation, we are finally seeing rising wages.

Unemployment claims have hit a 45-year low. African-American unemployment stands at the lowest rate ever recorded, and Hispanic American unemployment has also reached the lowest levels in history.

Small business confidence is at an all-time high. The stock market has smashed one record after another, gaining $8 trillion in value. That is great news for Americans' 401k, retirement, pension, and college savings accounts.

And just as I promised the American people from this podium 11 months ago, we enacted the biggest tax cuts and reforms in American history.

Our massive tax cuts provide tremendous relief for the middle class and small businesses.

To lower tax rates for hardworking Americans, we nearly doubled the standard deduction for everyone. Now, the first $24,000 earned by a married couple is completely tax-free. We also doubled the child tax credit.

A typical family of four making $75,000 will see their tax bill reduced by $2,000 — slashing their tax bill in half.

This April will be the last time you ever file under the old broken system — and millions of Americans will have more take-home pay starting next month.

We eliminated an especially cruel tax that fell mostly on Americans making less than $50,000 a year — forcing them to pay tremendous penalties simply because they could not afford government-ordered health plans. We repealed the core of disastrous Obamacare — the individual mandate is now gone.

We slashed the business tax rate from 35 percent all the way down to 21 percent, so American companies can compete and win against anyone in the world. These changes alone are estimated to increase average family income by more than $4,000.

Small businesses have also received a massive tax cut, and can now deduct 20 percent of their business income.

Here tonight are Steve Staub and Sandy Keplinger of Staub Manufacturing — a small business in Ohio. They have just finished the best year in their 20-year history. Because of tax reform, they are handing out raises, hiring an additional 14 people, and expanding into the building next door.

Welding together the Mulatto supremacist coalition.

One of Staub's employees, Corey Adams, is also with us tonight. Corey is an all-American worker. He supported himself through high school, lost his job during the 2008 recession, and was later hired by Staub, where he trained to become a welder. Like many hardworking Americans, Corey plans to invest his tax‑cut raise into his new home and his two daughters' education. Please join me in congratulating Corey.

Since we passed tax cuts, roughly 3 million workers have already gotten tax cut bonuses — many of them thousands of dollars per worker. Apple has just announced it plans to invest a total of $350 billion in America, and hire another 20,000 workers.

This is our new American moment. There has never been a better time to start living the American Dream.

So to every citizen watching at home tonight — no matter where you have been, or where you come from, this is your time. If you work hard, if you believe in yourself, if you believe in America, then you can dream anything, you can be anything, and together, we can achieve anything.

Condescending applause for Mulatto supremacists who help weld together the kosher - right wing - liberal - civic - alliance under imperial Abrahamism.

Tonight, I want to talk about what kind of future we are going to have, and what kind of Nation we are going to be. All of us, together, as one team, one people, and one American family.

We all share the same home, the same heart, the same destiny, and the same great American flag.

Together, we are rediscovering the American way.

In America, we know that faith and family, not government and bureaucracy, are the center of the American life. Our motto is "in God we trust."
Two sites that deal with these issues as they combine, the largest elephant in the room of liberal and neoliberal hypocrisy: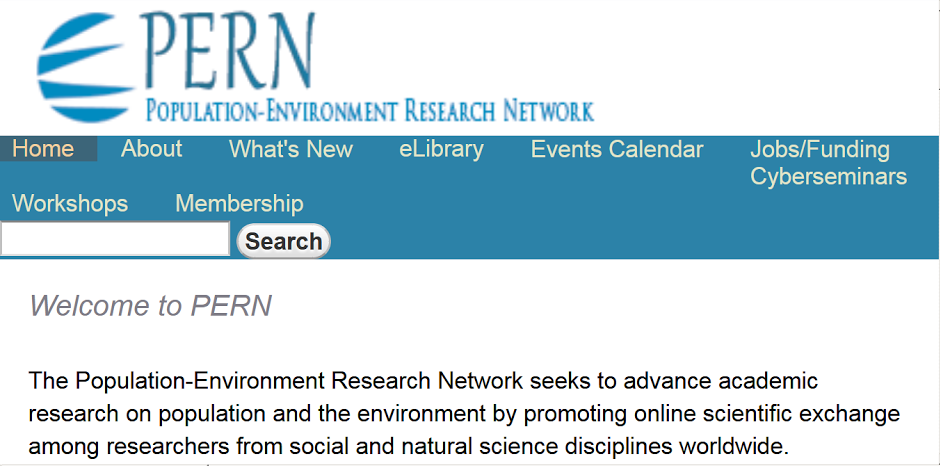 Dear Congressperson,

How would you like to tell your constituents that there was an extra $758,000,000 each year to spend in their district? How could you help direct the spending of $758,000,000 ($758 MILLION!) in your district each year?

According to a study by noted Economist, John Williams, which can be viewed at Carrying Capacity Network [1] which sponsored the Study, U.S. Taxpayers pay out a NET $330 BILLION ANNUALLY (believe it or not) on LEGAL Immigration. That is, LEGAL Immigration costs U.S. tax-payers $330 BILLION AFTER SUBTRACTING ALL TAXES IMMIGRANTS PAY. [And this $330 Billion does NOT include the additional NET amount of Taxes State and Local Taxpayers pay to finance this LEGAL Immigration.]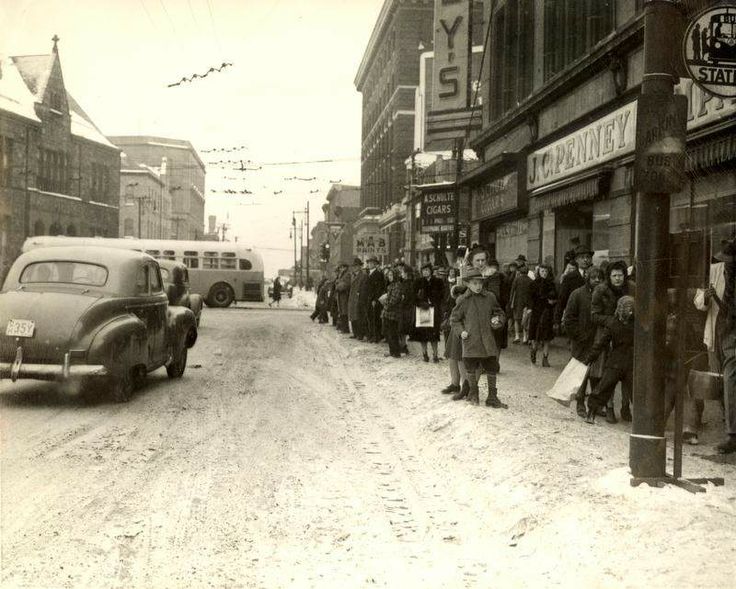 By 1940, Camden was 90 percent White and absolutely thriving.
Let's take the bus to the library for a reading of "Leaves of Grass", maybe Lovecraft, to contemplate what they all died for.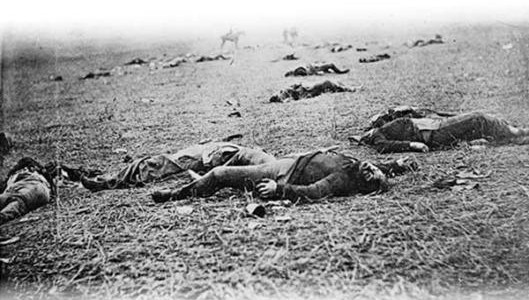 The Leaves of Grass
Keith Alexander once quoted one of the first black mayors of a major American city as predicting that Camden, New Jersey, foreshadowed America's future. That mayor was speaking as a "progressive", of course, predicting bright things, not the irony of his statement.
A Racial Lesson for Western Civilization: Built in 1905 when Camden was 100% White, the Carnegie Library Lays in Ruins in now 96% Non-White Camden

PK Note: Check out the latest Paul Kersey at VDare—thing is, we're supposed to believe this Black Panther black power fantasy.

What becomes of White civilization - western civilization - when White people abandon what their ancestors created?

Inside the roofless Camden branch of

Carnegie Libraries, trees grow among the ruins…

Camden, New Jersey tells us the tragic lesson, where a tree growing inside a long-abandoned library is symbolic of the desolation of western civilization once non-whites inherit what they had no hand in building.

What they are incapable of maintaining.

The roof is gone on the Carnegie Library in now 96% non-white Camden.

In 2018, Camden is nearly 96 percent non-white (49% Hispanic/ 42% black), requiring hundreds of millions of loans, grants, and aid from the taxpayers of New Jersey over the past decades to pay for services, employees, and infrastructure fixes the almost entirely non-white tax-base of the city can't provide.

In 1900, the city was almost 100 percent White, a growing metropolis and a vital contributor to the American economy with an innovative business sector burgeoning. By 1940, Camden was 90 percent White and absolutely thriving.

Camden chapter of

Carnegie Libraries

But as the demographics slowly shifted, and White people abandoned the city, the quality of life regressed to the black (and brown) mean.

What better illustrates the demise of White civilization in Camden then the Camden Free Library Building, built in 1905 when the city was nearly 100 percent White? Andrew Carnegie donated $100,000 for the library, to help provide continued education and a citadel of knowledge to the individual White people who would collectively make Camden on of America's most important industrial cities:

The Library Committee of City Council, on February 24th, adopted a resolution presented by Councilman Charles Ellis, formally accepting Andrew Carnegie's offer of $100,000 for a public library in Camden. On April 28, 1903 the Free Library Trustees recommended the purchase of the Dialogue property, at Broadway and Line Street, 80 x 1600 feet, for the new Carnegie Library. The sum asked was $15,0900 and on November 4, 1903 the property was obtained for that sum.

Carnegie Library, 1914

A competition for the design of the new library was held, with several local architects, including Arthur Truscott, submitting designs. Coming in first place in this contest was the firm of Hale & Morse. Hale and Morse represented the partnership of architects ordinarily not associated with Philadelphia: Herbert D. Hale and Henry G. Morse, both of whom were better known in Boston and New York. Nonetheless, for a period in the early twentieth century the firm established an office in the Drexel Building in Philadelphia, and their projects, reported by the Philadelphia Real Estate Record and Builders Guide included several residential operations.

Camden Free Library Building, built with money donated by Andrew Carnegie, Broadway and Line Street, opened to the public on June 27, 1905. 7,000 books were on the shelves. The cost of the building was about $86,000. Carnegie's donation eventually came to $120,000. It was Carnegie's belief that universities and libraries were the most worthwhile areas to give donations, and he made major donations to over 2500 libraries across the country. The firm of J.E. and A.L Pennock built the two-storied, neoclassical library. It was finished with a pedimented entrance portico on the west façade. When there were no funds left to purchase furniture for the library, Andrew Carnegie donated a supplementary $20,000. The was housed at its original site for eighty-one years. In 1986, the library was set up in a larger building, leaving the original Camden Free Public Library empty. The building was placed on the National Register of Historic Places in October of 1992, and still stands as a symbol of the City of Camden as well as a symbol of the generosity of Andrew Carnegie.

Sadly in the years between 1986 and 2004 the Carnegie Library stood as a symbol of much that was wrong with Camden- physical decay, political inertia, and an indifference to both the heritage of the past and the need to instill a love of books and learning in Camden's children. A few interested parties attempted to get government help in preserving the building, but met with little success.

Walt Whitman at his last residence, in Camden

When the Camden Free Library Building (also known as the Carnegie Library) was built in 1905, Camden was nearly 100 percent White. Designed to provide a sanctuary for conversing with the great White wordsmiths of the past, who in death still had much to tell the living through their tomes, the Carnegie Library was precious gift for posterity. For the benefit of not just maintaining, but advancing White civilization.

Today, in less than four percent White Camden, the building is abandoned, though on the ornate facade the names of great White authors (Chaucer, Irving, and Hawthorne) are inscribed, a visible reminder for the city's almost entirely non-White population of just who the Carnegie Library was built for and whom was expected to help grow the community for centuries to come.

But in the span of a century, Camden went from nearly 100 percent white to, in 2018, almost less than four percent White.

Buildings, especially those built long ago, have a way of speaking for the dead.

Built when White people were not just optimistic about their future (and their posterities), but desirous to advance western civilization, the Carnegie Library in 2018 is derelict and in ruin, a visible reminder of the true theme running through H.P. Lovecraft's horror fiction; the consequences of racial degeneracy, amalgamation, and, worse, the inability of those watching it all unfold to confront the evil.

Reminders of the civilization White people long ago built in Camden are still visible, though the ruin, decay and their degradation is a visible indication of what happens to western civilization in the hands of non-whites.

In now 96% non-white Camden, America's future as White people become a racial minority are on full display.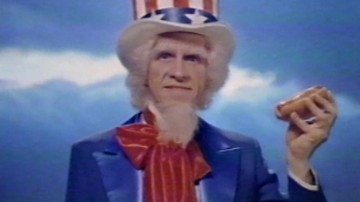 Television: Answering to an even higher authority.
[backing vocals Tina Turner & The Ikettes]
I am gross and perverted
I'm obsessed 'n deranged
I have existed for years
But very little has changed
I'm the tool of the Government
And industry too
For I am destined to rule
And regulate you
I may be vile and pernicious
But you can't look away
I make you think I'm delicious
With the stuff that I say
I'm the best you can get
Have you guessed me yet?
I'm the slime oozin' out
From your TV set
You will obey me while I lead you
And eat the garbage that I feed you
Until the day that we don't need you
Don't go for help . . . no one will heed you
Your mind is totally controlled
It has been stuffed into my mold
And you will do as you are told
Until the rights to you are sold
That's right, folks . . .
Don't touch that dial
Well, I am the slime from your video
Oozin' along on your livin' room floor
I am the slime from your video
Can't stop the slime, people, lookit me go
I am the slime from your video
Oozin' along on your livin' room floor
I am the slime from your video
Can't stop the slime, people, lookit me go
- Frank Zappa, "I'm The Slime"
TV: postmortem on passivity induced runaway destruction, including speculation on zombie effects despite the new dawn of interactive media. It's being a retrospective gives me an excuse to post this older show which I've only seen today for the first time. It's funny as hell. Charlie Brooker is clever. I don't vouch for his politics, am unfamiliar with that.
But as we say goodbye to the hegemonic days of television and the passive acceptance of its audiences of a world they could not interact with nor hope to change, it is worthwhile to take another look back on the days of how the Televitz shaped and manipulated our attention; and to speculate on some of its lingering effects, both on runaway systems in a world unchallenged, and its parallel tropisms in the computer screen, exponentially better though it is in the choice and interaction the mechanisms attached may provide…
"How Television Ruined Your Life"
Parts 1-6, BBC production, 2012, under Youtube license: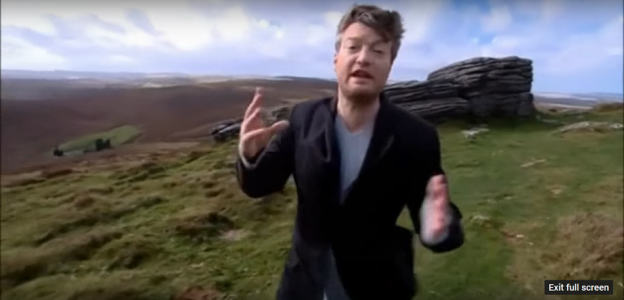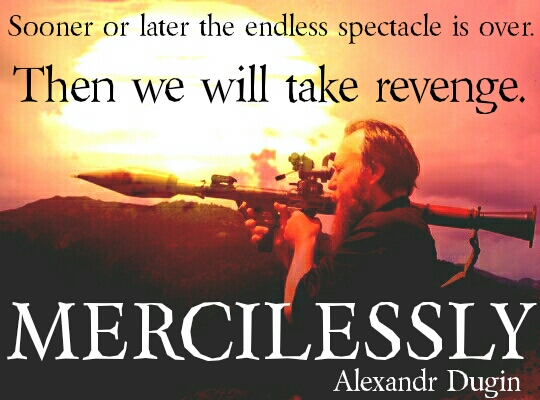 The Russian Federation
is still crying
: "Nobody likes traitors. Apparently, Kurds will stay alone with Turkish armed forces. Neither Damascus nor Moscow will provide any assistance to them. And only Kurdish leaders are responsible for that" - Alexandr Dugin.
It is a good sign that they are, along with their People's Protection Unit (YPJ), putting imperialist Turkey, US, Russia and Israel in a bind.
Having their origin in separation from the Jewy treachery of Soviet Russia, its imperialism, its Muslim Turkish cohorts, in favor of left nationalism in order to wrest national independence for the Kurds, it would be ideal if this Asian backed left nationalism could sheer off the eastern half of Turkey and, along with fellow ethnonationalists from the west, put the squeeze on those rats. The imperial Russian Federation is still crying that the Kurds have rejected them. In causing consternation for the JewSA, Russovitz and Israel's Turkish Friends, they are causing ethnonational consternation for imperial Israel as well.
Now, the Kurds have different facets and we are talking favorably about the ideal form and purpose of their left nationalism, not any assistance or alignment that some of them may have provided for radical Islam - on the contrary, that is just another form of imperialism.
Jerusalem Post, "Turkish and Syrian threats in Afrin put U.S., Russia in a bind, 19 January 2018:

What does it all mean for Israel?


People hold flags of People's Protection Unit (YPJ) as they walk during a protest against Turkish attacks on Afrin, in Hasaka, Syria, January 18, 2018. . (photo credit: RODI SAID / REUTERS)

On Friday, Turkey increased its shelling of the Kurdish-held Afrin enclave in northern Syria. According to the Kurdish People's Protection Units (YPG) up to 70 artillery shells were fired during the night.

While Turkey has threatened to invade the Kurdish area, which it says is being controlled by terrorists aligned with the Kurdistan Workers Party, Syria has threatened to shoot down Turkish warplanes in case of any attack on Syria's territory. The war of words in northern Syria puts the US and Russia in a bind because the US is allied with the Kurds in eastern Syria while Russia has been a close ally of the Syrian regime.

Since mid-January, there have been rumors and threats of a Turkish invasion of Afrin. The area has been controlled by the YPG since the early years of the Syrian civil war. In eastern Syria, the YPG and its affiliated Syrian Democratic Forces (SDF) have been successful at defeating Islamic State. However, in northern Syria, the Kurds have only come to control the thinly populated mountainous area of Afrin.

The autonomous canton is home to around one million people. The area is surrounded by Turkey on two sides and in Syria it borders areas controlled by Syrian rebel groups. The Kurds in this area have remained mostly outside the Syrian conflict because the Syrian rebel groups represent a buffer from most of the heavy fighting.

However, the Kurds here also have a complex relationship with the Syrian regime. They have not opposed Russian military personnel, for instance, who have been spotted in the Afrin area, and the YPG maintains amicable contact with the Russians, who are the Syrian regime's closet ally.

Since the fall of 2016, when Turkey began to intervene in Syria, the YPG has been targeted by the Turks and their Syrian rebel allies. When Turkey and those allies moved into the area between Jarabulus and Kilis in 2016, it was widely seen as an offensive not only against ISIS, but also to make sure the Kurdish forces did not get any closer to the Turkish border to link up Afrin with the areas they control in eastern Syria.

In March 2017, the US, which has been working closely with the SDF and YPG against ISIS, sent vehicles to Manbij to ward off any Turkish attack on its Kurdish partners. This was an important symbol because it showed the US had drawn a clear line around its partner forces and would warn off any attack. The US shot down a Syrian plane in June 2017 that was operating close to the SDF as well.

However, US-led coalition spokesman Ryan Dillon put out a statement on January 16 saying it is not operating in Afrin and the Pentagon told the Turkish news agency Anadolu that it was not involved with the YPG in Afrin. "We don't consider them as part of our defeat ISIS operations," a Pentagon spokesman said. This is a clear message to Turkey that the US would not be involved in any sort of operations if they happened in Afrin.

However, the US has indicated the US will be remaining in eastern Syria for the foreseeable future. Secretary of State Rex Tillerson reiterated this pledge Wednesday. The US has often urged Turkey to keep its focus on fighting ISIS, rather than mission creep that would lead to conflict with the Kurds. Any conflict with the Kurds would inevitably complicate the US mission in eastern Syria, because it would cause the Kurds in the east to want to aid their comrades in Afrin.

Turkey has posited that any operation into Afrin would be with rebel groups and that the operation is carried out "for them," and Turkey is "helping our brothers," according to statements from the Turkish Presidency. However, this poses problems because the Syrian rebels that Turkey wants to work with against Afrin are busy fighting the Syrian regime in Idlib, where they are hardpressed, suffering civilian and military loses.

Nevertheless Turkey's defense minister Nurettin Canikli vowed on January 19 that Ankara would carry out the operation, according to Turkish media. "The threat level against Turkey is increasing by the day. This operation will be carried out and we will combat terrorism." At the same time, the Syrian regime warns that any incursion could bring Syrian air defense into the picture. Syrian Deputy Foreign Minister Daisal Mekdad warned Friday that any attack on Afrin would be an act of "aggression" against Syria.

According to Al-Jazeera, Russia has moved military observers in Afrin "away" from the area, closer to Syrian regime-held territory. Any attack would therefore not harm the Russians who have become a key arbiter of issues in Syria. Russia has hosted the Astana and Sochi talks about the future of Syria, meeting with Turkey, Iran and Syria's governments. In Afrin, Russia is the key player because it has relations with all sides and it has warmed relations with Turkey over the last six months.

However, Russia has remained mum on any potential Turkish operation. It must balance its interests in cultivating relations with Syria, with its support of Damascus and its relations with the Kurds. Wishing to see itself as the broker of peace, Russia would hope that there is not a major Turkish incursion. That means any Turkish action might be limited, as it has been before, and the war of words is intended more to test the waters with the US, Russia and Syria, than lead to a major attack jeopardizing the lives of thousands.

For Israel, what does this mean? A similar scenario will eventually play out near the Golan, without Turkey but with the regime seeking to test the US, Jordan and Israel's resolve with Russia in the background. Afrin therefore matters greatly to the region and what transpires there will tell us about the future of Syria.
'Refugees' by way of Israel with money enough from there for a one way ticket to Europe.

New Observer, "Africans Deported from Israel "Appear" in Rome", 9 Jan 2018:

African invaders who were earlier "voluntarily deported" from Israel to Rwanda with a $3,500 payment each have been found and interviewed in Rome, according to the United Nations High Commission on Refugees.

According to a statement issued by UNHCR spokesperson William Spindler at a press conference today at the Palais des Nations in Geneva, at least 80 of the Africans deported from Israel were interviewed by UN representatives "between November 2015 and December 2017 in reception centres and informal settlements in the Rome area."

The UNHCR statement called on the Jewish ethnostate not to proceed with its plans to deport nearly 40,000 Africans, as announced in November last year.

The UNHCR said that it was making the appeal to Israel after "some 80 cases were identified in which people relocated by Israel" had taken "onward journeys to Europe via Libya."

"All 80 cases involved Eritrean refugees or asylum seekers who were "interviewed by UNHCR staff in Rome," the statement said, adding that the Africans then travelled "hundreds of kilometers" through South Sudan, Sudan and Libya "after being relocated by Israel."

From Libya, they had crossed the Mediterranean to invade Europe,

"The interviews–all with adult males, some with family members still in Israel–took place between November 2015 and December 2017 in reception centers and informal settlements in the Rome area. All had entered Israel via the Sinai," the UNHCR statement continued, peppering each sentence with patently bogus claims that the invaders have been "tortured and mistreated" at every step—a standard tactic by those seeking to justify the Third World invasion of Europe.

"Most said they had been transferred from Israel to a country in Africa and provided with a lump sum of US$3,500 dollars. However, the situation on arrival was different to what most had expected and with little further support provided beyond accommodation on the first night," the UNHCR statement continued, providing some insight into how the Jewish state is getting rid of its African spongers.

"In light of this, UNHCR is seriously concerned over Israel's plans announced on January 1st to forcibly relocate Eritreans and Sudanese to countries in Africa or have them face indefinite detention," UNHCR statement said.

"Official statements that the plans may eventually target families and those with pending asylum claims, or that asylum seekers might be taken to the airport in handcuffs, are particularly alarming.

"At a time when UNHCR and partners in the international community are engaged in emergency evacuations from Libya, forced relocation to countries that do not offer effective protection and the onward movement of these people to Libya and Europe is particularly worrisome.

"There are some 27,000 Eritreans and 7,700 Sudanese in Israel. Since Israel took over refugee status determination from UNHCR in 2009, only ten Eritreans and one Sudanese have been recognized as refugees.

"Another 200 Sudanese, all from Darfur, were granted humanitarian status in Israel and there was an announcement that another 300 will follow. Israel has not received any Eritreans or Sudanese since May 2016."

Remarkably, the UNHCR said that it was prepared nonetheless to help the Jewish state get rid of its Africans:

"UNHCR stands ready to work with Israel to find alternative solutions for the protection needs of asylum seekers, in line with international standards. This includes resettlement out of Israel, as has happened previously", the statement ended.