Majorityrights News > Category: Liberalism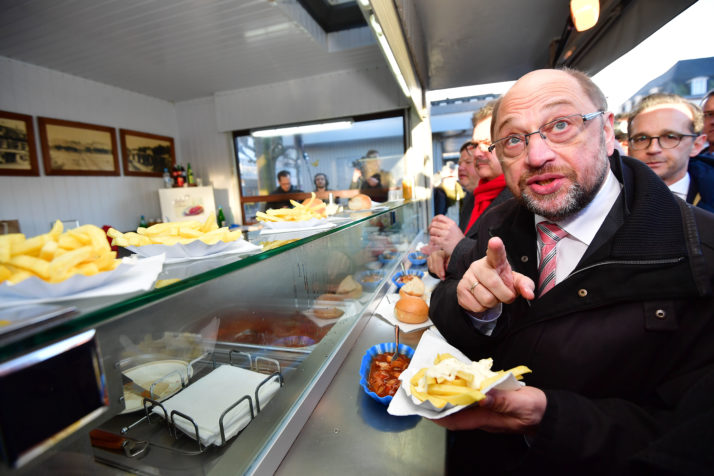 Wow, such a breadth of choice
The Germans are non-ironically having an election in which Angela Merkel and Martin Schulz are the two front runners.
The choice seems to be quite simple.
Either you vote for Angela Merkel's CDU and face the death by demographic replacement which will surely arrive by the year 2050 as things continue as they are, or alternately you vote for Martin Schulz's SPD and face the death by demographic replacement which will surely arrive by the year 2050 as things continue as they are.
There are some policy disagreements that they have on other issues and usually I would actually go to the length of highlighting them and describing them, but when it comes to the issue of Germany it frankly doesn't even matter anymore. After all, if Germany is going to seriously cease to exist as a nation then making projections about a nation which will not even be populated by the same people would be a pointless exercise from the perspective of ethno-nationalism. It is extremely sad.
In any case, let's see how the situation looks in the polls at present, for this thoroughly pointless election:
POLITICO, 'SPD in the lead according to German poll', 19 Feb 2017:

Germany's Christian Democrats (CDU/CSU) have slumped to second place in an opinion poll conducted by the Emnid institute, with the Social Democrats (SPD) in the top spot for the first time since 2006.

The SPD's climb comes after the party picked the former President of the European Parliament, Martin Schulz, as its candidate for chancellor.

Emnid's poll of 1,885 voters found that the SPD would get 33 percent of the German vote, while Chancellor Angela Merkel's CDU and its Bavarian sister party, the Christian Social Union, would get 32 percent.

Schulz's party has gained 12 points in the last four weeks, according to German newspaper Bild am Sonntag.

The SPD's surge in the polls will add more pressure on Merkel, as she seeks her fourth term as chancellor within an uneasy CDU/CSU alliance. Merkel has faced tough criticism from the sister party over the controversial decision to temporarily open Germany's borders to refugees in 2015.

This the latest in a series of polls that shows SPD's rapidly rising popularity among German voters. Emnid's poll chimes with separate findings by Politbarometer, a long-standing German election poll from German broadcaster ZDF, which showed Friday that only 38 percent of voters would like to see Merkel carry on her job as chancellor and that 49 percent preferred Schulz.

But Germany hasn't completely fallen out of love with Merkel. ZDF's poll also found that 71 percent of Germans think that the current chancellor is doing a good job, despite her party's drop in popularity.

German elections are scheduled for September.
Such vibrant campaigning
Meanwhile, the way that Martin Schulz is conducting his campaign has drawn criticism from Wolfgang Shaeuble, a very strange-looking criticism at first brush:
POLITICO, 'Wolfgang Schäuble: Martin Schulz is the German Donald Trump', 10 Feb 2017:

Martin Schulz, the German center-left's candidate to be chancellor, is behaving like U.S. President Donald Trump, according to German Finance Minister Wolfgang Schäuble.

"If Schulz calls upon his supporters to chant 'Make Europe great again' then that's almost literally [like] Trump," Schäuble told Der Spiegel in an interview published Friday.

He said Schulz, a former European Parliament president, was acting in a "populist way."

Schäuble said Schulz needed to "think a little [bit more]." He warned that in times when there is a surge in populist movements, politicians should be careful with their language.

The SPD's move to nominate Schulz as their candidate for chancellor in the September 24 federal election led to a surge in party membership applications. Opinion polls show that backing Schulz helped the party to its highest approval rating since 2013.
At first a person would think, "Hmm, something is very wrong here, in what important way does Martin Schulz resemble Donald Trump, aside from the use of a similar campaign slogan?"
Surely Schaeuble is just a ridiculous old man who is approaching senility, and he has begun to make even less sense than usual in his statement?
Nevertheless I decided to actually give Schaeuble's statement some thought. Could I manage to find some unintended 'sense' in Schaeuble's seemingly nonsensical statement?
After about twenty milliseconds of deep thought – which in neurological terms is basically 'instantly' – I arrived at the answer. First, take a look at this quote concerning Schulz:
Haaretz / Avraham Burg, 'Say a big 'thank you' to Martin Schulz', 14 Feb 2014:

[...] Martin Schulz, the president of the European Parliament, is a close friend of mine. On most issues connected to the Israeli-Palestinian conflict we disagree. He is closer to the Israeli mainstream, and his positions resemble those of Labor Party chairman Isaac Herzog. He once told me, during a frank and stern conversation, "For me, the new Germany exists only in order to ensure the existence of the State of Israel and the Jewish people." [...]
Secondly, take a look at this quote concerning Trump:
The Hill / Elliot Smilowitz, 'Trump: 'Stay strong Israel,' my inauguration is approaching', 28 Dec 2016:

President-elect Donald Trump on Wednesday morning ripped the Obama administration's treatment of Israel and pledged to end the "disdain and disrespect" for the country.

"We cannot continue to let Israel be treated with such total disdain and disrespect. They used to have a great friend in the U.S., but not anymore. The beginning of the end was the horrible Iran deal, and now this (U.N.)! Stay strong Israel, January 20th is fast approaching!" Trump wrote in a series of tweets. [...]
If you look at it from that angle, then Schaeuble accidentally spoke a kind of truth in the midst of his babbling, somehow.
There indeed is a resemblance between Schulz and Trump. From the perspective of Jewish Zionists in the global sense, the two individuals are almost completely identical.
American tech companies are gearing up to protect the thousands of workers they rely on every year who aren't U.S. citizens and don't have green cards.

Silicon Valley has aggressively backed legislation to protect and expand the H-1B program for temporary workers, but President Trump appears to have other ideas. He is reportedly preparing to sign a new immigration-related executive order that includes an effort to overhaul the H-1B visa program, putting in place protectionist rules that would upend the way Silicon Valley recruits talent.

Tech leaders have been warning of a "brain drain" since Election Day — and now there's talk of companies moving employees to Canada.

A leaked draft of the executive order disseminated by Vox featured vague wording, calling for plans to "alter" the H-1B visa program, although experts point out that such changes would require an act of Congress. The draft order also discusses reforming programs that allow foreign students into the U.S. — since they pay full price, they're an important source of tuition dollars for top-flight public universities — before then entering the American workforce.

A spokesperson for the United States Citizenship and Immigration Services, which is part of the Department of Homeland Security, said that USCIS does not comment on pending legislation or executive actions.

Designed as a temporary visa for skilled workers, the H-1B became a way for corporate America to bring in highly skilled foreigners without having to tackle the permanent resident program — i.e., green cards, which are capped by country of origin, a rule that disproportionately affects places like China and India. When the program was introduced in 1990, about 800 H-1Bs were issued. By 2014, that number had grown to more than 160,000.

Both Republicans and Democrats are now pushing for reform of the program, ostensibly in order to protect U.S. workers.

GOP opposition to the H-1B in particular has been mounting for some time, but Republican politicians have generally been wary of either stifling some of America's most successful companies or taking on immigration reform and infuriating the party's anti-immigration base. Not all Republican politicians, however; in 2015, Alabama Sen. Jeff Sessions — Trump's nominee for Attorney General — introduced bipartisan legislation aimed at curtailing the number of visas given out.

A recent bipartisan effort to tackle the issue took the form of a Senate bill introduced by Iowa Republican Chuck Grassley and Illinois Democrat Dick Durbin that aimed to reform the program by creating higher salary floors for H-1B visas and making sure U.S. workers are given first dibs on potential H-1B jobs.

Two of Trump's top advisers who reportedly crafted the refugee ban — ex-Breitbart CEO Steve Bannon and former Sessions adviser Stephen Miller — have also taken aim at Silicon Valley in the past. Earlier in January, Miller is said to have proposed both completely scrapping the lottery system used to award H-1B visas and increasing the minimum salary companies must pay visa holders in order to prevent the undercutting of more expensive American labor. Before Bannon was tapped as Trump's campaign chief, he suggested in a 2015 interview with Trump that "when two-thirds or three-quarters of the CEOs in Silicon Valley are from South Asia or from Asia," it could undermine "civic society."

Silicon Valley says in no uncertain terms that its success is due in part to its meritocratic embrace of anybody from anywhere who has the talent to compete. As Google CEO Sundar Pichai, who emigrated to the U.S. from India, told columnist Walt Mossberg, "In Silicon Valley, being an immigrant doesn't matter. It's the ideas that matter. We are able to build products for everyone because we attract talent from around the world."
Austria's chancellor Christian Kerr has announced that the Islamic veil will be banned and new Muslim immigrants will have to sign an "integration contract" committing to uphold "Enlightenment values". These and other measures are designed to shore up political support in the wake of the very near miss of Norbert Hofer in last year's messy presidential elections and continuing good polling by the FPÖ.
However, as I noted last September in my piece on incrementalism, liberal politicians don't renounce their dedication to the race project. Herr Kerr's publicly stated motivation is to avoid "giving 600,000 Muslims in Austria the feeling that they are not part of our society." He doesn't want to so inconvenience Muslims that they leave. He wants the race project to continue. He will always want the race project to continue.
This, of course, is the inevitable consequence of nationalist parties straying from their fidelity to kind, at least in terms of their political positions and statements. Ask the Establishment a simple question and, in time, it will make all the right noises without much difficulty. Rutte is doing it in Holland. Fillon is doing it in France. The Establishment is untroubled by its own hypocrisy and, anyway, nothing much will actually change. Muslims will sign on the dotted line. They will adapt a little, on the surface. But they will become politically astute. They will develop a narrative of victimhood. There will be demonstrations by women in bin bags. They will push the authorities to see where the boundaries are. The boundaries will not hold. The "integration contract" will fall into disrepute.
Years will have been wasted ... precious years in terms of the changing demographics ... because nationalists did not dare to advance nationalism with honesty and eloquence (and, perhaps, because they had no non-Nietzschean understanding by which to do so). Instead, they chased after power in a liberal polity, and believed in the deceiver incrementalism as a provider of real change.
This is the kind of example which has me recoil ... the kind of thing which can happen in America when White racial lines are deemed unimportant or when "Hispanics" and "Mexicans" are classified rough-shod along with "non-Whites" (even when they are White - largely enough, anyway), i.e., some really fine women can be written off as chum for blacks.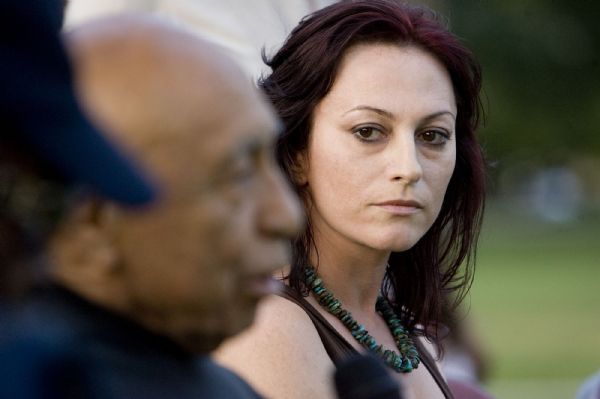 Compulsory Diversity News, Monday, November 04, 2013

The world's most-determined interracial sex practitioner.

Serial killer Joseph Paul Franklin is scheduled to be executed on November 20th, 2013. For those who may not know, Franklin was the inspiration for William Pierce's book Hunter. During his criminal career, Franklin targeted interracial couples, and public figures who encouraged race mixing. Franklin is the man who shot and paralyzed Larry Flynt, publisher of Hustler. But don't bother shedding a tear, for after >30 years in prison, Franklin has had a change of heart, according to this article:

Franklin now regrets his actions, saying he was suffering from manic depression. "I felt like a cloud descended over me," he said. "I was obviously mentally ill." After going to jail in St. Louis in 1996, Franklin interacted with African Americans and realized the error of his racism, he said. He no longer believes "race mixing" is an abomination, saying God could have easily had the human race all one color, he said. "For some reason, he made us different colors." As for his many crimes, "I feel like the Lord has forgiven me because I've repented," he said.

This summer, a bystander linked to one of Joseph Paul Franklin's shootings went public with her story. Terry Jackson-Mitchell was 15-years-old when her two male Negro friends were shot dead as the trio jogged in Liberty Park, Salt Lake City, Utah. Some media reports linked the girl to the shooter, while others simply laid the blame at her feet as a "White" woman who had been spared by the racist serial killer. She is in fact part Mexican, but having two of her black boy friends blown away in a racist shooting spree didn't dampen her spirits for interracial sex. In fact, she went on to produce two half-black children. She credits art therapy for giving her the ability to overcome the trauma of the killings and move on with her life (and fornication).

And so today, CDN proudly names Terry Jackson-Mitchell the world's most-determined interracial sex practitioner. Here she is proudly displaying some of her artwork at Art Access in Salt Lake City.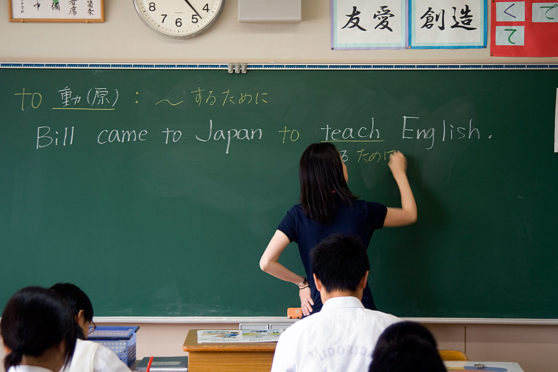 A couple of weeks ago (((Steve Sailer))) hypothesized in the Taki's Magazine article, "Choose Your Words Wisely" (4 Jan 2017), that right-wing populist nationalism was taking off in western countries NOT because of, say, any nefarious orchestration by Russian Jews, but rather perhaps because western elites, in their white, self destructive, integrationist madness all share the same lingua franca - English - and are therefore more easily seduced into eachother's madness.
One reason it's happening over much of the planet is because the various establishment elites have become so homogenous in their ideology, unconsciously egging each other on into more extremism. For example, after the normally cautious Angela Merkel made her historic refugee blunder in 2015, Hillary Clinton repeatedly endorsed Merkel's foolhardiness, even as the German leader herself came to regret her imprudence.

But the corporate press has been no more aware of its own drift toward anti-border fanaticism than a fish notices it's wet. Thus, the American establishment's increasingly comic conspiracy theory blaming its political failings on a nefarious Kremlin plot. After all, what else could explain why voters did not respond appropriately to the media's furious instructions to elect Hillary besides Muscovite mind-control rays?

A sensible exception has been Fareed Zakaria, who pointed out last month:

The one common factor present everywhere, however, is immigration. In fact, one statistical analysis of EU countries found that more immigrants invariably means more populists. One way to test this theory is to note that countries without large-scale immigration, such as Japan, have not seen the same rise of right-wing populism.

That raises the question of why Japan's ruling class didn't feel the necessity of going down the same mass-immigration path as did so many other advanced countries: Why is Japan such an exception?

"The coming global monoculture of English could be highly productive…until it's not."

One reason is that Japan isn't a white country, so it's immune to white guilt. Sure, the Japanese abused other East Asians 1931– 45, but that was in the name of organizing against white colonialism. So hassling Japan isn't a high priority like it is for Germany.

Another reason is that Japan is linguistically quite isolated from the growing worldwide dominance of the English language.

If elites unthinkingly think alike, one reason could be because they increasingly share a language: English. Across much of the world, English is becoming the lingua franca. ...
TNO, "Germany: 3,000 Sex Attack Victims in 2016", 4 Jan 2016:

Third World invaders pretending to be refugees in Germany preyed upon 2,000 adults and 1,000 children in 2015, a new study by monitoring group XZ Einzefall has shown - at least 1,964 of the sex attacks were serious,

The true number of attacks and victims is much higher, because police are under orders to withhold hundreds of reports and only respond if the media makes inquiries.

XY Einzefall is a German-based monitoring group which has carefully recorded every sex assault carried out in Germany since Angela Merkel opened that country's gates to the mass Third World invasion in 2015.

Their final report for 2016, which can be found in spreadsheet format here, reveals that reported incidents only total 1,964, consisting of at least 201 rapes, 1,559 sex attacks, and 204 sex attacks in public swimming pools.

Only incidents which were actually reported by the police, or which were reported in the controlled media, were added to the XZ Einzefall list. Their spreadsheet contains the links to the police and media reports.

Of the 201 reported rapes, at least 35 were minors, the study showed. Of the 1,559 sex attacks, 653 victims were minors, and of the 204 swimming pool sex attacks, 286 were minors.

This works out at nearly six serious sex attacks every day during 2016.

However, as XY Einzelfall points out in its study, these figures are merely the tip of the iceberg. Quoting a separate study in Austria, the groups said that "only a tiny fraction of all crimes are published as a police or media-report."

The Austrian study quoted compared complaints laid with the police to those reported by the police's media officers and those reported in the media. The difference was vast, the study said, finding that in Vienna, of the more than 200,000 complaints made to police, less than 2,000 police reports were actually published.

With regard to rape cases, the study found, of the 647 rapes reported to the police, only 15 were ever mentioned by police reports and media.

"For this reason," the study says, "the total number of crimes committed by migrants is much higher."

XZ Einzelfall also maintains an incident map which is regularly updated and which can be found here.
* Yes, that's (((Klitchko))) in avid attendance, front and center.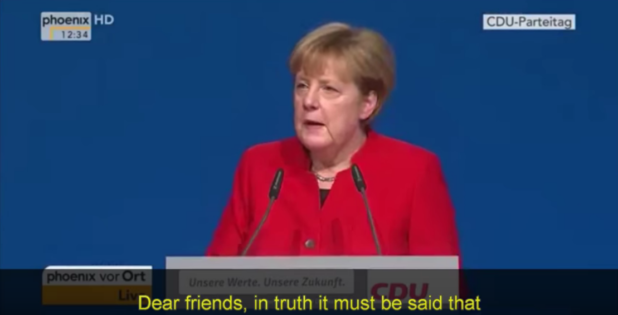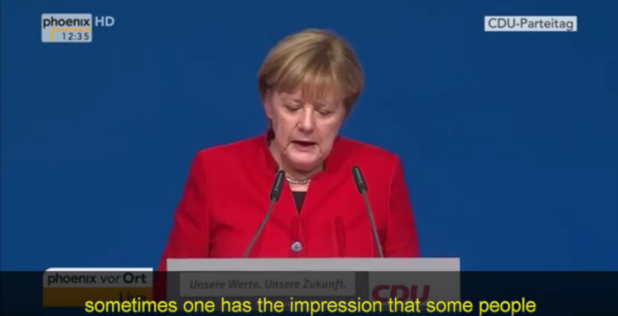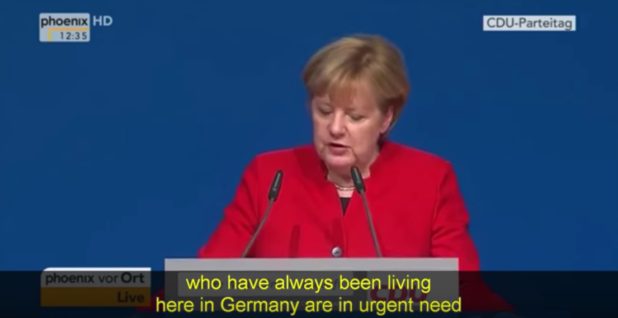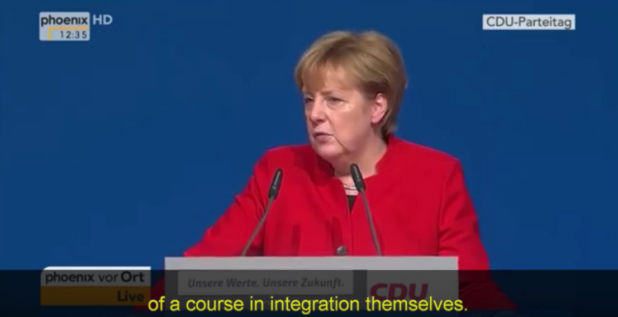 [...]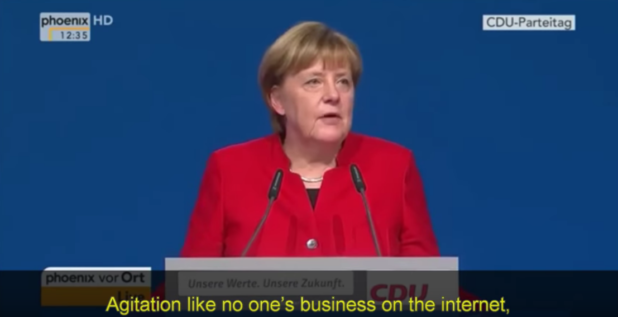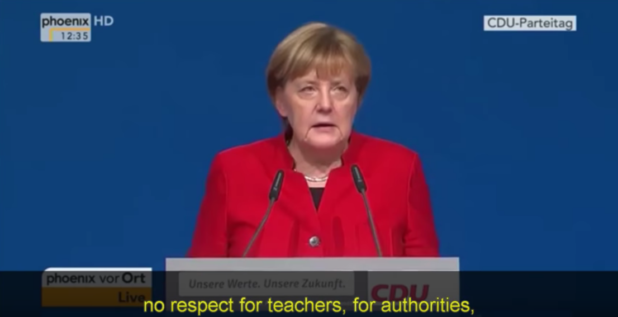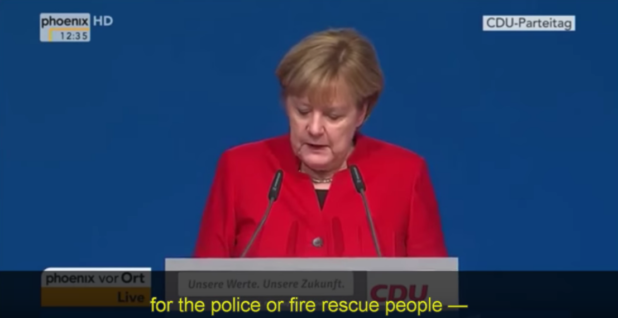 [...]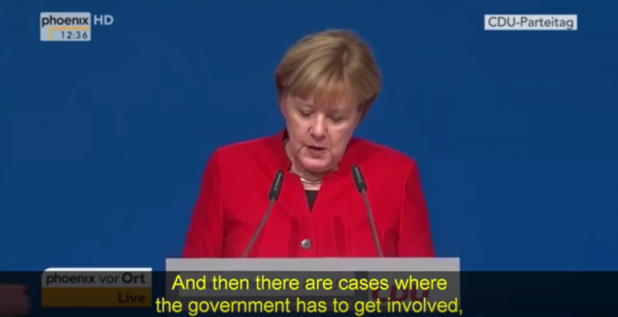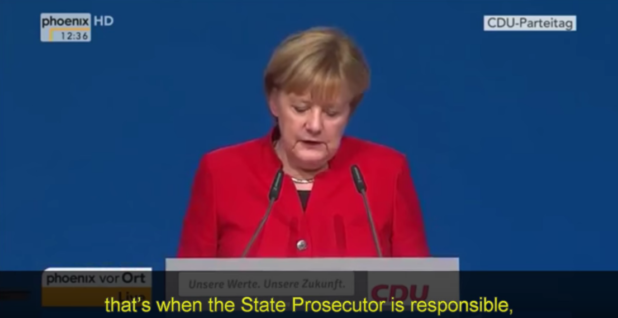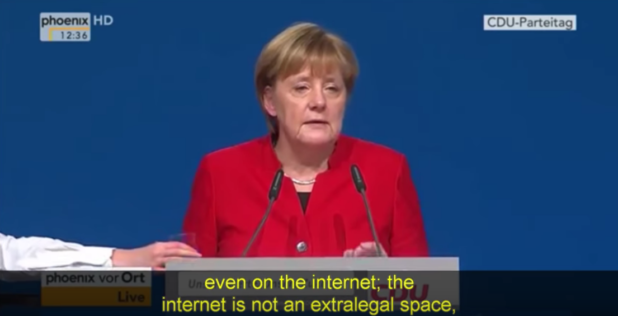 ..........
Zero Hedge, "Something Strange Is Taking Place In The Mediterranean", 4 Dec 2016:

For two months, using marinetraffic.com, we have been monitoring the movements of ships owned by a couple of NGOs, and, using data from data.unhcr.org. We have kept track of the daily arrivals of African immigrants in Italy. It turned out we were witness of a big scam and an illegal human traffic operation.

NGOs, smugglers, the mafia in cahoots with the European Union have shipped thousands of illegals into Europe under the pretext of rescuing people, assisted by the Italian coast guard which coordinated their activities.

Human traffickers contact the Italian coast guard in advance to receive support and to pick up their dubious cargo. NGO ships are directed to the "rescue spot" even as those to be rescued are still in Libya. The 15 ships that we observed are owned or leased by NGOs have regularly been seen to leave their Italian ports, head south, stop short of reaching the Libyan coast, pick up their human cargo, and take course back 260 miles to Italy even though the port of Zarzis in Tunis is just 60 mile away from the rescue spot.

The organizations in question are: MOAS, Jugend Rettet, Stichting Bootvluchting, Médecins Sans Frontières, Save the Children, Proactiva Open Arms, Sea-Watch.org, Sea-Eye and Life Boat.

The real intention of the people behind the NGOs is not clear. Their motive can be money, we would not be surprised if it turned out to be so. They may also be politically driven; the activities of the Malta-based organisation, MOAS, by trafficking people to Italy is the best guarantee that migrants will not show up on the Maltese shore. MOAS is managed by an Maltese Marine officer well known in Malta for his maltreatment of refugees 1). It is also possible that these organisations are managed by naive "do-gooders" who do not understand that offering their services they are acting like a magnet to the people from Africa and thus they are willy-nilly causing more fatalities, not to mention that their actions are destabilizing Europe.

How high-minded the intentions of these organisations might be, their actions are criminal as most of these migrants are not eligible for being granted asylum and will end up on the streets of Rome or Paris and undermine Europe stability raising racially motivated social tensions.

Brussels has created particular legislature to protect people traffickers against prosecution. In a dedicated section of an EU resolution entitled On Search and Rescue, the text states that "private ship masters and non-governmental organisations who assist in sea rescues in the Mediterranean Sea should not risk punishment for providing such assistance."2)

During the two months of our observation, we have monitored at least 39,000 Africans illegally smuggled into Italy, which was done with the full consent of the Italian and European authorities.

* * *

Ships permanently used by NGOs off the Libyan coast


The Phoenix is one of the two MOAS vessels. The ship is regularly spotted in the territorial waters of Libya. It is registered in Belize, South America. However, the ship is owned and operated by the Maltese to bring the immigrants to Italia. Website: MOAS


The Topaz Responder, a 51-meter custom-made emergency response vessel, which hosts two high-speed rescue launches. The ship is managed in combination with MSF. This is one of the three ferries that can transport hundreds of people at one go. The ship is registered at the Marshall Islands. Website: MOAS


Iuventa is registered under the flag of the Netherlands and owned by the German NGO Jugend Rettet. Website: Jugend Rettet.


The Golfo Azzurro is used by the Dutch 'Boat Refugee Foundation'. Golfo Azzurro operates under the Panama flag. The Boat Refugee Foundation charters the vessel for a symbolic price. Website: Bootvluchteling.


Dignity 1 is registered under the flag of Panama. We believe the ship belongs to Médecins Sans Frontières. Website: MSF


The Bourbon Argos, a ship of Médecins Sans Frontières. It is one of the three ships used to ferry people from the smaller vessels to Italy. The vessel is currently registered under the flag of Luxembourg. MSF.


The Aquarius is one of the many ships managed by Médecins Sans Frontières. It is registered under the flag of Gibraltar. Website: MSF.


The Vos Hestia search and rescue ship, chartered by the charity Save The Children, like many of the NGO vessels it is under the supervision of the Italian Coast Guard Website: Save the Children.


Proactiva Open Arms operates the Astral. We spotted the Astral many times in Libyan territorial waters. The ship disappeared on a regular basis from the AIS tracking websites. Website: Proactiva Open Arms.


The MS Sea-Watch I is owned by a Berlin-based organisation. It works closely with Watch The Med, a transnational network of people that fight against the European border regime, and demand a free and safe passage to Europe. Website: Sea-Watch.


The MS Sea-Watch II is owned by a Berlin-based organisation. It works closely with Watch The Med a transnational network of people that fight against the European border regime, and they demand a free and safe passage to Europe. Website: Sea-Watch.


The Audur is registered under the Netherlands' flag. We do not know to whom this ship belongs.


The MS Sea-Eye is owned by Sea-Eye-eV. Michael Buschheuer from Regensburg, Germany, and a group of family and friends founded the non-profit sea rescue organisation Sea-Eye e.V. Website: Sea-Eye.


The Speedy is a speedboat owned by Sea-Eye-eV. The ship is confiscated by the Libyan government. Website: Sea-Eye.


Minden is owned by the German organisation LifeBoat. The vessel is currently registered under the flag of Germany. Website: Lifeboat.


More information:

In October we discovered that four NGOs picked up people in the Libyan territorial waters. We have proof that these smugglers communicated their action in advance with the Italian authorities. Ten hours before the immigrants left Libya, the Italian coast guard directed the NGOs to the "rescue" spot: Full account "Caught in the act: NGOs deal in migrant smuggling"

The MOAS organisation has close links with the famous US military contractor "Blackwater", the US army and the Maltese navy. Full account: "The Americans from MOAS ferry migrants to Europe"

There is a full account about the ships involved: "NGOs Armada operating off the coast of Libya" and how people are encourage to come to Europe: "Death road to Europe promoted on the web"
Related Story at Majorityrights - A Bidge Too Near: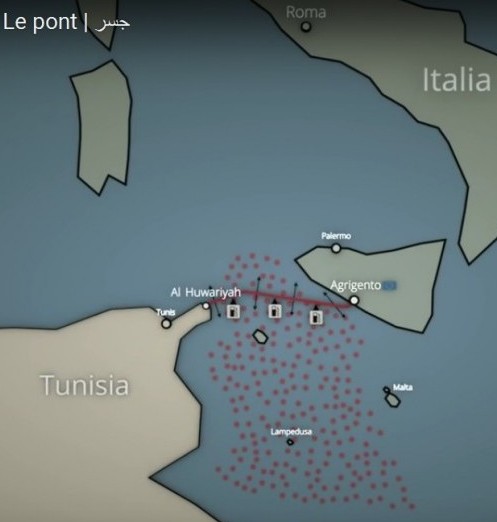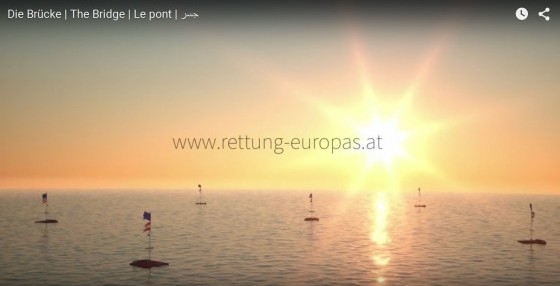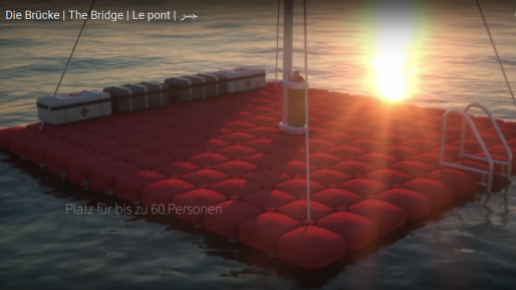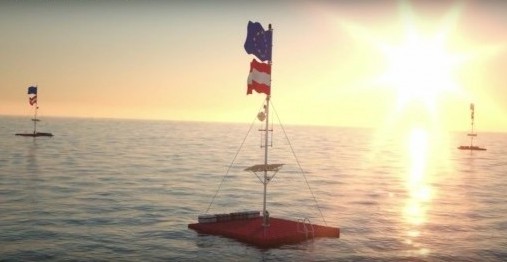 Website - Center For Political Beauty

The Center for Political Beauty is an assault team that establishes moral beauty, political poetry and human greatness while aiming to preserve humanitarianism. The group's basic understanding is that the legacy of the Holocaust is rendered void by political apathy, the rejection of refugees and cowardice. It believes that Germany should not only learn from its History but also take action.

The Center for Political Beauty engages in the most innovative forms of political performance art- an expanded approach to theatre: art must hurt provoke and rise in revolt. In one basic alliance of terms: aggressive humanism.