Majorityrights News > Category: Far Right
...purposefully leaked or not, apparently kissing-up to YKW
Robert Kuttner revealed his conversation with Bannon: "To me," Bannon said, "the economic war with China is everything." ... "Ethno-nationalism—it's losers. It's a fringe element. I think the media plays it up too much, and we gotta help crush it, you know, uh, help crush it more." ..."These guys are a collection of clowns," he added.

American Prospect, "Steve Bannon, Unrepentant", by Robert Kuttner, 16 Aug 2017:

Trump's embattled strategist phones me, unbidden, to opine on China, Korea, and his enemies in the administration.

You might think from recent press accounts that Steve Bannon is on the ropes and therefore behaving prudently. In the aftermath of events in Charlottesville, he is widely blamed for his boss's continuing indulgence of white supremacists. Allies of National Security Adviser H.R. McMaster hold Bannon responsible for a campaign by Breitbart News, which Bannon once led, to vilify the security chief. Trump's defense of Bannon, at his Tuesday press conference, was tepid.

But Bannon was in high spirits when he phoned me Tuesday afternoon to discuss the politics of taking a harder line with China, and minced no words describing his efforts to neutralize his rivals at the Departments of Defense, State, and Treasury. "They're wetting themselves," he said, proceeding to detail how he would oust some of his opponents at State and Defense.

Needless to say, I was a little stunned to get an email from Bannon's assistant midday Tuesday, just as all hell was breaking loose once again about Charlottesville, saying that Bannon wished to meet with me.

Needless to say, I was a little stunned to get an email from Bannon's assistant midday Tuesday, just as all hell was breaking loose once again about Charlottesville, saying that Bannon wished to meet with me. I'd just published a column on how China was profiting from the U.S.-North Korea nuclear brinkmanship, and it included some choice words about Bannon's boss.

"In Kim, Trump has met his match," I wrote. "The risk of two arrogant fools blundering into a nuclear exchange is more serious than at any time since October 1962." Maybe Bannon wanted to scream at me?

I told the assistant that I was on vacation, but I would be happy to speak by phone. Bannon promptly called.

Far from dressing me down for comparing Trump to Kim, he began, "It's a great honor to finally track you down. I've followed your writing for years and I think you and I are in the same boat when it comes to China. You absolutely nailed it."

"We're at economic war with China," he added. "It's in all their literature. They're not shy about saying what they're doing. One of us is going to be a hegemon in 25 or 30 years and it's gonna be them if we go down this path. On Korea, they're just tapping us along. It's just a sideshow."

Bannon said he might consider a deal in which China got North Korea to freeze its nuclear buildup with verifiable inspections and the United States removed its troops from the peninsula, but such a deal seemed remote. Given that China is not likely to do much more on North Korea, and that the logic of mutually assured destruction was its own source of restraint, Bannon saw no reason not to proceed with tough trade sanctions against China.

Contrary to Trump's threat of fire and fury, Bannon said: "There's no military solution [to North Korea's nuclear threats], forget it. Until somebody solves the part of the equation that shows me that ten million people in Seoul don't die in the first 30 minutes from conventional weapons, I don't know what you're talking about, there's no military solution here, they got us." Bannon went on to describe his battle inside the administration to take a harder line on China trade, and not to fall into a trap of wishful thinking in which complaints against China's trade practices now had to take a backseat to the hope that China, as honest broker, would help restrain Kim.

"To me," Bannon said, "the economic war with China is everything. And we have to be maniacally focused on that. If we continue to lose it, we're five years away, I think, ten years at the most, of hitting an inflection point from which we'll never be able to recover."

Bannon's plan of attack includes: a complaint under Section 301 of the 1974 Trade Act against Chinese coercion of technology transfers from American corporations doing business there, and follow-up complaints against steel and aluminum dumping. "We're going to run the tables on these guys. We've come to the conclusion that they're in an economic war and they're crushing us."

But what about his internal adversaries, at the departments of State and Defense, who think the United States can enlist Beijing's aid on the North Korean standoff, and at Treasury and the National Economic Council who don't want to mess with the trading system?

"Oh, they're wetting themselves," he said, explaining that the Section 301 complaint, which was put on hold when the war of threats with North Korea broke out, was shelved only temporarily, and will be revived in three weeks. As for other cabinet departments, Bannon has big plans to marginalize their influence.
Advertisement

"I'm changing out people at East Asian Defense; I'm getting hawks in. I'm getting Susan Thornton [acting head of East Asian and Pacific Affairs] out at State."

But can Bannon really win that fight internally?

"That's a fight I fight every day here," he said. "We're still fighting. There's Treasury and [National Economic Council chair] Gary Cohn and Goldman Sachs lobbying."

"We gotta do this. The president's default position is to do it, but the apparatus is going crazy. Don't get me wrong. It's like, every day."

Bannon explained that his strategy is to battle the trade doves inside the administration while building an outside coalition of trade hawks that includes left as well as right. Hence the phone call to me.

There are a couple of things that are startling about this premise. First, to the extent that most of the opponents of Bannon's China trade strategy are other Trump administration officials, it's not clear how reaching out to the left helps him. If anything, it gives his adversaries ammunition to characterize Bannon as unreliable or disloyal.

More puzzling is the fact that Bannon would phone a writer and editor of a progressive publication (the cover lines on whose first two issues after Trump's election were "Resisting Trump" and "Containing Trump") and assume that a possible convergence of views on China trade might somehow paper over the political and moral chasm on white nationalism.

The question of whether the phone call was on or off the record never came up. This is also puzzling, since Steve Bannon is not exactly Bambi when it comes to dealing with the press. He's probably the most media-savvy person in America.

I asked Bannon about the connection between his program of economic nationalism and the ugly white nationalism epitomized by the racist violence in Charlottesville and Trump's reluctance to condemn it. Bannon, after all, was the architect of the strategy of using Breitbart to heat up white nationalism and then rely on the radical right as Trump's base.

He dismissed the far right as irrelevant and sidestepped his own role in cultivating it: "Ethno-nationalism—it's losers. It's a fringe element. I think the media plays it up too much, and we gotta help crush it, you know, uh, help crush it more."

"These guys are a collection of clowns," he added.

From his lips to Trump's ear.

"The Democrats," he said, "the longer they talk about identity politics, I got 'em. I want them to talk about racism every day. If the left is focused on race and identity, and we go with economic nationalism, we can crush the Democrats."

I had never before spoken with Bannon. I came away from the conversation with a sense both of his savvy and his recklessness. The waters around him are rising, but he is going about his business of infighting, and attempting to cultivate improbable outside allies, to promote his China strategy. His enemies will do what they do.

Either the reports of the threats to Bannon's job are grossly exaggerated and leaked by his rivals, or he has decided not to change his routine and to go down fighting. Given Trump's impulsivity, neither Bannon nor Trump really has any idea from day to day whether Bannon is staying or going. He has survived earlier threats. So what the hell, damn the torpedoes.

The conversation ended with Bannon inviting me to the White House after Labor Day to continue the discussion of China and trade. We'll see if he's still there.
Unhinge the Right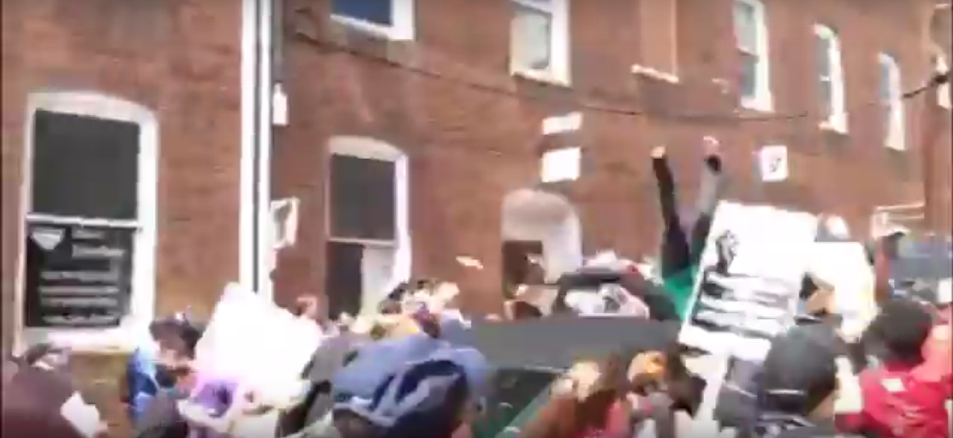 Video shows car crashing into Charlottesville protest. Witnesses say that it was absolutely intentional; it is being treated as homicide.
Fox News, A 32-year-old woman was killed Saturday and 19 others were injured, five of them critically, when a car rammed into a group of counter-protesters during the "Unite the Right" rally in Charlottesville, Va.

Virginia Secretary of Public Safety Brian Moran told the Associated Press that the driver of the car, a man, was in custody. Moran did not provide the driver's name.
While following the goings on of the "Unite The Right Rally" in Charlottesville, in a live feed, Tara McCarthy took friendly questions from the likes of Roosh V. and fielded reports from the likes of Pax Dickinson, recommending that people contribute to his Mencious Moldbug (a Jewish man of Neo Reactionary fame) backed crowdfunding; Tara scolded "The Left" for counter-protesting what she says was meant to be a peaceful rally for free speech, and to encourage "normies" to join the cause of ethno-nationalism by showing them they're not a bunch of neo-Nazis, skinheads and so-on. She might have wondered how that was supposed to happen with the motley array of right wingers that showed-up, including Commander Jeff Schoep's Neo-Nazi group in full regalia, Carolina K.K.K., Matt Heimbach's Jesus Freak Group, calling itself "The Traditional Workers Party" and a skinhead gang called "The Detroit Right Wings."
...and look at the headliners, starting with Mike Enoch Peinovich: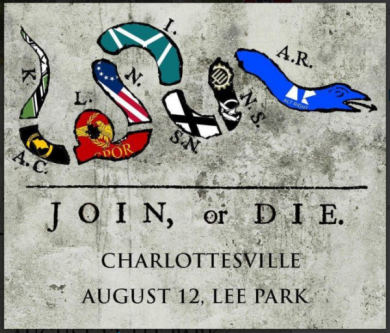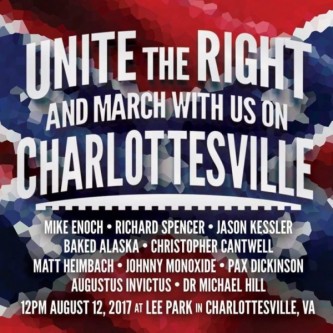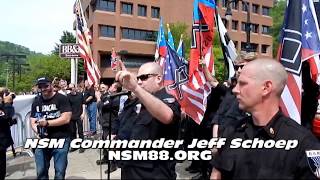 Yep, (((they've))) marshaled a reactionary formation against the so-called "left."
...with plenty of warning beforehand to nearly assure that there would be violence and prison sentences for those reactionaries coming most unhinged.
A death, dozens injured, including five critically, and a ruined life for the perpetrator of the car attack was only a somewhat surprising outcome of this mix.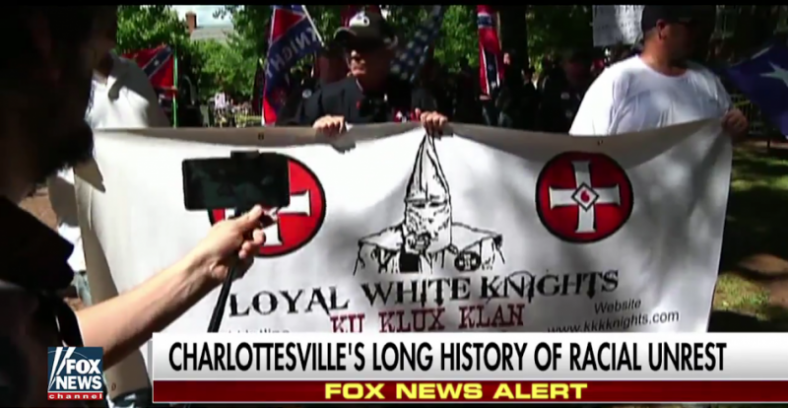 Fox News, "Charlottesville white nationalist rally blamed for 3 deaths, dozens of injuries", 12 Aug 2017:

A 32-year-old woman was killed Saturday and 19 others were injured, five of them critically, when a car rammed into a group of counter-protesters during the "Unite the Right" rally in Charlottesville, Va.

A helicopter crash that killed the pilot and a passenger later in the afternoon outside the university town also was linked to the rally by State Police, though officials did not elaborate on how the crash was connected.

At a late afternoon news conference, Charlottesville Police Chief Al Thomas said that 35 people had been injured in various confrontations during the rally and made a point of saying that none of those involved his officers. Thomas also said that the car crash was being treated as an act of "criminal homicide."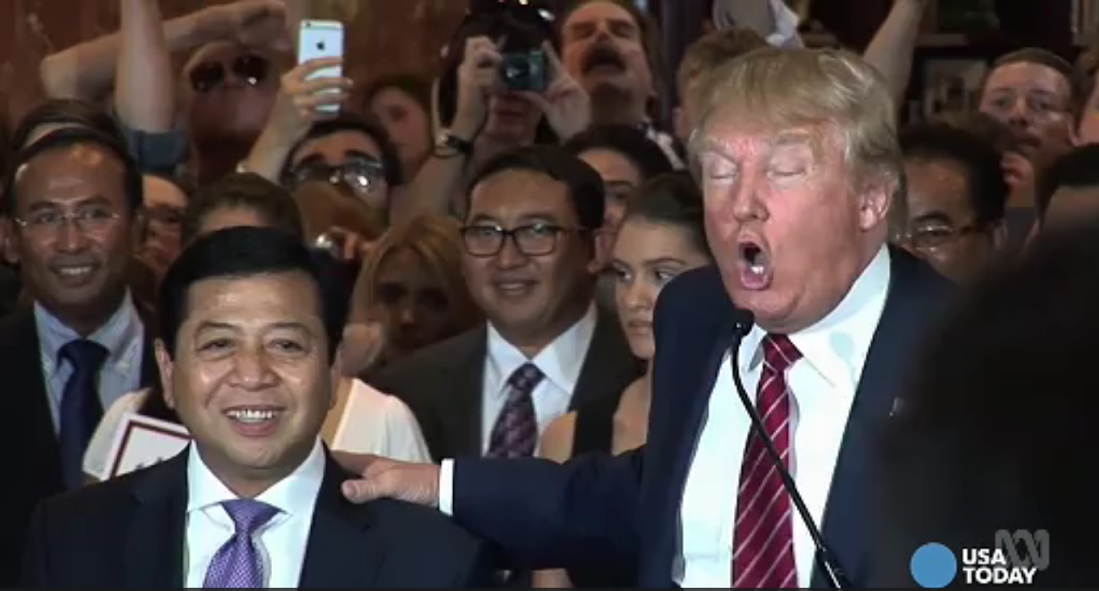 At a press conference at Trump Tower in New York to declare his loyalty to the Republican Party, Donald Trump was flanked by guests from Indonesia, and made a big show of announcing one very special guest, Setya Novanto.
"He wants it big, and overlooking the sacred Tanah-Lot."
Trump deal in Indonesia imposes Islamic compradors over ethno-nationalism and his hotel and business upon what is sacred to Indonesian ethno-nationalists.
While running for President, Trump was courting the Indonesians over lucrative resort deals in Bali and Java; and lobbying Indonesian MP's to expedite a toll road that would benefit his development.

The secretive dealings raise new questions about Trump's corporate interests abroad and about the unholy business and political alliances he's forged.

While at home, Trump rails against Muslim extremists, in the world's largest Muslim country, his allies are cozying-up to Islamists who are posing a direct threat the country's ethno-nationalism.

Donald Trump has entered into two huge deals in Indonesia, and the first of them will land here, on the southern edge of Bali almost on top of one of the Island's most sacred religious sites, Tanah Lot - an hour or two away from the main tourist areas, the Balanese have fought for decades to protect this temple and its surrounds.

"Not much is known of Trump's plans but what is known that he wants it big, the biggest in Bali he says, he wants a tower on an island that bans them, and he wants it over looking the sacred Tahan Lot."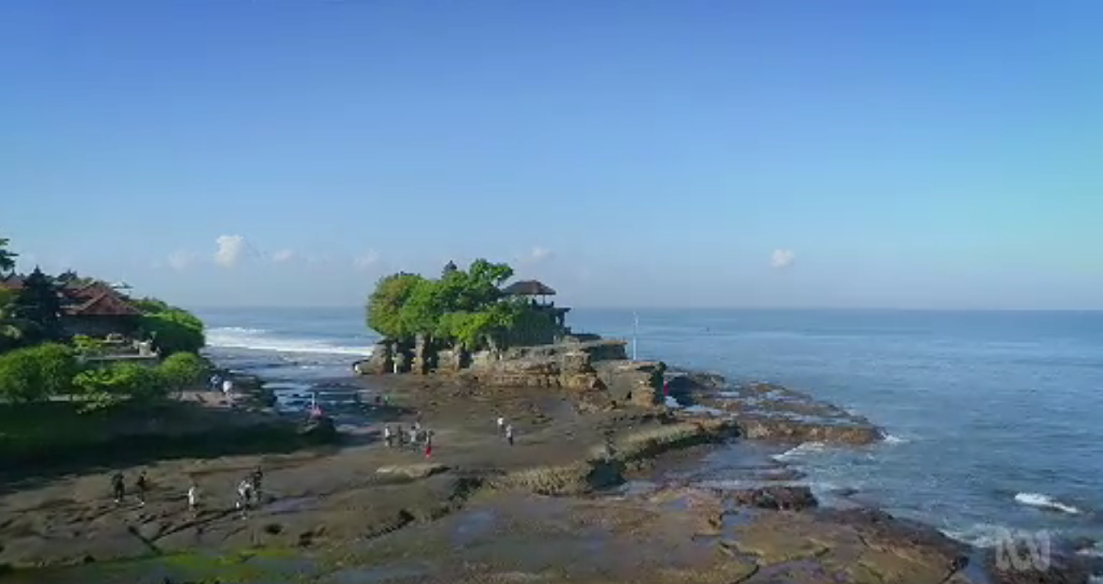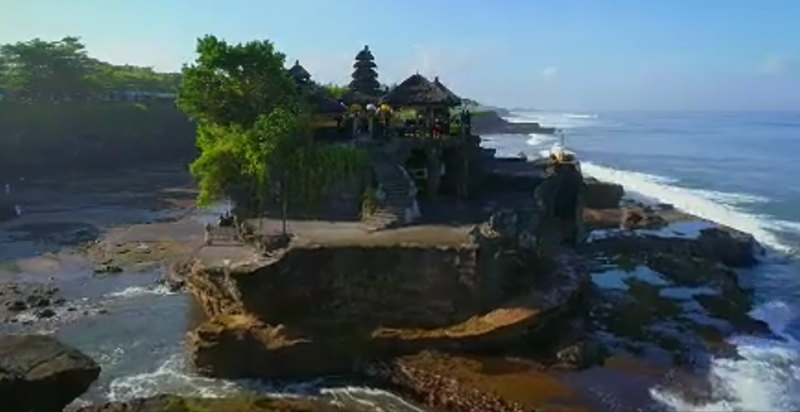 "It's one of the island-wide temples that are sacred to the Balanese, its the land, pana, and lot, which means ocean."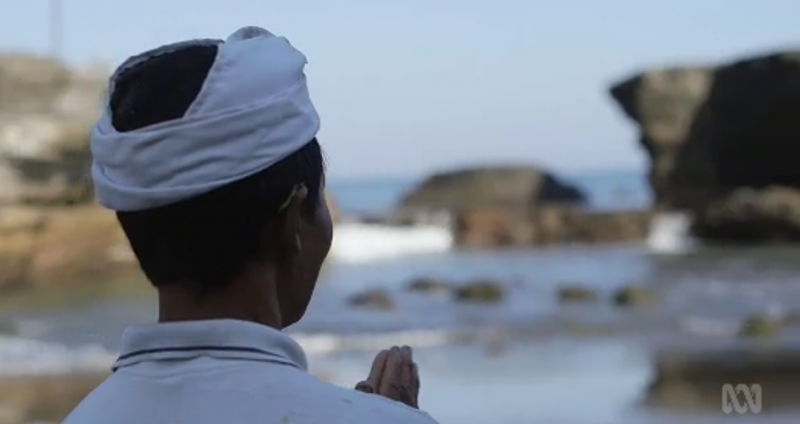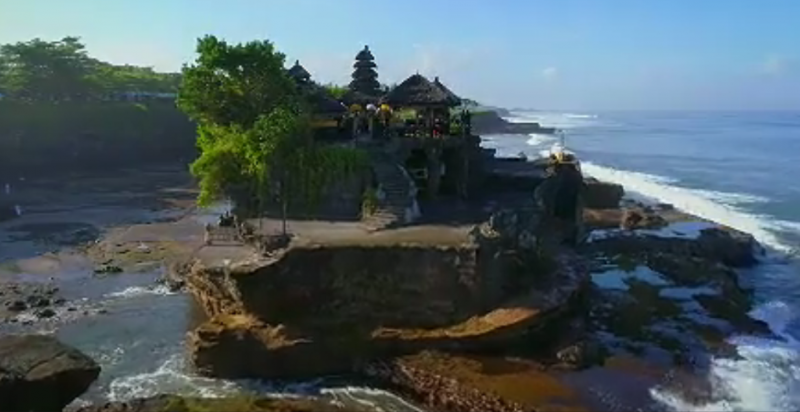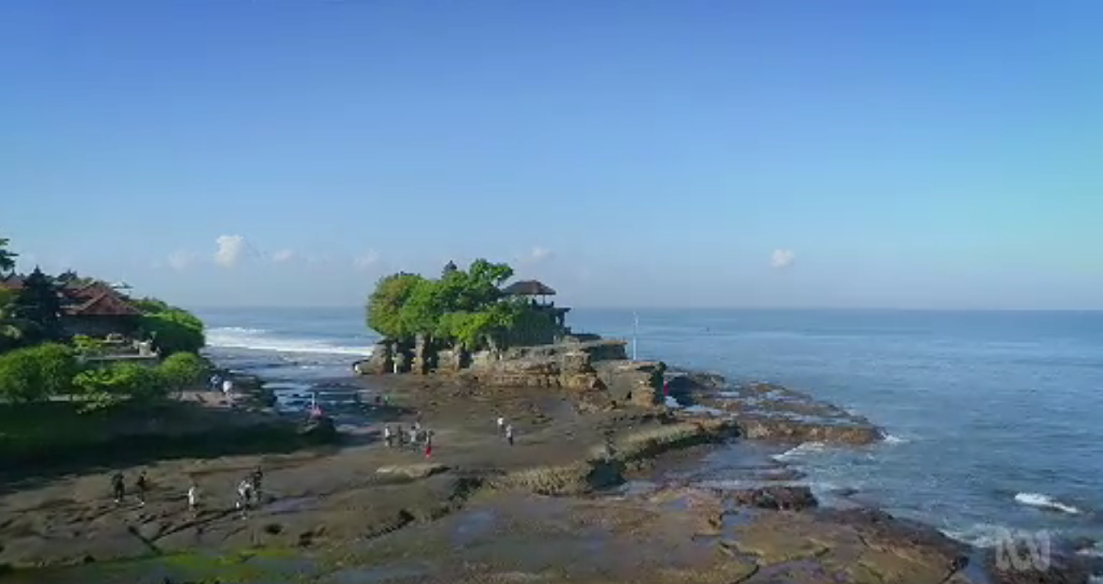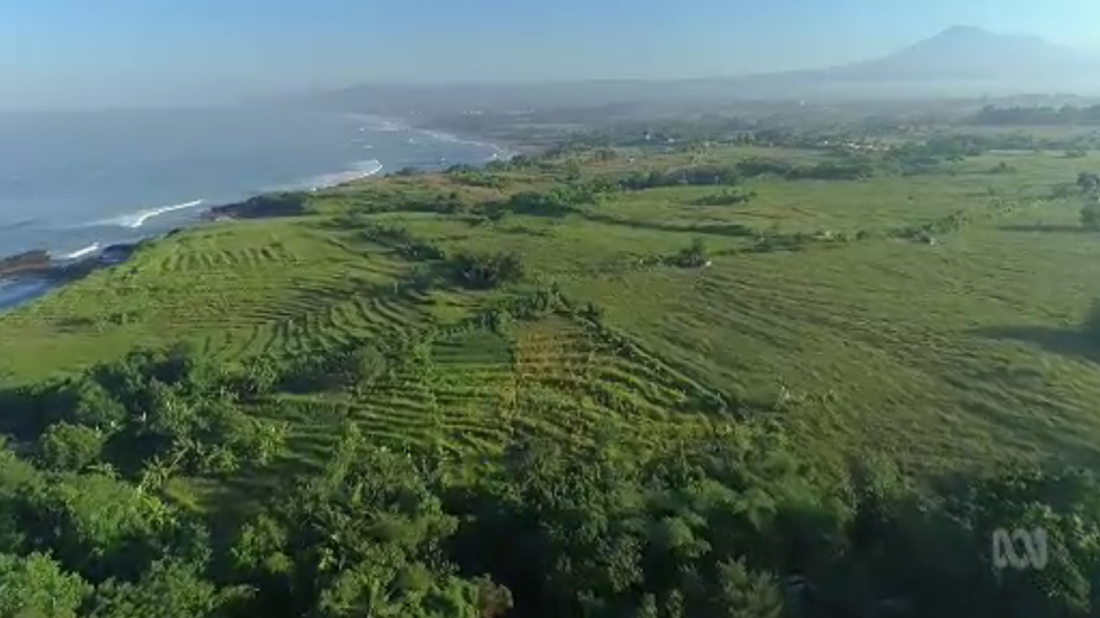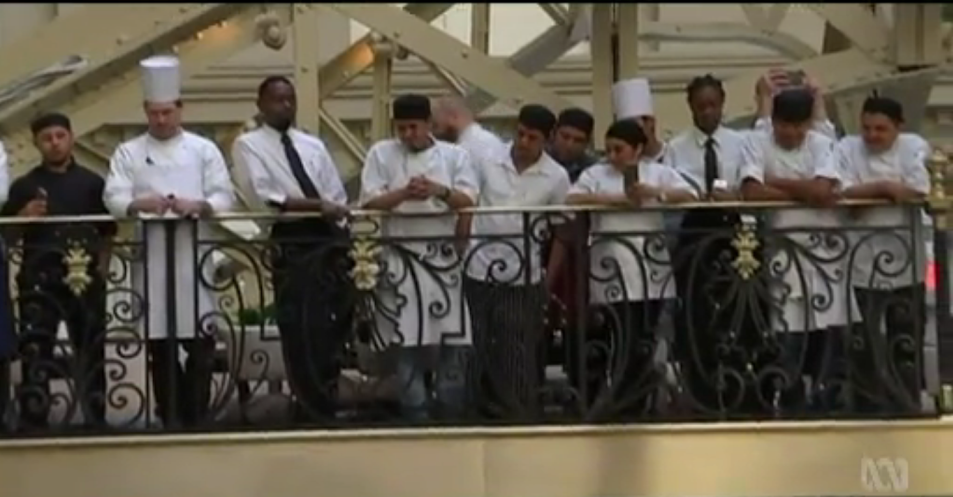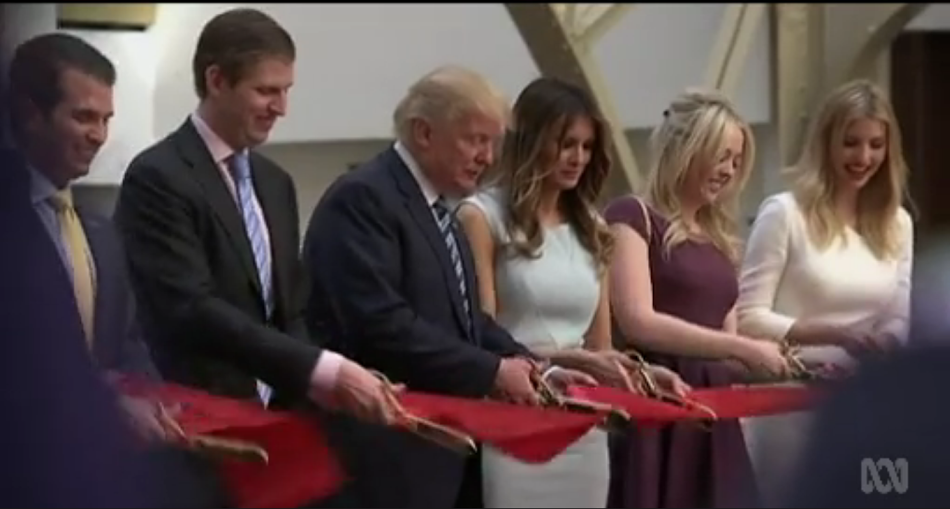 Donald Trump makes deal with Islamic compradors in Indonesia, imposing them against the native stasis of Left ethno-nationalism, and his hotel and business upon what is sacred to native ethno-nationalists.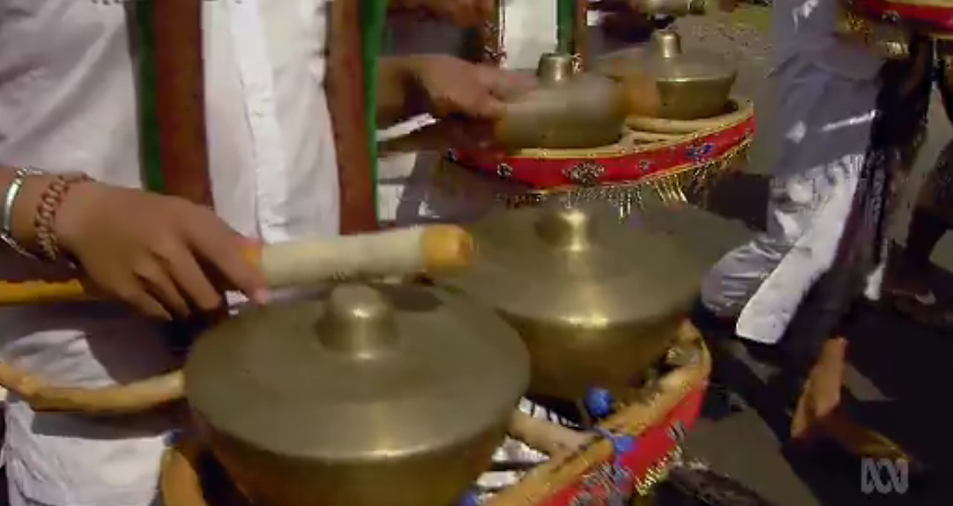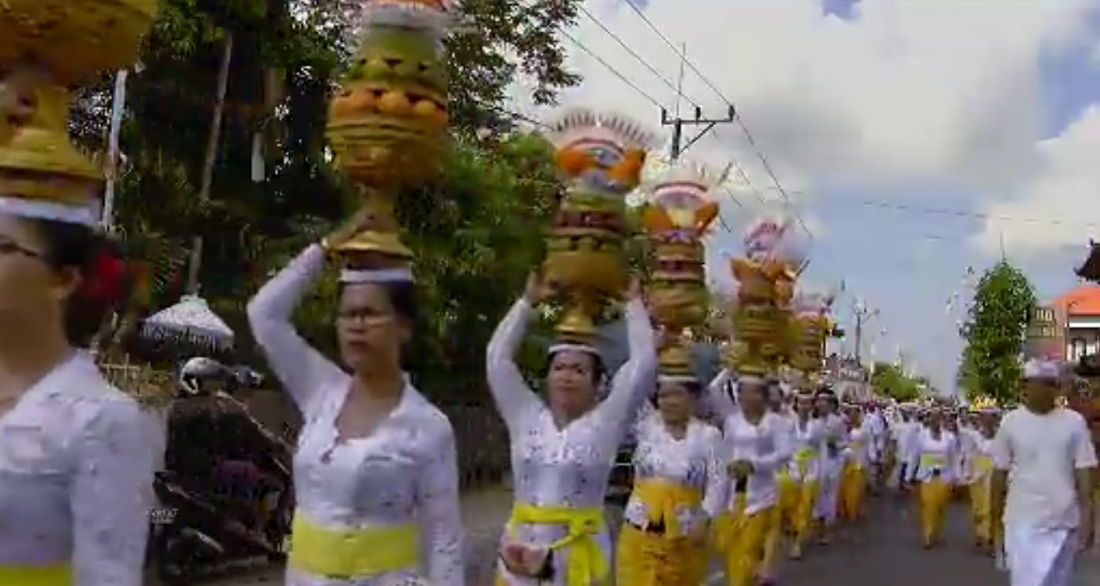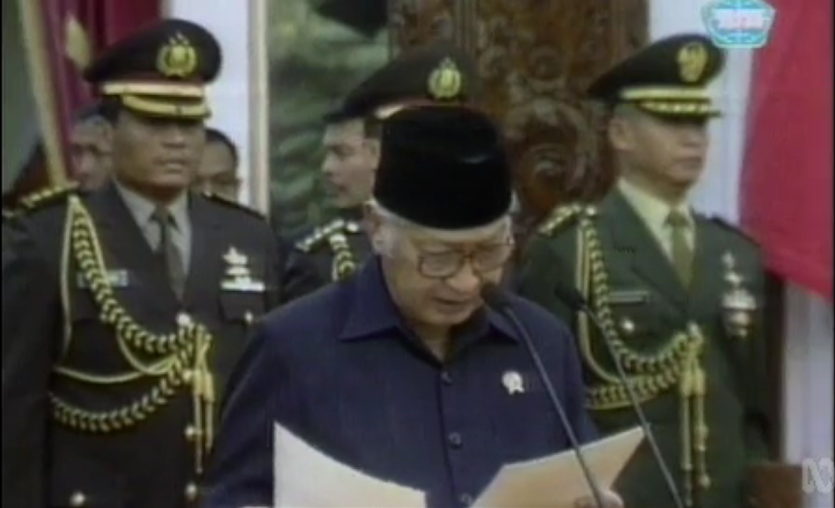 80,000 Indonesians were killed by Suharto on that beach in 1965, the victims were accused of being Leftists….
When President Suharto exited power in 1998, he took three decades of loot with him, estimated at 30 billion dollars.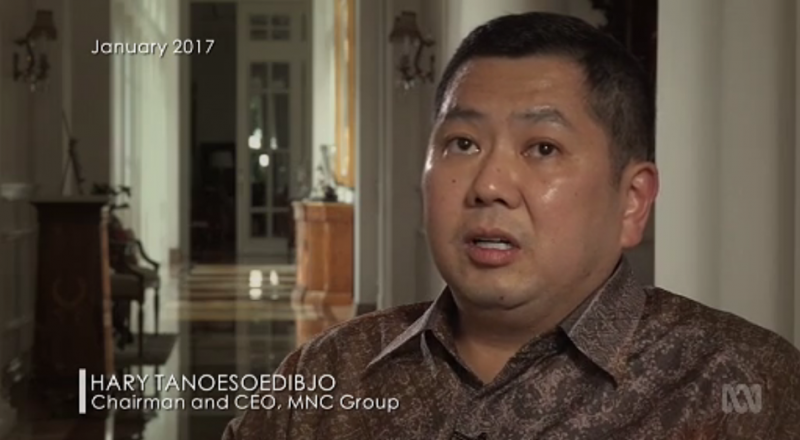 Trump's business partner in the deal, Harry Tanno, was a close friend of Suharto.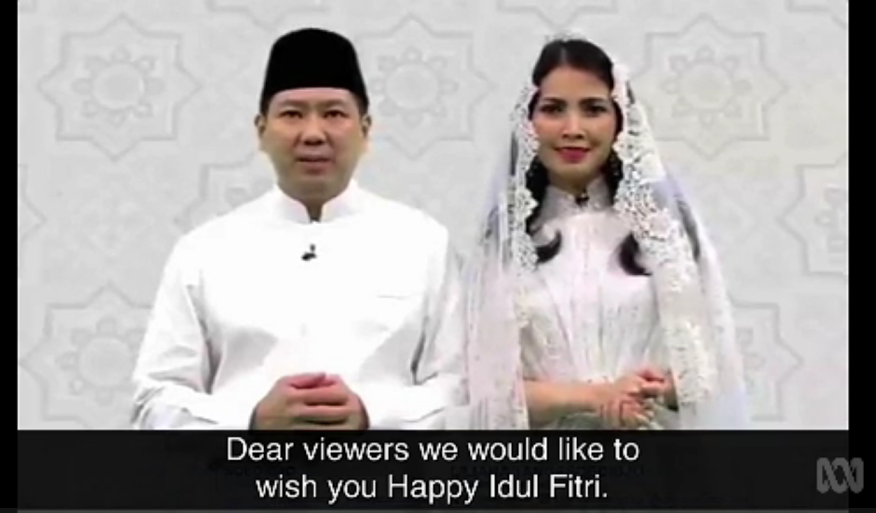 Tanno welcomes Trump and Sharia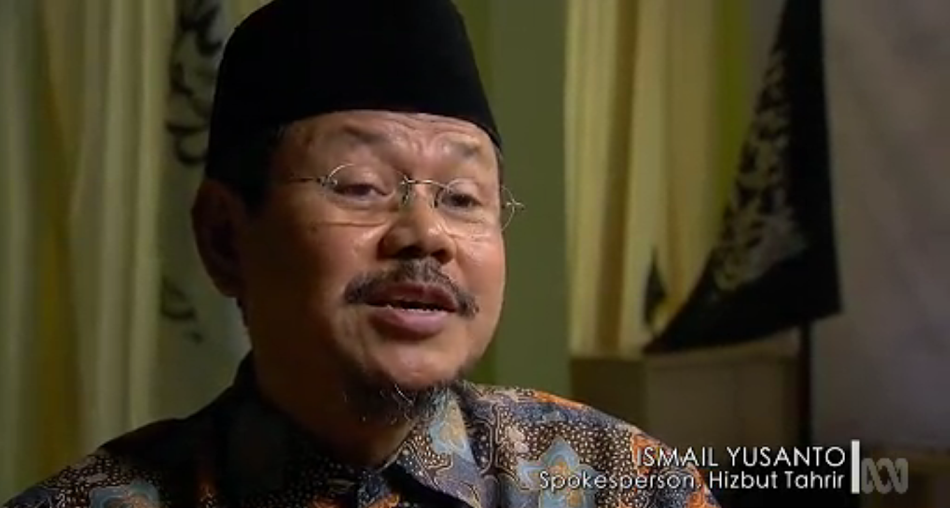 Hizb-ut-Tahrir's man is on screen talking after 37 minute mark - his appearance was the biggest thing in the whole video:
"Is it your ambition to impose Sharia Law in Indonesia?" "It is not our ambition, but our duty."
An abstract kind of wild quid pro quo white America has going on there.
All imagery and story, THE COMPANY HE KEEPS: FOUR CORNERS, 3 July 2017.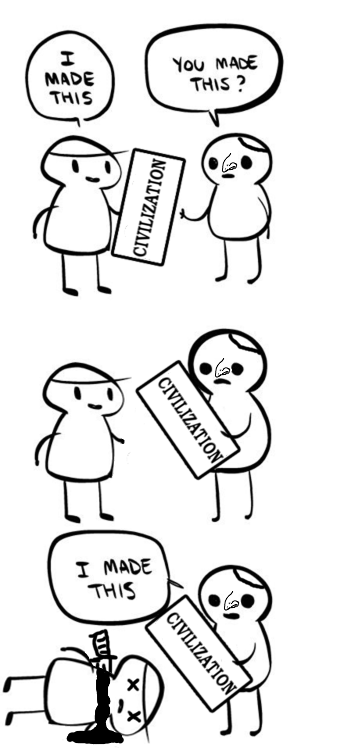 In Tanstaafl's latest theoretical fail:
The White Race and its Discontents:
He proffers:
1) "A civilization and its culture are racial constructs – the bottom up, grass-roots instincts of the masses largely modulated and moderated by the elite."
This is a desperate and lame attempt to ignore the better understanding of social consructionism that I have had to explain time and again, because right wingers cannot adjust to the fact that they are reacting to a misrepresentation of the term.
They refuse to deploy the exercise of trying the word "mere" before "social construct" and observing that if you need that word, then it is Cartesian and not a concept that you would apply to something substantive like race.
The White race as a social construct - not merely, but substantively - already IS from the ground up and that, as a social construct, is a MUCH better way to look at it than the way that Tanstaafl says is THE way to look at the matter, i.e., that "civilization and culture are racial constructs" - that doesn't even make logical sense (coming from a man who accused me of having poor logic): If he is emphasizing, as he does, the causal and deterministic aspect of our inheritance then why call it a "racial construct"? ..call it a byproduct, perhaps..
But he won't go with a proper understanding of social constructionism because he is beholden to his reactionary audience.
It is better to allow for our individual agency and contributions by talking in terms of social construct - it emphasizes our social responsibility, interdependence, degree of independence and most importantly, our people as central outlook and framework, not our subhuman nature.
Tanstaafl does not do this because he continually tries to suck Hitler to life again, desperately trying to make his subhuman ideology relevant again.
Social constructionism, properly understood, not only begins with the proper outlook, from our people, but does so in such a way that already begins with instinct and unconscious doings - we talk in terms of the agentive capacity to attribute how things count when they are on the more causative side of the spectrum. But they are never, mere constructs.
2) To illustrate how it is that Tanstaafl can't get over his wish to try to redeem Hitler and make him relevant again: in the context of Trump's speech in Poland, Tan tries the old, "they're going to call you a Nazi anyway."
No they aren't - especially not if you apply agency as a social constructionist. It's easier as a Pole, perhaps, to say I/we had nothing to do with Nazism; but it is not that hard for subsequent generations of Germans to reject the attribution of Nazism either.
3) In another example of how he wants to apply natural causality and tie our hands to passivity in regard to how the Jews say things count, Tan cites the infamous Susan Sontag quote - "White people are the cancer of the earth" - in its full context; relishing the opportunity to attack one of my most cherished observations on behalf of our European people - i.e. that the Hippies were about midtdasein, Being amidst our people for White males as opposed to say, the endless war mongering of Hitler or the corporations and their draft into Vietnam - by saying that Sontag was endorsing the "freak-out" in order to promote sheer insubordination to older generations.
Well, that is how (((Sontag))) might try to say the hippies counted, that is NOT how we should say they counted. For us the rebellion of midtdasein against sheer war mongering could not have been a more relevant and authentic motive.
The New Republic, "Trump's Russian Laundromat" July 2017:

How to use Trump Tower and other luxury high-rises to clean dirty money, run an international crime syndicate, and propel a failed real estate developer into the White House.

In 1984, a Russian émigré named David Bogatin went shopping for apartments in New York City. The 38-year-old had arrived in America seven years before, with just $3 in his pocket. But for a former pilot in the Soviet Army—his specialty had been shooting down Americans over North Vietnam—he had clearly done quite well for himself. Bogatin wasn't hunting for a place in Brighton Beach, the Brooklyn enclave known as "Little Odessa" for its large population of immigrants from the Soviet Union. Instead, he was fixated on the glitziest apartment building on Fifth Avenue, a gaudy, 58-story edifice with gold-plated fixtures and a pink-marble atrium: Trump Tower.

A monument to celebrity and conspicuous consumption, the tower was home to the likes of Johnny Carson, Steven Spielberg, and Sophia Loren. Its brash, 38-year-old developer was something of a tabloid celebrity himself. Donald Trump was just coming into his own as a serious player in Manhattan real estate, and Trump Tower was the crown jewel of his growing empire. From the day it opened, the building was a hit—all but a few dozen of its 263 units had sold in the first few months. But Bogatin wasn't deterred by the limited availability or the sky-high prices. The Russian plunked down $6 million to buy not one or two, but five luxury condos. The big check apparently caught the attention of the owner. According to Wayne Barrett, who investigated the deal for the Village Voice, Trump personally attended the closing, along with Bogatin.

If the transaction seemed suspicious—multiple apartments for a single buyer who appeared to have no legitimate way to put his hands on that much money—there may have been a reason. At the time, Russian mobsters were beginning to invest in high-end real estate, which offered an ideal vehicle to launder money from their criminal enterprises. "During the '80s and '90s, we in the U.S. government repeatedly saw a pattern by which criminals would use condos and high-rises to launder money," says Jonathan Winer, a deputy assistant secretary of state for international law enforcement in the Clinton administration. "It didn't matter that you paid too much, because the real estate values would rise, and it was a way of turning dirty money into clean money. It was done very systematically, and it explained why there are so many high-rises where the units were sold but no one is living in them." When Trump Tower was built, as David Cay Johnston reports in The Making of Donald Trump, it was only the second high-rise in New York that accepted anonymous buyers.

Semion Mogilevich.

In 1987, just three years after he attended the closing with Trump, Bogatin pleaded guilty to taking part in a massive gasoline-bootlegging scheme with Russian mobsters. After he fled the country, the government seized his five condos at Trump Tower, saying that he had purchased them to "launder money, to shelter and hide assets." A Senate investigation into organized crime later revealed that Bogatin was a leading figure in the Russian mob in New York. His family ties, in fact, led straight to the top: His brother ran a $150 million stock scam with none other than Semion Mogilevich, whom the FBI considers the "boss of bosses" of the Russian mafia. At the time, Mogilevich—feared even by his fellow gangsters as "the most powerful mobster in the world"—was expanding his multibillion-dollar international criminal syndicate into America.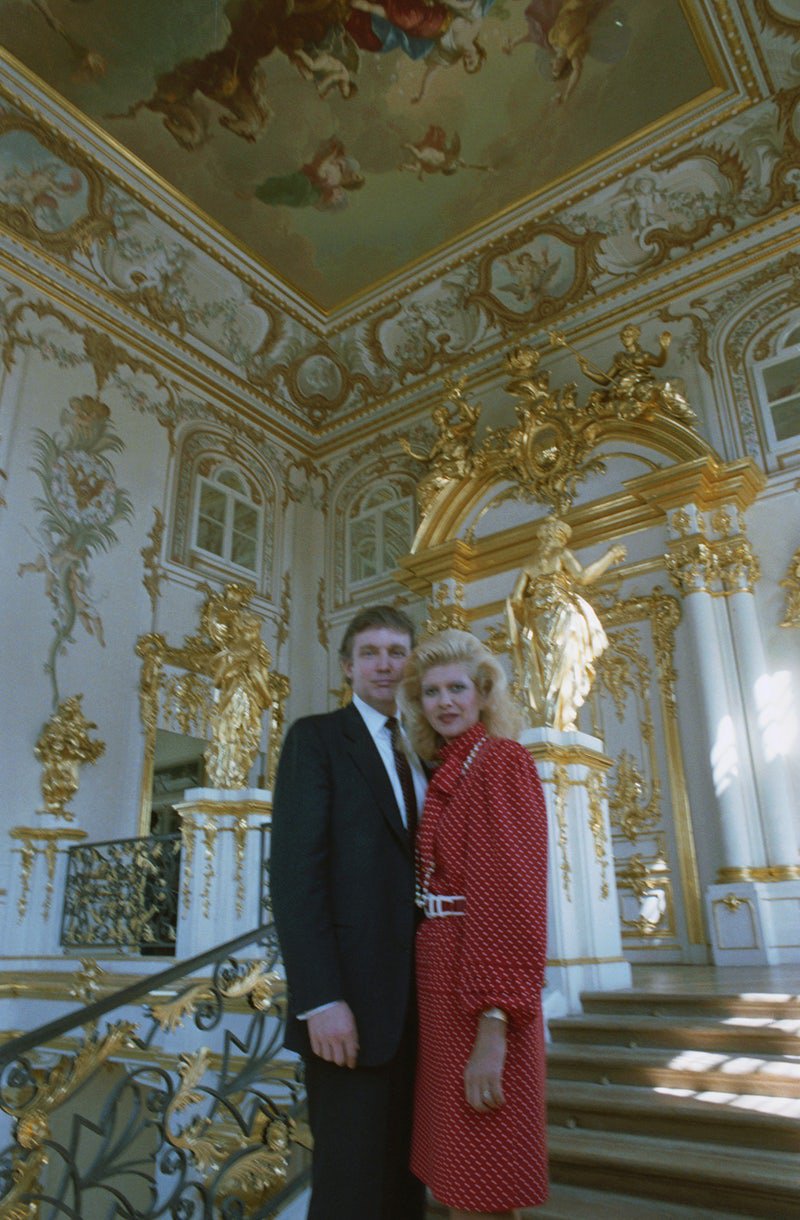 In 1987, on his first trip to Russia, Trump visited the Winter Palace with Ivana. The Soviets flew him to Moscow—all expenses paid—to discuss building a luxury hotel across from the Kremlin. Maxim Blokhin/TASS
Rubrics:
- Trump made his first trip to Russia in 1987, only a few years before the collapse of the Soviet Union.

- Throughout the 1990s, untold millions from the former Soviet Union flowed into Trump's luxury developments and Atlantic City casinos.

- Trump Taj Mahal paid the largest fine ever levied against a casino for having "willfully violated" anti-money-laundering rules.

- The influx of Russian money did more than save Trump's business from ruin—it set the stage for the next phase of his career. By 2004, to the outside world, it appeared that Trump was back on top after his failures in Atlantic City. That January, flush with the appearance of success, Trump launched his newly burnished brand…

- Russians spent at least $98 million on Trump's properties in Florida—and another third of the units were bought by shadowy shell companies.

- In 2013, police burst into Unit 63A of Trump Tower and rounded up 29 suspects in a $100 million money-laundering scheme.

- In April 2013, a little more than two years before Trump rode the escalator to the ground floor of Trump Tower to kick off his presidential campaign, police burst into Unit 63A of the high-rise and rounded up 29 suspects in two gambling rings.

Concluding paragraphs:
Semion Mogilevich, the Russian mob's "boss of bosses," also declined to respond to questions from the New Republic. "My ideas are not important to anybody," Mogilevich said in a statement provided by his attorney. "Whatever I know, I am a private person." Mogilevich, the attorney added, "has nothing to do with President Trump. He doesn't believe that anybody associated with him lives in Trump Tower. He has no ties to America or American citizens."

Back in 1999, the year before Trump staged his first run for president, Mogilevich gave a rare interview to the BBC. Living up to his reputation for cleverness, the mafia boss mostly joked and double-spoke his way around his criminal activities. (Q: "Why did you set up companies in the Channel Islands?" A: "The problem was that I didn't know any other islands. When they taught us geography at school, I was sick that day.") But when the exasperated interviewer asked, "Do you believe there is any Russian organized crime?" the "brainy don" turned half-serious.

"How can you say that there is a Russian mafia in America?" he demanded. "The word mafia, as far as I understand the word, means a criminal group that is connected with the political organs, the police and the administration. I don't know of a single Russian in the U.S. Senate, a single Russian in the U.S. Congress, a single Russian in the U.S. government. Where are the connections with the Russians? How can there be a Russian mafia in America? Where are their connections?"

Two decades later, we finally have an answer to Mogilevich's question.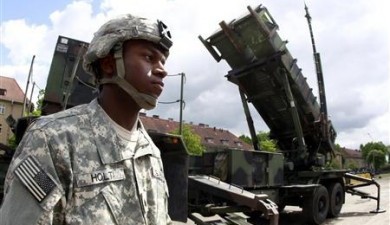 TVN24, "Permanent presence of American troops in Poland is our aim", 5 July 2017:

"Security understood very broadly – military, energy security – will be the most important issue for President Andrzej Duda during his talks with U.S. President Donald Trump," announced President's spokesman Krzysztof Łapiński in "Fakty z Zagranicy", TVN24 BiS. The minister was asked what the President's plans were for his talks with the American President, what would be the most important issue for him, what he would like to hear from Trump or what kind of deal he would like to do with him.

"We know roughly what topics the talks will touch on. It is no secret that security [will be the key topic], security understood very broadly," replied Łapiński. "On the one hand, military security, the presence of American troops in Poland, NATO, and on the other hand, energy security," he explained.

"Security guarantees" "So, as of today, American soldiers are stationed [in Poland], and we are hoping that their presence will be permanent. It is important that these soldiers – whether they will be rotated once a year or once every two years, or three, this is less important. What is important is that American troops will be present in Poland, because this constitutes a security guarantee," added Łapiński.

Asked how long the two Presidents' tête-à-tête would be, he answered that it was expected to last about 25 minutes. Trump and Russia (http://www.tvn24.pl)

On Tuesday, in an interview for the wyborcza.pl website, Łapiński was asked if President Andrzej Duda hoped Trump would confirm the U.S. commitment to NATO during his visit to Poland. "Every day we see that President Trump and the United States confirm their commitment to the alliance, because American soldiers, who came here, are still stationed on the Polish soil. President Trump has never issued any signal or indication to justify any doubts, he never said that the presence of American soldiers in Poland was a bad idea," the minister said.

The President on Trump's visit: it cannot be ruled out that it will have historic significance

Asked whether the President expected Trump to announce permanent, rather than merely rotating presence of U.S. troops in Poland, he replied: "This is our aim. Whether such a declaration will be made now or at some other point is a question we should ask President Trump. The minister was also asked about charges made against Trump, concerning his alleged pro-Russian stance. Łapiński recalled the fact that one of Trump's advisers, who had concealed his contacts with Russia, was dismissed. "President Trump himself, since he took office, has not given any indications that he was contemplating a deal with Russia over our heads," stressed Łapiński. Źródło: tvn24.pl, wyborcza.pl/ tłumaczenie Intertext.com.pl (http://www.tvn24.pl)

Could have historic significance and impact on Poland indeed.
....as imposition of foreigners would: black, well financed and militarily equipped.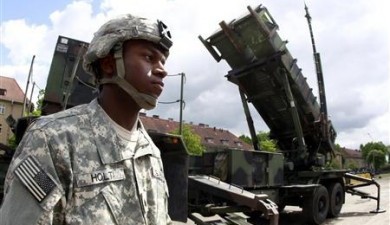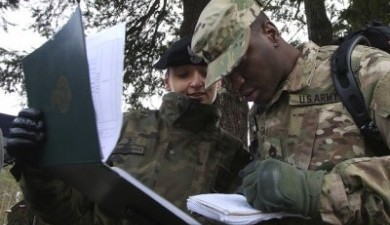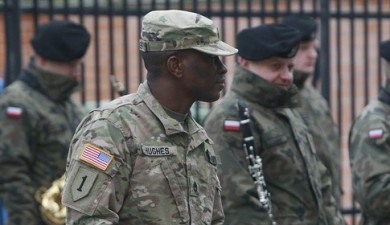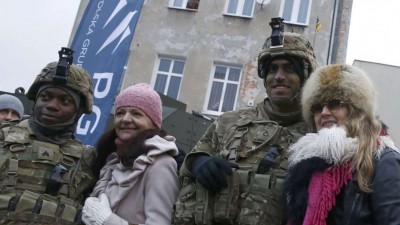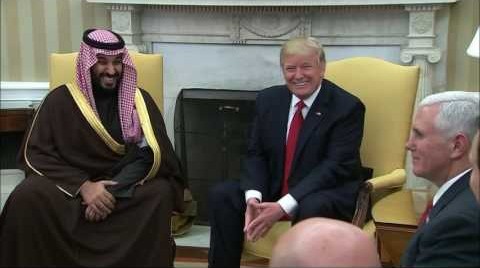 Trump the great deal -maker not.
It means that Trump has helped to make matters much worse by encouraging Saudi Arabia's King Salman to elevate his 31-year-old son Mohammed bin Salman to first in line to the throne - in a "dramatic reordering of the kingdom's line of succession that will have far-reaching consequences for the key US ally and the Middle East as a whole."...
CNN, "What Saudi Arabia's royal reshuffle means for the world", 21 June 2017:

What does it mean for the US?

The key US priorities in the Middle East are stability and predictability, and the appointment of the relatively inexperienced Mohammed bin Salman is undoubtedly a shift away from that.

As defense minister, the prince has taken a hard line with Qatar, Iran and Yemen—and the US should expect to find itself increasingly caught up in the ebb and flow of the region's ever-increasing political tensions.

The current diplomatic crisis between the Saudis and Qatar—Riyadh is trying to isolate Doha over claims that the latter supports terrorism—is a study in diplomatic tightrope-walking for the US.

Washington is publicly backing the Saudis over the spat—which has been led on the Saudi side by the new crown prince—while at the same time maintaining its large military base in Qatar.

Now, with a more gung-ho crown prince set to take charge, it is fair to assume that the Saudis will double down on its hardline positions on Qatar, Iran and the Yemen conflict.

What does it mean for Qatar?

In the short term, it's hard to tell. The message to Qatar is clear: Expect more of the same. Mohammed bin Salman's appointment means that the hard line taken by the Saudis is here to stay—and that no older, wiser voices are going to swoop in and moderate the stance any time soon.

What does it mean for Iran?

The move will further destabilize an already dangerously unstable situation.

Earlier in June, the Iranians pointed the finger at Saudi for a terror attack in their capital, Tehran. They then used this as a reason to fire missiles into Syria—a shot across the proverbial Saudi bow.

Tension between the two has been slowly building recently, and Mohammed bin Salman has taken a hard line against Iran. "We are a primary target for the Iranian regime," he said in one recent interview. "We won't wait for the battle to be in Saudi Arabia. Instead, we'll work so that the battle is for them in Iran."

Again, without more experienced voices around him, the new crown prince will feel emboldened to pursue his vision of a larger Sunni alliance, in which Saudi Arabia is the unchallenged leading power in the Middle East. This could lead to a dangerous miscalculation.

What does it mean for the Yemen conflict?

This is a conflict that Mohammed bin Salman has played a large part in—assisting the Yemeni forces in fighting off Iranian-backed Houthi rebels. In some respects, it is his war and he has to see it through.

But this is more than about saving face; Saudi stability is linked to Yemeni stability and, for that reason, the kingdom needs to continue supporting Yemen.

The brutal reality is that the conflict in Yemen is an Iran-Saudi proxy war, and the new crown prince one of its architects. It is not going to be solved through diplomacy any time soon.

Will the new crown prince loosen up Saudi's conservative culture?

Forget about the monarchy lifting the ban on women driving any time soon. That will happen on the Saudis' time frame—regardless of international pressure to change the law—and whatever they say, it is not a priority. One day it will arrive, but it's not coming fast.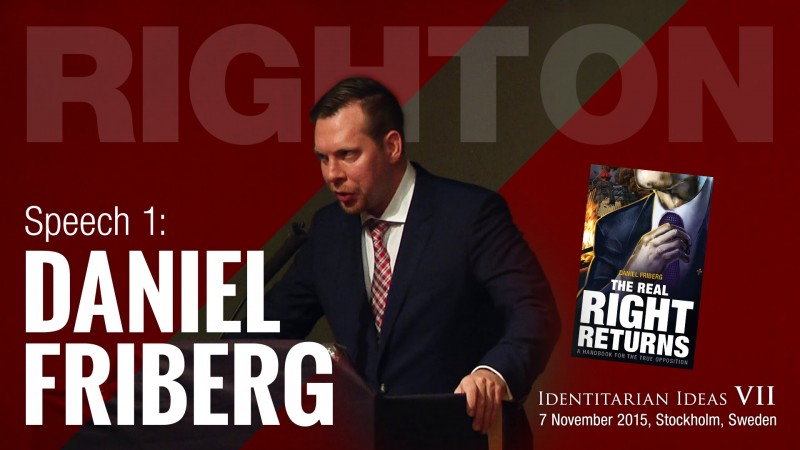 Alt-Right publisher Daniel Friberg from a promotional speech for right-wing 2015
Acrimony on the Alt-Right/New Right, etc. Right: predictably, the inherent instability of The Right emerges. For those who like soap operas, the right is perhaps good for that. But their instability rather highlights the preferability of our platform for organizing nationalists in two way accountability to our interests (to us and from us); against foreign antagonists, whether elite or rank and file; and against traitors among our own, whether elite, or rank and file.
There isn't a lot of consensus among the right - their primary orientation, against "The Left" and "equality", was given to them by brackets (viz. Gottfried 2008), adopted then and only became the "common sense enemy" by consensus since the YKW allowed them to do that. Brackets, those in service of brackets, and those willing to sell our people-out for personal gain or sheer ideology are rife in all camps of the right.
Alt-Right, 16 June 2017:

"GREG JOHNSON TURNS DOWN DANIEL FRIBERG'S CORDIAL OFFER TO HAVE A COFFEE AT STARBUCKS"

In the latest bit of juicy infighting here in the Alt-Right, Daniel Friberg, the head honcho of intellectual (but fashy) book publisher Arktos has been defriended on Facebook by Greg Johnson, the mysterious "voice without a face" who runs the fashy (but intellectual) Counter-Currents webzine and book publisher.

The defriending follows weeks of behind-the-scenes bickering and accusations that Johnson had been bad-mouthing Friberg behind his back.

In an attempt to clear the air, Friberg who lives in Budapest, Hungary, heard that Johnson was in town on a low-profile speaking tour, and cordially invited him to have a face-to-face meeting, posting the following message on Facebook:

Hey Greg Johnson, you have been attacking my character publicly and behind my back for close to a year now. Considering we're neighbors here in Budapest, how about I buy you a latte at Starbucks; you can say all these things to my face. What do you think?" - Daniel Friberg
Alt-Right: "The Attacks on Arktos," 17 June, 2017: