In an atmosphere where the ability of ethno-nationalists to talk among themselves is being curtailed across social media and with forums at other ethno-nationalist sites being insecure or even being shut down, a need has appeared for a forum that overcomes the limitations of other people's past attempts.
This was an option that we had kept in reserve because it wasn't deemed to be high priority to date, but it has now been completed and brought forward because it is clearly necessary.
I'll present my explanation of the merits of the Majorityrights.com Forum in a slightly humorous Q&A format, based on questions I've actually been asked.

Q: What do you mean by 'secure'?
A: By 'secure' I mean that we don't do things which are stupid. The guiding principle behind everything we do is basically "don't do stupid things".
For example, we don't have users transmitting their login credentials in plain text over the internet, because that would be stupid. Instead, everything between the client and the server is encrypted just like the rest of the site.
We don't have profile fields that ask users to enter information into their profiles like 'date of birth' or 'location' on registration forms, because that would be stupid. The safest way to ensure that no one will say that we encouraged them to compromise themselves by entering that information, is by not asking them to submit such information in the first place.
There is also the view that we cannot misplace information that was never given to us, and that's a view that I've always held.

Q: Do you share user statistics and information with third party advertising CDNs?
A: No, not now, and not ever.
One of the most absurd things that I've seen on ethno-nationalist websites is the propensity that many have to complain about how companies like Amazon, Google, Quantcast, and others, are 'controlled by liberals, Jews and SJWs', and yet they still choose to integrate those very same advertising and user tracking scripts into their forums.
We have no such scripts, and never will.

Q: Is it possible for your routine backups to fall into the wrong hands?
A: No. Backups of everything are made at certain intervals, and are stored on encrypted volumes in a hidden and entirely separate physical location. The backup regime is such that no single administrator at Majorityrights can decrypt the contents without at least one other person assenting to it. The motto for handling backups is "trust no one, not even yourself".

Q: Why isn't the whole place decked out with giant statues of eagles, and muscle-bound Vikings, with black, red, and white as the colour scheme?
A: Because this is not web design by Albert Speer, nor should it be.

Q: Why does the forum software demand that all passwords must contain letters, numbers, and capital letters, and be no less than 12 characters long?
A: Because that makes it much less likely that any hacker dweebs will be able to break into people's accounts using dictionary attacks and rainbow tables. I just don't ever want the drama of dealing with people whining about how their accounts got hijacked because they chose a weak password, so the software will force you to at least make a minimal effort to choose a strong password.
Take note though, if you forget your password, the 'I forgot my password' feature sends an email to you with a new randomly generated password in it, so you should make sure that your email account is secured with a strong password too, obviously.

Q: Is it possible for anyone to discover what email address I used to register with, without me divulging it?
A: No.

Q: Do you apply patches in a timely fashion?
A: Patches are applied as soon as they are available. Since any patch day is followed by exploit day, we make sure to patch immediately.

Q: Will there be meme magic?
A: Yes.

Q: Will there be doxxing and raids?
A: No.
The Right Stuff forum was just recently taken down because some people decided to foolishly use it as a staging ground for a doxxing campaign against some American liberal soccer mom who then turned around and complained to their hosting provider about it, and it resulted in all sorts of terms of service problems. No doxxing of anyone will be allowed at Majorityrights, because it's petty, accomplishes nothing, and does more harm than good to everyone.

Q: Do you anticipate that you will have a large volume of people registering?
A: Maybe. One of the greatest advantages that Majorityrights has is that on a large number of divisive issues, Majorityrights has not been known to drive a wedge, and as such does not come with that baggage. For example, there is no European North-South divide, and no legacy of a fractious Male-Female divide here, so almost anyone ought to feel comfortable with joining.

Q: Will there be freedom of speech?
A: Pretty much, yes. Just like always.
Since I am paying more attention to things Asian as a result of Kumiko's participation here, a couple of videos and a composition of Facebook comments relevant and illustrative of issues that I have been discussing have come to my attention.
Asian illustrations of..
1. Advised social confirmation and elevation: of the value of ordinary routine practices; in this case, participation in social routine.
2. Bad parenting advice: "You are from Sweden" and simply Swedish by proposition - abrogates racial accountability and leaves one susceptible to Jewish trolling for racial divisiveness and strife instead. Why the suspicion of Jewish trolling? Because of a salient example…
3. A composition of fake tweets: attributed to Americans apparently mocking the atomic bombing of Japan:
Captioned "stay 'classy' America" - the fraud and motive to create a division between Whites and East Asians is traceable to Jewish motives.

Coming to these examples throwing light on racial accountability from Asia, one at a time -

1. Advised celebration of ordinary routine:
Kumiko likes Korean and Japanese pop music videos and she showed me this Japanese one.
Participation in..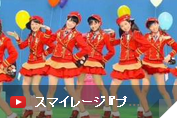 ..routine social service..
If WN can show bearance upon what might otherwise be construed as an appeal to yellow fever by the presentation of this video, there is actually bearing upon an important point that I made in my article about "the dark side of self actualization" and how to otherwise moderate and optimize actualization.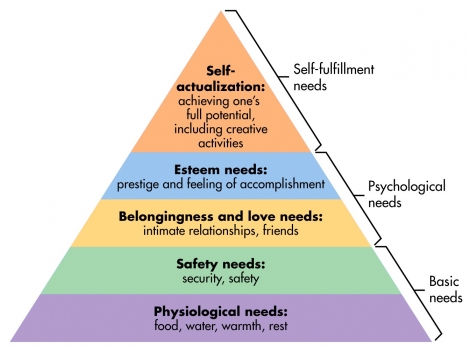 That is to say, one thing that needs to happen in our re-socialization of actualization is for the value of individual self actualization to become part of a rotating and optimizing process of attention, to where it does not always and statically occupy the top of a hierarchy. That over-emphasis has, of course, destabilized and lent to the rupture of our racial/social systemic homeostasis. The inference I've made is that one of the aspects of actualization that needs to be constructed, elevated in importance and encouraged to enjoy is not only a sufficient amount of routine but also routine social participation in our tried and true practices and procedures. That will not only allow us to learn from our forebears but it is also necessary to create a platform for elaboration and innovation; i.e., it is prerequisite and socially as important as actualization. This video shows a song and dance of girls in Japanese postal service uniforms.
The point that I am trying to make is that celebrative or otherwise reverential treatment like this, of the ordinary and social routine, might help to emphasize sufficient sufficience, so to speak, in enjoyment of necessary social routines and with it, an elevation of appreciation of ordinary necessity so that it is not dwarfed nor its vital necessity discouraged by singular social appreciation and veneration of the extraordinary and the sacred.
I hypothesize this elevating celebration of routine (in this case social) practices as one side of the necessary elevation of the social esteem of routine; another side of "routine" elevation would be ceremony and sacral treatment of exemplary practices.
2. Bad parenting advice: The oriental woman in this video was adopted by Swedish parents and brought-up with that idea that she is "simply Swedish, the same as any other Swede", by proposition.
By contrast, if she were taught that she was an adopted girl of Korean descent, who was and should be welcomed as counting of a manageable, benign but accountable enclave of Swedish nationals…
...there is insufficient accountability in insistence upon her parents well meaning but bad advice - simply asserting that she is Swedish just like all other Swedes.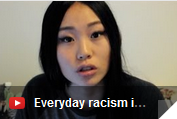 She sets herself up for abuse
Adopted by Swedish parents and growing up in Sweden, she responds to the question from a Swedish man, "where are you from?" that she is "from Sweden." The man responds, "no, where are you really from?"
She takes this as an example of "racism" and tries to correct the man in the motive she perceives of his question, answering that she is "Swedish just like every other Swedish national" - as her parents taught her.
However, I'd guess that the man's question was not "racist" in a negative sense. Yes, it was racial in the sense that he was trying to get an accurate sense of how to classify her, but why? Because he thought negatively of her and of her being in Sweden? Probably not.
He was quite possibly asking her for one or all of the following three reasons:
a) He found her attractive and wanted to know where her sort was from for future and general reference.
b) He found her attractive and saw the question as an opportunity for an ice breaker.
c) If she answered, "Korea", chances are that he would enjoy showing his good-will toward her, by confirming her honest account and her people as really OK, and that as a part of a reasonable and accountable number of her kind of immigration, take occasion to show support for her participation with Sweden.
That is to say, what the man was doing was "racism" by definition in the sense that he was attempting to classify people genetically (not doing the mere liberal thing of pretending to be blind to racial classifications but judging people instead by propositions), but it was, in all likelihood, a benign kind of classifying, motivated by respect and a wish for accountability.
Because she treated it as "racism", i.e., classification for negative motives, she attempted to denounce it and hide behind the well meaning but fundamentally dishonest advice of her parents that as a propositional Swede she was the same as an evolutionary Swede.
As such she denies the possibility of honest accountability that would serve to limit negative treatment of her in Sweden and gain her support from those who have an honest concern for the management of native Swedes.
Instead, for denying accountability and denouncing the account requested as "racist" she sets herself up for abuse from at least two kinds in particular.
She will perhaps get some abuse from jealous and racially concerned Swedes, e.g., Swedish women miffed with yellow fever. That would be understandable if Asian immigration were taken too far at any rate, but when there is no accountability it is likely to be more provocative of the racially sensitive Swede for her to say, "I am the same as you", have the same history, etc. But even at that, it is probable that she did not really receive much of the gaffe from true Swedish women. What abuse that she got and experienced, with truly saddening pain, most likely came from Jewish trolls looking to stir conflict between Whites and Asians.

She gets abused by what probably are some Jewish trolls trying to provoke conflict between Asians and racially aware Whites: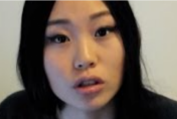 3. What makes me hypothesize Jewish trolling? viz., that Jewish trolls can be trying to provoke her and provoke conflict between Whites and Asians?:
How about this. Kumiko showed me this composition, supposedly of Facebook posts by American people speaking of their own accord, saying that they are happy that Japan sustained nuclear bomb attacks in WWII and would be quite happy for it to happen again.
I grew up in America and for 34 years spent there never encountered an American who would speak remotely like this about Japan or the atomic bombing of Japan. Furthermore, if one reads these comments it is clear by a careful discourse analysis that the writer of all of these comments is one or a few people. If one is more careful still, to take style and motive into account, the Jewish hand is evident.
Though it may seem like obvious trolling to some of us, unfortunately this was apparently taken seriously by some Japanese audiences and even shown on Japanese news as if it were an honest reflection of American sentiments - when in truth, these are not remotely accurate statements of Americans: Stay classy America? No, stay "classy" with your divide and conquer chutzpah Jews - greatest shame is upon you and we are watching you.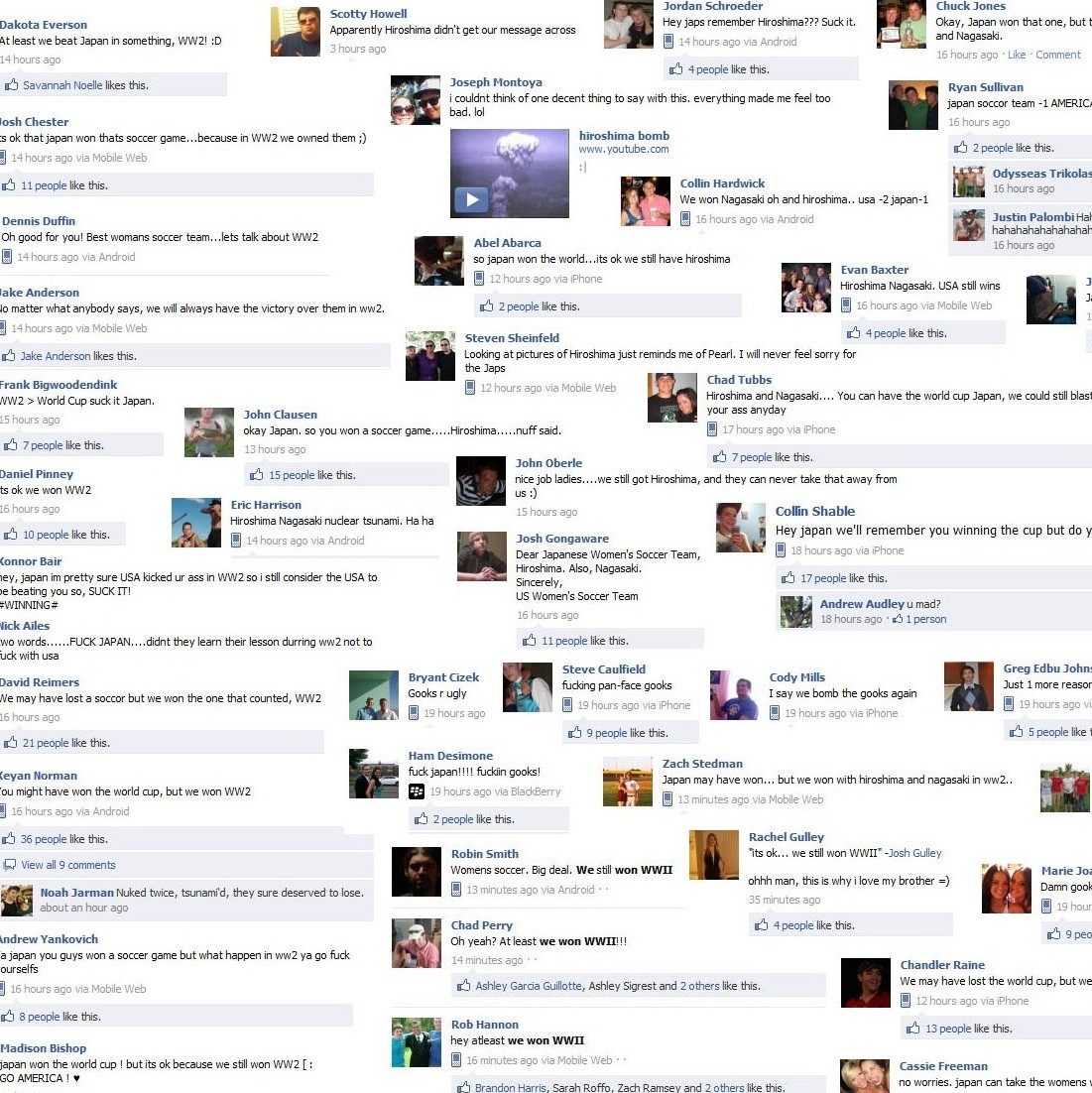 Full composition under the fold..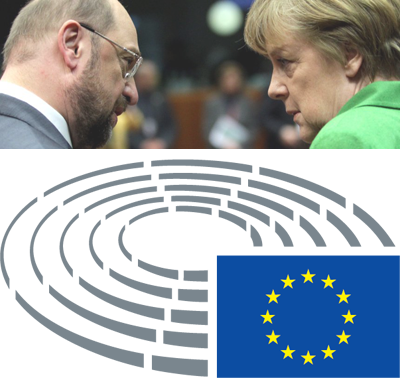 Martin Schulz and Angela Merkel.
Martin Schulz has been active in European politics for almost thirty years, and so he is a person who does not need an introduction. His position however is not one that is understood very well by normal people, because a lot of people don't know what the roles of the institutions of the European Union in the post-Lisbon Treaty environment are.
In his role as President of the European Parliament, Schulz would be responsible for the overall direction of international relations, and also is the custodian of the fundamental values of the European Union. The European Parliament is the first institution in the European Union, which prior to the implementation of the Lisbon Treaty had been seen as a mere talking shop, but subsequently developed into becoming one of the most powerful legislatures in the world in terms of both its legislative powers and executive oversight powers.
Of course, informally, the political history which the individual was acculturated with along with that person's connection to the national political power, means that it can usually be considered advantageous to a member state if one of their citizens is holding such an EU position.
Schulz hails from Germany, but what does Schulz think Germany's raison d'etre is? A look at his own words in Haaretz as reported by his friend Avraham Burg, reveals something interesting:
Haaretz, 'Say a big 'thank you' to Martin Schulz', Avraham Burg, 14 Feb 2014 (emphasis added):

[...] Martin Schulz, the president of the European Parliament, is a close friend of mine. On most issues connected to the Israeli-Palestinian conflict we disagree. He is closer to the Israeli mainstream, and his positions resemble those of Labor Party chairman Isaac Herzog. He once told me, during a frank and stern conversation, "For me, the new Germany exists only in order to ensure the existence of the State of Israel and the Jewish people." [...]
Schulz is of course, Jewish.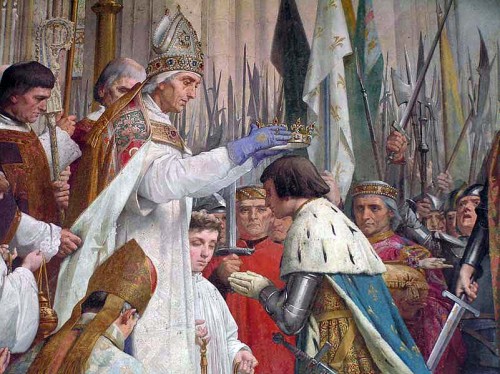 The coronation of Charles VII of France (1429).
I owe Daniel some replies to his recent comments across two treads about his personal preference for particular intellectual adumbrations as a means, I think, of liberation for a cognitive elite who, as far as I can see, then prescribe benign social inter-action for the rest of us. In the process, I will try to probe the underpinnings of the political. However, first I want to raise another question with Kumiko which is at the heart of the exchange with Daniel also, namely her perfectly natural presumption, with which I do not entirely agree, that:
... upon awakening, the next step is—I think—always to take actions to create the economic and social framework that can facilitate that defence [ie, of one's people's existence], in accordance with the particular historical and geographical circumstances that they have found themselves in.
The question goes well beyond the usual conceptions of the social and economic, because these are not the point of arising of the European malaise. Likewise, the call to self-defence, as a means by which to awaken the people, may fall on deaf ears in the absence of other buttresses to identity. How does one defend something one cannot properly perceive? More concretely, how many people perceive civilisation or the civic space, culture or economics where the true cause is racial and ethnic identity?
In my very meagre work on awakening, it is implicit that a person whom we would describe as awake, or existentially self-aware, is not really in some fixed and enduring condition. Our neurological condition happens to be one in which the intellectual, emotional, and motor functions operate not under direction of any kind or even in concert, but simply as mechanisms made of habit. This is our ordinary waking consciousness, and it will always claim us. It is, after all, the River Lethe, the river of unmindfulness, of existential forgetting. We cannot permanently deliver ourselves from it to abide in aletheia. It is rather difficult for the individual person to traverse, even for a few seconds, into self-awareness in any meaningful sense. But how much more difficult is it for an entire people to do so?
​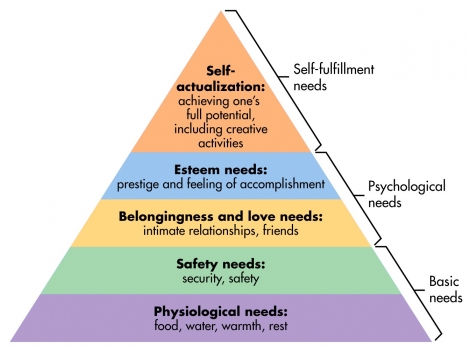 For many years I have argued that Maslow's hierarchy establishes an excellent point of departure - a paradigm to transform into a new paradigm on our behalf as Whites - as it does represent the apex of the American dream of individual self actualization, it also provides instantiation to look at the problems that can, and quite evidently do, ensue from its rule structure. Hence, a critique of it permits its highly relevant occasion to retool and socialize it to our concern as Whites. To do that we might look back to its classical origins in Aristotle, to its popularization in the feminism and the human potential movements of the 60s, to how we might transform and cast the path of needs and motives in optimal terms for both the individual and group interests of Whites.
However, the right-wing hasn't yet gotten the significance of my argument. Where they do see merit, they want to put it in their own Cartesian terms. They miss a crucial hermeneutic point in history, that Friedan's second wave of feminism had women acting through and in accordance of this paradigm - highlighting the vulgarity of its social disregard, self righteously pursuing "self actualization" while ignoring the "privilege" that men alone had of being required at the same time to go to Vietnam to die. But rather than seeing the valid gender aspect of the hippie protest of the draft as a male thing (a quest for midtdasein for males), the right-wing in their desperate, reactionary way, go along with the Jewish story that it was all about "free love", "civil rights for blacks", and "universal peace" or they cater to the right-wing story that hippies sought nothing that a real man should pursue - they were part and parcel of the downfall of Whites - our men, by reactionary contrast, have to learn how to be real men: and now the right-wing will be..
Defining real White men for you… with a lisp..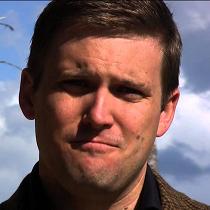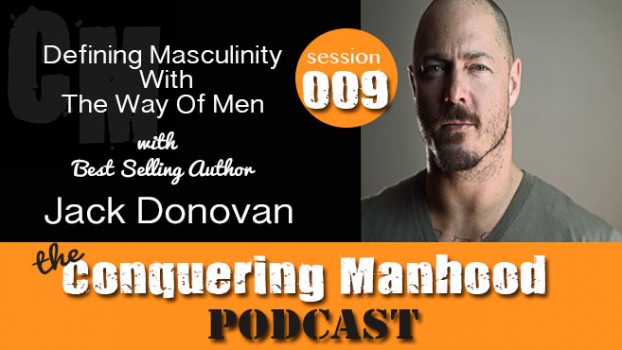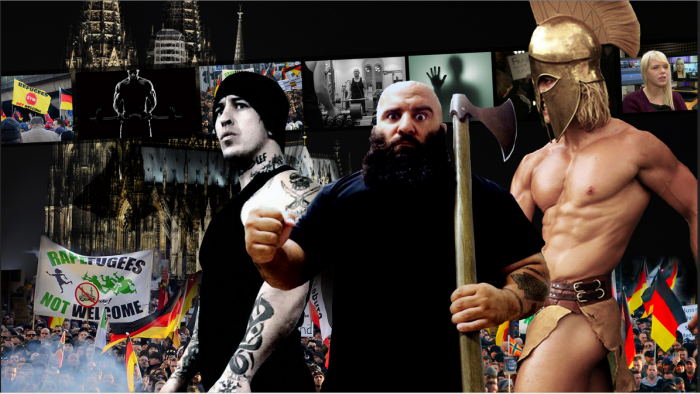 Puerto Ricans in attendance to karate movies and White boys imitating gay pride parades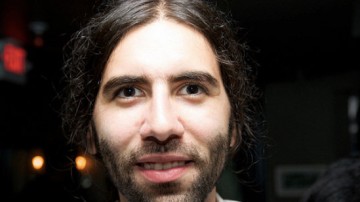 A return of what? A morning and evening call to prayer, perhaps.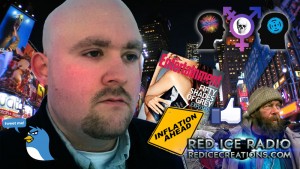 Sex tourism in South East Asia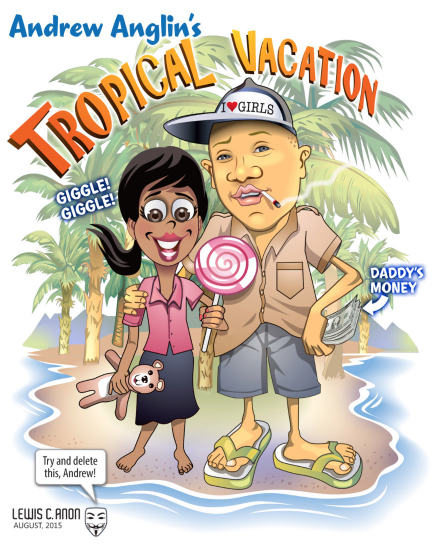 Ignore and talk past the White Left as defined at MR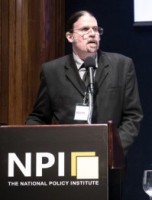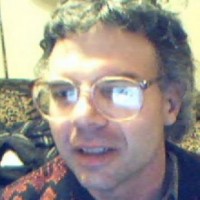 Pretend there's this "new thing" called "alt-left" and its anything but a foil for the Regnery circus' Alt-right.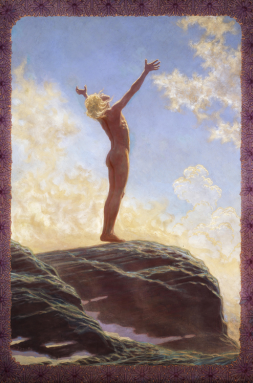 "Introducing the 'Alt left"
Ignore our many discussions as to the drawbacks of black hyper-masculinity in comparison to terms of optimal White/European masculinity - which need to be confirmed and which only MR has confirmed…
Instead toss the idea with a gay friend..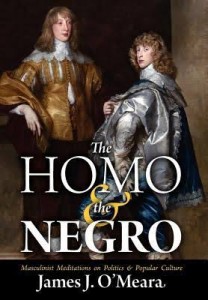 Who casts black hyper-masculinity in contrast to homosexuality.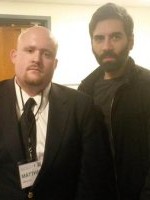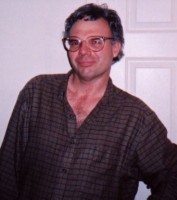 Even though you have no special concern for Whites and consider mixing with blacks to be no big deal..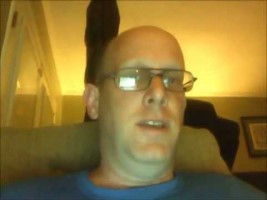 Even though you have no special concern for Whites, latch onto the alt-right big tent to compensate for your floundering market and source of ideas - such as the idea of re-tooling, transforming, viz., socializing, optimizing and normalizing Maslow's hierarchy in White/European interests (which can be safely ignored as having been discussed at MR for years).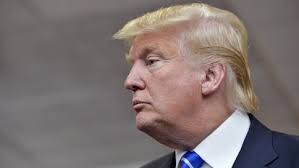 Be a crass businessman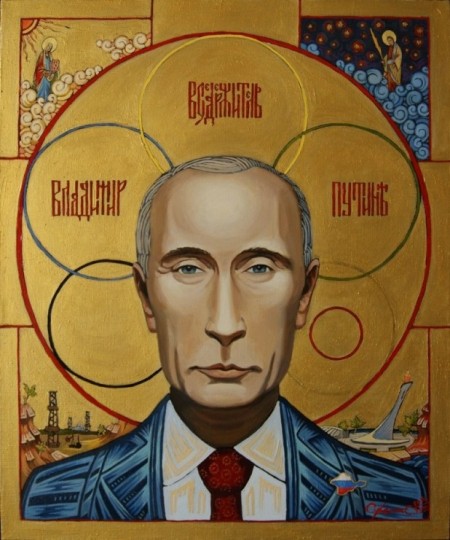 Kiss the ass [Welcome back!] of Jews and their proxies; and on their behalf..
Appropriate Asian lands and resources, allow Jews and neo-liberals to parasitically trade on that..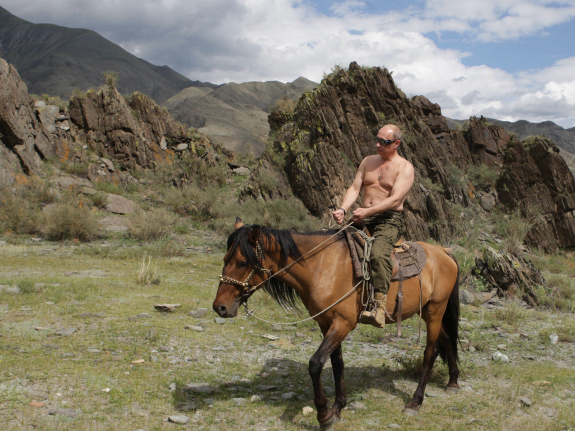 Aggrandizement as middle men at others expense instead of developing a Russian ethnostate.
...learn, in fact, how to act like a Jew and without honor so that you can get-over over there.


Atavistic intelligentsia - an apt term for themselves. And they "Hail 'The' Donald"
Puke.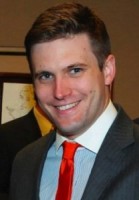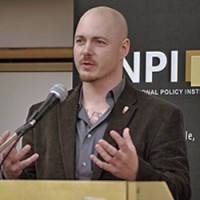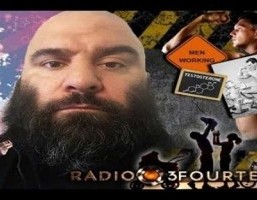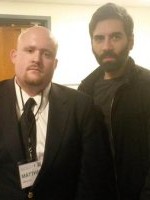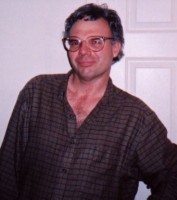 "Become who we are": Teaching us how to be real White men
Upchuck.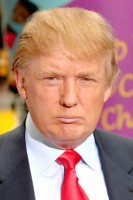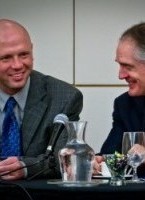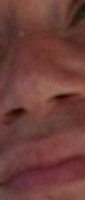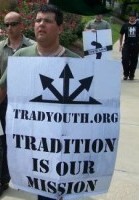 Compulsory Diversity News: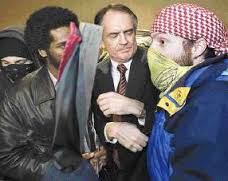 He knows you not…
A study in the Proceedings of the National Academy of Sciences (PDF), has illustrated the relationship between between geography, linguistics, and genetic data. By comparing geographic data for phonemes and alleles, they have come to the conclusion that in most parts of the world, languages and genes exist in the same locations and often appear to have travelled along the same migration routes.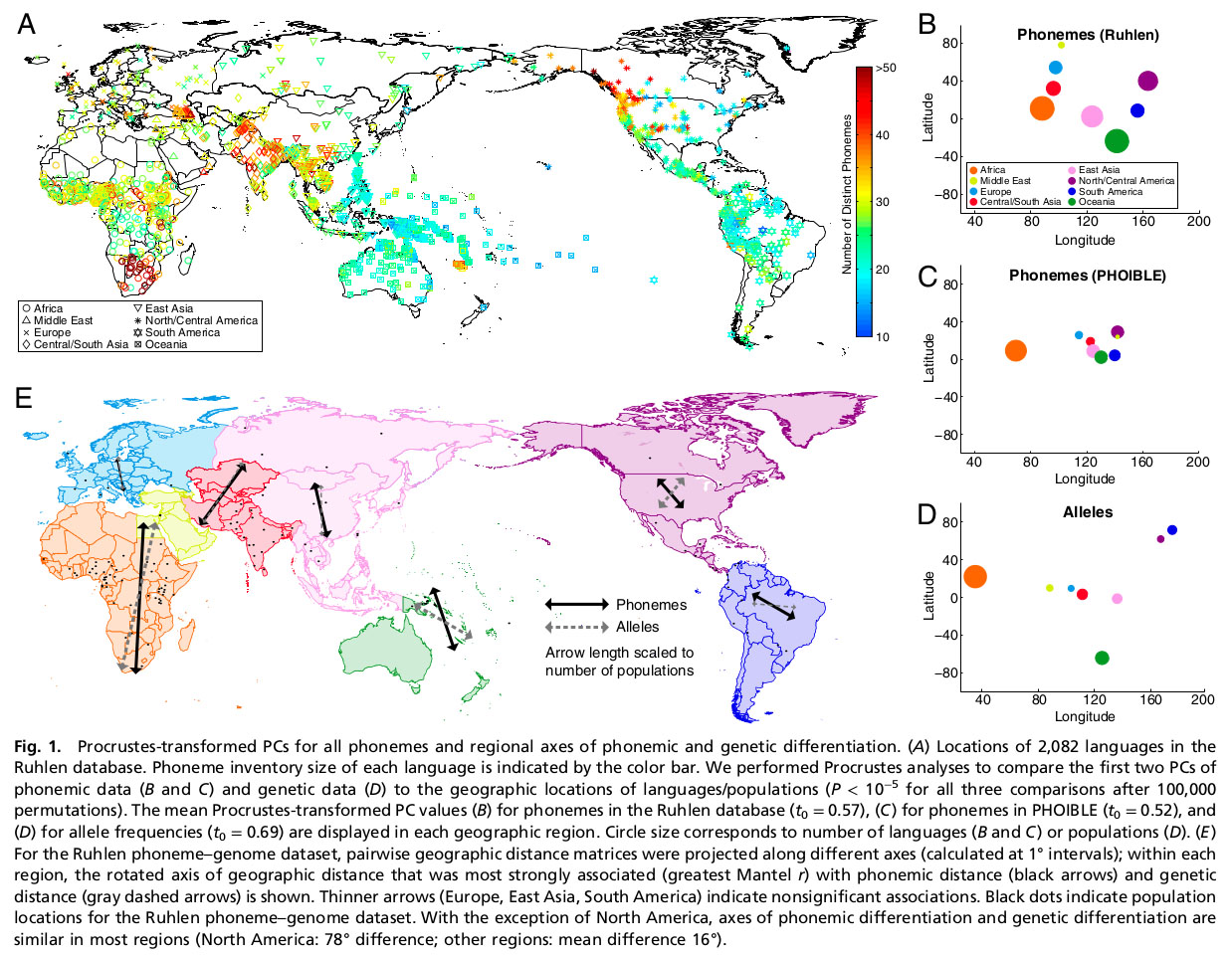 Their abstract reads:
A comparison of worldwide phonemic and genetic variation in human populations, PNAS 2015 112 (5) 1265-1272; published ahead of print January 20, 2015, doi:10.1073/pnas.1424033112:

Significance

Linguistic data are often combined with genetic data to frame inferences about human population history. However, little is known about whether human demographic history generates patterns in linguistic data that are similar to those found in genetic data at a global scale. Here, we analyze the largest available datasets of both phonemes and genotyped populations. Similar axes of human geographic differentiation can be inferred from genetic data and phoneme inventories; however, geographic isolation does not necessarily lead to the loss of phonemes. Our results show that migration within geographic regions shapes phoneme evolution, although human expansion out of Africa has not left a strong signature on phonemes.

Abstract

Worldwide patterns of genetic variation are driven by human demographic history. Here, we test whether this demographic history has left similar signatures on phonemes—sound units that distinguish meaning between words in languages—to those it has left on genes. We analyze, jointly and in parallel, phoneme inventories from 2,082 worldwide languages and microsatellite polymorphisms from 246 worldwide populations. On a global scale, both genetic distance and phonemic distance between populations are significantly correlated with geographic distance. Geographically close language pairs share significantly more phonemes than distant language pairs, whether or not the languages are closely related. The regional geographic axes of greatest phonemic differentiation correspond to axes of genetic differentiation, suggesting that there is a relationship between human dispersal and linguistic variation. However, the geographic distribution of phoneme inventory sizes does not follow the predictions of a serial founder effect during human expansion out of Africa. Furthermore, although geographically isolated populations lose genetic diversity via genetic drift, phonemes are not subject to drift in the same way: within a given geographic radius, languages that are relatively isolated exhibit more variance in number of phonemes than languages with many neighbors. This finding suggests that relatively isolated languages are more susceptible to phonemic change than languages with many neighbors. Within a language family, phoneme evolution along genetic, geographic, or cognate-based linguistic trees predicts similar ancestral phoneme states to those predicted from ancient sources. More genetic sampling could further elucidate the relative roles of vertical and horizontal transmission in phoneme evolution.
The overall result seems to be that language and ethnicity do share common geographic boundaries, if the effects of recent colonial history are ignored.

In a story that shows that Jewish-American lobbyists and journalists have very little self-awareness, Adam Entous and Danny Yadron thought that it would be a good idea to publish a story in which they made it appear that the US Government was violating some kind of agreement to not spy on 'allies', when the NSA monitored Netanyahu's activities during the P5+1 negotiations with Iran.
The monitoring activities were carried out with the intention of discovering what Netanyahu's views on the proposed deal were, and what his response to it going forward might be. This monitoring would have been approved by senior figures in the Obama administration, as well as the House and Senate Intelligence Committees.
Wall Street Journal, 'U.S. Spy Net on Israel Snares Congress', Adam Entous and Danny Yadron, 29 Dec 2015:

President Barack Obama announced two years ago he would curtail eavesdropping on friendly heads of state after the world learned the reach of long-secret U.S. surveillance programs.

But behind the scenes, the White House decided to keep certain allies under close watch, current and former US officials said.

[...]

The National Security Agency's targeting of Israeli leaders and officials also swept up the contents of some of their private conversations with U.S. lawmakers and American-Jewish groups. That raised fears [...] that the executive branch would be accused of spying on Congress.

[...]
Of course, what neither of these persons mention in their article is that monitoring Netanyahu's communications was both legal and necessary.
Monitoring what other world leaders are doing so that the United States can have good information from which to make policy decisions is literally the mission statement of the NSA. Furthermore, Israel has chosen to prefer a policy on Iran that is directly at odds with that of the United States, and at odds with that of NATO more broadly. The North Atlantic desired to cultivate Iran as a swing-power which could be peeled away from Russia and utilised for offsetting Russian preponderance over natural gas supplies to Europe, and which would perhaps someday be able to frustrate Russian attempts to consolidate its influence over CIS states that have cultural or historical ties to Iran. Israel has different ideas, because Israel has a different set of priorities.
So what are they complaining about? It's a nonsensical complaint. The Israelis should have expected that they'd be monitored. This of course did not prevent Israel's most ardent defenders from writing absolutely ridiculous stories for weeks on end about it.
But there was an element of this story that was not touched on and which was almost conspicuously not touched on. The fact that spying on Netanyahu would become the same thing as 'spying on the US Congress' was what really ought to have been the story. If spying on Netanyahu is almost the same thing as spying on the US Congress, then that is an indicator of there being a serious problem in the political system itself.
That problem looks like this:
Wall Street Journal, 'U.S. Spy Net on Israel Snares Congress', Adam Entous and Danny Yadron, 29 Dec 2015:

How Mr. Netanyahu and his advisers had leaked details of the U.S.-Iran negotiations—learned through Israeli spying operations—to undermine the talks; coordinated talking points with Jewish-American groups against the deal; and asked undecided lawmakers what it would take to win their votes, according to current and former officials familiar with the intercepts.
And also ambassadors getting themselves involved:
Wall Street Journal, 'U.S. Spy Net on Israel Snares Congress', Adam Entous and Danny Yadron, 29 Dec 2015:

Mr. Dermer was described as coaching unnamed U.S. organizations—which officials could tell from the context were Jewish-American groups—on lines of argument to use with lawmakers, and Israeli officials were reported pressing lawmakers to oppose the deal. [...]

Israel's pitch to undecided lawmakers often included such questions as: "How can we get your vote? What's it going to take?"
But you see, according to present and former US lawmakers who have enormous mouths and are suddenly very concerned about the somewhat nebulous concept of 'civil liberties', discovering when someone is trying to plunge a knife into your back is just the gravest violation of the privacy of those who are trying to do the plunging.
For example, Representative Ted Lieu, (D-California) who "has consistently voted to curb powers of the NSA", asserted on twitter that:
That's the part he objects to.
And there was also none other than Pete Hoekstra (formerly R-Michigan), the former congressman who chaired the House Intelligence Committee from 2004—2007, took to twitter to complain, saying:
Perhaps Hoekstra is really upset because he shares something common with former representative Jane Harman (D-California), who in 2006 was being lined up to seamlessly replace him, and whose Israeli tricks were foiled by the NSA at that time too:
Wall Street Journal, 'Lawmaker Is Said to Have Agreed to Aid Lobbyists', Neil A. Lewis and Mark Mazzetti, 20 Apr 2009:

[...] Ms. Harman was inadvertently swept up by N.S.A. eavesdroppers who were listening in on conversations during an investigation, three current or former senior officials said. It is not clear exactly when the wiretaps occurred; they were first reported by Congressional Quarterly on its Web site.

The official with access to the transcripts said someone seeking help for the employees of the American Israel Public Affairs Committee, a prominent pro-Israel lobbying group, was recorded asking Ms. Harman, a longtime supporter of its efforts, to intervene with the Justice Department. She responded, the official recounted, by saying she would have more influence with a White House official she did not identify.

In return, the caller promised her that a wealthy California donor—the media mogul Haim Saban—would threaten to withhold campaign contributions to Representative Nancy Pelosi, the California Democrat who was expected to become House speaker after the 2006 election, if she did not select Ms. Harman for the intelligence post.

[...]
Much like Hoekstra, Harman also had something to say about supposed 'abuses of power' at that time:
Think Progress, 'Harman: 'I'm Just Very Disappointed'', Ali Frick, 21 Apr 2009:

I'm just very disappointed that my country — I'm an American citizen just like you are — could have permitted what I think is a gross abuse of power in recent years.
She's one of the people who approved the budget and the legal framework that would supply the NSA and others with equipment and a mandate to watch PCS networks and collect the data under ONEROOF, but then she thought that the NSA and FBI were going to magically avoid collecting signals from her because she's special?
Whenever Jews or their associates find themselves being treated just like everyone else, they suddenly get very tearful and start talking about how they are so, so, so oppressed. A sad tune needs to be played for them, perhaps, on the tinyest of tiny violins.
I love pointing-out to people, right-wingers, who want to blame youth culture of the 60s as the onset and crux of our demise (not you, GW), that Jewish power and influence combined with Modernist naivete were the forces that were the major culprits - and that they were well in force already in the 50s and early 60s, well before kids grew their hair long, listened to rock n' roll and resisted the Vietnam draft.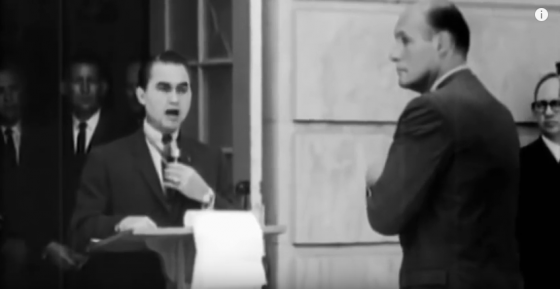 Take note of Michael O'Meara's discussion of how The Soviets and other Marxists/communists used black "civil rights" as a weapon against America; also note my reinforcement that Jewish interests, via Katzenbach, prominently, were only too happy to facilitate what was then more straightforwardly referred-to as "integration."
Kennedy had been ignoring Vice President Lyndon B. Johnson's advice, to "look Southerners in the eye and tell them that integration was a moral and Christian issue."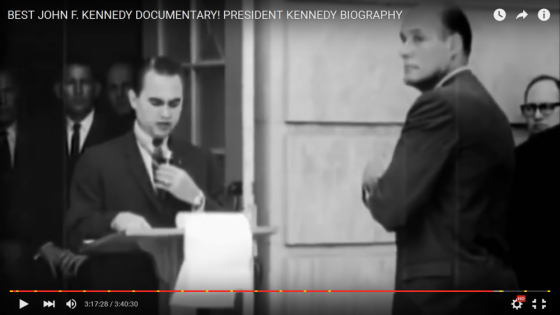 Governor Wallace, posturing as if to stand in the way of integration, is confronted by Katzenbach
Watching Wallace's posturing, President Kennedy decided for the first time in his career to risk his political standing in the South by taking the side of integration. President Kennedy decides to go on national television that night and give a speech calling for a civil rights act to end discrimination in the South.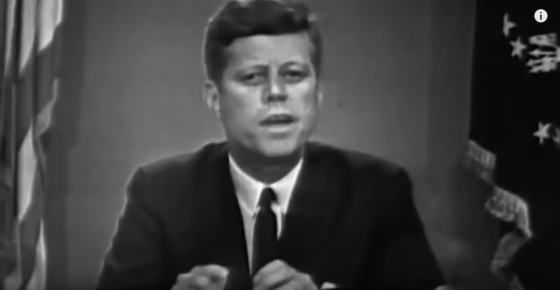 "We are confronted primarily with a moral issue. It is as old as the scriptures and as clear as The American Constitution. The heart of the question is, whether all Americans are to be afforded equal rights and equal opportunities (He 'finally' calls for Federal law ending segregation). Next week I shall ask the Congress of The United States to act, to make a commitment that has not been fully made in this century to the proposition that race has no place in American life or law."
This, GW, is why not only the Arahamic universalism of The Right, but its wedding to Enlightenment style objectivism (and universalism) must be overcome as well - and it is the post modern project, proper, which has undertaken to do that.
Kennedy is also the one who got us into the Vietnam debacle with a strategy of showing strength against communism with "small wars."
The documentary concludes..
'Kennedy set so much in motion in such a short period of time"...
Perhaps the most reliably good outcome of Kennedy biographies are the endings.