Majorityrights Central > Category: Religion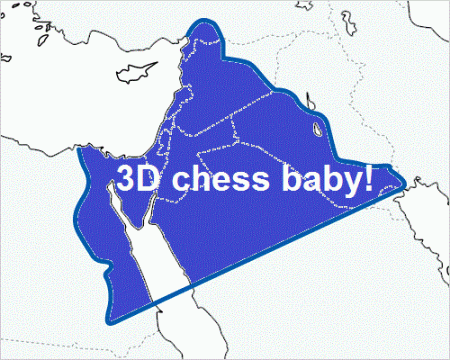 The satisfied working-hypothesis for ethno-nationalists in answer to the question as to why Isil and the terroristic chaos of the middle east cannot be brought under control is because Israel does not want that. Terror and chaos function provisionally to overthrow stable regimes which, as rational actors in and about Israel, can be of still greater threat to Israel in its project to secure "its realm" around Israel - in its aspiration for "Greater Israel."

The Israeli's Operation Clean Break is a plan that set-about to secure this "realm" with the aid of U.S. military. In marketing a theoretical false polemic between "neo-cons" and "paleocons" (the latter being the theoretical underpinning of the "Alt-Right"), Jewish interests have orchestrated American media, politicians and public to this end.
The project first took care of Sadaam Hussein - a rational actor, his was a more secular and civically ordered regime, which was building a powerful basis for an Iraqi nation insubordinate and defiant of Israeli control of the region.
On the other hand the Saudis have already been bought-off, and act as a conduit for jihadists, munitions, chaos, propaganda and military alliance that Israel seeks to deploy in this plan - at the moment especially against Iran, as its liberalization toward rational actor status in the Iran Deal has been a great threat to greater Israel; and has provided Israel great incentive to get behind Trump for his initial stated motivation in running for President - to undo the Iran Deal.
The implication now is that Israel is aiding and abetting terroristic chaos - Isil is particularly useful to attack the stable Left Nationalist regime of Bashar al-Assad.
News Week, "Israeli Defense Minister: 'I Prefer ISIS to Iran on Our Borders", 20 January 2016:

Israel's Defense Minister Moshe Yaalon said on Tuesday that if he had to choose between the Islamic State militant group (ISIS) and Iran on the country's borders, he would "choose ISIS" every time.

In comments made at the Institute for National Security Studies' (INSS) conference in Tel Aviv, Yaalon said that if the regime of Syrian President Bashar al-Assad were to fall, he would prefer the militant group to control territory on Israel's northern border rather than an Iranian proxy such as the Lebanese Shiite militant group Hezbollah.

He reasoned that Iran has superior capabilities to the radical Islamist group, who are being pegged back by the U.S.-led coalition in Iraq and Syria.

"In Syria, if the choice is between Iran and the Islamic State, I choose the Islamic State. They don't have the capabilities that Iran has," he said. "Our greatest enemy is the Iranian regime that has declared war on us. Iran tried to open a terror front against us on the Golan Heights."

He continued that Iran has a "terror infrastructure in place in five continents," listing Asia, Africa, Europe and both Americas.

ISIS is much weaker financially and militarily than Tehran and, with everyone against the militant group, they will fall, he said.

"We believe ISIS will be eventually defeated territorially after the blows it has been suffering, and in light of the attacks on its oil reserves," he added.

Last year, Hezbollah operatives conducted a number of border attacks against Israeli targets while key Hezbollah commander Samir Kuntar was assassinated in a December air strike in the Syrian capital, Damascus, that the group blamed on Israel. The group receives funding and logistical support from the Iranian military.

Last week, international sanctions were lifted on Iran's ailing economy after Tehran met all of the conditions as part of a landmark nuclear deal signed with world powers last July.
The terror and chaos that Israel and Jewish interests aid and abet have been extended to other nations, to Europe, with the aim of presenting Israel and its diaspora by contrast, as your friend and ally against Islamic terror. But you will be allowed by their auspices to defend only "western civilization" - "civilization" meaning that which falls under their Noahide, Abrahamic law - Judeo-Christian and Islamic comprador rule.
"Clean Break" motives are also evident in Nuland and Kagan's impetuous instigation and regime changing presence in the Ukrainian conflict - with Russia, like the US and Saudi, already being compliant with Israel, there would be a motive to see to-it that rogue anti-Semitic Ukrainian nationalism is brought under Jewish control.
There is good reason to believe that like Saudi, The U.S. and the Russian Federation, that Turkey is compliant and complicit with Israeli motives as well. Interesting connections show between Trump-Flynn-Turkey-Russia and Israel.
In the case of Libya, while there were other nefarious actors as well - notably Sarkozy and American paleocons - Clean Break motives were once again evident in aiding and abetting the overthrow of the stable and rationally acting regime of Gaddafi, with similar results in the chaos of the overthrow. That being populations from the middle-east, north and sub-Saharan Africa have been surging into Europe - desperate populations, frequently disillusioned and hostile dissenters from efforts in rational nationalism such as Gaddafi's - the Manchester terrorist was one such type from Libya and was apparently equipped with Isil theory and training.
The Nice terrorist having been from Tunisia also ties into this mindset.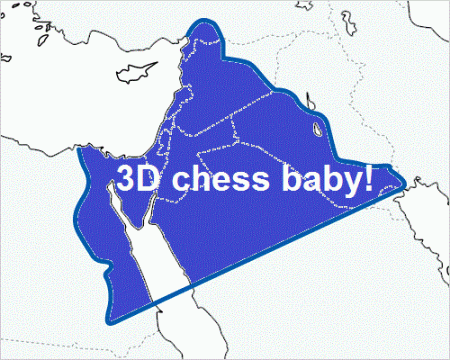 Quoting Gary Anderson, who wrote to MR: "There are many Jews that hate Zionism. The fact that you fail to report that makes you a racist. You probably are a Zionist because you undermine the antiZionist movement with your racist filth."
I'm fully aware that there are many Jews who hate Zionism. Israel Shamir and Gilad Atzmon are well known examples among WN circles. I never duck that fact and do not need to. Nor am I a Zionist, as you conjecture. Nevertheless, whether Jews are anti-Zionist or Zionist, I do not consider them a part of our advocacy group, but as a different people from Europeans and more or less antagonistic to us - much more antagonistic for the most part, while the rest are a part of the pattern nevertheless and cannot be trusted. I do not hesitate to categorize them as such for three very fundamental reasons to begin A) They are the most ethnocentric people in the world overall, including non-Zionist members - whose ouliers tend to be liberal at best (not something Europeans need more of). Jews look after themselves while prescribing liberalism to others - Europeans by contrast, are not very ethnocentric, not good at looking after their group interests; and thus need to discriminate against Jews especially; because Jewish identity, negative though Jewish identity is for Whites, is not very clearly distinguishable to Whites, as being different from Whites, but tends rather to be hidden in crypsis - the natural "camouflage", viz., appearance of being White - Jewish identity thus needs in particular to be distinguished and separated from. This crypsis is a part of their systemic process, wherein their liberal elements serve a function of mixing with (in this case Whites) to weaken any coherence and potential antagonism that might be directed at Jews from White groups. B) Jewish antagonism and destruction of Whites is easily documented; along with its stemming from disproportionate Jewish influence from seven power niches: 1) Religion 2) Money and Finance 3) Academia 4) Media 5) Politics 6) Law and Courts 7) Business, Investment and Industry - and with all of this, US Military (and other military) as well. C) I am a separatist, not a supremacist looking to exploit or kill them. Therefore, even if I achieve my goal of separatism, I have not pronounced a death sentence in naming Jews as an outside group. If I am mistaken about something that I attribute to them, it is not irrevocable and can be corrected.
I am not "racist filth" but there is something very wrong with you that you would try to deny the most elemental function of biological nature, to discriminate for the purpose of survival of one's self and one's kind - and to identify and classify kinds not only for defensive purposes, but for the purpose of human ecology, accountability to that and legacy of human capital. By contrast, your prohibition of discrimination and said accountability is a prescription for the exploitation of that human capital and of genocide. That is evil. You are the one prescribing the filthy thing that would destroy people. Shame on you Gary Anderson (Ramirez).
Brothers, sons of Abraham

Diversity Macht Frei, "Hagar: Ideological capture as a response to the constraints of Jewish ethnic exclusivism", 12 May 2017:

The obsessive ethnocentrism of the Jews has meant that they could never acquire the strength of numbers required for the kind of great undertakings that require a large population, military ventures being the most obvious example. For that reason, Jews have been forced to develop ideologies that recruit other people to their cause, inveigling non-Jews into pursuing a Jewish ethnic agenda through a process of intellectual or emotional capture. The two most destructive examples of this, so far, have been Islam and Communism. *

A few days ago I wrote (link) about the book Hagarism, which describes how the Jews created Islam to recruit an Arab army to aid them in the reconquest of Palestine, having been forced to flee it after a betrayal too far.

In the tradition of Jewish Biblical interpretation, Muslims are identified with the figure of Ishmael in the Book of Genesis. The Islamic tradition, too, recognises Ishmael as the Ur-ancestor of the Arabs. The Genesis episode curiously prefigures exactly the phenomenon I have described above. In the biblical narrative, Abraham's wife, Sarah, is unable to bear him children. She suggests to Abraham that he impregnate their Egyptian slave/servant girl, whose name is Hagar, instead. This he does, and she gives birth to Ishmael. Later, she is sent away.

Here we see a microcosmic representation of the basic relationship between Jews and Muslims. Just as Abraham cannot (as he then believes) gain a son, Jews cannot gain sufficient numbers on their own. They recruit the prototypical Muslimah, the Egyptian slave, to make up the deficit. And her son, Ishmael, symbolic progenitor of Muslims, shall be "a wild man; his hand will be against every man, and every man's hand against him". The world has been living with the consequences to this day.
"The two most destructive examples of this, so far, have been Islam and Communism." * Of course, Majorityrights would quickly add Christianity to this list. For their purposes, Jews created Christianity as well. In fact, Christianity has paved the way for the destruction of European peoples as it assures the enemy that its believers will not fight back. The fighting aspects of the bible require borrowing from the Old Testament and thus align one's fight thematically with Jewish interests. As such, it has led to the senseless destruction of other non-Abrahamic peoples as well, though they might have been friends and allies otherwise.
Here is the relevant passage (where Judaism gave birth to Islam) from the Book of Genesis.
Ibid: Now Sarai Abram's wife bare him no children: and she had an handmaid, an Egyptian, whose name was Hagar.

2And Sarai said unto Abram, Behold now, the LORD hath restrained me from bearing: I pray thee, go in unto my maid; it may be that I may obtain children by her. And Abram hearkened to the voice of Sarai.

3And Sarai Abram's wife took Hagar her maid the Egyptian, after Abram had dwelt ten years in the land of Canaan, and gave her to her husband Abram to be his wife.

4And he went in unto Hagar, and she conceived: and when she saw that she had conceived, her mistress was despised in her eyes.

5And Sarai said unto Abram, My wrong be upon thee: I have given my maid into thy bosom; and when she saw that she had conceived, I was despised in her eyes: the LORD judge between me and thee.

6But Abram said unto Sarai, Behold, thy maid is in thy hand; do to her as it pleaseth thee. And when Sarai dealt hardly with her, she fled from her face.

7And the angel of the LORD found her by a fountain of water in the wilderness, by the fountain in the way to Shur.

8And he said, Hagar, Sarai's maid, whence camest thou? and whither wilt thou go? And she said, I flee from the face of my mistress Sarai.

9And the angel of the LORD said unto her, Return to thy mistress, and submit thyself under her hands.

10And the angel of the LORD said unto her, I will multiply thy seed exceedingly, that it shall not be numbered for multitude.

11And the angel of the LORD said unto her, Behold, thou art with child, and shalt bear a son, and shalt call his name Ishmael; because the LORD hath heard thy affliction.

12And he will be a wild man; his hand will be against every man, and every man's hand against him; and he shall dwell in the presence of all his brethren.

13And she called the name of the LORD that spake unto her, Thou God seest me: for she said, Have I also here looked after him that seeth me?

14Wherefore the well was called Beerlahairoi; behold, it is between Kadesh and Bered.

15And Hagar bare Abram a son: and Abram called his son's name, which Hagar bare, Ishmael.

16And Abram was fourscore and six years old, when Hagar bare Ishmael to Abram.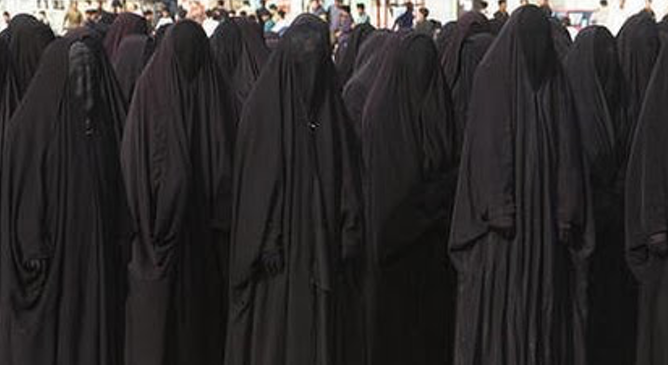 True or not, an idea put out there that elite powers are trying to obfuscate the concept of "the great replacement" and to train imams to act in accordance with their elite interests is not bad as a working hypothesis for public consumption. Removing some of its warts, this article passes muster thus.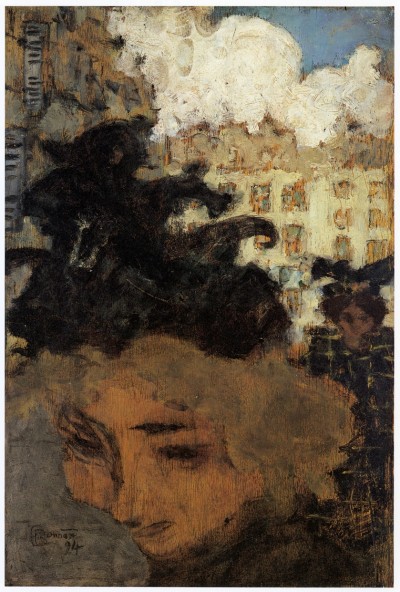 Diversity Macht Frei, 7 May 2017:

The same presentation that I discussed yesterday proposes that the French government collect statistics about the ethnic and religious make-up of its population. Currently, this is prohibited in France, where all "citoyens" are presumed to be equal. No doubt this is, in part, an ethnic power-play. Armed with their statistics, Muslims will be able to say, "Look, we're XX per cent of the population, we should get more cash!". The PowerPoint puts it more formally:

To improve knowledge of the sociology of religious practices in order to better respond to their needs

The second justification for the plan cited, however, is very interesting.

To deconstruct the "myths" of the "Great Replacement"

Coined by the French writer Renaud Camus (a reputable novelist whose publishing contract was cancelled due to his politically incorrect views), this phrase "Grand Replacement" [Great Replacement] has come to have the same totemic significance in continental Europe that "White Genocide" does in English-language discourse. It refers to the replacement of the indigenous peoples of Europe by non-Europeans; or, to put it another way, the phenomenon of ethnic Europeans being turned into ethnic minorities. This phrase has almost entered the mainstream in France [...]

But here we have a clear indication of the [...] intelligentsia concerned about the spread of this meme and the patriotic resistance it inspires. The irony is that they plan to counter it by collecting and publishing accurate demographic statistics.

Of course, if we are right - and we are - the statistics will not counter the "Great Replacement" concept at all; they will confirm it. So bring on the statistics [....] That might be one good thing to emerge from this, if Macron wins.

As Charles Martel probably said, on the eve of battle: "First they ignore you. Then they laugh at you. Then they generate statistics to try and thwart you. Then you win."

More generally, this presentation focuses on the idea of nationalising Islam in France. It argues that the French government should grant certain privileges and public recognition to Islam and establish formal structures for its expression, so it can thereby acquire some control over it and prevent it going in wayward directions. This is the basic approach adopted in much of the Middle East, where governments control or monitor the training of imams, and sometimes write their sermons for them, and so on. As I put it before, it proposes soft public islamisation as the remedy for hard private islamisation.

[...]

For the sake of these doubters, here are direct links to the specific files referenced. One is an email. The other is the Powerpoint presentation within the email. No doubt some will now claim that I faked the entire Powerpoint presentation and email.

1. Islam Présentation 26 07 Comité directeur IM.pptx - 818 KB

Fwd Notes à date (1) REGALIEN - Quentin LAFAY (.(JavaScript must be enabled to view this email address)) - 2016-08-31 0809-2.eml - 1.2 MB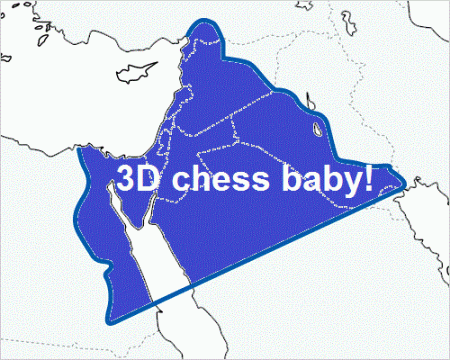 The Greater Israel Project
For one salient matter, The Silk Road runs through Iran, which will increase its liberalization and business power in opposition to Israeli control of the region - its greater Israel project.
This would also hurt Israel's first fall back position and assets in the Russian Federation, as it would lower oil prices and thus effect the primary bargaining chip at their parasitic disposal.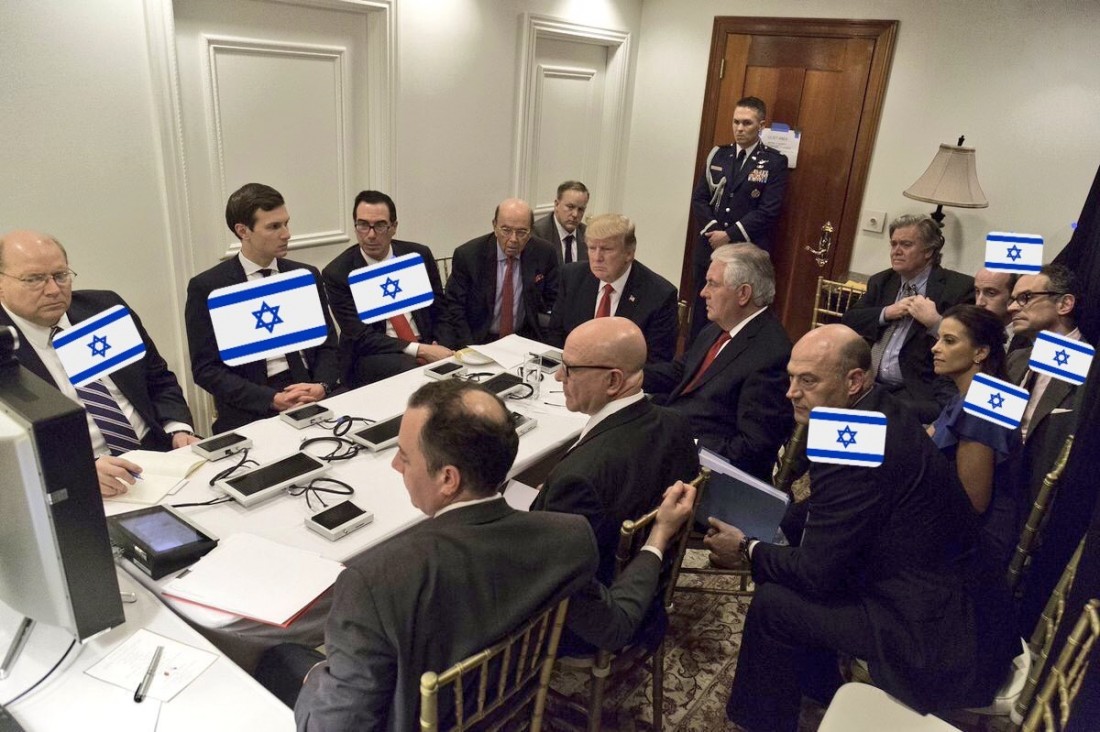 Mossad asset Donald Trump - you may as well put an Israeli flag on him too, as he has rendered the US Presidency fully a Mossad asset now - leading the charge on Israel's behalf, his cabinet filled with additional Israeli assets, it scarcely has to buck the presence of a few goyim: convenient Putin crony, "god willing", Rex Tillerson looking very much out to lunch when not serving in his primary function as oil liaison to the Russian Federation. Reince Priebus is invited to leave and make way for yet another kosher member, to move the Cabinet's make-up nearer to 100% Jewish. Steve Bannon can remain in the background, already as shabbos goy, subservient in a view configured to be conducive to Israeli interests and against its enemies.
Buzzfeed, Steve Bannon: "The Judeo-Christian West versus atheists. The underlying principle is an enlightened form of capitalism, that capitalism really gave us the wherewithal. It kind of organized and built the materials needed to support, whether it's the Soviet Union, England, the United States, and eventually to take back continental Europe and to beat back a barbaric empire in the Far East."
He is no opposition, he represents the Paleocon voice of "restraint", preening the narrative for shabbos goy, providing speed bumps to help the likes of Kushner to realize when he might be going too fast to get the shabbos goyim more fully on board with an Israeli view.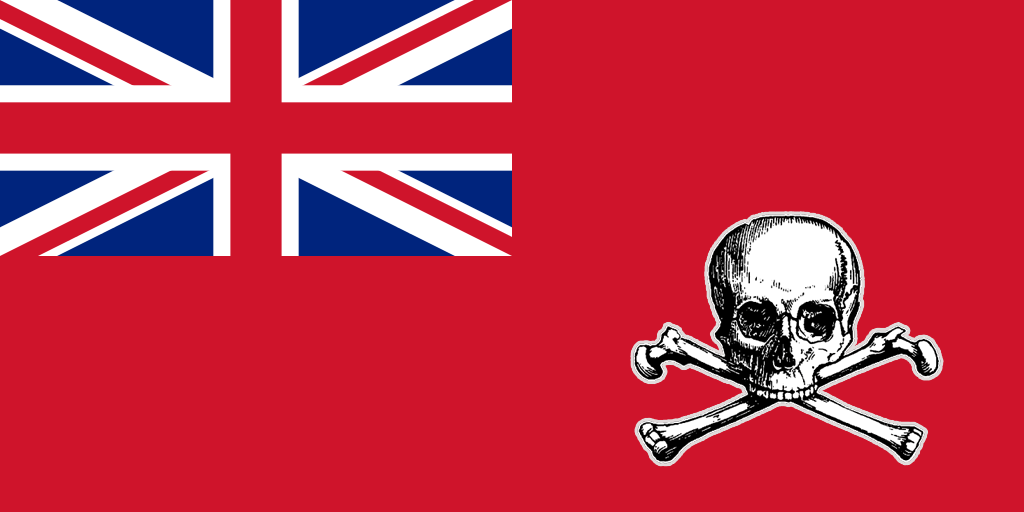 It's really great
Question. What's the difference between:
being a pirate running a multi-ethnic drug-ferrying operation to generate money which is kept off-the-books for the financing of covert operations,
being a mercenary who is paid to attack slave-ships and liberate slaves,
being a radically forward-deployed coastguard which defends the borders of Britain at the edge of someone else's shores on extended lines of supply, and
being a Knight Commander of the Order of the British Empire?
Trick question. They are all potentially the same thing, and that's what makes Britain great.
The only people in parliament who seem to have any understanding of this history however, are the people in Theresa May's wonderful cabinet.
Weaponised history
The difference in opinion between Amber Rudd and Justin Welby is very instructive:
ITV News, 'Home Secretary faces backlash in parliament for capping lone child refugees', 09 Feb 2017:

The Home Secretary faced a backlash in parliament after it was announced that the number of lone child refugees coming to the UK will be capped.

Amber Rudd insisted that the move to cap the scheme to just 350 children, far fewer than the 3,000 originally expected, closed to avoid encouraging people-traffickers.

Ministers quietly announced on Wednesday that 200 children had been brought in under the so-called Dubs Amendment and it will close after another 150 are settled in Britain.

[...]

Responding to the Commons, Rudd said: "I am clear that when working with my French counterparts, they do not want us to indefinitely continue to accept children under the Dubs Amendment because they specify, and I agree with them, that it acts as a draw. It acts as a pull.

"It encourages the people-traffickers."

She also suggested that local authority funding had come into the equation when deciding how many child refugees would be settled under the programme.

[...]

The Archbishop of Canterbury, Justin Welby said he was "saddened and shocked" to learn of the Government's decision to stop the scheme.

"Our country has a great history of welcoming those in need, particularly the most vulnerable, such as unaccompanied children," he said.

"Refugees, like all people, are treasured human beings made in the image of God who deserve safety, freedom and the opportunity to flourish."

He added: "We must resist and turn back the worrying trends we are seeing around the world, towards seeing the movement of desperate people as more of a threat to identity and security than an opportunity to do our duty.

"We cannot withdraw from our long and proud history of helping the most vulnerable."
The Home Secretary is correct, and the Archbishop of Canterbury is incorrect, as per usual, because Christianity is stupid and will make you become stupid.
The apparently long, proud history of British people 'helping the most vulnerable' in a scenario like the one that is presently unfolding in Syria, has only one historical precedent actually, and it is the historical precedent of the West Africa Squadron.
Philanthropic activities
The West Africa Squadron sprung out of the changing economic structural necessities in 1808 after Parliament passed the Slave Trade Act of 1807. The Squadron's mission was to suppress the Atlantic Slave Trade by attacking slave ships off the coast of West Africa.
Letters of Marque were also issued to allow private security contractors, also known as 'pirates', to act on behalf of the British government under 'false flags' to attack Spanish, French, Portuguese, Arab, and American slave ships within the same mission scope. A particularly iconic practice was to approach a contact while flying the British red ensign, and then run it down the flagpole at the last minute and elevate the black Skull and Bones flag in its place before attacking the contact. Under the Skull and Bones, it was possible to exist in a parallel legal reality where you could do anything to anyone without a care in the world. This also happens to be the essence of what Ernst Junger would later refer to as the 'dual state'.
The programme was later expanded by the 1840s to encompass North Africa, the Middle East, and the Indian Ocean, as Pax Britannica began to become entrenched across the major sea-lanes into the western hemisphere.
Notice how none of that involved inviting every single African into Britain. On the contrary, by taking the fight to the slave traders – both legally and extra-legally – it enabled the British to accomplish:
a great work of humanitarianism,
the pursuit of various geostrategic and geoeconomic objectives against Britain's rivals,
disincentivising the activities of the slave traders, and
the ability to simply hijack virtually any ship and steal it, with popular support.
As Cecil John Rhodes once said, "Pure philanthropy is very well in its way, but philanthropy plus five percent is a good deal better."
And really, it is, isn't it?
Anyone who doubts can simply contrast the premiership of Theresa May against the premiership of Angela Merkel. Which is faring better? Exactly. I rest my case.
Related Articles: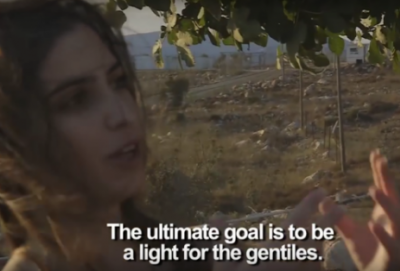 A Zeitgeist may be described in sober terms as the largely taken for granted (unconscious, hence "ghostly") logics of meaning and action comprising a moral order - the characteristic obligations, legitimacies and prohibitions constituting social paradigmatic parameters. I don't need to refer to the oft quoted statement by Voltaire to suggest that given our prevailing zeitgeist, even where the progenitors of a theory via academia or media are not themselves Jewish, that they have dared not lay blame in the hands of the Jews. To cite Jews, their religion and practices as explanatory of social problems has been strictly prohibited since World War II; media and academia having circled the wagons more fervently and thoroughgoingly than ever against heretics of the paradigm - the zeitgeist of Jews as sacred cow. Nevertheless, it has only been more strong a taboo since the western world viewed footage of Operation Reinhard's wake, and the Nazi mirroring of themselves as chosen, but it is not a new taboo. The Bible, Old and New Testament, has in fact been "the Jewish media" for 2,000 years, designating Jews as chosen (if not misguided), as having donated Christ, the savior of Gentiles, savior of all non-Jews, Whites included; and texts be known, has made taboo self interested defense and action for Gentiles, interposing and prescribing upon them instead an obsequious Golden Rule that the Jews themselves would not adhere to.
It is an observable Jewish strategy within this zeitgeist for their adherents to be granted "rights of display" as they might disseminate, via academia and media, a good deal of penetrating, truthful information; but in the end those rights of display are curtailed and attention deflected from just those parts of information where Jewish ways and means are shown responsible for negative social and genetic consequences for other peoples.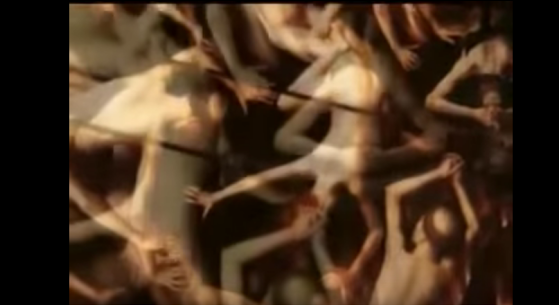 ..."but he loves you!"
Such is the case with Zeitgeist
- the 2007 film Zeitgeist; viz., its segment on religion. After setting out an array of fascinating information tracing sources of Judeo-Christian mythology to pagan roots - largely to Egyptian sun worship - there is, by segment's end, blame laid on the use of Christianity, by Roman leaders in particular, followed by a logical fallacy stealthily deployed: i.e., that all religions are mythologies used to cover-up the truth by those who know the truth and seek nefarious social rule by the obfuscating properties of religious mythos - all religions serve this purpose, therefore the Abrahamic religions generally and Judaism in particular should not be singled-out for special critique.
In fact, Christianity was not as much the means by which Roman leaders beginning with Constantine took power over the rest of Europe, so much as it was the means by which the Jews overthrew ancient Rome and ultimately, all of Western civilization - placing it all vaguely under the auspices of Noahide law - our Zeitgeist.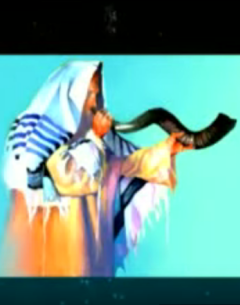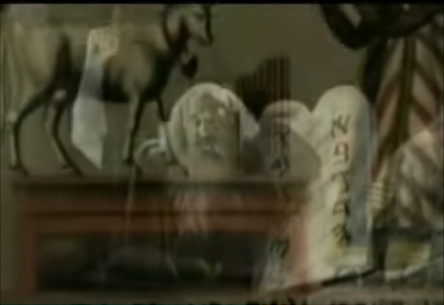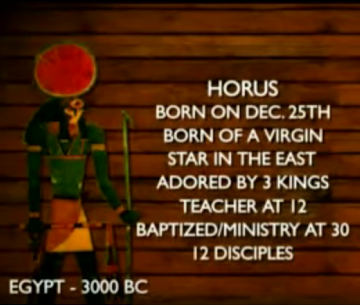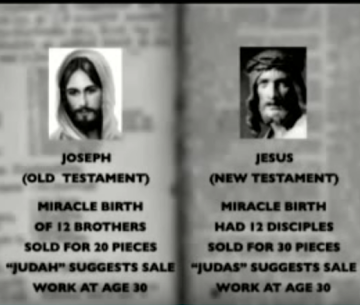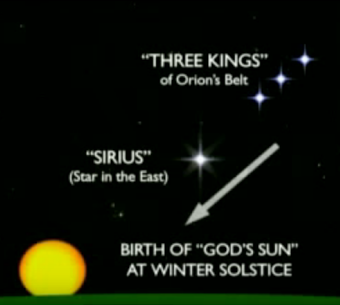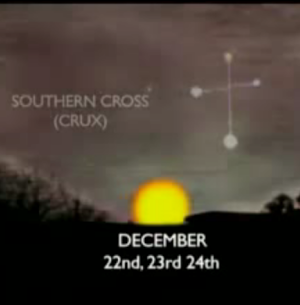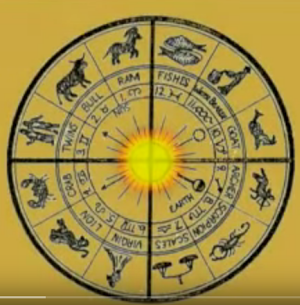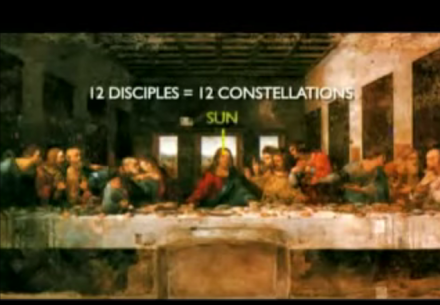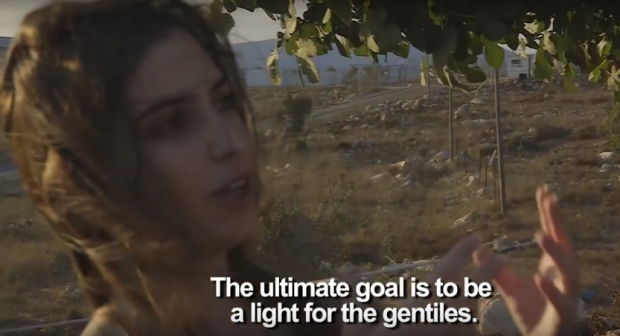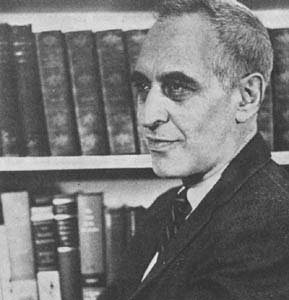 (((Frank Meyer, father of paleoconservatism))) and its (((opposition))) to (((neoconservatism)))
Both in terms of its meta-contextual frames and in terms of its content, this piece is meant to deepen Greg Johnson's account of the Alternative Right history and trajectory.
Steve Bannon has brought into high relief the underpinnings of the Alternative Right and has crystallized the underlying agenda - implicit White nationalist support was to be used via The Alternative Right/Lite to win for the Republicans and then, as usual, implicit White nationalism was to be discarded, the primary difference this time being that it was not in favor of the bracketed refurbished version of conservatism, "neo-conservatism", but rather in favor of a bracketed refurbishment of paleoconservatism - Alt Right/Alt Lite contra "The Left" - i.e., contra ethno-nationalism.
- It begins with the philosophy of (((Frank Meyer))):
Frank Meyer saw himself more sophisticated and opposed to the simplified hawkishness of (((Irving Kristol's))) neo-cons - who advocated neo-liberal policies domestically while advocating wars for Israel abroad.
Meyer and his paleoconservatism are actually a more virulent expression of Jewishness. He wanted Americans to identify with, support and affix Abrahamic culture domestically (calling things like that "conservative"), while allowing for politics conducive to mediating neo-liberal interests through feudalistic compradors and Jewish interests abroad.
This is the school of thought from whence came (((Paul Gottfried))), Reagan "conservatism", Pat Buchanan, and Sam Francis.
That (((paleoconservative))) school of thought, in opposition to the (((neocons)))), became foundational for The NPI of Sam Francis and William Regnery II.
By 2008 Paul Gottfried recognized that both the neo-con brand and the paleocon brand had shot their wad in terms of marketable brand name. If he was to be able to co-opt the White vote in order to use it to put the ultimately neo-liberal / pro Israel Republican party back in power, useful to Jews and oligarchs as usual, he needed to re-brand the agenda as something other than neocon, something other than paleocon even, rather as something "new", "rebellious", "anti-establishment" and the term and general concept of the Alternative Right was born - essentially not a big tent, but a tentosphere (a tent of tents) of anti-social types (anti-"leftist" was to be the common angle that they were seeded: meaning anti- the (((distorted and abusive))) social advocacy of ((("PC"))) - which, from a White ethnonational standpoint, should rather have been called by the term liberalism or cultural Marxism of the Frankfurt school). In order to be accepted into the Alternative Right tentosphere one had to be against this, what they called "The Left" and was duty-bound to tolerate one another's guiding anti-social organizing ideologies - for any of a gamut of stigma, ranging from adulation of Jesus, Darwin, Abraham or Hitler - Jew friendly Alt Lite to Hard Right Hitler idolatry - you didn't have to be in a particular tent of the tentosphere, but you had to treat its given array of tents as valid ....until perhaps the paleocon finally came to power. Then your job as an Alt Righter, your duty to use Whites to resurrect the Republican party and the reason for the fame you could not believe had been granted you was done - unless, perhaps, you remain sufficiently Abrahamic or otherwise stigmatically, didactically right wing enough to be sufficiently yoked.
It is all more sinister than that as you hear Steve Bannon, believing himself to be objectively the ultimate pragmatist on behalf of Western ideals, having affixed himself like a fat, blood-filled tic, valencing, full, sucking goy blood, the ultimate Shabbos Goy - vectoring the horizontal transmission of the bracket.
America's and Europe's White ethno-national bases are being sucked and directed into friend enemy distinctions exactly as the brackets see fit according to their evil Abrahamic god.
Whites may be allowed to live as useful cows, technoslaves or breeding partners for Jews, but otherwise they, like all other ethnicities besides Jews, are to be bred-out with others.
Paleocon world view, the Frank Meyer world view supplants what should be the friend / enemy distinctions for White ethno-nationalism.
Whereas the fundamental outgroups if not enemies should be Jews, Muslims, blacks and liberal traitors (in the case of Whites, usually operating under some right wing ideas, notably Christianity, Austrian school objectivism, supremacism, yes, paleoconservatism too, etc).
And against them, the fundamental in-groups should be White ethnonationalisms in alliance with Asian ethno-nationalisms…
Instead the Abrahamic world view determines the friend enemy distinction:
America's (((controlled))) proposition nation is "us" if not our "friend"; Israel, Jews, at least the "nice" ones, are "us" if not our "friends", the (((Russian Federation - parasitic propositional empire bigger than the moon; equipped with its Jews and Orthodox church))) is "us", if not our "friend"; blacks, their staggering population explosion, bio-power and hyper-assertiveness are "us", if not our "friends"; Islam, especially "moderate" Islam is "us" if not our "friend": these shock troops and compradors are marshaled against White and Asian ethnonationalisms in alliance.
Bannon puts the major friend-enemy distinction as the brackets would have it in stark relief -
Buzzfeed, Steve Bannon: "The Judeo-Christian West versus atheists. The underlying principle is an enlightened form of capitalism, that capitalism really gave us the wherewithal. It kind of organized and built the materials needed to support, whether it's the Soviet Union, England, the United States, and eventually to take back continental Europe and to beat back a barbaric empire in the Far East.
In the meantime, Richard Spencer has had a wad of Jewish scum shot all over his face - he and the Alternative Right have been used by the Republicans and the YKW as usual. Now for the futile reaction, also part of the plan…along with the placation:
Buzzfeed News, "This Is How Steve Bannon Sees The Entire World" 16 Nov 2016:

The soon-to-be White House chief strategist laid out a global vision in a rare 2014 talk, one where he said racism in the far right gets "washed out" and called Vladimir Putin a kleptocrat. BuzzFeed News publishes the complete transcript for the first time.

Donald Trump's newly named chief strategist and senior counselor, Steve Bannon, laid out his global nationalist vision in unusually in-depth remarks delivered by Skype to a conference held inside the Vatican in the summer of 2014.

Well before victories for Brexit and Trump seemed possible, Bannon declared there was a "global tea party movement" and praised European far-right parties like Great Britain's UKIP and France's National Front. Bannon also suggested that a racist element in far-right parties "all gets kind of washed out," that the West was facing a "crisis of capitalism" after losing its "Judeo-Christian foundation," and he blasted "crony capitalists" in Washington for failing to prosecute bank executives over the financial crisis.

The remarks — beamed into a small conference room in a 15th-century marble palace in a secluded corner of the Vatican — were part of a 50-minute Q&A during a conference focused on poverty hosted by the Human Dignity Institute, which BuzzFeed News attended as part of its coverage of the rise of Europe's religious right. The group was founded by Benjamin Harnwell, a longtime aide to Conservative member of the European Parliament Nirj Deva to promote a "Christian voice" in European politics. The group has ties to some of the most conservative factions inside the Catholic Church; Cardinal Raymond Burke, one of the most vocal critics of Pope Francis who was ousted from a senior Vatican position in 2014, is chair of the group's advisory board.

BuzzFeed News originally posted a transcript beginning 90 seconds into the then-Breitbart News chairman's remarks because microphone placement made the opening mostly unintelligible, but we have completed the transcript from a video of the talk on YouTube. You can hear the whole recording at the bottom of the post.

Here is what he said, unedited:

Steve Bannon: Thank you very much Benjamin, and I appreciate you guys including us in this. We're speaking from Los Angeles today, right across the street from our headquarters in Los Angeles. Um. I want to talk about wealth creation and what wealth creation really can achieve and maybe take it in a slightly different direction, because I believe the world, and particularly the Judeo-Christian west, is in a crisis. And it's really the organizing principle of how we built Breitbart News to really be a platform to bring news and information to people throughout the world. Principally in the west, but we're expanding internationally to let people understand the depths of this crisis, and it is a crisis both of capitalism but really of the underpinnings of the Judeo-Christian west in our beliefs.

It's ironic, I think, that we're talking today at exactly, tomorrow, 100 years ago, at the exact moment we're talking, the assassination took place in Sarajevo of Archduke Franz Ferdinand that led to the end of the Victorian era and the beginning of the bloodiest century in mankind's history. Just to put it in perspective, with the assassination that took place 100 years ago tomorrow in Sarajevo, the world was at total peace. There was trade, there was globalization, there was technological transfer, the High Church of England and the Catholic Church and the Christian faith was predominant throughout Europe of practicing Christians. Seven weeks later, I think there were 5 million men in uniform and within 30 days there were over a million casualties.

That war triggered a century of barbaric — unparalleled in mankind's history — virtually 180 to 200 million people were killed in the 20th century, and I believe that, you know, hundreds of years from now when they look back, we're children of that: We're children of that barbarity. This will be looked at almost as a new Dark Age.

But the thing that got us out of it, the organizing principle that met this, was not just the heroism of our people — whether it was French resistance fighters, whether it was the Polish resistance fighters, or it's the young men from Kansas City or the Midwest who stormed the beaches of Normandy, commandos in England that fought with the Royal Air Force, that fought this great war, really the Judeo-Christian West versus atheists, right? The underlying principle is an enlightened form of capitalism, that capitalism really gave us the wherewithal. It kind of organized and built the materials needed to support, whether it's the Soviet Union, England, the United States, and eventually to take back continental Europe and to beat back a barbaric empire in the Far East.