Majorityrights Central > Category: Anthropology
The scientistic idea that sheer emergence can dismiss the philosophical discussion of social rules as "merely political" is unacceptable.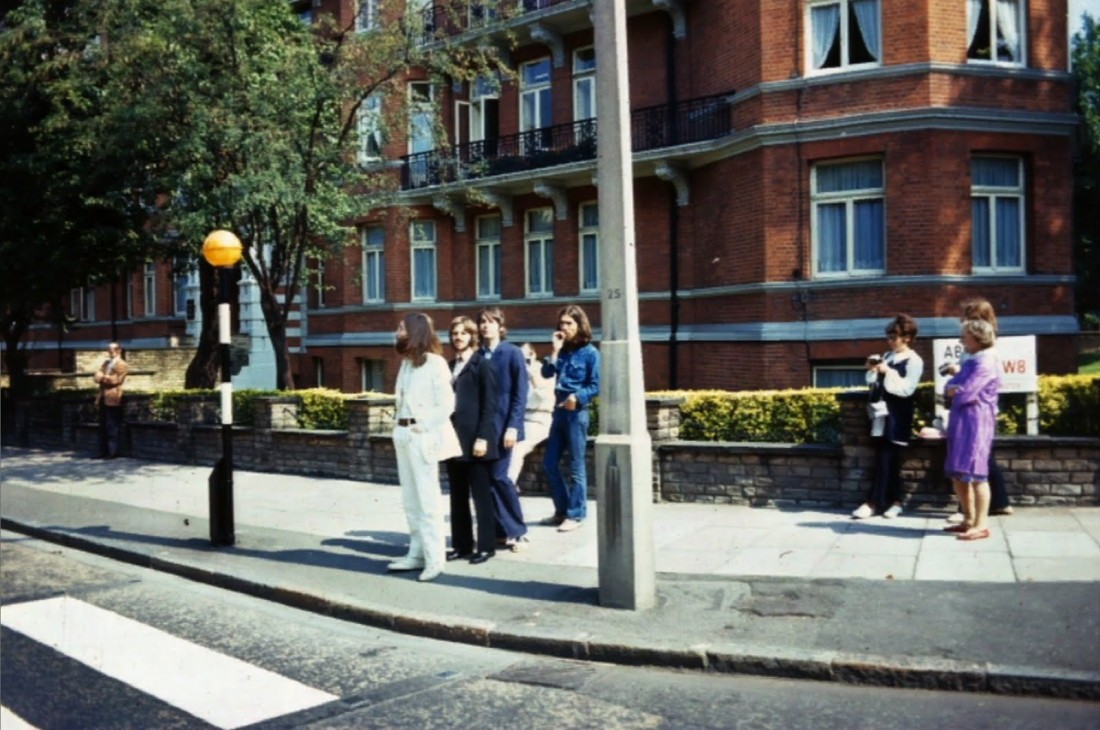 I was walking back home from a local watering hole, in my not very busy city, with its not very trafficked streets that normally allow me to jaywalk with impunity.
For some reason I decided to do something a little differently this time. I decided to walk the few extra steps to the corner and cross through the "zebra-stripes".
Now, emergence would afford me awareness of oncoming cars and the means to avoid them - usually, provided noises or other distractions did not block my awareness of the circumstance.
However, I noticed that in walking the few extra steps, which was really not hard to do, that I was relieved of a modicum of stress that I would have had in jaywalking - in which case I would be more on my own in having to be vigilant and not having the law on my side if an accident were to occur - if I were hit, or whatever. I had an added layer of ease of mind for what really did not (in this instance) cost me any appreciable time or effort. Jaywalking would have been tantamount to an alternative but not more advantageous route in overall pattern. I decided to cross the next street through the zebra-stripes as well. I came to an awareness that not only was I a bit less stressed in crossing the street this way, but a driver making his way to the intersection had to be less stressed as well, the rules comfortably taken for granted. By contrast, any driver would be more on his own too, and I'd need to be more hopeful that his awareness and good will were in better than conventional shape, if I were to jaywalk.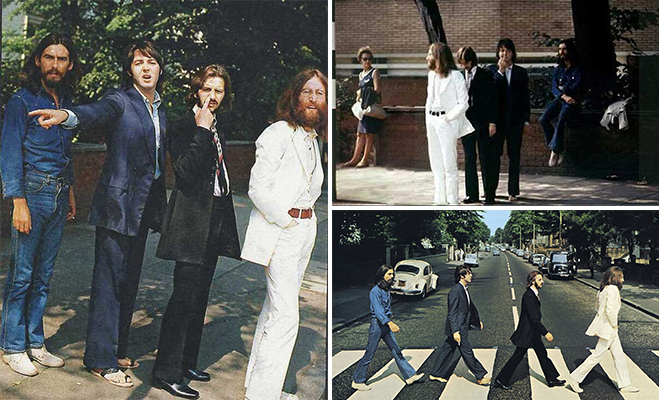 These are social rules. How they are put together is a philosophical matter - on this topic, not requiring much philosophical pedigree, of course; however, the matter of social rules goes directly into questions of how to live life and with that the most central philosophical issues for humans. The matter of jaywalking can be a matter of life or death, but nevertheless the matter of negotiation of social rules goes into broader, deeper, necessary and interesting discussions. Of course the negotiation of rules gets more complicated and interesting than the negotiation of zebra-stripes; it gets more interesting the more you consider the different ways our people can live. And for us, how you might negotiate these different ways and broad legitimacy while still protecting our precious inherited patterns.


I recall visiting Vienna some years back, as I looked over a tourist map, how eager a local man was to give me unsolicited help to find what I was looking for - I had to tell him three times that I was ok, didn't need any help. I suppose that he could tell that I was a tourist, looking to admire the beauty of its sites, not to stay and take advantage; and he wanted to show me that he was not a snob.
Later on when walking back to my hostel, I crossed the street (in the zebra stripes), not paying attention to the fact that the light was red; having been enculturated to the idea that "you shouldn't drive fast in town because there are pedestrians all around and you never know when one might go into the street" (and it is true that is good rule of thumb). With that in mind, I took my general safety for granted - it was of no great importance to me given the circumstance if this light was red or not, or so I thought, since there were no cars to be perceived nearby. Well, I almost got hit in the zebra stripes; a car came to a screeching halt before me. It is true that you'd have to pull into that particular turn very fast to not see a pedestrian walking through (green light or not) and so I automatically gave him a dirty look. Nevertheless, I could not say that he was entirely wrong when he put his head out the window and chided me in bitter sarcasm, asking, "I'm stupid yah?"
Emergence will have its constraints and affordances; rules conjured of the individual and social rules can go in many ways - some will be acceptable to us in the overall and will facilitate our survival, some will not.
Questions of emergence are very important, indispensable to ask, and answers provided will sort out some important matters, but not all, certainly not the all of philosophical inquiry. The negotiation and inquiry of social rules are a very important matter as well - if anything, asking more characteristically philosophical questions, only as shallow as the person asking them.
Prior to Kumiko having mentioned "the Sailer strategy" on the previous thread, I had planned to put up this post comparing "the Karl Rove strategy" with "the Steve Sailer strategy" in the Jewish playbook. Even though she would elaborate upon this far better than I could, I trust that she'll recall that it was I who first brought "the Sailer strategy" to her attention; and allow me to go ahead without the charge of having jumped her train (in fact, I've wanted for her to do this article).
Obviously Netanayhu's preferred candidate at the turn of the century was George W. Bush, as he could be manipulated by Wolfowitz to pursue the neo-con agenda in Operation Clean Break to secure the realm around Israel; a plan to use the US military to effect regime change in Israel's threatening neighbors - Iraq's Saddam Hussein to begin with. If playing to the Hispanic vote via the "Rove strategy" could gain W. the White House, then so be it. That was expedient for Jews. Anything to get Bush in there.
Having inserted Bush, the US military was used as planned to pursue Israeli interests to its disastrous ends. The neo-con agenda would continue to be squeezed for all it was worth through Obama's Presidency - despite his resistance to antagonism of Iran as per Brzezinski's mentorship, with Hillary in The State Department, regime change was effected in Libya and Egypt ..perhaps even the awkward campaign in Ukraine fit into that agenda under her State Department successor (((Kerry))) - it would seem so, given the campaign's Jewish nature and initiators: The Ukrainian regime change spearhead was Victoria Nuland and her husband, Robert Kagan, was a Clean Break insider.
With the Neo-Con agenda of Levi-Strauss and the Kristols having been "solution enough" to make for increasing problems - that is, creating discontent enough among the goyim on the home front, it was time for Frank Meyer's Paleocon movement to be re-branded, via Paul Gottfried as "the Alternative Right", and slipped to White right wing reactionaries to the Neo-Con agenda and the "Rove strategy." They were to adopt the oppositional "Sailer Strategy" of a unified voting block of White and Jewish paleoconservative interests, a Judeo-Christian union used as a nostalgic "conservative" tranquilizer while diverting any blame from Jews and right wingers onto Asians abroad and Hispanics domestically; further, the Sailer strategy rallied the so called Alternative Right coalition against them under a broader diversionary red cape of "enemies", an over arching enemy called "The Left."

Unz Review, "Will Trump be Good for the Jewish People? by Steve Sailer", 7 Dec 2016:

Much of the hysteria sweeping the fraction of the country that voted for Hillary Clinton originates in understandable Jewish worries about whether the rising tide of populist nationalism will be good for Jewish people.

Note the disparate media treatment of Trump's two Steves. The press has gone nuts baselessly tarring the working-class Irish-American Stephen Bannon, Trump's strategist, as anti-Semitic (in reality, Bannon helped bankroll Seinfeld), while largely ignoring Jewish-American Stephen Miller, Trump's brilliant speechwriter and warm-up act, because he doesn't fit into the Narrative.

While unfair, it's reasonable for Jews to feel uneasy about Donald Trump's promises to bring change to a global system under which, whatever its failings, Jews have prospered more than any other ethnic group.

Burkean prudence advises the people on top to be cautious about proposed changes. After all, they have the most to lose.
You are beginning to see why my White Left Ethnonationalist platform is being resisted with every turn.
Now then, why do Regnery and Spencer take this position as "Alt-Right" against the quote "Left"? Well, you need to begin with their good fortune, the hubris that spawns in the wish to believe oneself a self made man, and put it together with the question of why Jewish interests would also want to take a position against the quote, "left."
Jewish interests have had disproportionate power and hegemonic influence through seven key niches:
1) Media 2) Money and Finance 3) Academia 4) Politics 5) Religion 6) Law and Courts 7) Business and Industry - and with all of this, US military as well.
With the Alternative Right and Lite sufficiently hoodwinking people on behalf of Jewish interests against the "the left" they could also divert attention away from the immigration problems created by Jews and their right wing coalitions, and onto so called "social justice warriors" - to be otherwise called "leftists" in the media, these typically White liberals are trained in the collusion of Frankfurt school (cultural Marxist) guilt trips to attack and be annoying to Whites. But let us please move beyond such frivolous diversion, opposition to gay marriage and moldy locks, etc. and into the important substance of negotiating racial separatism despite Jewish imposition of integration and right wing complicity:
The best way to organize against the unaccountable hegemony of Jews, complicit right wingers, their black and Muslim thugs and compradors is in Left ethno-nationalism, not only for Asians and Amerindios, but also for Whites ..a coalition of the three would be most effective; and most fearful to Jews. Particularly the White ethnonationalist left and especially in coalition with the other two groups. Thus, they will put every obstacle in its way and silence it at every turn.
Operation Clean Break is not nearly completed. Trump's campaign was initiated and made viable with his willingness to dismantle the Iran deal. Iran and its ally Syria being the next steps in Operation Clean Break.
Having installed the new right wing Jewish functionary that is Trump largely for that aim and having diverted White dissent into a disorganizing, dehumanizing and ultimately misdirected demonization against "the left", Jewish marketing interests have thus far been successful in silencing Left ethnonational opposition and have done their level best to rupture its coalition.
Right wing reactionaries have served their function by means of the re-branded paleoconservatism that is the Alternative Right against the demon organizing left. Alt-Rght functionaries are discarded where hapless, bought-off with celebrity where in/convenient - Kumiko cites an instrumental quid pro quo achieved through Kevin MacDonald and Sailer, which we found would reach Bannon and Steven Miller - Jews are free to pursue their agenda more than ever through Trump and his Jewish entourage that they put into power. Not only can they direct foreign campaigns against their chosen enemies, but they can also direct enemy lines at their discretion domestically as well; which is the special difference of the Jewish movement known as Paleoconservatism - it offers "conservatism" that consolidates Jewish jurisdiction - such as Christianity, but not only; it could be science (A Troublesome Inheritance), or the civic patriotism of Trump's "make America great again movement", but it is a "conservatism" designed and promulgated to be conducive to Jewish interests.
With the Sailer strategy, Paleoconservatism re-garbed as the Alternative Right, the gimmicky marketing expertise of Jewish firms on Madison Ave., Alt Right celebrities have been equipped with "red pills" "black pills" "indigo pills" to go against "social justice warriors", "the left" and to troll our would-be allies as "anti-White", etc.; with this stuff, Jewish interests, duplicitous White right wingers or just plain White right wing dupes have largely mis/represented White interests as being somehow aligned, if not with Jewish interests in diaspora, then with the Jewish jurisdiction of Judeo-Christianity and Zionism.
There's every reason to believe that Jews would like to divert White American animus strictly toward Amerindios and Asians, and ramp -up their hatred toward us. Just as they'd like to divert European animus strictly toward Islam and vis a versa. But there is a difference in the necessity to over-come the bullshit, and misdeeds of Jews and right wingers as best we can to establish harmonious if not cooperative and coordinated interests with Asians and Amerindios against our enemies; while alliance with Jews, Muslims and blacks is only a fool's errand. It is Jews and right wingers, a.k.a. liberals, who've imposed blacks and Muslims upon us; and nobody needs that.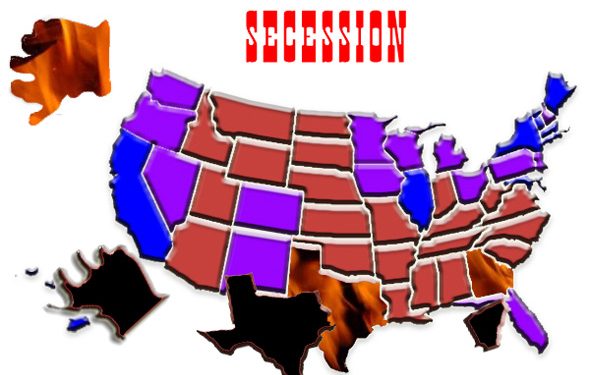 Yeeeehaaah! Sooweeeee! Get em ....Leroy and Schlomo
"The United States Should Seriously Consider Peaceful Partition", so says Vincent Law at AltRight on 24 April 2017.
How convenient that Vincent Law, a Ukrainian American (?) living in St. Peterberg, Russia, would proffer how balkanization of The US might go.
The right wing and Jewish perspective from which he comes is not to be trusted on either side of this issue. They created these conflicts, they created these immigration problems and now they want to create hackneyed "solutions." They may bemuse and distract larpers, but in the end they will serve a Jewish and complicit right wing perspective. This will create disaster and conflict for others while these weasels A) escape to gated communities or B) escape the country entirely if need be (with their money, of course); finally, e.g., leaving remaining Whites to get raped by blacks (who are "really not so bad", or perhaps "your problem", when in fact, it was their perspective that long ago imposed them on normal Whites et al.).
Meanwhile right wingers from other races will be trying to swing deals established by Jews and right wingers as well. Saying that the kind of Jews and right wing huxters posing as "ethno nationalists" on this thread at Alt-Right represent White people and their ethnonationalism. They don't. And they will create conflicts with people that White ethno nationalists should ally (not integrate or fight) with: Asian and Amerindian ethno nationalists.
The Right Wing/Alternative Right cannot be trusted with this issue any more than anything else - i.e., not at all. They are the ones who put Trump and his Jewish entourage into power. And that is just for starters in terms of their screw-ups. There are some basic issues that need to sorted out yet - not interminable matters, but too important to go right ahead and start bargaining on the bases and within the parameters that Jews and right wingers establish. They cannot even be trusted to say what is White or not.
silviosilver ✓ᵀʳᵘᵐᵖ ˢᵘᵖᵖᵒʳᵗᵉʳ Kumiko Oumae • 2 days ago

Asians do not belong in white ethnostates. It's as simple as that.

F—k off and die, please.
Kumiko Oumae reply to silviosilver ✓ᵀʳᵘᵐᵖ ˢᵘᵖᵖᵒʳᵗᵉʳ • 2 days ago

I completely agree that Asians should not be on the same side of the line as White people if a partition occurs in North America. That's precisely why I placed Asians and Hispanics together outside of the White ethnostate partition in the hypothetical scenario I described. Re-read what I actually wrote.

I would not even ask you to moderate the tone or language that you take when dealing with Asian people, since I think that Asian people do need to know how White Americans really feel on this issue, so as to shatter the illusion of there being any kind of shared destiny. You want to promote ethnic division in North America. So do I.

The American 'melting pot' was never going to work out. And even if it somehow did work out, it would be undesirable for all groups concerned. And so it should never be allowed to work out.
DanielS: Silver is an (admitted) non-White (who "wouldn't be surprised if he is part Jewish", but at any rate, "has an affinity for Anatolia and the Levant"). He lives in England, not America, and agitates to deliberately stir-up strife among Whites while he tries to create enemies for them among non-Whites. In this case, with Asians. I drove him away from Majorityrights long ago for these reasons. He is in no way to be taken seriously, as a representative of Whites; nor as a negotiator of ethnonationalism in good or bad faith.
While I draw attention to Alt-Righters, trolls and the experience that I have of them misrepresenting White interests, Kumiko calls some interesting facts to my attention about Alt-Right.com. - they allow for slurs against Asians in their comments, but if you use the word "Jew" the comment will be blocked.
She also noted that she was the only one who gave an up-vote to Bowery's comment:
jabowery • a day ago

Sortocracy: Sorting proponents of social theories into governments that test them. http://sortocracy.org
Bowery's idea of Sortocracy is among the most fair and intelligent on the thread, but the drawback of Sortocracy is for his/its empirical bias, as it lacks the historical element that hermeneutics corrects for. If that were to be incorporated, and it could be, it could be a very good vehicle.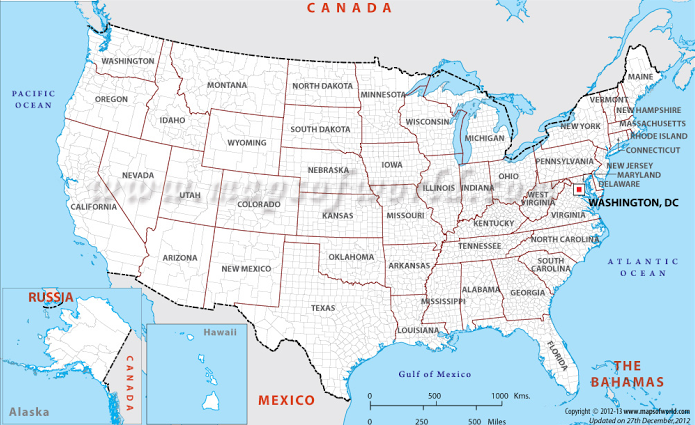 Clicking on the map will take you to a site that allows you to click further onto particular states to see all of their counties. For various reasons this is a helpful grid when examining matters of secession.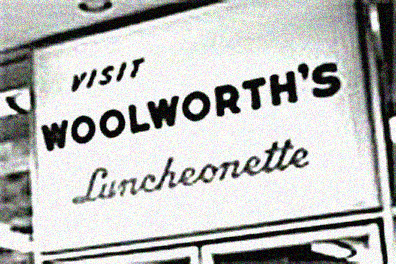 Where you lost the right to discriminate in private business as well.
Women Without Class
Originally Published November 26, 2011 at VoR; republished here for the sake of editorial correction and update - By Daniel Sienkiewicz

It was the ultimate YKW perversion of terms — civil rights, freedom and discrimination — culminating in the Civil Rights Act of 1964: Even a cursory glance over its statutes reveals obsolescence, disingenuousness and evil.
It takes no more than a glance at its statutes. One goes into an American institution and sees a placard looming overhead declaring "discrimination on the basis of race, color, creed, national origin…" to be illegal. Suddenly seeing discrimination rendered pejorative, illegal even, one experiences a vague feeling of dread.
You sense immediately that you are being told not to have so much as eyeballs by way of discriminatory capacity. You are to be utterly defenseless against biological antagonists, to have no present recourse against the destruction of that which is most important.
I) Barred unequal application of voter registration requirements. II) Outlawed discrimination based on race, color, religion or national origin in hotels, motels, restaurants, theaters, and all other public accommodations engaged in interstate commerce; exempted private clubs without defining the term "private." III) Prohibited state and municipal governments from denying access to public facilities on grounds of race, color, religion or national origin. IV) Encouraged the desegregation of public schools and authorized the U.S. Attorney General to file suits to enforce said act. V) Expanded the Civil Rights Commission established by the earlier Civil Rights Act. VI) Prevents discrimination by government agencies that receive federal funds. If an agency is found in violation of Title VI, that agency may lose its federal funding. VII) Prohibits discrimination by covered employers on the basis of race, color, religion, sex or national origin. Title VII also prohibits discrimination against an individual because of his or her association with another individual of a particular race, color, religion, sex, or national origin, such as by an interracial marriage.
In detail this Act is more Byzantine than that, and the ramifications of these prohibitions of discrimination are horrendous.
Even freedom of association, as it does not account for full processual development of those within the class, would not be sufficiently deep by itself, were it allowed. But while that objectivist, rational blindness leveraged by the technology of "civil rights" was bad enough, YKW interests perverted its meaning to violate even freedom of association by means of the Civil Rights Act.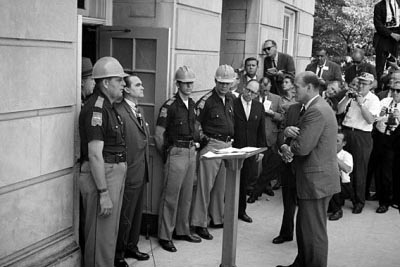 Alabama Governor Wallace confronted by school desegregation in the personification of
D.A. Nicholas Katzenbach
Deputy Attorney General Nicholas Katzenbach, working alongside a Kennedy clan willing to sell out and open its country to catastrophic integration in order to gain power, along with a similarly disposed Lyndon Johnson, making a good bid for worst president ever, sundry other YKW and objectivist Whites, oversaw departmental operations (implementing the 1954 Brown vs Board of Education decision) in desegregating the University of Mississippi in September 1962 and the University of Alabama in June 1963 – where he personally moved Governor Wallace aside to open the door for Blacks; also worked with Congress to ensure the passage of the Voting Rights Act, and had significant help from Javitz and Celler (of 1965 Immigration & Naturalization Act infamy), to pass the 1964 Civil Rights Act.
These initiatives also established precedent for California's Rumford Fair Housing Act of '63 which prohibited discrimination regarding whom one rents or sells property; and the '68 Fair Housing Act which extended that ruling to a national basis.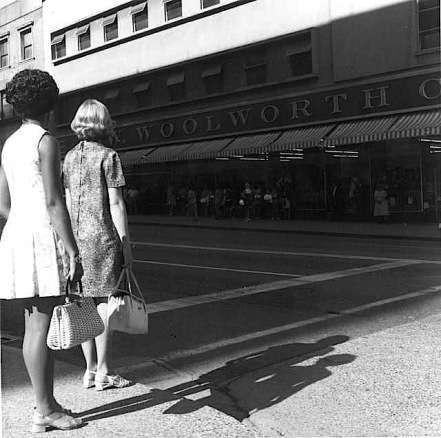 Waiting at Woolworth's
We have here in culmination the ultimate in doublespeak terms: "civil rights" equals being told whose babies we must pay for, with whom we must study, whose children we must educate (with precious knowledge tortuously acquired), to whom we must rent, to whom we must sell, whom we must hire, whom we must serve even in private businesses – and this is called "freedom."
Waiting at Woolworth's
The related decision regarding the Woolworth's Lunch Counter, telling a private business whom they must serve, was always one that caused my mind to glitch, even at a rather young age. M.L. King, with help from YKW overlords organized Blacks and others, including a few no-class White women - such as Joan Trumpauer Mulholland - to "sit-in" at Woolworth's and force a legal decision regarding desegregation of its lunch counters. The decision never made sense to me from the moment I heard about it – not in terms of anything that you can call freedom, anyway. Telling a private business whom they must serve, how, and whom they must hire – that is called "freedom"? It must be a YKW definition. "Freedom marches, freedom riders, civil rights" – right? Wrong. Rather quite civil wrongs.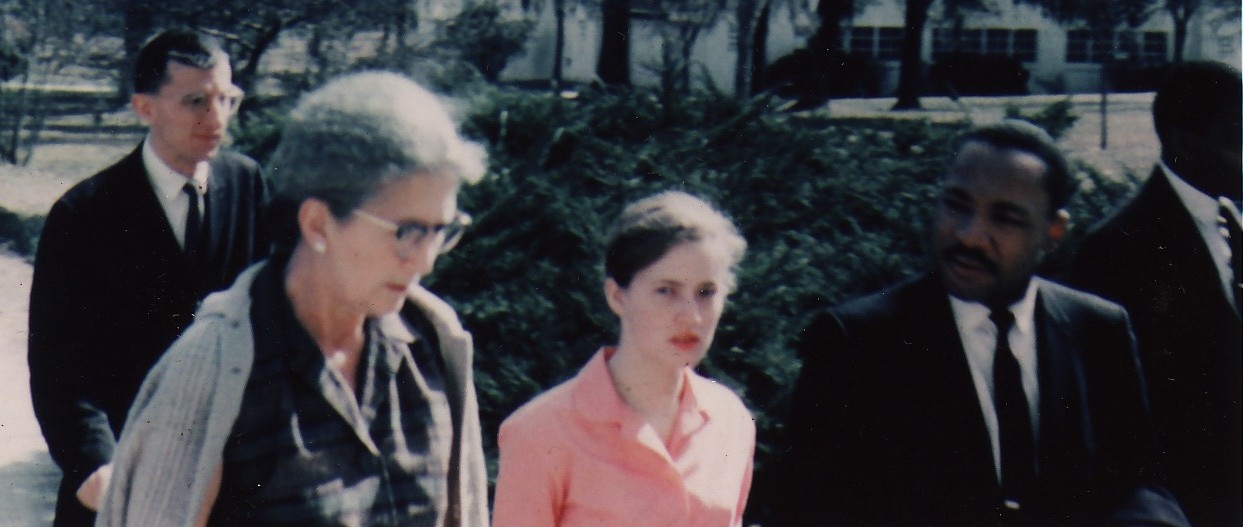 Mulholland and Dr. King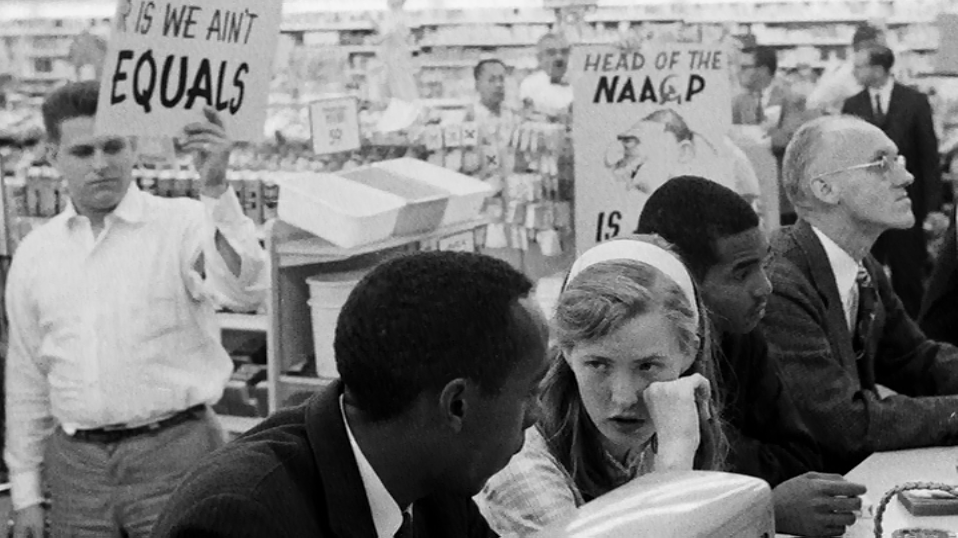 Mulholland participating in the "sit-in" at Woolworth's
The Civil Rights Act of 1964 went further by banning racial segregation "by businesses offering food, lodging, gasoline, or entertainment to the public."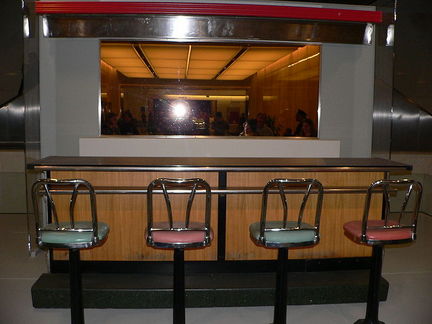 Original Woolworth's sit-in counter enshrined at The Smithsonian Institute
This would seem to be a clear violation of civic freedom, but YKW are skilled at promoting the self-destruction of Whites, who have been high on objectivism, while Blacks are hyper-assertive.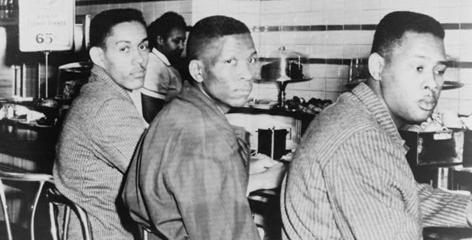 It is a civil right and its opposite is called illegal discrimination punishable by law. Do not discriminate; do not see the terror that you are confronted with; do not see that you are in something like a monkey cage, a planet of the apes (I can tell whether one has or has not been around many, depending upon an indignant response to that analogy or not).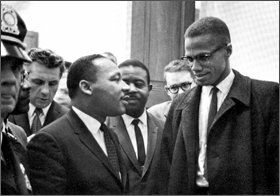 M.L. King Jr. and Malcolm X
In the article on Kant's moral system, I mentioned a kind of anguish bordering on torture that I experienced when I was groping after a moral order: That anguish stemmed from having inherited an obsequious Christian rule structure - the golden rule - by which I was to somehow go up against America's rule structure, lording as it did competition as noble for all and yet presenting me with still another obsequious and imperative rule in the form of the 64 Civil Rights Act; in confrontation with antagonistic demographics. Having experienced more than enough of them through forced busing to go to school with them, their riots of 1967 and 68 in the town of my birth, I was largely convinced that I did not want anything to do with Blacks. I assumed in my young age that it would be my prerogative one day, and that sane people would make the same choice. How could I believe that others, women even, could do other than legitimate separatism after seeing such things?
M.L. King Jr. and Malcolm X were at the U.S. Capitol on March 26, 1964. Both men had come to hear the Senate debate on the bill. This was the only time the two men ever met.
With Blacks rioting in Newark in the summer of 1967, my father's generation repeating the "greatest generation" mantra that 'you can't fight City Hall', the Vietnam War escalating unintelligibly so that no young person with a penis was immune from the draft, yes, I did have a certain yearning for the San Francisco version of that same summer of '67.
Beatle's guitarist George Harrison did go there - to the Summer of Love Be-In festival in San Francisco's Golden Gate Park - but came away with a bad impression having dropped a bad batch of L.S.D. He saw these kids around him hideously spotted and vacuum-cleaner faced. From our perspective now, naturally it does not seem like such a bad scene, certainly the better option in the tale of two cities, Newark and San Francisco 1967. No wonder I was a bit reluctant to let that go, particularly enchanting it was to me as a child. I was a little disappointed when traditional women and men would say that was "all nonsense" or "the source of our problems"; and I was disconcerted to experience similar antagonism from feminists, particularly when the war had ended.
July 1967 Newark riots, left and center images.



Right, "The Summer of Love" follows the "Be-in" in San Francisco, 1967; George Harrison, Pattie (& the vacuum cleaner faces lol).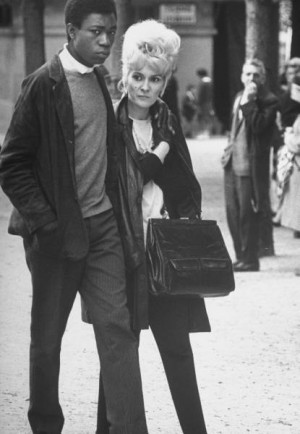 Before the late 80s interracial couples were rare.
The Civil Rights Act of 1964 goes further to say that, "An employer cannot discriminate against a person because of his interracial association with another, such as by an interracial marriage."
Just Great (for non native English speakers, note the sarcasm please): You cannot discriminate against people that you do not like, whom you find immoral and dangerous.
While the dam had not burst through the 60s, 70s, or even into the early 80s, it was a period of ominous buildup, the implications of the rule structure and demographic make-up were pervasive and auguring catastrophe…
Once the Vietnam War had ended, traditional women were rearing their ugly head and feminism went into high gear, steam-rolling any agenda for White male needs, though many boys still had need for being, communal being (midtdasein). I had just assumed that everyone would naturally reject forced integration and charges of "racism" but young women did not seem quite as inclined. Why?
Let's qualify all statements made about young women below to mean, at their worst/most opportune, given defective social structure and pandering. It would be clearly wrong to say that there are not plenty of cool White women. (1)

Thesis: Within the disorder resulting from civil rights (a feature of Enlightenment/Modernity) rupturing of classificatory (racial) bounds, the natural one-up position of young females ("you're so wonderful, may I have a date?"; i.e., an expression of sperm being cheap, ovaries precious) emerges with increased significance as they are less accountable to their inheritance and more competed for, pandered-to even, from males of other groups.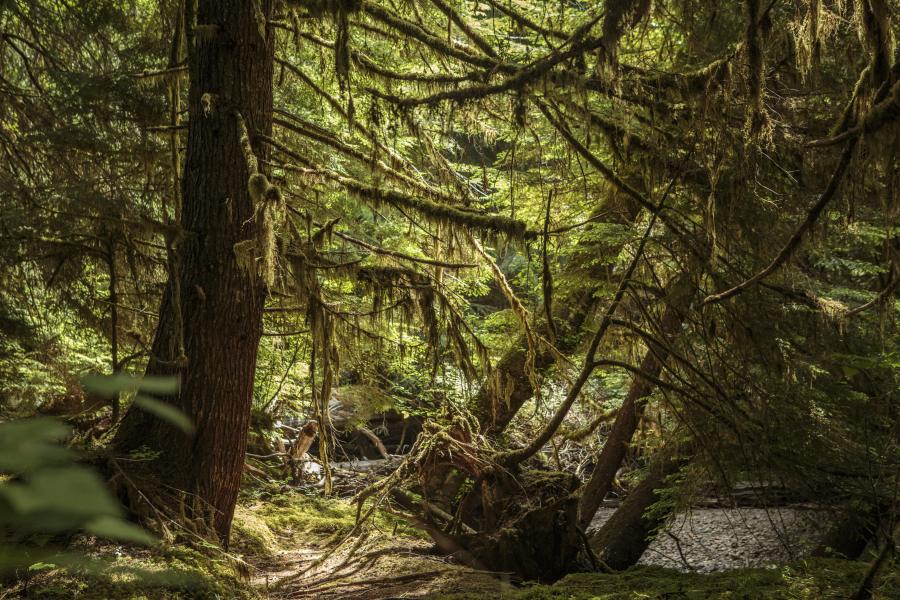 This nonsense has got to stop.
#Earth2Trump

Join the Resistance to Trump's Attack on Our Environment and Civil Rights

The #Earth2Trump Roadshow is coming — or has already come — to a town near you this month.

The roadshow is rallying and empowering defenders of civil rights and the environment to resist Trump's dangerous agenda. Stopping in 16 cities on its way to D.C., it's bringing thousands of people to protest at the presidential inauguration.

Having kicked off in Oakland and Seattle on Jan. 2, the #Earth2Trump Roadshow is touring the country bringing speakers, musicians, outrage, fun and hope to a total of 16 cities as it progresses toward the presidential inauguration on Jan. 20.

The free shows feature national and local speakers, great musicians, and an opportunity to join a growing movement of resistance to all forms of oppression and all attacks on our environment. We must stand and oppose every Trump policy that hurts wildlife; poisons our air and water; destroys our climate; promotes racism, misogyny or homophobia; and marginalizes entire segments of our society.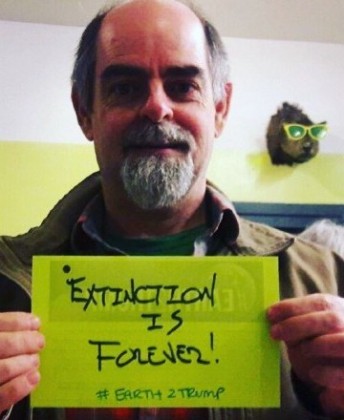 That includes White people and our species too, baldy. We are not Trump.
Trump does not represent White people, our best interests, nor our best relation to environment and others.
Brackets have been co-opting, along with their liberal trainees, issues of environmental and species diversity as if it is their cause and then militating against "racism" as if Europeans are not a species with habitat, as if discrimination against more prolific breeders and antagonistic species who encroach is not an essential capacity to maintain speciation and habitat sustainability; the liberals here also tuck a campaign against "misogyny" into their environmentalism, as if females should bear no critique on behalf of human ecology? As if hatred of men, White men, has not been open season for over 60 years now, and doesn't warrant a response?
To allow our cause of European advocacy to be associated with right-wing destruction of human and natural ecology is no longer acceptable. Nor is it for the brackets to continually associate their liberal political causes with environmentalism and biodiversity.
We can give credit where credit is due to those living ecologically - e.g., a native American tribe living with the environment - great.
We can call to account our right-wingers and liberals where they are not living ecologically, where international capital, industrial, consumer society, liberal universalism impact ourselves and others deleteriously: a key difference of White Post Modernity is that unlike Modernity, it does not merely stop when it is forced to stop by nature. It recognizes internal relation, limits and differences that make a difference. It has a deliberate stance in that regard from the onset. Unlike the mono-culturalism of primitive groups and the universalim of liberal modernist societies, White Post Modernity recognizes the delimitations of pervasive ecology and reflexive effects in internal relation from the start....including instances where liberals and brackets try use "environmentalism" to prevent more developed countries from assisting growing ethnostates - and vis a versa, where they obstruct those growing ethno-states from cooperating with more developed nations in their contraction into ethno-states.
But we also need to be critical where criticism is due, not only of females, delicate and sensitive creatures though they are, not only of White right-wingers who screw-up the issue of ecology, in one way or another, where they try to deal with it, or where they're downright antagonistic, but where racial groups impact the rest of the world.
Right wingers, liberals and their bracket masters are going to have to recognize that their "anti-racism" thing is a fundamental scourge against necessary human classification - which is requisite for accountability and necessary discrimination on behalf of human ecology, thus ultimately, all ecology.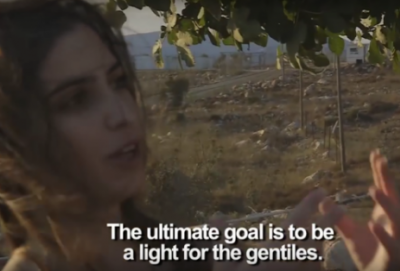 A Zeitgeist may be described in sober terms as the largely taken for granted (unconscious, hence "ghostly") logics of meaning and action comprising a moral order - the characteristic obligations, legitimacies and prohibitions constituting social paradigmatic parameters. I don't need to refer to the oft quoted statement by Voltaire to suggest that given our prevailing zeitgeist, even where the progenitors of a theory via academia or media are not themselves Jewish, that they have dared not lay blame in the hands of the Jews. To cite Jews, their religion and practices as explanatory of social problems has been strictly prohibited since World War II; media and academia having circled the wagons more fervently and thoroughgoingly than ever against heretics of the paradigm - the zeitgeist of Jews as sacred cow. Nevertheless, it has only been more strong a taboo since the western world viewed footage of Operation Reinhard's wake, and the Nazi mirroring of themselves as chosen, but it is not a new taboo. The Bible, Old and New Testament, has in fact been "the Jewish media" for 2,000 years, designating Jews as chosen (if not misguided), as having donated Christ, the savior of Gentiles, savior of all non-Jews, Whites included; and texts be known, has made taboo self interested defense and action for Gentiles, interposing and prescribing upon them instead an obsequious Golden Rule that the Jews themselves would not adhere to.
It is an observable Jewish strategy within this zeitgeist for their adherents to be granted "rights of display" as they might disseminate, via academia and media, a good deal of penetrating, truthful information; but in the end those rights of display are curtailed and attention deflected from just those parts of information where Jewish ways and means are shown responsible for negative social and genetic consequences for other peoples.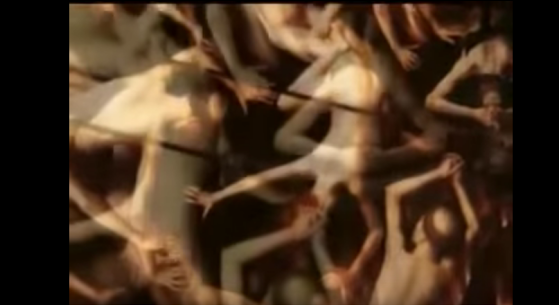 ..."but he loves you!"
Such is the case with Zeitgeist
- the 2007 film Zeitgeist; viz., its segment on religion. After setting out an array of fascinating information tracing sources of Judeo-Christian mythology to pagan roots - largely to Egyptian sun worship - there is, by segment's end, blame laid on the use of Christianity, by Roman leaders in particular, followed by a logical fallacy stealthily deployed: i.e., that all religions are mythologies used to cover-up the truth by those who know the truth and seek nefarious social rule by the obfuscating properties of religious mythos - all religions serve this purpose, therefore the Abrahamic religions generally and Judaism in particular should not be singled-out for special critique.
In fact, Christianity was not as much the means by which Roman leaders beginning with Constantine took power over the rest of Europe, so much as it was the means by which the Jews overthrew ancient Rome and ultimately, all of Western civilization - placing it all vaguely under the auspices of Noahide law - our Zeitgeist.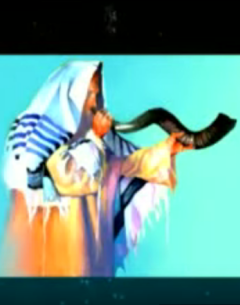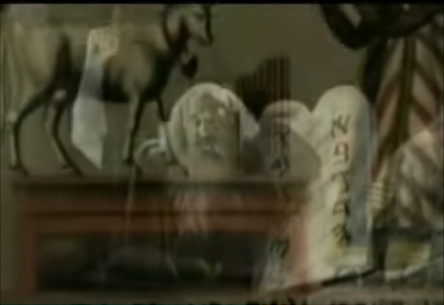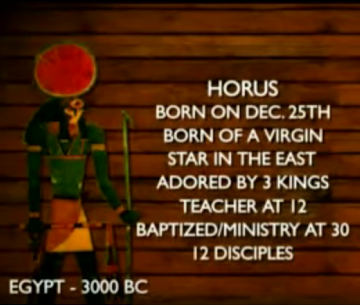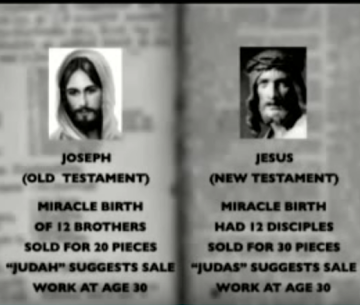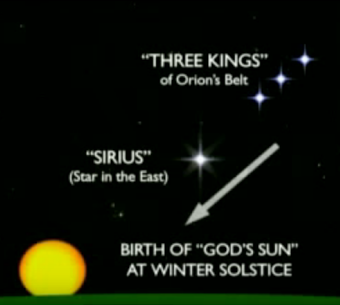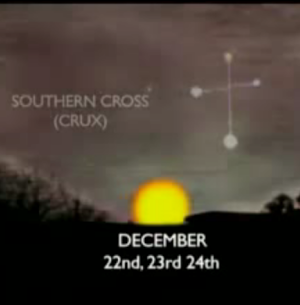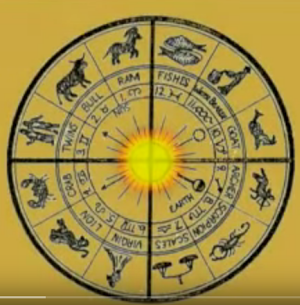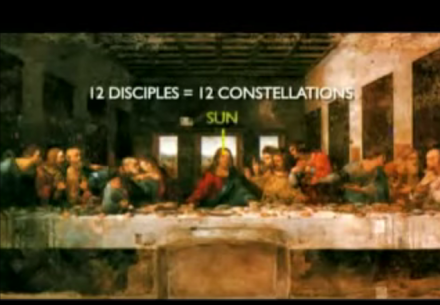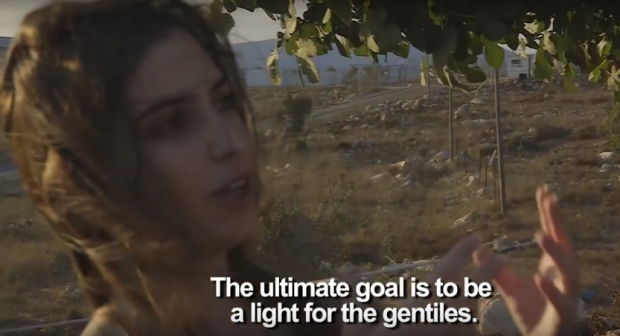 Our emergent qualities as people (the qualitative whole being greater than the sum of its parts), what resonates in our psyche, stirring it to respond as such to that which is genetically close, vital and essential, regenerative not only of our kin, but the fauna, creatures and to take the emergent to an extreme, even of inanimate objects of our natural habitat, is a profound matter.
And how do we pursue consideration of these matters? Our co-evolution provides what we call "internal relation", that is, rule structures that are evolved symbiotically or come about equiprimordially from the same circumstances, concerns, affordances and limitations.
Those episodic manifestations which suggest the origin of that symbiosis, that which is most essential to reconstructing the pattern of our people, of the aeons, have normally been called upon as sacred - because these episodes reveal what is that deep, that important to our fitness as a physical, biological and human system, we institutionalize the practice of the sacred episode as it manifests - at our best, never losing site of its organic source, what it is doing, and its re-emergent truth at our service - not as a nightmarish fateful return to the hideous limitation of patterns but of a replenishment from the essence of our patterns as we set about the next spiral upward.
The comfortable (optimum unused potentiality for change in maintenance of homeostatic function) default mindset is established and delimited by the parameters of our personal interests amidst our folk and their interests - however, since both we as humans, and the human ecological systems of which we are a part are far more complex to maintain than systems of creatures which rely on mood signals, the reconstruction of our human ecological systems inevitably relies upon hermeneutics to aid in the reconstruction of its authentic scope.
Science and nature can strongly indicate what we should do; but irrespective of that, there is a difference (especially with Europeans, complex as we are), between what IS and what is apparently suggested by science as opposed to what might be suggested through philosophy - the complexities, varieties, and yes, contradictions that can and will challenge us with choices beyond scientistic explanation.
Even so, there are not only profound reasons to be rigorously concerned for the emergent (as GW is), there are also practical reasons - in following its resonance, we are guided directly with what has shown naturally fit for our well being through the ages; and we have the innocence of positively identifying with what we "love" as it is close, vital, a necessary part of us, as opposed to asserting discrimination against others and being subject to the charge of being anti-this or anti-that, of gross indifference, arbitrary cruelty, double standards, supremacism and "racism."
Finally, the circumstance which has GW riveted on this starting point does not mean that is not my starting point as well, since there is no choice for anyone not deceiving themselves with some Cartesian mind game. But that does not mean that looking at the more protracted form and speculative breadth of our systems along with the means by which they are understood and reconstructed is contradictory to their authentic well being, insufficiently deep and closed to what is - on the contrary; and there are great advantages in this deliberation, taking the form of substantial accountability, coherence, warrant and agency in human ecology.
Stonehenge, the prehistoric monument located in Wiltshire, is carefully aligned on a sight-line that points to the winter solstice sunset (opposed to New Grange, which points to the winter solstice sunrise, and the Goseck circle, which is aligned to both the sunset and sunrise).

Archaeologists believe it was constructed from 3000 BC to 2000 BC and it is thought that the winter solstice was actually more important to the people who constructed Stonehenge than the Summer solstice.

The winter solstice was a time when cattle was slaughtered (so the animals would not have to be fed during the winter) and the majority of wine and beer was finally fermented.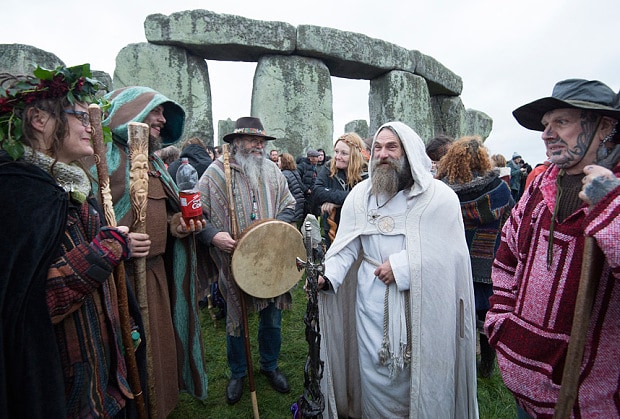 These larpers could have used deeper scientific bearing (Photo: Eddie Mullholand).
They showed up a day early for the solstice in 2009.
For the discerning Euro-folk pagan, the winter solstice is due to occur this year on December 21rst.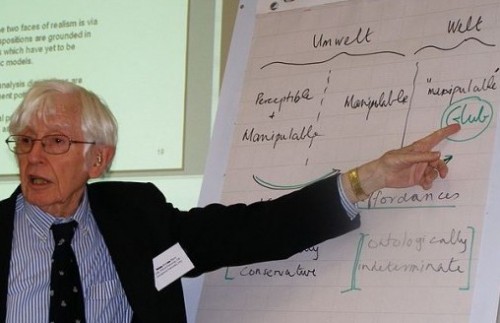 Rom Harré
, Philosophy of science and psychology Professor at Oxford and Georgetown. Notable ideas:
ethogenics
, positioning theory
Contradiction in Lived and Told Narratives

Brownwyn Davies, University of New England, Australia

Rom Harré, University of Oxford

INTRODUCTION

The ubiquity of contradiction in human affairs has long been commonplace. Social contradictions were identified by Marx as the source of social change. Repertoires of mutually contradictory "personas" have been demonstrated to be characteristic of people living in complex societies (Argyle, 1976; De Waele & Harré, 1976). At the same time it is evident that there have also been powerful social norms requiring at least the appearance of consistency in displays of character, in modes of talking and writing and even in patterns of thought.

Research on language and social interaction, vol. 2; 1991/1992: 1-36

Though contradiction is a logical concept that names a relation between propositions, it has a well established use as a general metaphor for incompatibilities of many kinds. It is one of the concepts by which "modernity" has bee defined. So in post-modernity one would expect at least some of the uses of "contradiction" to be called into question, particularly those in which it has a normative role. According to Parker (1989, p. 48), modernity itself, "is contradictory: Its discourse promises scientific truth as the solution to humanity's problems on the one hand, and on the other attributes responsibility and the power to make meaning to individuals."

We two, as individual authors, have been both constituted by, and active participants in, the construction of that modern world. We now find ourselves fascinated by the spaces opened up by its deconstruction, particularly in the work of feminist authors (1) such as Weedon (1987), Walkerdine (1981, 1984, 1985), Haug (1987). This paper, then, stands at the interface between the modern and the post modern worlds: While still being caught up, inevitably, in the discursive practices of the modern world we nonetheless wish to make contradiction a topic for examination in light of such feminist post-modern/ post-structuralist writing.

As a person in our contemporary world one has access to many ways of talking about oneself and one's activities in that world: that is, one has access to multiple forms and styles of discourse. These ways of telling may remain discreet and the contradictions that sometimes exist between them may not become manifest nor present problems for resolution or accommodation. But they may overlap. They may be used as parts of some larger whole. And within that whole they may be profoundly contradictory. Furthermore each discourse may itself be made up of contradictory elements. Billig et al. (1988) give the example of liberal discourse containing ideological commitments to the rights both of the individual and the collective. He also cites educational discourse which espouses as values both equality and authority. In each case there is a discreet discourse containing oppositional and and contradictory imperatives.

Yet one of the predominant features of ways of producing ourselves as persons in the modern world is to present what we do as relatively coherent and non-contradictory, both as we interpret what we do and in the various accounts that we give of what we have done and will do. Numerous strategies exist for dealing with blatant contradictions in those productions. For instance there is the bureaucratic device of "wearing different hats." Each "hat" represents a different set of constraints, aims and repertoires of proper actions.

The movement from the complex array of lived experience to the relatively coherent stories that we tell about that experience will be a central focus of this paper. Like Haug (1987) we see lived experience as inherently contradictory and the appearance of coherence and and non-contradiction as discursive constructions. As Haug (1987) puts it, "human beings, in the process of their socialization, work at restructuring the given elements of their lives until such time as their existence becomes relatively uncontradictory: In other words until social action becomes possible." We wish to explore how it is that non- contradiction has become such a fundamental requirement of the production of self and in contrast how the recognition of contradiction has been greeted by feminist post structuralist authors in particular as fundamental to understanding their experience.

Told and Lived Narratives

Told narratives

Told narratives, including both the stories one tells about oneself and other people, and those narrations we call literature and drama, are generally framed within coherent conventions of discourse and tend to show each character as continuous and often, though not always, as predictable. The purpose of told stories in everyday life is often to show how conflicts and contradictions have been, might be, or even should be dealt with (Sabini & Silver 1981). Told stories are usually finite with well marked beginnings and endings. An orderly state of affairs is interrupted by the appearance of a predicament, a course of events unfolds in which the problem is resolved, and a new orderly state of affairs comes into being (Harré,1979). Such stories appear as accounts, told versions of events that are used retrospectively to order the complex array of lived experiences. As Huag (1987, p. 48) says:

We are not assuming that human beings live according to plan, or in continuities, nor even that they are always determined by the same consistent factors…continuities are manufactured retrospectively in the mind.

One focus in this paper is on those discursive practices through which intelligibility and warrantability are created.

Lived Narratives

Told stories are the means of providing the narrative frameworks through which we interpret strips of lived experience as they occur, that is they serve to guide the actions that make up lived narratives. Who one takes oneself to be at any one time and what one takes oneself to be doing form essential parts of the lived narrative. One's actions are played out with interactive others who provide one with (and whom one provides with) subject positions in the collective flow of talk. These positions may be taken up or refused (however difficult that refusal might be), by any one of the members of the momentary collective. Thus lived narratives inform readings of told narratives and told narratives inform lived narratives (Bruner, 1986; Davies, 1989; Davies & Harré, 1990)...