It is clear that Jewish planners take concepts and terms that would be helpful to our group organization and well being, then reverse, distort beyond reason or confuse the meaning that the terms would signify in application to Whites.
I've discussed this before but how their deception functions on two levels to our detriment bears farther differentiation.
The two levels of deception are well captured in the analogy that misrepresentative terms are like "red capes" to the charging bull.
They have right-wing White Nationalists charging after the false representation on the level of the misrepresentative term.
At the same time WN become turned-off or hostile to the underlying idea which would be good for them/us.
1. "The" Left misrepresented as universal liberalism applied to Whites is the most fundamental "red cape."
The underlying idea of the left is social unionization. There are people in the union and people out of the union, therefore it cannot be universal or liberal. On the contrary. In fact, Jewish interests do not apply it as universal except to Whites.
This causes WN to chase this "red cape" of "The" Left which is really imposed liberalism upon them.
At the same time, because of the perversion of the term and abuses of Whites that go on under this false rubric, Whites become repulsed and in fact fight against what is the most important underlying social organizing concept [for group defense, accountability, agency, warrant, our human ecology]: the unionization of our peoples. It would keep an eye on the most dangerous traitors, elite ones, keeping them accountable as members of the class, while also keeping rank and file Whites accountable and incentivized to participate.
All of the usual Marxist and other Jewish distortions such as abolition of private property, communal child rearing, race and gender blurring, no free enterprise that would create wealth for the industrious and innovative, etc. would be set aside as Not representing the "White" left / native nationalist left.
There would not be an imposed economic class division in a White Left, but rather the nation of people would be the class: class, union, nation and people (in our case Whites and native Whites) would be synonymous.
In subjecting us to the red cape of "The Left" misrepresented as universal liberalism as applied to Whites and altercasting us as "the right", we develop Cartesian anxiety for our Augustinian nature, and desperately adopt objectivism to the extent of reaching for unassailable warrant. This has the effect of taking us beyond accountability to our subjective and relative social group interests. It makes us look and act less humanely. It scares our own people and it should as we are not only easily made to look like "the bad guys", but are, in fact, dangerous in being bereft of sufficient accountability; made easy to defeat as the factual necessity of our cooperation is not sufficiently recognized and we remain disorganized in obsolete philosophy.
2. Equality: Chasing this red cape really makes WN look bad, as they argue for inequality. It casts discourse in elitist and conflictual terms straight-away; more, it is not accurately descriptive as it relies on false comparisons.
The underlying concepts that YKW are trying to divert WN from grasping is the disposition to look first for qualitative sameness and difference. Within and between social paradigms there can be logics incommensurate to comparison but nevertheless amenable to symbiotic, non-conflictual functions, particularly if those respectful terms are invoked.
3. Social Constructionism and Hermeneutics: These concepts devised to counteract Cartesian runaway and facilitate systemic homeostasis instead have been misrepresented by Jewish interests with the red cape distortion that people and groups can just be whatever they imagine they might construct of themselves. Thus, the lie persists that these concepts are anti-empirical and anti-science. On the contrary, that would contradict the very anti-Cartesian premises of these ideas; in fact, these ideas are meant to enhance and make more accurately descriptive the conduct of science and reality testing. They are meant to correct the "scientism" which can result from myopic focus on narrow units of analysis only, such as blindered focus on moment or episode, the individual as socially unrelated, or the linear cause and effect of physics models to the detriment of how interactive, agentive, biological creatures can and do act in broad view of systemic homeostasis.
These concepts importantly serve to correct the bad science put forth as evidence for anti-racistm, scientism evident in the statement by Spencer Wells of National Geographic's Human Genome Project -



—Spencer Wells, Population Geneticist
"Racism is not only socially divisive, but also scientifically incorrect. We are all descendants of people who lived in Africa recently. We are all Africans under the skin."
.. by which he means that there are no important differences to justify discrimination.
While maintenance of the social group must admit to at least a tad of relativism and subjectivity in its interests, this admission is also an "admission" of a modicum of agency and choice; which thus lends itself by this admission to the stabilizing gauge of group criteria and the answerable, corrective means of its social accountability. This is stable in a way that attempts of pure objectivism are not - as its lack of social accountability tends to have the reflexive effect of hyper-relatvism. Spencer Well's objectivism has the reflexive effect of being susceptible to having him espouse a destructive hyper-relativism in line with that espoused by pedestrian liberals or Marxist Jews.
Social constructionism and hermeneutics proper could correct this by adding dimensions of subjective and relative social accountability; thus coherence in historical process through accountability to historical social capital, manifest and situated delimitations, agency in racial re-construction and warrant in manifest and situated group evolution; but the Jewish red capes over these terms reverse the whole anti-Cartesian program that these concepts are meant to correct. Indeed, anti-racism is Cartesian.
However, for the massive perversion and misrepresentation of these concepts they have turned-off Whites and in fact have them arguing against the valuable underlying concepts which in no way deny physical and social constraints to free choice but nevertheless would facilitate coherence, accountability, agency and the warrant of our race to exist: That is what we seek in rigour - warranted assertability.
Social constructionism and hermeneutics proper facilitate that. Jewish interests with their red cape distortions do not want you to have that.
As is the case with "Pragmatist" philosophy, you can tell if you are chasing the red cape if you have to put the word "mere" before what those presenting the concept are saying in order to make sense of their argument: if they are suggesting something is a 'mere' social construct", then there is no physical, interactive and interpersonal accountability and it is Cartesian.
4. Post Modernity: Jewish interests know that modernity by itself is viciously self perpetuating, paradoxic, impervious and destructive to healthy traditions and forms; whereas post modernity properly understood allows us to take the best of modernity and time tested forms and ways.
The red cape misrepresentation is a "dada" definition (or non-definition, as it were) of post modernity as opposed to a deliberate and thoughtful management of modernity and traditional forms and ways.
5. Multiculturalism and diversity: Jewish academics have reversed these terms to where outside groups are introduced to one another in order to blend away and subvert healthy, managed differences within and between groups. Then again, to chase the red cape and argue against the terms is to argue for integration with outsiders, e.g., non-Whites.
6. "Marginals" is a concept that goes along with hermeneutics and group maintenance; Jews have set up a red cape of presenting "marginals" as those outside the group with the intention of their being agents of change in overthrowing group homeostasis.
Chasing this red cape has WN arguing against humanitarian outreach to those within the group but most at risk to non-Whites; our marginals potentially have the greatest incentive to see to it that the White ecological system is maintained; they can lend perspective, feedback and accountability. It is important to note that one can be marginalized for being exceptionally talented and intelligent as well.
7. Hippies and the Sixties: These terms have been misrepresented as synonymous for White men being responsible for the Jewish radicalism of sexual revolution and black civil "rights", viz. prerogative over Whites.
Chasing this red cape is a diversion from the call for a reasigment of White men as having intrinsic value - Being - as opposed to being expendable in wars not of the bounded interests of our people; as opposed to chasing the red cape of universal traditional manhood in service of a universalizaing religious ideal, international corporations, oligarchs and the YKW; while in charging this red cape, the intrinsic value of White people overall, as the unit to be defended, is argued against - WN are arguing against our own deepest interests again, against the warrant to exist. The very thing we need most is prohibited by a Jewish language game in which they form coalitions with black power, feminism AND misinformed traditional women, to deny our being, our reality, value and warrant to exist in midtdasein - the non-Cartesian being there* amidst our people.
* or "being of", as GW prefers.
8. Social justice warriors - of course those doing the Jews' bidding are not pursuing true social justice, but to argue against the term, "social justice warrior", is to fall for the masters of discourse's red cape once again.
9. The Jewish affectation of Christianity posed as "the moral order" for Europeans. The necessary good of a European moral order is dismissed right along with the red cape of Christianity or some "false" version of Christianity.

Unlike right-wing WN, I'm not chasing the red cape of Jewish twisted terms, I've gored the sucker through the mouth.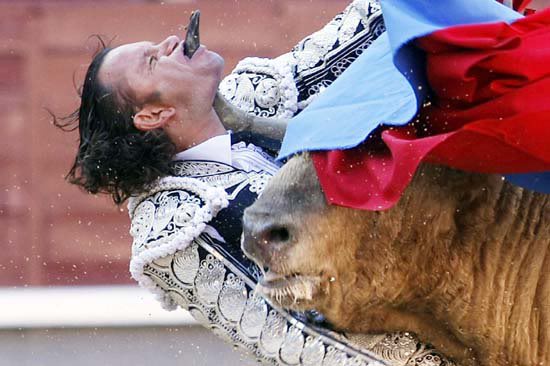 We are the White justice warriors and I invite you to join me in some bull-steak now that we've sorted away the bullshit…