Majorityrights Central > Category: Social Conservatism

Abraham Anon
Kumiko was telling me about her disgust with Hillary and the YKW's wars, citing an egregious collateral damage to schools and education: this will obstruct solutions to the root of social problems and exacerbate social problems from the root as the schools and formative educational years of vast demographics are being destroyed. She is enraged by the damage this will do to personal and social skills. She asks what can be done?
I suggest a new variant of the 12 step meetings. Why? Because when people have been that damaged and obstructed by an interpersonal problem - such as Islamic abuse - it will be primarily these people who have sufficient understanding; they will have sufficient concern; it will be a necessity for them to take the time and show patience; to articulate the difficulties in full significance of the impact to them and society; and to search for solutions.
People who have not gone through this will generally not have sufficient understanding of the difficulties of getting through it, even if they did have inclination and take time from their faster track to a good life to put up with the wild and frustrating expressions that result from traumatic experiences and pervasive abuse.
The "victims" themselves will carry most of the load - by "sharing their hope, strength and inspiration" indispensable coping skills will find their way among them. But that doesn't mean that people coming from a background undergirded by normal philosophy and interpersonal relations shouldn't interact with them; in fact, that is one of the first differences I would make from the 12 Step programs - to have intermittent interaction from people from healthy backgrounds so that they can model normalcy for them and share normal skills. To make sure that bad thinking doesn't keep circulating and gets directed out before long.
So, there could be Visitors Meetings and Skilled Workshop Meetings to go along with the usual kinds of 12 Step meetings -
Speaker Meetings, in which one person tells the story of their struggle with the problem.
Step Meetings, in which one of the Steps is focused-on, with each person in the group having a chance to discuss their take and experience with that step.
The next change that I would propose is putting into question whether 12 should be the number of steps; of course it has pagan origin and has been hijacked by Abrahamism, but perhaps another number should be proposed to make the break more clear.
Of course the content of the steps should be significantly different as well. I will only sketch-in what they might look like. Suggestions from others are more than welcome.
One of the excellent features of the 12 step program idea is that one is not excluded for lacking skills or for not contributing dues. All that is required is a belief that you have a problem with the stated issue of the meeting group and that you comply with a few of its basic guidelines. There are no leaders. You agree to not expose the identity of those who go to meetings and to not gossip about them to people outside the group. You agree enough with the 12 steps (rather, we'll go with 14 steps, why not?) to allow them to provide coherence; and, except for speaker meetings, you allow a chance for each person who wants to talk.
Ok. There are probably some things that I'm forgetting but that's enough to start. Let me have a stab at how the steps might read:
The 14 Steps of Abraham-Anon
1. Came to understand that I had a problem with Abrahamism and that I could not handle it alone.
2. Came to identify positive attributes of my distinct race and my share in these positive attributes. Affirmed these daily to provide faith in mine and my people's worth as opposed to the Abrahamic god.
3. Conduct a fearless and searching personal inventory in order to purge its memes which may harm myself, my people, and in order to make amends to anyone who I have harmed in the name of Abrahamism or because I was inappropriately directing my response to it.
4. Came to understand the truth of how harmful Abrahamism is.
5. Came to understand Abrahamism is not a necessary evil nor relative cultural preference; there are other "gods" and better ways.
6. Came to understand that its practice and promotion must be rejected by our people.
7. Came to understand that its perpetrators can and must be punished - ranging from denunciation, to social ostracism, to denationalization, to severe personal punishment in some cases.
8. Came to believe in the priceless gift of serenity to be found in the faith that my race, my place within it, and our interests are being looked after by the best and greater part of my people; by myself included.
9. Came to believe not only in the reality of distinct kinds of people, but also their right to preserve their differences.
10. Came to believe in the DNA Nation and international ethno-nationalism (genetic and territorial bounds); as the means to such maintenance of distinct peoples; their quantities and qualities of genetic inventory; their habitats through national territorial delimitations; qualitative and quantitative foreign enclave delimitations.
11. Came to believe that the Abrahamic religion and the Abrahamic man is already an imperialist hybrid and therefore his fate and place is the subject of our discretion.
12. Came to believe that Abrahamism can and should be destroyed once and for all.
13. Came to believe facilitating that destruction to be our prerogative as the people who are willing and capable of respecting racial differences, their right to be preserved in ethno-states, among the DNA Nation; and knowing that there is no avoiding the issue of morals - that every society will have some things that are legitimate, some things prohibited and some things obligated - will seek moral orders based on the Silver Rule as opposed to The Golden Rule.
14. Came to understand that the homeostasis of our ethnostates are contingent upon having the decency and wisdom to respect an option for sacred and devotional enclaves for those preferring strict monogamy (e.g., they want to choose carefully enough, devote themselves to that important choice; and/or concentrate on their endeavors otherwise, not chasing around for partners); and that those wanting to protect more liberal personal prerogatives must assent to that sacrosanct option and to strict national borders of citizenship - paradigmatic conservatism.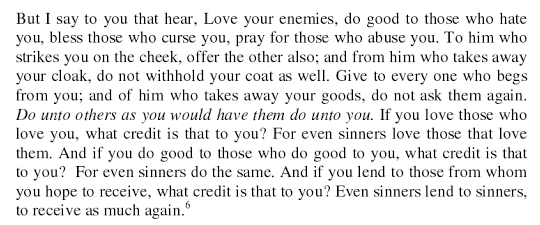 The Sermon on The Mount Ensconces The Golden Rule of Altruism
Majorityrights prefers to deal with verifiable reality as opposed to speculative theory and faith based systems of rules as we look after the interests of our people. We are looking after genetic groupings and genetic interests as key criteria, even if these are not the only important verifiable criteria to keep track of our peoplehood and that of others. Rationale and rule structures are another criteria for that purpose.
While existence is of course equiprimordial to genetic interests, to secure it for any span and legacy requires rationale and varying degrees of sophistication to negotiate complex rule structures of interaction. "Rules" (1) are the term of common currency that we will use for the logics of meaning and action that people use to negotiate interaction and these complex, protracted exchanges beyond episode, close personal relationships in yield to maturity of their full social system; and its relation to other social systems.

For those of us who are coming from this kind of perspective, where we perceive ourselves as rationally and empirically grounded, it is difficult to understand someone like pastor David Blackburn, his love of Jesus that would have him not only forgive, but want to share his love of Jesus with the men who raped and murdered his wife and unborn child; but to my knowledge, he is at least not hoping to get them released from prison.
It is even more difficult to understand European peoples allowing, even welcoming foreign incursions into The U.K., Sweden, France and Germany - it is difficult to fathom the mindset of a Merkel, who would destroy our European peoples in service to non-Europeans. But there is one rule, convoluted rule, that they have in common and makes their position intelligible to us despite their apparent irrationality.
The Golden Rule is a part of the Sermon on the Mount, which is a central text in the Christian faith. It states: "Do unto others as you would have them do unto you". There are similar instructions in many other cultures.

Despite receiving high respect and wide popularity, the rule raises critical questions. What is the recommendation more exactly, and is it good advice?
This post will prepare a discussion of the work of Jan Tullberg - viz., the difference between the golden rule of benevolence as opposed to the silver rule of reciprocity - as it applies to assist in the reconstruction of a necessary consensus of moral rules among European peoples and for coordinating our relations to others.
____________
There is a consensus among advocates of European peoples that in essence we seek to secure the existence of our people. There is much dispute over how that is to be done…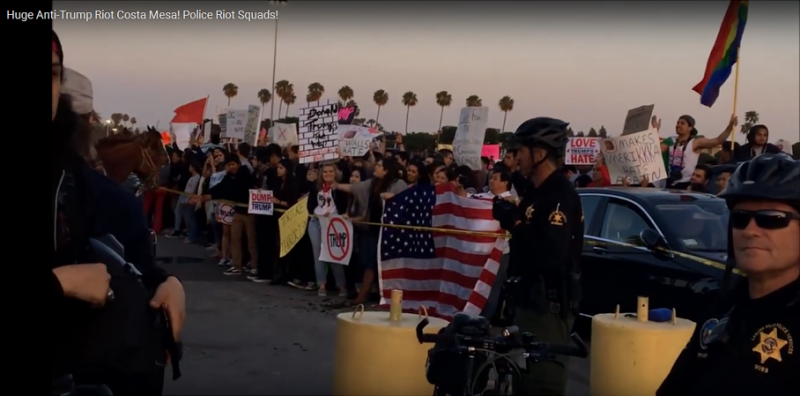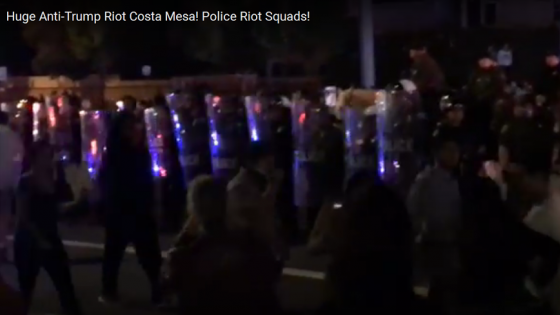 Huge anti-Trump protest by Mexican advocates at Costa Mesa, California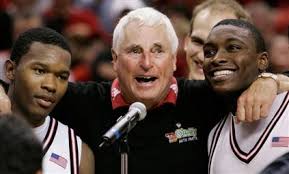 Bobby civic Knight endorses Trump: What the cuck?
Cuckservative and famous college basketball coach, Bobby Knight, is a typical Republican and a typical Trump supporter - i.e., a no-nonsense, civic "real man", one who would unite black and White in civic patriotism - a consummate disaster for EGI. However, there is hope in the kind of racial strife that might come about and be exploited of Trump's ascendancy.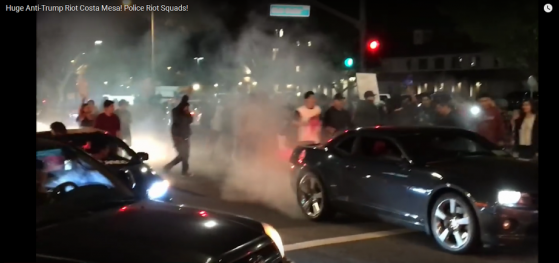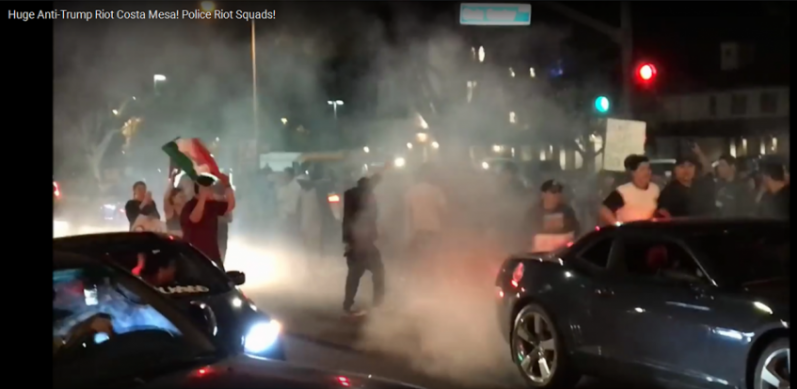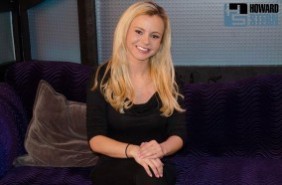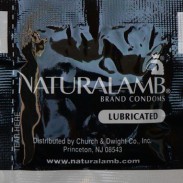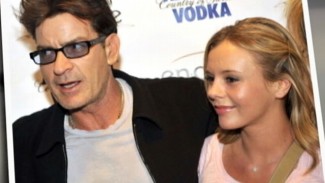 One of the best litmus tests as to whether or not you are being too liberal, too promiscuous with regard to sex, is whether or not you need to use a condom. If you don't know someone well enough to be sure that you are not going to get a disease or have an unwanted pregnancy, then maybe you ought to get to know them better before having sex with them. If you really like someone and if they are really worth it, you are not likely to have to use condoms at all. And would you really like to use them?
Subtitle: don't forget to forget your condom. A.I.D.S. is a most beautiful disease, generally targeting people who deserve to die for their bullying, irresponsible, reckless treatment of sex.
Particularly when the bounds of EGI are unguarded, the need to treat sex carefully, as an act which can endorse or undermine our EGI, becomes all the more important. Sex will be used by our enemies in psy-ops, such as the profusion of interracial porn. It will be used by our enemies to promote liberal politics, empower those horribly destructive to our interests and to dis-empower those thoughtful of our interests - those concerned with our people in our broad pattern. It will be used by our antagonists to outbreed our race, including outbreeding some of our most qualitatively differentiated genetic capital. As de facto safeguards of liberalism, they have their go-to "moral arguments" to distract us from the moral re-ordering of our people.
After marriage, the condom is taken by liberalism as one of its lines of defense. Don't be fooled, there's no substitute for the White class and its bounds. This holds the freedom in sacrament and in celebration that gives our people life and health as opposed to destruction.
There can be a time to be Dionysian, promiscuous for some who choose to be - i.e., among our own people - but that time is when the borders of our EGI are secured and members accounted for. Until then, good riddance to those who treat our genetic treasures irresponsibly; it couldn't happen to worse, more deserving people of a miserable fate.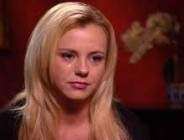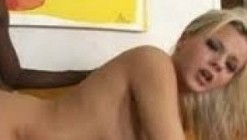 Don't you just feel so sorry for her…
Always remember, er, forget your condom. If you think that you have to use one, you'd better get to know who you are screwing around with a little better - maybe a lot better.
Daily Beast, 'Porn World in Panic Over Charlie Sheen's HIV Diagnosis', Nov 20, 2015:

'There is so much fear right now amongst the girls…'

Well-known for his porn star companions, Charlie Sheen's recent admission to being HIV-positive has sent a ripple of fear through the adult industry. There's no protocol in place for this. There are no records of who Sheen's hired, thus no quarantine list for the porn stars he's been sexually active with.

In the semi-regulated world of adult film, when an HIV scare is made known everyone asks, "Did I perform with the person who tested positive?" Fear turns to panic if it was a close call, relief if it wasn't. That's only after a name is released—or patient zero comes forward. Production shuts down, quarantine lists are drawn up for first generation, second, third, and so on. An ideal "who's performed with whom" list chronicling before and after known exposure is made available. Some call this "the honor system."

Unfortunately, those outside the business don't always play by the industry's self-regulated rules. Needless to say, former Two and a Half Men actor Charlie Sheen plays by his own rules.

"There is so much fear right now amongst the girls…like who have I had sex with that has had sex with them, or have I had sex with a girl who has had sex with Charlie?" says Alana Evans, 2015 AVN Hall of Fame recipient. "Maybe we can get Charlie to put together a list of all the porno girls he's had sex with so the rest of us can make sure we're okay? That'd be great."

In case you missed it, Sheen admitted on the Today Show that he was HIV-positive, and has known of his diagnosis for four years. He also alleged "all sexual partners have known" about his condition with "no exception."

While some are applauding Sheen for his bravery in coming forward, there's speculation amongst industry insiders as to why now? Some credit the 27-year-old blonde who spoke anonymously to the Daily Mail with forcing Sheen's hand. She estimates the A-lister had sex with at least 50 porn stars since his diagnosis and "fears the porn industry could face an 'HIV epidemic' as a result."

'There is so much fear right now amongst the girls…'

Sheen's latest role as victim is a bit hard to swallow. He paints a vivid portrait of his suffering at the mercy of his addictions, depression, and multi-million dollar extortions from ex-lovers. Even so, that his two ex-goddesses are contradicting his story raises questions concerning his credibility.

Ex-goddess Bree Olson, who dated and lived with Sheen for seven months in 2011, appeared on The Howard Stern Show to claim she had no idea about her ex's condition, and claimed she learned about his HIV-positive status "right along with everyone else."

"He never said anything to me," Olson added. "I was his girlfriend. I lived with him. We were together. We had sex almost every day for a year—with lambskin condoms."

Now lambskin condoms—incredibly thin condoms are billed as providing the closest thing to not using condoms at all—only guard against pregnancy and do not prevent the transmission of HIV. Olson told Stern that while she wanted to use standard Trojan condoms, lambskin was Sheen's condom of choice.

While Olson tested negative for HIV, in Sheen's home state of California it's a felony punishable by up to eight years in prison for a person with HIV to have unprotected sex with the intent to infect someone who's unaware of their status. Though that is incredibly hard to prove in criminal court, California also has a misdemeanor charge carrying up to six months in prison for willfully exposing others to HIV.
No thoughtful person makes AIDS prevention a cause.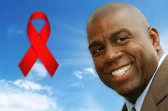 Of the hundreds, or thousands, of women who made themselves available to Magic Johnson, he said: "I tried to accommodate as many as possible. Some of them were unbelievable."
This liberalism, this irresponsibility to our EGI, is not what we're here to defend. With unspeakable irresponsibility and selfish uncaring (to say the least), they bring into the world behavior and genetics destructive to any reflective people - especially our European people.
Africa is one of the only places where AIDS is on the rise. That is good. Their population needs to be drastically reduced and its increase, let alone interbeeding with others, needs to be thwarted.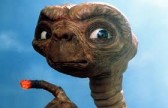 Magic, er, E.T. says, "Remember to not use a condom. AIDS is a beautiful thing." It kills those irresponsible and reckless with our EGI.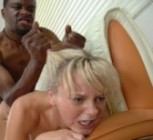 Because not all merit defense, we need an order to secure those who do. 14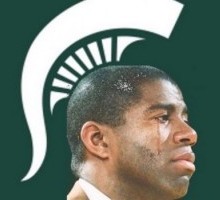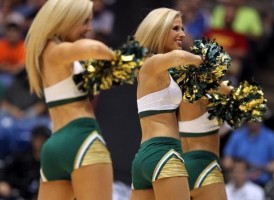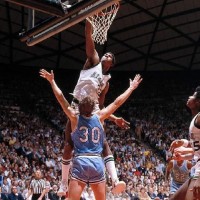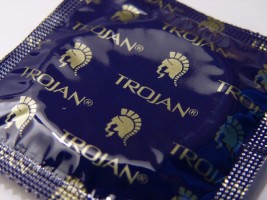 Magic Johnson, crying Trojan proponent

"No glove no love", so the motto of condom proponents goes - a condom being referred to as a "glove", in their liberal slang.
With Charlie Sheen "preferring lambskin condoms", in particular, an older slogan comes to mind as particularly apt to capture the refrain of those who would contest the facilitation of liberalism - they are treating those who engage in reckless and socially destructive behavior "with kid gloves" - that is to say, they are protecting them too much and therefore enabling bad behavior in the long term.
Meaning

Handle a situation, or a person or an object, delicately and gingerly.

Origin

Kid gloves are, of course, gloves made from the skin of a young goat. I say 'of course' but, in fact, when they were first fashioned in the 18th century they were more often made from lambskin, as that was easier to come by. They were clearly not intended for use when you were pruning the hedge and wearing kid gloves was the sartorial equivalent of pale white skin, that is, it indicated that the wearer was rich enough to indulge in a life of genteel indoor idleness. The earliest mentions of kid gloves are from England in the 1730s and the following is a typical report of a wealthy gentleman, laid out in his 'Sunday best', from Bagnall's News, in The Ipswich Journal, December 1734:

The Corpse of Mr. Thorp, A Distiller in Soho, who died a few Days since, said to be worth £10000 was put into his Coffin, quilted within with white Sattin; and after several yards of fine Holland [best-quality linen] were wrapt about his Body… on his Head was a Cap of the same Holland tied with a white Ribbond; he has about his Neck two Yards of Cambrick; a Cambrick Handkerchief between his Hands, on which he had a pair of white Kid Gloves: and in this manner he lay in state some Days and was afterwards buried in Buckinghamshire.

At that time, kid gloves were viewed as rather ostentatious and only suitable for the nouveau riche - much as heavy gold chains might be viewed today.
* Originally posted 20 Nov 2015 as a news item, the subject matter merits evergreen consideration and is therefore being re-posted here.
"Third Worlders", "Non-Whites", "Asians"... There are DIFFERENCES THAT MAKE A DIFFERENCE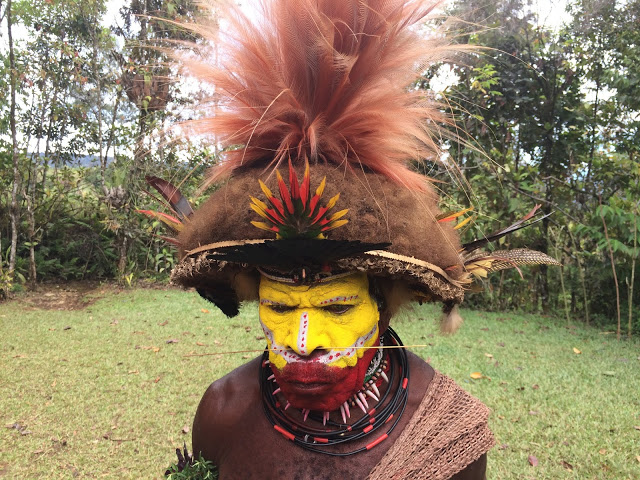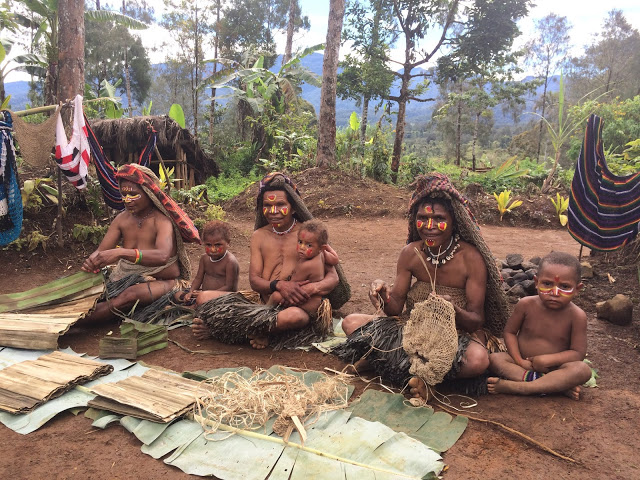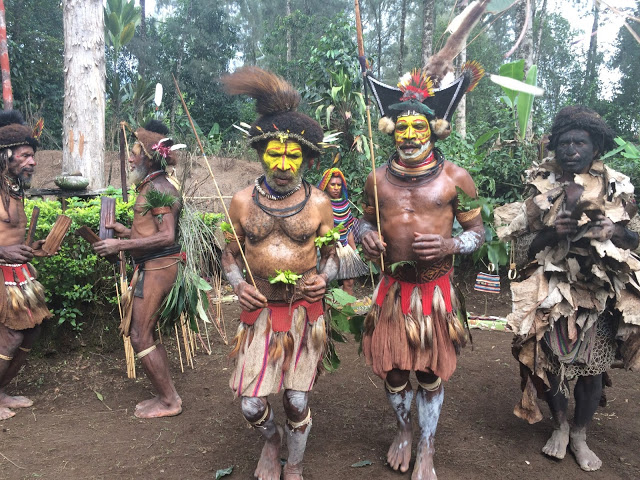 tari-huli images from this site.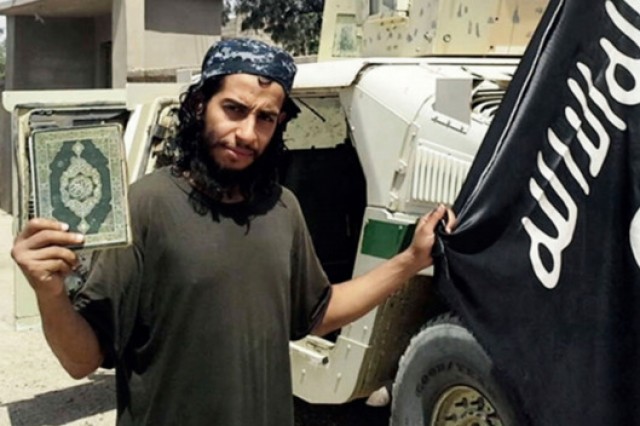 Photo: Dabiq/Corbis

Observe the DIFFERENCES, they are NOT TOO COMPLICATED TO DISCERN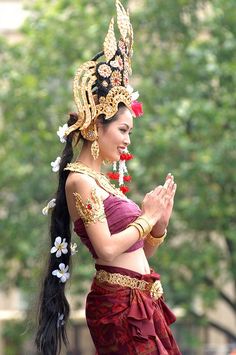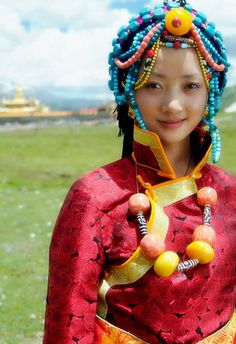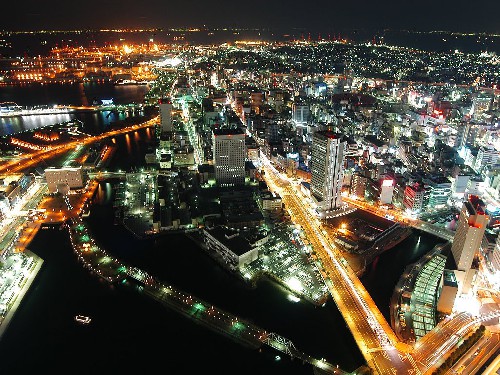 Since I am paying more attention to things Asian as a result of Kumiko's participation here, a couple of videos and a composition of Facebook comments relevant and illustrative of issues that I have been discussing have come to my attention.
Asian illustrations of..
1. Advised social confirmation and elevation: of the value of ordinary routine practices; in this case, participation in social routine.
2. Bad parenting advice: "You are from Sweden" and simply Swedish by proposition - abrogates racial accountability and leaves one susceptible to Jewish trolling for racial divisiveness and strife instead. Why the suspicion of Jewish trolling? Because of a salient example…
3. A composition of fake tweets: attributed to Americans apparently mocking the atomic bombing of Japan:
Captioned "stay 'classy' America" - the fraud and motive to create a division between Whites and East Asians is traceable to Jewish motives.

Coming to these examples throwing light on racial accountability from Asia, one at a time -

1. Advised celebration of ordinary routine:
Kumiko likes Korean and Japanese pop music videos and she showed me this Japanese one.
Participation in..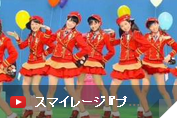 ..routine social service..
If WN can show bearance upon what might otherwise be construed as an appeal to yellow fever by the presentation of this video, there is actually bearing upon an important point that I made in my article about "the dark side of self actualization" and how to otherwise moderate and optimize actualization.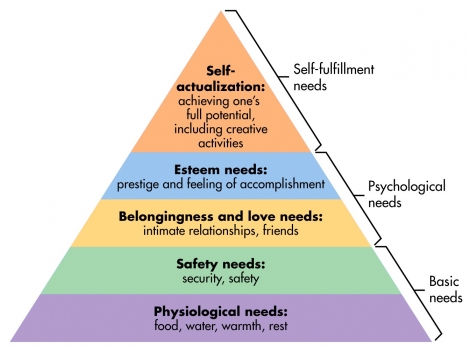 That is to say, one thing that needs to happen in our re-socialization of actualization is for the value of individual self actualization to become part of a rotating and optimizing process of attention, to where it does not always and statically occupy the top of a hierarchy. That over-emphasis has, of course, destabilized and lent to the rupture of our racial/social systemic homeostasis. The inference I've made is that one of the aspects of actualization that needs to be constructed, elevated in importance and encouraged to enjoy is not only a sufficient amount of routine but also routine social participation in our tried and true practices and procedures. That will not only allow us to learn from our forebears but it is also necessary to create a platform for elaboration and innovation; i.e., it is prerequisite and socially as important as actualization.
This video shows a song and dance of girls in Japanese postal service uniforms. The point that I am trying to make is that celebrative or otherwise reverential treatment like this, of the ordinary and social routine, might help to emphasize sufficient sufficience, so to speak, in enjoyment of necessary but ordinary social routines, unions, trade guilds, syndicates and with it, an elevation of appreciation of ordinary necessity so that it is not dwarfed nor its vital necessity discouraged by singular social appreciation and veneration of the extraordinary and the sacred.
I hypothesize this elevating celebration of routine (in this case social) practices as one side of the necessary elevation of the social esteem of routine; another side of "routine" elevation would be ceremony and sacral treatment of exemplary practices.
2. Bad parenting advice: The oriental woman in this video was adopted by Swedish parents and brought-up with that idea that she is "simply Swedish, the same as any other Swede", by proposition.
By contrast, if she were taught that she was an adopted girl of Korean descent, who was and should be welcomed as counting of a manageable, benign but accountable enclave of Swedish nationals…
...there is insufficient accountability in insistence upon her parents well meaning but bad advice - simply asserting that she is Swedish just like all other Swedes.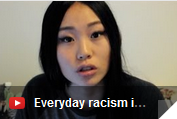 She sets herself up for abuse
Adopted by Swedish parents and growing up in Sweden, she responds to the question from a Swedish man, "where are you from?" that she is "from Sweden." The man responds in turn, "no, where are you really from?"
She takes this as an example of "racism" and tries to correct the man in the motive she perceives of his question, answering that she is "Swedish just like every other Swedish national" - as her parents taught her.
However, I'd guess that the man's question was not "racist" in a negative sense. Yes, it was racial in the sense that he was trying to get an accurate sense of how to classify her, but why? Because he thought negatively of her and of her being in Sweden? Probably not.
He was quite possibly asking her for one or all of the following three reasons:
a) He found her attractive and wanted to know where her sort was from for future and general reference.
b) He found her attractive and saw the question as an opportunity for an ice breaker.
c) If she answered, "Korea", chances are that he would enjoy showing his good-will toward her, by confirming her honest account and her people as really OK, and that as a part of a reasonable and accountable number of her kind of immigration, take occasion to show support for her participation with Sweden.
That is to say, what the man was doing was "racism" by definition in the sense that he was attempting to classify people genetically (not doing the mere liberal thing of pretending to be blind to racial classifications but judging people instead by propositions), but it was, in all likelihood, a benign kind of classifying, motivated by respect and a wish for accountability.
Because she treated it as "racism", i.e., classification for negative motives, she attempted to denounce it and hide behind the well meaning but fundamentally dishonest advice of her parents that as a propositional Swede she was the same as an evolutionary Swede.
As such she denies the possibility of honest accountability that would serve to limit negative treatment of her in Sweden and gain her support from those who have an honest concern for the management of native Swedes.
Instead, for denying accountability and denouncing the account requested as "racist" she sets herself up for abuse from at least two kinds in particular.
She will perhaps get some abuse from jealous and racially concerned Swedes, e.g., Swedish women miffed with yellow fever. That would be understandable if Asian immigration were taken too far at any rate, but when there is no accountability it is likely to be more provocative of the racially sensitive Swede for her to say, "I am the same as you", have the same history, etc. But even at that, it is probable that she did not really receive much of the gaffe from true Swedish women. What abuse that she got and experienced, with truly saddening pain, most likely came from Jewish trolls looking to stir conflict between Whites and Asians.

She gets abused by what probably are some Jewish trolls trying to provoke conflict between Asians and racially aware Whites: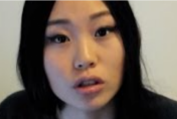 3. What makes me hypothesize Jewish trolling? viz., that Jewish trolls can be trying to provoke her and provoke conflict between Whites and Asians?:
How about this. Kumiko showed me this composition, supposedly of Facebook posts by American people speaking of their own accord, saying that they are happy that Japan sustained nuclear bomb attacks in WWII and would be quite happy for it to happen again.
I grew up in America and for 34 years spent there never encountered an American who would speak remotely like this about Japan or the atomic bombing of Japan. Furthermore, if one reads these comments it is clear by a careful discourse analysis that the writer of all of these comments is one or a few people. If one is more careful still, to take style and motive into account, the Jewish hand is evident.
Though it may seem like obvious trolling to some of us, unfortunately this was apparently taken seriously by some Japanese audiences and even shown on Japanese news as if it were an honest reflection of American sentiments - when in truth, these are not remotely accurate statements of Americans: Stay classy America? No, stay "classy" with your divide and conquer chutzpah Jews - greatest shame is upon you and we are watching you.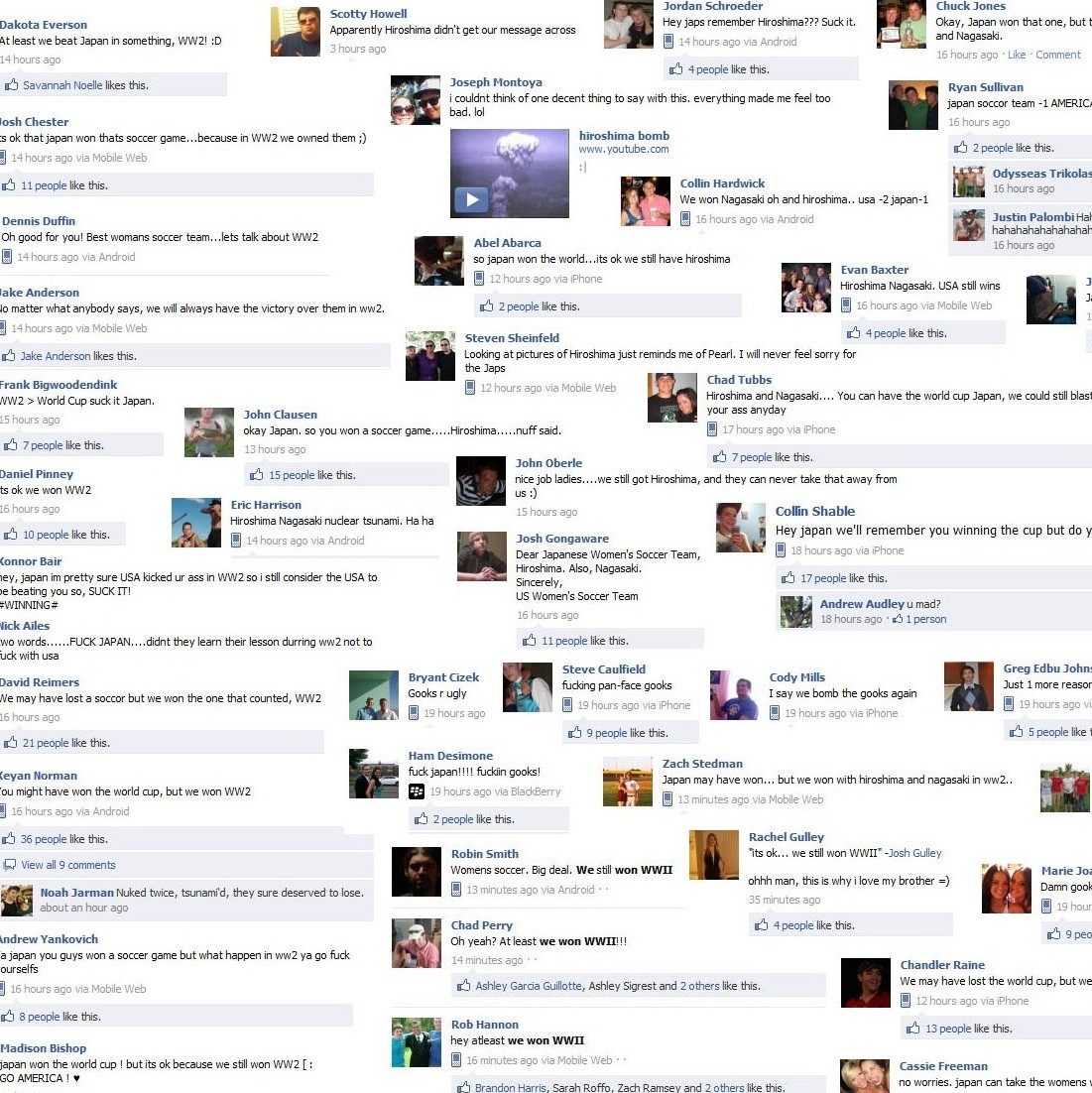 Full composition under the fold..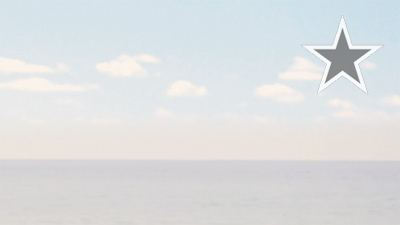 Rather than having some kind of lengthy preamble to this article, it's better to just say this directly, and in the clearest possible language.
Much has been said about Christendom, many nationalists of many different stripes have spoken about it, but the fact is that there is no 'White Christian Civilisation'.
It's just someone else's spiritual framework and someone's else's jurisdiction. I think it's time to shed some light on that fact, and so this will be the first of a multi-part series on the subject.
Here's a premier example of this framework:
Huffington Post, 'An Open Letter to White Men in America', 24 Jul 2015, Rev. Dr. John C. Dorhauer wrote:

Rev. Dr. John C. Dorhauer
President of the United Church of Christ, author of two books, Doctorate in White Privilege, Shalom Award recipient for peace commitments.

Dear White Men,

You are persons of privilege.

You didn't earn it. More than likely aren't yet prepared to either admit to it or lose it. This letter, written by one of you, is offered to invite you on a journey of insight, honesty, hard truth and just living.

[...]
Yes, that is a reverend saying that. At the Daily Stormer, they carried this article and there they highlighted the mainstream liberal aspect of the content, but they unfortunately did not mention the root of the matter.
The narrative of your 'white privilege' acting as a justification for the expropriation of everything that you have in your own lands is not an aberration or a distortion of Christianity as some Christian 'nationalists' would propose. Rather, this is the logical and final trajectory of what Christianity is about and what Christianity does.
It is an inescapable fact that Christian churches have a tendency to preach doctrines advocating your dispossession and extinction. The fact that Dorhauer is a Shalom Award recipient is not an accident or an aberration. Most Christian authorities are openly in collaboration with Jewish lobby groups. Occasionally there are what appears to be exceptions to this rule, such as an occasional bishop or pastor criticising Jewish cultural power. But those are exceptions that only prove the rule.
Christianity is not a European religion, it originated in the Levant and its fundamental ethnic character is one that caters to its original owners. It was Saul of Tarsus, who would later be known as 'Paul', who projected Christianity into the Graeco-Roman world. The doctrines that 'the meek shall inherit the earth', and that 'the last shall be first' are ideas that were comforting to the lower classes in the Roman Empire and which stifled the will of the strong by stamping out diversity of belief and of thought, and stacked up their own funeral pyre for them.
Centuries later, as Rome was becoming crippled under an internal rot caused partly by Christians, the co-opted Roman state then imposed Christianity at spear-point onto all Indo-European peoples that it encountered, and spread from there.
But how precisely does it operate? Let's tackle that now.
Within the disorder of modernity, where puerile females are so one-up and so pandered-to, where their base proclivity to incite genetic competitition is in runaway, uncorrected by the homeostatic control of social group boundaries, it is more than dubious to add another exponent to their poison cynicism.
Andy well articulates a view on the cuckold meme in line with my view thus.
That is, I am not going to jump on that bandwagon. It sucks. It is a meme not without some merit, but largely for a-holes by a-holes too cowardly and self centered to see the radical point. The best angle is not for a-hole males, the kind that screw others, including their own people, when they do not have to, to incite other a-hole males, the ones who let others screw their people all too easily, when they do not have to.
Both of these types represent something outside of authentic European masculinity, its optimal level of sublimation and qualtative expression.
Because it is didcactic incitement, it is prone to play into the hands of our enemies as another way to merely blame White men, to perpetuate and take the heat off of our adversaries - our adversaries who know that these marginal men are interfaced with boundary maintenance and are, therefore, to be disempowered, humiliated, their conservative instinct to be disrupted, to remove their correcive function and doubly punish them despite the fact that they are most likely to be victims rather than responsible party victimizers; but who cares? The true culprits have diverted attention from themselves and will be immune to this additional poisoning of our boundry demarcating marginal peoples - with the more forethinking men incited into oblivion, and the narrow alpha male a-holes left standing, this will play into the hands of those who would Africanize our population, have us more stupid, kindred to blacks and mulattoes, more easily controlled.
No, the far more advisable, more valid critique, one which would in fact entail easier and more reasonable compliance ought to be criticism directed at peurile femalenss, a puerile femaleness that is all too used to being panderd to. They ought to be incited to be more decent, cooperative and fair - in a word, to be worthy of being defended as our co-evolutionary women, mature women, if not ladies.
Until such time, these puerile bitches deserve incitement - Mulatto supremacist BJ machines - whatever you might like to call them, let those who do not deserve that label object and let the ones who do deserve that label try to defend themselves.
It is a puerile femalness that is mean beyond belief in its self righteousness; indeed, in its privilege it is getting away with murder, torture, the destruction of the profoundest evolution for the most idiotic reasons, out of ignorant spite, a puerile femalenss whose acts, while on par with rape, are normalized and institutionalized by the right-wing in foolhearty, naive or disingenuous complicty with Jews, as "natural" acts, or even heroic defiance of the "backward" - which, in incitement, we are supposed to adjust to, as the way it is in "universal maturity."
We all know that puerile females can never do anything wrong.
Scientists and Jews say so.
It is for White men to adust to their infinite wisdom.
If men drag their feet, are unwilling to participate in the paradigm that Jews have outlined, then they are "cuckservatives."
It is another Jewish meme to blame White men, if there ever was one.
Sure, we should adjust to the predilections of puerile females, as pandered to by Jews, Muslims et al, in the cataclysmic destruction of European peoples and our co-evolution.
We should act into the loop, a Jewish loop, engage in such didactic incitement. Rather obviously, we should not. It is far better that the puerile females of Western nations be subject to incitement, to become mature, decent, responsible women. For those who know American females, as they are, and as it stands, know that typically they are egomaniacs.
Worse, they're typically the vilest tyrants - manifest through ceaseless pandering of Jews to their one-up position in partner selection. This has put an exponent by their worst inclinations - incitement to genetic competition and appeal of the brute, episodic view of masculinity, a hyper-assertive, unsublimated masculinity more characterisic of blacks and mulattoes.
And we all know what a wonderful way of life that they create. So wonderful, that we should emultate them on penalty of being called a "cuckservative."
Nice try Mr. Jew.
You won't find me buying into this Jewish meme of "cuckservative."
You might, however, hear me chiding these puerile female tyrants that you've had integral part in creating as "mulatto supremacist B - J machines." (I would like to use the full-out word, but I guess you get the drift).
Incitement of White males at this point is more characterisitc of right wing pefidy. To think, they accuse the left of being against nature. But what do they know about White nature? They're so objective, displaying transcendent, univesal masculine strength - they don't even need anybody else, just their own individual Herculean strength. What it really is, of course, is their own gang of Jewish marshalled punks, piling-on anyone unfortunate enough to be in a vulnerable position, to need their people, their race, to show off in contrast to them for unworthy females and "the objective measurer."
But I do get it when it comes to conservatives and the need to drive a wedge against their Jewish designated "conservatism", which is not conservatism at all, but the propensity to conserve liberalism, to conserve the destruction of Whites. That wedge criticism IS central to our program here at MR.
I just don't trust the cuckservative meme. It's based in a universalist liberal perspecive. It's an incitement generally biased in the wrong direction, piling on White men who've been incited ad infinitum; and as a meme, being slowly nudged beyond reach of normal men; into toxicity for those who would otherwise be best positioned to see the sense of our cause, to swell and empower our ranks. It's playing into Jewish, liberal and puerile hands, deflecting from their responsibility.

A further note on these lines of right wing perfidy…
I recently heard that Angelo John Ganucci had been banned from the campus of Boston University.
Well, that's nothing.
I was banned form campus of The University of Massachusetts at Amerhest no less than four times. I must admit that I got a certain satisfaction in manifesting activism from the other side.
I would walk around campus with a shirt that read:
"Big Mulatto Bro is watching, foil HER Mulatto supremacist dream!"
And sometimes with a shirt which read:
"We have a consensus, black women are ugly!"
That came in handy when encountering interracial couples - because the female was ALWAYS the White one.
I could simply walk in front of them. This was extremely awkward for them and extremely hard for them to respond to.
The black woman, who was being insulted, was not there, the black male was being called-out on the fact that he viewed his own co-evolutionary females as inferior, and the White female, who pretends to be the sensitive social justice warrior, is shown to be the thoughtless pig that she is, e.g., having little or no concern for black women, whose men she is taking away.
Because walking in front of them so that they could read the shirt didn't involve aggressive and loud verbal confrontation, this did not arouse enough attention from third parties to provide one of the occasions that got me thrown off campus. But it did get a potent message across. It was one of the better strategies that I experimented with.
As I have said in other places, "mulatto supremacism" is a confusing, difficult and all too accurate charge for our enemies to handle; that is why I was prevented from posting an article about it on Wikipedia.
It is difficult for them because it does not confronts Jews, blacks, or miscegenators directly, while it calls dramatic, critical attention to the egregious upshot of PC politics.