Majorityrights Central > Category: Humour
Breitbart is a medium much visited by members of the tribe of Snarks. Indeed, it is owned by Snarks, and the stance it takes on the Great Issue is typically Snarkish: Snarkish interests are a non-Snark interest; Israel is "special"; Islamic extremism is very, very bad for Snarks and non-Snarks alike; likewise, untrammelled immigration from Muslim lands is very, very bad; civic values for non-Snark "nationalists" are quite alright, but real nationalism is "far right", etc, etc. And, of course, there is no Snarkish Question. All that's anti-Semitism, of course ... just Nazi-talk.
It can be difficult to execute an attack on this prescription. Crypsis does not help. But attacks will usually result in deleted comments and, at times, the capital punishment of a Disqus identity ban. Sometimes, though, it can be done.
Apologies for the shocking doggerel.
verbatim • 11 hours ago

But ... but ... the Jewish Director of Social Media at Sweden's Bonnier Publishing - a huge Jewish multi-media owner - wrote an article titled "Our Whiteness – a democracy problem".

https://majorityrights.com/weblog/news_comments/director_of_social_media_at_swedens_bonnier_publishing_says_sweden_and_euro

Why would she do that? Does she say the same thing about Israel, I wonder? Do Jews seek the debilitation and genetic dissolution of the European host, or does it just seem that way?

Well, I expect it's "anti-Semitic" even to ask this question, and it would be just awful to be "anti-Semitic". So let's not think about it at all, hey?

Dexy verbatim • 10 hours ago

The nazis once conquered through purity.
Now Kalergi's their path to security.
And amidst all the rape,
They've a goat for their scape.
The kapo's their patsy and surety.

verbatim Dexy • 10 hours ago

There is a tribe which must conquer through debilitation,
This Kalergi's a cover for their abomination,
And amidst all the rape,
The Swedish male is the scape.
While useful idiots shouting "Nazi" speed on the death of the nation.

Dexy verbatim • 10 hours ago

As die Bilderbergs bungled and bumbled,
Their Nazi World Order we rumbled.
Their Viertereich Global
Was evil, not noble.
And to Hades the hellions tumbled.

verbatim Dexy • 10 hours ago

The 'berg was built upon high finance
And that on a group with a stance
For the supremacy, see
For all eternity
Of just one ancient allegiance.

Dexy verbatim • 10 hours ago

Ain't ye heard of the prince called Bernhard?
He took the thirdreich's defeat hard.
His Bilderberg Group
Were all in the loop,
And vowed the Free West to retard.

verbatim Dexy • 9 hours ago

Uncle Julian heard Bernhard's news
And rang David in New York for his views
"We must use it", he cried
"What a great place to hide
While we realise the destiny of the Jews."

Dexy verbatim • 9 hours ago

The Jews are not whom to be feared,
They are used as the globalists' beard.
Nor ought they be hated,
For they are still fated
To save us from our pitches qu€€red.

verbatim Dexy • 9 hours ago
What you say has one fatal flaw
Global capital knows the IQ score
But it's not East Asians they bring to our land
But African, South Asian, Arab contraband
So not profit but another motive matters more.

Dexy verbatim • 9 hours ago
Indeed this is not about cash.
The economy's destined to crash.
The kraut plot eugenic?
They would call it eirenic:
A chimaera to rise from the ash.

verbatim Dexy • 9 hours ago
So you think the American's border
Has been opened by Germany's order
To dissolve away
White America, but hey
The Germans, too
Are going down the existential loo
So what's that, some kind of mental disorder?

Dexy verbatim • 9 hours ago

To understand Christendom's dip,
You should read up on Op Paperclip.
The beasts of Berlin
Have a new way to win,
But the scales we shall very soon tip.

verbatim Dexy • 9 hours ago

Your switch to religion is noted
But it's our genes which Power has voted
Shall have no instrumentality
in their coming Globality
Yet Israel is strangely immune
These globalists all dance to one tune.

Dexy verbatim • 9 hours ago

You are woefully, wilfully blind
To the struggles of the Hebrew kind.
The nazis all boasted,
As the mozlems they hosted,
That Israel's death warrant was signed.

verbatim Dexy • 8 hours ago

Sight is called blindness and love is called hate
Precisely so Europe will join with the Caliphate
For that holds no fear
For those who adhere
To the faith which Adolf planned to annihilate.

Dexy verbatim • 8 hours ago
That makes absolutely no sense.
Are you bonkers or just a bit dense?
I've no wish to be terse,
But defeatism's worse.
Now bugger off back home to Rense.

verbatim Dexy • 8 hours ago

The sense which makes you so tense
Is a genetic not cultural defence
They can't help what flows in the vein
Even when retributions predictably bring pain
The cycle always starts up again
In the end, to answer this Question
Requires a geographic concession.

Dexy verbatim • 8 hours ago

This has been a lot of fun.
It could still run and run.
But your lies are overspun.
Guess that makes you a Hun.

microlight verbatim • 8 hours ago

Agreed.

Celtic Saint Dexy • 8 hours ago

Brilliant 'Verse-off'!!

Jane Dexy • 9 hours ago

Wow what a fab poetic battle this morning guys. I feel I need to up vote verbatim for keeping it going, but must agree with Dexy when it comes to the NWO plan.

verbatim Jane • 9 hours ago

He's wrong, babe; for the reasons given. Globalism is an instrument - a very powerful one indeed, but an instrument nevertheless. The goals of those whom it serves are crucially different to the goals of global Capital as such, and it is in that difference that the identity of true power can be ascertained.

Of course, there are those who are desperate not to ascertain this identity; and they are not only Jews but weak and suggestible Europeans also. I don't know which Dexy is, but his notion of German "Nazi" supremacy would suggest a Jewish or part-Jewish origin.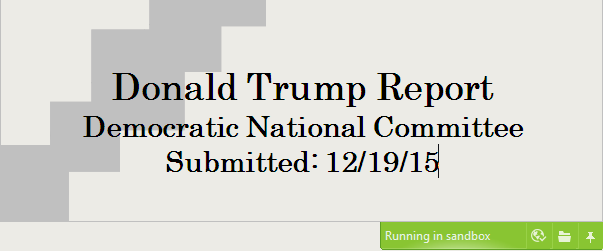 The Donald Trump Report is one of several files that Guccifer2 decided to showcase to prove that they had persistence in the DNC's network.
The Washington Post carried an article recently in which CrowdStrike alleges that 'sophisticated hackers' gained access to the computer network of the Democratic National Convention and maintained persistence there for about a year. During this time, the hackers were able to intercept essentially everything that was going on, emails, chats, documents—everything.
Apparently it didn't require much sophistication after all, because one of the attackers has come forward under the Guccifer2 moniker to express that it was actually 'very easy', and has released some preliminary teaser documents to prove it.
We at Majorityrights have looked at the documents and they certainly seem to be authentic in our view. Since Guccifer2 has chosen to give the thousands of documents that have been exfiltrated, to Wikileaks, we'll be watching and waiting for these documents to appear in public in the coming days, at which point we will trawl through all of them and give you our assessment of what's been happening inside the DNC. So do look forward to it.
For now, I'll simply link to Guccifer2's announcement on Wordpress, which contains links to the teaser documents: [Link]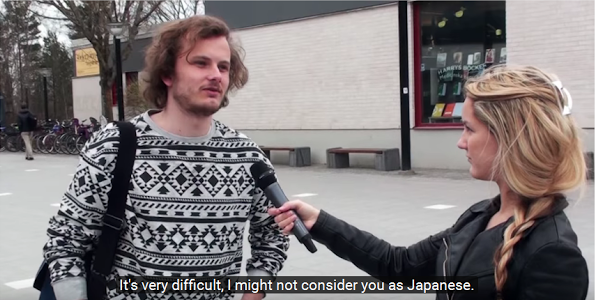 Universities are big business. They are in the big business of selling talk. But sometimes facts are facts and there is not a lot say about them. That raises a problem for the big business. After all, there isn't much to say about mere facts obvious to everyone. However, if the university can distance students from a prima facie response to facts, they can increase the commodity of talk, its trade and the people capable of trading in it. Furthermore, it might help students to develop critical intellectual reinterpretations which might do them and the world some good through a broader social negotiation of how facts may count - that's the ostensible idea, anyway, by being given this stuff to say. They sell it to undergraduates who pay in order to develop things to say through a critical view of society and their place within it. Whereas if something just is or just is not, that's the end of argument, not much you can do about it nor about people's response, needn't be a whole lot of discussion, not much to debate, not much to say, no conversation - end of the talk business..
The YKW are equipped with a history of cultivated pilpul - highly developed rhetorical and verbal hair-splitting skills - that is accompanied by a knowledge of the necessity and opportunity in argumentative defense of the identity of oneself and one's people; with that equipment, they have been notoriously successful in this big academic business of selling talk - it has reached its sine qua non in "critical theory", by which theory of no theories for Whites, they have been able to sell talk while dismantling White defense. White Nationalists have some critical idea in defense of that now. However, they do not tend to realize that they are being mislead away from helpful theoretical apparatus by its widespread distortion.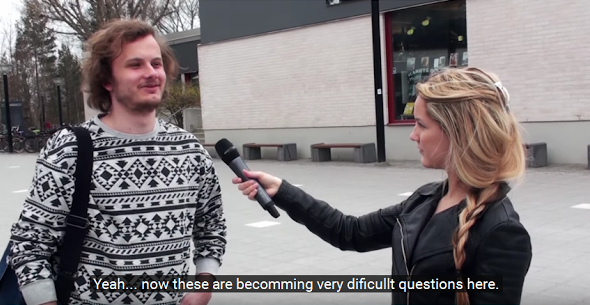 Social consructionism is actually quite a useful tool for identity politics as it permits of things that mere facticity does not ensure, i.e. coherence, accountability, agency, warrant, broad perspective and social resource to reconstruct historico-systemic human ecologies.
However, through the talk that the YKW sell, they don't want Whites to have that. Despite its value and with its appeal they have rather abused, misrepresented and distorted the concept beyond all reason - beyond the non-Cartesian mandate from which the concept of social constructionism was born, to where they've got ordinary people talking crazy and thinking that what it - social constructonism - means is that you can imagine yourself into being whatever you want, facts and other people's understanding of the facts be damned.
I will only briefly note that there is nothing anti-Cartesian about taking such a view - it is as Cartesian as it gets. There is also nothing social and no social construction to saying "you can be whatever you imagine."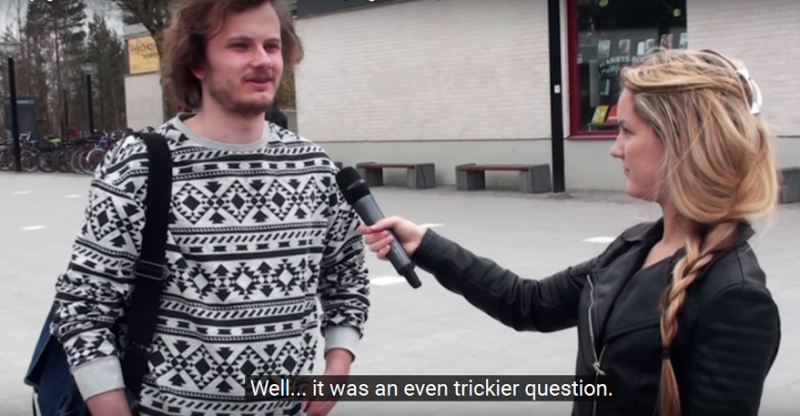 In truth, the questions in these interviews are solipistic in nature, not social consructionist, as students are being asked if self creation (not social consruction) in spite of facts and other people's understanding is good and possible.
However, it is not my purpose to lecture further, it is rather to have a fun look - it is funny - to see what this big university business has done to confuse these poor undergraduates at Södertörn University in Sweden. They are asked:
Is it important to decide your gender identity?
Am I biologically a man?
What would you say if I told you that I am a man?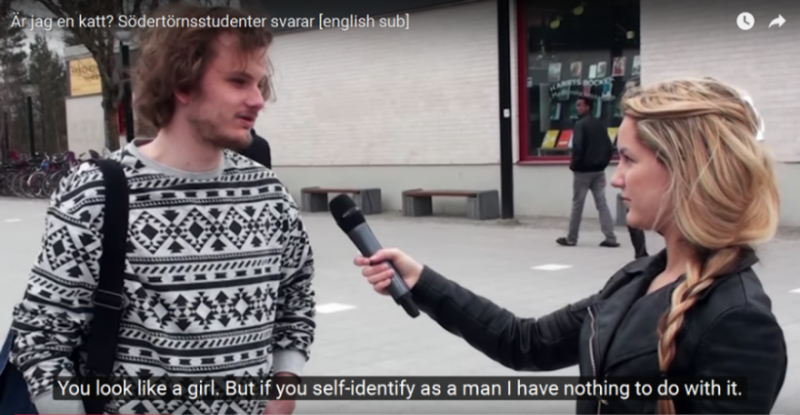 If I say that I am Japanese, what would you say?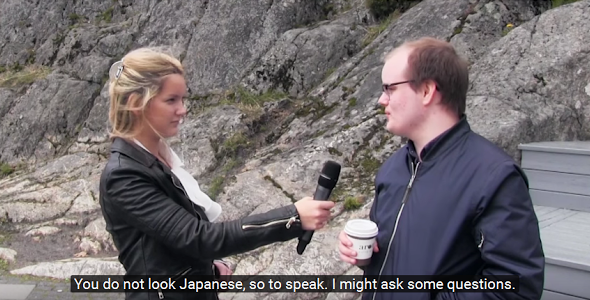 If I would like to be a cat and treated like a cat, then what?
What would you say if I say that I am two meters tall (6'6)?
What if I were to say that I am seven years old?
If I feel like a seven year old, should I get to date seven year old boys and girls?
Can I enroll in primary school again?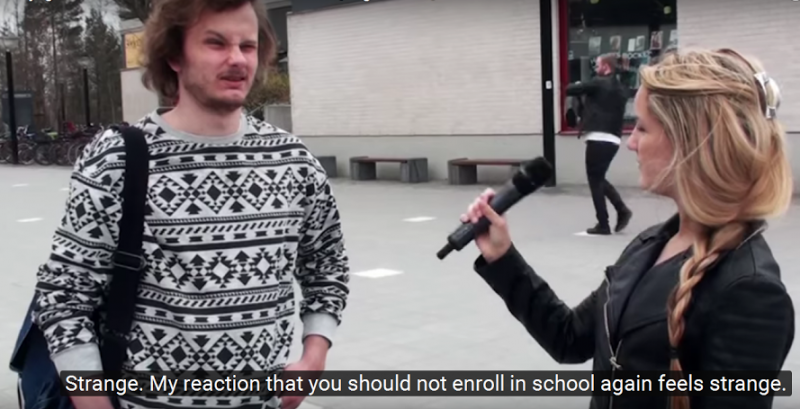 What does identity politics mean for you?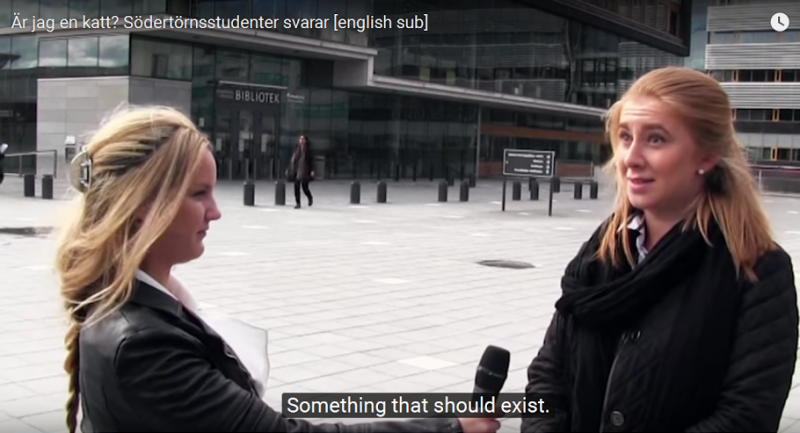 Press Start
In the run up to the speech that Donald Trump was going to make at AIPAC, lots of 'prominent white nationalist movement figures' started making extremely arrogant statements about how they believe that Donald Trump is only pretending to support the Jews by deliberately attending a place where politicians go to be lobbied by Jews while being supported by Jews at every turn.
At Majorityrights we have done everything to try to highlight the fact that placing stock in Donald Trump is completely irrational and continues to be irrational.
It's plainly obvious that white nationalists of any sort have exactly zero capability to influence Donald Trump's campaign, because Donald Trump is not a white nationalist and does not accept campaign donations from white nationalist groups. Donald Trump is saying things that he thinks will convince the various contradictory segments of the Republican Party voting base to imagine that he empathises with them while they wait with bated breath to see what he'll say next, so that they can write yet another breathless article on how the Trump train 'cannot be stopped'. It should be obvious.
Attaching themselves to a political candidate like Donald Trump, and running articles that praise him for an entire electoral season, even though they know that they have no means through which they can control him, is a bad idea which yeilds predictably bad results.
You are pretty bad at this game
Various venues and groups, for example Radix Journal, The Occidental Observer, the Daily Stormer, David Duke dot com, The Right Stuff, and American Renaissance all refused to use Occam's Razor, and instead have been continually coming up with ever more fanciful explanations about how all of this is supposedly Donald Trump's cunning 57-dimensional chess game.
Yesterday, Trump went on CNN with Wolf Blitzer and once again disavowed those who he refers to as 'the antisemites', by saying that he "can't imagine" why antisemites would want to support him, and that he has "always condemned" such persons. He also added that he is "the least racist person you'll ever meet."
Indeed, most sensible ethno-nationalists and antisemites should be unable to support a person who within 90 minutes of making those statements in the CNN interview with Wolf Blitzer, would go on to utter the following words in a room packed full of cheering Jews on international television:
TIME / Donald Trump, 'Read Donald Trump's Speech to AIPAC', 21 Mar 2016:

I love the people in this room. I love Israel. I love Israel. I've been with Israel so long in terms of I've received some of my greatest honors from Israel, my father before me, incredible. My daughter, Ivanka, is about to have a beautiful Jewish baby.

(CHEERS, APPLAUSE)

In fact, it could be happening right now, which would be very nice as far as I'm concerned.

(LAUGHTER)
The Jewish baby's head could've been exiting Ivanka Trump's vagina in that very moment, and Donald Trump wanted to make sure that the audience understood the implications of that. That was just after Trump had quite predictably reversed his fake 'neutrality' position, voicing his true positon of total unwavering support for Israel.
But I know, I know, let me guess, Trump-fans. You all will say that everything that happened at AIPAC was 'deep cover', and that it is a 'strategic deep cover' Jewish baby that he's getting all enthusiastic about, right?
No matter what Trump does, someone is always going to come out and implausibly claim that it's either 'a deep strategy' or 'an accident'.
Those bazookas that the red team is firing at your blue team tanks? I guess it's part of a 'deep strategy', the red team is only pretending to destroy those units, they are only pretending to be the red team, right? Well, maybe, if you ignore the minor problem of those little blue units actually being destroyed in reality.
But blithely ignoring reality is obviously what being a Trump-fan is all about.
Here's an example of the Trump-worshipping Daily Stormer trying to spin its way out of acknowledging reality:
Daily Stormer / Andrew Anglin, 'Regarding Donald Trump's AIPAC Speech', 22 Mar 2016:

Okay, guys. Here's the deal: in order to get elected, Donald Trump has to say nice things about Israel.

That is simply the fact of the matter. The Jews have created a situation where the overwhelming majority of Christians in this country believe in bizarre science fiction fantasy about the nature of the terrorist Jew state, and if they view someone as hostile to it, they won't vote for them.

So the options are:

a) call out the Jews, have zero chance of winning, and

b) say nice things about Israel, and have a shot at getting in.

[...]

I cringed like you all cringed. But these are the facts of life. The Jews have put us down so deep, the climb back up involves a bit of unpleasantness.

Remember: these were just words.
They were just words, according to Anglin! How about a flesh and blood Jewish baby which is literally inside of Ivanka Trump's womb? Is it really 'just words'? Or is it words which are describing things which have occurred in actual reality?
Here's another flesh and blood example, the flesh and blood of Michael Cohen:
Jewish Daily Forward, 'Meet Michael Cohen, Donald Trump's Jewish Wingman', 20 Jul 2015:

[...]

Cohen, who is Jewish, has been Trump's most loyal ally for nearly a decade, standing up for the real estate mogul in the media and filing lawsuits when Trump perceives he's been wronged. A 2011 ABC News profile reported that within The Trump Organization he's called the boss's "pit bull."

"If you do something wrong, I'm going to come at you, grab you by the neck and I'm not going to let you go until I'm finished," Cohen, now 48, told the TV network.

To wit: When New York State Attorney General Eric Schneiderman filed a fraud suit against Trump's for-profit college in 2013, Cohen threatened Trump's vengeance: "The damage to the attorney general is going to be very significant," Cohen told The New Yorker. "So significant that he will possibly have to resign." (Schneiderman has not resigned. The case is ongoing.)

And in February 2011, when Trump was mulling a 2012 presidential run, Cohen twisted himself in knots to defend Trump's newfound opposition to abortion, telling National Journal, "People change their positions all the time, the way they change their wives." (Trump has changed his, twice.)

Cohen, who did not respond to requests to be interviewed for this story, has been tied to Trump since at least February 2007, when the New York Post reported that he had been snapping up apartments at Trump's properties like a hoarder at a flea market. He owned two at the time, was buying two more, and had talked his parents and his wife's parents into buying another four between them.

"Michael Cohen has a great insight into the real estate market," Trump told the Post at the time. "In short, he's a very smart person."

Cohen was a partner at the law firm Phillips Nizer at the time of the Post story, but he joined The Trump Organization three months later as an executive vice president and as Trump's special counsel, according to Cohen's LinkedIn page. No word on whether he's bought more Trump apartments since then.

Cohen himself is something of a cipher. We know from the 2011 ABC profile that he grew up on Long Island and that his father is a Holocaust survivor. A Democrat, Cohen voted for Barack Obama in 2008 and volunteered for former Massachusetts governor Michael Dukakis's presidential campaign in 1988. (Cohen told ABC in 2011 that over time he grew disappointed with Obama.) He favors Dolce & Gabbana and Hermes, and once went sailing off Cape Cod with Ted Kennedy.

The real estate newspaper The Real Deal reported in February that Cohen had made a New York real estate play of his own, buying a $58 million rental apartment building on Manhattan's Upper East Side from Israeli-born developer Ofer Yardeni.

Beyond those spare, if colorful, details, Cohen's entire public profile is entangled in the Trump galaxy. He's a member of the board of the Eric Trump Foundation, a children's health charity named for Donald Trump's 31-year-old son. He was chief operations officer of Affliction, a mixed martial arts promotion partially owned by Trump. And in 2011, during Trump's last flirtation with presidential politics, it was Cohen who led the charge.

Along with Stewart Rahr, the 68-year-old Jewish drug distribution billionaire who calls himself "Stewie Rah Rah Number One King of All Fun," Cohen created a website in early 2011 called "Should Trump Run?" and visited Iowa in a private jet with Trump's name on the side to discuss a potential Trump candidacy. A Ron Paul backer charged that Cohen and Trump were breaking campaign finance laws by taking the trip without filing disclosures with the Federal Elections Commission. (The FEC eventually found that no law had been broken, as Trump never actually became a candidate.)

This time around, Cohen has fully embraced his attack dog role within the Trump apparatus. During the contentious morning interview with Chris Cuomo, Cohen was relentless in defending his boss.

"You're making the same problem [Trump] is, which is odd, because you're here to kind of clean it up for him," Cuomo said. "He shouldn't have said they're rapists, they're this, they're drug dealers, and some are good people. He shouldn't have said it. True or false?"

"No, I disagree," Cohen said, speaking in a voice that sounds like Trump's, but with the volume turned down from 11 to around 7. "I really believe that Mr. Trump was making his voice heard."

As Cuomo grew increasingly frustrated, Cohen refused to back off. "It was wrong, and you haven't admitted that yet," Cuomo said.

"And I will not," Cohen said as the interview ended.
They could also say that 'Cohen' is 'just a word', but it's a word that actually does have an ominous real-world meaning.
But I guess when reality becomes inconvenient for Trump's movement fans, the words that are used to describe that reality also become inconvenient for Trump's movement fans, and then those words are suddenly referred to as 'mere words' whose actual meaning they think should be disregarded and replaced with various fictions.
Let's dispel these fictions
Both David Duke and Kevin MacDonald, among others, have been giving little open letter style warnings to Donald Trump about how it's 'useless' for him to attend AIPAC and make speeches, and how he needs to beware of the Jewish lobby.
As though Donald Trump is even listening to them, and as though Donald Trump—a person who has spent his entire career in the company of Jews and whose presidential campaign is presently packed full of Jews—somehow doesn't know what he's doing.
Let's dispel this fiction once and for all that Donald Trump 'doesn't know what he's doing'. He knows exactly what he's doing. He's undertaking a systematic effort to harness the disparate strands of discontent among America's white working class so that he can funnel all the resulting activism back into the Jewish-owned straitjacket which binds the Republican Party political apparatus.

The horror won't end
It must be really difficult for Alt-Right 'Big Tent' proponents these days, especially since they declared war against reality and reality is systematically thrashing them.
Increasingly miserable Donald Trump supporters in the Alt-Right Big Tent may have been wondering whether Trump was going to take Fox News up on their idea for another debate that was supposed to happen next week between himself, John Kasich, and Ted Cruz.
Donald Trump believes that this would clash with his busy schedule:
The Hill, 'Insider: Trump to skip GOP debate for pro-Israel conference', 15 Mar 2016 (emphasis added):

Donald Trump will miss the final Republican presidential debate to address a major pro-Israel lobbying organization instead, according to an insider.

"Hearing that Trump secured a Monday night speaking slot at AIPAC conf. in D.C," tweeted Noah Pollak, executive director of the Emergency Committee for Israel, referencing the American Israel Public Affairs Committee.

"Also happening that night: [the] Republican debate in Salt Lake City," he added, alluding to the 13th GOP presidential contest on March 21.

[...]
That Republican debate in Salt Lake City? Apparently it's not happening after all:
The Hill, 'Fox News cancels GOP debate after Trump backs out', 16 Mar 2016 (emphasis added):

Fox News is canceling next week's Republican presidential debate in Salt Lake City, Utah, after front-runner Donald Trump publicly backed out early Wednesday, followed by John Kasich.

"Ted Cruz has expressed a willingness to debate Trump or Kasich – or both. But obviously, there needs to be more than one participant," Fox executive vice president Michael Clemente said in a statement.

Trump announced early Wednesday that he would not show up for the debate, saying there have been "enough" debates and noting he'd be speaking at a pro-Jewish rally on Monday.

Instead of appearing at the debate, Trump said he would be making a "major speech" at the American Israel Public Affairs Committee (AIPAC) conference, he announced Wednesday on "Fox and Friends."

[...]
So basically, Fox News called for a television debate, and asked Donald Trump if he'd like to attend it. Trump declined, because he has what he perceives as better things to do already on his schedule, things such as kissing the backsides of the mendacious Jews at AIPAC.
No doubt, all television cameras will follow Donald Trump to AIPAC, because that's where the ratings are, and then all of the people who have been enthusiastically promoting Donald Trump will get to see how many cringe-worthy pro-Israeli and pro-Jewish statements he can rattle off within the time that he has there.
Option one: Speaking bitterness
When Donald Trump first started his incoherent campaign, he created a space for 'politically incorrect' discussions in the public space.
The appearance of that space could have potentially been harnessed by American ethno-nationalist advocates and channelled away from Trump and toward ethno-nationalist causes. This could have been accomplished through sending people to Trump rallies to look for people who could be converted and drawn into ethno-nationalist activism, distributing flyers, speaking bitterness or consciousness raising, and so on. To accomplish that, ethno-nationalists in the United States would have needed to draw a hard line between themselves and Trump's campaign, and would have needed to walk parallel to his campaign while simulataneously criticising it.
The opportunity to do this was completely squandered by them.
Option two: Being an idiot
Instead of doing that, Alt-Right players in actual reality chose to simply attach themselves to the Donald Trump campaign, make tweets on his behalf, act as an independent public relations arm for him, all while not challenging him on any of the big problems of his campaign.
They also chose to tell themselves nice stories about how everything that is wrong with Donald Trump is all part of some kind of 57-dimensional chess game. Trump's daughter literally married to a Jew and incubating heirs for the Jew? Ivanka Trump's womb is engaged in 57-dimensional chess, apparently, if Big Tenters are to be believed. Her womb is really complex and dynamic. Trump flip-flopping on the second amendment? It was 'a different time' back when he supported the so-called 'Assault' Weapons Ban, so that too is portrayed as 57-dimensional chess. Promises to support Israel stronger and harder than any candidate in the GOP? Chess again, supposedly. Literally has Jews as his advisers and lawyers? Allegedly it's chess again. Insipidly idiotic protectionist anti-trade policies and tariffs? More excuses about how it's about 'fair' trade, whatever that even means. Also, 'chess'.
Cuck
It was almost like the Alt-Right Big Tent wanted to become Donald Trump's girlfriend. And yet Donald Trump was never interested in that, and has never even so much as acknowledged them by name, because he's too busy cuddling with the Jews. You know, those people who he's been rubbing shoulders with his whole life because his career was launched in real estate development in New York City.
A key example of this is when someone like David Duke gives his support to Trump, and then Trump reacts by pretending not to know who Duke is, followed by all of the pro-Jewish pandering proceeding ahead full steam as before. Another example would be Kevin MacDonald saying that Donald Trump basically 'knows exactly what he is doing' as though some kind of chess game is going on, and then Donald Trump is meanwhile literally allowing Ivanka Trump to marry into Jewish bloodlines.
It's in moments like that, when one can imagine that Donald Trump leans in close to the ear of people like Duke, or MacDonald, and softly whispers a single word: "Cuck".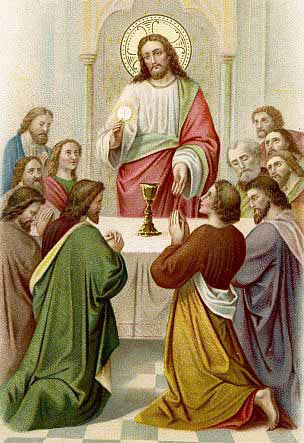 Jesus said, "I give to you this cracker, so that future generations will remember that I looked
Hu
-white to you."
The rollercoaster won't stop
No matter how much you might want to get off of this rollercoaster, by some twist of fate it just never seems to end. Here's the latest development that Christians are bringing from (((Jesus of Nazareth's))) mouth to your ears.
Jim Wallis, the founder of the Christian magazine Sojourners, thinks that Christianity has not done enough yet to destroy Europeans physically and psychologically, and so he has some advice which is sure to make you want to kill yourself:
The Oregonian, 'White Christians need to repent for systemic racism, author says', 17 Feb 2016:

Wallis is president and founder of the Christian magazine Sojourners and has served President Barack Obama as a spiritual advisor. He has authored 12 books as well as columns for The New York Times and The Washington Post.

His newest book, "America's Original Sin: Racism, White Privilege, and the Bridge to a New America," is an indictment of white Christian apathy and inaction towards systemic racism.

"The political and economic problems of race are ultimately rooted in a theological problem," he writes.

Modern white Christians might not own slaves or even all walk to the other side of the street to avoid passing a young black man, but they do benefit from white privilege, he said, whether they're aware of it or not.

"To benefit from oppression is to be responsible for changing it," he writes.

Wallis will be in Portland early next week as part of his book tour, which he's turned into a series of town halls by inviting faith leaders in each city to join him for a public conversation about racism. Wallis and local pastor Leroy Barber will speak at Powell's City of Books at 7:30 p.m. Feb. 22.

Ahead of his visit, we talked to Wallis about a few major issues raised in the book. His responses have been edited for clarity and brevity.

Q: You argue that racism – not just personal feelings of hate, but allowance of systematic injustice – results from problematic theology. What theological misconception do you identify at the core of modern white churches that are apathetic or inactive with regards to race?

A: In Galatians, 3:28, it says there is no Jew or gentile, slave or free, male or female – we're all one in Christ Jesus. If churches are just silos of people like each other, we're really not doing what it we're supposed to do. Martin Luther King Jr. called people of God the "beloved community." We're supposed to be the ones who are demonstrating a diverse "beloved community." Our theology is supposed to trump our sociology.

If you don't want to do that, you'd better go somewhere else. This community is all about braking down those barriers. If churches are just silos of people like each other, we're really not doing what it was supposed to do.

[...]

Q: You call on white Christians to "die to whiteness," saying that "whiteness" is an idol that separates white Christians from God. What does "dying to whiteness" mean?

A: Whiteness is a myth. Race was created as a social construct to justify oppression. How do we get our souls back? It's an idolatry, really. Idols separate us from God.

Dying to whiteness means to be aware of white privilege. For example, I tell a story in the book about being a little league coach. Parents of my black players had to have "the talk" with their kids, and my white parents were clueless. It's unacceptable that my kids' classmates and teammates had to be told they couldn't trust their law enforcement officers. That's a problem for me and white parents, not just black parents.

[...]
Yes, you read that correctly, it says 'dying to whiteness'. Really. This is a thing now.
'Dying to whiteness' is when white people decide not to recognise the existence of their own ethnic group, and as such become ontologically incapable of enunciating ideas about the defence of that ethnic group.
You can't defend a thing that you don't recognise as existing.
If this isn't 'white genocide' then I don't know what is. Given the present situation, how anyone anywhere could even be considering calling for more Europeans to join these institutions is something that is simply baffling to consider.
The rollercoaster continues rolling for its own sake
A lot of pro-Christians who like to fancy themselves as ethno-nationalists, tend to respond to this sort of article by trying desperately to trace out the history of a supposedly militant Christianity that once-upon-a-time defended the integrity of European ethnic groups. They seem to believe these legends are a suitable rebuttal to the reality which is playing out right in front of them today.
But history will not let them retreat into legends from the classical age. All of this must be understood as a process. Understanding the dialectic of structure and history will enable people to understand how the position of Christian institutions only seemed to move, but in fact they maintained an 'immobile motion' which kept them firmly in their place.
What do I mean by this?
The first priority of any expansionist ideological institution that operates on a subscription basis, is to fund itself and expand the number of people who are subscribing to its memes where possible. The second priority of such an institution is to manoeuvre itself in the market, so that it can comfortably keep ahead of global demographic trends.
The rollercoaster doesn't care about you
In the past era, Christianity appeared to care about the fate of European societies and the cohesiveness of European population groups, because Europeans were the only societies that were furnishing soldiers which were willing to fight to perpetuate the existence of the church institutions, or to give such institutions access to more territories to recruit followers from, or to take populations away from doctrinal rivals, and so on.
As a testament to the success of that strategy, the main church institutions were able to survive into the modern era, and Christianity grew as a religion by following Europeans wherever they went on the planet.
In the present era, Christianity no longer has to care about the fate of European societies or the cohesiveness of European population groups, because the Christian institutions don't actually need to parasitically extract wealth from European societies in order to exist anymore. They now have the prospect of taking advantage of the single fastest-growing demographic in the entire world, Africa. Africans are more willing to accept the Christian memes than anyone else is, and as such and an almost guaranteed revenue source for Christian institutions.
The fact that Christianity has within these last 100 years freed itself from the shackles of having to care about Europeans at all in any sense, is not a distortion of Christianity, but rather, the logical end result that it had always striven for. If the past era could be understood as a 'Northern and Central European compromise' which occurred after the collapse of the Byzantine Empire and the loss of the food-basket territories of Egypt and Syria, the present era could be recognised as the fulfilment of the success of that compromise, since Christianity can now 'go global' once again and break that compromise, and it is doing so with gusto.
The accumulation of capital from land ownership, financial holdings, relationships with prosperous Northern and Central European states, and so on, is now being reinvested by Christian institutions into a full drive toward carrying out the actions necessary to position themselves to take advantage of the growing populations in Africa and other areas in the periphery.
Their number one priority did not change. It only seemed to change in the eyes of some people, and the only people who are perceiving a 'change', are those Europeans who in some kind of fatal conceit started to think that Christianity was somehow about them.
In fact, back then, Christianity was about the survival of Christianity and maintaining or expanding the wealth of its institutions. Now in the present day, Christianity is about the survival of Christianity and maintaining or expanding the wealth of its institutions.
See? No change.
Newsflash, Europeans: Christianity is not about you. It was never about you. Christianity is about perpetuating its own existence. It doesn't care about you, and it never did. It is a religion that (((originated))) in the Middle East and Africa, and it is there to which it will demographically return. That Christian institutions are now pushing anti-racialist memes more fervently than they ever have before, is something which is simply inherent in the logic of events.

In a story that shows that Jewish-American lobbyists and journalists have very little self-awareness, Adam Entous and Danny Yadron thought that it would be a good idea to publish a story in which they made it appear that the US Government was violating some kind of agreement to not spy on 'allies', when the NSA monitored Netanyahu's activities during the P5+1 negotiations with Iran.
The monitoring activities were carried out with the intention of discovering what Netanyahu's views on the proposed deal were, and what his response to it going forward might be. This monitoring would have been approved by senior figures in the Obama administration, as well as the House and Senate Intelligence Committees.
Wall Street Journal, 'U.S. Spy Net on Israel Snares Congress', Adam Entous and Danny Yadron, 29 Dec 2015:

President Barack Obama announced two years ago he would curtail eavesdropping on friendly heads of state after the world learned the reach of long-secret U.S. surveillance programs.

But behind the scenes, the White House decided to keep certain allies under close watch, current and former US officials said.

[...]

The National Security Agency's targeting of Israeli leaders and officials also swept up the contents of some of their private conversations with U.S. lawmakers and American-Jewish groups. That raised fears [...] that the executive branch would be accused of spying on Congress.

[...]
Of course, what neither of these persons mention in their article is that monitoring Netanyahu's communications was both legal and necessary.
Monitoring what other world leaders are doing so that the United States can have good information from which to make policy decisions is literally the mission statement of the NSA. Furthermore, Israel has chosen to prefer a policy on Iran that is directly at odds with that of the United States, and at odds with that of NATO more broadly. The North Atlantic desired to cultivate Iran as a swing-power which could be peeled away from Russia and utilised for offsetting Russian preponderance over natural gas supplies to Europe, and which would perhaps someday be able to frustrate Russian attempts to consolidate its influence over CIS states that have cultural or historical ties to Iran. Israel has different ideas, because Israel has a different set of priorities.
So what are they complaining about? It's a nonsensical complaint. The Israelis should have expected that they'd be monitored. This of course did not prevent Israel's most ardent defenders from writing absolutely ridiculous stories for weeks on end about it.
But there was an element of this story that was not touched on and which was almost conspicuously not touched on. The fact that spying on Netanyahu would become the same thing as 'spying on the US Congress' was what really ought to have been the story. If spying on Netanyahu is almost the same thing as spying on the US Congress, then that is an indicator of there being a serious problem in the political system itself.
That problem looks like this:
Wall Street Journal, 'U.S. Spy Net on Israel Snares Congress', Adam Entous and Danny Yadron, 29 Dec 2015:

How Mr. Netanyahu and his advisers had leaked details of the U.S.-Iran negotiations—learned through Israeli spying operations—to undermine the talks; coordinated talking points with Jewish-American groups against the deal; and asked undecided lawmakers what it would take to win their votes, according to current and former officials familiar with the intercepts.
And also ambassadors getting themselves involved:
Wall Street Journal, 'U.S. Spy Net on Israel Snares Congress', Adam Entous and Danny Yadron, 29 Dec 2015:

Mr. Dermer was described as coaching unnamed U.S. organizations—which officials could tell from the context were Jewish-American groups—on lines of argument to use with lawmakers, and Israeli officials were reported pressing lawmakers to oppose the deal. [...]

Israel's pitch to undecided lawmakers often included such questions as: "How can we get your vote? What's it going to take?"
But you see, according to present and former US lawmakers who have enormous mouths and are suddenly very concerned about the somewhat nebulous concept of 'civil liberties', discovering when someone is trying to plunge a knife into your back is just the gravest violation of the privacy of those who are trying to do the plunging.
For example, Representative Ted Lieu, (D-California) who "has consistently voted to curb powers of the NSA", asserted on twitter that:
That's the part he objects to.
And there was also none other than Pete Hoekstra (formerly R-Michigan), the former congressman who chaired the House Intelligence Committee from 2004—2007, took to twitter to complain, saying:
Perhaps Hoekstra is really upset because he shares something common with former representative Jane Harman (D-California), who in 2006 was being lined up to seamlessly replace him, and whose Israeli tricks were foiled by the NSA at that time too:
Wall Street Journal, 'Lawmaker Is Said to Have Agreed to Aid Lobbyists', Neil A. Lewis and Mark Mazzetti, 20 Apr 2009:

[...] Ms. Harman was inadvertently swept up by N.S.A. eavesdroppers who were listening in on conversations during an investigation, three current or former senior officials said. It is not clear exactly when the wiretaps occurred; they were first reported by Congressional Quarterly on its Web site.

The official with access to the transcripts said someone seeking help for the employees of the American Israel Public Affairs Committee, a prominent pro-Israel lobbying group, was recorded asking Ms. Harman, a longtime supporter of its efforts, to intervene with the Justice Department. She responded, the official recounted, by saying she would have more influence with a White House official she did not identify.

In return, the caller promised her that a wealthy California donor—the media mogul Haim Saban—would threaten to withhold campaign contributions to Representative Nancy Pelosi, the California Democrat who was expected to become House speaker after the 2006 election, if she did not select Ms. Harman for the intelligence post.

[...]
Much like Hoekstra, Harman also had something to say about supposed 'abuses of power' at that time:
Think Progress, 'Harman: 'I'm Just Very Disappointed'', Ali Frick, 21 Apr 2009:

I'm just very disappointed that my country — I'm an American citizen just like you are — could have permitted what I think is a gross abuse of power in recent years.
She's one of the people who approved the budget and the legal framework that would supply the NSA and others with equipment and a mandate to watch PCS networks and collect the data under ONEROOF, but then she thought that the NSA and FBI were going to magically avoid collecting signals from her because she's special?
Whenever Jews or their associates find themselves being treated just like everyone else, they suddenly get very tearful and start talking about how they are so, so, so oppressed. A sad tune needs to be played for them, perhaps, on the tinyest of tiny violins.

Introduction
This article is just a very condensed version of some observations that have been burning on my mind this week and which came up over tea and biscuits during conversations with some of my work colleagues. It may be edifying for European nationalists and regionalists, so I've chosen to make a short article about the subjects covered. People should feel free to ask me any questions they like in the comments section, if anyone would like a more expansive explanation about the concepts I'm trying—humorously but with serious intent—to illuminate here.
The somewhat provocative phraseology I'm using here is quite deliberate and is used for a reason that will be explained later on in the article.
Twilight of the Westphalian Model
We are living a world that has progressed and changed significantly since the advent of industrial warfare. In the early 1900s, everything about warfare tended to be the resolution of international disputes through a state actor's military personnel and machinery clashing in the spacial battlefield until someone was decisively defeated.
Now, this is no longer the case, after the late 1900s and early 2000s, war increasingly has become a matter of non-state actors waging war against other non-state actors, and in the case where states of a Westphalian inspiration came into contradiction with these non-state actors, the Westphalian states' objective usually was to find a settlement of the conflict that would satisfy the commercial and geostrategic needs of those nations. The battle also takes place in 'hearts and minds', getting hearts and minds on one's side has become not just an optional extra, but in many cases can be a crucial and decisive element of strategy.
The battle of 'hearts and minds' is happening in the case where you have to influence a 'foreign' population to co-operate with and support military operations that you are conducting inside their territory, or the case where you have to convince a 'foreign' population that your occupation of their territory is capable of providing safety and stability through effective counter-terrorism operations.
Increasingly, these same needs apply within the North Atlantic states as well, because we are actually now in a new generation of warfare. This is 5th generation warfare, not 4th generation warfare now. The events which took place in France on 13 November 2015 were a stark sign of that transition between generations having taken place.
ISIL's attack on Paris was not just an attack against state infrastructure in an attempt to affect the French government's policy preferences. It was not an attack that could be understood within the context of the Westphalian state model, or the world order that this model had given rise to. Instead, it was an attack against the Westphalian state model itself, and that is why the attackers chose the targets that they chose. They selected places that French people and the foreign residents of other culturally advanced populations would go to enjoy themselves. They chose to deliberately have amongst the assailants a mixture of people carrying Syrian passports alongside people who were second or third generation Muslim residents of European countries such as Belgium.
By selecting the targets in the way that they did, they were announcing that it was a fight of one population against another, one social group against another, in their view, and their intent was to make this fact clear to everyone. We on the other side should not shy away from acknowledging that this is really how it is. They believe that there is a 'global Ummah', a community of Muslims unconstrained by national borders, who are trying to uphold and enforce the rules of the Abrahamic monotheistic god over 'the Kaffir' who are pagans (this includes people who adhere closely to bonds of blood, which Islamic doctrine considers to be part of 'Jahiliyyah'), polytheists, atheists, and apostates.
The rise of this kind of view, represents a rise of what is best described as 'armed social movements'. Social movements have qualities that are distinct from that of traditional Westphalian state structures, even when they come to occupy the seats of power in a state. Armed social movements tend to have a cleanly defined 'us vs. them' world view, and the manifestation of state power which is filled by such movements, tends to be an outcome of battles fought in and against civil society, in the terrain of popular culture or through street battles or asymmetrical warfare. The manifestation of state power is not imposed from above, but rather, the manifestation of state power is a sign that the armed social movement has already triumphed among the population itself. The process is 'bottom up', rather than 'top down'.
Armed social movements fight against each other in the terrain of civil society and through popular culture, to determine who will ultimately capture state power in the long term future.
We are an international 'Satanic Alliance'?
In light of all of the above, the epithet which the jihadists have labelled us with, the epithet 'Satanic Alliance' comes into play and is a gateway to understanding the fundamental issue presently facing western civilisation, as well as a method for coming to terms with it.
On 01 November 2015, Al-Qaeda leader Ayman Al-Zawahiri published a sixteen minute video which spread across the Islamic world on social media and jihadist websites, calling for a unified Islamic front against the coalition of groups who are fighting against the imposition of Sharia law, which he described as forming a front against "the Satanic Alliance that attacks Islam". In his video, he takes a tone toward ISIL which is one of coalition-building, as he is seeking to caution them on the dangers that come from infighting among the various jihadist groups. He doesn't want ISIL, Jahbat Al-Nusra, and Ahrar Al-Sham to keep fighting against each other over their differences, rather he wants them to suspend their disagreements on who commands the jihadists (ie, Ayman Al-Zawahiri or Abu Bakr Al-Baghdadi?) and how it should be expressed (ie, Islam faithful to the 8th century, or Islam adapted to the 21st century?) and to instead unite against "the Satanic Alliance", and to "hone" their conduct so that they can convince the other Muslims that they "want to be ruled over by Sharia".
Whenever I hear these things, I always smile a little, because by saying things like that, they are drawing the lines very cleanly and obviously.
However, within the west there is still a muddled feeling amongst the general population about this, which needs to be ironed out. We are and have been and hopefully will continue to be—objectively speaking—living in an increasingly 'Satanic' society, if you take the definition of what 'Satanic' means from the religious texts of the three Abrahamic religions.
Look at what those three religions stand for, and then look at what we stand for and what we would like to see manifest, and you discover immediately that—as I've said before—we are a threat to the Abrahamic religions, we are their adversary. What does 'Satan' mean? It literally means 'the adversary'.
There are many important distinctions between the two sides, but the most important one in the context of the interests of the readers of Majorityrights is this one:
THEM: Islam—much like Christianity and Judaism—is a religion that actively and aggressively promotes mass race-mixing. It promotes submission to a single god which asserts that it 'created everything' and also asserts that this material world is of no real consequence because 'a test' of loyalty and submission to the monotheistic god is all that matters.
US: We as ethno-nationalists and ethno-regionalists are opposed to mass race-mixing, because we believe instead in the crucial importance of preserving ties of blood and proximity. Without preserving those ties, it would be impossible for a human being to truly find themselves, without which it would be impossible for human societies to ascend Maslow's hierarchy with the willpower, the intellectual liberty, and a culture advanced enough to promote the flourishing of the social processes that lead to an understanding of the pure and pristine true reality that existed in the time of the primordial era. Our will is projected into the material world, to shape it to our own form of 'justice', not the dictates of some Semitic desert god.
These two views are irreconcilably and diametrically opposed, and always will be.
Two camps: Make a decision, make a choice
Although some find it to be unsettling, the arrival of this amazing narrative brings clarity and doctrinal purity to a situation that previously seemed to lack it. Since 11 September 2001, the middle ground ought to have become entirely vulnerable to erosion. When the planes crashed into the World Trade Centre buildings in 2001, and when the bombs exploded on the trains in Madrid in 2003, and when the bombs exploded on the buses in London in 2005, and now in the wake of the migration crisis and the Paris attacks of 2015, all of these have painted and highlighted—in blood—the existence of two camps before humankind that everyone would have to choose between.
On one hand, there would be 'the camp of Islam', a global Ummah which was disjointed and did not have a Caliphate to represent it at the time. They would be the forthright defenders of monotheism and transcendental values in a world where such a defence had been sliding out of fashion. This camp would also include their fellow travellers, and some opportunists.
On the other hand, there would be 'the Satanic Alliance', a coalition of people who reject the philosophical basis of Abrahamic monotheism, and form a coalition to defend their material and intellectual interests. These people would struggle against Abrahamic monotheism for diverse reasons. This alliance would underpin the preservation of the beauty and freedom of native peoples everywhere and their ability to determine their own futures (ie, coinciding with the concept of a 'DNA Nation') in accordance with the tools—both genetic and memetic—handed down to them by their ancestors on the earth.
Sometimes, unexpected mouths utter statements that are true. George W. Bush actually stumbled partially onto the truth of the existence of this paradigm when he said, "Either you are with us or you are with the terrorists". Osama bin Laden also once said, "The world today is divided into two camps."
Both Bush and Bin Laden were essentially correct about that basic reality, although neither of them understood just how correct they were.
All the different operations by the two camps have since served to expose the people who claimed to be 'in the middle ground' as being actually through their actions on one side or on the other side, whether they are conscious of it or not.
The shrinking middle ground
Many people on the so-called centre-right, and many so-called radical traditionalists and court 'historians' and court 'scholars' were immediately exposed by the terrorist attacks and by the wars, and by the mass migration crisis.
All of those who rushed to make apologetics, excuses, and justifications for the Islamists prancing around in their midst, or else, made mealy-mouthed statements about how they 'respected' Islam or 'shared traditional values with them' and so 'are internally conflicted on how to react', or alternately, sought to allocate blame and condemnation onto the victims of Islamic terrorist attacks rather than onto the perpetrators, were all exposed. Some, such as the Jews and the Christians who are milling around among the ruling class in every western state, went so far as to actively campaign for more migrants when the mass migration and infiltration crisis began.
By these actions, they revealed themselves to everyone. Even the most naive observer of political affairs can now be convinced that there really are only two camps.
It is also worth mentioning that in fact, many conservatives of the traditionalist and civic nationalist sort, and almost all social democrats of every stripe, had always been in 'the camp of Islam' insofar as they refused to oppose mass migration from the Middle East and Africa, and they refused to criticise the fundamental basis of monotheism itself, restricting themselves only to criticising the methods of the so-called 'radicals'. Those who walked in ignorance were simply unaware of this, because court 'historians' and court 'scholars' and the mainstream media had all portrayed them as being opposed, and as a result, their actual complicity with 'the camp of Islam' went unrecognised. As a result of this confusion, such persons and groups only appeared to be in the middle ground in the eyes of the ignorant and the uninformed. So it is only in the sense of the perception of the people, that the events since 11 September 2001 have 'driven' those people out of the middle ground. In reality they were never in it. It only appeared to be so. A prime example of this would be Angela Merkel and most of the Christian Democratic Union party in Germany. The CDU is firmly in 'the camp of Islam', and always has been, it was only in the eyes of the ignorant that it has appeared otherwise (eg, those who were fooled by the false dichotomy of 'multiculturalism vs. integration'), until recently when it became openly apparent for all to see.
And so the middle ground, and even the perception of there being a middle ground, can now begin to wither. Rather than whining about methods, such as who kills who in what kind of brutal way, we should begin talking about the purpose behind the conflict and what its philosophical and spiritual basis is, and then offer a choice. In other words, we need to get down to the fundamentals.
Be confident
If we, the apparent 'Satanic Alliance' can stand together and remain completely and ruthlessly consistent in our narrative and defend the attractiveness and beauty of our Promethean goals, then we can gently—when and where we can—push the dialogue which encourages people to make the choice to join such an 'alliance'.
In that sense, everything which has happened since 11 September 2001, should be seen not as a disorganised series of tragedies and inconveniences, but rather, as an opportunity, a springboard from which we as ethno-nationalists and ethno-regionalists can jump forward and present—truthfully and with sincerity—the narratives and views of things like 'the Satanic Alliance' or 'the DNA Nation', 'the dark side of the Enlightenment', 'post-modernity proper', or 'taking the kingdom of heaven by force', or any other thought-form that is grounded in an absolute earthlyness of thought that we care to elucidate.