Majorityrights Central > Category: British Politics
...the YKW and liberals.
"These companies are all part of the problem and they are all pushing the same propaganda that pushes the agenda of White genocide; propaganda that normalizes the breeding-out of the indigenous people of these lands. These adverts are important though, as they communicate an important message to the public; they tell us the aims and desires of the globalist, capitalist system, the big corporations and the internationalists who control them; you see these internationalists have just shared with us their Christmas wish." - Mark Collett.
Well, it's election day in Britain. Again. For nationalists there isn't much to really get excited about. But perhaps the divergent electoral fates of Marine Le Pen, in her attempt to win the French presidency on 7th May, and Theresa May, in her attempt today to be returned to Downing Street with a thumping majority, could be instructive. Think back to last November and the euphoria which attended the election of Donald Trump. A wave of anti-Establishment politics was sweeping across the West, we were confidently informed. The world is changing. Well yes, but the next big breakthrough? Where was that to come?
Hofer in Austria looked highly promising, having beaten out the Establishment party candidates and only lost the run-off against Alexander Van der Bellen, an eccentric, Green left-liberal and immigration enthusiast, by a handful of votes amid discoveries of "irregularities" which aided Van der Bellen. But far from such cheating enraging the Austrian public and adding to Hofer's support, he actually lost electoral ground and picked up only 46% of the vote in the 4th December re-run.
It was much the same in France. As expected, Marine Le Pen made it through to the run-off with the elitist parvenu Emmanuel Macron, but then could secure only 34.5% of votes cast – well below the 40% which FN was seeking to line her up for a serious shot at the Élysée in 2022. Many voters held their nose, it was said, and voted against Front National.
"Lemmings!" was the response from nationalists everywhere, "How bad does it have to get before the French vote for their own cause?" Their preference for an obvious Establishment plant whose political loyalty is to the EU, and who loudly proclaims open borders and more immigration as common goods, is difficult-going-on-impossible to explain without impugning the average voter's intelligence and understanding.
Contrast that with the regal progress of Theresa May to the closing of the polls tonight and the inevitable, towering victory that, for anyone for whom it is not fully evident now, will become so from the first declaration at about 11.45pm.
More or less the same patriotic tools … anti-EU politics, the promise of some immigration controls … a more robust approach to Islamic terror … are in play, attended by more or less the same collapse of the old centre left and right (ie, Blair/Brown - Cameron/Osborne). But May is no nationalist and no anti-Establishmentarian. She does not represent a radical and jarring challenge to the status quo. At best, she represents the democratic will in the imminent battle with the unlovely EU bureaucracy. She represents a popular preference for a new British future - and new growth - in a world of national and economic opportunity. She represents safety, but a safety that dissenters and patriots can believe in and vote for. She has kept our general constituency on-side.
Domestically, she began her campaign, at least, representing the search for a new political synthesis (in that respect, not so dissimilar to Macron). She has pledged to focus on the "JAMS", the just about managing who don't live in hothouse London, and who, far from profiting from the recovery, have seen their living standards decline and their disposable income disappear. Like Margaret Thatcher, who appealed to the upwardly mobile, small-c conservative C and D social classes, May has identified a large moral constituency which has been forgotten while New Labour rushed into a marriage of convenience with immigrants and David Cameron's Tories did so with the international rich. People believed her. But then, apparently, she trusted one of her three closest SpADs to write the party manifesto; and everything began to unwind!
So here we are with peculiarly mixed polling data, some of it still pointing to a May majority of anything up to 100, some showing her only 1% ahead of Labour, facing the prospect of being returned to a Westminster with a majority even smaller than the present 12, or even a hung parliament.
Dear friends, you'll need to buckle your seatbelts for this one:
AltRight.com / Vincent Law, 'Massive Victory Day Marches In Russia; A Meet-Up With Russia's Alt-Right.', 10 May 2017:

May 9th is the biggest civic holiday in Russia.

I participated in the Victory Day march in St. Petersburg. The one in Moscow gets all the press, but the one in St. Petersburg is almost as big.

These marches all have a volunteer portion to them now as well. They call it the Immortal Brigade. Literally millions of Russians show up with photos of their grandparents and great-grandparents that fought in the war and march down the main street. It is a huge part of the Russian government's program to revive civic nationalism in Russia. The great victory against all odds in World War 2, the Orthodox faith and the sports program are 3 of the main columns of the program to revive civic pride that the Kremlin is pursuing. Naturally, this march is a big deal. It became an even bigger deal after the events in Crimea as the lackluster parade suddenly became a massive civic phenomenon. Overnight, the parade became absolutely huge, reaching crowd sizes even larger than those in 1945. [...]
So, there is that. That actually happened. There's really not much that I can even write in response to it. It's all very abnormal. But it's not just abnormal, it's also actually disgusting.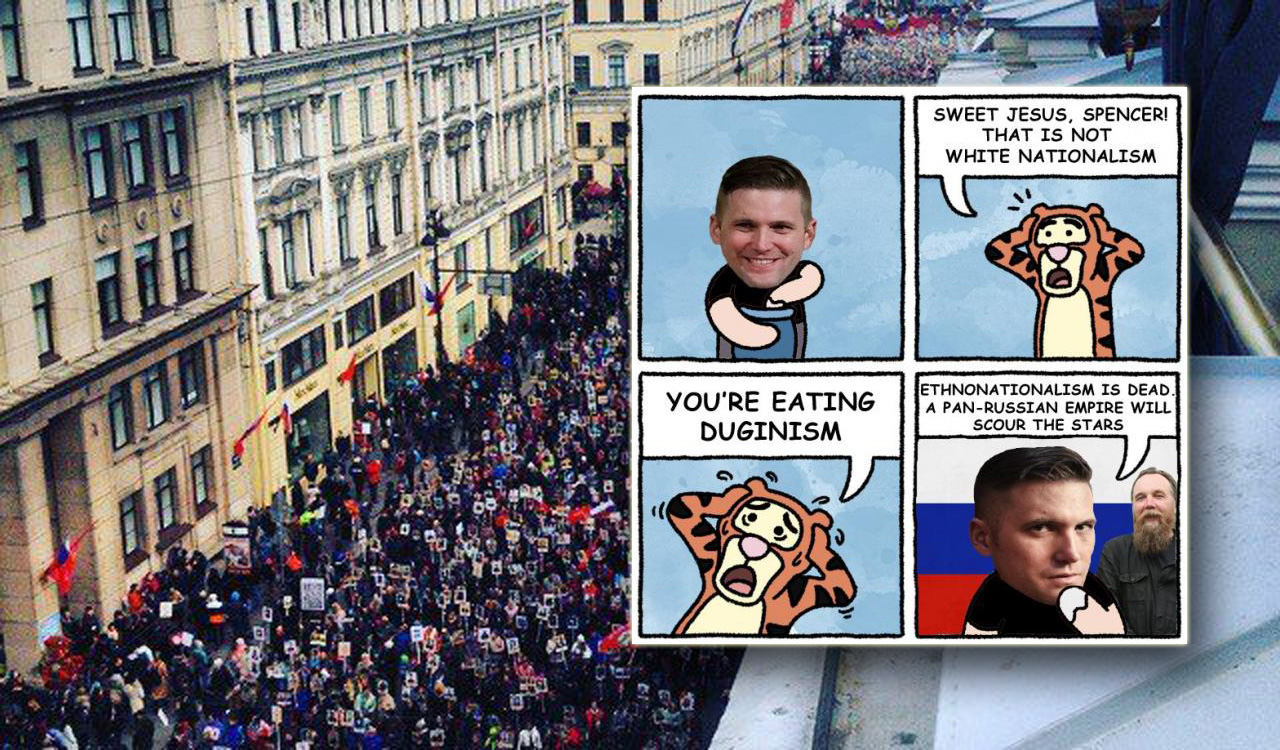 That is where the Alt-Right has ended up now. It's absurd, abnormal, and disgusting.
The geopolitical positions and messaging taken up by the Alt-Right are basically an insult to all those Cold War anti-Soviet activists who served in silence without ever being given a memorial or a star on the wall. All those who struggled against the Soviet Union in the most difficult circumstances to keep the torch of freedom burning even in the darkest of nights, have been insulted.
Kumiko Oumae works in the defence and security sector in the UK. Her opinions here are entirely her own.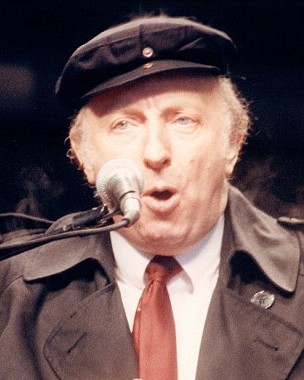 Arthur Scargill
..since we have an international audience, and sarcasm doesn't travel well, I am compelled to say immediately that Arthur Scargill is not GW's best friend, in fact, more like the opposite.
This article will be a work in process in regard to a hypothesis that I have of Scargill, that his successful fight against Edward Heath's conservative government fits in with a broader hypothesis of mine - namely that Jewish interests take the best, most serviceable ideas in terms of social function and organization - specifically in this case, I am talking about the left social concept of unions, guilds, syndicates - and they make them didactic, i.e., Scargill's union activism became didactic for the rubric and concept of the left, by having Soviet, Marxist and ultimately Jewish backing against ethnocentric, native nationalist interests; which forced right wing reaction. It is a reaction also manipulable, of which they will indeed make use in their interests. That is, where they fail to gain compliance with their international leftism - a "leftism" which spells liberalism against native ethnonationalism and tends only to allow for one nativist national union in the end - YKW.
A union is a social concept of members and non members; that is, in and out groups, non-membership, membership, legitimated discrimination and accountability on its basis. This concept can be applied to the level of ethno-nation. It is that level of unionized application especially which Jewish interests oppose - under the rubric of Marxism or the international workers Left, while deftly protecting their own Jewish unionization and nationalism (Jewish ethnocentrism and Zionism). But right wing interests, typically flying under color of objectivism, also tend to oppose this level of national unionization; and tend to conveniently go with their narrow interests as luck affords them or to be bought off by neo-liberal international interests and Jewish interests in opposition to the organization of native nationalism.
Thesis: It is standard operating procedure for Jews that they take good and compelling Left ideas for social organization, such as social unionization, and make them didactic (go over the top in misrepresentation with it to the point of reversal); compelling right wing reaction in their enemies as they are both more manipulable among enemies in that reaction and tending as such to frighten-off would-be popular supporters for the lack of empathic social perspective; its having been made didactic.
By associating himself early-on with Soviet Marxism, and successfully contributing to the overthrow of Heath's conservative government, Scargill was didactically facilitating the concept of international leftism which in the end would leave room for only one unionized nation - Zionism being the only native nationalist union to be allowed; thus it was that Scargill's unions movement was backed by proponents of international leftism and deployed as liberalism against the native national concept of Britain, imperviously forcing a reaction - Thatcher, whose Jewish objectivism acted further as a blunt instrument against the native nationalist union.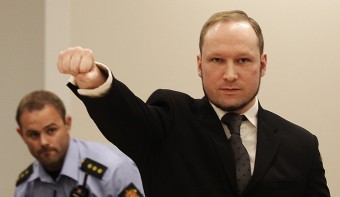 Anders Breivik
Where younger generations don't stay on page with the memo of the one unionized native nation to remain of international leftism, but maintain absolute liberalism against all native nationalisms - as the participants of a Workers' Youth League (AUF) summer camp on the island of Utøya did in their protest against Zionism - then a Zionist Breivik may be coddled to act through the available valves of ethnocentrically sanctioned aggression, that which is allowed by Jewish controlled discourse - coddled as such in his LARP to murder 77 kids in a misguided right wing reaction of nativist nationalism - Jewish interests want White nationalists to be didactic right wing reactionaries and to not be White Left Ethno-Nationalists.
Scargill more recently, still wears the red tie, but…
Coming back to the issue of Scargill, however, I thought he was going to more easily fit into the mold of a liberal, anti-racist, anti-native nationalist rat, masquerading as one concerned with unions and workers. Indeed, from what I know, admittedly not much, as I have not followed this history of British unions and their conflicts through the post World War II years, he perhaps still belongs in that category. There is evidence that he does, that he genuinely could have been a significant threat to the national interests, native and otherwise, of Britain and other European nations:
Early political and trade union activities

Scargill joined the Young Communist League in 1955, becoming its Yorkshire District Chair in 1956 and shortly after a member of its National Executive Committee.[4] In 1957 he was elected NUM Yorkshire Area Youth Delegate, and attended the 6th World Festival of Youth and Students in Moscow as a representative of the Yorkshire miners. In 1958, he attended the World Federation of Trade Unions youth congress in Prague.

[...]

National Union of Mineworkers

Scargill was a leader of the unofficial strike in 1969, which began in Yorkshire and spread across the country.[6] He had challenged Sam Bullogh, the chair of the Yorkshire area's NUM, to act on the working hours of surface workers, given that the union's conference had passed a resolution that their hours be shortened the previous year.[6] When Bullogh (unwell at the time) attempted to rule Scargill as "out of order", he was voted out by the area's delegates and a strike was declared across Yorkshire on the issue.[6] Scargill saw this strike as a turning point in the union's attitude to militancy.[7]

His major innovation was organizing "flying pickets" involving hundreds or thousands of committed strikers who could be bussed to critical strike points to shut down a target. He gained fame for using the tactic to win the Battle of Saltley Gate in 1972, and made it his main tactical device in the 1984 strike. By 1984 however the police were ready and neutralized the tactic with superior force.

In 1973, Scargill was elected to the full-time post of compensation agent in the Yorkshire NUM. (The Yorkshire Left had already decided to stand him as their candidate even before the strike.) Scargill won widespread applause for his response to the disaster at Lofthouse Colliery in Outwood, West Yorkshire, at which he accompanied the rescue teams underground and was on site for six days with the relatives of the ten deceased.[6] At the subsequent enquiry, he used notebooks of underground working from the 19th century, retrieved from the Institute of Geological Sciences in Leeds, to argue that the National Coal Board could have prevented the disaster had they acted on the information available.[6] This performance strengthened his popularity with the Yorkshire miners.[6][8]

A few months later the president of the Yorkshire NUM died unexpectedly, and Scargill won the election for his replacement, the two posts were then combined and he held them until 1981. During this time he earned the esteem of significant sections of the left and the British working class, who saw him as honest, hard-working and genuinely concerned with their welfare,[9] and he was also respected for improving the administration of the compensation agent's post. In 1974, he was instrumental in organising the miners' strike that led Edward Heath to call a February general election.

[...]

Scargill's statements in the years after becoming NUM president divided left-wing opinion with his support of Soviet Communism, most notably when he refused to support the TUC's positions on the Solidarity union in Poland or on the Soviet shooting of the Korean Air Lines Flight 007.[13] One branch of the NUM, at Amnesley in Nottinghamshire, put forward a vote of no confidence in Scargill in Autumn 1983 following his comments on these matters, but Scargill defeated this at a December meeting and won a vote of confidence instead.
It is suggested and with likelihood that his strikes, such as those on the coal mines during Thatcher years, could have been used by the Soviets and could have had disastrous consequences for national security had they not been countered by British security who were aware of underlying Soviet design.
Nevertheless, by recent talks of his - here, 1, 2, and 3 in favor of Brexit and against the European Union, its common market, etc, in which by contrast to neo-liberal interests, he goes so far as to argue against those who would depict as "racism" his and other's objection to immigration, as it is clearly against the interests of native workers, it seems that it is not quite so easy to depict him as running contrary to native nationalism, let alone his means (left unionization) doing that - at least not at first blush. Forgive the newcomers to this issue. While he may well have an outmoded idea of the sort of work and unionization to be protected, his heart appears now to be in the right place and the concept of unionization seems indeed to prevail as the natural recourse for organizing the people against scabs, the traitors and the downright treacherous - yes, including the treacherous by means of imposing immigration against native nationals; i.e., the concept holds up despite the fact that it has been typically misrepresented, including through him, by geopolitical forces trying to put forth Jewish/Zionist internationalism on the one hand and neo-liberalism on the other - both converging at a prescription of liberalism for native European nationalists; and since both sides are controlled by Jews and right wing objectivists, neither side wants anything like the unionization, the syndicalism of left nationalism for native Europeans and White diaspora as it would threaten their interests.
The concern now, of course, is that he is being used again by forces of neo-liberalism to placate naive native workers with promises of a place in obsolete production and protectionism in order to allow the YKW, Zionists and their Russian and American proxies to control the international market and labor - particularly Asia, as its rising interests would have little common ground with Zionist, Jewish and right wing interests as expressed through the Russian Federation and the United States; but may have a great deal to gain by making common cause with Left ethnonationalism among Europe and her diaspora.
More Silk Road News:
But wouldn't Asians traipsing among Europeans be looked upon as "scabs" in this concept, thus not having common interests and at risk to its adoption? Not if they're also characterizable as an accountable union, as opposed to the unaccountable ruse of objectivism.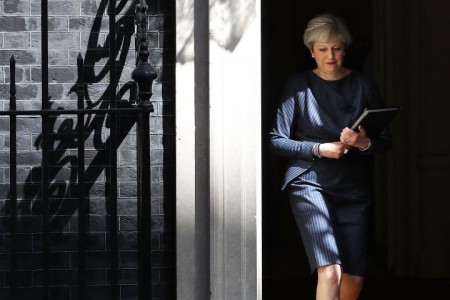 So this morning Theresa May has called a snap General Election for June 8th. The immediate question is why. The answers, we must believe, are somewhere here, in her brief statement to the waiting press:
"I have just chaired a meeting of the Cabinet, where we agreed that the Government should call a general election, to be held on June 8.

"I want to explain the reasons for that decision, what will happen next and the choice facing the British people when you come to vote in this election.

"Last summer, after the country voted to leave the European Union, Britain needed certainty, stability and strong leadership, and since I became Prime Minister the Government has delivered precisely that.

"Despite predictions of immediate financial and economic danger, since the referendum we have seen consumer confidence remain high, record numbers of jobs, and economic growth that has exceeded all expectations.

"We have also delivered on the mandate that we were handed by the referendum result."
Well, she has a majority of a dozen in the Commons, and, in winning at Copeland in February she broke a 35-year run of failures by the governing party to win an opposition seat at a by-election. She has defeated the Remain opposition in the Commons and the Lords. She sits opposite the most ineffective leader of the opposition ever, and certainly the leader she wants to see across the Dispatch Box. In fact, Tom Watson aside, there is no competent politician on the Labour benches, and an awful lot of highly incompetent ones. The Party is at war with itself. Momentum, which campaigns within the party to make it safe for the hard left, is intent on killing off Blairism (and good luck to it). In short, there is nothing to indicate that allowing this parliament to run its full course until May 2020 would produce anything other than a Tory landslide at that time. So why has she done it now? Is the temptation to grab an easy 100 seat majority just too great? A case of pleasure now or pleasure deferred, and the thought of pleasure now is just too pleasurable? Difficult to believe of a dour vicar's daughter.
The only two near-plausible answers are:
1. She knows full well that Remain is dead, and wants to enter the council chambers of Europe over the next two years of Brexit negotiations with a thumping parliamentary majority and the support of the country at her back. Electoral popularity didn't help Tsipras in facing down the Troika, but it would probably work out differently for May.
2. This is less about Brexit than about her own vision for the future, which is not that of David Cameron, as it was set out in the 2015 Manifesto. May herself is notoriously difficult to read even by her cabinet colleagues. She will be conscious that the public at large do not truly know who she is and what she believes, and have not expressly supported her post-EU political vision of a Britain managing its own destiny for the first time in four long decades. The opportunity to do so has now been provided.
There might be a third political consideration for her, which is that UKIP is also much weaker now than it was in 2015; and may not make much of a fist of standing nationally at all. As far as I am aware, it lacks the financial support to do so.
Anyway, there will now be weeks of speculation about all this, since the usual reportage of who will win the election is perfectly pointless.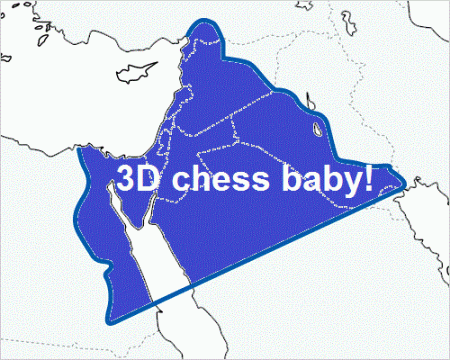 The Greater Israel Project
For one salient matter, The Silk Road runs through Iran, which will increase its liberalization and business power in opposition to Israeli control of the region - its greater Israel project.
This would also hurt Israel's first fall back position and assets in the Russian Federation, as it would lower oil prices and thus effect the primary bargaining chip at their parasitic disposal.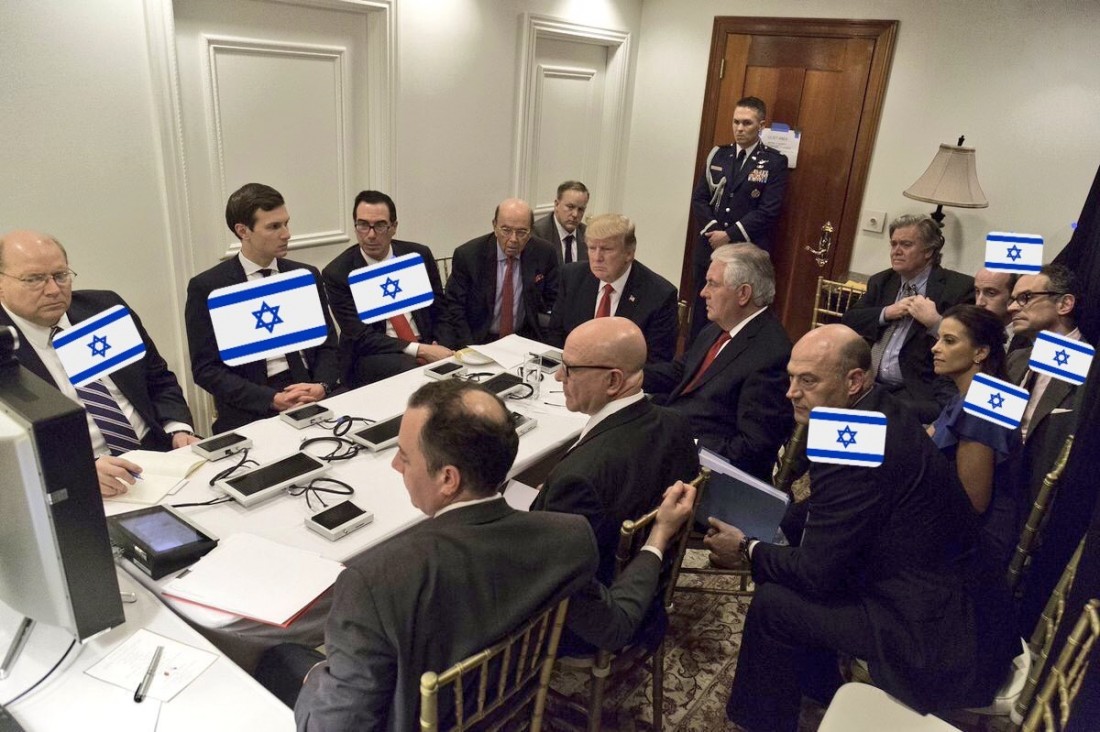 Mossad asset Donald Trump - you may as well put an Israeli flag on him too, as he has rendered the US Presidency fully a Mossad asset now - leading the charge on Israel's behalf, his cabinet filled with additional Israeli assets, it scarcely has to buck the presence of a few goyim: convenient Putin crony, "god willing", Rex Tillerson looking very much out to lunch when not serving in his primary function as oil liaison to the Russian Federation. Reince Priebus is invited to leave and make way for yet another kosher member, to move the Cabinet's make-up nearer to 100% Jewish. Steve Bannon can remain in the background, already as shabbos goy, subservient in a view configured to be conducive to Israeli interests and against its enemies.
Buzzfeed, Steve Bannon: "The Judeo-Christian West versus atheists. The underlying principle is an enlightened form of capitalism, that capitalism really gave us the wherewithal. It kind of organized and built the materials needed to support, whether it's the Soviet Union, England, the United States, and eventually to take back continental Europe and to beat back a barbaric empire in the Far East."
He is no opposition, he represents the Paleocon voice of "restraint", preening the narrative for shabbos goy, providing speed bumps to help the likes of Kushner to realize when he might be going too fast to get the shabbos goyim more fully on board with an Israeli view.
A peaceful day in Clock Town
As of 11 Apr 2017, the train is moving with 32 containers. Assuming that everything goes well, the train should arrive at Yiwu in 18 days.
There is of course a geostrategic element behind each of these developments as well.
As Xinhua wrote about a particular section of the initiative last year:
Xinhua, 'First train from China to Iran stimulates Silk Road revival', 16 Feb 2016 (emphasis added):

[...]

The train, also referred to as Silk Road train, has passed through Kazakhstan and Turkmenistan to Iran, travelling a distance of 10,399 kilometers. [...]

The travel of cargo train from China to Iran is part of a Chinese initiative to revive the ancient Silk Road used by the traders to commute between Europe and East Asia.

Tehran will not be the final destination of these kinds of trains from China, the Iranian deputy minister said, adding that in the future, the train will reach Europe.

This will benefit Iran as the transit course for the cargo trains from the east Asia to Europe, he said.

Chinese ambassador to Iran Pang Sen told Xinhua that as one of the cooperation projects after Chinese President Xi Jinping's state visit to Iran, the cargo train is playing a important role to promote construction of the "Belt and Road" initiative.
And cargo trains reaching Europe is precisely what is happening.
It's very nice.
But there's a problem
The shadow cast over all of these kinds of proceedings, is that there is an ongoing background problem where the Trump administration and the Israelis are constantly trying to disrupt everything for their own reasons which revolve around Zionist strategic imperatives.
The phenomenon of Zionist strategic imperatives—such as the Zionist opposition to the Iran deal, or the Zionist desire to hand Syria over to Al-Qaeda—finding their expression through American foreign policy, is a phenomenon that is a real problem, and it is a problem that will have to be combated with more determination than ever if we are going to secure post-Brexit prosperity for Britain as well as economic growth in Asia.
Our time is limited. The American Zionist problem needs to be fixed before 2060, otherwise it might merge with the next migration problem and then something truly horrible and completely unmanageable will happen.
Do not become despondent. The situation is extremely dangerous, but as long as you understand the problem then it means there is a possibility that you can solve the problem. It is possible to defeat the American Zionist agenda. The tools do exist for accomplishing that, and they have always existed.
You have to believe in your strengths.
Kumiko Oumae works in the defence and security sector in the UK. Her opinions here are entirely her own.

Let's stand with the legitimate government of Syria
The position of Majorityrights.com is that we have always opposed the Alt-Right and we have always opposed the Presidency of Donald J. Trump. We have been harshly rejecting Donald Trump ever since the moment that he threw his hat into the ring during the GOP primaries, because the Trump phenomenon is a viciously Zionist phenomenon which only serves the apparent interests of the United States, Russia, and Israel.
If you are reading this article, you doubtless are already aware of the events that transpired early this morning. The United States has unilaterally conducted an airstrike against a Syrian airbase. There are even rumours right now of a second airstrike being prepared.
What we know so far:
The airstrikes targeted the Shayrat airbase near Homs. The United States has said this is the location from which Syrian forces allegedly launched a sarin nerve gas attack on the rebel-held town of Khan Sheikhun on Tuesday morning.
The Pentagon said 59 Tomahawk cruise missiles were launched from the warships USS Ross and USS Porter in the eastern Mediterranean sea in the early hours of Friday morning. The strike had a 39% hit rate against the airfield.
A Syrian official told the Associated Press that at least seven were killed and nine were wounded in the missile attack. Reuters reported that the Syrian state news agency said the strikes killed nine civilians, including four children, in areas near the targeted airbase.
President Bashar Al-Assad's office said the strike was "foolish and irresponsible" and that the United States has "revealed its short-sightedness and political and military blindness to reality". It said the Syrian government would redouble its efforts against rebel groups after the strike, adding: "the disgraceful act of targeting a sovereign state's airport demonstrates once again that different administrations do not change deeper policies."
This article does not intend to offer any information that is not already in the hands of other media organisations. Rather, I intend to start a conversation on what actions need to be explored by activists from a British perspective, in order to undermine American Zionist aggression in Syria.
International armed conflict
The events that we've seen transpiring this morning have been deeply disturbing. According to the International Committee of the Red Cross (ICRC), the situation in Syria now is officially "an international armed conflict".
"Any military operation by a state on the territory of another without the consent of the other amounts to an international armed conflict," ICRC spokeswoman Iolanda Jaquemet has told Reuters in Geneva. "So according to available information – the US attack on Syrian military infrastructure – the situation amounts to an international armed conflict."
"It's unclear how US air strikes will make civilians safer", Lord Wood of Anfield, chair of the United Nations Association UK has said.
In a blog post, Wood wrote: "Unilateral action without broad international backing through the UN, without a clear strategy for safeguarding civilians, and through military escalation risks further deepening and exacerbating an already protracted and horrific conflict, leaving civilians at greater, not lesser, risk of atrocities."
He added that by circumventing the UN "we reduce both legitimacy and effectiveness, as a course of action that does not have the broad support of regional powers and the international community, channelled through UN systems and processes, can have little chance of success in leading to a more stable Syria."
Whispers in the backchannels
As far as anyone is aware of what backchannel communications have been taking place, the United States warned Russia of the attack before it took place. Additionally, Russia had signalled yesterday evening that it would not be willing to support the government of Syria under all circumstances. In other words, there are some circumstances under which Russia would undermine the interests of the Syrian government. This was an unsurprising admission, given that it was also Russia who opted to send Sergei Lavrov to barter with John Kerry to induce the Syrian government to surrender their chemical weapons deterrent in the first place.
It is interesting that surrendering their chemical weapons deterrent into the hands of Russia, has not made the Syrian government's position safer. Rather, it has increased the incentive for America to push for opportunistic aggression against Syria, under the pretext of seizing the very weapons which Syria has already ceased to be in possession of.
It is also interesting to note that the 'good' relationship between the Trump administration and the Putin administration – which will probably broadly continue despite all the sternly enunciated words that are issuing forth from Russian officials today – has not led to the position of the Syrian government being any safer. In fact, it is precisely because the United States and the Russian Federation have been on good terms since Trump's inauguration, that the probability of what has now transpired, happening, had increased.
A scenario in which the United States and Russia arrive at an agreement in which both countries have their geostrategic interests met, is a scenario in which Russia would probably turn against Bashar Al-Assad. With Trump in office, the chances of such a scenario manifesting are actually increased, because Trump has not until today presented himself as an opponent of Russia on anything, to say the least. The chances of them being able to 'do a deal', is greater. Russia has specific interests in Syria which do not absolutely necessitate the survival of Bashar Al-Assad's government. Hypothetically they could be guaranteed in another way. Vladimir Putin himself signalled this yesterday evening just before the American airstrikes took place, when Vladimir Putin's spokesperson Dmitry Peskov said, "Unconditional support is not possible in this current world."
If the United States were to convincingly guarantee Russia's specific interests on the Syrian territory – access to the warm-water port, a place in the pipeline consortium, a list of friendly future government figures – in some future arrangement mediated by Turkey, Qatar, UAE and Israel, via some backchannel communication, Russia might proceed to 'take a deliberate dive to the mat' diplomatically, and tacitly permit the United States to continue airstrikes against Syria.
People will need to watch for signs of that horrendous scenario continuing to develop.
British diplomacy
One of the central features of British diplomacy and British foreign policy, is 'hypocrisy'. It is not done in a haphazard way, but rather, it is done with method and purpose. It has evolved over the centuries because Britain's stated position on any given issue – particularly when it comes to the issue of geopoliticised alleged 'human rights violations' – is often the opposite of what its governing instiutions have actually resolved to do, or not do.
Kerry Brown, the director of King's College London's Lau China Institute, once wryly referred to this behaviour as "the brilliant complexity of British hypocrisy".
And brilliant is precisely what it is.
Today is no different. Boilerplate 'agreement' messages were offered by Sir Michael Fallon, presumably to stave off the American Communications Operators who would have tried to apply pressure to the British government. Giving them a statement of agreement means that there is nothing for the Americans to snappily quote and criticise in the social media domain. In actual reality, Britain is still bound by the non-intervention vote that was arrived at in parliament in 2013, and thus is not actually in 'agreement' with the United States.
ITV's Paul Brand reports:
ITV News / Paul Brand, 'Syria: Will Britain change tack too?', 07 Apr 2017 (emphasis added):

Downing Street says America's airstrikes against the Syrian regime are an "appropriate response" – but are they a response that Britain will be making itself?

Speaking to me this morning the Defence Secretary Sir Michael Fallon said the US had Britain's full support. But two things were clear: Britain was not asked to participate in the strikes, and Britain does not intend to participate in future.

For the British government, the question remains settled by a vote taken in parliament in 2013, when MPs were asked whether or not the UK should target President Assad's forces. The then Prime Minister, David Cameron, was famously forced into an embarrassing defeat, as Labour swerved in their support and blocked the strikes under the leadership of Ed Miliband.

Many MPs – Conservative and Labour – still feel angry about that decision, believing that it has allowed the slaughter of hundreds of thousands of Syrians. But it is a decision which still stands. This morning the Defence Secretary said he has no plans to put the matter to parliament again.

Instead, the British government still seeks a 'political solution' to the conflict. And it does not appear as if the American President – the head of state who typically exerts the most influence over British foreign policy – is applying any particular pressure on Britain to change tack.

Instead, that pressure comes from the likes of the Liberal Democrats. Not typically a hawkish party, their leader Tim Farron has said "We cannot stand by, we must act." He wants more strikes, not fewer.

But the chances of the Labour leader, Jeremy Corbyn, a lifetime peace activist, ever supporting military action are remote to say the least. He's said the US air strikes only risk escalating the conflict. That means for the government, the numbers probably still don't stack up, killing off the idea of another vote in parliament.

So while America escalates its action – even if the strikes were a one off – Britain remains stuck in stalemate.
That's basically how it is.
Standing against Islamic terror
Keeping British aircraft off the Syrian Arab Army's back and away from its skies entirely, would give the Syrian Arab Army the space that is needed for them to keep fighting against outfits like ISIL, Tahrir Al-Sham, Ahrar Al-Sham, and all of the other Salafist-Jihadist outfits that are operating in Mesopotamia.
Those Islamist outfits are the same reactionary outfits who are constantly seeking ways to send fighters to conduct terrorist attacks across Europe and Asia.
It is better for all of us, that the Islamist reactionaries get killed in Syria at the hands of the Syrian Arab Army, than for them to be constantly free to organise terroristic actions across the world.
Bashar Al-Assad is operating one of the world's great ideological garbage disposal services. It's called the Syrian Arab Army. It's very progressive. The Syrian Arab Army destroys reactionaries and traditionalists, twenty-four hours a day, seven days a week, and it requires no payment for that service. I can't think of a better deal than that.
One of the best ways to stand against Islamism, is to let Bashar Al-Assad do what needs to be done, without intervening against him.
What can you do to keep Britain safely out of this air-war?
Britain is the most consequential and capable military actor in Western Europe. Britain's non-participation in airstrikes, not only would ensure that Britain does not end up actively participating on the wrong side of a conflict that never should have happened, it would also have a dampening effect on America's attempt to form the 'coalition' that Rex Tillerson has been talking about since last night.
The question is, how can you become an active part of keeping British forces out of the air conflict? This is not exactly a difficult task, since it's a case of simply reinforcing the status quo. The balance of forces in parliament simply needs to be maintained as it is, so that the deadlock on the issue is maintained.
This means that people need to write to their MPs, comment on social media, talk to their union leaders, and – for those who have such access, even at the local government level – engage productively in conversations with key people and keep presenting to them all of the real downsides of what intervention in the Syrian conflict could cause.
Make people aware that sentiments have not changed since 2013, and that no one wants to go to Syria to fight the Syrian Arab Army. The British public were interested in fighting against ISIL and against Tahrir Al-Sham. There is something to be strategically gained from that. There is nothing of any enduring value to Britain that can realistically be gained from fighting against the Syrian Arab Army.
It may also be a good idea to generate a list of any MPs and councillors in potentially vulnerable seats. They should be reminded that the British people have long memories, and that if any of them tries to start a parliamentary insurgency against the non-interventionist result that emerged in 2013's vote, they should expect to be tarred on social media as being 'a craven ally of interventionist Trump'. The threat should be formulated in such a way that it makes clear that everything will be done to try to remove those persons from their seats at the next election, if they try to bring this to a vote again. In other words, people need to make appropriate use of the space which liberal-democracy has carved out.
Conclusion
The Royal Air Force and the Royal Navy will not be participating in any airstrikes in Syria.
Let's do what we can to help ensure that it really stays that way.
Kumiko Oumae works in the defence and security sector in the UK. Her opinions here are entirely her own.