Majorityrights Central > Category: British Politics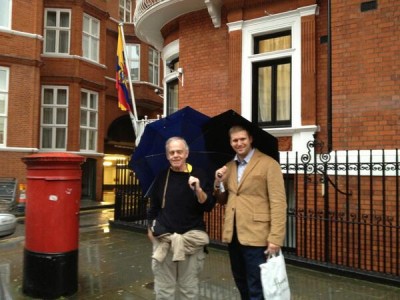 Regnery, Spencer, prime umbrellas of (((Alt-Right))) big-tentosphere.
Dear Daniel, I'm a reporter at Reveal News, a news service and public radio program in California. Thanks for responding to my Twitter message.

We're doing some reporting on Richard Spencer and Bill Regnery. I saw the "Richard Thpenther" post on Majorityrights.com, complete with a foto of the 2 of them together, and thought that you could certainly point me in the right direction on some basic factual issues, if you were willing.

So, I'd like to have a conversation. I'm happy to abide by whatever ground rules you set. Here's my bio, if you'd care to check me out, and my contact info is below. Thanks for your consideration, and please let me know how you'd like to proceed.

Looking forward, Lance Williams, Senior Reporter, Reveal from The Center for Investigative Reporting
Before moving on to detail the discussion that I had with Williams, I want to recap the left-right paradigm as it is conceived for majorityrights platform, since Williams was asking for my perspective on matters and since like everything that I've gleaned from academia and niftily re-tooled for our ethnonationlist interests, it has been attacked, no matter how well aimed, how effective and how coherent in those aims. Since I have not been able to overcome this misplaced jealousy, or naivety, bad advice or whatever causes the intransigence of this contentiousness, I must repeat myself.
Recently, I have been challenged again on the concept of left and right that I use. I refuse to back down and shouldn't back down for the utility and intelligibility of the concept of left and right as I conceive it. It is intelligible, intuitive even, as it underlies patterns of ordinary language use. It only becomes confused and counter-productive as people try to play along with the more "sophisticated" versions (perversions, really) that Jews have spun through media and academia; which the disingenuous or naive have bought into - as they disingenuously/naively see it serving their interests - the more "sophisticated version" puts forth an oxymoronic definition - that the left is synonymous with liberalism - an oxymoron indeed, conceiving a "union" without prerogative of membership inclusion and exclusion; in fact, by this definition, a union would be just the opposite, it is a "union" that would constantly seek the opening of its membership bounds, to never exclude any "scab" as its highest value (to unionize the entire world as members of the union, we can only imagine). The "sophisticated" White response and what the Jews want, what those disingenuous/naively going along with the arrangement of their terms do, is to say, "no, I'm not a leftist, not a liberal, I'm on the right! - and I can prove that I am not a racist. I'm pure, not arbitrarily setting union bounds of my racial group, despite merit or not, I'm basing membership on unassailable, objective facts and merit alone."
Ironically, this objectivist response underpins liberalism itself, the very form of the affliction against racial and national maintenance.
Naturally, any halfway intelligent and conscientious White, concerned for White EGI, is going to be mortified that Whites are going along with this, as it puts precious, circumspect patterns at risk and frightens-away potential membership for its lack of accountability. The Jews know this and they promote White identity as right wing because they know that it is going to deter group loyalty where it does not have them reacting into headlong disaster - a trap, fighting on supremacist grounds, (hubris) where they literally become the bad guys who get into disastrous conflict with those that should be their allies (some of them White ethno-nationalists, some of them non-White ethno-nationalists) - vilified as subhuman, these ethno-nationalist adversaries (nemesis) are nevertheless able to fight back very well, and greatly damage the EGI authoritatively designated by the right as its cause, as their adversaries have the collective moral high ground in the concept of social accountability.

Of course those disingenuously/naively going along with the right wing, objectivist version of nationalism, are veering toward two dubious premises with regard to any claims of nationalism: 1) Where otherwise nationalism is not something that just comes together by the invisible hand of nature as it is supposed to, then one or a relatively small number of leaders will assert what is the national group and direct it by their authority which 2) Tends toward limited accountability, as their purported merit for the position is the result of sheer factual (gawd given or sheer natural) merit to make assertions of themselves - it "just wound-up that way" as a result of (gawd given or sheer) nature; and again, the same would supposedly hold true with group and national boundaries - they are supposed to hold up basically because of sheer nature (or gawd). It is a tendency to want to de-emphasize social accountability (to want to have unassailable warrant, to ascribe to oneself innocence/to be unburdened of guilt and responsibility); and to see outcomes as a result of one's sole agency and sheer nature; while minimizing any joint construction and negotiation of those outcomes.
Quite naturally, such a fool's game as this, bereft of social accountability as it is, and has been, is a sucker's game that the Jews (and others, but the Jews most importantly) can take advantage of: it is ripe for them to find some White "leaders" and buy them-off or otherwise hoodwink them into leading, in accordance with Jewish interests, the White sheeple - who naively buy into the right wing, objectivist, "that's the way it isness", and less the matter of social construction and accountability that would allow them to effectively maintain their group defense, or even individual defense, ultimately - deliberate designation, delimitation of group boundaries, would immediately correspond with a form of unionization (you are in the union or you are not); an idea underlying any considered concept of "Left." Whereas the disingenuous and naive go along with the Jewish arrangement of the terms, i.e., that "the left" means unionization only for non-Whites and those antagonistic to White men and their bounds - a prohibition of unionized boundaries for Whites, this is of course an absurd contradiction for Whites - from their end, it is liberalism: a prescription to rupture would-be unionized boundaries, borders, and the social accountability that would facilitate those boundaries and borders by contrast to sheer liberalized mishandling.
Lets pretend for a moment that people are not so retarded as to not be able to understand that and move on.
By contrast, what I have diagnosed as the concept of left nationalism within ordinary language and sustaining a consistent pattern of understanding, making consistent sense, is that: The moment one recognizes the truth by contrast - that we are in interaction, have some social connection and social indebtedness for the origin and maintenance of our manifest form of existence, therefore some responsibility and accountability; further recognizing that we make things together with other people, more or less - more, when we are more obviously responsible for a joint construction and less, but still some, in the agreement of how the more brute facts come to count - we are in the realm of the social and acknowledging the potential for accountability. And once we are in the world of accountability, we are in the world of delimitation, where not just anything goes. We are recognizing social responsibility and then the possibility that we have responsibility more to some than others - more responsibility to those within the "group", the group designated by consensus and negotiated authority; including responsibility to those deserving of membership but requiring incentive to remain loyal, though they are not on top of the game and ready for higher organizational roles at this time.
In sum, leftism is about recognizing the inextricable reality of interaction, social indebtedness and responsibility, therefore the motion for unionization as a means of accountability and group maintenance, designating out-groups and in groups thereupon, with social accountability as such. Nationalism, ethno-nationalism and racial defense, are a matter of larger scale unions.
Rightism is a motion in its ultimate trajectory toward unassailable warrant in objectivity or divine ordinance, to reduce social accountability through purported objectivity, supra-social principles or divine will. Now, one might object that rightists can be nationalists, or responsive to social needs. What I would say to that is that the moment they are doing that, they are doing a "left thing", they are going into the social world and its accountability, left nationalism, but without the premises that would solidly ground and sustain group systemic maintenance inasmuch as they retain rightist premises as their ideal and their aim, the lack of accountability thereof; as such, they are primed for subversion by people willing to use the leverage of collaborative agency against them.
Now lets see how this concept played out when I was queried by "RealNews" senior reporter, Lance Williams.
Majorityrights.com

Dear Daniel,

I'm a reporter at Reveal News, a mews service and public radio program in California. Thanks for responding to my Twitter message.

We're doing some reporting on Richard Spencer and Bill Regnery. I saw the "Richard Thpenther" post on Majorityrights.com, complete with a foto of the 2 of them together, and thought that you could certainly point me in the right direction on some basic factual issues, if you were willing.

So, I'd like to have a conversation. I'm happy to abide by whatever ground rules you set. Here's my bio, if you'd care to check me out, and my contact info is below.

Thanks for your consideration, and please let me know how you'd like to proceed.

Looking forward.

LW

Lance Williams
Senior Reporter
Reveal from The Center for Investigative Reporting
1400 65th St. Suite 200
Emeryville, Ca. 94608
https://www.revealnews.org/
office: 510-809-3175
cell: 415-298-2317
Naturally, at this point, I looked at the RealNews outfit's website, took note of who headed and staffed it, what their basic mission is - obviously very Jewish, very anti-White (pardon the term, as it is misused by those who would misrepresent White ethno-nationalism), very involved in Jewish headed, non-White coalitions, antagonistic to White ethno-nationalism and its necessary alliances.
First on the list: Colored guy, perhaps mixed Semitc origin:
https://www.revealnews.org/author/aaron-sankin

Aaron Sankin
Reporter
.(JavaScript must be enabled to view this email address)
@asankin
415-786-0793
Second on the list, Jewish guy:
https://www.revealnews.org/author/aaronglantz

Aaron Glantz
Senior Reporter
.(JavaScript must be enabled to view this email address)
@Aaron_Glantz
510-982-2967
Third on the list,
Colored guy, who is apparently often assigned to do the audio interviews:
https://www.revealnews.org/author/al-letson

Al Letson
Reveal Host
.(JavaScript must be enabled to view this email address)
@al_letson
510-809-3160
And on it goes; eventually the list comes to Lance Williams, who requested to talk to us and politely did just that (I don't know if he's part Jewish or not, but he clearly doesn't have a big problem working with them):
https://www.revealnews.org/author/lance-williams/

Lance Williams
Senior Reporter
.(JavaScript must be enabled to view this email address)
@LanceWCIR
510-809-3175
The list goes on like this, apparently having some Whites, obviously liberal, a strong representation of those who are not White males, but it is well over-represented by Jews in its staff and at its leadership.
Executive Director:
https://www.revealnews.org/author/robert-j-rosenthal

Robert J. Rosenthal
Executive Director
.(JavaScript must be enabled to view this email address)
@rosey18
510-809-3162
Chair:
https://www.revealnews.org/author/phil-bronstein

Phil Bronstein
Executive Chair
.(JavaScript must be enabled to view this email address)
Bronstein! I'm not sure if he's related to Trotsky, but!

Here is what I prepared, and in fact did say to senior reporter Lance Williams of Revealnews:

First, please let me say a few words about Majorityrights' platform as I've taken it, because it will quickly come to the point of how I have developed it as a corrective to the kinds of errors being made by The Regnery circus, NPI, Richard Spencer and the Alternative Right.
Majorityrights (at this point) advocates White/European ethno-nationalisms and sees itself as allied with Asian and Indio ethno-nationalisms. It does not identify with Jewish interests, as if they are White, it treats them as a separate racial category, outside of the White/European race; and, in fact, does not identify with Abrahamic religions at all - seeing them as destructive [providing maps destructive] to ethnonational interests. It does not identify with Nazism or any kind of supremacism or scientism - by scientism, I simply mean the notion that sheer "nature" and "objective" science should decide our course of action without individual and social correctives and cultivation. We are not Alternative Right, not Right wing in any sense as I conceive right and left to be: The right and with it, liberalism, is based on an idea of objectivism which is short on accountability - "because that's just the way it is according to natural or divine law." It lends itself to disingenuousness and hubris among elites and to naivety in the masses.
The left - a White Left Nationalism and any ethnonationalism as I hold it to be properly defined, is about accountability to the full social group as maintained through a form of unionization - that puts it in contrast to the universalism and pretenses of objectivity of the right; because there are in groups and out groups - you are in the union or you are not and the union - it looks after your relative interests as a member, not solely because of what is deemed your objective merit. It is a perspective which looks after the rank and file, to ensure that they are treated fairly and have incentive to maintain the union even though they may not be on top of the game or marginalized somehow, to make sure that they do not facilitate scabbing of the union so to speak; but it keeps a particular eye on elites, to hold them accountable to group systemic interests, to make sure that they do not betray us since obviously they are capable of doing the most damage. That concern is bringing us to people like Regnery, Spencer and those in the Alt-Right.
Because they take these right wing positions that we reject, positions which people cannot take or are justifiably afraid of, it turns-off a broad base as it is an incompassionate, insane and stupid position; but in order to try to connect with the mainstream and populism, they are forced to cobble together coalitions upon a tacit agreement to tolerate one another's anti-social positions as such - whether its holocaust denial or supremacism, some sort of nutty Abrahamic religion; or, what is stigmatic from a White nationalist point of view, acceptance of Jews in their alliance. These cobbled-together anti-social coalitions of the Alt-Right I call the Alt Right tentosphere - a big tent of different tents. Some tents are completely friendly with Jews.
The template of running the gamut from Nazi sympathy to working with Jews and some members actually being Jews is completely consistent with Regnery, his publishing history and what I see as this strategy of Jewish alliance for shepherding masses into this tentosphere of the Alternative Right.
Now, the concept of the Alternative Right goes back to a 2008 article, edited by Richard Spencer, written by Paul Gottfried (who is Jewish); and with it he was trying to counteract the headlong destruction of Whites who could be valuable to Jewish interests and what he calls "Western values", including Judeo-Christian values as he saw them being destroyed by means of a trajectory from Irving Kristol to the Neo-Cons; a trajectory that did not place enough emphasis on stabilizing enough useful idiots among Whites - the means to keep Whites from reacting too much and to be maintained as useful idiots for Jews was called paleoconservatism - it began with Frank Meyer, a Jewish scholar who shaped Reagan's so called conservatism: Its not really a whole lot more conservative than the neocons because all it does is maintain capitalism (i.e., maintain a liberal economic system), maintain Judeo-Christianity (which for Whites is liberal - moral liberalism, altruism), pay some lip service to the wonderful culture of the west; while allowing for genetic arguments upon which Whites can survive on an "objective" basis; thus the selection for the relative interests and ways in which these useful idiots will be deployed and intermarry will remain with the Jews as the organizing factor among a right wing elitist cadre.
You're witnessing that in Trump. But we need to say a bit more before we move onto Trump.
Now then, why do Regnery and Spencer take this position as "Alt-Right" against the quote "Left"? Well, you need to begin with why Jewish interests would want to take a position against the quote, "left."
Jewish interests have had disproportionate power and hegemonic influence through seven key niches:
1) Media 2) Money and Finance 3) Academia 4) Politics 5) Religion 6) Law and Courts 7) Business and Industry.
Naturally, they don't want organized peons criticizing, dismantling and taking away that power. So what do they do? Well, of course, they look toward the old faithful sell-outs among the White right-wing elitists - offer them deals in turn for compliance, ease their conscience with the objectivist arguments they've always coveted as unassailable warrant, "these are just the facts of life"....and "say, by the way, you've got money, want to keep it and have even more, don't you? You can continue to do well for yourselves ..and you hate those 'lefties' anyway, complaining that they want some of that too, so lets organize a coalition, a "movement" to be popularized against the left. ...make it real stylish and edgy ...appeal to those disaffected millennials in their internet bubbles, we'll call it 'The Alternative Right".
Of course now, a major left unit, left union so to speak, would be the union of ethno-nation. And the Jewish and right wing objectivist way to disrupt that unionization is to encourage right wing reactionary populism and its corollary reactionary liberalism.
Now then, again, Majorityrights platform is conceived so that a proper ethno-nationalist view is not buried by the Regnery circus (as our GW aptly calls it), not buried, enmeshed in what it has been doing with The Right and the Alternative Right.
They are only doing quasi ethno-nationalsim as it is perverted through objectivism and coalition with Jewish interests: fighting against social accountability, going along with the Jewish prescription of trying to represent White interests through right wing means.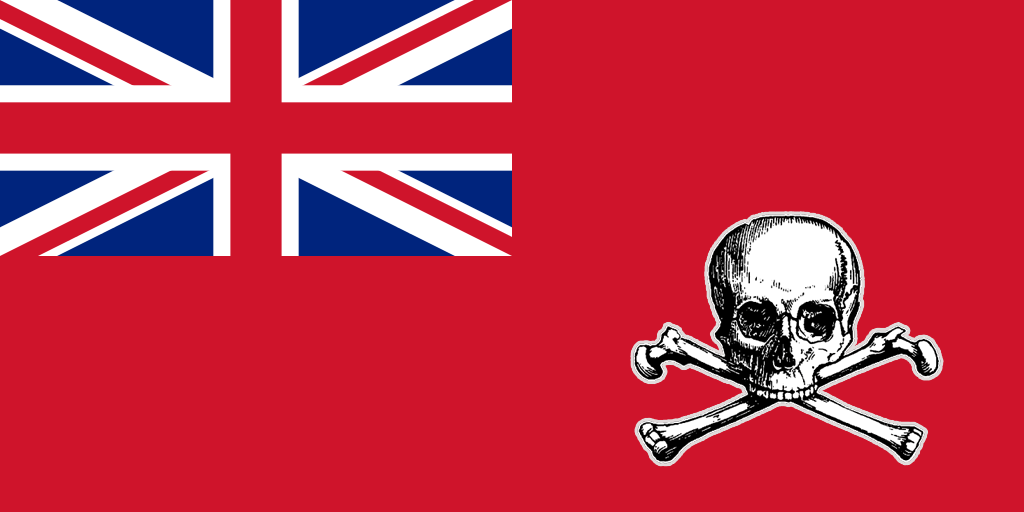 It's really great
Question. What's the difference between:
being a pirate running a multi-ethnic drug-ferrying operation to generate money which is kept off-the-books for the financing of covert operations,
being a mercenary who is paid to attack slave-ships and liberate slaves,
being a radically forward-deployed coastguard which defends the borders of Britain at the edge of someone else's shores on extended lines of supply, and
being a Knight Commander of the Order of the British Empire?
Trick question. They are all potentially the same thing, and that's what makes Britain great.
The only people in parliament who seem to have any understanding of this history however, are the people in Theresa May's wonderful cabinet.
Weaponised history
The difference in opinion between Amber Rudd and Justin Welby is very instructive:
ITV News, 'Home Secretary faces backlash in parliament for capping lone child refugees', 09 Feb 2017:

The Home Secretary faced a backlash in parliament after it was announced that the number of lone child refugees coming to the UK will be capped.

Amber Rudd insisted that the move to cap the scheme to just 350 children, far fewer than the 3,000 originally expected, closed to avoid encouraging people-traffickers.

Ministers quietly announced on Wednesday that 200 children had been brought in under the so-called Dubs Amendment and it will close after another 150 are settled in Britain.

[...]

Responding to the Commons, Rudd said: "I am clear that when working with my French counterparts, they do not want us to indefinitely continue to accept children under the Dubs Amendment because they specify, and I agree with them, that it acts as a draw. It acts as a pull.

"It encourages the people-traffickers."

She also suggested that local authority funding had come into the equation when deciding how many child refugees would be settled under the programme.

[...]

The Archbishop of Canterbury, Justin Welby said he was "saddened and shocked" to learn of the Government's decision to stop the scheme.

"Our country has a great history of welcoming those in need, particularly the most vulnerable, such as unaccompanied children," he said.

"Refugees, like all people, are treasured human beings made in the image of God who deserve safety, freedom and the opportunity to flourish."

He added: "We must resist and turn back the worrying trends we are seeing around the world, towards seeing the movement of desperate people as more of a threat to identity and security than an opportunity to do our duty.

"We cannot withdraw from our long and proud history of helping the most vulnerable."
The Home Secretary is correct, and the Archbishop of Canterbury is incorrect, as per usual, because Christianity is stupid and will make you become stupid.
The apparently long, proud history of British people 'helping the most vulnerable' in a scenario like the one that is presently unfolding in Syria, has only one historical precedent actually, and it is the historical precedent of the West Africa Squadron.
Philanthropic activities
The West Africa Squadron sprung out of the changing economic structural necessities in 1808 after Parliament passed the Slave Trade Act of 1807. The Squadron's mission was to suppress the Atlantic Slave Trade by attacking slave ships off the coast of West Africa.
Letters of Marque were also issued to allow private security contractors, also known as 'pirates', to act on behalf of the British government under 'false flags' to attack Spanish, French, Portuguese, Arab, and American slave ships within the same mission scope. A particularly iconic practice was to approach a contact while flying the British red ensign, and then run it down the flagpole at the last minute and elevate the black Skull and Bones flag in its place before attacking the contact. Under the Skull and Bones, it was possible to exist in a parallel legal reality where you could do anything to anyone without a care in the world. This also happens to be the essence of what Ernst Junger would later refer to as the 'dual state'.
The programme was later expanded by the 1840s to encompass North Africa, the Middle East, and the Indian Ocean, as Pax Britannica began to become entrenched across the major sea-lanes into the western hemisphere.
Notice how none of that involved inviting every single African into Britain. On the contrary, by taking the fight to the slave traders – both legally and extra-legally – it enabled the British to accomplish:
a great work of humanitarianism,
the pursuit of various geostrategic and geoeconomic objectives against Britain's rivals,
disincentivising the activities of the slave traders, and
the ability to simply hijack virtually any ship and steal it, with popular support.
As Cecil John Rhodes once said, "Pure philanthropy is very well in its way, but philanthropy plus five percent is a good deal better."
And really, it is, isn't it?
Anyone who doubts can simply contrast the premiership of Theresa May against the premiership of Angela Merkel. Which is faring better? Exactly. I rest my case.
Related Articles:

Viewing the source behind the web archive from 2014 reveals something amazing.
This article is Part 1 of an ongoing series about the TRS scandal.
See also: Part 2.
Order of Battle
As you all are aware, Mike Enoch, now revealed to be actually Michael 'Enoch' Peinovich, is the founder of the website The Right Stuff, which opened in 2012 and hosts the popular and dubiously overwrought podcasts Fash the Nation and The Daily Shoah.
The Right Stuff has spent the entirety of the past four years serving up piping-hot reactionary narratives all of which just so happen to serve the geostrategic agenda of the architects of Russian foreign policy by carrying out Active Measures, American domestic honeypot agenda of the FBI, and the Israeli security agenda.
But if anyone had pointed that out before today, such a person would have been called 'paranoid' and even 'insane'. After today however, such a person would simply be called 'well informed'.
Note: The name 'Pejnovic' has a diaspora in 20 countries worldwide and has its highest concentration in Zagreb, Gospic and Klenovac, Croatia. It is found in small numbers in Peru, in the United States, and in the Russian Federation. 'Peinovich' is a Russian-Jewish variant that found its way into the diaspora of the United States and in Argentina.
The whole saga leading up to the revelation of Enoch's real identity, started after Red Ice Radio hosted a show on 26 December 2016 in which Reactionary Jew was invited on as a guest and Lana Lokteff asked the audience to give them feedback on whether right-wing Jews have a place in the supposedly ethno-nationalist political scene that has recently been emerging in the west.
This question was of course met with outrage from various quarters as would be expected. But what was truly interesting was that many of the users and even some global moderators at The Right Stuff began to respond to that provocative question in the affirmative. That was met with deep suspicion by everyone, because it is suspicious.
The controversy and trolling then moved to 4chan /pol/, which is basically the wild west. People from The Right Stuff orchestrated a two week long posting and sliding campaign in which non-stop wall-to-wall pro-Israel propaganda posts and threads were created by them. 4chan /pol/ moderators then began banning all of the TRS people who were doing that, and the details of the bans were then taken back to the TRS forums and presented there.
This is just an example of some of the things that the TRS people were putting up:


TRS then proceeded to deny everything. They claimed that other groups were impersonating them. Some claimed that Hillary Clinton's CTR was conducting pseudo-operations against them. Some claimed that EU Stratcom was targeting them. Some claimed that British intelligence was targeting them. Some claimed that 'SJWs' and Chicago Antifa were trolling them. They claimed that somehow Stormfront was trying to make them look bad. The claims were feverish and frenetic, bold and brash, and all diversionary nonsense.
Somewhere along the way, the TRS people decided that since they were trapped in that situation, the ultimate distraction would be to initiate a miniature Cyberwar against 8chan for no apparent reason. TRS decided to attempt a DDoS against 8chan. It failed. At this point, 8chan /baphomet/ became interested in the feud and many of its denizens informed TRS that they must stop their behaviour immediately, and that they must also apologise for the DDoS attacks and that they must apologise for making the pro-Israel posts, on air, or it would be war.
TRS basically then told 8chan /baphomet/ to "bring it on".
8chan is however, an anonymous message board that sits on the edge of the Darknet. So they brought it, but no one really will ever know who 'they' are. TRS found itself being DDoS'd and this forced them to take shelter under Cloudflare. While the TRS staff were attending to that, they also found themselves being doxxed and the process was being crowdsourced on 8chan /baphomet/.
TRS then tried to go back to 4chan /pol/ and play the two sites against each other by claiming that 8chan /baphomet/ were actually the Antifa. Of course, TRS had just previously bombastically accused 4chan /pol/ of being the Hillary campaign on one hand and of being western intelligence on the other, so no one at 4chan was really in the mood for yet another round of that nonsense again. Furthermore, TRS had misunderstood the nature of anonymous message boards, supposing that there was a real dividing line between the 'communities' at 8chan and at 4chan. There is no such dividing line in actuality, because no one is seriously loyal to an anonymous message board. It's just a vehicle through which various actors can drape themselves in a cloak of trendy anonymity. There is no 'community'.
The Right Stuff subsequently found itself being Blown The Fuck Out by all of its adversaries, and all of their adversaries were able to maintain anonymity during the process.
Isn't that marvellous?
Outcomes
It turns out that Michael 'Enoch' Peinovich is a Javascript Developer and a Public Relations Professional who has worked as a Front End Developer at BurrellesLuce, Time Inc, and Vook. He's from New York. Vook was later rebranded as Pronoun, and is now a subsidiary of Holtzbrink Publishing Group.
Oh, and Peinovich is a Russian Jew married to a Jewish woman named Ames Friedman.
In 2010 he ran an Anarcho-capitalist blog called 'Emptiness', at which his wife made several comments with her real name.
In the same year, Peinovich also wrote an article for the Mises Institute.
On 03 July 2015, Peinovich appeared on Red Ice Radio, and actually mentioned that article which he had written for the Mises Institute, when he was explaining to them that he 'used to be a libertarian'. He cryptically commented after the 13 minutes 25 seconds timestamp, "if you find it, ask if it's me, and if you get it right, maybe I'll tell you."
At this point I don't think anyone will need to be making any guesses about that anymore. On top of that, Peinovich earlier admitted to everything on the TRS forums before basically transforming himself into the 'shut it down' meme and shutting everything down:

There is no more speculation, there is only fact. Mike 'Enoch' Peinovich in fact admitted to what he has done.
Datamining concerns
Assuming that the entire TRS entity either originated as or became a full spectrum Information Operation, it means that all the usernames, email addresses, IP addresses, access logs, security questions, and password hashes that were submitted by people who—against all good advice—chose to actually register on the ridiculous TRS forum have a not-insignificant probability of falling into the hands of any number of adversaries who Peinovich may have allegiance to. FBI? Mossad? Who even knows at this point?
Does anyone really think this story is over? For some people, the problems may only just have begun.
Questions Remain
The remaining question would be, who knew about Michael 'Enoch' Peinovich's Jewish identity before it was exposed today, when did they know, and if anyone did know, why wasn't it exposed via normal channels much earlier?
A lot of people were in a position to have noticed the fact that Peinovich was in fact a Russian Jew orchestrating a massive disinformation campaign against everyone, one which may have influenced the outcome of the American election and created significant disruption in other English-speaking countries.
This is a partial list of the people who have directly interacted with Peinovich in some way over the past few years, and who one would think ordinarily should have detected that something was very wrong:
Richard Spencer
Greg Johnson
Kevin MacDonald
Colin Liddell
Jared Taylor
Andrew Anglin
Lana Lokteff
Henrik Palmgren
David Duke
Colin 'Millenial Woes' Robertson
Kyle Bristow
James Edwards
John Friend
Sam Dickson
Jack Donovan
William Regnery
Andrew 'Weev' Auernheimer
It's truly astounding that supposedly none of those people noticed anything, despite them having either worked with him and having been in interviews with him, or them having called in to TRS during its radio shows. At one point, Peinovich was even brought into a live podcast during the NPI 2015 conference.
Of particular significance is Peinovich's relationship to Kyle Bristow. Bristow is the Executive Director of Foundation for the Marketplace of Ideas, Inc., an Alt-Right organisation that advocates on behalf of Alt-Right figures and coordinates legal services for them. Peinovich joined its board of directors on 11 December 2016, joining five lawyers, and law student, and a journalist who were already on the board of directors there. I presume they too might like everyone to believe that they didn't notice anything?
Another one of key significance is Peinovich's connection to Andrew 'Weev' Auerenheimer. Weev is the person who basically did a significant amount of work on the TRS website in order to 'secure' it. At some point between 2014 and 2017, the Paypal donations on that site were deactivated and only the Bitcoin donations remained. If Weev was the one who implemented that change, did he not notice the email address linked to their Paypal account was a glaring giveaway about who Mike Enoch really is? But if he did notice the disturbing truth, why did he not alert anyone? Many people could speculate.
Here are some examples of obvious clues that they could have picked up on: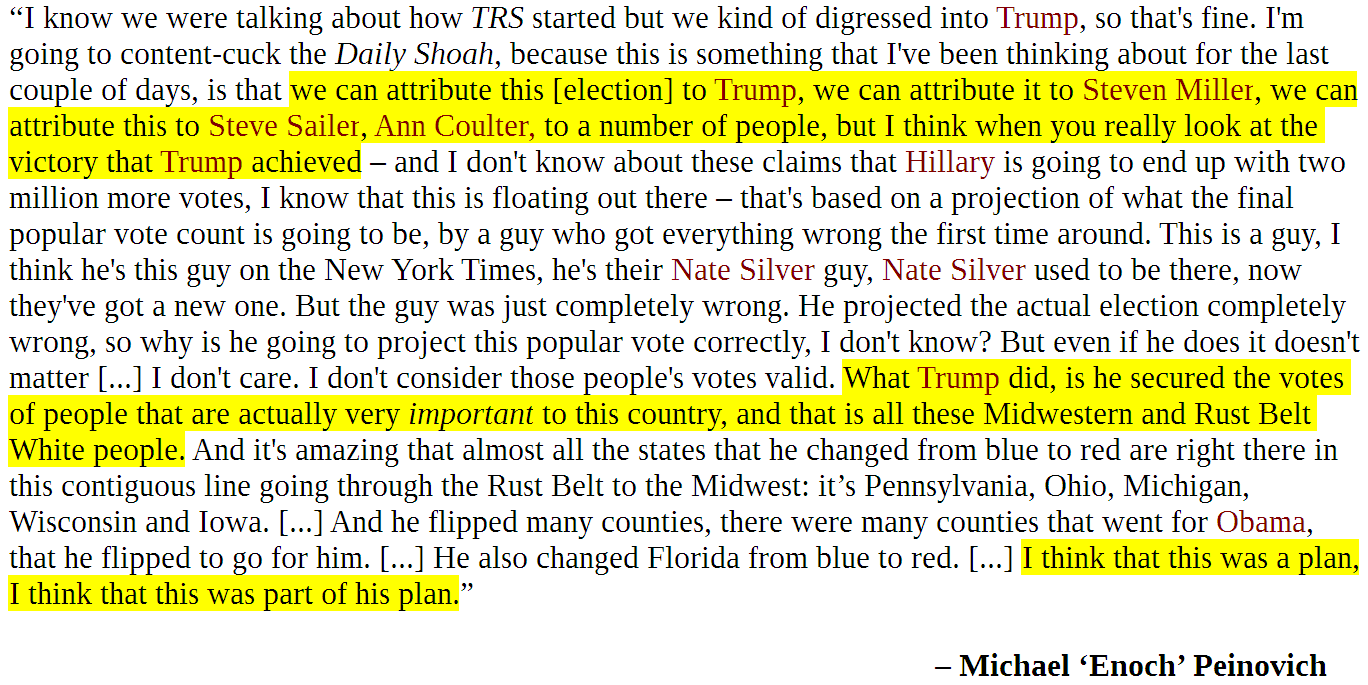 Just as large swathes of the American population were getting ready to give up on the system as it presently exists and to instead settle into total cynicism, along came the Trumpists and outlets like The Right Stuff, who managed to revitalise and rescue the ridiculous system yet again!
And also there was this extra incident here:

Fucking incredible. All of the anti-semitic rhetoric that was going on there basically was a cover for the fact that a whole Jewish operation was being conducted right under the noses of the supposedly 'red pilled' and 'savvy' generation of new American right-wing activists.
Over the coming days and weeks, I'm sure that all kinds of explanations will be forthcoming from all of those people. The question that needs to be asked over and over again, is this: Who knew about Peinovich's Jewish identity before today, and if any of them did know, when precisely did they know, and why did they not reveal it as soon as they became aware of it?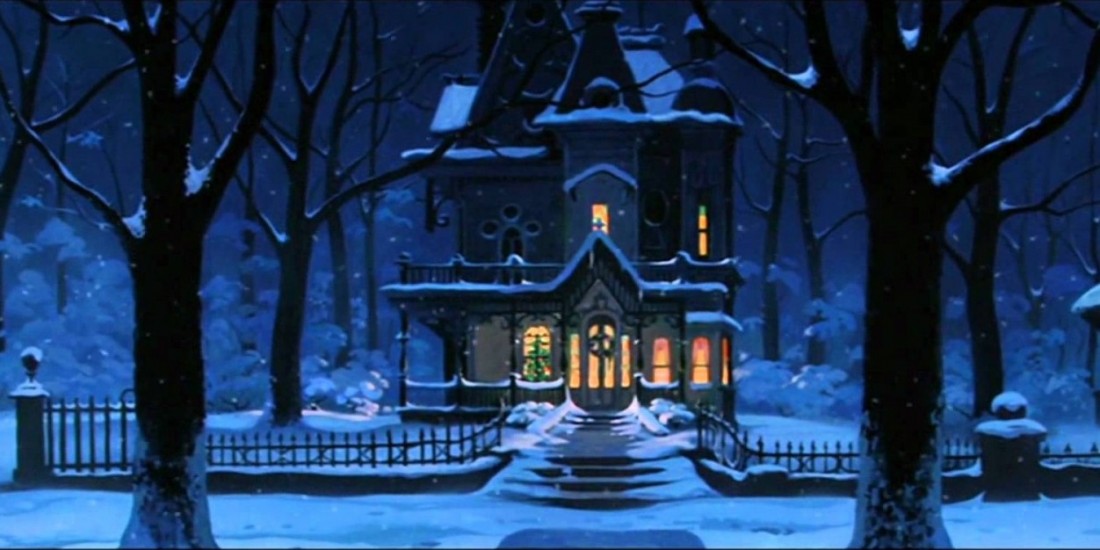 Victorian houses have something about them which speaks the home-iest of houses.
It was only upon gathering an entry for what is becoming a Majorityrights tradition at this time of year - "I Believe in Father Christmas" - that I learned belatedly of Greg Lake's passing. A handsome English lad, he also displayed his people's incisive thought - penetrating nefarious Jewish influence masquerading as innocence; and doing so at a time, 1975, when there was no popular tide to raise this political boat to defiantly sail despite inevitably incurring the stigma of "anti-Semitism;" with the danger attendant to that and of flying in the face of popular support from millennia of European consensus, sheepish acquiescence; the only support would have been what he could have plumbed from the truer depths of his native culture and intelligence.
BBC, 8 Dec 2016: Greg Lake, who fronted both King Crimson and Emerson, Lake and Palmer, has died aged 69.

He died on December 7th after "a long and stubborn battle with cancer", said his manager.

The news comes nine months after Lake's band-mate Keith Emerson died.


Keith Emerson, Greg Lake & Carl Palmer

One of the founding fathers of progressive rock, the British musician (Lake) is known for songs including In the Court of the Crimson King and his solo hit I Believe in Father Christmas.
Lyrics: I Believe in Father Christmas.

They said there'll be snow at Christmas
They said there'll be peace on Earth
But instead it just kept on raining
A veil of tears for the Virgin birth
I remember one Christmas morning
A winters light and a distant choir
And the peal of a bell and that Christmas Tree smell
And their eyes full of tinsel and fire

They sold me a dream of Christmas
They sold me a Silent Night
And they told me a fairy story
'Till I believed in the Israelite
And I believed in Father Christmas
And I looked TO the sky with excited eyes
'Till I woke with a yawn in the first light of dawn
And I saw him and through his disguise

I wish you a hopeful Christmas
I wish you a brave New Year
All anguish pain and sadness
Leave your heart and let your road be clear
They said there'll be snow at Christmas
They said there'll be peace on Earth
Hallelujah Noel be it Heaven or Hell
The Christmas we get we deserve.


Written by: Greg Lake, Peter John Sinfield, Serge Prokofieff

Our emergent qualities as people (the qualitative whole being greater than the sum of its parts), what resonates in our psyche, stirring it to respond as such to that which is genetically close, vital and essential, regenerative not only of our kin, but the fauna, creatures and to take the emergent to an extreme, even of inanimate objects of our natural habitat, is a profound matter.
And how do we pursue consideration of these matters? Our co-evolution provides what we call "internal relation", that is, rule structures that are evolved symbiotically or come about equiprimordially from the same circumstances, concerns, affordances and limitations.
Those episodic manifestations which suggest the origin of that symbiosis, that which is most essential to reconstructing the pattern of our people, of the aeons, have normally been called upon as sacred - because these episodes reveal what is that deep, that important to our fitness as a physical, biological and human system, we institutionalize the practice of the sacred episode as it manifests - at our best, never losing site of its organic source, what it is doing, and its re-emergent truth at our service - not as a nightmarish fateful return to the hideous limitation of patterns but of a replenishment from the essence of our patterns as we set about the next spiral upward.
The comfortable (optimum unused potentiality for change in maintenance of homeostatic function) default mindset is established and delimited by the parameters of our personal interests amidst our folk and their interests - however, since both we as humans, and the human ecological systems of which we are a part are far more complex to maintain than systems of creatures which rely on mood signals, the reconstruction of our human ecological systems inevitably relies upon hermeneutics to aid in the reconstruction of its authentic scope.
Science and nature can strongly indicate what we should do; but irrespective of that, there is a difference (especially with Europeans, complex as we are), between what IS and what is apparently suggested by science as opposed to what might be suggested through philosophy - the complexities, varieties, and yes, contradictions that can and will challenge us with choices beyond scientistic explanation.
Even so, there are not only profound reasons to be rigorously concerned for the emergent (as GW is), there are also practical reasons - in following its resonance, we are guided directly with what has shown naturally fit for our well being through the ages; and we have the innocence of positively identifying with what we "love" as it is close, vital, a necessary part of us, as opposed to asserting discrimination against others and being subject to the charge of being anti-this or anti-that, of gross indifference, arbitrary cruelty, double standards, supremacism and "racism."
Finally, the circumstance which has GW riveted on this starting point does not mean that is not my starting point as well, since there is no choice for anyone not deceiving themselves with some Cartesian mind game. But that does not mean that looking at the more protracted form and speculative breadth of our systems along with the means by which they are understood and reconstructed is contradictory to their authentic well being, insufficiently deep and closed to what is - on the contrary; and there are great advantages in this deliberation, taking the form of substantial accountability, coherence, warrant and agency in human ecology.
Stonehenge, the prehistoric monument located in Wiltshire, is carefully aligned on a sight-line that points to the winter solstice sunset (opposed to New Grange, which points to the winter solstice sunrise, and the Goseck circle, which is aligned to both the sunset and sunrise).

Archaeologists believe it was constructed from 3000 BC to 2000 BC and it is thought that the winter solstice was actually more important to the people who constructed Stonehenge than the Summer solstice.

The winter solstice was a time when cattle was slaughtered (so the animals would not have to be fed during the winter) and the majority of wine and beer was finally fermented.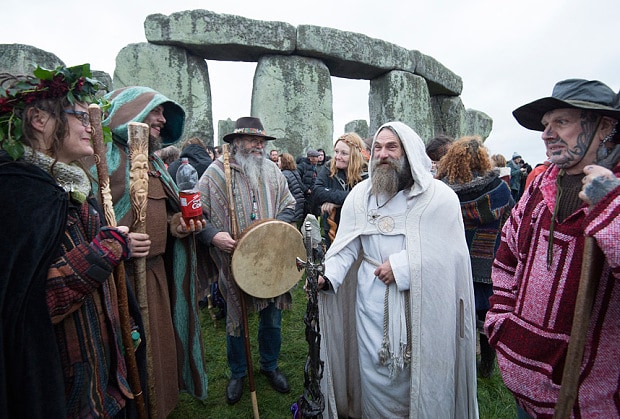 These larpers could have used deeper scientific bearing (Photo: Eddie Mullholand).
They showed up a day early for the solstice in 2009.
For the discerning Euro-folk pagan, the winter solstice is due to occur this year on December 21rst.
I present the following document for your perusal:
PR No. 298 PM TELEPHONES PRESIDENT-ELECT USA Islamabad: November 30, 2016 (emphasis added):

Prime Minister Muhammad Nawaz Sharif called President-elect USA Donald Trump and felicitated him on his victory. President Trump said, "Prime Minister Nawaz Sharif you have a very good reputation. You are a terrific guy. You are doing amazing work which is visible in every way. I am looking forward to see you soon. As I am talking to you Prime Minister, I feel I am talking to a person I have known for long. Your country is amazing with tremendous opportunities. Pakistanis are one of the most intelligent people. I am ready and willing to play any role that you want me to play to address and find solutions to the outstanding problems. It will be an honour and I will personally do it. Feel free to call me any time even before 20th January that is before I assume my office."

On being invited to visit Pakistan by the Prime Minister, Mr. Trump said that he would love to come to a fantastic country, fantastic place of fantastic people. Please convey to the Pakistani people that they are amazing and all Pakistanis I have known are exceptional people, said Mr. Donald Trump.
But back in 2011, Donald Trump tweeted the following:
Does he no longer believe this?
President-elect Trump says things which are often different than years-ago Twitter Trump. This is because one of these Trumps needs and desires the approval of the regular American people, whereas the other Trump has transcended the need for approval because he was elected.
Besides, it's not like this story I'm not showing you indicates that Israel covertly supports Pakistan or anything, and it's not like page 75 of a report I'm not showing you describes Afghan warlords who control vast resources or anything, and it could not possibly be the case that that an article I'm not showing you mentions how many of the Afghan warlords are actually linked to the Pakistani Inter-Services Intelligence and thus to the Pakistani Army or anything. So much information is just plainly present in public view, so much OSINT is everywhere, but who actually clicks on links to read anything? Plus, if many Americans are somehow unaware that Afghanistan has a 'border' with Turkmenistan, Uzbekistan, Tajikistan, China, India, Pakistan and Iran, then I suppose this entire thought process would not even occur to them.
Trump—the alleged 'white saviour'—would never continue to tolerate deeply defective arrangements just because they happen to be strategically good for the Israelis and Pakistanis, would he? His adoring fans are all screaming "no, never!" at their screens right now.

Oh, wait, he would do that, and it is going to be like that.
Although, if we heed the words of consistently-always-wrong people such as Andrew Anglin and the gaggle of idiots wearing red Trump-hats, perhaps they may be able to somehow convince us that Trump is actually playing 181 dimensional underwater jenga-chess?
Kumiko Oumae works in the defence and security sector in the UK. Her opinions here are entirely her own.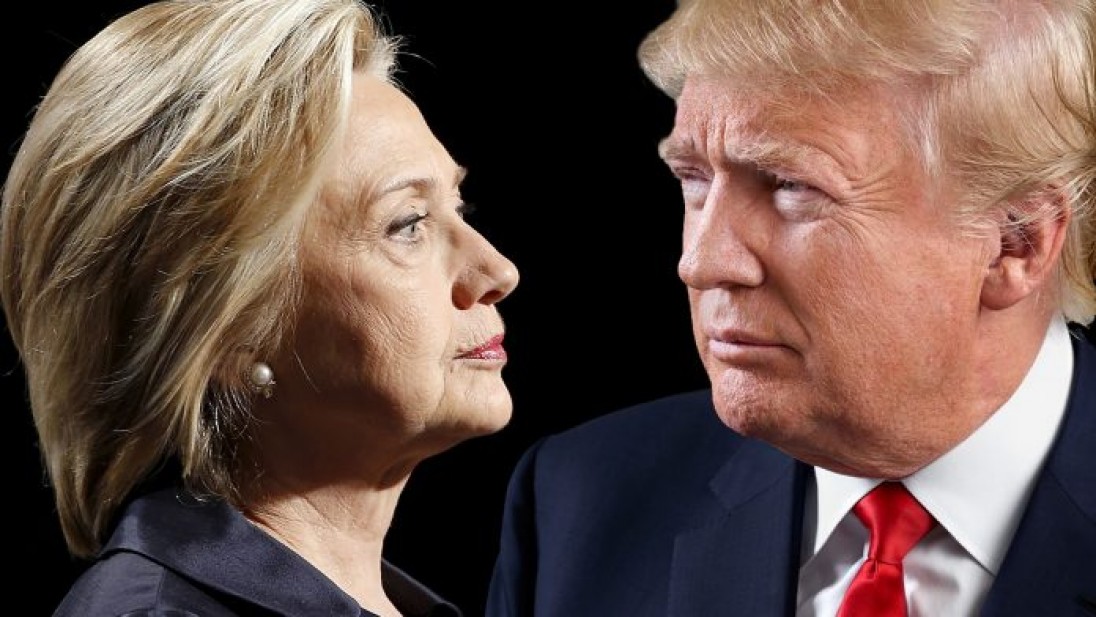 Regarding your people's history and future, the (((choice))) you get with U.S. politics is no choice.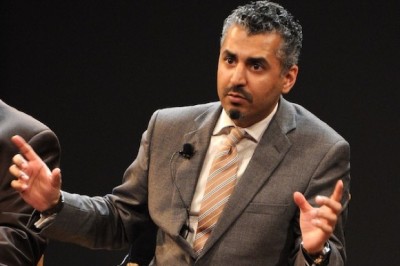 Maajid Nawaz, an activist against "Muslim extremism", is placed on The (((SPLC)))'s hate list. The SPLC is a Massad controlled group which has, in effect, washed its hands of Nawaz (for not representing their authentic dirty work enough?); while Spectator reporter (((Cohen))) libelously attributes that SPLC designation and liberal irresponsibility as being the first fatwa issued by "The White Left."
The White Left has NOT issued its first, or any fatwa, as Nick Cohen asserts, but what The SPLC has done is tantamount to aiding and abetting one.
One may argue that Nick Cohen is as confused as his audience about the terms "left" and "liberal", but it is not likely that someone with the name Cohen and entrusted to a prominent writing position at The Spectator is trying to be careful about clearly describing a platform to serve the full class of White interests - i.e., a White Left, not to be confused with liberalism, a confusion of terms promoted by his fellow tribesmen, and by which they've been able to confuse the public for decades now.
In fact, he does indulge in a new twist. Whether he fancies himself as being descriptive of White liberals (in his view, Jews, such as Mark Potok of the SPLC, would be included as White) or he has some idea of the power of our burgeoning White Left platform, and therefore seeks to confuse it pre-emptively, he is attributing to the term "White left" logics of meaning and action which do not follow from our platform of White Left Nationalism - The White Class.
Indeed, I had discussed the case of Maajid Nawaz with Kumiko, who had explained to me the irony of The SPLC placing this man on their "hate list."
While I am against making the distinction between "radical and moderate" Islam, as I recognize all of Islam to be harboring and wielding our destruction, whether most active in a present episode or not, I would not go so far as to put at risk to a fatwa a man who has, in fact, come to denounce the more violent and destructive expressions of Islam and is trying to encourage other Muslims to take advantage of more healthy, moderate and liberal life possibilities.
Kumiko showed me this video of a speaking engagement of Nawaz's, where he describes his project. She and I agree that Nawaz is a bit off in his recommendations - we would ultimately prefer a full denunciation of Islam in favor of Left Nationalism for his people, but also agree that such sudden prescription is both unrealistic and would be even more dangerous to him; as would our taking his side, in defense of him against the SPLC. Kumiko figured that we would not help him, that we would contextualize him in a way that exposes him more to Muslim violence by associating him with platforms (such as this) of White advocacy; while making an association here would also expose him to further Jewish vitriol, such as The SPLC placing him on their "hate list."
Nevertheless, we think, "of all the Muslims to put on their hate list!" ?
The last straw for me though, making it a bad option to keep silent, was this Cohen guy trying to say that "The White Left" has issued a "fatwa" on Maajid Nawaz, when in fact it is The SPLC that is putting him at that risk, with a clear signal to more radical Muslims - "have a go at him, we wash our hands of defending him in his attempt to moderate Islam."
Now then, for a look at the article which attempts to blame something which Cohen calls "the white left" for this.
The Spectator, "The white left has issued its first fatwa", by Nick Cohen, 31 Oct 2016:


Maajid Nawaz

[Cohen]: I have never advised anyone to use the English libel laws. I spent years helping the campaign to reform them, and am proud of the liberalisation I and many, many others helped bring. I have to admit, though, our achievement was modest.
...and hypocritical, as now you misappropriate the term and in fact libel what would be a proper articulation of The White Left, if the term were disentangled from decades of Jewish journalese confusing "left and liberal;" and understood properly by contrast - by the public, and somehow by copyright law.
Ibid: Libel in England remains sinister in intent – the defendant has to prove he or she was telling the truth – and oppressive in practice. Parliament and the asinine Leveson inquiry into the press failed to tackle the horrendous costs, and kept libel as the preserve of the rich and the reckless. You can risk spending £1 million before a case comes to court. Despite reform, libel courts remain the place oligarchs and charlatans go to suppress the truth.
Well, I will not initiate a case against the sinister intent of Jewish media, even though I believe it is their sinister intent to prevent White (as in not Jewish) people from organizing, unionizing in their exclusive defense - a defense of those Whites who are relatively innocent, who are not right wing supremacists, but are rather characteristically cooperative, non-coercive separatists: White Left ethnonationalists - that there is by contrast an antagonism, a persistent, sinister intent on the part of (((media, academia and other niches))) to confuse the term "left" with "liberal" when it applies to Whites and a would-be "White Left" in order to keep them from defending themselves against the genocide that is being launched against them by Jewish and neo-liberal interests: by means of open immigration of exploding non-White populations, "anti-racism" (i.e., prohibition of White discrimination on the basis of racial and ethnic groups, even in national interest), ubiquitous promotion of race-mixing, endless propaganda of Whites as evil, advancing non-White interests with and against the concept of "White privilege" applied across the board, to all Whites, as something to be "legally corrected" ...their right to abstain from forced contract and imposition undone - a feudal differentiation of laws which disadvantage White organized defense; compelling their mere servitude, their ultimate extinction enforced at the behest the YKW and neo-liberal PTB.
Not only would Cohen libel the term, "White Left," saying "it has issued a fatwa" but he's libeled The White Left also by associating it with neo-liberalism and the SPLC in its nefarious irresponsibility to put further at risk a man who is risking his safety to try to encourage more reasonable ways for Muslims.
The White Left is issuing no such fatwa against this man, and rather believes that his heart is in the right place, even if still a bit misguided.
Ibid: Last night, however, I found myself advising the anti-fascist campaigner Maajid Nawaz to sue in the London courts. I even gave him the names of lawyers who would be happy to help. The attack he is facing is so grotesque, ferocious remedies seem the only response.
It is not "fascism" that he is campaigning against inasmuch as he is articulate - it is the right-wing feudalism of Islam and its (terroristic, if need be) imposition of imam compradores, radical shock troops and the feudal Muslim way of life against what would have been Left ethnoationlaist nations; if not for the destructive imposition as aided and abetted by neo-liberals.
Ibid: Nawaz's enemy is not the usual user of the libel law: a Putin front-man or multinational. It is an organization that ought to share Nawaz's values, but because of the crisis in left-wing values does the dirty work of the misogynists, the racists, the homophobes, the censors, and the murderers it was founded to oppose. It does it with a straight face because, as I am sure you will have guessed, the fascism in question is not white but Islamic. And once that subject is raised all notions of universal human rights, and indeed basic moral and intellectual decency, are drowned in a sea of bad faith.
Lets clarify what is really going on here, Nawaz's enemies are right wingers, Jews (such as the SPLC) and neo-liberals who seek Islamic compradores and shock troops to disrupt Left ethnonationalsm.
Ibid: Nawaz is from Essex. He has fought and been beaten up by white British neo-Nazis. He fell in with Hizb ut-Tahrir while he was young. When he ended up in a torture chamber in an Egyptian jail, he abandoned Islamism for liberalism. Since then, he and his Quilliam Foundation have struggled against both the white far right and the Islamist far right. They have defended liberal Muslims and, indeed, all of us from lethal blasphemy taboos and the threat of terrorism. They respect freedom of speech, including the freedom of their enemies to speak. (When they asked me to introduce their report on online extremism, I was pleased to see them warning the state against the folly of trying to ban extremism rather than argue against it.) Quilliam and Nawaz support women's rights and gay rights. They believe that there is no respectable reason why men and women with brown skins should not enjoy the same rights as men and women with white skins. They think they should try to stop young Muslims joining Islamic State, not just for the sake of the Yazidis they will take into sex slavery, or the civilians they will tyrannise and kill, but for the sake of the young Muslims themselves.
And now you would try to say that we, "The White Left," are issuing a "fatwa" against a man who is trying to do this good work? Who is libelous here? Not The White Left: we issue no such fatwa. On the contrary, we commend his good intention.