Majorityrights Central > Category: Feminism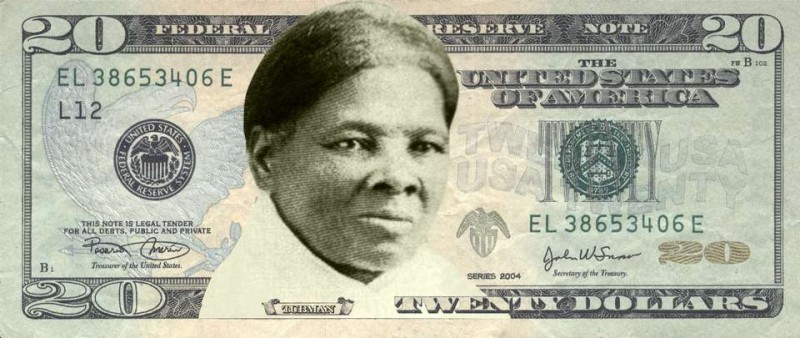 Whites have paid trillions for her children and must continue to pay and pay and pay for this people that they want nothing to do with, suffer from, die from, and had nothing to do with enslaving.
In fact, Whites are not free to reject voluntary contact with them, but are forced into involuntary contract with them, having payment for blacks imposed; nor are they free to decline to live, work and educate with blacks but have blacks imposed upon their living space; they must co-habitate, hire, buy and sell to blacks, educate blacks and in all other ways serve blacks; they cannot reject intermarriage and its offspring - the relationship of slavery has been effectively reversed - it is Whites who have been enslaved to black Ethnic Genetic Interests.
It is twisted "irony" by which the Jewish controlled Federal Reserve Back would make Andrew Jackson - nemesis of the concept of a Federal Reserve - the first casualty in the erasure of White currency. Perhaps the (((Banking Mile of London))) has an interest in this as well, nemesis of the Crown and all that Jackson was (Revolution and War of 1812: Battle of New Orleans, in particular). The Cherokee won't miss him either and an image of their guilt trip may have been an even more appropriate symbol to erase Jackson's ill will. But such is Jewish and Jewish inspired revisionism - the objective sought is always that which might be most devastating in effect to Whites.
Nothing is so effective in that regard than the terror of blacks and the thought of the replacement of our co-evolutionary women with them - they have been brought to bear to a complete reversal of taboos, to where it is now one of the greatest taboos to object that black males are inappropriate partners for White girls/women - and no symbol of unfair trade to White men is more graphic than a black woman proper - none more conducive to guilt trips at the disposal of those who have nothing positive to offer in exchange than a black woman who was a slave but smuggled herself and other blacks into free White communities:
Harriet Tubman is the perfect symbol of the endless guilt trip that Whites are supposed to feel, without hope of fair compensation - for even those few, long ago and almost always completely unrelated White right wingers, ridiculous enough to participate in slavery. Black slavery did absolutely no good to the vast percentage of normal, working class White men - not then and not ever. In fact, it led to the destruction of America by bringing blacks there, providing a presence of ongoing anti-White terror and destruction - against normal Whites and their habitats - while there was absolutely no good in this relation for Whites. Jewish interests, with the help of Christian fanatics, imposed blacks - making Whites ostensibly live by "White rules" in "civil rights" - really a Jewish perversion of freedom of association, rather involuntary association and imposed contractual servitude to blacks. But the YKW went further, to hold a blackout on black crime and accurate portrayal of black nature in their controlled media - on the contrary, with it they agitated blacks and guilt tripped Whites generations later with a disingenuous narrative; of White privilege and oppression; guilt trips about slavery and black poverty by which they have been able to bring Whites down, in fact able to reverse servitude for generations and convince the world that Whites deserve this - collective punishment as Whites, for being White.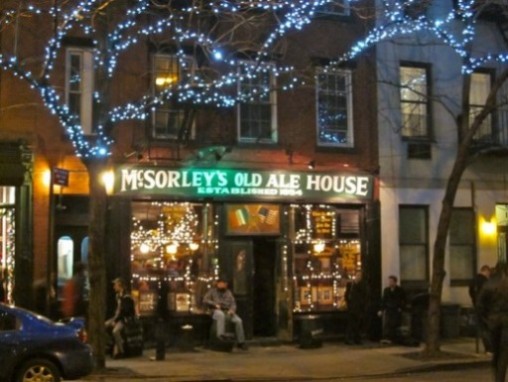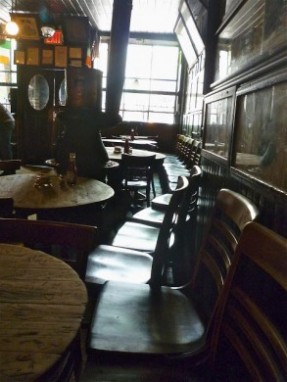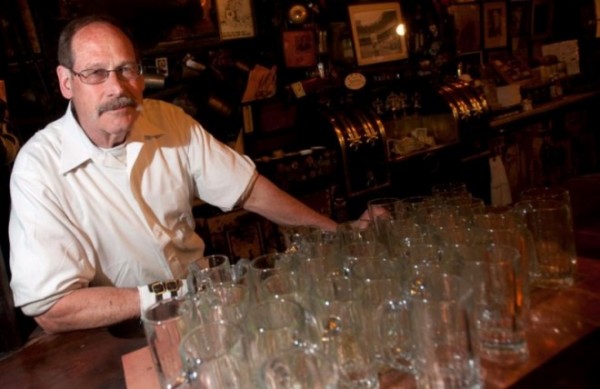 It was this bartender's first year at McSorley's the first time that I went there some years ago when I was 18. It was perhaps the first time that I drank so many beers. I suppose he could have thrown me out when I started running around the place euphoric on hops as I was, but he merely told me to calm down. He was also there again my last time there (2007, I guess it was). On that occasion a TV talk show crew came in with a lesbian couple (black woman and White woman) who were asking men's opinion as to whether the White girl should get breast implants since she thought that would please her black girlfriend. I was asked my opinion by the production crew. I answered that in particular, "I rather like flat chested women, so my opinion is particularly biased against breast implants for that reason for starters; but there were more reasons to be against it than that; including as part of a more general stance against bodily alteration - I stated that I believe that given that our bodies have evolved over tens of thousands of years, that they are bound to be wiser, smarter if you will, than our conscious decision making and should be given the benefit of the doubt against our anxieties and against popular consensus; rather, we should try to learn what our bodies have to teach us about our interface with the social ecology and bring our corporeality to bear in social critique if necessary, rather than the other way around - bending to what may well be a popular fad against the better wisdom of our evolution." I was told by the couple that my answer was good and they asked me to sign a release; but the bartender, yes that one, asked, "what was that 'stuff' you were saying? ...I don't think that was what the TV producers were looking for." I suppose that he was right and that my opinion was not aired.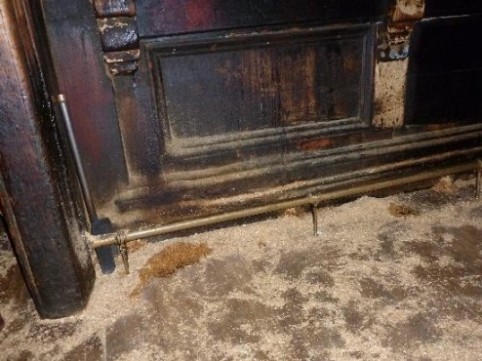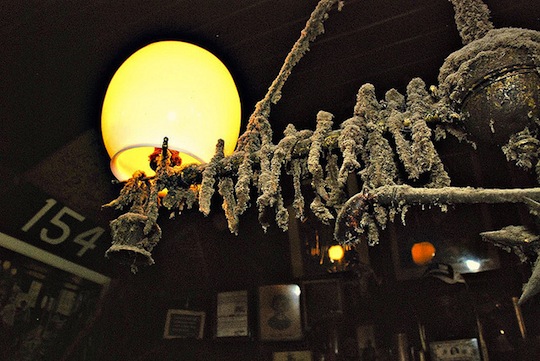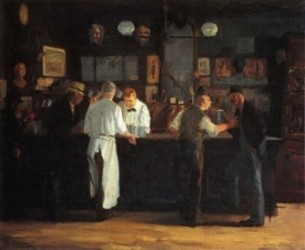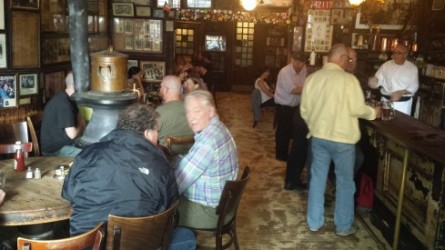 Interracial lesbians wanting to air-out the matter of breast implants at McSorley's? Heck, women were not even allowed in the pub until it was forced to allow them in 1970 when the NOW attorneys Faith Seidenberg and Karen DeCrow won a discrimination suit against them.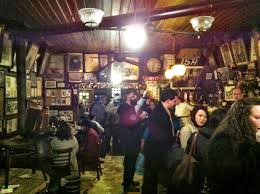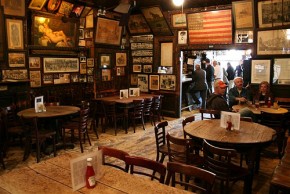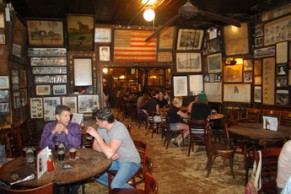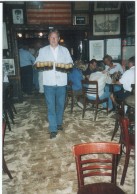 That is among the benchmarks of what is, by American standards, a historical bar, patronized also by the famous: well circulated writers drank there; famous athletes drank there - e.g. in the movie, "Pride of The Yankees", the legendary Babe Ruth announced to all of the Yankees that he was buying rounds for the team at McSorley's after the game - many things can be said about the demographic that has gotten sloshed while noshing onions, mustard and cheese by the potbelly stove and saw-dust strewn floor; but aside from a few infamous luminaries - U.S. Presidents have drunk there as well, ranging from racial rogues the likes of Lincoln to Kennedy - the rank and file attendees have not been the kind of demographic responsible for crime in NYC.
The folks down at McSorley's aren't committing the crime in N.Y.C.
But was "The New York Times" going to tell you that?..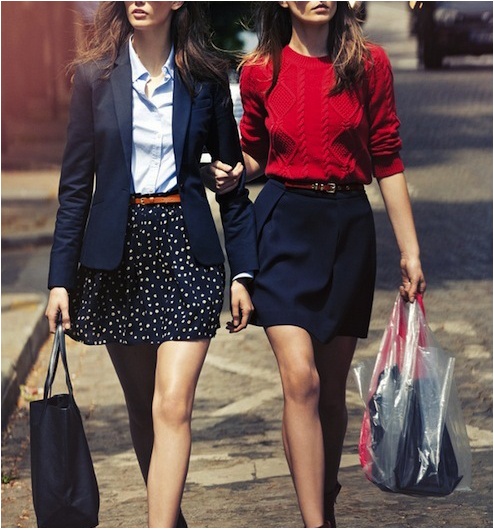 It ought to be like this, but unfortunately liberals refused to let it be.
The word no longer has a meaning
One of the most remarkable aspects of the migration wave that is presently sweeping over Europe, is how organised liberal-feminism has basically acted as an extension of the government, advocating precisely what the wealthiest male stakeholders in the liberal-capitalist state would like them to advocate. The demography of the migrant flow is 70% male between ages 18 and 35, and the percentage of males rises to 90% when the age range of 16 to 17 years old alone is considered.
With liberal-feminist theorists and commentators in Europe now devoting themselves almost exclusively to the defence of Arab and African men, some people are beginning to ask how it could have ever been possible for things to have reached this point.
If we start with the consideration that incidents of violent crime, homicide, and sexual assault are statistically being committed overwhelmingly by men, and if we consider that feminism has been highlighting and talking about these statistics for as long as it has existed as a movement, why has this been completely forgotten now? Why is it that talking about the violent and anti-social tendencies of men has now been condemned as 'prejudice', where it was never condemned as such before?
It stands to reason that if men in general are a hazardous demographic, that the last thing any reasonable feminist would want to do is to set about inviting more men into a region that they are living in. What makes it even more of an absurd trend, is that the particular men who are being invited into Europe subscribe to social views which are magnitudes worse than the views held by European men. If young European men are a problem demographic, and they indeed are, then wait until you see young Arab and African men!
Some have advanced the absolutely bewildering argument that since there are already trouble-causing men in Europe, there should be no problem inviting millions more men into the continent. This makes no sense. Why would anyone want to increase the amount of a problem that already exists?
There seems to be no rationale until you realise that big business, specifically manufacturing, always wants more migration of 'strong' workers. And manufacturing essentially controls the German state, which forms the centre of this trend. European feminism has found itself acting as the cheerleaders for the most retrograde liberal economic policy preferences of German manufacturers and their Jewish-German financiers.
Given that feminism is a movement that originated not as a liberal movement, but rather, as a socialistic movement—which is to say, a movement which correctly perceived the liberal state as being a male-dominated capitalist assault vehicle against women and as such was opposed to the liberal state—it is quite a distance that has been travelled since the mid-1970s to get to the destructive pro-liberal capitalist position it is in now. There are important lessons to be learned on why this deformation happened and how to prevent such a deformation from happening again in the future.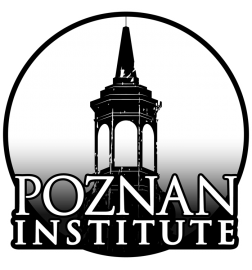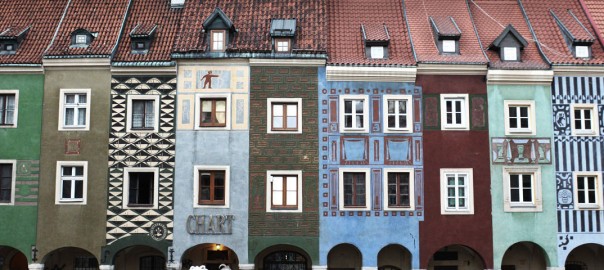 "The Poznan Institute" - A Middle Eastern Attempt to Defraud European Identity and Birthright of Genetic Capital
...by Promoting R Selection Tactics for Foreign Interlopers Under the Banner of European Identity.

As follow up to Kumiko's and my own articles prompted by disputes in regard to Roosh V's interloping on Ethno-national turf, I was compelled to look a bit more carefully upon "The Gamers/ P.U.A." infiltration of the Alternative Right Tentosphere. But I only had to look a small bit more carefully to be confronted very close to home by its facilitation of R selection strategies in these K selection habitats.
The reason I had not become immediately aware of the attack on this front, so close to home, is that I am not particularly interested in "Game" and "P.U.A." I have learned about myself and my nature through my dating experience and reflection thereupon that there are important differences in my motives as opposed to what is being promoted in what might be called popular philosophy - such as P.U.A. My point in "dating around" wasn't at all to screw as many women as possible - quite the opposite. What did I know about them? I cared whether they cared about themselves, their people and I, of course. Thus, while I might have been "intellectually promiscuous" in order to get and give feedback surrounding the well-being of our people and culture, it was not remotely my goal to merely go through women's defenses in order to discard them and cultural differences. Again, quite the opposite, it was more my motive to help them build-up defenses for their sake and ours as Europeans. I was intellectually promiscuous but otherwise careful because where I sought a partner, it was to be - a - partner who was appropriate to me and thought very much like me - as an ethnonationalist. In regard to the other women the I dated along the way, the primary objective was talking - that is, achieving political alignment to what would now commonly be called ethno-nationalist terms. In a word, I was acting in accordance with my European evolution as a K Selector. That is in marked contrast to Roosh V. and the R selection strategies that he is promoting.
So far removed from European mentality is Roosh V. that he was honestly surprised when a BBC interviewer responded that he "had not", when Roosh asked, "haven't you ever had sex with a woman who was drunk and asleep"? Roosh honestly presumed that the answer of his interlocutor would have been "yes, of course", he'd done that.
By way of contrast, not only am I capable of sleeping - just sleeping - with a woman; but especially if I do not know her well, of course I'd prefer that, and to part ways as we might, on friendly terms rather than to screw around with someone whom I do not know.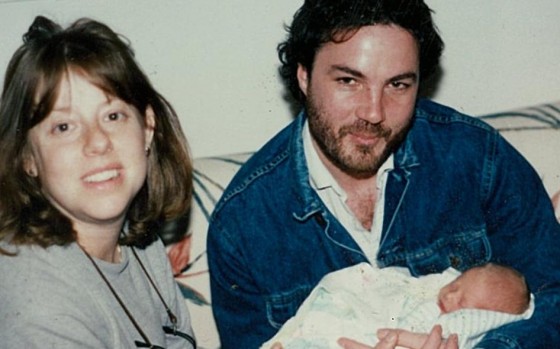 In further distinction of a caring European mentality: Not only would I not even try to sleep with this woman - let alone take advantage - but I went so far as to defy her psychiatrist's advice that she not have children and encouraged her to have this child with her husband.
Some object as Roosh himself objects to ask why people are making such a big deal about him, when there are these invaders and rapists all over Europe. Well, we do make a big deal about that as ethno-nationalists. However, as a common topic, he provides not only a ready illustration of their mentality, but also occasion to "make common" (etymology of communication) the understanding of it and the insidious means by which it would infiltrate. Witness now "The Poznan Institute." Having moved on from the P.U.A. / Game angle of infiltrating White genetic pools, he presents himself as only more completely one of a universal "We" - "neo-masculinity and patriarchy" camouflaged under the rubric of an ancient European city.
Poznań was founded by Polanie, the tribe from whom Poland has its name. The word "Poznań" comes from the Polish phrase "to make acquaintance" - because legend had it that the original Polish man, "Lech", the original Russian man, "Rus" and the original Czech man "Czech" met here, came to accord and then the latter two went on to establish their kingdoms in what are now their respective territories; while "Lech" nested in Gniezno (Polish for "nest") next to Poznań - which was in fact, the first capital of Poland. A percentage of Germans eventually settled in Poznań as well, largely encouraged to help build the city. For reasons similar as The U.S., Poland was weakened by incorporating Enlightenment principles in its (second ever, after The U.S.) Constitution. This left it susceptible to the territorial aggrandizement of Friedrich The Great and the Partition which erased Polish existence from the map for 123 years - from the 1790's to 1919 - when Józef Piłsudski led the Wielkopolska uprising to re-take Poznań on behalf of the Poles and the newly reforming Poland. It was audacious, it was brave, it was heroic, it was historically justified.
What fraction the man is Roosh V compared to Józef Piłsudski? How dare Roosh claim the name and the straight forward imagery of Poznań to drape himself - Roosh V - and his foreign agenda?
Roosh V. and his agenda are so alien and superficial to Native European interests that he was not on my radar. I was not interested.
Perhaps I should have noticed this long ago, but the truth is that until recently I had not paid much attention to Roosh. One commentator in a prior thread mentioned that he has presumed to situate himself in Poznań, Poland. Though I'd never seen him around, I had no reason to doubt it. Nevertheless, when looking into the matter, not only did I find that he is in Poznań, but I was surprised to find just how comfortable Roosh intends to make himself in Poznań.
Middle Easterners apparently share with blacks a brazen presumptuousness to make themselves at home among other peoples and in other people's homelands.
With that, he has this new "neo-masculinity" venue which he calls "The Poznan Institute":
Of "The Poznan Institute", he says:
Poznan Institute will serve as a reference archive for the neomasculinity platform, providing a central resource that explains the ideology in depth. Since neomasculine articles and videos are appearing in different locations across the internet, creating Poznan Institute ensures that none of those materials get lost with time.
First, a little background about some of the stuff that he intends to bring to Poznań and encourage among visitors here.
These are some scenes that Roosh looks upon approvingly from bars in Virginia, USA.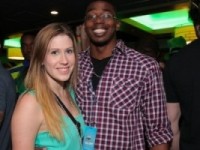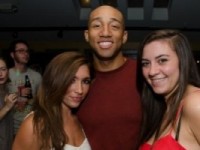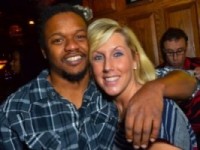 Here is the kind of European gene pool that he hopes to seize upon. This one in Iceland.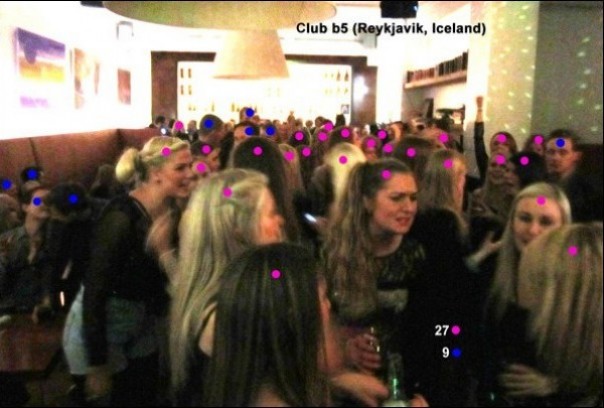 Pink dots signify targets.
Roosh V. has written several sex tourism and P.U.A. strategy guides. Bang Poland is one of them -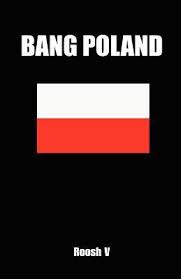 ...she kept saying, "No, no." I was so turned on by her beauty and petite figure that I told myself she's not walking out my door without getting fucked. At that moment I accepted the idea of getting locked up in a Polish prison to make it happen. She tried to go down on me but her mouth was too small. [...] I put on a condom, lubed up, and finally got her consent to put it in. The best way to visualize our lovemaking is an elephant mounting a kitten. My dick was half the thickness of her neck. I put her on her stomach and went deep, pounding her pussy like a pedophile.
Moving on to The BBC story that finds him in Poznań -
In December, The BBC aired a feature about Roosh: "Men at War." It starts by covering a Roosh seminar in England.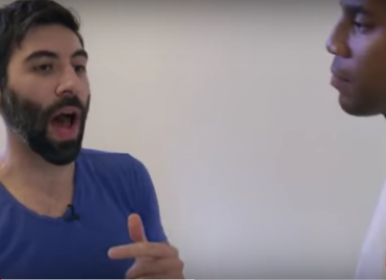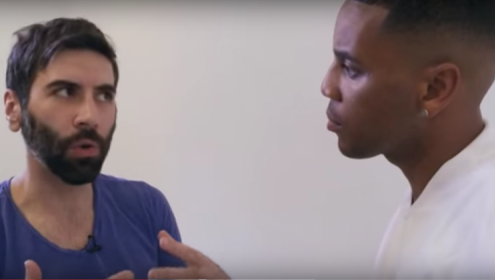 Mouth-big-enough talking to BBC interviewer prior to lecturing "a room full of men who are excited about what they are about to hear.. [so too is The BBC excited and waiting with a big enough mouth]."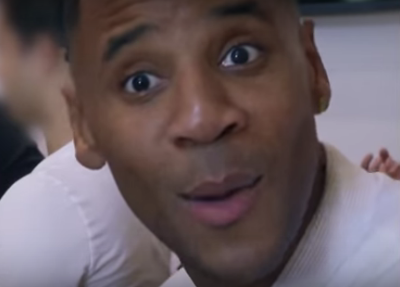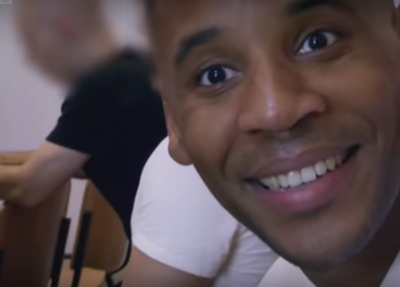 BBC reporter taking interest from the genetic interest of BBC
One of the attendees describes the meeting as having "a broad spectrum in terms of race and background."
......"look here" he says, "people are mixing together, and very few of them have met one another before."
Next, in order to keep up with Roosh, the BBC have to track him down for an interview in Poznań, Poland:
The BBC flies there to find out what Roosh is up to…
On the basis of the BBC interview, here is what is discernible about Roosh's living circumstances in Poznań.
"Roosh moved to Poznań a year ago"...

"..a small university town full of female students."
He had scurried back from Canada after having been met with popular protest and official denunciation there. "I've been back for only about 5 days. I'm still recovering from the drama," Roosh will go on to say in The BBC interview - which would place it in August, 2015..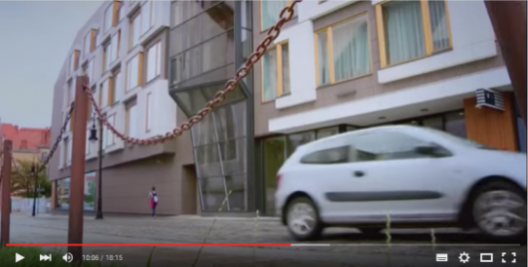 BBC is in Hotel Puro, located at corner ul. Stawna, Żydowska, Wroniecka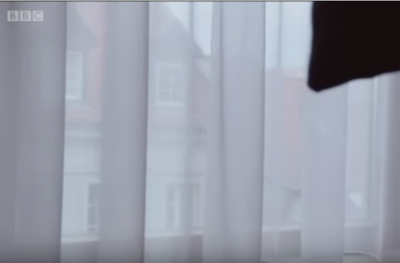 ul. Żydowska is outside of the BBC's hotel window
Before the BBC meets with Roosh,
"it's time for a refresher course."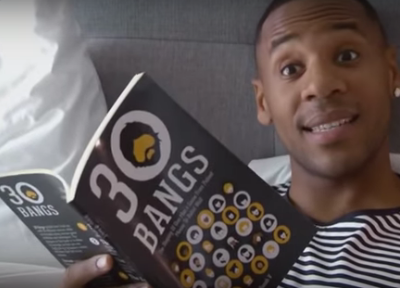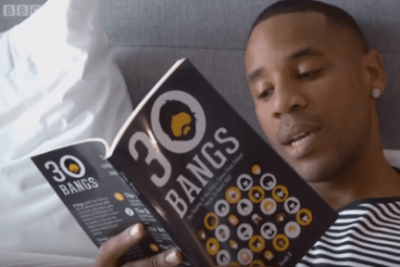 "It took at least 30 repetitions of no, Roosh, no,
until she allowed my penis to enter her vagina….
no meas no until it means yes."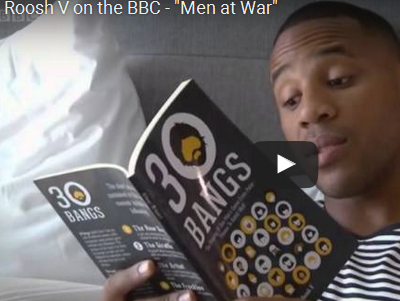 A clip of Roosh's is spliced in, as he narrates,
"I go to the supermarket to be a pervert,
to film that girl's ass and another girl's ass"..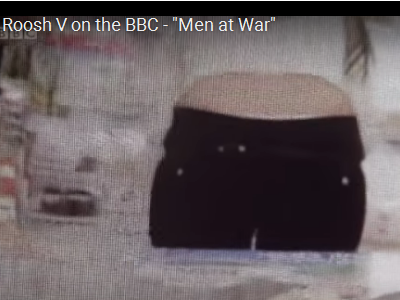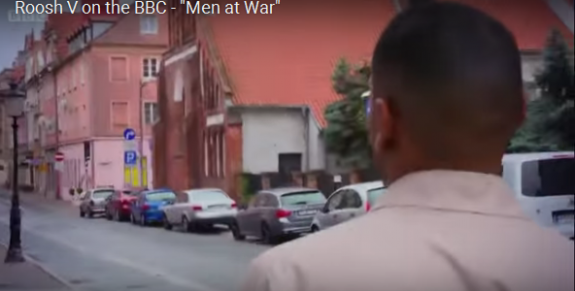 Here the BBC is making his way from the hotel and down ul. Wroniecka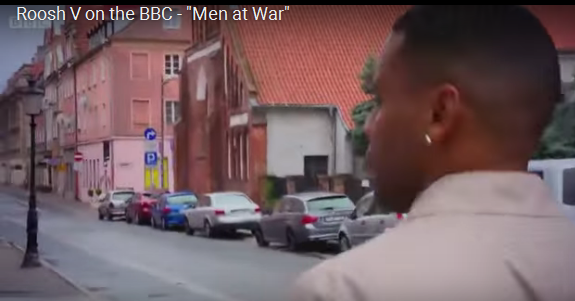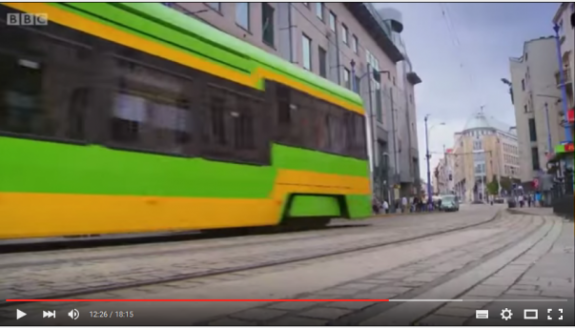 He moves through to the other side of the Old Market, directly across, at the end of ul. Wrocławska,
just a few minutes away..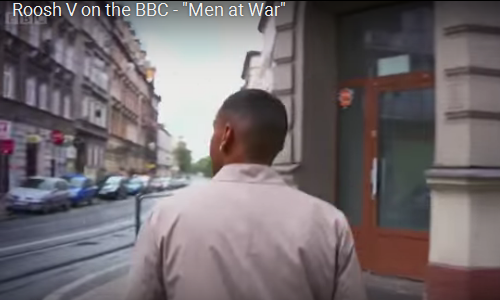 Here the BBC is on ul Strzelecka, another few blocks beyond,
making his way to meet Roosh in his apartment nearby.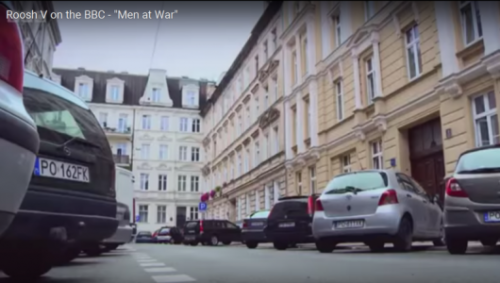 The very last moment of the BBC clip shows this scene,
which they apparently propose as the location of his apartment - ul. Kopernika
Here is what the BBC proposes to be a close-up location shot of his apartment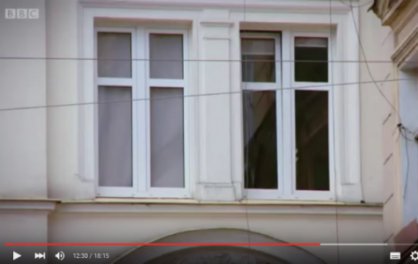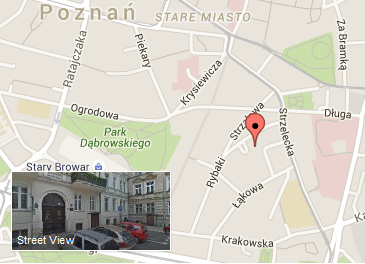 Google Maps confirmation of that place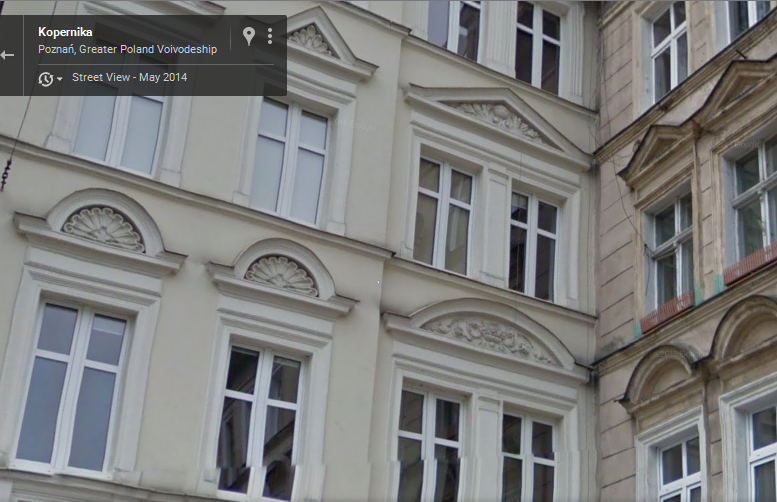 Google image confirmation of the proposed location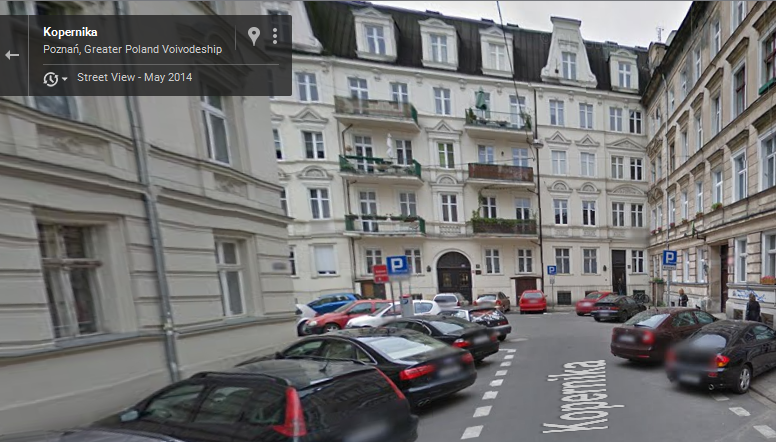 What they propose to be his apartment street entrance should be that brown entranceway with the semi-circle top at the end of the street
I thought the most interesting comment in and around Greg Johnson's article, Roosh Really is a Rape Advocate (& a Rapist, if He's Telling the Truth), was Greg's own, in regard to the woman in Iceland who Roosh claimed to have sex with despite the fact that she was so drunk as to be incapacitated from consenting or not. Greg said that if she agreed to have sex with him the next morning that not only did that not mean she had not been raped the night before, but that consent afterward made it only worse for the fact that it could promote the idea that such behavior would have happy endings (with enough repetitions, it would not have happy endings).
I would like to add that I can well imagine that in a circumstance like that, a woman can agree to have sex with him the next morning and again in an attempt to reinterpret the relationship and her own agentive part in her mind, because it would be too painful to believe that she was violated in a profound way and had no agency. Thus, she might try to go with the idea of superimposing a relational level and her agency retroactively to reframe what was an instance of non-consent if not rape in that episode - re-framed under "a dating relationship with a 'bad boy' whose wild side I should be able to handle, being an independent woman and all."
Long story short: she could have been raped even though she consented afterward - and a woman might act that way because she is insufficiently conscious of her interests and/or perhaps cannot handle the idea of the best and most important gift that she had to offer having been taken by the person treating her the worst - a con-man rapist who cared nothing for her as a person or on a relational level.
Speaking of which, that is what makes Roosh so disgusting. This sand ****** said it was his objective and continues to be his objective to have sex with as many beautiful woman as possible - and that he has been teaching men to do that as well. His response to antagonists in the media is that he will accumulate as many more women as he can.
I'm going to harness all this coverage that you are giving me and convert it to money and women
This was my first occasion to hear and see Roosh V. speak. I must say that I am negatively impressed - his attitude, his mannerisms, his way of speaking - bopping, swaying and grooving - his motives and his way of arguing are either entire affectations of black people or his middle eastern background is more niggerish than I had realized.
One thing is certain, he does not think and act like a European man and nobody should respect him as a model as such. He is a sand-wigger. It is no wonder that he is trying to teach White men how to act like niggers and Muslims - and to have as much respect for White women as a nigger or Muslim would. Nor is it a wonder that he would now try to take cover under a position of Abrahamic religion - that he is promoting a traditional Muslim model of gender arrangements for all.
Neither he, nor the males he teaches, are cultivating a way to pursue relationships with women that they care about, confirming and reconstructing views and European ways that are important, in fact vital to them. No, just the technique to pander to the universally lowest common denominator of their basest instincts and reconstructing that, while going through their cautionary barriers, including White national barriers, and discarding them.
Who does he think he is to target White women - in as many numbers as possible - with his Negroid/Muslim mentality? And who got the idea that it was Ok for him to target White women and others and pursue alpha nigger behavior? Would this sand ****** talk and have people act this way to his sister, Iranian and Armenian women?
She typed in, "How many girls have you been with in Poland?"

"10,000."

"No, really."

"A couple."

"Do you always bring home girls like this?"

"Never on Tuesdays. "

"Do you want to see me again?"

"Of course. You're pretty, you're sexy, you're fun. I see no reason why I wouldn't want to see you again." I kissed her.

Her tiny size really hit me when she took off her heels. I asked her how much she weighed. Thirty-five kilograms (77 pounds). Besides her surprisingly round ass, she had the body of a gymnast who hadn't quite made it past puberty.

We moved to my bed. I got her down to her bra and panties, but she kept saying, "No, no." I was so turned on by her beauty and petite figure that I told myself she's not walking out my door without getting fucked. At that moment I accepted the idea of getting locked up in a Polish prison to make it happen.

She tried to go down on me but her mouth was too small.

Then I grabbed her and made her sit directly on my face. I ate her pussy, the first time I had done so in a couple of years. I enjoyed it.

I put on a condom, lubed up, and finally got her consent to put it in. The best way to visualize our lovemaking is an elephant mounting a kitten. My dick was half the thickness of her neck. I put her on her stomach and went deep, pounding her pussy like a pedophile.
"At that moment I accepted the idea of getting locked up in a Polish prison to make it happen."
It would be nice if that happened - I could picture Roosh being held down and fucked by a few giant Polish queers in jail:
"It took four hours and at least thirty attempts to push into his ass: 'no, Roosh cried, no!' until the large, very large penis was finally allowed to enter and stretch Roosh's asshole to his great pain. Ooh the giant faggot sighed upon the most satisfying ejaculation into Roosh's asshole, you are the finest little bitch! I just know you'll come back to give me some skull in the morning -
- I think your mouth IS big enough!"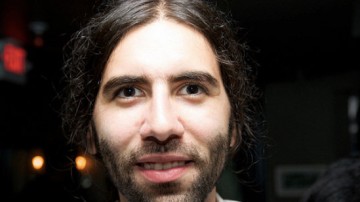 Better still, stay the fuck out of Poland and all of Europe, sand-******.
Only a wigger could admire this guy and find him appealing. He has no place anywhere near WN. Quite the opposite.

Roosh is teaching and promoting R selection strategies among Europeans who are evolved for K selection strategies.
​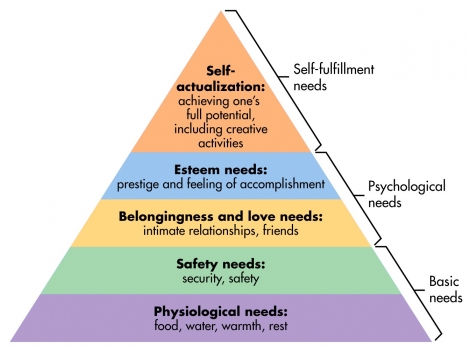 For many years I have argued that Maslow's hierarchy establishes an excellent point of departure - a paradigm to transform into a new paradigm on our behalf as Whites - as it does represent the apex of the American dream of individual self actualization, it also provides instantiation to look at the problems that can, and quite evidently do, ensue from its rule structure. Hence, a critique of it permits its highly relevant occasion to retool and socialize it to our concern as Whites. To do that we might look back to its classical origins in Aristotle, to its popularization in the feminism and the human potential movements of the 60s, to how we might transform and cast the path of needs and motives in optimal terms for both the individual and group interests of Whites.
However, the right-wing hasn't yet gotten the significance of my argument. Where they do see merit, they want to put it in their own Cartesian terms. They miss a crucial hermeneutic point in history, that Friedan's second wave of feminism had women acting through and in accordance of this paradigm - highlighting the vulgarity of its social disregard, self righteously pursuing "self actualization" while ignoring the "privilege" that men alone had of being required at the same time to go to Vietnam to die. But rather than seeing the valid gender aspect of the hippie protest of the draft as a male thing (a quest for midtdasein for males), the right-wing in their desperate, reactionary way, go along with the Jewish story that it was all about "free love", "civil rights for blacks", and "universal peace" or they cater to the right-wing story that hippies sought nothing that a real man should pursue - they were part and parcel of the downfall of Whites - our men, by reactionary contrast, have to learn how to be real men: and now the right-wing will be..
Defining real White men for you… with a lisp..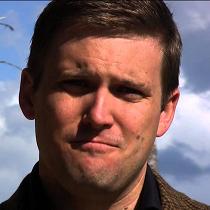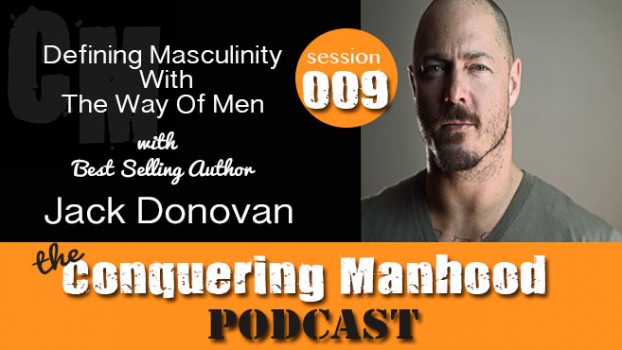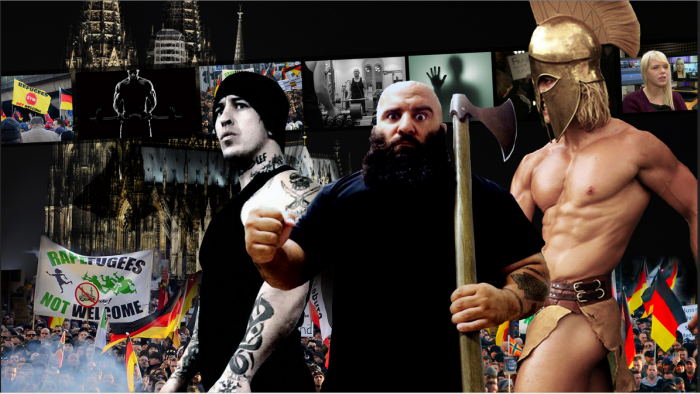 Puerto Ricans in attendance to karate movies and White boys imitating gay pride parades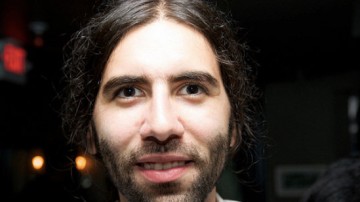 A return of what? A morning and evening call to prayer, perhaps.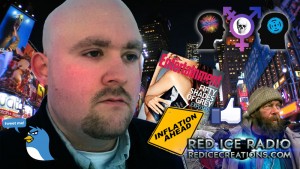 Sex tourism in South East Asia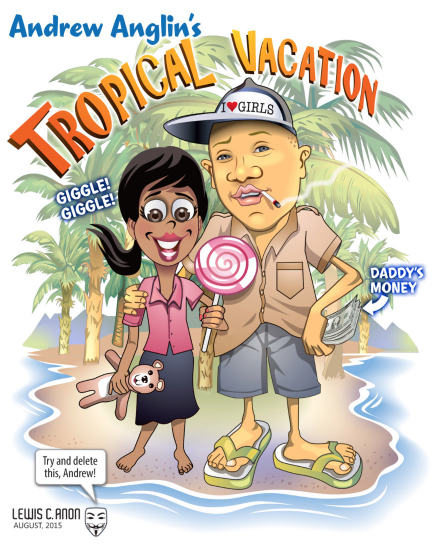 Ignore and talk past the White Left as defined at MR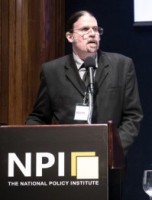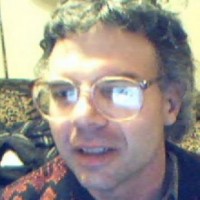 Pretend there's this "new thing" called "alt-left" and its anything but a foil for the Regnery circus' Alt-right.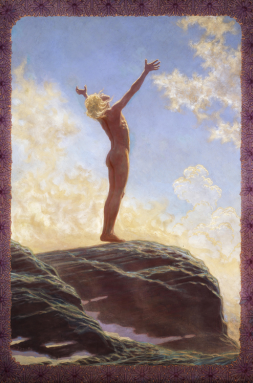 "Introducing the 'Alt left"
Ignore our many discussions as to the drawbacks of black hyper-masculinity in comparison to terms of optimal White/European masculinity - which need to be confirmed and which only MR has confirmed…
Instead toss the idea with a gay friend..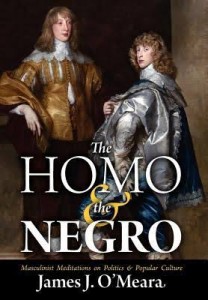 Who casts black hyper-masculinity in contrast to homosexuality.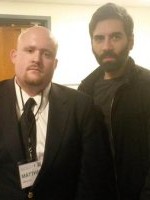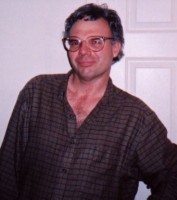 Even though you have no special concern for Whites and consider mixing with blacks to be no big deal..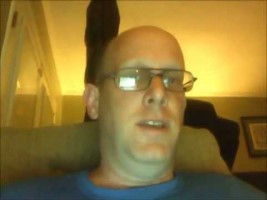 Even though you have no special concern for Whites, latch onto the alt-right big tent to compensate for your floundering market and source of ideas - such as the idea of re-tooling, transforming, viz., socializing, optimizing and normalizing Maslow's hierarchy in White/European interests (which can be safely ignored as having been discussed at MR for years).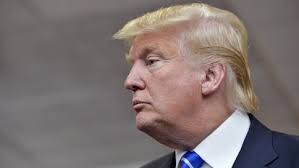 Be a crass businessman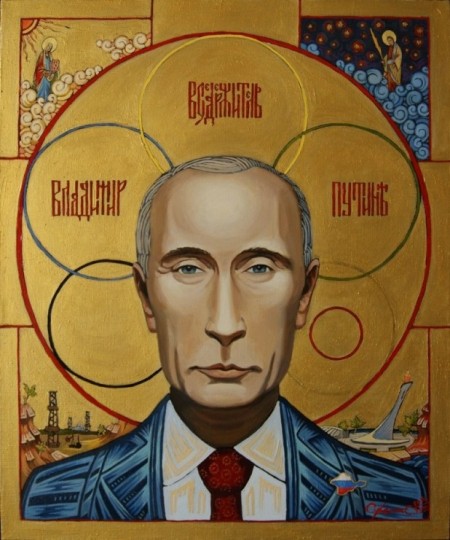 Kiss the ass [Welcome back!] of Jews and their proxies; and on their behalf..
Appropriate Asian lands and resources, allow Jews and neo-liberals to parasitically trade on that..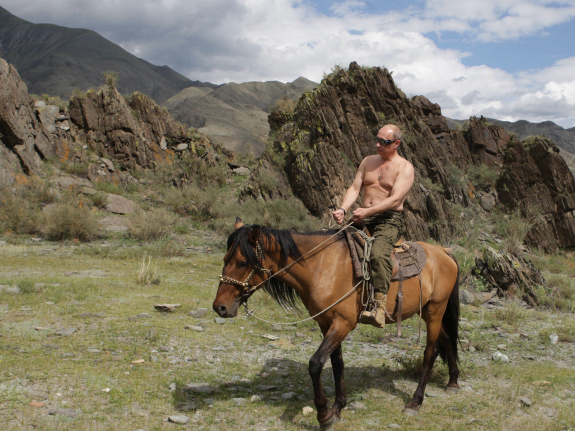 Aggrandizement as middle men at others expense instead of developing a Russian ethnostate.
...learn, in fact, how to act like a Jew and without honor so that you can get-over over there.


Atavistic intelligentsia - an apt term for themselves. And they "Hail 'The' Donald"
Puke.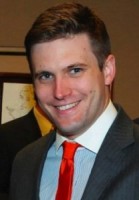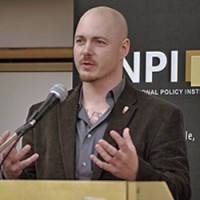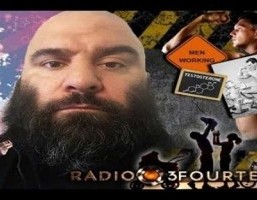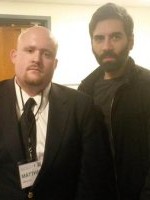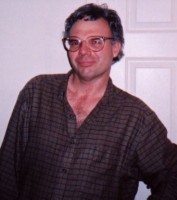 "Become who we are": Teaching us how to be real White men
Upchuck.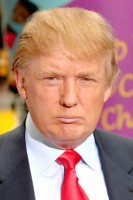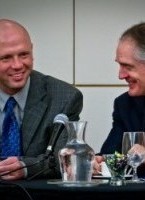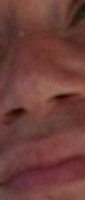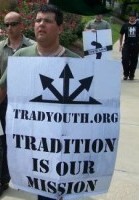 Compulsory Diversity News: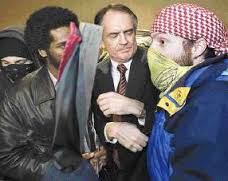 He knows you not…
..give 'who' hell? For Jewish academics to play both sides of "PC" is nothing new. While the re-normalization and motion to institutionalize social classification is a positive development - via 'give-em-hell Trump' in his campaign talk - the most important issue in the end, is not just normalization, but where the lines of institutionalized discrimination are to be drawn.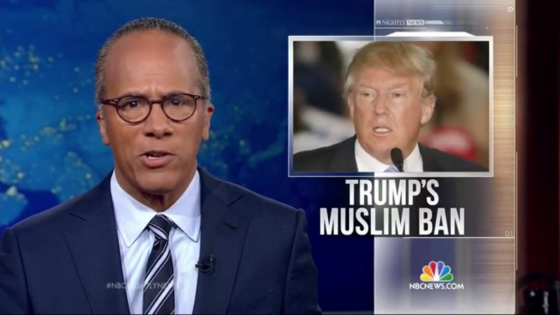 Trump is saying some things that we might like to hear, with a candor that purports contempt for "political correctness", a candor that has not been heard from the last 11 Presidents at least, spanning more than 60 years.
With that, he flouts the avoidance of "racial profiling" for having allowed the San Bernadino attack. It is indeed a positive development to assert the validity of "race" as a criteria.
"There were people who knew bad things were going on [with the family], and they didn't report it because of racial profiling."
Moreover, he takes the validity of "profiling", i.e., classifying people, a bit further to say that there should be a "total and complete shutdown of Muslims entering the United States."
NBC, 'Trump Calls for 'Complete Shutdown' of Muslims Entering the U.S.', 7 Dec 2015:

Republican presidential frontrunner Donald Trump on Monday called for a "total and complete shutdown of Muslims entering the United States," the most dramatic response yet to the string of terrorist attacks that have Americans increasingly on edge.

Trump released a statement citing polling data he says shows "there is great hatred towards Americans by large segments of the Muslim population."

Trump Calls for 'Complete Shutdown' of All Muslims Entering U.S.

"Until we are able to determine and understand this problem and the dangerous threat it poses, our country cannot be the victims of horrendous attacks by people that believe only in Jihad, and have no sense of reason or respect for human life," Trump said.
Yes, it is a candor and a disdain for pseudo-intellectual and polite appearance that we have not heard from a President since "give-em-hell Harry Truman."
Excellent though it is that race and other social classifications, and borders, are being re-invoked by "give-em-hell Trump" and that he is taking steps to re-normalize and re-institutionalize these criteria as a legitimate basis for discrimination…
one might wonder what, say, Japanese, et al., might think about who-for and how the "no-nonsense" lines are being drawn.
Playing "for/against PC" is nothing new for Jewish academia; i.e., one side playing "vanguard" while the other is "hand of restraint."

Playing "for and against PC" is nothing new for Jewish academia: In this 1990 essay for the New York Times, Richard J. Bernstein is playing the role of "restraint" -

New York Times, 'IDEAS & TRENDS; The Rising Hegemony of the Politically Correct", 28 Oct, 1990:

Central to p.c.-ness, which has roots in 1960's radicalism, is the view that Western society has for centuries been dominated by what is often called "the white male power structure" or "patriarchal hegemony." A related belief is that everybody but white heterosexual males has suffered some form of repression and been denied a cultural voice or been prevented from celebrating what is commonly called "otherness."

But more than an earnest expression of belief, "politically correct" has become a sarcastic jibe used by those, conservatives and classical liberals alike, to describe what they see as a growing intolerance, a closing of debate, a pressure to conform to a radical program or risk being accused of a commonly reiterated trio of thought crimes: sexism, racism and homophobia.

"It's a manifestation of what some are calling liberal fascism," said Roger Kimball, the author of "Tenured Radicals," a critique of what he calls the politicization of the humanities. "Under the name of pluralism and freedom of speech, it is an attempt to enforce a narrow and ideologically motivated view of both the curriculum and what it means to be an educated person, a responsible citizen."
The restrained activist vs the activist vanguardist
In a generation before, Supreme Court Justice Felix Frankfurter* played the role of "restraint," viz., the role of "activist restraint" opposed to "activist vanguard" - a role that shabbos goy Earl Warren was duped to take the lead in, as Chief Justice of an "activist Court."
We should be on the watch as well, then, for the shabbos goy being fore-fronted as the "vanguard activist", as:
Earl Warren was for the 1954 de-segregation (integration) decision and 1964 "civil rights" legislation..
Teddy Kennedy was for the 1965 Immigration & Naturalization Act,
Either Trump or Hillary Clinton can be used for - what? - we might not know exactly what for sure yet, other than that it would be another travesty. Hillary Clinton may well fit the role of shabbos goy "vanguardist" for their next demonstration of "chutzpah."

* Frankfurter, a Jew, presiding as Chief Justice in the Supreme Court prior, fancied his "a restrained activist Court" - and referred to his successor, Earl Warren, as "the dumb Swede" - worried that he would take the bait in such a headlong way of "activist vanguardism" that he would create an overly strong reaction.
Note: As it bears more attention, this article is duplicated from the MR News section, where it was originally published, 8 December 2015.
Within the disorder of modernity, where puerile females are so one-up and so pandered-to, where their base proclivity to incite genetic competitition is in runaway, uncorrected by the homeostatic control of social group boundaries, it is more than dubious to add another exponent to their poison cynicism.
Andy well articulates a view on the cuckold meme in line with my view thus.
That is, I am not going to jump on that bandwagon. It sucks. It is a meme not without some merit, but largely for a-holes by a-holes too cowardly and self centered to see the radical point. The best angle is not for a-hole males, the kind that screw others, including their own people, when they do not have to, to incite other a-hole males, the ones who let others screw their people all too easily, when they do not have to.
Both of these types represent something outside of authentic European masculinity, its optimal level of sublimation and qualtative expression.
Because it is didcactic incitement, it is prone to play into the hands of our enemies as another way to merely blame White men, to perpetuate and take the heat off of our adversaries - our adversaries who know that these marginal men are interfaced with boundary maintenance and are, therefore, to be disempowered, humiliated, their conservative instinct to be disrupted, to remove their correcive function and doubly punish them despite the fact that they are most likely to be victims rather than responsible party victimizers; but who cares? The true culprits have diverted attention from themselves and will be immune to this additional poisoning of our boundry demarcating marginal peoples - with the more forethinking men incited into oblivion, and the narrow alpha male a-holes left standing, this will play into the hands of those who would Africanize our population, have us more stupid, kindred to blacks and mulattoes, more easily controlled.
No, the far more advisable, more valid critique, one which would in fact entail easier and more reasonable compliance ought to be criticism directed at peurile femalenss, a puerile femaleness that is all too used to being panderd to. They ought to be incited to be more decent, cooperative and fair - in a word, to be worthy of being defended as our co-evolutionary women, mature women, if not ladies.
Until such time, these puerile bitches deserve incitement - Mulatto supremacist BJ machines - whatever you might like to call them, let those who do not deserve that label object and let the ones who do deserve that label try to defend themselves.
It is a puerile femalness that is mean beyond belief in its self righteousness; indeed, in its privilege it is getting away with murder, torture, the destruction of the profoundest evolution for the most idiotic reasons, out of ignorant spite, a puerile femalenss whose acts, while on par with rape, are normalized and institutionalized by the right-wing in foolhearty, naive or disingenuous complicty with Jews, as "natural" acts, or even heroic defiance of the "backward" - which, in incitement, we are supposed to adjust to, as the way it is in "universal maturity."
We all know that puerile females can never do anything wrong.
Scientists and Jews say so.
It is for White men to adust to their infinite wisdom.
If men drag their feet, are unwilling to participate in the paradigm that Jews have outlined, then they are "cuckservatives."
It is another Jewish meme to blame White men, if there ever was one.
Sure, we should adjust to the predilections of puerile females, as pandered to by Jews, Muslims et al, in the cataclysmic destruction of European peoples and our co-evolution.
We should act into the loop, a Jewish loop, engage in such didactic incitement. Rather obviously, we should not. It is far better that the puerile females of Western nations be subject to incitement, to become mature, decent, responsible women. For those who know American females, as they are, and as it stands, know that typically they are egomaniacs.
Worse, they're typically the vilest tyrants - manifest through ceaseless pandering of Jews to their one-up position in partner selection. This has put an exponent by their worst inclinations - incitement to genetic competition and appeal of the brute, episodic view of masculinity, a hyper-assertive, unsublimated masculinity more characterisic of blacks and mulattoes.
And we all know what a wonderful way of life that they create. So wonderful, that we should emultate them on penalty of being called a "cuckservative."
Nice try Mr. Jew.
You won't find me buying into this Jewish meme of "cuckservative."
You might, however, hear me chiding these puerile female tyrants that you've had integral part in creating as "mulatto supremacist B - J machines." (I would like to use the full-out word, but I guess you get the drift).
Incitement of White males at this point is more characterisitc of right wing pefidy. To think, they accuse the left of being against nature. But what do they know about White nature? They're so objective, displaying transcendent, univesal masculine strength - they don't even need anybody else, just their own individual Herculean strength. What it really is, of course, is their own gang of Jewish marshalled punks, piling-on anyone unfortunate enough to be in a vulnerable position, to need their people, their race, to show off in contrast to them for unworthy females and "the objective measurer."
But I do get it when it comes to conservatives and the need to drive a wedge against their Jewish designated "conservatism", which is not conservatism at all, but the propensity to conserve liberalism, to conserve the destruction of Whites. That wedge criticism IS central to our program here at MR.
I just don't trust the cuckservative meme. It's based in a universalist liberal perspecive. It's an incitement generally biased in the wrong direction, piling on White men who've been incited ad infinitum; and as a meme, being slowly nudged beyond reach of normal men; into toxicity for those who would otherwise be best positioned to see the sense of our cause, to swell and empower our ranks. It's playing into Jewish, liberal and puerile hands, deflecting from their responsibility.

A further note on these lines of right wing perfidy…
I recently heard that Angelo John Ganucci had been banned from the campus of Boston University.
Well, that's nothing.
I was banned form campus of The University of Massachusetts at Amerhest no less than four times. I must admit that I got a certain satisfaction in manifesting activism from the other side.
I would walk around campus with a shirt that read:
"Big Mulatto Bro is watching, foil HER Mulatto supremacist dream!"
And sometimes with a shirt which read:
"We have a consensus, black women are ugly!"
That came in handy when encountering interracial couples - because the female was ALWAYS the White one.
I could simply walk in front of them. This was extremely awkward for them and extremely hard for them to respond to.
The black woman, who was being insulted, was not there, the black male was being called-out on the fact that he viewed his own co-evolutionary females as inferior, and the White female, who pretends to be the sensitive social justice warrior, is shown to be the thoughtless pig that she is, e.g., having little or no concern for black women, whose men she is taking away.
Because walking in front of them so that they could read the shirt didn't involve aggressive and loud verbal confrontation, this did not arouse enough attention from third parties to provide one of the occasions that got me thrown off campus. But it did get a potent message across. It was one of the better strategies that I experimented with.
As I have said in other places, "mulatto supremacism" is a confusing, difficult and all too accurate charge for our enemies to handle; that is why I was prevented from posting an article about it on Wikipedia.
It is difficult for them because it does not confronts Jews, blacks, or miscegenators directly, while it calls dramatic, critical attention to the egregious upshot of PC politics.