Majorityrights Central > Category: Feminism
Within the disorder of modernity, where puerile females are so one-up and so pandered-to, where their base proclivity to incite genetic competitition is in runaway, uncorrected by the homeostatic control of social group boundaries, it is more than dubious to add another exponent to their poison cynicism.
Andy well articulates a view on the cuckold meme in line with my view thus.
That is, I am not going to jump on that bandwagon. It sucks. It is a meme not without some merit, but largely for a-holes by a-holes too cowardly and self centered to see the radical point. The best angle is not for a-hole males, the kind that screw others, including their own people, when they do not have to, to incite other a-hole males, the ones who let others screw their people all too easily, when they do not have to.
Both of these types represent something outside of authentic European masculinity, its optimal level of sublimation and qualtative expression.
Because it is didcactic incitement, it is prone to play into the hands of our enemies as another way to merely blame White men, to perpetuate and take the heat off of our adversaries - our adversaries who know that these marginal men are interfaced with boundary maintenance and are, therefore, to be disempowered, humiliated, their conservative instinct to be disrupted, to remove their correcive function and doubly punish them despite the fact that they are most likely to be victims rather than responsible party victimizers; but who cares? The true culprits have diverted attention from themselves and will be immune to this additional poisoning of our boundry demarcating marginal peoples - with the more forethinking men incited into oblivion, and the narrow alpha male a-holes left standing, this will play into the hands of those who would Africanize our population, have us more stupid, kindred to blacks and mulattoes, more easily controlled.
No, the far more advisable, more valid critique, one which would in fact entail easier and more reasonable compliance ought to be criticism directed at peurile femalenss, a puerile femaleness that is all too used to being panderd to. They ought to be incited to be more decent, cooperative and fair - in a word, to be worthy of being defended as our co-evolutionary women, mature women, if not ladies.
Until such time, these puerile bitches deserve incitement - Mulatto supremacist BJ machines - whatever you might like to call them, let those who do not deserve that label object and let the ones who do deserve that label try to defend themselves.
It is a puerile femalness that is mean beyond belief in its self righteousness; indeed, in its privilege it is getting away with murder, torture, the destruction of the profoundest evolution for the most idiotic reasons, out of ignorant spite, a puerile femalenss whose acts, while on par with rape, are normalized and institutionalized by the right-wing in foolhearty, naive or disingenuous complicty with Jews, as "natural" acts, or even heroic defiance of the "backward" - which, in incitement, we are supposed to adjust to, as the way it is in "universal maturity."
We all know that puerile females can never do anything wrong.
Scientists and Jews say so.
It is for White men to adust to their infinite wisdom.
If men drag their feet, are unwilling to participate in the paradigm that Jews have outlined, then they are "cuckservatives."
It is another Jewish meme to blame White men, if there ever was one.
Sure, we should adjust to the predilections of puerile females, as pandered to by Jews, Muslims et al, in the cataclysmic destruction of European peoples and our co-evolution.
We should act into the loop, a Jewish loop, engage in such didactic incitement. Rather obviously, we should not. It is far better that the puerile females of Western nations be subject to incitement, to become mature, decent, responsible women. For those who know American females, as they are, and as it stands, know that typically they are egomaniacs.
Worse, they're typically the vilest tyrants - manifest through ceaseless pandering of Jews to their one-up position in partner selection. This has put an exponent by their worst inclinations - incitement to genetic competition and appeal of the brute, episodic view of masculinity, a hyper-assertive, unsublimated masculinity more characterisic of blacks and mulattoes.
And we all know what a wonderful way of life that they create. So wonderful, that we should emultate them on penalty of being called a "cuckservative."
Nice try Mr. Jew.
You won't find me buying into this Jewish meme of "cuckservative."
You might, however, hear me chiding these puerile female tyrants that you've had integral part in creating as "mulatto supremacist B - J machines." (I would like to use the full-out word, but I guess you get the drift).
Incitement of White males at this point is more characterisitc of right wing pefidy. To think, they accuse the left of being against nature. But what do they know about White nature? They're so objective, displaying transcendent, univesal masculine strength - they don't even need anybody else, just their own individual Herculean strength. What it really is, of course, is their own gang of Jewish marshalled punks, piling-on anyone unfortunate enough to be in a vulnerable position, to need their people, their race, to show off in contrast to them for unworthy females and "the objective measurer."
But I do get it when it comes to conservatives and the need to drive a wedge against their Jewish designated "conservatism", which is not conservatism at all, but the propensity to conserve liberalism, to conserve the destruction of Whites. That wedge criticism IS central to our program here at MR.
I just don't trust the cuckservative meme. It's based in a universalist liberal perspecive. It's an incitement generally biased in the wrong direction, piling on White men who've been incited ad infinitum; and as a meme, being slowly nudged beyond reach of normal men; into toxicity for those who would otherwise be best positioned to see the sense of our cause, to swell and empower our ranks. It's playing into Jewish, liberal and puerile hands, deflecting from their responsibility.

A further note on these lines of right wing perfidy…
I recently heard that Angelo John Ganucci had been banned from the campus of Boston University.
Well, that's nothing.
I was banned form campus of The University of Massachusetts at Amerhest no less than four times. I must admit that I got a certain satisfaction in manifesting activism from the other side.
I would walk around campus with a shirt that read:
"Big Mulatto Bro is watching, foil HER Mulatto supremacist dream!"
And sometimes with a shirt which read:
"We have a consensus, black women are ugly!"
That came in handy when encountering interracial couples - because the female was ALWAYS the White one.
I could simply walk in front of them. This was extremely awkward for them and extremely hard for them to respond to.
The black woman, who was being insulted, was not there, the black male was being called-out on the fact that he viewed his own co-evolutionary females as inferior, and the White female, who pretends to be the sensitive social justice warrior, is shown to be the thoughtless pig that she is, e.g., having little or no concern for black women, whose men she is taking away.
Because walking in front of them so that they could read the shirt didn't involve aggressive and loud verbal confrontation, this did not arouse enough attention from third parties to provide one of the occasions that got me thrown off campus. But it did get a potent message across. It was one of the better strategies that I experimented with.
As I have said in other places, "mulatto supremacism" is a confusing, difficult and all too accurate charge for our enemies to handle; that is why I was prevented from posting an article about it on Wikipedia.
It is difficult for them because it does not confronts Jews, blacks, or miscegenators directly, while it calls dramatic, critical attention to the egregious upshot of PC politics.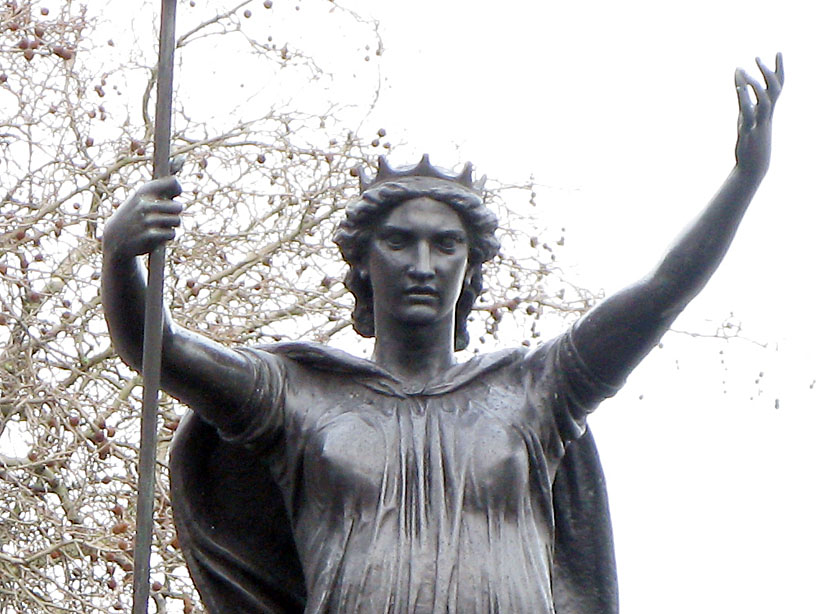 Boudica: not a mere female, a woman - her view on systemic bounds
As Opposed to Universal Maturity
Part two of the Dark Side of Self Actualization and Incommensurate Gender Agendas
In a recent podcast with Dr. Colin Ross, the Red Ice Network is spinning the typically right-wing, hair-brained and shallow conspiracy angle that there was a big cover up of CIA conducted LSD experiments to brainwash youth of the sixties into counter-culture and to introduce cultural Marxism. It is indeed true that there were experiments in manipulation and efforts of that kind by Jews, Marxists and right-wingers as well, to harness, co-opt and re-direct youthful energy and rebellion of the time. But when you try to say that there was nothing to rebel against and that there was no authentic organic motive, that it was all manipulation, then look in the mirror at who may be an unwitting tool and dupe of the powers that be.
The true big cover-up was of the radical opposition to militarism as a fixed tradition which rendered men expendable whether their genetic boundaries were threatened or not, for the mere custom, habit and tradition of war. That mere tradition is opposed by the proposal that White men ought to be looked upon as having intrinsic value. The absurdity of the Vietnam draft brought home the mereness of military tradition in its custom and habit of treating men, White men as well, as expendable to fight in wars even where their systemic genetic bounds were not threatened; and that was something that authentic motive would rebel against indeed. That is the important matter being covered-up because Jews, Right-wingers, feminists And traditional females (i.e., the puerile among), share a common interest in being averse to the idea of White male midtdasein for its challenge to the undue power of their positions. In a word, the attempted invocation of midtdasein - being amidst social classification – was an incipient White racism - by "racism" I mean benign classificatory bounds and discrimination thereupon that challenged the liberalism that served these groups (needless to say what blacks and other non-Whites might think of White male being).
You may ask, what's wrong with traditional women? There is nothing wrong with traditional or modern women, as females socialized into our racial classification. Even so, there is a whole lot of talk among White traditionalists that modernized females, feminists in particular, are the problem. However, as opposed to a traditional woman socialized into the White class, traditional females are bereft the delimitation of racial classification and are going only by the criteria of "masculine and feminine." They will therefore be a problem as well. Operating as we are in the context of Enlightenment tradition, with tendency to universalize maturity, if some non-White male is powerful, big, strong, has money, well then, he is, by tradition of gender relations, a good mating partner - seizing opportunity before a White man has actualized his maturity and resource to appeal to and provide for his appropriate co-evolutionary partner. Thus, tradition alone is not enough. We need to invoke our racial bounds through a post-modern management of the modern and traditional concerns of both genders - recognizing the critical value of midtdasein for White males - the intrinsic value of their being, their life amidst their human, racial ecology. In that regard, traditional females can be just as unsympathetic as feminists, right-wingers, Jews and other non-Whites.
These groups will quickly adopt distractions from that, try to spin this as communism, or those who fail to understand how perfect Hitler was in every way, anti-nature, misogyny, a war against traditionalists, anything but what might grant White male being. Theirs is a war to deny the intrinsic value of White men and make him expendable once again; while keeping pigs in power, turning what White men that do survive into techno-slaves to make life convenient for Jews, Mulattoes and their White concubines.
You may ask, what about traditional (read, right wing) males? Here again, our tradition of "objectivity" regarding gender relations is liable to outstrip systemic management and the relative interests of those of ours who are less than ideal at this moment in process. As alphas, they will tend, rather, to push them outside of the unionized class.
Let them not divide and conquer they say, as if we do not want to be divided from blacks. Oh, "they are not so bad", she said.
Here she may engage what is to her a "sacred ministry of betrayal." Enacted so that "you will never do anything to me more hateful than I have already done to you."
- Simone de Beauvoir
For them our midtdasein is as if cow-herding, or goyim herding, as it were, to breed White females for them to supply and placate Negroes.
….............
But let us have instead the sacred oath of loyalty to the White Class, where we may manage the best of modernity and tradition in our systemic maintenance.
When a male/man has midtdasein, he knows his boundaries have agreed-upon respect from his people, he has understanding and incentive from whence to fight of his own accord, particularly when mature enough. We might ostracize and punish disloyalty – disenfranchisement from the nation.
We finished up last time by observing that a concept of male being, or midtdasein, is contingent upon maintenance of the class bounds. The bounds are calibrations invoked by feedback from immature and marginals, accounted with those of mature socialization into the full historical system (of Europeans, as per our concern). It isn't just puerile female incitement to genetic competition that is compounded and run amuck by the rupture of social classifications' prohibition. With ensuing disorder and exponentially increased pandering to her position, a deeper genetic survival mechanism rears its ugly atavistic head still more high: her propensity to get-off on acquiescing to the winner, even if the winner is an antagonist to her co- evolutionary system. This mechanism is afforded more opportunity for its spiteful expression without systemic correction. With the array of choices good and bad, her incentive to maintain the powerful one-up gate-keeping role of her liberal bias against social discriminatory classifications, markedly "anti-racism", would only be reinforced in its natural inclination.
Some may initially object to my use of the word "female" and that I am being rather negative. To that I respond that I use the word "female" and direct the negativity of critique there, while reserving Woman as an honorary term for mature European women, for a very central reason to this treatment…
Indeed, we would be too harsh if we did not take under consideration straight-away that in occupying this ultra-solicited position within the disorder of modernity, it can be harder to be a female, as there will tend to be more and happier opportunities to make mistakes in violation of the morality of traditional relations.
Correct though Roger Devlin is to mark the significance and importance of marriage to counteract hypergamy, it is like a better berth on a sinking ship absent correction of the deeper issue - the reconstruction of our socialization and its requisite social classificatory bounds; marked, recognized and enforced as a calibration by a relation of the White mature in feedback with White puerile and marginals - to maintain social systemic classificatory bounds in counter-pose to universal maturity..
Far from the purview of European / American men were two conceptual weapons which could be alternated arbitrarily, wielded in an instant by feminists (or wielded similarly and unwittingly by neo-traditional women, for that matter), as equipped with the cynicism of these memes to dismiss, in either case, recourse to two profoundly important European moral orderings.
Most significantly, one weapon was to deride Europe's natural Aristotlean morality, its observation of optimality and relationships as central to human nature, and another to destroy the propositions and principles initiated by the likes of Kant to gird, e.g., against arbitrary vicissitudes of empirical philosophy being taken too far – but in either case, the weapons distinguish females (including White females, of course) as having a separate moral order not beholden to White men and thus not beholden to Europeans as a system with shared social, moral capital and human ecology of millennia.
Deep within the wallowing abyss of de Beauvoir's "The Second Sex", its talk of "sacred ministry of betrayal" feeding extant dissatisfactions in females, lurked these weapons - far out of the casual purview of White men to apprehend from whence came what hit them and what it was about.
Betty Friedan (1963), with the modernist, "she's just like one of the boys and, if liberated to participate, may do-so as an equal" approach to feminism, was the preeminent figure in the second wave of feminism; she took as her point of departure this line from Simone de Beauvoir, 1948, page 672: "This utility of the housekeeper's heaven is the reason why she (speaking of traditional women) adopts the Aristotlean morality of the golden mean, that is, of mediocrity."
My hunch that was her source inspiration is borne-out through multiple connections.
Carol Gilligan (1982), with the neo-traditional angle focusing on qualitative differences of females, but still within the feminist framework, also took a line from de Beauvoir as her point of departure - 1948, Page 681: " but she knows that he himself has chosen the premises on which his rigorous deductions depend.. but she refuses to play the game.. she knows that male morality as it concerns her, is a vast hoax."
My observation that this was the source for Gilligan was confirmed by Helen Haste, a colleague of Gilligan's at Harvard.
While there are other significant non-Jewish feminists, forebears besides de Beauvoir, it is true that de Beauvoir's feminist philosophy has roots in Marx's notion that marriage and patriarchy are veritable slavery - women's "liberation requires that these institutions be overturned, a revolutionary act corresponding to liberation of all."
The situation was made ripe for exploitation and runaway by the logical extension of modernity, well-meaning at first as a liberation from mere, but harmful traditions and superstitions, it ran rough-shod and ruptured accountable social classification – their utility naivly or disingenuously pushed-aside in favor of the objectivist scientism of Lockeatine civil rights, objectivist neo-liberal capitalism, and seized upon in distortion by "neo-cons", but not before these wielded "objectivist" rights were fundamentally weaponized and reversed in form against Whites, by Jews, Marxists re-deploying these ideas in the form of "anti-racism" and "civil rights" - discrimination against Whites and the prohibition of discrimination by White men.
Underpinning susceptibility to this all along was their saboteurs ticking time-bomb - liberal affectation planted into European culture and becoming more deeply embedded over 2,000 years; viz., in contrast to the exclusivity of Jews, (as GW notes) Judeo-Christianity's propositional altercast as undifferentiated gentiles in the eyes of god, to include any race in its moral order, and the disordering effect of modernity to traditional European moral orders was virtually a necessary consequence.
With racial bounds broken but classification still necessary to human perceptual organ- ization, the least ignorable categories emerged in de facto high relief and resonance – gender being one of them. Within the disorder the female one-up position in partner selection (don't think so? she'll call upon the goon squad to show you who is boss) emerged with increased significance, whereupon they are pandered-to from males of every direction and most importantly, cynically and cunningly, by Jews, of course, to betray their co-evolutionary males. With White men vilified thus and White females pandered-to constantly, even puerile White females become articulate, over- confident, correspondingly under-empathetic, sometimes brazen with self righteous entitlement and prerogative.
Jewish interests can take advantage of this; demoralize their adversaries by pandering to their co-evolutionary females in this position and the atavistic denominator of the disorder; for marked example, by promoting the high contrast tropism of White/black mixing –blacks being the other category hardest to ignore despite prohibition on class- ifications –while the prohibition of discrimination leaves the more protracted rate of maturity of White men susceptible to the more episodic, atavistic assertion of blacks.
Professor Pearce (with Rossi) might add that within the paradoxic performance requirements of feminism there is nothing even a well-intentioned male can do if a feminist wishes to put him in the wrong: If he treats her as one of boys, then he may be construed as a male chauvinist pig, who does not respect the special quality of her gender. If he treats her with deference to the special qualities of her gender, he can be construed as a condescending patriarch and/or a wimp who does not respect her agency, autonomy and independence.
The situation is only going to be perpetuated by a paradoxic (really, "quaradoxic") phenomenon that Whites are prone to be up against, what I call the charmed loop of didactic incitement: This does require that sufficient power is brought to bear against Whites, but it is a likely predicament given social injunctions against discriminatory social classifications rendered by White men and the heavily pandered-to one-up position of females within the disorder of modernity; along with its exponentially more powerfully positioned puerile female inclination to incite genetic competition.
___________

The Dark Side of Self Actualization Intersecting Incommensurate Gender Agendas: Corrective Structures and Systematization -
In this essay I will re-tell the story of how I began to understand and organize gender relations at the intersection of race and individualism in order to diagnose attendant problems and prescribe corrections. I will make refinements with what I have learned since initial instantiations of this hypothesis. I feel compelled to make this case again as there are popular sites in WN which are taking on the issue and I do not trust them to handle it well. For very specific reasons I have long held that there should be a platform for White men/males that both advocates them and is critical of female predilections, inclinations, politics. This will start out with a critical tone, as it is necessary to get to critical parts right away, but there is a happy ending for both genders.
In my first renderings of this hypothesis, I took Maslow's Hierarchy of needs (which he also referred-to as a hierarchy of motives), as a preliminary framework in need of correction. That remains a particularly useful point of departure for a working hypothesis to address problems: of where and how individualism, peoples' predica- ment within modernity and incommensurate gender relations may be exacerbated and pandered-to; whether by hostile interests (e.g., YKW) or indifferent interests (e.g. naive or disingenuous objectivist/relativists, neo-liberals); thereby rupturing racial bounds which could otherwise facilitate systemic homeostasis; instead runaway and reflexive reversals is perpetuated -e.g., "the dark side of self actualization."

"I don't have to tell you about the tyranny of patterns, that is the rubric under which we meet. What you may not know is that you have to accept them." - Bateson
But rather than merely accept them, the proposition here is that we recognize them, take them to heart and work with them instead of against them.
For good reasons, I took Maslow as the preliminary framework against which to propose corrections (will explain momentarily). Neither is it necessary to discard the diagnosis of toxicity in this model of higher needs being founded in hierarchical succession upon maximal fulfillment of more fundamental needs, particularly as it has played-out in - and been an influence of - the pop-culture of European-American relations; nor is it necessary to alter its proposed general correction of taking attendance to needs and motives into a circulating process based on the Aristotlean recommendation of optimal levels of need satisfaction and the centrality of human concern for relations.
Unlike Maslow's terms for the constituent needs, I have ever (since the early 90s) proposed four terms (the number of four terms are taken for reasons that I will explain) in place of the terms that he uses in this hierarchy –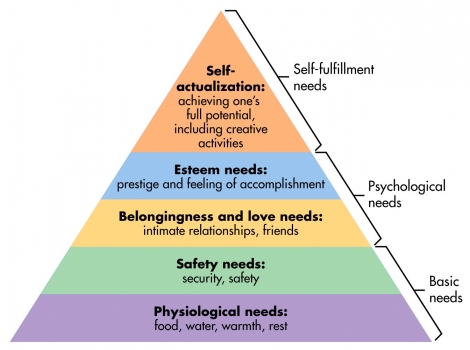 Socialization, Being, Routine/Reverence and Self Actualization in a circulating management are proposed instead.

"Just a few more words added to his grammar of motives might change a sociopath into a decent man." - Kenneth Burke
- thus…
Jan The White Uniter has initiated a new website and will be talking to MR soon..
_______________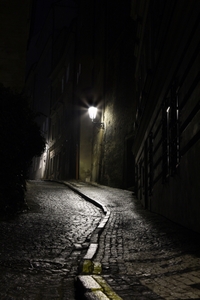 While defending our ghetto square and the merits of strengthening our grass roots community by preaching there to its choir, deepening our understanding and resolve, it seems that at this point Majority Rights could also do well with forays to visit those down some side streets - to pursue interviews not only with those who are most aligned with our views, but also to follow a path of those who might be slightly off - i.e. slightly antagonistic to our views in a somewhat liberal direction, at least explicitly, while having some implicit sympathy through connection to our square, our cause; such that MR's platform might bring-out that connection with their underlying fairness in concern for our people and our kinds. The more public, known or respectable the person, perhaps the better. They might come to us with an intent to criticize us or save face in cover inasmuch – fine. Perhaps we can stand corrected. That's not so much the problem as coming-up with good candidates for this kind of discussion/debate, those who may be lurking in what are the shadowy side-streets for us. Therefore the reason for this post is to ask for suggestions as to fairly prominent/respectable liberals, etc. Those fairly askance of our views, but not so antagonistic as to be futile to hope to engage. Rather to pursue those who might be ripe to debate GW or another MR representative, to at least hear-us-out. We might see where the dimly lit path takes us…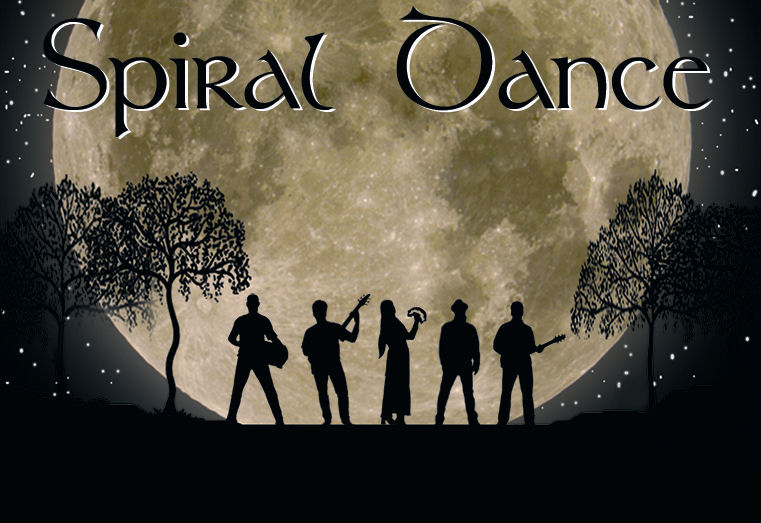 Too bad this guy is at one of the F nutworks. He seems to have the right instincts and some basic matters correct otherwise…seems to take an MR cue on some issues, e.g., against the Right and in advocating all Europeans. Hopefully he'll see the reasons to drop the F, but this discussion of Celtic tribalism is interesting and irrespective of that.
While acknowledging healthy pre-Christian roots to Halloween and commemorating our persecuted pagan women..
The Witch Trials of Trier in Germany in the years from 1581 to 1593 was perhaps the biggest witch trial in European history. The persecutions started in the diocese of Trier in 1581 and reached the city itself in 1587, where it was to lead to the death of about three hundred and sixty-eight people, and was as such perhaps the biggest mass execution in Europe in peace time. This counts only the executed within the city itself..
..let us also take occasion with that to acknowledge what is probably the most important pre-Christian holiday - one to commemorate European forebears and still practiced in several European countries: November 1rst, a day to commemorate European ancestors.
Male ancestral heroes to complement the ladies:


The 50 murdered by Hitler's orders after The Great Escape
With appreciation of Dr. Lister's recent participation, an abstract distinction re-emerges not only as potentially useful to the struggle in general, but also in explaining what may otherwise be apprehended by Dr. Lister as some of my brute efforts here at MR.
A light-bulb moment in formulating my racial activism occurred when I read a distinction which Hegel made use of, viz., that of "self transcendence vs. self assertion."
I later came to understand that that distinction goes farther back than Hegel and tracing its history may or may not have bearing. But what does have bearing is its teasing-apart now. By its application I am not so literal minded as to limit transcendence and assertion to the self in individual interests only but rather see it as largely a matter of self assertion of one's borrowings from the group's genetic capacities and interests and self transcendence on behalf of, and in payment of, the group's genetic capacities and interests for its assertion – or, crucially and mistakenly the pragmatic activist would argue, a self transcendence beyond the group's interests. To an extent that would often be understood correctly as a mistake of European obsequiousness, whether through Nordic individualism, objectivism, Christianity, etc. or, of course, by Jewish coercion. This was one of the first, clarifying applications for me in making sense of my experience. That for whatever reason, European men were too self transcendent and needed more self assertion.
Around the same time I realized that intellectualism should not be a bad term - rather it makes use of the extant body of literature, conceptual structures and our inherited mental abilities, applying them to organize and make sense of our experience.
The frequent charge of the boring, disingenuous and ill-willed (most recently, by TD at Daily Stormer, who tried to say that I was an "intellectual wannabe" and also tried to say that I was against National Socialism – again, missing the point, deliberately in all likelihood, in claiming those terms only apply to Hitler's regime's distortions thereof) is "pseudo-intellectualism."
Kievsky echoed my sentiments exactly when he made the astute observation that our enemies have weaponized the meme of "intellectualism as unmanly" among European men. My father and older brother ate that up and modeled it perfectly for me, i.e, what brute pragmatism was, making it didactic in fact, closing off other routes by their capacity to get on without conveying articulation of much broad, social sense; to where I had no choice but to take the (daunting) intellectual route as far as I could and as its utility would allow in order to extricate myself from the arbitrary confusion that is the upshot of "no-nonsense" - by which they meant, intellectual structures which served a semi-transcendent purpose of orientation, organizing and making coherent sense of self in relation to the world; or any girlish motivation to even broach such a topic. That was "nonsense" or what others would call "pseudo-intellectualism."
What I would call the more speculative side of the hermeneutic circle.
Because my need for intellectualism was real, not a garish display, I had to keep my eye on its life-line: There is a difference between superfluous display of erudition, an obnoxious critical parsing or an honest effort to get things done - an effort which may in fact, be served by some "intellectual" abstraction or another merged with consensus and utility. I may not be the world's most confident person and I am certainly not claiming to be among the smartest, but what I will claim in confidence is that I keep an eye on relevance; with that, whatever "intellectualism" I deploy is not for the purpose of impressing people, but for its utility in relevant aims. Anyway, if a man is not dealing with reality, then reality will take care of it, yes?
I decided that I would strive after a good balance and blend to incorporate intellectual structures where useful with assertion of self and White group interests against non-White antagonism and liberal uncaring.
My effort to blend these two things may explain why I might seem contradictory and confusing to people, but I am really not. What I am doing is the hermeneutic circle, an engaged process of critique and inquiry, which moves from more speculative attempts at comprehending group patterns – such as self transcendence and self assertion - and closer readings, such as those of genetic compatibility.
Those of bad-will, will attempt to seize upon the more speculative moments to charge me with pseudo-intellectualism, trying to seem smart, using intellectual terms and concepts for the sake of using them, not for a purpose of defending our people. Of course, that's not true; but our enemies are our enemies, the assholes among us are assholes (such as TD).
On the other hand, I, we, go to the assertive side of the hermeneutic circle for its sundry utility: testing the speculative side's truthfulness against the concrete moment, deploying it for the sake of getting something done (e.g., posting a guy with a sign to make it clear that Europeans with sense should agree that "with Jews we lose" - and if that does not inspire the confidence and conviction of confirming what one already knows, should cause them to verify the assertion); in short, the hermeneutic process is to manage the orientative process in relation to reality. But it is a process which requires the speculative, broader temporal and historical comprehension of the pattern as well, particularly to maintain systemic group coherence and accountability.
That is probably why our enemies are so keen for us to not have the "pseudo-intellectualism" to maintain our group orientation.
Ok, Dr. Lister may appreciate that. And for sure, I would like to have an "adult" conversation with mature and scholarly individuals such as him contributing to MR.
But when the word "adult" is used in this context, my antenna goes up that we may get fixed on one end of what should be a corrective back and forth process. The end that I am talking about not wanting to get stuck on, of course, is the self transcendent end, the one that does not test itself and assert itself against reality quite enough if it does not circle back to self assertion.
It is also a matter of assertion of the empirical end, testing and verification, so it is not, as GW might fear, a call to mere practical action.
But again, my initial critical perspective on European peoples, that they/we were having these problems (I am going back to an observation from the mid 80's now), held that is because they/we were too self transcendent. They needed to incorporate more self assertion in terms of their group interests in particular. Now, that is not a contradiction if you recognize that the self is composed of historical/social inheritance – to be marshaled in a new and novel way, displaying agency and difference hopefully, but nevertheless.
A stark contrast illustrating this was that of blacks in their hyper-assertiveness of self and group interests as opposed to Whites in their exasperating self transcendence – imagine a White guy with a high voice saying to a nigger, "kill as many Whites as you want, take my woman and our girls for sex slaves and fuck me in the ass too!"
White men of normal instinct will not "intellectualize" and try to explain White obsequiousness away. A solid intellectual will not view this predicament as an intelligent response from Whites. But a lot of White guys will try to seem smart, tough, "above it" by "explaining" it away, and gain approval from a lot of White females for doing that.
In fact, one of the benefits of intellectualism by contrast is that one can say upon erudition that, "I am being an over-intellectualizing bag of books."
One can do that in an instant whereas one cannot read and digest a hundred good books in an instant. Moreover, as Aristotle so correctly stated, "it takes courage to study." To put out of mind all else that one might attend to in order to cultivate rigorous and long-term views. In line with favoring rigor against arbitrary sensibility, Kant observed that it is easier to return to one's senses than to restore a principle.
Even so, the nagging callings back, mockery from beautiful but tattood women whose pimps make fools of us in their own way, is a call to courage as well, to practical intelligence, not just imaginative, to implement, to apply our theories in reality.
People who have been ensconced among their fellow Europeans and not forced to interact with blacks en mass, for example, may not understand the importance of asserting the word "nigger."
If you cannot assert the word nigger you can barely think it, you can barely defend yourself with the strong assertion of the pattern of blacks to be discriminated against for the testosterone and hyper-assertiveness of a people who can assert themselves in an episode – even having our women cooing despite their marked violence - to the detriment of course, of the broader pattern of Whites, where White men shine. But if we are too timid to assert the word and think its wrong to classify them pejoratively, what might our co-evolutionary young women think?
This is why I take a step back when Dr. Lister calls for an adult conversation. I worry that we are being called into the "universal maturity" which does not take into account our more protracted rate of sexual maturity and the black's more direct route – and the fact that they and other non-Whites obey their own relative maturity, not universal maturity. Young White men in particular need this word "nigger" to signal that they know the pattern, that they know how to counter it, that they know how the Jews are deploying them against us, and that they don't buy it for a moment. No intellectual noodling, no logical contortions* to excuse them for imposing upon us – they are niggers. Moreover, this is a warning to White women as well. There will be no excuses. If that is what you want, you will go and live with them and the consequences of their ways. We are not going to pay for your lack of judgment, your mulatto children, the abuse of our men, their sacrificial sublimation and ancient legacy. With that comes the liberating assertion (for White male being) that miscegenation is equivalent to rape.
All this implies judgment and taste, of course. One does not go around just using this word, but will use it where necessary and effective. For the sake of practicality, one does not treat White women who betray our legacy in the way that Sharia law might, but does take measures to separate from their influence and make them pay (by banishment and cutting them off from shared resources) for the consequences of their bad judgment. We do not pay the price, they do, but they deserve respect of a fair warning, and here it is – that's a nigger and that's what niggers do as a very predictable pattern. Nobody is worth putting-up with it.
Along with self transcendence seems to come a secondary sex characteristic of displaying excessive logical capacity. One way of expressing excessive logical capacity AND independence that may appeal to females as display of dominance and advanced ability is the logical excusing away of non-White affliction on Whites. Moreover, the dishonesty and disingenuousness in regard to one's group interests by self transcendent liberalism, the willingness to put other Whites below and allow them to be extinguished by non-Whites will serve the short term interests of young females. They can identify who is "strong" and "logical" in being that treacherous and independent of group cooperation. More, liberalism, as I have often noted, increases the disorder by breaking group accountability and ecology in favor of individualism, which strengthens the one up position of young females in partner selection. Male and female becomes the chief conceptual organization as opposed to race. As it gives them short term benefits, young females will encourage liberalism and be pandered to by non-Whites (Jews especially, of course) to allow liberal males through their gate-keeping.
By none of this do I mean to be cynical of intellectualism, adult conversations or the professional contributions of Dr. Lister. On the contrary, my hope is to explain my reasoning so that he and people he might value as professional colleagues can find a way to participate. I'm willing to forgo the spitballs and the high hard ones underneath the chin (e.g., we don't need to say "nigger" here) in exchange for a modicum of understanding – I see true intellectualism as a process embracing self assertion of group interests as well as the maturity of self transcendence on behalf of group interests.