Majorityrights Central > Category: Conservatism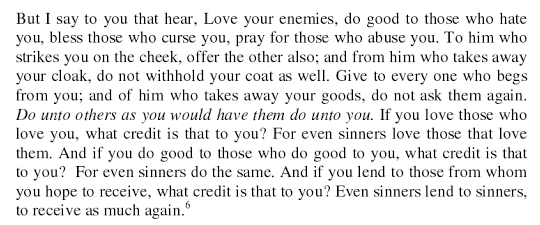 The Sermon on The Mount Ensconces The Golden Rule of Altruism
Majorityrights prefers to deal with verifiable reality as opposed to speculative theory and faith based systems of rules as we look after the interests of our people. Therefore, genetic groupings and genetic interests are key criteria, even if not the only important verifiable criteria to keep track of our peoplehood. Existence is a precursor of course to genetic interests, but securing it for any span and legacy requires varying degrees of sophistication to negotiate complex interaction. "Rules" (1) are the term of common currency that we will use for the logics of meaning and action that people use to negotiate interaction and exchanges protracted beyond episode in yield to maturity.

For those of us who perceive of ourselves as rationally and empirically grounded, it is difficult to understand pastor David Blackburn, his love of Jesus that would have him not only forgive, but want to share his love of Jesus with the men who raped and murdered his wife and unborn child; but to my knowledge, he is at least not hoping to get them released from prison.
It is even more difficult to understand European peoples allowing, even welcoming foreign incursions into The U.K., Sweden, France and Germany - it is difficult to fathom the mindset of a Merkel, who would destroy our European peoples in service to non-Europeans.
There is one rule, convoluted rule, that they have in common and makes their position intelligible to us despite their apparent irrationality.
The Golden Rule is a part of the Sermon on the Mount, which is a central text in the Christian faith. It states: "Do unto others as you would have them do unto you". There are similar instructions in many other cultures.

Despite receiving high respect and wide popularity, the rule raises critical questions. What is the recommendation more exactly, and is it good advice?
This post will prepare a discussion of the work of Jan Tullberg - viz., the difference between the golden rule of benevolence as opposed to the silver rule of reciprocity - as it applies to assist in the reconstruction of a necessary consensus of moral rules among European peoples and for coordinating our relations to others.
____________
There is a consensus among advocates of European peoples that in essence we seek to secure the existence of our people. There is much dispute over how that is to be done…
Yesterday the Polish government dissolved the state council responsible for practising anti-racism in the country.
"The council proved to be rather inefficient," Rafał Bochenek, spokesperson for the ruling Law and Justice (PiS) party told reporters in Warsaw, AFP reported. He added that there were "more efficient" bodies that would carry on the work.
It was yet another reminder that the nations of the Slav east do not intend to allow the immigration and ethnic dissolution that the political class has, for nearly seven decades, inflicted on the peoples of the west of the continent, or the Jewish-authored and prescribed engines of culture-war which everywhere materialise alongside it. The governments and peoples of the east clearly wish to live.
But what sort of governments are they?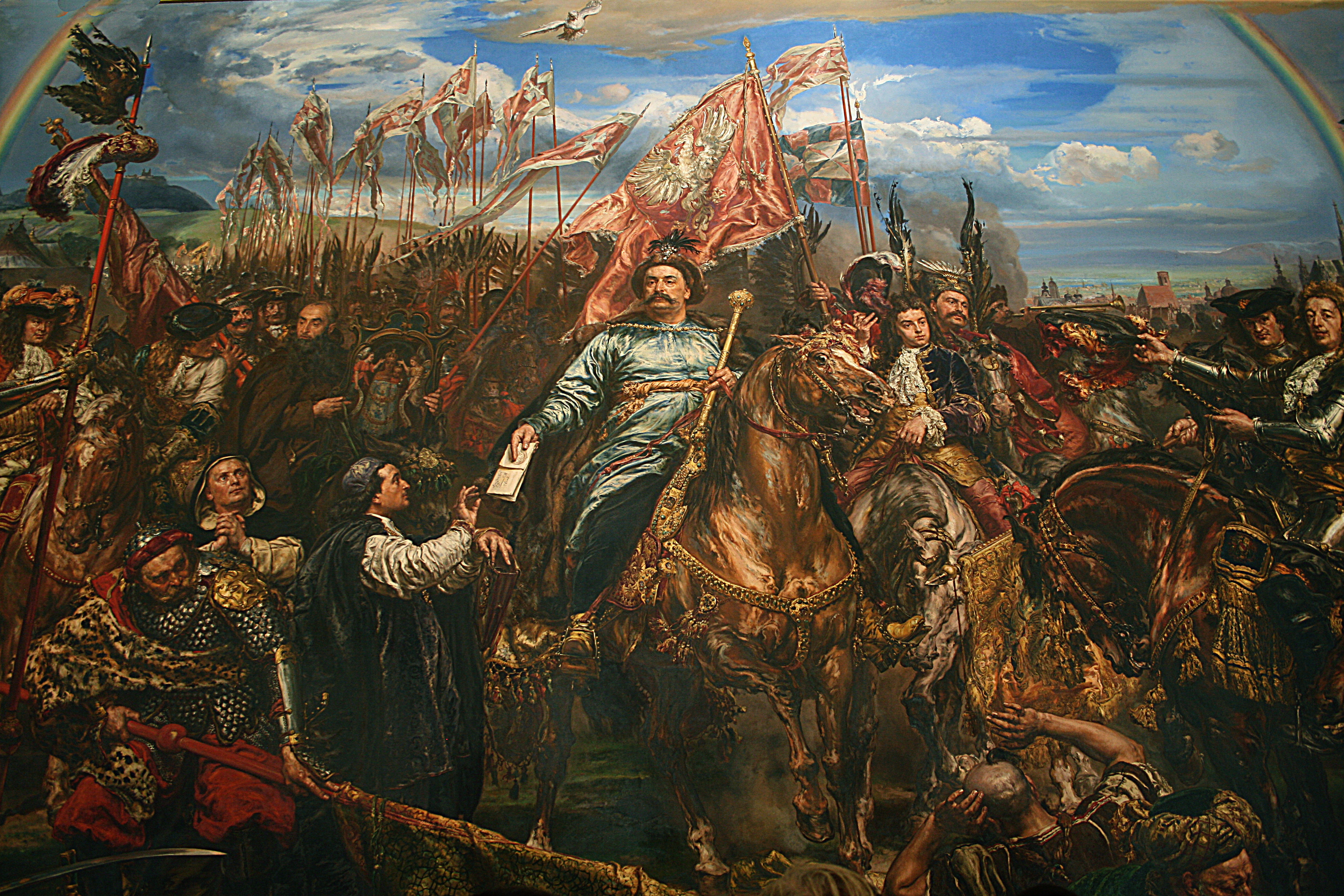 Sobieski sending message of victory to the Pope after the Battle of Vienna, by Jan Matejko, 1880, National Museum, Kraków
Certainly, they would use the word "conservative", among others, to describe themselves. But Brezhnev was conservative. The ayatollahs of Iran are conservative. It tells us little. Of course we can see that these governments are not neoliberal and internationalist, just as they are not socialist or radically equalitarian. But neither are they definitively nationalist (though they plainly do connect to the true interests of the people).
What, then, are they?
The question is apt, because for us in the west these governments are modelling freedom from the liberal-internationalist paradigm. They are struggling to co-exist within that paradigm for the advantages it offers them (escape from the bear to the east, modernisation, prosperity) while firmly rejecting the proffered ethnic poison pill. Now, it may be that this balancing act will prove impossible in even the medium term. But if it does there can be little doubt that the people's will to life will hold sway (always assuming, of course, that the power politics of the EU, America, and the Jewish elites does not first succeed in sweeping loyal men out of government and replacing them with neoliberal traitors).
Like a lot of people I am immensely taken with the sight of loyal government. But I fear that there is no philosophical ground beneath the feet … nothing to sustain and guide, nothing to live by beyond loyalty. I believe in that necessity. I believe that our people in the West must replace not just the liberal way of politics but the philosophy which generates it. We cannot develop a new life while we still ground ourselves in the old liberal one. Can these governments and these peoples in the east really find a way to life and freedom in perpetuity with the political and intellectual tools they have now, whatever those are?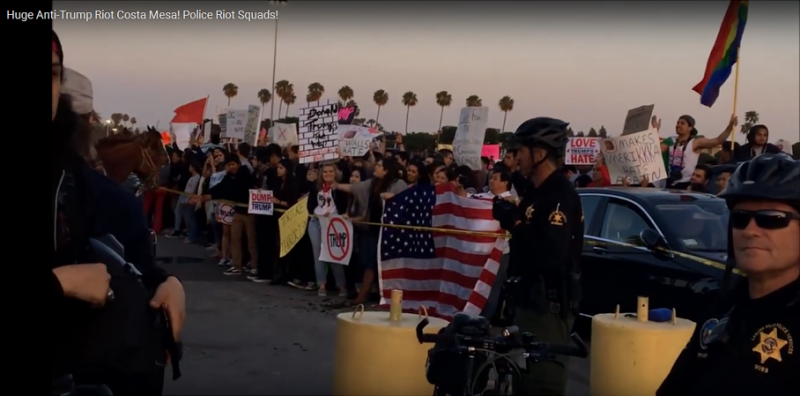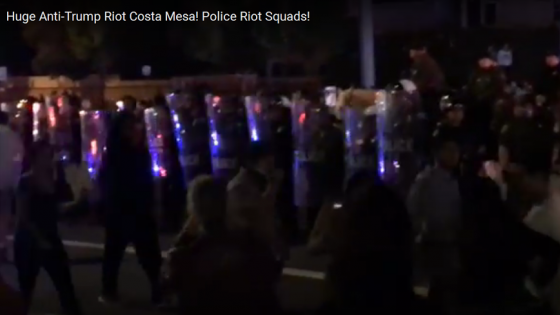 Huge anti-Trump protest by Mexican advocates at Costa Mesa, California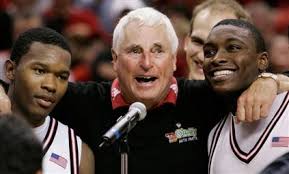 Bobby civic Knight endorses Trump: What the cuck?
Cuckservative and famous college basketball coach, Bobby Knight, is a typical Republican and a typical Trump supporter - i.e., a no-nonsense, civic "real man", one who would unite black and White in civic patriotism - a consummate disaster for EGI. However, there is hope in the kind of racial strife that might come about and be exploited of Trump's ascendancy.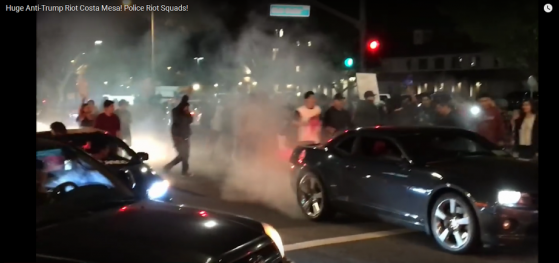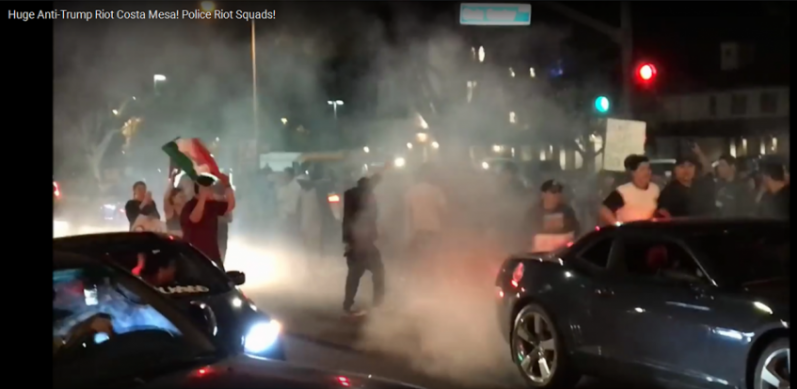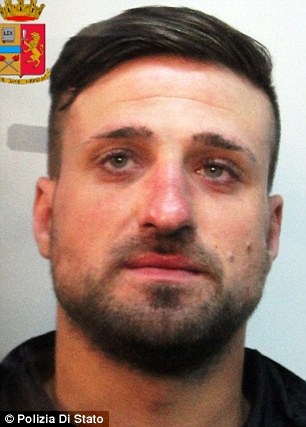 There is an absurd and detrimental habit of thought among WN who would draw the line of race too narrowly, snobbishly, and among those who would find weakening our defense convenient, that Sicilians are not White or are heavily
mixed with blacks
I have long advised against romanticized images of the Italian Mafia as portrayed in the legacy media. These are not organizations based on honor and family, as that media depicts, but rather criminal organizations based on money facilitated through treachery - these have not been organizations for our racial defense as we White Nationalists might hope.
In an irony, however, now that the immigration invasion has brought with it waves of African organized crime as well, suddenly the Cosa Nostra is forced to act in defense of its turf in racial terms - and just as suddenly, the legacy media condemns it, the Italian Mafia, as the problem in that interface - not the immigration invasion, not the organized crime that it brings. Needless to say, the legacy media does not express hope that Mafia will be of some good to the defense of our blood and soil.
In truth, Italian Mafia hasn't been especially good to Italian and European blood and soil. We can hope that the immigration invasion will force them to change that but to date there has been little to show in the way of honor from Italian Mafia: The Mafia of Campania, known as the Camorra, is hardly an organization which has prioritized Italian let alone other European blood and soil. They have been cooperating with Nigerian organized crime to spread Nigerian prostitutes all over Italy - an ugly blight that can be seen on the side of Italy's highways. They have gone against tradition, trafficking in heroine and other narcotics. They have taken hostage of Italian businesses to wreak havoc with the economy and possibilities of free enterprise. In one hideous example, having taken over the waste disposal business, they've merely dumped toxic waste on the Italian habitat - once productive local farms have been destroyed; a fact that can be proved by science; but these wastelands are readily perceived by the senses, the sight and smell of vast areas strewn with and beset with mounds of unnatural garbage and stench.
An unnatural stench emanates in Sicily as well, one of sulfur, around the garbage strewn and oil refinery lined parameters of Archimedes ancient home of Siracusa - where the Cosa Nostra has control in the oil refining industry.
However, with the aura of Mafia, inter-Italian rivalry, murder and background terror, there has been an apparent consolation - perhaps with the help of that background of corruption and terror, foreign incursions were held somewhat at bay - there is only so much use that foreigners can be put to and only so many of them that are needed to do it. After a certain amount they become a threat to anybody, including Sicilian mafia interests. That limiting condition would act to protect the genotype of Sicilians from overwhelming infiltration. In the foreground of terror, despite all urban legends of Sicilians being "part black", with inborn, ineducable aggression, they are vindicated of these ignorant attributions by anybody who takes time to observe them - a knowledgeable, considerate, European, White people.
Sicily, like the rest of Southern Italy, has that reputation of background terror which serves to instill a sense that you should be on best behavior with regard to traditions, the local people and potential transgression. In the year total that I spent in Italy and Sicily between 1996 and 1998, I observed in Italians a model European treatment of the Africans who were there. Africans were not walking around in three piece suits with attache cases as you'd see in Paris. Rather, they were allowed to vend an approved array of trinkets and accessories on the streets, with no sign that they could be mistaken for people integrated with Italians - the idea of mistaking them with Sicilians is laughable. If they remained on the street after 10:00p.m. they would be rounded up by baton wielding police, put into paddy wagons and taken away. If Europeans had to host Africans whatsoever, Italians provided a model of how it might be done to keep them in their place.
That protected the EGI from interracial imposition to a large extent. That protection was buttressed also by the reality of a deserved reputation that Italian men have of being very jealous of their women.
Nevertheless, so long as blacks are in your country at all they are a threat; with the aid and force of PC being what it is, they will make their way through cracks in a racial defense system. While Italian mafia and other men were perhaps busy fighting each other or trying to make money, I would always see two or three interracial couples (pretty Italian woman, Negro male) in just about all sizeable cities that I made my way through in Sicily and Campania - even some not so sizeable ones: a few came into my father's family village during a feast.
Most disturbing to me was the fact that despite the Italian reputation, with few exceptions, I was the only one doing the Italian thing of expressing my indignation and trying to say or do anything about these pairings - and I was the only one who was likely to have any trouble for it. Thus, to get away from the provocation and agitation - with it the rage of mine difficult to control on the front line of racial defense - was a large reason why I opted to live in Poland instead, comfortably ensconced as White and removed from looming threat.
However, I did not leave Sicily before speaking to Cosa Nostra. I told them, urgently, in trance, to stop fighting, destroying and killing each other Italians. I pleaded with them to defend themselves as Italians and Europe; I tugged at the rib of the Godmother; I believe that she heard il Padrino speak through me. Let us hope so, if not pray for that.
The roots of the word and in fact the original purpose of Mafia was in "a wall" to surround and protect the Italian family - at the onset of its organization the threat was from Spanish invasions. However, Sicilians have a deep history of defending against all manner of invasion - including of course from Islam. While the pervasive sounds of church bells rang through the noontime air of Agrigento in a way that might have intimidated Islam at one time, the locals there were the ones who told me that the most critical facilitator in the immigration problem (yes, it was already bad enough in 1998) now is this religion itself - Christianity.
I found that the Sicilians are deep - much deeper than Christianity.
By contrast to the wishes of legacy media, the DM, the cuck mayor of Palermo that the DM presents as an exemplary anti-racist White man, let us hope indeed that they heard il Padrino; that the Mafia will be of some good, and express its true honor, to be that wall, and to help protect the EGI of Italy and the rest of Europe - by means of terror if need be.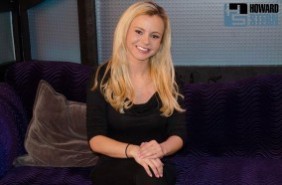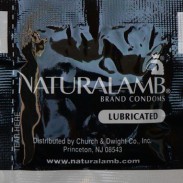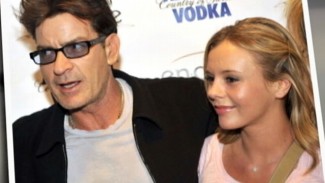 One of the best litmus tests as to whether or not you are being too liberal, too promiscuous with regard to sex, is whether or not you need to use a condom. If you don't know someone well enough to be sure that you are not going to get a disease or have an unwanted pregnancy, then maybe you ought to get to know them better before having sex with them. If you really like someone and if they are really worth it, you are not likely to have to use condoms at all. And would you really like to use them?
Subtitle: don't forget to forget your condom. A.I.D.S. is a most beautiful disease, generally targeting people who deserve to die for their bullying, irresponsible, reckless treatment of sex.
Particularly when the bounds of EGI are unguarded, the need to treat sex carefully, as an act which can endorse or undermine our EGI, becomes all the more important. Sex will be used by our enemies in psy-ops, such as the profusion of interracial porn. It will be used by our enemies to promote liberal politics, empower those horribly destructive to our interests and to dis-empower those thoughtful of our interests - those concerned with our people in our broad pattern. It will be used by our antagonists to outbreed our race, including outbreeding some of our most qualitatively differentiated genetic capital. As de facto safeguards of liberalism, they have their go-to "moral arguments" to distract us from the moral re-ordering of our people.
After marriage, the condom is taken by liberalism as one of its lines of defense. Don't be fooled, there's no substitute for the White class and its bounds. This holds the freedom in sacrament and in celebration that gives our people life and health as opposed to destruction.
There can be a time to be Dionysian, promiscuous for some who choose to be - i.e., among our own people - but that time is when the borders of our EGI are secured and members accounted for. Until then, good riddance to those who treat our genetic treasures irresponsibly; it couldn't happen to worse, more deserving people of a miserable fate.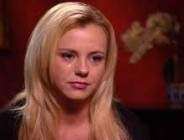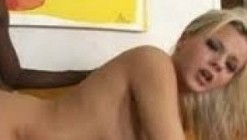 Don't you just feel so sorry for her…
Always remember, er, forget your condom. If you think that you have to use one, you'd better get to know who you are screwing around with a little better - maybe a lot better.
Daily Beast, 'Porn World in Panic Over Charlie Sheen's HIV Diagnosis', Nov 20, 2015:

'There is so much fear right now amongst the girls…'

Well-known for his porn star companions, Charlie Sheen's recent admission to being HIV-positive has sent a ripple of fear through the adult industry. There's no protocol in place for this. There are no records of who Sheen's hired, thus no quarantine list for the porn stars he's been sexually active with.

In the semi-regulated world of adult film, when an HIV scare is made known everyone asks, "Did I perform with the person who tested positive?" Fear turns to panic if it was a close call, relief if it wasn't. That's only after a name is released—or patient zero comes forward. Production shuts down, quarantine lists are drawn up for first generation, second, third, and so on. An ideal "who's performed with whom" list chronicling before and after known exposure is made available. Some call this "the honor system."

Unfortunately, those outside the business don't always play by the industry's self-regulated rules. Needless to say, former Two and a Half Men actor Charlie Sheen plays by his own rules.

"There is so much fear right now amongst the girls…like who have I had sex with that has had sex with them, or have I had sex with a girl who has had sex with Charlie?" says Alana Evans, 2015 AVN Hall of Fame recipient. "Maybe we can get Charlie to put together a list of all the porno girls he's had sex with so the rest of us can make sure we're okay? That'd be great."

In case you missed it, Sheen admitted on the Today Show that he was HIV-positive, and has known of his diagnosis for four years. He also alleged "all sexual partners have known" about his condition with "no exception."

While some are applauding Sheen for his bravery in coming forward, there's speculation amongst industry insiders as to why now? Some credit the 27-year-old blonde who spoke anonymously to the Daily Mail with forcing Sheen's hand. She estimates the A-lister had sex with at least 50 porn stars since his diagnosis and "fears the porn industry could face an 'HIV epidemic' as a result."

'There is so much fear right now amongst the girls…'

Sheen's latest role as victim is a bit hard to swallow. He paints a vivid portrait of his suffering at the mercy of his addictions, depression, and multi-million dollar extortions from ex-lovers. Even so, that his two ex-goddesses are contradicting his story raises questions concerning his credibility.

Ex-goddess Bree Olson, who dated and lived with Sheen for seven months in 2011, appeared on The Howard Stern Show to claim she had no idea about her ex's condition, and claimed she learned about his HIV-positive status "right along with everyone else."

"He never said anything to me," Olson added. "I was his girlfriend. I lived with him. We were together. We had sex almost every day for a year—with lambskin condoms."

Now lambskin condoms—incredibly thin condoms are billed as providing the closest thing to not using condoms at all—only guard against pregnancy and do not prevent the transmission of HIV. Olson told Stern that while she wanted to use standard Trojan condoms, lambskin was Sheen's condom of choice.

While Olson tested negative for HIV, in Sheen's home state of California it's a felony punishable by up to eight years in prison for a person with HIV to have unprotected sex with the intent to infect someone who's unaware of their status. Though that is incredibly hard to prove in criminal court, California also has a misdemeanor charge carrying up to six months in prison for willfully exposing others to HIV.
No thoughtful person makes AIDS prevention a cause.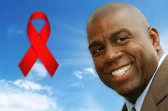 Of the hundreds, or thousands, of women who made themselves available to Magic Johnson, he said: "I tried to accommodate as many as possible. Some of them were unbelievable."
This liberalism, this irresponsibility to our EGI, is not what we're here to defend. With unspeakable irresponsibility and selfish uncaring (to say the least), they bring into the world behavior and genetics destructive to any reflective people - especially our European people.
Africa is one of the only places where AIDS is on the rise. That is good. Their population needs to be drastically reduced and its increase, let alone interbeeding with others, needs to be thwarted.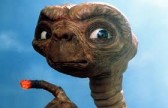 Magic, er, E.T. says, "Remember to not use a condom. AIDS is a beautiful thing." It kills those irresponsible and reckless with our EGI.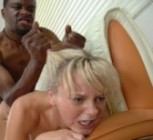 Because not all merit defense, we need an order to secure those who do. 14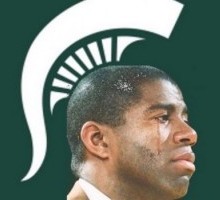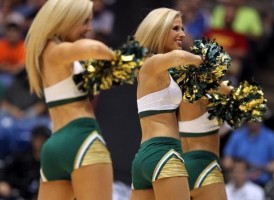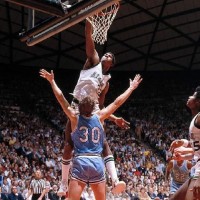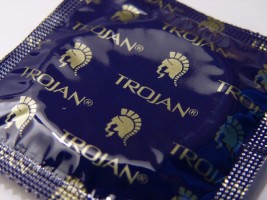 Magic Johnson, crying Trojan proponent

"No glove no love", so the motto of condom proponents goes - a condom being referred to as a "glove", in their liberal slang.
With Charlie Sheen "preferring lambskin condoms", in particular, an older slogan comes to mind as particularly apt to capture the refrain of those who would contest the facilitation of liberalism - they are treating those who engage in reckless and socially destructive behavior "with kid gloves" - that is to say, they are protecting them too much and therefore enabling bad behavior in the long term.
Meaning

Handle a situation, or a person or an object, delicately and gingerly.

Origin

Kid gloves are, of course, gloves made from the skin of a young goat. I say 'of course' but, in fact, when they were first fashioned in the 18th century they were more often made from lambskin, as that was easier to come by. They were clearly not intended for use when you were pruning the hedge and wearing kid gloves was the sartorial equivalent of pale white skin, that is, it indicated that the wearer was rich enough to indulge in a life of genteel indoor idleness. The earliest mentions of kid gloves are from England in the 1730s and the following is a typical report of a wealthy gentleman, laid out in his 'Sunday best', from Bagnall's News, in The Ipswich Journal, December 1734:

The Corpse of Mr. Thorp, A Distiller in Soho, who died a few Days since, said to be worth £10000 was put into his Coffin, quilted within with white Sattin; and after several yards of fine Holland [best-quality linen] were wrapt about his Body… on his Head was a Cap of the same Holland tied with a white Ribbond; he has about his Neck two Yards of Cambrick; a Cambrick Handkerchief between his Hands, on which he had a pair of white Kid Gloves: and in this manner he lay in state some Days and was afterwards buried in Buckinghamshire.

At that time, kid gloves were viewed as rather ostentatious and only suitable for the nouveau riche - much as heavy gold chains might be viewed today.
* Originally posted 20 Nov 2015 as a news item, the subject matter merits evergreen consideration and is therefore being re-posted here.
...or Schulzed..
Nigel Farage looks on as European Commission's President Jean-Claude Juncker (L)
kisses the forehead of President of the European Parliament Martin Schulz Photo: AFP

Telegraph, "Juncker calls for 'compulsory' redistribution of 160,000 migrants", 9 Sep 2015.
Breitbart, BREXIT BENCH TEST: Dutch Voters Set To Oppose EU Expansion In Referendum THIS WEEK, 3 April 2016:

Dutch voters will decide on Wednesday whether to support a European treaty deepening ties with Ukraine in a referendum that will test sentiment towards Brussels ahead of Britain's June Brexit vote and could also bring a boost for Russia.

[...]

Any rejection by Dutch voters or by the government would give Russian President Vladimir Putin, who opposes deeper EU-Ukraine ties and who many Dutch blame for the downing by pro-Russian rebels of a plane travelling from Amsterdam, a victory in his war of words with the West.

[...]

"PUTIN'S SHADOW"

The government itself shied away from framing the vote in a Russian context but shifted tactic as the referendum approaches.

[...]

"Vladimir Putin's shadow is lurking fairly significantly over this treaty," said "yes" campaigner Joshua Livestro, arguing that a "no" vote will play into Putin's hands.

"Are we now going to give Putin what he wants after all?" he said.

Prime Minister Mark Rutte's cabinet initially stressed the treaty's economic benefits, but has since focused on its importance for Ukrainian reform in the areas of corruption, human rights and democracy.

"Everyone who wants progress in Ukraine is asking us to vote 'yes,' along with 27 other countries. That's what the referendum is about and nothing else," Deputy Prime Minister Lodewijk Asscher said on Friday.

"No" campaigners say the treaty is a first step toward full EU membership. "Legal scholars call it quasi membership," said Baudet.

Many Ukrainian politicians feel their country deserves the treaty and are keen to show they have made progress in aligning their country with EU standards since the 2014 uprising that toppled pro-Russian president Viktor Yanukovich.

In a Dutch television interview on Sunday, Foreign Minister Pavlo Klimkin emphasized progress in areas such as gay and transgender rights where the Dutch have always viewed themselves as progressive leaders.

"In the past 24 months since Maidan we've done more reforms than in the last 24 years," he said.
Considering "Putin's shadow" seemed as if it might be the issue up to this point.
But if the West is going to help Ukraine, it would do well to get a grip of its own reins.
Part of why gays are not typically worth making a litmus test and taking issue with in a negative sense is because they are not a big deal to normal people - they're a small percentage of the population, a biological fact of given populations and most people aren't interested in persecuting them or going to their bars. So why take the matter to PC hyperbole and bring it up as a salient issue, with even tranny tolerance a litmus test to consideration for European cooperation? PC is the last thing that Ukraine needs if our purpose is to secure its EGI along with that of other ethnostates.
Apparently the PTB (Powers That Be) understand that most people will not care but some will over-react to that PC angle, at a volume that might be appropriate if, instead, the PTB had explicitly stated that their displaying good-will to "diversity" and "multiculturalism" was the litmus test for their acceptability to the European Union. Thus would-be ethno-nationalists will divert their energy to that trivia (trannies, etc) and tar and obfuscate opposition to issue that is really important - so called "diversity" which is, in fact imposition of foreign populations - by associating such opposition with those who are hysterical and lacking the judgement of important priority.
Ah yes, when people balk, the PTB can back-off of pushing the "transgender" and gay issue out of respect for Judeo-Christian values; and perhaps most important of all, out of respect for Islam; then we can all agree that Ukraine needs to be tolerant of "diversity" and "multiculturalism" - unlike those hysterical, illiberal, non-Westernized, intolerant people who do not like transgenders - and then it will be ready to be Merkeled with the rest of Europe.
We have a great deal of respect for the work of Professor Kevin MacDonald and Dr. Tomislav Sunic here at Majorityrights.
However, the historical analyses and social criticisms of capable academics do not necessarily extend to sober prescriptions with regard to political requirements at hand and that is a fact unfortunately in evidence by their AFP's proposed Cabinet for a Trump Presidency.
While most people recognize that a White Nationalist political party putting-forth a platform and candidates is not likely to have a great deal of success at this point in history, what can be expected is that they use the platform to get an articulate message out, one that well represents European/White peoples. However, with the Cabinet that The American Freedom Party proposes for a Trump Presidency, they undermine not only that nominal value of running for mainstream political office, but the very credibility that they could have lent as exponents of White interests.
Nevertheless, the substantive issues to be dealt with are too important and therefore I want to avoid alienating people who should be on our side by proceeding to simply flout the ill-conceived offerings of some of White Nationalism's leading proponents; I will therefore spread blame around since its blunder is in truth most likely to be a joint effort.
Instead of focusing on any individual with their pants down, I want to look at a situation where the distortions of momentary euphoria and surprising cooperation have fueled the nostalgia and desperate larping of old timers, who should know better than to allow the insufficiently experienced to cast a net on their behalf all too wide in search of popularity - a big, big tent approach, or a tentsophere all too grand, for a more apt metaphor. I will venture this hypothesis as to the psychology behind this offering, more specifically, the apparent psychology of the positions of those who appear to be behind it. My guess (hypothesis) is as follows:
With the euphoria of the realization that their Internet radio programs are gaining wide audience and the fact that they were able to come together and to some extent combine their disparate audiences for a radio show at each other's networks (here and here), James Edwards and Lana Lokteff were able to influence a desperate lot of right-wing WN with the idea that they've got White representation figured-out and that they can bridge the differences between various right-wing positions in negotiation of the tentosphere.
What Lana and James do not understand is that they are afforded the opportunity by our enemies to do their thing for significant negative reasons - they are right-wingers who the Jews and liberals can count on to take people into easily controlled positions where not into positions so stigmatic and idiotic as to turn-off intelligent and capable people who might otherwise join our side.
Along with their effusive self congratulations, James Edwards and the Political Cesspool do a great job of repelling and/or stigmatizing WN from their first and foremost position as Jesus freaks. Despite that significant drawback, Keith Alexander is an intelligent man and is the brains behind the outfit. James is ordinary at best. However, he's gotten so caught-up in the enthusiasm of his show's WN popularity and the fact that despite being a Jesus freak, he has been able to combine efforts with another show taking-off in WN popularity - Red Ice - despite its espoused paganism and its position that Christianity is destructive to European interests. They are both intoxicated by the possibility of pooling their audiences and James even goes so far as to refer to the anti-Christian, Lana, as "a great mind."
In addition to larpish paganism, Lana, Red Ice, Radio 3-14, etc, traffics in idiotic conspiracy theories and Hitler/Reich resurrection - Red Ice will not for long suffer anybody who denounces Nazi Germany, doesn't think their objectives were perfectly conceived and entirely legitimate, who thinks Operation Reinhardt was a fact, etc. Where pandering to Reich nostalgia does not gain audience, they are all too happy to gain audience through a litany of conspiracy theorists too boring, too tediously absurd and too many to enumerate.
Enter the right-wing old timers and academics who are getting desperate - so desperate that when they see the kind of broad audience that these right-wing kids on the block are having, they want to believe it represents rigorous truth - after all, they are objectivists, they have the numbers, therefore what they are saying and doing must be good and true.
What then would James Edwards say? He's having success. He's a board member of The American Freedom Party. He has the approval of that Yankee PrOfessor MacDonald. He can represent wholesome 1950's Christian America. He thinks Pat Buchanan is fine and good .."unnecessary wars", the "revisionists" have it figured-out and all that bit.
James is getting real politically sophisticated too now. A regular pragmatist. He is even willing to reach-out into the big tentosphere and pool his efforts with the pagan/Hitler network, Red Ice.
Lets get swept-up with his enthusiasm and even larp a cabinet for President Trump. Oh, my, the right-wing: alt-right and tentosphere.
With the enthusiasm of this discovered magnanimity, he might try out his candidacy for "Press Secretary" of President Trump's Cabinet.
But even so, being the humble guy that he is, he will ask the counsel of his wise elders.
The counsel has a key new member - his imagination. And a central orientation to this new imagination is to project what he figures would please Lana Laktoff's audience to round-out the tentosphere's base - to make-up a cabinet that Donald Trump couldn't possibly lose with.
He's not fooling around here and as sure as "there is not a wasted word in the bible" and the ways of its elders hold the truth, he would never be so foolish as to place all hope in Lana's non-Christian audience. He'll also take into advice, real or imagined, those he and his close cohorts have more common rapport with:
James and Lana have inspired the counsel of Daniel Johnson, Keith Alexander, MacDonald, Sunic, Jared Taylor, Paul Gottfried…and ?
The result is this American Freedom Party "proposal of a Cabinet for Donald Trump."
I want to be kind. It does not make me happy to be critical or to cause humiliation, if it does. However, one of the crucial services that MR ventures to perform is to look after the correct theoretical - translate metapolitical - underpinnings of European representation.
Therefore, we will not treat this as it might seem at first blush - like a prank by our enemies - and will instead examine this list presented by American Freedom Party members. It is apparent that older members of pre-Internet, ivory tower insulated or business compromised positions have gotten swept-up in the enthusiasm of the Political Cesspool's and Red Ice's popularity, dubious though it, and the judgment behind it, may be. We will look at how the people in these proposed Cabinet positions would not well represent White/European peoples.
The bizarre eclecticism of this proposed Cabinet is an expression of - "tentosphere" prosthesis - its social organizational ineptitude:
American Freedom Party
2753 Broadway, Suite 245
New York, NY 10025
www.theamericanfreedomparty.us

FOR IMMEDIATE RELEASE

March 28, 2016

Re: The Board of Directors of the AFP Offer a Proposed Trump Cabinet

The current policies of the federal government have resulted in considerable dispossession of America's founding stock. Indeed, its awkwardly promoted policies of "diversity" are in reality tantamount to the physical removal of Americans of European extraction. At long last, we have in the candidacy of Donald Trump a possible bulkhead against the forces that are destroying the peoples of European extraction worldwide. We believe, therefore, that it is necessary for Donald Trump to choose his "Ambassadors, Public Ministers and Councils" with great deliberation while keeping in mind that, as president, he represents all U.S. citizens, including large segments of dispossessed white Americans. The present proposal is only a suggestion and an opinion of ours, which in no way implies that we are requesting Donald Trump's agreement or endorsement of the American Freedom Party. We would like to point out, however, that a significant number of American citizens of European extraction, often summarily labeled in the media as "White nationalists," are firm Donald Trump's supporters.

In this wise, the American Freedom Party proposed to Donald Trump and the American people the following persons for his Administration's key posts:

Vice President: Gov. Chris Christie. Governor Christie possesses the experience and temperament to balance a Trump Ticket.

Secretary of State: Sen. Jeff Sessions. Secretary of State is such an important position in a Trump administration that President Trump should pick someone whom he can rely on totally. This person is Senator Sessions.

Secretary of Treasury: Sen. Rand Paul. Senator Paul's father, Rep. Ron Paul, would be a better choice for this position, but due to the senior Paul's age, we feel that Senator Paul would handle this difficult assignment admirably—primarily because of father's teachings and influence.

Attorney General: Congressman Trey Gowdy. Congressman Gowdy has been a U.S. prosecutor and is a Tea Party member. He would be a good, solid choice for Attorney General.

Secretary of Defense: Newt Gingrich. Mr. Gingrich informally advised Defense Secretary Donald Rumsfeld and hopefully has learned that foreign entanglements are bad for America.

Secretary of Homeland Security: Ann Coulter. Ms. Coulter will do what needs doing and she will give proper direction and coordination with the Secretary of Agriculture to achieve administration goals.

Secretary of Labor: Oregon Governor Kate Brown. In keeping with Donald Trump's populist underpinnings, Oregon Governor Kate Brown would be a good choice. She is a proven champion of a living wage.

Secretary of Health and Human Services: Prof. Kevin B. MacDonald. Professor MacDonald is renowned worldwide as professor of Psychology at California State University, Long Beach (emeritus). He has written numerous scholarly works and is the leading White advocate and scholar.

Secretary of Transportation: Elon Musk. Mr. Musk is such a leading figure in industry, engineering and transportation (both on earth and in space) that every president should seek his advice and service.

Secretary of Energy: Senator John Thune. Senator Thune is a great choice for Energy Tsar because of his leading role in the senate in formulating energy policy. Also, because of his polished demeanor, his very presence commands respect.

FBI Director: Former Congressman Virgil Goode. Virgil Goode is an excellent choice for FBI director because he was a member of the Liberty Caucus, a libertarian-leaning congressional group and while he has strong, white-nationalist leanings, he will protect the individual liberties of all Americans—something that has been missing in past FBI directors.

Secretary of Veterans Affairs: General Jack Keane. General Keane is a four-star general and recipient of the Legion of Merit.

Secretary of Agriculture: William Daniel Johnson. Mr. Johnson is Chairman of the American Freedom Party. He is a farmer and a white nationalist. This cabinet post is extremely important because it handles food stamps and WIC (women, infant and children) food subsidies. These programs will be powerful tools to achieve repatriation of 30+ million illegal aliens in America.

United States Trade Representative: Senator Bernie Sanders. Senator Sanders is for protective tariffs. He would be a good choice to move America away from the job-killing trade approach of the last thirty years.

United Nations Ambassador: Jared Taylor. A clear choice for UN Ambassador is the urbane and intellectual Jared Taylor, founder of American Renaissance, the leading white advocate educational organization.

EPA Director: Jill Stein. Jill Stein is (and has been) the Green Party's presidential candidate. She would do an admirable job in protecting our environment for generations to come.

OMB Director: Former Governor Gary Johnson. Libertarian presidential candidate and former governor of New Mexico, Gov. Johnson has an outstanding record of spending reduction against a spendthrift state government. As Director of the Office of Management and Budget, he will keep executive spending in check.

Surgeon General: Dr. Ben Carson. Dr. Carson endorsed Donald Trump early on. This position would be good for both Dr. Carson and the nation.

Press Secretary: James Edwards. James Edwards is the host of "the Political Cesspool" radio show, a pro-white radio show. He has been a leading figure in the media fight to stop the genocide of the white race. President Trump could do no better than James Edwards in this position.

Poet Laurate: Michael Derrick Hudson. Not only is Mr. Hudson an accomplished poet, he courageously exposed the anti-white bias in today's poetry publishing world.

Chief of Staff: Former Governor Sarah Palin. (Last listed, but first in importance.) Gov. Palin's most demanding task will be in the dismantling of the below agencies.

Cabinet positions and Agencies to be Eliminated: We propose that the Trump Administration eliminate the following Agencies and their cabinet posts.
Secretary of Interior
Secretary of Commerce
Secretary of Housing and Urban Development
Secretary of Education

Very truly yours,
Tom Sunic, Ph.D
AFP Director in Charge

Contact: Tom Sunic, Ph.D, Director
Cellular 00385 91 1722 783 (Zagreb, Croatia)
or (213) 621-3000
Fax: (213) 621-2900
Email: .(JavaScript must be enabled to view this email address)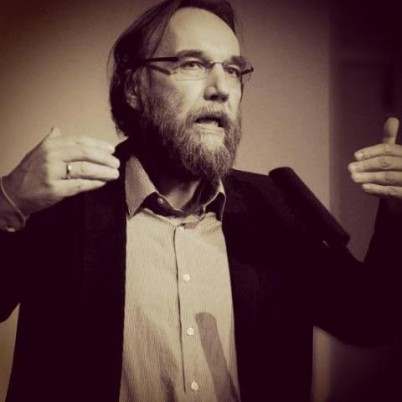 Dugin/Stark interview
: Beginning concession to White Post Modernity
Whereas he used to have a completely botched notion of post modernity - mixing-up what should be the antidote to modernity and liberalism with liberalism itself - it now appears that we are improving Dugin's understanding - viz., that modernity is the problem and the essence of liberalism.
His ideas in this talk are largely amenable and well considered.
His proposition that the state is a bit too much of an artifice to suffice by itself and that there needs to be a hypothesized realm, as we would say, beyond the physically verified moment, which girds and orients a people, is also well considered.

However, now that we are getting him to a better understanding of "post moderntiy", viz. White post modernity, we need to get him to a better understanding of biological reality and "racism."
Anti-racism is the quintessential modernist liberal notion; it is a Cartesian farce: It has been proposed as innocent but it is not -
Anti-racism is prejudiced, it is not innocent, it is hurting and it is killing people.

For "racism" is a necessary concept in a benign form, which is not supremacism nor a singular conclusion to aggrandizement and annihilation of an opposing people (as YKW propose and liberals might accept as a definition). It is in fact, a practical concept that is practiced by ordinary people everyday of necessity, as a non-Cartesian requirement of the human condition, of being in the world - one must discriminate in human-sized categories, including social classification - of one's own people and of other peoples - to form a coherent basis of ones own and to form a basis of human ecologies for our systemic coherence, social accountability, warrant and agency.
These classifications are "hermeneutic", that is to say that they are not absolutely empirically based in every moment, as the taken-for-granted and the state of partial knowledge - faith, if you will - must subsist behind the working hypothesis.
Call it a working hypothesis, call it faith, call it rules, call it narrative, call it taken for granted, call it the partly unknown, call it a mystery, a quest, an adventure, some of that as you must, some of it you might, as it has practical function to ensconce the under-determining facts of the empirical; but I have believed and continue to believe that a sacred overlay, in orientation and guidance of a people is a good idea.
I believe that it is a hermeneutic notion nevertheless, which is itself accountable to deal concretely with biology, sex and genetics, mediating toward fairness and justice in regards to this social capital - otherwise, without this empirical accountability, this "spiritual" realm will be the realm of evil charlatans.