I've known for some time now that since about 2011 or 2012 that the Chinese have unfortunately adopted the "White Left" as a slur term for White (or what they perceive as White) cultural Marxists and corollary liberals.
However, I'm not really worried about the Chinese smear "White Left" for a couple important reasons.
White Left (ethno) Nationalism is internally consistent in its position. And in its rule structure, it is not only totally different from cultural Marxism and liberalism, it is in fact closer to the opposite in its disposition to White (European descent) boundaries and borders, regarding rather a serious concern to curate our history, to maintain our inheritance and lineage. This internal consistency of White Left definition is immediately verifiable as such and can be referred to at any time - the application of the term has been consistent in its call for an effective genetic unionization of our peoples - recognizing in and out groups - genetic group(s) called "our" people as opposed to genetic friends and enemies - this provides for accountability to human ecology, historical social capital; and crucially, among the important reasons to retain the moniker "left", accountability against potential elite betrayal (as they are in key positions to do most damage from limited positions); along with safe guarding not only the interests of rank and file, it ensures criteria ("union rules") that provide for their accountability as well, against any propensity which they, as rank and file, may have toward over-liberalization of national/group bounds, viz. significant transgressions of bounds and borders.
White Left (ethno) Nationalism is Nationalist - therefore it is not liberal, it speaks of ecological delimitations of peoples, not universal liberalism as the Chinese smear term would describe, or similarly, as our smear term "Red Left", i.e., Jewish left, would be descriptive of - a "universal leftism" - i.e., a universal liberalism which the Chinese call White Left and what I call "Red" or "Jewish Left", is prescribed by Jewish interests and their internationalist right wing cohorts, prescribed for others and instigated of them to participate in activism toward a withering away of the state in favor of an arbitrarily composed and controllable international proletariat.
Whereas our Class, the White Class, corresponds to the whole delimited ethno Nation, rich, poor, private property and business owners, whomever, innocent until proven guilty - as a rule, accounts requested should be kept to a minimum.
But because we are accountable as nationalists, of our rank and file while maintaining a vigilance on elite betrayal and liberal internationalism, we are therefore able to cooperate with our left nationalist friends, such as the Chinese and other left nationalists, against right wing / liberal imperialism as it would be imposed by Jewish interests along with their right wing/liberal White cohorts and their Muslim and black shock troop enforcers.
Finally, the Chinese term, White Left, that has been in vogue in China since about 2011 to label White/Jewish Cultural Marxists/liberals, is a word spoken in Chinese; while we speak English and take full advantage of our capacity to define White Left Nationalism as we see fit, and have done that, consistently.
It is entirely different from liberalism and cultural Marxism. Rather it is true security in what is most important and true liberation for our people, our sovereignty as such.
If anything, the Chinese use of the term "White Left" as a smear only confirms Jewish hegemony over prevailing and pervasive discourse - with cultural Marxism reaching its apex during the final days of television's pre-eminence (a horrible situation where this TV box issued propaganda and you could not talk back, interact and correct what it was saying) in the early 1990's after the fall of The Soviet Union and before the advent of the internet. The dialectic between Jewish left and Jewish right began a slow, controlled evolution away from the Marxist culture of critique following the fall of communism; and went into full swing in the other direction of Jewish controlled dialectic, with the sub-prime crisis of 2008, as Jewish consolidation of power niches made criticism of "the right" no longer to their advantage, now that they were on top of seven power niches - critique of the right began to "intersect" against their interests - i.e., a continued critique of the right and popularization of a friendly disposition toward a left perspective would highlight their unjust power and influence; as such would call for unionized alliances against them. Hence, they have marshaled the hegemony of discourse more and more against "the left", with the spearhead "Alternative Right." At this point, they have so successfully hoodwinked the masses it seems the YKW have everybody constantly ranting against "the left" ...how convenient, what a Cohencidence!
Of course they rattle on with a bunch of cliches - typically accusing us of trying to apply artificial concepts to nature, of being anti-nature, being on an impossible quest for "equality"; and they constantly interpose straw men as opposed to what we are really saying - saying cultural Marxism and liberalism are "the left" - when, in fact, these "movements" are the opposite of left activism, the opposite for White unionization, anyway - i.e., anything but a "White Left."
But they carry on with these cliches and ridiculous distortions that cultural Marxism has promulgated, oblivious to the fact that we are not guilty of the theoretical errors, gross distortions of hermeneutics and social contructionism, the flagrant violation of scientific fact that they point to as examples of "our perfidy" in advance of their newly (((consecrated))) heroic bastion of truth and anti-PC, the "Right" and "Alt-Right."
And so I say to my Left Nationalist Chinese comrades, with a wink at that term, comrade, what you are calling "White Left" is not a White left at all, but cucked Whites and cucking Jews who are imposing liberalism and cultural Marxism upon the west, opening its bounds and boundaries with the aim now of aligning its right wing reaction against Muslim "extremists", "Hispanics" and Asians.
The Left as liberalism is an oxymoron that the regular right and Alt Right slavishly partakes of, as their Jewish flank does and would have them do. A White Left (ethno) Nationalism observes the principle of unionization, its recognition and maintenance of in and out groups, which is the opposite of liberalism and its arbitrary doing away with any such provision for accountability to unionized bounds and borders.
To repeat in sum, the Chinese slur 'White Left' as a designator of Cultural Marxism and its liberal activism shows Jewish discourse hegemony and influence, its diversion from true White Left Nationalism. It is a testimony to Jewish hegemony in discourse heretofore and how much they don't want a true White left.
It is a reflection really, of how much the YKW and their right wing cohorts, sell outs, loyalists to their elitist ilk, whatever, don't want us to have a concept of a proper White Left, unionization of our peoples to provide for social accountability and vigilance on elite betrayal as such, in a way that right wing, objectivist and otherworldly criteria do not provide - they propose disingenuous and naive avoidance of social accountability.
It just goes to show how comprehensive that the Jews have been in denying a White left, in cucking the very notion, that they have the vast nation of China calling White liberals and cultural Marxists, "the White Left"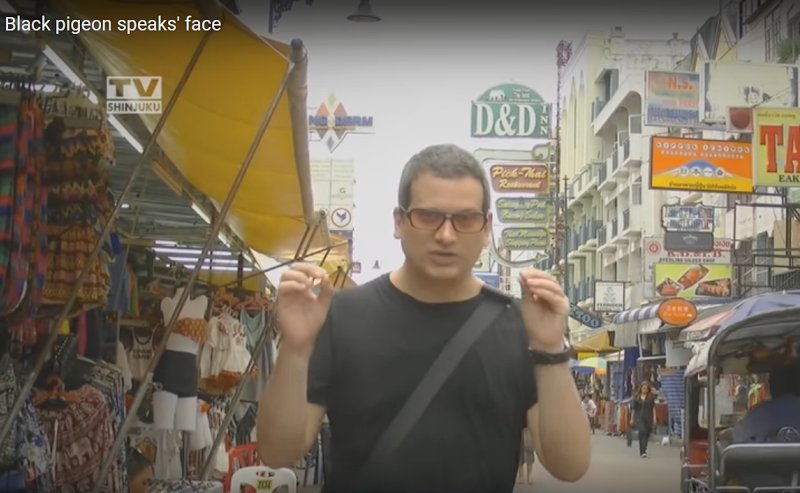 Maybe Black Pigeon Speaks isn't Jewish, but I'd want to see a DNA test to prove that, both for reasons of what he says and for how he looks - seems quite Jewish on both counts. And yes, he fits well, even if ad hoc, with the Jewish marketing campaign of Jewish hegemonic interests against "the left" - particularly in this propaganda piece to promote the Chinese slur of liberalism and cultural Marixism as "White Left."
Along with the deception of hegemonic Jewish discourse, one by which they are doing all they can to align White advocacy with their Jewish interests against "the left", one must also take into account the fact that if Jewish crypsis can fool White people into not making a distinction between Whites and Jews, think how much more their crypsis would fool Chinese!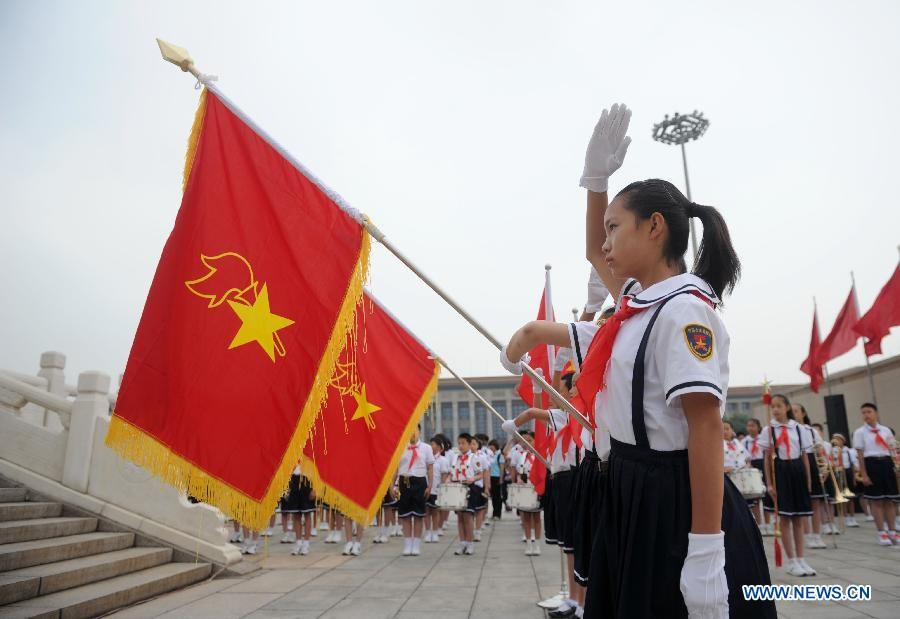 Kumiko Oumae: That (esteemed Red color) is non ironically what they're growing up around
Kumiko Oumae: Also, the yellow stuff symbolises the ethnic groups.
daniel sienkiewicz: Anyway, for now, its most important for me to be internally consistent, which I am.
Kumiko Oumae: Eg, the big yellow star flanked by four little stars on the China flag, is Han Chinese plus ethnic minorities
daniel sienkiewicz: So they are claiming "left nationalism" for red and yellow?
daniel sienkiewicz: and not left internationalism in the Jewish sense?
daniel sienkiewicz: as in eradication or withering away of the state on behalf of the international workers union?
It just goes to show how comprehensive that the Jews have been in controlling the discourse so as to deny a White left, because they know how serviceable that a proper definition of the term would be - they've tried to cuck the very term and have the vast nation of China calling White liberals and Cultural Marxists, "the White left."
However, adding the term "Nationalist", and more specifically "ethnonationalist" to the term White Left, helps greatly to counter its being misunderstood as liberal or cultural Marxist. That helps, along with our internal consistence and its reliable heuristic utility indeed.
It is a reflection really, of how much the YKW and their right wing cohorts, sell outs to their nation/ loyalists to their elitist ilk, whatever, don't want us to have a concept of a proper White left, unionization of our peoples to ensure accountability and vigilance on elite betrayal; how irresponsible they are to the nations which birthed them and to the means by which nationhood would provide for the human and pervasive ecology necessary for world maintenance.